Re: WWE 2011: Pushing the Boundaries
---
wwe.com
Exclusive!



Spoiler for 'The Viper' gets his venom back:



------



Spoiler for Money doesn't buy trust:



-----



Quote:

Originally Posted by pwtorch.com


World Heavyweight Championship to main event Hell in a Cell?, Xavier Woods, Updates on WWE signings & Another TNA release

- There have been major talks of having the World Heavyweight Championship Match where Mark Henry defends against Sheamus being the final match on the card at Hell in a Cell this Sunday. Being one of two Hell in a Cell Matches on the card, the other being WWE Champion Alberto Del Rio against John Cena, where Cena could win his tenth WWE Championship if he does beat Del Rio. Many feel that this could mean that Cena isn't going to be winning on Sunday because it is thought WWE would want to make a big deal of Cena's historic win. The original plan was for Henry and Sheamus' feud to end this Sunday, but their promo on Smackdown this past week got critical praise, so WWE officials are contemplating extending the program between the two.

- It has been reported wildly that Xavier Woods is going to be involved with some big storylines on Raw in the coming months. So far, all we have seen from him on TV is where he appeared in John Laurinaitis' office on Raw, seemingly getting on the GM's bad side already. It is still unknown when Woods' first match will be, as plans are reported to be to keep him as a backstage presence for a few more weeks to further build the animosity between himself and Laurinaitis.

- We previously reported that WWE were in talks with two of the released TNA talents; we've not got further information that one of these individuals was Shaun Hernandez, but he declined WWE's offer, instead looking for a career in acting. As for the other wrestler, negotiations have been developed and it is reported that said talent is close to being offered a contract.

- TNA has released another high-profile star in Jeff Hardy, but there is no interest from WWE to bring Hardy back.
Just some little bits to keep this ticking over. As for HIAC, three matches are done, and I've made a start on the fourth. Not sure when it will be finished, but I'll try not to make everyone wait too long
Re: WWE 2011: Pushing the Boundaries
---
Right, I have some news, that I personally do not like, and hopefully there are some people that also won't be happy about this... My original plan was to finish all of the matches and then post the preview up... but my computer had other ideas and decided to crash and delete 5 of the six matches that I had written up, as I'd only backed up the Henry vs Sheamus match. So... I'm afraid that Hell in a Cell is going to have to be in recapped form, as I don't think I'll be able to cope with writing out those 5 matches again, one of which included the other Hell in a Cell match. I'll still put a preview up and have the predictions contest, and then I'll get the show up next week some time. I am actually gutted about this, as I was really looking forward to getting this show out there in full. I'll still post the Sheamus vs Henry match in full that luckily I still have saved, but yeah, the rest of it, along with a load of college work, has been lost. Sorry guys :/
WWE HELL IN A CELL

PREDICTION TEMPLATE
WWE Championship Match
Hell in a Cell
Alberto Del Rio © vs John Cena

World Heavyweight Championship Match
Hell in a Cell
Mark Henry © vs Sheamus

The Awesome Truth vs CM Punk & Kofi Kingston

Wade Barrett vs Randy Orton

Intercontinental Championship Match
Cody Rhodes © vs William Regal vs Sin Cara

United States Championship Match
Dolph Ziggler © vs Drew McIntyre

WWE Divas Championship Match
Beth Phoenix © vs Kelly Kelly
1) Predict the winners.
2) Predict the match order.
3) Which is going to be the longest match?
4) Which is going to be the shortest match?
5) Will there be any surprise/shock appearances?
6) How many titles will change hands?
I'm really sorry once again guys, but feel free to predict away
Re: WWE 2011: Pushing the Boundaries
---
Ahhh that sucks to hear, I know how frustrating that can be...so while I hate that your PPV will be in recap form, I completely understand why. I'm sure people just want you to rewrite the matches, but the frustration is just too much at times when that happens.

7.)WWE Championship Match
Hell in a Cell
Alberto Del Rio © vs John Cena

5.)World Heavyweight Championship Match
Hell in a Cell
Mark Henry © vs Sheamus

6.)The Awesome Truth vs CM Punk & Kofi Kingston

4.)Wade Barrett vs Randy Orton

3.)Intercontinental Championship Match
Cody Rhodes © vs William Regal vs Sin Cara

1.)United States Championship Match
Dolph Ziggler © vs Drew McIntyre

2.)WWE Divas Championship Match
Beth Phoenix © vs Kelly Kelly

Longest Match - ADR/Cena
Shortest Match - Divas Title
Shock Returns/Surprises - None
Title Changes - One
---
NOTHING WAS THE SAME
Wheelman for James Ellsworth
Join Date: Jan 2011
Posts: 501
Points: 0
Re: WWE 2011: Pushing the Boundaries
---
4. WWE Championship Match
Hell in a Cell
Alberto Del Rio © vs John Cena

7.World Heavyweight Championship Match
Hell in a Cell
Mark Henry © vs Sheamus

6. The Awesome Truth vs CM Punk & Kofi Kingston

3. Wade Barrett vs Randy Orton

1. Intercontinental Championship Match
Cody Rhodes © vs William Regal vs Sin Cara

2. United States Championship Match
Dolph Ziggler © vs Drew McIntyre

5. WWE Divas Championship Match
Beth Phoenix © vs Kelly Kelly


1) Predict the winners. Done.
2) Predict the match order. Done.
3) Which is going to be the longest match? World Title.
4) Which is going to be the shortest match? Divas Title.
5) Will there be any surprise/shock appearances? Gonna go with Nash to screw Punk again.
6) How many titles will change hands? One.

Real shame you lost the majority of this. I know you were looking forward to this but sometimes it happens, I'm sure all us BTBers have felt it at one point or another. Still looking forward to what you produce and I've no doubts it'll still be a strong show. Good luck fella.
Wheelman for James Ellsworth
Join Date: Jul 2011
Posts: 727
Points: 1,359
Re: WWE 2011: Pushing the Boundaries
---
7
. WWE Championship Match
Hell in a Cell
Alberto Del Rio © vs
John Cena
5
.World Heavyweight Championship Match
Hell in a Cell
Mark Henry
© vs Sheamus
6
.
The Awesome Truth
vs CM Punk & Kofi Kingston
3
. Wade Barrett vs
Randy Orton
1
. Intercontinental Championship Match
Cody Rhodes
© vs William Regal vs Sin Cara
2
. United States Championship Match
Dolph Ziggler
© vs Drew McIntyre
4
. WWE Divas Championship Match
Beth Phoenix
© vs Kelly Kelly
1) Predict the winners.
Done
.
2) Predict the match order.
Done
.
3) Which is going to be the longest match?
World Title Match
.
4) Which is going to be the shortest match?
US Title Match
.
5) Will there be any surprise/shock appearances?
None
.
6) How many titles will change hands?
One
.
Sorry to hear about you losing your stuff man, it's a damn shame. But I'm sure it'll still be a good show. Second PPV of this thread, let's get this rolling!
---
"Life doesn't give us purpose, we give life purpose."
Lakers - Yankees
I ACCEPTREP
JOIN WF's OFFICIAL E-FED - PREMIER WRESTLING CIRCUIT (PWC)
Re: WWE 2011: Pushing the Boundaries
---
7 - WWE Championship Match
Hell in a Cell
Alberto Del Rio © vs John Cena

5 - World Heavyweight Championship Match
Hell in a Cell
Mark Henry © vs Sheamus

4 - The Awesome Truth vs CM Punk & Kofi Kingston

2 - Wade Barrett vs Randy Orton

1 - Intercontinental Championship Match
Cody Rhodes © vs William Regal vs Sin Cara

3 - United States Championship Match
Dolph Ziggler © vs Drew McIntyre

6 - WWE Divas Championship Match
Beth Phoenix © vs Kelly Kelly


1) Predict the winners. DONE.
2) Predict the match order. DONE.
3) Which is going to be the longest match? WWE CHAMPIONSHIP.
4) Which is going to be the shortest match? DIVAS MATCH.
5) Will there be any surprise/shock appearances? KEVIN NASH.
6) How many titles will change hands? ONE.

Make me proud, Billy. <3
Finally Out of Cutey Sleep
Join Date: Jul 2006
Location: The Fountain of Dreams
Posts: 2,020
Points: 9
Re: WWE 2011: Pushing the Boundaries
---
Hiya there, Weirdest Peasant. I'm not a complete stranger to this thread, so I will say congrats on your Award earlier in the year. And if I were to be as irresponsible as to disclose this information, the race between you and CP for Most Improved was literally down to the wire (I shit you not - one last minute set of votes tipped the balance). But as it stands, you're still a very much on the rise booker whose stuff has been a pleasure to follow (even if I miss a show here or there). Some really small bits of feedback about things...

The things you're doing with both Drew McIntyre and Christian are very interesting. Christian going on a one-man crusade to do whatever it is he aspires to do is a very compelling story and he's a guy in a position that people can get behind given how he's been misused by the 'E for years. With McIntyre, you've thrown a great dynamic his way when it comes to how a character's thought processes can go. For both men, there's a great deal of unpredictibility factor in them both - I'm never sure what Christian will do next and I'm not sure what McIntyre will do. Those ever present questions make them two characters I'd like to follow the most.

...and then there's Mark Henry. I can tell you enjoy writing for the big guy, and I certainly don't blame you. It's one thing to have interesting characters, but it's another thing, especially to the booker/writer themselves, to have an individual they love writing. It's interesting because the parts of your shows I can see you enjoy the most are the actual match writings, which ironically, probably isn't Mark Henry's strong suit. But you write his ring presence so well, it doesn't really matter. I don't expect him or Sheamus to put on a clinic in their bout, but it should all be fun nonetheless. I will shoot a piece of critique here, however - I don't think their feud should continue post-HIAC. Not because it hasn't been enjoyable, but unless you're setting up for a Sheamus title win at the next PPV (and Henry is so fun, I hope you're not), I kind of feel like this feud deserves a HIAC a little bit. Both men need to move on. That (and the fact that it'll be the only match in full) is one reason why I believe that match should main event over Del Rio/Cena

...and on an egotistical note, it's nice to see those website exclusives being put to good use by somebody


And while I'm here giving you incredibly random tidbits, I might as well give you some of these...
5. WWE Championship Match
Hell in a Cell
Alberto Del Rio © vs John Cena

Not gonna lie, I don't see much of a reason for Del Rio to be champ right now. And seeing as how these two haven't been going full-blown at each other, if the feud is gonna continue, it'll probably do so with a Cena win.

7. World Heavyweight Championship Match
Hell in a Cell
Mark Henry © vs Sheamus

I'm not even sure who his next opponent will be, but even if you do choose to continue this rivalry after this match, I'm sure Sheamus will win that and have a whole new crop of heels to go through (Ziggler/Christian/Barrett). But for now, I'm going with the big(er) guy.

4. The Awesome Truth vs CM Punk & Kofi Kingston

Someone will screw Punk over, no?

2. Wade Barrett vs Randy Orton

1. Intercontinental Championship Match
Cody Rhodes © vs William Regal vs Sin Cara

Since everyone else is saying Rhodes to retain...I'll be that ass and say DAT SIN CARA SURPRISE WIN~!!

3. United States Championship Match
Dolph Ziggler © vs Drew McIntyre

It's a tough call at the moment. But I'm gonna see if DMac will really do what's 'best for his career' and give Ziggler the fight of his life...only for Ziggles to get himself disqualified. That could extend this thing even more and we can get more out of it. MOTN candidate, even if in recap

6. WWE Divas Championship Match
Beth Phoenix © vs Kelly Kelly
PLEASE NO ROLL UP OF DOOM
1) Predict the winners. DONE.
2) Predict the match order. DONE.
3) Which is going to be the longest match? ADR/Cena perhaps
4) Which is going to be the shortest match? DEM DIVAS
5) Will there be any surprise/shock appearances? Nash and...Christian
6) How many titles will change hands? Just the WWE title
It sucks somethin' fierce and I'm sorry that you lost the show, but I'm sure all will be well and this will still be loads of fun in recap. You have the King's blessing
---
CUTENESS²
AOW: Art of War Wrestling - The Greatest Affair
It's Baaaaack...
.:Oblivion Edition 39/40 Recap NOW POSTED!!:.
Re: WWE 2011: Pushing the Boundaries
---
WORLD WRESTLING ENTERTAINMENT PRESENTS...
WWE HELL IN A CELL
October 2, 2011
New Orleans Arena - New Orleans, Louisiana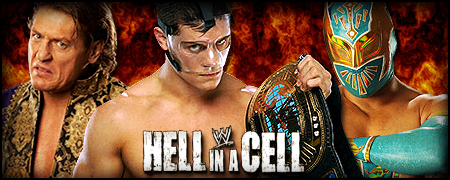 Intercontinental Championship - Triple Threat
Cody Rhodes © vs William Regal vs Sin Cara
The night kicks off with Cody Rhodes defending the Intercontinental Championship against two very game challengers in William Regal and of course Sin Cara. Interestingly, Rhodes decided to ignore the offered help from his friend Ted DiBiase and go it alone in this match where the chances of him losing his title are greater than those of him keeping it.

Once the match got underway, it appeared that Regal and Sin Cara were going to form some sort of alliance to try and take Rhodes out of it and fight amongst themselves. After both Regal and Sin Cara got a couple of shots in each on the champion, Rhodes smartly rolled out of the ring and patrolled the ringside area, much to the annoyance of his challengers. Sin Cara went to follow Rhodes to the outside, but Regal took the opportunity to roll Sin Cara up, and get some revenge for his loss on Smackdown, but Sin Cara was able to kick out of it. After this, Regal looks to take control of the Mexican by keeping him trapped in the corner, but he isn't able to land many strikes on the fresh Sin Cara, and 'The Mexican Idol' escapes and uses the ropes to fire Regal off with an Arm Drag; followed up by a Headscissors.

After this, Sin Cara lands a few kicks on Regal, but when the Mexican tries to run off the ropes and take Regal down, he is caught with a Back Body Drop. Regal walks over to the ropes and demands Rhodes gets into the ring and fight like a man, but before Cody can reply, Sin Cara is back with a Roll-Up; but Rhodes slides into the ring and breaks it up! Cody starts to go on the offensive and delivers a hard series of shots to Sin Cara, followed by a Maskbutt. Rhodes has no chance to get back out of the ring for safety as finally William Regal gets his chance to have a piece of Cody Rhodes. The brawler sends the champion into the corner and starts unloading with a series for forearms and Knife-Edge Chops, before he waits for Rhodes to stumble forwards out of the corner... and catching him with a Butterfly Suplex! Sin Cara then gets back up and Regal dumps him onto his head with a Dragon Suplex - keeping the bridge and Sin Cara kicking out at 2!

Rhodes had gotten up in the corner and Regal charges at him but is met by Cody's mask! Regal slumps back a little dazed, and Rhodes looks to charge at Cara in the opposite corner, but Cara charges towards Rhodes instead; Cody elevates the oncoming Sin Cara into the air and he lands with a Cross Body onto Regal! Just as Sin Cara can get up after hitting that clever move, he's knocked down by a Beautiful Disaster Kick from Rhodes!! The impact is so hard, Sin Cara goes down, but even all the way out of the ring! This leaves Rhodes and a downed Regal in the ring. Cody starts pounding away on Regal, and then gets onto the second rope and drops a Diving Knee Drop onto Regal's face! After getting Regal up, Rhodes ducks an attempted punch and attempts to lock in CROSS RHODES - but Regal counters it, but then caught with a DDT which gets Rhodes a very close two count.

Rhodes rises back up to his feet as he looks to try and finish Regal off again, but as he does, he is able to see that Sin Cara is standing on the top rope, so Rhodes runs the ropes and Sin Cara crotches himself! Cody climbs up there as well and he tries to hook Sin Cara up for a Superplex but the Mexican is able to block and prevent the attempt. But once Rhodes finally has Sin Cara ready after another Maskbutt, Regal comes up from underneath Rhodes and Powerbombs him... causing Rhodes to Superplex Sin Cara in a TOWER OF DOOM!!! Regal is then unsuccessful in pins on both Rhodes and Sin Cara, as Rhodes was able to break the latter pin. The champion once again starts to unload on Regal, finishing a flurry with yet another Maskbutt that sends Regal into the ropes only for Cody to meet him with a Dropkick to the face!

Cody turns his attention once again to Sin Cara, who had gotten himself up in the turnbuckle. Cody shoulders him in the gut and pushes him towards the centre of the ring. Rhodes gets up onto the second rope and lands onto Cara and forces him face-first into the mat with a Bulldog! Rhodes got all of it and he starts shouting abuse down at Sin Cara, but once again the Triple Threat situation comes back to haunt the champion as Regal turns him around and rocks him with a European Uppercut. Regal sends Rhodes into the ropes, but Cody comes back with a head of steam and he looks to catch Regal with a Big Boot... but Regal catches him and sends him flying overhead with the REGALPLEX!! Regal is unable to go for the cover as Rhodes rolls underneath the bottom rope and flops down onto the floor.

Regal thus turns his attention back to Sin Cara, who he Irish Whips into the turnbuckle, but Cara runs up the corner and comes back with a Moonsault onto the standing Regal; taking him down, but Cara can only get a two count! The crowd all cheer loudly for the Mexican, as he points to Regal and then to the top turnbuckle and he climbs up the corner. Sin Cara steadies himself, but Cody Rhodes has jumped up onto the ring apron! Cara is stuck as he tries to keep himself balanced... allowing Cody to RIP SIN CARA'S MASK OFF!!! The heat is ungodly as Sin Cara's face is exposed to the world, and Rhodes then shoves the luchador off of the top rope and down to the floor, where the referee, Booker T and a swarm of officials surround Cara.

Rhodes meanwhile, gets back into the ring where Regal is recovering from the Moonsault, and there is even more heat for the Intercontinental as he removes his mask... then proceeds to crack Regal in the face with it!! Regal slumps to the mat, and Cody strokes the black eye that Regal gave him on Smackdown a couple of weeks back, before clipping the mask back on. He lifts Regal up to his feet once more and nails him with CROSS RHODES!!! Cody shouts for the ref, and the official slides back into the ring and counts the pin! Cody retains!
WINNER AND STILL INTERCONTINENTAL CHAMPION: CODY RHODES (12.13)
After the match, Rhodes surveys his damage and then heads to the back as the officials cover Sin Cara's head with Booker T's blazer and he is lead out of the arena to a standing ovation.

Backstage, the WWE Tag Team Champions Santino Marella and Vladimir Kozlov, are talking to the newest member of the Raw roster, Xavier Woods. The topic of the Raw General Manager comes up and Santino starts to imitate Laurinaitis' voice, without realising that the entirety of the Laurinaitis Administration are standing behind him. Laurinaitis isn't happy and he reminds the three that he is not tolerating anyone making fun of him or taking him as a joke. He then announces that maybe Santino will be able to think of some more impressions whilst he lies in a hospital bed, because tonight it is going to be Santino Marella vs Brodus Clay in a Bonus Match, where both Kozlov and Woods are banned from ringside. Santino almost cries, and before leaving, Johnny warms Woods that it is not too late for him to stop getting on his bad side.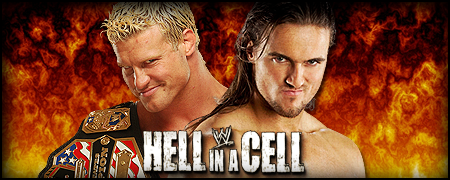 United States Championship
Dolph Ziggler ©
w/ Vickie Guerrero
vs Drew McIntyre
The second match is for the United States Championship, and through the entirety of the entrances, the commentators pondered whether Drew McIntyre will lie down for Dolph Ziggler or not. Drew's entrance didn't answer any questions, as it seemed that he didn't even know what he was going to do.

Once the match got started, Dolph simply ordered Drew to get on the mat, but after Drew had gotten down to one knee, he gets back up. Ziggler is annoyed by this and demands that he lay down if he wants his and Guerrero's help. McIntyre gets on his back... but he rolls away as Ziggler goes down to pin him! This gets Drew a massive cheer from the crowd, and they even start a small 'MCINTYRE' chant for him. Ziggler gets right into McIntyre's face and slowly tells him to lie down on the mat... BUT MCINTYRE FLOORS HIM WITH A RIGHT HAND! HE'S GOING FOR THE GOLD!!

As what we can probably assume is now Drew's first face run in WWE is beginning, he stares at his still clenched right hand and smiles! He sees Ziggler getting up again and McIntyre knocks him right back down to the mat again! Ziggler gets back up using the help of the ring ropes, but McIntyre clotheslines the United States Champion over the top rope and down to the floor! Guerrero tries to drag Dolph away and escape, but McIntyre slides out of the ring and yanks Ziggler away from his manager; and rams him into the ring apron!! Drew rolls Dolph back into the ring and then covers him, but Ziggler kicks out! Dolph gets up and falls back into the corner, where McIntyre charges in and smashes him in the face with a Running Forearm, and then an impressive-looking Snap Suplex which can only garner the Scotsman another near fall.

McIntyre gets to his feet and he waits for Ziggler to make his way back up... and when he does, Drew tries to hook his arms together and drill him with the FUTURE SHOCK - but Ziggler turns out of it and nails Drew with a Dropkick to the face! Ziggler gets in McIntyre's face, telling him he has made the wrong choice. Ziggler leaps high into the air and crashes down onto McIntyre with an Elbow drop, that only gets him a two-count. Pulling him by the hair, Ziggler drags Drew over to the ropes by Guerrero and he crushes McIntyre's throat against the second rope. Ziggler gets off of him at the referee's count of four, and backs away whilst the referee tells him not to do that again. Whilst the ref's back is turned, Guerrero slaps McIntyre in the face!!

Drew holds his face and turns around into the corner, where Dolph catches him with a Stinger Splash that sends McIntyre stumbling forwards towards the centre of the ring. Ziggler on the other hand backs up onto the second rope and leaps off... connecting with the LEG DROP BULLDOG FROM THE SECOND ROPE!!! It is a really impressive move that actually gets some of the fans cheering Ziggles. Instead of going for the pin, Dolph looks like he wants to finish the match off, and he waits on McIntyre to get up from that move and back to his feet. When he does, Dolph comes from behind and tries to hit the ZIG ZAG... but McIntyre catches him and sends him packing across the ring with a FALLAWAY SLAM!! Drew goes for the pin, but Ziggler kicks out once more.

Bringing Dolph back up again, McIntyre hooks his arms in tight and goes for the FUTURE SHOCK again, but Ziggler once again swivels out of it and cracks Mac with the Superkick!! Drew doesn't go down, he turns around from the impact of the kick... and Ziggler takes the chance to drop the stunned McIntyre down with the ZIG ZAG!!! Dolph hooks the leg and retains the United States Championship!
WINNER AND STILL UNITED STATES CHAMPION: DOLPH ZIGGLER (7.57)
And after a small VP advertising Survivor Series...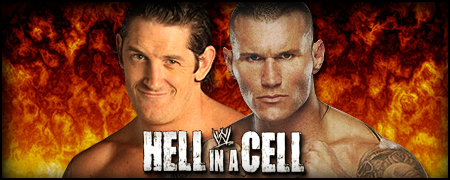 Wade Barrett vs Randy Orton
Right from the opening bell of this match, Orton went straight after Barrett, taking him down with a clothesline right off of the bat. Trying to control his rage, Orton levels Barrett with a second clothesline as the fans are loving the sight of Barrett getting his arse kicked. Waiting for Barrett to rise again, Orton takes him down with his own version of the Thesz Press, but still hammers down onto Barrett's head with rapid right and left hands. Still being relatively fresh, Barrett is able to get a block in and pushes Orton away and pulls himself out of the ring using the bottom rope.

Obviously, Orton followed Barrett out of the ring and he caught up with the Englishman and knocked him down to the floor with another clothesline; Barrett's head violently snapping off the ring floor. 'The Viper' followed up by sending Barrett into the ring barricade, before pummelling him on the floor. The referee wanted to get the action back into the ring so he tried to pull Orton back which caused Orton to get in his face, leaving the door open for Barrett to send him crashing into the steel ring post shoulder-first, re-aggravating the shoulder injuries that Orton has been suffering recently.

Following this, Barrett looked to take advantage by targeting his offence at said shoulder and he delivered a few strikes to it before locking in a Hammerlock in the centre of the ring. Orton started to escape the hold but Barrett lifted him up and dropped him back down with a Hammerlock Back Drop that stopped any momentum Orton had. Orton is sent into the corner, but he tries to float over, but Barrett catches him and drops him over his knee with a Shoulder Breaker! The resulting pin only gets Barrett a 2 count. Barrett locks in an armbar which puts more pressure on the shoulder joint of Orton. Orton once again looks set to get himself out of it, but Barrett breaks it up and boots Orton in the face!

Barret brings Orton into the ropes and starts kneeing him in the head, and once he releases him, he tries to boot him in the head... but Orton moves and Barrett is crotched on the top rope! Orton then delivers a Dropkick that sends Barrett falling to the floor! After the referee's count reached 7, Barrett gets back onto the apron, and Orton tries to hook him up for the DDT, but Barrett pushes him back. Wadr goes for the Bull Hammer - but Orton ducks it! RKO-NO!! Orton went to strike, but Barrett pushes him away! Barrett charges back in but is caught with a Snap Powerslam! Orton tends to the shoulder, but he is able now to drape Barrett over the ropes and drop him onto his face with the ROPE HUNG DDT!

Orton starts pounding the mat, waiting to strike on Barrett... but Barrett blocks the RKO for the second time, pushing Orton against the ropes and catching him with the Winds of Change!! Another 2 count follows, and Barrett brings Orton up and onto his shoulders... he looks for WASTELAND - BUT ORTON TURNS IT INTO THE RKO!! AND GETS THE WIN!!!
WINNER: RANDY ORTON (8.50)
Orton celebrates after the match, but he suddenly starts to hear voices... and he tries to PUNT the recovering Barrett - but Barrett was able to roll out of the ring just in time... shouting "HE COULD HAVE KILLED ME!" as he backs up the ramp holding his neck as Orton glares at him through the ropes.

Backstage again, in the office of the Smackdown General Manager Theodore Long now, and he is clearly stressed, but his stress only increases as Christian walks in. 'The Saviour of Smackdown' asks Long whether he will be getting the next shot at the World Heavyweight Championship, because he deserves it after beating John Morrison on Smackdown. Long tells Christian to stop being a "whiny little bitch" and tells him that he isn't getting a World Heavyweight Title shot any time that he is around. Christian reminds him that it might not be too long until Teddy isn't around because of his upcoming Performance Evaluation on Smackdown this week. This kills Long's mood, and Christian reassures him that he'll be seeing him on Friday before leaving.
Bonus Match
Brodus Clay vs
WWE Tag Team Champion
Santino Marella
Next up is the Bonus Match added by John Laurinaitis earlier on tonight; and during the entrances Santino wasn't his usual self, his eyes locked on his fearsome and monstrous opponent... and Marella almost cried as he knew what he had got himself in to.

Once the bell rang, Clay charged across the ring and wiped out the unsuspecting Santino with a body check that almost takes the Italian out of his boots. Clay throws him into the corner and crushes Santino up against it and then runs against the opposite ropes and takes Santino down with the Fall of Humanity (running cross body/WHAT THE FUNK~!) but he doesn't finish things up there despite Santino being more than done by this point.

Clay picks him back up and teases that he is going to go for that devastating powerbomb, but instead he brings Marella up for a Military Press Slam!! Santino doesn't move after landing right on his face, but once again, Clay brings him back up to his feet; Santino barely able to stand on his own accord, but Clay makes sure he goes down with a Flying Headbutt to the chest!! Like a shark to blood, Clay brings Santino up again and places him between his legs and brings him up... before driving him into the mat with the SPINNING SIT DOWN POWERBOMB!!!! Clay hooks the leg and gets his first PPV victory, and goes to 3-0 on his Raw return.
WINNER: BRODUS CLAY (2:44)
Post-match, Santino is loaded onto a stretcher with a neck brace as replays reveal he landed very awkwardly on his neck as a result of Clay's devastating finishing move.

Wrestlemania 28 VP - Once in a Lifetime. (Apparently)

Once everyone from that match is removed from the arena,the cell above the ring starts to descent down from the ceiling... as we fade out to a video package for the WWE Championship Match. It highlights that John Cena is on the brink of making history tonight, but Alberto Del Rio has remained WWE Champion thus far purely by winning by any means necessary.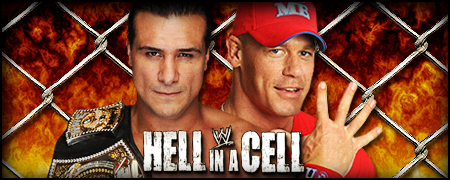 WWE Championship - Hell in a Cell
Alberto Del Rio © vs John Cena
Del Rio was out to defend his championship by himself tonight after Ricardo Rodriguez was on the receiving end of an Attitude Adjustment on Raw this past Monday. Cena entered the arena to a very loud mixed reaction as usual, but it seemed there were more on his side tonight than usual.

Once the bell had rung, Cena went right after Del Rio and he started to lay into the champion with rights and lefts that knocked ADR into the ropes. Cena quickly clotheslined Del Rio over the top and right down to the floor, being quick to follow up as he does. Cena grabs the champion and wastes no time in getting the cell involved in the match by throwing Del Rio back first right into the cell wall!! Cena shows little emotion as he once again bring the champion up and this time Irish Whips him into the unforgiving steel! Cena now grabs Del Rio by the head and looks to send him face-first into the cell, but Del Rio turns it around and it is Cena's face being smashed into the cell!

The champion rolls Cena back into the ring and waits for him to get up before connecting with a clothesline that takes Cena back down and into the corner. Del Rio starts to stomp away on Cena, using his boot to choke the challenger. The referee is powerless, and Del Rio now starts to focus his stomps onto Cena's arm that Del Rio injured before Night of Champions. He attacks the arm with some more kicks before wrapping it around the bottom turnbuckle and stomping it against the corner pad. The champ wrings Cena's arm and brings him back up, and he drops Cena's arm down onto his knees! Del Rio goes for the cover, but Cena is able to kick out.

Continuing with the attacks on the arm, Del Rio drops a knee down onto the outstretched arm of Cena, before he rolls out of the ring whilst Cena is down. Del Rio starts searching underneath the apron for something, but he gets frustrated as he can't find it. This gives Cena a chance to shake his arm out, before leaving the ring himself and going after Del Rio. It appears that Del Rio doesn't see Cena coming (no pun intended), but when Cena grabs the champion... he is struck in the arm... by THAT STEEL PIPE AGAIN!!! Cena crumples down to the floor, grabbing onto the apron and scrambling back up, using the ring post for support.

Del Rio smiles as he approaches Cena with the pipe in hand... and he goes to hit Cena's arm with the pip again... but Cena moves and Del Rio strikes the ring post! The chime echoes around the arena and Del Rio drops the pipe, leaving the door open for Cena to send him into the cell once again! Del Rio turns around out of it and gets hit with the pipe by Cena! Del Rio keels over and Cena rolls him back into the ring, before he grabs the pipe and shoves it through one of the gaps in the cell, taking it out of play! Cena slides back into the ring and Del Rio is bent over again and Cena comes up from behind and leaps over him... Throwback! 'VINTAGE~!' Cena there, and he carries on his momentum to take down the rising Del Rio with a clothesline, but the champion keeps the gold after the resulting kick out.

Cena carries on his momentum by bringing Del Rio back up and dropping him down with a one-armed Fisherman Suplex, but it is met with another kick out. Cena waits for him to get back up to his feet and charges in, looking for one of those shoulder blocks, but Del Rio ducks it and Cena lands awkwardly on his arm! Del Rio is right in there with some more kicks to the arm... and he grabs Cena's arm and locks in the Cross Armbreaker!!! Cena is caught in the dangerous hold, with no way of escape due to no ropebreaks. Cena starts to roar, and he rises up to his feet with Del Rio still leached onto him, and he swings Del Rio over and onto his shoulders.... ATTITUDE ADJUSTMENT!!!!

The arena explodes, but Cena can't capitalise as he drops down to the mat and holds his arm in pain. He eventually crawls over to Del Rio and drapes his arm over him... but Del Rio kicks out after 2! Cena is shocked, and he makes his way up onto the top rope... coming off looking for that Diving Leg Drop - But Del Rio moves! The champion then runs off of the ropes and cracks Cena in the head with the running Enzigiuri! Del Rio is unsuccessful with the following pin fall, and he looks around a little confused as Cena has had an answer for everything that he has thrown at him. Del Rio rolls under the bottom rope again and pulls the apron back... and brings out a TABLE!

The champion slides the table into the ring, but he doesn't get the chance to set it up as he is knocked down by one of those shoulder blocks - Cena is getting fired up now! Del Rio is right back up, but knocked down with a second shoulder block! Both men are back up quickly, Del Rio swings for Cena, but he ducks it and nails the Sit-Out Powerbomb! The fans split into a mixed reaction as Cena holds his hand up and then hits Del Rio with the Five Knuckle Shuffle! Instead of going right for another AA, Cena grabs the table that Del Rio brought in and sets it up in the middle of the ring! Cena gets Del Rio up again, and puts him on his shoulders... but Del Rio fights off and drops off Cena's back and hits him with the Backcracker!

Del Rio starts to scale the turnbuckle as Cena lays on the mat. Del Rio though, takes his time getting to the top, allowing Cena to get back up and join Del Rio on the top rope. After some battling, Del Rio tries to push Cena off, but Cena scoops Del Rio up onto his shoulders and then delivers an ATTITUDE ADJUSTMENT FROM THE TOP ROPE RIGHT THROUGH THE TABLE!!!! Cena then pins Del Rio in the midst of the table wreckage... and WINS THE MATCH AND THE WWE CHAMPIONSHIP FOR THE TENTH TIME!
WINNER AND NEW WWE CHAMPION: JOHN CENA (17.25)
'My Time is Now' bursts through the speakers as Cena is handed HIS championship and raises it into the air. The commentators and most of the fans are on their feet applauding the effort that Cena put in. He stands on the top rope and holds his title up into the air as we fade away.

We go to Matt Striker, who is standing with Sheamus. Striker asks how Sheamus is feeling going into his match later on tonight inside Hell in a Cell after just watching what John Cena had to go through. Sheamus says if anything it has fired him up more to step into the cell with Mark Henry, because he has seen the look on John Cena's face after walking out with the WWE Championship, and he guarantees that later tonight everyone will see the same look on his face once he walks out of New Orleans with the World Heavyweight Championship.
WWE Divas Championship
Beth Phoenix ©
w/ Natalya
vs Kelly Kelly
w/ Eve
Following John Cena's historic title win, not many people were that interested in the females, but the ones that did get properly into this match were shocked by Kelly Kelly starting off the match as the aggressor as she tried to win back the Divas title. Delivering a kick to Beth's gut right off of the opening bell, and following up with a couple of stiff forearms and a dropkick to get a near fall, Kelly seemed to be feeding off of the positive energy radiating from her friend Eve. Kelly tries to finish Beth off early with the K2, but Phoenix catches her legs and swings her around, sending Kelly flying across the ring!

Kelly gets up in the corner and Phoenix meets her with open handed chops to the chest that take all of the fight out of Kelly and do some serious damage. Beth lifts Kelly up for a scoop slam and drops her with force back down onto the mat. The champion retains control after stomping Kelly's head into the mat repeatedly, hurling abuse as she does. Phoenix tries to hook up the Glam Slam, but Kelly was able to roll through and almost steal the title from under Phoenix's nose, but Beth kicked out!

Both Divas roll out of the pin attempt, and Beth tries to level Kelly with a clothesline, but Kelly ducks it and then delivers a roundhouse kick that knocks Phoenix down! Eve cheers Kelly on which causes the blonde to smile broadly as she climbs up the ropes. Kelly waits for beth tp get up before she leaps off of the top rope and takes Phoenix down with a Diving Cross Body! Kelly hooks the leg, but the referee is distracted by Natalya on the apron! Kelly is confused, but Eve starts running around the ring to stop Natalya! Nattie though sees Eve coming and lays her out with a Discus Clothesline!! Kelly shrieks at the sight of Eve potentially KO'd, but it leaves the door open for Beth Phoenix to come from behind and plant Kelly down with the GLAM SLAM!!! Phoenix rolls her over for the pin... and wins the match!!
WINNER AND STILL DIVAS CHAMPION: BETH PHOENIX (5.36)
We're backstage as the party is in full swing for John Cena! He stands talking to Zack Ryder, Alex Riley and Yoshi Tatsu, all three of them collectively congratulating Cena on his victory. Ryder pipes up and says that he is glad that his friend is the WWE Champion, because they are now both champions... and Ryder pulls out the Internet Championship for a few laughs from the fans. Cena laughs and tells Zack that he is a cool guy and he's glad to be friends with him. Suddenly, everyone puts on a serious face... and the trio leave Cena to be by himself as someone has walked into the shot... the fans go MENTAL because it is THE ROCK!!! THE ROCK IS IN NEW ORLEANS!!! The two men that will face off at Wrestlemania 28 stare right into each other's eyes and Rocky breaks the silence by pointing to the WWE Championship and saying "You bring that to Wrestlemania with you." Cena's reply being a simple, but serious "Wouldn't have it any other way, Jack." which causes Rocky to smile before he slaps Cena on the shoulder and leaves... leaving a very serious and fired up WWE Champion.
Tag Team Match
The Awesome Truth
w/ John Laurinaitis & Brodus Clay
vs CM Punk & Kofi Kingston
This one kicks off with a bang, as all four men just can't wait to get a piece of each other; Punk and Kingston attacking The Awesome Truth as soon as they enter the ring and haven't even taken their jackets off! Punk focuses on The Miz, whilst Kofi Kingston takes it to R-Truth! Kofi fires Truth over the top rope and then Punk rocks Miz with a kick to the side of the head before 'The Awesome One's is also treated to the same fate as his partner. Punk and Kingston stand tall together in the ring and dare one of the men on the outside to join them. Brodus Clay goes to take them up on their offer, but Johnny pulls him back and sends R-Truth in there to face CM Punk; the match properly getting under way now.


Punk takes advantage of the dazed Truth to start off with, by pummelling him in the corner with a series of right hands and backhands that cause him to drop to the mat limply after Punk is instructed to back away. Punk makes the tag to Kofi, whilst grabbing Truth's neck, and Kingston springboards over the top rope and delivers a Double-Axe Handle to Truth's back! Miz is back up on the ropes now, having got his head together. Kingston dodges a right hand attempt from Truth and knocks him all the way back into the corner with a perfectly placed dropkick! Kof' charges forwards and leaps over the top rope, then landing several big hits onto Truth's face!!

Kofi drops down and sends Truth crashing overhead with a Monkey Flip, and then starts to scale the turnbuckle. Kofi waits on Truth to get back up... but Miz walks across the apron and shoves Kofi off of the top rope!! Kingston lands hard on his back, and Miz walks back to his corner, and Truth is able to crawl over and tag him in! Miz comes in like a house on fire, mounting Kofi and raining down on him with closed right fists, knocking Kingston senseless! Miz grabs him by the head and then drops him down face-first into the mat with his Snap DDT! Mizanin makes the cover, but Kingston is able to shoot the shoulder up.

Miz gets up and starts stomping into Kingston, eventually putting him into The Awesome Truth's corner. Kofi rises back up, and Miz charges in looking for the seated corner clothesline, but Kingston gets his boot up which knocks The Miz back. Truth grabs Kingston, but Kofi turns around and knocks him back with a right hand! Kingston tries to go at The Miz with a clothesline, but Miz ducks it and brings Kofi down with the Backbreaker/Neckbreaker combination!! Miz goes for another cover but Kofi stays in there! Punk is frustrated, but the entire Laurinaitis Administration is loving the dismantling of Kofi Kingston.

Miz drags Kofi towards his team's corner, and then tags R-Truth back into the match. Truth delivers some hard stomps onto Kingston's back, and then tries to hit the Lie Detector, but Kingston ducks it and Truth crashes and burns! Both men start to crawl towards their turnbuckles... and Kofi gets the tag to Punk! Punk comes in and takes down the advancing legal man Miz with a Springboard Clothesline, and then hits Truth with a series of Muay Thai strikes, finishing up with a Roundhouse kick to the side of the head! Punk Irish Whips Truth into the ropes, but Kingston low bridges the top rope and Truth goes tumbling down to ringside, landing at Johnny's feet!

Kingston gets the crowd fired up and then charges against the ropes... coming back and leaping through the ropes to take Truth out with a Suicide Dive!! Punk measures Miz in the corner before striking him with the Running Knee Lift into the Bulldog!!! Miz is down on his back and Punk scales the turnbuckle... before crashing onto The Miz with a Diving Elbow Drop!! Punk goes for the pin, but Miz kicks out! Punk signals around the arena that it is now time to finish it off... but his face drops....

BECAUSE KEVIN NASH IS WALKING DOWN THE RAMP!!!

Everyone is shocked as Punk watches the big man walk down towards the ring... but Punk is caught from behind by THE MIZ - SKULL CRUSHING FINALE!!!!! Miz turns Punk over and then gets the victory for The Awesome Truth!
WINNERS: THE AWESOME TRUTH (14:33)
After the bell has rung, Nash picks up his pace and enters the ring along with R-Truth and John Laurinaitis... as Nash shakes Johnny's hand!!! The heat is tremendous... confirming that John Laurinaitis has been behind Nash's appearances and costing CM Punk! On the outside, Brodus Clay grabs Kofi Kingston and sends him careening into the steel steps to stop him from interfering in whatever the Administration might have planned for Punk, and then acts as a barrier by standing at the base of the ramp, ready to take anyone on if they try to interfere. In the ring, Johnny, Miz and Truth stand back as Kevin Nash plucks Punk off of the mat and then drops him with the JACKKNIFE POWERBOMB!!! Punk is laid out, and Clay now joins his team-mates in the ring and the collective Administration with Kevin Nash raise their arms in the air, with Laurinaitis in the centre of group. There's a small pop though as Triple H walks out onto the stage... powerless... he can't do anything about this as if he tries he'll be on the wrong side of a 5-on-1 beatdown. We fade away as the most dominant group in the WWE today celebrates their victory.
Spoiler for Vengeance Poster - It will ruin the next match for you.:
World Heavyweight Championship Match - Hell in a Cell:
Mark Henry © vs Sheamus
The bell rings and both men walk slowly toward the centre of the ring with neither of them paying any attention to the cell around them or the 19,000 fans inside the arena. They both get nose to nose with each other, each man breathing heavily as that urge to punish the other kicks in. No one knows who is going to strike first- but Henry flat out Pie-faces Sheamus, and sends him back a few paces! Henry shouts "DON'T YOU DARE GET IN MA FACE, BOY!" and Sheamus responds by coming into life and charging at Henry with a Running Forearm strike to the face; that only staggers Henry back a little bit! Sheamus seems a little shocked that move didn't knock the champion down, but now 'The Celtic Warrior' starts to reel away on Henry with right hands that sends Henry reeling into the ropes. Henry has no answer for these blows, but he is able to push Sheamus away across the ring. Sheamus continues forwards into the opposing ropes and Henry comes forwards and bends over to meet him in the middle... but Sheamus prevents the Back Body Drop by kicking Henry in the face!!

Henry is knocked straight back up to a standing position after that, and his arms flail outwards; but yet Sheamus still hasn't taken the big man off of his feet. Sheamus scowls before rebounding off of the ropes again and going for a clothesline on the champion – but Henry springs into life and flattens Sheamus with a CLOTHESLINE of his own!! Henry wears a look of rage on his face after rubbing his jaw; that kick clearly rocking him. Sheamus is relatively quick to make it back to a knee, but Henry helps him up the rest of the way and lifts him up and turning him upside down... Henry waits around 3 or 4 seconds before he drops Sheamus to the mat with a Delayed Scoop Slam! Sheamus' back arches after the power move, and Henry clasps his hand around his opponent's head and brings him back up, before repeating the process and dropping Sheamus right back down on his back again with another Scoop Slam! Henry then looks around the arena and smiles through the cell to all of the fans, stomping around the ring, proclaiming "NOW I'M DA MAN!" and beating his chest to some heat.

The champion is of course unaffected by this reaction, and he goes to follow up on Sheamus. He lifts the challenger up from a crouching position and right up over his shoulder as if he is planning a Running Powerslam... but Sheamus starts to wriggle his legs and eventually the Irishman drops down behind Henry and he forces the champion forwards... and face first into the top turnbuckle! A pop goes out around the arena, but the damage to Henry is nothing compared to what could have been if the pad had been removed. Henry turns around and has his hand on his forehead, but Sheamus quickly gets on top of the bottom rope and starts pounding Henry in the head with stuff rights; the crowd chanting along as he does! One! Two! Three! Four! Five! Six! Seven! Eight! Nine! TEN!! Sheamus steps away from the corner but Henry only stumbles forwards out of it a few paces, the blows to the head having some effect on him. Sheamus runs against the ropes again, looking for that clothesline once more... and he hits it – but Henry only wobbles! Sheamus is shocked, so he rebounds off of the ropes again, but Henry sees it coming and goes for another clothesline – only for Sheamus to duck it! 'The Celtic Warrior' carries on against the opposite ropes and Henry turns around right into a thunderous CLOTHESLINE from Sheamus... and the World Heavyweight Champion is finally down!!

There's a loud pop in the arena as the World's Strongest Man has finally been knocked down by the challenger, but the cheers quickly fade away as it becomes clear that Henry is getting up almost as soon as he was knocked down! Sheamus can only stand and watch in shock as Henry, almost robotically, gets straight back up to his feet. Using only instinct, Sheamus decides to charge at the monster, but it cut down once again by another Clothesline from Henry. Unlike the champion, Sheamus doesn't get back up; on his back in the centre of the ring. Henry snarls before running against the ropes himself... he comes back to Sheamus and looks to drop a leg across Sheamus' neck... but the challenger gets out of the way and Henry lands right on his ass! Some of the younger fans laugh at Henry's misfortune, but it appears that the World's Strongest Man is already starting to get back up to his feet after taking the bump. Sheamus, with a very relieved expression sees this and he charges at the seated Henry and delivers a Low Dropkick right to Henry's mush!! Henry goes down holding his face, and Sheamus leaps on top of him for the first cover of the match!
...
One!
.....
Henry powers out of it!!

Henry literally pressed Sheamus up into the air, and 'The Celtic Warrior' goes flying across the ring and over to the ropes; the force of the kick out actually sending Sheamus OUT of the ring!! The Irishman is able to get back up to his feet though straight away, as does Henry in the ring. Sheamus starts to get back up onto the apron when Henry reaches over the top rope to try and grab his challenger, but Sheamus is able to evade Henry's grasp... and he grabs Henry by the head and pulls him down; catching the champion's neck on the top rope! Henry gasps for air momentarily, and Sheamus uses the chance to roll back into the ring. SOS grabs Henry and uses all of his strength to push Henry's upper body in between the top and middle ropes. The fans pop as they know what is coming next! Sheamus pulls back on Henry's neck and starts to use his free hand to club Henry's chest repeatedly!!

Sheamus stops after around 7 or 8 Chest Clubs, and it appears that his chipping away on Henry using his striking ability is starting to pay dividends in this match as Henry – still caught up in the ropes – turns around and holds his chest with a wince on his face. Sheamus sees this and he charges at the World Heavyweight Champion and connects with a KNEE TO THE FACE!!! Henry goes spilling through the ropes and lands in a heap on the floor!! The fans pop, and Sheamus points to Henry to ask the fans if he should follow up and they respond with a loud ovation, so the challenger exits the ring and lands on the floor right next to Henry. He aids the champion in getting up to his feet before pushing him back a couple of paces and looking to Irish Whip Henry... but Henry turns it around and sends Sheamus... BACKFIRST INTO THE STEEL STEPS!! The steps are now completely dislodged from the ring post, and Sheamus is down holding his back right where the steps were.

Henry smiles as he seems to be taking joy from watching Sheamus writhe in pain on the floor. He grabs 'The Celtic Warrior' and brings him back up once again... before throwing him back first into the UNFORGIVING CELL!! The cell comes into play for the first time in the match, and to the fans' dismay it is Sheamus that is being punished by it. The cell wall rocks from the impact, showing just how hard Henry threw Sheamus into it. The cameras catch a close up of Sheamus' back, and we can already see the chains from the cell imprinted on the pale skin. Henry shakes his head with a smile, and shouts "WE GOT MORE WHERE DAT CAME FROM!" and he lifts Sheamus up once again... and throws him into the cell wall for a second time!!! Sheamus is now down on the floor screaming out in agony, clutching his back. Henry though, turns his attention away from Sheamus and towards the steps that were dislodged earlier on. Henry looks at Sheamus now, who is crawling away from him and towards the corner of the cell. The champion picks the steps up and throws them into the ring; they land in the centre of the ring, almost hitting the referee.

Henry laughs at the official and turns back around the corner of the ring and sees Sheamus on the other side of the cell, struggling to get back to his feet. Henry smirks again... and CHARGES! The 400+ lbs hurtles towards Sheamus, looking to crush him against the cell – but Sheamus is able to boot Henry in the knee – AND HENRY FALLS FACE-FIRST INTO THE CELL!!! Running at full speed, Henry just ran right into the cell after Sheamus tripped him up! Both men are down on the outside, though Sheamus is using the wall to get himself back up to a vertical base, and the champion is down on his front, holding his face. Sheamus bends down and grabs Henry; it take an almighty effort from Sheamus to get the big man back up to his feet, and an even bigger one to roll him into the ring but eventually 'The Celtic Warrior' is able to do it. Sheamus rolls back in as well and covers Henry again, hooking the leg.
.....
One!
........
Two!!
........
Henry gets the shoulder up!!

After taking the worst hit of the match so far, Henry is able to keep his championship with the kick out, but this one has nowhere near the same amount of power behind it as the last one. Sheamus, desperate to wear Henry down some more, immediately gets on top of the champion and starts raining down right and lefts hands to Henry's face; the first few Henry has no answer for, but soon enough the WSM is able to get his block sorted. Henry catches one of the left hands, and he uses that arm to pull Sheamus away and off of him. Henry starts to roll towards the ropes and out of the ring, looking for a chance to get his head back together, but Sheamus is trying to get at him the entire time; delivering stomps all over the body of the champion as he makes his escape from the ring. Sheamus is pissed that Henry was able to get away from him, but he walks over to the ropes next to where Henry is standing... and grabs onto them! The fans all get on their feet as Sheamus launches himself over the top rope with a PLANCHA onto Henry... BUT HENRY CAUGHT HIM!! Sheamus is stuck in no-man's land... and Henry turns to the side and adjusts Sheamus' position a little bit and THROWS SHEAMUS FACE FIRST INTO THE CELL WALL!!!

Sheamus' face bounces off of the steel, and he lands on the floor with a sickening thud; also right on his front. Henry goes down and turns his challenger over onto his front... and everyone in the arena is shocked because that horrific move has caused Sheamus to start BLEEDING from his forehead!!! Fans and commentators alike are seriously starting to get concerned for Sheamus' well-being after that revelation. Sheamus' eyes are all over the place, and he seems like he doesn't have a clue where he is as Henry brings him back up to his feet. Henry laughs in the face of his challenger in this dazed and bloody state... and he grabs Sheamus by the back of the head and sends him careening forwards and RIGHT INTO THE STEEL RING POST!! Sheamus' head smashes off the steel and the Irishman falls down onto the floor lifelessly, like a sack of potatoes. Henry slowly walks towards his opponent, who's face is now almost fully covered in his own blood; some of it even on Henry's hands.

Sheamus' eyes are glazed over as he desperately looks around the arena amidst the crimson mask, and he has to be helped back up again by Henry who rolls 'The Celtic Warrior' back into the ring, the canvas now getting some of Sheamus' blood on it. Henry takes his time to climbs back onto the apron and make his way through the ropes... ENJOYING watching Sheamus trying to find himself. Sheamus pushes off of the mat and starts to get back up, jelly-legged. He gets up to a vertical base but doesn't really have a clue where he is, the blood dripping down onto the ring mat... but Sheamus is soon knocked back down by an emphatic CLOTHESLINE FROM HENRY!! Henry drops down to his knees and covers Sheamus with a huge grin on his face.
.....
One!
.........
Two
...........
Thr-NO!
HOW DID HE KICK OUT?!

Henry's face transitioned from a total grin to a look of horror as Sheamus fires his shoulder up despite the pasting he has received in the past few minutes. Henry gets back up to his feet and he is shocked to see that SO IS SHEAMUS! Sheamus sits forwards and starts to make his way back up... and Henry places a boot on his chest to send him back down onto the canvas, before the champion backs into the ropes and comes back onto Sheamus with a 400+ LB SPLASH!! Henry stays on top of Sheamus and the referee counts again!
.....
One!
........
Two!
........
Thre-KICKOUT AGAIN!!!

Despite being thrown around like a ragdoll, despite being under the weight of a super-heavyweight, despite BLEEDING from his own face... Sheamus is able to get the shoulder up! It is a super-human effort from the Irishman, and Cole hypothesises that when Sheamus said that Henry would have to kill him to beat him that he could have actually meant it. Henry leans back and stands on his knees and watches in pure amazement as Sheamus is starting to get up again! Like a zombie that just won't die, Sheamus has risen again, and all Henry can do is watch. Sheamus is back up to his feet and he falls back into the turnbuckle and looks blankly out at Henry. The World Champion snarls again at his opponent and he charges into the corner and CRUSHES Sheamus up against the turnbuckles!! Henry laughs, but instead of falling to the mat, Sheamus refuses to go down, just like Henry earlier... so Henry grabs him as he stumbles out of the corner and lifts him up for a MILITARY PRESS!! Henry holds Sheamus up high in the air, before letting him freefall around 8 or 9 feet right down onto his chest and face!! More blood on the canvas from Sheamus' head as a result of that and Henry stands over him in an ultimate show of dominance.

Henry looks out to all of the fans in attendance and shouts "OH YOU GON' LIKE DIS!" and he steps over the downed body of Sheamus and he heads towards the corner!?! There is an ominous feel around the arena as Henry puts his boot on the bottom rope and everyone is suddenly on their feet to see the big man potentially go airborne! Henry takes a deep breath and puts his other foot slowly onto the bottom rope and he measures himself before he starts to climb up onto top of the second turnbuckle, and before you know it Henry is on the second rope facing outwards... and he has a look behind him to see that Sheamus is starting to stir again! 'The Celtic Warrior' is using the ropes to pull himself back up and a smile emerges from Sheamus' face as he realises that Henry is stranded on the turnbuckle! Sheamus carries on pulling himself up and eventually he is back to his feet and standing right behind Henry! There are loud cheers as the once concerned fans are now backing Sheamus and willing him on. Sheamus clubs Henry in the back hard, which causes Mark to almost lose his grip of the ropes, but he holds on. Sheamus smashes Henry in the back one more time to try and loosen the champion's grip on the ropes, and this time Sheamus faces away from Henry and puts his arms up under Henry's... the fans cheer as Sheamus now pulls Henry away from the turnbuckle and falls forwards...

... AND NAILS THE HIGH CROSS ON MARK HENRY!!!!....

The fans are chanting "HOLY SHIT!" at Sheamus, as he collapses down to the mat after delivering that massive power move that has put the match into his favour. Replays are shown of Sheamus just plucking Henry off of the turnbuckle then driving him into the mat with the High Cross. After the replays are shown, Sheamus starts to stir a little and he gets his whereabouts back with him a little bit. Henry is still out, spread eagle in the centre of the ring, and Sheamus starts to crawl over to the champion, slowly, moving only inches each time, until he reaches the shoulders of the beast. He reaches back and hooks one of those tree trunk legs!
.......
One!
..........
Two!
..........
Thr-NO!!!

Sheamus is in complete shock, and he begs with the referee that that was a 3 count, but the official is having NONE of it! Ref tells Sheamus to get on with the match, and both the champion and challenger are starting to get up to their feet at the same time. Sheamus is back fully up just a couple of seconds before Henry and he tries to make the champion pay by placing his head under Henry's arm and trying to hit the Irish Curse Backbreaker, but it seems that the High Cross took a lot out of Sheamus' strength, and Henry resists it anyway. The champion pushes the challenger into the ropes, but isn't fully there... so Sheamus comes back off of the ropes and SMASHES HENRY IN THE FACE WITH THE BROGUE KICK!!! All of the fans are on their feet again, and Henry is left down and out once more and Sheamus leaps onto him for the cover in the lateral press!
........
One!
..........
Two!
...........
NEW CHAMPION?! – NO HENRY KICKED OUT!!!

HENRY KICKS OUT OF THE HIGH CROSS AND NOW THE BROGUE KICK!! Sheamus doesn't even bother pleading with the official this time as he has a look of "What do I have to do to beat this guy?" on his face, as the one man that Sheamus has never been able to beat is trumping him at every chance again. Henry rolls onto his front and has still barely moved after taking a barrage of huge hits from Sheamus, but at the same time knows he has given out just as good to his opponent as well. Sheamus gets up to his feet, the blood on his face drying out now as the wound seems to have stopped bleeding. He looks around the ring and he walks over to those steel steps that Henry threw into the ring earlier! Sheamus picks the steps up and weighs them in his arms as Henry starts to come to again in the ring. The fans start to cheer as Henry is now one knee... a total sitting suck for Sheamus... who charges at the champion... AND BOUNCES THE STEEL STEPS OFF OF HENRY'S HEAD!!! Henry falls to the mat limply... and the camera shot reveals that THE CHAMPION IS NOW BUSTED OPEN AS WELL!!!

"THIS IS A MASSACRE!"

Sheamus drops the steps and they land with a clank onto the mat. Sheamus has the look of a crazed man in his eye as he smiles at the bloody mess that now is Mark Henry. The fans urge Sheamus to capitalize and go for the pin and win the title... but it has became clear what this has turned into for Sheamus – he just wants to beat Mark Henry. Sheamus takes a few steps back into the corner... and he starts to beat his chest with one arm! He smashes his forearm against his own blood-stained chest and is appears as if Sheamus is trying to will Henry to get up? Henry was already starting to get up using the aid of the ropes, but hearing the sound of the fans joining in with the noise that Sheamus is making, Henry gets up a little quicker. The World Heavyweight Champion gets back up to his feet, and he turns around... and here comes SHEAMUS WITH ANOTHER BROGUE KICK-NO!! HENRY CATCHES HIM AND PLANTS HIM TO THE MAT WITH THE WORLD'S STRONGEST SLAM!!! Somehow Henry was able to counter the Brogue Kick into his own finishing move! Everyone is in shock and Sheamus is out on the mat, and Henry just falls on top of him; eyes closed... hoping this is it!!
.....
.........
ONE!
.........
...........
TWO!!
.............
THREE?! SHEAMUS KICKS OUT!! HOW?!

There is a state of shock in the arena as Henry kneels up after that pin fall and has the look of a desperate man in his eyes; he is bleeding from his left eyebrow, Sheamus has dried blood all over his face and chest, blood all over the ring... and all for the World Heavyweight Championship! This desperation soon turns to anger however, and he gets up to his feet in a huff and brings Sheamus up with him. Henry grabs Sheamus by the hair and the trunks and throws him out of the ring through the ropes! Sheamus lands on his front again, but he is able to start crawling around at on the floor by the door to the cell. Henry follows him out of the ring, and he grabs Sheamus by the hair and slams him right into the cell wall again! Henry puts his boot on the back of Sheamus' head and pushes it right into the cell, and Sheamus cries out, but he is helpless. The champion stops this and it becomes apparent that Sheamus' wound has reopened as we see some fresh blood trickling down the face of Sheamus.

Henry gets right down in Sheamus' face and shouts "TIME TO END DIS, BOY!" and he scoops 'The Celtic Warrior' up onto his shoulders, much like at the start of the match, in a Running Powerslam set up. Henry walks with Sheamus up to next to the ring apron opposite the door...

... AND HE CHARGES FORWARDS TOWARDS THE DOOR WITH SHEAMUS ON HIS SHOULDER...



... THE DOOR COMES RIGHT OFF OF ITS HINGES AS HENRY USES SHEAMUS AS A BATTERING RAM AGAIN – AND NOW BOTH MEN ARE DOWN OUTSIDE OF THE CELL!!!!

"OH MY!"

Hell in a Cell was still not enough to keep these two behemoths contained! The door came right off of it's hinges and then Henry used Sheamus to break his fall so 'The Celtic Warrior' was sandwiched in between both the cell door underneath him and Henry on top of him! The "HOLY SHIT" chants are back again and neither man has moved a muscle since that massive spot. The referee is not sure what to do as he steps over the carnage and stands outside the cell with his head in both hands. He checks on both Sheamus and Henry, and neither appear to be giving any signs of life away... that is until Mark Henry slaps his hand down on the ground and begins to push himself up!! Henry looks pleased with himself that he did that, and he gets onto one knee and then pushes off of Sheamus' prone body to get himself back onto his feet. The referee tries to instruct the champion to bring Sheamus back into the cell, but Henry isn't having any of it as he grabs Sheamus from off of the floor and drags him across over to the outer side of the cell now... and forces Sheamus into the cell wall again!!

Now that Sheamus has been moved out of the way, Henry goes back to the wreckage of the door spot, and he picks up the door that broke Sheamus' fall (and maybe his ribs) and Henry picks it up. Sheamus lulls against the side of the cell, and Henry turns around whilst holding the door to face Sheamus. Henry charges in... but at the last second Sheamus jumps into the air... and BROGUE KICKS THE DOOR INTO HENRY'S FACE!!! Henry drops like a stone down to the floor and Sheamus is back down again after being able to dig that Brogue Kick – the second of the night – out of the hat like that. 'The Celtic Warrior' starts to get back up again, but Henry still hasn't moved the cut seemingly getting bigger now as more blood comes down Henry's face. Sheamus reaches his feet and he walks over to Henry with the door laying on top of him. Sheamus slings the door aside and out of the way... before he mounts Henry... and delivers right hands into that cut – trying to make Henry bleed even more!

Sheamus grits his teeth as he lays into the World Heavwyeight Champion; obsessed with punishing Henry even more. He brings the champion up to his feet and grabs him from behind... and he runs Henry right into the cell wall again! Henry just slumps against the wall as it is now Sheamus' turn to talk some smack, "If we're gonna end it now, fella, t'ere is only one place we go!" and Sheamus points upwards!!! The fans go mental as Sheamus rocks Henry with one more stiff right hand... and 'The Celtic Warrior' starts CLIMBING UP THE CELL!! The beatings he has withstood so far make climbing no easy task for Sheamus as he scales the chainlink wall. When Sheamus is about half way up the cell, Henry takes a look up there and sees that his opponent is going to the high-risk area of Hell in a Cell. Henry starts to pull himself up... and HE THEN STARTS TO FOLLOW SHEAMUS UP THE CELL WALL!!

It is a surreal sight watching a man of Mark Henry's size attempt to climb up a 20 foot high steel structure, but everyone is captivated by the sight! Henry has only gotten about half way up by the time that Sheamus is getting his first reach of the top of the cell, and the Irishman pulls himself up, and the fans pop at the sight of Sheamus standing on top of the cell. We see a long-distance shot of the arena and it shows us just how high up these two men are. Henry is almost at the top of the cell, but he doesn't look best pleased to see that Sheamus is waiting for him! Instead of stomping on his fingers, Sheamus allows Henry to get to his feet on top of the cell and then rocks the World Heavyweight Champion with a right hand! But Henry replies with a right of his own!! The two brutes start to trade blows right on top of the cell; Mark Henry is only about a foot away from the edge! Sheamus ducks one of Henry's shots and then kicks him in the gut! Henry now teeters back over the edge, and Sheamus takes a few steps back... before roaring as loud as he can and charging at Henry! But Henry comes forwards and wipes Sheamus out with a Shoulder Tackle!!

Sheamus' back takes another big hit after it smashes on top of the cell and the Irishman's back arches after the impact. Henry smiles at his opponent, before plucking him off of the top of the cell and he lifts him all the way up for another Military Press!!! Henry starts to walk towards the side of the cell where the announce tables are, but just as Henry starts getting with a couple of metres from the egde, Sheamus is able to shake himself down and he lands behind Henry. Henry turns around... RIGHT INTO ANOTHER BROGUE KICK FROM SHEAMUS!!! A THIRD BROGUE KICK – THIS ONE ON TOP OF THE CELL!!! Sheamus falls on Henry but he realises that there is no count! The referee didn't climb the cell! Sheamus shouts "REF! COME HERE!" and the referee takes a deep breath... before he starts climbing the cell wall!! The fans go wild as Sheamus tells the official to hurry up, and he does take a lot less time than Henry or Sheamus did. The referee jogs across the roof to get to the pin... and he starts to count!
.....
........
............
ONE!!!
...........
..............
..................
TWO!!!!
.........................
..................................
..........................................
THREE!!!-NO!!!! HENRY GOT THE SHOULDER UP!!!

"IS HE EVEN HUMAN?!"

Everyone is STUNNED in the arena... and Sheamus looks like he is verging on TEARS that he just can't put Mark Henry away! Three Brogue Kicks, High Cross from off of the turnbuckle and a shot to the head with the steel steps is not enough to remove the World Heavyweight Championship from Mark Henry's waist. Sheamus starts to bring Henry up to his feet... and he drags him over to near to the edge where the announce tables are. Sheamus puts Henry's head in between his legs and then tries to bring Henry up... for a POWERBOMB?! Sheamus tries to get Henry up but he is just too exhausted, and Henry clubs Sheamus in the ribs - that have troubled Sheamus since Night of Champions and have gotten even worse tonight no doubt – and Sheamus stumbles backwards, allowing Henry to free himself... and when he does he approaches Sheamus and lifts him up. The fans start to boo, but some cheer as Henry holds Sheamus up for a few seconds... and hits the WORLD'S STRONGEST SLAM ONTOP OF THE CELL!!! SHEAMUS' BODY DRIVEN INTO THE ROOF! Henry seems relieved as he is positive this has to be it as he covers Sheamus, and the referee is right there to make the count!
........
...........
...............
ONE!!!!
....................
..........................
..................................
TWO!!!!
.............................................
..........................................................
.................................................................
THREE!!! ITS OVER!! IT IS FINALLY OVER!

WINNER AND STILL WORLD HEAVYWEIGHT CHAMPION: MARK HENRY (24:41)
The show ends with Mark Henry standing tall on top of the cell over Sheamus' broken body and beating his chest like King Kong on top of the Empire State Building... looking over the New Orleans Arena as we fade out...
END SHOW
----

Quick Results:

Cody Rhodes def. William Regal & Sin Cara
Dolph Ziggler def. Drew McIntyre
Randy Orton def. Wade Barrett
Brodus Clay def. Santino Marella
John Cena def. Alberto Del Rio
Beth Phoenix def. Kelly Kelly
The Awesome Truth def. CM Punk & Kofi Kingston
Mark Henry def. Sheamus

----
Well there it is, folks. I wanted to get this up as soon as it was ready so I can just get on with the BTB (and so I don't venture into Melvis territories of making people wait), as I am excited for the developments coming off of this show. Sorry about the recap form, I obviously would have preferred it to have been in full but as I said to Cult earlier, shit happens
Anyways, hope everyone is able to get some degree of enjoyment from this
cheers guys. Oh, and cp you are a wanker for perfect scoring the predictions.
Massive thanks to TehBrain for the Vengeance poster and Jam Cena for the match graphics
Wheelman for James Ellsworth
Join Date: Jan 2011
Posts: 501
Points: 0
Re: WWE 2011: Pushing the Boundaries
---
HIAC Thoughts



Not gonna give you a load of feedback but just a few thoughts and whatnot. Real shame it was in recap but nothing you can do, bastard computers!!

Anyways, smart choice in the opener with a lot of contrasting styles and it showed throughout. You got Cara's highflying in there as well as Regal's more technical and brutal approach mixed in with Rhodes trickery and 'by any means necessary' strategy. Ending worked well with regards to Rhodes mask obsession so kudos on that. Cara's being ripped off woulda no doubt got a lot of heat so glad you pointed that out. I don't think the referee would've actually gone down and tended to Cara though, I know you needed that for Rhodes to then use his own mask on Regal but you coulda maybe just had the ref turn his back for a moment and Rhodes quickly dispatch of Regal. Right call in having Rhodes win and I'm sure it's not the last we'll see of these three.

McIntyre turning face is a good move and I think they should've gone that route a while ago IRL. Match was well worked with Drew starting off hesitantly and the crowd slowly warming to him, willing him to go it alone. One thing I will say is that you shouldn't have mentioned the crowd cheering Ziggler at one stage, despite an impressive move, doesn't perhaps do McIntyre much help. A good effort though from Drew here and a strong retain for Ziggler although I'd have liked to see it more of a dirty victory to really screw Drew over and possibly lead to another chance. A straight up defeat in his first match as a face isn't the greatest way to begin but I'm sure he'll build on it in the coming weeks.

Glad that Orton started this one off with real purpose as Barrett has certainly fired him up in recent weeks. Barrett's work on the shoulder was smart and glad you pointed out exactly why he was targeting that area. I'm sure this feud is going to continue what with went down in the aftermath and I'm pleased it will because a defeat for Barrett and closure after this would've certainly seen all his momentum gone, hopefully he picks up a big win next time around, certainly needs it.

Nothing to say about this next one really, squash city. BIG BRODUS, monster push to continue please.

Not surprised this wasn't given the main event. Henry/Sheamus has been leaps better so glad you didn't do the usual WWE routine and still allow Cena to main event just cos he's Cena. Was a solid contest here, again smart stuff in Del Rio targeting the arm as well as the use of the Pipe considering we've seen that before in this feud(dat continuity). Cena winning wasn't what I hoped you'd go for but it's what I expected. I know you aren't ADR's biggest fan so I guess you've got a lot more options with Cena moving forward. Wondering now whether you keep the belt on Cena right the way to Mania or Rock maybe screw him over and we get a new champ by then, certainly a lot of exciting possibilities.

Good win for Beth as expected and continues this Kelly and Eve storyline too, nothing much else to add. Hard act to follow with Cena winning the gold beforehand.

Really surprised to see Rock there btw, realistically I doubt that'd happen but it was a good moment I guess, leading to more speculation of course.

Standard tag match here although I'd have liked to have seen a little more from Clay and Laurinaitis. As a stable I think we should see proper full on stable style interfering and doing all they can at every opportunity to take advantage. Main story of course is Nash and I'm really hoping that we now get a proper pay off leading into Vengeance/SS with him and Punk. It's been brewing nicely but I hope this is what tips Punk over the edge. Nash now officially aligning himself with Big Johnny is a good move also, woulda saved Trips for Raw however.

Aaaaaand main event time. Slugfest as expected, some real heavy hitting and it was exactly what I wanted to see. Thought it started off a little slow and there seemed to be a clothesline at every corner but it grew as time went on and the use of the cell finally came into play at just the right time, pleased that both men got their fair share of using it. Henry came out looking like an absolute beast when he kicked out of that High Cross followed by a Brogue Kick. That was crazy and at that stage you knew Henry wasn't losing this one. Although, you did return the favour and show all of Sheamus' fight with him kicking out of the WSS, that's a big moment for him although it may weaken the WSS a little bit. Ending was pretty crazy. I wasn't so sure about them going out the cell and up to the top at first but Sheamus' little line about 'only one place to end it' made sense. WSS on top of the cell is no doubt a definitive way to end this thing and the image of Henry standing on top like King Kong was a beautiful thought. Very strong and worthy main event over the WWE Title match.

All in all it was a good show and I think it would've been enhanced had it been in full. Main event delivered nicely, a few things that were hit and miss but on the whole not an awful lot to complain about. I think Henry/Sheamus needs to end now following that, they won't top it and Sheamus really has no get out following what went down. Cena as champion will be interesting on Raw, hope you spice him up compared to the real world while the mid cards on both brands continue to get better. Looking forward to where you go with this next and I think as we get closer to Survivor Series this will really start to excel. Good job.
Re: WWE 2011: Pushing the Boundaries
---
Quote:
Originally Posted by "pwtorch.com
BREAKING WWE NEWS!

Just hours after the Hell in a Cell event, WWE have released a press statement stating that the planned Vengeance PPV scheduled for October 23rd has been cancelled. It is thought that this decision might have been made as the company is looking to increase the build to Survivor Series.

We'll have more on this shocking development in the next few hours as Raw heads to the Cajundome in Lafayette.
Hey.
Posting Rules

You may not post new threads

You may not post replies

You may not post attachments

You may not edit your posts

---

HTML code is Off

---