OML presents WWE 2011: Era of Prominence
---
WWE 2011: Era of Prominence

Bradley and myself have decided to join forces for this BTB. We both have has successful btb in the past and feel that sharing the work load with someone else will make this successful and long lasting. So enough of the introduction, onto the thread. We are going to be starting from the night after the amazing Money in the Bank pay-per-view. With so many different ways to go coming off this show, we thought this would be a great place to start. Here is the Money in the Bank results as a reminder. Btw, i used tkow set up as a template just to give him some credit..

WWE Money in the Bank Results

Daniel Bryan def. Wade Barrett, Kane, Sheamus, Justin Gabriel, Heath Slater, Sin Cara, & Cody Rhodes to win the Smackdown Money in the Bank Ladder Match

Kelly Kelly def. Brie Bella to retain the Divas Championship

Mark Henry def. The Big Show

Alberto Del Rio def. Rey Mysterio, Kofi Kingston, The Miz, Alex Riley, R-Truth, Evan Bourne & Jack Swagger to win the Raw Money in the Bank

Christian def. Randy Orton by Disqualification to become the New World Heavyweight Championship

CM Punk def. John Cena to become the New WWE Champion.

________________________________________________________________________________________________




Monday Night Raw

Champions

WWE Champion
CM Punk
Title Won: July 17, 2011
Defeated John Cena at Money in the Bank

WWE United States Champion
Dolph Ziggler
Title Won: June 19, 2011
Defeated Kofi Kingston at Capitol Punishment

WWE Tag Team Champions
David Otunga and Michael McGuillicutty
Title Won: May 23, 2011
Defeated Big Show and Kane on Monday Night Raw

WWE Divas Championship
Kelly Kelly
Title Won: June 20, 2011
Defeated Brie Bella on Monday Night Raw


Alberto Del Rio
Alex Riley
Big Show
Chris Masters
Curt Hawkins
David Hart Smith
David Otunga
Dolph Ziggler
Drew McIntyre
Evan Bourne
Goldust
Jack Swagger
John Cena
JTG
John Morrison
Kofi Kingston
Mason Ryan
Michael McGuillicutty
Primo
The Miz
Rey Mysterio
R-Truth
Santino Marella
Skip Sheffield
Triple H
Tyler Reks
Vladimir Kozlov
Zack Ryder





Friday Night Smackdown

Champions

WWE World Heavyweight Champion
Christian
Title Won: July 17, 2011
Defeated Randy Orton at Money in the Bank

WWE Intercontinental Champion
Ezekiel Jackson
Title Won: June 19, 2011
Defeated Wade Barrett at Capitol Punishment

Christian
Chris Jericho
Cody Rhodes
Daniel Bryan
Ezekiel Jackson
Heath Slater
Jey Uso
Jimmy Uso
Jinder Mahal
Justin Gabriel
Kane
Mark Henry
Randy Orton
Sheamus
Sin Cara
Ted DiBiase
The Great Khali
Trent Baretta
Tyson Kidd
Undertaker
Wade Barrett
William Regal
Yoshi Tatsu


The raw preview will be up within the next few days..
---
Last edited by OML; 07-21-2011 at

11:09 PM

.
Re: OML & Bradley present... WWE 2011
---
I like both your writing so I'm happy and excited to see the two of you working together. I don't know how much review/feedback I'll give (if any) since I really don't have time to sit and read shows and write feedback, but I will be reading for sure! I don't know how much time and effort you've already done to the planning since MITB just happened less than a week ago, maybe hold off on the shows until each of you write two shows or whatever, just so you'll be ahead and won't just quit once you get tired of it, if you know what I'm saying. Anyways, enough rambling...best of luck to the two of you!
---
Re: OML and Bradley's WWE 2011
---
Can't wait for this. Read some of your stuff on here before I registered and loved it. Your both one of my favorite bookers on here. I'll be subbing to this
Re: OML and Bradley's WWE 2011
---
Looks good. Interested to see where you're going to go and how your product is going to differ from the WWE's. That's always something interesting about modern day threads. Anyway, I've seen both of your names around before but I've never read anything from either of you so here's to hoping that you make the right first impressions!

Good luck, my friends!
---
Re: OML and Bradley's WWE 2011
---
I'll be reading. Good luck!
---
Moron
Join Date: Jul 2011
Posts: 75
Points: 0
Re: OML and Bradley's WWE 2011
---
Looking to see how you book post-MITB. are you gonna go with wwe route or do something differet?
Re: OML and Bradley's WWE 2011
---
I've always checked out Bradley's threads when he posts in them. As for OML, you really seemed to be trying to talk the talk in the discussion thread the other day. You've claimed this will be good, so let's hope you haven't spoken to soon, and you guys can actually do something with this thread.

Good luck.
---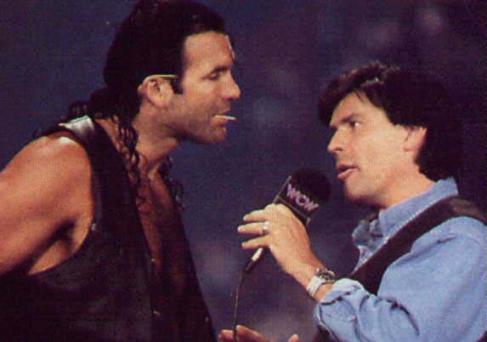 Re: OML and Bradley's WWE 2011
---
This looks like this is going to be awesome, I can't wait to see how you book the CM Punk leaving angle amongst other things. Can't wait for your post-MITB Raw
Re: OML and Bradley's WWE 2011
---


Coming off once of the most memorable and exciting nights in WWE history, Raw comes to you live from the Resch Center, in Green Bay, Wisconsin. With so much action and historic moments taking place just 24 hours ago at Money in the Bank, so many questions will be answered. The whole WWE Title situation, the CM Punk situation, John Cena/ McMahon, Del Rio as Mr. Money in the Bank, & more. We also have been informed that Mr. McMahon will open the show to address some of these issues.

After a classic 35 minute encounter, CM Punk became the new WWE Champion. Even when McMahon tried with everything in his power to make sure he wouldn't walk out with, Punk escaped from his hometown with the title. At midnight, Punk's contract would expire. Punk is now gone, as is the WWE Championship. What does this mean for the future of Monday Night Raw? And how will Mr. McMahon react to this defiant act from his former employee and champion?

To go off of this, the man who Punk defeated to win the WWE Title, John Cena will be amidst controversy as usual. The match at Money in the Bank only occurred because Cena pushed for it. McMahon stated two weeks before the match, that if CM Punk walked out WWE Champion, he would fire John Cena!! Will Mr. McMahon live up to his word and fire John Cena on Raw tonight? This will be a can't miss moment, as the future of the company could be affected by this decision.

Last night, Alberto Del Rio proved why he was the Essence of Excellence, when he defeated 7 other men to become Mr. Money in the Bank. The ending came when Del Rio would pull off Mysterio's mask and knock him off the ladder. Mysterio has reportedly been very upset all day about being "unmasked". Now that Del Rio has a guaranteed title shot for anytime up to a year, when will he cash it in? There is however one problem, there is no WWE Champion.

Two matches have been announced for tonight's show. The Nexus, Michael McGuillicutty and David Otunga will defend their WWE Tag Team Titles against Santino Marella and Vladimir Kozlov. How will the Nexus do now that their leader CM Punk is no longer with them? Also just 24 hours after retaining her Divas Championship, Kelly Kelly teams with Eve and Beth Phoenix to face the team of the Bella Twins and Maryse.

This is a cant miss Raw, as we feel the fallout from the Money in the Bank pay-per-view. See how Punk's victory and McMahon's decision will affect the entire show and future of Monday Night Raw. Make sure to be tuned in from the start, as Mr. McMahon will start the show and address many of these pressing issues caused last night by Punk's victory.


Raw will be up some time with the next few days...
Re: OML and Bradley's WWE 2011
---
Can't wait for Raw! Looks like it'll be a good show!
---
Posting Rules

You may not post new threads

You may not post replies

You may not post attachments

You may not edit your posts

---

HTML code is Off

---