Re: OML presents WWE 2011: Era of Prominence
---


Vince McMahon is apparently very pleased with how the whole WWE championship storyline is going so far. The crowd is very into it and has gotten amazing reception from everyone in the back as well. WWE has big things planned and reports are that this will become one of their biggest storylines in years! Long term booking has been mapped out and this should conclude at wrestlemania if all goes as planned

With the absence of punk and cena whether permanent or temporary, WWE wants to continue to build new stars to step into the spotlight while they are gone. They also realize with injuries and aging stars this is important. Officials are high on several younger talents, majority of which on smackdown.

WWE has decided to announce Daniel Bryan's money in the bank cash in ahead of time to start building him up as well to make the match at survivor series seem like a big one. Bryan will be busy until then as they have him penciled in to feud with a familiar foe.

WWE is also looking to build up the tag division. Several teams from the past and developmental and Indys have been contacted and could debut soon. The current tag team champions Nexus aren't in long term tag team title plans but the group is supposed to have a big role in the company over the next few months similar to a year ago.

John Morrison and Triple H both returned to tv this past week. Several more big names are expected back between now and summerslam

With John Cena fired and off tv for the time being this leave the wrestlemania match between him and the rock in question. While that match may be off we can confirm the rock will make his return to the ring at wrestlemania 28.

Another big decision WWE is going with is to cut the number of pay per views. Vince is going to charge more of a price but he wants to make each one feel important. WWE creative already has plans mapped out across from now till wrestlemania. The Ppv schedule is as follows

August 21- Summerslam
Early October- Night of Champions
Mid November- Survivor Series
Mid December- TBD
January- Royal Rumble
February- Elimination Chamber
April- Wrestlemania XXVIII

Also announcing because I'm busy with school for now smackdown will b in review form. Still will b good though keep the comments and reviews coming. Remember review for review or review for banner. Sorry I'm in Florida for vacation so if I owe u one I didn't forget. Superstars results and smackdown preview to come soon
Re: OML presents WWE 2011: Era of Prominence
---
I personally laughed a bit at Michael Cole's "what why did he hit Vince!?" it just seems like something Cole would say. I will say I am somewhat sick of Vinnie Mac, but I think that has to do with Trips being his protector, so Miz working with him a little makes it better instead of relying on the past. Also can't argue with Cena leaving. Glad to see the Internet title actually being used now, since WWE "kind of" mentioned it. Like Ziggler being the guy to take it.

I liked RAW overall, though I do imagine Ryan v. JTG having at least one humorous botch. I'd hope Punk will disappear off the show for a bit, to keep people guessing on his appearances like the roundhouse to big Vinnie. Do agree with Mark Henry being a beast. Not a lot to dislike here honestly. Good work.

For the SummerSlam card i'll give some thoughts. The WHC title match is a decent choice, works with what was going on at the time. The Smackdown showcase seems like something i'd like to check out. Morrison Vs Truth with no holds barred is bound to be entertaining.
---
Matt Cross Wanted Dead Not Alive.
National Wrestling Federation: The Investment
Can NBC's new stake in wrestling survive?
http://www.wrestlingforum.com/booker...nvestment.html
Re: OML presents WWE 2011: Era of Prominence
---
I haven't really read much, if any of this thread, but I've always thought you've had some sort of potential to succeed at this. Having long term storylines planned out is a huge plus. Hopefully they all work out, because they make for compelling reading.

I like the idea of the shortened PPV schedule as well. It allows PPV's to seem more important, and gives you an adeqauate amount of time to build things up. I'd probably be a little more confident if you had actual dates set out though, rather than just rough ideas. It just seems a little to tentative for my liking. Prove me wrong though, bud. I'll be trying to keep some sort of eye on this from here on in.
---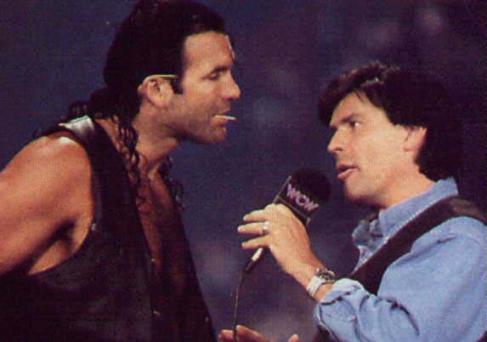 Re: OML presents WWE 2011: Era of Prominence
---
The past few weeks in the WWE have been very stressful for the chairman. Since CM Punk won the WWE Championship at Money in the Bank and left the title things have been turned upside down. Vince McMahon has fired John Cena, no longer has a WWE Championship belt, and has many of the superstars questioning the intelligence of the new title and the chairman himself. Two WWE championship matches have gone undecided in as many weeks on Raw due to numerous interferences the latest from John Cena this week, who will not be seen anytime soon. At the end of Raw, Triple H returned and tried to assist his father in law with this turmoil. Vince being his stubborn self wanted no help and made a 20-man battle royal to crown a new WWE Champion this week on Raw!!

A big issue has been that the real WWE Title is with CM Punk. Many disagree with McMahon just sweeping this under the rug. By him creating a new title and throwing out the prestige and history of the WWE Title many feel CM Punk is getting what he wants. McMahon would rather pretend Punk never existed. But after what happened on Raw this week that is no longer an option. After McMahon announced the battle royal, CM PUNK made his return!! McMahon was outraged how Punk got into the arena? Still to this moment nobody quite knows how Punk got into the arena and out onto the stage? Once there Punk told McMahon he would give him back the title. McMahon cautiously went to get back what was his from the man who left his company. When McMahon reached to grab the title, CM Punk kicked the chairman in the back of the head!!! Punk stormed off running, as Triple H and other medical officials checked on the chairman.

We can now update you that Mr. McMahon has suffered a concussion from the kick to the back of the head. McMahon spent Monday Night and Tuesday morning in a Virginia Hospital. McMahon is currently at home resting up his injuries. It is unknown at this time if McMahon will be at Raw this week and how he will deal with this whole situation, but we can confirm this message from Triple H. Triple H says he will be at Raw this week and he has a message for CM Punk. What will Triple H have to say to a man who not only injured a family member but is single handedly ripping apart his company from the inside.


WWE Superstars
Wells Fargo Center, Philadelphia, Pennsylvania | July 28, 2011

• Backstage Josh Matthews interviews the WWE Tag Team Champions, Michael McGuillicutty and David Otunga, along with fellow Nexus member, Skip Sheffield who returned this past Monday. Otunga says that Nexus is once again an unstoppable force and god help anyone who gets in their path. Teddy Long walks by and tells them that they should pay attention to this episode of Superstars. Teddy is announcing a 4 team mini tournament with 2 matches tonight and the finals on Raw with the winner earning a championship opportunity against Nexus. Otunga and McGuillicutty don't look to happy, but Sheffield moves in front of them and stares down Teddy breathing very heavily. This intimidates Teddy, as Sheffield lets out a smirk.

• #1 Contender WWE Tag Team Championship Semi-Final: Kofi Kingston & Evan Bourne defeat The Usos @ 12:46 in a very entertaining fast paced match. With all kinds of wild spots and double team moves. It was the type of match you expect to see on Superstars every week. The crowd was very into the match. In the end, Kingston hit a Trouble in Paradise kick on Jey Uso and tags in his partner who hits Air Bourne to pick up the win and advance to Monday.

• Josh Matthews interviews Ezekiel Jackson about the Smackdown Summer Showcase. Jackson said despite losing the Intercontinental Championship last week, he is ready to move onto bigger and better things. He plans on winning the showcase and becoming World Champion. He says this starts tomorrow when he runs over whoever is in his path to qualify. New Intercontinental Champion, Cody Rhodes and Ted Dibiase come onto the screen. Rhodes has a huge smile on his face and pats his title. Jackson looks pissed. Cody says good luck with that because his opponent is going to be Ted Dibiase. Jackson smiles and says "Tomorrow night I will make you wish your daddy used some of his millions to buy protection." The crowd laughs as Jackson smirks and walks away.

• Alex Riley defeats Curt Hawkins @ 5:06 in a standard match to make Riley look stronger and build momentum going into the 20 man battle royal. Riley wins the match with the Riley Elevation lifting DDT.

• Raw rebound highlighting the ending of the show with Punk kicking Mr. McMahon in the back of the head. The announcers inform us Mr. McMahon has suffered a concussion.

• # 1 Contender WWE Tag Team Championship Semi-Final: Jack Swagger and Drew McIntyre defeat Mason Ryan and Santino Marella @ 8:43. When Marella comes out and announces that Vladimir Kozlov will not be able to compete tonight but he has found a new partner. It is Mason Ryan! The man who was beaten down by Nexus on Raw. In a very competitive match, the ending comes when Mason is in control beating down both men, the tag champions come down the ramp. Otunga hops on the apron distracting the referee and from behind Sheffield hits the backpack stunner for the second time this week on Mason Ryan!! Swagger covers the fallen Ryan and picks up the win. Nexus just like Raw this weeks stands tall over Mason Ryan.




Friday Night Smackdown
Wells Fargo Center, Philadelphia, Pennsylvania | July 29, 2011

With the biggest event of the Summer fastly approaching, this weeks Smackdown will have major implications on the event. With several important high stakes matchups on tab, this is a can't miss edition of Smackdown.

Christian controversially won the World Heavyweight Championship at Money in the Bank from Randy Orton by pushing the Viper's buttons and getting himself disqualified. This coined Christian "The smartest World Champion in history." Orton however is hell bent on getting a rematch. Meanwhile no superstar has been more destructive and dominant over the past few months than Mark Henry. After breaking the Big Show's ankle at Money in the Bank last week he defeated Orton's team in a tag match on Smackdown by pinning Kane. Tonight on Smackdown we will determine the number 1 contender for Christian's World Championship at Summerslam. The Viper, Randy Orton faces the World's Strongest Man in a can't miss showdown!

Also announced last week by Smackdown GM, Teddy Long is the Smackdown Summer Showcase. It will be a 6 man elimination match where a new superstar will enter every five minutes. Whoever is the last man standing will earn a World Title Match at Night of Champions. This week on Smackdown we will have 4 qualifying matches!!!

Last week on Smackdown, Cody Rhodes became the new Intercontinental Champion by defeating Ezekiel Jackson. Cody will play a big part on Smackdown this week as he prepares for his qualifying match next week, he will support his buddy Ted Dibiase in a qualifying match against Ezekiel Jackson. Also Cody promises to address the WWE Universe on his title victory.

Last week Daniel Bryan annoucned he will be cashing in his Money in the Bank briefcase at Survivor Series. Bryan says until then he is more focused and driven than ever to succeed. What will Bryan do next as he looks to gain momentum towards November.

~ Confirmed for Smackdown 7/29/11 ~

# 1 contender match for World Title Shot at Summerslam
Randy Orton vs Mark Henry

Smackdown Summer Showcase Qualifying Matches
Sheamus vs Kane
Heath Slater vs Justin Gabriel
Ezekiel Jackson vs Ted Dibiase
Wade Barrett vs "Mr. Money in the Bank" Daniel Bryan


There you have it. Working on Smackdown now. It will be in a recapped form but still decent in details. Im using Wolfys format for his Raw he just posted. Stay tuned as things are gonna start getting good especially on the Raw side. I'm excited to post hope you guys enjoy and leave some feedback
Learning to break kayfabe
Join Date: Mar 2013
Location: Indianapolis, IN
Posts: 29
Points: 0
Re: OML presents WWE 2011: Era of Prominence
---
I enjoy your take on Punk so far. I always felt they pulled the trigger on bringing Punk back too soon in real life without capitalizing on it. You brought him back a bit too quickly as well, but you did so in a far more impactful way, so it's an easy thing to overlook. This will be fun to see how Cena plays into your new plans for this too.

Even though the teams in the tournament themselves are exactly strong (more 2011 WWE's fault than your own), I like the tournament you're doing. Tournaments for title shots immediately help title credibility, even if it's just a tiny boost for now. Air Boom to win the tourney.

Orton should beat Henry, as much as it pains me to say. He needs to get his rematch in.

Will be reading from this point forward.
Moron
Join Date: Jan 2010
Location: South Beach, Miami Florida
Posts: 681
Points: 0
Re: OML presents WWE 2011: Era of Prominence
---
I have finally read through this, and I'm enjoying it to be honest. I'm liking what your doing with C.M Punk and I also enjoy the Vince McMahon storyline. Can't wait to see the Summer Showcase out of the eight men that are in those four qualification matches I'm pulling for Wade Barrett, or Daniel Bryan. But he doesn't need to win this match as he already is Money in the Bank. Good Luck I'll keep reading this for sure.
Learning to break kayfabe
Join Date: Jan 2013
Posts: 105
Points: 13
Re: OML presents WWE 2011: Era of Prominence
---
I really like where this is headed man. Punk's going in the right direction, really good choices there. The Cena being fired angle is interesting, I think that if you keep writing it well, it'll end VERY interestingly. I also really enjoyed the Mysterio vs. Del Rio vs. Miz match on Raw, that was awesome. Loved when Punk nailed McMahon in the head after Raw, as well. A Triple H/Punk feud? That would be good. After Ezekiel Jackson's promo on Superstars, I hope he gets a push, that would be awesome. Always been a fan. As far as Smackdown, Orton/Christian is a good feud, I'd like to see that carried on for a few months at least, maybe with some role reversal as well. Awesome BTB man!
Re: OML presents WWE 2011: Era of Prominence
---
Raw was good. The long text of recap from last week's show at the start of Raw are kind of unnecessary, i suppose you can sum that up in a paragraph. Starting off with the triple threat for the vacant WWE Championship was interesting. It was a good back and forth match and I wanted to see a winner here but I can understand why you went with a no contest. Cena is pissed and he's come out to spoil Miz's big moment of winning the belt. I think Mysterio's feud with Del Rio will continue.

I wonder how long you keep Cena out for, will HHH bring him back or will he continue to do run ins during matches. I think he will show up in the battle royal next week to eliminate someone, maybe The Miz?

I liked the McMahon segments throughout the show. It was interesting reading all the points he made about the status of the WWE Title. It seems realistic how you've portrayed McMahon's on screen character here so that's a good job done here.

One thing that I think you should do is align the text for your match write ups, It would look a lot better and organized. I just want to say that I don't really enjoy reading long shows as they are difficult to get through but I liked what you did with the promos and the matches. You kept my interest here throughout the show.

R-Truth vs Riley was good. R-Truth was great as a heel and If only the WWE kept him heel longer. I hope you keep R-Truth heel for a long time, his crazy heel character was awesome. I think he will be one of your best characters in this thread. I enjoyed Morrison's return, good to see him back. He has unfinished business with R-Truth, R-Truth put him out of action so he's coming to get his revenge.

The 6 man tag had good action, I really thought the heels would win this but Kofi's team won. Looks like Ryder is going to feud with Ziggler, should be good. I can see Ryder winning the US belt soon and hopefully you move Dolph into the main event.

I liked the backstage segment with Ryder running into Vince. Ryder having a long interaction with Vince, pissing the owner off by standing up for Cena and then Vince punishes him. This all then leads to Mark Henry destroying Ryder. Henry needs to look dominant so he's gone through Ryder easily. I expect Orton to beat Henry but Henry will probably be challenging for the world title at Night of Champions.

Mason Ryan vs JTG- This match doesn't excite me but at least it was kept short. I was not a fan of guys like Mason Ryan, JTG, Otunga or Joe Hennig. Ryan quickly goes through JTG and then destroys Hennig and Otunga. Skip Sheffield returning is interesting. It looks like the Nexus stable will continue on and will probably lead to more members joining the group. I was not a fan of his when he was in Nexus but when he became Ryback that's when I started to like him.

My favourite part of this show was the final segment of the show between Vince and HHH. Solid segment. Vince is trying many ways to crown a champion here and now his latest idea is a battle royal. I enjoy battle royals. Good to see HHH back, HHH back on tv will be very interesting. HHH coming back to make Vince realise that he can't let Punk get away with this. HHH made a lot of good points here that Vince needs to get the belt back. Now that Punk is back, I think the battle royal will still go ahead and it will be a #1 contenders match for Punk's title. Since HHH is in the match, I think he will win the battle royal and will challenge Punk for the title at SummerSlam. Unless Cena does a run in and wins the battle royal and HHH is the ref for Punk vs Cena II at SummerSlam. I'd prefer to see HHH getting the SummerSlam title shot. I'm a HHH fan so I'd like to see him beat Punk but a lot of Punk fans were angry that HHH beat Punk in real life at NOC. I think you will have Punk going over HHH here. So yeah you will rewrite history haha. btw are you going to bring Kevin Nash back?

Overall Raw was a good show. I do think you could have cut back on some of the returns as a lot of stars returned on this show. Also the show probably needed an extra match as you had two quick bouts on the show but anyway as the show was more promo heavy maybe next time you will have more matches. The WWE Title situation throughout the show was interesting. The segments were really good.

SummerSlam looks great so far, the poster is awesome. I like your show banners. Good to see most of the stars featured on the SummerSlam poster. SummerSlam looks promising, I hope you have Christian retaining the belt as he deserved a good reign. He was booked horribly during his run as champion. The No Holds Barred match between Morrison and R-Truth should be fun. Keep up good work in this thread (y) you have lots of potential here to create new stars and elevate them.
---
WWE 2004: The Road to WrestleMania 21
Click here to read
Re: OML presents WWE 2011: Era of Prominence
---
Thanks everyone for the feedback. To answer you kintaro I will be making my shows shorter. Especially smackdown this week is recapped similar to Wolfys latest raw. Glad u enjoyed though. As I said this wwe title situation is going to lead to something big that will loom over this thread for a while. Smackdown should b up soon if we could get one more comment so smackdown could b at the top of the next page that would b great lol
Re: OML presents WWE 2011: Era of Prominence
---
For SummerSlam I can't wait to see Christian's championship celebration and here is hoping you give Christian at least a longer title reign than what he had in real life because I feel like Christian would benefit a lot from being "the man" on his show, on the A show, Smackdown especially as its champion because Christian can make a great top heel especially with the belt

And as for who will face him at SummerSlam, #1 Contender's Match between Mark Henry and Randy Orton, I see it being Orton who wins going on to SummerSlam to face Christian because I see Big Show or someone else getting involved distracting Henry long enough for Orton to take advantage

Summer Showcase matches with Sheamus taking on Kane, Ezekiel Jackson taking on Ted DiBiase, Wade Barrett taking on Bryan, and Heath Slater taking on Gabriel, out of these 4, I see Sheamus, DiBiase, Barrett and Slater advancing and out of the 4 of them, who will get a championship match at NOC? I am calling it somehow Sheamus will win going on to NOC to face Christian or Orton

As for Rhodes I wonder who his new #1 Contender will be for his IC Title

But as for Daniel Bryan, I hope he cashes in his briefcase much earlier like cashing it in after Hell in A Cell right after the Cell match is over, he comes in briefcase in hand with a referee cashing in
Posting Rules

You may not post new threads

You may not post replies

You may not post attachments

You may not edit your posts

---

HTML code is Off

---