Moron
Join Date: Jan 2011
Posts: 749
Points: 0
Re: Presenting AOW: Art of War Wrestling - The Greatest Affair
---
Nah, if anyone messes Rey and Helms up, I smell it being the Mercenaries. I doubt sincerely that Hassan and Mysterio are done just yet.

Otherwise, the show looks to be another solid, though I do wonder why so many bookers love Samoan tag teams. Pacific Pain, Sons of Samoa....now these guys....ok, so three isn't a super huge amount.
Re: Presenting AOW: Art of War Wrestling - The Greatest Affair
---
Cue the random musings.
To say I've had a sporadic interest in this thread (and the section in general, guilty) would be an understatement, but I think I have the basic gist of what's going on. Jericho, Heyman, Big Show/Wight as a monster of epic proportions, Foley, Hacked by Helms, Danielson... Joe and Finlay killing each other... something like that. The shows I've managed to read have featured an excellent control of language, however, as well as good booking as far as I've seen; not to mention you've clearly got the agenda to keep every element of your show with an innovative storyline attached to it, and you're working within the boundaries of a brand new company quite well. I would agree with whoever it was (I'll assume Stoj from memory) that maybe you've got a PPV a little speedily, but not only is it not the worst of BTB crimes, but you've countered it with some good realism in the above notes, what with the ticket sales being below-par, etc.
In terms of the show itself, from what I can see, the Torrie Wilson angle is nicely done. One of the things (cue rambling) I love about good storylines, wrestling or otherwise, is particular flaws with certain characters and how others exploit them. Torrie's naivety/over-trusting nature is one of these, and you've made good use of it here. Similarly, the Christian character development is stellar - the 'man on the moon' promo gave me chills when I first read it, though I find it slightly annoying I've used a similar metaphor in my latest Orton promo for my next show, so I feel I'll just offer the disclaimer that I'm not plagiarising, when you see it. Regardless, I think the Christian angle is deliciously mysterious, and I can't wait to see what he does to get himself back on the show. Very intriguing; very involving, even.
The A.O.K.O match was brutal, no doubt. The ending was sick in its own way, but you wrote it so believably that it was easy to become immersed in it as a reader; I found it easy to 'root for' Joe as the face, and it makes his narrow loss all the more powerful. Finlay as the number two heel would certainly be refreshing, considering he's rarely in such a highly-ranked position on the ladder in most BTBs - I'm also a big fan, so I welcome it. Will be interesting to see what you do with both men when they return, especially if they go their own ways after such a bloody feud.
Your tag team division is looking pretty meaty, too. Plenty of talent to use in this 'Tag Team Halloween' concept, which follows the theme you've got going of several unique gimmicks for the new company, yet none of them are too over-the-top or conversely, cliched, like the WWE often manages to do. That show should be terrific considering you've got some brilliant match-ups on tap, and you're clearly interested in keeping the division fresh by bringing in guys like Afa and Siaki, too. Excellent stuff.
Don't want to forget the World Title scene, of course; looking for a big promo in this contract signing between RVD and Jericho on this next edition of Oblivion. I also hope you play on this Jericho-Foley angle, too; maybe a theme related to how Jericho can't focus on his title match with RVD
because
he's so wrapped up with Foley's management skills? I suppose it would give you freedom in the future to give the belt to RVD and get a Jericho-Foley feud going in the ring in some kind of brand new gimmick match where they can bash the hell out of each other. Of course, that's just one possibility, so I look forward to seeing how the entire storyline branches out towards (and in the aftermath of) World Ablaze.
Told you my random thoughts would be twice as random as yours. Hyped for the show.
Finally Out of Cutey Sleep
Join Date: Jul 2006
Location: The Fountain of Dreams
Posts: 2,020
Points: 9
Re: Presenting AOW: Art of War Wrestling - The Greatest Affair
---
10.24.07

The Hammerstein Ballroom – Manhattan, New York City, New York
*Final 1-Hour Edition*
"Attack by Stratagem"
Quote:
"The Fight Song" by Marilyn Manson vignette

(Whispers)

Fight…

RVD leaps for a Frog Splash…

Fight…

HBK cocks back, Sweet Chin Music ready…

Fight…

Finlay and Joe go at it on the balcony…

Fight…

Paul Wright lets his fist fly…

*Opening guitar riff*

You'll never grow up to be a big rock star

The camera goes from the ground up to the face of Paul Wright in his debut Week 3

Celebrated victim of your fame

Shawn Michaels comes down the ramp, pumped up from the main event of Week 1

Just cut our wrists like cheap coupons

Christian searches for his peeps from Week 5

And say that "death was on sale today"

Bryan Danielson raises his hand, singing his theme from Week 4

*Upped tempo, heavier sound*

And when we were good

Jack Evans' double moonsault from Week 1

You just close your eyes

Joe leaps through the ropes onto Kenny from Week 3

So when we are bad

Paul Wright chokeslams Michaels through the table from the Supershow

We'll scar your minds

A replayed shot of Shelton Benjamin German suplexing Paul London off the ladder from Week 4

Fight!

SWEET CHIN MUSIC!!

Fight!

WARRIOR'S WAY!!!

Fight!

MUSCLE BUSTER!!!

Fight!

SPEAR!! SPEAR!!

Fight!

CHOKESLAM!!!

Fight!

WORLD'S GREATEST DOOMSDAY DEVICE!!

Fight!

619!!!

Fight!

FIVE STAR FROG SPLASH!!!

*Final cymbal crash*

Chris Jericho holds the AOW World title high in the air


***

We ascend over the white hot crowd in New York, but before long we hear a sound we haven't heard in roughly a month…as "JUST CLOSE YOUR EYES" goes across the sound system now, as Christian Cage comes through the blood red curtain, his eyes also blood red. Cage is actually getting a very mixed reaction, as the smarky crowd seems to approve of his vicious assault of not-so-Hammerstein favorite Bobby Lashley at the Supershow several weeks ago. There's still a good bit of heat in there too, with a wall of security walking behind him. They stop about halfway down the ramp, Christian looking displeased at them. Christian comes down the ramp in a tattered pair of jeans and the same dark hooded Captain Charisma jacket he had on when we saw him last. It too looks like it's taken some wear, and before long we realize that Christian hasn't changed clothes at the very least when we last saw him, which was two weeks ago. He has a mike in his hand, his dark-circled eyes glaring intensely at the canvas when he finally choses to speak.
Christian Cage:
I was brought here this week under the conditions that I only come out here and say what I have to say and then leave because I am still on indefinite suspension.
~Cage darts his eyes towards the wall of security on the ramp
Christian Cage:
And those men in their clean white coats are the ones who are here to make sure I talk…but do nothing else. Like bash in more skulls of pompous fellow wrestlers.
~There's a bit of a stir in this before a mixed reaction at the end of the phrase. "Men in their clean white coats…?"
Christian Cage:
I am to immediately be escorted out of the arena when I'm done, but that's the thing. I will never be done. I will never be done unless this entire 'bigger picture' comes to light and is eviscerated from this company!
~Cage shouts this, but no one's quite sure what he's talking about still
Christian Cage:
People have been questioning my…mental state of late, but they've questioned my actions even more. "Why, Christian? Why did you attack Bobby Lashley the way you did?" Not that any of you care about me anyways, but my reasoning is simple – Bobby Lashley is not here for the competition like he says he is. He is here for something much, much more sinister and collaborated and I had no choice but to get rid of him and save this company.
~Christian's finally getting the heat he's been attempting to. Christian seems to be getting more jittery with each phrase…
Christian Cage:
I had to stop it, don't you see…? You all may hate me for it, but someone had to do it, don't you see? I figured out his plan. And I wanted to stop it before it even had a chance to begin with! Somebody had to do it! SOMEBODY HAD TO SAVE THIS COMPANY!!!
~Cage seems almost feral, foaming at the mouth, his intense stare becoming one of sheer anger, with the security guards beginning to move towards the ring to potentially detain him…
Christian Cage:
STAY BACK!!! I'M NOT DONE!! I'M NOT FINISHED!!
~The guards stop their advance
Christian Cage:
And as I carried with me the heavy burden of saving this young company, some may say…I cracked a little. Just a little. A teeny bit. All those people who said I was wrong and said that there was nothing more to it than I was going crazy. No one listened to me…except Torrie Wilson.
~Christian's intense demeanor eases up tremendously as that name exits his lips
Christian Cage:
Torrie….she didn't agree with me on everything…but she was there. And if my understanding is correct, Torrie tells me that this company's own representative champion, Chris Jericho, has something up his sleeve.
~Big heat at the name of Jericho
Christian Cage:
And I made a frightening discovery…that quite frankly…I couldn't begin to describe. A sickening twist to an already disgusting situation.
~Cage's eyes are still crazed, staring a hold into the canvas in intensity
Christian Cage:
When you're the man on the moon…you see everything. You put up with everything. You know everything, but no one ever benefits from it. And from my perch on that always-forgotten satellite, I realized that I've done something most people take their entire lives doing. And that's that I've truly found myself. And after staring at a distance for so long…I've found out each and every one of you people and you people in the back.
~Cage only looks up to point around him and towards the entrance ramp, his eyes drifting right back to the canvas intensely
Christian Cage:
I know that you people don't know what you want when you get it. I know that each of you – yes, I'm looking at you, security – hate your job as much as you hate me talking about you hating your job right now. I know that Rob Van Dam is oblivious to the bigger picture because all he and a great deal of the other roster can see is the AOW Championship and nothing past it. I know that Chris Jericho has seen far beyond the AOW title from Day One. I know that Bobby Lashley has looked far beyond it as well. But what disgusts me the most is knowing that Paul Heyman cannot.
~A bit of 'oooh' heat, as Christian delivers this very passionately
Christian Cage:
But I'm done with all that now. I'm done with hanging back and studying everyone and everything from a distance. It's time to let you folks in on all the knowledge I've accumulated and where it's all headed. And folks…what I've come here to tell you today will make you hate not only your AOW Champion, not only Bobby Lashley, but the so called 'Good-Judgment Chairman' himself, Paul Heyman!
~There is a shocked rain of heat at what this allegation might be
Christian Cage:
And no, this isn't sour grapes from my suspension or unfair judgment. In fact, Paul Heyman, I am INDEBTED to you for truly giving me an opportunity to take a step back and see everyone, especially you, for who they really are!
~Christian, completely seething at this point, is looking towards the entrance stage as if to talk to Heyman backstage. He has a very crazed grin on his face, very uncharacteristic from the smug Christian smile we've always seen, perhaps almost too much like his friend Edge on his worst days…
Christian Cage:
The man you all respect is a sham. That's because the very owner and founder of this company is trying to –
~Cage is cut off by the sudden sound of Paul Heyman himself, who appears on the entrance stage, not moving from there
Paul Heyman:
THAT'S ENOUGH!! Christian Cage, you have had your say and now, gentlemen, if you will, please remove this suspended competitor from my ring!
This garners a very great mixed reaction, as Christian is bullrushed by security, his arms pulled apart and beginning to get dragged out of the ring. The potentially crazed 'Man on the Moon' fights back like a rabid dog, trying to writhe away and even bites a security guard. Christian yells towards the stage that "SOMEBODY HAS TO SAVE THIS COMPANY!!" They maintain their grip however and start to pull him back when…
Paul Heyman:
…unless…Mr. Cage, I have a little surprise for you.
~The guards and Christian stop their struggle, the guards still holding onto Christian
Paul Heyman:
See, the main reason I brought you here was there was someone who wanted to see you worse than anything in the world. Even if he wasn't even medically cleared to be here tonight.
~A sudden look of realization hits Christian as he knows who this is…but he's struck from behind by…BOBBY LASHLEY!!! IT'S LASHLEY!! The man whom Cage destroyed just over a month ago assaults Cage from behind to another huge mixed reaction! Security tries to stop Lashley's subsequent beatdown, but Lashley simply roars and throws all the guards off his body! Lashley then picks up the microphone Cage had.
Lashley:
Christian…I'm done trying to convince you about why I'm here…so now one of us can't be here…while the other one is…
~Lashley is breathing hard from his furious beatdown
Lashley:
I may not be completely medically cleared to compete…but I need to clear this company of you. That's why at World Ablaze, it's gonna be you and me…in an I QUIT MATCH!
~The crowd gives a pop to this announcement
Lashley:
And Christian…whoever loses…leaves AOW. FOR GOOD.
~There is a substantially larger reaction following this announcement, the crowd still very much mixed in reaction. As we cut away to our first commercial, we still get the image of Lashley standing over the top of Cage with the microphone in hand, staring very intensely down at the man who nearly killed him a month ago…
**COMMERCIAL BREAK**
Upon our return, we are instantly greeted by the sound of "IT'S TIME (HACKER'S REMIX)", as Gregory Helms comes on down the ramp with the AOW Cruiserweight Championship that he literally stole from Bryan Danielson. He's got a very determined look in his eye as he rolls in the ring to a great amount of heat, all the while, we get to hear from JBL and Joey for the first time tonight.
Joey Styles:
Ladies and gents, we welcome you to yet another exciting edition of Art of War Wrestling's Wednesday Night Oblivion, I'm Joey Styles alongside my partner John –

JBL:
Will you shut up? Can't you respect the best cruiserweight in the world when you see him by not runnin' yer nerdy little flapper?

Joey Styles:
John, it's not really in my job description to sit here and say nothing. I'm a play-by-play announcer. All I do is talk. And hell, it's why you're here, John. If we don't talk, we don't get paid.

JBL:
Alright smartass, there's two things wrong with what you just said. One – I'm John "Bradshaw" Layfield. I got money rollin' in for me whether I do anything or not. In the minute it took you t'be a smartass, I proly made a good ten grand. An' two – I'm John "Bradshaw" Layfield. I get paid to talk because I am a Commentator…Gowd.

Joey Styles:
That may be, probably not, but ladies and gentlemen, the Hammerstein is still rocking from the announcement we heard just moments ago, where the suspended Christian Cage came to the ring, tried to explain his actions since he came here to AOW, and perhaps shed some light on somethings he'd noticed while he was away, but he was cut off by Paul Heyman who gave way to another returning competitor, Bobby Lashley, who announced that those two men would face off at World Ablaze in an "I Quit" Match, with the loser being banned from the young company.

JBL:
Heyman didn't cut anyone off. He SILENCED Christian Cage! Christian was proly about to tell us how many more horrible things he'd figured out about this terrible AOW management folk, when Heyman came out to stop him from sayin' exacly what was on his mind! That man may be crazy, but he has his First Amendment right to berate this administration!!

Joey Styles:
What about Lashley's –

JBL:
Don't get me started on that nimrod. I understand a guy took you out you gotta get him back, I understand, but Lashley went behind Christian's back and beat him down because he was talkin' the truth about him too! He hasn't been cleared medically, so he shouldn't've even been here!!

Joey Styles:
Oh good gracious. Well whatever the reason we're here, the reason why Gregory Helms is here was posted on aohdubya.com, the official website for all things AOW in a video response to Bryan Danielson's comments last week about things in the ring being the only things that mattered.

JBL:
To an extent, I have t'agree with Danielson about that, but he made the mistake of tellin' Gregory Helms he couldn't do somethin'. You don't tell that to a man with as much pride as Greg. So now t'night, Helms is gonna do what Bryan Danielson couldn't do an' that's beat that damn jumpin' bean, Rey Mysterio.


"619 ESTA VIVO"
is heard for the first time in a few weeks as Rey Mysterio bursts through the red curtain to a great ovation from the New York crowd, his knee still bothering him a little, but doesn't make it impact him much as he rushes down the ramp to face Gregory Helms by the same rules he faced Danielson under – Yin v. Yang.

OPENING CONTEST
~YIN V. YANG~
Rey Mysterio v. Gregory Helms


Helms doesn't want to waste any time here, immediately jumping on Mysterio and forcing his entrance music to be cut, as Helms wildly clubs on the cruiserweight legend as he tries to slide into the ring. He gets from off his knees and starts stomping on Mysterio's neck area, forcing Mysterio to roll onto his back before taking his surgically repaired knee and puts it on the middle rope. Helms then backs up a few steps and launches himself over the fallen Mysterio…and throws his entire body onto the leveraged injured knee!! Helms is quite obviously looking for blood in this one, making sure to take down Danielson's friend and potential mentor and take him down with absolute authority.

Helms sickly smiles as he gets from off the middle rope before turning towards the downed Mysterio with a cover – 1…2…3-NO!! Mysterio won't go down so early! Helms then rabidly pulls Mysterio to his feet only to whip him violently into a corner, where he follows him and bashes him with a full-speed elbow that Mysterio groggily drifts out of the corner from right back into Helms clutches with a high-angle backdrop. Helms tries for another cover – 1…2…3-NO!! Helms doesn't have time to be disappointed as he brings Mysterio to his feet yet again and puts him in a front headlock, but before he can execute anything, Mysterio starts bashing at his ribs to stop him. Helms is forced to let go, as this gives Mysterio a moment to adjust his mask before rebounding off the ropes behind him and hitting Helms with some spinning headscissors that send Helms…right onto the middle rope! Mysterio looks to dial it up early…619…NO!! Helms dodges the move entirely, sending Mysterio all the way around and standing on the apron. Helms wrestles with Mysterio's mask for a second before falling with a low dropkick to Mysterio's knees that forces him not only to fall off, but his face to ricochet off the ring lip.

Helms follows Mysterio outside, taking advantage and looks to try a vertical suplex to the padded outside…but Mysterio hooks the leg to prevent this. Mysterio turns Helms a little afterward, pushing Helms back-first into the announce table!! Helms' face tells of the pain of hitting the jutted edge of the table, as he takes a few steps forward. Mysterio, meanwhile, quickly leaps onto the apron and leaps down towards Helms…seated senton!! Seated senton on the outside!! Helms' head whiplashes a good bit off the outside! Mysterio looks to be back in this thing! He waits a little bit, stalking Helms until he gets on all fours, after which he nails Helms in the face with a low dropkick!

Mysterio can't cover him outside the ring, so he takes Helms and chunks him back inside before trying to follow Helms, but Gregory rams Mysterio in the gut and doubles him over on the apron. Helms then sees an opportunity…leaps…SUNSET FLIP POWERBOMB TO THE OUTSIDE!!! WOW!! Mysterio takes a flat bump to the outside, the crowd roaring for that move. Helms himself has to lean against the ring skirt to take in what he just did, very marginal 'HOLY SHIT' chants going on in small numbers. But Helms isn't done picking Rey apart, and quickly takes him and throws him into the steel ring steps, knee first! Mysterio goes flipping over the steps, letting out cries of agony in his knee. Both men are making good use of the no count-out rule, but they still can't cover outside. Helms thinks he's got it now, rolling Mysterio in, following him, and rabidly covers – 1…2…3…NO!!! Mysterio won't go down!! Helms is in a tad bit of shock, so he covers again, this time forcing his forearm into Mysterio's face – 1…2…3-NO!!! Still not done! Helms tries again, this go round hooking both legs – 1…2…NO!! Still no good!! Helms furiously slaps the mat and tells the ref to quit his terrible officiating. The ref tells him it was still only two, but as Helms leans down to maybe go for another pin…Mysterio rolls him up!! 1…2…3….NO!!

Mysterio tries to pull a fast one, but an enraged Helms isn't buying it. He grabs Mysterio and forces his knee into his gut before Irish whipping him, but Mysterio ducks under a clothesline attempt, and slingshots off the second rope…launching himself with a springboard crossbody!! He flattens Helms underneath himself for a cover – 1…2…3-NO!! It goes on!! Helms quickly gets to his feet, but he's met with a series of arm drags from Mysterio, quickening the pace, before rushing towards Helms with the inverted bodyscissors into… A DDT!! WOW!! Helms is absolutely spiked into the canvas at that one, giving Mysterio an opportunity – 1…2…3-NO!! Helms has some resolve! Mysterio tries to bring Helms to his feet, but Helms pushes him away, causing Mysterio to bounce off the ropes and rush at Helms with a very momentous spinning wheel kick!! Mysterio with another cover – 1…2…NO!! Helms is able to gather his wits and shove Mysterio off, but he gets to his feet looking very woozy. He blindly charges towards Mysterio, who promptly gives him a drop toehold, causing Helms to fall again across the middle rope. Mysterio looks to dial it up once again…619 CONNECTING!! IT CONNECTS!! Helms goes reeling back center ring, but we can see the impact flares up Mysterio's well-documented knee issues. He takes a moment to tend to it while Helms very wearily gets to his feet. Mysterio springboards off the top rope…dropkick!!! Dropkick in mid-air to Mysterio!!

Helms may have just turned the tide back into his favor, but he takes a moment to recover himself. And knowing Mysterio won't go down easily, he takes the cruiserweight legend and surprises all in attendance by pulling out a turnbuckle powerbomb!! Wow!! Mysterio falls from the impact on the iron post, while Helms falls backward from the weight shift. The crowd is buzzing following the maneuver, getting pops actually is Helms. But again, Helms himself has to recover a bit and can't go for a cover immediately, so he rabidly pulls Mysterio out of the corner before nailing…the Nightmare on Helms Street!! Helms is really moving in for the kill now, finally with a cover on Mysterio – 1…2…3….NO!!! WHAT?? The Biggest Little Man still wants to stand tall!! Helms grabs at the beanie he's wearing and rips it off before almost pulling his hair out, completely frustrated in that he can't put Mysterio away, or perhaps in the fact that he's facing the same problem Danielson encountered when facing him and Helms can't prove he's better than Danielson this way.

Helms awaits Mysterio's recovery now, looking for something he can do. As Mysterio gets to his feet, he tries to grab at Mysterio's weakened knee, but Rey is onto him and with what may be the rest of his energy smashes Helms with the leg fed enzeguiri! Helms drops do his knees on the impact, falling right back into the middle ropes. The crowd is popping heavily, feeling this has to be the end, but Mysterio is very slow to his feet. All the damage taken to his body having mounted, he swallows it all and looks to the crowd for support, the Hammerstein giving a huge pop to what could be another. Mysterio rushes and rebounds off the ropes…SHINING WIZARD!! SHINING WIZARD!!! A MOMENTOUS, CLIMBING SHINING WIZARD FROM GREGORY HELMS!!! Helms counters with an absolutely beheading version of his finisher, as Mysterio has fallen backward and his folded over himself, Helms falling onto his bottom from the heavy rush of the momentum. He hurriedly climbs on top of the folded Mysterio – 1…2…3…!!!

Winner: Gregory Helms at (14:13)


Helms did it!! He's proven he is potentially 'better' than Bryan Danielson!! But he doesn't seem to be done. Helms grabs the Cruiserweight title that doesn't have his name on it and looks to leave, but he gazes next to the belt and sees a steel chair and grabs that instead. He slides it under the ring, but doesn't climb in with it, instead, taking the piece of ring steps that were displaced earlier when Mysterio went into them and takes that into the ring with him. What's he looking for here…? He goes to the downed Mysterio and tears away his theatrical tights, exposing his knee brace on the injured knee. Helms wrenches it loose and forces it down the leg, pulling it off before taking the steel chair and smashing it against Mysterio's exposed joint!! The crowd 'oooh's on the sickening impact, but Helms seemingly isn't done yet. He takes the steel ring steps in hand now…lifts it over the knee…and just drops it on top of the injured appendage!! Helms has almost a sinister look in his eye now as he still doesn't seem satisfied, taking Mysterio's leg and putting it on top of the steel steps…before picking up the chair again. The crowd is buzzing over what's coming next…he lifts the chair above his head…

*FINAL COUNTDOWN*

DANIELSON!!! BRYAN DANIELSON!!! Danielson comes rushing down the ramp to aid his friend and darts into the ring, SPEARING HELMS DOWN AND PUMMELING HIM WITH HARD FISTS!!! The crowd is going wild over the beatdown and rescue, with Danielson beating Helms down to the point where he has the LeBell Lock in…but Helms finds a way to squirm underneath the bottom rope, quickly going to snatch away the Cruiserweight title. Danielson goes against the ropes telling Helms to get his ass back in the ring, but Helms again steals the title and heads up the ramp, merely shouting back that "I proved I'm better than you!! I'm better than the 'best in the world!" Danielson stays behind to mind his friend and mentor, calling for EMTs as we head to the back...


~Backstage


We head backstage, looking at a very big close up of what appears to be a shirt of some sort. When we back away, we can see that the shirt is a black tank top on the body of one of the men who beat the snot out of the Sons of the Dungeon last week, alongside him is the other man. The larger man has his arms crossed, is wearing a black T, has his MMA gloves on, and has a red bandana going across his forehead. The smaller and skinnier one has the same apparel, but minus the bandana. They look directly at the camera, the smaller one talking…


Siaki:
Th' name's Siaki. His name is Manu. We hail proudly from the Isle of Samoa, where real legends are born and made. Not here in the US. Not in Canada. In Samoa.

Manu: (Intensely, almost animal like and inhumanly)
And we…are…SAMOAN FIGHT CLUB!!
~Manu gives a psychotic looking grin following that, eyes wide and teeth fleshing

Siaki:
Yes…we are the Samoan Fight Club. We ain't so much here to wrestle…we're just here to kick some ass. If we win in the process, that's cool. If we don't, that's cool too. Better yet – if we get some gold in the process, that's even cooler.
~Siaki places a hand on his monster partner's shoulder

Siaki:
But don't get us wrong. We're here to compete. But rest assured, if you step into the ring with us, you won't be walkin' out. And we'll beat down whoever the hell we want to. Whenever we want to.
~Manu pounds his palm with a fist

Siaki:
And last week, we made an impact and whipped up on those Sons of the Dungeon. And we wouldn't mind doin' the same thing to American Made, either. 'Cause see the first rule of Samoan Fight Club is always talk about Samoan Fight Club. You guys think you're the only newcomers here who's gonna make an impact? I've said it once and I'll say it again – true legends come from the Isle of Samoa, trained by the legendary Anoa'I family and the Wild Samoans themselves. We will continue their legacy. We are the Samoan Fight Club and –

Manu:
WE DESTROY!!

Siaki:
That's right, Manu. We…destroy.

**COMMERCIAL BREAK**

We return to Oblivion, in the office of GM Mick Foley, which appears to be a somewhat crowded scene at the moment. In the office, we can see Paul Heyman alongside Foley, as well as The Mercenaries and AOW Tag Team Champions World's Greatest Tag Team. We appear to be in the middle of a disagreement.

Paul Heyman:
Now, what exactly is your problem, guys?

Shelton Benjamin:
You know what our problem is! These two haven't done anything to deserve a Tag Team title shot. We face opponents who respect their opponents and who respect the rules o'the game. You two haven't respected anyone since you set foot here and you had Muhammad Hassan buy this title shot for you!

Burchill:
That's some mighty steep accusations there, Shelton. We respect the art of wrestling and we respect those tag team titles enough to get our shots the right way – by simply being better than every other tag team in the world. Better than the so-called World's Greatest Tag Team.

Charlie Haas:
The hell is that supposed to mean?

Brent Albright:
It means whether we deserve anything isn't the question. The question is do you deserve to hold those Tag Team Championships? What have either of you even done since winnin' those things, eh?

Charlie Haas:
Now what's that supposed to mean?
~The testosterone levels are getting very elevated, as all four men are in each other's face to the point where Mick Foley has to jump from behind his desk and squeeze his way between everybody

Mick Foley:
Woh fellas. I love a fight as much as the next guy, but just not in my office. Now Benji, Haas. You guys make a good point. I'm not even aware of how you guys became #1 Contenders.
~Foley points towards The Mercenaries

Paul Heyman:
I named them #1 Contenders. Muhammad Hassan contacted me and convinced me that these two earned their shot. And I wasn't paid a dime, so those accusations are ludicrous.

Mick Foley:
So you bring in Bobby Lashley without even letting me know, and you give these guys a title shot without even telling me? What's the deal here, Paul?

Paul Heyman:
The deal is that we've got Tag Team Champions not doing anything! That's a problem if you ask me!

Mick Foley:
Well maybe you can solve it without letting me know the answer.

Paul Heyman:
Oh har har. Well how about you solve it "Matchmaker Mick"? That's what I pay you to do, isn't it?

Mick Foley:
Hmm…Greatest, you guys think they don't deserve a shot and haven't done anything. Mercenaries, you guys don't think they deserve those titles and aren't doing anything. Now, since I can't really overturn Mr. Heyman's decision…
~Foley glares over at Heyman for a split second

Mick Foley:
…I can't take away those #1 Contenderships. HOW-ever, what I can do is make you guys prove you deserve it. See, Low Jack and the Hooliganz are gonna face each other in just a moment. Now, I'm not saying I'll strip you of your chance or force you to split it, but I'll be mighty impressed with whoever comes out of that match the winner. And hey, I'll find an opponent for you next week at Tag Team Halloween. If you win, you'll be undisputed contenders. If not, you might have to split it with whoever wins tonight.
~There's a noticeable pop heard in the arena, while The Mercenaries don't look too pleased, nor does Heyman.

Burchill:
Yeah, and what about them?

Mick Foley:
Now as for my Tag Team Champions -

Paul Heyman:
MY Tag Team Champions.

Mick Foley:
…the Tag Team Champions need to make a damn nice showcase. So next week, at Tag Team Halloween, you two will be facing the team of men me and Paul here will be overseeing tonight at their contract signing – Chris Jericho and Rob Van Dam.
~There's a big pop heard for this beyond the office walls, but for some reason, Heyman looks even more displeased than before, despite the WGTT appearing to think this is fair

Paul Heyman:
Y'know what, "Matchmaker" Mick? Since you rearrange my #1 Contender's situation, I think I'll set things my way. Let's make a big party out of all this, why don't we? How about next week, the World's Greatest Tag Team defends the AOW Tag Team Championships against Chris Jericho and Rob Van Dam?
~An even BIGGER pop is heard beyond the walls of the backstage area, although the Mercenaries aren't too keen on the whole idea.

Charlie Haas:
Y'know what? That's fine. At least we'll be facing guys who've earned what they've got. Who at least deserve some respect.
~The tag champs simply nod at both GM and owner before leaving, their gold going with them. The Mercenaries can only stand and stare with scowls on their faces giving Heyman a look of 'that wasn't supposed to happen'. Why is that…? But before anything else can happen, there's a knock on the open office door, with Ken Doane and Chris Masters barging in, but Foley and Heyman seem to be on their way out

Ken Doane:
What's this I hear about the 'future being on display' next week at Tag Team Halloween? What's the future of this place without the two hottest prospects in all of professional wrestling? Huh?

Masters:
Yeah! We aren't done makin' an impact! We are this future!

Mick Foley:
I'm sorry, but you'll excuse us, gentlemen, we have a main event contract to look over.
~Foley and Heyman scoot on past the both teams, ignoring any subsequent demands. This leaves the Mercenaries in the office with the team of 'prospects'.

Burchill:
Hey. You blokes wanna make an impact? Come with us.
~All four men exit the room, everyone not Burchill intrigued at what he has planned…


~Back at ringside…


JBL:
That right there is just the epitomy of the absolutely awful management here in AOW completely screwin' everything up at the cost of a great team in The Mercenaries and the future o'this bu'iness!!

Joey Styles:
They're doing the best they can in a very uh chaotic tag team situation, Bradshaw.

JBL:
It wasn't chaotic until they jus' made it chaotic, Joey. You had The Mercenaries, who've been runnin' though everyone they've encountered so far with the terrific young gun in Brent Albright and that 'Ripper', Paul Burchill, takin' on the guys who've put on three of the best matches in AOW's young history in the World's Greatest Tag Team. That was set, undisputed. Now they gotta get their egos in th' way 'cause they don't communicate, they don't know what t'do, an' now everythin's gone to hell.

Joey Styles:
I think you're overplaying this a bit, John.

JBL:
I'm not overplayin' nothin', Joey. Lemme ask you somethin' – what happens if The Mercenaries have to split their contendership? What happens if Chris Jericho and Rob Van Dam beat the World's Greatest Tag Team for the titles next week? What does that leave to happen at World Ablaze? What does that do to the whole tag team scene, huh? Tell me if I'm overplayin' that now, Joey!

Joey Styles:
You're overplaying it, John.

JBL:
I'm gettin' real tired o'yer smart mouth, y'know that?

Joey Styles:
I was completely unaware, John. But I thank you for your candor.

Those intense relations give way to the sound of "THE PROUD WARRIORS (LOW JACK REMIX)" lets loose across the arena, a seemingly new theme, but merely Jack Evans remixing both he and Low Ki's theme music. The team known as Low Jack makes their way through the curtain to a welcome ovation. As seems to be their routine, Evans does a jig to the hip-hop beat of the music, but Low Ki is having none of that, just standing and staring at Evans and wagging his finger before walking to the ring with his serious aura again clashing with Evans more relaxed nature.

It's not too long after they reach the ring that we hear "LONDON CALLING" as the men who pushed the current Tag Champs to their limits in all their meetings in The Hooliganz. London and Kendrick hit their signature preparations before attempting to dash down to the ring…but they're bashed from behind by…THE MERCENARIES!! Both members of the Mercenaries begin pounding on both London and Kendrick, tearing them apart on the stage! Low Jack sees what's going on and dart up the ramp to help their opponents, but they're intercepted halfway up the ramp by Ken Doane and Chris Masters assaulting them head-on!!

The Hooliganz and Low Jack and getting the live beaten out of them, with both Mercenaries chunking both Hooliganz into the Roman-like stone columns that hold up the big screen, downing the tag team. While that goes on, Low Jack are starting to fight back against their attackers, leading them all the way to the ring, but Evans is shoved into some steel ring steps by Masters, eliminating him. Low Ki tries to make his way back into the ring, where he's stalked by Doane. Ki turns to him and roundhouse kicks him in the skull that sends Doane stumbling, but Masters catches him from behind and has in the Masterlock, Masters thrashing the cruiserweight around like a ragdoll and forcing him to collapse. Evans jumps into the ring, stumbling, trying to help his partner, but he's stopped by Doane grabbing at him, holding him long enough for Masters to grab him and hoist him into a military press, which Doane follows with…DOANE-KO~!! ELEVATED DOANE-KO!! ELEVATED CUTTER! Doane jumps up and exalts in excitement with Masters, both pointing towards the top of the ramp at the Mercenaries, who have the only grins we've seen on their faces since the inception of AOW.

**COMMERCIAL BREAK**

We return to Oblivion with Dynasty Champion Muhammad Hassan already in the ring, his music chiming and garnering a great deal of heat. He has a mic in his hand, $50,000 briefcase at his feet, his title over his shoulders.

Hassan:
Last week, I introduced you people to an idea that will revolutionize all of AOW. I opened up my "5-Minutes, $50,000 Challenge". That means that the first person who can defeat me, your Dynasty Champion, will receive not only a shot at my title but this briefcase full of $50,000 cold hard cash. Whoever has my money, gets a shot. It's open to everyone and anyone in that locker room…whose name is not CM Punk. And Punk, you know good and well why. So right now, I'm going to open my Challenge for this evening.

Hassan opens his arms and looks towards the heavens with massive heat before looking towards the entrance ramp awaiting an opponent. The crowd whiplashes into a decent pop, as "STORM LANCING" goes across the arena, as Lance Storm bursts through the curtain and makes his way to the ring, fully clad in ring gear.

MATCH 2
*5-Minutes, $50,000 Challenge*
AOW Dynasty Champion Muhammad Hassan v. Lance Storm
Storm doesn't immediately gun for Hassan, but instead, keeps a bit of distance and he is audibly heard saying "What's wrong with CM Punk?" Hassan just looks at Storm and just says "That's none of your business, old man!" Storm just stands straight up and gets this look of 'yeah, it actually kinda is my business', Punk having been a guy Storm has more than respect for thus far in AOW. The timer on the big screen is going on, already having spent 15 seconds. Some of the crowd catches wind of the conversation and begins a "CM PUNK! CM PUNK!" chant that makes its way around the arena. While that's spreading, Storm locks up with Hassan and quickly grapples around his waist to drive him into the ropes and go back with a victory roll – 1…2…NO! Hassan pops up, but is immediately met with a Storm Superkick attempt, but Hassan ducks his head and darts out of the ring to stall, or according to JBL, 'take a breather'. Hassan realizes now that the crowd is taunting him with "CM PUNK!! CM PUNK!!" chants, getting incredibly infuriated and shouting at the crowd that 'it's none of your business either, ingrates!"

Storm smiles at what's going on and darts out of the ring and delivers a hard blow to Hassan's spine before throwing him back into the ring. Storm doesn't follow him, instead, hanging out on the apron waiting for Hassan to get to his feet before launching himself with a springboard clothesline! Hassan goes down and Storm covers – 1…2…3-NO!! Hassan keeps the time rolling, but as soon as he gets to his feet, Storm keeps the high-pace going and catches Hassan in a Northern lights suplex! Storm is able to keep the bridge – 1…2…3-NO! Another kickout by Hassan, the crowd fully behind Storm. When Storm bends down to get Hassan this time, Hassan gives a very blatant thumb to the eye that Storm appeared to be blocking the referee's view on. Hassan takes the now blinded Storm and throws his head into a front headlock and quickly nails the spinning lifting DDT. Hassan seems to be looking to turn the tide here, but as Hassan takes a second to access his next move, the crowd is denying him any kind of momentum, starting back up their taunting "CM PUNK! CM PUNK!" chants. Hassan screams for them all to "SHUT UP~!!!" before looking at the clock, two and a half minutes already having passed.

He grabs Storm and flings him into the ropes, Storm ducking under a hard clothesline attempt only to rebound again and nail Hassan with a spinning wheel kick!! Storm with another cover – 1..2…3-NO!! Hassan still won't go down, but Storm's running out of time. Storm then quickly lifts Hassan to his feet and nails what looks like a very stiff snap suplex with another cover – 1…2…NO!! Hassan lifts the shoulder, Storm going for perhaps the Canadian Maple Leaf, but Hassan is able to kick him away and get to his feet quickly. Storm turns back towards Hassan, but is just in time for a hard clothesline for his first cover of the contest – 1…2…NO! Storm easily kicks out, but he's immediately attempted to be whipped into the ropes, but Storm reverses it and whips him instead, getting him in a back body drop on the rebound, the crowd back behind Storm, with Hassan immediately pulling the classic heel move of rolling back outside the ring.

He's growing weary of the constant offense, the crowd pouring the heat on Hassan and again, being taunted with "CM PUNK! CM PUNK!" chants that Lance Storm, who would've guessed, actually smiles at. But he's still got a coward in his sights, rebounding off the ropes and diving through with a suicide dive…NOBODY HOME!!! Hassan turns out of the way and Storm goes crashing into the barricade. Hassan looks over his shoulder at the time, with the timer just hitting a minute. Hassan then takes now downed and winded Storm and throws him back into the ring, quickly following him, then drags him to his feet and emphatically attempts to nail the reverse STO…NO!!! Storm still has it in him to throw some reverse elbows to try and back Hassan off some, but then he seems to roll back and through…Canadian Maple Leaf!! The Maple Leaf!! As a counter to the reverse STO!! The crowd is popping again big for Storm, Hassan crawling for a way to get out of the submission hold. Hassan, still scrambling, maneuvers himself around to where he's able to roll Storm up, the ref counting – 1…2…Hassan grabs a fistful of tights...3…!!!

Winner: Muhammad Hassan at (4:31)


Hassan's music hits and he is handed his title and his briefcase, but doesn't stay, as he quickly darts out of the ring. He's getting a massive downpour of heat for his mannerisms, with Storm only left to have his hands on his hips in frustration. He points at Hassan to get back here, but Hassan is well on his way up the ramp, clutches his money and his gold close to him, some fans still trying to taunt him with Punk chants, but they're very marginal between the immense heat as Hassan darts through the blood-red curtain.


~Backstage, in the Green Zone interview set…



The Miz:
The Miz here, still doin' backstage interviews because…y'know what, I keep mentioning that Torrie Wilson is supposed to be back here doing interviews with me, and that she's completely no-showed because she's worried about her boyfriend or something like that or, and that I'm sick of…it…
~Miz is taken by both arms by the two men he was supposedly going to interview at this time, TJ Wilson and Harry Smith, the Sons of the Dungeon. They lift him by the arms and gently put him down off-screen before one of them snatches the microphone from him and get back into camera view.

Harry Smith:
Me and TJ here…we aren't what you call talkers.
~Both of them glare in the direction they lifted Miz into

Harry Smith:
We don't like people babbling up and down about beating us or claiming they beat us or that they're going to beat us or that they're better than us or any of that.

TJ Wilson:
What we're here to do is do exactly what guys like Bret Hart and Jim Neidhart came to do – prove how good we are by letting our wrestling do the talking. None of this other nonsense.
~There's a pop heard for the mention of the Hart Foundation

Harry Smith:
So last week, we made our debut against the team of guys who've done nothing but bad mouth us since before we even set foot in that ring. Nick Nameth and Jack Hagar did prove something to us. And that's that they're not all talk. But we came to Art of War Wrestling because of that – this is war.

TJ Wilson:
That's right. And wars aren't won on one battle alone. So we'll see you two in that ring next week on Tag Team Halloween. You guys owe us a rematch. And we'll show you what makes real wrestlers.

Harry Smith:
And as for the Samoan Fight Club...we'll be more than glad to pull you into this too


~Back at ringside…


Joey Styles:
Well, the newest tag teams here in AOW certainly making names for themselves. Who you just saw were the Sons of the Dungeon, the team of Harry Smith and TJ Wilson, who were defeated in their debut by another debuting team, American Made, but it looks like next week on Tag Team Halloween, we're gonna get the anticipated rematch between those two pairs of young guns.

JBL:
An' don't forget the Samoan Fight Club there, Joey. Those guys made a hellova statement last week an' they continued to do so tonight, declarin' that they're jus' here to kick some ass and prove a point. Y'know who else just kicked ass for the fun of it, Joey?

Joey Styles:
Who?

JBL:
The APA! Farooq an' Bradshaw! What kinda play-by-play man are you that you don't brush up on your wrestling history?

Joey Styles:
Despite the demeaning manner that was spoken in, and speaking of wrestling history, next week will be perhaps one of the biggest in all of professional wrestling history when AOW leaves its hour long post and we go to 90-minute Oblivions EVERY WEEK!

JBL:
An' what a way to celebrate gettin' more time for more fightin' – Tag Team Halloween!

Joey Styles:
That's right, John, next week on a 90-minute Oblivion, every single tag team in AOW will be in action and every single match will be a tag team match! We've already gotten the anticipated rematch between American Made and the Sons of the Dungeon on tap, and we're sure to the see the in-ring debut of the Samoan Fight Club, but what about that huge Tag Team Championship match where the World's Greatest Tag Team has to defend their titles against the men who will tear into each other at World Ablaze in Rob Van Dam and the AOW Champion Chris Jericho?

JBL:
As excited as I am to see all those guys face off, I can't help but think of how stupid this match came to be with the bickerin' and arguin' between our owner and our General Manager, dumb and dumber. An' you saw the mess they caused earlier in this ring!

Joey Styles:
There was utter chaos earlier, for those unaware, a scheduled match between Low Jack and the Hooliganz with potential title match implications was raided by the team of the Mercenaries and the supposed alliance of Ken Doane and Chris Masters, who tore into Low Jack and London and Kendrick.

JBL:
I'm all for makin' statements and doin' all that, but these two men have argued and disagreed and jus' been terrible at their jobs as it is that AOW is bein' thrown into utter chaos right before the biggest event in history, World Ablaze.

Joey Styles:
And speaking of that chaos, ladies and gentlemen, we've received word on the medical condition of one Rey Mysterio, who had an absolutely fantastic match here earlier tonight against Gregory Helms, but Helms apparently snapped and wanted more than beating Mysterio, perhaps due to his personal ties with Bryan Danielson, severely injuring Mysterio's knee. We've gotten word that he will out of action for at least three months-time.

JBL:
Gregory Helms did indeed prove he was better than Bryan Danielson, but he wanted to prove he was that much better. He didn't wanna just beat Rey, he wanted to mangle'em.

Joey Styles:
I'm sure that has my partner in all smiles, but we'll see who the better man really is when champion Brian Danielson and Gregory Helms battle for the AOW Cruiserweight Championship in just under three weeks-time at AOW's first ever Pay-Per-View event, World Ablaze!

JBL:
An' this match jus' got personal as hell for Bryan Danielson. There's no way he's gonna be able to focus on 'being better' when his friend just got taken out by the real 'best in the world', the real Cruiserweight Champion, Gregory Helms.

Joey Styles:
And we also have a match just pretty much set in stone by word of AOW Owner Paul Heyman, the team of Paul Burchill and Brent Albright, The Mercenaries, will indeed take on the World's Greatest Tag Team or the team of Chris Jericho and Rob Van Dam, however walks out of next week with the titles, for the Tag Team Championships, regardless of the Mercenaries' actions tonight!

JBL:
An' that's finally a great call by Paul Heyman givin' these guys exactly what they deserve, they came out here, eliminated competition, proved they earned what they got, made a statement, an' now they're on the definite path to gold!

Joey Styles:
They don't deserve squat if you ask me, but then there's this match announced earlier tonight from the lips of Bobby Lashley himself – Lashley and the self-proclaimed 'Man on the Moon' Christian Cage have gotten to the point where only one of them can be here in AOW period! They will face each other in an I Quit match, where the loser will be forced to leave this young company!

JBL:
It was absolutely disgusting the way Lashley went an' did this, an' it just goes to show that Christian Cage was more than right about Bobby Lashley bein' here only for himself, but these guys're gonna tear into each other like Samoa Joe an' Finlay did just last week.

Joey Styles:
An absolutely brutal debut of the A.O.K.O Match last week has not gone unnoticed in our main event last week, but our main event at World Ablaze could get brutal in and of itself! AOW Champion Chris Jericho will go toe-to-toe with the man who many believe should be the rightful champion, Rob Van Dam!

JBL:
Whether he should be champion or not isn't the question, the question is does Rob Van Dam have it in him to actually become the AOW World Heavyweight Champion, despite the fact that he's had the wind in his sails an' the General Manager in his back pocket this whole damn time.

Joey Styles:
Regardless of such, in just a few moments, on the other side of the break, we've got Paul Heyman and Mick Foley overlooking the first ever AOW Championship contract signing! Up next, Rob Van Dam and Chris Jericho make their World Ablaze match official and sign on the dotted line!



Quote:

**Video Package**

We see the image of a book, made of papyrus or some sort of medieval material, but it is written in English. We then hear a narrator; the same narrator from the Supershow, that being of a wise, old, but strong man. Oriental strings are again playing in the background.

Narrator:
In the inception of a war, one must first make their cautious and calculated preparations.

A wind blows by the book, forcing it open to a page headlined "Chapter 1: Initial Estimations"

Narrator:
But a great strategist knows when the winds of change blow, one must adjust and prepare for the war ahead…

The camera view fades in to the page, highlighting the phrase "Prepare and you shall succeed. Do not and you shall be destroyed…"

Narrator:
So on October Thirty-First, a long Halloween, the preparations are over and it is time for the true fight to begin…

The wind blows once again, sending pages flipping towards a new page, headlined "Chapter 2: Waging War"

Narrator:
Now is the time to move to the next chapter. Now is time for the art to be perfected. Now is the time for WAR.

The oriental strings suddenly echo into a heavy metal guitar rift, which is followed quickly by a rapid reel of AOW wrestlers flashing, a flurry of punches and kicks coming towards the screen, before a graphic of final, emphatic words busts onto the screen –

AOW WEDNESDAY NIGHT OBLIVION EXTENDS TO 90 MINUTES
October 31st
Until the next chapter…

**COMMERCIAL BREAK**

We return from the break with red velvet lined up in the ring and a table covered in black tablecloth with what we assume to be a contract inside a leather binder on top of the table. Also on both sides of the tables are two microphones. Both Paul Heyman and Mick Foley are standing alongside the table, Heyman with his own microphone in his hand.

Paul Heyman:
Ladies and gentlemen, welcome to the FIRST EVER AOW Championship contract signing!!
~Big pop

Paul Heyman:
Now, Mr. Foley and I have gone to great lengths to make sure this thing goes off without a hitch, as its record in the wrestling world stands, I think these things tend to have a history of not ending in very civil like manners.
~This gets a bit of a chuckle and Foley gives a shrug and a somewhat audible 'what're ya gonna do?'

Paul Heyman:
That being said, should either of these men lay a hand on one another OR if they have a personal representative do it for them, they will immediately be pulled from the match at World Ablaze.
~This covers Paul Wright we assume, but it still gets a chorus of disapproval from the Hammerstein

Paul Heyman:
So without further ado, I introduce to you, the challenger. He formerly hails from the Land of Extreme, he is the Whole Dam Show, Mr. Wednesday Night – ROB VAN DAM!!

There is an enormous pop for that intro, especially in Heyman's signature overenthusiastic voice, and an even bigger one when "WALK" hits the speakers, as Rob Van Dam himself comes down to the ring in his ring gear, but a t-shirt over his top. He performs his signature thumbs which never fail to get a rousing chorus behind it as he shakes both Heyman and Foley's hands before sitting down on one side of the table, awaiting the man he will face November 11th.

Paul Heyman:
And the champion –
~Heyman is cut off by a chorus of boos before he can continue, the crowd already knowing who he's referring to

Paul Heyman:
A-hem. Thank you. And the champion, hailing from Winnipeg, Manitoba, Canadia, he is your AOW World Heavyweight Champion, the self-proclaimed 'Worthy Man' – CHRIS JERICHO!!

Heyman, not as enthusiastic this time, but gets it across to a great amount of heat as "BREAK DOWN THE WALLS" is heard over the speakers, as the devil himself Chris Jericho comes down the ramp wearing a very nice gray suit and a dark red tie, but still wearing his bitter 'holier than thou' facial expression and walk, his AOW Championship slung over his right shoulder. Alongside him is, of course, the best insurance policy in professional wrestling, Paul "The Great" Wright, who is actually in his wrestling gear. When they get to the ring, Jericho tells his beast to stay outside the ring, to which he obliges, as Jericho steps between the ropes and holds his AOW Championship high center ring to another chorus of heat. Jericho smirks at this before setting the title on the table between both he and Robbie V, but doesn't sit down on his side of the table, standing instead. Jericho almost immediately grabs his microphone and stares hard at Heyman.

Chris Jericho:
I don't know what and where the hell 'Canadia' is, but I'm from Winnipeg, Manitoba, CANADA you IDIOT!
~Jericho gets a grand rain of heat once again, although he returns to his very hammy roots for that one

Chris Jericho:
First of all, signing this contract would be a direct violation of all of my own personal 'worthy codes'. That being I will not compete against any unworthy soul, nor in front of any unworthy soul, whether it be you, Rob, in front of these degenerates here in the Hammerstein, or the degenerates in Boston at World Ablaze – I. Will not. Do it.
~Even more heat

Chris Jericho:
Second of all, I will not sign this in front of a pair of degenerates themselves who can't so much as agree on what kind of air freshener should be in the locker room, much less any kind of corporate or widespread decision. I. Will not. Do it.
~Heyman and Foley look at one another momentarily while the crowd gives more heat to Jericho, Van Dam looking very impatient

Chris Jericho:
But alas, you two fools need me. See, this is the wrestling industry, industry meaning business. And see, what you two have done, the decisions the two of you have made have done nothing but drive this company down a road of going out of business.
~More sustained heat while Jericho reaches into his jacket and pulls out a piece of paper with scribblings illegible to us

Chris Jericho:
What I have in my hands here, unworthy souls, is an excerpt from the business report for the first two months of the existence of Art of War Wrestling. Now Heyman, Foley, I'm sure both of you have seen these numbers, read these numbers, and everything surrounding them, quite possibly the reason the two of you are bickering at this very moment.
~The crowd gives a big 'oooh', as both Heyman and Foley's faces transition into picture perfect 'oh no' expressions, Foley's eyes going wide and Heyman, as hammy as can be, opening his mouth wide

Chris Jericho:
Oh, you don't want me to read these do you?

Paul Heyman:
Chris…let's be professional about this…I know we've never seen eye to eye, but there's no reason for any of this…

Chris Jericho:
Know your place, Heyman. Do not question my professionalism. I'm not going to enlighten these people with these abysmal statistics regarding the state of AOW. No, what these numbers told me are basically what I already know and that is that in all the years following the close of your last company and that's that yes, I will admit Heyman, you have terrific visions of this company. You're just no businessman. And neither are you, Foley.
~Heyman and Foley are slightly taken aback by this, with Van Dam seemingly having had enough

Rob Van Dam:
Alright dude, that's enough. These guys're just here to oversee this to make sure we do exactly what we came here to do and that's sign this so I can tear into you at World Ablaze.
~A HUGE pop for this statement

Rob Van Dam:
I didn't come out here to come and hear one of your 'unworthy' sermons and talk down to me and these people. I came here to sign my name on this dotted line and for you to do the same. But y'know, to be honest, I came out here to finally get my hands on you and kick your ass around this ring.
~Another pop

Chris Jericho:
Go ahead and do it, Van Dam. Do it so they'll be no point whatsoever in even signing that contract because you'll be stripped of your #1 Contendership and when World Ablaze comes, you can sit in with the rest of these unworthy souls and watch me hold onto this.
~Jericho lifts his AOW Heavyweight Championship off the table briefly to even more heat.

Rob Van Dam:
Yeah, you'd like that, wouldn't you? No, what I really wanted more than anything was to just be out here with you, Jericho. See, I've been getting this feeling, maybe it's silly of me, that you've been completely avoiding me since I was named #1 contender.
~Jericho scoffs at this remark

Rob Van Dam:
You haven't approached me, you've gone out of your way to go through every approach except through me. Lemme see…you had Finlay try and do your dirty work…you had Wright try and do it on more than one occasion…oh, and you've been complaining up and down to Mick over here about me without ever actually talking to me.
~A bit of 'ooohs' going around

Rob Van Dam:
And now, you wanna avoid this title match completely and say you won't sign because they violate your personal 'worthy codes'? Dude, pardon if I don't get this right, but here in AOW, we are the best professional wrestlers on the planet. We're here to PROFESSIONALLY WRESTLE each other. If you don't wanna do that, I'm pretty sure McDonalds is hirin', dude.
~Small giggles for an overall lame RVD joke, but it's RVD, so he gets pops anyway

Rob Van Dam:
So the question isn't 'is Chris Jericho worthy' anymore. It's simply 'how afraid is he of…ROB…VAN…DAM…?'
~Van Dam lifts does his signature thumbs with only one thumb, the other holding the microphone, the crowd still following him majorly and doing it with him.

Chris Jericho:
Okay. Alright. You caught me. You're onto me. I'm red handed, Van Dam. I've been avoiding you. Because you see Van Dam, I don't want any kind of association with failures. I don't want to associate myself with Heyman because the last company he ran, he ran it straight into the ground…and you helped him, didn't you Rob?
~A GRAND amount of heat for the mentioning of the closing of ECW, which prompts a spreading "ECW! ECW! ECW!" chant that is soon dummied out by audio. I don't think AOW has the rights to use that name...

Chris Jericho:
And this failure of hardcore proportions who is a failure, despite being four people at once. As a matter of fact, Foley, what exactly are you famous for besides falling from twenty feet in the air and, unfortunately, surviving?
~Another grand rain of heat, a reference most definitely the most vibrant image in that other wrestling company's history

Chris Jericho:
But most importantly Van Dam, the reason why I'd be afraid of you is that the three of you men's failures as a whole scare me to the point that the unworthiness level right now in this ring is giving me a headache, so if you gentlemen excuse me I'll be leaving now –

Rob Van Dam:
No, no, no, nonono. Don't you give me that load of crap, dude. What the hell is really your problem? Huh? Are you just that freakin' afraid that I'll kick your 'worthy' ass that badly at World Ablaze, huh?
~Another poor rebel rousing Van Dam attempt, but seeing as how he stops Jericho from leaving, this causes the crowd to pop a great deal

Chris Jericho:
I don't have to explain myself to the likes of you.

Paul Heyman:
No, but you sure as hell had better explain yourself to the likes of ME!
~A HUGE pop for Heyman putting his foot down!

Paul Heyman:
Chris Jericho, if you do not sign this contract, you WILL be stripped of your AOW World Heavyweight Championship! So sit your 'worthy' ass down and GIVE ME A MAIN EVENT!!
~WOW!!! The look on Jericho's face here is priceless, his bitter expression turning into one of legitimate discontent towards Heyman. Where'd thsi come from?? Did the words Christian Cage have to say have something to do with it...? The champion and owner have an intense staredown before Jericho again puts his microphone to his lips

Chris Jericho:
This is exactly what I'm talking about, Heyman. Threatening the only thing keeping your company afloat is not…good…business. Of course, you wouldn't know anything about good business. So that's why I've had to stay one…step…ahead. I'm not gonna sign that contract because what YOU want for this company is NOT what's best for it! The decisions you have made ALREADY have set this fine establishment, that's on MY shoulders, already on the highway to Hell!
~Jericho EXPLODES on that one, his face turning beet red in anger

Chris Jericho:
If I sign away on that dotted line, I promote your terrible business vision. I promote your awful wrestling vision. I promote every risky decision that you've already cursed this company with. Like even going to Boston in the first place.
~…woh. That seemed a bit shoot-like. Could Jericho's personal feelings about AOW's early PPV be shining through here…?

Chris Jericho:
I am Chris Jericho, I am THE only Worthy Champion this company has ever known and will ever know. And you…you…and you have all put this company at insidious risk.
~Jericho goes from pointing at Heyman to Foley to Van Dam on that last part before attempting to leave once again. But once again, he is stopped by Van Dam, this time by RVD's words and not actions

Rob Van Dam:
You're right, Jericho. This company certainly has taken a great deal of risks in its great young history. And I'm gonna admit – I ain't the most business minded person in the world. But these men have done everything they can to put you, to put me, to put everyone in the back on the map and even give you something to be a 'Worthy Champion' of.
~Another solid ovation for that

Rob Van Dam:
And personally, I'm damn proud of these two guys and all the risks they've taken. See Jericho…AOW is like Rob Van Dam. Without the risk, there's no reward. There's nothin' special about playin' it safe. AOW is like Rob Van Dam because just when you think they've already pulled out the stops, they take it to a whole new level.
~"RVD!! RVD!! RVD!! RVD!!"

Rob Van Dam:
So not to sound too big headed, but I guess what I'm trying to say is that...RVD is AOW.
~Another huge ovation for this statement, the crowd in agreeance

Rob Van Dam:
Not Chris Jericho. I'm the blood that runs through the veins of this place, not Chris Jericho. And if you wanna prove me wrong, you'll have to do it in three weeks in Boston. I now you got pride. So prove me wrong. And I'll prove to you that RVD is AOW and that come World Ablaze, RVD will be AOW World Heavyweight Champion.
~Van Dam emphatically drops the microphone back on the table, sits down, flips open the leather folder and signs on the dotted line to an ENORMOUS pop. Once that's done, Jericho listens to the huge pop before twirling his microphone and…growing a smirk? Jericho then sits down, his 'puppetmaster' demeaner taking over…

Chris Jericho:
Oh, Robert. Always the 'balls to the wall' enthusiast. Signing important documents without first knowing what was in them. I'm not sure if you knew, but see, the initial decree that you got to choose my opponent from now until World Ablaze has been completely and utterly repealed, null, and void upon you signing this. It's in the print, Robert.
~There's a good bit of heat for this, with Jericho smiling at Van Dam and Van Dam looking over to Mick Foley, as well as Heyman looking over to Foley. Foley just says 'I did what was best' before picking up Van Dam's microphone

Mick Foley:
My apologies, Rob, but I realized that handing you all the power that I was supposedly trying to take away from Jericho was actually very hypocritical of me.
~There's actually a good bit of heat going on for Foley, Van Dam seeming somewhat displeased

Chris Jericho:
So you see, Robert? I'm still always one step ahead. Your advantage is gone. And your bloated ego is completely and utterly wrong about you being what pumps through this company. I am the AOW Champion. I am this company. I am the single most worthy in the world. And at World Ablaze, I will be more than happy to prove it to you.
~Jericho finally puts his microphone down, takes a pen, and now signs his name on the official document. The crowd pops, but it seems the person with the biggest grin on in the ring isn't Jericho or Van Dam…it's Foley?

Mick Foley:
Oh, Christopher. Signing important documents without knowing first what was in them.
~Crowd gets another good giggle, as Jericho goes from smug to a daunted 'oh shit' look

Mick Foley:
See, what I took away in taking away Rob Van Dam's power to choose your opponents…I made up for by giving him the opportunity to choose what type of match the two of you are going to have for that title.
~WHAT?!?! Jericho is absolutely OUTRAGED!! The crowd loves it, RVD, smiling brightly at both his newfound power at the potential embarrassment of Jericho. Foley has finally outwitted the puppetmaster! Even Heyman is giving Foley a small round of applause on that one, apparently not being aware of that clause.

Chris Jericho:
This is OUTRAGEOUS!!! THIS IS NOT FAIR!!! This is hypocrisy at its FINEST!!

Mick Foley:
Now Chris, calm down. Rob, I'll give you a week to lull over your options for what type of match you want. But Chris, I guess you're right. Maybe…maybe I can see how you would think that's not all that fair. So I made sure to add one more perk. I thought one...step...ahead.
~Foley quickly snatches up the contract

Mick Foley:
See, I figured that between the two of you and the Jolly Green Giant over there is that things might get a bit out of hand. So that's why I decided to appoint an official for this match that…well, I think would more than keep you all in line. And to be fair…he has informed me that he dislikes you both equally. So I took the liberty of having this man be your special guest referee.
~There is a big pop for the proposition, but who could this possibly be…?

…

…

**SEXY BOY**



SHAWN MICHAELS!!! IT'S SHAWN MICHAELS!!! Michaels hasn't been seen since being Chokeslammed through the announce table by Paul Wright! The crowd has EXPLODED at this point, with Michaels smirking a little bit in his nice suit and cowboy hat, tipping it towards the fans before making his way towards the ring…but he's stopped by Paul Wright, who's got his knockout fist cocked and ready…but Jericho is in the ring PLEADING with Wright that he not hit him, lest it screw with his chances of retaining! Wright, for the first time, doesn't seem to take heed to his caretaker's warning, letting it fly, only for Michaels to dodge it…SWEET CHIN MUSIC!!! SWEET CHIN MUSIC TO THE BIG MAN!!! Wright doesn't go down, but he stumbles enough for Michaels to slide into the ring and for Jericho to grab his title and make his way out, bringing the woozy Wright with him. Michaels' music hits off again, as the crowd roars to the final scene we get on the final one-hour edition of Wednesday Night Oblivion that we've seen before – Jericho retreating with an absolutely horrified look on his face with his monster, Shawn Michaels in center ring…staring into the eyes of the #1 contender, both men knowing that there's definitely still no love lost between either of them, but their fates now shifted, as we

Fade…

To…

Black…


END SHOW






WORLD ABLAZE
Boston, Massachusetts – TD Banknorth Garden
November 11, 2007
*Current Card*

~AOW World Heavyweight Championship~
*SPECIAL GUEST REFEREE: Shawn Michaels
~Match type TBA~
Chris Jericho(c) w/Paul "The Great" Wright v. Rob Van Dam

~AOW Tag Team Championship~
The World's Greatest Tag Team(c) OR Chris Jericho & Rob Van Dam(c) v. The Mercenaries

~I Quit Match~
*Loser Leaves AOW*
Bobby Lashley v. Christian Cage

~AOW Cruiserweight Championship~
Bryan Danielson(c) v. Gregory Helms
Studies kicked my ass this week over this thing, so apologies that its pretty late. And while I was busy, it seems virtually everyone has a show up, so I'll be getting to those through the rest of the week (may even shoot the Wolf man some feed). Again, apologies, and I hope this is enjoyed in some way.
---
CUTENESS²
AOW: Art of War Wrestling - The Greatest Affair
It's Baaaaack...
.:Oblivion Edition 39/40 Recap NOW POSTED!!:.
Asking JAMES ELLSWORTH for Wrestling Advice
Join Date: Feb 2011
Location: Detroit
Posts: 256
Points: 140
Re: Presenting AOW: Art of War Wrestling - The Greatest Affair
---
Man, have I been waiting for this post! Let's dive right in!

A big part of why I couldn't wait was for Christian! Having him come out wearing the exact same thing as he wore last time was a nice touch, and having him look like hell really does paint the image that he's completely retreated into his own mind. That said, I have very mixed feelings about this. First off, I did love the fact that Christian was so difficult to understand, that he spoke in riddles that only he could possibly understand. Given how you're building him, it's perfect. Now, I understand why you did this, it was the right decision, but I HATE the fact that Christian was cut off by Paul-E before he could explain what's going on in his head in more clear terms. It makes you want to hear more, which keeps people reading, but that's it, I WANT TO KNOW!!! Now, how the segment ended, that's where my beef is with this. Having Paul basically set up Christian seems kind of... I don't know, it didn't feel right. Unless Heyman is turning heel, it leaves a sour taste in my mouth, because he's suppose to be a (for the most part) neutral owner, so having this set up... it didn't feel right. I'm looking forward to Lashley-Cage though, that's going to be great, but I feel like the Lashley Run-In really hurt this segment. I'm definitely hoping that Lashley loses this match, though. Lashley is very vanilla right now, but Christian is potentially the brightest star in the future of this thread!

As expected, the Yin VS Yang match was great! I kind of figured that Helms was going to go over with how you've been building him, but Mysterio put up more of a fight then I expected, to be perfectly honest. I dig how you had Mysterio go out, since you announced he's going to be off TV for awhile, and this sets up a potentially great come back feud with Helms, which should be freaking killer, especially if the Cruiserweight title is involved. I feel a little iffy about Danielson getting his hands on Helms. Don't get me wrong, I loved it, but I feel like the anticipation would have increased tenfold for their match if Helms would have snuck away unharmed. That said, the fact that Helms still has the Cruiserweight title redeems this, because at the end of the day, Danielson didn't get what he really wanted!

Before I even get into the segment, I still imagine Manu as looking like a pizza man. Just thought I'd share that. As for the segment, it wasn't particularly breath taking, but it got the job done. One thing I really loved was that both of them weren't the typical Samoan savages. Having Manu play the savage and Siaki play the cooler headed guy... it kind of reminded me of A.A.E. and Umaga back in the day. Looking forward to seeing what you have in store for them! Again, I really do think that American Made- Sons of the Dungeon- Samoan Fight Club can become AOW's version of Hardyz-Dudleyz-E&C, only with a much more technical flair to it!

After the WGTT-Mercenaries segment, I'm positive that Heyman is turning heel. I'm kind of seeing an "Immortal" situation here, only much better booked (Already I can tell you'd do this leaps and bounds better then TNA did). As far as the tag situation... I still don't like the fact that the Mercenaries are the number one contenders completely out of nowhere, but the possibility of a triple threat tag match for the straps... now, that's cool! As far as the title bout at Tag Team Halloween, I just really hope that you don't make the same mistake as every wrestling promotion in history has made and take the tag titles off a legitimate team to build up your main feud. It hurts the division so, SO bad! Hmm... The Mercenaries are planning something with Masters and Doane? I could see this ending very, VERY well!

...and already I'm regretting the last statement. Unless this ends with Low Jack VS Hooliganz with it being a guaranteed triple threat at World Ablaze, I'm just not feeling it. I have faith in your judgement with this, but I'm feeling sort of iffy about this right now.

The $50,000 challenge was good for the second week in a row. While I do feel that eventually the matches being so short will run stale, for the time being, it's great! Since Storm is going to be going off TV soon to help developmental (If memory serves me right... speakings of, still can't wait to hear what other names you pick up for the Developmental territory), I think that one last big match with Hassan would be a good way to send him off.

Short, sweet, to the point- How an interview with the Sons of the Dungeon should be! The Miz bit legit had me laugh out loud, other then that, it was basic, but that's good, in this case. The Harts (with the exception of Owen) were never known for being all too charismatic, they let their actions talk for them, and that's how your building them!

The contract signing... holy shit! That was hands down the BEST segment you've ever posted in this thread! After I read the no physical interaction bit, I was iffy about this, but Jesus tapdancing Christ on a fucking pony! Everything was perfect! The way Jericho taunted the authority, RVD's pride and ego motivating him, Heyman's fear of Chris giving away the numbers, Chris tricking RVD into blindly signing the contract, the initial swerve of RVD losing power, the swerve of RVD getting that power back, AND HBK'S RETURN?!? Dude... I don't even think I can properly commentate on how brilliant this was! I'm a guy whose known for having a big mouth and being very vocal about everything, but... well, I'm speechless! All I can say is GODDAMN!!!

All in all, while I was very iffy on a few things, you MORE then made up for it! That final segment was strong as hell, and it has caused me to over look some of the looming concerns that I had. That said, I'm hoping that next episode redeems some of the mistakes made here, but for right now... dude, pat yourself on the back! SEGMENT OF THE YEAR!!
---

WCW 1998:The War Continues
http://www.wrestlingforum.com/booker...continues.html

https://twitter.com/BrandonBrownson
https://www.youtube.com/user/THEBrandonBrownson

The roof is NOT my son, but I will RAISE IT!
Wheelman for James Ellsworth
Join Date: Jan 2011
Posts: 501
Points: 0
Re: Presenting AOW: Art of War Wrestling - The Greatest Affair
---
Oblivion Feedback



Starting things off with Christian was a decent call as I think everybody wants to see what route you go with him from now. Very strange, yet captivating stuff from Captain Charisma. A Nexus bigger picture storyline eh, let's hope you actually reveal it lol. Christian was very well written here, this man on the moon schtick we saw a couple of weeks back , now continuing on is something new and refreshing. Was certainly hoping for that reveal but wasn't stunned to see Heyman come out and stop things. This now definitely makes me think there is something big here, I thought it may just have been Christian going off the rails but now this has me very interested. Didn't like the Lashley thing at all if I'm being honest, kinda ruined things somewhat. Lashley arrives but then instead of going on a complete rampage, which I expected after what Christian did to him, he takes him down then just grabs a mic? Didn't really work for me. The way he spoke on the mic after was a bit awkward also, although Lashley is awkward on the mic in general. I quit match should be a heck of a contest and I really can't see which way you go with it, hopefully the bigger picture come to light then.

Helms/Mysterio was as good as I expected it to be. Your match writing never lets you down and there was some nice action throughout here, particularly from Helms with the mid-air drop kick, the turnbuckle power bomb and the Shining Wizard seemed brutal too. Right call in having Helms win. Aftermath was nice also as Helms probably puts Mysterio on the shelf now for some time and Danielson finally getting him a piece of Helms, albeit Helms managed to escape with the title still was a smart move.

Really liked the Samoan Fight Club promo. I thought it was great the way you had two such contrasting characters in there with Siaki the calming figure and Manu, almost ravenous it felt. Your tag division is certainly picking up in a huge way as of late.

WGTT and Mercenaries segment felt a little lacking up until the announcements in my opinion. It was just like school kids bickering in the teacher's office, along with the teachers bickering lol. WGTT vs. Jericho and Van Dam next week should be a beauty and I think we may see an addition to the tag title match at World Ablaze with one of the other contenders forcing their way in.

Maybe not! Great stuff from the Mercenaries along with Doane and Masters here. They most certainly made an impact with that and the tag team Halloween special next week is really taking shape. Can certainly see these teams all going at it next week in some way, shape or form.

Good win for Hassan here as expected. There aren't too many guys who you can feed to Hassan though in under 5 mins without making them look a little, tiny bit weak so not sure how long this continues before Punk either wins the challenge or costs Hassan against someone else.

Nice short and sweet stuff from Sons of Dungeon. Rematch with American Made next week should be a good one.

Contract signing time, should be a gooden. Loved the Jericho line to Heyman about him being from Canada haha. Really strong stuff from Jericho, loved how he will not defend it against somebody unworthy, was a nice play on his character. Him threatening to reveal financial aspects was great, the looks on Foley and Heyman's face I can clearly imagine. I was pleasantly surprised by Van Dam here, must say. I know he's tough to write but I thought you did a good job with him and the whole wanting to fight, to wrestle rather than talk about who's worthy. Top stuff from Jericho continuing on with the whole business and failure stuff, really captures you with that kinda talk. RVD=AOW, nice take on it from Van Dam. Haha loved Foley pulling one over on Jericho there, stipulation choice should be nice. Wow, Michaels as special guest referee just adds even more to this thing come World Ablaze now and with the stipulation still to come, it's gone up a huge notch here tonight. Great segment.

Overall it wasn't one of your best shows BUT the closing segment had me hooked and was thoroughly enjoyable. Jericho was absolutely on the money and this feud with Van Dam is really building steam. Michaels now inserted could be seen as a hindrance but I think it just boosts it as he has been involved from the get go. Tag division is still getting better, week after week with so many possibilities available to you. No major complaints on the whole and you continue to excite with each and every show, good stuff.
Re: Presenting AOW: Art of War Wrestling - The Greatest Affair
---
Opening up with Christian is an extremely smart choice. In my opinion, his angle is where the money is at in this thread, at the moment. He hasn't been around for a couple of weeks now due to his suspension, but the change in his personality has just been so good. I really hope you hit hard with this promo, as it's basically the first time we can hear just what is inside his head. By the way, props on Christian's entrance. A lot of people always just have the basic "walks through the curtain, steps into the ring", but the extra bit of detail was perfect for the character Christian is playing. Wow. Promo really started off with a bang, with the whole bash in other wrestler's skulls. That was brilliant, straight away just making Christian seem like more of a sadistic/mentally unstable guy. The white coats comment falls into this as well. Flowed along well, and I enjoy the whole 'bigger picture', and how Christian had to stop Lashley. Again, very intriguing, although there was a little part where Christian had a mini dig at the fans, saying "not that you care about me" or something along those lines, it simply wasn't needed. You've got this twisted, demented, obsessed, focused, insert other adjectives as you see fit, and you had him take a moment to address the fans. It was just a little statement but it took away from the intensity of the promo, which is what is making the whole thing gold so far. In all honesty, I didn't really dig Melvis' moon thing in his promo, so after reading his feedback, I was a little doubtful but I enjoyed it here. It just fits with Christian's whole routine really well. Christian finally gets to the point, ready to speak of his discovery… and he gets interrupted. Brilliant. As a fan, I kind of wanted to know, but as a booker, this is the smart way to go. Again, I loved the description of Christian as a rabid dog; IMO he's standing has gone up in this thread even more after this. Heyman (rather heelish) sets up Christian for Lashley, and B Lash announces an I Quit match. That one is going to be enormous. After this segment, it actually looks lijke Christian knows what he's talking about. You've done well, you've built a great angle, and this promo delivered in spades in building interest, and advancing the angle ever so slightly. Besides the one little dig at the fans I didn't enjoy from Christian, this was a BEAUTIFUL way to start the show.
As I mentioned in the preview, Helms/Mysterio is actually a match I'm really excited for. The beginning of Helms trying to get at Mysterio as soon as possible makes perfect sense, although I think he got Rey down and began working on the leg a little to abruptly. The match had only been going for like less than a minute. That aside, it's obviously the right thing for Helms to go for Rey's bad knee. The tease of the 619, leading to more damage to Rey's knee was written well to. All the action on the outside flowed pretty smoothly, with the Sunset Flip Powerbomb being a nice spot to end the sequence. I enjoyed the 619 but Mysterio being unable to capitalize. You're really milking the injured knee, which again, is a good thing. The rest of the match flowed along pretty well, and this is actually a fairly good win for Helms. It was a solid enough match to, nothing to complain about. The attack afterward was nice, brining out Danielson, which just adds more tension to their feud. Well booked segment.
A decent enough interview from The Samoan Fight Club.
at the name, by the way. Don't get me wrong, I like the idea of two bad Samoan guys who just love to fight, but it's just so gimmicky. Also, the whole "first rule of …" was classic. It seemed a little awkward in the middle though, when Siaki mentioned not minding if they lose, then a few sentences later, he goes on about how they are there to compete. It made sense, but it just didn't flow very well. Reading it I had to take a double take to make sure it made sense. But yeah, don't make these guys to gimmicky; otherwise it'll ruin an opportunity to build some mystique after last week's debut.
The bickering between the two teams was alright early, although Haas' bit was a little dodgy. Constantly asking what's that supposed to mean was just annoying. Ugh, really bland stuff from Haas. With that being said, I guess it adds some tension between the two teams. Foley and Heyman's animosity towards each other was on display well, and tbh, the matches announced for tag Halloween all have the potential to steal the show, especially Jericho and RVD/WGTT. Doane and Masters wanting to make an impact was a little random, also thought they should have at least been addressed, instead of Foley just brushing them off. It makes them seem like more of a joke, than the future of wrestling. I am intrigued to see what sort of plan The Mercenaries have for them though. In all honesty, whilst booking wise it was good, I wasn't really a fan of this segment. It really seemed to drag.
at Joey Styles being cocky to JBL. Good stuff.
The attack on Hooligans and Low Jack was nice, making an impact and what not I guess. A little sudden for this to happen straight after the backstage segment, but I have no real issue with it. Now maybe Low Jack can feud with Doane and Masters, whilst Hooliganz now have something with both teams in the title scene. Smart stuff again.
Not going to really bother to mention what Hassan said, because it was just basic introducing the challenge stuff. Although the constant mentioning of CM Punk every time Hassan opens his mouth is smart. I marked a little for Lance Storm accepting the challenge; I'm actually a fan of his. He'll be getting jobbed out, but at least the match will be smooth. Storm mentioning Punk to Hassan was alright, being the veteran of the locker room and what not. I was really surprised to see Storm got so much offense, and a little disappointed to see Hassan look so weak. Not the smartest way to go about things, considering Hassan is clearly the more high profile star. I also like the added element of Hassan being distracted by the Punk chants. Anyway, decent enough match for the crappy amount of time it got, but I feel as if Hassan was a little hard done by in the match, to be honest.
The Miz continues to bag Torrie Wilson, but
at how he just got carried off screen. Not much to say about Sons of the Dungeon interview. Nothing special, but I guess it did the job of hyping tag team division and their match next week.
Nice commentary hype for Oblivion going to 90 minutes, and PPV was hyped a little as well. Having a video package just adds to how important it is.
A quick comment that I realized when reading that commentary to, no mention of Joe or Finlay is a crime. I understand they both aren't here due to almost killing each other, and that's fine, but the commentators should have at least discussed the match in detail or something. It was probably the best match in the small company's history so far, AOW's version of Foley/Taker HIAC, yet there's barely a mention. I really feel like you messed up a little with this.
Red velvet for a contract signing, a little extreme, but I like the idea of it being made a big deal. Heyman's introduction for both was alright, although saying Canadia is just cringe worthy. It set up Jericho's first line, which is obviously a take off from that night in WWE, think it was Survivor Series when Jericho yelled out to the fan. Honestly though, it was a pretty bad attempt at a joke, and it's just not needed. This is a serious, heated situation, there's no need for those sorts of pointless antics here. Besides that, Jericho's speech was okay in the beginning, but I didn't like how all his attention was on the management and the company numbers. I understand it's a huge part of his character, but he's here for a contract signing, how about he actually mentions RVD a little? I never thought I'd say this, but once Foley, Heyman, and Jericho stopped, and RVD of all people began speaking, the segment picked up. His "I mean business" approach is what was needed, because I wasn't feeling anything that happened before it. RVD's rather laid back and you portrayed that well, although there was a party where he said "pardon me". No sarcasm or anything was mentioned, so umm yeah; just don't have RVD say pardon again. It's almost too formal for his laid back character. Jericho's cracks at ECW and RVD were nice, although again, I feel Jericho's giving to much attention to management. Heyman obviously got pissed off, so the threat of stripping Jericho of the title was a nice touch. Jericho's bit, whilst again I don't think is the right situation, but he's bit about the bad decisions and what not was pretty good. RVD's outburst was once again probably the strongest part of the segment so far. Yuck at Jericho calling Robert, and even worst when Foley called Jericho Christopher. Clever to have Foley give RVD the opportunity to choose the match stipulation, really turning the odds against Jericho. Shawn Michaels as special ref just adds to the explosiveness of this match, considering he doesn't like both of them. Definitely a nice twist to end the segment. Honestly though, everybody seems to have loved this segment, whereas I didn't like how Jericho constantly ignored Van Dam and spoke to the management. Not enough heated dialogue between the two, and it made the main event of the first ever PPV get over shadowed by Jericho's hate of Heyman and Foley. So yeah, segment was still okay, but I thought there a few faults, and unlike others, I think Christian's promo was easily segment of the night.
Overall, a pretty good show. A few things here and there that I didn't like, but from a booking standpoint not much was wrong, except Hassan barely hitting a move on Storm. Christian's promo was epic and I still believe he's the most entertaining thing in this thread, at the moment. Contract signing was okay, but just felt there were a lot of issues. The in ring action was alright, and I know it's only an hour show, but I have to mention that only two matches for a wrestling show isn't that great. Despite the issues, you've probably got the most unpredictable/entertaining storylines going, at the moment, so keep it up. You're still giving everybody a good read.
---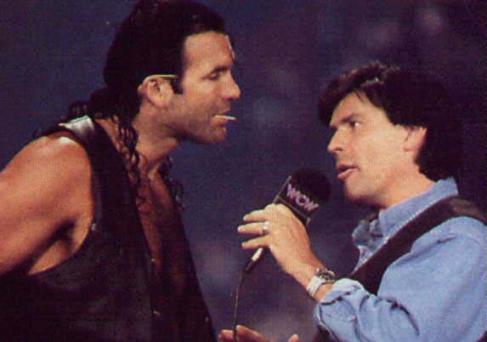 Re: Presenting AOW: Art of War Wrestling - The Greatest Affair
---
Hey, I've been following this BTB, and I wanted to review your thread quickly before I go back to working on mine.

-I love the opening segment with Cage and Lashley. HUGE bombshell with Lashley announcing a match he's not even cleared to compete in. I can't wait to see where this one goes.

-I can't stop laughing at JBL's commentary. You play him like a pro, and I think he makes the whole show that much better.

-It's surprising that Helms got a near-fall so early. Despite the knee injury, I figured Rey would be a little better than that, considering how long in the match he lasted. No matter, however, just a thought.

-I agree with the post-match conflict between Rey, Helms, and Bryan. It should make this angle a lot more interesting going forward. I can't wait to see where you take this.

-I'm not quite sure how I feel about Samoan Fight Club. They kind of have a not-so-serious gimmick, and yet, they expect us to take them seriously after beating TJ and Harry.

-I don't have much to say about the WSTT segment, except that it should make for a mighty interesting Tag Team Halloween.

-Hassan's segment was great. Nice way to give him the heelish win while keeping the challenge open.

-The same must be said for the Sons of the Dungeon. The Miz did a great job of opening the segment, and Harry's last line really drove it home.

-The last segment didn't really hold my interest for some reason, even though it was well-written. I really liked Shawn Michaels' appearance, as it was a great way to "kick off" the excitement of the final brawl. (I love bad puns...)

-Overall, you have some great storylines going with Cage and Hassan, but a little too much of everyone else. JBL and Christian made the show awesome to read. I give it a 78 out of 100. You can do better, but you can do a hell of a lot worse. I'll definitely be following to see what happens next.
---
Marking AGAINST The Rock and Randy Orton
Re: Presenting AOW: Art of War Wrestling - The Greatest Affair
---
Random Musings V2.0
Christian opening is the right choice. The thing with him wearing the same clothes as before is a little touch, but I like it, really helps the idea of 'just how disturbed is he?' I agree with Stoj that referencing the crowd is unnecessary, because the essence of his new character, as far as I can grab it, is how he's so demented that all he cares about is his
own
welfare, and his standing in the company. Likewise, the self-centred thing continued with how he demanded more time in the ring with the "I'M NOT FINISHED" line. His emotive language - "frightening", "sickening", "disgusting" - was really nicely used, too, it all helps solidify his character even more. I'm glad you stuck with the 'man on the moon' metaphor too, just to keep him on that track, as well as the "bigger picture" angle which has some real fire behind it. From a booking standpoint, having Heyman interrupt just before the big revelation is sensible; likewise, the booking behind the Lashley attack and the subsequent announcement (which is
huge
) is very smart too. The I Quit match is a big addition to World Ablaze; two big name competitors, a great match type, plus the gigantic inclusion that one of them is going to leave afterwards. Great opening segment, I really felt it.
JBL reminds me of my Cole, just... you know, bearable. You've got a great dynamic with your commentary team, it's something that I've noticed throughout. Good stuff.
I'm not too sure on the Yin vs. Yang match (as in, I don't understand it, I haven't followed this properly), but the bout itself was certainly well written. You have a really good flow to your writing style, so much so that it's very easy to read and follow. With the push you've been giving Helms, it was sensible to give him the win, as well as the fact that Rey's scalp is another to add to Helms' list, which can only help him. Also shows Helms' in-ring intelligence that he targeted the previously-injured knee, so smart stuff all round. Would have been a cracking match on TV, too.
First, your Manu description made him sound badass. I agree with previous suggestions that the team name isn't particularly imaginative, and for me, Siaki shouldn't be so relaxed to the point that he doesn't care if they lose, seeing as they seem like a team who should be all intensity; American Made or the Hooliganz seem more like the teams who should be rolling with the relaxed styles. Other than that, there's obviously the 'heritage' train of thought you kicked off with the shots at the Sons, and the future looks good for your tag division with these guys amongst the pack. Makes me hyped for Tag Team Halloween.
Feels a bit strange that the show returns and all six guys are just standing in Foley's office; I know you specified they were in the middle of an argument, but it all seemed a little
too
staged - "what exactly is your problem?" was a line that felt forced to start. Small thing. Burchill's "art of wrestling" line is fairly smart given who he was talking to, though I felt Haas added very little. The dissension between Heyman and Foley was really well done, including how you managed to make a couple of big matches for TTH at the same time. RVD/Jericho vs WGTT should be terrific, and I assume RVD will take the fall after Jericho leaves him - or something more innovative, you're a wise fella. You also teased the Mercenaries/Heyman alliance subtly, which is nice. Probably not a good thing that I couldn't remember who Burchill's partner was at certain points, though; er, my fault though, not yours. Definitely some intrigue with the Mercs and Doane/Masters, though I hope you do something with the latter to make me care about them a little more, seeing as I don't right now.
Ah, you jumped right in with that. Certainly a hectic tag team situation you've got now; lots of possibilities, so next week should be terrific. Mercs continue to come across like an evil, self-preserving (or duo-preserving) pair, so good development here.
You've got a good Hassan/Punk angle going on - it's almost obvious, of course, by Hassan saying he
won't
give Punk a shot, that that's exactly what's going to happen. I hope you try to swerve us a little so it's not so clear cut, but Hassan's 5 minute challenge certainly mixes things up; I think it's a smart idea. I'm surprised Storm didn't just get on with it, rather than talk about Punk, who surely shouldn't be his concern? Regardless of 'respect for Punk' I'm still not sure. As for the match, Hassan's character is terrific; the constant Punk references work well to highlight how much he's on Hassan's mind, though I would say Storm got too much offence in for my liking. Hassan, as someone offering a 5 minute challenge, needs to be confident enough that he can, not dominate, but at least not be tied in knots by Lance Storm and then win with a roll up - that's sort of the win you'd expect from Santino Marella, tbh. Regardless, the storyline elements of the match were done brilliantly, though as a reader at the point I'm at, you'd have to clarify for me where Punk is, 'cause I would have thought he'd have made himself known somehow. I genuinely don't know, it's me not being familiar with the story enough.
The Sons of Dungeon interview was great; the symbolism of physically removing an all-talk-no-action guy like The Miz and just having the all-action-no-talk guys of Smith and Wilson is fantastic. It just presents a great image for both guys, the whole 'no gimmicks needed' schtick, and it fits them perfectly, especially coming from such a great
wrestling
background and also not being the greatest talkers themselves. I think you did this really well - next week's show should be absolutely great, the division is alive and well.
Good sell job of the 90 minute Tag Team Halloween and World Ablaze; the PPV feels like it's taken a back seat to the TTH next week, so hopefully once that's out of the way you can really start selling it to the extreme. Side note: you mentioned Joe and Finlay, but not when they'd be back, which might have been nice to know. Otherwise, good stuff; also, you've got JBL and Joey Styles down to a tee.
I see what you were going for with the classic Winnipeg line at the beginning of the final segment, and believe me, I usually find it funnier than most, but it was misplaced here. I just think it was out of place amongst the bed of accusations and serious insults that followed from Jericho. My two worries about the whole segment would be: 1) especially in the first half, it felt like Jericho's issues with Heyman/Foley overshadowed the World Title issues. Admittedly, you covered this somewhat when RVD got involved, but it felt like he
had
to, and it stuck out that Jericho wasn't talking about the World Title, he was talking about how the company was run. The second thing, 2) is that Jericho was almost reminiscent of Christian - almost too much, I fear. Felt like they were just two tapes on the same reel, or whatever the correct metaphor is. But literally, those were my only complaints. On the other hand, the rest of the promo was excellent, I felt it progressed the World Title feud nicely, as well as rolling the Foley/Jericho stuff along too by having Foley trick Jericho in RVD's selection of the match stipulation. Not only does that make for a sure-fire classic match at World Ablaze, but the HBK addition makes for an explosive situation; the thing I like the most is the possibilities for a Foley/Jericho feud in the aftermath of the PPV should Jericho lose the belt, or a one-on-one Jericho/HBK feud if he retains. Oh, and while I'm here, the RVD analogy about himself and his ties with AOW - terrific, it was dead on. There were a couple of things I wasn't a fan of, but apart from that, a strong ending segment which sets things up for next week efficiently.
Overall, thought it was a good show, very enjoyable; here and there I found some things which weren't to my taste, but there was nothing consistent which you have to improve on, no fatal flaws, if you will. Bit short on matches, maybe, but it's not like we'll be short on those next week.
I'd say your best feuds atm are undoubtedly anything involving Christian, as well as the Hussan/Punk build. The Jericho/Foley build is also a terrific piece of underlying storytelling. Tag Team Halloween should be amazing if done right, plus you have 90 minutes to work with and a whole host of talent. Can't wait for RVD's match choice, too. In your words, the King approves. Oh, and something about Kirby.
Finally Out of Cutey Sleep
Join Date: Jul 2006
Location: The Fountain of Dreams
Posts: 2,020
Points: 9
Re: Presenting AOW: Art of War Wrestling - The Greatest Affair
---
Again, many gratitudes for all the feedback, gents. King Melvis, your random musings seem to seem a great deal more like legitimate feedback to me, your higness
. Also Melvis, or anyone else a tad not up to date on a few things, there's an 'AOW Originals' section in the opening post that would clarify any match types (i.e. Yin v. Yang) anyone is unfamiliar with. And this is what I enjoy most about feedback. A few liked the closing segment and a few did not. It gives me a great deal of insight into what I might need to do and gives a great deal to think about. So thanks again on that, fellas. On that note, my apologies to anyone I didn't quite get around to for feedback, with this being a college student's worst time of year and all.

That said, I'll just post a good bit of news and more internet stuffs, seeing as how I can't guarantee a show until after exams are done.
Quote:
Originally Posted by The Informer
~There is currently some concern surrounding the future of AOW and its Wednesday Night Oblivion programming. Within the first week of the company's existence, FX announced that it had indeed inked a deal that would keep the program running until the end of February. Despite numerous attempts, FX and executives have yet to extend a longer programming slot, seeing it thus far as a 'seasonal program'. While many are confident AOW will get the year-round schedule of a mainstream wrestling promotion, there has been toying with the theory of a wrestling company with an 'off-season' of sorts. While the idea is nothing official and quite untested, it should be worth noting that should an extension deal not become apparent after World Ablaze, AOW might want to 'kick the tires', so to speak, on a notion such as this.

~As previously noted, Lance Storm is next to be written off the program, but will not be doing so until following World Ablaze, it seems. It should also be noted that joining Storm in coaching developmental will be Elix Skipper, who has already made his way to OVW.

~With the increase in World Ablaze hype in the last week, which should definitely continue, ticket sales are still disappointing, while PPV buyrates are slowly trickling in, but are not expected to be in great numbers either.

~In other development news, AOW has signed another OVW prospect, Drew Galloway, to an exclusive talent contract. Also due to the mass call-up of six men (Smith, Wilson, Nameth, Hagar, Siaki, Manu) in such a short period of time, there doesn't look to be another call-up for a good while.
Aohdubya.com Exclusives
Quote:
Originally Posted by aohdubya.com


REY MYSTERIO OUT FOR 3-6 MONTHS

Following the vicious assault at the hands of Gregory Helms last Wednesday, Rey Mysterio will need 3-6 months of medical rehabilitation to heal his injured knee. Mysterio had notably been battling knee problems ever since coming to AOW, finally accumulating in Gregory Helms targeting it and taking Mysterio out for an extended period.

AOW would like to wish Mr. Mysterio a very speedy and thorough recovery.

JAIME NOBLE SPEAKS HIS MIND

While Jamie Noble has not been very successful in his endeavors thus far in AOW, Noble er…graciously took backstage interviewer Mike Mizanin aside and let loose on what's on the Virginia native's mind.



Spoiler for Watch Noble's interview:



---

THE MERCENARIES MAKE THEIR MARK IN A CHALLENGE

Last week, we saw the team of Paul Burchill and Brent Albright, known collectively as The Mercenaries, orchestrate a vicious assault on not only Low Jack, but the Hoolgianz as well. With Tag Team Halloween only a few days away, The Mercenaries explain their reasonings with a challenge to the men they personally beat down in Paul London and Brian Kendrick, all while sending a very distinct message to the men they face at World Ablaze – the AOW Tag Team Champion World's Greatest Tag Team in the second of this week's aohdubya.com exclusives.



Spoiler for The Mercenaries issue a challenge:
Hope this holds off all until then
---
CUTENESS²
AOW: Art of War Wrestling - The Greatest Affair
It's Baaaaack...
.:Oblivion Edition 39/40 Recap NOW POSTED!!:.
---
Last edited by 619IDH; 12-03-2011 at

07:01 PM

.
Asking JAMES ELLSWORTH for Wrestling Advice
Join Date: Feb 2011
Location: Detroit
Posts: 256
Points: 140
Re: Presenting AOW: Art of War Wrestling - The Greatest Affair
---
Alright, this was a pretty good update. Nice to see that Galloway's part of developmental now. Also, updating the first post according to whose on the roster, who currently holds the titles, whose currently in developmental, ext, ext, is a really nice touch that I just noticed! I'm really hoping that the developmental roster continues to grow, and, if it gets big enough, I'd love to see a developmental show case. I can't remember who did it, but when I first started checking out the BTB's on here roughly around 6 (?) months ago, I saw a guy who had a show devoted to pitting developmental stars against main-roster talent, and I thought that was really cool, and with the caliber of talent in your developmental already, I think you could do something special with that.

The Noble promo was really good! I'm hoping that you continue to work him like this, because it's a great gimmick and could easily get him pretty over! I always liked Noble, and have always wanted to see something more done with him then what WWE ever did with him (I don't watch a lot of ROH, so I don't know how they handled him).

The Mercenaries promo was kind of cool, and I'm loving the 2-out-of-3 falls thing. At first, I thought that they should have put their number 1 contendership on the line, but looking at their characters, that would have made no sense, so good call there.

All in all, can't wait for the next show, mate! Keep up the good work!
---

WCW 1998:The War Continues
http://www.wrestlingforum.com/booker...continues.html

https://twitter.com/BrandonBrownson
https://www.youtube.com/user/THEBrandonBrownson

The roof is NOT my son, but I will RAISE IT!
Posting Rules

You may not post new threads

You may not post replies

You may not post attachments

You may not edit your posts

---

HTML code is Off

---