Wheelman for James Ellsworth
Join Date: Jan 2011
Posts: 501
Points: 0
Re: Presenting AOW: Art of War Wrestling - The Greatest Affair
---
Oblivion Feedback



Nice way to start the show with Van Dam picking up a needed victory. Would've perhaps liked to have seen a bit longer with Doane really testing RVD, though i get that Van Dam's gotta look mighty strong.

Good stuff with Foley and Heyman here. Liked how Heyman put it forward that it's Foley working for him, good stuff. Torrie's definitely got an interesting story going on here and i love the way you've got Jericho manipulating her, it's brilliant and this was no different. Great line at the end about her not being able to walk away until Jericho says. Can't wait to see what you do with Christian next week.

Very nice little set up from Hassan for this 5 Minute 50k challenge. Very unique and looking forward to seeing it.

Great way of showcasing two new teams here. Giving them 15 minutes to just go out and do their thing. Good job here and i'm looking forward to their feud kicking on in the coming weeks. Pleased to see American Made win here though.

Or maybe we won't see where this feud heads lol. Nice impact from this new team here and intrigued what route you go with them now. Possible three way feud, we shall see.

Sadly Sydal never stood a chance against Hassan here. Glad to see you continuing to build Hassan up nicely and i'm sure a match with Punk beckons soon.

Really enjoyed the Danielson-Helms stuff here. The fact Danielson went the whole hacking route was great and something i didn't expect. Liked his end paragraph about how it's what happens inside the ring that matters. Should be a good one next week.

I'm really glad you chose to main event with Joe and Finlay here. It deserved the main event slot and it certainly didn't disappoint. Some brutal stuff here as expected and clearly the cage spot was the highlight. In a weird kinda way i'd rather it didn't actually happen as this was kinda the main thing that separated this from a usual Last Man Standing match. On the whole though this match definitely worked well and it's fitting you gave it to these two, any others and it may've disappointed. Great job on the whole here, first off for thinking this up and secondly for pulling it off. Right man won to boot.

Overall it was no doubt an enjoyable show as ever. My only problem was i'd have liked to have seen some more interaction from Jericho and Van Dam. Maybe something from the tag champs as well but your tag division definitely went up a notch tonight. Joe/Finlay was great, Hassan's new challenge will be interesting and the Christian/Torrie/Foley/Jericho dealings moved forward nicely. Very much looking forward to the next show as it promises a lot and i'm sure you'll deliver.
Asking JAMES ELLSWORTH for Wrestling Advice
Join Date: Feb 2011
Location: Detroit
Posts: 256
Points: 140
Re: Presenting AOW: Art of War Wrestling - The Greatest Affair
---
Actually, now that CP says something, it has been a little while since we've seen our tag team champions. You're doing a lot of work on the division as a whole, but not having the champions appear as of late is kind of a "Two steps forward, one step back" situation. Maybe at least have Haas & Benjamin pop up back stage? (If it's London and Kendrick who are champions, and not WGTT, I'll feel really silly, but I guess it'll help my point haha)
---

WCW 1998:The War Continues
http://www.wrestlingforum.com/booker...continues.html

https://twitter.com/BrandonBrownson
https://www.youtube.com/user/THEBrandonBrownson

The roof is NOT my son, but I will RAISE IT!
Re: Presenting AOW: Art of War Wrestling - The Greatest Affair
---
Oblivion Feedback
I, like yourself, also like a match kicking things off, so I appreciated the way we got things underway tonight, although the few brief words from young Kenny were fine too. Certainly gave a glimpse of a cocky attitude, although he was promptly shut up by Van Dam. The way 'RVD' has been pushed in the thread means Kenny had little chance of victory, although he was certainly presented as compettitve throughout the match. The Great~! Liked this, it was a nice touch to have Wight out to watch on, and you did well to resit any interference in the match, the presence of the man alone was enough to keep Van Dam guessing throughout the match. The ending was well put together, I'm also a fan of Kenny missing that leg drop, it's a real big momentum changer in a match, and the nod from 'RVD' towards Wight as he finished things off was a nice touch to send Wight home to the champ with. Overall, this ticked all the boxes, Doane would have benefited, Van Dam got a solid win, and we had a bit more interaction between Van Dam and Jericho/Wight. Solid stuff.

I've noticed you do this most weeks were we don't hear from the commentators until after the first segment. Certainly something different, so props for originality. Also liked the little nudge towards Jim Ross, a man who would have been a fine choice for Styles' chair had you gone that way.

Hmmm... very intriguing situation between Heyman and Foley here. Heyman was almost, dare I say, heeling it up a bit here. Giving the euphoria he kicked off the thread with, this was certainly a departure from that. Worth keeping an eye on how this plays out. Oh hey, Christian's back. That crazy sunnova gun. Looking forward to see if you pick up the Lashley situation again, as it went on pause in a pretty brutal way. Ah Jericho, what a heel. Really liked the way this played out, with Jericho almost holding Christian's career in his hands. A real strong bit of story development here, could easily go in several ways with Christian, making him one to keep an eye out for next week.

While I like the idea of this challenge in principle, I can't help but feeling that with Punk banned from it he's gonna wind up handing somebody a win over Hassan to cost him the cash. A good idea in theory, but I'll need convincing this is the right way to go. Interested in seeing how you're gonna handle it.

Makes sense to have the Sons and AM debut against each other given the duelling video promos we've seen over the weeks, and this was a real good match, and another strong showing for your developing tag team division. Certainly an interesting dynamic that you've gone with the Americans as the heels and the Canadians as the faces, but it works better in terms of in-ring action. Some nice spots, although I didn't know why you ended the hot tag run by Smith with that clothesline then cover, only to then quickly come back with the belly-to-belly for the cover. Just seemed like an unecessary part of the sequence. There was a better way of working into the suplex imo. But apart from that, the action was all good, and the heels get the win, although I'm sure this is far from over, with the teams trading wins back and forth like you did for TWGTT and The Hooligans. JBL was rather epic afterwards too btw.

And jesus, here's another new team. Three debuts in one night may be perhaps a bit of overkill, and God knows how you're gonna fit them in, but this was pretty sweet for the two Samoan guys. Perhaps a bit too similar to the real life debut of The Usos given the situation, big splash spot and people involved, but impactful nonetheless. Tag team division is looking real strong right now.

90 mins is all good with me. More chance to develop things on the show.

Natural that Hassan would win the challenge in the first week, although Sydal gave it a real good try. Still saying Punk to cost Hassan the cash at some point, but it won't be for a few weeks imo. Although the fact Hassan had to use the briefcase to win didn't sit well with me. I'd have rather Sydal made a mistake and the match ended clean to give the challenge a real solid foundation to go on from. My only gripe with this was that, the rest was fine.

Aw man, Digitized by the Dragon! That was gold!
Amazed you wouldn't have run with that. I'd have had Bryan wearing a t-shirt with said slogan and everything. Opportunity missed their buddy. Anyway, really liked this. Given the way the title match went between the two, it was natural that the rivalry would continue, and this was a great way from Bryan to get back at Helms. Danielson really shown here, you presented a strong confidence mixed with a sense of humility in his character, such a stark contrast to Helms' persona. Rematch down the line please, perhaps even with a killer stipulation.

Dont't call it a comeback~! Freakin' a! What a match! Really just absolutely brutal stuff, and the cage falling apart was nuts. Some real good pshycology too with Finlay working the knee to then have it cost Joe briefly towards the end. As for the ending, you're one crazy bastard dude. Using the ropes and a broken cage as a gallows in just... wow. Amazed that Finlay won tbh, thought this was for sure a Joe win, but surely there's nothing more from these two? I mean, who on earth could you top this? While I'd love to see you try, this has to be ending, and a great one at that.

Overall, another really good show. Was perhaps a bit crazy that for a supposed 1 hour show we had roughly 58 mins of action (did I miss an announcement regarding an extension to the show?) but we'll overlook that to say the action was spot on throughout. Really enjoyable, and the main event was a real step up for the progression of the thread. Good stuff man.
---
World Wrestling Federation: The Montreal Fallout
New BTB. Check it out, eh?
Re: Presenting AOW: Art of War Wrestling - The Greatest Affair
---
Hey mate, I've been away from the section, and now that I'm back, I've been fairly busy working full time and studying two online subjects for uni. Basically, just making excuses for my lack of feedback in here or any other thread, but I am officially up to date with this thread now. I'm not going to leave a full bit of feedback, but I will say you've done a fine job establishing the company and what not.
Everything in terms of booking has been done pretty well, although the jobbing of Doane to RVD wasn't appreciated. Don't get me wrong, I totally understand their standings in the company, but Doane could have had a little more offense. I love the two new tag teams you've introduced, and the match was definitely entertaining. I'm praying for some sort of epic feud leading to a 2/3 falls match or something.
Also loved Finlay getting the win over Joe. Almost EVERYBODY in this section would have had Joe pick up the victory, I'm glad you chose otherwise. It just mixes up things, and I feel it was sort of necessary. Whether the feud continues or not, if Finlay lost two straight matches to Joe it wouldn't have done any good for him, so logical booking there, mate.
The one thing I perhaps dislike, or disagree with about this thread is the stuff regarding the actual company. It has nothing to do with the booking, which has been great, but I really dislike the company being given a pay per view slot so quickly, as well as the show extending to 90 minutes so soon. I know it might be hard to book everything you want in 60 minutes, but that's a challenge I think you were dealing with pretty well anyway.
The negative above is just a small knock on the actual thread though. To be honest, I'm probably one of the only guys who really cares about those sort of fundamentals anyway, but I'm putting it out there anyway. The thread's doing really well though, and now that I'm up to date, expect feedback for all your shows from here on in. Although depending on when you post your next one I might be a little slow, as I still need to catch up with Imac and Legend's threads. Keep it up though, because...Kirby approves.
---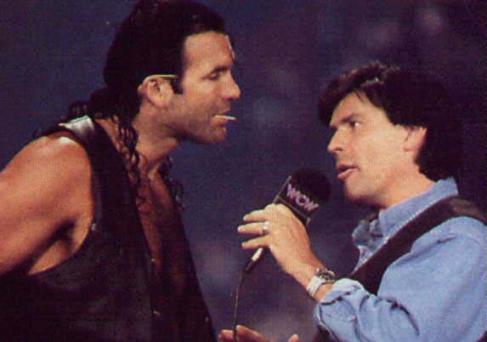 Finally Out of Cutey Sleep
Join Date: Jul 2006
Location: The Fountain of Dreams
Posts: 2,020
Points: 9
Re: Presenting AOW: Art of War Wrestling - The Greatest Affair
---
Wow, thank you very much, gentlemen. All the feedback is very much appreciated. Small notes on the actual thread in that I've changed the roster on the opening post to accomodate the two new tag teams (but not yet the unnamed third one), as well as adding an 'AOW Originals' section for new match types with a brief summary of their rules as well as links to their innagural matches. A show archive should be in construction, too.

But all that takes time and that's something I don't have a whole lot of right now. But again, thanks for all the feedback and Stoj, you should be getting some feed in the coming days after relapsing back on the booking wagon (and I too need to get caught up with Legend). As for the tag team champs (which are the WGTT, btw
), I actually had a segment in the show with them but I cut it out for time constrains. They'll be more apparent in later editions. But enough chatter. Good bit of news and notes to get to...
Quote:
Originally Posted by The Informer
~The A.O.K.O. Match has been declared a complete success, with the match giving AOW Oblivion its highest rating in the company's young history, just a notch above the pilot episode. The feeling is that the match set a whole new bar for AOW and its competitors, as well as being the conclusion of the Joe/Finlay blood feud, with Finlay being strongly considered for the spot of the #2 heel in the company following this, however, Finlay's character may come under fire. FX has garnered several concerns on the 'noose and gallows' ending, making note that if AOW wishes to continue doing things of the sort on a consistent basis, they may be forced to bump Oblivion's rating to TV-MA and push them back into a later timeslot, but most notes indicate that this was an 'isolated incident' and things like this will not be common on TV programs. The A.O.K.O concept will most certainly be used exclusively on PPV's following this anyhow.

~Speaking of PPVs, the huge risk involved so far in giving AOW a PPV this early doesn't seem to be paying off. Ticket sales are fairly slow, and there has been very marginal hype for the event on television. How AOW goes about fixing this may have an effect on the card as a whole.

~As previously noted, AOW is in close contact with William Regal, who is still under WWE contract until late December. The company has also kept close ties with D'Lo Brown and Al Snow, feeling all of these men would make for road agents as AOW continues to try and leave the Hammerstein more often. Regal will undoubtedly be an on-screen authority figure who competes should he defect.

~Also as previously noted, Rey Mysterio is to be written out fairly soon, potentially this coming edition of Oblivion. Also potentially being written out is Lance Storm, who will spend the next few months ironing out the OVW prospects in development.

~Speaking of the OVW prospects, AOW has signed another former Spirit Squad member in Johnny Jeter to an OVW contract. OVW also signed talent George Murdoch, who competes in Deep South Wrestling by the ringname "Brodus Clay".
~aohdubya.com exclusives
Quote:
Originally Posted by aohdubya.com
GENERAL MANAGER MICK FOLEY ANNOUNCES "TAG TEAM HALLOWEEN"


Exclusively on aohdubya.com, Mick Foley has released a statement regarding AOW's impending time extension on October 31st, saying that because of the wave of new teams and explosive tandem talents, it will be a showcase of the tag teams, the concept being that every tag team in AOW will compete that night! This means everyone from the AOW Tag Team Champion World's Greatest Tag team will be in action, their self-declared "#1 Contenders" The Mercenaries, all the way to the newest tag teams of the Sons of the Dungeon and American Made!

We've also received note that the team of men who assaulted the Sons of the Dungeon in their debut will introduce themselves and clarify their attack on this coming edition of Wednesday Night Oblivion.

---

GREGORY HELMS RESPONDS TO GETTING DIGITIZED BY THE DRAGON

Also exclusive here on aohdubya.com, Gregory Helms has posted a video response to the comments made against him by the Cruiserweight Champion via "Digitized by the Dragon" or "Rudely Interruptive Segment", as Danielson declared it.



Spoiler for Watch Helms respond:
Hopefully I return all feedback in a timely fashion, but actual show preview should be posted in the next few days so I can get the show up on the weekend. 'til then fellas.
---
CUTENESS²
AOW: Art of War Wrestling - The Greatest Affair
It's Baaaaack...
.:Oblivion Edition 39/40 Recap NOW POSTED!!:.
Asking JAMES ELLSWORTH for Wrestling Advice
Join Date: Feb 2011
Location: Detroit
Posts: 256
Points: 140
Re: Presenting AOW: Art of War Wrestling - The Greatest Affair
---
Gotta admit, I like the update post! First of all, having a statement about the network being upset over the finish of the AOKO match, and hearing that "World Ablaze" is struggling gave the BTB a new dimension of realism, and I highly appreciated that!

I'm kind of hoping that you use not only Regal, but Snow and D'Lo as occasional on-air talents once you hire them (If you hire them and aren't just putting us on, that is!), especially in the case of Al. I always thought these two were vastly under rated, and I'd like to see them in the ring every now and again! This statement is also valid with Lance Storm. Don't get me wrong, Storm's main concern should be with Developmental, but I freaking love Lance to death as a wrestler!

I don't know too much about Jeter, but I am excited to see Brodus being picked up! I think that, in due time, he could be a monster heel, and I think that Clay-Joe could be an amazing feud! Two big, pissed off dudes going at it! I'm not usually a huge fan of "Big Man VS Big Man" matches, but something about those two tells me that I could change my mind when it comes to them! Looking forward to seeing what other names pop up in developmental (If I may throw a name out there, I'd kinda like to see Trevor Murdoch. I'm interested in seeing what you could do with his character, since neither WWE or TNA did shit with him)

I do dig the fact that you're giving the tag division a HUGE rub with the tag show! I think that it could be really good, and could really establish what the future of the division will look like!

As always, loved the Helms bit! Helms VS Mysterio should be a great match, I'm just hoping that it doesn't end with Bryan interfering (I always hate it when good matches are ruined by lack luster endings, and I'm sensing that this is going to be a good match!)

Looking forward to the actual preview, mate!
---

WCW 1998:The War Continues
http://www.wrestlingforum.com/booker...continues.html

https://twitter.com/BrandonBrownson
https://www.youtube.com/user/THEBrandonBrownson

The roof is NOT my son, but I will RAISE IT!
Re: Presenting AOW: Art of War Wrestling - The Greatest Affair
---
Before I get to the actual content of your post, just a heads up, don't worry about feedback for me. Obviously I'd appreciate it, but if you're a little strapped for time I don't mind. I don't follow your thread in hope that you follow mine, I follow it because I enjoy. Anyway...

The network having a problem with the ending to Finlay/Joe makes sense. Finlay as the number two heel is even better, it all sounds good to me. I'm sort of happy to see you're at least mentioning it is a little early for a PPV. Also, the hype on your weekly shows for the PPV really does need to improve. It has been almost non existent to this point. I like the idea of Regal and D'Lo (he owns) coming in, although I wouldn't want Regal to be an on screen authority figure. That's WWE's bit, use their talent differently, please. More signings is alright, as is Mysterio and Lance 'DA FUCKING MAN' Storm being written off.

The tag team showcase is something I am really looking forward to, because tag team wrestling is epic. We need more bookers to realize this pronto. Another little thing, 'General Manager' in terms of wrestling is really only a WWE term. I don't like the idea of a new company borrowing the term, tbh.

Helms little segment was pretty solid. I don't get the insinuation that Danielson is dumb because he doesn't eat meat though. I thought you could have worked in a better insult then that, especially from a character like Helms. His match with Mysterio on Oblivion should be a show stealer, as should the match at World Ablaze. On a side note, and in attempt to stir up some competitiveness, I wonder who's Helms/Danielson will be better. Yours or Imac. That is all.
---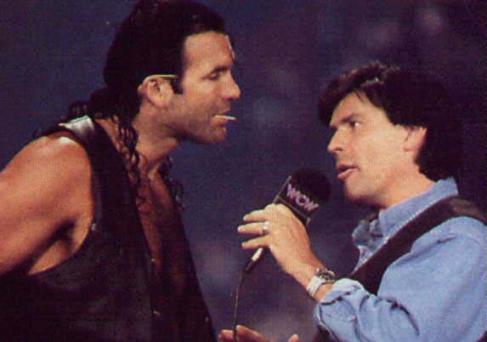 Finally Out of Cutey Sleep
Join Date: Jul 2006
Location: The Fountain of Dreams
Posts: 2,020
Points: 9
Re: Presenting AOW: Art of War Wrestling - The Greatest Affair
---
Quote:
On a side note, and in attempt to stir up some competitiveness, I wonder who's Helms/Danielson will be better. Yours or Imac. That is all.
And in my own effort to stir up competitiveness, the answer will be me. That is all
Quote:


10.24.07

The Hammerstein Ballroom – Manhattan, New York City, New York
*Final 1-Hour Edition*
"Attack by Stratagem"

At AOW's first ever Supershow, Chris Jericho walked away with the AOW Championship still wrapped around his waist. But the following week, Rob Van Dam was named to be the sole man he would defend against at AOW's first ever PPV event, World Ablaze! When Van Dam was given control of who Jericho would face until then, the champion scoffed and demanded something be done. What did Jericho do about this? He's seemingly been sneaking around, using Torrie Wilson to potentially fulfill his plans to get to General Manager Mick Foley! But this week, it's time for all the manipulations to stop! This Wednesday on Oblivion, Mick Foley and AOW Owner Paul Heyman oversee the contract signing between their biggest stars, set to go on their biggest stage yet! It's Rob Van Dam and Chris Jericho's AOW Championship match contract signing.

Last week, we saw a great deal of tension between GM Foley and Paul Heyman, which was put on hold when Torrie Wilson entered the frame and begged for a return of Christian Cage. While Heyman accepted, he said it was for "this week and this week only"! Now that Christian Cage's suspension has been lifted for only one night, what does the slowly deteriorating Cage have to say to the AOW faithful that seemingly turned their backs on him and forced him to become the 'Man on the Moon'? What is the 'bigger picture' that he sees? Or is all this just mumbo-jumbo in the mind of an insane man?

As seen on aohdubya.com, Gregory Helms is taking matters into his own hands when it comes to Bryan Danielson. Not only has he kidnapped the Cruiserweight Championship, but he's taken the liberty of putting off Danielson's title defense against him 'til World Ablaze instead of this week. Instead, he will try and do what Danielson could not do in his first AOW match – defeat Rey Mysterio under Yin v. Yang rules. There's no count outs, and with Helm seemingly bent on proving that he's better than Danielson in every way possible, how will this chain of events play out?

Two weeks ago, along with the announcement of the contract signing, we were promised a tag team match between the high-octane, high-flying teams of the Hooliganz and Low Jack that could have potentially been for the #1 Contendership. However, it appears that that title shot has been lapped up by The Mercenaries by somewhat shadowy means. The two teams will still have their match, but could the outcome potentially skew the way the title match is set up and name another contender…?


Last week saw the introduction of three young, promising tag teams – one of them scheduled, one of them completely out of the blue, and the other destructively unseen! Now, after decimating the Sons of the Dungeon following their defeat at the hands of American Made, the mysteriously destructive team will make an address about why they did and who they are. Also, the Sons of the Dungeon are poised to speak with the recently announced Tag Team Halloween on the horizon, Muhammad Hassan still has a title shot and money to burn, and have Ken Doane and Chris Masters made the impact they intended…? All this and more on the explosive, final 1-hour edition of AOW Wednesday Night Oblivion, 9/8c on FX!!



.:Confirmed for Oblivion:.

World Ablaze AOW Championship match contract signing

Christian Cage speaks

~YIN v. YANG~
Rey Mysterio v. Gregory Helms

Low Jack v. The Hooliganz

PLUS…

The team that assaulted the Sons of the Dungeon speak

AND…

Muhammad Hassan's "5-Minute, $50,000 Challenge" continues
Not too sure when this'll be up, but I'm aiming for Wednesday/Thursday-ish. It's getting to be final exam time at Uni so just trying to squeeze this thing along while trying to keep it fun for me.
---
CUTENESS²
AOW: Art of War Wrestling - The Greatest Affair
It's Baaaaack...
.:Oblivion Edition 39/40 Recap NOW POSTED!!:.
Re: Presenting AOW: Art of War Wrestling - The Greatest Affair
---
Just some quick notes, dude. The Helms video added some spice to the Cruiserweight scene, I'm a big fan of the way you write him and I like the fact you incorporate promo's into the thread without having them to be in the form of a show. Add's a nice bit of flair to the whole do, if I say so myself. The Tag Team night on Halloween should be interesting but mind you, could come off as being over-kill -- tag wrestling is fun, but an entire card without a singles match might be a little stale. Balls in your court, go dribble it.

As for the preview, you know I'm into the RVD and Jericho fued. You stole me away from other threads with that main event situation -- the contract signing this week should tie me over until I get to feast into the actually match. I want to see the title on RVD at some point -- but I think Jericho can still do a lot more for you as champion, in these early days of AOW. I'll be on the look-out for Oblivion, dude. Best of luck in that final exam, BTW!
Re: Presenting AOW: Art of War Wrestling - The Greatest Affair
---
Whilst I'd like you to do well in your exam, I'd prefer it more if the show got up sooner.
The show looks like it'll be a damn entertaining one. I'm not sure how many big in ring segments you can fit on the show, and as much as the championship match contract signing should be a good one, I'm hoping for a Christian Cage promo. The new tag team introducing themselves should be interesting as well. Your tag division is being made to be a really big deal right now, and that's something that I commend you for. I've said it once and I'll say it again, tag team wrestling owns.
The in ring action looks pretty damn impressive as well. As much as I'm looking forward to a 15 minute plus match between Helms and Mysterio, I have a feeling Danielson will mess that up.
Perhaps a little to stacked for an hour, with so many things deserving more time then what they will probably get. Still going to be one hell of a show though, I'll be reading.
---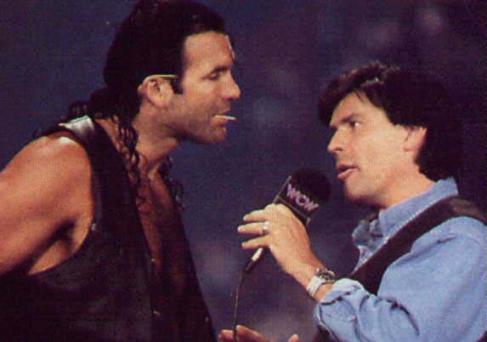 Posting Rules

You may not post new threads

You may not post replies

You may not post attachments

You may not edit your posts

---

HTML code is Off

---