Asking JAMES ELLSWORTH for Wrestling Advice
Join Date: Feb 2011
Location: Detroit
Posts: 256
Points: 140
Re: Presenting AOW: Art of War Wrestling - The Greatest Affair
---
I was wondering when the next one was gonna be up! Anyways, let's get into it!

Having Helms start the show off by talking to Mick and, by the seems of it, hacking his shit, was a solid beginning. Man, I can only imagine what the outcome of this is gonna be! Foley's been Hacked by Helms!

The opening segment was pretty good. It succeeds in setting Joe up to be a main event player in the very near future, which I am in favor of! The RVD rolling off Show's back thing was really damn cool! Looking forward to the main event already!

First match of the night was pretty good. While I'm kind of upset that the extent of the Mercenaries work has been with Hassan, I can't think of anyone other then Jericho that they would be doing work for, so it makes sense. It's looking like you're building up Punk and Hassan at the next Pay Per View, which could be a really good match!

The Doane-Masters segment was pretty good. Having the two kind of drink Jericho's Kool Aid makes sense. I can see the two becoming a tag team in the future, but that's besides the point. Kinda wondering whose gonna end up facing who. More importantly, my favorite angle you have going on! The way Torrie presented the RVD thing to Mick was brilliant, and actually makes a lot of sense! Having Jericho there to gloat right afterward was the icing on the cake! I really am in love with this angle!

Really looking forward to seeing the Sons of the Dungeon debut next week! You've definitely gotten me excited about AOW's two newest teams!

By god, that Christian segment was sheer brilliance! Like, the angle just got SO much better now that he's becoming this super dark character! Having him talk in third person actually added quite a bit to the promo, really gives you the belief that he's losing his damn mind! This is THE angle you have right now, and the number one reason I keep "tuning in" to AOW!

Having Masters win the match, Helms involvement or otherwise, was a major shock for me! It might have been a "Fluke Win", but it still helps Masters out quite a bit! Speakings of Helms, I figured that that's what he was doing on Foley's computer. I have to say, I'm surprised that you're giving the match away on the last one-hour Oblivion instead of having it on PPV, or even as the main event of the 90 minute AOW debut! Either or, I'm excited to see that match!

The 90 minute Oblivion promo was pretty good! Nothin' more to say there, really.

The tag segment was great! Evans' freestyle was actually pretty damn good, and the fist bump was funny. Having the Hooliganz hop in and Low Ki make the challenge was great, and the Mercenaries announcing that they have a match for the belts really makes me interested in what's going to happen! You're definitely taking very good care of your tag division which, admittedly, I overlook some times, but I appreciate the care that you have been putting toward it!

Man, that was a pretty good main event! Right amount of carnage, and having Foley come out at the beginning to make it a no dq match really does reinforce that, despite what RVD might do or say, he's still the one calling the shots! The contract signing should be entertaining, but you're AOKO match... man, that's actually a pretty good combination of matches! And you're giving it away next week? Man, if you're giving all of these matches away like that on regular TV, I'm really psyched to see what you have in store for the pay per view!

All in all, another good show! The Christian-Torrie-Jericho-Foley angle is still the one that has my undivided attention, but the Tag Team and Cruiserweight situations have me pumped as well! Hoping that your next update is sooner rather then later!
---

WCW 1998:The War Continues
http://www.wrestlingforum.com/booker...continues.html

https://twitter.com/BrandonBrownson
https://www.youtube.com/user/THEBrandonBrownson

The roof is NOT my son, but I will RAISE IT!
Wheelman for James Ellsworth
Join Date: Jan 2011
Posts: 501
Points: 0
Re: Presenting AOW: Art of War Wrestling - The Greatest Affair
---
Oblivion Feedback



Nice start to the show, always good to see different routes and this was certainly different. I love the whole Hacked by Helms thing and him sending an e-mail to Heyman is a great way of keeping that whole thing going, interested to see where it heads.

Joe promo time to 'officially' start the show was unexpected but it made sense after what he had to say. Thought you did a pretty good job here before bringing Jericho out which certainly added to the segment. Loved the 'No. As a matter of fact I wouldn't. But he might' line from Jericho. Good stuff and nice action in the aftermath of it. Tag match later should be a good one.

Very good opening match up here. Fits all the recent feuds going on and there was some nice action throughout, particularly enjoyed the Storm/Burchill stuff. Good ending to the match also with the Mercenaries showing what they're there for in doing the dirty work for Hassan.

Not a whole lot to say on the Doane.Masters stuff. Hopefully they take their chances in their respective matches. Liked the little 'impact' mention there, intentional jab at TNA or not, still brought a laugh lol.

Great stuff with Torrie/Foley and Jericho here. Really loved the puppet line, Jericho on a roll tonight. Jericho using Torrie to manipulate Foley is a nice twist and I like how Foley did recognise he may be making a mistake with this 'power trip'.

Absolutely terrific promo from Christian here. Fantastic stuff honestly. The whole moon metaphor was great and it's a side to Christian nobody has ever seen, which makes it all the more gripping. I loved the way this was written and I can't wait til Christian comes back into the fold as well as when the 'sun' comes back, in Bobby Lashley. The man on the moon, hell of a lot of potential with that title given to him. Top stuff.

Danielson/Masters was a nice contest here and glad to see Helms showing his face again tonight, thought that may've been it until next week. Big win for Masters so he certainly did make the right impact. Glad to see that there will be a rematch take place and I've no doubts you'll pull off a cracker.
Stealing the title is never a bad angle to go with and should be interesting to see what Danielson does next week to take it back.

Very good segment again here with LowJack. Love the whole Low Ki not saying anything whilst Evans is just a clown. LowJack/Londrick in two weeks should be another very nice contest. Big twist here though with the Mercenaries already securing a shot. Very well joined segment on the whole and glad to see the tag ranks getting a bit heated.

Some very nice, brutal action in the main event and very much enjoyed the added factor of Foley staying to watch. The whole Jericho/Foley rivalry is building well and makes me think that a possible match may be on the cards down the line. Good win for Van Dam here and I hope the two feuds, Finlay/Joe and Van Dam/Jericho continue to build.

A.O.KO? Certainly different and should be absolutely brutal when that occurs. Contract signing will no doubt bring some controversy also so good announcements to send the fans home happy in closing the show.

Overall I felt this was a better show than last week so I don't agree with you saying it's not great. Christian promo was tremendous and Jericho was in top form. Tag ranks are looking solid and next week with the A.O.K.O and Sons of Dungeon debut as well as Van Dam/Jericho/Foley escalating it should be another great show. Keep it up.
Finally Out of Cutey Sleep
Join Date: Jul 2006
Location: The Fountain of Dreams
Posts: 2,020
Points: 9
Re: Presenting AOW: Art of War Wrestling - The Greatest Affair
---
Thanks for the feedback, fellas. This show is still more than open for review, but I just thought I'd get some news out of thew way.
News and Notes
Quote:
Originally Posted by Newsheet
~Rey Mysterio is highly expected to be written out of TV within the next few weeks leading into the first ever PPV. Mysterio voluntarily rushed back from recovering from knee surgery to get the budding company off the ground in its opening several weeks, but with the feel that the company can go without him for a while, Mysterio has opted to continue his rehabilitation, which the company is more than open to him doing.

~The training ranks of AOW's development system in OVW is getting all the stronger. With Lance Storm and Finlay being used more in New York, AOW officials have been avidly trying to sign William Regal to a contract once his current one expires with the WWE. The feeling is that not only can Regal aid in training both AOW and OVW talent, but could very well be the company's first real road agent and give it a foot in the door of leaving the Hammerstein on a weekly basis in the near future.

~Speaking of OVW, the first call-ups from OVW are expected to make their first appearances this week, with the "Sons of the Dungeon" making their debut and "American Made" seemingly going to grace the program as well, although probably not to compete. There is a rumor going around that there could be yet another duo coming up depending on the success of the first OVW class in AOW.

~The internal feeling about the first-ever "A.O.K.O." match is fairly sketchy, but there is all around undisputed faith in both Samoa Joe and Finlay, especially in that they be the two to set the bar with it and would make the most out of the situation should anything go wrong with the way the match works. This was also the reason why this match was somewhat hotshot instead of occurring at the PPV, with both the uncertainty cited and with the other PPV plans reportedly being 'just as big'. There is to be a release on aohdubya.com prior to the match reiterating the rules of the brutal contest.
Quote:
Originally Posted by aohdubya.com
WORLD
ABLAZE POSTER REVELATION


There are still tickets available for the first ever AOW Pay-Per-View World Ablaze, coming to you live on November 11th, 2007, from the TD Banknorth Garden in the white-hot city of Boston!!

Not the best PPV poster ever, but I needed something. Again, show still open for feedback. Still haven't got the most time in the world to work on things, but expect the next show preview in the next few days and hope I can get a little more active in the section again.

Tootles 'til next time.
---
CUTENESS²
AOW: Art of War Wrestling - The Greatest Affair
It's Baaaaack...
.:Oblivion Edition 39/40 Recap NOW POSTED!!:.
Re: Presenting AOW: Art of War Wrestling - The Greatest Affair
---
All the news seems pretty standard for a budding company. The Mysterio/Regal stuff is fine, and you're known to be a creative bastard, so I'm really looking forward to this AOKO match. My only real issue is I feel like you've fallen into a trap that EVERYBODY does when booking a created thread. I feel like the company has earned a PPV way to easily, I would have preferred if this was held off for at least another couple of months.

The PPV poster isn't the best, but whatever. Hurry with the preview and show now, please.
---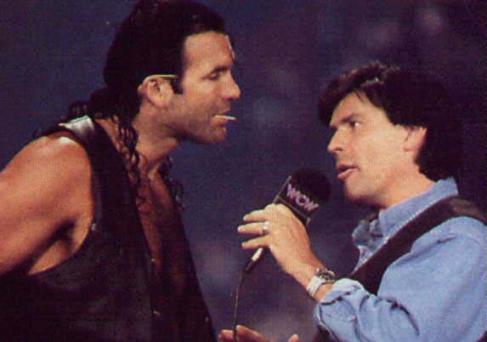 Finally Out of Cutey Sleep
Join Date: Jul 2006
Location: The Fountain of Dreams
Posts: 2,020
Points: 9
Re: Presenting AOW: Art of War Wrestling - The Greatest Affair
---
Quote:


10.17.07

The Hammerstein Ballroom – Manhattan, New York City, New York
"Hell Has Ascended…"

Since the inception of AOW, we've seen the intensity only rise between Samoa Joe and Finlay. Lost in the shuffle of the first ever episode of Oblivion, Finlay cost Joe what could've been his shot at the AOW Championship. And being the fighter he is, Joe just wouldn't let it go. Samoa Joe kept edging for a match against Finlay, but kept being dogged, before finally taking things into his own balled hands with one of the most crowning moments thus far in AOW history – with Finlay and Joe brawling all over the hardcore-infamous Hammerstein Ballroom, smashing down walls, pulling down fire extinguishers, and both men almost teetering over the edge of the Hammerstein balcony. The combustible elements that were both men soon collided at the first ever AOW Supershow, where they competed in a War Rules match, this time brawling all over the arena perfectly legal. And not to waste their newfound destructive freedom, they did, the match finally coming to an end not when one man was made to submit, but when Finlay passed out while in Joe's Clutch. Joe could now let it go. But Finlay could not. Assaulting and destroying Joe the weeks following that hellish match, the two are slated to now face off in yet another AOW Original – the "A.O.K.O." match, standing for the Art of the Knockout. The only way to win is to beat your opponent unconscious…inside a steel cage!! Now, with both of these warriors having the insatiable hunger to destroy one another, who will walk away from this declaration of war…and who won't walk at all?

Not to be overshadowed by the carnage-promising main event, the future of AOW is about to unfold right before our very eyes! Since the Supershow, we've been seeing video packages hyping the coming of the final 'Sons of the Dungeon', that being the world famous Hart Dungeon. But we've also seen a pair of young men who vow to be better than anything the Dungeon has ever produced, calling themselves "American Made", interrupting these segments. With the Sons of the Dungeon set to debut this week, American Made has already promised to keep a close eye on the young team. Who will make the bigger impact?

Come the company's first PPV in just under a month, World Ablaze, there will possibly be hell to pay for either Chris Jericho or Rob Van Dam. Jericho, playing his hand masterfully, it seems, manipulating all around him, including the vulnerable Torrie Wilson and using her to get to Mick Foley. What does this mean for RVD? It could very well mean the end of his power over Jericho! Will the mind games continue?

After last week's intense address, what of Wilson's best friend, Christian Cage? Also, what of Gregory Helms after convincing Heyman for a title shot…then stealing the actual title? And Muhammad Hassan has asked for airtime – what could that possibly be about? Not to mention Ken Doane is promised to be in action this week! So don't miss what could be the biggest Oblivion yet, this Wednesday, on FX!


.:Confirmed for Oblivion:.

*FIRST EVER*
~A.O.K.O. Match~
Samoa Joe v. Finlay

The Sons of the Dungeon debut

AND…

Ken Doane in action

ALSO…

Muhammad Hassan makes an address
Yeah, it's well over a week late, but time is a warrior's tool and evidently I'm no warrior. Show should be up tomorrow or Wednesday sometime.
---
CUTENESS²
AOW: Art of War Wrestling - The Greatest Affair
It's Baaaaack...
.:Oblivion Edition 39/40 Recap NOW POSTED!!:.
Re: Presenting AOW: Art of War Wrestling - The Greatest Affair
---
Back again here with some comments, skimmed through the shows I missed and sat down with a cuppa to fully read the latest Oblivion. I gotta say, I love the way you peice together the opening video. Adds a nice element to the show. Now, you've got Chris Jericho and Rob Van Dam in the opening segment. Got me hooked again, dude. These two are two of my favourite all time workers, and love reading them. You do a good job of portraying each, especially Jericho's "worthy man" gimmick. It's something I haven't seen done before and fits Jericho down to a tee. Tip of the beanie hat to you, sir. Looking forward to the first PPV, Jericho and Van Dam headlining gets a thumbs up for me. Might be a bit early to take the title of Jericho, though... He is the man here in AOW. Should stay that way until company finds it's feet.

I know you drop the WWE bomb here with Torrie, but man, I just don't like it. It wouldn't be done so casually on a show and just... irks me to see the name dropped so lightly. But holy crap, if Torrie Wilson could actually cut a promo like that? She might still be on our television sets. Good job there, broseph. Good cut in from Jericho, again -- you're writing of him is immense. Love reading it and it seems so in character. Same for Foley, exactly job. He's a little... less assertive than what I've come to expect from GM's in the way he speaks, but at least his desicions aren't so lacking. Again, more hype for the Jericho/RVD fued has me licking my lips. And it's not this cup of tea, either.

Meh, no time for Jamie Noble... but good to see Aero Star make his debut. Researched him when I reviewed your show the first time, looks.. a little weak on the offense side of things, but he's amazing in the air. If you're looking for more guys to fill out the division, I suggest taking a look at UK worker Pac -- he workes for Dragon Gate, and DGUSA occasionally.

Love the cruiserweight division as it stands, mind you. Not much to note on the Mysterio and Danielson segment, bar the fact I love what you're doing with Helms. Might not be main event shit, but it's nice to see he has a place. Don't know much about him as a person, but despite what I've heard, I love his work. I wanna see Danielson/Helms fight for that title again. GOSH I LOVE CRUISERWEIGHT WRESTLING.

Decent tag match, good to see Mexicools around, 'aint seen much of them BTB wise. Low Ki and Evans seems like a brilliant team -- I don't know if that team is of your creation or actually happened in real life, but whatever the case, I love it and it was a good match. Can't have Evans without the 630, so I hear, which effectively ended the match and topped off a good outing from them. Use both of these teams more and I'll be a happy camper.

JBL is an absolute dick in this thread, btw. Niiicee. Not interested in "The Mercanaries" or whatever it is their called. I like Burchill as a signles competitor, maybe you can try give him a run on his own somewhere down the line. I do enjoy a good WGTT match, mind you. One of my favourtie tag's of all time right there.

Unless my head randomly falls off, I'll be here waiting for "The Sons of the Dungeon". That little video package thing was immense, dude. You write hype/video packages so well... but wait, are Swagger and Ziggler the sons of the dungeon? Or were they two seperate videos. That may seems like a silly question, but this tea is making me feel dumb. Help a fella out here.

The Jericho/Torrie segment only further my point that Chris Jericho, is indeed, as you write him -- the best asshole in the whole world. I love what you do with him in this thread. It's refereshing to see his character portrayed like this, opposed to the usual WWE crap we're handed out. This is why I love created promotions. So much room to do what you wish. Ah now, Hassan? I can't escape that lad. He's everywhere I go. Literally... so sick of hearing his name in BTB. HE'S NOT THAT GOOD. Give Punk the title, man -- get this shit outta the way.

An immense main event Joe and Jericho. Btw, what the hell is a chickenwing crossface? I like the way you do run-ins, far from TNA style and you don't over-book them. I love (only, of course, 'cause I'm Irish) that you're using good 'aul Dave in a main event role, especially getting to work with Joe, Something I'd pay hard bucks for, for sure.

Keep up the work, bro. It's shit hot.
Re: Presenting AOW: Art of War Wrestling - The Greatest Affair
---
I was worried that maybe you had forgotten about us/given up on this. I'm happy to see that's not the case, because you've got so much going on here, and the next show should be a prime example of that.

The AOKO match should be absolutely brutal. I really hope it takes up almost half of the show, although Finlay must get the win. If you job him out twice to Joe, I'd be severely disappointed. The debuting tag teams should add some fuel to that division as well. I like that you're giving the teams a feud straight away, it saves them floating around aimlessly for the first month or so. I'm also excited for whatever happens next with Jericho/RVD, as well as Hassan's crowd address.

Once again, praying Finlay goes over. Created threads are supposed to be different, but damn near every one features Joe, Jericho and RVD just dominating. FINLAY has the chance to be a genuine superstar with how you've started the thread, please don't ruin it.

I'll be reading.
---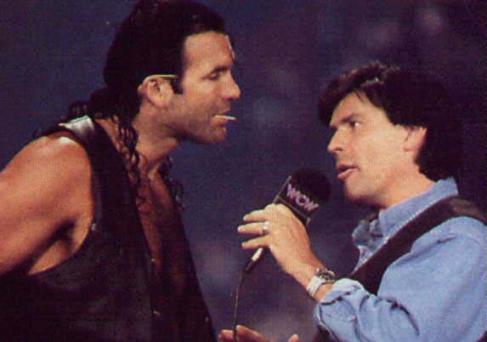 Finally Out of Cutey Sleep
Join Date: Jul 2006
Location: The Fountain of Dreams
Posts: 2,020
Points: 9
Re: Presenting AOW: Art of War Wrestling - The Greatest Affair
---



10.17.07

The Hammerstein Ballroom – Manhattan, New York City, New York
"Hell Has Ascended…"
Quote:
"The Fight Song" by Marilyn Manson vignette

(Whispers)

Fight…

RVD leaps for a Frog Splash…

Fight…

HBK cocks back, Sweet Chin Music ready…

Fight…

Finlay and Joe go at it on the balcony…

Fight…

Paul Wright lets his fist fly…

*Opening guitar riff*

You'll never grow up to be a big rock star

The camera goes from the ground up to the face of Paul Wright in his debut Week 3

Celebrated victim of your fame

Shawn Michaels comes down the ramp, pumped up from the main event of Week 1

Just cut our wrists like cheap coupons

Christian searches for his peeps from Week 5

And say that "death was on sale today"

Bryan Danielson raises his hand, singing his theme from Week 4

*Upped tempo, heavier sound*

And when we were good

Jack Evans' double moonsault from Week 1

You just close your eyes

Joe leaps through the ropes onto Kenny from Week 3

So when we are bad

Paul Wright chokeslams Michaels through the table from the Supershow

We'll scar your minds

A replayed shot of Shelton Benjamin German suplexing Paul London off the ladder from Week 4

Fight!

SWEET CHIN MUSIC!!

Fight!

WARRIOR'S WAY!!!

Fight!

MUSCLE BUSTER!!!

Fight!

SPEAR!! SPEAR!!

Fight!

CHOKESLAM!!!

Fight!

WORLD'S GREATEST DOOMSDAY DEVICE!!

Fight!

619!!!

Fight!

FIVE STAR FROG SPLASH!!!

*Final cymbal crash*

Chris Jericho holds the AOW World title high in the air


***

The arena is white hot as we open for another week in the Hammerstein, but it pops even more when "WALK" is heard, as Rob Van Dam, the #1 Contender, is announced and the ringing of a bell is heard, confirming that we're going to kick off Oblivion with an opening contest.

As Van Dam stands pandering with the crowd, he's cut off by the very annoying voice of Ken Doane, who walks onto the entrance stage, sans music, with a microphone in his hand.
Doane:
RVD, you've always struck me as a guy who did nothing but show off and be flashy to these hardcore degenerates, but when it comes right down to it, you're nothing but that – just flash.
~Doane is getting a good bit of unexpected heat here…
Doane:
And as the hottest prospect in all of professional wrestling, I think it's my duty to actually teach you how to wrestle, Rob. How to quit all that pandering and get the job done when needed. So Rob, I'm gonna be making an impact by taking out the #1 Contender tonight in this pukehole of an arena.
~The arena lets Doane have it, especially now that Doane has walked all the way into the ring
Doane:
And see Van Dam, when I take you down, I will prove to Mick Foley that I'm the guy he should be entrusting all that power to! Not some hardcore has-been who needs to –
~He's interrupted on his rampage by a Rob Van Dam spinning crescent hit to the face!

OPENING CONTEST
Rob Van Dam v. Ken Doane


RVD immediately follows the blur of a crescent kick by rebounding off the nearby ropes and executing a cartwheel standing moonsault. The move's execution is flawless, with Van Dam motioning with the crowd his trademark thumbs. Doane gets to his feet rather slowly, but when he does, Van Dam immediately greets him with the step-over spinning wheel kick that sends him right back down. Van Dam motions towards the top rope, sending the crowd into another frenzy. As soon as Van Dam springs his step onto the top rope, however, the crowd begins to buzz instead of a straightforward pop. Van Dam begins to get curious as he sits atop the top rope, looking back towards the entrance ramp and seeing why – and its seven feet of reason in Paul "The Great" Wright. Wright is galumphing towards Van Dam when Van Dam and the crowd take notice, causing RVD to direct his aim not towards the 'hottest prospect in professional wrestling', but towards the largest athlete in the world. Van Dam leaps from off the top rope and back onto the canvas. Wright simply stares from the outside towards the #1 Contender, who is incredibly distracted at the moment, enough for Doane to slip in behind him with a school boy roll-up – 1…2…3…NO!!! Van Dam kicks his legs up.

As Van Dam reaches his feet now, Doane greets him with a flawless dropkick, sending him backpedalling into a corner. Wright is still looking on when Doane follows that up with a hard corner elbow. Van Dam limply falls back into place in the corner, leaving Doane some space to rush and do it again…but Van Dam raises his legs and sends Doane crashing into the iron post, then flips over him for a sunset flip cover – 1…2…3…NO!! Doane has enough to keep going! When both men get to their feet, RVD meets Doane with another spinning crescent kick, but Doane ducks under this one, but Van Dam's momentum keeps going for him to get Doane down with a nice low leg trip, after which Van Dam flings himself on the downed Doane – 1…2…3-NO! Doane keeps going!

Van Dam sneers a little bit and looks over his shoulder to still see Wright standing, arms folded, and watching him like a hawk. Van Dam dares to venture over to Wright again for a split second, but soon drifts back to the ring where he's met with hard right hands from Doane, giving him room to rush off the ropes and meet Van Dam with a hard, momentous, snap swing neckbreaker. Doane with another cover – 1…2…3-NO!! The contest continues! Doane furiously follows that with a snap suplex before sizing RVD up for, and executing, a trifecta of arm drag roll-through clotheslines. A few are quite surprised at the offense Doane is getting here, but he could possibly attribute it all to the presence of the big man outside the ring. Even so, Doane heads to the top rope for what could be his Sky-High Legdrop….NOBODY HOME!!! Van Dam rolls out of the way at the last second, forcing Doane to land on his ass and grip his quad in pain. He rolls over onto his stomach side a bit while holding it, leading Van Dam to follow up with the ever over Rolling Thunder! RVD staggers a bit from the abuse he's taken, but he makes it to the top rope in a single bound before looking over at Wright, who hasn't really budged from his position, just staring at him. Van Dam looks at him and motions around his waist for a championship before telling Wright "Tell your boss this is for him!" before leaping and connecting with the Five Star Frog Splash!

Winner: Rob Van Dam at (7:19)


Van Dam looks over his shoulder while celebrating again, glaring into the abyss that is Paul Wright. But the abyss gazes also back at him, arms still folded and face unmoved. Wright now, seemingly uninterested, unfolds his arms and without the slightest change of expression, turns his back and walks back on up the ramp, leaving Van Dam to wonder why Wright would simply walk away and not attempt to beat on him. Others in attendance perhaps wonder the same, our commentators as well…


Joey Styles:
Uh welcome to this edition of Wednesday Night Oblivion, I'm Joey Styles alongside John "Bradshaw" Layfield and this is a very peculiar development. RVD kicking off the night with a victory over Ken Doane here en route to his title match in a few weeks, but perhaps a bigger question is why exactly was Paul "The Great" Wright out here tonight?

JBL:
Mind games, Joey, mind games. Chris Jericho is a Worthy Champion, and being a former worthy world champion myself, I know all about winnin' a fight before it even begins. That's what Chris Jericho's doin' here. Wright doesn't even have to touch RVD t' do that. You don't really need an analyst to tell you how much a seven-foot monster jus' doin' somethin' as simple as standing there can do to you.

Joey Styles:
I suppose I can go along with that, but Paul Wright just hangin' out at ringside is far, FAR from the biggest we have for you tonight, ladies and gentlemen!

JBL:
Oh, FAR indeed, Joey!

Joey Styles:
We've got what will be the very future of AOW in the debut of the Sons of the Dungeon! Two young men try to make their mark in the rugged world of professional wrestling here tonight, already having a legacy of mystique surrounding them!

JBL:
Hey, let's not forget the words of those boys alongside'em, American Made. They said they'd be in attendance t'night to get a look at these boys.

Joey Styles:
That's true John, the future of AOW will be completely on display here tonight, but for our main event…this just might be the bloodiest, most insidious main event in the history of professional wrestling. The rivalry, the brooding, the insatiable hatred between Finlay and Samoa Joe has reached beyond the boiling point. And tonight, they lock up in the first ever "A.O.K.O." match, standing for the "Art of the Knockout" match.

JBL:
Mick Foley is a sick bastard and should be removed from his position as General Manager, but as a former colleague 'f mine would say "This is gonna be a slobberknocker."

Joey Styles:
And as you can see above the ring, ladies and gentlemen, are those fifteen foot high walls of that steel cage that will enclose those two men tonight and force them to battle it out until one of them cannot answer a ten count. We have an absolutely huge night planned here tonight, so stay with us as we head to war, here on Oblivion!

~Backstage…

As we arrive backstage, we see the physical presence of AOW Owner Paul Heyman for the first time in several weeks, where he and General Manager Mick Foley appear to be in the GM's office having some sort of disagreement…

Mick Foley:
Look, Paul, you can't just override my authority like you did with Gregory Helms. I made the call that he was tampering with evidence, I suppose is the term, and trying to literally create a title shot for himself.

Paul Heyman:
Mick, I'm gonna remind you that you're my General Manager. My General Manager. I own you. I hired you. My authority goes much higher than yours. I think I can just override your decisions like that.

Mick Foley:
With all due respect, Mr. Heyman, and I very much appreciate what you've done in the last month or so. I know you've been away dealing with business things, getting us timeslots, Pay-Per-Views, and giving us a chance to better showcase our stuff and grow as a company, but that's why you appointed me. You hired me to make the decisions while you couldn't, or perhaps make better decisions.

Paul Heyman:
Then maybe I should just get rid of you, Mick. With everything falling into place because I made it so, y'know there might not be much of a need anymore for a guy like you to keep questioning me. And pardon me if I'm wrong, but haven't I been getting complaints from numerous folks that you're…what's the word he used…"corrupt?" That you have a "poor sense of judgment?"

Mick Foley:
Oh, I've got terrible judgment?
~Before Heyman can offer a rebuttal, the office door opens, getting both men's attention at the sight of Torrie Wilson, who immediately realizes that this isn't the best time

Torrie Wilson:
Oh…um…sorry gentlemen –

Mick Foley:
No, Torrie, please stay. You'll further prove my point. Paul, I think you need me. This young lady here has a tremendous weight on her shoulders that you put there. You suspended her best friend and confidant and she has made plea after plea to get him re-instated, but I can't do anything about it because it's your call. Your poor judgment call, not mine.

Paul Heyman:
So it was a poor judgment call to suspend a man who viciously and unnecessarily assaulted another man, was becoming rapidly more unstable, and putting the entire roster in a state of fear? That was a poor judgment call, Foley?

Torrie Wilson:
I…I don't mean to overstep here, but Mr. Heyman, Mick's done a wonderful job so far as General Manager. And maybe, yeah, some things are a bit…uh…"extreme" for lack of a better term. But would you have a Paul Heyman production any other way…?
~Heyman seems a bit pleased with this, and even gets a pop out of the crowd. Ms. Wilson seems very good at conviction recently…

Torrie Wilson:
And I'm not trying to look for special treatment, Mr. Heyman, but I have been advocating for the reinstatement of Christian Cage. I feel like if Christian were back around people, he might not feel the way he does right now. And Mr. Heyman, if you do give him just one chance, I promise to keep Christian contained and in check and -

Paul Heyman:
You've swayed me, Miss Wilson, say no more. I'll give Christian one last chance. Tell him to be here next week, in that ring, where he can clear his head in the open. But next week and next week only. Understand?

Torrie Wilson:
Oh, yes sir!
~Wilson gets a very grateful grin, perhaps the first legitimate smile she's donned in a while

Mick Foley:
Tor, could you shut the door on your way out, please?
~Wilson walks out of the room, leaving the businessmen to their tension and shuts the door behind her as requested. The smile on her face quickly fades as she sees who was standing outside of the door yet again in AOW Champion Chris Jericho. He doesn't have a pleased look on his face as he stands arms folded in potential disappointment.

Chris Jericho:
What was that, Wilson? Filling your own personal agenda isn't part of the plan.

Torrie Wilson:
Well, I'm through, okay Jericho? You didn't hold up your end of the bargain. You promised me Christian and I had to go in there and get him back myself. Our deal's off.
~Wilson attempts to storm off, but Jericho quickly cuts her off

Chris Jericho:
Do you really think Paul Heyman was in that room just by mere chance…? The fact that he hasn't shown his face here for over a month and then suddenly does, has nothing to do with me, does it? You think I ordered you down here, in that room right now, "just because"? No. I orchestrated this. I put him in that room. I put you in that room.
~Jericho is very much in the face of Wilson now, practically kissing her

Chris Jericho:
And maybe, yes, I reneged on our agreement slightly. I might not have directly given you Christian Cage. But as gifted a man as I am, Miss Wilson, I could not have convinced either of those men the way you would have. So instead of handing you your Christian on a silver platter, I helped you in getting that platter for yourself.

Torrie Wilson:
But Jericho…I did what you said. I got Mick to rethink your stipulations. I got him to say maybe he was wrong about RVD. And now…I guess you did turn up on your end. But that means our deal is complete, right? I can still –

Chris Jericho:
No, see you don't walk away until I say you can. You're not done with my plans and you're not bigger than my plans. And y'know just as quickly as Paul Heyman can give you Christian…maybe I walk in that room and take it back. Or when he's here next week…maybe I take him out. For good.
~Wilson now appears to be on the verge of tears, in which Jericho finally lets her go past him. As the camera slowly zooms in on the intense face of Jericho, it slowly twists into a smirk…

Chris Jericho:
One…step…ahead…

**COMMERCIAL BREAK**


As we return from the break, we see what appears to be AOW Dynasty Champion Muhammad Hassan in his head towel and an open robe, Dynasty title on his stomach, being fanned my scantily-clad women while lying on a Sultan's couch. Another woman dressed to belly dance attire is feeding him grapes. He appears to be somewhere in the arena, but we're not sure where. He delightfully stops lounging around and brings his feet forward, sitting upright, now looking into the camera, the woman previously feeding him now leaning on him.

Hassan:
It feels oh, so wonderful to have the best power in the world – the almighty dollar. And to think, to amass what you see around me right now wasn't even a dent in my wallet.
~Hassan chuckles

Hassan:
This is the life of a man made filthy rich by you people. And it's something no one but me will ever be able to fully appreciate and encompass. The same goes for being Dynasty Champion.
~Hassan now brings attention to the title in his lap

Hassan:
I will never lose this championship for as long as I live. And with all of my wealth, I think I'm going to live and be champion for a very very long time.
~Hassan laughs, almost comic book evilly, while the women around him laugh with him

Hassan:
But despite how angry all of you who used to judge me have made me, I am a changed man. A better person than all of you if you will. I like to spread my wealth around. I already offer great benefits to those who seek my patronage. Just ask The Mercenaries, for whom I have bought a Tag Team Championship match at World Ablaze.
~Apparently, Burchill and Albright weren't blowing smoke last week

Hassan:
But I'd like to extend my pool because I'm a generous man. So today, I'd like to issue what I call the 5 Minute, $50,000 Challenge. Starting tonight, if there is anyone who can defeat me in that ring in five minutes, not only will you receive $50,000, but I'll give you a Dynasty Championship title opportunity.
~Hassan reaches off-screen a bit to grab a silver briefcase, which he opens to reveal $50,000 in cold, hard cash. When one of the belly-dancer women reaches towards the briefcase to perhaps touch the money, Hassan snaps it shut, his fake smile disappearing as quickly as he almost guillotined that model's finger.

Hassan: (Almost seething now)
I do this because there isn't a single one of you is not only worthy of my own money, but to even step in the ring with me for my Dynasty Championship. I will PROVE to ALL of you ingrates that you are all peasants to my patronage! So if you think you're hot stuff, you are more than welcome to come down that ramp and try to take it from me. UNLESS your name is CM Punk. Punk you are BARRED from participating in this challenge and will NEVER face me for my Dynasty Championship!
~Hassan is essentially screaming into the camera at this point

Hassan:
May the best peasant fall the fastest.
~Hassan releases his tension and lounges back on his Sultan couch and being pampered, showing no hurry, nor worry that he's let his challenge open, and potentially executing it, tonight.


~Back at ringside…


There is a distinct murmur and buzz around the arena, but then we hear what sounds like the greatest guitar riff in wrestling history meet our ears, as what sounds like Bret "Hit Man" Hart's music seems to be starting, but immediately cuts off. The Ballroom goes dark, with the arena still popping big and buzzing from the guitar riff, but the music cuts back on for a much heavier sounding theme called "EXECUTERS OF EXCELLENCE", as two men walk through the AOW blood red curtain to a nice ovation, who we are assuming are the Sons of the Dungeon, evident in not only music, but attire, both men wearing variations of black and pink.

Joey Styles:
Well, ladies and gentlemen, this is the team of Harry Smith and TJ Wilson, who we've seen being advertised collectively as the 'Sons of the Dungeon'. The one on the left, the bigger one, that's Harry Smith, the son of the legendary Davey Boy "British Bulldog" Smith and Diana Hart of the legendary Hart wrestling family. The smaller one on the right is TJ Wilson, who is the very last graduate of the legendary Hart Dungeon.

JBL:
Both of these guys have been schooled since birth to be the absolute best, an' I'm hopin' they can make a hellova impact here tonight.

Joey Styles:
The 'Executers of Excellence' as they've somewhat been branded, the Sons of the Dungeon get set for their debut contest.

After that introduction and both Wilson and Smith playing to the crowd a bit their music suddenly cuts off, not even bothering to fade or their video to cut away. It's promptly interrupted by what sounds like intense trumpets blaring, almost Kurt Angle-esque at first chime, before it flows into something patriotic with a noticeable dark undertone to it begins to play,( a theme titled "WE AS AMERICANS") as two men we recognize as Nick Nameth, mike in hand, and Jack Hagar (Jack Swagger, for those unfamiliar) come down the ramp. Both men look dressed to compete here, with boots on and both men donning amateur wrestling singlets fully clad in red, white, and blue.

Nameth:
You look a bit surprised, guys. Well you shouldn't be. We said we were gonna keep our 'Eagle-eyes' on you, and there's only one way a pair of All-American wrestlers know how to do that.
~Nameth pauses, giving us a camera angle of the Sons in the ring, looking somewhat confused

Nameth:
And that's beat you, pin you, and show you phonies what real the real art of wrestling is!
~Nameth drops the mike, the music continuing as they continue down the ramp

Joey Styles:
What the…? I think this is the team of Nick Nameth, the blond on the left, and Jack Hagar, the taller one on your right, ladies and gentlemen. Two former All-Americans, they've dubbed themselves "American Made", already having expressed displeasure with the Sons of the Dungeon, and we're already getting a match out of them!

JBL:
I love it. These guys have some damn good heads on their shoulders to think 'f a strategy like that. Bret Hart's boys might be tough, but America's boys're tougher!

MATCH 2
*Double Debut*
Sons of the Dungeon v. American Made


The Sons aren't quite sure how to feel about the guys who have blasted and slandered them before they even set foot in a ring being their first ever, unexpected opponents, but nonetheless, they're ready to go to work. The cocky, fresh team of American Made begins showcasing this, with Nameth stepping in first and walking with confidence directly into the Sons' corner, smack talking and telling them "I don't care where you trained, we're the best this place as to offer! We're the very, very best!" Nameth slicks his hot blonde hair back as he takes a step back, giving them a look of 'what the fuck are you gonna do about it?' Hagar is laughing away in his team's corner, while the Sons of the Dungeon just look at each other before they both step into the ring and grab Nameth by his blond hair and promptly nail a double vertical suplex!! WOW!!!

The Sons seem intently focused on their wrestling speaking for them, as the referee has to admonish both men, telling them only one of them can be legally in the ring right now. Wilson steps out, leaving the first two legal men to be Smith and Nameth, who is still very much feeling the effects of that perfect double suplex. With Nameth rising to his feet somewhat wobbly-legged, he's introduced to Smith with a hard running clothesline, followed by another, and then a third. As Nameth gets to his feet one more time, he's hoisted onto Smith's shoulders, potentially setting up for his father's signature Powerslam, but he veers too close to his opponents' corner, getting Hagar to pull Nameth from off his shoulders and tagging himself in in the process.

The 6' 5" and 6' 6" titans in Smith and Hagar respectively drift to the center of the ring, staring each other essentially eye to eye. They continue staring, neither saying a word, until Smith pushes Hagar. The crowd pops at this, as Hagar is taken aback literally and physically. He stares down on his chest where Smith shoved him for a second before slowly looking up with an angry expression and stepping forward, pushing Smith back. Smith promptly answers with another no-nonsense shove, followed immediately by another Hagar shove, which is promptly followed by Smith quickly giving Hagar a hard headbutt!!! Hagar didn't see this coming at all, as the crowd pops for the ruggedness the Sons have already shown here. He follows this up by pulling Hagar into his corner and tagging in Wilson for the first time. When he does so, Smith snapmares Hagar over, leading to Wilson rebounding off the ropes and nailing a low dropkick to the face of Hagar! The first cover – 1…2…NO!! Wilson is bench press lifted off of Hagar!

Jack showing he and his team have plenty of fight left, quickly gets to his feet only to be greeted by a flurry of Wilson kicks, one after the other, to his midsection, forcing Hagar over. Wilson backs into the ropes and rebounds, but is caught on the rebound by a nasty snap powerslam from Hagar, which was preceded by an amateur wrestling-like shoot. Hagar now covers the powered down Wilson – 1…2…3-NO! Not so fast! Hagar drags the downed Wilson by the arm into his corner and tags Nameth back in.

Nameth kicks Wilson while he's down, then stomps on him rabidly before keeping his foot pressed on his neck and using the ropes as leverage, drawing the ire of the referee. With the ref's back turned to his corner momentarily, Hagar continues what his partner did while still on the apron, with a rope-leveraged knee to Wilson's throat. Nameth is still obviously pissed from getting his words shoved back in his mouth earlier, so he forces Wilson to his feet before nailing a high-angle backdrop, followed quickly by a swinging neckbreaker before finishing the fearsome combo with a flipping neck snap, before covering – 1…2…3…NO!! Wilson stays alive!

Nameth is getting more aggravated, but as he bends over to pick Wilson up for another maneuver, he's caught in a small package!! 1…2…3…NO!! Nameth forces his way out, but as both men quickly make it back to their feet, Nameth is immediately struck with a Wilson leaping roundhouse kick!! Nameth falls hard, but rolls to the outside, being consoled by Hagar. We can hear Hagar trying to calm Nameth down, telling him his temper is getting in the way of his skill. Smith and Wilson don't give them much time to talk therapy, however, as Smith sets himself up close to the ropes, Wilson on the opposite ones. Wilson rushes and leaps, with Smith lifting him for extra leverage…AIDED FLIPPING SENTON OVER THE TOP ROPE!!! Right onto both Hagar and Nameth!! The crowd is pumped for that!
Joey Styles:
Both of these debuting teams showing intense aggression here in their debut match, but who'll prevail?

**COMMERCIAL BREAK**
As we return from the break, we're back to find both Nameth and Hagar in control on the outside of the ring of Harry Smith. A quick replay shows us that during the commercial, the fearless Wilson was taken by Hagar and military pressed onto the barricade before Nameth followed that up by taking him and chunking him into said barricade, taking him out for a while. With American Made in full control of Smith, they return the favor of the double suplex earlier with a double suplex of their own on the floor! Nameth, his temper still rising, gets in the face of the downed Smith and screams at him how they are perfection. Wilson is taken from his damaged position and thrown into the ring now, Nameth confident no one can help him – 1…2…3…NO!! Wilson shows some resolve!

This doesn't help the short fuse of Nameth, who pounds on the canvas repeatedly in frustration before capturing Wilson in a sleeper with scissors hold. Wilson starts to fade but begins fighting back, the crowd staring to get on his side and prompt him to escape, which he finally does by unhinging the scissors, keeping hold of Nameth's leg and looking to turn it into a Figure 4 Leg Lock(WOOOOO!), but Nameth rolls to his back and kicks Wilson away, TJ collapsing onto the apron. Nameth crawls to his corner and tags in Hagar, who goes over to the apron and tries to flip Wilson back into the ring, but is stopped by hard elbows. Wilson springboards, looking for something…but Hagar ducks, sending Wilson flying over his head, but the ever athletic Wilson lands on his feet. As Hagar rushes towards Wilson, whose back is turned to him, Wilson delivers a swift jumping back kick that sends Hagar sprawling onto the middle rope. Wilson goes over to perhaps set up a springboard leg drop to the dangling Hagar…but he moves again! Hagar stands straight up, Wilson crashing his upper thigh on the ring apron. This gives Hagar a moment to breathe, but Wilson doesn't let up, looking to get back in by springboarding back into the ring yet again, looking for something else…counter belly-to-belly suplex by Hagar! Wow!! Wilson flies over the head of Hagar and a cover – 1…2…3-NO!! Still not going down!

It looks like Smith has recovered and is getting to his apron, which Hagar realizes and goes to knock him down again with a hard right hand. Hagar drags the limp Wilson to his corner again and tags in Nameth, who stands on the middle rope. Hagar grabs Wilson by the waist and lifts him backward before throwing him forward for a wheelbarrow facebuster, but as he does so, Nameth leaps from off the second rope with a simultaneous wheelbarrow facebuster/leg drop to the back of the head combo!! Wilson's face is absolutely spiked into the canvas on that one, the crowd popping for the maneuver. Nameth puts on an overconfident cover – 1…2…3….NO!! Smith flies into the ring at the last second, giving an axe handle to get Nameth off his partner. Hagar then steps in again to face him, but he's quickly countered with a big boot. Nameth now rushes, which Smith counters by ducking under his clothesline before Smith puts him on his shoulder...RUNNING POWERSLAM!!! RUNNING POWERSLAM!!! The crowd goes wild for the huge tribute to Smith's father, but he's not the legal man! Smith grabs Wilson and puts him on top of Nameth, but as he does so, the referee tells him he has to get out of the ring, turning his back to a three count. Smith takes his steps back into his corner, when the referee finally starts the three count – 1…2…3…NO!! Nameth kicks out of what was perhaps a 10-count had the referee paid attention!

Smith now can only hold onto the tag rope and lean over the ropes, hoping that Wilson recovers in time to get the tag to him. We've got a double crawl doing on, as Nameth starts to go to Hagar and TJ tries to get to Harry. Both men are reaching, reaching…Nameth get the tag to Hagar…YES! Hot tag to Smith, who rushes towards the All-American Hagar with another three-peat clothesline and getting the crowd back into things, but upon rushing at Hagar a fourth time, he's beheaded with a sick counter clothesline. Hagar takes Smith in a hard amateur style cover following – 1…2…NO!! Smith makes sure the match rolls on, surprising Hagar with a quick recovery, followed into his own overhead belly-to-belly suplex! A counter cover – 1…2…NO!! Hagar keeps life!

Smith throws Hagar into the ropes, nailing a nice hip toss on the rebound. He follows up on this with a nice scoop powerslam before looking towards his corner and tags back in a very focused Wilson. Wilson nails a very acrobatic springboard elbow drop, but doesn't cover. Instead, he opens his arms, Bret Hart-esque towards Smith and screams "HART ATTACK!" getting a great anticipative reaction from the crowd. As they do this, however, Nameth tries to stop them by rushing at them, but the Sons simply side step him and guide him over the top rope. Nameth flies over, but holds onto the top rope, staying down on the apron. Smith gets Hagar in his clutches as Wilson rebounds…HART ATTACK!!! HART ATTACK!! The crowd pops like crazy and Wilson looks to cover…no count…Nameth is distracting the ref!

The irate Nameth points towards Smith, arguing he's not the legal man, and after an intense exchange between ref and wrestler, the blind referee tells Smith he has to leave. By this time, Wilson has gotten off the body of Hagar and is aiding in arguing for his partner, but Smith begrudgingly leaves quietly. Wilson goes over to Hagar anyway and pulls his legs up and open, getting another nostalgic reaction from the crowd. He steps though…SHARPSHOOTER!! SHARPSHOOTER! The crowd's going nuts, as this last for a few seconds, Hagar not tapping. Nameth sneakingly starts to enter the ring, but when Smith sees him and sets a foot into the ring, the referee orders him back, leaving Nameth to enter unopposed…SUPERKICK!! SUPERKICK TO WILSON!! Nameth quickly scores an American football touchdown on the face of Wilson, ending the famous Canadian hold. Smith then charges across the ring at Nameth, who quickly makes an exit, but Smith follows in pursuit. With that cat-and-mouse game going on, Hagar takes the dead Wilson and makes him deader, performing the Red, White, and Blue Thunder spin-out powerbomb, effectively breaking Wilson in half. He keeps the cover – 1…2…Smith tries to run back and stop it…3…!!!

TOO LATE!!

Winners: American Made at (15:39)


Hagar scurries under the bottom rope as Smith comes in to aid his tag team partner, while Hagar goes up the ramp to join his cowardly short-fused teammate to celebrate from afar.
Joey Styles:
A debut spoiled, but a definite impact made between these two budding young teams here tonight!

JBL:
To the victor go the spoils, Joey, an' the Sons o' the Dungeon put up on hellova fight, but in the end, America pulls away with the win like it always does! Ha-Ha!

Joey Styles:
American Made pulling away with the somewhat controversial finish against the Sons of the Dungeon in both team's debut contest and let me be the first to say that if that's the way these new teams are gonna compete, I'm all for it, but if that's the way American Made wants to win, they're no part of the America I'm proud of!

JBL:
If you don't like American Made, you're a terrorist! Joey, you're a terrorist! You hate America!

Joey Styles:
I'm a terrorist because I believe in fair competition? How does that make me a terrorist?

JBL:
Those boys represent America, dammit! Show them some respect!

Joey Styles:
Wait a minute…what's this here…
Smith gets Wilson to his feet, his arm slung over his shoulder and the crowd delivering a standing ovation for the boys from the Hart Dungeon here tonight. They both acknowledge this and begin to walk off, but the ovation suddenly becomes a loud, mixed buzz. They do this because out of nowhere, two men have assaulted the Sons of the Dungeon from behind! American Made even stop in their hurried trek to leave to see these two men assault their opponents.

These two men appear caramel in skin tone, with black sleeveless undershirts and black legging tights (think Umaga-esque on those), both also wearing what seem to be MMA-style grappling gloves. One man is larger than the other and has his bushy, curly hair pulled away from his face (very few in attendance recognize them as Sonny Siaki and Afa Jr.). The smaller man (Siaki) orders the larger one (Afa) into an orchestrated position it seems, as Siaki takes Harry Smith and whips him into the ropes before military pressing him into the air…RIGHT INTO HIS PARTER'S CLUTCHES WITH A SAVAGE SAMOAN DROP. Both men then make incoherent noises before each of them drag a man each close to a corner before ascending to the top rope, leaping simultaneously, and nailing double splashes from the top rope. The crowd, the commentators, and even American Made are stunned at what they've just seen, as the perpetrators of the assault simply look at their handiwork and exalt in savage celebration, no one else quite sure what they've just seen.
Quote:
**Video Package**

We see the image of a book, made of papyrus or some sort of medieval material, but it is written in English. We then hear a narrator; the same narrator from the Supershow, that being of a wise, old, but strong man. Oriental strings are again playing in the background.
Narrator:
In the inception of a war, one must first make their cautious and calculated preparations.
A wind blows by the book, forcing it open to a page headlined "Chapter 1: Initial Estimations"
Narrator:
But a great strategist knows when the winds of change blow, one must adjust and prepare for the war ahead…
The camera view fades in to the page, highlighting the phrase "Prepare and you shall succeed. Do not and you shall be destroyed…"
Narrator:
So on October Thirty-First, a long Halloween, the preparations are over and it is time for the true fight to begin…
The wind blows once again, sending pages flipping towards a new page, headlined "Chapter 2: Waging War"
Narrator:
Now is the time to move to the next chapter. Now is time for the art to be perfected. Now is the time for WAR.
The oriental strings suddenly echo into a heavy metal guitar rift, which is followed quickly by a rapid reel of AOW wrestlers flashing, a flurry of punches and kicks coming towards the screen, before a graphic of final, emphatic words busts onto the screen –
AOW WEDNESDAY NIGHT OBLIVION EXTENDS TO 90 MINUTES
October 31st
Until the next chapter…
**COMMERCIAL BREAK**
Upon our return, we're immediately back at ringside where "MAD MAN" is playing over the sound system, as Muhammad Hassan is coming down the ramp to a great deal of heat. His Dynasty Championship around his waist, his leisure robe still on, and a bundle of grapes in one hand feeding himself, but in the other hand is his $50,000 briefcase. As he arrives to the ring, he throws the grapes at a front row fan, smashing grape juice all over the fan's face. The announcement from Tony Chimel confirms that this is, in fact, a "5-Minute, $50,000 Challenge" match.
Joey Styles:
We're back here live on Wednesday Night Oblivion, one of just two editions left of Oblivion that will be one hour long, where it appears Muhammad Hassan will conduct the opening of his "5-Minute, $50,000 Challenge". Anyone who can defeat Hassan will not only get a Dynasty Championship title shot, but that $50,000 briefcase as well.

JBL:
There's nothin' in my contract that says I can't do that, is there?

Joey Styles:
I don't see why not, John. The only person Hassan said isn't allowed to is…well…

JBL:
Is CM Punk. Say that bastards name, Joey. I was on the fence on likin' Hassan, but he seems to like CM Punk as much as I do. An' that's all the conviction I need.

Joey Styles:
Well, while JBL seems to have found the love of his life, we're not quite sure who will take the challenge here tonight, and Hassan doesn't know either! But he doesn't seem to concerned about it…
"MACH" greets our ears now, as a man we haven't seen since the Supershow in Matt Sydal comes through the curtain to a nice ovation. Sydal's high-flying moves haven't been seen in a while, but it's not stopping him from gutsy-ing up and trying to take down Hassan for his shot at gold.

MATCH 3
*5-Minutes, $50,000 Challenge*
AOW Dynasty Champion Muhammad Hassan v. Matt Sydal


Hassan takes a moment to gaze at his opponent, whom he's faced and defeated before. Hassan stands and smiles, eventually developing a laugh towards Sydal, who he picked on the last time the two faced. Sydal merely stands across from him, hands on his hips, and looks on in disappointment. While Hassan is holding his gut in laughter, the clock is really winding down, which Sydal responds to by rushing towards Hassan and nailing him with a very quick jumping knee to the jaw! The high paced offense of Sydal is put to the test here, as Hassan goes down onto one knee, prompting Sydal to rush towards the ropes behind the champion, rebounding off them, and nails a dropkick to the back of Hassan's head! A cover – 1…2…3-NO!! A clock at the bottom of the screen tells us Sydal has roughly 4:15 left on it.

Matt looks for the finish, dragging Hassan towards a corner and looking to go to the top rope, but Hassan wakes up and finally gets serious, bashing Sydal on his gut several times before joining him on the top rope, looking for a superlex perhaps, but Sydal fights him off with a few elbows and feet before positioning himself and nailing a leaping reverse elbow that sends Hassan rolling all the way cross the ring. Sydal waits for him to recover a bit and rushes back at him looking for something, but Hassan counters with a well-timed tilt-a-whirl backbreaker that Hassan follows with a cover – 1…2…3…NO!!! Sydal won't go down!

Hassan licks his lips at looking at the clock, which shows that there's about three and half minutes left, with him now being in control and he can take his time. Hassan slows the pace down considerably, just walking around the downed babyface and puts his arms out to taunt him and garner a good bit of heat from the crowd. He goes to Sydal's face and kicks it disrespectfully, garnering even more heat. Hassan gets close to the face of Sydal and starts taunting him even more, pulling him up by his head. He looks to attempt his lifting DDT, but Sydal surprises him by rolling him into a small package – 1…2…3…NO!! Hassan springs out and both men spring to their feet, when Hassan quickly throws Sydal into a corner, rushing behind him. Sydal slings over Hassan, sending he champion chest-first into the corner. Sydal then springs onto the top rope and nails the diving double knee drop the chest of Hassan! 1…2…3…NO!! The surprise move forces the champion to roll out of the ring and recuperate (or waste time), but the resilient Sydal has no time to waste, with the clock winding down to under three minutes. Sydal measures up Hassan…and leaps clean through the ropes with the suicide dive!

It takes a while for Sydal to recover from driving his body into Hassan's, but he manages to and throws Hassan under the ropes, getting him back into the ring. Hassan is down and Sydal climbs to the top rope again, the crowd popping for what could be the Shooting Star Press…but Hassan clubs him yet again and throws him off, the cruiserweight flipping off the top rope and his back hitting the canvas hard. Hassan then goes into the actual corner and tears the protective padding off a corner, causing the referee to admonish him before attempting to put it back on. Hassan takes this time to grab his $50,000 briefcase in his hands and awaits Sydal's recovery…before bashing him in the face with the briefcase! Sydal goes down hard (and sells beautifully) as Hassan disposes of the weapon before forcing Sydal to his feet and nails him with the reverse STO. 1…2…3…!!!

Winner: Muhammad Hassan at (4:19)


Hassan takes his money and his title and runs, lifting both high in the air as though what he did was to take pride in. Sydal is struggling to get to his feet a bit, but when he does he is greeted with a nice ovation, despite not having actually picked up a win in AOW thus far.


~Backstage, in the Green Zone interview set…
The Miz:
Mike Mizanin here, still not sure why Torrie Wilson isn't here doing what she's paid to do. Y'know, I swear she's paid to be a backstage interviewer, not Christian Cage's girlfriend. But I'm here. Microphone in hand. Guest on tap. And right now, I'm here with the man who should be the real Cruiserweight Champion, Gregory Helms.
~Helms moves into the frame, his hijacked Cruiserweight Championship on his shoulder.
Gregory Helms:
See Miz, I appreciate the introduction, but as you can clearly see, I am th' Cruiserweight Champion.
~Helms points to the title he clearly stole from Danielson last week
Gregory Helms:
Y'know, Bryan Danielson called himself the "Best in the World" once. But y'know f'r a guy who says he's the best, I sure do get the upper hand on him a lot. An' last week, I got th' ultimate upper hand when he got hacked by Helms fo' real – by takin' his precious title that he shoulda never had!
~Helms is almost shouting into the microphone at this point
Gregory Helms:
So all I did was take back what's mine. An' I promise you, Miz, and everybody out there that I will take back what's rightfully mine come next week when I face him for this. But all I'm gonna say is it's gonna stay right here. Where it RIGHTFULLY belongs. Bryan Danielson – you and this Cruiserweight Championship, come next week, will be truly hacked by Helms!
~Helms gets all in the camera view, very reminiscent to his 'hacked by Helms' interruptions. But on that note, the screen gets very static ridden, very similar to when the segment does get hacked by Helms…but…Helms is speaking. When the screen recovers from being completely consumed by static, we're brought to a well-lit desk area, contrasting the dark, one-lamp atmosphere of Helms' webcam. But even so, Helms is in New York. So who's hacking it this time…?
Bryan Danielson:
Y'know, I couldn't think of a nifty name to call this like…what is it – "Hacked by Helms" stuff? I thought about maybe "Digitized by the Dragon", but I kinda thought that was lame. So instead, I think I'm just gonna call this "Rudely Interruptive Segment" by Bryan Danielson.
~Danielson seems very organized here, sitting at a desk, hands together, a t-shirt on and pretty much giving the 'hacked by Helms' segments a big 'take that'…
Bryan Danielson:
So it just so happens that last week, Gregory Helms took my Cruiserweight Championship, chucked it across my face after I was knocked out, and then took my Cruiserweight Championship and is holding it hostage for some reason.
~Danielson rubs his stubble on this
Bryan Danielson:
Oh wait, that's right! The reason was that he says he's the 'Best in the World'. Now see, Greg, to be the real 'Best in the World', you really have to prove it in that ring. So Helms, until you go toe-to-toe with Rey Mysterio and rightfully win that AOW Cruiserweight title, you're leagues beneath me. Matter of fact, you've only had one official match here in AOW. And I beat you in that match. For that gold you've stolen.
~Danielson looks a bit more angrily into the camera
Bryan Danielson:
And I always wondered why you did these 'hacking' segment things. I always wondered why you would intentionally, and proudly at that, want to come across as a coward. Sitting behind your webcam or your camcorder, makin' irrelevant video rants on why you should be the best instead of proving it.
~Danielson again rubs his stubble
Bryan Danielson:
Now I'm not gonna lie. I'm not six feet tall and I'm not even 200 pounds. And yeah, I'm a vegan. I just might be as dweebish as they come. But I've wrestled and won titles all around the world. I've trained with some of the toughest fighters around. I've finished wrestling matches when I had a broken retinae. So know this Greg – it's not about what either of us do outside that ring that matters. It's what happens inside it. So I'll be there next week. And I'll be needing that title to return to real Champion.

**END TRANSMISSION**



~Back at ringside…


We hear the infamous ominous humming noise that signifies the descending of the steel cage, with the crowd starting to pop their heads off for the proposed brutality of this contest.
Joey Styles:
Ladies and gentlemen, this match will be the epitomy of Art of War Wrestling at its finest – two men will walk into that cage and only one man will walk out even able to move a muscle. That's what awaits either Finlay or Samoa Joe here tonight, but what is assured to both men is an absolute war from absolute hell. Our ring announcer Tony Chimel has the quick scoop on the rules, for those unaware…

Tony Chimel:
The following contest is the first-ever Art of the Knockout match! There are no disqualifications, no pinfalls, and no submissions. The only way to win is by beating your opponent so that they cannot answer a count of ten while inside the cage structure. Counts may only begin with the fallen participant inside the cage.
After that brief run-through of the match rules, the bell sounds and is followed quickly by "LAMBEG", as Finlay comes on down the ramp, his shillelagh in hand and ready to take the staff into the cage with him, knowing it may be the only weapon he gets a hold of with the cage surrounding him. The Fighting Irishman walks through the cage door that's manned by an official and intensely gets his bearings inside this devastative structure.
JBL:
People wonder why these two hate each other so much. People are askin' how and why this thing got personal so quickly. There's somethin' you have to remember – Joe and Finlay are fighters. They are born bred brawlers, and they take it personal as hell if someone gets into a fight with'em and doesn't go down, an' it's even more personal when someone winds up beating them. That's why we're here.

Joey Styles:
The clock has struck 9:35 here in the Hammerstein, but it may as well be midnight for one of these men. Two men will enter. Only one will leave, but we can guarantee that these personal issues between the two will be all over the ring when we're done. We're back after the break with the first A.O.K.O. match!

**COMMERCIAL BREAK**
We return from the break and are immediately greeted with "MAMA SAID KNOCK YOU OUT" that leads the way for the man they call Samoa Joe to come through with a look of sheer intensity that few have ever seen on him. Joe's left knee is taped from the onslaught of abuse it's taken from Finlay over the last several weeks, but aside from that, you cannot tell this man has any weaknesses if you look directly at his face. Joe rips the towel from his shoulders and walks through the door, pulling it shut emphatically without taking his eyes off Finlay.

MAIN EVENT
~FIRST TIME EVER~
*A.O.K.O. Match*

Samoa Joe v. Finlay
The cage door is locked and both men are staring holes into one another before taking intense steps towards the center of the ring. Both men stay locked in this staredown while the crowd gets hotter with each passing second. After several seconds of crescendo in crowd voice, both men throw their arms forward…for a formal lock-up? The intense atmosphere is a bit surprised by the traditional start to this hellish environment, but even still, this lock-up is the most intense ever seen, both men wrestling around in the tie-up itself, jockeying for position, but neither man is budging nor giving an inch. Both men realize they're not going anywhere, so they break the hold and circle each other before setting up and locking up yet again, this one just as intense as the one before it. Finlay attempts to drag Joe's face down, but Joe swings his momentum around and prevents him from doing so, making the move look like one intense do-si-do. Again, both men realize they won't get the upper hand, so they separate, only to circle each other once again, Joe shaking his head a bit and Finlay quickly whips his neck to get it back in shape. The dance isn't over, though, as both men reach center ring yet again and hitting the tie-up yet again, this one just as intense as the two preceding it, but this time Finlay walks away with the upper hand after taking his right forarm and SMASHING IT INTO THE WEAKENED KNEE OF JOE!

Joe collapses a bit, finally breaking the intense tango. But after that strike, Finlay challenges Joe to get back to his feet, waiting on him. Joe is easily able to, but does so grimacing. The two circle one another yet again, but instead of locking up, Joe shoots towards Finlay with potentially a double-leg takedown attempt, but Finlay dodges it and nails ANOTHER FOREARM TO THE WEAKENED KNEE. Joe drops to one knee yet again, but again, Finlay challenges him to get to his feet and doesn't hit the downed Joe. What's he playing at here…? While the commentators hypothesize, Joe roars towards Finlay from one knee, but the Irishman sidesteps and guides Joe STRAIGHT INTO THE STEEL CAGE! The cage comes into the fray for the first time tonight, Joe's face being the first to be forced upon it!

The constant dogging of Joe appears apparent now, as Finlay appears to be stirring into Joe's head using his body. Joe doesn't go down from one cage shot, however, and Finlay promptly introduces him yet again with ANOTHER SMASH INTO THE STEEL! Joe's head bounces off, again, not going down. Joe does walk away holding his head though, turning his back towards Finlay, whom promptly shows him the error of his ways by chop blocking him, again in the injured leg. Joe goes down for the first time in this contest, Finlay backing away so the referee can start the first count.

…1!!

…2!!

…3!!

…4!!

NO! Joe gets to both feet after staggering a bit, but he's vertical, leading Finlay to sarcastically clap his hands in celebration. Joe is not amused. The Machine steps back towards Finlay to get at him yet again, but Finlay this time, Finlay gives Joe a drop toehold that sends Joe's face into the middle turnbuckle. Finlay is in total control here, both psychologically and potentially physically, it seems. Finlay looks to stop toying here, as he goes towards the corner where he placed his shillelagh and waits for Joe to get back to his feet. As Finlay stalks Joe, he raises the staff and looks to BRING IT DOWN ACROSS THE KNEE…BUT JOE STOPS IT! Joe reaches out a hand and grabs the shillelagh, both men having a brief tug of war, which Joe wins by pulling the shillelagh, as well as Finlay's arm with it, down to the canvas…INTO A CROSSFACE!!! CROSSFACE!!! Joe's not overmatched just yet! Finlay's shillelagh equipped arm is the one caught between Joe's legs, leaving him with no defense here. If Finlay taps, it won't end things, but even so, Finlay begins to regret angering Joe because Joe won't let go of the hold! Joe keeps it in and even cranks back even more, causing Finlay to yell in agony a bit. Joe cranks back so much that his grip actually slips off the face of Finlay, forcing Finlay's face back into the canvas. Joe still has the arm captured, however, and throws away the shillelagh as he gets back to his feet and pulls Finlay up with him, throwing the arm over his shoulder, and BACK SUPLEXING HIM INTO THE WALL OF THE CAGE!!

Finlay's head, neck, and spine go slamming into the cage wall as Joe throws him over his shoulder! Finlay's folded into himself, stuck sitting between the wall and the ropes. Joe grabs Finlay's ankle and pulls him back through the ropes into the center ring before mounting himself on Finlay and starts punching the fuck out of the Irishman! And these aren't floury looking shots, either. Joe is working very stiff with the repeat shots, looking very legitimate with them before clubbing Finlay one last time into the skull before dropping to the side and locking in a nasty armbar, looking to cut off Finlay's strength there. Finlay's caught in another submission hold, but the veteran's ring presence gives him the peace of mind to inch towards his shillelagh, where Joe had thrown it…AND BASHING IT INTO THE INJURED LEG OF JOE!!! WOW!! Joe is forces to let go of Finlay's arm, but Joe isn't done. He smells blood in the water and clears the leg again – SHILLELAGH SHOT ONCE AGAIN!! Finlay steps back into a corner now, the crowd's counting with the referee the only thing drowning out Joe's screams of pain in between.

…1!!

…2!

…3!!

…4!!

…5!!

…6!!

…7!!

NO!! Joe is fully vertical, although he stumbles back down to a knee right after the referee stops the count. He gets back up, however, only to be greeted by a vicious barrage of lefts and rights from Finlay. It's the Fighting Irishman's turn to deliver some fists of fury of his own, beating some stiff shots to Joe's skull enough to force him back to his feet and stumbling. Finlay darts towards Joe, but Joe sidesteps, delivers a kick to the midsection, and CHUNKS FINLAY'S ENTIRE BODY INTO THE CAGE WALL!! Finlay bounces off the unforgiving structure right back into Joe's clutches, who throws him over with a nasty COBRA CLUTCH SUPLEX!!! Finlay goes flipping over himself almost towards the cage door, but Joe doesn't look to be done. Joe stalks Finlay's recovery efforts until Finlay sits up…ONLY TO GET A 280 POUND SHINING WIZARD TO THE SKULL!!! Finlay drops like a stone, Joe seething with intensity, and the referee getting to his duties –

…1!!

…2!!

…3!!

…4!!

…5!!!

…6!!!

…7!!!

…8 -

NO!! Finlay is able to crawl to a cage wall and use it to climb to his feet, but Joe gives him no time to shake the cobwebs out of his head, immediately going over to the rope-bound Finlay and drags him back center ring to set up for what looks like a suplex, but Finlay has some fight left in him to give Joe some blows to the gut and stunt the move before pushing Joe away. Joe immediately charges back, but Finlay stays ahead of the game and lowers his level, sending his SHOULDER RIGHT INTO JOE'S WEAK KNEE!! Finlay right back to the torn appendage! Joe's momentum carries him across the ring on that one, gripping the hurt spot, but Finlay doesn't give the ref any room to start a count. Instead, he goes over to Joe and takes his face and forces it against the steel frame with his foot! The camera gets a great close-up shot of Joe's face being pressed against the diabolical cage, with Finlay even pulling on a rope for leverage. Finlay then enters a rabid mode and lets his foot off, only to grab Joe's head in his own hands and starts GRINDING JOE'S FACE BACK AND FORTH ACROSS THE UNFORGIVING STEEL!!

We can hear Joe's screams all the way across the vast arena, but Finlay keeps it in a little long and allows Joe to give him a series of back kicks to the gut from his good leg, backing Finlay away. Joe gets to his feet now, notably limping now, towards the prone Irishman. Joe delivers a vicious CHOP(Wooooooo!) to Finlay's open chest, which leaves Finlay reeling a bit. Joe then holds Finlay steady for another CHOP(Wooooooo!) that hurts as much as the first, but Finlay responds to this one with a blow to the head. Joe answers back with a hard right hand of his own, which Finlay gives one right back with, and before long, the slow tempo of before quickly ups with each blow, becoming ONE HUGE FLURRY OF PUNCHES, BACK AND FORTH, CENTER RING! The crowd is on fire for this extremely intense exchange, mirroring their brawl backstage and atop the Hammerstein balcony, when both men suddenly stop striking one another and execute another collar-and-elbow tie, this one even more intense than the ones in the opening, as we can see then forcing each other around, bouncing off ropes while still in the hold, and as a result, rocking the whole cage when they do so. They're whipping each other around with authority, the crowd still on fire, but it's broken apart by Finlay center ring, who makes it a European uppercut that spins Joe around…JUMPING TWISTING ENZEGUIRI!! ENZEGUIRI!! Joe uses the momentum from Finlay's hit and turns it into a ridiculous blow!! The crowd is on their feet for that entire exchange between two brawlers, the referee now executing a count –

…1!!

…2!!

…3!!

…4!!

…5!!

…6!!

…7!!

NO!! Finlay once again is able to recover at the 7-8 mark, but he's immediately met with hard blows to the head from Joe, who whips him into the ropes. On the rebound, Joe's ducks under a clothesline attempt, only to get struck by a reverse elbow to the back of the head from Finlay, who didn't keep running as Joe had anticipated. Finlay uses this to reach down, and strike Joe's knee again very quickly before yanking him up over his shoulders…ALABAMASLAM!! FINLAY WITH AN ALABAMASLAM ON THE BIG MAN!! Finlay is very off balance after this move, having shifted a great deal of weight so quickly, backpedalling and resting on some ring ropes. Joe's head whiplashes hard off the canvas from that completely unexpected maneuver, the referee getting the count on –

…1!!

…2!!

…3!!

…4!!

…5!!

…6!!

…7!!!

NO!

Joe gets back to his feet, checking on his still weak knee, but when he looks up, he's quick to respond because rushing at him is Finlay SHILLELAGH IN HAND…but Joe drops right back onto one knee, avoiding an intended high-shot and strikes Finlay in the gut, doubling him over, before taking him and CHUNKING HIM RIGHT INTO THE STEEL CAGE AGAIN!! Finlay's caught between the ropes and the cage wall closest to the entrance ramp, getting to his feet, but Joe's not gonna let up on this one, looking towards the crowd for a moment before swirling around with his theatrics and rebounding off the opposite ropes…ELBOW SUICIDA TO FINLAY BETWEEN STEEL…AND THE STEEL CAGE WALL COLLAPSES UPON IMPACT!!!! THE WALL FALLS, BOTH MEN FALLING ON TOP OF IT!!!!

"HOLY SHIT!!! HOLY SHIT!! HOLY SHIT!! HOLY SHIT!!!"

Joey Styles:
OHH MY GAAAAHHHHDDD!!!

JBL:
I cannot believe what I just saw!!! Did they just break the damn cage?!?!

Joe is lying on top of Finlay, just now rolling off of him, still down on top of the cage wall, which has not become sort of a ramp on top of the bottom of the entrance ramp. The crowd is still losing their effin' mind, the commentators somewhat speechless, as the camera angles survey the damage. The rest of the cage is largely unharmed aside from the big gaping whole now on its side, not completely collapsing, just causing that one wall to fall. We also notice that the blow evidently caused the ropes to give way, as the middle rope from the same side appears to have become undone and is now hanging from only one corner.

JBL:
For the first time in my life, I agree whole heartedly with these heathen fans.

Joey Styles:
These men are going a level beyond what we thought…my lord…are these men even gonna be able to move? They've destroyed the cage, destroyed the ring…will there be anything to return from this break to?

**COMMERCIAL BREAK**

As we return from the break, we enter a scene of chaos, as it appears Finlay and Joe aren't gonna let a little like thing like a fallen wall stop them from beating the holy hell out of each other. They're brawling on the outside perimeter now, going back and forth against each other, getting closer to the announce table. On the fallen wall side, we can see the referee that was manning the cage door has moved to the broken rope and has pulled out a toolbox from under the ring, apparently trying to fix it somehow. The camera doesn't focus on him, instead, focusing on the brawling gentlemen involved. As they make their way around the announce table with their fight, Joe begins to get the upper hand with a short arm clothesline that knocks Finlay down, but Joe takes him and SLAMS HIS FACE AGAINST THE STEEL CAGE!! Again, the cage, broken or not, comes back into play.

Joe uses the damage done here to sit Joe down in a chair set up by the barricade corner. Joe backs away all the way to the other side, the crowd knowing where this should be going as Joe pats his thighs and the crowd chants with him – "OLE, OLE OLE OLE! OLE! OLE!" Joe rushes for the OLE KICK….NOBODY HOME!! Finlay's risen, sending Joe's leg into the barricade wall and bouncing off, but Finlay's got the chair in hand, and SLAMS IT AGAINST JOE'S WEAK KNEE!!! Right back to the injured appendage goes Finlay, making definite use of his environment. Finlay drops the chair and goes over to the timekeeper's table, reaching over and grabbing…THE RING BELL. Finlay grabs a hold of it with two hands, stalking Samoa Joe as he tries his best to get to his feet and stand vertical. Joe's taking a while, but when he finally does, Finlay CHARGES WITH THE BELL…NO! Joe ducks his head, grabs hold of Finlay from behind, and tries to CHUNK HIM BACK INTO THE CAGE WALL…NO!! Finlay lets go of the bell and leaps onto the wall, looking as though he's prepared to climb it, to stop Joe's momentous motives. They're back in front of the announce table, with Joe approaching the somewhat elevated Finlay now from behind and wrapping his arms around his waist. Joe tugs and tugs, but Finlay holds onto the cage for dear life, fearing what may be coming next, but several clubs to the spine later, Joe succeeds in prying Finlay loose…GERMAN SUPLEX OFF THE CAGE…THROUGH THE ANNOUNCE TABLE!!! WOW!! JOE'S THROWN FINLAY OVER HIM AND THROUGH THE TABLE!!!

The momentous of pulling Finlay off immediately translates into this sickening move, prompting the crowd to once again let loose cries of "HOLY SHIT! HOLY SHIT!" Both men are down, but the referee cannot execute a count because neither man is inside the cage, where the count must be taken place. Joe finally sits up, surveying the caused, staring daggers at the man he drove through the table just moments ago. The crowd is still on fire for the spot, but Joe's got no time to waste – this man is down and needs to be in the ring. As the now exhausted Joe pulls Finlay back towards his feet to guide him back towards the huge gaping hole and put him back in, Finlay begins fighting back, throwing Joe's grip off of him, however very groggily. Joe charges back at Finlay, only for him to sidestep and deliver a back kick to Joe's weak left knee again, putting Joe back on one knee. Finlay then looks to grab the ring bell, Joe getting back to his feet and turning towards Finlay…RING BELL ACROSS THE SKULL!! RING BELL ACROSS THE SKULL!! MY GOODNESS!!!

Joe's eyes tell the story, as they go motionless and he falls straight onto his back like a mighty oak. Finlay also knows good and well he needs to get Joe back in the ring now, so he takes the dead Samoan and starts dragging him back, where we can clearly see Joe's been BUSTED OPEN. Finlay takes Joe back through the hole of the downed wall, chunking him center ring and telling the ref to count it.

…1!!

…2!!

…3!!

…4!!

…5!!

…6!!

…7!!

…8!!!

…9!!!

NO!!

JOE'S BACK TO HIS FEET!! He's getting even more limp from his leg and he's probably not sure where he is from the blow and the bleeding from the head, but he's standing, giving Finlay a shock. The Irishman doesn't waver, however, immediately taking Joe into a front headlock and nears the downed wall side…AND DRIVES JOES HEAD INTO IT WITH A DDT!!! Joe's head goes crunching off the steel cage wall, Finlay taking his pains too, but not as much as Joe. Finlay gets up and steps away outside the ring, allowing the referee to count again…

…1!!

…2!!

…3!!

…4!!

…5!!

…6!!

…7!!

…8!!!

…9 -

NO!!

JOE'S UP AGAIN! Joe rises up after another near nine-count, Finlay in disbelief. While still outside, he grabs the chair that he used on Joe earlier and enters back through the empty side with it, promptly DRIVING IT RIGHT INTO JOE'S INJURED KNEE YET AGAIN!! Finlay knows Joe can't get up with a broken leg, but he's not done yet. Finlay wraps the chair around the injured knee, the crowd letting out an ominous 'oooh'. After Finlay's done setting it up, he LEAPS ONTO IT WITH THE FINLAY PRESS, POTENTIALLY BREAKING JOE'S LEG IN HALF!!! Joe is screaming in pain now, with Finlay enjoying the sight of the downed Machine, screaming in pain by his hands. Joe's holding his knee close to him, but it does little to alleviate the pain, it seems. The referee begins the count again, Finlay knowing he's got Joe this time…

…1!!

…2!!

…3!!

…4!!

…5!!

…6!!

…7!!
Joe crawls over to the ropes, beginning to use them to pull himself up…

…8!!!

…9!!!
Joe's almost there…

…10 -

NO!!!

JOE'S BACK TO HIS FEET!! UNBELIEVABLE!! He's clutching onto the ring ropes and using them as crutches, but he's back up! Finlay is beyond disbelief right now, almost consumed with rage at Joe's resolve. He still can't beat him! Finlay, going a whole step further, goes over to the referee who's been trying to repair the broken rope. He throws him aside and goes into the ref's toolbox to pull out…A WRENCH. And a wrench that's bigger than usual, at that. Finlay stalks Joe with it for a second before LUNGING AT HIM WITH IT…BUT JOE STOPS IT! Joe holds Finlay's arm suspended, the apparatus not touching him. Joe rips it from Finlay's grip while simultaneously whipping him across the ring, and on the rebound, Joe spins while still holding the wrench…DISCUS WRENCH SHOT!!! DISCUS WRENCH SHOT!! A MOMENTOUS WRENCH CRUNCHING AGAINST A HUMAN SKULL!! OH LORD, FINLAY COULD BE DEAD!!!

The crowd pops for that wild move, Joe indeed possibly hoping that Finlay's dead. With the show already into overrun here, both Joe and Finlay have reached exhaustion levels, Joe just managing to pull away and let the referee count his now BUSTED OPEN opponent.

…1!!

…2!!

…3!!

…4!!

…5!!

…6!!

…7!!

…8!!!

…9!!!

NO!!

FINLAY'S BACK TO HIS FEET!! Neither man can even stand straight, but they just won't go down!! Blood now dripping all over each man's face, will either of them even be able to go on here? It seems the two warriors will, as Joe attempts a charge a Finlay, but the Fighting Irishman is still ever aware and lands a low dropkick, going right back to the injured leg of Joe. Joe hits the canvas and grabs at it again, hitting the canvas in anger in frustration that he can't put Finlay away and the fact that he keeps leaving his leg open. Finlay doesn't waste much time, though, approaching Joe and wrapping his legs around…INTO THE CELTIC KNOT!! CELTIC KNOT!! THE STRAIN ON THE KNEE IS TREMENDOUS!!

Joe's wrapped in pain once again, Finlay continuing to destroy the knee in hopes of its ultimate inhibition on Joe. The two stay tied together for a while, Joe trying furiously to break the hold, trying to roll over, but Finlay rolls with him, turning them back on their bottoms and keeping the hold intact. The crowd is trying their hardest to get Joe back into things, but Finlay will not allow it. Joe starts walking on his palms backward, trying to perhaps find something to get out this hold. He does this for several steps before his hand reaches the steel chair used to destroy his knee a few moments ago. He grips the chair in his hands…AND CLOCKS FINLAY ACROSS THE EXPOSED SKULL!! THE SICKENING IMPACT ECHOES ACROSS THE HAMMERSTEIN!!

Finlay has to let go of the hold, now possibly out cold, Joe taking several seconds to back into a corner and sit, tending to his possibly dislocated knee, blood still running down his face. The ref starts the count for Finlay –

…1!!

…2!!

…3!!

…4!!

…5!!

Joe stops the count? Joe, stumbling and limping, roams over to Finlay and brings him to his feet and puts him in a corner…and puts him on the top rope. Joe takes a step back out of both exhaustion and observation. The crimson mask of Joe looks up above Finlay before going back to Finlay and stands on the top rope, bringing Finlay with him, hoisting him farther into the cage corner. Not quite reaching the top of the cage, Joe is still able to reach around Finlay's legs…LOOKING FOR THE MUSCLE BUSTER. Joe's got it locked in from the top rope, even more elevated than normal….BUT JOE COLLAPSES!! THE KNEE GIVES WAY!! Joe and Finlay go crashing to the mat from their elevated stance, both men down.

For the second time these two lock horns, Joe's knee gives way and takes away his finisher! Joe pounds the mat in intense frustration, realizing again that he can't do what he needs. Finlay is still potentially KO'd, but Joe wants to go even further. He grapples the downed Finlay…CLUTCH!!! THE CLUTCH!!! JOE'S GOT THE REAR NAKED CHOKE LOCKED IN!! The move that got Joe the win last time is locked in, both men's faces soaked with blood!! Joe is roaring in intensity, even if he can't quite get the legs locked again. Finlay is fading fast, knowing what happened the last time he was here, but there's nothing he can do. He's locked in, and Joe's got a deathgrip on, wanting Finlay to completely pass out by his hand. Finlay is reaching his hand out, trying to find something, anything…and his hand reaches the wrench. But before he can get a grip on it…JOE ROLLS OVER WITH FINLAY THE OTHER WAY, cutting him off!! The Clutch is still locked in, just rolled over. But even so, Finlay has the presence and mind to know that as he's rolled over, he knows where his shillelagh is, reaches for it, grabs it…AND CLOCKS JOE REPEATEDLY IN THE KNEE, UNLOCKING THE BODYSCISSORS and forcing Joe to let go, but as he does, Finlay stumbles up and DRIVES THE STAFF INTO JOE'S TEMPLE!! Joe is out cold, with Finlay throwing the shillelagh down. The referee begins another count, but Dave looks like he's looking for something more too...

…1!!

…2!!
Finlay grabs the wrench…

…3!!

…4!!
Dave is over to the turnbuckle holding the broken rope in place and uses the wrench to…

…5!!

…6!!
…to loosen it and have it come undone completely!!

…7!!

…8!!!

…9!!!

…NO!!

Somehow, Joe pulled himself to his feet! He was forced to use the ring ropes yet again, but Joe is up, but he can't put any weight whatsoever on the injure knee now, it seems, as it could be completely dislocated or broken. Finlay doesn't seem to deterred, however, as in his hands is no longer the wrench, but the entire ring rope that snapped off. He groggily waddles over to Joe and gives him a European uppercut, causing Joe to go backwards a bit and fall when he tries to catch himself on his injured knee. Finlay forces him back up, leaning him on the ropes…and begins to wrap one end of the severed rope around Joe's neck. The crowd and commentators are in suspense at what could happen here, as Finlay seems to tie a small knot after it wraps Joe's neck. Finlay then takes the remaining rope…and throws it over the top of the cage. There is a great deal of buzz, but now it may seem apparent what Finlay wants to do. Finlay wearily walks through the downed wall side of the cage, walking around the outside until he gets to the side with the rope dangling over the top of it. Finlay has to climb the cage a bit to get to the end, but then he grabs hold of it, propping his feet against the cage for leverage…pulls down…AND HE CHOKES THE LIVING FUCK OUT OF JOE, USING THE RING ROPE AS A NOOSE AND THE CAGE AS A GALLOWS!!! OHH MY GOODNESS!!

Finlay continues to tug down with intensity, screaming for Joe to just give up now. Joe's body, which is now suspended above ground, is fighting, his fingers caught in the noose around his neck, his blood bleached face beginning to become a sickening shade of purple. Finlay continues to pull down, exalting in bloody vengeance. He finally lets go, Joe dropping back to the canvas onto his knees. Joe's head, neck, and body all go limp, falling forward dramatically. As Finlay walks back to get into the ring, the referee's count has started…

…1!!

…2!!

…3!!

…4!!
Finlay stands on the fallen cage wall, watching his damage from afar, stumbling to one knee himself, his blood dripping and staining the cage…

…5!!

…6!!
Joe's still motionless

…7!!

…8!!!
Barely stirring, Finlay and the crowd staring in amazement that perhaps Joe could recover, driving on sheer pride…

…9!!!
Joe, almost zombie like, starts to get himself up, mouth hanging open to gasp for air…but then his DECIMATED LEG GIVES WAY, forcing him back facedown into the canvas…

…10!!!!


HERE IS YOUR WINNER…FINLAY at (29:58)
Finlay's hand is raised by the referee on top of the downed cage wall, with the crowd giving both men a standing ovation for the bloodbath they just gave us.
Joey Styles:
Oh…oh my God…these men just didn't beat each other to the point of incapacitation, but looked as though they wanted to kill one another…the carnage is incredible here…hell has asceneded to the Earth tonight, ladies and gentlemen, by the hands of these two men...

JBL:
Samoa Joe has not moved since falling to the mat after that hangin'…
As all marvel and proceed to give their props and pops, Finlay's blood laden face then cracks a small smile before turning and walking away. EMTs are already on the scene coming down the ramp, with gurneys for each man. They're use the downed cage wall as a ramp of sorts to get in the ring before trying to get the downed Joe situated. Finlay, however, says he shouldn't need one and opts to try and continue to walk away. Joe is being lifted onto his gurney as we begin to finally go off the air…

Fade…

To…

Black…

END SHOW

WORLD ABLAZE
Boston, Massachusetts – TD Banknorth Garden
November 11, 2007
*Current Card*

~AOW World Heavyweight Championship~
Chris Jericho(c) w/Paul "The Great" Wright v. Rob Van Dam

~AOW Tag Team Championship~
The World's Greatest Tag Team(c) v. The Mercenaries
Hope you fellas enjoy. If nothing else, I just need a good bit of feedback on the main event and seeing if that match type works for anybody or not. I'd love to use it again, but not sure how it's seen in other's eyes. But there's the rest of the show too, I guess. Feedback will be returned, seeing as how a chunk of my reviewers now have threads. Hope this tides you over after my odd disappearance.
---
CUTENESS²
AOW: Art of War Wrestling - The Greatest Affair
It's Baaaaack...
.:Oblivion Edition 39/40 Recap NOW POSTED!!:.
Asking JAMES ELLSWORTH for Wrestling Advice
Join Date: Feb 2011
Location: Detroit
Posts: 256
Points: 140
Re: Presenting AOW: Art of War Wrestling - The Greatest Affair
---
Okay, before I start this review, I just want to warn you that I am insanely tired, so if it isn't up to the "quality" that most of my reviews are, my apologies! Anywho, let's get this started! Again, I'll be reviewing as I read!

Huh... wasn't expecting for RVD to be Doane's opponent at all! Kind of bummed out that Doane lost the match cleanly, especially when Wright could have interfered and given Doane a cheap- but needed- victory. Either or, I'm trusting your judgement on this one. Still hoping that Masters and Doane become a team in the near future!

Having Heyman and Foley bicker backstage about Foley's "Power" could definitely lead to something very interesting in the future, and I'm hoping you do a bit more with this! I wouldn't mind seeing Foley as a heel authority figure like he was in TNA (Only I hope that, unlike TNA, you'd actually take it seriously!). Having Torrie come in and stir the pot a bit more between Paul and Mick was good, but also having her quickly calm things down was very believable! I'm really excited that Christian's coming back next week, and I'm interested to see what he does or says, and especially interested in seeing him interact with Torrie! Still my favorite storyline you have going on right now, bud! Having Jericho kill the moment for Torrie was also really good, very well written, makes me despise Jericho even more! I really am hoping that this eventually turns into Christian VS Jericho. Their feud over Trish in 2003-2004 was one of my favorite feuds that WWE had in the past decade, and I think that you could make Christian-Jericho one of my favorite BTB feuds, as well!

The 50,000 dollar challenge that Hassan issued is very interesting! Reminds me of something that Ted DiBiase would have done back in the day! While I can imagine Punk somehow sneaking his way into the challenge, I'm hoping that you don't do that... at least not for awhile! As long as you don't have it blow off too early or too late, this could be very interesting to see!

Now, I knew that Sons of the Dungeon and American Made were going to face off at some point, but I have to admit, I'm shocked to see you give the match away so soon! I think that waiting and letting tension build up between the two until a bigger night, like World Ablaze, would have been a better build, but I'm not complaining! That was one hell of a match, but I almost feel that having the Sons go over pretty clean kind of buries them a bit. That said, I know that you know how to construct a good story, and I have a feeling that this is far from over, so I'm looking forward to seeing what the future holds in store for these teams! The attack by (What I assume to be) this third Samoan team was actually a huge shock for me! Kind of looking forward to seeing what Siaki and Afa's intentions were... personally, I'm hoping that the three of them have a giant feud, kind of like the Dudleys, Hardy's and E&C back in the early 2000's!

Having Sydal take Hassan to his limits was a good way to kick off the $50,000 challenge. Despite losing, I don't feel that this buries Matt that badly, but it does wonders for Hassan! The cheap win definitely helps to NOT hurt Matt while building Hassan's character! Great way to kick off the angle, I could see this as a good way to debut some new talent, if you have any lined up!

While I'm thinking about it, I think that having an updated roster post after World Ablaze could benefit us, the readers, a little bit! Quite a few names have come into AOW since the debut, and at times, it gets kind of hard to remember who is or isn't on the roster, who is or isn't teaming up, whose in what division, ext. I mean, if you have more names lined up to come in, don't bother quite yet, but it would definitely help me remember the rosters a bit more!

Man, having Danielson hack Helms actually made me laugh out loud! Anyway, I cannot wait for their match! The build has been really good, but I think that their match at the 90 minute debut should probably be the blow off between the two. I can't really see how this could go on after the match unless Helms won, but I don't wanna see the Cruiserweight title (Or any title, for that matter) change hands too much. I don't believe in the "Titles are a prop" mentality, and I think that titles should have a level of credibility to them, so seeing it change hands so soon would kind of bum me out!

Jeez, brutal fucking match! I have to say that the cage falling apart spot was the best part of the match, mostly because we got an "OH MY GOD" out of Joey (No offence, JR, but that's the best line in announcing history!). I'm really shocked that Finlay won this match, and because of that, I don't think that this is quite over! I don't see how you could top this match unless you had the two face off in some kind of crazy Japanese style death match (Which I would LOVE, mind you)! The match flowed pretty well, so I'd definitely like to see it come back at some point (Not too soon, of course! Matches like this should only be broken out every great now and again), you did a damn good job!

All in all, pretty good show! It felt a little bit shorter then the last few shows, but that could be because I'm so out of it! Also, it could be because I'm as tired as I am, but I wish you would have put an "Announced for next week" thing at the end of the post. Looking forward to next week's show, hoping I don't have to wait such a long time for it to be posted (I understand how hypocritical that statement is, if people pay attention to how much I update my BTB).

Peace, Love,
Brandon Brownson
---

WCW 1998:The War Continues
http://www.wrestlingforum.com/booker...continues.html

https://twitter.com/BrandonBrownson
https://www.youtube.com/user/THEBrandonBrownson

The roof is NOT my son, but I will RAISE IT!
Re: Presenting AOW: Art of War Wrestling - The Greatest Affair
---
Ah, sweet. Worked out for me leaving Wrestling Forums for a few weeks. I come back, you've a ball of shows posted, I read them all and review the latest -- and another pops up straight away. Lovin' it, bro.

Again, like the last show, brilliant opening video package. Sets the right tone heading into Oblivion each week. The Ken Doane promo was weak in my opinion, especially since it was at the start of the show. Maybe would have had Van Dam come out a cut something before hand, maybe about his title shot. Would have been a better idea. The match is self was good, and y'know I love my RVD shit. So I was pleased he went over. He needed that win and I would have lost it if Kenny from the Spirit Squad beat my main man I'm gunning for in this thread. I want him AOW Champion -- note to board of managment, MAKE IT HAPPEN. Anyway, on a more serious note, match was well written and I enjoyed it. Simple indimidation from Big Show. I dunno if you have a Wellness Policy in AOW, because unless Van Dam was too high of smoking the ganja and too paranoid to figure it out, he should have seen this. Yet he didn't, he was like -- "ugh... what's going on, man?". Is he smoking the weed? I won't report you if you tell me he is.

Again, even though Jericho wasn't directly involved, liked I said my last review, the whole "worthy man" thing? I love it, bro. Great aura to Jericho in this thread and he's one of my favourite workers. Good commentary from JBL and Styles, too. I like that combination.

And yet another segment involving Jericho that had me glued to the screen reading. "One.. step.. ahead". He most certainly is. Maybe, eh, maybe just hold out on that RVD title run for... maybe just a few more... eh... maybe just a little while longer. Alright dude, I say this once more and then I'll leave it be -- but take that bleedin' belt off Hassan, shove all his stupid money up his arse and send him back to the indies.

This clears up my confusion. Nice to see the video package from last week subconciously got me prepared for this one. Nemeth and Swagger (Hager) make a good team, in my opinion, in WWE -- but with you're slight repackaging their even better. So a good team choice to break in the "Sons of the Dungeon" Kidd and DH Smith. At first, after reading the match, I was thinking.. okay, feck your video package, these lads just got buried. But thinking back on the match, they did fairly well, put up a good offense and that... so hopefully this leads to a rematch, where Kidd and Hart Smith go over. They'd wanna be going over, too. Otherwise, they'll end up looking weak, dude. I know you gotta have your boys win, but if SOD are gonna be a main stay in the tag division which is already loaded nicely, do them a favour and put them over against the other lads next week. On the bright side, the "you're a terroist" lines from Bradshaw had me cracking up. Joey Styles... hah, a bloody terrorist. What will you think of next?

You really know how the right the 'oul video packages, don't you? Perfecto dude. You manage to write them in a non-wrestling type way but being able to link them in with each other. It's f'n brilliant, if you ask me, bro. Nice to see an extension to the hour and half mark. But let me keep this next segment review peice short and sweet... I only read the next match because I saw Sydal and wanted him to beat the shite out of Hassan. He didn't. This made me angry. This whole Gregory Helms lie gimmick is good. Seems like at this stage he's actually believing them. Mad man. Stealing the title was cool, I must say. I like that angle style. It'd be nice to see Helms with the title though, I dig his gimmick.

The main event. The match gimmick is cool, man. I like it. Nice to also see Finlay in the mian event and Joe. Big match for TV, though, but I suppose AOW is in it's formation years to it's to be expected. Cool shit free on TV is what draws them in at first. Then water it down, slowly over a couple of years and big up ppv's. Wow... you really went for it with this match. One of the best matches I've seen on a weekly BTB show in my time -- quality and quantity wise, as well. I'm not gonna do that bullshit match re-cap thing, why would I? That's bullshit and doesn't help you. We both know what you wrote and I'm telling you it's good. The chair and ring bell shots, "USING THE RING ROPE AS A NOOSE AND THE CAGE AS A GALLOWS!!!" -- that line was kinda eerily perfect to describe what was happening at the time, the downed cage -- all that shit was hot. Great main event and I love the new gimmick match. Keep it, bro. Hopefully you feel the right time to whip it out again is soon enough, don't want to have to wait long for another one.

All in all, another very good show. Keep up the good work, man. Getting more familiar with the thread now, following all storylines and stuff -- loving it and it'll be hard not to keep looking out for your shows.
Posting Rules

You may not post new threads

You may not post replies

You may not post attachments

You may not edit your posts

---

HTML code is Off

---