Re: Presenting AOW: Art of War Wrestling - The Greatest Affair
---
Oblivion Feedback



Common sense to open the show with the first ever AOW Champion in Chris Jericho. I like the idea of Jericho standing on a podium, immediately making him and the title look big time. Obviously you did a good job of making the title seem important last week, but this beginning just confirmed it's the main thing in the company, and that's important. The promo began pretty well, and I preferred this one immediately more than I did Jericho's promo last week. In my feedback last week I mentioned Jericho's character seemed a little blurred, although it's obvious he's playing the more serious Jericho role in this thread after this promo. Jericho beginning with cheap heat, before talking himself and the title up was all done well. The crack at Paul Heyman, even mentioning ECW, as well as the transition into insulting Shawn Michaels was all done pretty well to. Not much at all to complain about, and the ending with Shawn Michaels coming from behind was okay. I don't really like the faces coming from behind and attacking the heel though, it has always seemed a little cowardly to me. Either way, a promising start to the show with the best promo of this thread so far.

Nothing but a squash, but it does the job of establishing Paul Burchill's character as a tough SOB. Yes, Crazy and Psicosis can be entertaining jobbers, but they could also be a pretty good tag team. So, I'm really hoping you do something worthwhile with them. Burchill's little promo was fine, and I think putting him in a tag team could be nice. Give him somebody who can actually speak on the microphone, and they can be a vital part of this thread.

Christian Cage interview, much like last week, left me befuddled as to whether he's going to be a heel or a face. Yes. The crowd hated on Lashley last week, but I'm still not sure exactly where this is going. At least this week, it seemed like you made Christian jump the gun on purpose, and hopefully this means he will actually allow Lashley to explain himself.

Ken Doane approaching Heyman, and being extremely cocky was nice. Heryman's little crack about Ken's former cheerleader role in the WWE was nice as well. Samoa Joe making an appearance and wanting a match with Finlay, once again, makes sense. These two going at it next week should be a decent enough match, and it allows you to add more fuel to the fire before Joe and Finlay square off. Smart booking, imo.

I actually like the idea of a rematch between these two teams because they are probably the best you've got, at the moment. The way the match came about with the WGTT asking for it fits in with the company's spirit of competition policy as well. This match topped last weeks match, not just in length, but I felt as if the match was written better as well. The offence flowed well throughout, with a lot of nice reversals and what not taking place as well. Obviously it was a smart decision giving The Hooliganz win, meaning these two teams are going to have to meet at least one more time sometime soon. The hand shake followed by the stare down was a nice way to confirm my suspicions of another match.

I still am pretty excited to see this incarnation of Paul 'The Great' Wright.

Much like last week, I enjoyed the arrogance of The Miz on the mic, insulting Mysterio for being short and what not. Mysterio's response was rather generic, but that's pretty much what I expected. I'm intrigued to see just how you book Mysterio though.

The whole hacked thing is an interesting enough concept, and tbh, I enjoyed this little Helms promo. Picking on Mysterio and Danielson was done pretty well, although Helms' main two punch lines, the need to eat weight, and the hurtin' coming through both came across as a little lame to me. I like the idea of this Helms character, just hating on everybody, but I think the writing could have been a little better.

Main event time already? I forget that these shows are going to be shorter than the usual episode of Raw and Smackdown. Your first two shows have been rather refreshing to read. Anyway, onto the main event. The opening of this match was actually pretty good, as I felt you were using RVD's flexibility to make Lashley look like he can actually wrestle in the early going. Christian interrupting the match fully confirms that he's going to be the heel in this scenario, and it means that all my criticism regarding his character has been pointless so far. I don't mean to sound disappointed, that's definitely a good thing. As the match went on, and Christian continued to talk, it lost all momentum. Whilst the offense was still alright, when reading, constantly interrupting the flow of the match was Christian. It works in terms of booking, so I won't criticize, especially since I've done something similar before, but it doesn't sit well with the reader. Anyway, RVD and Jericho going at it should be an epic match. The ending with Christian hitting RVD with the chair was nice to, adding some more intrigue to the whole thing.

The aftermath of the show itself, with Lashley and Van Dam showing a nice amount of respect to each other was good. It'll finally establish Lashley as a face in this company. Heyman making the match between Jericho and Van Dam for next week means we have another really good main event to look forward to. My only real issue is that there's no hype work at all being done for this contest. This Jericho/Heyman thing definitely has HEAPS of possibilities from here, so obviously I'm going to predict Jericho retaining next week.

Overall, much like last week, another nice show. The booking was pretty spot on throughout, and the writing was solid as well. You haven't taken to long to find your niche here, tbh, so here's hoping this is just the beginning of a great thread. Keep it up, mate.
---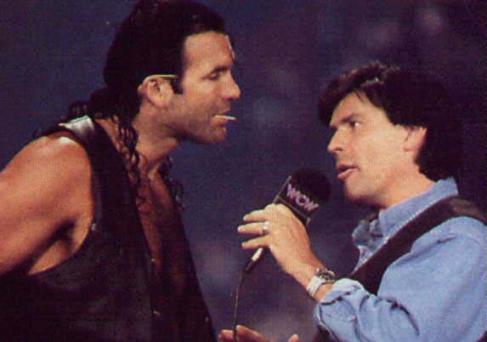 Re: Presenting AOW: Art of War Wrestling - The Greatest Affair
---
Review for 619's Oblivion
Right, I told myself I'd keep up with this but I didn't review the first show, so I do apologise. I'll try review all shows from here on out, mate.
And the show kicks off with Jericho, the champ. This promo was great, I thought and it was very characteristic of a heel Jericho. His long winded yet very blunt insults alkways work a charm and he's getting pretty easy heat. I read the backstory and I noticed thaqt both Jericho and Heyman were founding fathers of the company so having Jericho go at Heyman (who I presume is a face?) is an interesting two dynamic. It's only two weeks in and the company seems to be falling apart form the inside, ratings as far as I'm concerned. Meh, the line about ECW was a bit iffy tbh but I see why you did it, with the show being held in the ballroom and whatever, it just seemed awkward. But other than that, the promo did its job - It put over Jericho, continued the rivalry (if you can call it that) between Jericho and Heyman and it sets the tone for the night. Shawn Michaels? I may be a bit out of the loop here after not reading your first show but I'm guessing Y2J cheated HBK out of the title? Anyway, hopefully you don't rush this feud. It's been done twice in real life and I loved it both times and they mesh very well so I hope you have this slowly burn away and have a final conclusion at your first PPV, or whatever. Good job.
@ the arguing between styles and JBL. Very inetresting dynamic you have there and a good choice of commentators even though I hate Styles, lol.
Burchill vs. Crazy and there should be only one winner, really. Burchill is someone I have my eye on in this thread because he just stands out compared to everybody else on your roster. I don't know what it is, but he just jumps off of the screen at me. Glad t see the match end with the Royal Mutiliation as it really does put over Burchill's aggressiveness as well as showing he can end a match any which way he wants. Hopefully its a slow gradual push for Burchill. I was hoping you kept Burchill a man of few words but what he said after the match was good and really put over he confidence (which he can back up). Expecting a debut to an swer the challenge, maybe.
More arguing between Styles and JBL, was to be expected.
Great to see Torrie back as I've always had a soft spot for her :P. But yeah, interested to see where this Christian/Lashley angle goes and with the main event tonight, I expect CC to show up. Just from this one segment I already like your interpretation of Christian - The brains and the sarcasm. It's all very nicely done. Keep it up and you may have the most interesting character on the roster right there!
Oh dear, poor Kenny. I Loled at the Spirit Squad reference and tbh I'm kind of digging this "hottest prospect" dealio. I don't really like Doane as a competitor though, so you're gong to have to do a hell of a lot to convince me he's really worth having on the roster to be more than a midcarder at best. Joe coming in is great, I'm a huge Joe mark so you get points whenever he shows up. Not sure what happened between him and Finaly but the match between Doane and Joe should be decent, I guess. Expecting Finaly to interrupt so that feud can continue and Doane has a successful debut. Make Doane work and I'll be a happy chappy, but don't job Joe out and I'll be even happier.
Top match between Haas/Benjaming and Londrick, top notch and to be honest I wouldn't expect anything less. I hope you develop your tag division as it seems to be a bit thin at the moment but none the less, top match my friend. I'm a bit surprised about Londrick picking up the victory tbh and I'm fully expecting WGTT to bounce back, whether that be next week or even further in the future. Oh nevermind, WGTT won last week, lol that shut me up. Nice to see some respect between the two teams as I prefer both teams face. So a heel tag team in the coming month? Yes please. It needs to be done, as far as I'm concerned.
Paul Wight, hmmm. Interesting. Hopefully you will make him a hell of a lot different to how h is in the WWE or ever has been.
Oh dear, Miz as interviewer? Genius! Straight away taking the piss out of Rey, love it. Rey's responses seemed to, bleh. But I expected that. Gregory Helms as well, never been a huge fan but I can see why people are. Him joing The Miz on the "take the piss out rey" tirade is great, puts both Miz and Helms over. Expecting big things from Helms in this thread, as much as I hate to say it.
Main event time and even though the match wasn't a stechnically sound and gripping as the tag match, it had an interesting dynamic with Christian, as I predicted, playing some role. The constant chittr chatter and distraction of Lashley is a good touch obviously just adding fuel to the fire. Expected RVD to win and him vs. Jericho shall be very good next week, hopefully that gets some hype whether that be an AOW.com type thing or a video package or whatever. Expecting big ghintgs from that match so don't dissapoint.
HBK as special referee? Great. All I can say really, not sure what to expected which is great but other than that I can't really say much!
Overall, it was a great show from top to bottom. All feuds progressed well and the building of characters built just as well. One thing I do have to say is that a lot of things seems so predictable. Not that thats necessarily a bad thing, but some surprises would be nice but I' expecting one next week in the main event so I'm looking forward to that. Sorry if this isn't "feedback" so to speak, still finding my feet when reviewing so bare with me. Keep on going mate because this can, and this will be something special if you stick to it.
---
Finally Out of Cutey Sleep
Join Date: Jul 2006
Location: The Fountain of Dreams
Posts: 2,020
Points: 9
Re: Presenting AOW: Art of War Wrestling - The Greatest Affair
---
Quote:

Overall, much like last week, another nice show. The booking was pretty spot on throughout, and the writing was solid as well. You haven't taken to long to find your niche here, tbh, so here's hoping this is just the beginning of a great thread. Keep it up, mate.
Do you mean in this thread or in the section? Been here four years. Taken forever to find my niche in the section, really.
Once again, a little bit of news...
Quote:
Spoiler for Those who care for (the somewhat more important edition of) news:
And now a preview, now officially being presented by aohdubya.com
Quote:


9.5.07

The Hammerstein Ballroom – Manhattan, New York City, New York
"Reinforcements of the Army"

Paul Heyman has announced that he has huge news! In an aohdubya.com exclusive statement, Heyman proclaimed that he'll be addressing the entire AOW fan base, as well as the entire AOW Roster with the biggest news the company has seen. He has claimed it will change the face of AOW forever. What could this news possibly be?

Last week, Chris Jericho challenged Paul Heyman and his 'power'. Rob Van Dam earned his shot to challenge Chris Jericho for his 'power'. And just to mess with Jericho's power, Heyman flexed his and made the special referee for that match the man who kicked the teeth of the "Worthy Man" down his throat!! Headlining the third edition of Wednesday Night Oblivion, Chris Jericho defends his AOW World Championship for the first time against the Crown Jewel of ECW himself, Rob Van Dam, with the man in charge of the three-count being good ol'Haitch - Bee - Kay himself, Shawn Michaels!

Samoa Joe wants Finlay, but instead, he'll get Ken Doane. With the "hottest prospect in AOW" granted his debut match, will Kenny be able to walk away with a win from a man as dangerous as Samoa Joe? Will Doane live past his debut match with the potential anger Joe has?

Get ready for potentially the biggest edition of AOW Oblivion thus far in company history. All this, and we've also been promised the debut of yet another member of ever growing AOW ranks. The most dynamic wrestling program this side of Jupiter comes to you Wednesday at 9/8c, only of FX!

.:Confirmed for Oblivion:.

~AOW WORLD CHAMPIONSHIP~
Special Guest Referee: Shawn Michaels
Chris Jericho(c) v. Rob Van Dam

Ken Doane debuts v. Samoa Joe

Plus...

Paul Heyman drops a groundbreaking bombshell

I should be spending the weekend getting caught up on most feedback I owe, so expect the show sometime Monday.
---
CUTENESS²
AOW: Art of War Wrestling - The Greatest Affair
It's Baaaaack...
.:Oblivion Edition 39/40 Recap NOW POSTED!!:.
Re: Presenting AOW: Art of War Wrestling - The Greatest Affair
---
I meant you found your niche with this thread. In no time at all, everything seems to be at a pretty good standard.
A super show of sorts I guess would be a huge show, but I don't know if I like the decision of it being announced already. Oblivion has been running for TWO weeks, surely the network wouldn't already trust them with a much longer time slot. Anyway, I think you should go with two hours, because three hours this early on would be pretty absurd. No problem with Nemeth being signed, although I don't like the idea of Rikishi being around, whether short term or not. The new company should be making new stars, not relying on old ones.
Paul Heyman promo, announcing the super show (?), as well as a main event that will be epic, and a mid card match that will be good, means this show should be promising. I'll be reading.
---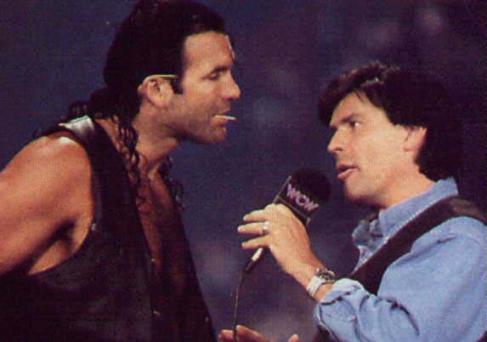 Re: Presenting AOW: Art of War Wrestling - The Greatest Affair
---
Oblivion Feedback
Kicking off with the champ, and it had to be that way really after the way the opening show ended. I remember enjoying the way you used Jericho in your old thread, and it was the same here. The way you use such a variety of words and phrases with Jericho is always impressive, and I can only assume you really enjoy writing for him as it comes across as such when reading. The early stuff about being worthy wasn't bad, but it picked up once Jericho turned his attentions to Heyman and then Michaels. Liked how he bragged about making Michaels tap out, and it was rather poetic that he said he was one step ahead only to be caught out. Although, you messed up the main line of the promo. Should be "One step
ahead
" not "One step
head
" jobber. <3
I can see this Styles/Bradshaw combination is gonna be gold. Although when has logic ever mattered to a heel?
Quick work from Burchill, but a good win that he needed after his efforts last week. Let's hope The Mexicools do more work in the tag division than as singles guys. What with the description of the jacket and rose and the gentlemen savage words, I'm very much reminded of Wade Barrett's character from NXT. Perhaps you were going for that? Anyway, an apprentice seems an interesting angle, and I like that you've quickly gave Burchill a storyline to get into.
Fox News ya' jackass!
Strange little interview here, in the fact that Torrie seemed to do more talking than Christian did. Anyway, definitely a sense of jealousy on Christian's part, especially when he considers his achievements hard work while claiming Lashley can just walk straight to the top. Match between the two should be around the corner really.
Lol at that pom poms line. Anyway, another solid addition to the roster in young Kenny. Push him to the moon plz
Joe's in, and after what happened between he and Finlay last week during the battle royal, makes sense that he would want a match. Poor Kenny though, unless there's some shenanigans on Finlay's part, he's in big trouble next week.
Surprised to see a rematch so soon, but man what a match it was. Once again these two teams deliver for you. Gotta admit, this one outshone last week's efforts, in terms of both the length of match and the quality of the writing. Just really enjoyable to read, nothing to fault really, just another good match. Post match was very interesting, fully suggesting we'll get a third and final match in the series. Hold off a week or two though, let it build with some promos and then deliver, maybe to even crown new champions? Anyway, top stuff here.
THE GREAT~!
Wow, Helms… awesome. Hacked by Helms. I love it already. Just… yeah, this was awesome. Loved it. Very excited as to how you'll use Helms going forward.
Main event time, and it seemed a pretty back and forth match, as both men had some nice spots but neither was able to gain a measure of true control. What on earth is Christian playing at here?
I gave it a laugh, as it's just very goofy to see him out during the match trying to ask Lashley questions. You executed it pretty well, as despite the fact he didn't actually mean it, Christian cost Lashley the match. Certainly is a different angle to go with, and I can see Christian playing the whiny heel by claiming it was all an accident, but really he knew exactly what he was doing. Lashley/Christian should be a pretty solid uppercard feud.
I dunno why but I laughed at that website address. For a show set in the Hammerstein that sure as hell makes them look like rednecks! But yeah, sweet announcement, fully expecting Michaels to have to reluctantly count the 3 for a Jericho win, but Jericho/Van Dam should be a great main event next week.
Overall, two for two in terms of impressive shows. Once more a lot of characters were developed, but I guess the limitations of only having 1 hour means we can't always get both sides of the story with regards to feud development, ie, Finlay wasn't around tonight. But apart from that, I really enjoyed it. Keep this going man, this thread has mega potential.
---
World Wrestling Federation: The Montreal Fallout
New BTB. Check it out, eh?
Finally Out of Cutey Sleep
Join Date: Jul 2006
Location: The Fountain of Dreams
Posts: 2,020
Points: 9
Re: Presenting AOW: Art of War Wrestling - The Greatest Affair
---
---
~"…somebody, please…get some help…"
~"Check his breathing…is he…okay, we have a pulse…"
~"Bring the gurney over…"

We finally cut to an image from the dark screen, but we immediately wish we hadn't. The image is that of Rob Van Dam, lying in a pile of stage equipment. It appears as though Van Dam has fallen from a great height and crashed through the rubble, potentially slammed through it all. We see a few folks in the background, with several officials and EMTs, but Torrie Wilson and Bryan Danielson are present at the scene as well. The EMTs are having some difficulty bringing him up until Samoa Joe comes into the frame and helps them.

Silence…

…

…

…


9.5.07

The Hammerstein Ballroom – Manhattan, New York City, New York
"Reinforcements of the Army"

We're brought to a Hammerstein in somewhat disbelief at what they just witnessed on the AOW big screen, but it seems to dissolve a bit when Paul Heyman comes through the curtain to a great reaction. Heyman looks determined, as he should. He's got a lot on his mind and, judging by recent events, he'll probably have even more to think about…

Heyman:
Uh…I'm sure you all are uh. . just as stunned as I am at what I just witnessed. I will address this as the night goes on, but I do have some very important announcements.
~A certain amount of buzz

Heyman:
Tonight, I'm here to present to AOW an idea that will completely revolutionize the way people view the wrestling world.
~Big buzz

Heyman:
See…after several weeks of attempting to get ourselves a much wider audience with a few Pay-Per-Views…get ourselves a little bit of money-in-pocket, you know, to make this company as good as it can be for you people…
~A big pop for the address to the Hammerstein

Heyman:
After several weeks of trying to get that arranged…I finally got an answer. See, the folks in the front office finally granted us a 2-hour edition of Oblivion on Wednesday, September 26th.
~A big pop for this

Heyman:
Now that's not a Pay-Per-View Sunday like we wanted. But we'll take it. And we'll use it to have the single most explosive show the entire modern wrestling world has ever seen. Because we'll use that pair hours to have ourselves a little Supershow. Like that?
~The Hammerstein is in total agreeance

Heyman:
Now…in case you folks haven't noticed, it's a little difficult, even for a bright mind like mine, to run a brand new wrestling promotion. And it's a tad difficult to put together a 2-hour program on national television without a hitch, too. So I'm gonna need a little help.
~A little buzz

Heyman:
Now…we were granted this opportunity on the grounds that we will get more people watching and garner more interest in this company – on our own. Now my hired help – any and all 'cavalry', I suppose – I might get better be able to get people watching.
~A little more buzz. Who's this 'hired help'? Who's the 'cavalry'?

Heyman:
So I need a man who can draw a crowd. I need a man who can get people to turn on the telly and watch. I need a man who can put…butts. .in. .seats…
~A little bit of buzz, as many may know where this may be going…

Heyman:
So ladies and gentlemen, without further ado…I would like to introduce to you all the first-ever General Manager of Art of War Wrestling Oblivion – MIIIIIIIIIICK FOOOOOHHHH-LEEEEEEEE!!!

The Hammerstein EXPLODES, as "WRECK" plays on the sound system as the man, the myth, the Hardcore Legend Mick Foley comes through the blood-red curtain. Clad in his signature Foley flannel, Mick makes his way down the aisle, shaking a few hands before getting into the ring and shaking hands with Paul Heyman to an even bigger pop. Once this occurs, Heyman presents us Foley and leaves the ring, giving Foley the floor.

Foley:
You made a good move here, Paul. We all know that when you hire Mick Foley, you get a four man work staff for the price of one.
~A dig at his own personal psyche; the crowd popping for it

Foley:
It feels great to be in a place where madness is more than welcome.
~Another huge pop

Foley:
As much fun as I'm having right now, I'm here to get down to business. It's my first day and I'm already a main event down and a Rob Van Dam short. I've got a two hour spot to fill in three weeks. So let's get to it.
~Great round of buzz

Foley:
On the first ever two-hour edition of Oblivion, we will have matches to decide who will become not just the first ever Cruiserweight Champion, but also something we like to call the AOW Dynasty Championship. Who's gonna be the guys to fill those spots? I'll be paying close attention to everyone's matches from now until then.
~A solid reaction to two more champions being crowned in a few weeks

Foley:
We still have one more set of belts to find a home for – the AOW World Tag Team Championships.
~A pop for the tag division

Foley:
I've taken great note of the World's Greatest Tag Team. I've also taken great note of Paul London & Brian Kendrick. They've traded wins and have shown they have what it takes when pinfalls and submissions are involved. But you see…I'm a hardcore kind of guy.
~A grand pop

Foley:
So that is why next week – not in three weeks – NEXT WEEK, those two teams will face off against each other to see who'll be the first ever AOW Tag Team Champions…IN A LADDER MATCH!!
~A great pop for this one

Foley:
But those are in due time. Tonight…tonight, as you all have seen, we're a man down. Rob Van Dam was supposed to face Chris Jericho tonight for the AOW World Championship. But eh…RVD is unable to compete for the remainder of the evening…
~Disappointed boos

Foley:
So unless someone –

Someone in the opening segment is cut off for the second week in a row by the playing of "SEXY BOY", as Shawn Michaels comes down the ramp to a very welcome ovation. HBK's expression is a bit happier than last week, but he slides in the ring, where he and Foley share in a great embrace.

HBK:
Mick Foley. I was afraid I'd never see you again, Mickey!

Foley:
I was afraid I'd never see you again, ol'Haitch Bee Kay!

HBK:
Yeah well, I was. .y'know. .just in the neighborhood and I just so heard that you're a main event short. Now I don' know whatchu were gonna do 'bout that, but good ol'Haitch Bee Kay has a proposition for ya, matchmaker Mickey.

Foley: (Chuckling)
Matchmaker Mickey. I like it. Lay it on me, Shawn.

HBK:
Why waste the title match? Why not get Shawn Michaels out of a referee's uniform and put him in a ring…? Why not give the Heart – Break – Kid another chance t'kick Chris Jericho's teeth back down his throat?
~A great reaction for this proposal

HBK:
Now I don' mean to upstage you, Mick. But if I step in that ring with Chris Jericho t'night – or ever again – the only thing I'll want to do is take…his…head off.
~Michaels' happy disposition disappears, as he becomes an intense man

HBK:
So Matchmaker Mick, I know you're good at givin' folks exactly what they want. So give me what I want. Lemme show Chris Jericho just how worthy Shawn Michaels can be in an AOW World Championship match.
~The Hammerstein roars in approval as Foley lulls it over…

Foley:
As much as I'd like to…I can't quite just hand you a title match all willy-nilly, Shawn.
~Disappointing boos

Foley:
Rob Van Dam earned his shot last week. And as big a statement as you made last week, Shawn…I can't just give you a title shot. But what I can do is get you a non-title one-on-one match with Chris Jericho.
~Michaels has a somewhat satisfied shrug

Foley:
But…should you win that, Shawn…Matchmaker Mick won't be able to deny you a title shot again.
~The crowd lets out one final pop as Michaels shows a grin and shares a handshake with Foley as the segment comes to an end.

**COMMERCIAL BREAK**

"MAD MAN" begins to play as soon as we're back from the commercial break following some ominous Arabic chanting, as oil tycoon and millionaire Muhammad Hassan comes down the ramp in competition attire. He's wearing the same golden towel and golden tights he was wearing two weeks ago.

Joey Styles:
Folks, welcome to the third edition of AOW: Wednesday Night Oblivion. I'm Joey Styles alongside John "Bradshaw" Layfield and we've just heard some tremendous news concerning the future of Art of War Wrestling.

JBL:
Tremendous doesn't even begin to d'scribe what we just heard, Joey. A 2-hour edition of Oblivion, a tag title LADDER match next week, an' a brand new main event?

Joey Styles:
That's right, partner. Although all this comes following what appears to be an assault on Rob Van Dam backstage, and we will give you news on the condition of Rob Van Dam and all developments as the night goes on.

JBL:
What the hell are you talkin', Joey? How d'you know RVD was 'assaulted'? The guy's so reckless, he pro'ly just tried to sit 'n a chair.

Joey Styles:
I'm sure that's a possibility, John, but all those matches came from the mouth of the man Paul Heyman has appointed as our very first General Manager – the Hardcore Legend Mick Foley!

JBL:
I respect Paul Heyman an' I respect Mick Foley, but neither one of these guys know the first thing abou' business.

Joey Styles:
Well Bradshaw, if we go under, you can go back to CNN.

JBL:
I'm on Fox News, damnit!
~Trollolol

All that goes on as Hassan slowly walks to ring, finally entering and grabbing a microphone…

Hassan:
In case you people have forgotten my name is Muhammad Hassan. And I am a changed man.
~Bit of buzz

Hassan:
The last time you people saw me, I was trying to convince you peasant Samaritans that I was on the same level as you. But after coming into a great deal of money, I realize that I'm so much better than you.
~A downpour of heat

Hassan:
You folks can boo and hiss at me all you want, but if want to know who you should be directing it towards, just look to your left and your right. It's because of you that I have what I have and you folks had to shell out your paychecks just to get here on gas money.
~Even more heat

Hassan:
It's funny, seeing as how everyone's talking about 'power'. The only person who has any type of power in this company is me. I could buy the Hammerstein three times if I wanted! I could kick all of you out of this place and turn it into a New York villa.
~Another barrage of heat

Hassan:
But then that…that would be no fun at all, now would it? No. I want every single one of you selfish, pious Americans to look at me, envy me, hate me, exactly the way you have for years. But it doesn't matter because money…money has a way of changing people. I used to take it. But no more. I won't rest until I spend every last cent making all of you regret the day you ever spread hate my way. I am Muhammad Hassan. And believe me – I am a changed man.

One final downpour of heat rains down on Mr. Hassan, as he sets down his mike and takes off his head towel before hearing "MACH", as the unfamiliar face of Matt Sydal comes on through the curtain and down the ramp with a pretty big grin on his face, never having this kind of audience before. Sydal takes a second to take it all in before rushing to the ring to face his 'changed' opponent.

OPENING CONTEST
Muhammad Hassan
v.
Matt Sydal


Sydal's small stature has many writing him off at the onset, Hassan included. Hassan and Sydal walk towards the center ring, with Hassan giving Sydal a really cocky and creepy smile. Hassan gives him a couple of overconfident slaps to the head, taking the smile off Sydal's face. Hassan takes his head back and laughs to the sky, while Sydal just gives a look of passive aggression. Hassan takes things even further when he sticks his palm to Sydal's head, prompting him to try and hit him. Hassan continues to laugh, with Sydal sarcastically chuckling with him. Sydal then suddenly grabs hold onto Hassan's arm, and uses it as leverage to nail Hassan on the side of the head with a summersault kick.

This surprises the hell out of Hassan, who goes stumbling, which Sydal follows up on by rebounding and hits Hassan with a running diving back elbow, which stunts Hassan even more. He falls but gets to his feet quickly, only to get hit by a Sydal dropkick that forces him into a corner. The high tempo has the crowd all on Sydal, who takes this momentum and rushes towards the corner-clad Hassan with a rushing shoulder block to the gut, which Sydal seamlessly flows through the middle ropes afterward. Hassan stumbles out of the corner holding his midsection, Sydal giving him no time to process his shock. He turns to see where Sydal is, but Sydal is already soaring through the air with double knees to Hassan's chest. The crowd is on fire, as Sydal rolls on top of Hassan for the first cover – 1…2…3-NO!!!

Sydal doesn't spend any time crying over spilt milk, as he rebounds off the ropes. Hassan gets to one knee on this, but on the rebound, is struck in the chest with a low level Sydal diving kick. Sydal tries another cover – 1…2…NO!!! Hassan doesn't go down again! Hassan is still downed, however, as Sydal leaps to his feet and steps over Hassan before executing a flawless standing moonsault…that drives his knees into Hassan's midsection!!! Sydal with another cover – 1..2…3-NO!!! Hassan stays strong!

Sydal, again, comes back strong by rebounding off the ropes again. Hassan is the one who surprises him this time, hitting Sydal with a clothesline that turns him inside out. Sydal goes flipping, with Hassan jumping onto him – 1…2…3-NO! Sydal's got some heart! Hassan pulls Sydal to his feet before tucking his head into a front headlock and hitting a spinning lifting DDT onto Sydal. Hassan another cover – 1…2…-NO!! Sydal won't go so! Hassan then drags Sydal over to a bottom rope, putting his weight all over the back of Sydal, choking the young cruiserweight. The referee is counting to five, to which Hassan eventually breaks in favor of a snap suplex.

Hassan forces Sydal to get to his feet yet again, this time setting him up for a reverse STO. Sydal, however, sees this move coming and starts to fight his way out with a few elbows to the side of the head. Sydal finally breaks free with a leaping kick to the jaw of the 'mad man'. Sydal backs up a step and hits a leaping spinning back kick to Hassan's face. This drops Hassan like a stone and gets the crowd on fire for Sydal again, who now ventures to the top rope. Sydal spreads his arms before leaping with…A SHOOTING STAR PRESS!!!! SHOOTING STAR PRESS!!! …Hassan moves!! Nobody home!! Sydal crashes and burns onto his ribs, with Hassan taking note. As Sydal gets back to his feet, Hassan grabs hold and nails the reverse STO, dubbed as the 'American Made'. The impact spikes Sydal's face into the canvas and leaves him limp, getting Hassan to shoot the half and cover again – 1…2…3…!

Winner: Muhammad Hassan at (6:01)

But Hassan isn't done. That little bastard gave him much more trouble than he'd hoped for. With a raged look in his eye, he pushes away the referee trying to check on Sydal, brings Sydal to his feet and nails the Finishing Touch. The already deflated crowd delivers a myriad of heat now, but Hassan still isn't finished. Hassan looks to make good on his promise to make Americans regret. He jumps on Sydal's back and applies the Camel Clutch. Hassan showing a brutal side this match, but the crowd suddenly starts buzzing to life. Hassan doesn't try to find out why, but he does anyway when CM Punk comes down the ramp and kicks him in his spine. The crowd roars as Hassan is forced off and goes scurrying away. Punk sees him out before tending to Sydal and making sure the mainstream newcomer is in good shape. He brings Matt to his feet before raising his hand to a solid pop and helping lead him out.
Joey Styles:
And CM Punk coming to the aide of Matt Sydal in very honorable fashion.

JBL:
Honorable? You make me diabetic with how much you sugar coat, y'know that Joey?

Joey Styles:
What's up with Muhammad Hassan? That attack as uncalled for, it was unprofessional –

JBL:
Joey, a guy like Muhammad Hassan is hard to fig're out. I don't like him much, but I can't deny that he just showed how much power he really has.

Joey Styles:
You can't really condone something like that, can you John?

JBL:
Well if you don't like it Joey, you can blog an' whine about it.

Joey Styles:
Well Hassan seems like someone you'd like, JBL.

JBL:
Lemme tell you a little secret, Joey – no one with money likes anyone else with money.
~We head backstage now, where we're met with the gorgeous face of Torrie Wilson in the Green Zone and a microphone…

Torrie Wilson:
Hi! I'm Torrie Wilson here in the AOW Green Zone here with uh…several guests at this time. With me are the men who will be competing in the first ever AOW Ladder match for the World Tag Team Championships – Shelton Benjamin, Charlie Haas, Paul London, and Brian Kendrick!
~A big pop for all four men, as both teams appear on opposite sides of Torrie

Torrie Wilson:
Gentlemen, I'm just looking for some thoughts from each of you on what exactly you'll be expecting from each other next week for the tag team gold. You first, Paul.

Paul London:
Torrie, these guys are superbly gifted athletes. All I'm gonna expect from them is to do exactly what they've been doin' to me and BK over here and that's take us to the limit.

Shelton Benjamin:
Man…you guys are pesky. I think you're down, Haas thinks you're down, we look down and you're all over the place. You don't go easy. So I don't expect you guys to go easy next week, either.

Brian Kendrick:
I don't think you guys'll have to worry about us being everywhere. 'cause the only place to go in a ladder match – is up.

Charlie Haas:
Look, we can be here all buddy-buddy all we want. But next week, only one team can become champions. While the other – goes down.
~The ever present tension in the room seems to now take over all four men, as they do indeed go from smiling Willies to a group of men focused on their task come next week.

Torrie Wilson:
Well thank you gentlemen, and I wish you both luck come next week.
~The Hooliganz and the WGTT stare holes into one another across Wilson, who just now feels the tension and gets of the way. Neither team throws blows, but they continue to stare as we fade away…



Quote:

**Video Package**

We're brought to what looks like a wrestling ring surrounded by shadows. Three different men soon enter before the lights go out around them when we hear a narrator…

He's here…

The lights come back on where the three men have been joined by the shadowed and deathly looking stance of a giant 7-foot being…

And all shall fall…

The monster socks one man in the jaw, beheading him as though he were a plaster statue…

To the great might of…

A second man is caught in the chokeslam, slammed through the ring itself, as the final man is lifted in a military press and thrown to the floor and disintegrates into fine powder

…THE GREAT WRIGHT

Paul "The Great" Wright
HE'S HERE...

**COMMERCIAL BREAK**

Upon our return to the screen we're met with Mick Foley in what appears to be an office setting. There's no Heyman in sight, but as Foley turns around, he's got a book in his hand. We can't see what it's about, but he takes a few steps forward where he meets Bryan Danielson.

Danielson:
You asked to see me, Mr. Foley?

Foley:
Oh, please Bryan, call me Mick.

Danielson:
Um…you asked to see me Mick?

Foley:
Oh, please Bryan, call me Jack.

Danielson:
Um…okay…you asked to see me Jack?

Foley:
Oh, please Bryan, call me Dude.

Danielson: (Takes a second…)
Ooooohhh…haha…I see what you're doin'.

Foley:
Ah, just tryin' to have a little fun, y'know, loosen up. It's been all business tonight. I can't work like that. Isn't that right Mr. Socko?
~Foley holds his open boom in his other hand, the hand under the book comes to surface as indeed, the sock puppet himself Mr. Socko to a huge roar of approval. Foley makes Mr. Socko nod his 'head'

Danielson: (Wise to the past, backs up a step)
Woh…hey there Mr. Socko…that's not goin' down my throat anytime soon, is it Mick?

Foley:
You? No. I asked you here for a reason. The other half of that reason isn't here yet, though…]~No sooner does Foley say this does the sound of his door opening and closing meet his ears. Both men (and Socko) turn to see none other than Rey Mysterio Jr

Mysterio:
Hey, Mr. Foley. And Mr. Socko. And...Bryan Danielson? I've heard a lot about you, man.
~The two shake hands

Danielson:
Rey Mysterio? So great to finally meet the legend himself.

Foley:
Good! Nice to see you two know each other. Before I get to you guy's business…I hate to ask this, but do either of you know any kind of information about RVD getting taken down?
~Mysterio shakes his head, while Danielson, present at the scene earlier, just shrugs

Foley:
Oh. Well then down to your business. Now guys –
~Foley takes out a pair of glasses before reading from his open book. We can't read the words, but what we can see is the page has a picture of a yin-yang

Foley:
See, here in AOW, we have a philosophy. Not just concerning wrestling, but how wrestling fits in to everything, not just war. I don't know if you know anything about the yin-yang, but it personifies exactly what AOW is about. The yin meeting the yang and everything coming together. They're not opposites, just other sides of the same story.

Danielson:
That's very eh…eloquently put, Mick, but what does that have to do with us?

Foley:
You forget another one of my alter egos is a best-selling writer, Mr. Danielson.
~A few chuckles

Foley:
I wanna introduce a new kind of match. The yin represents the older generation. The yang represents the up-and-comers. That's where you two come in. See, next week, I wanna have the first ever Yin v. Yang match in AOW. And it will be one of the captains of the cruiserweight revolution himself in Rey Mysterio Jr. going one on one with the future of the cruiserweights and wrestling in general…Bryan Danielson.
~This gets a HUGE pop and smiles from both Mysterio and Danielson

Foley:
Whaddya say, fellas?

Mysterio:
That sounds like a show stealer, Mick.
~Both men nod in agreement before shaking hands again, but the handshake is interrupted by static interrupting the segment. The static gets stronger and stronger until suddenly, the screen is consumed by nothing but static. It soon cuts back to the same small room we saw last week, with the same home video camera set up from last week as well. And just like last week, Gregory Helms' face soon jumps into the frame.

Gregory Helms: (Seemingly stupefied)
So wait…does no one listen to Gregory Helms? Do the divine words of Gregory Helms fall on deaf ears? Obviously, they must, but I need to be heard. That's why Mick Foley, Rey Mysterio, and Bryan Danielson – you've just been hacked by Helms.
~Helms adjusts the camera for a second. Crowd reactions seem to have been cut out in this segment

Gregory Helms:
See…last week, I told the reasons why I was the very best in the world. The best cruiserweight wrestler on the face of the planet. I should be the one facing Rey Mysterio next week! I should be the one takin' down one era and buildin' up a new one! But no. I'm completely ignored in favor of some guy no one's ever heard of. I, the great Gregory Helms, who held a cruiserweight championship for over a year, am being ignored and glanced over.
~Helms shakes his head angrily

Gregory Helms:
Rest assured, AOW Oblivion – Gregory Helms will no longer be ignored.

*END TRANSMISSION*

~Back at ringside…

Joey Styles:
An already huge night on Oblivion, and already two HUGE matches scheduled for next week now! We've got a ladder match for the Tag Team Championships and now we've got Bryan Danielson and Rey Mysterio Jr. facing off for the first time ever! And all this is a few weeks before our first 2-hour show!

JBL:
So you're excited about a small, skinny guy facin' a smaller, skinner guy?

Joey Styles:
How can you say that, Bradshaw? Rey Mysterio is one of the greatest competitors in all of wrestling, not just cruiserweight wrestling. You should know firsthand, Bradshaw.

JBL:
So what? Rey Mysterio is one of the best in the ring. Is that what you want me t'say? Fine. I said it. And see this is why Mick Foley is terrible for AOW. He completely overlooked the REAL 'Best in the World', Gregory Helms, and put in this Danielson dweeb who has yet to prove himself to anyone outside of a high school gym with fifty people watching him! This is the big leagues, an' believe me Joey, this is no place for a rodeo clown.

JBL's ranting is cut off when we hear "I AM THE FUTURE", followed by some nifty guitar riffs before Ken Doane comes through the blood-red curtain. Doane has a very cocky heir about him, his aura reeking of overconfidence. Kenny's look goes from this to sheer annoyance when a front row fan throws a pair of pom-poms into his face. Doane acts as though it never happened, despite the crowd now laughing at him.

The laughter soon fades into pops of anticipation, as the Godzilla horn is sounded before we hear "MAMA SAID KNOCK YOU OUT", as Samoa Joe comes down, towel clad, to a very solid reaction. Joe does indeed look like he wants to freakin' kill someone. Very faint "JOE'S GONNA KILL YOU" chants start, but don't last too long. Joe's demeanor is that he's obviously gonna direct his anger towards Finlay right at Kenny.

MATCH 2
Ken Doane
v.
Samoa Joe


Doane is very cautious of his larger and dangerous opponent, putting some space between the two. Joe, the machine he is, rushes towards Doane to immediately close the gap, but Doane cowers by going between the ropes, forcing the referee to back away from Kenny. Joe doesn't let up, however, as he pulls on Doane's ankle and drags him away from the ropes center ring. Doane crawls on his belly away from Joe even still, however. Again, Joe is not gonna let up that easily. As Kenny tries to crawl away, Joe swings hard with a kick that misses decapitating Doane by a hair. Doane crawls all the way outside the ring to re-thing this, as Joe is being incredibly aggressive. And even here, Doane isn't safe, as Joe spins and rushes towards the ropes, leaping through them and nailing the elbow suicida!!

Kenny really has nowhere to run in this match, even though he's been trying to get away the whole time. Joe recovers before Kenny does, right in front of the commentating table. Joe takes a chair and sets it up near a barricade, taking Kenny and forcing him to sit down in the chair, kicking him square in the chest with a stiff kick. Kenny reels in pain, as Joe steps several feet away from Kenny. He gets ready and set before taking Kenny's face off with the Ole Kick! Wow! The crowd didn't have much time to chant with the move, but nonetheless, Joe is in complete control, as he rolls Kenny back into the ring.

As Joe comes through the ropes, Kenny is still alert and kicks Joe in the skull, stunting him for a second. This gives Kenny enough time to ambush Joe with a hangman's neckbreaker, twisting the big body of Joe around. Doane quickly covers Joe – 1…2…NO!! Joe rolls completely over after getting his shoulder up, but Kenny is again quick to jump on Joe with a grounded front headlock. He keeps this on Joe for several seconds, hoping to wear Joe down, but Joe gets to his feet after a while and unhooks the hold and brings Kenny over with a snapmare, followed by a low chop to the chest, a kick to the spine, and followed quickly by a knee drop. Joe gets his first fall of the match – 1…2…NO! Ken still has life.

Joe brings Kenny to his feet and tries to lock in some sort of standing submission, but before he can lock it in completely, Kenny stomps his heel on Joe's foot, forcing him to let go what he couldn't lock. Kenny uses this to rebound off the ropes, but on the rebound, Joe stiff kicks Kenny right in the midsection, doubling him over and onto all fours. Joe takes the blown Kenny and promptly powerbombs him…then transitions it into a half Boston crab!

The submissions have begun from the Machine, as Kenny is squirming a bit and trying to find his way towards the ropes. He moves an inch or so before Joe transitions the crab into a STF! He's not letting Kenny escape! Kenny is forced to saddle with the weight of Joe, still trying to drag himself towards the ropes. The STF is locked in tight for several seconds, but Kenny is inching towards the ropes, when Joe suddenly transitions it into a crossface!!! Crossface!!! Kenny knows the hold and what it can do, and thrashes wildly before finally grabbing hold of the ropes. The referee is forced to make Joe break the hold, which Joe holds onto the count of four.

Kenny scrambles into a corner, while Joe keeps on him like a rabid dog. Kenny manages to lift a boot to Joe's face that sends him back a few steps. Kenny tries to capitalize on this by bursting from the corner with a hard clothesline…but Joe's completely unphased. Joe just looks at Kenny with no change in expression before chopping Kenny like mad into some ropes. He whips Kenny into the opposite ropes, but Kenny ducks under a clothesline attempt, but on the next rebound, Kenny attempts to throw his knees into Joe's chest. Joe, without flinching, catches Kenny and uses this to hoist him onto the top rope and sets Kenny up for the MUSCLE BUSTER!!! KENNY IS DEAD!!! But Joe doesn't want to stop there. Almost as soon as Kenny touches down, the Machine quickly locks in The Clutch, the rear naked choke making Kenny fade rapidly. Doane barely has enough in him to tap the canvas in submission.

Winner: Samoa Joe at (7:43)


~The scene almost immediately cuts backstage where we can see Finlay taking a peek at a TV screen in the locker room area. We quickly cut back to ringside…


Joey Styles:
And that, ladies and gentlemen, is why Samoa Joe is considered one of the must see talents in all of AOW. He's got the size, the power, the prowess, and he works like a machine. The Samoan Submission Machine, at that.

JBL:
It's very rare that I agree with you Joey, but I will say that it would be an absolute surprise if this man is not AOW Champion by the end of th' year. The real travesty is why Paul Heyman would send his biggest prospect in Ken Doane to be fed to this monster of a man. It's beyond me.

Joey Styles:
Well John, you may not agree with most of Foley or Heyman's decisions are, you have to think that they're for the best.

JBL:
The best is sittin' here on the announce table, Joey. There's a man at this commentator table who knows what to do better than those two twits.

Joey Styles:
Why thank you, John! So flattering.

JBL:
Do I have to threat'n to slap you upside the head on a weekly basis…?

Joey Styles:
Well what about Finlay? Samoa Joe's rage isn't even targeted towards Kenny. It's directed at the man who may have cost him the AOW World title two weeks ago in Dave Finlay.

JBL:
Joe can throw all the hissy fits he wants, but he'd better be careful what he wishes for. Finlay is the most no-nonsense guy I've ever seen in my life.

Joey Styles:
He may have found his match in Samoa Joe, if that's the case, John. Well, we may not know if Joe and Finlay will ever lock horns, but what we can do is update you on the condition of Rob Van Dam from earlier in the program. For those who did not see, RVD, who was in a scheduled title match tonight, was found…well…like this.

A quick flashback to the beginning of the program, with RVD lying in the rubble in extreme agony.

Joey Styles:
We have been notified that Van Dam will was not able to compete for the remainder of the evening, but the question also arises who caused this. Whether that is answered tonight is another mystery, but what isn't a mystery is our main event this evening.

JBL:
Mick Foley has made the best 'f a bad situation with this one, but it's a doosey.

Joey Styles:
That's right – on the other side of the break, AOW World Heavyweight Champion will go face to face with the man who kicked him down to size last week in Shawn Michaels. This non-title matchup is next!

**COMMERCIAL BREAK**



Quote:

**Video Package**

We see a clip of Christian from the pilot episode of Oblivion

"We don't know why you're here…but we don't like you…"

We hear the audio from Christian asking Lashley a question last week…

"Why. .are. .you. .here…?"

We chime back to Christian on the first show…

"We don't want you…"

In the background, we can hear the previous statement echoing…

"Why. .are. .you. .here…?"

A flash to last week's main event, with Rob Van Dam taking on Bobby Lashley. The two hit a sort of climax before Christian walks out and demands that Lashley answer him…

"Why. .are. .you. .here…?"

This echoes yet again, as RVD and Van Dam get into it with words

"I'm on your side, Rob!"
"No one agrees with you dude…get over yourself…"

The match is approaching its close, when Lashley spears Christian in half, enabling Van Dam to get the win. We then see Van Dam say –

"Don't do for us. Do for you"

Before Christian grabs a chair and jumps into the ring, words echoing in rapid, overlapping fashion…

"Why. .are. .you. .here…?
"We don't want you here…"
"…now you know"
"If you didn't know…"
"Why. .are. .you. .here…?"

Christian raises the chair to hit Lashley…

"Why. .are. .you. .here…?"

RVD catches the chair and the two wrestle for it for a second before Christian comes away with it and bashes RVD across the skull, seemingly accidentally…

"If you didn't know…"

Christian walks away in a bit of a daze, a looked of glazed confusion befalling him as he's pelted with garbage…

"If you didn't know…"

A close up, slow motion frame of Christian's shocked face, the echo now muffled, almost to a creepy, deranged whisper…

"Why…

…are…

…you…

…here…?"

*END PACKAGE*

We're brought back to the real world from that video segment, where we do see the devil himself in Christian Cage. He gets a rain of heat but he's seen entering a locker room door, evidently waiting for someone. When a big, black mass passes by him, he stops him. We see this man to be Bobby Lashley, but Lash isn't really pleased to see Christian.

Christian Cage:
Look, Bobs…I know I'm not the man you wanted to see right now. But I need to set the record straight.

Lashley:
You'd better start fast.

Christian Cage:
Look, I've been completely misunderstood the last few weeks. I never said I didn't want you here –

Lashley:
No, but you did say it'd be great if I were gone.

Christian Cage:
Not the point, Bobs. The point is I never let you get your point across. And I know I've been a Class A prick to you since you've been here. But I just wanna put it all behind us and ask you – man to man – why, Bobby Lashley, are you here.

Lashley:
Fine. I'm here because where I was didn't have the best. Now Christian, I don't know if you know this, but you become the best by competing with the best. I came here to compete with guys like Rob Van Dam, Chris Jericho, and Shawn Michaels. Those guys are the best. But you, Christian? You're nowhere near their levels. I'm not here for you.
~Christian legitimately seems hurt by this

Lashley:
But maybe…maybe you're here for Rob Van Dam, too. I mean, after clockin' him in the head with a chair last week, maybe you wanted to finish the job this week…?

Christian Cage:
I try to make peace with you, and you accuse me of that?

Lashley:
I don't know, Christian. Van Dam said some pretty strong things to you last week. About how you really need to get over yourself. About how no one is agreeing with what you're saying. About –

Christian Cage:
SHUT UP!!
~A dead silence…

Lashley:
…you're alone, Christian. All alone. So why are you here. .?
~Lashley exits the frame, leaving Christian to dwell in those comments. Between what RVD said last week and this, Christian's face tells the story of possibly anguish with himself…?

~We cut back to Mick Foley's surroundings, although this time he's talking with Torrie Wilson on the set of the Green Zone. The two seem to be conversing pleasantly when Samoa Joe bursts into the frame, fresh with some sweat.

Joe:
Mick Foley. The Hardcore Legend himself. What did ol' Heartbreak call you earlier…Matchmaker? Well 'Matchmaker Mickey', I've got a match you can make right now.

Foley:
I can at least hear you out, Joe. Nice display put on, by the way.

Joe:
That wasn't for show. Paul Heyman couldn't give me what I wanted. So maybe you can. I want Finlay in a ring, one-on-one with me.

Foley:
Well, Joe, I'll see what I can do. No guarantees.
~Joe begins to walk away with still an angry look in his eye, getting no different result than he did with Heyman. But as he turns to go, he's met face to face with the very man he wants – Finlay

Finlay:
So you wanna face me in a ring, do ya Joe?

Joe:
No. I wanna beat the hell outta you. Next week.
~A pop of approval from New York

Finlay:
Hm…well, tough luck. Oi've already got a match next week. And it ain't against you.

Joe:
You sure about that? You think the fact that you already have a match next week is gonna stop the fact that I want to beat you down? I mean, last week, you were already eliminated from the match, but that didn't stop you from eliminating me, did it?

Finlay:
In case you didn't know, I love ta fight. So bring it, Joe. I want you ta come after me. I'll be waitin' for ya, boy.
~Finlay walks off, with Joe staring a hole through him as he does so. Joe eventually walks in the opposite direction, showing us that Foley and Torrie were watching the whole thing. Just as Foley turns to talk to Torrie again, he's met with the bitter face of AOW World Champion Chris Jericho. Y2J stands speechless, just staring at Foley

Jericho:
So this is Paul Heyman's 'cavalry'…? A pathetic, perverted, has-been stuntman?

Foley:
Chris Jericho! Another old face. You're already doin' good for yourself, eh Chris?

Jericho:
Y'know…I would be doing a lot better if I didn't have a match tonight against someone who I've already presented evidence against that is incredibly unworthy to even be in my presence, much less face me.
~A deal of heat

Foley:
Look, Chris – I'm not gonna play favorites, okay?

Jericho:
Not playing favorites, huh? So how in the world did Shawn Michaels magically conjure up a match tonight with me?

Foley:
Well, Chris, how about you let out any conflict you have with Shawn Michaels in that ring in a few minutes. Because if you don't do what I say, Chris. .that title you're so proud of can disappear as quickly as it got there.
~Pop for Foley, like Heyman, putting his foot down on Chris Jericho

Foley:
By the way, Chris…you wouldn't happen to know anything about the guy who was gonna challenge you for that world title winding up beaten, do you?

Jericho:
I am a worthy and honest man, Foley. I would never indulge in such atrocities. But to answer your question, yes. I do know something about it.

Foley:
Well then who did –
~Foley is cut off by Jericho…somewhat suspiciously

Jericho:
Listen closely, Foley. I don't care how much power you have. .you are a hypocrite. Paul Heyman is a hypocrite. Shawn Michaels is a hypocrite. The only honest and worthy man in this entire company is holding its greatest prize. Now I will be the worthy champion and do the right thing by sucking all this up and go out there tonight and make Shawn Michaels submit to me yet again.
~Jericho flicks something off the collar of Foley's flannel

Jericho:
Hm…so you're Heyman's heavy hitting 'cavalry'…? Just know, Foley that Chris Jericho is always one…step…ahead.
~This last statement gets a great deal of heat, as Jericho gets closer with every word to Foley's face. He eventually stops and leaves, his match time approaching.

~Back at ringside…

"SEXY BOY" roars over the speakers for the second time tonight, as Shawn Michaels comes down the ramp, as energized as ever to get his chance to go toe to toe with the AOW World Champion and maybe, just maybe, weasel his way into the title picture.

"BREAK DOWN THE WALLS", this remake done by Fozzy, roars now, as pyro sets off for AOW World Champion Chris Jericho. Jericho's nose is high in the air as he walks to the ring, as even his stride is telling us that he thinks we're all unworthy. The crowd lets Jericho hear their 'unworthy' beats of heat. He doesn't look happy at all to know Michaels is across from him.

MAIN EVENT
~Non-Title Match~
AOW World Heavyweight Champion Chris Jericho v. Shawn Michaels


Jericho hands off his title with the same unhappy expression, it having never changed since stepping into the ring. As soon as the bell goes, Michaels begins circling Jericho aggressively, while Jericho is just walking around the ring, not even looking at Michaels. Michaels attempts a quick strike, rushing at him, but Jericho slips under the bottom rope to the outside to a great deal of heat. Jericho still hasn't even looked in Michaels' direction now, aimlessly walking around the outside while the referee begins a count.

Jericho slides back in, still not looking at HBK. Michaels is really getting the sense that Jericho thinks he's really that superior to HBK that he won't even look at him. Michaels looks to take advantage with a school boy roll up – 1…2…NO!!! Jericho throws his legs up!! Jericho uses his momentum out of the kickout to roll outside the ring again, setting off actually fighting Michaels even longer. Jericho is holding the back of his neck now, as the crowd is starting to get really annoyed, as is Michaels. As the referee reaches a count of 5, Jericho rolls back in, still not looking at Michaels. HBK has had enough, and lunges at Jericho wildly…but Jericho lowers the top rope!!! Michaels goes soaring over, all the way to the floor!!! Jericho lets out a smirk before lounging in a corner and finally looking at Michaels' downed body.

HBK is able to crawl back into the ring at a count of 6, with Jericho glaring a hole in him. When Michaels is fully back in, he gets jump by Jericho, who drives knee after knee into his back, potentially setting up yet another Walls attempt. As Michaels gets to his feet, Jericho stays cheap and tries a school boy of his own – 1…2…NO!!! Michaels too throws his legs up! But as Michaels throws the legs up, Jericho grabs them and tries to flip Michaels onto his stomach for the Walls of Jericho…but Michaels resists and flips Jericho over!!! Jericho goes tumbling away, all the way near some ropes, but as soon as he gets to a vertical recover, he gets NAILED BY SWEET CHIN MUSIC!!! SWEET CHIN MUSIC!! Jericho goes down, but he's very wary and falls between the ropes he's near, heading straight to the floor from the superkick.

The crowd is pumped from that very early finishing sequence, and Michaels is even grinning to himself, but Jericho is not amused in the slightest. He raises his head, face scowling, rubbing his chin in pain. Jericho's scowl goes to sheer frustration it seems, as Jericho is quick to get to his feet and walk around to the timekeeper's table, grabbing his title, and begins to stride towards the entrance ramp. The crowd is delivering a huge amount of heat to his, and Michaels is throwing his hands up. Jericho doesn't seem to care, however, as his head is high, title on his shoulder, and walks up the ramp aimed for the locker room.

…but he doesn't quite make it there. As he reaches the stage, Michaels runs him down and chunks him into the titanium frame of the entrance stage before forcing him to go back down the ramp by following him with blow after blow. Punching Jericho's way all the way back to the ring, Michaels then whips Jericho into some nearby ring steps, displacing them, but getting Jericho's back to be as damaged as Michaels' is. This prompts Michaels to finally chunk Jericho back under the ropes, fed up with Jericho's games. Michaels pounds on Jericho once he's in the ring, with Jericho struggling to get to his feet. When he finally does, Michaels whips Jericho into the ropes, but on the rebound, Jericho ducks under a clothesline attempt, springboarding off the ropes, and surprising Michaels with the triangle dropkick!!!

This surprises everyone, even Jericho. Michaels is downed, but as Jericho goes over to stomp his back out some more, Michaels is quick to sock Jericho in the face with several right hands, backing the worthy champion away. Jericho stays close as Michaels gets fully to his feet and backs him away even more with a knife edge CHOP(Woooooo!) that sends Jericho reeling. Another hard CHOP(Wooooooo!) sends Jericho all the way back into the ropes, which Michaels whips Jericho across the ropes again. On the rebound this time, Michaels returns the surprising favor with a nifty spinebuster!!! Michaels holds onto the legs of Jericho as he goes down, flipping over Jericho with the jackknife cover – 1…2…NO!!!

Jericho grapples Michaels around his waist and bridges himself up, turning the hold around into a backslide cover – 1…2…3…NO!!! Michaels rolls back to escape the cover, using it to get to his feet, as Jericho steps up but Michaels is cocked back and loaded SWEET CHIN MUSIC…FEINT!! Michaels pulls the leg back at the last minute because Jericho has cowered out of the way, having been hit with that superkick one time too many as of late. Jericho is outside the ring yet again. Jericho seems to be heading back up the ramp to the back, but when the referee asks where he's going Jericho just replies "I'm getting my belt, ingrate!", using the paper thin excuse of getting his title he dropped earlier on the ramp. Jericho takes his sweet time picking the title up and kissing it before walking with it back towards the ring and handing it back to the timekeeper as though it were a newborn child.

Jericho then actually does roll back into the ring, but Michaels is again looking to give him no breathing room, taking Jericho and dropping him on his family jewels with the inverted atomic drop!!! Michaels is then quick to scoop up Jericho and drop with the scoop slam, before getting charged up and getting the crowd pumped with him. They know where he's going. Michaels climbs through the ropes and ascends to the top rope, looking for the diving elbow drop…JERICHO GETS THE KNEES UP!! The knees of Jericho go driving into Michaels' elbow and ribs, causing him to fall back. Jericho rises with a seething look in his eye, dragging Michaels away and covering – 1…2…NO!!!

Michaels isn't going down so easily, but Jericho doesn't give up so easily, either. Jericho starts stomping like a psychopath on Michaels' back, before kicking him square in the head and getting close to him –

"YOU ARE BENEATH ME, MICHAELS!!! YOU WILL SUBMIT TO ME AGAIN!!!"

Once Jericho's gotten that off his chest, he grabs Michaels legs and starts turning him over…WALLS OF JERICHO!!! WALLS OF JERICHO LOCKED IN!!! Michaels is on the receiving end of yet another Walls of Jericho!!! Does he have what it takes to survive this time? Will he submit to Chris Jericho yet again? Michaels is crawling towards the corner…edging…reaching…but Jericho pulls him back towards the center!! Jericho looks to want to put his weight back for that Liontamer Walls of Jericho, but Michaels is keen to this, even in his pain, and sees this as a chance to use this change of weight to help roll forward and roll Jericho up yet again! 1…2…3…NO!!! Jericho scampers out, and scampers out of the ring!! He goes back over to the timekeeper and grabs his title, pissed beyond reasonable belief, frustrated that he couldn't get Michaels to submit to him again. Jericho hissy fits back up the ramp…but he stops halfway before looking back into the ring…with a smile on his face. The hell is Jericho smiling at…?

The crowd is abuzz as Michaels tries to get to his feet, gripping his back, but falls upon attempting. Even so, Michaels has to look up and see what everyone's buzzing for…and it's not Jericho smiling…it's the seven foot tall monster coming down the ramp. The commentators immediately recognize this as Paul "The Great" Wright, the man we've heard of only in legend so far. The man formerly known as the Big Show is coming down the ramp with his fists taped in a huge, black hooded vest. The crowd is buzzing in awe, with Jericho's grin never fading. Michaels is in great pain, but is stuck in awe as well at the gargantuan man approaching him. Wright steps over the top rope into the ring, with the referee approaching him and telling him he can't be here. A close-up reveals the referee visibly and audibly GULPS. The referee then hauls ass and leaves the ring. The simple stare of this man is enough.

Wright is staring at Michaels with pure intensity, who has since retreated to using the ropes to get to his feet. Wright takes his first steps towards Michaels, but Michaels springs forth WITH SWEET CHIN MUSIC!!! SWEET CHIN MUSIC!!! SWEET CHIN MUSIC TO THE BIG MAN…BUT HE DOESN'T EVEN FLINCH. Wright just takes one step back on the impact, but simply brings his chin back down to stare Michaels in the face, striking pure fear into the heart of the Heart Break one. Michaels face simply says "are you shittin' me?" before it gets STRUCK WITH THE WRECKING BALL THAT IS THE FIST OF PAUL WRIGHT. Michaels' hair and neck whips violently on the impact of the punch, causing the referee outside the ring to ring the bell.

Winner via DQ: Shawn Michaels at (15:31)

Michaels drops like a stone, but he drops forward, supported only by the leg of Paul Wright right now. Michaels mouth is agape, drooling and barley conscious. Wright doesn't like where he is. He grabs the already dead Michaels by the throat and hoists him into the air…CHOKESLAM!!! CHOKESLAM!!! If Michaels wasn't already dead, he certainty is now, with Jericho finally coming back into the ring.
Joey Styles:
…I'm…I'm in utter shock…oh. .oh my God…

JBL:
This…my God…Shawn Michaels can't be alive…

Joey Styles:
Ladies and gentlemen…this monster…this Paul "The Great" Wright…I think we may have just found out who took out Rob Van Dam…

JBL:
I'm in disbelief, Joey…in all my years in this bus'ness, I have never seen something as sick'ningly dominating as what I just witnessed…

Joey Styles:
This giant appears to be at the beck and call of Chris Jericho…what carnage…unbelievable…
Jericho's grin almost looks psychotic now, but still incredibly confident. The closing shot we have of the third edition of Oblivion is that of Shawn Michaels decimated, Paul Wright standing tall behind Chris Jericho, and Chris Jericho stooped over the downed body of Shawn Michaels, title in hand, with the closing words…

"One…step…ahead…"

...


*Black*

*END SHOW*
.:Confirmed for Next Week:.
YIN V.YANG
Rey Mysterio v. Bryan Danielson

*LADDER MATCH*
~To crown the FIRST EVER AOW World Tag Team Champions~
The World's Greatest Tag Team v. The Hooliganz
Tried to get this up Monday, but I guess early Tuesday works too. I think I tried to do too much, but I'll let you guys decide for that. Anything's appreciated, fellas
---
CUTENESS²
AOW: Art of War Wrestling - The Greatest Affair
It's Baaaaack...
.:Oblivion Edition 39/40 Recap NOW POSTED!!:.
Re: Presenting AOW: Art of War Wrestling - The Greatest Affair
---
Told ya' I'd be back to review!
Rightio, first off - Wow? I think that's the word? RVD out cold through the stage equiptment? I'm trying to rack my brains thinking who it could be that did it but I can't think of anybody on your roster who has beef with him? Interesting to say the least, I hope this is the start of something very big, my friend.
Good move getting Heyman to come out here to clear the air, hopefully he can clear it up a little. Or not? So you're telling me that RVD was attacked and chucked throgh the equiptment and no-one knows a thing? I don't like the idea of that but I guess I do like the sound of the rest of the night somewhat being themed on the attack. But what Heyman does say is great, amazing, phenomenal! A two hour supershow sounds great and I'm guessing the attack on RVD will culminate on that show? My guess :P I like guessing, haha.
I can understand the hiring of Mick Foley but I don't really dig it. I haven't liked Foley since his Programme with Orton in 2004 so it will be interesting to see if you could change that. However it does make sense to bring him in, but not to particularly "put butts in seats".
Foley getting straight down to business is alright but I would have liked to have seen more of a welcoming promo from Foley and not strictly business. I really do hope we see some genuinely funny and entertaining promos and skits with him because that's what he does best but I understand why he is all business tonight. The announcement of the Cruiserweight and Dynasty title matches for the supershow are good and hypes that up seeing as I was wondering when those two titles will be addressed. The tag team title match for next week is a huge announcement and I'm fully expecting it to be main-eventing next week because let's face it, it is worthy to. Like I said in my last review, you need a heel tag team. After this match you need a fresh team and I really do hope you can bring in or form an interesting one.
@ Matchmaker Mickey, classic. It was typical HBK on the mic and I thoroughly enjoyed readin the little bit he said. Nice to see you're not handing out title matches and it's almost as if that's adding prestige to the world title which is always a good thing and something every booker should aim to do. A non-title match will do though and I'm expecting Jericho to weasel his way out of it. Good way to open the show with plent of controversy and interest created out of it
Banter between Brashaw and Styles. Love it.
I hate Hassan, plain and simple. I never liked his character, his promo skills or is in-ring talent. I'm hoping you can change that. I'm not too keen like the idea of the gimmick change, even if it is a slight one, but It's just overdone. The rich, snobby, "look down on you" gimmick is so old & unoriginal and pairing that with a foreigner who could get heat anyway is just bleh. I knew Hussan was going to qin but I'm glad Sydal gave him a good match because I really don't want you burying him. I can see him being a huge part of The Cruiserweight Division and possibly even a part of the Dynasty Division? I don't know, just don't job him out.
Hussan getting a cheeky shot in after the match is a good move making him look even more of a bitch and it's nice to see Punk coming to the aid of Sydal. Obviously a feud between the two is coming up? Or maybe not but either way it was decent enough.
"Honorable? You make me diabetic with how much you sugar coat, y'know that Joey?"
- Where did you steal that from? I joke, but that's a classic line, absolute classic
The WGTT/Hooliganz interview was so bland and generic. I know that that's what all men are in terms of character and personality but still, you could have added some spice to their characters, even if it was a likttle sentence from each man. I hope you do give them characters or small gimmicks just to make sure that they aren't bland. Did it's job though, hyping the match next week, I guess.
Interested to see Paul Wright (isn't it Wight, you probably meant to do that, though) debut and how you'll differentiate him from the WWE
Glad to see another Foley segment as obviously he has to be one of the focal points of tonight because of how much of an impact he's caused. Glad to see a bit of comedic Foley like I wanted earlier and it was a good touch for Danielson to fall for it. I'm not too sure on the ying. yang match but it sounds as whacky as any other Foley creation. Don't know if you wanted that effect or what, I just wasn't too fond of it.
Helms stepping in is okay, not a big fan of him, but it's much like last week IIRC. Helms taking the piss out of BD and Rey. What Helms said was good, putting over his arrogance and cockiness. Not a big fan of him and I can't really get in to him but what he said was solid even though I would have liked to have seen more interaction between him and BD/Rey/Foley.
Have been looking forward to this match since last week and it didn't dissapoint. Surprised to see Joe get the victory as I was expecting Doane to go over on he debut and Finlay to interrupt but like I said last time, I'm a huge Joe mark and not a fan of Doane so I'm not complaining. :P Interesting to see Finaly watching from a TV screen? I'm guessing a passing of the torch from Finaly to Joe, something like that possibly. Who knows, looking forward to see what happens though.
Interesting segment between Lashley and Cage. Never liked Lashley as a speaker so I'm glad you kept it short and sweet for him. Accusing CC of the attack is a great way to build up the attack and he has legit reasons to beleive CC did it as well which makes it even better. Cage obviously backs away and denies it. I don't think it was Cage but the fact that he acted so defensive would plant the seed of doubt in anybody's mind.
Segment between Finaly and Joe was alright, nothing special. Finlay doesn't sound like a heel though? I don't know whether you wanted that or not but he just dounds generic. It was a bit iffy, for me to be honest. Joe was solid enough though.
Amazing stuff from Jericho as I expected. The interaction between him and Foley was great and obviously Jericho would be the prime suspect seeing as RVD is a legit threat to his title but once again I doubt it was him. You seem to be building on Jericho being the prime suspect which makes me think that there will be a swerve even more. I'm liking the reoccuring "one step ahead" line though. Hope to see a lot more interaction between Jericho and Foley in the future because the two of them would play off each other brilliantly!
The main event was a classic as I expected and nothing less than brilliance. I can not fault it at all in terms of match writing but the sudden appearance of Wright didn't really click for me. It may have been too soon or maybe not enough hype? I don't know but whatever. He has been put to great use already and defnitely causes interest in next week as we obviously will see the repercussions.
Overall the key word for this show as shown in my review is interesting. Everything you wrote today caused some interest. Even though I wasn't too keen on some things as I have talked about above, the show was well written and definitely will get me to tune in next week. I'm hoping for this RVD angle to continue for a while and like I said to probably culminate at the supershow. Everythings looking sweet, your match writing is superb and definitely one of the better aspects of your writing. Good job, you still have me hooked.
Sorry for any spelling mistakes, I rushed this a little bit, lol.
---
Re: Presenting AOW: Art of War Wrestling - The Greatest Affair
---
Wednesday Night Oblivion Review

Been flicking through your thread this morning, as I'm looking to get back into booking soon enough and wanted to see what's out there. Interesting concept, the promotion's name (AOW) didn't fly with me at first, but Art of War is actually a killer name, bro. Love it. Nice roster, title's are creative and haven't been overused. Anyway, on to the show as planned, my friend.

Opening segment was... a little strange, not too sure what's going to transpire with RVD. I'll be on the lookout to see how that unfolds throughout the night. Heyman comes out, and I commend you on your decision to book a two hour special as a opposed to a full, solid pay-per-view straight away. Realistic. I like it. Ah, so we finally have a general manager. Foley is weird choice, mind you. I'm not too sure if his general manager skills, from what I've seen in real life, even interest me. I'll be watching to see how you use him in that role. Oh, and good move on pulling the one on one before the title shot with HBK. Sensing maybe a triple threat coming, Jericho/HBK/RVD? Maybe. I'd pay to see it.

By the way, good commentary from an interesting choice of team. Loved JBL as a commentator, and there 'aint much better than the man himself, straight shootin', Joey FUCKING Styles. Epic.

Hassan bores me to be honest. IRL and in BTB. Never interested, but Sydal – I'm interested in that. Nice to see Punk coming to his aid, too. You've got some good partnerships going, from what I can see already. Same goes for Big Show, unless he's booked like a fucking monster, I won't be bothered with reading about him either. The Rey/Danielson segment was put together well, and it's a match I'm looking forward to. Little confused as to whether or not Helms is officially apart of said match, or whether he'll just get involved. Either way, he'd be a nice addition to an angle that feels a little too... eh, how should I put this without sounding like a condescending twat. Well, too much like the 'E.

Joe and Doane, very good, solid and well-written match. You seem to be good at storytelling, so I'd look forward to seeing you write full matches. Is the two hour special going to be in full length? As for Christian and the Lashley segment, it was funto read, got me back into the hook of that RVD storyline. Probably wasn't Cage who did it, though. I see a good 'oul fashioned swerve-a-roo coming along.

Qiuck reviewer's note before I make my finaly comments in this review about the main event and end of show – Jericho is genius in this thread. I absolute love the way you portray him, and it makes me regret saying what I said about Foley's skills as GM earlier in the review. He had such chemistry with whoever he spoke with tonight, especially Jericho. So, good choice, mate.

On to the main event.... wait, wait. Hold on. FUCKING EPIC, dude. What a way to end the show. You have me absolutely hooked to this thread. I love the way you portrayed Big Show, or Paul "The Great" Wight as I should say. And I thought that he'd be boring? Once again, you've left me eating my own words. Great match, and even though DQ finishes can be overdone, this one was just that little bit special and suited the match and segment down to a tee. Tip my hat to thee sir, great show. I won't rate it, because it's not how I role, but excellent show. I'll be on the lookout for the next one. Big thumbs up and a pat on the back. You've gained a true follower, sir.

Peace out,
Shane.
Finally Out of Cutey Sleep
Join Date: Jul 2006
Location: The Fountain of Dreams
Posts: 2,020
Points: 9
Re: Presenting AOW: Art of War Wrestling - The Greatest Affair
---
Thanks for the feed guys, espcially the out of the blue one from ya, Spiron. Very much appreciated.

It's news/preview time. First a bit more news...
And now the preview, again presented by aohdubya.com (yes - it does sound redneckish
)
Quote:


9.12.07

The Hammerstein Ballroom – Manhattan, New York City, New York
"Respect is a Duel"


Last week, we saw the decimated body of Rob Van Dam at the hands of potentially anyone. We then saw Shawn Michaels make his case known to new General Manager, Mick Foley. But bigger than both of those men was Chris Jericho staying 'one…step…ahead' of all of his foes – by unleashing "The Great" one on us all. When it looked like Shawn Michaels might have had a World title match in the bag, Paul "The Great" Wright made his presence known by KOing the Heart Break Kid instantly and affirmatively. Now, with this dastardly alliance of strength and strategy, how will the AOW roster react? Was it this new tandem that took out Rob Van Dam? What is to come of Shawn Michaels, or for that matter, the AOW Word Heavyweight Championship? Wednesday night on Oblivion, Chris Jericho assures these questions will be answered.

Also last week, General Manager Mick Foley went to work getting ready for he, Paul Heyman, and AOW's biggest date yet – the 2-hour edition of Oblivion set to come on September 26th. "Matchmaker Mick" has already confirmed that the AOW Cruiserweight and Dynasty Championship voids will be filled, but by whom? He also confirmed a new match concept – the "Yin v. Yang" match, defined as the "Newcomers v. Veterans". What better way to kick the concept into motion by having Bryan Danielson, the billed "Best in the World", facing off against Rey Mysterio.

Foley was busy last week, also confirming that the AOW World Tag Team Championships void would be filled. Not on September 26th. But THIS WEEK!!! The stellar contests of respect between the World's Greatest Tag Team and The Hooliganz haven't gone unnoticed, but GM Mick has upped the ante – to a LADDER MATCH!!! The stakes never higher, the risks never amplified, and competition unmatched in the wrestling world. Who will become the FIRST EVER AOW World Tag Team Champions?

Paul Heyman couldn't give Samoa Joe his bout with Finlay, and evidently, neither can Mick Foley. What's Joe's next move? Also on Oblivion, Christian Cage still seeks answers, Paul Burchill wishes to resolve his 'apprentice' dilemma, and Finlay makes his AOW debut, with or without Joe. Don't miss the guaranteed most action packed edition of AOW Wednesday Night Oblivion in company history, at 9/8c only on FX!

.:Confirmed for Oblivion:.

YIN V.YANG
Rey Mysterio Jr. v. Bryan Danielson

*LADDER MATCH*
~To crown the FIRST EVER AOW World Tag Team Champions~
The World's Greatest Tag Team v. The Hooliganz

PLUS…

Chris Jericho sheds some light

Aiming for Monday/Tuesday-ish again. Hope I haven't driven anyone away yet.
---
CUTENESS²
AOW: Art of War Wrestling - The Greatest Affair
It's Baaaaack...
.:Oblivion Edition 39/40 Recap NOW POSTED!!:.
Asking JAMES ELLSWORTH for Wrestling Advice
Join Date: Feb 2011
Location: Detroit
Posts: 256
Points: 140
Re: Presenting AOW: Art of War Wrestling - The Greatest Affair
---
Sorry I'm a little late. Work's been kicking my ass this week. Anyway, on to my review.

The beginning with Rob Van Dam getting his shit rocked was kind of disappointing. I mean, I can understand why it was done, but at the same time, I was looking forward to the main event as it was. Also, I feel as if Heyman immediately being able to make the transition from concerned to excited for the big news was a little weird. Having Foley debut as the GM was a little expected, but exciting as hell nonetheless.

The announcement of the two hour special was great to see from a company that doesn't yet have it's own pay per view, and knowing that all of the champions will be crowned by that night is freaking awesome! The tag team ladder match should be incredible to read, and I don't think you can find two better teams for this match!

Having Shawn Michaels be right there to challenge Jericho makes Michaels look really, REALLY shady, and I'm wondering, even after having read the entire show, if there's something deeper then we're seeing right now... not having him get the title shot, though, is pretty nice. Like Foley pointed out, that's Rob's title shot, damn it!

Despite how short it may have been, the Sydel-Hassan match was pretty good. While on one hand it makes Matt look pretty damn good, having Hassan win it was a smart move to make. Utilize him properly and he can very easily be your top heel! I'm kind of bummed, because I had a very similar idea for my BTB, but with how your using him, I ain't even mad, bro lol. But really, good, even if brief match. Also, having Punk run out to make the save... I'm assuming that CM Punk is going to be a face? That's kind of disappointing, but you haven't let me down yet, so I'll see where this goes

The interview between the tag teams in next week's ladder match was pretty good. I mean, it wasn't ground breaking, but at the same time, it got the job done, at least.

Seeing a new debut trailer for Paul Wright was refreshing. Again, nothing too ground breaking, but it was nice to see a new one.

The Danielson-Foley-Mysterio segment was great. Having Foley bust out the big words and deeper meaning behind their match was great to read, and I'm excited for the Yin VS Yang match... then you turned a good thing GREAT with a second Helms Hack! Having Helms punk out Bryan for a second week in a row was awesome, and I'm really hoping that something comes from that. I know I said Hassan could be your top heel, but Helms could be your top character!

Might be a bit in the show, but, as always, the bickering back and fourth between Joey and JBL is fun to read!

I have to say that at almost eight minutes, that might have been one of the longest squash matches I've ever seen! Having Kenny get a few moves in and basically try to escape the whole time may not do much for Doane's character, but it does huge things for Joe, and really establishes him as somebody to be feared! The match was good for what it was, but I'm really hoping that Doane doesn't become a permanent jobber, because he could be a pretty damn good mid-card champion with some sharpening of his skills.

The Lashley-Christian segment was very well done! Finally giving Lashley an opportunity to talk was a good move, because his short bit on the mic was probably the best promo you've written so far! Seeing him play the head games on Christian is pretty cool to read, and I'm really loving this feud so far!

Kind of bummed out that Foley didn't grant Samoa Joe his match against Finlay, either, but seeing that Finlay wants his hands on Joe just as badly makes me pretty excited to see where this one is going! (By the way, real quickly, in the preview for next week, your advertising Finlay's AOW debut... but he debut in the Lucky 13 match... do you mean his singles debut? lol, not to be nit-picky, but that one confused me for a second).

Jericho and Foley's interaction was fitting. It shows Jericho as someone whose calculating, and is some great foreshadowing for the main event. Speakings of...

The back and fourth between Jericho and Michaels was really entertaining to read. Any time that these two step in the ring together, it's bound to be a goddamn classic. But, of course, the real highlight of this match is the debut of Paul Wright. First off, I like that your using his real name, because it separates him from the goofiness of the Big Show character, and I'm happy that your taking him back to his monster roots. At first, I was really disappointed at the punch, because for a second I thought that was going to be his main finisher, but I was quickly relieved when Wright choke slammed Michaels. Please don't have Paul use the punch as his finisher in the future! As something to build up toward the choke slam, definitely use a KO punch, but as the main finisher, it's so damn lame!

Since I'm so late, I'll go ahead and tackle the preview for next week too.

Seeing Keesh, Al and D'Lo get short term contracts is actually kind of cool. Yeah, there primarily going to be working in developmental, as you pointed out, but I'm really hoping that they might get an opportunity at some TV time... okay, I hope AL gets TV time, anyway... okay, I'm hoping HEAD gets some TV time!

It's looking like your building up the Tag Title Ladder Match as your main event, and I think that's a great move for you! It really does put some emphasis on the Tag division, and shows that your not going to be one of those guy's who isn't willing to put worthy matches in the main event slot!

I'm actually rather excited to see what happens with Paul Burchill! I loved Paul when he was in WWE, and it's really nice seeing that your using him in a rather proper way!

All in all, you put on another great show this week, and it's looking like your not going to disappoint this coming week! Looking forward to the official build toward the two-hour special mate!

Oh, and while I'm here, thanks again for the review on EPW. It's always appreciated greatly, mate =)
---

WCW 1998:The War Continues
http://www.wrestlingforum.com/booker...continues.html

https://twitter.com/BrandonBrownson
https://www.youtube.com/user/THEBrandonBrownson

The roof is NOT my son, but I will RAISE IT!
Posting Rules

You may not post new threads

You may not post replies

You may not post attachments

You may not edit your posts

---

HTML code is Off

---