Re: Presenting AOW: Art of War Wrestling - The Greatest Affair
---
All the news posted by the informer seems pretty spot on. Elix Skipper joining coaching is a smart way to use another experienced wrestler, and Galloway is a good signing, imo. Glad to see you mentioned there wouldn't be anymore call ups for awhile though, as they have been coming pretty frequently since basically the beginning of the thread.

Mysterio being out injured REALLY makes Helms looks like a beast. Simply smart booking.

LOVED the Noble interview because I'm a big fan of the guy, plus it was written pretty well to. You put over his intensity nicely, and continue to develop something with Aero Star. My one issue was at one stage you had Noble say "fella." It doesn't strike me as something Noble would say, after all he's not Sheamus.

Another nice interview from The Mercenaries, with everything flowing well. It's funny because these two guys are weak on the mic, but you've put them in a situation where it isn't hard for them to talk. I thought the whole civil/savage thing came across pretty well. One thing I dislike is Burchill calling Albright his mentor. It's more a taste thing, but I prefer both members of the tag team to come across as even. The 2 out of 3 falls match for Tag Halloween against The Hooliganz sounds VERY tasty though.
---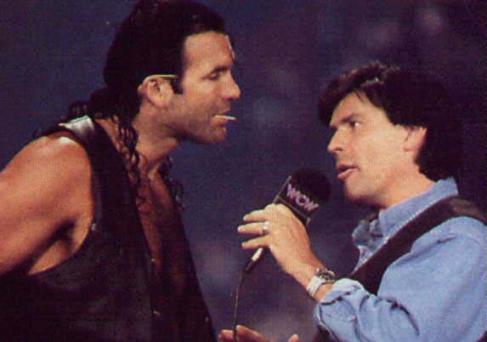 Finally Out of Cutey Sleep
Join Date: Jul 2006
Location: The Fountain of Dreams
Posts: 2,020
Points: 9
Re: Presenting AOW: Art of War Wrestling - The Greatest Affair
---
Quote:


10.31.07

The Hammerstein Ballroom – Manhattan, New York City, New York
*90-minute Extension Pilot*
"Tag Team Halloween"

BOOO!! It's Halloween night in the Arena that Never Sleeps in the City that Never Sleeps, playing host to AOW Wednesday Night Oblivion yet again! But what happens in the world of wrestling on the night made for frights? Well, fights of course! It's Tag Team Halloween in the Hammerstein – a night where every match contested will be in tag team format. Not only that, but Wednesday Night Oblivion goes from 60 to 90 minutes – permanently! With more time to fight on what should be more wild nights how will the tag teams, and other wrestlers, in AOW respond and react?

For tonight's main event, it will be all about the tag teams and titles. In the main event, it will be the AOW Tag Team Champions World's Greatest Tag Team taking on and defending those titles against the men who will face each other in just under two weeks time at AOW's first ever Pay-Per-View in World Ablaze – AOW World Champion Chris Jericho and his #1 Contender, Rob Van Dam! To add the fuel to that fire, due to the contract signing last week, Rob Van Dam now has the right to choose his type of match come World Ablaze! How will this come into play as these two voltronic personalities are forced to fight alongside one another against a team of men more than accustomed to helping each other out? Also, what role will the man who was named special guest referee for that contest, Shawn Michaels, play in the fates of the Tag Team Championships?

Amongst the mayhem last week, Paul Burchill and Brent Albright caused a vast majority of it. Beyond assaulting both Low Jack and the Hooliganz, the Mercenaries made an online decree to challenge London & Kendrick to a 2 out of 3 Falls match, going off the fact that the World's Greatest Tag Team had to defeat the Hooliganz twice out of three tries to get those tag team titles. With the #1 Contenders for the titles ready to prove their brutal worth, will they be able to put away the team who will not go down? Or will the Hooliganz be able to pull off a raging upset and possibly throw their names back into title contention?

Two weeks ago, AOW saw the debut and definition of the AOW tag team division in the form of American Made, the Sons of the Dungeon, and the Samoan Fight Club. With American Made pulling out a win in their debut over the Sons, the boys from Stu Hart's Dungeon are tough and ready for a rematch against their already destined rivals. Meanwhile, the Samoan Fight Club, Siaki and Manu, have told us that they're here to 'DESTROY' anyone or anything that gets in their way. This week, we get the future, right in front of us – the Sons and Made go head to head once again, while the Samoan Fight Club demonstrates their destruction in the in-ring debut.

After Christian Cage was allotted his time to speak last week, others have come forth with their grievances as well. We've seen Jamie Noble already air his issues, but this week, CM Punk has requested time on the microphone to air his sentiments on Muhammad Hassan's "5-Minute, 50,000 Challenge'. And hey…it's Halloween night! Surely someone, somewhere wants to have fun…?

All this and a whole lot more on the next edition of AOW Wednesday Night Oblivion, 9/8c only on FX!




.:Confirmed for Oblivion:.

*AOW World Tag Team Championships*
The World's Greatest Tag Team(c) v. AOW World Heavyweight Champion Chris Jericho & Rob Van Dam

~2 Out of 3 Falls Match~
The Mercenaries v. The Hooliganz

Sons of the Dungeon v. American Made
The Samoan Fight Club debuts

PLUS…

CM Punk speaks his respective piece

Exams are FINALLY over, so here's to me getting in the Christmas spirit by giving the gift of pumping out a show within the week. And perhaps feedback for some of you, which is the gift that keeps on giving
---
CUTENESS²
AOW: Art of War Wrestling - The Greatest Affair
It's Baaaaack...
.:Oblivion Edition 39/40 Recap NOW POSTED!!:.
Finally Out of Cutey Sleep
Join Date: Jul 2006
Location: The Fountain of Dreams
Posts: 2,020
Points: 9
Re: Presenting AOW: Art of War Wrestling - The Greatest Affair
---
10.31.07

The Hammerstein Ballroom – Manhattan, New York City, New York
*90-Minute Extension Pilot*
"Tag Team Halloween"
Quote:
"The Fight Song" by Marilyn Manson vignette

(Whispers)

Fight…

RVD leaps for a Frog Splash…

Fight…

HBK cocks back, Sweet Chin Music ready…

Fight…

Finlay and Joe go at it on the balcony…

Fight…

Paul Wright lets his fist fly…

*Opening guitar riff*

You'll never grow up to be a big rock star

The camera goes from the ground up to the face of Paul Wright in his debut Week 3

Celebrated victim of your fame

Shawn Michaels comes down the ramp, pumped up from the main event of Week 1

Just cut our wrists like cheap coupons

Christian searches for his peeps from Week 5

And say that "death was on sale today"

Bryan Danielson raises his hand, singing his theme from Week 4

*Upped tempo, heavier sound*

And when we were good

Jack Evans' double moonsault from Week 1

You just close your eyes

Joe leaps through the ropes onto Kenny from Week 3

So when we are bad

Paul Wright chokeslams Michaels through the table from the Supershow

We'll scar your minds

A replayed shot of Shelton Benjamin German suplexing Paul London off the ladder from Week 4

Fight!

SWEET CHIN MUSIC!!

Fight!

WARRIOR'S WAY!!!

Fight!

MUSCLE BUSTER!!!

Fight!

SPEAR!! SPEAR!!

Fight!

CHOKESLAM!!!

Fight!

WORLD'S GREATEST DOOMSDAY DEVICE!!

Fight!

619!!!

Fight!

FIVE STAR FROG SPLASH!!!

*Final cymbal crash*

Chris Jericho holds the AOW World title high in the air


***

We open to the eleventh consecutive sellout of the Hammerstein Ballroom, 3,000+ losing their minds for the inaugural 90-minute timeslot extension, all of them ready for an intense night of tag team action. It doesn't take long for them to get their wish, either, as the second the camera pan ends, "LONDON CALLING" greets us on the speakers as the crowd pops once more, the team of London and Kendrick, The Hooliganz, make their mad dash down the ramp and towards the ring. They're noticeably not as nimble as usual, selling the assault of their opponents tonight from last week. They don't perform their usual backflip-and-handshake pre-match shenanigans, either, showing a bit more serious demeanor tonight.

The demeanor looks to come to fruition as we hear "WELCOME TO WHITECHAPEL", as Paul Burchill and Brent Albright, collectively known as The Mercenaries, come onto the stage in their "Ripper" attires – their hair groomed, but both with dark (mascaraed and eyelinered) eyes and their tattered English coats walking very seriously, very intensely towards the ring. They stop to throw off their coats, only for London and Kendrick to leap through the ropes with immediate suicide dives!! We're underway in an explosive way!!

OPENING CONTEST
*2 Out of 3 Falls Match*
The Hooliganz v. The Mercenaries
The Hooliganz, showing a great deal of aggression early with that explosive opening! This sets things off with a brawl all over the outside between the four men, The Mercenaries gaining the upper hand on their reckless opponents. Kendrick is taken by Burchill and
whipped violently into some steel ring steps
, but London is able to back off Albright before assaulting Burchill with a hard clothesline. As Albright reproaches, he gets a sharp uppercut throat thrust for his troubles from London, followed quickly by London getting on all fours, Kendrick rushing, leaping off his back, and
executing a beautiful aided hurricanrana!
L & K slide back into the ring, fully on fire here, the crowd fully behind them and being the aggressors on two of the most aggressive men on the roster. The ref tells them only one of them can be legal, as the Mercenaries try to enter the ring and start another brawl, but are told the same. We have to start an actual match here.
Burchill wants to kick it off against London, who is still feeling the fire from moments ago. Burchill tries to steam it with a lock-up, but London swiftly avoids it and begins clubbing Burchill wildly on the back, forcing Burchill to get down on one knee. London keeps swinging, so it forces Burchill to all fours. London uses this time to back up a few steps before charging and
nailing Burch in the face with a low front dropkick!
London with a white-hot cover – 1…2…NO!! The Mercenaries won't go down so easily at all! London does drag Burch's body over, however, and tags in Kendrick, who leaps over immediately with a
vaulting leg drop onto Burchill's neck!
He's got a cover – 1…2…3-NO!! Burch still won't go down early! The fiery Spanky doesn't waste time after the near fall, grabbing Burchill by the head and attempting to pull him to his feet. But beating on the cage door awakens the beast, as Burchill comes to life by abruptly lifting Kendrick up and smashing him into a vacant corner. Burchill traps the cornered Kendrick and gives him hard knee to the gut after hard knee to the gut, showing his own vengeful and aggressive side here. The ref tells him to get him out of the corner, so Burchill obliges and tosses him across the ring into his corner, where Albright is seething in waiting for the tag. Both men lift Kendrick above their heads before
dropping his gut on both their knees!!
The target on the gut of Kendrick continues with a cover – 1…2…3-NO! Kendrick won't go down quickly either!
Albright doesn't seem to mind, as he gets to beat the hell out of Kendrick as a result. He lifts Kendrick to his feet before delivering a chaffing CHOP(Woooooo!) to the chest of Kendrick that forces Kendrick to cover his pecs, turning his back to Albright. Albright takes this chance to sock Kendrick in the kidney with a hard knee before locking in an abdominal stretch. The continued pressure to Kendrick's midsection is noted, as Kendrick tries to reach into his corner in vein. London tries to get some claps going, getting the crowd to cheer on Kendrick to get out of things. As Kendrick seems to be filling with energy from the crowd, Albright takes one of his arms and starts driving it into the kidney of Kendrick repeatedly before just leaving it there to dig into his skin, stopping any attempt at gathering momentum. Kendrick collapses, but Albright follows him to the mat and pulls him back up by his hair and turns him back towards him, quickly nailing a
gutwrench suplex!
Albright with another cover – 1…2…3-NO!! Kendrick still with some fight!
The continued target of Kendrick's midsection is again honed in on, as Albright goes right back to an abdominal stretch, albeit a grounded one this time. London is quick to try and enter the ring this time and stop it, but the referee intercepts him. While that goes on, Burchill takes the opportunity to run by and kick Kendrick in the back of the head. He quickly exits, as Albright adjusts his grip to that of a bearhug on Kendrick. As he rises to his feet with the hold intact, Kendrick begins feeling the crowd and begins fighting, scratching, and clawing his way free before finally breaking the vicegrip. He puts both men on the ground with a high, but well aimed dropkick, causing both men to crawl to their corners. Kendrick is crawling and belly flops in order to get the hot tag on London before Albright can tag, causing London to jump into the ring and knock Burchill off the apron. Kendrick is still in the ring with London, as London lifts Albright into a powerbomb position, while Kendrick grabs the head…
TOWER OF LONDON!!! TOWER OF LONDON!!! WOW!!
The Hooliganz nail a joint maneuver, leaving London cover Albright – 1…2…3…!!!
1st Fall: The Hooliganz
at (5:31)
Wow! The Hooliganz make a statement with the first fall that they are not just gonna be some kind of proving ground! No tomato can contest here! But almost as soon as the ref rings the bell for the first fall, Paul Burchill explodes into the ring, smashing London with a hard clothesline, then following up with a hard blow to the gut of Kendrick, getting him out of the ring. Albright has rolled to the apron, leaving Burchill as the legal man. London stomps furiously on London, trying to extinguish any sort of fire that the Hooliganz have built here tonight. He then takes London onto his shoulders before
dropping him across the top rope
, his ribs crunching off the iron post. He throws London off the top following that, looking very intense and very angry. He covers London, forearm in his face – 1…2…NO! London still has some fuel.
Burchill gets to his feet and starts screaming in London's face to "stay the hell down" before grabbing him by his locks and lifting him to his feet, only to be greeted with a stiff kick from London. London takes this opportunity to rebound off the ropes with a clothesline, followed by another, then another, before capping off his momentum charge with a
well-aimed Dropsault!
London is pumped right back up, going to the top rope now. He's getting prepared, can the Hooliganz pull off a major upset…? He leaps…
450 SPLASH…NOBODY HOME!!
Burchill rolls away and scurries from near doom, as London's ribs crunch off the empty canvas. Burchill was in such a rush, that he bumps into the referee in his mad scramble, momentarily distracting the ref. In that brief moment, London is trying to get to his feet, using the bottom rope as leverage, when he's struck in the skull by Albright…
WITH THE RING BELL!!!
The Mercenaries are seriously being pushed here, to point where they're resorting to everything to win! Albright quickly disposes of the evidence, a sinister grin on his face.
While the commentators try to sort out when the hell Albright got a hold of the bell and how he got to deliver the crushing blow, the still ailing Brian Kendrick comes to his partner's aide by knocking Albright away with a rabid array of blows. Meanwhile in the ring, the ref's eyes are back where they belong, as Paul Burchill furiously jumps back on London, locking in the
Royal Mutilation!
London is effectively out cold from the hard bell to the head a few moments go, but even he can feel the tendons in his arm ripping away as Burchill cranks back the Fujiwara. We look behind Burchill, however, and we see Brian Kendrick entering the ring to aid his partner, but his foot is grabbed by Brent Albright, who pulls Kendrick under the bottom rope and face-first into the floor. London is dead in the ring, barely conscious, but in excruciating pain and has no choice to but tap out.
2nd Fall: The Mercenaries
at (9:24)
Following that tap out, the methodical Mercenaries regroup outside the ring, most likely getting together to plan out their final wave of attack. On the other side of the ring, Kendrick is tending to London, perhaps trying to put his brains back in his noggin after that hard bell shot. Once Burchill and Albright seem to have a set plan, they re-enter the ring together, pumped as ever, and more than willing to prove to everyone that they mean will not be outdone.
**COMMERCIAL BREAK**
As we return from the break for the final fall, Brian Kendrick has become the legal man, while Burchill stays legal for his team. Kendrick tries to start some kind of offense with a few sway chops and kicks to Burchill's calf, but as he rebounds off the ropes looking for something else, Burchill punts him in the already hurt midsection, doubling him over. He then takes Kendrick by the neck and tights and chunks him straight through the middle rope, Kendrick crashing to the floor. The ref admonishes him for that, but while that happens, Albright happily leaps off the apron and drives Kendrick into the barricade on the outside. This ails at Kendrick's already mushed midsection, but Albright is quick to throw Kendrick back into the fray. Burchill tries a quick cover here – 1…2…NO! Kendrick still has some fight!

With two fistfuls of hair, Burchill drives the back of Kendrick's head into the canvas with a mat slam. He then takes Kendrick back to his feet and nails a flawless snap suplex that floats into another cover – 1…2…NO!! Kendrick keeps the fight going! Burchill keeps the savage nature going by stomping on Kendrick's guts some more, but Kendrick surprises him by catching a stomp and getting to his feet, Burchill's foot still in his grasp. Kendrick throws the foot back at Burchill, forcing 'The Ripper' into a corner, where Kendrick rushes after him only to be met by a counter elbow that backs him away. Burchill uses this space to leap off the middle rope, twisting towards Kendrick with a triangle jump sunset flip…but Kendrick rolls all the way through, planting a stiff front dropkick right to Burchill's jaw! Kendrick falls flat on his back, still wrapped in pain from his injured midsection. London is trying to get Kendrick into the corner, trying to get his team back into things after they were going so well. Burchill meanwhile doesn't have far to go to get to his corner, as he gets up and tags back in Albright, who promptly knocks Kendrick back down and drives the wind out of both the Hooliganz and the crowd.

Albright takes Kendrick to his feet and nails a perfect backdrop, trying for another cover – 1…2…3-NO!! It will not be so! Albright follows up with this by dragging Kendrick near an empty corner, laying him prone. Albright then launches himself off the middle rope, coming down with a hard shit stomp on Kendrick's midsection again. Albright then takes Kendrick by the hair and looks to set him up for what looks like a Regalplex, but Kendrick starts fighting out with hard reverse elbows, each one hitting harder than the last until finally, Kendrick strikes Albright right in the temple to release the hold. His back still towards Albright, Kendrick flips back…backflip kick!! Backflip kick! The smack of boot meeting flesh is heard all around the arena, as Albright goes stumbling back several steps now. The crowd is back to life for Kendrick, as Albright rushes at him only to get an arm drag, followed quickly by another and another. Kendrick is building a head of steam, as Albright approaches him again, only to get hit by a nifty neckbreaker. Kendrick is pumped up now, grabbing Albright's head and looking for Sliced Bread, but Albright recognizes this quickly and stops Kendrick in his tracks – REGALPLEX!! Albright's intended goal several moves ago comes back to play as Albright tries for a cover – 1…2…3-NO!! Again, the Hooliganz will continue to push these two to the limit!

Albright runs his hand through his hair and looks towards his corner like 'what the hell do I do now?' Burchill gives him a look that simply says 'stop being so damn civil.' The telepathic language between the two gives Albright a sinister grin as he lifts the battered Kendrick to his feet only to shove him between his legs and lift up, looking for a powerbomb…DDT!! DDT! Kendrick reverses it into a DDT!! Kendrick falls from off the shoulders with an impaling DDT! Albright is shocked and hurt, while Burchill now sees he needs to get back into things. Kendrick is again scratching and clawing his way into the corner before finally getting there, getting the hot tag to London. Albright, who is back to his feet, is greeted with the trifecta series of clotheslines, and as he quickly gets to his feet again, is quickly met by London spinning around and through him for a roll-up – 1…2…3…NO!!! Albright throws his legs up at the last second to end the threat! Burchill has to get his breath back from that near fall, and Albright is thinking to do the same, getting into an empty corner to gather himself. London will allow him no such thing, rushing from across the ring towards the prone Albright…Albright sidesteps, sending London crashing into the turnbuckle chest-first! He recoils violently from the hard hit, right into Albright's clutches…German suplex!! A flawless German to take London back on his battered head! Albright keeps the bridge – 1…2…3…NO!! Yet another near fall!

Albright isn't happy with that, but nonetheless, tags in Burchill, as the two take London execute a flawless double suplex. Burchill floats over with another cover – 1…2…3-NO!! London still won't go down! London wobbles to his feet, but Burchill comes at him with a hard clothesline attempt, but London ducks under it and grabs between Burch's legs from behind for a school boy pin – 1...2…NO! Burchill is able to roll out quickly, but as soon as both men get to their feet, London rolls right through again, another school boy – 1…2…NO! Burchill gets up and out again, but as he goat at London again, London grapples behind Burchill and drives him into the ropes, pulling back with a victory roll – 1…2…3-NO!! Yet another near fall! Burchill quickly gets to his feet and is approached once more by London, but London eats a step-up enzeguiri! The quickened pace allows Burchill hit a smooth looking kick to the jaw, going for another cover of his own – 1…2…3-NO!!! London still won't go down!

London has to shake the cobwebs out of his head, however, as the blow from the bell to the head earlier comes back into play, using the ropes to try and hold on. Burchill doesn't care, driving his knee into the back of London's head and neck with all his weight, using the ropes as leverage. The referee is counting down, trying to get him off the rope, but Burchill is seething and not adhering. Being close to his corner, Kendrick forces him to leg go with a hard running elbow to the side of the head. The referee gets on Kendrick about that, but London is freed. Burchill looks to go right back on the assault, but London socks him in the gut and proceeds to keep throwing punches from his knees until Burchill backs away. London tries to whip Burchill into the ropes, but it's reversed, sending London instead, but on the rebound, ducks under a clothesline attempt. As he rebounds again, Kendrick tags him on the back, becoming the legal man. As London launches himself back towards Burchill, he slides between his legs, as Burchill looks down and between them angrily…only to look up and see Kendrick coming at him with a springboard dropkick!! Kendrick with a mad dash cover – 1…2…3-NO! Albright drags Kendrick out of the ring by the foot once again, potentially saving the match for his mentor! Kendrick's midsection hits the outside hard.

London, who is still around the ring, sees his partner in trouble and wanders around to Albright, who clotheslines London, whiplashing his tender head off the padded outside! The ref is losing control here, but Burchill gives another knee to the midsection of Kendrick before throwing him back in to the Ripper who greets him by hoisting him on his shoulder and hitting a rolling fireman's carry, crunching Kendrick's midsection even more. Burchill covers – 1…2…3-NO!! It's still not over! These guys won't go away! Outside the ring, London and Albright are going at it, Albright dragging London around until London draws him near some steel ring steps and pushes him into them, sending him down. London then jumps into the ring, ambushing Burchill with a hurricanrana. Kendrick has wandered into a corner, while the ref is telling London to get out. London doesn't adhere, as he fixes Burchill's jaw with a spot-on superkick!!! Wow!! Burchill doesn't go down, instead, he goes wandering into the clutches of Kendrick, who has ascended to the top rope. He catches him in a reverse facelock…TORNADO REVERSE DDT!!! TORNADO REVERSE DDT!!! Kendrick bounces up from the impact of the blow, gripping his midsection as he goes down, while Burchill is implanted on the canvas. London is in a frenzy, as is the Hammerstein crowd, popping hard to try and get Kendrick to cover Burchill! The referee is telling London to get out, which he finally does, but he's jumping up and down in excitement. Can the Hooliganz pull off the upset? Kendrick, in intense pain, throws himself on top of Burchill…1…2…3…!!!

NO!!!

BURCHILL THROWS THE SHOULDER UP!! HE THROWS THE SHOULDER UP!! WOW!!! The Hammerstein can't believe it and neither can Kendrick, but London is still entirely hopeful, holding onto his tag rope and leaning over, telling Kendrick to tag him in. Kendrick does tag him in, flopping to the floor as he does, as London immediately geos to the top rope, Burchill still down and out despite the kickout. The crowd and London prepare for the 450 Splash for the upset…NO!! Brent Albright has begun scaling the top rope from the outside, pounding London's lower back to stop any momentum he might build. London turns towards Albright, his back towards the ring now. Albright is fighting London away before getting on the top rope with him, catching him from behind…SUPER BACK DROP!! SUPER BACK DROP!!! London goes flying overhead, turning himself inside out, his head being driven into the canvas on the flip!! "HOLY SHIT!! HOLY SHIT!" chants are sprinkling around the Hammerstein, as the sickening thud has everyone on the ground now. As the crowd roars in approval, Burchill is the man to begin moving first, but Albright follows soon afterward into his corner. Burchill exhaustingly gets to Albright and tags him in, who jumps on the still downed London – 1…2…3…NO!!! LONDON THROWS HIS FOOT ON THE ROPES! IT'S STILL NOT OVER!!

London finds some way, some stroke of guile, to know where he is, despite his head being knocked around a great deal in this match. Outside the ring, Brian Kendrick is up and entering the fray, rushing at Albright, but Albright sidesteps and guides him towards the ropes, where Burchill lowers the top rope, sending Kendrick flipping all over the outside. London sees this and goes at Albright with another aiming superkick, but Albright catches it and flings it around, London attempting a dragon whip, but Albright ducks underneath that and snatches London from behind – half nelson suplex!! The ever deadly half-nelson literally drives London's skull into the canvas, flipping over himself. Albright has a seething look in his eyes now, his civility gone and his savage nature appearing to be fully uncovered, knowing he can't put these guys away by ordinary means. So he…rips his right knee pad off? Albright exposes the fierce joint before wrapping London up in a hammerlock and chickenwing hold, keeping his arms back and head exposed…AND BEGINS REPEATEDLY DRIVING HIS EXPOSED KNEE INTO THE TEMPLE AND HEAD OF LONDON!!! All the blows to London's head from throughout the match, especially the ring bell shot, are all coming into play here, as Albright is savagely decapitating London with every shot, London's body whiplashing horrifically like some kind of crash test dummy. Enough is enough…the referee calls for the bell after London is seen completely unresponsive, ending the final fall by KO

3rd Fall and winners: The Mercenaries at (17:47)


Albright is having to be forced to stop the blows to London, but when he finally does he throws him down with authority, completely lifeless. Burchill is in the ring now as the Merc's get their huge win by perhaps the most convincing fashion possible. As their hands are raised, Burchill is patting Albright on the chest, pumped up, saying "that's how you do it, youngblood!"


Joey Styles:
Ladies and gentlemen, we welcome you to a very special edition of Wednesday Night Oblivion, and we do it with what is definitely the biggest win in The Mercenaries budding AOW careers.

JBL:
Special edition indeed, look at those guys! They damn well deserve to be the number one contenders, and they damn well earned that win! Oh, I love it Joey!

Joey Styles:
It is gratifying indeed, but folks, again, I welcome you to this very special edition of Oblivion, jam packed with tag team action in what our General Manager has labeled 'Tag Team Halloween", and what you've just seen is the opening act in that product with The Mercenaries getting a win over the Hooliganz.

JBL:
Check yer facts, Joey. They scored two wins over the Hooliganz here t'night! An' there's gonna be more like this over 90 minutes!

Joey Styles:
That's right, partner, this edition of Oblivion is gonna go on for 90 minutes of nothing but the best action in all of the professional wrestling world.

JBL:
But stuff like what jus' happened ain't the only things on tap.

Joey Styles:
We have so much more – we've got the anticipated rematch between two of the newest teams, four of the freshest faces in AOW between American Made and the Sons of the Dungeon, who have been at it since they set foot here. Also, the team that surprised us and debuted with both of them will be in their first ever match in AOW, the Samoan Fight Club in action!

JBL:
And because o'the total nimrods runnin' this show, we've got a huge main event, but lots on the line.

Joey Styles:
Indeed we do. The World's Greatest Tag Team will defend their AOW Tag Team Championships for the first time against the team of men who will tear into each other in just under two weeks at World Ablaze – AOW Champion Chris Jericho and his opponent to be, the man who declared that he is AOW in Rob Van Dam! So many combustible elements, with so much hanging in the balance and up in the air! But the night's just getting started, folks! We'll be here for another hour!


~Backstage, an office


We head to a backstage area, in General Manger Mick Foley's office. Foley gets a great pop for showing up, but this week, its curious that he's alone and not with Paul Heyman. Someone soon knocks on Foley's door…

Mick Foley:
Come in.
~Into the frame steps Bobby Lashley to a great deal of heat, despite still pretty much being a face. But Lashley's seems to be used to it by now, never having been cheered since showing up in the Hammerstein. Lashley is not in competition attire, wearing a t-shirt and jeans instead.

Lashley:
You had something for me, Mick?

Mick Foley:
Uh yeah. Nothin' much, just first of all…I will say I'm not the biggest fan of how you went about your business last week.

Lashley:
Look, Mick, I'm not here to discuss the past. That was last week. I know the medics sent you some information on me. I just want to know what it is so I can go.
~A little bit of attitude in Lashley's tone…?

Mick Foley:
I don't think you leaving is a good idea, Lash.

Lashley:
Why not…?

Mick Foley:
Well, first of all, I'll tell you what you want to hear. The medics gave me word that you have not been medically cleared to compete just yet, but they promised me that you should be ready by World Ablaze.

Lashley:
Okay…now tell me what I don't want to hear.

Mick Foley:
Well…judging by Christian Cage's reactions last week…and yours…I believe that spending as much time as possible here in the Hammerstein is your best and safest option.

Lashley:
You want me to stay here?

Mick Foley:
Christian is suspended and cannot set foot in an AOW arena or function until World Ablaze. And I think it's in your best interests to stay here where neither of you can get your hands on one another. I may not like the way things happened last week, but it's my job to protect both of you until you lock horns.
~Lashley simply nods and smiles

Lashley:
I appreciate the concern, Mick. But I can take care of myself. Thanks for the news.
~Lashley shakes Foley's hand before leaving the office, leaving Foley with a somewhat worried expression on his face

**COMMERCIAL BREAK**

We return backstage, in the Green Zone, where we see Torrie Wilson who appears to be ready to do her job for the first time in over a month…but she doesn't seem too thrilled…

Torrie Wilson:
I'm Torrie Wilson, back in the Green Zone interview set, with my special guest at this time – Shawn Michaels.
~The crowd gives a rousing pop for the Heart Break Kid showing up, but Torrie still doesn't look too thrilled, barley flashing out a smile

Shawn Michaels:
Y'know, for a lady who's been away from her job as long as I have, you're lookin' a little blue. Why the long face, darlin'? Don't you know good ol' Haich - Bee - Kay is back in the buildin'?
~Another grandeur pop is heard from the Hammerstein space

Torrie Wilson:
No, I'm – I'm thrilled you're back, Shawn it's just…

Shawn Michaels:
Ahhh…the Heart Break Kid's been keepin' tabs on things. You're thrilled I'm back, we're thrilled you're back…but you'd rather have another certain someone else be back…am I in the ballpark?
~Michaels wags in finger in the face of Wilson, who flashes a grin for the first time in the segment, giggling little bit

Torrie Wilson:
Yeah, I guess so, Shawn. But those are my personal issues. I'm here to ask you the big question everyone's been thinking about since last week – why did Shawn Michaels come back?
~Michaels shrugs his shoulders

Shawn Michaels:
Because Shawn Michaels was asked to be the Special Guest Referee at World Ablaze.

Torrie Wilson:
But…why did you agree to be the special guest referee…?
~Michaels' demeanor changes from being someone easy-going to obviously tense

Shawn Michaels:
I have my personal reasons.

Torrie Wilson:
Is it because you still have some unresolved business with both Chris Jericho and Rob Van Dam?
~Michaels maintains his now dead serious demeanor

Shawn Michaels:
I have my personal reasons.
~Michaels stares down Torrie, all happy feelings seeming to have left the scene. Michaels soon leaves the scene, leaving Torrie somewhat bewildered…and perhaps wondering if anyone else on the roster is going crazy

~Back at ringside…

The still buzzing Hammerstein which gets buzzier when we hear "MEXICANO MUY LOCO" hit, as the team of the Mexicools make their way down the ramp, happily high-fiving some Hammerstein faithful on their way down the aisle in their first TV appearance since the Tag Team Turning Point match at the Supershow about a month ago.

The celebrating stops in the ring when we hear a dark, tribal rhythm brought forth in "JIMBO (SAMOAN REMIX)", a remastered version of the song by Carlos Santana. Soon coming through the blood red curtain are the team of Siaki and Manu, the Samoan Fight Club. They're wearing their same attires from last week – black sleeveless tees, MMA gloves, albeit we can see their lower bodies this time, noticing both men are essentially barefoot, and Manu isn't wearing his bandana, his wild curly hair flying about. They both look to be wearing lava-lavas, the kilt-like traditional Samoan attire, Siaki's in orange and Manu's in red. They remove them as they get ringside to reveal the blank, knee high black legging tights that they were wearing the night they debuted. Both men have looks of sheer intensity in their eyes, Manu especially yelling in Samoan towards some crowd members, with Siaki having to calm him down as they get to the ring and prepare for 'everyone' to talk about Samoan Fight Club.

MATCH 2
Samoan Fight Club v. The Mexicools
Super Crazy and Siaki kick things off for their respective teams, Siaki's stance looking very MMA-ish with his hands guarding his face, not to mention his grappling gloves. As soon as the ref moves from between both men and rings the bell, Siaki delivers a hard right jab to the gut of Crazy, doubling him over and getting Siaki to sock him in the face with a hard elbow. Crazy stumbles away into an empty corner, prompting Siaki to rush after him with emphatic running corner elbow. As Crazy begins falling out of the corner, Siaki catches him in a snap suplex that gets him a quick cover – 1…2…NO! Crazy forces himself up, only to be struck back down with a hard clothesline for yet another cover – 1…2…NO! Crazy forces himself up yet again, only to be brought down hard by a Siaki by his hair, who immediately follows that by wrapping around Crazy with some bodyscissors, raking the brim of his wrist across the bridge of Crazy's nose. The ref admonishes this, but Crazy finds a way to fight it off of his face, wrenching the bodyscissors open, quickly jumping to his feet, and dropkicking the still donwed Siaki in the face!!

Crazy takes this chance to reach over into his corner and tag in Psicosis, who rushes into the ring and tries to cover Siaki – 1…2…NO!! Siaki powers out, furiously getting to his feet and meeting Psicosis with a furious clotheslining STO. Siaki goes for a cover of his own – 1…2…3-NO!! Psicosis gets out of it, but he's not out of the woods yet, as Siaki drags Psicosis to his corner and tags in the ferocious and rabid Manu. Manu immediately makes his presence be known by leaping in an splashing right on top of the still downed Psicosis – 1…2…3-NO!! Somehow, Psicosis gets out of it!

Manu lifts Psicosis to his feet and clasps his hands around his neck, chunking him into an empty corner before giving Psicosis several consecutive headbutts, getting quicker and more brutal with each succession. Once he's done, Psicosis wobbles out, where Manu quickly snaps his arms over Psicosis', before sending him flipping with a tapping suplex. Manu throws his prey around like a rag doll, sending Psicosis rolling all the way across the ring, prone at the base of the opposite empty corner. Manu moves adjacently and stalks him with a savage look on his face before beating his MMA gloves to his chest and rushing at the downed Psicosis and hitting him one last time with a running diving headbutt. He doesn't even try for a cover still, getting up and letting out an absolutely inhuman growl.

As he does so, Super Crazy sees his partner in desperate need of help, rushing across the ring to aid him. Crazy delivers hard kicks to the huge thighs of Manu, while the ref tries to return Crazy to his corner. Despite that, Siaki has entered the ring and is fighting Crazy off, hitting him with a stiff, MMA flurry of punches before getting rid of him completely by giving him a well-aimed roundhouse that sends Crazy through the middle rope, completely knocked out. As Siaki begins to exit the ring, Psicosis springs to life and attempts to rush at Manu, but as savage as Manu seems, he isn't a dummy, as he catches Psicosis and throws him around like yesterday's garbage with a swinging side slam, planting the luchadore. It's here when Manu goes into his corner and tags back in Siaki, who simply picks Psicosis off the canvas, chunks him into the ropes, and on the rebound, throws him into the air, only for him to fall on Manu's shoulders, destroying what whatever was left with the aided military press Samoan Drop. Siaki takes the dead Mexican beneath him for the pinfall, but as he does so, he says the same phrase uttered at the end of their promo last week, in sync with the three count – "WE…DEE…STROY!!!"

Winners: Samoan Fight Club at (4:12)


But the Fight Club doesn't seem to be done. Crazy, who tried to slip back in and break the count but was far too weary, has returned and collapsed in the ring. Before Manu and Siaki can get their arms raised, they both drag the carcasses of the Mexicools and lay them prone at the base of opposite turnbuckles, looking eerily similar to what they did in their debut. The referee is begging them to stop as both of them get to the top rope, both wailing something in incoherent Samoan…before leaping and crushing the Mexicools with Samoan Splashes. They both get up and exalt yet again before Siaki has to guide Manu out of the ring and back up the entrance ramp, both men still intense.
Joey Styles:
That is an absolutely dominant debut from the Samoan Fight Club to say the least.

JBL:
Wow…these guys are gonna be here for a long time, an' I'm gonna tell you right now, Joey, there's gonna be a lot of broken bones in that locker room when they're done if they're ever done! Forget the Mercenaries – these guys are absolute savages. An' I love it.

Joey Styles:
They seem to be more than willing to pull even with the teams they surprised two weeks ago in the Sons of the Dungeon and American Made, and speaking of which, up next, we have the rematch from these two teams first night in this company. Last time, American Made won potentially on the element of surprise. This time, the Sons have the aggressive heir to them. Keep it here, it's Tag Team Halloween!


~Backstage, in the parking lot area…


Before we fade out, we're brought the Hammerstein parking lot, where we follow Bobby Lashley, one would guess on his way out of the building. As Lashley approaches his vehicle, the camera pans around him to reveal what looks to be some sort of parking lot costume party, with a good number of folks involved. So many infact, there is some law enforcement standing around to make sure this doesn't get out of hand. Many of these individuals appear to be fans and some call out to Lashley upon recognizing him…but they aren't subtle, or even nice, to say the least. But they sure are vocal….

"Elvis Presley":
Hey! Lashley!

"Steven Colbert":
GET THE FUCK OUTTA HERE, LASHLEY!

"The Joker":
Yeah, Lashley! We don't want you here!

"Captain Jack Sparrow":
Dumb muscle!

Lashley:
Uh…you follks have a nice night. Happy Halloween.
~Lashley simply waves to them and doesn't acknowledge their obviously irate remarks, which irritates the fans further

"Michael Vick":
Ay, this dude's ignorin' us!

"Dr. Doom":
You don't just walk away from the Hammerstein!
~The Dr. Doom dressed fan – who is wearing attire eerily similar to that of Christian Cage – snatches a golf club from a fan dressed as Tiger Woods and rushes at Lashley with it, swinging wildly at the Real Deal. Lashley moves out of the way, but the mad fan smashes the taillight of his car instead. Security on duty takes great notice and starts making way for the fan

"Dr. Doom":
OOooooh. Guess you can't go anywhere with a broken taillight, Bobs!

At this point, Lashley gets fed up and is two steps away from clocking the crazed fan in the face, but an officer and subsequent security take the fan down, while the rest of security push away the other costumed individuals from the scene. While this scene turns chaotic, no one seems to notice the figure that seems to arise from behind Lashley…on top of his car, wearing a black hood and tattered jeans…with a lead pipe in hand…wearing a Rorschach mask (of Watchmen fame)…that soon leaps off the top of the car…and SMASHES LASHLEY IN THE BACK OF THE HEAD!!

The security and law enforcement are all entangled in the virtually rioting costume tailgate party to notice Lashley go down, but when "Rorschach" throws the pipe down, the noise attracts some attention, but by this point, it's too late – the costumed assailant has hoisted Lashley up and drags him back through the front door of the Hammerstein! The camera pan shifts to the lobby now, a crowd of fans dispersing, the masked assailant throwing Lashley shoulder first into a trash bin!! Lashley torques in pain, looking back at his assaulter in anguish. As Lashley looks up, the man removes his mask…and to no one's surprise, its Christian Cage, completely violating the laws of his suspension. Christian gets close to Lashley's face and roars the same thing he left on last week – "SOMEBODY HAS TO SAVE THIS COMPANY!!" before taking the still dizzied Lashley and throwing his head into a framed picture, shattering the protective glass and the frame.

The still concussed and pending medical approval Lashley is almost completely out of it, but Christian doesn't seem to be finished yet. As Lashley falls, there seems to be an oh-so-well placed steel folding chair nearby. Christian notices the chair and looks at it intensely, with the same mad, rabid look he's had on his face for over a month. He ventures over to the chair, and grabs it, clutching it so intensely, we can see his knuckles begin to change color. He doesn't take his eyes off the chair as he ventures back over to Lashley and raises the chair over his head…BUT TORRIE WILSON LEAPS IN FRONT OF HIM AND STOPS THE CHAIR DEAD IN ITS TRACKS! The intense look on Christian's face disappears as Torrie pleads for Christian to stop. Christian doesn't say a word, he simply begins lowering the chair. In the process, Torrie is almost in tears at the actions of Cage, still pleading, but behind Cage there seems to be a bunch of commotion, as Mick Foley is seen rushing behind Cage, but also with him are several security guards and a few actual police officers. The guards force Christian to drop the chair and force him down, while the officers actually pull his arms behind his back and cuff him before dragging Christian away, who seems to have suddenly entered a silent, catatonic, but still very intense state as he's pulled away. Some security guards have stayed behind and helped assist Lashley, while Wilson is crying in the arms of Mick Foley…

**COMMERCIAL BREAK**

~We return backstage, in the Green Zone, where we see a friendly face prepared for an interview, albeit seemingly very out of place in…

CM Punk:
Hey Hammerstein. In case you guys have forgotten, my name is CM Punk.
~The crowd can be heard popping for the first physical appearance of Punk in a few weeks

CM Punk:
See, I was told that I could get some airtime, some mike time, and I was kinda hopin' I'd be in that ring, but I like it back here. It's kinda cozy. Anyway, I was told I would be able to speak about Muhammad Hassan and his inferiority complex surrounding his '5 Minute, $50,000 Challenge' or whathaveyou, but the thing is that I've already spoken my mind about it. And I did it to Hassan's face. Which is one reason why he hates my guts and forbid me from his challenge. My bad.
~Punk says the last line very sarcastically, shrugging towards the camera

CM Punk:
Basically, what I got onto Mr. Hassan about was simply that he refuses to remember what it was like to be like me. See, I'm kind of an old school guy. I do my research and respect the past. I remember back when there was a time that Muhammad Hassan was just another American guy, albeit a really bitter one, just tryin' to make his way in the world. And now suddenly, he has money and he's forgotten what it's like to be a pleasant peasant. He's turned into exactly the kind of person he hates. And that's the stuck up, better-than-you kind of guy he always preached against.
~Punk laughs to himself

CM Punk:
I think that's funny, but I can see how Hassan is trying to do what rich people do love doing and that's blotting out reality and pretending as though the past never happened. But the past has happened and it shapes who you are. If nothing else, I'm a walking, talking, breathing example of that. That's why I would like to welcome my guest at this time. He's an old school kinda guy, too – Lance Storm.
~The camera pans to see Storm, who seems to be applauding Punk for his rant against Hassan, but Storm gets some applause from the Hammerstein as well

CM Punk:
What's up, Lance?

Lance Storm:
Eh…gotta say I've felt better.

CM Punk:
Why's that?

Lance Storm:
Last week, I felt like I took Muhammad Hassan to his limit…but I came up a bit short.

CM Punk:
Yeah. He won a bit cheap, didn't he? Isn't that funny. A rich guy with a cheap win. Who woulda thought?
~Storm shakes his head along with Punk's somewhat sarcastic remark

CM Punk:
But you know, Lance, I know you push guys to their limit. Heck, you've been like a mentor to me since I walked into this place, pushing me to do more. And I appreciate you constantly sticking up for me. Especially last week.
[I]~The crowd starts a soft "CM PUNK! CM PUNK!" chant much like Storm prompted them to last week[/I]

CM Punk:
So Lance, I'm gonna take your lessons and actually do more. Except this time, I'm gonna push you. So I've got a bit of a suggestion – how about next week, you take Muhammad Hassan back to his limit and take that Challenge again.
~A pop is heard beyond the walls

Lance Storm:
You read my mind. That's exactly what I plan on doin'. And I'm pretty sure it'll turn out a whole lot differently this time around.

???:
Oh will it, now?
~The camera pans across from Storm, on Punk's left to see none other than the Dynasty Champion himself, Muhammad Hassan. He's got his title around his waist and his $50,000 briefcase in hand

Hassan:
How's it going, Storm? Punk?
~Storm just stares Hassan down while Punk is the one to answer

CM Punk:
Oh, nothing much. Just doing what we commoners do. Plundering, pillaging. That whole thing.

Hassan:
Well good. I overheard you two making a bit of an arrangement for next week. I'll have you know that I certainly don't oppose it. I just wouldn't advise it. So go ahead. Come on back for round two. I promise nothing will change.
~Hassan has a smug look on his face as he looks into Storm's eyes for that one

Hassan:
And I didn't forget about you, Punk. Oh no, how could I ever. I mean, last week, not even the crowd could let me forget about you! But never fear. You won't be standing idle while I take your 'mentor' here and beat him again. Oh no. See, that big mouth of yours has already gotten you forbidden in my challenge. But now it's gotten you in even more trouble. I asked my good friend Chris Jericho for a small favor to shut your big mouth. And worked out an…arangement. So next week, Punk, you'll be facing Paul "The Great" Wright.
~All the confident and sarcastic air in Punk leaves his lungs, as a somewhat daunted, but not intimidated, look on his face. Hassan smirks back towards Storm.

Hassan:
So in case both of you have forgotten – my name is Muhammad Hassan. And I'm a changed man. But what happened last week won't change next week. And what happens next week won't change a thing.
~Hassan shakes the briefcase in front of both men before he lets out one last high-class smirk before taking himself and his title away from the scene, leaving both Punk and Storm to look each other in the eye as we fade back to ringside…


~Back at ringside…


JBL:
Bravo!! Hats off to Muhammad Hassan and Chris Jericho! That's what someone needs t'do, and that's shut that straight-edge yuppie the hell up!

Joey Styles:
Goodness, John. You act like Hassan found the cure for cancer.

JBL:
He has found the cure, dammit! The cure for that cancer that is CM Punk.

Joey Styles:
I think we've gone over this before. What in the hell do you have against this kid? All this kid has done since he stepped foot in AOW is do nothing but impress. I don't understand. You sit here and haven't said anything positive about the kid from Day One, despite possibly setting the tone for this young company and being one of its biggest rising stars. But no. For some reason, John "Bradshaw" Layfield has to have some kind of conniption over a passion-filled, tattooed kid with potential. How the hell is that a cancer?
~For the second time these two have come to a head regard CM Punk, Styles looks to have made JBL uncomfortable to the point where all JBL can retort is a paper-thin response

JBL:
I don't like his face.

Joey Styles:
…wait, what?

JBL:
CM Punk just has one of those faces that you just wanna punch. Or in my case, just clothesline straight to Hell.

Joey Styles:
Ladies and gentlemen, before I possibly pass out from an ignorance-sparked aneurysm, we have to pass along news to you about what happened just a few moments ago when it appears that Christian Cage, who was suspended a number of weeks ago for his actions against Bobby Lashley, used the guise of a Halloween costume to viciously assault Lashley in the parking lot and into the arena before being apprehended by security and police officers.

JBL:
I tell ya, Christian has really lost it. I've rodeo'ed bulls that had more composure than Christian's shown the last few weeks.

Joey Styles:
Yeah, Christian was uttering the same phrase we saw him repeating last week, but we've received word that Christian Cage has been incarcerated and held in contempt and will at the very least remain inside a jail cell until things can be cleared, Christian of course being taken away because of his refusal to follow his suspension orders, but we have not received any word on the medical condition of the still recovering Bobby Lashley.

While the news pours in, "WE AS AMERICANS" goes over the sound system now, as the team of Nick Nameth and Jack Hagar, American Made, comes down the ramp for only their second match thus far in AOW, but it's against the same guys they faced and defeated in their first match and appear to be destined rivals with. Both men are in the same attire they debuted in last week in wrestling singlets donned in red, white, and blue. The loudmouth Nameth is taunting the crowd, daring them to be better than them. Hagar, the focused one of the group, seems to condone Nameth's actions, but doesn't say anything, eyes locked on the ring. The All-Americans generate a little bit of heat, still being newcomers.

"EXECUTORS OF EXCELLENCE" is heard now, with the Sons of the Dungeon, Harry Smith and TJ Wilson, exit in the blood-red curtain soon afterward, their Bret Hart-esque opening riff still exciting the crowd. They're also wearing similar attires from last week, although the colors are different, as both men are wearing matching tights this week as opposed to their inverted and miss-matched colors last week. Their tights are pink on black with a white line between, but these two keep to their decree last week and aren't about the talk, they aren't about the show – they don't take their eyes off their opponents from the moment they step out, making a beeline down the ramp and ready for the rematch.

MATCH 3
*Re-match*
Sons of the Dungeon v. American Made


Starting out for the Sons is Kidd, while Nameth once again leads off for his team. Nameth is again trash talking, telling the Sons 'Don't you guys get it? We're already better than you!', with Wilson not flinching in the slightest, barley allowing Nameth to finish the sentence before leaping with a picture-perfect dropkick that knocks Nameth right on his ass and clutching his jaw, forcing him to roll away and tag in Hagar very quickly, who also gets a picture-perfect dropkick for his troubles, snapping the focused Hagar out of his trance and back to reality – tonight, these guys mean business, no matter who's in the ring. On that note, Wilson doesn't wait for Hagar to get to his feet, running into the corner Hagar has retreated in and doesn't hold back, nailing Hagar with an explosive corner dropkick!! The larger Hagar is forced to slump to the lower part of the turnbuckle, where the focused Wilson then tags in his partner, who seamlessly steps in, sizes up Hagar, and rushes across the way for a huge facewash. Smith finally drags Hagar out and covers – 1…2…NO!

Hagar starts trying to walk away on his knees as he recovers, tagging back in Nameth, who seems to have recovered from his shock and leaps clean over the top rope as he comes in – and nails Smith in the face with a leaping reverse elbow! Smith gets hit hard, but he doesn't go down, leaving Nameth try and scramble back with a school boy – 1…2…NO1! Smith throws his legs up, but men getting back to their feet very quickly, Nameth rushing back at Smith, but gets caught very quickly in a snap scoop powerslam that quickly gets him a cover on Nameth – 1…2…3-NO!! Nameth is gingerly getting up, gripping his spine from the impact, but as he drifts towards Smith, he puts him over his shoulders looking for his father's finishing Powerslam, but like last week, it is interrupted, this time by Nameth grabbing the roof of Smith's mouth and pulling it open and forcing him to be dropped to his feet. While the ref admonishes Nameth and turns his back towards the AM corner, Smith wanders near it and into the clutches of Hagar, who pulls Smith's neck on the top rope with a guillotine drop! Smith whiplashes back to the canvas for Nameth to spring for a cover – 1….2…3-NO!!

Nameth clears Smith's chest before leaping and coming back down with a very athletic elbow to the sternum, sticking the landing on the impact – 1…2…NO! Nameth tries to sustain the momentum on the downed Smith, propping him up before flipping over him with a neck snap. Smith goes hard back down to the canvas as Nameth tries another rabid cover – 1…2…3-NO!! Nameth is getting a tad fed up here, bringing Smith to his feet and tries to casually tag in Hagar…but Smith springs to life, grabbing Nameth's arm and whipping him into his corner instead, before rushing and crushing him with a corner clothesline. As Nameth groggily stumbles out of the corner, Smith tags back in Wilson, who leaps clean over using the top rope and hits Nameth with another dropkick that sends him stumbling into another empty corner. Smith follows him again, again crushing him with a corner clothesline before whipping him back towards Wilson, who smashes him in the face with a spinning wheel kick. Wilson tries for a cover – 1…2…3-NO!!

Nameth begins trying to crawl to his corner, Wilson leaps on him and clubs Nameth's neck, which prompts Hagar to enter the ring in aid of his partner, but he's met by a Smith clothesline, who has yet to leave the ring. Hagar stumbles to the outside, while Nameth takes the distraction to crawl under the ropes and out of the ring with his partner, hoping to maybe regroup a little. But the machines that are the SOD won't let up, Smith setting himself up near the ropes. Wilson rushes at Smith, using him as leverage…AIDED FLIPPING SENTON OVER THE TOP ROPE…NOBODY HOME!!! The same move the Sons tried in their debuts gets well-scouted by AM, who quickly disperse only to come back together once Wilson falls. But what they don't count on is looking back to the ring and seeing Harry Smith leaping WITH A PLANCHA!! WOW!! The big man Smith flies high onto both men, leaving many in awe and giving us a convenient place for a break.
**COMMERCIAL BREAK**
As we return from the break, the Sons of the Dungeon are still in control, with Wilson and Nameth still being the legal men. A quick instant replay shot shows us that during the commercial break, Hagar and Nameth attempted a double team on the outside to Smith, but were countered when Wilson performed a running, leaping clothesline from the ring apron to the floor. Back to the action in the ring, where Wilson quickly snap suplexes Nameth before looking for what looks like a Sharpshooter, but Nameth manages to fight and pull Wilson in for a small package – 1…2…3-NO!! Wilson manages to find his way out, as soon as both men get to their feet, Nameth lifts a knee to Wilson's gut before nailing a snap suplex of his own. He floats over – 1…2…NO!! Not quite finished yet! Nameth takes Wilson up now and throws him on his shoulders, but Wilson still has a good bit of fight left in him, throwing several elbows to Nameth's face before finally being put down. Wilson then follows up with a rabid flurry of kicks, starting at Nameth's thigh and getting higher until he swings for the fences at his head…but Nameth ducks, swinging Wilson all the way around, where Nameth takes advantage and nails a German suplex! Nameth rushes over for a cover – 1…2..3-NO!! The Sons keep going!

Nameth is getting very agitated, much like he did a few weeks ago, that he can't put a way Wilson. He takes Wilson to his corner and gives him a good CHOP(Wooooooo!) before tagging in Hagar and snapmaring Wilson over, following it with a stiff kick to his chest to flatten him out. As he does that, Hagar takes a few steps away from his corner and even looks towards Smith and finally speaks, saying 'this is how the real best do it!' before rushing at the downed Wilson and launching himself on top of him with a Hagar Bomb. Hagar with a cover now – 1…2…3-NO!! He can't end this either! Getting a tad frustrated now, Hagar stomps on Wilson before catching him in a chinlock, trying to weaken him. The crowd and Smith start the claps, trying to get Wilson back into things, rising to his feet and wrenching off the hold and drilling Hagar in the gut and rebounding off the ropes, but as he slings back, he's caught in an overhead belly-to-belly! Hagar tries again with a cover – 1…2…3-NO!! Wilson seems to be made of iron here, or perhaps determined to even the score between the teams.

Hagar then decides to crush some ribs, catching Wilson in a bearhug that again gets Smith and the crowd to try and prompt Wilson to break out before he finally does, immediately going for his corner, but Hagar catches him and takes him down the a hard, amateur rear waistlock takedown. Hagar keeps the waist lock and brings Wilson up, looking to perhaps transition it into some kind of powerbomb, but Wilson still has some fight and kicks Hagar in the face while still in a hunched over position. Wilson again tries to find his corner, but once again before he can, Hagar shoots in and prevents it, this time grabbing both legs and hoisting him over his shoulders and driving him spine-first into the AM corner, where Nameth is waiting with the tag. As Nameth climbs in, he and Hagar set Wilson up for a double vertical suplex, but Wilson squirms and wiggles enough while in mid-move that the team is forced to drop him on the nearby apron. To escape their grasp, Wilson bashes the men's heads against one another, giving him time and space to leap and perform a springboard double clothesline!!! Wow!!! The crowd is all over that one, as Wilson uses the momentum of the move to leap into his corner and get the hot tag in to Smith.

Smith explodes into the ring, a big boot immediately finding Hagar in the face, followed up very quickly by an axe handle to the face of Nameth! This sends him down hard, but he pops up for Smith to deliver a trifecta of clotheslines before hoisting Nameth up and dropping him with a military press drop that his father would've been proud of. Smith has the crowd pumped up now, awaiting Nameth to get to his feet for what could be a final maneuver, but as that happens, a perimeter circling Hagar distracts Smith by grabbing at his foot, but before Smith can even turn around, the machine that is the Sons get the cogs working as one, with Wilson gliding along the apron to give Hagar a boot to the face to back him away, only to springboard off the second rope with a crossbody to the floor to keep Hagar down! Inside the ring, Nameth uses the brief distraction to lunge towards the back-turned Smith with what looks like a leaping reverse STO, but Smith holds onto the top rope and sends Nameth crashing down with no hold. Nameth rolls to his feet, with Smith running at him and attempts to surprise him with a superkick, but Smith has that scouted from their last encounter as well, ducking underneath it and forcing Nameth onto a shoulder, the crowd popping for what could be coming. Smith walks around before getting some steam and nailing the running powerslam, the move perfected by his father!! Smith covers Nameth – 1…2…3…!!

Winners: Sons of the Dungeon at (9:31)


The score is evened!! Wilson leaps into the ring to celebrate with his partner, although Smith has to hold up Wilson for a second from all the damage he's taken. The two get a round of applause of appreciation from the fans, with American Made left to lick their wounds back up the ramp, but after the joy settles a bit, the Sons stare back up the ramp, with American Made screaming back at them, almost signifying that this isn't quite over.
Joey Styles:
The Sons of the Dungeon even the score! The first win of their young careers!

JBL:
I'm still stickin' with my American guys, but the Sons had their number t'night. They hadn'm outmatched at virtually every turn…wow.

Joey Styles:
Oh, it's so nice to hear you have an actual objective view of things, Bradshaw.

JBL:
What the hell does that mean? I'm always objective and unbiased. After all, I am a Commentator –

Joey Styles:
A Commentator God. Yeah. I know.

JBL:
Then if you know, why aren't you doin' your job the right way?

Joey Styles:
All I said was the Sons of the Dungeon evened the score against American Made. That's pretty objective if you ask me.

JBL:
Mmmhmm. I'm sure you're not all excited that American Made lost. Terrorist.

Joey Styles:
I'm going to ignore that statement, but let us take you back two weeks ago where yes, we did have the first ever meeting of the Sons of the Dungeon, American Made, and the Samoan Fight Club, all these tandems having rights to claim that they are the future of AOW. But what also happened two weeks ago was undisputedly the most brutal match in AOW history thus far and that as well could shape the future of the company.

JBL:
Lemme tell you somethin', Joey. I am not the biggest fan of Mick Foley, that's no secret, I am not the biggest fan of th'way he does things, but I'd be lyin' if I said the first ever Art of the Knockout match wasn't a whole new level of incredible.

Joey Styles:
Indeed it was, and we're not just hyping the bill here. As a matter of fact, we here at AOW would like to introduce to you, and welcome you to use, a new feature on aohdubya.com, our new War Archives feature, which allows you to go back and view any match that has occurred here on Oblivion and the first two matches available for viewing are not only the first ever A.O.K.O. match, but the spectacular Ladder match that crowned our first ever Tag Team Champions, with the Hooliganz facing the World's Greatest Tag Team.

JBL:
An' I can't forget that match either, Joey, so many already incredible matches here in the greatest wrestling promotion in the world, AOW!

Joey Styles:
And just to note the brutality of the A.O.K.O. match, we aren't completely sure when we'll see Samoa Joe or Finlay again, but what we can do is just show you just how immense the contest was between both of these men just two weeks ago, ending emphatically with that absolutely brutal sort of hangman's noose sort of finish Finlay had to apply to get Joe to stay down
~While Styles says this, we've shown still of many moments in the match, ending with Finlay pulling all his weight on the cage and hoisting Joe into the air, using the broken ring rope as a noose and the cage wall as a gallows, effectively hanging Joe and ending the match
Joey Styles:
But folks, as brutal as it is, that is indeed in the past and we have to look towards the future, where our main event resides! The World's Greatest Tag Team defend their titles against Chris Jericho and Rob Van Dam! You surely wouldn't want to miss it!
Before we can fade to commercial, we can see the screen getting very static-ridden, before finally hitting a point and being completely consumed by static. It remains there for several seconds before it clears up and we're in a scene we've noticed before…but a face that looks quite different than we last saw it in AOW Cruiserweight Champion Bryan Danielson, apparently at his desk area, but his intense stare is looking into his webcam, apparently doing another responsive 'hacking', although Gregory Helms hasn't shown up tonight. Despite that, Danielson looks intense as hell, the shadows of his home giving his face a daunting look…
Brya Danielson:
…Gregory Helms…
~Danielson doesn't budge when saying this
Bryan Danielson:
I can handle you trying to do everything in your power to try and take me down. I can understand you having a right to say you've gone up against the best and saying you should've come out on top. I can take all that. Hell, I can even take you snatching my Cruiserweight Championship from me.
~Danielson is breathing heavily between sentences
Bryan Danielson:
But what I can't take is you bringing other people into this. Rey Mysterio was a true friend to me. And you potentially ended his career, and for what? To prove that you're better than me somehow? Maiming a guy who everyone in the wrestling world respects, who revolutionized and paved the way for guys like us is no way to try and prove you're the best. And after what you did, there will be no forgiving you.
~Danielson's gaze is filled to the brim with intensity here
Bryan Danielson:
I give props to Samoa Joe and Finlay for redefining the way we gotta do things around here. They really did break every limit anyone ever set for what we could and couldn't do. But the thing is, Greg, is now you've crossed that line. And despite all the carnage Finlay and Joe went through a few weeks ago…it's nothing compared to what I have lined up for you at World Ablaze. Forget being 'Digitized' by the Dragon. And forget being bitten by the Dragon. At World Ablaze, I will get my Cruiserweight Championship back, I will show you how unforgiven you are…and you will be consumed by the American…Dragon.
~Danielson's webcam steadies a slow close up on his utterly intense eyes before it goes back to static…
*END TRANSMISSION*
**COMMERCIAL BREAK**
Upon our return, we're greeted with the not so resounding sound of "I AM THE FUTURE", which welcomes none other than Ken Doane to the ring, but not too long afterward, we're met with "MASTERPIECE", as Chris Masters comes alongside his fellow cocky ally on down to the ring, both in competition attire and taking a good bit of heat for just being plain annoying since both of their debuts.

"THE PROUD WARRIORS (LOW JACK REMIX)" greets us now, as the theme for Low Jack, Jack Evans and Low Ki, blares, but coming out to the stage looking…interesting…is only Evans. Evans appears to be dressed as Superman, cape and all, while Low Ki…is nowhere to be seen. Evans seems to be coaxing someone behind to curtain to come on out before going and pulling them out…and its Low Ki. In a Batman costume. Although comical, Low Ki is having none of it, as he stand looking like 'you gotta be shitting me' before ripping off the cape and cowl, along with his upper body gear. He also rips off his costume tights, revealing his actual wrestling tights. Evans doesn't look too pleased with it, with Ki again getting in his face with a look that would literally say 'stop the childish shit' if he didn't look too pissed to even speak. Evans throws his cape off and his shirt, but he looks at Ki and tells him "I'm keepin' the tights, chief!" They make their way down the ramp a bit more serious, however, them about to face the men that needlessly assaulted them a week ago.

MATCH 4
Low Jack v. Ken Doane & Chris Masters


Low Ki is the man who starts for his team, immediately jumping on both Masters and Doane, who were still negotiating in their corner, jumping both men before delivering a rabid barrage of punches between both men, before changing those clenched fists to a series of absolutely fierce CHOPS(Wooooooo!) going back and forth between both men. Ki has gone absolutely off here it seems, not taking any quarter when it comes to the attack last week. Evans even has to jump across the ring to get his partner to hold back, the referee already threatening to disqualify them. Doane and Masters take this time to drop to the outside, both of them in shock at how Ki's warrior resolve seemed to dissolve. Evans, after calming down his partner and friend, looks at the men who attacked him last week…and he too seeks to deal some damage! Evans leaps onto the apron, bounces off the middle rope…AND EXECUTES A FLAWLESS ASAI MOONSAULT!! MOONSAULT TO THE COCKY BASTARDS!! At this point, it may look like Doane and Masters have regretted whining their way into a match this week!

While the Hammerstein crowd is white hot, the referee is telling everyone to get back into the ring so they can actually have a match, which Low Ki seeks to oblige by grabbing the downed Doane, and throwing him into the ring. Ki then ascends to the top rope and leaps onto the downed Doane…WARRIOR'S WAY!! WARRIOR'S WAY!!! There's only two men in the ring, which the referee will appoint the legal men, as Ki quickly covers Doane – 1…2…Masters throws down Evans on recovery, rushing towards the ring…3…!!!

TOO LATE!!

Winners: Low Jack at (3:09)


WOW!! Doane and Masters get it absolutely handed to them!! But Low Jack isn't out of the woods just yet! Masters slides completely into the ring and starts throwing shots at Low Ki, but Ki is quick to fire back with shots of his own, but he's nailed with a wild Polish hammer from Masters! Masters then picks Ki up from behind and synches in the Masterlock, whipping Ki around violently before throwing him down with authority. Unbeknownst to Masters, while that move was going on, Jack Evans has scaled the turnbuckle behind him, leaping…CORKSCREW DIVING KICK!!! WOW!!! Evans may not be Superman, but he can fly like him! As Evans begins to get to his feet now, he's pumped the fuck up, the crowd with him, but as he turns to get his partner to his feet…DOANE-KO!! THE JUMPING CUTTER FROM DOANE!! The crowd deflates again, as we've just seen these four guys going all out one one another! Doane is still clutching his ribs from getting stomped on by Ki, but he's got enough in him to roll out of the ring and drag the body of Masters with him, both men stumbling on up the ramp, with hurt pride or perhaps more.
Joey Styles:
Wow! That was just as chaotic a scene as we saw last week when these two teams collided!

JBL:
What the hell is goin' on here…? Is Mick Foley watchin' this…? I hope to hell he is, because all this anarchy is all HIS FAULT!!

Joey Styles:
Don't get all over Foley, John. If you recall, last week, that very orchestrated attack against Low Jack was lead by The Mercenaries and carried out by Ken Doane and Chris Masters. Low Jack had every right to go after them! Especially when you include a warrior as proud as Low Ki. Attacking from behind like they did and breaking the warrior code would be what would send him over the limit!

JBL:
You ain't gotta explain all that to me, Joey, just the only thing I don't understand is how all this can keep happenin. I mean, I know how it happens is because of those two bozos who can't get on the same bookshelf much less the same page, but now these fine athletes are sufferin' for it.

Joey Styles:
It has been another somewhat chaotic night here in the Hammerstein, but I think we wouldn't have it any other way, but in just under two weeks, all of this chaos will come to a head, as AOW presents its first ever Pay-Per-View extravaganza, World Ablaze, where as we just saw a few moments ago, Bryan Danielson has vowed to rip into Gregory Helms something fierce.

JBL:
With Rey Mysterio taken out last week by Gregory Helms, I still have to say that he's gonna walk out with that Cruiserweight Championship. Danielson is too wrapped up in the personal issue of it now to stay focused in the least. But after what I just saw, I'll be damned in Helms doesn't leave without a scar or two.

Joey Styles:
But this won't be the only intense cruiserweight contest on the card! We've just been informed, that Jamie Noble's decree in his aohdubya.com exclusive interview, where he talked about being nobody's stepping stone, will be carried out and his rematch with the sensation known as Aero Star will be at World Ablaze! It's Star and Noble.

JBL:
I have always loved Jamie Noble, he's always had a bunch o'fight in him. An' that's why he's gonna prove that this Aero Star guy is the coward he says he is. Jamie Noble's nobody's steppin' stone! I like that attitude!

Joey Styles:
But the attitude of one Christian Cage has more than degenerated or escalated, depending on your position, but we've been told that regardless of conditions, Christian Cage will take on Bobby Lashley in an I Quit match with the loser being forced to leave this young company.

JBL:
After that brilliantly orchestrated attack by Christian in the parkin' lot, Bobby Lashley's in a lot of trouble. No one here likes him, Christian wants him gone, an' now Christian's gonna sit in a jail cell for two weeks, restin' up, while Lashley's gotta treat his hurt bones an' pride!

Joey Styles:
The 'Man on the Moon' as he called himself seems to have his eyes on a 'bigger picture', but how about this picture – The Mercenaries will have to take on the winner of tonight's Tag Team Championship match – will it be RVD and Jericho or the World's Greatest Tag Team?

JBL:
It doesn't matter who they face, because after beatin' those high-flyin' tough guys in London and Kendrick, I don't think there's anything Paul Burchill and Brent Albright can't do.

Joey Styles:
That may be well said, but what about our already colossal main event made even bigger by the events of last week. Not only is Chris Jericho going to defend his AOW Championship against Rob Van Dam, but the special guest referee is a guy who hates both men equally – the Heart Break Kid, Shawn Michaels!

JBL:
But those 'personal reasons' Michaels was talkin' about earlier, regardless about how much he can't stand either guy, are gonna be the decidin' factor I think.

Joey Styles:
The deciding factor is gonna be whatever match type Rob Van Dam choses it to be, partner! Remember, Mick Foley gave Van Dam the right to choose his match type after revoking the clause that said he could choose all of Jericho's opponents until the event. What's RVD gonna chose? We'll find out, but whatever it is, you can guarantee that World Ablaze will be one hellova show.
As the hype ends, we're brought to the entrance stage, where "BREAK DOWN THE WALLS" soon blares across the arena to deafening heat, as AOW World Champion Chris Jericho steps through the blood-red curtain without his insurance policy, Paul Wright. Jericho stares around the arena, his nose turned up at everyone and his title thrown across his shoulders. He struts down to the ring and into its center with a small smirk on his face, possibly enjoying is heat…or is he planning something already…?

Whether he's planning something or not, the next sound we hear wipes the smile off his face, as "SEXY BOY" goes across the arena to a thunderous ovation, as Shawn Michaels comes on through the curtain looking pumped as ever! He's in non-competition attire, coming on down the ramp and celebrating his return with a few front row fans. But as he gets closer to the ring, he locks gazes with Jericho, who hasn't moved from his spot center ring.
Joey Styles:
It's time for the main event of the evening! On the other side of the break, Jericho will have to team with the man he faces at World Ablaze to take on the World's Greatest Tag Team for the tag titles! And joining us on commentary will be none other than the legendary Shawn Michaels! Keep it here!
**COMMERCIAL BREAK**
Upon our return, Chris Jericho is still standing center ring, his eyes as pompous as ever and his 'better than you' aura radiating with the title still on his shoulder. He hasn't moved since we went to break and the crowd hasn't stopped booing him, but the reaction definitely changes when we hear "WALK" hit the speakers and the place comes unglued for Rob Van Dam, the number one contender who's forced to tag up alongside the guy he'll be facing in the near future. Van Dam slides into the ring, but Jericho has already darted to the floor, simply staring Van Dam down. RVD continues his pre-match taunts, but he stares right back at Jericho and points at himself, the whole crowd chanting with him – "ROB – VAN – DAM". His gaze then directly goes behind Jericho, as he locks eyes with Shawn Michaels. The two have no love lost between them, erasing any smile from Van Dam's face.

Not much longer afterward, "WORLD'S GREATEST" blares now, as the AOW World Tag Team Champions, the World's Greatest Tag Team come confidently down the ramp, ready and willing to defend their tag titles for the very first time since winning them in a hellacious Ladder match not too long ago.

MAIN EVENT
~AOW World Tag Team Championships~
The World's Greatest Tag Team(c) v. Rob Van Dam & AOW Heavyweight Champion Chris Jericho


To no one's surprise, Jericho is the guy on the apron for his team first, more than willing to throw RVD to the dogs to begin with. Van Dam stares daggers at Jericho before turning back towards his opponents, who have decided that Charlie Haas start off. Van Dam approaches center ring with Haas, who extends his hand for a handshake. Van Dam is taken aback for a second, but he understands the respect these men want from their opponents, gladly shaking Haas' hand to a pop before both men separate and circle each other before locking up and Haas immediately gaining control with a headlock. He pulls off a headlock takeover, but Van Dam traps Haas' head in in some headscissors to immediately. As both men get to their feet, Haas again gets the headlock takeover and Van Dam gets out of it with the headscissors. As both men quickly get to their feet again, Haas again nails a headlock takeover, but Van Dam rolls all the way through and gets both men to their feet before dropping Haas with a counter backdrop…but he's still got the headlock locked in! Haas is vigilant in his hold, forcing Van Dam to stay down, but Van Dam gets to his feet and tries another backdrop…but Haas still has it in! Jericho seems to have sort of a smile on his face, glad Haas is wearing down his opponent in two weeks, but Van Dam soon rises again and lifts Haas into the air for…a torture rack? A torture rack! A Van Dam torture rack! The crowd pops for where it comes from, but Haas quickly wiggles his way free before dropping Van Dam with a Russian leg sweep, floating over for the first cover – 1…NO! Van Dam quickly kicks out.

Both men quickly get back to their feet, where Haas grabs a rear waistlock on Van Dam, hoping to take him down, but Van Dam knocks him in the temple several times with elbows, backing him off. Van Dam then has an Irish whip reversed, sending him into the ropes, but on the rebound, Van Dam rolls over the back of Haas cleanly, before cracking him in the face with a crescent wheel kick! Van Dam now with a cover – 1…2…NO!! Haas throws himself back up, but right into another RVD whip, this time into a corner. RVD rushes towards Haas only to get a boot to the face and a subsequent neckbreaker for his troubles. This allows Haas to go over to his corner and tag in Benjamin, who steps in on the second rope, Haas holding down Van Dam, and Benjamin leaps with a second rope leg drop! Benji covers – 1…2…NO!! RVD still has some fight in him!

Benjamin whips RVD into the ropes, but on the rebound, Van Dam again surprises the WGTT by rolling through Benjamin's legs and taking Benji's arms with him, forcing Benjamin to flip over and Van Dam to get a nifty roll-up – 1…2…Benjamin counters the roll up into a sunset pin – 1…2…Van Dam pushes his weight over and makes it another cover – 1…2…Benjamin bridges up with the waistlock intact, torqueing both he and Van Dam's bodies around until he lifts Van Dam with a gutwrench suplex! Benjamin with another cover – 1…2…NO!! Benjamin waits for RVD to get to his feet, oddly, Van Dam holding his guts from the last move. Benjamin then holds out his hand and hopes for Van Dam to shake it, having been in the heat of the moment immediately and hasn't had a chance until now. Van Dam, moved by the athletic integrity of the team, reaches to shake Benjamin's hand…before Jericho blind tags himself in! Van Dam and Benjamin look over in surprise, but Jericho just looks back at them with his nose in the air. Van Dam soon leaves after staring down with Jericho, but Benjamin simply changes his intended course, extending his hand to Jericho instead. Jericho smiles and surprisingly shakes Benjamin's hand…before using it to whip him into the ropes and hitting him square in the jaw with a reverse elbow on the rebound. Benjamin retreats to his corner, where he doesn't tag in Haas, but he and Haas have a small conversation, it seems.

We see the products of the conversation immediately, as Benjamin sheds his 'honorable' shell and goes right at Jericho with hard fists, showing what the team will do to anyone who doesn't show respect. Jericho is severely caught off guard by this, being backed into some ropes before being thrown across the ring by Benjamin again, who catches Jericho in a exploder suplex position…but Jericho battles out, seemingly gasping for air, before tagging in RVD again. Jericho crawls back under the ropes and onto the apron and tells Van Dam to get back in there. Van Dam just gives him a 'you gotta be shittin' me' look, but steps back in to face Benjamin again. Shawn Michaels has fallen completely silent on commentary, seemingly keeping more of an eye on Jericho than anybody.

Van Dam gets back in and quickly locks up with Benjamin to quickly push him off into the ropes, dodging him on the rebound and nailing a beautiful dropkick that flatlines Benjamin quickly. Benjamin rolls into a corner to recover, but Van Dam follows him nailing a pair of shoulder thrusts to the gut before performing a backflip and nailing the final one! Van Dam then scoop slams the wandering Benjamin before looking at his position and getting ready, looking for some Rolling Thunder…SAMOAN DROP!!! SAMOAN DROP!! Benjamin catches Van Dam in mid-final roll into a Samoan Drop! Benjamin with a nice cover – 1…2…3-NO!!! Van Dam still wants some fight! Benjamin brings Van Dam to his feet only to drag him to his corner, where Haas awaits the tag, both men getting shots in at Van Dam before Haas takes him away and gives him a solid suplex. This is followed by Haas dragging RVD up and attempting yet another suplex, but Van Dam drifts behind Haas on this one, but Haas turns around quickly to meet a high Van Dam kick…but he ducks…only to get caught by a Van Dam legsweep. Van Dam doesn't fall on the cover, however, using some of that momentum to go right into a standing moonsault!! The unorthodoxed offense of Van Dam is on display in the pin attempt – 1…2…3-NO!! Haas isn't done! Van Dam takes a moment to gather himself however, as that Samoan Drop is catching up to him. Van Dam ventures into his corner and tags in Jericho with a fierce chop to the shoulder, causing Jericho to brush off his shoulder in disgust before taking his sweet time to enter the ring.

As Haas gets to his feet, he holds his midsection with one hand…and extends the other. Now it's his turn to see if Jericho is respectable. Jericho, still steaming about being tagged in the match in the first place, slaps Haas' hand out of the way. Jericho quickly realizes that he's opened up the gates of hell on himself, but he can't do anything about it after Haas unleashes several hard blows to Jericho before hoisting him on his shoulder for something, but Jericho quickly slides off. Haas, however, is ever aware, nailing a nice back side kick to Jericho's guts. Haas gives Jericho a nice CHOP(Woooooo!) that sends Jericho reeling and turning his back towards Haas, who prepares for a German suplex, but Jericho scrambles around before getting out, gathering some short steam and nailing Haas with a hard running reverse elbow! Haas drops hard to the canvas, Jericho rabidly coming – 1…2…3-NO!! Haas wants to keep the title right where it is! We glance over to the apron, where Rob Van Dam doesn't even notice, as he's been deadlocked in an intense gaze with Shawn Michaels way over at the announce table. Van Dam snaps back when Haas kicks out, potentially being so close to being a champion in the company.

Jericho waits for Haas to make it to his feet, stalking him before bursting forth with the one-handed bulldog and going for another cover – 1…2…NO!! Haas kicks out again, Jericho getting a tad impatient, yelling at Haas "I'M the World's Greatest!" He takes the weary Haas and performs a backbreaker, keeping Haas bridged by the back across his knee. The crowd starts clapping away for Haas, trying to get him back into things, giving him the drive to kick Jericho several times to release the pressure hold and causing Jericho to lean on the ropes. Before Haas can charge at him with anything, Jericho cowardly darts out of the ring to avoid any damage, but unbeknownst to him, Shawn Michaels jumps behind him and chunks him back under the ropes into the ring!! Jericho gets to his feet with a great shock on his face before turning back towards the ring to meet the inevitable – a Haas clothesline that sends him over the top rope! Jericho goes right back to the floor, Michaels shrugging a bit before sitting back down. Haas is still ready, however, setting to leap through the ropes…SUICIDE DIVE!! Jericho goes down, but RVD is ready and gaining, awaiting both Haas and Jericho to get to their feet before going airborne…AIR VAN DAM!! AIR VAN DAM!! TO BOTH HAAS AND JERICHO!! RVD showing no concern for hurting his partner, but before Van Dam can celebrate a little, he looks up to see SHELTON BENJAMIN COMING DOWN WITH A LEAPING LARIAT from the top rope!!! All four men are down, right in front of Shawn Michaels, as we head away.



**COMMERCIAL BREAK**



As we return from the break, Jericho is at the mercy of the WGTT, who keep rotating in an out on Jericho and delivering punishment to the disrespectful champion in waves. Benjamin is the legal man at the moment, but he quickly grapples Jericho in a front headlock before shoving him onto the apron, but holding his head over the middle rope before tagging Haas right back in, who steps onto the second rope and nails Jericho with a second-rope knee to the back of the head! Jericho collapses into the ring for Haas to cover – 1…2…3-NO!!! Jericho gets himself loose! Before he can scurry away, Haas grabs him up and nails a perfect northern lights suplex! He doesn't go for a cover, instead dragging Jericho back and tagging in Shelton Benjamin, who seems to be headed to the top rope. Benjamin leaps with a senton bomb! Wow! This Shel-ton Bomb connects, giving him a cover of Jericho – 1…2…3-NO!! Jericho remains worthy! Benjamin has his hands on his hips after that, as Jericho may not respect them, but his resolve here seems to be building some respect from the World's Greatest.

Benjamin doesn't cry over spilled milk and tags back in Haas, Benji delivering a fireman's carry to keep Jericho down while Haas ventures to the top rope now. Perhaps the WGTT are getting too confident here, Haas taking a moment to get his balance before leaping with an elbow drop…NOBODY HOME!! Jericho successfully rolls out of the way, but just barely, and he's not got a whole lot left in the tank it seems. As Haas tries to recover, Jericho springs to life and nails the running enzeguiri!! Haas falls to his knees and then the canvas for Jericho to get the cover – 1…2…3-NO!! Haas gets out of the surprise move! Both men are crawling to their corners now, hands and knees at a slow pace to get there…Haas tags in Benjamin…and Jericho tags in Van Dam! The hot tag to the Hammerstein favorite brings Van Dam in guns blazing, nailing a trifecta of clotheslines before taking Benjamin in a snap suplex that causes him to roll away, getting RVD pumped. Van Dam tries Rolling Thunder for a second time…nails it!! He gets it this time, getting all sorts of pumped up before looking up to the top rope. The crowd pops as Van Dam ascends, possibly looking to end things here, climbing the top rope right beside his corner, ready to leap…when he loses his balance! The top rope shakes and Van Dam falls because…Chris Jericho sneezed?!?! Jericho suddenly has a sneezing fit, causing him to lower the rope momentarily and screw things up!

Needless to say, no one is really buying this, but Jericho doesn't need to keep it up for long, as the damage is done. As Van Dam tries to go at it again, Shelton Benjamin springs to life, leaping cleanly from the floor to the top rope and executing a beautiful top tope belly-to-belly suplex!!! Van Dam goes flying overhead and crashing down! Benjamin takes a second to gather himself before crawling onto Van Dam – 1……2……3…..NO!!! RVD ROLLS THE SHOULDER!! Incredibly, Van Dam won't go down on that! We seem to not have that much air time left, the commentary team telling us the half-hour mark is approaching. Benjamin and RVD gingerly recover, Van Dam only being able to sit upright. Benjamin rebounds off the ropes behind him, looking to behead Van Dam with something, but he lies flat, forcing Benjamin to rebound again, but RVD lies flat on his stomach to make Benjamin go over again, catching Benjamin on the rebound by surprise with a sitout spinebuster!!

Van Dam struggles to attempt to cover Benjamin, but before he can, sir Charlie rushes across the ring to stop him, but Van Dam stops him in his tracks with a step-over spinning wheel kick! RVD is far away from his corner now, no way for Jericho to screw this up. Haas rolls to the floor, Van Dam goes up top and looks down on Benjamin. We look over to Jericho, who motions something towards the back. RVD stares down both Michaels and Jericho before executing his thumbs – "R – V – D!!"…but the crowd is buzzing…The Mercenaries! The Mercenaries are here! The agreement explained by Hassan earlier must have temporarily swapped the Mercs for Wright! They come down, instantly distracting RVD and causing him to come off the top. The referee spots them and is instantly at odds with them, but we can only see Albright. Where did Burchill go…? He's by the timekeeper's table…with a steel chair! RVD is busy being distracted with the referee, his back completely turned. Jericho, meanwhile, is already well on his way up the ramp, leaving the whole scene. Van Dam soon spots this, staring down a smirking Jericho. While that goes on, Burchill prepares to slide into the ring with his chair in hand…but Shawn Michaels stops him, grabbing the chair from him! Burchill gets away from Michaels by quickly darting in the ring, but Michaels follows, chair in hand, aimed for Burchill…AND CRACKS VAN DAM OVER THE SKULL WITH THE STEEL CHAIR!!! Michaels looks surprised at what he's done…but doesn't exactly look apologetic. He throws the chair down and backs back out of the ring, Burchill following up on the shot by throwing Benjamin on top of Van Dam!! The referee finally turns around, Burchill having long cleared off – 1…2…3….!!!

Winners and STILL AOW World Tag Team Champions: The WGTT at (16:20)


Michaels only stands back, looking at what he's done, the Mercenaries celebrating on a job well done, it appears. Jericho is already at the top of the ramp, on the entrance stage. Michaels hasn't taken his eyes off the downed Van Dam, Haas just now entering the ring to get Benjamin to his feet, as well as trying to assist Van Dam.
JBL:
This is absolute chaos! What in the hell is goin' on here?! The guy who's supposed to be the guy who calls this thing down the middle in two weeks just cracked the #1 contender across the freakin' noggin!

Joey Styles:
Those 'personal reasons' Shawn Michaels explained earlier…they seem to be what may have arose here in the main event…what is all this?

JBL:
This leaves me with more questions than answers, and bein' a man o'money, I don't like it! I HATE IT!

Joey Styles:
I can understand the Mercenaries not wanting Jericho and Van Dam to win, and having another opponent in the tag division, I can understand that. And I think Muhammad Hassan, in exchange for the services of Paul Wright next week, gave Chris Jericho the right of the Mercenaries this week. But Shawn Michaels…the man who is supposed to be in charge of a title match on our first ever Pay-Per-View –

JBL:
Oh he took charge, alright. Already lettin' power get to his head!

Joey Styles:
Wait a second…RVD's asking for a mike. .Give Rob a mike, dammit!
~RVD is still very loopy, but he's given a microphone, with only Shawn Michaels beside him at ringside and Chris Jericho on top of the entrance ramp (having been given his title by the Mercenaries, btw)
RVD:
I…I might still be loopy from that shot to the head…but I was told…I had a match stipulation to announce!
~The crowd pops, as it was indeed mentioned in the contract negotiations
RVD:
Now just now…I was introduced to the…the idea of 'respect'. And Chris Jericho…and Shawn Michaels – I don't respect either one of you.
~Some are taken aback, but if one has followed the history between the three, this isn't news
RVD:
And see, Shawn, you're supposed to be the guy who's gonna be callin' it right…down…the middle…right? Because you don't respect me or Jericho, right?
~Van Dam looks over to Michaels with an angry glaze over his eyes, almost drunkenly
RVD:
Well last week…it was last week, right? I said that RVD does nothing but take…risks…
~A pause, while we do remember the mention
RVD:
So I'm sure that chair shot sure as hell isn't gonna help…but I'm about to take one…HUGE risk…
~RVD shows he's a bit weak in the knees still from the hit, leaning on the ring ropes for a bit
RVD:
Since we have no love lost, dudes…and since no respect means no rules in my eyes…I want a match with no rules. I want a match where Jericho –
~Rob leans on the top rope towards the ramp, pointing at Jericho now
RVD:
- I want a match where I can tear your 'worthy' ass apart piece by piece. And Shawn…since you loooove stickin' your nose in other people's business…it'll even let you interfere if you really, really want to….that bad!
~RVD has turned around now and is pointing Michaels down
RVD:
So at World Ablaze, I want you, Chris Jericho, and that AOW Championship…in an ECW Rules match!
THE CROWD EXPLODES. The entire Hammerstein is stoked beyond belief for that, as Van Dam finally throws down the microphone and stares down both Michaels and Jericho, the latter looking like he just smelled something rotten, scowling like an angry old man. We then begin fading with a scene we've seen before – Van Dam and Michaels with severe unrest between them, with Chris Jericho far off in the distance, angry, but probably planning his next move. But whatever it is, it will have to be EXTREMELY crafty…as we

Fade…

To…

Black….


END SHOW
~Confirmed for Next Week~

CM Punk v. Paul "The Great" Wright

~5-Minute, $50,000 Challenge~
Muhammad Hassan v. Lance Storm

WORLD ABLAZE
Boston, Massachusetts – TD Banknorth Garden
November 11, 2007
*Current Card*

~AOW World Heavyweight Championship~
*SPECIAL GUEST REFEREE: Shawn Michaels
~ECW Rules~
Chris Jericho(c) w/Paul "The Great" Wright v. Rob Van Dam

~AOW Tag Team Championship~
The World's Greatest Tag Team(c) v. The Mercenaries

~I Quit Match~
*Loser Leaves AOW*
Bobby Lashley v. Christian Cage

~AOW Cruiserweight Championship~
Bryan Danielson(c) v. Gregory Helms

~Grudge Match~
Aero Star v. Jamie Noble
I swear, I've rewritten this show four times and I'm still not completely satisfied with the way everything turned out. But here it is, about a week late. Either way, this show won't be up very long, seeing as how I really wanna get Ablaze up by the end of this year. Probably won't be a preivew for the next show then, either. But yeah, definately not my greatest show, especially not the second half, but I'll leave that for you to decide. I'll try to stop being unmotivated and leave some feedback for some of you. Until then, we'll see.

Oh, and happy birthday to me
:
---
CUTENESS²
AOW: Art of War Wrestling - The Greatest Affair
It's Baaaaack...
.:Oblivion Edition 39/40 Recap NOW POSTED!!:.
Wheelman for James Ellsworth
Join Date: Jan 2011
Posts: 501
Points: 0
Re: Presenting AOW: Art of War Wrestling - The Greatest Affair
---
Oblivion Feedback



First off have to say that this whole concept is fantastic. Can't think of many other bookers who'd come up with something like this so fair play on taking it on.

Starting things off on a show like this with a match is definitely the right call and what better match than this one huh? Some very nice action throughout the opening fall and giving it to the Hooliganz certainly gets the crowd firmly going and firmly behind the high flying duo. Can imagine that Tower of London being pretty impressive too might I add. Second fall was always gonna swing the Mercenaries way but it was a mighty effective way of doing it. That ring bell shot I can picture being ruthless from Albright and following that the Royal Mutilation which equals no chance. Things were poised nicely heading into this third fall and I liked how you opened it with the Mercenaries being methodical in their approach, picking apart Kendrick. Merecenaries continued to look mighty strong throughout this but the pace slowly began to change and the Hooliganz began to build, it was really well worked and well timed but then BAM the Mercenaries shift it again and turn this thing on its head. BIG win for these two men and they kicked off the show with a bang, both teams come out looking strong, top stuff.

Interesting stuff here with Foley and Lashley. Foley trying to warn Lashley suggests to me that Christian is lurking, certainly hoping that's the case anyway. Pleased to see that Lashley's no nonsense attitude was still in gear though as he doesn't give a damn what's 'best' for him.

Well the HBK interview was certainly…different? Really had me surprised that Michaels just literally didn't give away anything. Certainly has me intrigued as to what the real reason is.

Samoan Fight Club looked pretty damn impressive here and I'm glad you're building them up slowly but surely. The 'We Destroy' chant at the end was a nice little touch also. I'm hoping there's big things planned for these two although the tag ranks are stacked.

Segment of the night thus far here. Brilliantly, brilliantly written and had me just waiting for Christian to appear, then Dr.Doom arrives, you think it's him, SWERVE. Loved it and the attack from Christian was fantastic too. The whole rousing of the security was well done and just the whole thing delivered here. Liked the fact that you continued to play up the whole 'Saving' the company deal again too. Really looking forward to where that goes.

Decent stuff with Punk and Storm here but thought the segment picked up well when Hassan entered things. I actually fancy Storm to pull it off next time round with an assist from Punk but that's gonna be a big ask for Punk to get one over on Wright. The end line from Hassan was excellent might I add, hope you stick to that with him as a catchphrase, fits nicely.

The interaction from Styles and JBL was great here.

Rematch time! Expected a cracker between these two and it delivered. Really strong action throughout from both teams with all four men coming out of it looking good, though the right team got the win and I'm expecting and hoping for the rubber match.

I actually quite liked this Danielson piece. Short and sweet but to the point. Consumed by the American Dragon sounds great to me. Looking forward to when he and Helms lock horns.

Funny stuff with LowJack here and the costumes but I'm glad Ki ditched it in the end. As for the match, well I didn't expect it to be over with so soon but that's a big win for LowJack there but doesn't do all that much for the Doane/Masters duo sadly. Ok, maybe I jumped the gun. Nice showing from Doane and Masters here, although maybe would've preffered a slightly longer match and had them look stronger in that. Though this does gain them some heat and credibility back.

Nice rundown of the World Ablaze card, looking very very good.

Main event time and what a way to round off this whole thing. There's not a whole lot to say on this except it was yet another fantastic match, really well written, well paced, well timed with everything and some great fast paced action throughout. Michaels sticking his nose in at the end was nicely done and we had to see the Mercenaries are some point, so good job with both interferences. The fact Michaels didn't seem bothered by his actions pleased me as I wanna see him having that sort of edge going into World Ablaze. The only stipulation I was expecting was ECW Rules, so no surprise there but it fits with Van Dam and it fits with this situation. Great ending here and adds another notch to the huge main event come World Ablaze.

On the whole, you said you weren't too happy with this but I found it very entertaining. Certainly more action wise than promo wise but that was the whole theme of this show. The Mercenaries had a great night and really came out of this looking full on, legit. Stars of the show for me. All of the matches delivered in a big way except for the Low Jack one but the aftermath saved that slightly. The S.O.D/American Made feud progressed really well as did the momentum for Samoan Fight Club. The Lashley/Christian situation was brilliantly done in my eyes and Christian is just on fire as a character right now. You got me really interested in the way HBK's gonna go about things now too, that interview earlier mixed in with the chair shot here has me curious just what his next step is. Great concept here and a heck of a show, well done. P.S- Happy belated birthday.
Re: Presenting AOW: Art of War Wrestling - The Greatest Affair
---
Oblivion Feedback - A Tag Team Halloween Special
Buzzing for this.
Okay, kicking off with one of your most heated tag team rivalries (and two very talented sets of wrestlers) is a more than sensible decision, and you had the Hooliganz not only sell their injuries, but use it as motivation for a more serious outlook, which seems like a sensible one-week character progression. You also showed how desperate they are to pay back the Mercenaries from the get-go by having the early-doors Suicide Dives, so again, good characterisation. I might suggest Kendrick recovered a little quickly from being whipped into the steps, which is usually sold as a big hit, but that was the only issue I had with the first fall, which had to go to the Hooliganz really seeing as you were kicking off the show with the concept of how fired up they were to win this bout. Tower of London is also a fitting exclamation mark with which to
get
that fall, too, and it doesn't hurt Albright to be pinned after it, either. I'd question whether the second fall really took four minutes, because it didn't feel like four minutes of action, but maybe you work on a different words-to-time ratio than me, which is entirely possible. My other concern was Burchill's distracting of the referee was more accidental than anything, and thus it becomes difficult to believe Albright could see the distraction, get the ring bell, make the interference and get rid of the evidence all within the time frame that Burchill had made this brief stumble into the referee's path, or at least that's how I read it. You sold the ring bell shot well, by showing how it had disorientated London to the max, and again you kept him looking strong by giving in to the Fujiwara considering Kendrick had been stopped from helping out, and thus the submission was perfectly believable. Oh, earlier you had "looking very intense and very angry", which perhaps wasn't your most lyrical use of prose I've ever seen from you, but that's a small issue which doesn't deserve such a long sentence from me about it. Going to the break after the equalising fall is logical. Is a 'Backflip Kick' not a Pele Kick? That's always what I thought it was. Regardless, the paragraph where you had said kick, was a nice exchange especially; the Sliced Bread into Regalplex counter was completely conceivable in my imagination, and it was also a smart knowledge of the moveset of the Mercenaries, who are known for being great technical wrestlers. You had some really nice exchanges during this third fall - the exchange of covers, with London's School Boys/Victory Rolls was a highlight, as was the entire sequence leading up to the (as you bolded it) Tornado Reverse DDT. I've racked my brains hard and still don't understand how Albright could Super Back Drop London into the ring if he was climbing up from the outside, I'm afraid; the spot itself was fine, it's the workings of it, like how they both got in the right positions, that I can't understand. Would Albright not have had to have his back to the ring to pull that off? I'd also point out the minor issue that neither of the Hooliganz hit a single move after the Super Back Drop. Apart from that, the finish was terrific; very fitting with what we've come to expect from the Mercenaries, and you really presented them as being vicious here, with the KO victory really making them come off well. Terrific opening bout.
Commentators were dead on, good stuff; I also like that you're sticking with the 'RVD is AOW' thing, you should sell that whenever you talk about him, really.
At first, I was debating who should win the Christian/Lashley match, but if it's Loser Leaves AOW, it needs to be Christian going over, seeing as Lashley doesn't make a strong face in an environment where the majority of the fans boo him (Cena doesn't count
). Plus, Christian is the most well-developed character you have, so he can't really leave, tbh. I think you needed to settle on one or other here; either Lashley needed to have an attitude and be the anti-authority face, or he needed to appreciate Mick's gesture - obviously he wouldn't do the second one, so I felt the last line was too... well, to use him as an adjective, Evan Bourne. Unless Lashley's being sarcastic or something with his closing line, it just felt like it didn't fit. I'm liking the premise though, the clear foreshadowing to some kind of confrontation later; hell, if we
don't
see a confrontation later, it wouldn't make much sense, so there you go.
You navigated pretty well through Torrie's return to interviews, which could have been awful if you'd lingered too long on her own storyline rather than getting on to her interviewee, so I'm glad you addressing it and got on to business - "but those are my personal issues" maybe sounded a little formal for her, though. I find it a little odd that HBK would have all the initial stuff with Torrie if his eventual interview barely gives anything away; plus, you had him build a report with her only to basically not say anything to her questions, and it made it feel like two segments put together. Not to say it was a bad segment at all, because your HBK characterisation was perfect and it builds intrigue for later on, should we hear from him again, and that's fair enough.
I'd expect nothing less than a Samoan Fight Club squash here, and that's what you provided; finishing with a tag team finisher is a small touch but one that makes them seem on the same page, and thus increases how deadly they look. Definitely an image you should be getting across on a show related to tag team wrestling, so big thumbs up there, and the "WE DESTROY" bit continuing is good, because it's such a basic but powerful catchphrase for a team based on... well, fighting. The post-match assault completed exactly what one would hope for in the debut of these guys; I look forward to what you do with them from here on out.
The Lashley segment was absolutely fantastic, and I'll tell you why in a moment, but here's my problem again; I feel like the entire thing should have been heel-face reversed. Lashley leaving the Hammerstein with fans shouting abuse at him was eerily reminiscent of heel 2010 Batista, not giving a damn what the people think, walking round like a badass... but Lashley's a face, and the abuse he gets means it's hard to get behind him. Contrastingly, you then have a guy like Christian, who's been basically iced out of the company by an authority figure - and that's the kind of thing that happens to help us build sympathy for a face. As a result, I find myself wanting Christian to win, not Lashley, and that's an issue which I think you need to resolve next week somehow; whether you have Lashley stop some maniac in the ring trying to set kittens on fire, or you have Christian do something absolutely despicable to a face we already love (or... set some kittens on fire), you need to do something to get the basic roles between these two sorted. The feud is delightfully complex, especially with Christian being such a deep character already, but I feel there's a basic face/heel law you've got to abide by so I can
want
to see Lashley beat that dastardly Christian at World Ablaze, because right now I want to see Cage beat the shit out of Lashley, and that's not the right way round. The one way you saved this was with the ending to the promo, with the demented-chair-bashing-tease and all, though being led away in handcuffs could be evil-heel or anti-authority-Austin-esque-face. My only other concern would be why a fan, plant or otherwise, would attack Lashley with a golf club, because it all seems rather convenient, but you could always say Christian would have just attacked him even if security was there.
The segment itself is a work of art
, and Torrie's inclusion at the end really solidifies this feud as the Best in Show, but honestly? Christian walking out of the Hammerstein with the fans abusing him leading to an exiled Lashley return but having to stop because he didn't want to hurt his good friend Torrie Wilson/hitting women is wrong, makes more sense. I eagerly await your next move.
CM Punk's reasoning was good, and his calling out of Hassan's hypocrisy, 'he's become the exact thing he hates', was also well done, because it gives us further reason to support him over Hassan. Calling him "Mr. Hassan" seems like something he'd do sarcastically or as a mocking gesture, so I felt you should emphasise that, possibly. You have his character, half-joking half-serious, just about dead on, with a few words here and there where I think it doesn't fit. Storm's inclusion was solid (playing him up as Punk's 'mentor' in a way was a nice touch, especially as you mentioned it last week), though I'd question how you can really take someone 'to their limit' in four and a half minutes. Storm vs Hassan with a stronger Punk influence was actually what I wanted to see last week, in a way, so I'm glad to hear we'll be getting that next week. Again, with Punk's retort to Hassan's first line, I felt we needed a tad more description, just so I know how he's reacting to Hassan, because in a feud where the two of them basically despise the way the other lives, I think you need to get that across in their body language to the other a little more. I genuinely don't know Hassan very well, so I can't really comment decisively, but would he say "shut your big mouth"? Seems a little juvenile. Punk vs Wright is a very intriguing match-up, and something to look forward to, because there's plenty of possibilites. It occurs to me there's a fair bit of criticism in what I've just said, so I should clear the air; again, this was a very good promo, and booking-wise, I'd say it was perfect. You needed a Punk-Hassan confrontation, and the Storm inclusion adds a third dimension, especially with the potential to avert the obvious 'Punk wins the 50 grand' bit by having a Punk distraction give the money to Storm instead. There were a few 'iffy' bits in the promo, if you'll forgive the term, but otherwise, you've got me hyped for next week's show, and that's what you needed to do, so good stuff. Oh, and Hassan's bit about 'change' at the end was sensible to keep that train of thought in the viewer's mind. Bon.
Just a sidenote: having JBL so heavily disapprove of Punk is definitely an interesting touch. You can have him come back out of retirement at a later date for an assault if needs be, or you can have him stay in the booth and just be disparaging, and I think that's really clever on your part. Very intriguing and subtle booking there, even if it is just a small touch.
Definitely find it interesting that Swagger is the 'restrained' one of the two in American Made (I know you like your plentiful tag team names, but this is one of my personal favourites), considering he plays the extrovert so well, too - thinking push-ups in the middle of the ring, etc. Still, it's actually a good thing you're not just making Swagger and Ziggler - sorry, Hagar and Nameth - clones of each other, and instead giving them each their own identity. Again, a small touch that gives the show some real depth. You got the Hagar/Nameth heel characteristics in nicely, between the gloating, attacks behind the referee's back, Nameth's counter of Smith's early Powerslam, etc. I'd also say it's impressive to see Smith with the Plancha; while not completely impossible, it's certainly not expected, and it shows how the Sons are willing to go to crazy lengths to get a win, which links right into their characters sweetly. Always love a bit of the Hagar Bomb, and from then on, you saw some really nice pieces of wrestling that solidify American Made, like the Mercs earlier, as being incredibly proficient between the ropes. Smith's hot tag was to be expected, and I thought the description of Sons as "cogs working as one" was genius, because you did something that often gets left behind in BTB, myself included, and that's not forgetting the message, the story, of the match you're describing. I totally understand that American Made are the arrogant but technically proficient pairing, while the Sons are so proud of their heritage that they don't want to hurt their chances by wasting time on trash talk or gloating, not to mention their undeniable teamwork. The Sons getting the win to even things up is sensible, plus you sold Wilson's injuries from the match during the post-match celebrations, so I have little else to say; you got this dead on in my eyes.
Thank you for addressing the Finlay/Joe issue; even if you weren't specific on a return date, it needed to be on the show somewhere so that they hadn't just... you know, vanished from everyone's mind.
Danielson's promo was perfect for turning up the heat in the Cruiserweight feud. Using the Mysterio injury to fuel the fire is excellent, and by the end of the promo, I was left wanting to see their match at World Ablaze so I can see Helms get his ass-kicking (or not, depending on your booking decisions, naturally). Definitely would like to see a Helms response next week of some kind, or Danielson in a match, but I understand that you've only got so many matches to go around on what is still a short show. Anyway, terrific if short promo from Danielson, with a strong finishing line.
Fairly hectic match from Low Jack and Doane/Masters; definitely don't think the action you described equated to three minutes, though. To skip back a little, Low Ki's no-nonsense persona by having him lose the Batman costume was perfect, as was his crazy assault on the opposing team; it's exactly the kind of character I came to enjoy from him in NXT S2. Good to see Doane/Masters get some heat back with the post-match assault, but my problem with them is; well, with so many great tag teams in AOW, I just don't find them interesting. Maybe that's because they're still referred to as their names alone, so they
come across
as disjointed, or maybe it's because I don't find them all that exciting as individuals, but I think you need to put a little work, even if it's just a short VP, into hyping up how Doane is the future of AOW, and Masters is a unstoppable train of muscle, then the result when you put them together. Right now, I struggle to care what happens to them, which all things considered, is a compliment to your tag team division, because I care about all the others, which is no easy feat. You've definitely got an interesting set of teams on your hands, because there's only
one
tandem I don't find to my taste. The concept of Low Ki's 'warrior code' is also a nice character trait, while I'm here. Anyway, good, if brief, stuff here.
Good run-through of what should be a great World Ablaze pay-per-view, though no Noble-Star hype tonight is a peculiar one seeing as they have a match together at the event. After briefly YouTubing Aero Star a few months back, I'm more than impressed, so they should have a good match, I just don't feel involved in it yet, so that's on you. Otherwise, everything else at the event has been hyped really well, and it should be a good read when it's up. Get on it.
Considering the in-ring talent of Jericho, RVD, Haas and Benjamin, I should have expected no less than a stellar back-and-forth match here, and you delivered. Jericho 'sneezing' was a nice touch, while the match was never going to end clean, and thus the Merc interference was both welcome and well-reasoned. HBK with the chairshot misplacement also provides a very interesting dynamic, and the WGTT win was of course the sensible booking decision. All in all, this was a pretty damn good main event; plenty of good action, plus your description was generally top-notch - it's very easy to feel involved in your matches. Your control of prose is obviously excellent, but you know that already. As for RVD's announcement, props for selling the chairshot while he was talking, that was very necessary; your use of ellipsis to do that was what we needed to see as readers. To a degree, an ECW Rules match somewhat detracts from the HBK Guest Referee thing, seeing as he could have had his say in the match's ending regardless, but hey, maybe I'm breaking kayfabe there somehow. Should be a terrific bout between Jericho and RVD, plus the added influences of Wright and HBK should keep things interesting too. World Ablaze looks even more beefed up now. Oh, and RVD's speech sounded just like him - characterisation was bon.
Overall, this was really good. Do I think it was as good as last week? I feel I had more to (er, constructively) criticise with this show, so I'll say last week's was narrowly superior, but regardless, your writing was excellent, especially match-wise, and your booking was intelligent throughout. My concerns are, by and large, small issues, but I won't go far into them again seeing as I've detailed them above; generally small things in promos, my lack of interest in Doane/Masters or the Christian/Lashley heel/face dynamic. Still, that feud remains the storytelling highlight of the show for me, though your Cruiserweight and World Title feuds remain red-hot. Your tag team division is probably the best in the section that I can recall right now, and frankly, you've done a stellar job building to this first pay-per-view. To mix your catchphrase with Dubya's - Kirby approves, mang.

Oh, and a royal Merry Christmas.
Finally Out of Cutey Sleep
Join Date: Jul 2006
Location: The Fountain of Dreams
Posts: 2,020
Points: 9
Re: Presenting AOW: Art of War Wrestling - The Greatest Affair
---
Thanks in bunches for the feedback, gents. Melvis, you brought several things to my attention that I didn't think anyone besides me was paying attention to, especially regarding the Lashley/Christian situation, see if I can work into that. Obviously, my original plan of having Ablaze up by the end of the year is null, but perhaps I can get the take-home up by New Years Eve.

But first, one little tidbit of website news...
Quote:
Originally Posted by aohdubya.com
WORLD ABLAZE GETS A LITTLE TURMOIL


Moments ago, news broke that General Manager Mick Foley has announced that Tag Team Halloween isn't quite over yet! At World Ablaze, he's confirmed that a Tag Team Turmoil match will take place at World Ablaze to determine the new #1 Contender for the AOW World Tag Team Championships. So far, several teams have been confirmed - the Sons of the Dungeon, American Made, Samoan Fight Club, Hooliganz, Low Jack, and the team of Ken Doane and Chris Masters. The Mexicools have not been reported to have been confirmed due to injuries sustained in their tag team match last week against the SFC.
...and now for something we hope you'll really like. Kidding. Just a preview.


11.7.07

The Hammerstein Ballroom – Manhattan, New York City, New York
"We Alone Remain"

With only four days separating Oblivion and true oblivion, a huge main event is unfolded. Following the events of last week's chaotic AOW Tag Team Championship match, the deal that Chris Jericho and Muhammad Hassan struck still seems to be in effect, with The Mercenaries tagging alongside the AOW Champion Chris Jericho to take on the men they all sought vengeance on last week – their opponents come Sunday, Rob Van Dam and the AOW Tag Team Champions the World's Greatest Tag Team. And after accidentally, but not apologetically, striking Rob Van Dam across the skull with a steel chair last week, will Shawn Michaels respond before stepping into referee stripes Sunday to decide the fate of the AOW Championship…in an ECW RULES match??

After the psychological tyranny that has been displayed by Christian Cage the last several weeks, it all came to a head last week when the man formerly known as Captain Charisma used a parking lot costume party as cover to beatdown Bobby Lashley once again. Now, Christian has been restricted to a jail cell until World Ablaze is over and one these men is allowed the stay, the other not. But what of Bobby Lashley? Lashley is still not medically cleared to compete, but has put it all on the line to do so at World Ablaze, but this week, we finally get to hear Bobby Lashley's side of the story. This Wednesday, John "Bradshaw" Layfield conducts his first AOW interview with The Real Deal.

The aforementioned deal that was apparently struck between Hassan and Jericho was originally meant to make sure CM Punk, the rebel rousing, not-so-soft-spoken young talent, didn't get in the way of things when Punk challenged his mentor, Lance Storm, to challenge Muhammad Hassan again for a shot at the Dynasty Championship. Hassan accepted Storm's second attempt at his "5-Minute, $50,000 Challenge", but opted to keep Punk out of the way…by having him face the gargantuan, 400-lb monster that is Chris Jericho's insurance policy in Paul "The Great" Wright. Will Punk be able to overcome the odds to overcome the monster? Or will Lance Storm go back into battle with Muhammad Hassan alone?

This isn't all – the tag teams of AOW, after having an entire program to showcase their stuff last week, will be gearing up to do battle again Sunday in the recently confirmed Tag Team Turmoil match! If that weren't enough, the animosity keeps growing between Bryan Danielson and Gregory Helms, not now just over the Cruiserweight Championship, but now over Helms taking out Danielson's great friend Rey Mysterio. Will those two come to blows? Also, Jamie Noble declared that he's "nobody's stepping stone", especially not Aero Star's! How will Star respond, and if so, will we see the luchadore prospect appear for only the second time in an AOW ring?

This is it…the final chapter before the World is set Ablaze! All of the harrowing plots will converge Sunday, but they will all look to gain steam on the final Oblivion they have before the first Great War. What's gonna happen? Who, alone, will remain? Tune into Oblivion, now with 90-minutes of earth-shattering action, starting at 9/8c only on FX!!



.:Confirmed for Oblivion:.

6-Man Tag Team Match
AOW Champion Chris Jericho & The Mercenaries v. AOW Tag Team Champions World's Greatest Tag Team & Rob Van Dam

~5-Minute, $50,000 Challenge~
Muhammad Hassan v. Lance Storm

CM Punk v. Paul "The Great" Wright

PLUS…

John "Bradshaw" Layfield interviews Bobby Lashley
Hope to get this up before the end of the year. Also hope I didn't miss any feedback I owe. If not, Happy New Year's to all.
---
CUTENESS²
AOW: Art of War Wrestling - The Greatest Affair
It's Baaaaack...
.:Oblivion Edition 39/40 Recap NOW POSTED!!:.
Finally Out of Cutey Sleep
Join Date: Jul 2006
Location: The Fountain of Dreams
Posts: 2,020
Points: 9
Re: Presenting AOW: Art of War Wrestling - The Greatest Affair
---
11.7.07

The Hammerstein Ballroom – Manhattan, New York City, New York
"We Alone Remain"
Quote:
"The Fight Song" by Marilyn Manson vignette

(Whispers)

Fight…

RVD leaps for a Frog Splash…

Fight…

HBK cocks back, Sweet Chin Music ready…

Fight…

Finlay and Joe go at it on the balcony…

Fight…

Paul Wright lets his fist fly…

*Opening guitar riff*

You'll never grow up to be a big rock star

The camera goes from the ground up to the face of Paul Wright in his debut Week 3

Celebrated victim of your fame

Shawn Michaels comes down the ramp, pumped up from the main event of Week 1

Just cut our wrists like cheap coupons

Christian searches for his peeps from Week 5

And say that "death was on sale today"

Bryan Danielson raises his hand, singing his theme from Week 4

*Upped tempo, heavier sound*

And when we were good

Jack Evans' double moonsault from Week 1

You just close your eyes

Joe leaps through the ropes onto Kenny from Week 3

So when we are bad

Paul Wright chokeslams Michaels through the table from the Supershow

We'll scar your minds

A replayed shot of Shelton Benjamin German suplexing Paul London off the ladder from Week 4

Fight!

SWEET CHIN MUSIC!!

Fight!

WARRIOR'S WAY!!!

Fight!

MUSCLE BUSTER!!!

Fight!

SPEAR!! SPEAR!!

Fight!

CHOKESLAM!!!

Fight!

WORLD'S GREATEST DOOMSDAY DEVICE!!

Fight!

619!!!

Fight!

FIVE STAR FROG SPLASH!!!

*Final cymbal crash*

Chris Jericho holds the AOW World title high in the air


***

The Hammerstein continues to buzz for the twelfth week in a row, as its take home show time. The final stop before the first ever PPV in AOW history still has the Hammerstein filled to the brim, but the crowd soon stops buzzing, as the arena turns into a chorus of heat, as "BREAK DOWN THE WALLS" greets us and that can only mean one thing – AOW Champion Chris Jericho. But tonight, it doesn't just mean him. He comes through with his gargantuan accomplice, Paul "The Great" Wright leading the way this time, as we hear a bell ring and Tony Chimel tell us that we're kicking off with a match, with Wright competing. Jericho is busy turning his nose up to all in attendance, while Wright steps into the ring and stares down Chimel, causing him to scamper out of the ring. This will be Wright's one-on-one in-ring debut.

The heat quickly turns into a very generous pop, as "MISERE CANTARE – THE BEGINNING" hits for the first time in several weeks, bringing CM Punk through the blood-red curtain. Punk has a very soft expression on his face, not nearly as pumped as he has been so far in AOW. He doesn't seem afraid, but he's defiantly stoic and perhaps somewhat daunted. Punk gets on one knee and bumps his knuckle against the stage, but doesn't yell what time it is, staying silent. Instead he simply windmills his arm and continues to walk down the ramp, very serious about having to go toe to toe with a giant.

OPENING CONTEST
Paul "The Great" Wright w/AOW Champion Chris Jericho
v.
CM Punk
Punk gets into the ring, not backing down from Wright. He keeps his distance at the outset, however, leaping onto the top rope and sitting for a second, potentially gauging his options. Wright doesn't look to give him any kind of time, approaching him slowly. Punk looks up dauntingly, but then stands on the second rope and stands straight up, becoming roughly the same size as Wright. We can see Jericho on the outside giving Wright to give no quarter, but no sooner do these words come out of Jericho's mouth, Punk lets loose with a flurry of level elbows to the big man's skull, forcing him to back away a bit before coming off the second rope with a
second rope discus elbow!!
It would've made his friend Chris Hero proud, but Wright still hasn't dropped. Punk, now at his normal height, resorts to kicking away at Wright's legs, hoping he can catch the big man off balance, but before Punk can find that weak point, Wright's enormous cranium crashes against his own with a massive headbutt, literally throwing Punk down to the canvas.
Punk is at the mercy of Wright now, being picked up by his hair and chunked into a corner. Wright's heavy hands soon meet with Punk's tender midsection, delivering huge blow after huge blow to the gut. Though slow in pace, each blow causing Punk to nearly double over on impact. When Punk does eventually fall and doubles over, Wright is quick to grapple around him before delivering an absolutely brutal
turnbuckle powerbomb
that nearly unhinges the ring ropes. Punk looks decimated already, but Wright doesn't pull Punk out of the corner and try and cover him. No. The purpose of this match isn't to win. It's to hurt Punk as much as humanly possible. Thus, Wright pulls Punk to his feet and brings him back down on his ailing midsection with a hard sideslam.
The audience already has lost a great deal of wind in it, the show kicking off in a pretty depressing way so far. Jericho is applauding the handiwork of his giant, who lets out an inhuman roar towards the deadening crowd. Wright lifts Punk to his feet before whipping him hard into another corner, almost immediately following him and crunching him between body and steel with a vicious body thump. Wright's large hips are driven right through Punk's, causing Punk to drift out of the corner, gripping onto the ropes and walking on his knees, before falling to the canvas in pain, his insides potentially mush. Wright beats his chest before Jericho has to jump onto the apron and tell his beast to calm down. Could his monster potentially lose control…? Whatever the case, Jericho's jump distracts both the referee and Wright himself. This gives Punk a small glimmer of hope to crawl to a corner and untie the protective padding on the top rope. Before anyone can see anything, Punk takes the cover in his hands and crawls to the outside before shoving it under the ring apron.
Punk stays on the outside to recover, Wright now looking back to his prey. He notices he's gone, stepping over the top rope and to the outside to attempt to grab him, but Punk manages to scurry away. Wright finally gets his clutches on Punk, but Punk manages to try and fight out of it, delivering more hard lefts and rights to the big man, but he's done in when Wright lifts him in a military press and
drops his ribs on the barricade
. Punk screams in pain in the faces of some front row fans, while Jericho screams at Wright to roll into the ring then roll back out, the referee's count out nearing six. Wright does as he is instructed, afterwards lifting Punk's still planking body from the barricade, but in an inverted powerslam position. We see the reason why soon enough, as Wright takes Punk and
crunches Punk's ribs right into an iron post on the outside!!!
Punk could seriously be having internal bleeding at this point, as he can't even scream in pain, being hit into a coughing fit. All air has left the Hammerstein, as it is dead silent, a young star being manhandled by an absolute monster. Even to Hammerstein fans, this is atrocious. Even JBL on commentary, notoriously hating Punk, is starting to wonder if this is too much.
"This kid's got guts…but they migh' be all over the place when this is all said an' done."
Jericho looks on in glee, not hiding the fact that he's enjoying this as much as we're sure Hassan is. As a matter of fact, a camera quickly pans to the back to see Hassan himself, watching on a TV screen and nearly pissing himself in smug joy. We cut back to the arena, where Wright is ready to deliver more punishment, but Punk gathers some kind of resolve and performs a drop toehold…sending the big man
face first into the steel post!!
Wright gets a stupefied look on his face as he kisses the pole, Punk getting to his feet and gripping his rib and midsection area in pain. Punk rears back and lets fly a kick to Wright's skull,
sandwiching it between boot and steel!!
Punk may have found the secret to keeping him down! Punk rolls back into the ring, unaware of the referee counting Wright out. He clutches his rubs before looking towards the outside…and seeing Jericho distracting the ref again, stopping his count. As Jericho argues with the zebra, Punk veers close to the ropes and seems to lean back, awaiting the referee to get out of the way…
kick to Jericho's skull to knock him off the apron!!
Jericho goes down, but Punk's not done! As Jericho gets to his feet now, Punk prepares…before leaping clean through the ropes with a
suicide dive
!! Wright's handler and the AOW Champion goes down! Did Punk see this and plan it? Punk fights through the pain in his ribs, but he can barely make it to his feet…but he doesn't see Wright stalking him from around the corner…who
SPEARS PUNK THROUGH THE STEEL RING STEPS!!! PUNK'S MIDSECTION COULD BE DESTROYED!!!
Punk is screaming into the padding in the outside, his insides torn apart. We're left with the harrowing echoes of Punk screaming and Wright seething as we fade away…
**COMMERCIAL BREAK**
When we return, Wright is right back in control, center ring, continually beating the snot out of Punk. The crowd is throwing some big heat to this, but the remainder of them lie silent, still somewhat sickened what they're witnessing. It gets worse when Wright throws Punk near some ropes and stands on top of his abdomen, Punk's "Straight Edge" tattoo being swallowed by the enormous feet of "The Great". Punk can barely squeak out a cry of pain, all the air leaving his body. Outside the ring, Jericho is beside himself at what Punk did earlier, now having more of a gripe to torture Punk here, ordering Wright to keep the weight on. The ref eventually tells Wright he has to move, but Wright quickly draws Punk up by the hair before chunking him yet again into a corner; the same corner Punk removed the protective covering from. Jericho instructs that it's time to end this now, motioning for Wright to take several steps all the way across the ring to the opposite corner, which he adheres to. Wright then bulrushes all the way across the ring, looking to destroy Punk…Punk evades…sending Wright's skull right off the exposed steel!

Wright hits it full force, dizzying himself, but remaining standing, leaning in the corner. Punk sees this as another opportunity, the head of Wright taking another beating. Punk can barely stand, but the crowd is getting behind him, prompting him to go and rush with the running high knee in the corner to the big man. Punk then traps Wright in the bulldog position, but quickly realizes he doesn't have the size or strength to run the big man into the ground. Punk then quickly adjusts, going to the top rope, still holding onto Wright's head before falling…falling facebuster!! CM Punk goes on the very short list of men who have taken Paul "The Great" Wright off his feet! Can he do the impossible here? Punk shoots the half and scurries, trying to roll Wright over, the crowd doing their damndest to cheer him on…Punk finally rolls on top of him – 1…2…NO!! Wright presses Punk off of his body with authority!! Punk is forced to scurry away to the apron, still selling the damage to his midsection. Wright is trying to get to his feet, but Punk is still measuring him up from the apron before leaping…springboard clothesline in mind…A BIG RIGHT HAND FROM WRIGHT TO PUNK IN MIDFLIGHT!! All the life leaves the arena once again, as Punk goes down like a damned ragdoll, his body contorted from falling on impact mid-flight. Jericho again instructs Wright that this is time to end this, prompting Wright to pull up the possibly dead Punk by his locks before goozleing him, the crowd knowing what's coming next. Wright lifts Punk in the air and brings him crashing back down with a devastating chokeslam. Wright finally covers, showing no emotion in his prolonged beating – 1…2…3…!!

Winner: Paul Wright at (9:01)



…but Wright doesn't appear to be done. Jericho, never one to pull a half-assed plan, leaps into the ring and tells Wright to 'do it again'. Wright lifts Punk back off the canvas before slapping his enormous hand on his throat yet again, the crowd now sensing the worst. But before Wright can lift him in the air, the crowd is buzzing…someone's coming down the ramp…it's RVD and Bobby Lashley!!! Lashley and Van Dam bulrush the ring for the rescue!! Wright throws down Punk, Jericho telling him to get out of the ring, accompanying him. Van Dam and Lashley both bring Punk to his feet, Punk forced to lean on both men. Punk still seems to be out of it, with Van Dam telling Lashley that he needs to get Punk out of here. Lashley takes Punk and begins to walk out of the ring, possibly the first time since the inception of the company that Lashley has gotten a positive reaction. But this soon turns to unrest, as Punk finally gains fully consciousness at the base of the ramp, forcing himself off of Lashley, almost collapsing while holding his ribs, saying "I walked my ass to this ring, I'll walk my ass out!" Punk's pride seems to take hold here, but he can barely stand to 'walk his ass out'. Punk takes several steps more up the ramp, but soon collapses onto all fours, still gripping his midsection. Lashley jumps and tries to bring him up, but Punk waves him away before trying to walk again. Again, Punk is able to take a few steps, stumbling as he goes, but soon completely collapses. At this point, Lashley takes Punk up again and slings his arm over his shoulders, giving Punk help, whether he wants it or not. At the very top of the ramp, Lashley is joined by Lance Storm, both men taking the young Punk behind the curtain. Back in the ring, all were watching the somewhat dramatic scene unfold, but Van Dam has not moved from center ring, staring daggers into both Wright and Jericho.
**COMMECIAL BREAK**
Upon our return to the ring, we're met with the epic tune of "FINAL COUNTDOWN" where AOW Cruiserweight Champion Bryan Danielson comes down the ramp, but this week, he's not doing any of his theatrics. He doesn't bother to leap onto the top rope, point skyward, and sing the chorus along with the Hammerstein faithful. No, he instead has a look of sheer intensity on his face, no doubt continuing over from his emotions two weeks ago when Gregory Helms destroyed Rey Mysterio, as well as his anger from last week. For the umpteenth week in a row, however, Danielson is without his title, it still being in the hands of Helms.
Joey Styles:
Welcome ladies and gents to our final stop before our very first Pay-Per-View extravaganza in World Ablaze, coming to you this Sunday, just four days away. I'm Joey Styles alongside John "Bradshaw" Layfield, where we're set here on Wednesday Night Oblivion following one of the most disturbing matches I believe I've ever witnessed.

JBL:
Y'know Joey, we sat here an' witnessed the first ever A.O.K.O. match a few weeks ago, but I will actually agree with you that that match was disturbing.

Joey Styles:
For those of you just joining us, a few moments ago, we saw a match orchestrated by Chris Jericho and Muhammad Hassan between Paul "The Great" Wright and CM Punk. What occurred wasn't much of a match, simply Wright being instructed to destroy CM Punk any and every way he could to get him out of Muhammad Hassan's way by Chris Jericho.

JBL:
Lemme tell you somethin', Joey. I've never been the biggest CM Punk fan in the world, but even I don't think the kid deserved this. Do I think he's got eyes bigger than his stomach, yes. CM Punk so far in AOW has done nothin' but bite off more than his big mouth can chew. He's done nothin' but get himself in trouble since Day One. I can understand Jericho an' Hassan bein' on the same page in wantin' to shut this kid up, I get it, but this…this was takin' it a little bit too far.

Joey Styles:
And folks, it would've gone even farther had Rob Van Dam and Bobby Lashley not intervened to stop any more damage from being done after the bell had been rung. CM Punk was helped to the back by Bobby Lashley and his friend and mentor, Lance Storm, but Punk didn't seem like he wanted any help at all from anyone, Punk's pride seemingly overriding what he needed.

JBL:
Again, I will say the kid's got guts, but there's a time an' place for everything, Joey, includin' when to swallow that pride.

Joey Styles:
And speaking of pride and disturbing scenes, we're set for our next match here on Oblivion with cruiserweight tag team action, where we see Bryan Danielson, who will be taking all of his anger and pride and direct them towards Gregory Helms, the man who took out his best friend, Rey Mysterio, in a disturbing scene just two weeks ago.
As we focus on Danielson's intense face, the crowd lights up again when we hear the sound of helicopter blades fwapping before transitioning into the upbeat, Hispanic rock theme we've come to know as "SIN LIMITES" signaling the arrival of none other than Aero Star. Star is without his dramatic cape tonight, instead coming in his blue and white costume only. The crowd pops big for Star, even with this being only his second official match thus far in AOW. Star runs full tilt down the ramp before swinging around a ring post and saluting the crowd with his two fingers, as seems to be his signature gesture. He enters and shakes hands with Danielson while they both wait.

"COUNTRY BOY CAN SURVIVE" soon greets us now, as Jamie Noble, the man who said he's "nobody's steppin 'stone" makes his way down the aisle, a much more confident strut than when we saw him last. He stops at the base of the ramp, pointing and staring at Star, waiting for his partner. He doesn't have to wait long, as "IT'S TIME (HACKER'S REMIX)" greets us, as Gregory Helms comes through the gate, stolen Cruiserweight Championship in hand. He meets Noble at the base of the ramp, the two exchanging some words, perhaps concocting a game plan, before going to their corner for this match.

MATCH 2
~Cruiserweight Duel~
AOW Cruiserweight Champion Bryan Danielson & Aero Star
v.
Jamie Noble & Gregory Helms


The contest looks to kick off with Danielson wanting in against Helms, demanding that Helms step into the ring, but Helms screams at Danielson that he'll have to face the 'best in the world Sunday!' Noble gladly jumps in to further prove himself to these people. Danielson doesn't stop staring a hole through Helms, even when Noble prompts him to begin circling up, as Danielson isn't moving. Danielson finally gets his head back in the game, his gaze finally transferring to Noble. The two begin circling each other before they initiate a lock-up, which prompts Noble to wrench the arm of Danielson, the American Dragon flipping forward, forming a bridge, and reverses the wrench on Noble, putting him in a hammerlock that pulls both men all the way to the floor, Danielson on top of Noble's back. Noble is trying to throw his free hand back, trying to strike Danielson off of him, but Danielson grabs the other arm, slowly transitioning into the double chickenwing lock, looking for a very early Cattle Mutilation perhaps, but Noble is very quick to scurry out of this, retreating to an empty corner to rethink things.

Once Noble gets the wrinkles out of his arm, repeatedly throwing his arm into extension to check its availability, he steps back into the fray to a very stoic Danielson, executing yet another lock-up. This time, Danielson is the one who comes out on top, almost immediately tripping Noble in a judo-like manner before falling on top of him with a quick cover – 1…NO! Noble quickly throws himself back vertically, but he's greeted by Danielson, who's cocked and ready with a wild roundhouse that Noble quickly ducks out of the way of. Danielson doesn't miss, however, executing a very quick and well aware back kick to Noble's ducked face that stuns the Pitbull long enough for Danielson to throw him into his corner, tagging in Aero Star.

Star gets a generous pop upon becoming legal, leaping in and running at the corner clad Noble, bouncing himself off his chest and no-hand backflipping to his feet, his flash all on tonight against his PPV opponent, before running back and nailing him with an excellently placed (and thus, sounding) corner-clad enzeguri!! Noble falls to his knees before falling to the canvas, Star with a quick cover – 1…2…NO!! The dog still has fight! Star awaits for Noble to get somewhat recovered before rushing at his on-one-knee opponent, driving Noble's head square into the canvas with a hurricanrana driver!! No one's quite sure it's a botch or not, but whatever the case, Noble's impact sends him eagle-spread back towards the canvas for another Star cover – 1…2…3-NO!! Star seems to have his own response to Noble's "nobody's stepping stone" decree, opting to simply show him up in the ring! Star can't put him away, however, getting Noble to his feet and attempting to whip him into the ropes, which is reversed, but Aero handsprings, rebounding his legs off the ropes, and nails Noble in the face with a handspring reverse elbow! Star, once again, seems to have Noble held down! He goes for another quick cover – 1…2…-NO!! Noble throws his arm up, pounding the mat in frustration at being shown up yet again after he made the decree that it would never happen again.

With that, Noble aggressively gets to his feet, but Star is charging him, only to get an emphatic Noble knee to his gut that is followed by a very fierce European uppercut that sends Star backpedalling into the opposing corner, letting Noble tag in Helms for the first time, leading to both stomping Star's guts dry in the corner. It's Helms' turn to stare into Danielson now, except he's not stoic, opting to grin cockily. He then takes Aero Star up, snapmares him over, and proceeds to kick his spine. We hear Star yell, the luchadore making a rare noise. Helms forces Star down, his forearm in his face – 1…2…NO! Star gets out of it! This prompts Helms to drag Star to his feet, still holding his arm, before pulling him in, repeatedly driving his shoulder into Star's face. After four of these, he whips Star into the ropes, only to duck his head on the rebound for Star to leap onto and stand on his back. Noble, knowing what may come next, quickly springboards off the top rope and dropkicks Star off the back of Helms! Star takes a tumble, while Noble quickly leaves the ring for Helms to make another cover – 1…2…3-NO!!

Danielson leaps into the fray, kicking Helms as hard as humanly possible to break the count, causing Helms to get to his feet and prompting a staredown between the two men. The crowd is getting hot at this, as both men want to beat the hell out of each other in the worst way, but before they can do anything, the referee separates both men and asks Danielson to go back to his corner. He's practically pushing Danielson at this point, but the ref isn't paying much attention when Aero Star victory rolls Helms from behind. But while the ref isn't counting, Noble again steps in and pries Star from off Helms, executing a nasty German suplex. The Pitbull quickly exits, now one-upping Star, but in a much sneakier way. Helms covers, the ref now attentive – 1…2..3-NO!! Star has some fight! The Mexican sensation tries to regain himself, but Helms delivers a quick blow to his kidneys before dragging him to his corner, tagging back in Noble.

Noble quickly takes the weakened Star and twists him into a neckbreaker before stomping the life out of Star, quickly moving onto the arm with an armbar, much like their first encounter. Star's arm is being wrenched off, but the crowd helps him fight out of it, being able to get to his feet, but Noble still with a death grip on the arm. Star is clever enough to roll over, trapping Noble underneath – 1…2…NO! Noble lets go and kicks Star off. Star takes the momentum from that counter and springboards off the second rope, back towards Noble. As Noble looks up, Star bounces perfectly over him…right into a hurricanrana!! Noble goes spinning out of the ring, but Star stays on his opponent come World Ablaze, backing away from the ropes before launching himself right through the ropes, arms by his side – Tope Torpedo!! Tope Torpedo!! Star's skull crashes into Noble's sternum like missle! Bryan Danielson and Gregory Helms don't waste this moment, either, both men charging the ring and each other, seemingly destined to collide with double clotheslines, but Helms sees this early and backs out, darting under the bottom rope, grabbing the Cruiserweight Championship that he keeps by him at all times that's not even his. Danielson looks to force Helms to get back in the ring, but as he peeks his head through the ropes, Helms blatantly, in clear view of the referee, smashes the title across the face of Danielson, the ref calling for the bell!

Winners by DQ: Bryan Danielson & Aero Star at (6:16)


But the action isn't done, Noble and Aero Star, who are still outside the ring, recover only to have Noble quickly punt Aero Star in the gut, double him over…AND TIGER DRIVER HIM THROUGH THE TIMEKEEPER'S TABLE!!! WOW!! THE CRUISERWEIGHTS HAVE GONE WILD HERE!! A very audible "OHH MY GOODD!!" exits the lips of Joey Styles, as Star is lying amongst the wreckage, while Noble goes over to follow Helms up the ramp, both men raising their arms undeservedly as though they've won something tonight. Danielson is left to look up from his pool of sweat and disappointment, staring hard at Helms, who is still holding with him everything Danielson holds dear.


~Backstage, in the Green Zone…



The Miz:
Mike "The Miz" Mizanin here, standing here with the future of this great and glorious nation – Jack Hagar! Nick Nameth! American Made!
~A bit of heat for this over-the-top introduction, along with the camera angle being widened to show both members of the cocky new call-ups

The Miz:
So guys, you've been here for two weeks, you gave the Sons of the Dungeon a real nice reality check, but we all saw last week, the Sons sorta evened the score on the US of A. What's next on the docket for you abundantly talented fellas?
~Miz playing ass-kisser a bit too hard here, as Nameth takes the mic

Nameth:
What's next, Miz, is simple. We still gotta score to settle. See, the Sons of the Dungeon wanna deny reality. They wanna run away from the truth…
~Nameth chuckles to himself

Nameth:
Just like they were raised to do in Canada. We beat them fair and square, right in the middle of that ring when they thought they'd set foot in this place and just take over because of who they were. We proved'em dead wrong! And yeah, they did maybe get us back last week. But see America never stays down for long. Oh no. See, it was announced that at World Ablaze, there's gonna be a Tag Team Turmoil match to determine who the next set of #1 Contenders are gonna be for those Tag Team titles.
~An impressed pop is heard beyond the walls for those unaware

Nameth:
So it's time for the Sons to stop refusing reality. It's time for them to wake up an' smell the classic American apple pie. It's time for them to stop gettin' in the way of our Manifest Destiny to get our hands on those Tag Team Championships.

The Miz:
"Manifest Destiny"…?

Hagar:
That's right, Miz. You seem like an intelligent guy. You know what that is from your history class. That's the oh-so-true belief that what America sees, America reaches out an' takes against all comers, no matter who gets in the way. An' Sunday night, not only are we gonna go through the entire tag team division here in AOW, but we'll send the Sons of the Dungeon back to the Dungeon!

Nameth:
And we will prove that we are perfection. That we are the best young tag team in the world. And we'll prove that there's only one way to be made in this world…

Hagar: (Virtually roaring)
AMERICAN!!
~The roar shakes Miz, forcing him to drop the microphone he's holding and giving the cocky athletes before him a nice laugh before walking off


~Back to ringside…


Joey Styles:
Well, ladies and gentlemen, this has already been an absolute chaotic night here on our final Oblivion before World Ablaze, and well…our Timekeeper's table is proof if nothing else.

JBL:
Joey, go backstage an' get one of those dime store tables that're always lyin' around this place.

Joey Styles:
Why do I have to go get it?

JBL:
Because I'm rich, you're not. I'm big, you're little. So I'm right, an' you're wrong. Make sense, shorty?

Joey Styles: (Ignoring the response)
As I've mentioned, a brutal night thus far with the virtual flogging of CM Punk to open, and now we've had the combustible elements of Gregory Helms and Bryan Danielson ignite a spark, and as you can see, Jamie Noble of all people cementing that he's nobody's stepping stone by driving his opponent come Sunday, Aero Star, through a table!

JBL:
I've never been happier to sit amid chaos, Joey. These guys are takin' care of business t'night. Chris Jericho, Gregory Helms, Jamie Noble, all of'em! Even if I don't agree with'em!

Joey Styles:
It's been chaotic already, but it's only gonna get bigger! Our main event this evening has a great deal of combustible elements as well, as we've got a six-man tag team match on the horizon! Rob Van Dam teams with the Tag Champion World's Greatest Tag Team to face The Mercenaries and the AOW Champion himself, Chris Jericho.

JBL:
But that pales in comparison to what's comin' up next. Read the prompt, Joey!

Joey Styles: (Unenthused)
Well…coming up next, folks, we've got my colleague John "Bradshaw" Layfield returning to the ring…to interview Bobby Lashley. We've heard from Christian multiple times, but now, it's time to hear the other side.

JBL:
You'll get whatever the hell I want you to get out of'em. Bobby Lashley, the man with the body of a god, comes face to face with me, a Commentary God! An' it's next! Joey, don't ever introduce me that poorly again! I am divinity an' I expected better from you!

Joey Styles:
Oh dear God…just cut to break…

**COMMERCIAL BREAK**

As we return, we're introduced backstage at where looks like a medics' bench, with CM Punk being draped across it. Alongside him is Lance Storm, not sure what to make of things. Punk holds his arms high as the medic asks Punk to sit up, Storm helping him get upright. The medic then begins wrapping medical tape around his destroyed midsection. Punk is noticeably having somewhat difficulty breathing, but when the medic is done, she leaves Punk and Storm to themselves, Punk trying to speak on short breath.

Storm:
Kid…how ya feelin'?

CM Punk:
I guess…I guess I've had better matches, huh?
~Punk gives a wry smile, trying to make things somewhat lighter and not show weakness in front of his 'mentor'

Storm:
I'm proud of you, Punk. You went out there and showed something that Muhammad Hassan has never shown a day in his life.

CM Punk:
…X-rays of a couple o' broken ribs? To tell ya the truth, Lance…I'm kidna scared…and don't wanna see'em either.
~Storm chuckles at Punk's attempts at staying strong

Storm:
No, Punk. You showed guts. You showed heart. And you showed bravery.
~A pop is heard on the outside walls of the Hammerstein, with Punk's eyes saying 'thank you' to Storm

Storm:
You saw a challenge and didn't try to beat around the bush with it. You took it head on, no cowardice.

CM Punk:
Probably…wasn't…the smartest thing…

Storm:
Kid, sometimes, you gotta be quiet and listen. So listen. No matter what happened tonight, I know that Muhammad Hassan doesn't hold a candle to you. And I'm gonna show him up tonight and get that title shot. For you and for me. Alright?
~Punk doesn't say a word, instead giving Storm a fist bump before going back to his ailing ribs. The medic returns and asks Punk to follow her off the table, perhaps now going to a more sophisticated facility. Storm watches them walks away with a very stern, but concerned, look on his face.

We fade away, still in the backstage area, but this go 'round we're inside the office of GM Mick Foley, who seems to be preoccupied with some sort of paperwork. Foley, never the office man, simply looks at it dauntingly before almost comically giving up on reading all the fine print it seems until someone walks in the door, that man being Shawn Michaels, who gets a great ovation, despite smashing RVD over the head last week.

Shawn Michaels:
Well if it ain't Matchmaker Mick!

Mick Foley:
Hey, Shawn.

Shawn Michaels:
I'm sure you have a reason for callin' me down here, but I just wanna thank you personally for givin' me the chance to referee the title match this Sunday, which became, who would've thought, an ECW Rules match.

Mick Foley:
Shawn, I asked you to be the referee for a reason, okay? Oh, You can cut the nice guy act. I'm kind of an expert on guys being different people.
~Michaels' joyful demeanor seems to completely disappear…

Shawn Michaels:
You know good and damn well I wanted in on that match. And all you wanna give me is the zebra stripes?

Mick Foley:
Look, Shawn, I needed a main event. RVD was the right guy. You…we weren't sure if you were even gonna be back. Y'know, your history of back problems, and you goin' though that table –

Shawn Michaels:
That's a load of bunk, Mick, and you know it.
~Michaels gets in Foley's face here, revealing a very intense stare

Shawn Michaels:
Now I have suffered far more in my career than just a little lower back pain an' gettin' put through a table. I wanted a title match, an' you damn sure should've known that I would've been good for it come Sunday.

Mick Foley:
Shawn, I need you to be the guy who stays in between these two, okay? That's what I need you to do. That's why I asked you to do it and that's what I want you to do on Sunday in Boston. And plus…knowin' Jericho, I'm pretty sure he's gonna have more up his sleeve than he's telling anybody. I know it's ECW Rules and all, but I want it to just be Rob, Jericho, and you in between. I'm not gonna apologize for the decisions I've made, Shawn. But I do need you.
~Michaels nods his head, hands on his hips, knowing that Foley's done all he can do, seemingly dropping the subject…

Shawn Michaels:
No, you're right, Mick. I'm just…really, really frustrated is all.

Mick Foley:
I think I know how you can let out some of that frustration.

Shawn Michaels:
What's that?

Mick Foley:
I need you to pay our AOW Champion a little visit. See if you can get any plans out of him. Or take out any of his plans. I gotta go fax this unreadable paperwork to the higher-ups, but Shawn please…be the man I need you to be.

Shawn Michaels:
I'll go see if Ol' Haich Bee Kay can whip anything up.
~Michaels has a smile on his face as Foley leaves the room…but as soon as he leaves, Michaels' false grin quickly dissolves into a look of much displeasure, a scowl developing over his lost smile. We fade away from the scene as Michaels slowly starts walking out of the office…


~Back at ringside…


As we return, we can see JBL standing in the middle of the ring, microphone in hand and fans buzzing a little bit.

JBL:
Folks, I'm gonna about to interview a man you all seem to hate the livin' guts of fer some reason or another. But I don't blame you. This man hasn't done anything of value since steppin' in this ring here in AOW.
~JBL gets a face pop

JBL:
But then again, I'm talkin' to a much of people whose wish list is simply 'don't get arrested today' ya bunch o'hooligans.
~…and whiplashed to heat

JBL:
This man has claimed he is here for nothing more than to compete with the best talent in the world, an' right now, he's gonna talk to the best talent in the world. Ladies an'…wait, who am I kiddin', there's no civil people here.
~More heat

JBL:
Rapscallions, harlots, and parole officers, I present to you "The Real Deal", Bobby Lashley!

"HELL WILL BE AT YOUR DOOR" blares across the sound system, as Bobby Lashley comes through the curtain without any of his taunts, dressed in a very casual T-shirt and blue jeans. Lashley is getting a mixed reaction here as always, but the boos are a bit more vocal than the cheers. Lashley steps between the ropes with a microphone in his hand before attempting to shake hands with JBL center ring, but Bradshaw simply ignores him.

JBL:
Welcome Bobby, but I'm not gonna cut around corners an' I'm just gonna get down t'brass tax here – what in the hell is on Bobby Lashley's mind? Why are you here, an' why do you keep tryin' to silence Christian Cage?
~Lashley just stares JBL down after that very aggressive question

Lashley:
What's on Bobby Lashley's mind…? Well first and foremost, I wanna make sure Christian doesn't set foot back in this ring after Sunday.
~JBL isn't pleased

JBL:
But why, Lashley? Is it because Christian is better than you? Or is it because he knows something about you an' you just wanna shut him up?

Lashley:
It's never been about shutting Christian up, Bradshaw. It's always been about shutting Christian down. Christian needs help. He's needed help since he came to AOW. And from the moment he and I set foot in AOW together, he's wanted me gone because he swears I'm here to use my name and only my name to get to the top. I wanna get rid of him not just for me so I can be here and do what I intended to be here for, but for his own personal safety.

JBL:
Fine. So then the question does become what are you here for, Bobby Lashley?
~The crowd is restless on this question, Lashley slowly putting the microphone to his lips

Lashley:
I'm here to compete. I've said that over and over again and no one here seems to believe me. I know good and well I'm not the most popular guy here…
~On that note, Lashley gets a good bit of heat from the smarky crowd

Lashley:
But I came to AOW because I thought that's exactly what it wasn't about. It wasn't about being the most popular. It was about competing, winning, and showing why when I set foot in this ring, I let my wrestling do the talking.

JBL:
Nice try, Bobby, but I ain't buyin' it. An' as low as the threshold for these mutants and what they consider 'talent' is, I seriously doubt they buy it either.
~JBL actually gets a decent reaction here, and before Lashley can retort, the Hammerstein faithful begin a meager, but steadily growing "WE DON'T BUY IT!! *CLAP CLAP CLAPCLAPCLAP* WE DON'T BUY IT!!"

Lashley:
And see that's the thing. I came here, I signed on that dotted line and I knew that I wasn't gonna be the favorite. I've seen the tapes of what happens when the Hammerstein Ballroom crowd doesn't like you. And last week, I lived it. I was assaulted in the parking lot by some guy with a golf club.
~The crowd continues to be all over Lashley's ass, popping for that crazed fan and even beginning a "DOC-TOR DOOM!! DOC-TOR DOOM!! DOC-TOR DOOM!!" chant that gains a bit of steam

Lashley:
I came here to be the best by competing against the best. I left that other company because they looked at me and said "we're gonna make people believe you're the best". I didn't want that. Not anymore. I came here because I wanted to stand here and make you people believe that I was the best myself, with my own two hands. That I'm the best based on skill, based on heart, based on guts, based on all that!! Not because some corporate sponsor got behind me! I'm here because the only person pushing Bobby Lashley and lighting a fire under his ass is Bobby Lashley!!
~The crowd is actually taken aback by this, getting a marginal pop for this fierce this delivery

Lashley:
Earlier tonight, I came out here and I helped CM Punk get back on his feet after his match. I was with him after he got thrown around. I did that because there's something me and Punk have in common. And that's that we came here to prove we're the best. And CM Punk has the skill, he has the heart, he has the guts, he has all the things that I come out here and display. But there's one thing CM Punk believes that I haven't is that he doesn't care. He doesn't care if you people here like him. He doesn't care if you hate him. He's here because he loves professional wrestling.
~The crowd gives a round of applause for this Punk put-over, but where's Lashley going with this…?

JBL:
Don't change the subject an' stop makin' excuses. What in the hell does that yuppie have to do with your situation, Lashley?
~JBL finally gets some much needed heat from this statement. Lashley gets in JBL's face

Lashley:
And until last week, I did care. I cared what these people thought of me, Bradshaw. I spent some emotion considering all of how they felt for me. But now, I can't do that. It's gone beyond that. Now it's about finding those people who're in my way, who won't let me come here and compete in this ring. And at the top of that list is Christian Cage.
~JBL, noticing the subtext, takes an audible 'gulp' before taking a step back and giving Lashley more room. Lashley now looks directly into a camera

Lashley:
So Christian, I know you're watching. From inside your jail cell, I know you're watching. Christian, I don't hate you. I hate what you've become. You've become this…babbling, confusing, conspiracy theorist. And you don't know what's real anymore. You don't know what's real here in the real world or what's going on in your head. Torrie Wilson? Christian, she's scared for you. Mick Foley? He's worried about you. The whole locker room? They do care about you. But I don't. I can't. Not anymore. And I'm not going to apologize for that.
~A bit of buzz here, Lashley not sorry at all

Lashley:
I'm not going to apologize because I know you're not sorry, Christian. I know you're not sorry for accusing me of whatever. I know you're not sorry for putting my head between two steel chairs. I know you're not sorry for jumping me and attacking me last week. But Christian, come Sunday, I will make you sorry. I'll make you sorry for putting everyone in the back through all the worry and fear you've struck into them. I'll make you sorry for not letting me prove myself. I'll make you sorry for not realizing what's real and what's not. Because after Sunday, the only thing real will be me - The Real Deal.
~…and the crowd lets out a bit of a roar, a great deal of people possibly convinced by The Real Deal and that he stands for what he says. But there's one very vocal listener who isn't convinced in the least…

JBL:
After hearin' all that, Lashley, I only have one thing t'say – YOU'RE A FRAUD. I don't believe the garbage you've been spewin' for one second an' if any of these people here believe any o'this than you, all of you, are absolute NIMRODS!!
~Crowd is throwing growing heat towards JBL, Lashley, still with an intense face on, roams over to a corner and gives his microphone to a nearby cameraman while JBL steps closer to center ring…

JBL:
You come out here an' try to sugar coat this. Real? Lashley, you're a phony, a fraud, an' –

SPEAR!! SPEAR!! SPEAR!! SPEAR!! LASHLEY SPEARS BRADSHAW IN HALF!! The crowd roars for this, possibly because they want violence, possibly because they wanted JBL to shut up, but either way, Lashley is the hero of the moment, the crowd fully behind Lashley for the first time since he set foot in an AOW ring! Lashley stands tall and stares down at his handiwork before leaving the ring with a slight grin, but he returns to an intense face as he ignores fans on the aisle going back towards the blood red curtain.

**COMMERCIAL BREAK**

~Backstage, in the Green Zone, where The Miz looks much more irate than in his first appearance tonight for some reason…

The Miz:
Y'know, I take a lot of crap back here, you know that? I've been screamed at, pushed away, thrown offscreen, all that! And what about my supposed colleague, Torrie Wilson, huh? All she does is shed a tear or two towards Mick Foley and gets another whole week off. I wasn't gonna say anything about that, but for the love of –

Burchill:
Miz.

The Miz:
WHAT?
~Miz, caught in the heat of the moment, instantly realizes who he just mouthed off to in his guests The Mercenaries. Burchill wipes the spit from his face and stares at Miz as though he's just caught his drunk son sneaking in past curfew. Albright soon fallows, staring down Miz from the other side, causing Miz to get a look of absolute terror on his face. Burchill makes a 'come hither' gesture to Miz, who hesitantly starts passing the microphone to Burchill, the look of horror still plastered all over Miz's face.

Burchill:
Such a polite lad. Run along now.
~Miz's priceless face nods in nervous agreement before scurrying completely out of the scene

Burchill:
Benjamin. Haas. You blokes best drop everything and listen to us right now.
~Burchill stares directly into the camera saying this

Burchill:
For the last several weeks, you've denied the fact that me and Albright here should be your rightful number one contenders because you don't 'respect' us. I think after what happened last week, now you have no choice.
~Burchill, eyes not moving from the camera, hands off the microphone to Albright, who stares right into the lens as well.

Albright:
See last week, you were just seconds away from losing your Tag Team Championships. And we did the civil, respectful thing and kindly assisted…excuse me…single handedly retaining them for you. So whether you like it or not, you owe us. Big time.
~Albright holds the microphone between he and Burchill

Burchill:
That's right. An' see, when you owe The Mercenaries something, we always collect our pay. Always. Your respect for us is long overdue. And last week, not only did we had you back your titles on a silver platter, but we defeated the team that took you to your limit quite handily. We damn well deserve it. But quite frankly, we don't give much of a damn what you think of us anymore. Because now you owe us something much, much more. And that would be those AOW Tag Team Championships.

Albright:
And believe us – it's time to pay up.
~Burchill and Albright smirk sinisterly before we fade back to ringside…

"MAD MAN" is already playing as we can see AOW Dynasty Champion Muhammad Hassan being guided to the ring beside a pair of female escorts, both of them in belly-dancerish outfits. Hassan's lavish spending is still apparent, but also apparent with him is his briefcase that holds $50,000 for whoever can defeat him, which tonight, looks to perhaps be Lance Storm again. The ladies feed Hassan some grapes before tailing off and going backstage, Hassan beaming with overconfidence in the fact that his only obstacle tonight, CM Punk, is on his way to recovery.

Joey Styles:
Welcome back to Oblivion, ladies and gentlemen, where I'm joined by our very own General Manager, the man who puts butts in seats himself, Mick Foley!!

Mick Foley:
Well hey, how's it hangin', Joey?

Joey Styles:
What're you doin' out here, Matchmaker?

Mick Foley:
Well, y'know, I saw the ol' Texas loudmouth wasn't gonna be here for the rest of the night and as much as I love you Joey, I couldn't have you out here doin' this all by yourself.

Joey Styles:
Well, you heard him folks, Mick Foley is gonna sit by my side for the rest of the night after the…uh…

Mick Foley:
Unfortunate goring.

Joey Styles:
"Unfortunate goring" of my actual partner, John Layfield, just moments ago by the hands of a resilient, seemingly revitalized Bobby Lashley. Thank you, Mick.

Mick Foley:
My pleasure, Joey.

"STORM LANCING" pops over the sound system now, with a very determined Lance Storm exiting the curtain. Storm doesn't have any shenanigans, just a stone cold stare on down the ramp, his eyes boring a hold in Hassan's overly smug face. Hassan looks right into Storm's eyes and laughs to himself. Storm keeps his beeline towards the ring before stepping in, not stopping in the least, walking right into Hassan, causing a chest-to-chest staredown between both men. Hassan laughs in Storm's face before backing away into his corner, the referee telling Storm to get into his.

MATCH 3
~5-Minute, $50,000 Challenge~
AOW Dynasty Champion Muhammad Hassan
v.
Lance Storm


Storm instantly goes right after Hassan, bullrushing him in his corner and forcing Hassan to cower behind the ropes. The referee again has to back Storm off, which Storm hesitantly obliges before Hassan tells the ref it's okay for them to continue. As soon as the ref gets the okay, Storm again charges Hassan, only for Hassan to again dip through the ropes and ask for a breather. The crowd is getting intensely restless, giving Hassan a great deal of heat. Storm doesn't complain or anything, just keeping his ice cold scare locked on Hassan, biding his time and waiting for his chance. Hassan dips back into the ring and brushes off his toned shoulders before okaying things again, which prompts Storm to again come for Hassan, but he's ready this time, downing Hassan with a crafty drop toehold, sending Storm down and allowing Hassan to wrap a front headlock onto Storm. Storm wastes little time getting to his feet and nails Hassan with the northern lights suplex, keeping the bridge – 1…2…NO! Hassan forces out!

Hassan knows he's in for a fight, playing pure defense here. He and Storm get vertical to a standstill, with Storm again going on the offensive, prompting Hassan to give him a reverse elbow to back him off. Hassan follows that up by whipping him into a corner and dashing after him, but Storm gets a boot high and knocks Hassan aback, Storm stepping onto the second rope and leaping with a middle rope dropkick!! Storm again with a cover – 1…2…NO!! Hassan stays strong! Storm, looking up at the clock, notices just under minute has gone by. Not having any time to waste here, Storm looks at the downed Hassan and stomps him in the face before yelling at him "you can't run from me without legs, can ya?" before taking hold of Hassan's leg stomping on it, then grabbing it and dragging Hassan towards the ropes. Storm pulls Hassan's leg through the middle rope, himself on the apron…before performing a guillotine drop on the leg! Hassan writhes in pain, as Storm takes a somewhat meticulous approach here!

Storm rolls back into the ring, not waiting for Hassan to get to his feet, but Hassan scurries away into a corner, gripping his leg in pain. He stands up in the corner, only to be met by a Storm corner clothesline. As Hassan stumbles out of the corner, Storm peers over to the clock, another several seconds shaving off. When Storm turns back towards Hassan, he does so with a lariat attempt, but Hassan ducks underneath, lifts Storm up, and hits the back suplex backbreaker! Hassan now with a cover – 1…2…NO!! The commentators make note that Storm took his eyes off the prize for only a second, but that's all Hassan needed. Hassan lifts Storm into the front headlock now, taking Storm and nailing his lifting swinging DDT! Instead of trying another cover, Hassan looms over Storm's downed body and stomps on his face, much like Storm did earlier, saying to him "you've got NOTHING, old man!" As Hassan tries to continue to rub the damage in, the crowd starts getting into it again, taunting Hassan with "CM PUNK!! CM PUNK!!" chants. Hassan, much like two weeks ago, takes time to look around the arena and tell everyone to "SHUT UP!! Punk is dead, and I killed him!!" This negates any intention it had, with the crowd only getting louder. Unbeknownst to Hassan, Storm is behind him on one knee, looking around at what's going on, his iceman demeanor again cracking a smile at just what the kid's presence is doing. Hassan finally turns around, sees Storm recovered, and charges at him, but Storm rolls through…Canadian Maple Leaf!! Canadian Maple Leaf!! The half-Boston crab is in on the weakened knee!! What kind of poetic justice would this be if he tapped! Storm is selling the move's intensity, the crowd behind him, Hassan squirming for the ropes…reaching…crawling…reaching…STORM PULLS HIM AWAY!! STORM PULLS HIM AWAY CENER RING!! The crowd is all over this now, as Hassan is running his hands through his short hair, trying to gather the resolve to crawl again, Storm clinching the move even tighter. Hassan crawls again…reaching gain…HE'S THERE!! Hassan emphatically drapes his arm over the bottom rope, Storm forced to release the hold.

Storm doesn't let up, yet again, not complaining, but the clock being displayed on the AOW'tron is showing roughly two minutes left in the challenge. Storm tries to pull Hassan off the ropes, but Hassan holds onto it for dear life, going nowhere. Storm goes to Hassan's face and bashes him a few times before pulling him off, attempting to whip him into the opposite ropes. Hassan manages to reverse that, but on the rebound, Hassan blatantly grabs the referee and puts him in Storm's path, causing Storm to clothesline the referee!! While Storm looks down to see what he's done, Hassan takes complete advantage, his briefcase in hand, and SMASHES IT INTO STORM'S DETERMINED FACE!! The crowd is all over Hassan for this, but Hassan laughs to himself, pointing to his temple. He then takes his sweet time roaming over to the KO'd Storm and drags him to his feet, setting him up for the inverted STO. Hassan has an evil smile on his face, the briefcase in perfect place to project the impact…when the crowd starts buzzing…and Hassan can see why…

CM Punk is coming down the aisle, pulling an IV pole with him!! The crowd is going nuts, as Hassan drops Storm with a look on his face as though he's seen a ghost. Punk, still gripping his ribs, is followed not long afterwards by several ambulance paramedics, who obviously must've lost control of Punk before taking him to a hospital! Punk is pulling his IV pole all the way down to ringside, where Hassan leans over the top rope screaming at Punk that "you can't be here!! You can't be!!" with a look of anger in his eyes. Punk, taking heed to Storm's advice moments ago, doesn't say a word, just listens before taking his IV pole in both of his hands…AND CLOCKS HASSAN OVER THE HEAD WITH IT!! HASSAN CLOCKED WITH AN IV POLE!! WOW!! The crowd goes absolutely bonkers for that, Hassan stumbling from the hard blow! "CM PUNK! CM PUNK!" chants are abound, as Hassan groggily roams around the ring…RIGHT INTO A STORM SUPERKICK!! Hassan falls to the canvas, the referee just getting to come to! Storm covers Hassan, hooking the leg, the dramatic count following – 1………2………3…!!!

Winner and #1 Contender for the Dynasty Championship: Lance Storm at (3:55)


YES!! Punk is being helped back up the ramp by the medics, his ribs still on fire, but he has enough fire in him to yell in joy for Storm. The crowd lights up for the three count, with Storm being announced the winner and new contender, grabbing the $50,000 briefcase off its place on the canvas, having it officially be his. Storm points to Punk up the ramp who has enough in him to yell back "Punk's not dead! It comes back with a Storm!" The lame pun is enough to get a smile outta Storm who hoists the briefcase high for the crowd before stepping over the disappointed Hassan. Before we fade away…

…to the locker room area, where AOW Champion Chris Jericho is looking at what just transpired with keen eyes on a television screen, still holding his jaw from Punk's kick. He has a stare that seems to know something…


Chris Jericho:
Hm…I see we may have a new target…
~Jericho mutters this cryptic line, almost inaudible to the ear, but almost as soon as he says it, we see a hand emphatically place itself on Jericho's shoulder before hearing the voice of one Shawn Michaels, who seems to be back in his 'happy-go-lucky' face

Shawn Michaels:
What's that, Jericho?

Chris Jericho:
Why does it matter to you?

Shawn Michaels:
Because see…you have the tendency to be a bit of a plotter, some kind of mastermind. And as the special guest referee Sunday, it's kinda my job to make sure none of that winds up being involved. So if you've got a plan, throw it out.

Chris Jericho:
Really, Shawn? And what if I don't throw it out?

Shawn Michaels:
Well then, simple. I'll do it for you. My first decree as referee is that your…'beastie', Paul Wright is hereby banned from ringside come Sunday.
~Michaels gets a wide grin on his face as Jericho looks on, his face getting redder, but maintains his composure

Shawn Michaels:
Oh wow, this layin' down the law thing is kinda fun!

Chris Jericho:
Don't get too wrapped up, Michaels. Do you remember what happened on the very first show of this company?

Shawn Michaels:
Well, as wrestlers, we kinda forget the weekly stu –
~Michaels' fourth wall comment is cut off by Jericho

Chris Jericho:
In case you'd forgotten, I made you tap out in the middle of that ring. I made you submit to me, Michaels. For this AOW Championship. You…submitted…to me.
~Michaels loses the smile from his face, Jericho getting in it and the air becoming much more serious

Shawn Michaels:
And what's that got anything to with?

Chris Jericho:
Everything.
~The look in Michaels' eyes says that indeed, this means something more that perhaps we're unaware of…

Chris Jericho:
When you submitted to me, Shawn, you did just that. You declared yourself subservient to me in every feasible way. You submitted to my 'one step ahead' ideology. I can probably concoct a plan that with of flick my wrist, the dominoes would fall, and have your career gone in a blink and there wouldn't be anything you could do about it. Don't ever forget that.

Shawn Michaels:
That doesn't mean any –

Chris Jericho:
But…given your control of this match…I suppose I have to respect you. That's fine. Get rid of Wright. I'll be fine. All that will do is make your job easier, right?

Shawn Michaels:
Wait, are you trying to threaten me?

Chris Jericho:
Threaten, persuade, convince – it is whatever you want it to be, Michaels. Just know that Sunday there will only be one right decision. And no matter your one decision, remember. I'll always be…one…step…ahead.
~Jericho sidesteps Michaels and walks past him, leaving Michaels alone in dwell on what was said…

~Back at ringside

Joey Styles:
Well Mick, uh, whaddya think about what you just saw?

Mick Foley:
Y'know what, I've already gotten the upper hand of Chris Jericho to even participate in this match. And I have the utmost faith in Shawn Michaels that he will make the right decision come Sunday. Chris Jericho can make all the idle threats he wants, but when it comes to put up or shut up, Chris Jericho isn't exactly the name that tops the list.

Joey Styles:
Are you doubting our world champion, Mick?

Mick Foley:
Oh, I have the utmost faith in every man involved in that match. I have faith in RVD, Michaels, and Jericho to do what they're gonna do. But I certainly wouldn't say things are in Mr. Jericho's favor.

Joey Styles:
Well folks, we hope you all indeed keep the faith and join us in Boston, Massachusetts in the Izod Center for what will be AOW's very first and grand Pay-Per-View extravaganza, World Ablaze!!

Mick Foley:
An absolutely amazing event planned so far, as it's only getting better by the second, Joey.

Joey Styles:
Indeed, and Mick, you unveiled another match for the event just a few hours before Oblivion came on the air tonight, as six teams have been confirmed for AOW's first ever Tag Team Turmoil match that will take place at World Ablaze.

Mick Foley:
That's right, Joey. After the somewhat troubling naming of the Mercenaries as the number one contenders, I figured we'd let the teams decide it this time. The winner of this match becomes the new number one contender for those AOW Tag Team Championships, no matter who walks out of World Ablaze with it. And boy, is that gonna be fun.

Joey Styles:
And speaking of the Tag Team Championships, two very talented and gifted teams will compete for the highest tag team prize in the world, as The Mercenaries, the merciless Mercenaries, take on the World's Greatest Tag Team.

Mick Foley:
That's gonna be…what would an old friend of ours call it…a "rocket-buster"? Yeah. The Mercenaries are undoubtedly taking the World's Greatest to their limits and have proven themselves, whether any of us like it, or them, or not.

Joey Styles:
And tonight, limits continued to be pushed, especially for the man who is proclaimed to be 'sin limites' after being put through our timekeeper's table here tonight. But come Sunday, the luchadore prospect Aero Star takes on the man who says he's 'nobody's stepping stone' in Jaime Noble.

Mick Foley:
And Jamie Noble is looking for a big win that'll put him over the top and show that he needs to be respected here, to earn his respect, and I think maybe getting that a win over Aero Star may be exactly what he needs. Might even get him in good tastes for a Cruiserweight title shot.

Joey Styles:
Words of wisdom from the man who makes the matches himself, but on the note of the Cruiserweight Championship, this one has gotten out of hand in a hurry.

Mick Foley:
No need to tell me, Joey. I was there.

Joey Styles:
Escalading from jealousy on behalf of Gregory Helms, to Bryan Danielson rising to the challenge, to Helms denying defeat and stealing the physical Cruiserweight title, all the way to Helms outright destroying the man who Bryan Danielson calls a good friend in Rey Mysterio – the AOW Cruiserweight Championship may never see a war like this again in its young history.

Mick Foley:
Never say never in the wrestling business, Joey, but this one has gotten intense very quickly. And just the squared circle can't contain these guys, as their match showed earlier, it's spewed out over cyberspace even, but when all is said and done, when this one is over we will undeniably have an absolute, undisputed Cruiserweight Champion.

Joey Styles:
Bryan Danielson has gone on record saying Helms will see a side of him that no one has yet to see in AOW, but oh what about this one, Mick. Just a few moments ago, Bobby Lashley announced that Sunday, Christian will see a different side of Bobby Lashley, an unapologetic side in what has easily become the most chaotic rivalry in the young history of AOW.

Mick Foley:
Oh absolutely. And Lashley mentioned me when he was speaking and I am indeed worried about Christian, but I'll be the first to say that he does need help and maybe, just maybe leaving AOW is the remedy for that as painful as that may be.

Joey Styles:
Indeed, with Lashley and Christian, who is in a holding cell until Sunday, and Lashley, who still isn't medically able to compete until Sunday, will battle it out in an I Quit match in which the loser will be forced to leave AOW.

Mick Foley:
And how about this gem that got confirmed just a moment ago?

Joey Styles:
Oh yes, ladies and gentlemen, as was confirmed by what we just saw and what Mick Foley is approving as we speak, and that is that Muhammad Hassan will have to defend his Dynasty Championship against the man who just defeated him in his own challenge for his own money in Lance Storm.

Mick Foley:
Hey, Hassan chose his rules, his stipulations, and Lance Storm was the man who walked out with money in the bank and gold on the horizon.

Joey Styles:
And just how big a role CM Punk will play is possibly still up in the air due to Punk's impending medical condition, but he certainly made his presence known here tonight for his mentor in Storm. But how about this…our very first Pay-Per-View main event, perhaps one of the biggest main events in recent history.

Mick Foley:
Why you're welcome, Joey. It took a great bit of guts to do what I did.

Joey Styles:
That indeed, as by way of Mick Foley, not only will Chris Jericho and Rob Van Dam, the man who calls himself the heart and soul of AOW, face off come World Ablaze for the AOW Championship, but the Heart Break Kid Shawn Michaels will be the special guest referee! And as we just saw a few moments ago, he just banned Paul Wright from ringside! But that's the only rule so far in place, as the whole thing will be conducted under ECW Rules!!

Mick Foley:
And all this will be coming to you this Sunday from the Izod Center straight from Boston, Mass!

Joey Styles:
And coming up on the other side of the break, we've got a huge main event on the horizon – Rob Van Dam is teaming up with the champion World's Greatest Tag Team facing off against the men they will be facing at World Ablaze in the Mercenaries and the AOW Champion himself, Chris Jericho!! Keep it here!!

Before we cut to a break, we're met with the sound of "WALK" over the sound system, as the crowd erupts into a huge pop, as Rob Van Dam comes on down the ramp with a very no-nonsense expression on his face, much like a lot of other competitors tonight. But Van Dam has a certain purpose in his step that takes even our GM and commentator by surprise…

Joey Styles:
Um…well, we weren't scheduled to have this match until after the break, but…what's RVD doing out here?

Van Dam roams over to the announce table side, talking to one of the (still table-less) timekeepers, getting a microphone. And stepping into the ring, the commentators still somewhat confused as to what he's doing out here so early

RVD:
So are you guys excited about Sunday night?
~The Hammerstein lets out a grandeur pop, a great deal of them probably traveling to Boston for the big show

RVD:
I asked if you guys were excited, not sleepy. Who's ready to set this World Ablaze?
~Another huge pop

RVD:
Y'know, I thought I was ready. I thought I was ready every single week before tonight. I thought I had it all figured out, and with a little help from Mick over there, I've even turned this match into my type of environment where I'll be…extremely comfortable.
~Van Dam's comment kicks up an "ECW!! ECW!! ECW!!" chant that he marvels at for just a second, but he doesn't look too excited…

RVD:
But after seeing some of the things I've seen tonight…dude, I'm not so sure I'm so ready.
~Van Dam lowers his head somberly

RVD:
I saw what lengths Chris Jericho will go through to get someone out of his way. I saw exactly how far he'd go. I saw just how much Shawn Michaels really wants to be a part of this match. And I know first-hand how far he'll go. And I thought with all that, I might not be ready.
~More buzz for whatever Van Dam's talking about, but suddenly, he lights up

RVD:
I thought I might not be ready for how psyched Boston'll be when I force both of you to hand me that AOW Championship!!
~A ready pop for RVD!

RVD:
Shawn man, it's no secret you and I don't really have the utmost respect for each other. But I do have faith in you, Shawn. I have faith that you'll make the right calls come Sunday. We might not respect each other, Shawn, but I know sure as hell we respect what the other one can do. I told you last week, if you really wanna screw with the way the match works, go right ahead. You're the guest ref. And in this match, anything goes, man. I just hope you're ready when no matter what happens, I overcome it all and you'll have to raise my hand and declare me AOW Heavyweight Champion.
~Another very solid pop

RVD:
And Chris Jericho, I hope you're ready most of all. I hope you're ready when you realize exactly what I've been saying and that is that you are not what makes this company go. You are not the blood that pumps through the veins of this establishment. I am. I am what brings these people here. I am the heart and soul here! I am Rob Van Dam and I am AOW!
~Van Dam reiterating what he has indeed been saying for weeks, getting the crowd more pumped up

RVD:
So Jericho, it doesn't matter what you'll do to get someone out of the way and how many steps ahead you are. I'll top it. Shawn, it doesn't matter how bad you want in. I'm in it. And if both of you think you're gonna stop the whole F'n show from gettin' back to the top of the world, you've got another thing comin', dudes. There's nothin' in the world that can stop me from takin' those risks, goin' all out, and gettin' the big prize. So the question is, dudes, are you ready to have a new AOW World Champion? Because that title is only going one way and that's home to me – R…V…D!!
~Van Dam completes the thumbs taunt, everyone in the arena joining in and letting out one final huge pop as Van Dam throws down the microphone.

Joey Styles:
An emphatic, dramatic final address from the champion's challenger, RVD!! Up next, our main event!! Stick around!!

**COMMERCIAL BREAK**

As we cut back to the arena, "WORLD'S GREATEST" instantly greets us, as the AOW Tag Team Champions Benjamin & Haas come on down the ramp, both of them pumped for action. They pat their tag titles around their waist with the utmost pride, the crowd giving them a very welcome pop. They high-five each other before stepping into the ring and both shaking hands with RVD, who is a man both of them can respect given their actions last week.

"WELCOME TO WHITECHAPEL" rings across the arena with its pipe organ chimes, as The Mercenaries, Paul "Ripper" Burchill & Brent Albright make their way down the ramp as meticulously as ever. They're very slow in their steps, staring down to the ring with dark, calculating eyes. They don't take their eyes off Benjamin and Haas for one second, but as they come down the ramp, they stop at the very end, waiting…

….until "BREAK DOWN THE WALLS" hits the fan for the second time tonight, and the crowd throws an immense amount of heat towards AOW Champion Chris Jericho as he turns his nose up to us all, walking on down the ramp. Jericho's 'holier than thou' walk is still going tonight, just as it has every week. He doesn't let out a smile until he's at the base of the ramp, where he smirks alongside his partners tonight. They continue smirking until they get around to their corner, huddling a little bit, and indicating that this meticulous tag team and this even more meticulous man have more than something up their sleeves.

MAIN EVENT
AOW Tag Team Champions World's Greatest Tag Team & Rob Van Dam
v.
AOW Heavyweight Champion Chris Jericho & The Mercenaries


The crowd is still hot on Jericho's ass for being Jericho, but as they settle down, we figure out that kicking off the match will be RVD and Brent Albright. Jericho stares down Van Dam, but doesn't even think about getting involved. Van Dam and Albright circle one another a bit before locking up, RVD grabbing Albright in a headlock before Albright trips up Van Dam from behind and causes RVD to fall face first on the canvas, but quickly get back up. Albright is vertical again as well, causing the two to resize each other up and lock up again, this time Albright getting the upper hand with a headlock. Van Dam stays clinched in for several seconds before delivering a trifecta of elbow shots to Albright's ribs and loosening the hold, going and rebounding off the ropes, but while heading back towards Albright, he catches RVD going by in a standing sleeper hold! Albright perhaps looks to want to cut off the circulation in the head early, possibly going for another KO finish like last week. But Van Dam is quick to not stay in this hold too long, as RVD forces his weight forward, causing Albright to roll over the top of him and letting go of the hold. As Albright rolls to his feet, he charges right back at Robbie V, who meets him immediately with a surprise roundhouse kick!! Albright gets caught big early, dropping to the canvas and covered by Van Dam – 1…2…NO!! Albright still has more than enough to keep going, causing Van Dam to drag Albright over into his corner and tag in Shelton Benjamin.

Benjamin strikes the still woozy Albright before getting him to his feet and attempting to throw him into the ropes. When this is reversed, it's Benjamin who is flying back towards Albright, leaping for something, but Albright simply moves out of the way, sliding under the bottom rope and causing Benjamin to falls shoulder first into the canvas. Albright's getting heat for that, as he takes a stroll around ringside before jumping back in on the downed Benjamin with hard stomps to the shoulder, as now it appears the Mercenaries have a target. Albright gets Benjamin to his feet and drives his shoulder into Benjamin's a few times before wrapping Benjamin's arm behind him and shoves him into a corner post, the exposed shoulder hitting the hard steel!! Benjamin nearly falls out of the ring on the impact of the move, as Albright takes Benjamin and wrenches the arm again before tossing him into the ropes and catching him in a flapjack on the rebound, Benjamin's face hitting the canvas hard. He goes for a cover now, shoving the ailing shoulder down – 1…2…NO! Benjamin shoots the good shoulder up, but Albright still stands and stomps on the ailing one, dragging him over into his corner and tagging in Paul Burchill, who immediately leaps over the ropes and double foot stomps the shoulder!!

Benjamin rolls around in pain, but Burchill doesn't give him any breathing room, extending the arm while standing over Benjamin's head. Benjamin is trying his best to try and get out of this, but to he's not getting much help until his corner starts getting the crowd behind things, clapping, and finally getting to his feet, but as soon as he does, Burchill delivers a hard shot to the shoulder of his own, causing Benjamin to stumble and Burchill follows up by looking to deliver a suplex of sorts, but Benjamin has enough about him to squibble down Burchill's spine and catch him in a sunset!! 1…2…NO!! Burchill rolls back and out and charges at the still sitting Benjamin with a vicious kick, but Benjamin lies flat before jumping up, grabbing some of Burchill's hair, and pulling it back into a nifty backbreaker. Benjamin bending the rules a bit for that one, but he goes for another cover – 1…2…NO!! Burchill's fight remains! Benjamin then goes and tries to roam into his corner for a tag, but Burchill quickly grabs a hold of his foot and tries to pulls him back into his corner, but Benjamin resists as he might, hopping on one foot. Burchill then throws the foot around, only to get clocked in the head with the dragon whip!! Dragon whip!! Benjamin and Burchill are down, each man trying to get to their corners for their hot tags, where Burchill gets there first to tag back in Albright, Benjamin reaching Haas to a solid pop.

Haas darts in and immediately clotheslines Albright, followed quickly by another, but when Albright rises and charges and is about to be hit by a third, Albright quickly ducks underneath it and rams his shoulder into Haas' knee!! This sends Haas down, Styles on commentary perhaps proposing that Haas' knee was hyperextended on that, perhaps exaggerating, but nonetheless, yet another spot has been opened up by the opportunistic offense of Albright. Albright grins as he sees it now, now going over to the downed Haas and prying his legs open, dropping an elbow to the inside of the injured knee before popping up and doing it again, and again, and again, and again! He finishes this five times before finally holding onto the leg and prying it around his elbow, putting an immense amount of strain on the now weakened knee. The Mercenaries' game plan becomes completely apparent here – tonight is about picking their Sunday opponents apart, possibly piece by piece. Jericho decides to get in on the fun, having Albright tag him in and giving Haas a shot to the gut before planting him with a high back drop. As Jericho rolls to his feet, he walks over and nonchalantly kicks Haas in the back of the head, getting a great deal of heat. Jericho stares into the opposing corner right at RVD, giving him a cold, calculating smirk. This smirk fades, however, as the crowd is buzzing for some reason, as someone is coming down the ramp…but they're in no hurry…Shawn Michaels?

Michaels seems very hunky-dory as he steps towards the ring, not having much of a care. He points at both Jericho and Van Dam before holding his hands open in an "I promise not to touch" fashion, but he's followed as he roams on around the other side and grabs a steel chair. Every participant in the match turns their attention towards him if they hadn't already, everyone on alert here, the crowd giving an initial pop…before Michaels waves a finger at the crowd and tells them to shush before going back to the base of the ramp with the chair, opening it up…and sitting down? The Showstopper…just wants to sit back and enjoy the show, it seems. As fishy as this looks, Jericho soon has to turn his attention back towards Charlie Haas who, despite having to hold himself up in a corner, isn't dead yet. As Jericho charges towards him, Haas gets a leg up and pops Jericho in the jaw. Michaels on the outside reacts with an overselling "Oooh!" of his own, prompting Haas to run out of the corner and plant the AOW Champ on his face with a running bulldog!! Haas with a cover on the champ – 1…2…NO!! Jericho still with some fight.

As some fans are starting to get a kick out of Michaels' reactions, in the ring, it's all business, as Haas is trying to shake some life into his knee. Haas soon brings Jericho to his feet, but Jericho fires back with a cheap shot to that weak knee, getting him all the room he needs to run at Haas with the running enzeguiri!! Haas drops like a stone!! Jericho with the cover now – 1…2…3-NO!!! Haas wants to keep going! Michaels, still having his fun, yells back at the referee that "I could count better than that, stripes!! C'mon!" Jericho is not amused, but he doesn't waste any time in wanting to put away Haas and grabs his legs and prepares for the Walls of Jericho, but Haas fights him as he tries to turn him over on his prone spot, eventually winning that fight and forcing Jericho to summersault onto his spine when Haas' legs flip him over. Unfortunately, this counter puts a great deal of strain on Haas' weak knee, forcing him to grab at it in pain. Haas still wants to go though, approaching Jericho and throwing him into a corner, giving him a hard CHOP(Wooooooo!) for his troubles before grabbing his arm and pulling him out right into a short arm lariat, Haas diving to the canvas alongside Jericho. A Haas cover – 1…2…NO!! Jericho's not done! The enzeguiri still has Haas woozy a bit, apparent as he gets to his feet. He attempts to get Jericho to his feet, but the Worthy Champion sees an opportunity and tries to roll Haas into a small package – 1…2…3-NO!!! Haas able to unravel the package!! As both men quickly get to their feet, Jericho swings wildly at Haas, only for Haas to wrap himself around Jericho and nail a flawless German suplex!! Haas doesn't keep the bridge, as he can't, his knee acting up on the move. Jericho tries to begin rolling towards his corner, but Haas is the one who makes the big leap first, tagging in the hot RVD!!

Van Dam wastes absolutely no time, instantly coming in, making a barrel out of himself and nailing the attempting to tag Jericho with the Rolling Thunder!! Van Dam nails his Sunday opponent with a signature maneuver!! Van Dam gets to his feet and swats his hand toward the Mercenaries to get them away, pulling Jericho away and looking for the pin here – 1…2…3-NO!! Outside the ring, Shawn Michaels' face is over-exaggerating, Michaels swearing he had it. Van Dam isn't really amused at the reaction, but doesn't cry over spilled milk, bringing Jericho to his feet and whipping him into the corner, following him and hitting him with some shoulders to the gut before backflipping and going for the last one…but Jericho holds onto the top rope, raising himself over the charging Van Dam, who goes shoulder first into the steel, Jericho rolling forward and capturing Van Dam in a sunset – 1…2…3…NO!!! RVD throws his legs over to roll out! But the damage is done to RVD's shoulder now, as he gets up rubbing the sore spot only for Jericho to high tail it out of the ring, tagging back in Burchill.

Burchill immediately takes Van Dam and tries to nail a Regalplex, but RVD gives some hard elbows to get himself out of that. Van Dam tries charging back, but he's met with a hard back elbow before being hoisted onto the top rope. Burchill bops Van Dam a few good times before he begins climbing to the top with Van Dam, perhaps looking for the big superplex, but Van Dam keeps fighting out of it, pushing Burchill off the top rope and crashing to the canvas. Van Dam prepares himself for Burchill to get back to his feet, but as he does, Jericho is distracting the referee, the WGTT trying to argue for him to get back from their corner. While that goes on, Brent Albright drops from his corner and goes behind the ref's back, and pushes Van Dam off the top, sending him flying in the direction of Shawn Michaels at ringside!! Michaels high tails it out of his chair, but Van Dam goes face first to the outside, nearly embedding his face is Michaels' chair!

After a moment, of trying to recover, Van Dam finally gets to his feet, which brings him nose to nose with Shawn Michaels. Michaels gives Van Dam the first really serious stare he's given anybody since coming to ringside. The two stand frozen in time, just glaring at each other, until Van Dam overhears the referee's count-out already up to six. He scurries into the ring, only to be met by Burchill pounding on his spine. Burchill makes some space before rushing and rebounding off the ropes, but Van Dam catches Burchill in a sitout spinebuster. RVD's somewhat quick now to roam into his corner and tag in Shelton Benjamin once again. Benjamin elbow drops Burchill a pair of times before sticking a cover – 1…2…NO!! Burchill keeps it going. As Benjamin tries to bring Burchill to his feet, The Ripper springs to life, grabs Benjamin's sore shoulder, and brings it crashing back down with a devastating double knee armbraker! Benjamin goes rolling around in pain, his shoulder again a target. Burchill then is quick to try and lock on the Royal Mutilation, hoping to make one of his opponents Sunday tap out, but Benjamin has enough about him to maneuver his way out of it, getting to his feet, and quickly nails a chin breaker that sends Burch reeling into his corner, where Chris Jericho tags himself in ahead of Albright for some reason.

However, this doesn't stop Albright from subsequently bursting into the ring, which causes Haas to charge the ring. Albright gives Benjamin a hard clothesline before Haas comes charging, Albright ducking under it and Haas rebounding and coming again, only to yet again get a hard low shoulder to the damaged knee!! Haas goes spinning and falls out of the ring, gripping onto his ailing knee. Albright is getting admonished by the ref, but before he even thinks about leaving he looks up to see a Rob Van Dam diving side kick from the top rope!! Albright goes down hard, Van Dam getting a huge reaction for the airborne move, but before he can do anything more, Chris Jericho has entered the ring and takes Van Dam, chunking him through the middle rope and outside…BUT RIGHT ON TOP OF SHAWN MICHAELS. Jericho has chucked Van Dam right onto HBK!! Jericho has a nasty smirk on his face as that happens, definitely a message to both Michaels and Van Dam, but as Jericho turns around, he's met by Shelton Benjamin, who suddenly catches Jericho in exploder suplex position, but as Benjamin tries to lift Jericho up, his shoulder gives way, forcing him to put Jericho down and lick his wounds. This gives Jericho time to make space and nail the weakened Benjamin with the Code Breaker!! Jericho forces the shoulder down, pinning Benjamin down – 1…2…3…!!!

Winners: Chris Jericho & The Mercenaries at (11:28)


Jericho pulls one out of his hat! And in the process, he's definitely sent a message to both Shawn Michaels and Rob Van Dam in one fell swoop. Jericho is handed his AOW title and has his hand raised alongside his fellow victorious Mercenaries, who seem to have accomplished their goals as well, with both Haas and Benjamin with point for the picking come Sunday. Jericho has yet to stop staring and smirking at the rubble in front of him in his special referee and his #1 contender.
Joey Styles:
We have seen just how far Chris Jericho will go, but now, what are his means of doing that? He just chucked RVD into Shawn Michaels! Will that cost him come Sunday in regards to both men?

Mick Foley:
I gotta funny feelin' that this is all a part of whatever scheme Jericho's got. He wouldn't do something like this unless it led to something…

Joey Styles:
You could very well be right, Mick, but whatever all these questions may be, whatever questions are left, will all have to wait until World Ablaze, this Sunday from the TD Banknorth Garden in Boston, Massachusetts!! From the Hammerstein Ballroom, alongside Mick Foley, we bid you all farewell and see you at our very first Pay-Per-View!

Mick Foley:
BANG BANG, folks!
The final image we get with that audio sign-off is that of Chris Jericho, clutching his AOW World title against his chest, staring at the now recovering RVD and Shawn Michaels, and both of them staring each other down before both looking at Jericho, who is seem mouthing the words "Are you ready for how many steps ahead…I'll…go?" This, directed at both men, leaves Jericho with an absolutely sinister grin on his face as we

Fade…

To…

Black…

END SHOW
WORLD ABLAZE
Boston, Massachusetts – TD Banknorth Garden
November 11, 2007
*Final Card*


~AOW World Heavyweight Championship~
*SPECIAL GUEST REFEREE: Shawn Michaels
~ECW RULES~
The Worthy Champion Chris Jericho(c) v. The Whole F'n Show Rob Van Dam

~AOW Tag Team Championship~
The World's Greatest Tag Team(c) v. The Mercenaries

~I Quit Match~
*Loser Leaves AOW*
The Real Deal Bobby Lashley v. The Man on the Moon Christian Cage

~AOW Cruiserweight Championship~
The American Dragon Bryan Danielson(c) v. Gregory Helms

~AOW Dynasty Championship~
Muhammad Hassan(c) v. Lance Storm

~Grudge Match~
Aero Star v. Jamie Noble

~Tag Team Turmoil~
*#1 Contendership for the AOW Tag Team Championships*
(Teams not in entrance order)
Sons of the Dungeon v. American Made v. Samoan Fight Club v. The Hooliganz v. Low Jack v. Ken Doane & Chris Masters
Felt a little fatigued towards the end of this one, but we'll see how it goes. Note that if anyone wants to make predictions, I'll have an official preview up later so no predictions yet. Anyways, hope you guys enjoyed the take-home show and most feedback should be returned, but I can't guarantee on this one with college starting back in a week and a PPV on the horizon. But that can't stop you from enjoying it, right?
---
CUTENESS²
AOW: Art of War Wrestling - The Greatest Affair
It's Baaaaack...
.:Oblivion Edition 39/40 Recap NOW POSTED!!:.
Re: Presenting AOW: Art of War Wrestling - The Greatest Affair
---
I haven't given any feedback for a month or two I believe, which I do apologise about, but I'll get straight back with it. I haven't exactly read every show word by word, but I have skimmed through a lot of it. Once again, I apologise. Anyway...
Starting the show off with Punk and Show. Going in to the match, I wasn't quite sure what to expect, whether it be utter domination from Show, or an underdog, valiant effort from Punk and it seems to be the former. The targeting of Punk's ribs and midesction was a nice tough and really shows the sadisticness and cerebralness of Wright. It was a well structured match altogether, for a giant/underdog match, although despite Punk being a very gutsy competitor, he isn't stupid and IMO, little things like him going after Jericho instead of staying focused is quite uncharacteristic. However, I'm just nitpicking.
Great action from the cruiserweights here, and I'm glad that you'res taking great pride in their division. He;ms/Danielson was at the forefront of the match obviously because of their match at World Ablaze being for the title, but developing undercard feuds between the Cruiserweights, in my opinion, is an even greater way to bring prestige in to the division, instead of just having everybody feud over the title.
The American Made promo left a sour taste in my mouth, to be honest. It seemed very forced and extremely gimmicky. I don't know if that's what you're trying to portray, however. The whole proud American thing is generally a great gimmick but I think, unless you're looking for a bit of comedic relief, it has to either be used very subtly or over the top and they seem to be stuck in the middle. It got the job done, promoting the turmoil match and still creating tension with the Sons.
Will be interesting to see what, if any, impact Punk will play in Storm's match tonight? I like the relationship you have between the two.
HBK really is the X Factor when it comes to RVD/Jericho at the PPV. He obviously hates Jericho but you can sense some form or jealousy of Van Dam for being the one thats challenging Jericho. Will be interesting.
Okay - Personally, I'm a little indifferent when it comes down to the Lashley/Christian feud. Booking wise, it's great, but that way it's been delivered has made me think twice. I can't quite put it in to words better than I think it was Melvis after your last show put it. IMO, something HUGE needs to happen to either solidify Christian as the heel or for Lashley to win over the fans (which I;m sure it'll be hard), The Hammerstein crowd will always be a smarky one, but that doesn't mean Lashley can't win them over. I understand that you like to include the little details like the Hammerstein crowd shitting on him, but it kind of confuses the reader, if that makes sense.
"So Christian, I know you're watching. From inside your jail cell, I know you're watching. Christian, I don't hate you. I hate what you've become. You've become this…babbling, confusing, conspiracy theorist. And you don't know what's real anymore. You don't know what's real here in the real world or what's going on in your head. Torrie Wilson? Christian, she's scared for you. Mick Foley? He's worried about you. The whole locker room? They do care about you. But I don't. I can't. Not anymore. And I'm not going to apologize for that."
However, as what I just higlighted above suggests, in terms of content, Lashley was on fire here. God knows what the delivery would be like, knowing Lashley's speaking ability
But either way, he was gold all the way through this interview. And once again, JBL is one of the best and most consistently well written characters in the thread.
Love the pairing of Burchill and Albright, I'm a huge fan of them both. This little segment got the job done well, good stuff.
Unsurprising to see Storm win here because obviously the Dynasty championship needed to be defended at World Ablaze. However, I personally wouldn't have had Punk come out. Yes, it shows the guts, heart, courage of Punk as well as the friendship between him and Storm, but I would have preferred if he sold the injuries and didn't show up for the rest of the night. However, what it did do was allow Storm to become #1 contender whilst not making Hassan look bad.
Jericho was on fire in this little segment with Michaels. Judging by this, it seems that Michaels is certainly more on the side of Team Van Dam than Jericho; not because he likes Van Dam more, but because he hates him less. Jericho was great where as Michaels seemed pretty generic, but like a lot of things tonight, it got the job done.
Good shilling of the PPV by Foley/Styles.
"So Jericho, it doesn't matter what you'll do to get someone out of the way and how many steps ahead you are. I'll top it. Shawn, it doesn't matter how bad you want in. I'm in it."
Class.
Top main event - good psychology and all-round good action, IMO. I personally find it takes so much more skill to characterise someone in the ring than it does on the mic and you've done both flawlessly with Jericho, and I must applaud you for that. Just the little bits and bobs he does to get some form of advantage are very cleverley done and they haven't gone unoticed - not by me anyway. The ending was great and no man lsot credibility, or momentum heading in to their respective matches at World Ablaze. Top notch.
All in all, 619, it was a good show. If I had to say one thing; It got the job done. It did its job of trying to sell the PPV as much as possible, furthering any feuds as much as possible until the point it feels like it's being shvoed down our throats, and it caused mass intrigue in every match and feud that has been featured and will feature at the PPV. Whether it be the World Title match, to Noble/Star to Lashley/Christian or even the Turmoil match, every match on the card interests me and you've done a good job shilling it to me. I've got some complaints, but I think most of them are either nitpicky or personal preference, and I'm sure you've read them anyway so there's no need to repeat it. Good job, and hopefully I should be able to get around to giving feedback on World Ablaze.
---
Wheelman for James Ellsworth
Join Date: Jan 2011
Posts: 501
Points: 0
Re: Presenting AOW: Art of War Wrestling - The Greatest Affair
---
Oblivion Feedback
Very much looking forward to this one I must say, what with the PPV right around the corner now. Anyways, onto it..
A hell of a match to start things off, you should be very pleased with the way you wrote this, first class from top to bottom. The story throughout the match was excellent with Show dismantling Punk with the underdog showing his resolve only to finally be finished off. There were several passages I really liked too, I won't highlgiht them all but one in particular was 'It gets worse when Wright throws Punk near some ropes and stands on top of his abdomen, Punk's "Straight Edge" tattoo being swallowed by the enormous feet of "The Great". Just the words used in there were great and I could really imagine it. Nice to see Van Dam and Lashley come to his aid afterwards, though not to sure why Lashley did as he's not all that involved and Punk refusing to be helped out was a nice touch for his character. Great opening.
Before I get on to what's next, one little criticism I have is where the commentary fits it. We're only now being welcomed to the show by Styles, despite the fact we just had a match up in which I'm sure he and JBL wouldn't have sat silent throughout. That's one thing I don't like, maybe just have them welcome us to the show at the beginning instead.
Another really good match up here and I liked the way it wasn't all about Danielson and Helms which I kind of expected it to be. Both Aero Star and Noble looked impressive during this one, particularly Star when Danielson tagged him in, some nice stuff in there. Typical Helms move to round things off, that's one I'm exicted by for World Ablaze.
Miz's ass kissing here was brilliant
. As for the interview itself, I was 50/50 on it to be honest. Thought it started off really good with Nameth and his running away from reality and Canada line. But then when it went to Hagar and his little patriotic speech, I wasn't too keen. I know they're American Made and it's kinda their thing but particularly the end from Hagar's passage coulda been changed as it was set up for 'we'll send the Sons of the Dungeon all the way back to Canada' rather than 'we'll send the Sons of the Dungeon back to the Dungeon.' With the bit of America vs. Canada theme Nameth hinted to earlier, I think that would've been better used. I am looking forward to these two teams settling that score though.
Decent little stuff with Storm and Punk here, I predicted last week I think? Or maybe just thought it, that Storm will get the win here tonight thanks to Punk and I'm still gonna go with that, think it's the best option right now.
Interesting stuff here with HBK and Foley. Could definitely see a more sinister edge to the Showstopper but at the same time, he understands. I'm torn on what he's gonna do at World Ablaze but you've certainly got me hooked, so many options, I can't wait.
Haha JBL is fantastic. Throughout this entire interview, you had him absolutely on the money, just brilliant. As for Lashley and his reasons for all this, I thought you did a great job here, especially for someone who's usually so shitty on the mic. The way you had the crowd slowly turn to support Lashley was surprising but great at the same time. I didn't expect it at all, especially after the 'We don't buy it' chant which made me laugh. Everything was really well done here, from the way he acknowledged he's not got the best fan base, to his mentioning of the 'other' company and his praise for Punk. I don't know what way you're gonna go with this, it could well be a bunch of B.S from the 'Real Deal' and that he's playing the fans along, with Christian being right from the get go, or we simply have a crazed Captain Charisma on our hands with the respectable Mr.Lashley. I know which one I'd rather but both have major possibilities. Top stuff.
Miz again here haha. Enjoyed the little speech from these two who are growing on me week by week. The match at World Ablaze could be a show stealer.
Bang! Called it! Definitely the right move here to have Punk give his friend the assist and further things along with Hassan. Perfectly set up.
Very interesting stuff from Jericho here. I thought this was really well done and added a lot of intrigue into just what Jericho's plans are here and on what Michaels is gonna do come Sunday. This little paragraph was fantastic I must say, 'When you submitted to me, Shawn, you did just that. You declared yourself subservient to me in every feasible way. You submitted to my 'one step ahead' ideology. I can probably concoct a plan that with of flick my wrist, the dominoes would fall, and have your career gone in a blink and there wouldn't be anything you could do about it. Don't ever forget that'.
Good run down of the card there, shaping up to be a cracker.
Standard speech from Van Dam here, done its job nicely, although a little strange timing with the match about to take place. Very good story throughout this match again here, especially with the addition of Michaels into things. The way he came down and took that chair, simply to sit on I can just imagine being very compelling. The finish was great too as it just makes Jericho look like the brains again, not for the first time since you began this. The end line as well just builds all the more suspense ahead of Sunday. Good job.
Really enjoyable show here mate. Your in ring action very rarely disappoints and here was no exception as all the matches showcased all the talents in exactly the right way. You've got me really hyped now ahead of World Ablaze, which is the exact aim of a go-home show so mission accomplished there. I think the main event, and Lashley-Christian will have my most attention come the PPV but everything else is looking mightily impressive too. Well done with this and good luck for the big one, no doubt you'll pull it off.
Finally Out of Cutey Sleep
Join Date: Jul 2006
Location: The Fountain of Dreams
Posts: 2,020
Points: 9
Re: Presenting AOW: Art of War Wrestling - The Greatest Affair
---
First off, a hearty thank you to everyone and anyone who has helped contribute to this thread thus far. All of you guy's feedback has been so immense, I can't even describe. cp, Stoj, BB, and iMac, among a few others have been here since pretty much the beginning so I thank you guys the most. Oh, and I guess special mention goes to Flux and Melvis, seeing as how this thread got both of them out of feedback hibernation
. And other thank yous, even though they haven't reviewed, are PARANoIR, Alcoholic, and Wolfy. Wolfy, you for the advice you shot by me (even if it was by request) and PARA and Alcho's old created feds, the two best created feds to grace this place, for giving me all the inspiration and a great deal of motivation for this thread. Anyways, school's starting back and I'm trying to get as much done on this while the load is still light. So as I write this, the plan is in about a week post final thoughts/news/whathaveyou before the actual show is posted late this month/early next month. A good bit of the show is already done, so hopefully my first completely in-full PPV since the dark days of my old thread won't be too much of a disappointment. P.S. - there's a reason why the banners look the way they do.

Enough babble. Kirby says to get this shit goin'.
AOW PRESENTS
WORLD ABLAZE OFFICIAL PREVIEW


~AOW World Heavyweight Championship~
SPECIAL GUEST REFEREE: Shawn Michaels
~ECW RULES~
The Worthy Champion Chris Jericho(c) v. The Whole F'n Show Rob Van Dam

Since the very inception of AOW, Chris Jericho has been on a tear to prove that he's not just the best in the world at everything he touches, but that he's a worthy man – a worthy man who became a worthy champion on the pilot episode of AOW Oblivion. And to hold onto that title and everything it holds dear, Jericho has always managed to stay "one step ahead" of everyone around him. He stayed that step ahead of Rob Van Dam in their initial title 'bout, forcing Van Dam out of action before the match even began, and even stayed that step ahead of potential challenger Shawn Michaels by debuting the best insurance policy a worthy man could have – the seven-foot tall, 400 pound mammoth named Paul "The Great" Wright. Jericho, a very vocal opponent of the administration of AOW, then began telling anyone with ears that his visions for the company were better than anything the men running it – Paul Heyman and Mick Foley – could ever imagine. But woe to the visionary who opens his mouth and shuts his eyes…

Enter the #1 Contender, Rob Van Dam. After Jericho retained his AOW Championship via somewhat shady means at the first ever Supershow against both Van Dam and Shawn Michaels, RVD was named the man who would face Jericho at World Ablaze on the grounds that he never even got his one-on-one match with Jericho. In addition, the 'corrupt administration' Jericho was preaching against gave Van Dam the power to choose every opponent Jericho would face from then 'til the PPV. After repeat lobbying from Jericho – and the manipulation of Torrie Wilson – both men set it aside and met in the first ever AOW contract signing. There, the proud, Worthy Champion threatened to distribute AOW's financial numbers, citing them as the official straw that this administration was inept. RVD, meanwhile, gave his word that it wasn't the numbers that told the story – it was the people. And the life and blood, the reason people came to see AOW was to see RVD, with Van Dam concluding the effective formula of "RVD is AOW". When both men signed on the dotted line, it was revealed that Mick Foley was indeed "one step ahead" of not just Jericho, but both men, taking away Van Dam's right to pick Jericho's opponents…only for him to pick his match type at World Ablaze. In addition, he introduced that these men needed a mediator, a man who hated both of them evenly…

It was Shawn Michaels. Michaels, who hadn't been seen for a month following the Supershow and getting Chokeslammed by Paul Wright, was going to be the man officiating the biggest title match on the biggest stage in AOW's young history. With HBK not showing any remorse in bashing RVD over the skull nor showing aggression towards Jericho, the deciding factor was still up to Van Dam – what match did he want? The only thing the life and blood of AOW could chose – ECW Rules. Now, the biggest match in AOW history is about to be blown to a powder keg, the minds of the entire fandom on the line as well as the AOW Championship. But what will be the proving factor? Will it be Rob Van Dam's expertise in an extreme environment and knack for overcoming the odds? Will it be Shawn Michaels, who certainly doesn't mind getting involved and detests both men, truly being a wild card referee? Or will it be the champion Chris Jericho and his will to prove his worth and that he's still "one…step…ahead..?"





~I Quit Match~
*Loser Leaves AOW*
The Man on the Moon Christian Cage v. The Real Deal Bobby Lashley

The Moon. What does it know that you don't? It knows all, but no one is ever apt to listen to it. This is the ideology of Christian Cage, a man who has become seemingly possessed to the point of insanity in regards to Bobby Lashley. Seemingly fueled by simple jealousy, Christian expressed his great displeasure with Lashley showing up in AOW in the first place, saying he had no reason to be here; that this was a place for the working man, not the corporate favorite. Many fans agreed with Christian, forcing Lashley to get nothing above a mixed reaction every single time he was seen in AOW. Was Christian simply threatened by Lashley's presence? Jealous at his opportunities over his own? Whatever the case was, it soon consumed Christian into something much, much darker.

At AOW's first ever Supershow, Christian showed up looking as though he hadn't slept in days, muttering to himself that "I have to stop it". He shrugged off his confidant Torrie Wilson and ambushed his opponent that night in Lashley, caving Lash's head in with a threepeat of one man Con-Chair-Tos. While Lashley received a concussion, Christian received a suspension. Torrie Wilson begged and pleaded with Mick Foley for Christian's suspension to be overturned, all the while Christian cutting a promo from the Hammerstein rooftop and compared himself to the Moon and branding himself "The Man on the Moon", saying that he had discovered a much 'bigger picture' than everyone was realizing and it included Lashley. When Cage's suspension was lifted for one week for him to explain himself, Christian continued his conspiracy spiel, but this time, mentioning Paul Heyman and Chris Jericho in on the ordeal. How was this responded to? Bobby Lashley, making his return and shutting Christian up, saying there's only room for one of them anymore in AOW and challenging him to an I Quit match…where the loser would have to leave the young company forever.

Cage's suspension continued, while Lashley tried to heal up for his challenged match. In the process, Lashley became more and more detested in the Hammerstein Ballroom, the fans finally letting him know what they really think by assaulting him in a parking lot…only for an assaulter to be revealed as a masked Christian, who unleashed his rage on Lashley, only being forced to stop when Torrie Wilson intervened and begged Christian to cease. Finally, it was time for Bobby Lashley to say his piece, saying he's not sorry for what he's going to do to Christian and saying that he is here not for special treatment, but to prove to everyone that he's the best with his own two hands. Lashley explained that Christian didn't even know what was real anymore, but after Sunday, there would only be one "Real Deal" left before cementing his stance by spearing JBL in half. Now, the moon and the sun will collide, only one able to remain while the other is banished. The most heavily psychological feud in AOW and perhaps wrestling history will be resolved in brutality, only ending when one of these heavenly bodies scream "I Quit" across the cosmos.





~AOW Cruiserweight Championship~
The American Dragon Bryan Danielson(c) v. Gregory Helms

Don't count out the little guys. A match that many consider the third main event of the evening features more than just the Cruiserweight Championship on the line but an entire legion of pride and perhaps a look into the future of what wrestling may evolve into – cyberneticly. After introducing himself as the "Best in the World", Bryan Danielson had the chance to prove it against Rey Mysterio in his debut match in AOW, it being branded as Yin v. Yang, the past versus the future. Danielson did not come out on top, but his earlier comments more than attracted the attention of one Gregory Helms, who hacked into the Oblivion broadcast signal from his home in North Carolina, and proclaimed that Danielson could never be the 'best in the world' because he was, especially when it came to cruiserweights. Helms then 'hacked' Danielson for real after his loss to Mysterio, crushing Danielson and telling him that he was the future of the all things cruiserweight and in wrestling. He'd do whatever it took to get his hands on the Cruiserweight Championship.

At the first ever Supershow, Helms stayed true to his word and incapacitated Bryan Danielson's partner in the Tag Team Turning Point match to face Danielson in the finals of the match…where he was roundhoused out of mid-air to crown Danielson the first ever AOW Cruiserweight Champion. But this didn't stop Helms. Whether he feigned evidence is still very much up in the air, but whatever he presented AOW Chairman Paul Heyman was enough for him to get his rematch, Helms declaring he was the rightful champion, and thus, stole the physical title from Danielson. After Danielson said that there was no way Helms was on his level, Helms went on a mission to do what Danielson couldn't do – beat Rey Mysterio. And beat him he did…to a pulp. After defeating Mysterio, Helms exposed Mysterio's weak knee and dismantled it, putting Mysterio on the shelf for six months. Now, with Danielson decreeing that Helms will see an entirely different side of him come World Ablaze, who will be the man who walks away from his high-stakes contest? Will it be the scheming hacker who will stop at nothing – not even heroes and broadcasting signals – to get what he wants? Or will the American Dragon be true to his word and 'consume' Helms for all of his injustice?


~AOW Tag Team Championship~
The World's Greatest Tag Team(c) v. The Mercenaries

In AOW, the warrior's creed is one that is to be taken to heart and should be engraved into every wrestler's brain. One of the most forefront thing about the warrior code is respect for one's adversaries, regardless of circumstances. The World's Greatest Tag Team does not feel that way for The Mercenaries, especially in regarding the very questionable way they gained their #1 Contendership. But like Gregory Helms before them, Paul Burchill and Brent Albright set out to make the World's Greatest swallow their words by defeating the men who pushed them to their limit, The Hooliganz, in perhaps the most convincing way possible – by knockout. In a title defense against Chris Jericho and Rob Van Dam, the Mercs interfered and effectively retained the titles for the World's Greatest, declaring that they now had forcibly gained the respect they were denied, as well as putting Benjamin and Haas in debt to them. The only price they have to pay to settle it? The AOW Tag Team Championships. Now, can the World's Greatest Tag Team prove the worth of their name? Or will the vicious, methodical, and malicious Mercenaries collect their due?


~AOW Dynasty Championship~
Muhammad Hassan(c) v. Lance Storm

Muhammad Hassan has been a very shady character since coming to AOW. Having been blessed with his rich dead uncle's oil empire, the formerly bitter at America Hassan is still bitter at America, but has the money to tell them to suck it. And my, has he flaunted his cash so, almost buying himself his Dynasty Championship by purchasing the services of the Mercenaries. With the flaunting of his dough, it definitely rubbed CM Punk the wrong way. Punk knew Hassan didn't earn a damn thing he's had in AOW, telling that to Hassan's face. When Hassan opened his "5-Minute, $50,o00 Challenge" also for his #1 Contendership, Punk was viciously excluded. This did not stop his sort of mentor in Lance Storm from participating in the challenge however, coming up short. With Hassan wanting Punk out of the way in their second encounter, he had Paul Wright destroy the up-and-comer, but Punk found a way into the rematch and struck Hassan with his medical pole, helping Storm get the win. But with Punk to injured to show up at ringside, Hassan's worries are only on Storm. Can Storm take advantage of the opportunity his 'student' gave him and walk away with the AOW Dynasty Championship?


~Grudge Match~
Aero Star v. Jamie Noble

While The Mercenaries and WGTT have a beef about respect between them, Jamie Noble instead has one instead with the people of AOW. This being the fans and the administration alike, fueled by his treatment of being 'fed' to the debuting luchadore Aero Star. Noble claimed that throwing him at an opponent he'd never seen before was unfair and an immense sign of disrespect on behalf of all involved. Thus, Noble seeks to redeem himself in a rematch with Star, saying that he's "nobody's steppin' stone". The silent Star, on the other hand, lets his actions speak for him, constantly showing up Noble and letting him know he's not fettered by the decree. This perhaps changed when Noble Tiger Drivered Aero Star through the timekeeper's table last week. Both of these men refused to be stepped on and stepped over, but who will be the one who steps up? The brash, redneck warrior or the young high-flyin' gun who's set to stun?

~Tag Team Turmoil~
*#1 Contendership for the AOW Tag Team Championships*
(Teams not in entrance order)
Sons of the Dungeon v. American Made v. Samoan Fight Club v. The Hooliganz v. Low Jack v. Ken Doane & Chris Masters

If there's one thing AOW has proven in the few month's it's been around, it's that this is going to be the place the wrestling world turns for tag team wrestling. On the pilot episode, there were three tag teams in all of AOW. A few months later, that number's evolved to nine, and even being featured on the inaugural 90-minute Oblivion, branded Tag Team Halloween. Each tag team carries their own distinct style and their own district purpose. The Sons of the Dungeon and American Made are already locked in a tango together, each team representing their homeland's best wrestling training. Ken Doane and Chris Masters are also here to prove they're the future, but in a much bigger way. The Hooliganz are the fiery bunch looking to get back to the top, while the Samoan Fight Club is just here to crunch skulls in and DESTROY, as they put it. And not to be forgotten, the very contradictory elements of Low Ki and Jack Evans having been teamed for a while seem to have a purpose as mysterious as their pairing. Regardless of their respective qualms, come Sunday, every team will have the same goal in mind – to become the #1 Contenders for the biggest prize in tag team wrestling on the globe: the AOW Tag Team Championships.



What will happen when AOW's best decide to leave it all behind...and set this World Ablaze?


PREDICTION TEMPLATE

~AOW World Heavyweight Championship~
SPECIAL GUEST REFEREE: Shawn Michaels
~ECW RULES~
The Worthy Champion Chris Jericho(c) v. The Whole F'n Show Rob Van Dam

~I Quit Match~
*Loser Leaves AOW*
The Man on the Moon Christian Cage v. The Real Deal Bobby Lashley

~AOW Cruiserweight Championship~
The American Dragon Bryan Danielson(c) v. Gregory Helms

~AOW Tag Team Championship~
The World's Greatest Tag Team(c) v. The Mercenaries

~AOW Dynasty Championship~
Muhammad Hassan(c) v. Lance Storm

~Grudge Match~
Aero Star v. Jamie Noble

~Tag Team Turmoil~
*#1 Contendership for the AOW Tag Team Championships*
(Teams not in entrance order)
Sons of the Dungeon v. American Made v. Samoan Fight Club v. The Hooliganz v. Low Jack v. Ken Doane & Chris Masters

~Bonus Questions~

What will be the match order?
Will there be blood? If so, during which match?
What will be the longest match?
What will be the shortest match?
Who takes the fall in the Tag Team Championship match?
Predict the order of teams in the Tag Team Turmoil match.
---
CUTENESS²
AOW: Art of War Wrestling - The Greatest Affair
It's Baaaaack...
.:Oblivion Edition 39/40 Recap NOW POSTED!!:.
---
Last edited by 619IDH; 01-20-2012 at

04:37 PM

.
Posting Rules

You may not post new threads

You may not post replies

You may not post attachments

You may not edit your posts

---

HTML code is Off

---