WWE 06: Just Click the Fucking Thread
---
The year 2006 was a historic year worldwide. 2006 was the year NASA's Stardust mission came to a successful end, the first to return dust from a comet. 2006 was the year Italy won it's first World Cup in twenty-four years. It was the year Miley Cyrus got her first break. 2006 was the year when Montenegro declared it's independence. The year when hundreds died during the continuous war between Iraq and the United States.

2006 was also the year the WWE plummeted from one of the greatest forms of entertainment among male audiences between the ages of 18-49 to a product fans are ashamed to admit that they still watch. The world is still in awe, almost six years later, over the fact that Eddie Guerrero is no longer with us.

The death of Guerrero was the starting point of what many consider the darkest point in professional wrestling history. The edginess was removed from WWE programming. Steroids and other drugs were frowned upon even more with the Wellness Policy. Storylines went from the classic feud between Stone Cold Steve Austin and Vince McMahon to exploiting Eddie Guerrero's death to push one Rey Mysterio to the main event scene.

The company today is in shambles. Although not financially, but in the eyes of many the WWE is not what it used to be. My partner, Canadian, and myself have taken it upon ourselves to show you what could have happened in the year 2006, the last decent year in the WWE. With a roster that was built for the ages, with the likes of The Undertaker, Triple H, Shawn Michaels, Kurt Angle, Kane, Ric Flair, and many more along with the new blood of professional wrestling in John Cena, Batista, Randy Orton, and Mr. Kennedy, we promise to bring you a different look on wrestling. A different attitude. A different point of view. We promise to give you a mix of the new blood of professional wrestling with an old school touch along with cutting edge storylines and proper booking. We assure you that we will put forth our best effort to show you what the WWE could have truly been like in the year of 2006, only for them to miss out on an amazing opportunity to rekindle the magic from the Attitude Era.
Monday Night Raw
Presented by Canadian
Administration
General Manager:
N/A
Commentators:
Joey Styles, Jerry Lawler, and Jonathan Coachman
Ring Announcer:
Lillian Garcia
Backstage Interviewers:
Todd Grisham and Maria Kanellis
Champions
WWE Champion:
Edge
Intercontinental Champion:
Ric Flair
World Tag Team Champions:
Big Show and Kane
Women's Champion:
Trish Stratus
Roster
Antonio
Ashley Massaro
Big Show
Candice
Carlito
Charlie Haas
Chris Masters
Daivari
Edge
Eugene
Gene Snitsky
Goldust
Jim Duggan
John Cena
Kane
Lance Cade
Lita
Matt Striker
Mick Foley
Mickie James
Rene Dupree
Ric Flair
Rob Conway
Rob Van Dam
Romeo
Shawn Michaels
Shelton Benjamin
Torrie Wilson
Trevor Murdoch
Triple H
Trish Stratus
Tyson Tomko
Val Venis
Victoria
Viscera
Tag Teams and Stables
Big Show and Kane
Carlito and Chris Masters
Eugene and Jim Duggan
La Resistance
(Rene Dupree and Rob Conway)
The Freaks
(Goldust and Gene Snitsky)
The Heart Throbs
(Antonio and Romeo)
The Redneck Wrecking Crew
(Lance Cade and Trevor Murdoch)
World's Greatest Tag Team
(Shelton Benjamin and Charlie Haas)
Ladies in Pink
(Candice, Torrie Wilson, and Victoria)
Friday Night Smackdown
Presented by Alim
Administration
General Manager:
Theodore Long
Commentators:
Tazz and Michael Cole
Ring Announcer:
Tony Chimel
Backstage Interviewer:
Josh Matthews
Champions
World Heavyweight Champion:
Batista
United States Champion:
Booker T
WWE Tag Team Champions:
MNM
Cruiserweight Champion:
Kid Kash
Roster
Batista
Bobby Lashley
Booker T
Brian Kendrick
Chad Dick
Chris Benoit
Danny Basham
Doug Basham
Finlay
Funaki
Gregory Helms
Hardcore Holly
Heidenreich
James Dick
Jamie Noble
Jillian Hall
Joey Mercury
John Layfield
Johnny Nitro
Juventud
Kid Kash
Kurt Angle
Matt Hardy
Melina
Michelle McCool
Mike Shane
Mr. Kennedy
Nunzio
Orlando Jordan
Paul Burchill
Paul London
Psicosis
Rey Mysterio
Road Warrior Animal
Scotty 2 Hotty
Shannon Moore
Sharmell
Simon Dean
Steven Richards
Super Crazy
Sylvain
The Boogeyman
The Undertaker
Todd Shane
Vito
William Regal
Tag Teams and Stables
Paul London and Brian Kendrick
Paul Burchill and William Regal
Scotty 2 Hotty and Funaki
Basham Brothers
(Doug and Danny Basham)
F.B.I.
(Nunzio and Vito)
Legion of Doom
(Road Warrior Animal and Heidenreich)
MNM
(Joey Mercury, Johnny Nitro, and Melina)
The Dicks
(Chad and James Dick)
The Gyminis
(Mike and Todd Shane)
The Mexicools
(Juventud, Super Crazy, and Psicosis)
---
THERE IS ONLY ONE DIAMOND IN THE BUSINESS AND HIS NAME IS TITUS O'NEIL
Re: WWE 06: Just Click the Fucking Thread
---
Looks pretty standard so far and I must say, the opening was pretty compelling. Can't really comment on much else so far so all I can do is wish you good luck and assure you that i'll be reviewing.
---
"Can't is the cancer of happen"

~Charlie Sheen
Re: WWE 06: Just Click the Fucking Thread
---
I'm glad that I clicked the fucking thread!
I will read.
---
Finally Out of Cutey Sleep
Join Date: Jul 2006
Location: The Fountain of Dreams
Posts: 2,020
Points: 9
Re: WWE 06: Just Click the Fucking Thread
---
Alim? Is that you? Christ, I remember you from what seems like forever ago. Been a while since seeing a Canadian thread too. Presentation was nice, although the Cyrus line is a bit pushing it. With the roster, I'm assuming you're starting after New Year's Revolution, with Edge being champion and all.
Anyway, wish you guys luck and yet another welcome back
---
CUTENESS˛
AOW: Art of War Wrestling - The Greatest Affair
It's Baaaaack...
.:Oblivion Edition 39/40 Recap NOW POSTED!!:.
Moron
Join Date: Mar 2008
Location: Toronto, Ontario Canada
Posts: 3,978
Points: 1,054
Re: WWE 06: Just Click the Fucking Thread
---
NEW YEARS REVOLUTION RECAP:

This was a thrilling and exciting night for Raw but before we got the big event started, why not entertain the fans in a Heat match where we saw Chavo Guerrero take down the big, baby kicking monster Snitsky.

We seen the show open up with an Intercontinental title match up with the champion Ric Flair facing off against "Mr. Money In The Bank & Rated R Superstar" Edge. Ric Flair managed to win by Disqualification as he had Lita in a figure four leglock and Edge came in bashing him twice over the head with the Money In The Bank briefcase.

After a multiple weird series of events, Mickie wrestler Trish for the Womens Championship. Mickie was overly excited in the match due to wrestling her "idol" which may have lead to her defeaat.

We also saw "The Game" Triple H in action against the Big Show. Big Show suffered a broken hand by Triple H before the event had taken place so he was competing injured. To his advantage, Triple H capitalized and seized victory.

An unexpected match took place as Viscera enter the ring and Shelton's mama ended up challenging him on Shelton's behalf. Viscera accepted as Shelton's mama slapped him with her purse and Shelton seen an opening for a Dragon Whip which lead to the 1, 2, 3.

The next match was a Bra & Panties Gauntlet match, the first ever actually. Some may say eh, who cares, THE HORNY OLD MEN STILL CARE, IT'S STILL REAL TO THEM DAMN IT.. okay awkward.. but yeah we seen appearances by The Fabulous Moolah and Mae Young here. After they left and all the Raw divas were still left in the ring, Ashley Massaro snuck in and removed Victoria's panties for the win.

In what was to end the night off, we were closing in a thrilling, dangerous, Elimination Chamber match for the WWE Championship! We seen the champion John Cena obviously along with Kurt Angle, Chris Masters, Carlito, Shawn Michaels & Kane all competing and putting their lives on the line for this one chance to become the.. WWE Champion! The odds were stacked against Cena but he managed to overcome them all as in the final two he managed to roll up Carlito for the victory.

WAIT JUST A GOD DAMN MINUTE
..(8) ON THIS DAY, I SEE CLEARLYYYYY (8)..

OMG IT'S EDGE, IT'S EDGE. HE'S CASHING IN THE MONEY IN THE BANK!

..moments later..

"EDGE HAS SPEARED CENA, HE'S HOOKED THE LEG, ONEEE, TWOOOOOO, THREEEEEEEEEEEE! OH MY GOD EDGE HAS DONE IT, EDGE HAS PINNED JOHN CENA TO BECOME THE NEW WWE CHAMPION!"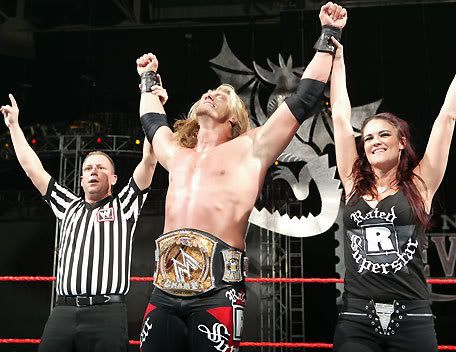 NEXT STOP.. THE ROAD TO WRESTLEMANIA!
Wheelman for James Ellsworth
Join Date: May 2011
Location: In your heart, baby.
Posts: 566
Points: 0
Re: WWE 06: Just Click the Fucking Thread
---
Interesting BTB. Setting it in the 2006 timeline is a good idea because there are a lot of flaws here. Rey Rey didn't deserve to be a champion YET at that time. But, let's see how it works.
Edge winning the title is great. But, let's see if he will be the champion until Mania.
---
"I am the voice of the voiceless!

- CM Punk

Zackamania is runnin' wild, broski.
Party Rockers in the house tonight, everybody just want to have a goodtime.
Marking for CM Punk, Zack Ryder, Christian and Daniel Bryan.

Moron
Join Date: Jan 2011
Posts: 749
Points: 0
Re: WWE 06: Just Click the Fucking Thread
---
While I disagree vehemently that 2006 was the last good year for the WWE, I'll keep an eye on this one all the same.
Re: WWE 06: Just Click the Fucking Thread
---
News and Notes
Quote:
Originally Posted by Wrestling Observer Newsletter
~ Expect to see roster cuts within the next few days. The WWE is looking to go into a new direction and the mentality is that they need to 'trim the fat' on the roster in order to do so. Likely candidates to be released include Jim Duggan, Simon Dean, The Gyminis, The Dicks, Heidenreich, among others.

~ Rumours are that the WWE has replaced John Laurinaitis as Senior Vice President of Talent Relations with Jim Ross. Ross held this position for a number of years until he was replaced by Laurinaitis. At this time, it is Laurinaitis' status within the company is unknown, and he may be terminated altogether.

~ WWE has officially signed Sean O'Haire to a new contract after being released in April 2004. Prior to his release, he had been involved in a motorcycle incident and was never given a chance to bring his way back up onto the roster. However, after numerous tryouts over the past two months, he was finally offered a contract and he has accepted. Expect to see vignettes air on the Smackdown brand shortly.

~ Rob Van Dam seems to have finally recovered from his reconstructive knee surgery which has put him out of action for almost a year. It is said that he will most likely return at the Royal Rumble pay-per-view.

~ Speaking of the Royal Rumble, no other surprise returns seem to have been confirmed at this time.
---
THERE IS ONLY ONE DIAMOND IN THE BUSINESS AND HIS NAME IS TITUS O'NEIL
Posting Rules

You may not post new threads

You may not post replies

You may not post attachments

You may not edit your posts

---

HTML code is Off

---