The BTB Advertisement Thread
---
The last thread was beginning to clutter and had lost some semblance to actual advertisements. This is a revised version of the BTB Advertisement thread.

Basically, this is the BTB Advertisement thread. Pretty self-explanatory, right? Wrong, here are the rules. Be warned - lack of adherence to the rules will result in a warning. If you keep it up, you will be given an infraction.

The BTB Advertisement thread allows you to post previews of your upcoming shows and PPVs and generate hype for an upcoming thread. In order to give prospective readers an incentive to view your thread, you can even post small samples of the advertised work in question, though these will be relegated to one paragraph.

If you wish, you can provide links to your threads following your advertisements.

Since the last thread was abused to some extent, I'm laying down some additional rules in order to keep this thread tidy.

1) ONE advert per every three days. We will check this thread every day to see if anyone is abusing the system and spamming the thread.
2) NO news, notes, or anything of that sort pertaining to your thread are allowed. We were lenient before in the last thread, but such posts belong in your thread. The BTB Advertisement thread is not your personal network - it is shared, and thus, only actual advertisements for shows are allowed.

Last, but not least; do NOT beg for reviews when you advertise. In jest, you can market your thread and mention reviews, but there is to be no fishing for 'em. It just reeks of desperation.

Thank you.
Re: The BTB Advertisement Thread
---
WWE 2009 - Bridging The Gap


WWE Friday Night Smackdown Preview, April 17th 2009


'Animal Kingdom'


Beast Unleashed

This past Monday Night saw the unexpected return of The Animal, Batista! The former World Heavyweight Champion stunned everybody, including Randy Orton, Edge and John Cena by making his triumphant return during the main event of Raw. Just before the blockbuster tag team match was set to take place, Cena's partner, CM Punk, was attacked backstage by an irate Big Show which rendered him unable to compete. Cena, deciding to tackle both World Champions alone ran to the ring but ultimately fell to the numbers game. Just when it seemed as if the vicious Orton was going to punt the CeNation Commander in the head, Batista shocked the world by sprinting to the ring and taking everybody out. The last image of Raw saw The Animal standing tall with both World Titles in his grasp. What does this mean for Randy Orton and Edge? What does this mean for the entire WWE? Tune in to Friday Night Smackdown where The Animal is set to take on the very man who started the chaos of Monday night in the first place, The Big Show!

Punk'd

Just moments before his huge tag team main event with John Cena against Randy Orton and Edge, The Straight Edge Savior found himself on the receiving end of a vicious beat down by The Big Show. Show, who obviously wasn't too happy about getting pinned by the Money in the Bank holder last week on Smackdown attacked Punk backstage right after getting disqualified in his match against Christian for doing the exact same thing. It is rumored that Punk has not been cleared to compete and thus is not scheduled to be in Baton Rouge come Friday.

Number Seventeen

In what turned out to be a very heated confrontation between two WWE legends set to do battle 'One More Time' come Backlash, the world just might have witnessed the beginnings of The Phenom's infamous mind games. After degrading Mr. Wrestlemania to nothing more than Number 17, The Undertaker went on to rebuke an attempted Sweet Chin Music with a mere shrug of his shoulders. HBK is set for action on Smackdown against the self-proclaimed 'Wrestling God' JBL. Has The Deadman got inside the head of Shawn Michaels?

Straight Up….Ballin?

The United States Champion saw himself on the losing end of a match to Ted DiBiase on Raw. Where one Legacy member goes, the other is sure to follow and this was the central reason for MVP's loss Monday night. While Mr. 305 was able to enact some measure of revenge against Legacy during Cody Rhodes' match with Rey Mysterio later in the evening, he will have the opportunity to go for a double when he faces off against the second generation superstar again this Friday Night.

Champion vs. Champion

Since winning the WWE Championship at Wrestlemania 25, The Viper is yet to step into the ring for competition. This will all change as he takes on the man who put away his Legacy brethren, Cody Rhodes this past Monday Night, Rey Mysterio! It's WWE Champion vs. Intercontinental Champion, The Viper vs. The Ultimate Underdog, Randy Orton vs. Rey Mysterio!

Also, World Heavyweight Champion Edge, Unified Tag Team Champions The Miz and John Morrison, Matt Hardy, Jeff Hardy and John Cena will all be on hand for another unmissable edition of Friday Night Smackdown!


Confirmed
MVP vs. Ted DiBiase
Shawn Michaels vs. JBL
Randy Orton vs. Rey Mysterio
Batista vs. The Big Show

---
WWE 2009 - Bridging The Gap
http://www.wrestlingforum.com/booker...ml#post9608810
Re: The BTB Advertisement Thread
---
Quote:

Monday Night Raw | June 24th 2002 | Cleveland, Ohio
cred to Enigma for the banners.
Monday night Raw this week experiences the aftermath of the King of the Ring, which saw the reigning Undisputed Champion, the Undertaker retain his title in a bout' with SmackDown's Triple H, Brock lesnar alongside Paul Heyman decimate the likes of Edge and John Cena to become the 2002 King of the Ring tournament winner and earn himself a shot at the champion come Summerslam. King of the Ring also featured Jeff Hardy taking out rival, Eddie Guerrero for the Intercontinental title and lastly for the Raw side of things, Vince McMahon won a steel cage match against Ric Flair which saw Shane McMahon and Arn Anderson make appearances throughout. Vince forced Ric Flair to relinquish his G.M spot as Raw was left without a General Manager.
With Raw left without a General Manager, things may turn upside-down this week as the inmates literally run the asylum. Vince is scheduled to appear on the top of the broadcast and give some information regarding a new Raw General Manager or at least someone part time to fill in the spot to control the brand and make sure there is order, but who is it? is it himself? or someone else?
Paul Heyman and Brock Lesnar are set to have themselves a celebration this week to commemorate the King of the Ring victory and the upcoming Summerslam title match. Will things go as planned for Heyman and Lesnar or will there be someone that has something to say about it. Brock is also set to be in the main event and face someone who came close at the King of the Ring but not enough- Rob Van Dam who looks to redeem himself and get back on a winning streak, can he topple the monster or will Brock once again be just too much.
In other action William Regal is set to face Hardcore Holly, however, William Regal has said that he will be having one Christopher Nowinski at ringside. Mr. Harvard the self proclaimed genious from OVW is set to make his first appearance on Raw in his young career and be at ringside, to learn and study from good friend, William Regal. How will his pan out for Hardcore Holly? and will Christopher Nowinski be a decisive factor in this match.
Newly crowned Intercontinental Champion Jeff Hardy is set to be here tonight along with Kevin Nash, the Big Show, Booker T, Rico, Bradshaw, Spike Dudley and several more. Raw is where it is at and as we enter the Summer time, things are set to get red hot and it's a can't miss show.
It is all up and posted. Reviews shall be returned within a couple of days.
---
Wheelman for James Ellsworth
Join Date: May 2011
Location: In your heart, baby.
Posts: 566
Points: 0
Re: The BTB Advertisement Thread
---
MWL.com News Bite
Quote:
The rating game will still be in my Be the Booker thread, but we will modify some changes as highest show between the two promotions will be given a chance to be the Main Event Match of the Pay-Per-View! For example, the highest-rating show between the promotion before New Blood Rising will be guaranteed a secured Last Match of that said pay-per-view! Support your promotion and give them a rating that they deserve!

UCL Saturday Night Blaze will not be posted in full because it is not really a part of the BTB! I just posted the roster and the championships because they are the future stars of the MWL! But, for the happiness and enjoyment on your part, we will still give the results in a recapped form and it will be released every week also on the News Bite!
MWL Weekly Shows Preview
Quote:
WWE Monday Night Raw for April 4, 2011
WrestleMania season is now officially over and done as we are now going back to the real deal once more as yesterday's extravanganza mark the last day of the McMahons as the ruler of this wrestling world because the richer man in the business world has bought the WWE and the TNA at the same time and resulting to a huge changes to the landscape of professional wrestling! The new owner of the two major promotions right now is Mr. Bill Gates as he merge the two opposing companies in to a professional wrestling league consisting of two teams! This Monday night, at the Philips Center, the night after WrestleMania, the owner of Microsoft, Inc. and the new owner of the WWE and TNA will speak up to the WWE Crowd! What will we expect from this business? Will the Gates era rule in this business or it will be the cause why wrestling will fall in the future?

This edition of Monday Night Raw after the WrestleMania pay-per-view will be three hours as we give you a big teaser on what will happen on the upcoming weeks here in this new and fresh wrestling league! Mr. McMahon, the Chairman of the WWE and one of the biggest executives on the MWL will speak about his future plans on the promotion! Also, giving some comments and opinions about this big merger between the two of the promotions who fight with each other for almost a decade! What will the Chairman address to the Universe? This will be surely an exciting new season of Monday Night Raw!

Since the owner of the MWL wants a good and decent tag team division, he sends a lot of young guns and talents to the two promotions because he believes that the young and fresh people on the roster will bring a new hype on the wrestling business! He has a motivation to bring back the respect and the love on the tag team section as he commands the General Manager of the WWE, Theodore Long to book a Four Corner Tag Team Elimination Match and it will be for the WWE Tag Team Championships! That is really promising note from the Microsoft and the MWL owner as he wants to bring excitement and fun to the league! The confirmed list of tag teams who will participate in the match will be Paul London and Brian Kendrick, The Ultimate Broskis, Cryme Tyme and World's Greatest Tag Team!

The self-proclaimed "Biggest Star in the MWL" AJ Styles will make his WWE Debut for the first time! You will surely regret if you will not watch the debut of one of the best in-ring competitors of TNA from 2002-2010 as he reveals his wants and needs in the WWE. Will anyone listen to his contentions as he demands and says it this Monday Night, live at Atlanta, Georgia or no one will ever listen to this guy!

If there is a big action and excitement to the mens' division, the girls division will not also quit as they will also give us and show us their talents that they boys can't do to their enemies! Two of the best women in this business right now will settle things in the center of the ring as former WWE Women's Champion and TNA Knockouts' Champion Mickie James will face the legendary and vicious Victoria! Two of the best WWE and TNA Girl Champions of all-time will battle it out as they kick their ass this Monday night! Who will prevail? Who will score a momentum in the WWE? This is surely exciting as we are going to unfold our first Raw Episode after the merge!

As stated on the contract, the former WWE and TNA Champions could get their rematch clause anytime they want as long they will not exceed on the 2-week limit! Jeff Hardy told the MWL Staff to have a WWE Championship match this Monday Night at Raw! But, who will be his opponent? That is really a confusing situation as we still do not have a WWE Champion after the said merge! Theodore Long will not make this episode really boring as he give an edgy match at the first hour of the new Monday Night Raw! As he pits the current face of the WWE right now, John Cena and the former face of the TNA, AJ Styles in a match to determine the person who will face Jeff Hardy in the main event which will also happen at that same night! Can John Cena prove that he is still the best guy in this league or the "Biggest Star of MWL" dominate in this match as he sends the other people in the WWE brand to better watch out as their ultimate challenge is now here on this business!

You want some highflying action? Well it is now here at WWE Monday Night Raw! As they give you non-stop and high-octane high risking moves to your eyes as the legendary Crusierweight Championship will be witnessed tonight as one of the best crusierweight champions in WCW and WWE will once again set his eyes to the title as he faces one of the best crusierweights in the division also, the Shaman of Sexy and the Prince of Parkour, John Morrison! But, wait, this will not be an ordinary wrestling match as the Fallen Angel Christopher Daniels, Kofi Kingston, Ted DiBiase and Jimmy Wang Yang would be the enforcers on this match! Will they bring a big effect on this match?

Since Mr. Kennedy left the WWE in 2008, Randy Orton is really having a relaxed time with the other superstars as he beats every opponent each and every single week that he has! But tonight, this is different as we will be really going upclose and personal as the Loudmouth from Green Bay will face his rival for many years! Not only in some championship chases, but also personal wrestling issues! We are sure that this will be a riot as two of the best guys will square off once again in the first episode of the WWE Monday Night Raw!

Confirmed Match List for Monday Night Raw
No. 1 Contenders' Match for the WWE Championship as Winner will face Jeff Hardy at the Main Event
"The Biggest Face of the MWL" AJ Styles vs. "The Chain Gang Commander" John Cena

Crusierweight Championship Match w/ Ted DiBiase, Christopher Daniels, Jimmy Wang Yang and Ted DiBiase Jr. as the enforcers

"The Shaman of Sexy" John Morrison vs. Rey Mysterio
"The WWE's Apex Predator" Randy Orton vs. "The Loudmouth from Green Bay" Mr. Kennedy

Mickie James vs. Victoria

Four Corner Tag Team Elimination Match for the WWE Tag Team Championship
Paul London and Brian Kendrick vs. Zack Ryder and Curt Hawkins vs. JTG and Shad vs. Shelton Benjamin and Charlie Haas

Grudge Match for the WWE Championship
Jeff Hardy vs. John Cena/AJ Styles
Quote:

TNA Thursday Night Impact for April 7, 2011
He is the Miz and he is awesome! Yeah, he might be awesome as he demands and commands a title shot at the Main Event to our General Manager, Jeff Jarrett as he books the Awesome One a match for the TNA Championship as he will square off with the Mr. Thursday Night for the coveted title this Thursday! Can the Miz prove that he deserves a title run in the TNA or Rob Van Dam will completely run on this Thursday Night Habit!

Sheamus will square off against a mystery guy who will be revelaed this Thursday also as they will fight it out in a standard wrestling match! Could the Celtic Warrior prove that he is now the King of the TNA or this mystery guy prove that he is better than the first Irish-Born WWE Champion? This will be surely mysterious and exciting as we are going to unfold also the guy this Thursday night live!

The Techincal Machine William Regal will speak tonight about his thoughts on why he is not yet receiving a big title opportunity since he debuted in the business 20 years ago! He will share to us his experiences, contentions and future plans on his colorless wrestling career? Would Regal be given his wish that he really waited for a long time or the dream will still be a dream forever? Will someone listen to his intentions? Will someone give him a chance to grant that wish?

CM Punk will speak up to the TNA crowd this Thursday as he returns to the infamous promotion! He will speak up about his really famous career after he transfers to the WWE and his Nexus thing! But also later in that night, he will face the Captain Charisma Christian and Corre's Wade Barrett! to be a No. 1 Contender for the TNA Championship at New Blood Rising! Will the NXT Season 1 Winner prove that he will rule and dominate the TNA with his Corre members or the Captain Charisma will gain a momentum as he returns to the promotion who gave him a big break!

The Beer Money Incorporated will face the young and fresh guys in this promotion as the twin sons of the Samoan Superstar, Rikishi will be putted on a test as they face the veteran tag team duo this Thursday at Impact! Can the young guns prove that they will the future on this business or the Beer Money Domination in the TNA Business will still continue?

Alberto del Rio will prove that he is destined to be the top guy in the TNA Brand as he faces one of the best workers in the WWE before and the former World Heavyweight and Intercontinental Champion, Dolph Ziggler! He will surely work on his own again as he is more determined to achieve what he haven't achieve for years and that is to be the man of the business! Can Ziggler prove something to the crowd or he will still eat more to win a match?

In our first ever Knockouts' Match, the former WWE Diva Beth Phoenix will square off on her former worker and former NWATNA Superstar, Gail Kim in a one-on-one grudge match! Can the Glamazon prove that she is the dominant monster in the Knockouts' Division or Gail Kim will teach Beth the real deal in this business? This will be an exciting Knockout Match this Thursday at Impact!
Confirmed Match List for Thursday Night Impact

Grudge Match for the TNA Championship
Rob Van Dam vs. "The Awesome One" The Miz

"The Celtic Warrior" Sheamus vs. Mystery Opponent

Triple Threat No. 1 Contenders' Match for the TNA Championship
"The Straightedge Superstar" CM Punk vs. Wade Barrett vs. "The Captain Charisma" Christian

Tag Team Grudge Match
Robert Roode and James Storm vs. Jimmy and Jey Uso

Gail Kim vs. "The Glamazon" Beth Phoenix
Mega Wrestling League (MWL): This will change the landscape of your annual professional wrestling habit!
---
"I am the voice of the voiceless!

- CM Punk

Zackamania is runnin' wild, broski.
Party Rockers in the house tonight, everybody just want to have a goodtime.
Marking for CM Punk, Zack Ryder, Christian and Daniel Bryan.

Re: The BTB Advertisement Thread
---
WWE 2011 - What's Booking?
Quote:
This may be the single greatest BTB that has ever existed.

I'm ashamed to say that while writing my next show for my BTB I kept throwing in stupid, random shit because I had just read this haha. I unfortunately, against better taste, deleted most of that hahah.

I can't say there is a thing I disliked about this. CM Punk on commentary is a great idea if there ever was one. Foley/Mankind double arm ddting everyone made me laugh every time. Austin just in general. I'm definitely following this thread and praying it continues.
Quote:
CM PUNK: "Aww shit, its Kharma." HAHAHAHA this was hillarious like the rest of the show.crazy start to the btb butnot complaining it was a lot of fun. foley/mankind was crazy and Mankind setting him on fire! wow lol it started the show with a bang and continued with the attack on the old commentary team, the new commentary team coming out and Austin and the rock as gm's! what a start!

jericho/Miz would have been a really good match, Austin attacking stopped it happening but sets up this mysterious highway to hell match well. i am intrigued.

Love Maria and even though she lost her in bra and pants is not a loss to anyone. Eve dissing Kharma was funny and cm Punk is hillarious on commentary.

The main events ere great WWWYKI!Ryder picking up the wins was great and even Bubba Ray winning the title off him in the 24/7 rule was great. Love that rule.

Cannot wait for Smackdown haha
Thursday Night Smackdown Extract!
Quote:
Teddy Long makes his way down the entrance ramp into the middle of the ring.

Teddy Long: I'm out here tonight, playas, to address the entire WWE universe.

Teddy Long: There have been major changes, regarding the way that this company will be run.

Teddy Long: For starters, we are now Thursday Night Smackdown Live!! in Charlotte!!!

Teddy Long: But despite the new owner ship, the schedule changes, the new titles, this is and will still continue to be Teddy Long's show.

Teddy Long: And as Smackdown General Manager, what I think...


IT DOESN'T MATTER WHAT YOU THINK!


A very familiar voice is heard through the speakers. The lights go off all around the arena, and the titantron begins to flicker, and then...

If ya smellllllllllllllllaaaaaaaaaaaaa!!!!!!
What The Rock is cookin'!!!

The Rock's theme music begins to play as the man himself strolls out to the ring

The Rock: Teddy Long, The Rock hears what you're sayin', but it just doesn't make any sense to The Rock.

The Rock: Do you why that is Teddy?

The Rock: Because as of tonight, you aren't the Smackdown General Manager, and this isn't your show anymore.

Teddy Long: Now hold on just a minute, playa!

The Rock: And just so you know, this was never your show!

The Rock: This was The Rock's show, from past to present, from future to now, hold on a minute playa! The Rock is here, what the hell you gonna' holla' about now?

The Rock slams the microphone against the ring floor, then hits Teddy Long with a Rock Bottom!

Booker T: Tell me I didn't just see dat!

Booker T: Dat right dere, dats always been Rocky's show, and he jus' took it back!

The Rock raises his arm high above his head as his theme music plays and he walks off to backstage as the new Smackdown General Manager.
WWE 2011 - What's Booking?
---
Re: The BTB Advertisement Thread
---
EDIT.
---
Last edited by Baldwin.; 06-13-2011 at

05:03 AM

.
Chopped Liver
Join Date: Jan 2004
Location: Six inches from a computer screen
Posts: 5,433
Points: 321
Re: The BTB Advertisement Thread
---
Re: The BTB Advertisement Thread
---
Monday Night Raw Preview
Monday 6th October 2008
Live from the Von Braun Center
Huntsville, Alabama




>The Dead-Man is Coming. . . Back!<
Tonight will mark the return to Raw of one of the biggest names in sports entertainment history when The Undertaker appears live from Huntsville, Alabama. It was confirmed after his shock appearance last week at the conclusion of the show which saw Ted DiBiase & Ezekiel Jackson doing a number on Kofi Kingston. The duo were more shocked than anyone to see the phenom appear out of nowhere to leave them both flat on their backs as Raw drew to a close. You have to ask why DiBiase and is this a sign of things to come from the Raw roster now arguably the most feared superstar of all time is headed back to Monday nights?

One man who may well be smelling fear right now is the WWE Champion, Batista with the sharks circling the water, hungry to tear away his WWE title at Survivor Series. Eric Bischoff reluctantly made the announcement when it looked like we were about to witness chaos that The Animal will have to defend his title against both Randy Orton & Triple H in just under six weeks in a triple threat match. The Game may well be happy to let his marriage to Stephanie McMahon-Helmsley fall by the wayside but now he has what he wants, a shot at the title and The Animal. The Viper will be licking his lips at the prospect of taking back the title he's tried to ever since losing it at WrestleMania. Are Batista's days as champion numbered?

We'll see Melina defend her title this week when she takes on Brie Bella, and after being accused by Mia Rain last Monday night of being an invisible champion, maybe the Women's Champion will be out to prove a point in Huntsville.

The World Tag Team titles may not be up for grabs this week but by the end of the night one team will be just one match away from the gold when two of the remaining four teams in the hunt collide when the team of JTG and his rookie, Homicide take on the undefeated duo of Christopher Daniels & Kaval. JTG & Homicide warmed up with a win last week over another mentor/rookie combination of Cody Rhodes & Joe Hennig. They looked impressive and their opponents for this week came out to take a closer look. Can Daniels & Kaval keep their impressive undefeated record going or will the boys from the Bronx make it two in two?

The winners of that match will go on to face the winners of next week's contest between Matt Hardy & Gregory Helms and Rey Mysterio & Mystico. It was the Mexican duo that won the final spot in the last four week in a match that saw Shane McMahon suffer a nasty injury after being chokeslammed through the announce table by The Big Show. We're hearing that there will be an announcement tonight on Shane's condition. Also, Hardy & Helms will be able to get an idea of what they'll be up against next Monday night when their buddy, Shannon Moore goes one on one with Mystico, Rey's rookie this week. What we've seen of Mystico so far, you can guarantee there's not going to be any lack of entertaining action.

If you didn't catch No Mercy last night, you won't have seen The Miz walk away from a potential fight with Shawn Michaels. It'd be an understatement to say those two have had their problems in recent weeks, and last Monday we saw The Heartbreak Kid ensure Miz and his rookie, Heath Slater would miss out on a shot at tag team glory. However Mr. Hollywood and his protégé will be in action tonight when they take on the team of Kofi Kingston & John Morrison in what will be a very difficult match indeed for The Miz & Slater. Life certainly won't be getting any easier for The Miz anytime soon.

It also appears that one man who isn't afraid of our new Intercontinental Champion, Sheamus is Carlito. After spitting in the Irishman's face the week before, last Monday he was called out by the dominant & undefeated Celtic Warrior. Carlito openly mocked Sheamus's pale complexion and even appeared to set a trap for him, a trap that he fell in to when Carlito's brother, Eddie Colon jumped the Irishman having been attacked by him several weeks earlier, resulting in Carlito spitting in Sheamus's face two weeks ago. It came as no surprise that Sheamus was furious and the Intercontinental Champion chased them out of the arena, only narrowly missing them as they sped out of the parking lot leaving the furious Irishman in their tracks. Will he be after them this week, and if so, will he be able to catch up with the Puerto Rican siblings this time?

In what promises to be a huge edition of Raw this week, make sure you tune in to see the return of The Undertaker and a whole lot more!
>Confirmed for Raw This Week<

WWE Women's Championship
Melina (c) vs. Brie Bella

World Tag Team Championship Tournament – First Semi Final Match
JTG & Homicide vs. Christopher Daniels & Kaval

Plus

Kofi Kingston & John Morrison vs. The Miz & Heath Slater

Mystico vs. Shannon Moore
Re: The BTB Advertisement Thread
---
~Friday Night Smackdown~
March 2nd, 2007
San Jose, California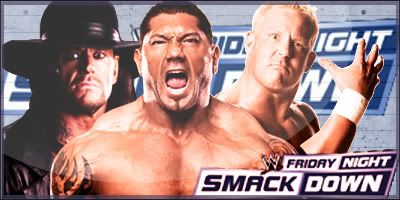 Friday Night Smackdown arrives in San Jose, California just one night away from Saturday Night's Main Event a leaderless brand, with the anarchy of last week's show still having a profound effect on the Smackdown roster.

When Mr. Kennedy snapped last week and choked Teddy Long with a microphone cord, fans around the world were shocked at the actions of the Kennedy as he assaulted Smackdown's General Manager. As a direct result of that attack, Long has been placed on a medical suspension by the WWE Board of Directors, meaning an Interim General Manager will be named tonight. Who will the new man be revealed to be? And what action, if any, will he take against Mr. Kennedy for his actions last week?

One man dared to stand up to Kennedy last week, and it was the World Heavyweight Champion Batista. 'The Animal' will no doubt be keen to run the rule over the new man in charge, but he'll have to keep his eye on the 2007 Royal Rumble Winner Edge, the two destined for a showdown at Wrestlemania. However, before his attack of Long last week, Kennedy once again expressed his desire to be involved in the World Heavyweight Championship match at Wrestlemania. With his actions at No Way Out and his words to Batista last week, Edge clearly shares Kennedy's opinion that it should be a Triple Threat Match in Detroit. Could Edge and Kennedy somehow persuade our new authority figure to grant them their wish?

One of Teddy Long's last acts as Smackdown General Manager was to grant a tag team title opportunity to La Resistance, a rematch from No Way Out featuring them and the WWE Tag Team Champions The Hooligans. London and Kendrick have long been tangling with Dupree and Grenier, but tonight is being billed as the last chance at the gold for Dupree and Grenier. Can Maryse finally lead her team to the gold? Will London and Kendrick finally see off their long time rivals? And what influence, if any, will The Bluebloods, William Regal, Dave Taylor and Paul Burchill have on the match? The Bluebloods attacked the champions last week, firmly stating they too deserved to be in consideration for a title shot. With Regal, Taylor and Burchill watching on, it promises to be an explosive end to the feud between La Resistance and The Hooligans.

Another of Teddy Long's last acts as General Manager was to announce that tomorrow night at Saturday Night's Main Event, a Four Way Elimination Match would take place to determine who would go on to Wrestlemania to face Gregory Helms for the Cruiserweight Championship. The four participants in that match, Bryan Danielson, Chavo Guerrero, Joey Mercury and Shannon Moore will clash tonight in tag team action, as Danielson and Moore combine to take on Guerrero and Mercury. Who will prove a point and give themselves a huge momentum boost just 24 hours away from one of the most important matches in the careers of these four individuals?

Also tonight, Finlay will announce the match stipulation for his United States Championship defence against Chris Benoit tomorrow night, with Number One Contender Matt Hardy no doubt watching that with a keen interest, King Booker and Montel Vontavious Porter will both be involved in the first two Money in the Bank Qualifiers of the year, taking on Sabu and Jimmy Wang Yang respectively, while we'll no doubt be hearing from Kane with regards the situation between Umaga and his brother The Undertaker.

A new regime will kick of a new era of Friday Night Smackdown, making this a show you won't want to miss!!

Confirmed Matches:

WWE Tag Team Championships Match: The Hooligans vs. La Resistance

Money in the Bank Qualifying Matches:
King Booker vs. Sabu
Montel Vontavious Porter vs. Jimmy Wang Yang

Bryan Danielson and Shannon Moore vs. Chavo Guerrero and Joey Mercury


Plus!
The new Interim Smackdown General Manager will be revealed!
Finlay will announce the match stipulation for the United States Championship Match at Saturday Night's Main Event!
Batista, Edge, Mr. Kennedy, Kane, Umaga and Matt Hardy will all be in attendance!!
---
World Wrestling Federation: The Montreal Fallout
New BTB. Check it out, eh?
Re: The BTB Advertisement Thread
---
Posting Rules

You may not post new threads

You may not post replies

You may not post attachments

You may not edit your posts

---

HTML code is Off

---