Learning to break kayfabe
Join Date: Feb 2013
Posts: 149
Points: 0
Re: The BTB Advertisement Thread
---
Ep. 120 of UWL 'Slam!' Wrestling is now posted in the 'Universal Wrestling League' thread.
Re: The BTB Advertisement Thread
---
Quote:
Episode Three Preview
2nd February 2010
We're only two weeks into NXT, and already tensions are running high not just between the NXT Superstars, but there are some WWE Superstars that have made it clear that they wish to be known to the NXT audience. One of these Superstars is the United States Champion The Miz, who successfully defeated MVP this past Sunday at the Royal Rumble, but he has singled out one NXT Superstar in particular for his appearance on NXT tonight; the man currently leading the Champion Points Table, Bryan Danielson. Danielson leads the way to Wrestlemania out of all the NXT Superstars following two convincing submission victories over David Otunga and Heath Slater. We've yet to receive word whether Danielson has accepted the challenge laid down by The Miz, but it is hard to imagine Danielson turning down something as huge as this.

Of course Matt Hardy was the very first WWE Superstar to compete on NXT last week in the main event, where he was able to overcome a very game Wade Barrett. Interestingly, after he had almost taken the veteran to the limit, Barrett refused the offered handshake from Hardy after the match to the disappointment of the Smackdown Superstar as well as the NXT fans. Wade has been quiet all week regarding his defeat last week, and the reasons for his disrespectful actions, but he might break his silence tonight. Barrett has a chance to redeem himself however as he and his dangerous Bull Hammer are going to take on the vicious Michael Tarver tonight.

Ryback is the only other competitor in NXT to still have a 100% record after the first two weeks, defeating Slater and then Darren Young last week. David Otunga vowed to Young that he would be the one to stop 'The Beast from Sin City' tonight, but it isn't going to be an easy task for either man as these two powerhouses prepare to lock horns.

Justin Gabriel avenged his opening week loss to Michael Tarver last week, but Tarver didn't take it too well to say the least; attacking Gabriel backstage during his interview from Naomi. The South African has the chance to make it two wins in a row as he is taking on 'The One Man Band' (BAYBAYY) Heath Slater.

Confirmed for NXT:

Non-Title Match:
United States Champion The Miz vs Bryan Danielson

Wade Barrett vs Michael Tarver

David Otunga vs Ryback

Justin Gabriel vs Heath Slater
Now posted, link in the singature
Re: The BTB Advertisement Thread
---
Quote:
Monday Night Raw – Preview!
Monday 16th Febuary 2009
Live from the AmericanAirlines Arena
Miami, Florida



Tonight's Raw is shaping up to be one of the biggest in recent history as we continue on the Road to Wrestlemania, rolling into Miami, Florida.




Last week we saw a confrontation between The Undertaker & John Cena, 24 hours after both were responsible for the other missing out on becoming a world champion. Cena wanted to apologise for his part in accidentally costing The Dead-Man his match the night before and settle things before all hell broke loose. The Undertaker answered Cena's invitation to join him in the ring, but it didn't seem he wanted to put things to bed, looking right up at a Wrestlemania sign looming above the ring. There's been speculation ever since as to whether it was a challenge or not, but just as Cena looked back at him, he was grabbed around the throat for a chokeslam.

Cena though acted on impulse and fought his way free before hitting an F-U to the phenom. He clearly regretted his actions but defended them as self-defence. Just when we thought we were going to get an answer last Friday night on Smackdown as to whether he was challenged or not, if he knew what he would do if it was, Mr. McMahon threw a spanner in the works. The Chairman of the Board was keen to give Cena one more chance at fighting for the world title against CM Punk to find out who truly deserves to be the World Heavyweight Champion. It's a decision Mr. McMahon wants by the end of tonight's Raw, and Cena has promised to make his decision live tonight from the AmericanAirlines tonight.

What will that be? Will he decide to take up Mr. McMahon's offer of another shot at Punk's world title, or will he decide to try & do what no one has been able to by taking on the legendary streak? Make sure you tune into Raw tonight to find out.





We're also going to witness the return of Miami's own, The Rock when he announces who will be the first inductee into this year's Hall of Fame class. We learnt last week that after going into the Hall of Fame himself last year, The People's Champion will be live on Raw in his hometown to welcome a new member to join him. Who will that man be? You'll have to watch Raw live later on when we'll be greeted with the presence of The Great One. It's fair to say there'll be a lot of electricity in Miami as the hometown here returns to Raw to electrify the millions & millions of his fans. You won't want to miss it whatever you do!

The battle lines are well & truly drawn between Shawn Michaels & Triple H as they move towards their WWE Championship showdown at Wrestlemania. After securing his title shot at No Way Out the night before, last week on Raw The King of Kings made it clear to The Heartbreak Kid that this is going to be a war, going as far to say he'll end his career if he has to to get the WWE Championship back. Michaels though was defiant in his response, slamming the door to the steel cage in Triple H's face during his match with Randy Orton. The WWE Champion cost the number one contender the match, allowing The Viper to pick up a big win over The Game. Michaels wasn't done there though and said that he was ready for anything his long time friend plans to cause him, showing just that as he gave him a taste of some sweet chin music. Both men will be in Miami later on tonight, and after last week you know it's war now!

We'll also see the Women's Champion, Queen Kong in action when she takes on Gail Kim, a few days after finding out she will meet Smackdown's Diva's Champion, Beth Phoenix at Wrestlemania in a unification match. Last week on consecutive nights, the undefeated Kong left The Glamazon flat on her back, and on Raw last week in Las Vegas she took the title she'll hope to call her own in six weeks. Will the behemoth send a message to Beth tonight? History suggests she will.

We also witnessed the return of Rey Mysterio last week after being put out of action last month by the Intercontinental Champion, Sheamus. He returned at No Way Out after Sheamus defeated Mystico to retain his title when it looked like The Celtic Warrior was going to continue his assault of Rey's tag team partner. Last Monday they met in six-man tag team action where Rey was victorious, pinning one half of the tag team champions, leaving the Intercontinental Champion furious. Rey will be in singles action tonight when he meets The Miz. Will it be another win for the Master of the 619?

It's guaranteed to be an amazing night live in Miami on a Raw that you won't want to or can afford to miss with Wrestlemania drawing closer & closer.


>Confirmed for Raw This Week!<

Non-Title Match
Gail Kim vs. Queen Kong

Plus
Rey Mysterio vs. The Miz

Now Posted!
Re: The BTB Advertisement Thread
---
~Monday Night Raw~
May 14th, 2007
Tucson Convention Center
Tucson, Arizona
Monday Night Raw rolls into Tucson, Arizona with the prospect of a WWE Championship Match, and the continuing suspense around the upcoming War Games Match which stepped up a gear thanks to the return of the one and only, Ric Flair.

Last week, Flair returned to the WWE after being absent from our screens ever since WrestleMania, and 'The Nature Boy' looked better than ever as he stormed into the arena to save John Cena from a two on one assault at the hands of Bobby Lashley and Randy Orton. With Orton being announced earlier in the night as the second member of Team Vince at War Games, Raw concluded with Cena announcing that Flair would be his teammate on Team Linda, the two standing tall as Raw went off the air. Tonight, we'll hear from Flair on his return to action, and just why he stayed away from Raw ever since that historic night in Detroit. And of course, as we continue to count down to War Games, more names are likely to be revealed as both Team Vince and Team Linda continue to take shape.

But while Flair's return is a huge story, another man who made an impact last week was newcomer Claudio Cesaro. In his first two weeks in the WWE, Cesaro has now picked up wins over both John Cena and the WWE Champion, Rob Van Dam. Granted, his victory over Van Dam was via countout, and his defeat of Cena last week had plenty to do with Bobby Lashley and Randy Orton, but the record books don't lie, Cesaro is 2-0 and tonight, he gets another shot at 'RVD' and the WWE Championship. Unlike his first night on Raw when it was Cesaro who made the challenged, last week it was Van Dam, ever the fighting champion, who offered to put the title on the line to put the rookie firmly in his place. Tonight, both men meet with the gold on the line in a match where by ruling from the WWE Board of Directors, any outside interference will result in an immediate suspension. With no excuses available, just who will be leaving Tucson as the WWE Champion?

Eleswhere, the Round of 32 of the King of the Ring comes to a conclusion this week, with Raw wrapping up it's half of the bracket tonight with two matches that could have a big impact of the tag team division. One half of the World Tag Team Champions, Charlie Haas, takes on Tyson Kidd from The Hart Legacy, the two teams exchanging words backstage last week, giving this one a little bit extra meaning as both men look to one up the other duo. As for the match between Lance Cade and Nick Dinsmore, The Redneck Wrecking Crew and The Straight Edge Saints have repeatedly clashed over the last few weeks, with Punk advancing in the King of the Ring with a win over Trevor Murdoch, while The Saints gained victory over The Crew as part of a Six Man Tag Team Match last week. It may be for a spot in the next round of the King of the Ring, but these two matches carry much more meaning for these four teams.

All this, and we'll crown a new number one contender for the Women's Championship as Maria, Melina and Natalya do battle in a Triple Threat Match, the winner set to face the champion Beth Phoenix next week on Raw, although many still wonder where exactly is the former champion Mickie James? And we'll hear more from Kenny Dykstra and Carlito after Dykstra announced last week that he'd hired a bodyguard to protect himself from 'Lito, plus there will be appearances from two men already through to the next round of the King of the Ring, Jeff Hardy and Chris Masters.


Confirmed Matches:

WWE Championship Match: Rob Van Dam vs. Claudio Cesaro

King of the Ring Qualifying Matches – Round of 32
Charlie Hass vs. Tyson Kidd
Lance Cade vs. Nick Dinsmore

Maria vs. Melina vs. Natalya
---
World Wrestling Federation: The Montreal Fallout
New BTB. Check it out, eh?
Re: The BTB Advertisement Thread
---
WWE Preview
~ Hosted by Renee Young ~
Renee Young –
"Welcome to the show where we build to the biggest show on Monday nights. And tonight is a very special show! My name's Renee Young, my co-host Josh Matthews isn't here for the first show because of a cold, but I don't believe that for a second."
Renee Young -
"Regardless, we have a show for you later tonight, and let me tell you, it's going to be huge. Jerry Lawler announced this Raw as a Super card of sorts, and he's put together a very strong line up. Tonight, you'll witness the return of The Hitman, Bret Hart to Monday Night Raw. And we have heard that he will call out Shawn Michaels, we can only expect fireworks when these two go face to face in the ring and I for one, cannot wait to see one of my childhood hero's back on Raw."
Renee Young -
"As well as a big return from the legendary Bret Hart, there will be a WWE Championship match when Rey Mysterio takes on the champion, Randy Orton. The Viper has been on a tear as of late, striking fear into the hearts of anybody and everybody he crossed paths with. Rey will need all his strength, and will need all of the fans behind him if he wants to defeat The Viper. And I can only hope, that I don't get asked to interview Orton because frankly, between you and me, I'm not his biggest fan."
Renee Young -
"Also, tonight, The Heartbreak Kid, Shawn Michaels faces The Miz, who by the way, welcomed me very kindly to the WWE family by loudly telling me he was going to not only defeat Michaels, but he would destroy him. Bold words from The Miz, and this may be the best time for this match for him, as Shawn Michaels will have to contend with the distraction of facing Bret Hart in the centre of the ring."
Renee Young -
"The big matches just keep on coming, as a huge triple threat tag team match has been announced as The Colons, will take on The Legacy, taking on MVP and Mr. Kennedy to determine who will face The Monarchy, the World Tag Team Champions at Vengeance. MVP and Mr. Kennedy have some issues to work out though if they want to take on The Monarchy as it was MVP who eliminated Ken Kennedy in the Battle Royal."
Renee Young -
"Sheamus will take part in his second match of his short WWE career, last week he faced off against Jammy Fino, who in total opposite to The Miz, welcomed me by calling me "bro", fist bumping me and invited me to play a game of basketball with him. Regardless, Sheamus will face some tougher competition tonight as he takes on Chris Masters. Also, we have yet to hear Sheamus' answer to William Regal's offer to join The Monarchy, he has until the end of tonights show to make his decision, one has to wonder the consequences if he denies, and also what would happen to the rest of the WWE if he agrees."
Renee Young -
"Jack Swagger will be in action as he takes on Jimmy Wang, but his mind will be else where as he has a revenge driven CM Punk to watch out for. We saw Jack Swagger attempt to break the ankle of Punk last week on Raw, stopping him from cashing in his Money in the Bank briefcase and quite possibly becoming the WWE Champion. We will see Punk tonight, and if gets his hands on Swagger we'll need every member of the roster to break these two up."
Renee Young -
"Finally, another championship will be on the line as Maryse defends her Undisputed Women's Championship against the scary, Katie Lea. These two went head to head at Fully Loaded where Maryse cheated to win, but tonight, all eyes will be on the match as we could see the championship change hands."
Renee Young -
"That's all from me. I'm Renee Young, don't forget to tune into Raw tonight, and also tune in on Friday when we preview SmackDown, and hopefully my co-host Josh Matthews will show his face. Until then, good bye."
---
Raw has been posted!
http://www.wrestlingforum.com/booker...l#post18047970
Re: The BTB Advertisement Thread
---
WWE Raw Preview
Tonight Raw hits off in C-Town, Calagry, Alberta! Raw is planned to have an explosive show!

Two members of The Cyber Sunday, Intercontinental Championship Fatal 4 Way Match will be in action on Raw things begin to heat up between the four men! Will the two men be victorious?

The announcement of Mid-Card Champ vs Champ Match has been added on as US Champ Antonio Cesaro faces IC Champ Kane, will US Champ Antonio Cesaro win clean against Kane or will Kassius Ohno play a part?

Due to last weeks actions Raw Assistant GM Charlotte Flair has decided to hold a Six Man Tag Match with John Cena tagging up with two people of his choice, the three will face WWE Champ CM Punk who has to pick two members of The Shield what will happen in the mega event? And who will be victorious!

Find out all of this on Monday Night Raw, on the USN Network 8/7 Central!
Confirmed For Raw:
Two contenders for IC Championship in action!

Mid-Card Champion v Champion Non Title Match
IC Champion Kane vs US Champion Antonio Cesaro w/Kassius Ohno

Six Man Tag Match
John Cena and 2 partners of his choice vs WWE Champion CM Punk w/Paul Heyman and two members of his choice from The Shield[
---
G.O.A.T
Quote:
CM Punk: I am the best wrestler in the world. I've been the best ever since day one when I walked into this company, and I've been vilified and hated since that day because Paul Heyman saw something in me that nobody else wanted to admit. That's right, I'm a Paul Heyman guy. You know who else was a Paul Heyman guy? Brock Lesnar, and he split just like I'm splitting, but the biggest difference between me and Brock is I'm going to leave with the WWE Championship
READ MY BE THE BOOKER WWE: New Era
http://www.wrestlingforum.com/booker...new-era-2.html
Re: The BTB Advertisement Thread
---
Quote:
Originally Posted by
KNEES_TO_FACES
View Post
WWE Raw Preview
Tonight Raw hits off in C-Town, Calagry, Alberta! Raw is planned to have an explosive show!

Two members of The Cyber Sunday, Intercontinental Championship Fatal 4 Way Match will be in action on Raw things begin to heat up between the four men! Will the two men be victorious?

The announcement of Mid-Card Champ vs Champ Match has been added on as US Champ Antonio Cesaro faces IC Champ Kane, will US Champ Antonio Cesaro win clean against Kane or will Kassius Ohno play a part?

Due to last weeks actions Raw Assistant GM Charlotte Flair has decided to hold a Six Man Tag Match with John Cena tagging up with two people of his choice, the three will face WWE Champ CM Punk who has to pick two members of The Shield what will happen in the mega event? And who will be victorious!

Find out all of this on Monday Night Raw, on the USN Network 8/7 Central!
Confirmed For Raw:
Two contenders for IC Championship in action!

Mid-Card Champion v Champion Non Title Match
IC Champion Kane vs US Champion Antonio Cesaro w/Kassius Ohno

Six Man Tag Match
John Cena and 2 partners of his choice vs WWE Champion CM Punk w/Paul Heyman and two members of his choice from The Shield[
Raw now up
WWE: The New Era
---
G.O.A.T
Quote:
CM Punk: I am the best wrestler in the world. I've been the best ever since day one when I walked into this company, and I've been vilified and hated since that day because Paul Heyman saw something in me that nobody else wanted to admit. That's right, I'm a Paul Heyman guy. You know who else was a Paul Heyman guy? Brock Lesnar, and he split just like I'm splitting, but the biggest difference between me and Brock is I'm going to leave with the WWE Championship
READ MY BE THE BOOKER WWE: New Era
http://www.wrestlingforum.com/booker...new-era-2.html
Learning to break kayfabe
Join Date: Feb 2013
Posts: 149
Points: 0
Re: The BTB Advertisement Thread
---
ON THE NEXT
UWL 'SLAM! WRESTLING!

UWL World Champion Roddy Piper battles Rick Rude of The Firm! Pres. Watts will make a decision at the beginning of the program as to whether or not the match will be for the World Title!

PLUS!

Pres. Bill Watts confronts Greg Valentine about Valentine breaking Steve Williams' ankle two weeks ago

UWL Women's World Champion Madusa vs. Luna

UWL TV TITLE MATCH: Hugh Morrus (TVC) vs. 'Bad Boy' Brunzell

The first 'Thunderstruck' PPV Update

AND MORE!!!

Ep. 121 of 'Slam!' wrestling will be posted Monday or Tuesday.

DON'T MISS IT!!!
---
Last edited by slap shotz; 05-13-2013 at

06:09 PM

.
Re: The BTB Advertisement Thread
---
Quote:
Originally Posted by
dgeneration-nexus
View Post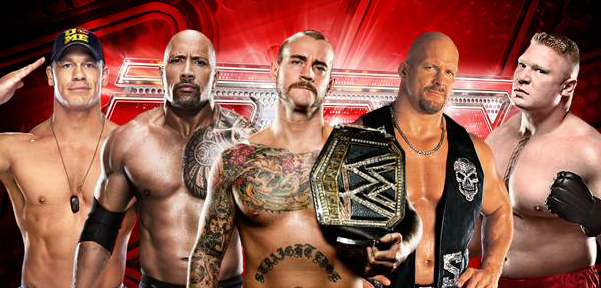 DGENERATION-NEXUS presents WWE: The Road to WM30

13 nights away from the 2013 Royal Rumble pay-per-view, WWE celebrates Monday Night Raw's 20th anniversary in style as past collides with present in a 3-hour special. The headline going into Raw is the news that Stone Cold Steve Austin has been confirmed for the show. What role will the Rattlesnake play on what is set to be an explosive night?

At the Royal Rumble, WWE Champion CM Punk puts his lengthy championship reign on the line against The Rock. Punk feels he has been disrespected by WWE management by having to defend his hard-earned championship against what he calls "a movie star who's won 2 matches in 8 years", while Rock has vowed to become WWE Champion "for the people". Things are getting personal between Punk and Rock, who have come to blows on more than on occasion recently. With Rock and Punk both confirmed for Raw, what is next in the latest chapter of this rivalry?

Also confirmed for Raw are John Cena and Brock Lesnar. Cena suffered a career-threatening neck injury at the hands of Lesnar, who returned at the TLC event last month to seek revenge for his Extreme Rules loss to Cena 9 months earlier. Prior to Lesnar's return, Cena had vowed to win the WWE Championship in order to earn a "shot at redemption" against The Rock, and despite taking several beatings at the hands of Lesnar Cena has declared he will enter the 2013 Royal Rumble match. Standing in his way are 29 other men... including Lesnar, who says he is entering the Rumble match "to hurt as many people as he can". Lesnar is out of control and is swinging for everyone in sight, and with Cena competing against doctor's orders how can the leader of the Cenation possibly hope to overcome this mountain of a challenge?

The World Heavyweight Championship is firmly in the hands of the Big Show, who has seemed unstoppable since winning the title at Hell In A Cell. Show has dominated all comers in singles action, but after learning that his championship would be on the line in a triple threat match against Randy Orton and Daniel Bryan at the Royal Rumble Show has been furious. The Giant is unhappy at been put in a position where he doesn't have to be involved in the decision that could see him lose his title, predicting that Bryan and Orton will double-team him before turning on each other. However, Bryan and Orton have been unable to stay on the same page when forced into tag matches together, with neither man seemingly interested in making friends. Last Friday on SmackDown, Bryan faced Orton in singles action with Show as the special referee – a match which ended in a no contest when Show knocked out both men. Tonight the roles are reversed as Orton referees a match between Show and Bryan. Will The Viper call it down the middle, or will these three combustable elements explode again?

Also confirmed for Raw is a Tag Team Championship match. Rey Mysterio and Sin Cara dropped the titles in a shock loss to the Prime Time Players last week, with miscommunication between the Luchadors costing them dearly. The former champions cash in their rematch clause tonight and look to correct their mistakes to regain the championships.

Ryback defeated Kane last week to earn the right to select his entry number in the Royal Rumble match. 2013 will be Ryback's debut in the Rumble match, and with such an advantage against the other 29 competitors he is one of the favourites going in. Ryback declares his entry number on Raw this week.

There will also be a vote to crown the most popular superstar of Raw's 20 year history. The nominees are Stone Cold Steve Autsin, The Rock, The Undertaker, Triple H and CM Punk, but who will win the accolade? There will be legends, surprises and great matches on what promises to be a memorable night in Raw's 20 year history.

Coming soon...
Show now posted.
---
The Rock | Undertaker | Triple H | Chris Jericho | Stone Cold
CM Punk | Dean Ambrose | Mark Henry | Daniel Bryan | Dolph Ziggler
Austin Aries | Jeff Hardy | AJ Styles | Bully Ray | Christopher Daniels
Finally Out of Cutey Sleep
Join Date: Jul 2006
Location: The Fountain of Dreams
Posts: 2,020
Points: 9
Re: The BTB Advertisement Thread
---
Quote:
[FONT="Georgia"]619IDH PRESENTS
THE OUTER LIMITS OFFICIAL PREVIEW






~AOW Heavyweight Championship~
The Worthy Champion Chris Jericho(c) v.
The Man on the Moon Christian Cage v.
The Heart Break Kid Shawn Michaels

Three men. Three different paths to glory. Three different motivations. One ultimate goal – to do the impossible. Shawn Michaels, Christian Cage, and Chris Jericho have all been indirectly linked in some way since the very inception of AOW, but for the first time ever, these three genuine superstars will lock horns in what has been deemed far too perfect – a date with destiny for all the world to see.

For AOW Champion Chris Jericho, this match is not like any of the ones he has had in the past. Chris Jericho has prided himself on being AOW's undisputed Master of Puppets; a man who can manipulate any and all human beings to do his every whim at the drop of a hat. Then he'll tug the puppet strings and cut them loose if they dare pose a threat to him. Everyone from Christian to Shawn Michaels to Mick Foley to even Paul Heyman himself have fallen to the might of the Worthy Man. He has gone undefeated for all seven months of AOW. The "Worthy Champion" has gone so far as actually call himself a god on more than one occasion. But for the first time ever, the master stratagem that is Chris Jericho has no plan in sight – his Worthy Legion is in shambles and his gigantic insurance policy, Paul Wright, is banned from ringside (and has his own troubles to deal with).

Challenging Jericho's god-like seven month reign up front is a man who knew what was coming, but was absolutely powerless to stop it for months on end. Christian Cage tried to convince everyone that Chris Jericho was up to something, but fell on deaf ears before losing his job to Bobby Lashley at World Ablaze. In the weeks that followed, with the 'Man on the Moon' out of the way, Jericho and the Worthy Legion turned AOW into their own theatre. But when Christian returned to assemble a team to enter the War Chamber, it was Cage alone who emerged after an hour inside the hellish structure, more than ready and more than able to be on level footing with the 'god' before him.

But one man literally stands in both of their ways. After Shawn Michaels' heartbreaking defeat in December at the hands of Jericho, all thought we would never see the Heart Break Kid in AOW again. Fast forward to Christian and Jericho's contract signing for this very match, one that Michaels suddenly interrupted and superkicked all in attendance…before signing his own name at. Being revealed now having sold his soul to the devil in Paul Heyman for his job back , Shawn Michaels seeks redemption. The Outer Limits takes place in the very Bell Center in Montreal that the wrestling world's most famous match took place in, something the Canadians have never let Shawn forget.

Now, all three of these journeys will intersect in a place that two men can call home, while the other calls Hell. But no matter what, they will cross paths and see who will become the first man to ever hold the AOW Championship when it is rebranded as the AOW World Heavyweight Championship. One man has never held a world title and has worked and sacrificed so much to do so while avenging an entire company. Another man has sacrificed his very soul to hold one again. And the other has self-elevated his own ego to a point of divinity to never let it go. There is absolutely no telling which man (or god) will walk away from the Grandest Stage of War, title held high. But whoever it is, you can be sure they will accomplish the impossible and become…immortal.






*Unsanctioned Match*
The Whole F'n Show Rob Van Dam v. The Fighting Irishman Finlay


In the end, all a man has is a name. But when your very identity is challenged by your own faults, there is nowhere to hide anymore. No one to blame but yourself. For his entire career, Rob Van Dam has made his name by…well…chanting his name in arenas all over the world. The signature thumbs and letters littered sold out crowds everywhere, no matter which company banner the man himself was under. Very early on in his stay in AOW, RVD said that "RVD is AOW" and vowed to become AOW Champion no matter the means.

But on Van Dam's third bid to become champion, something happened. Chris Jericho pulled off an incredible strategy, revealing the hand that Christian Cage had warned everyone about since day one. This revelation cost RVD another shot at the title through no fault of his own, but that wasn't something Acting Commander Mick Foley was going to take lightly. He granted RVD one last shot at the title, but just when it looked like Van Dam would finally defeat Jericho for the gold, a grudge-carrying Dave Finlay struck him with his shillelagh and crushed those dreams. With that loss, Van Dam was banned from ever being able to challenge for any AOW gold…period.

In the weeks that followed, Van Dam become a shell of his former self. He forgot who he really was, what he really stood for, and even announced his retirement from professional wrestling, almost completely out of shame. Not being able to fight for gold had cost Van Dam everything and made him want to step away from everything, declaring that "Rob Van Dam is dead"…until Finlay reminded him that RVD doesn't die until Finlay say he does.

From December on, Finlay has made it his personal mission to break everything involving Rob Van Dam or Robert Szatowski. He beat his friend Tommy Dreamer to a bloody pulp at This is Exile, right in front of Szatowski. Finlay then put on the fake guise of wanting to patch things up with Szatowski, only to use alcohol to get to him even more and goad him into challenging him to a match. Szatowski bailed on their Bar Room Brawl, but Finlay took the opportunity to take RVD's wife and smash her deliberately with the shillelagh. That was the straw that broke the camel's back and gave birth Rob Van Dam again in a demeanor we've never seen him before – angry and seeking revenge. Now, with absolutely no limits and not even legal restrictions holding them back, two men who want the other deader than dead will find out just how far a name can go towards rebuilding a man…or killing him.







~AOW Cruiserweight Championship~
*The Final Encounter*
The American Dragon Bryan Danielson(c) v. Gregory Helms

Bryan Danielson has held the AOW Cruiserweight Championship for 127 days, boasting an incredible resume as not just AOW's inaugural Cruiserweight Champion, but putting on quite the display in his first year in a mainstream wrestling promotion. Harnessing his craft for years on the independent circuit conditioned Danielson for things like facing 'god-like' heavyweight champions, entering War Chambers, and even competing for several months with a broken orbital bone over his left eye.

But despite all of those accomplishments, there's one thing that Bryan Danielson cannot shake for the life of him. And that's the pursuit from a man obsessed. Gregory Helms has more than established himself as one of the greatest cruiserweight champions of all time, most prominently holding a cruiserweight title in another promotion for more than an entire year. But Helms has not been able to have the same type of success in AOW, despite doing everything he possibly can in getting title matches with Bryan Danielson.

Helms has gone so far as to produce fake evidence and even hold the physical title itself hostage. Following his second defeat by Danielson following World Ablaze, Helms only resurfaced when a #1 contender's mini tournament was announced, the Carolinian getting the big win he needed to once again face The American Dragon.

A rivalry that has been brewing since the very first day of AOW will finally come to a head, as this match will be contested under Final Encounter rules. The rules are simple there are no count outs or disqualifications, meaning that the only way to win is by the means that a title changes hands – pinfall or submission. There must be a definitive fall here because no matter what happens, this match will NEVER happen again! Will the obsessed and boarderline crazed Gregory Helms finally get his thirst for gold quenched? Or will Bryan Danielson finally prove he is the best in the world and make good on his promise to 'kick Helms' head in'?







~AOW Dynasty Championship~
The Second City Saint CM Punk(c) v. The Boondock Saint Antonio Banks

The term "Saint" can be used to describe anyone who possess great virtue beyond the normal man. Both CM Punk and Antonio Banks fit the bill on that regard, but how can two men claim to be of the same mold, yet be so different? From the very first moment he showed up in AOW, CM Punk has been defined by his virtues of the straight-edge lifestyle, abstaining from drugs or alcohol. He has also become defined by the virtues of pride and passion, using both to propel him to the Dynasty Championship due to his love of being a professional wrestler.

But on the night that CM Punk finally vanquished his rival in Muhammad Hassan, a man struck him from behind with a piece of gold that didn't belong to AOW. For weeks, vignettes hyping the coming of "The Saint" stirred up quite the buzz among the wrestling world, but no one was prepared for the buzz that would be sent out when the man revealed to be "The Saint" was Montel Vontavious Porter – a man who a week later would rebrand himself as "The Boondock Saint" Antonio Banks.

While Banks' very presence proved controversial and may cost the company off-camera, on-screen, Banks' motivations for leaving the WWE high and dry can be boiled down to one word that most of us like to avoid: race. Banks preached that professional wrestling, like any other business, is prejudiced against Black performers and competitors. Claiming to have risen from his slum upbringings and being a light unto the world, Banks has set his sights on CM Punk's Dynasty Championship to begin his 'march to the Promised Land'.

CM Punk has never been one to back down from a challenge, but now his pride and passion will have to clash with one man's provocativeness and prejudice. Verbally getting into it with Banks on multiple occasions, Punk has maintained the platform that wrestling nor life care what color you are, only what you can bring to the table. But will both men bring to the table come Sunday? Can The Second City Saint overcome all the controversy and chatter surrounding his opponent? Or will The Boondock Saint make good on his promise to guide his 'brothas in arms' to a higher place…?






~AOW Tag Team Championships~
World's Greatest Tag Team(c) v. Sons of the Dungeon

Honor amongst friends is something that should never be disputable. There is even honor amongst thieves. But there seems to be a distinct disconnection between Shelton Benjamin and Charlie Haas in regards to who they are as a team and what they stand for. For normal men, holding the AOW Tag Team titles for over six months would be enough. But to a pair of gentlemen who are overcompetitive, there must always be more.

Seemingly flip-flopping in their attitudes on a weekly basis for a while, things finally came to a sense of direction when the two faced each other at This is Exile. In a technical display of athleticism and wrestling ability, it was Haas who just barely managed to get a sneaky pin over Benjamin. While Haas has not boasted as much as one would think, it's probably because Shelton Benjamin has become much more aggressive and less agreeable, the pinnacle reaching in the twos title defense against Bryan Danielson and CM Punk, where Shelton defied the very 'honor and respect' stance the team had set up for itself.

If there's anyone who knows about honor and respect, however, it would be a pair of gentlemen who have eclipsed the famous Hart Dungeon. One of the rookie highlights of AOW's inaugural year, TJ Wilson and Harry Smith have proven their worth in the ring beyond anyone's expectations. While trying to get a two-on-two shot with the WGTT for a while, a rib injury to Smith delayed that dream. Even so, Wilson faced both members and attempted to show that the team was more than ready for gold. After pinning both members in the Trios Tournament and defeating their rivals American Made for this fair chance, no one is doubting that the Dungeon dwellers don't have what it takes.

Now on home soil, could that be the edge that the Sons need to overcome the incredible reign set before them? Or will the World's Greatest Tag Team be able to set aside their differences for the umpteenth time and walk away from Montreal as AOW's first ever WORLD Tag Team Champions…?







~AOW Trios Tournament Finals~
Mercenaries, Inc.v. Tres Reyes

Started as a way to get a lot of guys some TV time before the AOW Offseason hits, the AOW Trios Tournament has supplied the annals of Art of War Wrestling with a magnificent new slew of matches to call classics. What no one expected was that not only would the two teams involved be so worthy, but would develop a great deal of aggression towards one another.

Mercenaries, Inc. have been bracket favorites from the moment the competition was announced, headed by their captain and one of AOW's latest additions, Sir William Regal. Regal has past ties with Paul Burchill, making him an additional mentor to the already catching-on Brent Albright. Call him 'Sir', but Regal is no less meticulous or violent than his new stablemates, leading them to convincing victories by using the Trios Tournament rules of elimination and gunning for team captains to end the match as quickly as possible. Having yet to have lose a member in a match, Mercs Inc. hopes to extend their client pool with the credibility of calling themselves the best three-man band in all of wrestling.

On the other side, Tres Reyes have not just undergone three name changes in their Mexican hat dance of swirling ideas, but now have also had three captain changes. The team hasn't forgotten what The Mercenaries did to them at This is Exile, as a potentially botched half-nelson suplex from Brent Albright gave Super Crazy a concussion and put the Trios' future in jeopardy. Using the Trios rules to protect Crazy in the first round, Crazy named himself captain for the second bout and made it past there. But the only way they possibly made it to the finals was from the aerobics and quick thinking of their rookie, Aero Star, who has quickly become the biggest must-see luchador prospect in the world.

The bracket is done and the finals are set. Mercenaries, Inc. have made it no secret that they plan to exploit every physical weakness that Tres Reyes has, but the luchadors are not backing down from a chance to show the world just a little bit of lucha heritage on a grand stage. Whoever takes home the gold will have to earn it through the fight of a lifetime.






~Grudge Match~
The Biggest Little Man Rey Mysterio v. The Bad Apple Carlito Colon

To a much lesser degree than one Antonio Banks, Carlito Colon has made it no secret, nay, made it his mission to let the world know just how 'cool' and proud he is of being Latino. Carlito started by looking how to excommunicate all the terrible Latino stereotypes running around in AOW, first targeting The Mexicools and Aero Star. Successfully defeating them at This is Exile (with little to no help from The Mercenaries), Carlito seemed to now shift gears towards possibly a strap in the company, but a returning Rey Mysterio saw fit to make his return after four months of injury to stop him.

Colon has newfound friends in the Samoan Fight Club, the trio showing their dominance in the Trios Tournament and looking to exert it more when Tres Reyes defeated them. But it was then that Rey made the save to rescue his fellow countrymen, standing up for their rights to be who they are because that's just who they are. Mysterio has argued that there's more than one way to be Latino and that Carlito is merely a young punk who needs to be taught a serious lesson. Now, Carlito and Mysterio are set to face one another for the purpose of pride and heritage.







~The Unstoppable Force vs. The Immovable Object~
The One Man Army Samoa Joe v. Paul "The Great" Wright

It may not be the main event, but you can be this will be the heavyweight clash of all heavyweight clashes! The two heaviest titans in all of AOW will do battle in what has been billed appropriately – Samoa Joe will not stop until all the scum is out of the way, and Paul "The Great" Wright is not stepping out of the way. If there's anyone that can avoid these men's grasps, it's one another, but they've chosen to go at it like tanks instead.

Since December, The Unstoppable Force of Samoa Joe has made it his personal mission to get rid of all the scum in AOW. His decree was first to Shawn Michaels, but his journey has since taken him through the ranks of the Worthy Legion. Joe has wins over Ken Doane, Bobby Lashley, and has stepped in a ring with Chris Jericho three different times, once with the AOW title on the line and twice being locked in a steel structure. In the War Chamber variant of that, Joe was the last man in but the first man to leave after driving Wright through the girdle floor and eliminating both men.

The Immovable Object in Paul "The Great" Wright has been a wrecking machine since being introduced to AOW. First coming in and surprising everyone by siding with Chris Jericho, Wright has been the anchor of the Worthy Legion. Playing the dragon alongside Bobby Lashley to Jericho's evil sorcery, Wright and Jericho remain the only two men on the roster who are undefeated. Samoa Joe has never been pinned or made to submit – a distinction he holds with on again, off again rival Finlay. But come Sunday, one of these things will almost surely have to give. Samoa Joe's hitlist comes to a close and Paul Wright faces his first true, genuine challenge in AOW. Will "The Great" outmuscle Joe, or will the One Man Army be able to finish off his mission in a "Great" way…?
[/I]
*pant* It's...finally...posted. *huff* Link in sig...or here
---
CUTENESS²
AOW: Art of War Wrestling - The Greatest Affair
It's Baaaaack...
.:Oblivion Edition 39/40 Recap NOW POSTED!!:.
Posting Rules

You may not post new threads

You may not post replies

You may not post attachments

You may not edit your posts

---

HTML code is Off

---