Re: The BTB Advertisement Thread
---
Quote:
Friday Night 'Live' Smackdown
Friday 13th February 2009 - Preview!
Live from the Rimrock Auto Arena
Billings, Montana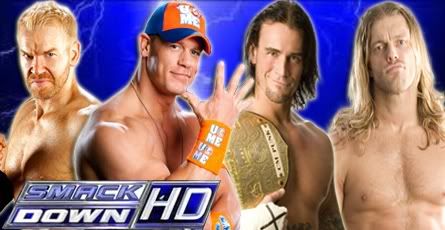 The Road to Wrestlemania is always a bumpy one, and No Way Out lived up to the tradition, but we're still feeling the fallout to Sunday's controversial pay-per-view. There was nothing more controversial than the World Heavyweight Championship yet again when John Cena locked horns with CM Punk. This time they met inside a steel cage to ensure there would be an undisputed World Champion. That unfortunately didn't happen after another incident between Cena & The Undertaker came back to haunt Cena, just as it looked as if he was going to emerge from the cage as the new World Champion. The Dead-Man got his retribution for what appeared to be another innocent mistake earlier in the evening, leading to a confrontation on Raw Monday night that saw Cena F-U The Undertaker in what he called 'instinctive' and in 'self-defence'. There's also some confusion as to whether he was challenged to a match at Wrestlemania by the man who is 16-0 at the showpiece event with the phenom looking up above the ring to the Wrestlemania sign looming above the ring, something he did too at No Way Out. If he was gunning for Cena before Monday night, surely he'll be hell bent on making Cena rest in peace now. The speculation remains and Cena will be in Billings, Montana live this Friday night, and he too will be looking for answers. Will we get any clarification on this, and what will be Mr. McMahon's reaction to CM Punk once again escaping with the world title? What response will we get from the man himself? Punk is never short of words and that surely won't be any different this time around!

We expected a brutal encounter between Christian & Edge in their TLC match at No Way Out and they didn't disappoint. After losing to his younger brother at Summerslam last year, The Rated-R Superstar evened the score after a con-chair-to Christian who put up an incredible effort in a match that both men came close to winning. It was Edge ultimately who prevailed and he'll be in Billings this week too while we understand that Captain Charisma is recovering from a concussion suffered in that match and won't be on hand. Now that Edge has got the win over his brother to make up for the defeat at Summerslam, you can safely say he'll be in high spirits this Friday night when he steps foot inside the Rimrock Auto Arena.

We'll also find out who will become the number one contenders for the WWE Tag Team titles when the two teams left in the tournament collide. Power & Perfection, the team of Bobby Lashley & Charlie Haas knocked off The Empire in a very impressive victory last week before the men who refer to themselves as Mexican Royalty, Chavo Guerrero & Alberto Del Rio went on to defeat Paul Burchill & TJ Wilson thanks to a distraction from The Empire. These two teams will go at it with the winners guaranteed an opportunity to fight for the titles that belong to Paul London & Brian Kendrick. Make sure you watch Smackdown this week to find out which team that is.

The problems as we just said there between The Empire & The UK Pack, TJ Wilson & Natalya Neidhart show no signs of dying down, and last Sunday we saw Harry Smith's long awaited return to the ring when he met Wade Barrett, the main man responsible for breaking his ankle last year. Smith was gunning for revenge and got it when he played Barrett at his own game, using brass knuckles after the referee saw Barrett trying to use some of his own, just as he did at Night of Champions when he & Drew McIntyre won the titles from Burchill & Wilson, weeks after breaking Smith's ankle which led to Wilson defending the title on his friend's behalf. Barrett is bound to be seething and he might be happy to learn that Smith will be in action again this week when he goes up against someone who he might prefer not to in Jack Swagger. The All-American American will have no problem in going after his ankle with his ankle lock submission hold deadly enough as it is in normal consequences. Can Harry overcome this challenge too from Swagger like he did Sunday against Barrett?

Another man victorious at No Way out was Matt Sydal when he defeated Ted DiBiase, the man who claimed he not Sydal should've been named the Breakthrough Star of 2008. Sydal settled the score after DiBiase's part in him losing the United States Championship to Dolph Ziggler at the Royal Rumble. The reigning King of the Ring still has a rematch for the title many feel he should still have, and this week the man who holds that title will meet Bryan Danielson in a non-title match. Danielson & Ziggler have both been on fire lately and it's bound to be a terrific contest you won't want to miss.

Sydal may be able to take it easy after Sunday's win as he has best man duties to perform the night after Smackdown when Elijah Burke ties the knot with Layla on Valentine's Day. All DiBiase has to look forward to is time off after he was forced to leave Raw on Monday night. He lost a challenge that would've seen him earn a Money in the Bank qualifying match had he won his match, but after losing he lost his place on the Raw roster. You can imagine Sydal will have enjoyed seeing that too!

One very unhappy Smackdown superstar after two bad nights in Vegas is the Diva's Champion, Beth Phoenix. She & O.D.B. were left helpless when Raw's Women's Champion, Queen Kong interrupted their match and left them both flat on their backs, and The Glamazon may be regretting her decision to go to Raw to confront Kong. The Women's Champion answered Beth's call to go down to the ring, and when they
went at each other it was Kong who again was standing tall, only this time she left with Beth's diva's title. Will Beth be regretting that decision now? We'll probably find out this Friday night.

It's bound to be another explosive edition of Smackdown live this week, and it'll be one you won't want to miss!

>Confirmed for this week on Smackdown!<

Non-Title Match
Bryan Danielson vs. Dolph Ziggler

Number One Contenders Match
Power & Perfection (Bobby Lashley & Charlie Haas) vs. Mexican Royalty (Chavo Guerrero & Alberto Del Rio)

Plus
Harry Smith vs. Jack Swagger

Now Posted!
Learning to break kayfabe
Join Date: Feb 2013
Posts: 149
Points: 0
Re: The BTB Advertisement Thread
---
Ep. 118 of 'Slam!' is now posted in the 'Universal Wrestling League' thread.
Learning to break kayfabe
Join Date: Oct 2009
Posts: 17
Points: 0
Re: The BTB Advertisement Thread
---
Coming In May

"No, dehumanize her. She's not your dog sitter, or your Daughtry"

"So, Vorgoth, you're the lord of things right? What do I have to do to get out of here?"

"How about a scavenger hunt where you have to go to different dimensions?"

"Bring it, beach,"

ONE MAN'S JOURNEY
ONE MAN'S TRIUMPH
ONE MAN'S MENTOR
ONE MAN'S WEDDING
ONE MAN'S SUPER AWESOME TIME TRAVELLING DIMENSION CROSSING ADVENTURE

Jonathon Gold goes to the one place where he's never dared, and finds himself that much closer to his sine qua non

13 Years In, Over 7976 To Go presents "This is 9/11" March 41st 2024 a theatrical event of monumental ultra swagportance.
*Please no eating or masticating in the theater.
**Seriously it's gross and no wants to step in man chowder.
***Be sure to check out Bloody Easter Smackdown 4 live on PPV featuring "The 8000 Time SSAW King of The Universe Warrior Grandslam Mega Murder Mother Flippin' Champion" Tri Bute, and "Bearskin" John Boy Corbett in blockbuster super matches after the movie is over, it's only 90$.
****If you do stick around for the PPV, we'd like to remind you not to masticate during it. We would like our event to be as family friendly as possible. 10 year old kids don't need to see you going to town on yourself while they are watching our warriors and it sends the wrong message about what our industry is about.
*****If you do masticate during the event at least clean it up, it is your man juice after all.
******Keep in mind that this is extremely edgy.
---
Last edited by ndqw; 04-24-2013 at

04:57 AM

. Reason: Forgot to make text smaller
Re: The BTB Advertisement Thread
---
Revolutions never die...




A BTB years in the making!
---
"Acquire a peaceful spirit, and around you thousands will be saved." + Saint Seraphim of Sarov

---
Last edited by ChainGangRed; 04-25-2013 at

07:35 AM

.
Re: The BTB Advertisement Thread
---
DGENERATION-NEXUS presents WWE: THE ROAD TO WRESTLEMANIA 30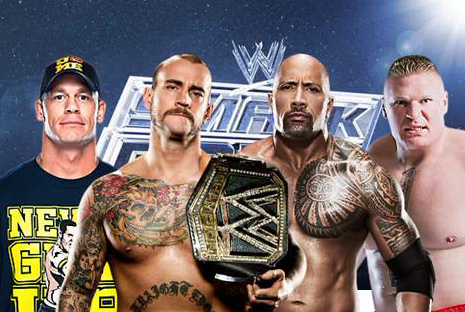 For the first time in a decade, The Rock returns to Friday Night SmackDown ahead of his upcoming WWE Championship match with CM Punk. Rock returned to WWE on Monday Night Raw and left the champion with a People's Elbow, giving fans hope that Punk's reign of terror may soon come to an end. There will be reaction from both men tonight.

Also on SmackDown, the Tag Team Championships will be on the line when Rey Mysterio & Sin Cara defend against the Prime Time Players. The Players capitalised on miscommunication from the champions last week to earn this opportunity, and fans of the Luchadors will be hoping lightning doesn't strike twice.

Ahead of the Royal Rumble, a 20-man battle royal took place on Raw with the winner allowed to select their own entry number into the Rumble match. The match ended in controversial fashion as Ryback and Kane last eliminated each other, with both men hitting the floor at the same time. SmackDown GM Booker T has ordered a singles match between the two tonight on SmackDown, with the winner getting their choice of entry number.

Big Show has held the World Heavyweight Championship since defeating Sheamus back at Hell In A Cell, and has dominated all challengers to his title. But the Giant feels WWE management are trying to take the title from him after Show was told he was defending his title in a triple threat match against Daniel Bryan and Randy Orton at the Rumble. Show will be the special guest on MizTV to discuss his views on the situation.

United States Champion Zack Ryder will respond to Damien Sandow's challenge after the Intellectual Saviour of the Masses declared his ambition to take the title from Ryder.

Confirmed Matches

Damien Sandow vs Kofi Kingston

Kane vs Ryback with the winner selecting their own Royal Rumble match entry number
---
The Rock | Undertaker | Triple H | Chris Jericho | Stone Cold
CM Punk | Dean Ambrose | Mark Henry | Daniel Bryan | Dolph Ziggler
Austin Aries | Jeff Hardy | AJ Styles | Bully Ray | Christopher Daniels
---
Last edited by dgeneration-nexus; 04-26-2013 at

08:06 AM

.
Re: The BTB Advertisement Thread
---
WWF 1995 | The New Generation
Raw Preview
Tonight on Monday Night Raw a new WWF President will be announced. Will tonight be the night where we could possibly see the dream team of Razor Ramon, Diesel, Shawn Michaels and The 123 Kid against The Million Dollar Corporation: Lex Luger, Sycho Sid, Bam Bam Bigelow and IRS. Will the new President announce this match tonight? Plus Jim Ross conducts a sit down interview with Bret Hart. We will also see The 1995 King of the Ring, The British Bulldog in action tonight. Double J, Jeff Jarrett defends his Intercontinental title against Bob Spark Plugg Holly. Jarrett has promised to debut his music video tonight. All this and more on Monday Night Raw plus WWF Superstars Results.
Show now posted
here
---
WWE 2004: The Road to WrestleMania 21
Click here to read
---
Last edited by Kintaro; 04-26-2013 at

12:39 PM

.
Finally Out of Cutey Sleep
Join Date: Jul 2006
Location: The Fountain of Dreams
Posts: 2,020
Points: 9
Re: The BTB Advertisement Thread
---
619IDH PRESENTS
THE OUTER LIMITS OFFICIAL PREVIEW



~AOW Heavyweight Championship~
The Worthy Champion Chris Jericho(c) v.
The Man on the Moon Christian Cage v.
The Heart Break Kid Shawn Michaels

Three men. Three different paths to glory. Three different motivations. One ultimate goal – to do the impossible. Shawn Michaels, Christian Cage, and Chris Jericho have all been indirectly linked in some way since the very inception of AOW, but for the first time ever, these three genuine superstars will lock horns in what has been deemed far too perfect – a date with destiny for all the world to see.

For AOW Champion Chris Jericho, this match is not like any of the ones he has had in the past. Chris Jericho has prided himself on being AOW's undisputed Master of Puppets; a man who can manipulate any and all human beings to do his every whim at the drop of a hat. Then he'll tug the puppet strings and cut them loose if they dare pose a threat to him. Everyone from Christian to Shawn Michaels to Mick Foley to even Paul Heyman himself have fallen to the might of the Worthy Man. He has gone undefeated for all seven months of AOW. The "Worthy Champion" has gone so far as actually call himself a god on more than one occasion. But for the first time ever, the master stratagem that is Chris Jericho has no plan in sight – his Worthy Legion is in shambles and his gigantic insurance policy, Paul Wright, is banned from ringside (and has his own troubles to deal with).

Challenging Jericho's god-like seven month reign up front is a man who knew what was coming, but was absolutely powerless to stop it for months on end. Christian Cage tried to convince everyone that Chris Jericho was up to something, but fell on deaf ears before losing his job to Bobby Lashley at World Ablaze. In the weeks that followed, with the 'Man on the Moon' out of the way, Jericho and the Worthy Legion turned AOW into their own theatre. But when Christian returned to assemble a team to enter the War Chamber, it was Cage alone who emerged after an hour inside the hellish structure, more than ready and more than able to be on level footing with the 'god' before him.

But one man literally stands in both of their ways. After Shawn Michaels' heartbreaking defeat in December at the hands of Jericho, all thought we would never see the Heart Break Kid in AOW again. Fast forward to Christian and Jericho's contract signing for this very match, one that Michaels suddenly interrupted and superkicked all in attendance…before signing his own name at. Being revealed now having sold his soul to the devil in Paul Heyman for his job back , Shawn Michaels seeks redemption. The Outer Limits takes place in the very Bell Center in Montreal that the wrestling world's most famous match took place in, something the Canadians have never let Shawn forget.

Now, all three of these journeys will intersect in a place that two men can call home, while the other calls Hell. But no matter what, they will cross paths and see who will become the first man to ever hold the AOW Championship when it is rebranded as the AOW World Heavyweight Championship. One man has never held a world title and has worked and sacrificed so much to do so while avenging an entire company. Another man has sacrificed his very soul to hold one again. And the other has self-elevated his own ego to a point of divinity to never let it go. There is absolutely no telling which man (or god) will walk away from the Grandest Stage of War, title held high. But whoever it is, you can be sure they will accomplish the impossible and become…immortal.






*Unsanctioned Match*
The Whole F'n Show Rob Van Dam v. The Fighting Irishman Finlay


In the end, all a man has is a name. But when your very identity is challenged by your own faults, there is nowhere to hide anymore. No one to blame but yourself. For his entire career, Rob Van Dam has made his name by…well…chanting his name in arenas all over the world. The signature thumbs and letters littered sold out crowds everywhere, no matter which company banner the man himself was under. Very early on in his stay in AOW, RVD said that "RVD is AOW" and vowed to become AOW Champion no matter the means.

But on Van Dam's third bid to become champion, something happened. Chris Jericho pulled off an incredible strategy, revealing the hand that Christian Cage had warned everyone about since day one. This revelation cost RVD another shot at the title through no fault of his own, but that wasn't something Acting Commander Mick Foley was going to take lightly. He granted RVD one last shot at the title, but just when it looked like Van Dam would finally defeat Jericho for the gold, a grudge-carrying Dave Finlay struck him with his shillelagh and crushed those dreams. With that loss, Van Dam was banned from ever being able to challenge for any AOW gold…period.

In the weeks that followed, Van Dam become a shell of his former self. He forgot who he really was, what he really stood for, and even announced his retirement from professional wrestling, almost completely out of shame. Not being able to fight for gold had cost Van Dam everything and made him want to step away from everything, declaring that "Rob Van Dam is dead"…until Finlay reminded him that RVD doesn't die until Finlay say he does.

From December on, Finlay has made it his personal mission to break everything involving Rob Van Dam or Robert Szatowski. He beat his friend Tommy Dreamer to a bloody pulp at This is Exile, right in front of Szatowski. Finlay then put on the fake guise of wanting to patch things up with Szatowski, only to use alcohol to get to him even more and goad him into challenging him to a match. Szatowski bailed on their Bar Room Brawl, but Finlay took the opportunity to take RVD's wife and smash her deliberately with the shillelagh. That was the straw that broke the camel's back and gave birth Rob Van Dam again in a demeanor we've never seen him before – angry and seeking revenge. Now, with absolutely no limits and not even legal restrictions holding them back, two men who want the other deader than dead will find out just how far a name can go towards rebuilding a man…or killing him.







~AOW Cruiserweight Championship~
*The Final Encounter*
The American Dragon Bryan Danielson(c) v. Gregory Helms

Bryan Danielson has held the AOW Cruiserweight Championship for 127 days, boasting an incredible resume as not just AOW's inaugural Cruiserweight Champion, but putting on quite the display in his first year in a mainstream wrestling promotion. Harnessing his craft for years on the independent circuit conditioned Danielson for things like facing 'god-like' heavyweight champions, entering War Chambers, and even competing for several months with a broken orbital bone over his left eye.

But despite all of those accomplishments, there's one thing that Bryan Danielson cannot shake for the life of him. And that's the pursuit from a man obsessed. Gregory Helms has more than established himself as one of the greatest cruiserweight champions of all time, most prominently holding a cruiserweight title in another promotion for more than an entire year. But Helms has not been able to have the same type of success in AOW, despite doing everything he possibly can in getting title matches with Bryan Danielson.

Helms has gone so far as to produce fake evidence and even hold the physical title itself hostage. Following his second defeat by Danielson following World Ablaze, Helms only resurfaced when a #1 contender's mini tournament was announced, the Carolinian getting the big win he needed to once again face The American Dragon.

A rivalry that has been brewing since the very first day of AOW will finally come to a head, as this match will be contested under Final Encounter rules. The rules are simple there are no count outs or disqualifications, meaning that the only way to win is by the means that a title changes hands – pinfall or submission. There must be a definitive fall here because no matter what happens, this match will NEVER happen again! Will the obsessed and boarderline crazed Gregory Helms finally get his thirst for gold quenched? Or will Bryan Danielson finally prove he is the best in the world and make good on his promise to 'kick Helms' head in'?







~AOW Dynasty Championship~
The Second City Saint CM Punk(c) v. The Boondock Saint Antonio Banks

The term "Saint" can be used to describe anyone who possess great virtue beyond the normal man. Both CM Punk and Antonio Banks fit the bill on that regard, but how can two men claim to be of the same mold, yet be so different? From the very first moment he showed up in AOW, CM Punk has been defined by his virtues of the straight-edge lifestyle, abstaining from drugs or alcohol. He has also become defined by the virtues of pride and passion, using both to propel him to the Dynasty Championship due to his love of being a professional wrestler.

But on the night that CM Punk finally vanquished his rival in Muhammad Hassan, a man struck him from behind with a piece of gold that didn't belong to AOW. For weeks, vignettes hyping the coming of "The Saint" stirred up quite the buzz among the wrestling world, but no one was prepared for the buzz that would be sent out when the man revealed to be "The Saint" was Montel Vontavious Porter – a man who a week later would rebrand himself as "The Boondock Saint" Antonio Banks.

While Banks' very presence proved controversial and may cost the company off-camera, on-screen, Banks' motivations for leaving the WWE high and dry can be boiled down to one word that most of us like to avoid: race. Banks preached that professional wrestling, like any other business, is prejudiced against Black performers and competitors. Claiming to have risen from his slum upbringings and being a light unto the world, Banks has set his sights on CM Punk's Dynasty Championship to begin his 'march to the Promised Land'.

CM Punk has never been one to back down from a challenge, but now his pride and passion will have to clash with one man's provocativeness and prejudice. Verbally getting into it with Banks on multiple occasions, Punk has maintained the platform that wrestling nor life care what color you are, only what you can bring to the table. But will both men bring to the table come Sunday? Can The Second City Saint overcome all the controversy and chatter surrounding his opponent? Or will The Boondock Saint make good on his promise to guide his 'brothas in arms' to a higher place…?






~AOW Tag Team Championships~
World's Greatest Tag Team(c) v. Sons of the Dungeon

Honor amongst friends is something that should never be disputable. There is even honor amongst thieves. But there seems to be a distinct disconnection between Shelton Benjamin and Charlie Haas in regards to who they are as a team and what they stand for. For normal men, holding the AOW Tag Team titles for over six months would be enough. But to a pair of gentlemen who are overcompetitive, there must always be more.

Seemingly flip-flopping in their attitudes on a weekly basis for a while, things finally came to a sense of direction when the two faced each other at This is Exile. In a technical display of athleticism and wrestling ability, it was Haas who just barely managed to get a sneaky pin over Benjamin. While Haas has not boasted as much as one would think, it's probably because Shelton Benjamin has become much more aggressive and less agreeable, the pinnacle reaching in the twos title defense against Bryan Danielson and CM Punk, where Shelton defied the very 'honor and respect' stance the team had set up for itself.

If there's anyone who knows about honor and respect, however, it would be a pair of gentlemen who have eclipsed the famous Hart Dungeon. One of the rookie highlights of AOW's inaugural year, TJ Wilson and Harry Smith have proven their worth in the ring beyond anyone's expectations. While trying to get a two-on-two shot with the WGTT for a while, a rib injury to Smith delayed that dream. Even so, Wilson faced both members and attempted to show that the team was more than ready for gold. After pinning both members in the Trios Tournament and defeating their rivals American Made for this fair chance, no one is doubting that the Dungeon dwellers don't have what it takes.

Now on home soil, could that be the edge that the Sons need to overcome the incredible reign set before them? Or will the World's Greatest Tag Team be able to set aside their differences for the umpteenth time and walk away from Montreal as AOW's first ever WORLD Tag Team Champions…?







~AOW Trios Tournament Finals~
Mercenaries, Inc.v. Tres Reyes

Started as a way to get a lot of guys some TV time before the AOW Offseason hits, the AOW Trios Tournament has supplied the annals of Art of War Wrestling with a magnificent new slew of matches to call classics. What no one expected was that not only would the two teams involved be so worthy, but would develop a great deal of aggression towards one another.

Mercenaries, Inc. have been bracket favorites from the moment the competition was announced, headed by their captain and one of AOW's latest additions, Sir William Regal. Regal has past ties with Paul Burchill, making him an additional mentor to the already catching-on Brent Albright. Call him 'Sir', but Regal is no less meticulous or violent than his new stablemates, leading them to convincing victories by using the Trios Tournament rules of elimination and gunning for team captains to end the match as quickly as possible. Having yet to have lose a member in a match, Mercs Inc. hopes to extend their client pool with the credibility of calling themselves the best three-man band in all of wrestling.

On the other side, Tres Reyes have not just undergone three name changes in their Mexican hat dance of swirling ideas, but now have also had three captain changes. The team hasn't forgotten what The Mercenaries did to them at This is Exile, as a potentially botched half-nelson suplex from Brent Albright gave Super Crazy a concussion and put the Trios' future in jeopardy. Using the Trios rules to protect Crazy in the first round, Crazy named himself captain for the second bout and made it past there. But the only way they possibly made it to the finals was from the aerobics and quick thinking of their rookie, Aero Star, who has quickly become the biggest must-see luchador prospect in the world.

The bracket is done and the finals are set. Mercenaries, Inc. have made it no secret that they plan to exploit every physical weakness that Tres Reyes has, but the luchadors are not backing down from a chance to show the world just a little bit of lucha heritage on a grand stage. Whoever takes home the gold will have to earn it through the fight of a lifetime.






~Grudge Match~
The Biggest Little Man Rey Mysterio v. The Bad Apple Carlito Colon

To a much lesser degree than one Antonio Banks, Carlito Colon has made it no secret, nay, made it his mission to let the world know just how 'cool' and proud he is of being Latino. Carlito started by looking how to excommunicate all the terrible Latino stereotypes running around in AOW, first targeting The Mexicools and Aero Star. Successfully defeating them at This is Exile (with little to no help from The Mercenaries), Carlito seemed to now shift gears towards possibly a strap in the company, but a returning Rey Mysterio saw fit to make his return after four months of injury to stop him.

Colon has newfound friends in the Samoan Fight Club, the trio showing their dominance in the Trios Tournament and looking to exert it more when Tres Reyes defeated them. But it was then that Rey made the save to rescue his fellow countrymen, standing up for their rights to be who they are because that's just who they are. Mysterio has argued that there's more than one way to be Latino and that Carlito is merely a young punk who needs to be taught a serious lesson. Now, Carlito and Mysterio are set to face one another for the purpose of pride and heritage.







~The Unstoppable Force vs. The Immovable Object~
The One Man Army Samoa Joe v. Paul "The Great" Wright

It may not be the main event, but you can be this will be the heavyweight clash of all heavyweight clashes! The two heaviest titans in all of AOW will do battle in what has been billed appropriately – Samoa Joe will not stop until all the scum is out of the way, and Paul "The Great" Wright is not stepping out of the way. If there's anyone that can avoid these men's grasps, it's one another, but they've chosen to go at it like tanks instead.

Since December, The Unstoppable Force of Samoa Joe has made it his personal mission to get rid of all the scum in AOW. His decree was first to Shawn Michaels, but his journey has since taken him through the ranks of the Worthy Legion. Joe has wins over Ken Doane, Bobby Lashley, and has stepped in a ring with Chris Jericho three different times, once with the AOW title on the line and twice being locked in a steel structure. In the War Chamber variant of that, Joe was the last man in but the first man to leave after driving Wright through the girdle floor and eliminating both men.

The Immovable Object in Paul "The Great" Wright has been a wrecking machine since being introduced to AOW. First coming in and surprising everyone by siding with Chris Jericho, Wright has been the anchor of the Worthy Legion. Playing the dragon alongside Bobby Lashley to Jericho's evil sorcery, Wright and Jericho remain the only two men on the roster who are undefeated. Samoa Joe has never been pinned or made to submit – a distinction he holds with on again, off again rival Finlay. But come Sunday, one of these things will almost surely have to give. Samoa Joe's hitlist comes to a close and Paul Wright faces his first true, genuine challenge in AOW. Will "The Great" outmuscle Joe, or will the One Man Army be able to finish off his mission in a "Great" way…?



PREDICTION TEMPLATE

THE OUTER LIMITS
The Belle Centre – Montreal, Quebec, Canada
March 16th, 2008
*Final Card*

~AOW Heavyweight Championship~
The Worthy Champion Chris Jericho(c) v.
The Man on the Moon Christian Cage v.
The Heart Break Kid Shawn Michaels

*Unsanctioned Match*
The Whole F'n Show Rob Van Dam v. The Fighting Irishman Finlay

~AOW Dynasty Championship~
The Second City Saint CM Punk(c) v. The Boondock Saint Antonio Banks

~AOW Cruiserweight Championship~
*The Final Encounter*
The American Dragon Bryan Danielson(c) v. Gregory Helms

~The Unstoppable Force vs. The Immovable Object~
The One Man Army Samoa Joe v. Paul "The Great" Wright

~AOW Tag Team Championships~
World's Greatest Tag Team(c) v. Sons of the Dungeon

~Grudge Match~
The Biggest Little Man Rey Mysterio v. The Bad Apple Carlito Colon

~AOW Trios Tournament Finals~
Mercenaries, Inc.v. Tres Reyes


Bonus Bids!!
1) Predict the match order
2) What will be the longest match?
3) What will be the shortest match?
4) Will there be any surprise appearances? If so, by whom?
5) Will there be blood? If so, what match(es)?
6) Who gets the winning fall in the Trios Tournament Finals?
7) Who takes the losing fall in the AOW Championship match?


PREDICTIONS NOW OPEN!!!
---
CUTENESS²
AOW: Art of War Wrestling - The Greatest Affair
It's Baaaaack...
.:Oblivion Edition 39/40 Recap NOW POSTED!!:.
Learning to break kayfabe
Join Date: Feb 2013
Posts: 149
Points: 0
Re: The BTB Advertisement Thread
---
ON THE NEXT
UWL 'SLAM!' WRESTLING!

Roddy Piper defends the UWL World Title against David Schultz of The Firm!

PLUS!

- Madusa defends the UWL Women's World Title against former champ Tina Ferrari

- Greg Valentine has his first match since returning from his 60-day suspension and it's against a mystery opponent

- President's Champion Rick Steiner and TV Champion Hugh Morrus bttle the Anderson Brothers

- 'Bad Boy' Brunzell defends his self-proclaimed 'Bad Boy Championship' against former tag team partner Brian Blair

AND MORE!!!

Ep. 119 of 'Slam!' will be posted Monday or Tuesday.
Re: The BTB Advertisement Thread
---
[IMG]
http://vintagewrestlingreviews.files...scan/00011.jpg
[/IMG]
In Late 1992. The WWF Embarked on a New Era with Bret Hart as the World Wrestling Federation Champion. But now with Bret as the WWF Champion who will stand in the Hitman's Way. Also The Rivalry between Ric Flair and Randy Savage has still been continuing and what better way to have their rivalry to end at the Survivor Series elimination tag team match. Flair has got his partners lined up. He's got Money Inc. Razor Ramon and Sid Justice while Randy Savage has British Bulldog. Ultimate Warrior. Mr. Perfect and the one and the only Hulk Hogan!. What's going to happen on the WWF 1992: A Brand New Era
---
WWF 2000: Passing the Torch
Posting Rules

You may not post new threads

You may not post replies

You may not post attachments

You may not edit your posts

---

HTML code is Off

---