Re: The BTB Advertisement Thread
---
Over The Limit
Key Arena, Seattle, Washington | 22nd May 2011



WWE Championship
The Miz (c) defends against Daniel Bryan

"I'm going to end Monday Night Miz – and I'm going to do it by making you tap… OR BY MAKING YOU SNAP."

The Miz is, by far, the longest reigning champion currently in the WWE, with a reign stretching back to when he cashed in his Money In The Bank briefcase in November; since then, he's taken pride in the fact that he's become the WWE's new 'poster child', carrying his title belt on to various talk shows and making copious amounts of media appearances. He's seen off many challengers, including Randy Orton, Jerry Lawler, John Morrison, John Cena and Triple H in title matches, but he may face no greater challenge than tonight, when he faces his former apprentice Daniel Bryan. Bryan assured us all that he would end the so-called 'Monday Night Miz' saga tonight in Seattle by picking up the WWE Title on his first ever attempt, and given the performances we've seen from him recently, this could very well be the beginning of Bryan's time as champion. The Miz, as usual, has tried his hardest to get inside his challenger's head with a series of mind games, none perhaps as serious as when his associate Alex Riley hit Bryan's girlfriend Gail Kim with a TKO on Raw.

Tonight marks a big occasion – a year ago, these two men were just mentor and so-called 'rookie' on the first season of NXT, Bryan fighting against his chains to show how good he was, but when Daniel Bryan took the United States Title from The Miz late last year, he figured he'd changed perceptions of himself. The Miz went on to become WWE Champion, and as we've heard, he still thinks little of Bryan – tonight, if the submissions expert can end a second Miz title reign, he'll well and truly be acknowledged as one of the best performers in the entire world. Bryan has a huge task on his hands to dethrone a man who's fought tooth and nail to keep his title in his grasp, The Miz desperate to keep his position on top of the WWE's pile, and of all people, it would hurt the Awesome One the most to lose his title to possibly his greatest rival. Don't underestimate the lengths he may go to if it means walking out of Seattle with his only validation, the one thing keeping him in the limelight. Tonight, these two men go toe-to-toe to settle which one of them truly deserves that role as the WWE's biggest star. For Bryan, it's about payback, about proving himself; for The Miz, it's all he knows.



World Heavyweight Championship
Alberto Del Rio (c) defends against Kofi Kingston

"I… am no… coward. With them, without them – you… will still… CHOKE."

At Elimination Chamber this year, Royal Rumble winner Alberto Del Rio faced Intercontinental Champion Kofi Kingston, making the Ghanaian tap to the Cross-Arm Breaker in just over ten minutes. While Kingston would go on to be screwed out of his title by the Corre, Del Rio found himself unsuccessful at his first hurdle, but collected the World Heavyweight Title under dubious circumstances when he beat Edge in a Steel Cage Match at Extreme Rules. Now, these two men collide again… but things couldn't be more different.

Alberto Del Rio's influence continues to grow. He has steadily increased his following to five other members of his Alberto Administration, a group that helped him win his famous World Title, but has been quick to dismiss accusations that he needs men like Brodus Clay to keep his title. Kofi Kingston, meanwhile, has gone through a resurgence, kicking on from a disappointing Extreme Rules to win a Twenty-Man Battle Royal three weeks ago, lasting half an hour to claim his shot. He beat Del Rio in tag team action the following week, then Clay two nights ago, all setting into motion a momentum swing that should lead Kingston into Seattle full of confidence. Del Rio has claimed that Kofi will 'choke' on such a big stage, while Kofi has tried to get under the champion's skin as well, suggesting that Del Rio would be nothing without his associates.

As for tonight, Del Rio walks into Seattle asking questions about his own value – he described himself on Friday as a 'noble demon', that the world didn't have to like him as long as they respected that he was the best, while Kofi maintained that he was out to fulfil a boyhood dream. Del Rio needs to show what he's capable of without his henchmen, Kingston that he can break through the glass ceiling, and tonight of all nights, the stage could be set for either one of them to make history. Will Kofi choke and allow Del Rio to continue his "unconquerable" march as the best of the best, or can the Ghanaian answer his critics and start a new era for SmackDown?



The Final Encounter – Stretcher Match
CM Punk versus Randy Orton

"Faith is stronger than any man."

Prepare for a war tonight. When CM Punk tied Randy Orton in the ring ropes and ordered his associates The Convoy to bludgeon Ted DiBiase into unconsciousness, he invoked a rage inside the Viper unlike any before. Punk has made it his mission in recent months to pay Orton back for past wrongdoings, but it's fair to say he's taken it too far; the Second City Saint, now working through the apparent 'power of faith', considers himself the judge, jury and executioner of everyone in the WWE, Orton especially. With Mason Ryan and Skip Sheffield alongside him, Punk has been able to get away with almost anything, making The Great Khali submit on Monday night to show just how lethal a competitor he's become. The night after Extreme Rules, Punk's creative offence on his nemesis prompted the announcement of their final match, contested under Stretcher Match rules. Punk heads into Seattle tonight not just to win, but to punish Orton, and to send a message about just how much influence he might have over every single one of us.

Orton, however, has other plans. With this match touted as the last ever between these two madmen, Orton will want to leave his mark… and the Viper has a peculiar way of getting the last laugh more often than not. Despite the almost inevitable presence of The Convoy, Orton will look to make good use of his surroundings, in a match where the referee is there only to watch a stretcher roll over a line. Randy has had to put up with a lot over the course of this bloody rivalry, with possibly the straw breaking the camel's back when the only man willing to fight The Convoy with him, former ally Ted DiBiase, was viciously punished by Punk for his courage. Indeed, on Monday, Orton dealt chairshots to both Ryan and Sheffield as he hunted the Second City Saint, and it's all leading us towards a violent conclusion tonight. Will Orton finally get his well-deserved vengeance, or can Punk cut the snake's head off to solidify himself as one of the WWE's most dangerous men ever?



Intercontinental Championship
Cody Rhodes (c) defends against Rey Mysterio

"Rey… you ruined my life – and now I'm going to ruin yours."

Another match with ties to past 'crimes' is Cody Rhodes versus Rey Mysterio, as the Intercontinental Champion puts his title on the line for Mysterio's final chance at the gold. When Rey accidentally broke Rhodes' nose back in February, no-one could have predicted how far Cody's mental state would decline, to the point that the man refused to show his 'ruined' face, covering it with a plastic mask and keeping his hood up whenever possible. At Extreme Rules, Rhodes used that mask to get the upper hand on Mysterio, allowing him to win the Intercontinental Championship at the luchador's expense, but tonight, it's one-on-one for the title, and Mysterio can finally end this rivalry in the perfect way; by beginning a third reign as champion.

However, in his way stands a man that on a show of braggarts, plotters and villains, has still managed to stand out as particularly twisted. Cody Rhodes' obsession with keeping his face hidden finally ended somewhat on Friday night, when under heated questioning from Mysterio he exposed his bare face – which showed no signs of the supposed devastation Rey was accused of causing. As the world questions Rhodes' mental health, it's become quickly obvious that Rey Mysterio will not be facing any regular opponent tonight. He's got a lot of reasons to be angry himself, but Cody Rhodes has reached a new place, completely cut off from logic and sensible thought, and if Rey isn't careful, tonight's match could very quickly spiral beyond just a title bout. Tonight, Rey Mysterio has a score to settle, but if he wants the title and some closure to boot, he'll have to overcome a man who is in a very unpredictable place.



United States Championship
Sheamus (c) defends against Tyler Black

"This Sunday, get out of your world of white… and welcome to the world of BLACK."

Undefeated since winning the United States Title back before Wrestlemania, Sheamus has his methods and sticks to them. At Extreme Rules, John Morrison tried to beat him at his own game, claiming that he had the killer instinct and 'edge' to match the Celtic Warrior between the ropes; this turned out, quite emphatically in fact, to be untrue. Following that pay-per-view, it seemed almost certain that Sheamus would be truly kicking off a long and dominating title reign, but that was immediately brought into doubt by Raw's newest star in the making.

What makes Tyler Black different to previous challengers to Sheamus' title is that Black doesn't want to play the Irishman's game, nor beat him at it – in fact, Tyler has explained on many occasions that Sheamus' methods appal him. No, what makes this bout interesting is that these two men are TOTAL opposites. On one side of the ring, Sheamus has left a trail of beaten bodies in his wake, a man who measures his matches by how long his opponents lasted and how well they took their post-match beating. Black, on the other hand, came to the WWE looking for competition and the thrill of the live crowd, only to be shocked by the actions of the reigning United States Champion. Black originally started off pretending to be an 'agent', in his words trying to "inject some good into the WWE," but that fell under scrutiny from Sheamus.

In some ways it seemed inevitable that these two men would cross paths; Sheamus wants to punish those weaker than him, Black just wants to do 'good' and keep the WWE's beating heart – competition – alive. Black claims he was initially afraid that the company would chew him up and spit him out, but now he's fighting back, and tonight in Seattle, he gets his chance to make his own mark by overcoming a man who wants to pound his bones to dust. That said, Black has done a terrific job in recent weeks keeping Sheamus at bay, with the Irishman trying on many occasions to beat down his challenger like he's done to so many other men, Black's friend Mark Henry included. Tonight though, Black gets his chance to show Sheamus a new system, one in which the good guy wins… but to do it, he'll have to snap a streak several months long.



Four-On-Two Handicap Match
The Corre versus Edge and Christian

"You're gonna wish you hadn't screwed with US."

For the first time in ten years, Edge and Christian team together on pay-per-view tonight – a lot has changed in that decade, from things as simple as the length of Christian's hair to the arrival and departure of mega stars, countless episodes of Raw and SmackDown… and as always, there's no shortage of men trying to make a name for themselves. This is perhaps most true of the calculating Wade Barrett, who has an unmistakeable eye for any opportunity to propel himself to glory. The Englishman, winner of the inaugural season of NXT and former leader of the fierce Nexus stable, now stands as a member of The Corre, and it's these four men who got on the wrong side of one of the WWE's most famous tag teams.

Ever since Edge lost his World Title to Alberto Del Rio at Extreme Rules, he has longed for a fair rematch. Christian, meanwhile, was inches away from facing Edge at the same pay-per-view, but was screwed by an appearance from Jack Swagger. These two men have a single dream; to square off against each other, with the World Heavyweight Title on the line. Christian, who has never held the 'big one', especially deserves that chance, but at every turn, these two fan favourites have been thwarted by men who want to destroy their vision. When they had a chance to win a Battle Royal three weeks ago for a title shot (a shot Kofi Kingston now hopes to take advantage of), Wade Barrett led The Corre in a heinous attack to make sure neither of the Canadians would be given another chance to grasp for that dream.

Two weeks ago, Edge and Christian got a measure of payback when they ambushed the foursome, hiding as cameramen as Barrett talked of The Corre's dominance over SmackDown. They added a con-chair-to to Heath Slater, but crucially Barrett slipped away, once again showing that it doesn't matter if you hurt the limbs… you have to cut off the head so the body will fall. Two nights ago, Barrett's influence yet again proved costly, providing the boot that allowed Justin Gabriel to pin Christian after a 450 Splash to retain the Tag Team Titles. Tonight, however, all of that is in the past – Edge and Christian know they're at a two-to-one disadvantage, with Gabriel's recent inspired form and Barrett's masterminding at every turn also stacked against them, but these two Canadians have a habit of turning it on when it's least expected, so anything could happen tonight, when old school meets new school.



Tag Team Attraction; No. 1 Contender
John Cena and Triple H versus Dolph Ziggler and William Regal

"Maybe he lost his respect for me a long time ago, and I just never realised."

John Cena has nine World Titles to his name. Triple H has thirteen. Dolph Ziggler, by the letter of the law, was World Heavyweight Champion for roughly ten minutes earlier this year, while William Regal is considered one of the most talented in-ring technicians never to win the so-called 'big one'. Cena hasn't held the title since June last year, and has been hunting for it again ever since, including competing in the main event of Wrestlemania Twenty-Seven for it but being screwed by The Rock. Ever since then, luck hasn't been on Cena's side, coming into conflict with Triple H after both men were unsuccessful in winning the title at Extreme Rules. The Game and Cena were ready to fight to settle who was the better man, but past chaos between the two prompted Raw General Manager Jerry Lawler to choose an alternative solution; making the two team together tonight in Seattle. Lawler, who has come under a lot of criticism for various decisions since becoming GM, told Cena and Triple H that if they could team together, one of them would get their prized WWE Title shot.

However, these two men needed someone to face them, and they may have got more than they bargained for in the form of Ziggler and Regal. Ziggler, the self-proclaimed 'Perfection Artiste', interrupted a confrontation between Cena and Triple H to stake his own claim to the WWE Title after he narrowly lost to Daniel Bryan at Extreme Rules. Ziggler has only had a slight taste of the glory of being World Champion, but tonight is his chance to prove just how perfect he is by overcoming two future Hall of Famers. Certainly, the Show-Off has the skills between the ropes to take himself to the top of Raw, but talking of deserved success, William Regal's recent aggression has showed us how much the British Brawler needs to win a World Title before his storied career ends. Regal has claimed that the world is 'afraid' of his potential if he's given a fair shot, but he might not get a better chance than he has tonight. For all the talk about Cena and Triple H's issues in co-operating, Regal and Ziggler seem to be mostly on the same page, despite the latter's ego problems, meaning that even if Cena and Triple H CAN work together… it might not be enough.



Singles Contest
Jack Swagger versus Big Show

"Think about how much you wanna fight me. 'Cause if you make the wrong choice… I will END you."

When Jack Swagger lost to Christian in an 'I Quit' Match at Extreme Rules, something new was awakened inside the All-American American. Flushed with embarrassment after 'quitting' in the face of a career-shortening con-chair-to, Swagger has re-found his form, and he's done it emphatically. The man who has suffered most of this newfound deadly focus is the Big Show, who taunted Swagger after his loss and became a target in the Phenomenal Athlete's eyes. It started with Swagger collaborating to remove Show from the all-important Battle Royal three weeks ago, but swiftly became about more than that when the World's Largest Athlete fell on his ankle and Swagger smelled blood. Keen to prove that he's still a prominent World Title challenger, Swagger deliberately threw out his match against Show the following week, smashing the big man's ankle off the ring post and putting him on the shelf.

Much to Swagger's dismay, however, Teddy Long arranged this match when he found out that Big Show would be medically cleared by Over The Limit, and now Swagger will have to contend with a very angry big man. Swagger has maintained that he's unfazed by the possibility, though, defeating three men in one ring on Friday, and warning the World's Largest Athlete that if he turns up to fight him tonight, Swagger will finish the job he started. With the very real chance that Big Show could suffer a broken ankle for real, will he still make the gamble and step inside the ring to face the Phenomenal Athlete? It's no secret that Show has a mean streak and is capable of hurting Swagger just as much – if this match goes ahead, who knows what it'll take to keep one of these two down and out.

---

~ Prediction Template ~

WWE Championship
The Miz (c) defends against Daniel Bryan

World Heavyweight Championship
Alberto Del Rio (c) defends against Kofi Kingston

The Final Encounter – Stretcher Match
CM Punk versus Randy Orton

Intercontinental Championship
Cody Rhodes (c) defends against Rey Mysterio

United States Championship
Sheamus (c) defends against Tyler Black

Four-On-Two Handicap Match
The Corre versus Edge and Christian

Tag Team Attraction; No. 1 Contender
John Cena and Triple H versus Dolph Ziggler and William Regal

Singles Contest
Jack Swagger versus Big Show

~ Bonus Questions ~
1. Predict the match order.
2. Who will score the falls in the Handicap and Tag Team Attraction matches?
3. How many titles will change hands?
4. What will be the shortest match?
5. What will be the longest match?

PREDICTIONS NOW OPEN.
Chopped Liver
Join Date: Jan 2004
Location: Six inches from a computer screen
Posts: 5,433
Points: 321
Re: The BTB Advertisement Thread
---
Friday Night Smackdown Preview
!! SEASON PREMIERE !!
Smackdown kicks off a new season with a bang, offering a Pay Per View worthy card on free television!!! THREE championship matches and a HUGE grudge match will be the particular highlights, as the blue brand descends upon the Joe Louis Arena in Detroit, with what is sure to be a raucous audience in attendance.
And, of those three title matches, there will be none bigger than the WWE Championship match between reigning champion Randy Orton and the #1 Contender, The Undertaker. For Orton, it's a huge challenge, less than two weeks removed from a gruelling, career shortening Elimination Chamber match, in which he narrowly escaped with the title in tact. Despite that, Orton does hold the dubious distinction of having never lost to The Undertaker in their last three meetings - albeit, each time through dubious circumstances.
For The Phenom, it's an opportunity to hold a World Title for the first time in over FIVE years, and with Edge - the man he controversially defeated to earn the title shot - now out of the picture having sensationally QUIT the WWE last week, there appears to be no distractions now for The Deadman, as he seeks his FIFTH WWE Championship. But, while The Undertaker can be 100% focused on Orton, it appears Orton is almost too concerned with his ongoing dispute with the Smackdown GM, Arn Anderson. Will that cost Orton the title he has held for six months??
Meanwhile, two former tag team partners - champions, in fact - Paul London and THE Brian Kendrick will collide for Londons U.S Title. Since their mutual split at the end of 2006, both men have moved on to have tremendously successful singles careers - both currently holding gold - but that is where the similarities end between the former friends. Since capturing the Cruiserweight title at WrestleMania, Kendrick has alienated the WWE fans, his friends and his peers with his nauseating ego, allowing success to go to his head. And, he has made no secret of his desire to hold DOUBLE gold - with this Friday being his final shot at Londons title. Despite being unsuccessful at the Great American Bash, Kendrick still believes he is superior to London in every way … but to prove it, he'll need to beat the U.S Champion in Detroit.
And, they say third time is a charm - and the Caribbean Connection will be hoping that that old phrase is true on Smackdown, as they get a third crack at the WWE Tag Team Championships, following two disappointments against Americas Most Wanted when challenging for the titles. At Summerslam, Carlito and Kofi Kingston outclassed the unmotivated and out of shape champions … but failed to capture the gold, when AMW deliberately got themselves counted out to keep the titles. Then, in a rematch on Smackdown, when it looked like AMW had run out of ideas … a saviour in the form of Michelle McCool helped save the titles for the second time. Now, with the challengers given a third chance, do Harris and Storm have ANY tricks left up their sleeve?? Or will the Caribbean Connection be sorry 'bout AMW's damn luck??
No title will be at stake, but where Batista and Garrison Cade are concerned - there doesn't need to be; it's DEEPLY personal. Ever since returning to Smackdown as his own man, 'The Lone Star' has been gunning for 'The Animal', and with two pinfalls over Batista already, Cade has certainly caught his rivals attention. This time, they clash with NO Disqualifications - meaning no excuses. Without a doubt, it'll be a brutal, hard hitting affair, but when the dust settles and the smoke clears, which of these two big men will declare themselves 'the baddest' on Smackdown??
Plus, MVP takes on Elijah Burke for the third time. Having lost his cool and gotten disqualified last week, MVP wants one more match with Burke to prove his dominance, and to prove - once and for all - that he deserves to be in the ring with the 'top' stars, who he believes he will raise his game against. Can Burke upset the highest paid superstar on the Smackdown roster??
FRIDAY NIGHT SMACKDOWN HAS BEEN POSTED
Re: The BTB Advertisement Thread
---
Ankoku Yōkai
"The Great Oni"
Age - 32
Height 6'6 | Weight 277 lb
Origin - Kyushu Island, Japan
Signature Moves - Satsujinken - Index & Middle Finger Strike into Throat
Oni Mist - Red Asian Mist
Background - A practitioner of dark karate, Ankoku is unmerciful and unmovable. Despite being a foreboding figure, he does have a sense of honor. He will congratulate those that defeat him cleanly, but will not suffer fools or cheaters lightly. He will never hold back in the ring, which means his opponent better bring their A-game when facing him.

Appearance - This is Ankoku in a nutshell - http://www.fightersgeneration.com/ch...grant-gfix.jpg.

- - - - -

Fenrir
"The White Wolf"
Age - 27
Height 5'9 | Weight 204 lb
Origin - Bergen, Hordaland, Norway
Signature Move - Ragnarok - Diving Over The Shoulder Belly-to-Back Piledriver
Background - Born and bred in the harsh winters of Norway, Fenrir is a savage man in the ring. He prefers to to be on the move in the ring, never staying in one place. His unique offensive style, which combines Norwegian Stav, Glíma, and kickboxing make him a dangerous and unpredictable opponent.

Appearance - Fair-skinned, with blonde, long hair and baby blue eyes. His natural appearance is very similar in look to Chris Hemsworth's look in the Thor film. He's a bit rough around the edges, with a unshaven stubble. For his frame, he's built and cut, but has a athletic build. His in-ring attire consists of white short tights, taped wristbands, white boots with blue shinguards, and white elbow pads. His entrance attire consists of a white wolf head's pelt on his head.

- - - - -

Jirō Katōshima
"The Yakuza Devil"
Age - 24
Height 5'11 | Weight 222 lb
Origin - Gifu, Gifu, Japan
Signature Moves - Dragon Uppercut - Pop-up Flapjack into Knockout Uppercut to Chin
Devil Rising - Diving Side Slam
Background - The quintessential Japanese bad boy, Jirō made a name for himself on the streets before becoming a professional wrestler. Often associated with the Yakuza, Jirō is an angry and vicious young man who wants to take GCW by the throat and rule it with an iron fist. Only time will tell if he achieves this lofty ambition.

Appearance - His appearance is based on Jin Kazama from Tekken - http://www.fightersgeneration.com/np...t2/tt2-jin.JPG - except his hair is a little more realistic. He also has Yakuza-esque tattoos on his arms and back. His entrance attire is this - http://eng.tekkenpedia.com/images/c/c9/JinT4CG.JPG.

- - - - -

Tizoc
"The Griffin"
Age - 31
Height 6'1 | Weight 241 lb
Origin - Zacatecas, Zacatecas, Mexico
Signature Move - Griffin's Flight - Diving Moonsault Slam
Background - Tizoc was a former folk wrestler who turned pro. He was brought up alongside El Rey and El Pantera Negro and often teamed up with them in Trios matches. Despite not replicating their success as singles wrestlers, Tizoc still commands respect in and outside of the ring. His unique mask and his aura make him quite the sight to behold - a modern attraction.

Appearance - Good thing Tizoc is based on a video game character. This is Tizoc, guys - http://images4.wikia.nocookie.net/__...9d/Tizocxi.jpg.
Re: The BTB Advertisement Thread
---
King of the Ring 1995 | Philadelphia, Pennsylvania
Predictions Contest



Final Card

WWF Championship Title Match | Razor Ramon (c) vs Lex Luger

Sycho Sid vs Shawn Michaels

Intercontinental Title Match | Jeff Jarrett (c) vs Savio Vega

The Undertaker vs Jean Pierre Lefitte

King of the Ring Tournament | Winner gets a WWF Title shot at SummerSlam
Quarter Finals
Owen Hart vs Diesel
The British Bulldog vs Yokozuna
Bret Hart vs Hakushi
Bam Bam Bigelow vs The 123 Kid



Questions
1. Predict the winners of the Quarter Final matches and the non tournament matches
3. Which stars will make it to the semi finals?
4. Which superstars will make it to the final?
5. Who will win the tournament? [The winner of the tournament receives a WWF Title shot at SummerSlam]
6. What will be the opening match of the show?
7. Will there be any title changes on the show? If so how many?
8. Any chance of a time limit draw on the show or not?
9) What will be the biggest surprise of the night?

Bonus Question: Who would you like to see winning the tournament? Who do you think deserves to win the tournament. Someone who you think would benefit the most from the tournament victory.
The predictions contest is now up so you can get your predictions in for the ppv. Plus results of Raw and Superstars are now up.
Show now posted
here
---
WWE 2004: The Road to WrestleMania 21
Click here to read
Learning to break kayfabe
Join Date: Jul 2012
Location: Liverpool, England
Posts: 111
Points: 0
Re: The BTB Advertisement Thread
---
That's right, I'm a Paul Heyman guy.
Learning to break kayfabe
Join Date: Feb 2013
Posts: 149
Points: 0
Re: The BTB Advertisement Thread
---
ON THE NEXT
UWL 'SLAM!' WRESTLING!

IT'S THE FINAL 'SLAM!' BEFORE THE 'SPRING MAYHEM' PPV!

It's the final confrontation between UWL World Champion Roddy Piper and his former best friend and challenger Wahoo McDaniel as they get ready for their title tilt at 'Spring Mayhem'!

PLUS!

- UWL Women's World Champion Tina Ferrari and Madusa also have one final showdown before their World Title match at 'Spring Mayhem'! Can Madusa do what no one else has been able to do and end Tina's 26-month undefeated streak and 14-month Women's World Title reign in five days?!

- Fallout from last week's vicious assault on Lord Humongous and Missing Link at the hands of David Schultz and Rick Rude of The Firm

- 6-Man Tag: David Schultz, Rick Rude & Dusty Rhodes of The Firm vs. The Nasty Boys & Lex Luger

- Ken Patera vs. 'Bounty Hunter' Ron Garvin

- An interview with the challenger for the President's Championship at 'Spring Mayhem': 'Bad Boy' Brunzell

- The final 'Spring Mayhem' PPV update

AND MORE!!!

Ep. 116 of 'Slam!' will be posted Monday or Tuesday.
Re: The BTB Advertisement Thread
---
Monday Night Raw – Preview!
Monday 9th Febuary 2009
Live from the Thomas & Mack Center
Las Vegas, Nevada



The superstars from Raw remain tonight in Las Vegas after last night's controversial No Way Out pay-per-view, and we will come to you live this evening from the Thomas & Mack Center as the wild Road to Wrestlemania continues.

John Cena started the night trying to apologise to The Undertaker for accidentally hitting him with a steel chair on Smackdown two nights ago, but No Way Out ended with Cena surely gunning for The Dead-Man after he cost Cena the chance to become the new World Heavyweight Champion. Taker wasn't given a chance to accept Cena's apology for what happened on Smackdown when Shawn Michaels emerged from the back to take charge of the opening contest of the night in which the phenom was part of. With the winner guaranteed a shot at Michaels' WWE title at Wrestlemania, it came down Taker & Triple H, and not for the first time, The Game resorted to underhand tactics to give him the best chance of victory. After grabbing his sledgehammer, Triple H was all set to smash Taker's face in, but Cena re-emerged from the back to try & stop that from happening.

The assumption from Jim Ross was that he was looking to make it up to The Undertaker for the previous accidents. Unfortunately it backfired, and after wrestling the sledgehammer away from Triple H, he again inadvertently hit The Undertaker, costing him the chance to challenge for the WWE title at Wrestlemania. What happened in the main event came as a massive shock as it looked as if Cena was going to defeat CM Punk for the World Heavyweight Championship in their Steel Cage match. The Undertaker though had different ideas, and when the door was open for Cena to walk through for victory, the lights went out & Taker then entered the cage for retribution. He chokeslammed Cena and then drilled his head into the canvas with the Tombstone, leaving Punk to capitalise and retain his world title, which is bound to infuriate Mr. McMahon as well as Cena.

What can we expect from The Undertaker tonight knowing he won't have to deal with Smackdown's Cena getting in his way again?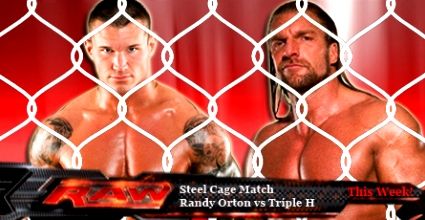 The man who will be going to Wrestlemania to challenge Shawn Michaels for the WWE Championship will have another almighty battle on his hands tonight when he competes in a match made by Eric Bischoff last night. The Game & Randy Orton still have unfinished business, and after their match two weeks ago ended in a no contest, Bischoff has put them in a Steel Cage match where they will be able to fight to a finish. Will the number one contender come out on top or will The Viper get his revenge at the expense of The King of Kings, and will we get a reaction from the WWE Champion in regard to his Wrestlemania opponent?

Someone else who caused a stir last night was the Women's Champion, Queen Kong when she inexplicably interfered in the Diva's Championship match between Smackdown's Beth Phoenix & O.D.B. Raw's unstoppable behemoth laid out both of them to the absolute bewilderment of everyone in the MGM Grand Garden Arena. Will there be any sort of explanation as to her actions last night?

The Intercontinental Champion, Sheamus was also in for a shock last night after he overcame an incredibly valiant effort from Mystico to retain his title. One half of the former World Tag Team Champions was out for payback against the man who cost him & Rey Mysterio the titles three weeks ago on Raw when he attacked Rey for the second night in a row after Mysterio eliminated him in the Royal Rumble the night before. The Celtic Warrior seemingly wasn't happy with just beating Mystico and after the bell he went about looking to take out his frustration stemming from the Rumble on him instead of Rey, but the Irishman was in for a shock. Mysterio burst down to the ring for the first time since being attacked by Sheamus three weeks ago to help out his friend & tag team partner. Sheamus didn't look at all happy to see the return of Rey who is expected to return to Raw tonight. Is angering the Intercontinental Champion a good idea after what happened to him three weeks back? We'll see later on tonight!

The rivalry between the two brothers, Kofi Kingston & Jay Lethal shows no sign of dying down either. They met again last week after Jay's surprise victory at the Royal Rumble, and it looked like Kofi was about to pin his brother to settle the score after hitting the Trouble In Paradise. That however didn't happen when Lethal intelligently or cowardly, whichever way you look at it, got himself counted out. Kofi wasn't at all happy and they continued the fight backstage, mostly verbally before they were pulled apart. Kofi will be in action again this week when he meets another individual he's had a heated rivalry with in the shape of Cody Rhodes. Kofi came out on top last year when they met. Will it be the same again when the angry Jamaican Sensation goes head-to-head with the arrogant second generation superstar?

The first spot in this year's Money in the Bank was decided last week, going to The Big Show. The World's Largest Athlete is going to be a large obstacle to overcome to say the least. With seven weeks until Wrestlemania, will any more spots in this hugely rewarding match be decided tonight?

Whatever you do you simply can't afford to miss what is sure to be an explosive show as we continue on what is already a rocky Road to Wrestlemania!


>Confirmed for Raw This Week!<

Steel Cage Match
Randy Orton vs. Triple H

Plus
Kofi Kingston vs. Cody Rhodes



Learning to break kayfabe
Join Date: Feb 2013
Location: Rota, Spain
Posts: 59
Points: 0
Re: The BTB Advertisement Thread
---

The new chapter of The NXT Generation is up for your entertainment pleasure
Posting Rules

You may not post new threads

You may not post replies

You may not post attachments

You may not edit your posts

---

HTML code is Off

---