Re: The BTB Advertisement Thread
---
Quote:
Originally Posted by
KNEES_TO_FACES
View Post
WWE Smackdown 29th March 2013 PNC Arena, Raleigh, North Carlolina
WWE Smackdown Preview
http://www.wrestlingforum.com/booker...e-new-era.html
Smackdown now up
---
G.O.A.T
Quote:
CM Punk: I am the best wrestler in the world. I've been the best ever since day one when I walked into this company, and I've been vilified and hated since that day because Paul Heyman saw something in me that nobody else wanted to admit. That's right, I'm a Paul Heyman guy. You know who else was a Paul Heyman guy? Brock Lesnar, and he split just like I'm splitting, but the biggest difference between me and Brock is I'm going to leave with the WWE Championship
READ MY BE THE BOOKER WWE: New Era
http://www.wrestlingforum.com/booker...new-era-2.html
Re: The BTB Advertisement Thread
---
As of Summerslam last night several superstars may be on the bench for a while, one of which is young, up and comer Edge who had his shoulder worked on by Eddie Guerrero the entire match. doctors have told him to keep it in a cast and take it easy for a few weeks, Edge expects to return to in ring action sometime late next month.

Speaking of being sidelined, Triple H may have done what he vowed to do and crippled Shawn for good, smashing his already broken lower back with a Sledgehammer after their classic matchup. Shawn has no comment on his condition , I guess we will have to wait for Raw to find out.

In better news though, Kane is set to come back to in ring action on Raw this week.

Stephanie McMahon, SmackDown G.M isn't pleased with how Rob Van Dam took the Intercontinental Title back to Raw, now with SmackDown literally with no mid card titles, word on the street is she is planning on doing something about it. Rumors have it that she is working on bringing in the U.S or T.V titles.


Re: The BTB Advertisement Thread
---
Quote: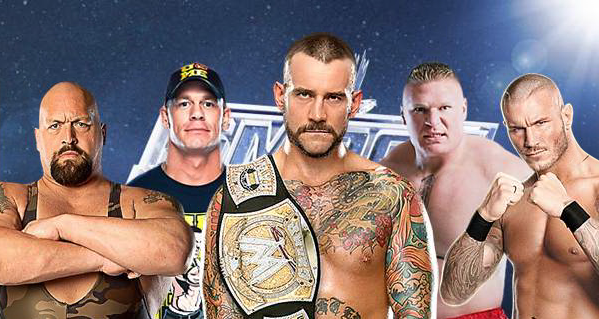 Since the brand-split was ended, Friday Night SmackDown has become must-watch viewing. The first shows of 2013 promise to be action-packed, and with The Rock and John Cena just days away from their returns the WWE Universe is fever-pitched.
Two major matches headline SmackDown. First, Randy Orton and Daniel Bryan step inside a steel cage for the right to challenge Big Show for the World Heavyweight Championship at the Royal Rumble. There is also a 2-out-of-3-falls match between fierce rivals Sheamus and Wade Barrett.
For Orton and Bryan, this cage match represents the finals of an 8-man tournament set up by Booker T to determine a suitable challenger to the seemingly-unstoppable Big Show. Bryan and Orton knocked off 6 of the best WWE have to offer to earn this spot, and neither man is going to let it go easily.
Sheamus and Barrett have been embroiled in rivalry for months, trading wins in Chairs and Tables matches. Booker T sanctioned the 2-out-of-3-falls match, but has promised to add stipulations to help them settle their differences once and for all.
WWE Champion CM Punk is days away from coming face-to-face with The Rock as he prepares to defend his WWE Championship against the returning legend. Punk earlier Tweeted that he planned to kick off 2013 "in typical CM Punk fashion".
Hall Of Famer Jim Ross will be speaking with John Cena's personal physician after Cena revealed he will defy doctor's orders to return this coming Monday on Raw. Cena is literally putting his career on the line to confront Brock Lesnar, what will Cena's physician make of these revelations?
Before SmackDown comes a Champions edition of Main Event, with two triple-threat matches featuring title holders. It will be WWE Champion CM Punk vs Tag Team Champion Rey Mysterio & Intercontinental Champion The Miz; while World Champion Big Show faces Tag Champion Sin Cara and United States Champion Zack Ryder.
Confirmed Matches

Main Event
CM Punk vs Rey Mysterio vs The Miz
Big Show vs Sin Cara vs Zack Ryder

SmackDown
Daniel Bryan vs Randy Orton in a Steel Cage #1 Contendership match
Sheamus vs Wade Barrett in a 2 Out Of 3 Falls match
World Champion Big Show vs Brodus Clay in non-title action
(Non-sanctioned) European Champion Antonio Cesaro vs Santino
Damien Sandow vs R-Truth
Tag Champion Sin Cara vs Titus O'Neil
Show now posted, link in sig.
---
The Rock | Undertaker | Triple H | Chris Jericho | Stone Cold
CM Punk | Dean Ambrose | Mark Henry | Daniel Bryan | Dolph Ziggler
Austin Aries | Jeff Hardy | AJ Styles | Bully Ray | Christopher Daniels
Wheelman for James Ellsworth
Join Date: Jan 2011
Posts: 501
Points: 0
Re: The BTB Advertisement Thread
---
Quote:
WWE Unforgiven Preview
Date: 18th September 2005

Location: Ford Center, Oklahoma City, Oklahoma



World Heavyweight Championship: Steel Cage Match

Batista© vs Kane

At Summerslam these two fierce rivals squared off in a highly tense, highly emotional confrontation that saw Shawn Michaels as the Special Guest Referee and also as a determining factor in the champion retaining his title. This Sunday however there will be no third party. It is simply one on one, man to man, Animal versus Monster as these two bitter rivals enter inside a fifteen foot high Steel Cage!!

The finish to their Summerslam encounter was controversial as the impact of the Heartbreak Kid was evident and with that obvious to everybody, Kane felt entitled to a rematch and Batista wasn't gonna wait long to hand it to him. The Big Red Machine has made taking the Animal down and taking his title with it his only focus in recent weeks and this rivalry has got extremely heated, extremely fast. Before Summerslam we witnessed first hand just what these two were capable of as Kane sickeningly Chokeslammed the Animal off the stage, breaking Batista's ribs but since Summerslam…things have only escalated.

We've seen Batista Spear Kane off the stage, we've seen Kane Chokeslam Batista through the announce table, we've witnessed these two fight their way through the crowd, fight their way across the entire arena and this past Monday night on Raw we saw a devastating Batistabomb off the stage that left both men torn apart. With nothing able to contain these two men, the question now lies, will a Steel Cage even be enough? With nowhere to run, nowhere to hide, two men trapped inside the confines of an unforgiving Steel Cage, just what brutality will these two dish out as they do battle for the richest prize in the game? One thing's for sure, carnage awaits in Oklahoma City.

Four on One Handicap Match:
(Shawn Michaels must eliminate all four members of the Entity to win)

The Arabian Entity vs Shawn Michaels

Recent months have proved to be the toughest of Shawn Michaels career and this Sunday, it doesn't get any easier. The Heartbreak Kid has been under the control of Raw General Manager Eric Bischoff since back at Vengeance and Bischoff is intent that Unforgiven be Michaels last day in the sun.

Summerslam saw the Showstopper defy Eric Bischoff's orders when he counted Kane down, allowing Batista to retain the World Title and unsurprisingly it did not sit well with the General Manager. The night after Summerslam saw Bischoff vow that Michaels would regret ever crossing the boss and Bischoff wasn't wrong. Michaels took on Kane in the main event only to be heinously ambushed by the dangerous Arabian Entity who would leave Michaels a broken and bloody mess. We learned that the Entity were in fact in this for themselves with their leader Muhammad Hassan claiming to have seen and heard enough from Michaels and his 'faith'. What followed was a scathing verbal assault on America and the treatment of Arab Americans in this country with Hassan claiming that it caused him to lose all hope, all belief, all his faith and that he was gonna do to Michaels what this country had done to him.

Monday night on Raw saw one of the most vile and brutal assaults in WWE history as the Entity laid waste to Michaels, leaving him unconscious and fallen in a pool of his own blood. With a mountain to climb already this Sunday night, will Michaels even be in a position to defend himself? With Bischoff and the Entity fighting the cause together, the goal is simple Sunday night, take Shawn Michaels faith…and take Shawn Michaels career. With the numbers game against the Heartbreak Kid, with the wounds far from healed, is there anything Shawn Michaels can do to prevent the worst from happening this Sunday night? Will the Entity hit the jackpot? Will the boss get his wish? Or will the Showstopper pull off the impossible?

Triple Threat #1 Contenders Match:

Edge vs Christian vs Chris Jericho

Sunday night will see three of Canada's finest do battle for the chance at a World Title opportunity, something which all three men believe they deserve but only ONE will walk out victorious and there is no doubting the pressure is well and truly on.

Christian scored the biggest victory of his career back at Summerslam when he shocked the world in defeating Ric Flair and ending the legendary career of the Nature Boy. With Flair beaten and now out of sight, Captain Charisma believed he was next in line for a title opportunity but he was not the only one. Edge also walked out victorious at Summerslam, though it wasn't without the helping hand of his Money in the Bank briefcase as he clocked Chris Jericho with it to knock Y2J off and end his title aspirations…or so he thought. Jericho would take issue with what went down and claimed if Edge was gonna get the World Title shot, so was he, claiming that had it not been for Edge's briefcase, he'd be the one holding Money in the Bank. With all three men having extremely viable reasons to a title shot, Eric Bischoff settled it, all three men competing at Unforgiven with that World Title shot up for grabs, something none of the three feel they can miss out on.

Chris Jericho was the first ever Undisputed Champion but since then Y2J has failed to taste the gold, Edge and Christian claim this is Jericho's last chance to reach the top of the mountain again, will Jericho rise to the challenge and take it? Christian has never held a World Title, he's never even had an opportunity but Christian claims he's a new man, a changed man and that the win over Flair at Summerslam is a new beginning, will he prove just that? Or will Captain Charisma fall at the final hurdle? Edge is the only man who knows this isn't his last chance. The Rated R Superstar already has a guaranteed title opportunity whenever he wants, right the way up until Wrestlemania but he claims that to be the ace up his sleeve, his back up call and that just because he holds that contract, it doesn't mean he should miss out on what he deserves. Will it be Mr.MITB who earns himself a double chance or will Money in the Bank prove to be his final hope?

WWE Intercontinental Championship:

Shelton Benjamin© w/Charlie Haas vs Mark Jindrak w/William Regal

It was jubilation for Shelton Benjamin at Summerslam when he finally toppled his long time rival Muhammad Hassan to claim back the Intercontinental Championship but that jubilation has been short lived and come Unforgiven Benjamin's reign could come to a damning halt as he goes toe to toe with a man who is on the roll of his career, Mark Jindrak.

Jindrak has been straight up dominant since aligning with the wily William Regal and the combination of Regal's nous alongside Jindrak's power have been mighty effective, seeing the 'Protégé' knock off Big Show at Summerslam in impressive style. Benjamin meanwhile may be holding the Intercontinental Title but it's not been all plain sailing for Benjamin, most notably in his relationship with tag team partner, Charlie Haas. Haas has stood by his partner, despite Benjamin's reluctance to go after the Tag Team Titles, instead focusing on his singles career, something that Haas hasn't been fond of but has accepted, although not without tension arising. Haas has continued to air his grievances to Benjamin and the champion has vowed to bring their Tag Team back to the forefront of his mind soon enough but the question is, how long will Charlie Haas wait?

Always one to try and cause unrest, William Regal has already fiddled in the World's Greatest Tag Team's division. This past Monday on Raw saw Regal confront Haas backstage, telling Haas that if he wants his partner back, he's gonna have to see him lose the Intercontinental Title. Regal challenged Haas to make an impact of his own and to 'think about it'. Haas thought about it for all of a few seconds, not taking kindly to Regal's claims and vowing he would be in his partner's corner this Sunday and he would see him victorious. Will Haas really have his partner's back Sunday night? Or will the growing friction between the two only further? And is this the night Mark Jindrak's roll leads him to championship gold? So many questions for this one, so few answers.

World Tag Team Championships:

Dudley Boyz© vs The Platform to Perfection

Ken Doane and Nick Nemeth have made quite the impact since debuting on Monday Night Raw and at Summerslam they went one better as they became number one contenders to the World Tag Team Titles. This Sunday night the young 'Perfectionists' get their opportunity but it will not come easy as they take on the veteran champions, the Dudley Boyz!!

The Dudleyz returned to the WWE at Backlash and instantly captured the Tag Team Titles, going on to defend them successfully against the Basham Brothers and Entity members, Sonjay Dutt and Daivari but it's a whole different ball game this Sunday night as they take on two men who are unknown when it comes to title matches. Doane and Nemeth have certainly impressed thus far but when the pressure's on and the titles are up for grabs, will the PTP be able to step up and take them? Doane and Nemeth claim that the Dudleyz days are done, however Bubba and D-Von simply believe the Perfectionists are covering up their biggest fear…failure.

There is however, a third party involved in this and that third party are Doug and Danny Basham. The Bashams believe that the title opportunity should be theirs and have continued to challenge Doane and Nemeth to make this a Triple Threat match, something the Perfectionists have refused. With Doane and Nemeth's continued refusals, the Bashams have vowed to take matters into their own hands this Sunday night by promising they'll be in Oklahoma and they will 'see' the Perfectionists there. What have the Bashams got in mind? Are Doane and Nemeth's title hopes not just under threat from the champions but from the outside also? Or will it simply all be mind games from the former Cabinet members and the platform is indeed provided for perfection?

Mr.Kennedy's Open Challenge:

Mr Kennedy vs ?

He is arrogant, he is talented and he is undefeated, he is Mr.Kennedy and this Sunday night he is hell bent on finally facing a challenge.

Since debuting on Monday Night Raw, Kennedy has demanded competition but so far he's faced anything but that. Kennedy claims to be the 'Game Changer' Raw needs, the 'Game Changer' the WWE needs and that he wants to face and he wants to beat the very best they have to offer. Raw's General Manager Eric Bischoff has yet to give Kennedy what he wants, instead all Kennedy has faced have been in his eyes, joke acts with the particular thorn in his side being the every colourful, Eugene.

Eugene has tried his hand at being several different superstars, including Hulk Hogan, Bret Hart and Stone Cold Steve Austin, yet no matter what persona he's failed to find a way to win. Will Eugene again be the man to step up to Kennedy at Unforgiven? Will it possibly be a fresh face that bursts onto the scene to accept the challenge? The main question for Kennedy is, will the competition he craves step up to the plate?

Women's Championship:

Victoria© vs Lita

The dominant path of destruction Victoria has been on will look to continue this Sunday night as Lita at long last gets her chance at not just the Women's Championship but also at retribution.

This match was all set for Summerslam, Victoria having taken out Trish Stratus, breaking the blonde beauty's ankle, Lita stepped up to the devilish diva and laid claim to a title shot, one which she was granted. However, Victoria showed her sadistic side once again, ambushing Lita backstage before launching a sickening assault on Lita's ankle, slamming a door against it, looking to do to her exactly what she did to Trish Stratus. She succeeded as the title match was cancelled and we learned that Lita suffered a sprained ankle ruling her out of action. Trouble for Victoria was, that action would only be a matter of weeks rather than months as Lita returned, shocking the champion and she returned with a vengeance, Victoria's title in her sights.

This Sunday Lita gets her long awaited chance. Will the Daredevil diva once again take home the gold and reign supreme? Or will Victoria once again prove why she's the most dominant diva in not just the WWE right now, but the world?

Prediction Template:

World Heavyweight Championship: Steel Cage Match
Batista© vs Kane

Four on One Handicap Match:
(Shawn Michaels must eliminate all four members of the Entity to win)
The Arabian Entity vs Shawn Michaels

Triple Threat #1 Contenders Match:
Edge vs Christian vs Chris Jericho

WWE Intercontinental Championship:
Shelton Benjamin© w/Charlie Haas vs Mark Jindrak w/William Regal

World Tag Team Championships:
Dudley Boyz© vs The Platform to Perfection

Mr.Kennedy's Open Challenge:
Mr.Kennedy vs?

WWE Women's Championship:
Victoria© vs Lita

Bonus Questions:

1) Predict the match order
2) What will be the longest match?
3) What will be the shortest match?
4) Who will take the pinfall or submission in the Triple Threat match?
5) Who will be the first man eliminated, if any, in the Handicap match?
6) Will there be any blood shed, if so, which match?
7) Who will answer Mr.Kennedy's Open Challenge?
Now Posted!
Re: The BTB Advertisement Thread
---
"How did I do it?"
The story of World Championship Wrestling & it's survival.
Ten years of rebranding, rebuilding and reestablishing.
Coming 2013.
Re: The BTB Advertisement Thread
---

Monday Night Raw Preview, August 26th, 2002, Madison Square Garden

Monday Night Raw this weeks hails from the most famous arena in the world, Madison Square Garden where we cover the aftermath from the biggest party of the Summer, Summerslam. This Raw is set to be a memorable one where Paul Heyman and the new Undisputed Champion, Brock Lesnar have promised to kick off the show with a celebration speech. Will things go as planned for the Champion and Paul Heyman?

Speaking of promises, Triple H vowed to cripple Shawn Michaels and at Summerslam last night he may have just done that, the relentless Game smacked Shawn's already injured lower back with a Sledgehammer after their match and had him leave the arena attended to in a stretcher. Shawn has kept quiet on his condition, will we get some insight and hear from him on Raw?

Rob Van Dam won the intercontinental title last night, tonight we will hold a ten man over the top rope battle royal to crown the number one contender for the title at Unforgiven next month. Including names such as Lance Storm, Christian, William Regal, Booker T, Test, Goldust, Bradshaw and more it's anyone's ball-game.

Speaking of Christian, Test and Lance Storm, they have themselves quite a faction gong on Raw. They call themselves the Un-Americans and as the reigning Tag Team Champions they have been very dominant on Raw as of late, burning flags and letting the fans know their dislike for the country. What heinous acts will they do next?

Both Chris Jericho and Ric Flair will be in the house and one can expect their rivalry to be far from over after Ric Flair grabbed hold of the ring ropes and tapped out to a Figure Four almost simultaneously, leaving the match in controversy, what hold's next for their ongoing saga?

In lighter news, Kane has fully recovered from his injuries earlier in the year and will be in the building on Raw tonight, making his return.

All this and more on Raw.

Stay tuned
Re: The BTB Advertisement Thread
---
WWE Monday Night Raw Preview May 31st, 2004

This week the superstars of Raw head to Montreal, Canada on the road to Vengeance.

Monday Night Raw is all everybody in the wrestling industry is talking about at the moment, after some huge events taking place last week. At the end of Raw last week, 'The Big Red Machine' Kane attacked Scott Steiner, tied him up backstage, and tried to light him on fire once the show went off the air. It has been reported that Steiner was able to escape, and no reported damage has been done. But this rivalry just continues to intensify week after week. First they sent each other flying off the Raw stage, then there's been attack after attack, and Kane's latest actions have taken this to a whole new level again. Steiner is a dangerous man as it is and he'll surely have blood on his mind after what went down last week. With these two guys being in the same building it's not a matter of if things will explode, but when.

Kane and Steiner's issues all actually began due to the constant disagreements between Raw General Manager Eric Bischoff and Sheriff Stone Cold Steve Austin. The WWE board of directors have had enough of the power plays and bickering on Raw, therefore Vince McMahon announced a winner takes all match at Vengeance. Bischoff chose Goldberg to be his representative and last week Austin revealed Shawn Michaels to be his representative. Whoever's rep wins has full control of Raw, whilst the loser will be out of a job. Caught up in the enjoyment of 'The Heartbreak Kid' nailing Goldberg with Sweet Chin Music last week, Austin delivered a celebration Stone Cold Stunner to Bischoff. Due to already being on probation, McMahon had no choice but to suspend Austin from Raw tonight, which means Bischoff is in charge. Who knows just what will take place with Bischoff having full reigns of the show?

With Shawn Michaels having returned from exile, this week on Raw we will be hearing from The Rock. The Rock has stated that he believes Michaels should just retire, and with HBK yet to win a big time match this year, his record doesn't exactly do himself any favours. The Rock will be delivering a public service announcement via satellite from Hollywood tonight... and The Rock promises that his announcement will have HUGE repercussions regarding Vengeance. Just what this announcement will be is anybody's guess; you'll have to tune in to find out.

Bischoff has already jumped the gun, booking three matches for this week's Raw. We will see Booker T go one on one with Lance Storm, Garrison Cade and Mark Jindrak will take on Rosey and The Hurricane... and the main event will feature Batista and Matt Hardy going up against Chris Jericho, and the WWE Intercontinental Champion Maven!

We've got all of this, and MUCH, MUCH more, as the Raw superstars thirst for Vengeance heats up The Great White North...
---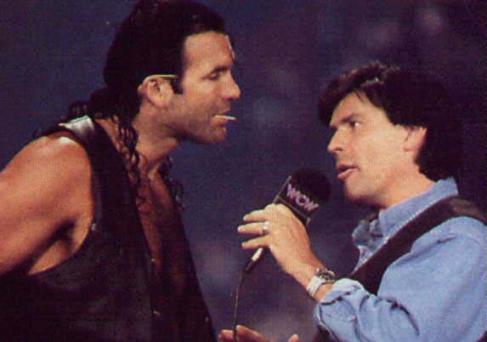 Re: The BTB Advertisement Thread
---
WWE Raw 1st March 2013, BOK Center, Tulsa, Oklohoma
Quote:
WWE Raw Preview
Raw goes Open Fight Night
Raw Rematch Clause Final between CM Punk and Ryback
Rock appears
---
G.O.A.T
Quote:
CM Punk: I am the best wrestler in the world. I've been the best ever since day one when I walked into this company, and I've been vilified and hated since that day because Paul Heyman saw something in me that nobody else wanted to admit. That's right, I'm a Paul Heyman guy. You know who else was a Paul Heyman guy? Brock Lesnar, and he split just like I'm splitting, but the biggest difference between me and Brock is I'm going to leave with the WWE Championship
READ MY BE THE BOOKER WWE: New Era
http://www.wrestlingforum.com/booker...new-era-2.html
Re: The BTB Advertisement Thread
---
The first show in 'WWE 2003; Rising With Ruthless Aggression' is up. What happened in the fallout of arguable the greatest Wrestlemania event of all time - Wrestlemania XIX? What is the aftermath of the World Heavyweight Championship match between Triple H and Booker T, and the epic bout between Chris Jericho and Shawn Michaels? Find out on
Raw
!
Read it here.
---
"You need to understand that your little jabs and your insults, it's all kiddie games. You can't leave a mark on the champ's face. Come Royal Rumble, understand, when you step in the ring, your arms are just too short to box with God."

Once got negged for criticising the song Cameron released.
Re: The BTB Advertisement Thread
---
There ain't no grave...can hold my body down...
Posting Rules

You may not post new threads

You may not post replies

You may not post attachments

You may not edit your posts

---

HTML code is Off

---