Re: The BTB Advertisement Thread
---
Quote:
~SATURDAY NIGHT'S MAIN EVENT~
March 3rd, 2007
Madison Square Garden; New York, New York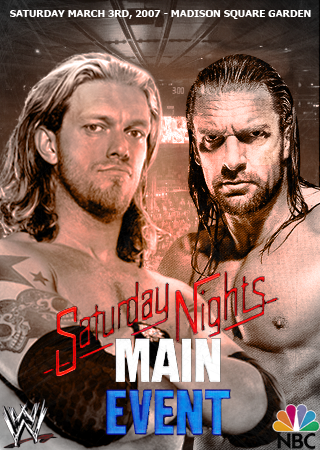 Number One Contenders Tournament Final Match:
Winner will face Shawn Michaels at Wrestlemania XXIII for the WWE CHAMPIONSHIP
Triple H vs. Rob Van Dam

It started with eight, and now we're down to two. For Rob Van Dam and Triple H, winning the Number One Contenders Tournament has taken on a greater meaning in recent weeks, with Saturday Night's Main Event being about more than just the chance to head to Wrestlemania to fight for the WWE Championship. The reason for this increased desire to head to Detroit? The ever escalating personal vendetta both men hold towards the WWE Champion Shawn Michaels... and each other. Ever since Shawn Michaels turned his back on Triple H to become WWE Champion during Raw: Night Of Champions, 'The Game' has been hell-bent on getting his hands on his former D-Generation X colleague. Likewise, from the moment Van Dam was struck with Sweet Chin Music, leaving him down and out on the mat and allowing Mr. McMahon to cherry-pick Van Dam's cherished ECW Championship, 'RVD' has too sought a way to even the score with Michaels. Although the WWE Champion has remained evasive, he knows that one of these men are his destiny by the time we reach Detroit. But will it be Triple H, the 10 time Heavyweight Champion, who goes on to main event yet another Wrestlemania, this time in one of the most personal, hate fuelled matches in Wrestlemania history? Or will it be Van Dam, a man so often lost in the shuffle come Wrestlemania season, who earns the chance to settle the score with Michaels. And what role, if any, will Michaels play in the match? The WWE Champion has been a distant, almost soul-less character over the last few months, but what way will his emotions sway as he watches on while his Wrestlemania opponent is decided? The richest prize in the business and the scent of revenge is firmly in the sights of Van Dam and Triple H. Who will face Shawn Michaels at Wrestlemania XXIII for the WWE Championship? All is set to be revealed live on Saturday Night's Main Event!

Steel Cage Handicap Match:
Mr. McMahon and Shane McMahon vs. John Cena

It was during the run in to the Royal Rumble that John Cena and Mr. McMahon first crossed paths, with the two going back and forth for several weeks over Cena accepting the challenge of Rob Van Dam for a WWE Championship match. McMahon felt Van Dam should be nowhere near the WWE Championship, but Cena remained defiant, sticking to his virtue of taking on any and all challengers by agreeing to face Van Dam at the Rumble. The verbals continued to be traded between Cena and McMahon, until the words turned to a more physical confrontation, as during the contract signing for the Cena/Van Dam match, McMahon found himself the subject of a FU through a table! This prompted the return of Shane McMahon to the WWE, and since then the McMahon's have done everything in their power to make Cena's life a misery. So much so that it was Shane and his hired security team who removed Cena from the WWE Championship Match during Raw: Night Of Champions. From that moment, Cena has made Shane and Vince his priority, but the McMahons have always been able to stay one step ahead of Cena. With a bounty placed on Cena's head, various people have stepped forward to do the dirty work of the McMahons for their own personal gain. Umaga, Edge, Johnny Nitro, Chris Masters and Melina have all benefitted from attacking Cena, causing many to wonder when Cena's personal hell would finally be at an end. It could all happen tonight after Cena goaded Vince and Shane into meeting him inside a Steel Cage. But recently, Vince has alluded to mystery man, the proverbial ace up his sleeve. Could the identity of the McMahon's latest hired gun be revealed tonight? Will the steel cage serve it's purpose of keeping outside interference out of the match? And will Cena finally be able to settle his differences with the McMahons the old fashioned way... a straight up ass kicking?!

Last Chance Tag Team Match:
If Edge and Kennedy win, Kennedy will join Edge and Batista in a WORLD HEAVYWEIGHT CHAMPIONSHIP Triple Threat Match at Wrestlemania XXIII
World Heavyweight Champion Batista and Matt Hardy vs. Edge and Mr. Kennedy

Ever since he won the 2007 Royal Rumble and made his intentions known that he was challenging for the World Heavyweight Championship at Wrestlemania XXIII, Edge has longed to see anyone but Batista holding the big gold belt by the time we hit Detroit. Edge claims it's because he wants his Wrestlemania moment, the moment where he becomes the new World Heavyweight Champion, to be the most spectacular match in Wrestlemania history. The more popular belief is that Edge is simply running scared of 'The Animal'. Kennedy has been on Batista's radar ever since Kennedy viciously assaulted Ric Flair after Flair eliminated Kennedy from the Royal Rumble Match. With Kennedy's repeated requests for a match with Flair denied, Kennedy set his sights on Batista and the World Heavyweight Championship, with the two clashing for the gold at No Way Out. An assist from Edge appeared to have handed the title to Kennedy, only for Flair to make his presence felt, costing Kennedy the title. Tonight, Kennedy has his last chance to be involved in the World Heavyweight Championship Match at Wrestlemania, as if he and Edge can beat Batista and Hardy tonight, the match will be contested under triple threat rules. And what about Matt Hardy? For so long, Hardy has been a struggling mid-carder, always chasing but never reaching that higher level. But with an United States Championship Match at Wrestlemania XXIII already in his back pocket, tonight is another chance for Hardy to prove he belongs with the big boys in the WWE. Will Hardy be able to shake off the wannabe reputation he's earned over the last few years? Can Batista finally get his hands on Edge after weeks of evasion from the Number One Contender? And will Edge and Kennedy be able to work as a cohesive unit to get both their wishes, a Triple Threat World Heavyweight Championship Match at Wrestlemania XXIII?


United States Championship Belfast Brawl:
United States Champion Finlay vs. Chris Benoit

At No Way Out, Benoit defended the United States Championship against Finlay in a match that was advertised as a battle between two tough as nails competitors. But if the match at No Way Out was hard hitting, then tonight should be an absolute war as Benoit and Finlay clash in the first ever Belfast Brawl! After losing the championship to Finlay, Benoit moved quickly to call for a rematch. However, Finlay only agreed to the rematch on one condition... that he was allowed to name the stipulation of the match. The stipulation Finlay settled on was the Belfast Brawl, a match that sounds right up the United States Champion's alley. Simply put, they're are no rules in a Belfast Brawl other than the match must end in either a pinfall or submission. Madison Square Garden has been the sight of many a chaotic and brutal fight over the years, but tonight could see the famous building witness one of the most brutal contests in WWE history. Neither man will be the same after this one is over, but one of them will leave Saturday Night's Main Event the United States Champion and head to Wrestlemania XXIII for a showdown with Matt Hardy.

World Tag Team Championship Match:
World Tag Team Champions Ric Flair and Carlito vs. The World's Greatest Tag Team

It was January 1st that Ric Flair first crossed paths with The World's Greatest Tag Team, as on that night 'The Dirtiest Player In The Game' was up to his usual tricks as he grabbed a win over Shelton Benjamin. The following week, it was the same scenario as Flair saw off Charlie Haas. But Haas and Benjamin weren't about to let the situation die as they sought a way to even the score. Two on one beatings followed, until a chance meeting between Flair and Carlito brought 'Lito into the situation. Flair and Carlito beat Haas and Benjamin to earn a shot at then World Tag Team Champions Rated-RKO, but even after winning the gold, and even despite Flair's issues with Mr. Kennedy, the new champions couldn't shake off the attentions of The World's Greatest Tag Team. Tonight, the two teams meet to finally put their issues to bed, but with all the drama that surrounds 'The Nature Boy' right now, could his head be elsewhere... and could the titles be in jeopardy because of this?

Four Way Elimination Match:
Winner will face Gregory Helms at Wrestlemania XXIII for the CRUISERWEIGHT CHAMPIONSHIP
Bryan Danielson vs. Chavo Guerrero vs. Joey Mercury vs. Shannon Moore

The Cruiserweight Champion Gregory Helms has long-claimed that he is the greatest cruiserweight in the world, and after seeing off all competition during his year-plus reign, nobody was in a position to argue with him. However, the arrival of Bryan Danielson to the WWE sent shockwaves through the division, with the champion showing signs that he realises his title was in grave danger after the signing of the indy favourite. At No Way Out, Danielson made a spectacular WWE debut, impressing everyone with his performance during the Cruiserweight Championship Gauntlet and coming within inches of winning the title on his debut. Helms held onto the gold yet again at No Way Out, but he's scheduled to defend his title again at Wrestlemania, this time in one on one action. At Saturday Night's Main Event, the four men who were involved in the Cruiserweight Championship Gauntlet for the longest duration of time, Shannon Moore, Joey Mercury, Chavo Guerrero and of course Danielson, will meet to determine who will face Helms in Detroit. Although Danielson impressed at No Way Out, word has been going around the dressing room that his performance that night was a fluke, credited to him catching Guerrero and Mercury by surprise. With everybody in the WWE now fully aware of what Danielson is capable of, tonight promises to be a true test fir all four of these cruiserweights, as they battle to secure a shot at Gregory Helms and the Cruiserweight Title.


Grudge Match:
Umaga vs. Kane

At No Way Out, the world watched on in shock as Umaga destroyed The Undertaker during a Casket Match featuring 'The Deadman' and King Booker. It was a display of dominance over 'The Phenom' the likes of which had never before been seen in a WWE ring. With sheer brute power and strength, 'The Samoan Bulldozer' decimated The Undertaker, driving through the casket lid before brutalizing him in the ring. Once Umaga was finished, the mysterious druids arrived, carrying the lifeless body of The Undertaker from the ring. This was to prove to be the last appearance of The Undertaker, as he hasn't been seen since. The Undertaker's brother Kane would look to take the fight to Umaga on the following Smackdown, storming the ring and trading blows with the 'The Savage of Samoa' that brought back memories of their titanic feud from last year. Tonight, restoring the family name is on Kane's mind, as is becoming the first man to finally pin or cause Umaga to submit. Umaga seems hell-bent on continuing to obliterate his opponents in typical fashion, but while 'Mags focuses on Kane and Saturday Night's Main Event, Armando Alejandro Estrada has his eyes set on the bigger picture... namely Wrestlemania XXIII and 'The Deadman'. Not only has the challenge been made for Detroit, but Estrada has invited The Undertaker to be in New York City to witness first hand the destruction Umaga is capable of. Can Kane somehow stop the incredible undefeated streak of Umaga? Or will he become another victim of Umaga's path of destruction? And after Kane's comments last Friday night about 'The Deadman' returning home to Death Valley, will we see The Undertaker tonight... or have we already seen the last of 'The Phenom'?

Grudge Match:
CM Punk vs. Mike Knox

Every damsel in distress needs her knight in shining armour to eventually save the day. But for CM Punk, he was thrust into the position of fighting for Kelly Kelly not by choice... but by sheer jealousy. Ever since they first crossed paths back in ECW, it was clear that Kelly Kelly had a crush on CM Punk. Unfortunately, she also had an over protective boyfriend in the shape of the dangerous Mike Knox. After Punk arrived on Monday Night Raw, Kelly soon also signed a contract with the Monday show... and of course, that meant that Knox wasn't far behind. Caught in the wrong place at the wrong time, Punk was subjected to several vile beatings at the hands of Knox, while at the same time Knox exerted his control over Kelly, threatening her on several occasions and even dragging her around arena after arena by the wrist. Kelly needed a hero, and it was Punk who stepped up to the plate, determined to do the right thing. While Knox is determined to prove to Kelly that Punk is nothing but a fantasy, Punk is out to set Kelly free from the shackles of Knox. There may not be much love in this match, but they'll certainly be plenty of bad feeling all round when these two meet, with Kelly Kelly sure to be watching on from ringside.


----------


Show now posted!
---
World Wrestling Federation: The Montreal Fallout
New BTB. Check it out, eh?
Finally Out of Cutey Sleep
Join Date: Jul 2006
Location: The Fountain of Dreams
Posts: 2,020
Points: 9
Re: The BTB Advertisement Thread
---
Quote:


8.22.07

The Hammerstein Ballroom – Manhattan, New York City, New York
"The Greatest Affair of the State"
*Special 90-Minute Pilot*

War brings with it discord, famine, panic, and Oblivion. War has arrived, as Oblivion takes center stage! The inaugural episode of AOW Wrestling's Wednesday Night Oblivion has arrived! This groundbreaking pilot is already breaking rules – by being granted a 90 minute time spot – live in the Hammerstein Ballroom.

The head founder of AOW, Paul Heyman, will be in attendance to address the fan faithfuls and has already promised to set the roster in its place to send shockwaves through the wrestling world!

The stars of AOW are ready to wow to world and show why they're the best pro wrestling has to offer – and they'll get the chance!! The Hooliganz will meet the World's Greatest Tag Team in tag action, while Jack Evans and Jamie Noble will represent the AOW cruiserweights.

But this all fails to compare to the unveiling of the AOW World Championship…which will find its first beholder!! No match type has been announced, nor has the participants, but we have been assured to crown the FIRST EVER AOW World Champion!

Who will be the stars to look out for, who will be left in the dust, and who will be the first AOW World Champion? Find out, 9 EST on FX!


Link in sig or follow the quote link.
---
CUTENESS²
AOW: Art of War Wrestling - The Greatest Affair
It's Baaaaack...
.:Oblivion Edition 39/40 Recap NOW POSTED!!:.
Re: The BTB Advertisement Thread
---
Monday Night Raw Preview
Monday 13th October 2008
Live from the University of Dayton Arena
Dayton, Ohio
The Survivor Series is drawing closer and is beginning to take shape with no fewer than three further matches being announced last week and the possibility of more this coming week.

In addition to the WWE Championship between Batista, Randy Orton & Triple H and the elimination match composing teams led by John Cena and the World Heavyweight Champion, CM Punk, we learned that The Big Show will meet John 'Bradshaw' Layfield in a Hell in a Cell match that will see the loser leave the WWE. Also Ted DiBiase discovered that he will be taking on The Undertaker from Eric Bischoff while Shawn Michaels accepted The Miz's challenge to an elimination match Friday night on Smackdown.

Fresh off challenging JBL to the career ending match last Monday night, The Big Show will be in action this week when he teams up with his rookie, Justin Gabriel to take on another mentor/rookie combination in the shape of Randy Orton & Darren Young. The World's Largest Athlete showed no remorse for injuring Shane McMahon, provoking an understandably furious response from the remaining Corporation members, and tomorrow night he & Gabriel will face a tough challenge against Orton & Young. The Viper surprised many last week by finding a way to co-exist with Batista on their way to a victory, and he'll be looking to go back-to-back with another win in Dayton as he prepares for his WWE Championship match next month. Only one mentor/rookie combination will be able to emerge victorious. Make sure you tune in to Raw tomorrow night to find out which duo that will be!

We were all surprised by Orton last week, however no one was more surprised than Batista. The Animal made it clear to The Viper he doesn't trust him, but will he feel differently now after their victory last week? If so and they do manage to co-exist, what does that mean for their former Evolution team-mate, Triple H? It looks like the odds may be shifting against The Game and you have to know he won't like that one bit.

It was a tough week for Triple H as he went toe to toe with The Undertaker on his Raw return and he threw the towel in by getting himself disqualified thanks to a low blow. He then went after his trusty sledgehammer to give the phenom his own personal welcome to Raw only The Undertaker had other ideas. That was until Ted DiBiase & Ezekiel Jackson stormed the ring to take down The Dead-Man, and DiBiase ended the mugging with a shot to the skull of his Survivor Series opponent with The Game's sledgehammer. It was a strong message of intent from the confident third generation superstar, but surely he has to realise that The Undertaker will be coming back for retribution, and soon! Just how long will he wait before going after him?

The Miz was out to prove he didn't turn his back on a fight with Shawn Michaels at No Mercy last week, so much so that he's found himself in the position of leading a team against one put together by The Heartbreak Kid at the Survivor Series. He went about his mission in the typical Miz way by jumping Michaels during his No Mercy rematch with Jack Swagger Friday night on Smackdown before challenging him without giving Michaels the chance to respond. Later on however, he did and it was emphatic. Mr. Hollywood returns to home turf on Raw tomorrow night to take on Kofi Kingston who's going through a slump right now. Will he be able to turn it round when he meets The Miz in Dayton tomorrow? Tune in to find out!

Christopher Daniels & Kaval booked their place in the final of the World Tag Team Championship tournament last week after defeating JTG and his rookie, Homicide. They'll find out who their opponents will be at the Survivor Series when the two teams battling to face them collide live tomorrow night. Matt Hardy & Gregory Helms will take on Rey Mysterio and his rookie, Mystico, and last week Mystico gained a confidence boosting win over Shannon Moore. They all shook hands after the bell last Monday but this week the gloves will well & truly be off when the friends go all out to join Daniels & Kaval in the final. Only one of them however will make it. Make sure you don't miss it to see just which of them will be heading to the Survivor Series to fight it out for the gold.

It seems that the Colon brothers have been able to do what no one else has in consistently frustrate the undefeated Intercontinental Champion, Sheamus. He was hell bent on getting his hands on the brothers cool last week and yet again they managed to dodge The Celtic Warrior's clutches after he attacked Carlito's opponent, Orlando Jordan as he made his way to the ring for action. This week we will see Sheamus in action against Goldust, and if his mood in recent weeks is anything to go by Goldust could be in for a tough night to say the least.

For all this and more, make sure you don't miss Raw tomorrow night live from Dayton, Ohio!
>Confirmed for Raw This Week<

World Tag Team Championship Tournament – Second Semi Final
Matt Hardy & Gregory Helms vs. Rey Mysterio & Mystico

Plus

The Big Show & Justin Gabriel vs. Randy Orton & Darren Young

Kofi Kingston vs. The Miz
Re: The BTB Advertisement Thread
---
Monday Night Raw Preview – May 10th, 2004

Last week, fans described Monday Night Raw as stacked. Not to rest on its laurels, Raw is set to be even bigger this week, as all its superstars roll into San Jose, California.

The bitter rivalry between the Raw General Manager, Eric Bischoff and 'Sheriff' Stone Cold Steve Austin reached new heights last week. The two have been at each other's throats for awhile, with both men being the complete opposite to each other. Bischoff's business like persona doesn't seem to go to well with Austin's 'as free as the wind' attitude. At Backlash, Kane chokeslammed Austin, and then the next night on Raw, Austin delivered a Stone Cold Stunner to Kane. The two haven't been in a physical altercation since then, although Bischoff, realising Kane is a threat to Austin, befriended 'The Big Red Machine', promising to help him with his plan that nobody knows of. Easy E didn't stop there, also trying to recruit Scott Steiner by his side. Sensing that Bischoff is trying to build something of an army, similar to what Paul Heyman has on Smackdown, Austin convinced Steiner to stay on his lonesome. As Bischoff and Stone Cold continued to trade insults, last week things went too far when Kane came out to fight for Bischoff, and Steiner backed up Austin. The two brawled up the entrance ramp, and eventually took a tumble off of the stage, causing both men to be unable to attend Raw this week. The owner of the WWE, Vince McMahon was displeased with seeing his stars being put at risk due to arguments between Raw's two authority figures, and McMahon has promised to attend Raw tonight with a solution.

It's always entertaining when Vince McMahon is in attendance, but it may be even better this week, as The Rock will be delivering The Rock Concert III. Having taken a few weeks off, Rocky plans to make it up to his millions and millions of fans with an entertaining concert tonight. There's also a slight hope that we'll finally get an explanation as to why The Rock told Shawn Michaels to retire.

The World Heavyweight Championship scene has been covered in turmoil in the past few weeks. Chris Benoit remains as champion, but from Triple H, to Goldberg, to even Randy Orton, there's no idea who will be named as the number one contender for Vengeance. Keep in mind, Triple H does have a rematch clause in his contract after losing the title at WrestleMania, however he's made it clear he wants to save that for some unknown reason. With Triple H and Evolution there's usually some sort of plan, so Hunter will be saving that title shot for a reason. We're hoping for some issues to be cleared tonight on Raw, with the World Heavyweight Champion going one on one with Randy Orton. Just as it looked like Goldberg was in the box seat to take the World Title from Benoit last week, Triple H interfered; therefore Triple H and Goldberg will also be going at it tonight. Hopefully after tonight, we'll have some clear results as to who should be the number one contender for Benoit's title at Vengeance.

After putting Christian out of action in their match at Backlash, Chris Jericho has been on somewhat of a roll. Whilst Jericho initially believed his issues with Christian were solved, 'Captain Charisma' has made it clear that's not the case. Nobody, not even Jericho, had any idea when something would go down to indicate Christian is still angry, and it all came to tuition last week, when Jericho was attacked by Tomko after his match. Having already wrestled and lost to Tomko before Backlash, this one is very personal, as Tomko and Jericho have been booked to go at it in a Hardcore match.

The WWE Intercontinental Champion has been on a roll pretty much since WrestleMania. Even though he defeated Matt Hardy at Backlash, Hardy still seems pretty confident that he'll take the IC Title from Maven sometime. Tonight though, Maven has a different challenger to take on, as he will go one on one with the hungry 'Evolution Enforcer', Batista.

And with the World Tag Team Champions Booker T and Rob Van Dam still proving to be a class above the rest, the two tandems of Rodney Mack and Mark Henry and Al Snow and Tommy Dreamer will compete, trying to shorten the gap between themselves and the champions.

All this, and much, MUCH more on another STACKED edition of Monday Night Raw!

Confirmed Matches
Chris Benoit vs. Randy Orton

Bill Goldberg vs. Triple H

-HARDCORE MATCH-
Chris Jericho vs. Tyson Tomko

Dave Batista w/Ric Flair vs. Maven

Al Snow and Tommy Dreamer vs. Mark Henry and Rodney Mack
Re: The BTB Advertisement Thread
---
Quote:
Smackdown Preview, March 18, 2004




Lose some and Gain some
It is now time to see the fallout from WrestleMania on WWE SmackDown. The Smackdown brand took a major hit at WrestleMania when the Worlds Greatest Tag Team won the world tag team titles to move to Raw. If that wasn't enough, Ron Simmons was defeated by his former partner Bradshaw in a loser leaves WWE match. The biggest shocker was Brock Lesnar quitting the WWE following WrestleMania. Paul Heyman believes that if they lost some then they certainly gained better.
At WrestleMania, Edge and The Undertaker finally made their long awaited returns and you will see them back on Smackdown tonight. What can we expect from The Undertaker tonight? What will Edge have to say after being out of action for over a year?
RVD and Booker T are the newest members of the Smackdown roster as they captured the tag titles at WrestleMania. Tonight they will defend the titles against the former champions 2 Cool.
Latino Heat
WWE Champion Eddie Guerrero successfully retained the WWE Title against Kurt Angle at WrestleMania. Kurt Angle believes that he should have won the belt at WrestleMania and Eddie Guerrero shouldn't be champion. What will Kurt Angle do tonight. Will Latino Heat give Angle a rematch?
Champion vs Champion
Also, for the first time after the WrestleMania extravaganza as we present all of the fallout from WrestleMania XX, the new United States Champion John Cena will meet the new Cruiserweight Champion Tajiri in action tonight in a non title match.
Embarrasment
Last week the superstars of Smackdown let Stone Cold Steve Austin attack Paul Heyman. Has Paul Heyman lost control of Smackdown? Will Heyman show up tonight?
Find out all this week on Smackdown!
Confirmed Matches
Tag Team Title Match: RVD and Booker T vs 2 Cool
Johnny Nitro vs Paul London
John Cena vs Tajiri
http://www.wrestlingforum.com/booker...emania-xx.html
The Smackdown show should hopefully be up by tomorrow.
---
WWE 2004: The Road to WrestleMania 21
Click here to read
Re: The BTB Advertisement Thread
---
Smackdown! Preview
April 10, 2009
Iowa City, Iowa

'Ready, Set, Go!'

Triple in Paradise
Triple H may have retained the WWE Championship at Wrestlemania, but as revealed on Raw this Monday night, Randy Orton, the man he beat just 5 days ago has been granted a rematch against 'The Game' at the upcoming Backlash event. But on Smackdown, Triple H is going on one on with a man he has a very specific history with, 'The Gold Standard' Shelton Benjamin. Randy Orton is rumoured to be in attendance in Iowa City, and he is scheduled to be on commentary for the WWE Champion's match.

Over the Edge
Edge has requested some time to give reason for his actions this past Monday on Raw, where he sneak attacked the World Heavyweight Champion, John Cena, in the locker room.

The Return
As announced earlier, Mr Kennedy is back from injury, and he is making his return to WWE programming on Smackdown this Friday, where he will be taking on R-Truth, in what is sure to be an fast paced, exciting match. Kennedy will be looking to build momentum to a possible title challenge in the future.

No Reward for Quitters
Matt Hardy defeated his brother Jeff at Wrestlemania, and Jeff quit the whole of the WWE as a result. Matt will now be as cocky and confident as ever, knowing that he is the only and top Hardy left in the WWE. As a result of his great victory, Smackdown General Manager Theodore Long has granted Matt a shot at the United States Championship this Friday, and the champion MVP will welcome the fight with no problem.

Smackdown Goes Extreme!
Much like Raw, Smackdown has also received some talent from the fallen ECW brand. One of these wrestlers is the current ECW Champion, Jack Swagger, and the 'All American American' has brought the championship along to the blue brand with him. In his first Smackdown match, he will be facing the man who lives and breathes ECW, the 'Innovator of Violence', Tommy Dreamer.

Confirmed

World Heavyweight Champion 'The Game' Triple H vs Shelton Benjamin
United States Championship Match - MVP (C) vs Matt Hardy
Mr Kennedy vs R-Truth
ECW Champion Jack Swagger vs 'The Innovator of Violence' Tommy Dreamer
The Peep Show with Money in the Bank winner Christian



Click the link in my sig, yo
Re: The BTB Advertisement Thread
---
WWE Monday Night Raw Preview
July 4th, 2011
-Last week, CM Punk interfered in John Cena & R-Truth's table match and cost Cena the match, but what was truly shocking
Was when Punk picked up a mic and cut one of the most controversial promos ever in the history of the WWE
Criticizing many names in the sports entertainment industry such as Hulk Hogan, The Rock & the WWE Champion, John Cena.
And most importantly taking a shot at the chairman himself, Mr. McMahon who will address this situation.
What will happen when McMahon & Punk meet? And how will John Cena react to Punk's actions last week?

- Also last week, Kofi Kingston got a victory over the United States Champion, Dolph Ziggler and tonight there will be a rematch
But this time the United States Title is on the line and Vickie Guerrero has been banned from ringside.
Who will walk out as the new U.S Champion? And will Vickie's absence affect the outcome of the match?

-Also for tonight, Divas Champion Kelly Kelly teams up with Eve to face the Bella Twins
Last week, Kelly Kelly beat Nikki in a submission match but shortly afterwards Brie Bella attacked Kelly from behind and Nikki joined in until Eve came out and saved the Divas Champion.
Can Brie walk out with some monument heading into MITB? Or will Kelly continue her winning ways?

-Finally, Last year's Raw MITB Winner, The Miz faces Rey Mysterio, who will be competing in his first MITB match in two weeks it will also be a lumberjacks match with the MITB participants (excluding Kofi) as the lumberjacks…
These two were on opposite sides last week in that tornado tag match, and it was Rey and his partner, Miz's former "lackey" Alex Riley who got the win last week…
So announced for July, 4th edition of Monday Night Raw
Mr. McMahon addresses CM Punk in front of the WWE Universe following Punk's comments last week...
1- Dolph Ziggler © vs. Kofi Kingston (United States Championship)
2- Kelly Kelly & Eve vs. The Bella Twins
3- The Miz vs. Rey Mysterio (Lumberjack Match)
Asking JAMES ELLSWORTH for Wrestling Advice
Join Date: Feb 2011
Location: Detroit
Posts: 256
Points: 140
Re: The BTB Advertisement Thread
---
THIS WEEK on EPW ON HBO:

We are just one week away from EPW's first Pay Per View, Still Barely Legal, and tensions are running high between "The Franchise" Shane Douglas and "The Whole Fucking Show" Rob Van Dam! Last week, RVD was able to win his "Pick Your Poison" match. The question is, however, will Douglas have the same luck? That said, Shane has an advantage that Van Dam didn't, as RVD announced who he's selected as Shane's opponent; None other then our EPW Champion, "The American Dragon" Bryan Danielson! With Danielson defending his title against Jeff Hardy and Douglas having to face Van Dam in a Hardcore Match, there's no doubt that these two not only have something to prove, but that they're going to have to be careful out there to avoid injury before Sunday!

"The Long Island Iced Z" Zach Ryder may have made a huge mistake by injuring Maven Huffman on the first edition of EPW on HBO, but Ryder is looking to prove that he'll be able to beat Maven no problem. This week he will be squaring off against Colin Delaney. Folks may laugh at this match up due to Delaney's run in WWECW a few years back, but after a few shocking wins as of late, Delaney just might have a chance of beating the "Rough Ryder".

Carlito Colon has been a very dominant International Champion for the past 5 months, but he has two huge matches coming up. Not only will he be defending his title against Yoshi Tatsu at Still Barely Legal, but, this week on EPW on HBO, he will also have to face off against Charlie Haas. Haas, who right now is one half of a tag team with long time partner Shelton Benjamin, is one of the best technical wrestlers not only in EPW, but in the world, and he'll be looking to prove that he's just as valid of a singles competitor as a tag team specialist!

All this and more on this weeks EPW on HBO!!! DON'T MISS IT
RESULTS ARE NOW UP!!!!! CHECK IT OUT HERE:
http://www.wrestlingforum.com/booker...revival-3.html
---

WCW 1998:The War Continues
http://www.wrestlingforum.com/booker...continues.html

https://twitter.com/BrandonBrownson
https://www.youtube.com/user/THEBrandonBrownson

The roof is NOT my son, but I will RAISE IT!
Re: The BTB Advertisement Thread
---
Quote:
Friday Night Smackdown (June 24, 2011)
OFFICIAL PREVIEW
The Dotted Line

Last night at Capitol Punishment Christian defended his World Heavyweight Championship against Randy Orton in a grueling 30 Minute Ironman Match, winning with a 4-3 score. In the first match of the show, Cody Rhodes defeated Sheamus, Daniel Bryan and Sin Cara in a Fatal 4 Way Match to become the #1 Contender to Christian's title. Their match is all but penciled in for the next pay per view, Money In The Bank, but tonight they must first sign the contract. Smackdown General Manager Teddy Long will officiate the signing with Christian and Cody Rhodes where the new competitors will get to say their thoughts on each other for the first time. It will be fiery and it will be tonight!

Straight To The Bank

This Monday we already had some qualifying matches for Raw's Money In The Bank Ladder match, with Kofi Kingston, Dolph Ziggler and R-Truth all qualifying. This week on Smackdown, there will be the first opportunity to qualify for Smackdown's respective ladder match. The two superstars fighting it out will be Alex Riley and Tyson Kidd. Two weeks ago Riley defeated Kidd and the last week Kidd and his manager Michael Hayes goaded Riley to the ring for a rematch, only to attack him before the ringing of the bell. Tonight it will be the true match as the rivals go at it- with much more on the line.

Tamil Terrors

In tonight's other announced match, "The Gold Standard" Shelton Benjamin will take on newcomer Jinder Mahal. Last week Mahal attacked The Great Khali backstage and left the giant brutalized and word is that Khali will be in attendance tonight. There's no telling what will happen in this match, especially with "The Punjabi Giant" itching to get his hands on Mahal at any opportunity.

Divalicious!

Finally, after the announcement this Monday on Raw that the Women's Championship was reinstated and given to Kharma, Smackdown has gained the Divas Championship and it's own set of divas to go with it. Tonight, General Manager Theodore Long will reveal those particular divas and word is that they will be participating in some sort of match that will affect who gets a shot at the Divas Championship. Watch tonight's show for more information.

All this and more, tonight, on Friday Night Smackdown!
Show is now up and feedback is as always appreciated.
Moron
Join Date: Mar 2011
Location: India
Posts: 1,388
Points: 0
Re: The BTB Advertisement Thread
---
Quote:
RAW Preview:



One day after shocking the whole world, WWE Champion John Cena makes a shocking announcement on RAW when he addresses The Undertaker.

The No.1 contender to WWE Title will be decided in a triple threat match as the remaining three Team RAW members face off. It will be Sheamus vs CM Punk vs Alberto Del Rio and the winner faces WWE Champion John Cena at New Year's Revolution. Though after Cena's announcement, I'm not quite sure about it.

Mr. Mcmahon has an unlikely visitor in the GWF Chairman Paul Heyman on RAW. Heyman hints at something which makes Vince nervous. What does Heyman have up his sleeve?
.............

Quote:
Smackdown Preview:



A certain superstar shocks all his fans when he announces his retirement from wrestling this coming Smackdown.

Someone leaves, someone enters!! A surprise superstar makes his comeback to WWE to face an angry giant in Mark Henry who cribs over losing out on the IC Title.

The tag team invitational Battle Royal will take place to decide the No.1 contenders to Tag champs RVD&MVP. And as expected, there will be some unexpected surprise teams.
Any predictions for the retired superstar, new superstar and Cena's announcement are welcome. RAW will be up soon.
The Road to Wrestlemania has officially begun.
Posting Rules

You may not post new threads

You may not post replies

You may not post attachments

You may not edit your posts

---

HTML code is Off

---