Re: The BTB Advertisement Thread
---
Quote: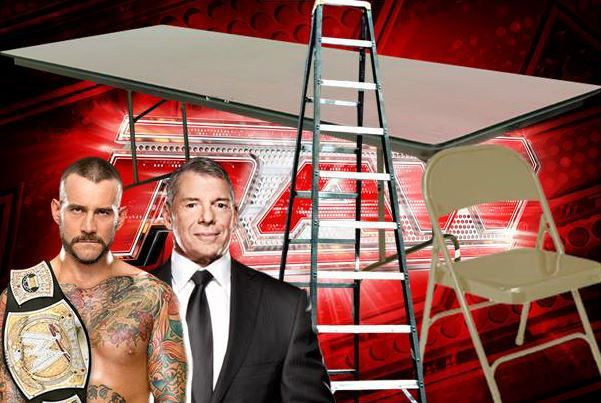 It's been a blockbuster week in WWE. Friday night on SmackDown Vince McMahon opened the show to declare that the brand split was officially over. Vince will once again be in the mix on Monday Night Raw when he steps into the ring with WWE Champion CM Punk in a Tables Ladders and Chairs match. McMahon told Punk he will "beat some respect into him" and challenged the Champ to the match after Punk kicked Vince in the head last week.

It's only the first of two TLC matches for Punk this week, we are 6 nights away from the Tables Ladders and Chairs pay-per-view where Punk will defend his championship against John Cena. Cena told fans that Sunday is the start of his road to redemption – he knows that winning the title at TLC will see him defend against The Rock at the Royal Rumble next month, and Cena would love nothing more than to get his win back from The People's Champion.

World Heavyweight Champion Big Show did not take kindly to Daniel Bryan calling him a "btich" last week, and vented his frustrations on Friday night with a WMD to Bryan. Bryan challenges Show for the title at TLC this Sunday, and with submission victories over Show, Kane and Randy Orton in recent weeks, Bryan says he wants to regain the World Heavyweight Championship by making The Giant tap.

Alberto Del Rio is back and he is thirsty for the blood of Randy Orton. Orton and Del Rio feuded at Hell In A Cell and Survivor Series before Orton wrote Del Rio off with an RKO through the announce table. Friday Night saw Del Rio return the favor, and it has been confirmed that Orton has not been cleared to compete on Raw. Del Rio however will make his in-ring return in singles action. What will the Mexican Aristocrat have to say about his actions?

Christian returned to WWE two weeks ago and immediatley set his sights on The Miz and his Intercontinental Championship. The Awesome One is on a quest to break Honky Tonk Man's record as the longest reigning Intercontinental Champion in history, but can he successfully defend against Christian at TLC?

Rhodes Scholars will defend their Tag Team Championships against Rey Mysterio and Sin Cara at TLC, and their task has seemingly become easier after a backstage attack on SmackDown left Sin Cara injured. The Luchadors are expected to go ahead with the match despite not been 100%, but is it just a formality that Rhodes Scholars will retain their Championships?

At the 2011 TLC pay-per-view, Zack Ryder won his first and only singles Championship when he became United States Champion. One year later and his career has nose-dived, but he has picked things up of late to the point where he has earned a shot at the United States Championship again at TLC. Standing in his way is Antonio Cesaro, who has repeatedly told Ryder he is not worthy of his time. Cesaro will issue an open challenge on Raw tonight as he looks to prove he is the greatest United States Champion ever.

Kane and Ryback have been playing mind games for weeks, and the pair will clash at TLC this Sunday. It all started with Ryback defeating Kane in singles action on Raw, something the Big Red Machine did not take kindly. He has been on a revenge mission ever since, Kane's distractions cost Ryback the WWE Championship on Friday night. Ryback returned the favor the same night which resulted in Kane losing to John Cena. Kane and Ryback are both in action tonight, and with things hotting up will these combustable elements explode before the PPV?

It's a stacked card, be sure to check out what promises to be another stellar night on the final Raw before TLC 2012!

Confirmed matches:
Mr McMahon faces WWE Champion CM Punk in a Tables Ladders and Chairs match.

John Cena vs Intercontinental Champion The Miz in a non-title match will open the show.

Alberto Del Rio returns to the ring against Rey Mysterio.

United States Champion Antonio Cesaro defends his title in an open challenge.

Former Tag Team Champions Kane and Daniel Bryan go at it again in singles action.

Ryback takes on Vickie Guerrero's Michael McGillicutty, who will be accompanied by Ted DiBiase.

Tag Team Champion Damien Sandow goes one-on-one with Christian.
Show now posted, with a return that nobody saw coming...
---
The Rock | Undertaker | Triple H | Chris Jericho | Stone Cold
CM Punk | Dean Ambrose | Mark Henry | Daniel Bryan | Dolph Ziggler
Austin Aries | Jeff Hardy | AJ Styles | Bully Ray | Christopher Daniels
Re: The BTB Advertisement Thread
---
Quote:
~Friday Night SmackDown~
May 4th, 2007
Von Braun Center
Huntsville, Alabama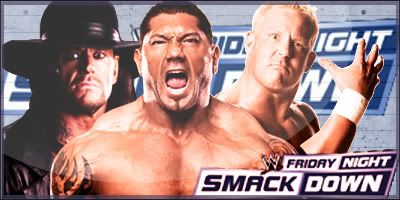 Last week London, England played host to Friday Night SmackDown and it's two title matches. While Matt Hardy registered a convincing victory over Finlay to retain his United States Championship, the World Heavyweight Championship Match between Batista and Mr. Kennedy came to an abrupt ending... all thanks to Edge.

As Batista and Kennedy were battling to a finish, Edge stormed the ring, delivering the spear to Batista and then to Mr. Kennedy, handing the victory to Batista albeit via disqualification. The issues between these three have been escalating for months now, and it appears that after Edge's recent actions, they could reach breaking point. Tonight, Batista and Matt Hardy to team up to face Edge and Hardy's opponent at Judgment Day, The Miz. With Batista desperate to get his hands on Edge, and with Edge desperate to get his hands on the World Heavyweight Championship, expect this one to be fierce battle, but of course, one question remains... just what role, if any, will Mr. Kennedy play in it all?

The 2007 King of the Ring kicked off on Raw last Monday, and now SmackDown joins the party with three qualifying matches. The WWE Tag Team Champions The Hooligans will collide, an intriguing matchup given the rather frosty relationship that has existed between the two since WrestleMania. No doubt Ashley will have both men ready for action, and they'll enter the match united and best of friends... but is that how they'll leave it? Elsewhere, expect a brutal battle between Kane and Finlay, the two heavy hitter so far suffering very different post-WrestleMania 2007s. Kane has been on a roll, picking up win after win, while Finlay has lost the United States Championship and failed to win it back in a rematch. Just one week after the brutal Belfast Brawl, Finlay may not be 100%, something which Kane will no doubt take advantage of. As for King Booker, he begins the defence of his crown and aims to become the first man to win the tournament twice. Tommy Dreamer will be no push over, but Booker should be able to make it through to the next round.

After weeks of bickering and back and forth between the Cruiserweight Champion Gregory Helms and his WrestleMania opponent, Bryan Danielson, tonight is finally the night that Danielson gets the chance to earn another shot at the gold as he is one of ten men competing in a Cruiserweight Battle Royal, the winner set to go to Judgment Day to face Helms for the title. Three members of The Full Blooded Italians, both Asian Rednecks and a host of other cruiserweights are set to compete, but surely now that he's so close to getting the title shot he craves, Danielson won't let this chance slip y him.

Last week, Chavo Guerrero started a retrospective of sorts of Rey Mysterio's career, starting by calling legendary cruiserweight Dean Malenko out to the ring. After harsh words were exchanged between the two, it appeared as if Chavo and Malenko would go their seperate ways with a showing of respect... only for Guerrero to sucker punch Malenko, then nail him with the frog splash, adding insult to injury. Tonight, Chavo vows to once again take us on a trip down memory lane by inviting an opponent from Rey's past into the ring. Just who does Chavo have in mind? Tune in to find out!

Confirmed Matches:

Batista and Matt Hardy vs. Edge and The Miz

King of the Ring Qualifying Matches – Round of 32
Brian Kendrick vs. Paul London
Finlay vs. Kane
King Booker vs. Tommy Dreamer

Chavo Guerrero vs. An Opponent From Rey Mysterio's Past
10 Man Cruiserweight Battle Royal
Show now posted
here
.
---
World Wrestling Federation: The Montreal Fallout
New BTB. Check it out, eh?
Heel Turn on James Ellsworth
Join Date: Nov 2012
Location: The Aces and Eights Clubhouse
Posts: 2,051
Points: 0
Re: The BTB Advertisement Thread
---
Hey guys, check out Fortox Wrestling!
The general story is that a local man with big bucks decided to create a wrestling company, and signed some independent talent. I love writing but I don't see a point in it if nobody reads, so please, check it out! I will gladly trade rep for feedback!
---
th sad truith that al of u cant ceem to grrasp is dat wrestlig is getig les poplar each day and no bodde caires abot it

vinse is senile at this poiint and th growth of tna has pleateuaed nd roh has nevr bin mor than his a crapy cult
Re: The BTB Advertisement Thread
---
Just started a brand new BTB. Link in my sig. WrestleMania 29 build and preview is up.
Chopped Liver
Join Date: Jan 2004
Location: Six inches from a computer screen
Posts: 5,433
Points: 321
Re: The BTB Advertisement Thread
---

Official Card for WWE Cyber Sunday:

Date: 16th September 2007
Location: American Airlines Centre, Dallas, Texas
Event Music: Foo Fighters, The Pretender





WWE Championship;
!!ELIMINATION CHAMBER MATCH!!
Randy Orton vs. Brock Lesnar vs. Batista vs. Garrison Cade vs. Rob Van Dam vs. Paul London
~ Choose the sixth and final entrant ~


World Heavyweight Championship Match;
~ CHOOSE THE SPECIAL GUEST REFEREE ~
Christian vs. Kurt Angle
~ Mr. Kennedy OR Rey Mysterio OR Eric Bischoff ~


WWE Cruiserweight Championship Match:
The Brian Kendrick vs. Jamie Noble OR Super Crazy OR Chavo Guerrero OR Evan Bourne OR Kid Kash OR Sonjay Dutt OR Daivari OR Elix Skipper OR X-Pac OR Scotty Too Hotty


Intercontinental Championship Match:
William Regal vs. Ken Doane OR CM Punk OR Greg Helms OR Paul Burchill OR Christopher Daniels OR Doug Williams OR The Miz OR Cody Rhodes OR Charlie Haas OR The 2007 King of the Ring; Brent Albright


All … or Nothing??
Edge vs. The Undertaker
~ Winner faces WWE Champion @ Smackdown Season Premiere OR Loser is forbidden a title shot for 12 months ~


Grudge Match
Shawn Michaels vs. Umaga
~ Samoan Strap Match OR Ambulance Match OR Stretcher Match ~


~ AND, WILL JOHN CENA SIGN FOR SMACKDOWN?? ~


***


PREDICTION COMPETITION
1) Predict which wrestlers/matches/stipulations will be voted for (12 points)
2) Predict the winners (6 points)
3) Predict the match order (6 points)
4) Predict the order of elimination in the Elimination Chamber (5 points)
5) Will John Cena sign with Smackdown or remain on Raw?? (2 points)
6) What will be the longest match?? *ELIMINATION CHAMBER NOT INCLUDED* (2 points)
7) What will be the shortest match?? (2 points)


PREDICT ... NOW
I'll be posting the show TONIGHT - last chance to post predictions...
Re: The BTB Advertisement Thread
---
Monday Night RAW 31/12/07 Preview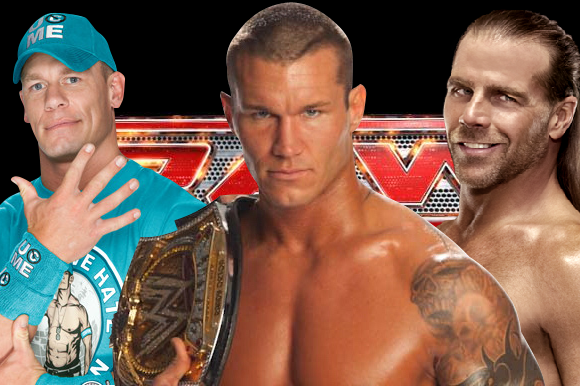 On a special New Year's Eve edition of Monday Night RAW, we are live in Greensboro, North Carolina where WWE Champion Randy Orton looks to continue his winning streak by taking on the game Triple H in a non-title match. Orton also promised, on WWE.com, that he will make a statement. RAW Commentator Jim Ross said it best when he described Orton as a 'Viper. A Vicious, violent, evil individual who will do anything to win.'

Orton's Royal Rumble opponent, Jeff Hardy, is looking to prove that he can hang with the big boys when he takes on the man who had an intense rivalry with Orton; Shawn Michaels. The Heart Break Kid is looking to prove that he still deserves to chase after the WWE Championship, and what better way than defeat the current #1 Contender?

The returning Y2J has been obsessed with getting a match with JBL after he screwed his out of the WWE Championship at Armageddon. Tonight he may get his wish not only has JBL agreed to be on Jericho's show, the Highlight Reel but he also has a huge announcement that will, to quote JBL, 'Set the WWE Universe ablaze!' Rumours are going around about what it is but many speculate that JBL has signed with RAW.
Finally this may be Legend Ric Flair's last RAW as he takes on RAW GM William Regal. Both men are future Hall of Famers and the match has Flair's career on the line. Will Flair be at RAW next week, or will William Regal do what many others can't.

Non-Title Match
WWE Champion Randy Orton vs Triple H

Non-Title Match
Intercontinental Champion Jeff Hardy vs Shawn Michaels

#1 Contender for the World Tag Team Championship Next RAW
The Hooligans vs Lance Cade & Trever Murdoch

Career Threatening Match
Ric Flair vs William Regal

Royal Rumble Qualifying match
Umaga vs Super Crazy

Womens Champion Beth Phoenix & Victoria vs Mickie James & Candice Micheal

JBL on Chris Jericho's Highlight Reel.
---
---
Last edited by SpoonytheClown; 02-25-2013 at

12:37 PM

.
Re: The BTB Advertisement Thread
---
Final Raw before No Way Out now posted!

Eric Bischoff makes the number one contender match for the WWE Championship at No Way Out with a huge main event
2 Royal Rumble rematches
IC Title match set for No Way Out
Chopped Liver
Join Date: Jan 2004
Location: Six inches from a computer screen
Posts: 5,433
Points: 321
Re: The BTB Advertisement Thread
---
Re: The BTB Advertisement Thread
---
Quote: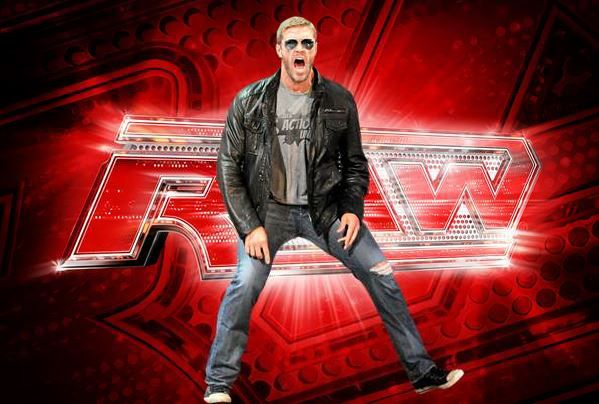 The moment that Vince McMahon booked himself into a TLC match against WWE Champion CM Punk, the WWE Universe knew that sparks would fly Monday Night on Raw. They were not disappointed.

6 nights ahead of the TLC pay-per-view, John Cena opened Raw with a convincing win over Intercontinental Champion The Miz. But it was the actions of the WWE Champion CM Punk that stole the headlines.

As Raw appraoched the main event, the WWE Universe was awaiting Punk and McMahon for their TLC match. The last thing they expected was a surprise return from WWE Hall Of Famer Edge, who shocked the world when he showed up! Edge had a warning for Punk and Cena – TLC matches end careers.

Punk was less than grateful for the advice however, spitting in the face of the Rated R Superstar and then delivering a kick to the head of Edge. Punk then looked to further injure Edge when he picked up a steel chair, but Edge's long-time best friend Christian made the save. Punk was soon on the receiving end of a Spear from Edge.

The TLC match between Punk and McMahon eventually began, with Vince looking to pin Punk after the Spear, but Paul Heyman broke up the count. As Vince squared up to Heyman, Punk attacked the Chairman with an array of vicious chair shots. After driving McMahon through a table, Punk picked up the win. But it wasn't enough for Punk, as he began to attack Vince again with a chair before John Cena came to the rescue.

Friday Night SmackDown is the final show before the TLC pay-per-view, and CM Punk is scheduled to open the show to discuss the events of Monday night as well as his TLC match with John Cena on Sunday. Both Punk and Cena are desperate to defend the WWE Championship against The Rock at the Royal Rumble, and with things reaching a boiling point on Monday we are set for a highly personal match come TLC.

Cena himself will be in singles action against Mr Money In The Bank Dolph Ziggler on SmackDown. Dolph is not scheduled for a match at TLC, leading to speculation that he will choose the destruction of the TLC pay-per-view as the backdrop for his cash-in.

Dolph would need to defeat either Big Show or Daniel Bryan to become World Champion, depending on who comes out on top when Bryan challenges Show for the belt at TLC. It was at last years TLC event that Bryan defeated Show to become World Heavyweight Champion, and after making Kane, Randy Orton and Show himself tap out Bryan has earned the chance to repeat history this year. Show has not taken kindly to Bryan calling Show a "bitch", attacking Bryan at every opportunity given to him.

Things could not be more personal between Randy Orton and Alberto Del Rio. After Orton delivered an RKO through the announce table to Del Rio at Survivor Series, many expected Del Rio to be out of action for months. But Del Rio returned for vengeance last week on Friday, returning the favor and RKOing Orton through the announce table. Jerry Lawler has told Orton and Del Rio they will settle things in a Tables match at TLC, and imposed a no-contact rule prior to the pay-per-view. Orton and Del Rio are scheduled for singles matches tonight, but will they be able to keep things in-check ahead of their clash?

WWE Tag Team Champions Rhodes Scholars will defend their championships against Rey Mysterio and Sin Cara in a ladder match at TLC, and Rhodes took to Twitter this week to reveal what the Champs have in store on Friday. Rhodes told his Twitter followers; "Damien and I will demonstrate the correct technique to be used when climbing a ladder this Friday #yourewelcome". With Sin Cara and Mysterio both nursing injuries thanks to a backstage attack by Rhodes Scholars, is the Tag Title match a formality come Sunday?

Joe Hennig and Ted DiBiase have branded themselves "The Perfect Sons", but things have been far from perfect since they employed Vickie Guerrero as their manager. A string of losses is starting to take its toll, with Hennig set for singles action tonight can they turn their fortunes around?

United States Champion Antonio Cesaro will defend against Zack Ryder at TLC, but in a big to prove he is the greatest US Champion in history he has been issuing an open challenge to any former holder of his title... except Zack Ryder. Who will Cesaro defend against tonight as he once again issues an open challenge?

All this plus much more in the final show before Tables Ladder and Chairs 2012!

Confirmed matches
Antonio Cesaro defends his Unites States Championship in an open challenge
John Cena vs Dolph Ziggler
Kane, Big Show & Wade Barrett vs Daniel Bryan, Ryback & Sheamus
Show posted, link in sig.
---
The Rock | Undertaker | Triple H | Chris Jericho | Stone Cold
CM Punk | Dean Ambrose | Mark Henry | Daniel Bryan | Dolph Ziggler
Austin Aries | Jeff Hardy | AJ Styles | Bully Ray | Christopher Daniels
---
Last edited by dgeneration-nexus; 02-25-2013 at

11:26 AM

.
Re: The BTB Advertisement Thread
---
Monday Night RAW 31st December 2007
---
Posting Rules

You may not post new threads

You may not post replies

You may not post attachments

You may not edit your posts

---

HTML code is Off

---