Kerser is the sickest.
Join Date: May 2009
Location: Melbourne, Australia
Posts: 1,496
Points: 1,528
Re: The BTB Advertisement Thread
---
My first show in a long time is up; WWE: An Age of Evolution THE RE UP.
---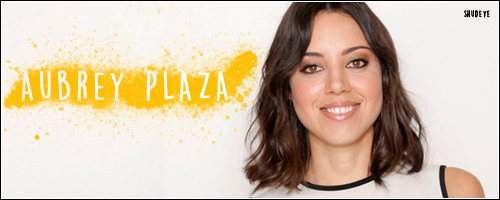 Re: The BTB Advertisement Thread
---
Quote:
Monday Night Raw Preview


This Monday's installment of the longest running weekly television show in history, Monday Night Raw, comes to you live from the Consol Energy Center in Pittsburgh! The scene couldn't be any bigger less than two weeks away from Backlash!

The outcome of last weeks match between Jeff Hardy and Lance Cade was disrespectful and gritty, but it's now in the past. This week Jeff Hardy will make another singles appearance only this time it will be against Shelton Benjamin, whom is not going to be an easy challenge for the extreme enigma. Matt will be at Jeff's side tonight, but who will be the winner of this singles contest? Will Cade & Murdoch interfere, or did they get their fill last week?

7 days ago we also witnessed more destruction by Mr. McMahon to Bobby Lashley after their infuriating WrestleMania match and it's outcome. McMahon says he also has more plans for Lashley tonight and it should very well go in his favor. This week Mr. McMahon has promised that Lashley will be in action, but McMahon promises that Lashley will not come out on top. The Chairman will face The Dominator at Backlash, but it's safe to say that he's quite clearly easing up his contender for himself. What will happen to Lashley this week, will The Dominator get his revenge, or will Mr. McMahon's torment keep rolling on?

Mr. Money in the Bank Randy Orton and The Rated 'R' Superstar also had quite the confrontation last week in the night's main event, which resulted in a double pin. With a match announced for World Wrestling Entertainment's next pay per view what is next for this growing rivalry? Many questions are still being asked as far as these two go, such as why did Edge screw Orton two weeks ago? What's on Edge's agenda now? Will Orton be able to stop the Ultimate Opportunist?

Lastly - as weird as it is to say it - we saw a tragic and despicable act put out by our WWE Champion one week ago. Last week we saw Tha Champ, John Cena, utterly and blatantly take out The Heart Break Kid. Shawn Michaels will not be on RAW tonight as he has suffered a brain injury from Cena's actions last week. John Cena is set to open the show and explain what he did last week and why. What could possibly be the explanation for such a criminal act on the part of the one that the WWE universe is supposed to look up to the most, their WWE Champion!?


Show now posted.
---
Re: The BTB Advertisement Thread
---
Re: The BTB Advertisement Thread
---
Hell in a Cell now posted
here!
A little gutted it is in recap but click above or in the signature
Re: The BTB Advertisement Thread
---
~Friday Night SmackDown~
May 4th, 2007
Von Braun Center
Huntsville, Alabama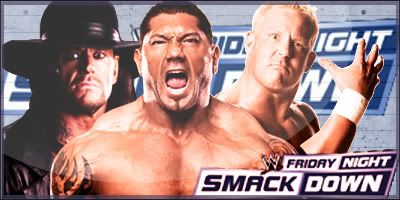 Last week London, England played host to Friday Night SmackDown and it's two title matches. While Matt Hardy registered a convincing victory over Finlay to retain his United States Championship, the World Heavyweight Championship Match between Batista and Mr. Kennedy came to an abrupt ending... all thanks to Edge.

As Batista and Kennedy were battling to a finish, Edge stormed the ring, delivering the spear to Batista and then to Mr. Kennedy, handing the victory to Batista albeit via disqualification. The issues between these three have been escalating for months now, and it appears that after Edge's recent actions, they could reach breaking point. Tonight, Batista and Matt Hardy to team up to face Edge and Hardy's opponent at Judgment Day, The Miz. With Batista desperate to get his hands on Edge, and with Edge desperate to get his hands on the World Heavyweight Championship, expect this one to be fierce battle, but of course, one question remains... just what role, if any, will Mr. Kennedy play in it all?

The 2007 King of the Ring kicked off on Raw last Monday, and now SmackDown joins the party with three qualifying matches. The WWE Tag Team Champions The Hooligans will collide, an intriguing matchup given the rather frosty relationship that has existed between the two since WrestleMania. No doubt Ashley will have both men ready for action, and they'll enter the match united and best of friends... but is that how they'll leave it? Elsewhere, expect a brutal battle between Kane and Finlay, the two heavy hitter so far suffering very different post-WrestleMania 2007s. Kane has been on a roll, picking up win after win, while Finlay has lost the United States Championship and failed to win it back in a rematch. Just one week after the brutal Belfast Brawl, Finlay may not be 100%, something which Kane will no doubt take advantage of. As for King Booker, he begins the defence of his crown and aims to become the first man to win the tournament twice. Tommy Dreamer will be no push over, but Booker should be able to make it through to the next round.

After weeks of bickering and back and forth between the Cruiserweight Champion Gregory Helms and his WrestleMania opponent, Bryan Danielson, tonight is finally the night that Danielson gets the chance to earn another shot at the gold as he is one of ten men competing in a Cruiserweight Battle Royal, the winner set to go to Judgment Day to face Helms for the title. Three members of The Full Blooded Italians, both Asian Rednecks and a host of other cruiserweights are set to compete, but surely now that he's so close to getting the title shot he craves, Danielson won't let this chance slip y him.

Last week, Chavo Guerrero started a retrospective of sorts of Rey Mysterio's career, starting by calling legendary cruiserweight Dean Malenko out to the ring. After harsh words were exchanged between the two, it appeared as if Chavo and Malenko would go their seperate ways with a showing of respect... only for Guerrero to sucker punch Malenko, then nail him with the frog splash, adding insult to injury. Tonight, Chavo vows to once again take us on a trip down memory lane by inviting an opponent from Rey's past into the ring. Just who does Chavo have in mind? Tune in to find out!

Confirmed Matches:

Batista and Matt Hardy vs. Edge and The Miz

King of the Ring Qualifying Matches – Round of 32
Brian Kendrick vs. Paul London
Finlay vs. Kane
King Booker vs. Tommy Dreamer

Chavo Guerrero vs. An Opponent From Rey Mysterio's Past
10 Man Cruiserweight Battle Royal
---
World Wrestling Federation: The Montreal Fallout
New BTB. Check it out, eh?
Re: The BTB Advertisement Thread
---
Quote: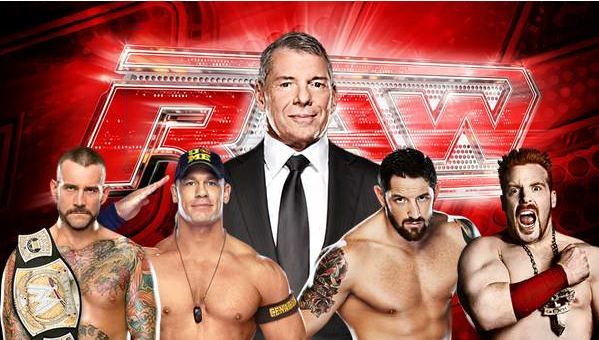 It's been a blockbuster week in WWE. Friday night on SmackDown Vince McMahon opened the show to declare that the brand split was officially over. Vince will once again be in the mix on Monday Night Raw when he steps into the ring with WWE Champion CM Punk in a Tables Ladders and Chairs match. McMahon told Punk he will "beat some respect into him" and challenged the Champ to the match after Punk kicked Vince in the head last week.

It's only the first of two TLC matches for Punk this week, we are 6 nights away from the Tables Ladders and Chairs pay-per-view where Punk will defend his championship against John Cena. Cena told fans that Sunday is the start of his road to redemption – he knows that winning the title at TLC will see him defend against The Rock at the Royal Rumble next month, and Cena would love nothing more than to get his win back from The People's Champion.

World Heavyweight Champion Big Show did not take kindly to Daniel Bryan calling him a "btich" last week, and vented his frustrations on Friday night with a WMD to Bryan. Bryan challenges Show for the title at TLC this Sunday, and with submission victories over Show, Kane and Randy Orton in recent weeks, Bryan says he wants to regain the World Heavyweight Championship by making The Giant tap.

Alberto Del Rio is back and he is thirsty for the blood of Randy Orton. Orton and Del Rio feuded at Hell In A Cell and Survivor Series before Orton wrote Del Rio off with an RKO through the announce table. Friday Night saw Del Rio return the favor, and it has been confirmed that Orton has not been cleared to compete on Raw. Del Rio however will make his in-ring return in singles action. What will the Mexican Aristocrat have to say about his actions?

Christian returned to WWE two weeks ago and immediatley set his sights on The Miz and his Intercontinental Championship. The Awesome One is on a quest to break Honky Tonk Man's record as the longest reigning Intercontinental Champion in history, but can he successfully defend against Christian at TLC?

Rhodes Scholars will defend their Tag Team Championships against Rey Mysterio and Sin Cara at TLC, and their task has seemingly become easier after a backstage attack on SmackDown left Sin Cara injured. The Luchadors are expected to go ahead with the match despite not been 100%, but is it just a formality that Rhodes Scholars will retain their Championships?

At the 2011 TLC pay-per-view, Zack Ryder won his first and only singles Championship when he became United States Champion. One year later and his career has nose-dived, but he has picked things up of late to the point where he has earned a shot at the United States Championship again at TLC. Standing in his way is Antonio Cesaro, who has repeatedly told Ryder he is not worthy of his time. Cesaro will issue an open challenge on Raw tonight as he looks to prove he is the greatest United States Champion ever.

Kane and Ryback have been playing mind games for weeks, and the pair will clash at TLC this Sunday. It all started with Ryback defeating Kane in singles action on Raw, something the Big Red Machine did not take kindly. He has been on a revenge mission ever since, Kane's distractions cost Ryback the WWE Championship on Friday night. Ryback returned the favor the same night which resulted in Kane losing to John Cena. Kane and Ryback are both in action tonight, and with things hotting up will these combustable elements explode before the PPV?

It's a stacked card, be sure to check out what promises to be another stellar night on the final Raw before TLC 2012!

Confirmed matches:
Mr McMahon faces WWE Champion CM Punk in a Tables Ladders and Chairs match.

John Cena vs Intercontinental Champion The Miz in a non-title match will open the show.

Alberto Del Rio returns to the ring against Rey Mysterio.

United States Champion Antonio Cesaro defends his title in an open challenge.

Former Tag Team Champions Kane and Daniel Bryan go at it again in singles action.

Ryback takes on Vickie Guerrero's Michael McGillicutty, who will be accompanied by Ted DiBiase.

Tag Team Champion Damien Sandow goes one-on-one with Christian.
Coming soon...
---
The Rock | Undertaker | Triple H | Chris Jericho | Stone Cold
CM Punk | Dean Ambrose | Mark Henry | Daniel Bryan | Dolph Ziggler
Austin Aries | Jeff Hardy | AJ Styles | Bully Ray | Christopher Daniels
Re: The BTB Advertisement Thread
---
Elimination Chamber Is Posted
---
NOTHING WAS THE SAME
Re: The BTB Advertisement Thread
---
Big departure from ECW following Cyberslam! Catch up with ECW in a year that it looks destined for extinction - Extreme Championship Wrestling 2001 - Fuck The System! Click
here
to read Cyberslam!
Re: The BTB Advertisement Thread
---
Re: The BTB Advertisement Thread
---
Quote:
Originally Posted by
KURTANGLEFAN123
View Post


Smackdown! Preview for April 7, 2005

Smackdown! comes to you from San Diego, California this week, and what's more is that we have a new WWE Champion joining us!

Rob Van Dam has climbed one heck of a mountain. He has hung around the title picture every now and then, but last Sunday at WrestleMania 21, the 2005 Royal Rumble winner achieved his dream of becoming WWE Champion, dethroning John Bradshaw Layfield and his historic and lengthy title reign. Van Dam most certainly has a lot on his mind and there is no telling what the former WWE Champion has got to say either. Both are scheduled to be on the show. Whether or not they collide is unknown.

The Undertaker extended his lengthy winning streak at WrestleMania with a victory over upstart Shelton Benjamin, who was looking to make an impact and leave The Undertaker in his path. Unfortunately for the Intercontinental Champion, he could not blemish The Deadman's undefeated record, and Undertaker is now 13-0 on the grandest stage of them all. The Undertaker will be in action this week, but one has to wonder whether or not Shelton Benjamin's actions from Monday are on the mind of The Phenom.

Carlito Caribbean Cool outlasted several Smackdown! wrestlers and defeated the great Eddie Guerrero on Sunday night to capture the previously vacated United States Championship. This is Carlito's second reign as United States Champion, the first coming back in October when he debuted on Smackdown! and won the title from John Cena. Both Carlito and Eddie will be in action this week, with the U.S. Champion taking on Charlie Haas, whom he beat to get to the Tournament Final, and Guerrero going one-on-one with the mighty Luther Reigns. Will these two cross paths? Or will they forge new paths of their own? Tune in to find out!

Finally, the WWE Cruiserweight Championship has a new owner as well!! Paul London survived the Six-Pack Challenge Match at WrestleMania and won the Cruiserweight Championship for the first time in his career. His prize for winning that belt? A Cruiserweight Championship defense in his first match as champion. His opponent? None other than his rival Billy Kidman. The former Cruiserweight Champion is reportedly unhappy with this decision, according to a source with knowledge of the situation, so we might see a bit of unrest from Chavo Guerrero.

All of this and so, so much more this week on Smackdown! Check your local listings.

Confirmed for Smackdown!:
- The NEW WWE Champion Rob Van Dam, as well as the FORMER WWE Champion, John Bradshaw Layfield, in the building
- Non-Title Match: U.S. Champion Carlito Caribbean Cool vs. Charlie Haas
- Cruiserweight Championship Match: Cruiserweight Champion Paul London vs. Billy Kidman
- Eddie Guerrero vs. Luther Reigns
- The Undertaker in action

***

Expect Smackdown! to be up this weekend, and at latest Tuesday afternoon.
Smackdown! IS UP
Link:
HERE
---
Posting Rules

You may not post new threads

You may not post replies

You may not post attachments

You may not edit your posts

---

HTML code is Off

---