Re: The BTB Advertisement Thread
---
Bringin the Pain.....Back...It's Coming Back
---
Once upon a time the Pain was brought in 2008.......It will be brought again........
Soon....
FlyinStyles Returns to BTB, January 2014
Re: The BTB Advertisement Thread
---
CHAPTER 5, or CINCO for you Spanish speaking people out there, of WWE 2005: The New Era in Professional Wrestling has been posted. You can check it out right
HERE
!
---
Re: The BTB Advertisement Thread
---
Resurrection
It's happening
B0.AC
Re: The BTB Advertisement Thread
---
Quote:
~WWE BACKLASH~
April 29th, 2007
FedEx Forum; Memphis, Tennessee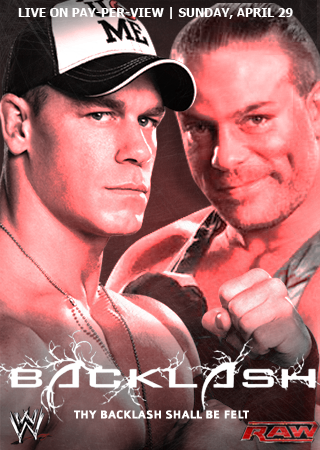 WWE Championship Match:
WWE Champion Rob Van Dam vs. John Cena
It was at WrestleMania XXIII where Rob Van Dam finally lived up to the high standards set throughout his career by becoming WWE Champion on the grandest stage of them all. Unlike his previous title win back at One Night Stand 2006, this title win was without controversy, a performance that left fans marvelling at the skills and determination shown by Van Dam as he overcame Shawn Michaels and Triple H in a Triple Threat Match. But since that night, 'RVD' has found himself trying to establish what kind of champion he plans on being. Never one to back down from a challenge, Van Dam has vowed to put the title on the line against anybody who steps up to face him, determined to be remembered as one of the most fighting champions in WWE history. And as far as Monday Night Raw is concerned, 'RVD' knows full well that there's no bigger challenger... than John Cena.

The night after WrestleMania, Cena marched down to the ring, interrupting Van Dam's victory speech and respectfully challenged the new champion to the rematch he never received after losing the title back at Raw: Night of Champion. Determined to live up to his words, Van Dam accepted, and even offered to defend the title that very night... until Mr. McMahon and his henchman, Bobby Lashley got involved. Using the excuse that it was "best for business", McMahon instead forced Cena to earn a title shot in a WrestleMania rematch with Lashley, the winner to face Van Dam at Backlash. Cena prevailed that night, but it appears that the pressure and desire to get his title reign off to as strong a start as possible may be starting to get to the WWE Champion. He and Cena have nearly came to blows, and the whispers around the Raw locker room are that the pressure is starting to get to 'RVD', an opinion furthered by his defeat to Kenny Dykstra last Monday night. Will Cena take advantage and get back what was stolen from him two months ago? Can Van Dam handle the heat and prove his journey to the WWE Championship at WrestleMania was only the beginning of a title reign for the ages? And just what do Mr. McMahon and Bobby Lashley have in store for champion and challenger?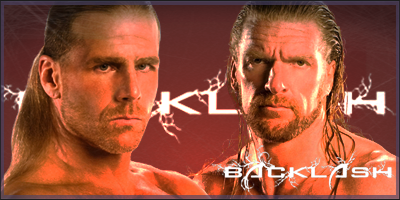 No Holds Barred Match:
Shawn Michaels vs. Triple H
For the last decade, Shawn Michaels and Triple H have seen plenty of ups and down in their relationship with each other. From the 1997 creation of D-Generation X, to Michaels departure from the WWE due to injury, to Triple H's rise to the top, to Michaels' return and the wars between the two, wars that ultimately led to a D-X reunion, and then, those few months ago at Raw: Night of Champions, to where it all fell apart once again, 'The Game' and 'The Heartbreak Kid' have certainly built up a history full of heartache and triumph. But now, at Backlash, it all comes to a head as Triple H and Michaels prepare for what will be their 'Final Battle', a No Holds Barred Match that will settle the score, once and for all.

Since he stabbed his best friend in the back to become WWE Champion, Shawn Michaels has undergone a metamorphosis from the former fun loving fan favourite to the dark, soulless being we see today. Believing he has God in his corner, Michaels feels like it is his destiny that brought him the WWE Championship, only to have it taken away again, a well laid out path that has hellbent on ending the career of 'The Game'. From his shocking words with regards to Triple H's family, to his strange beliefs, Michaels is a shadow of his former self, a former self that nobody knows better than 'The Game'. After being friends with Michaels for so long, Triple H is determined that at Backlash, he can finally be the man to beat some sense back into 'The Heartbreak Kid', hoping that by breaking his body, he can break the grip that his religious beliefs have over Michaels. For 'The Game', Backlash is not only about revenge for Michaels' actions, is about clinging onto that glimmer of hope that somewhere deep inside still lives the old Shawn Michaels. Can Triple H be the one to release his former friend? Or is Shawn Michaels' faith rooted too deep inside, driving him on a path of destruction, one that has already ended D-Generation X forever?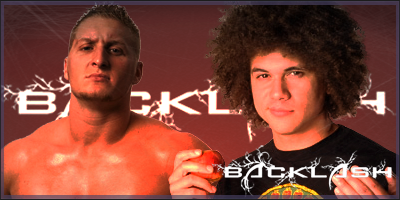 Intercontinental Championship Match:
Intercontinental Champion Kenny Dykstra vs. Carlito
What started out as a feud over the prestigious Intercontinental Championship has descended into a bitter, personal rivalry fuelled by deceit and betrayal... one that has Carlito determined to mend a broken heart y grabbing the gold. It was at WrestleMania XXIII where the world was shocked by the actions of Carlito's then girlfriend, Torrie Wilson. In the run up to the Intercontinental Title Match, Dykstra had been nothing but insulting and disrespectful to Torrie, a tactic which clearly had 'Lito riled up ahead of the match. Seeking to defend his girlfriend's honour, Carlito battered Dykstra from pillar to post, and was all but assured of victory... until Torrie executed the double cross felt around the world, spitting apple in Carlito's face, allowing Dykstra to grab the win and save his title. From that night on, Torrie and Kenny have been inseparable, looking to establish themselves as the new power couple on Raw. After a teaming up with Mickie James to beat Kenny and Torrie in a Mixed Tag Team Match, 'Lito has earned himself another opportunity at the gold... but this time he has the fire of his betrayal to to drive him to victory. With Torrie in his corner, can Dykstra survive the onslaught headed his way and retain his title? Or will Carlito become the new Intercontinental Champion, and in the process make Kenny and Torrie well and truly feel the Backlash?
World Tag Team Championships Match:
World Tag Team Champions The World's Greatest Tag Team vs. The Straight Edge Saints
For months, Shelton Benjamin and Charlie Haas have been on a quest to re-establish the craft of tag team wrestling in the WWE, and in the process prove that the World's Greatest Tag Team isn't just a arrogant name they gave themselves. BY becoming champions and then beating SmackDown's WWE Tag Team Champions, The Hooligans, at WrestleMania, Haas and Benjamin have certainly gone a long way to proving themselves. But with the tag division on Raw in the midsts of a revival, the challengers are starting to line up, and the first team to take a shot at the gold are The Straight Edge Saints, CM Punk and Nick Dinsmore. After winning a Four Corners Match on Raw a few weeks ago, Punk and Dinsmore have been building momentum ahead of their title opportunity, with a strong win over The Redneck Wrecking Crew and then Punk's great performance to beat Benjamin in singles action. For Punk and Dinsmore, it's a young team's first ever shot at glory, while for Haas and Benjamin, it's another chance to show exactly why they call themselves 'the world's greatest'.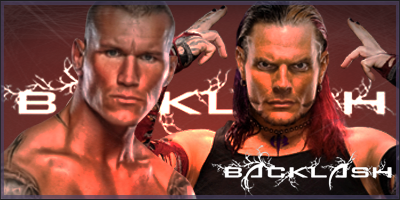 Money in the Bank Match:
Mr. Money in the Bank Randy Orton vs. Jeff Hardy
Back in January, Jeff Hardy was Intercontinental Champion and headed to the Royal Rumble to defend his gold against Randy Orton's then apprentice, Kenny Dykstra. That was until Dykstra, with Orton's encouragement ringing in his ears, attacked Hardy before the match with a vicious one man con-chair-to. It was a miracle that Hardy even made it out to the ring to take part in the match, and it came as no surprise when Dykstra emerged victorious. When Hardy returned from a spell on the sidelines, Dykstra and Orton where his targets, but when Hardy attacked Dykstra during an Orton match, a distraction which cost Orton the victory, 'The Legend Killer' set his sights on Jeff. In the run up to WrestleMania, both men qualified for the Money in the Bank Ladder Match, and had several run ins and confrontations on Monday Night Raw. The rivalry continued into WrestleMania XXIII, the pair hammering each other, but ultimately it was Orton who would grab the briefcase, earning himself a title shot at any point over the next twelve months. But after a defeat to Rob Van Dam, Orton was ordered by Linda McMahon to defend the briefcase at Backlash, giving Hardy a second chance at glory. It's one of the most sought after possessions in the WWE, a contract guaranteeing a title shot at any time and any place... but just who is going to leave Backlash able to call themselves 'Mr. Money in the Bank'?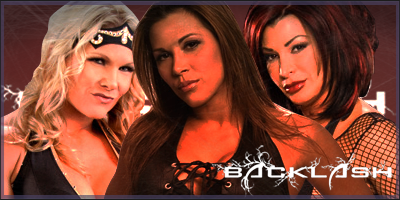 Women's Championship Triple Threat Match:
Women's Champion Mickie James vs. Beth Phoenix vs. Victoria
Over the past few months, nobody can accuse Mickie James of being anything less than a fighting Women's Champion. Having spent much of the first few months of the year battling Victoria, James then became embroiled in a very personal rivalry with her former best friend Beth Phoenix. Time and time again, Mickie overcame the odds to defend the title, seeing off the two more powerful opponents. But now, Mickie face both Beth and Victoria in a Triple Threat Match, a match many feel will prove too much for James to overcome. It was of course Victoria who brought Beth back to Monday Night Raw, with 'The Glamazon' hungry to avenge an incident many years earlier when she and Mickie were both aspiring WWE divas. At WrestleMania, Mickie saw off Beth in singles action, but with this one shaping up to be nothing more than a Handicap Match, it seems like Mickie's title reign is in jeopardy. The only hope for the champion comes from the recent troubles between Beth and Victoria. After arguing over who would be the one to take the title, the pair then clashed again during a Tag Team Match against Mickie and Candice Michelle, costing them the match. While the odds are firmly against the champion, nobody would be surprised to see Mickie defy them one more time, bringing an end to her saga against Victoria and Beth in the process.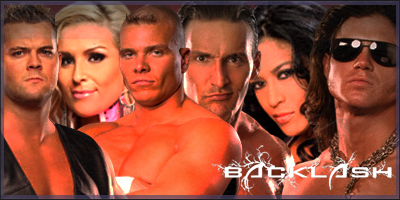 Six Person Intergender Tag Team Match:
The Hart Legacy vs. Johnny Nitro, Chris Masters and Melina
2007 has been a pretty torrid year for Nitro, Masters and Melina. While as individuals they've managed to record rare victories, as a unit, Nitro and Masters have lost every Tag Team Match they've been involved in. The Hart Legacy meanwhile have enjoyed a relative amount of success in their short time as members of the Raw roster, impressive everyone with their combination of speed and power, and picking up important wins over established teams such as The Redneck Wrecking Crew. During the four team battle that saw The Straight Edge Saints earn the right to challenge The World's Greatest Tag Team tonight, Tyson Kidd and Harry Smith clashed on several occasions with Masters and Nitro, and even Melina and Natalya Niedhart mixed it up at ringside. It seems those confrontations have lit a spark under Nitro, Masters and Melina, with Melina beating Natalya and Masters overcoming Smith in singles competition. At Backlash, all six step into the ring for a Six Person Intergender Tag Team Match, a chance for Nitro and Masters to finally show they can win as a team, while The Hart Legacy are no doubt out to grab another massive win in their young WWE careers.
Show now posted here!
---
World Wrestling Federation: The Montreal Fallout
New BTB. Check it out, eh?
Wheelman for James Ellsworth
Join Date: Jan 2010
Posts: 715
Points: 0
Re: The BTB Advertisement Thread
---
RAW POSTED! 6 DAYS TO THE ROYAL RUMBLE!
Re: The BTB Advertisement Thread
---
Full Preview for NWF Saturday Night Warzone 1/5/13.


Live On Jimmy Fallon
The two contenders for the World Title will have their own segment on late night with Jimmy Fallon, as Antonio Bank$ and Carlito Colon hype their title match at the first PPV, Punishment. Team Bank$ will be there to supply the "needed" security, as Jeff Jarrett has decided to be the host of the show.

Getting Personal
After Marco Corleone was given internal damage from Lizmark's chair shot to his back, Lizmark Jr. will officially join James Mitchell's Alliance of Darkness, after his bout with M-Dogg 20. Marco's current condition will also be updated.

A Last Chance and A New Generation
Ace Steel gets his self proclaimed "Last Chance" when he faces Petey Williams at Punishment for the Cruiserweight title, as Tyson Kidd is set to take down all veterans in the NWF. First setting his sights on Jerry Lynn, who has gotten a sanctioned Dog Collar match at Punishment, signed by NWF President Lex Luger.

Team Bank$
Antonio Bank$ personal security team, Monty Brown and Michael Tarver, will plan to make a tag team debut soon against whoever will accept.

Going for broke
Two straight losses and Colt Cabana tries his luck against the man who claims he will save our minds, Elijah Burke.

Opportunity on the Horizon
Jeff Jarrett has issued a Guitar Shot challenge for the following episode of Warzone, which can be accepted by anyone in the wrestling world.

Bully Vs Bully
Cliff Compton who has claimed Bob Holly is a bully in the wrestling community, has taken over that role. Cliff decided that since the audience apparently likes a bully, he will become one himself. The two will face off in a New York Street Fight at the following Pay Per View. Bob Holly will also make a statement on these remarks.

III Times the Punishment
Mr. Wrestling III, the man who has attacked several of the top stars of the NWF will have to wrestle the go home show before Punishment, where he promises III times the pain, the suffering, and the punishment.
---
Matt Cross Wanted Dead Not Alive.
National Wrestling Federation: The Investment
Can NBC's new stake in wrestling survive?
http://www.wrestlingforum.com/booker...nvestment.html
Regularly Beating Up James Ellsworth
Join Date: Jan 2009
Location: Sioux Falls, South Dakota/Jasper, Minnesota
Posts: 3,196
Points: 6
Re: The BTB Advertisement Thread
---
Victory Road 2010
Now Posted!
---
Re: The BTB Advertisement Thread
---
When It Comes - It's Gonna Be Good
World Wrestling Federation™ 2001 - The Year That Was
Coming - ??/??/2013
Re: The BTB Advertisement Thread
---

.... It's Almost Here
---
Last edited by That Guy; 01-06-2013 at

05:51 AM

.
Posting Rules

You may not post new threads

You may not post replies

You may not post attachments

You may not edit your posts

---

HTML code is Off

---