Chopped Liver
Join Date: Jan 2004
Location: Six inches from a computer screen
Posts: 5,433
Points: 321
Re: The BTB Advertisement Thread
---
I've just posted Smackdown in BEING THE BOOKER.
Yes, Christmas has come early. No need to thank me - just go and read the thing
Wheelman for James Ellsworth
Join Date: Jan 2010
Posts: 715
Points: 0
Re: The BTB Advertisement Thread
---
RAW posted and now both first Smackdown! and RAW have been posted. Check up on it!
Learning to break kayfabe
Join Date: Apr 2012
Posts: 157
Points: 0
Re: The BTB Advertisement Thread
---
Summer of Punk, Vol. 2
is back after a small hiatus so I'll post a little preview recapping the major happenings of the past couple of weeks...

(The newly crowned WWE Champion Rey Mysterio visiting a local school during the week)

Raw | 8.1.2012 | Indianapolis, Indiana

>> A certain very opinionated Chicagoan whose name shall not be mentioned anymore defeated John Cena to capture the WWE Championship on his way out of the company at Money in the Bank 2011. Vince McMahon immediately announced a tournament to crown a new champion, which didn't sit well with Dolph Ziggler, who claimed the title was fake and regarded his United States Championship as the top title on Raw. McMahon was forced to take a vacation after he tried to fire John Cena and Triple H took the position of the COO in his absence. Rey Mysterio won the tournament and the new WWE Championship, defeating Ziggler in the finals. He was ambushed right after by Money in the Bank -briefcase holder Alberto Del Rio, but John Cena came to the rescue. Triple H named John Cena as Mysterio's first challenger. They will meet at Summerslam in two weeks time. Triple H has an announcement to make about the match at Raw, what does the COO have in mind? Also, Rey Mysterio will talk about his triumphant championship victory, and John Cena prepares for Summerslam by facing Sin Cara!

>> In other championship news, the makeshift team of Kofi Kingston and Evan Bourne defeated Michael McGillicutty and David Otunga formerly of the New Nexus in an impromptu match to claim the title! Zack Ryder also reunited with his old partner Curt Hawkins. Already announced for Raw is an eight-man tag team match where the champions will team up with Ryder and Hawkins to face Otunga, McGillicutty and Smackdown's Jinder Mahal and The Great Khali!

>> Beth Phoenix will face the Divas Champion Kelly Kelly in a Lumberjill Match after attacking her last week during the bikini contest between Kelly and the Bella Twins!

>> The anonymous General Manager has gotten on the nerves of Triple H ever since he started as the COO. The only person who knows his identity is John Laurinaitis, but he wants to be named the new GM if he reveals the secret. Laurinaitis has been trying to get on the boss's good side lately, even helping Rey Mysterio defeat The Miz in the title tournament! Triple H said that Laurinaitis is the last person he wants to run Raw, but soon he might not have any options... How will this situation develop?

>> Also on the show: Michael Cole presents another Michael Cole Exlusive! But who's the guest? Raw's Jack Swagger and Smackdown's 'Mr. Money in the Bank' Daniel Bryan do battle thanks to the brand split no longer being in effect! Could the possible victory impress Vickie Guerrero enough to add 'The All-American American' to the team? And R-Truth has a surprise as he continues his mission to expose the conspiracy in WWE.


CLICK HERE TO READ


***
Re: The BTB Advertisement Thread
---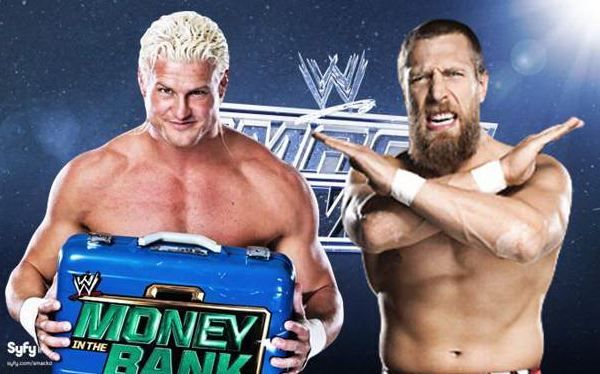 Two nights before Survivor Series, Mr McMahon himself is advertised to open SmackDown. Vince has promised big announcements, what does the chairman of the board have in mind? There will be fall-out from Raw after Ryback became number one contender to CM Punk's WWE Championship, while Dolph Ziggler and John Cena seem to be on a collision course.

Mr Money In The Bank will be in singles action in the main event of SmackDown, when he goes one-on-one with Daniel Bryan. Bryan is two nights away from facing the demonic Kane, but can he focus on overcoming his former partner with AJ back on the scene?

Sheamus and Big Show are set to clash again at Survivor Series in a rematch from Hell In A Cell, where Show knocked out Sheamus to take his World Heavyweight Championship. A sneak preview of that match will take place on SmackDown when Show teams with Alberto Del Rio to take on Sheamus and a returning Randy Orton. Del Rio thought he had rid the WWE of Orton after he hit him with a car, but Orton returned on Raw and is hungry for vengeance.

One year ago The Miz and R-Truth were in the main event of Survivor Series when they faced The Rock and John Cena. In two nights they go one-on-one for Miz's Intercontinenal Championship. Will Miz continue on his quest to become the longest regning Intercontinental Champion of all time, or will Truth take the gold from his former partner? On SmackDown Truth faces United States Champion Antonio Cesaro – a match The Miz is sure to have a close eye on.

All this plus build up toward Rhodes Scholars vs Rey Mysterio and Sin Cara on Sunday, as well as a traditional Survivor Series tag team match. Major developments are promised on this must-see edition of SmackDown.

SmackDown now posted.
---
The Rock | Undertaker | Triple H | Chris Jericho | Stone Cold
CM Punk | Dean Ambrose | Mark Henry | Daniel Bryan | Dolph Ziggler
Austin Aries | Jeff Hardy | AJ Styles | Bully Ray | Christopher Daniels
Re: The BTB Advertisement Thread
---
Re: The BTB Advertisement Thread
---
Chapter 4 of WWE 2005: A New Era in Professional Wrestling has been posted. You can check it out right
here
!
---
Re: The BTB Advertisement Thread
---
Quote:
Friday Night 'Live' Smackdown
Friday 23rd January 2009 - Preview!
Live from the Crisler Arena
Ann Arbor, Michigan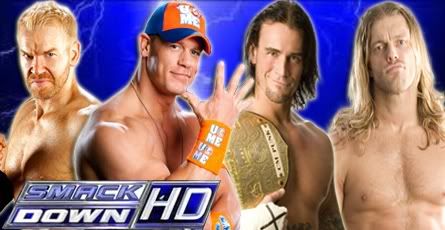 There's been no lack of controversy when it comes to John Cena, CM Punk and the World Heavyweight Championship lately, but at the Royal Rumble this past Sunday night that was all supposed to come to an end. After forfeiting the title a month ago having declared his unease at carrying the title due to Stephanie McMahon screwing Punk, Cena was looking to win it fair & square. He didn't however, and neither did Punk. Once again we saw the match end in controversial circumstances when Raw's Homicide stormed the ring to break up the STFU on Punk before working together on Cena. The General Manager of Smackdown, Tazz had seen enough and made his way to the ring to put an end to it, only he ended up getting into it with Punk, so much so he swung a steel chair he took from Punk at him. Punk ducked though and Cena walked right into it, all but sealing Punk's victory. Tazz couldn't believe it and left the ring furious with himself, leaving Cena on a plate, but he wasn't done there as he stopped Stephanie getting to the ring, and she could only look on as Punk went on to finish Cena off with the GTS to become a two-time World Heavyweight Champion.

Then on Raw Monday night Stephanie didn't waste any time in announcing that she will be dealing with Tazz's actions this Friday night live in Ann Arbor, Michigan. However that's not all she announced. She stated that this week live on Smackdown, due to the outside interference at the Rumble, Punk will defend his title against Cena in what will be their final encounter. She also said that she will be at ringside to make sure there's no interference and that after talking with the board, if she so much as interferes in the match, not only will Punk automatically retain his title, she will be removed from her role as Executive Vice-President and the Board of Directors.

We're all set for a title collision without controversy but will that be the case? Cena & Punk also met in a tag team match on Raw this past Monday night when Punk teamed up with the man who helped him at the Rumble in Homicide to take on Cena & The Undertaker. It was a case of déjà vu too as this time Punk ducked a chair shot from Cena that hit The Undertaker, and Punk quickly rolled Cena up to get the win. Can Punk beat Cena for the third time this week, or will it be third time lucky for Cena? Whatever you do you won't want to miss their final encounter, and what will Stephanie have to say to Tazz? Make sure you tune in to find out.

Stephanie wasn't the only one left angry by events at the Royal Rumble, not by a long shot. 'The Rated-R Superstar' Edge was eliminated in the Rumble match won by Shawn Michaels, who has now returned to Raw having become the WWE Champion by virtue of winning the Rumble. Edge was furious at being eliminated by his brother Christian, just 48 hours after beating Captain Charisma on Smackdown. He'll have a chance to take out his anger on one of Smackdown's rising stars, Bryan Danielson this week, a man who beat Edge not so long ago after a distraction from Christian. It won't be an easy match for an angry Edge, that's for sure.

One person who can claim to be even more unfortunate than John Cena is the now former United States Champion and current King of the Ring, Matt Sydal. He was attacked before his match by a bitter Ted DiBiase, who again complained about Sydal beating him to the Slammy award for Breakthrough Star of the Year. Sydal ignored Ted's moaning and was jumped because of it, leading to him needing his ribs taped just moments before his United States title defence against Dolph Ziggler. Bravely he went on to defend the title and made an incredible effort in doing so, eventually falling short to a determined Ziggler. We'll see the new United States Champion in action this week but Sydal won't be in action until No Way Out in little over two weeks. We heard Eric Bischoff announce on Raw that he will meet Ted DiBiase one-on-one at the final pay-per-view before Wrestlemania. Will Sydal be on Smackdown this week to talk about that match?

The final title defence at the Rumble was by Paul London & Brian Kendrick when they put the WWE tag team titles on the line for the first time after only winning them a couple of weeks ago from The Empire. The British duo got their rematch with William Regal & Katie Lee banned from ringside, and London & Kendrick showed that their win two weeks back wasn't a fluke by overcoming Wade Barrett & Drew McIntyre in an intense battle to the end. The reunion of London & Kendrick is very much for real!

For all this & more make you sure you tune into Smackdown this week with the biggest main event in recent memory. You'd be a fool not to!


>Confirmed for this week on Smackdown!<

World Heavyweight Championship
The Final Encounter
John Cena vs. CM Punk (c)

Plus
Bryan Danielson vs. Edge

The new United States Champion, Dolph Ziggler in action!
Now Posted!
Re: The BTB Advertisement Thread
---
Re: The BTB Advertisement Thread
---

NBC's stake in Pro Wrestling hits it's third week.
The National Wrestling Federation

Advertised card for 12/29/12

Agganis Arena, Boston Mass.
Bob Holly Vs Scott Steiner w/ Chris Masters
Cliff Compton Vs Shad Gaspard
"Last Chance" Ace Steel Vs Scorpio Sky
Tyson Kidd w/ Isis The Amazon Vs Jack Evans w/ Billy Kidman
Marco Corleone speaks on Lizmark Jr. and The Great Muta
The Alliance of Darkness Vs The World's Greatest Tag Team
Petey Williams Speaks on his title defense at Punishment
Colt Cabana Vs Antonio Bank$
"Time Test Challenge" Rhyno Vs Jeff Jarrett Time to beat: 5:25

*Special note: The Time Test Challenge winners will get a special segment on The Late Night with Jimmy Fallon.*
---
Matt Cross Wanted Dead Not Alive.
National Wrestling Federation: The Investment
Can NBC's new stake in wrestling survive?
http://www.wrestlingforum.com/booker...nvestment.html
Re: The BTB Advertisement Thread
---
*last show posted is up*
Coming Soon......
Only two more shows to go...until
NWF Punishment
Main Event
Antonio Bank$ Vs Carlito Colon World Heavyweight title

No. 1 Contender for the World title
Elijah Burke Vs M-Dogg 20 Vs Rhyno Vs Jeff Jarrett

Cruiserweight title
"Last Chance" Ace Steel Vs "Maple Leaf Muscle" Petey Williams (c)

Dog Collar Match
Jerry Lynn Vs Tyson Kidd w/ Isis The Amazon

New York Street Fight
Bob Holly Vs Cliff Compton

Several more matches yet to be announced.

Madison Square Garden
1/13/13



---
Matt Cross Wanted Dead Not Alive.
National Wrestling Federation: The Investment
Can NBC's new stake in wrestling survive?
http://www.wrestlingforum.com/booker...nvestment.html
Posting Rules

You may not post new threads

You may not post replies

You may not post attachments

You may not edit your posts

---

HTML code is Off

---