Re: The BTB Advertisement Thread
---


January 3 2013 IMPACT Wrestling Preview
"The man is back in town"

New Faces

Many new stars will make their debuts on this historic first edition of what is to be the brand new IMPACT Wrestling. The X division will be especially benefitting from this brand new roster, as stars like Low Ki, Jay Lethal and Homicide will return tonight, all of whom will be participating in matches.

The Final Debut

In an interview with impactwrestling.com, Hulk Hogan informed us that one more star will be making his debut tonight. While we have no indication of who this may be, he promises that it will be an exciting reveal.

The return of the TNA Founder

Jeff Jarrett, the founder of Total Nonstop Action Wrestling, will be making his return to the show tonight. He will be kicking off the show and addressing the TNA fans after the two month absence, revealing his plans for the future.


Coming January 1 2013
---
Re: The BTB Advertisement Thread
---
Saturday Night's Main Event Preview
February 18 | 1995 | Cincinnati, OH
The Road to WrestleMania continues as our next stop is Saturday Night's Main Event. After a two year absence the show returns this Saturday and it will be the biggest Saturday Night's Main Event show of all time. For 2 hours you will see non stop great action and here are the matches you will be seeing on the show.
WWF Title Submission Match | Bret Hart (c) vs Owen Hart | Special Guest Referee: Rowdy Roddy Piper
In our main event, The WWF Champion, Bret Hart will defend his WWF Title against The Intercontinental Champion, The King of Harts, Owen Hart. One of the greatest rivalries in WWF history as two brothers collide in their final encounter. It started at WrestleMania X when Owen beat Bret but later on in the same night, Bret went on to defeat Yokozuna to become the WWF Champion. In June, Owen did what Bret did in 1993 by becoming the King of the Ring. At SummerSlam, Bret and Owen clashed again in a steel cage match for the WWF Title and Bret defeated Owen that night. What a match it was, the greatest cage match ever. Bret and Owen then went on to trade a few victories against each other on live events and television shows. Then at the Survivor Series, Owen Hart cost Bret the WWF Title against Mr Bob Backlund. With Bret on the injured list, Backlund went on to defend his belt against Diesel three days later and Diesel defeated Backlund in eight seconds to become the WWF Champion. Bret then got his opportunity again to compete for the WWF Title as he went on to defeat Diesel at the Royal Rumble to become the champion for a third time. The night after the Royal Rumble, Owen challenged Bret to a final match between the two at Saturday Night's Main Event and it will be a submission match between the two submission specialists. This week on Raw, President Jack Tunney appointed Rowdy Roddy Piper as the special guest referee to make sure that we don't get a repeat incident from Survivor Series. Owen vows to humiliate Bret and with Owen's Intercontinental title not on the line, Owen wants to become the first man to go to WrestleMania with both titles, the WWF Title and The Intercontinental title. Or can Bret who headlined WrestleMania 9 and 10, three-peat by defeating Owen and going on to headline WrestleMania 11? In a match where there a no rules, pin falls are irrelavant, no disqualification, no count outs where the match can only end via submission, who will survive the submission match? Who will be going on to WrestleMania 11 as the WWF Champion?
Diesel and Razor Ramon vs Shawn Michaels and Sycho Sid
At the Survivor Series, Razor Ramon was the sole survivor when The Bad Guys faced The Teamsters. During that match, Diesel and Shawn Michaels put an end to their friendship when Shawn accidently superkicked Diesel. Three days later, Diesel defeated Bob Backlund in record time to become the WWF Champion which started off the Diesel era. However the Diesel era was cut short by Shawn Michaels when he cost Diesel the WWF Title at the Royal Rumble. Later on that night, Sid returned to the WWF and protected Shawn from elimination but Diesel made his presence felt by coming down to get his hands on Shawn, while Shawn managed to escape, Diesel eliminated Sid from the Rumble. The Rumble match came down to Razor Ramon and Shawn Michaels, the first two men who started the Rumble and were the last two men left in the ring, history in the making. Pamela Anderson would be accompying the winner down the aisle at WrestleMania. Shawn was looking to put Razor away with Razor's own finisher but Razor backdropped Michaels to the floor to win the Royal Rumble which meant that Razor was going to WrestleMania to face the WWF Champion. However, Shawn Michaels wasn't going to give up on his WrestleMania dream. On Raw, Michaels revealed that he now has a new and improved bodyguard and that's Sycho Sid. Michaels and Sid challenged Razor and Diesel to a tag team match at Saturday Night's Main Event with Razor's WrestleMania title shot on the line. The bad guy accepted and then two weeks later, Diesel made his return and threw in a stipulation of his own. If Diesel and Razor win then not only does Razor go on to WrestleMania to face the champion, but that also means that Diesel gets Shawn in a match at WrestleMania. Pamela Anderson will be at ringside to watch this tag team match, who will she be accompanying down the aisle at WrestleMania? Razor and Diesel who had a great rivalry last year, could they co-exist as a team? Will they put their differences aside for this huge match? Or will Shawn Michaels ruin Razor and Diesel's plans by winning this huge match and going on to WrestleMania to face the WWF Champion?  
The Undertaker vs Papa Shango
Ever since returning to the WWF, Papa Shango has one mission and that's to destroy The Undertaker. Papa Shango and Doink are indeed a very powerful frightening duo. Shango claims that he has the power to possess the Undertaker, he has the power to bring The Undertaker down. The Undertaker has vowed to make Shango and Doink pay for their sins and he believes that the end is near for Papa Shango. Will Papa Shango prove to be more powerful than The Undertaker or will Shango fall victim to The Grim Reaper?
Plus in an 8 man tag team match, The Million Dollar Corporation(Lex Luger, Bam Bam Bigelow, IRS and King Kong Bundy) take on The British Bulldog, Tatanka and The Smoking Gunns. Also in action Mr Bob Backlund will face Double J, Jeff Jarrett. We will also see The 123 Kid squaring off against Doink the Clown. Plus President Jack Tunney will be making an important announcement for WrestleMania. All this and more this Saturday at Saturday Night's Main Event. The show will be up soon.
Saturday Night's Main Event Final Card
Champion vs Champion | Special Guest Referee: Rowdy Roddy Piper
WWF Title Submission Match | Bret Hart (c) vs Owen Hart
Only the WWF Title is on the line
Diesel and Razor Ramon vs Shawn Michaels and Sycho Sid
Razor's WrestleMania title shot on the line
If Razor and Diesel win then Diesel faces Shawn at WrestleMania
The Undertaker vs Papa Shango

8 Man Tag Match | The Million Dollar Corporation vs The British Bulldog, Tatanka and The Smoking Gunns

Bob Backlund vs Double J Jeff Jarrett

The 123 Kid vs Doink the Clown
Show now posted
here
Feedback is appreciated and will be returned.
---
WWE 2004: The Road to WrestleMania 21
Click here to read
Re: The BTB Advertisement Thread
---
Quote:
Monday Night Raw – Preview!
Monday 19th January 2009
Live from the Bob Devaney Sports Center
Lincoln, Nebraska



Last night's Royal Rumble promised to be one of the most memorable nights in WWE history and it certainly delivered, crowning three new champions to start off the 25th anniversary year of the Wrestlemania, and we're now on the road to the 25th annual Wrestlemania in London, England.

The man with the weight of the world on his shoulders going into the Rumble last night was Triple H, armed with the task of being the first WWE Champion to defend the WWE title against 29 other men in the Royal Rumble match. He had to do it from number one, and ironically it was the second entrant, long time friend Shawn Michaels who was the last man standing and left as the new WWE Champion. The Heartbreak Kid eliminated The Undertaker to seal the victory after The Game was eliminated by Randy Orton, but the now former WWE Champion got some revenge by attacking Orton when he was eliminated seconds later by The Dead-Man. It wasn't the last we saw of Triple H either, as he walked out to get a closer look at the new champion celebrating with the title The Game was desperate to keep. Just what kind of reaction will we get from The Game tonight in his first day at being separated from the WWE title? We've also been told that The Heartbreak Kid, currently a Smackdown superstar will be live on Raw tonight, and maybe we'll find out what the future holds for the Smackdown superstar holding Raw's most prestigious title.

Two men who will be looking to add to the three title changes we saw last night are Christopher Daniels & Kaval when they meet Rey Mysterio & Mystico in a rematch from Night of Champions for the World Tag Team titles. The Epitome of Excellence have pleaded for a second chance after they won by disqualification last month, but tonight there will be no repeat of that as there will be no count outs or disqualifications. It's difficult to say who that favours, however the challengers may well have one major advantage over their opponents after Mysterio was left needing medical attention last night. After eliminating the Intercontinental Champion, Sheamus from the Rumble match, The Celtic Warrior took out his frustration on the Mexican and pulled him out of the match before using the Brogue Kick and the steel steps on Rey. The only update we have is from Eric Bischoff, and he's said that as it stands he understands Mysterio will be able to compete tonight and defend the titles with Mystico. Has Sheamus given Daniels & Kaval a big advantage? Tune into Raw live tonight from Lincoln, Nebraska to find out if we'll see another title change hands!

Going into the Rumble, The Big Show is always a massive favourite, however yet again he failed to emerge victorious, and tonight he will go one-on-one with one of the two men who eliminated him. Chris Jericho himself was hoping to win the WWE title, and even after helping end The World's Largest Athlete hopes, he couldn't go all the way as he hoped. Big Show also fell short against Jericho last week in the gauntlet match to determine who would be the last entrant in the Rumble when he was counted out. Can he end his week of misery at the hands of Jericho by defeating the self proclaimed best in the world?

Also live tonight we can expect to see Jay Lethal, who surprised most people when he overcame his brother, Kofi Kingston last night in their battle to win a place in the Rumble. It looked like Kofi was about to seal the win when he froze, allowing Jay to pick up a huge win for him. The two brothers will be in attendance tonight, as will John Morrison & Justin Gabriel, who were victorious in their first outing as a team against The Miz & Zack Ryder. They were impressive in their first match and they certainly look like they can make an impact in the tag team division if they can perform to the same level they did last night.

It sure promises to be an eventful night tonight in Lincoln, just 24 hours after last night's historic Royal Rumble. There's sure to be a lot of disappointed superstars at failing to win that historic Rumble match, none more so than Triple H. To see how The Game and everyone else reacts, make sure you tune into Raw live tonight as we continue on the Road to Wrestlemania!


>Confirmed for Raw This Week!<

World Tag Team Championship
No DQ or Count Outs
Rey Mysterio & Mystico (c) vs. The Epitome of Excellence

Plus
The Big Show vs. Chris Jericho

The new WWE Champion, 'The Heartbreak Kid' Shawn Michaels!
Now Posted!
Re: The BTB Advertisement Thread
---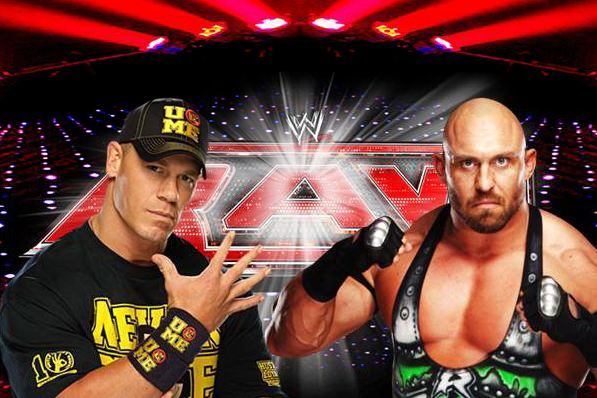 Tensions have been rising between Ryback and John Cena since the events of Hell In A Cell. Special Guest referee Cena mistakenly counted the 3 on Ryback while his foot was on the ropes, costing him his WWE Championship match against CM Punk. As Punk moves closer to 1 year as WWE champion, who will challenge him for the title at Survivor Series in 2 weeks? John Cena has the opportunity to end Punk's reign one day short of a year, but he must defeat Ryback in tonight's main event in a number 1 contendership match. And the special guest referee will be none other than the champion himself! It's Cena's first match back from injury, does he have a chance against the rampaging Ryback?

Raw is live from the UK tonight, and locals Wade Barrett and William Regal will both be in singles action. Plus, after trying to once again win the attention of Daniel Bryan, AJ Lee is the special guest on MizTV. With the Big Red Monster Kane hell-bent on making his former tag team partner's life a misery, distractions from AJ are the last thing Daniel Bryan needs. What are AJ's motives for going back to Bryan?

With fall-out from a dramatic night on SmackDown last week that saw Alberto Del Rio hit Randy Orton with his car and Sheamus declare he wants his World Heavyweight Championship rematch at Survivor Series, there is plenty to look forward to from the blue brand on Raw tonight.
http://www.wrestlingforum.com/booker...road-wm30.html
---
The Rock | Undertaker | Triple H | Chris Jericho | Stone Cold
CM Punk | Dean Ambrose | Mark Henry | Daniel Bryan | Dolph Ziggler
Austin Aries | Jeff Hardy | AJ Styles | Bully Ray | Christopher Daniels
Wheelman for James Ellsworth
Join Date: Jan 2011
Posts: 501
Points: 0
Re: The BTB Advertisement Thread
---
Quote:
WWE Monday Night Raw Preview- 29/8/05- Tampa, Florida

The last Raw of a hectic month comes to you from Tampa on a night where the ramifications of last week are sure to be in effect.

The main event seven nights ago saw Shawn Michaels face Kane and it appeared the Showstopper was set for a massacre at the hands of the Big Red Machine, Raw's General Manager Eric Bischoff and the use of a Steel Chair, only for the World Heavyweight Champion, Batista to charge the ring and go toe to toe with the seven foot monster. As the Animal and Kane fought through the crowd, inside the ring stood Michaels and Bischoff as it appeared likely that Bischoff finally got what was coming to him. But that's not how things panned out as from out of nowhere Michaels was blindsided by Muhammad Hassan, The Great Khali, Sonjay Dutt and Daivari, the Arabian Entity. The Entity would launch a sinister assault on Michaels leaving him a bloody mess to close off the show in sick style. Tonight Shawn Michaels will NOT be in attendance due to the injuries he sustained last week, however we will hear from these four men and their reasoning for last week's assault on Shawn Michaels. What will the group have to say? Was this their own doing or was it the work of Raw's crafty General Manager?

Tonight's main event will once again feature the Big Red Machine. It's been confirmed that Kane will go one on one with the Intercontinental Champion, Shelton Benjamin. It's a huge opportunity for Benjamin to get a big victory on a big stage, possibly even catapulting him up the pecking order on Raw, will he be able to fend off the monster and take his chance? Is Benjamin's ankle even in one piece to compete tonight? Only time will tell but Kane will no doubt be in a foul mood and seeking to get his hands on anyone he can after what Batista did to him last week. Will the Animal once again cross Kane's path tonight?

Last week saw an interesting altercation between three of Canada's finest as Edge, Christian and Chris Jericho all engaged in a verbal war, staking their claim to a World Title opportunity. All three men are no doubt in the running for that opportunity but will any one of them be able to make a statement here tonight? And will the other two men perhaps have something to say about it? We are sure to find out.

Mr.Kennedy has craved competition since his arrival on Raw but so far he has found none. Last week the music of the immortal Hulk Hogan hit and Kennedy was set to finally face a huge hurdle only for Eugene to stride down the ramp, dressed in yellow and red, sporting his best Hogan imitation. This only infuriated the 'Game Changer' and Kennedy dispatched of Eugene almost instantly. Will tonight be the night Kennedy gets his wish or will he once again be denied the one thing he desires?

Also confirmed for tonight, the World Tag Team Champions will be in action as the Dudleyz take on a team with a point to prove, the Basham Brothers. Will Doug and Danny be able to prove exactly why they should join the party at Unforgiven where the Platform to Perfection will get their shot? Plus, Women's Champion Victoria will be in action as she goes one on one with Torrie Wilson!!

Confirmed for tonight

Kane vs Shelton Benjamin

Victoria vs Torrie Wilson

The Dudley Boyz vs The Basham Brothers

Plus;

We will hear from Muhammad Hassan and the Arabian Entity

And World Heavyweight Champion Batista, Edge, Christian, Chris Jericho and more will all be in attendance!!
Show is now posted!
Re: The BTB Advertisement Thread
---
Quote:
~Friday Night SmackDown~
April 27th, 2007
Earls Court Exhibition Centre
London, England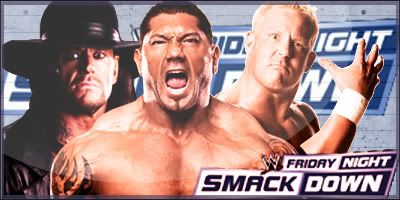 Friday Night SmackDown emanates from London, England with not one, but two huge championship matches lined up, both of which will have huge implications as SmackDown heads towards Judgment Day.

Last week, SmackDown G.M. Teddy Long decided to let Edge and Mr. Kennedy sort things out for themselves as he pitted them against each other, with the winner guaranteed a title shot against Batista tonight. During the match, as Edge went for a steel chair, Batista intervened, removing the chair from Edge's hands, an interruption that ultimately led to Kennedy putting Edge away with the mic check. With the match now set, Kennedy will challenge Batista tonight for the World Heavyweight Championship. There's no love lost between the two, especially after their match at No Way Out and Kennedy's encounter with Ric Flair at WrestleMania, meaning that when these two collide tonight in London, sparks are sure to fly. Who will leave London as the World Heavyweight Champion? And what role, if even, will Edge play in the preceedings?

Every since No Way Out, Matt Hardy and Finlay have been battling each other over the United States Championship, a rivalry that lead to a title match at WrestleMania XXIII where Hardy finally won a major singles championship. Tonight, the pair meet one last time, this time under rules no one is more familiar with than 'The Fighting Irishman'... a Belfast Brawl Match. Determined to end things with Finlay once and for all, Hardy challenged the veteran to a WrestleMania rematch, determined to beat Finlay at his own game. With these two being no strangers to each other the last few months, this one could spiral out of control in a hurry, and of course, The Miz will be watching on very closely, knowing he's next in line to face the champion at Judgment Day.

Speaking of Batista and Hardy, they teamed up last week to do Teddy Long a favour as they handed a first defeat to The New Breed, no doubt teaching Elijah Burke and Monty Brown a lesson in the process. With the World Tag Team Champions, The Hooligans, inching closer to full health, Burke and Brown will no doubt be looking to once again state their cases for a title opportunity against London and Kendrick.

Elsewhere, Gregory Helms takes on Shannon Moore fresh off what he considered an expose on Bryan Danielson's previous WWE career, and Santino Marella leads The Full Blooded Italians into battle with Funaki and Jimmy Wang Yang, but nod oubt Marella will be wary of the presence of the man he's been targetting in recent weeks, 'The Big Red Machine', Kane. We'll also hear more from Chavo Guerrero on his upcoming match at Judgment Day with Rey Mysterio, and the 2007 King of the Ring Qualifying Round draw is revealed ahead of the tournament's kick-off this Monday on Raw.

Confirmed Matches:

Batista vs. Mr. Kennedy
Matt Hardy vs. Finlay

Gregory Helms vs. Shannon Moore
The Full Blooded Italians vs. Funaki and Jimmy Wang Yang

Plus!! We'll hear more from Chavo Guerrero regarding his match at Judgment Day with Rey Mysterio, and the brackets for the upcoming King of the Ring tournament are revealed!!


Show now posted
here
!
---
World Wrestling Federation: The Montreal Fallout
New BTB. Check it out, eh?
Re: The BTB Advertisement Thread
---
WWE - The Road To WrestleMania 30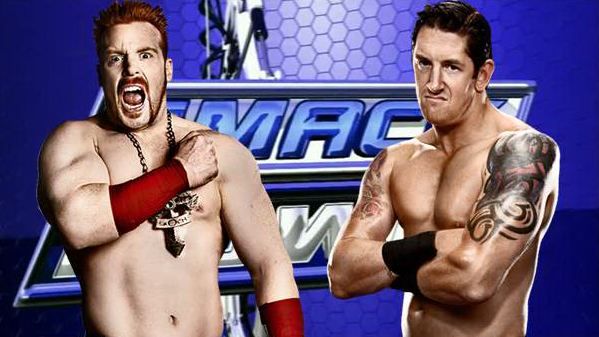 We are less than two weeks away from Survivor Series, and Monday Night on Raw CM Punk left fans scratching their head wondering what the main event of that pay-per-view will be. Punk was the special guest referee of an epic number one contendership match between John Cena and Ryback, but he took matters into his own hands and fast-counted both men out. Who will Punk defend his Championship against as he heads to one calendar year as champion?
Cena himself will make his WWE Main Event debut when he takes on Mr Money In The Bank Dolph Ziggler live from the UK.
Smackdown looks set to be an amazing show from the United Kingdom as we have fall-out from Raw and last week's SmackDown. Alberto Del Rio struck Randy Orton with his car, ruling The Viper out indefinitely. Del Rio has declared himself the new apex predator of the WWE. He goes one-on-one with his former apprentice Brodus Clay on this week's show.
Plus, with Big Show confirmed for a Championship defense against Sheamus at Survivor Series, he clashes with William Regal in front of his own fans. Sheamus himself has requested a rematch with Wade Barrett after a distraction saw him fall victim to Wind Of Change on Raw.
Also confirmed for SmackDown is R-Truth selecting whether to go after the Intercontinental Championship or the United States Championship at Survivor Series. Truth earned a shot at either title after a string of impressive results, and both Miz and Cesaro will be on-hand for Truth decision.
Tensions are rising between Daniel Bryan and Kane. Every since Team Hell No split up, Kane has been making Bryan's life a living hell, delivering Tombstones at every opportunity. And with AJ re-entering Bryan's life, it a complicated time for the World's Toughest Vegan! The Big Red Monster is in singles action tonight, just days removed from striking AJ.
Team Rhodes Scholars will be watching intently as the number one contenders for their Tag Team Championships (Rey Mysterio and Sin Cara) are in tag action tonight. We'll also have more on the breaking news that Jerry Lawler will be making his return to WWE this Monday on Raw.
WWE - The Road To WrestleMania 30
---
The Rock | Undertaker | Triple H | Chris Jericho | Stone Cold
CM Punk | Dean Ambrose | Mark Henry | Daniel Bryan | Dolph Ziggler
Austin Aries | Jeff Hardy | AJ Styles | Bully Ray | Christopher Daniels
Asking JAMES ELLSWORTH for Wrestling Advice
Join Date: Jul 2012
Location: St Louis
Posts: 464
Points: 0
Re: The BTB Advertisement Thread
---
Boston Brawl
Fleet Center in Boston Massachusetts
Sunday February 15 1998
Live on Internet PPV
Cruiserweight Title Match: Chavo Guerrero vs Eddie Guerrero ©
Tag Team Title Match: Harlem Heat © vs Ray Traylor and Steve McMichael
Chris Benoit vs Kidman
Chris Benoit vs Saturn
Chris Benoit vs Mortis
(if Benoit wins three previous matches) Chris Benoit vs Raven in a Raven's Rules match.
Lex Luger vs Randy Savage in a steel cage
Chris Jericho vs Hulk Hogan(?) for the Television title*
Battle Royal for Number One Contendership to WCW Title: Kevin Nash, Diamond Dallas Page, Goldberg, The Giant, Chris Jericho, Bret Hart and more!
Bret Hart and Sting vs The Masked Attackers
*this match has not been confirmed.
---
WOULD YOU PLEASE. SHUT. THE HELL. UP?
WCW 1998: be the booker
http://www.wrestlingforum.com/booker...l#post12458661
Wheelman for James Ellsworth
Join Date: Jan 2011
Posts: 501
Points: 0
Re: The BTB Advertisement Thread
---
WWE Friday Night Smackdown Preview- 2/9/05- Tampa, Florida
Tonight on Smackdown we were supposed to be receiving a WWE Championship match with John Cena defending against the winner of a number one contender's match between Kurt Angle and Randy Orton. Instead we head to Tampa with no championship match scheduled and a whole host of questions to be answered.

Kurt Angle and Randy Orton's match last week was all going smoothly and we appeared in line for a winner, that was until The Undertaker made his presence felt and took out both his long time rival Orton and Angle, making a statement of intent. However, the Deadman would succumb to the numbers game as opponents for the night joined forces with Angle and Orton coming together to take down the Phenom until the arrival of the champion himself to even the odds, John Cena. Was The Undertaker simply out to get Randy Orton's attention once again or is the Deadman indeed setting his sights on the WWE Title? We hope to find out tonight whether the Demon of Death Valley has inserted himself into the title picture and if not, we hope to find out just who is at the top of the list for John Cena's next challenge.

Last week saw the first match for No Mercy made where MNM will defend their WWE Tag Team Championships in a LADDER match against Rob Van Dam and Rey Mysterio. The A-List champions were left reeling at this announcement, believing they'd seen the last of the high fliers, however Teddy Long took all evidence on board and decided MNM DID pay somebody off to help them retain their gold. We're still no nearer finding out just who the mercenary was but with a title defence now scheduled, we are some way towards justice. Tonight we will see the champions in action as they team up with Carlito to take on Mysterio, Van Dam and the returning United States Champion, Matt Hardy who will no doubt be gunning for the Apple Spitter.

John Bradshaw Layfield shocked the world last week when he announced suddenly that he was retiring, citing Bobby Lashley as his reasoning. The 'Real Deal' was left shocked, a mixture of emotions as he seemed to want more of the Wall Street Warrior. Well it turns out he may indeed get it. Later that night backstage Lashley was heinously ambushed by Bradshaw with the 'Wrestling God' having simply played Lashley, having played us all and stating he was not retiring and was instead targeting Lashley and vowed to teach him a lesson. Lashley will NOT be in attendance tonight due to doctor's orders but JBL will be and he will be in action. Will Layfield send yet another statement to the 'Real Deal'?

Also confirmed for tonight, Paul London will be in action as he squares off against the Japanese Buzzsaw, Tajiri with Brian Kendrick by his side. The two who have been referred to as 'The Hooliganz' have finally one upped the tandem of Gregory Helms and Chavo Guerrero over the past couple of weeks, will that trend continue tonight with a London victory? Tune it to find out.


All this and so much more tonight on Friday Night Smackdown!!
Confirmed for Smackdown:

MNM and Carlito vs Rey Mysterio, Rob Van Dam and Matt Hardy

JBL will be in action

Paul London vs Tajiri

Plus;

The fallout from all the drama surrounding the WWE Championship
Re: The BTB Advertisement Thread
---
NBC's Brain Child in wrestling.
National Wrestling Federation
Saturday Night Warzone
12/22/12
The Time Test Challenge Continues:
"The Savior" Elijah Burke vs Carlito Colon
Time to beat: 5:25

Alliance of Darkness makes an appearance:
The Great Muta w/ James Mitchell vs Marco Corleone
Plus three tag team bouts, two cruiserweight bouts along with..
The Colt Cabana Christmas Party!
Featuring Antonio Bank$ and Mr. Wrestling III as guests on the first ever Colt Cabana show.



---
Matt Cross Wanted Dead Not Alive.
National Wrestling Federation: The Investment
Can NBC's new stake in wrestling survive?
http://www.wrestlingforum.com/booker...nvestment.html
Posting Rules

You may not post new threads

You may not post replies

You may not post attachments

You may not edit your posts

---

HTML code is Off

---