Re: The BTB Advertisement Thread
---
Re: The BTB Advertisement Thread
---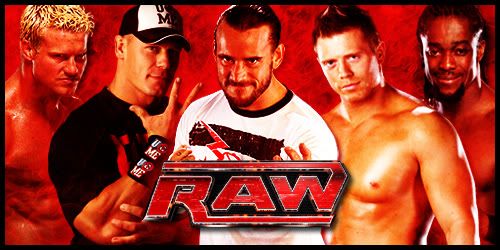 Monday Night Raw Preview
26th September 2011
Mohegan Sun Arena – Wilkes-Barre, Pennsylvania
With just SIX night left until the most hellascious night of the WWE Calendar, Hell in a Cell, Raw is rolling into the Mohegan Sun Arena with yet again another stacked show. As a reminder to every Raw Superstar - but mainly to the WWE Champion Alberto Del Rio and the #1 Contender John Cena - the very Cell that those two will do battle in this Sunday will be looming above everyone's heads tonight. Cena, who announced his title match last week after defeating R-Truth, is set to open the show to discuss his feelings heading into a chance to win his unprecedented TENTH WWE Championship and to let off his true feelings about the Mexican Aristocrat. Del Rio meanwhile will be competing in tonight's main event against the ever-popular Zack Ryder, who has been down on his luck as of late but given the chance to impress tonight and try to forget all of his recent clashes with Jack Swagger. Del Rio may well be accused of taking Ryder lightly, but Long Island Iced-Z could shock the world tonight.

Last week, CM Punk was forced into a match by the Raw General Manager John Laurinaitis... the bad part was that it was against his close friend Kofi Kingston. The allies almost tore the roof down; that is until Johnny's Administration members The Miz and R-Truth - collectively known as The Awesome Truth - interrupted proceedings towards the end of the contest and ruined the stellar match for all of us. However Miz announced that Punk and Kingston would take on himself and his fellow LA member at Hell in a Cell. The match this Sunday could be brought to a whole new level though as tonight The Awesome Truth have the chance to capture the WWE Tag Team Championships against current champions Santino Marella and Vladimir Kozlov; The Odd Couple. This will be the third Tag Team Championship Match in the space of nine days for the oddball champions but it is very hard to rule out the Italian and the Russian. Will the Laurinaitis Administration earn it's first taste of championship gold or will the champions prevail once again?

The very reason for Santino and Kozlov being made to defend their titles tonight is because they along with Evan Bourne, confronted John Laurinaitis last week and wanted "justice" for what happened to Rey Mysterio at the hands of Brodus Clay; the newest member of Johnny's team. Mysterio isn't going to be around for a while it has now been confirmed but his friends did try their best to stick up for him. Bourne in particular was very vocal in saying that he was not afraid of the 350+ lbs wrecking ball, which obviously got the GM's brain ticking over. He did what he thought was an action that would please all parties and he announced Bourne as Clay's second opponent on Raw. Will Evan be able to defy the odds and topple the giant? Or is there worse to come from Clay?

Drew McIntyre had been desperate to turn his career around and he thought that securing the managerial services of the United States Champion Dolph Ziggler's manager, Vickie Guerrero would solve all of his problems. But it isn't as straightforward as that. It seems that helping Dolph defeat Rey Mysterio at Night of Champions wasn't enough. Last week, Drew was offered a unique proposal; become #1 Contender for the United States Championship and then LIE DOWN for Ziggler to pin him at Hell in a Cell. Drew was surprisingly happy to accept the deal, but he has to get past a man that has been troubling him recently on WWE Superstars, The Varsity Villain, Alex Riley. Alex is no slouch and McIntyre will have his work cut out for him as these two rivals collide tonight on Raw.
Confirmed for Raw:
Non-Title Match:
WWE Champion
Alberto Del Rio vs Zack Ryder

WWE Tag Team Championship Match:
The Odd Couple © vs The Awesome Truth

#1 Contender's Match - United States Championship
Alex Riley vs Drew McIntyre

Brodus Clay vs Evan Bourne
Re: The BTB Advertisement Thread
---
WWF 1995: The New Generation
This week on Monday Night Raw President Jack Tunney names a special guest referee for the WWF Title Submission Match between Bret Hart and Owen Hart at Saturday Night's Main Event. With Saturday Night's Main Event just five days away, who will Tunney select as the special referee? Plus The Heart Break Kid Shawn Michaels is in action against The Creation of Devastation, Adam Bomb. The 123 Kid takes on the dangerous Papa Shango. Also The Smoking Gunns defend the tag team titles against The Heavenly Bodies. Plus much more. Plus in big WWF news, the WWF have signed a future star for their new generation. That's right, The WWF have signed former WCW star Jean Paul Levesque who was also known as Terra Ryzin.



Show now posted here
---
WWE 2004: The Road to WrestleMania 21
Click here to read
Learning to break kayfabe
Join Date: Jul 2012
Location: Liverpool, England
Posts: 111
Points: 0
Re: The BTB Advertisement Thread
---
Tomorrow entertainment will be personified.
Re: The BTB Advertisement Thread
---
Quote:
Monday Night Raw Preview – April 2nd, 2007
Nutter Center; Dayton, OH
Just 24 hours after the biggest event in sports entertainment shown in Detroit, Michigan, things look to pick up right where they left off: in complete and utter chaos. Last night's viewers definitely got what they payed for as we saw many matches that blew the top off of Ford Field. We witnessed the WWE Chairman getting bald-ified, a women's champion retaining her gold, a young and former world champion seizing an oppurtunity by snatching the briefcase guaranteeing a title match at any time, and the reign of an immaculate champion continuing it's legacy.

A day ago we saw Randy Orton, the youngest world champion in the history of sports entertainment, gain something that he has never tasted before, the Money in the Bank briefcase. Randy Orton was looking surprisingly average going into the match and seemed to captivate the arena and possibly the world after RKOing Mr. Kennedy off the ladder and then climbing up to retrieve the contract. Will Orton cash in the briefcase tonight? What will he have to say about his performance? Is Randy slowly becoming the face of the company?

Last night we also saw Melina defeat Ashley to retain her prized Women's Championship in a match that Ashley should have won if the referee were watching more carefully. Melina's somewhat dirty play paid off, but how will Ashley react to the loss last night here on Raw? Will Ashley get her revenge?

WWE Chairman Vincent McMahon was embarrassed to his full potential last night at the greatest spectacle of the year as we saw him get shaved by Stone Cold Steve Austin, Donald Trump, and of course Bobby Lashley. Armando Estrada feels as though Umaga had failed to do his duty last night, and is looking to make it up to the chairman on tonight's Raw. Will Vince McMahon take the apology and accept what has happened to him? What's next in store for Bobby Lashley?

Last but not least we had the WWE Championship Match which rest assured did not disappoint. John Cena and Shawn Michaels duked it out until they just couldn't wrestle any longer. John Cena retained his championship and kept his reign of dominance continuing as WWE Champion. Shawn Michaels says he has something to say about last night's match, and he is not happy. What will Michaels have to say? Who is Cena's next opponent in his quest to successfully defend his WWE title?

After nearly breaking themselves in half last night The Hardyz will be in action in a tag team contest against Lance Cade and Trevor Murdoch. Will they be able to sustain last night's brutal occurrences?

To find out what happens to all of these exciting happenings here in the WWE, tune in tonight, April 2nd, 2007 @ 9/8c only on The USA Network!
Guaranteed Matches

The Hardyz vs. Redneck Wrecking Crew

*****
Show now posted
---
Wheelman for James Ellsworth
Join Date: Jan 2011
Posts: 501
Points: 0
Re: The BTB Advertisement Thread
---
WWE Monday Night Raw Preview- 29/8/05- Tampa, Florida

The last Raw of a hectic month comes to you from Tampa on a night where the ramifications of last week are sure to be in effect.

The main event seven nights ago saw Shawn Michaels face Kane and it appeared the Showstopper was set for a massacre at the hands of the Big Red Machine, Raw's General Manager Eric Bischoff and the use of a Steel Chair, only for the World Heavyweight Champion, Batista to charge the ring and go toe to toe with the seven foot monster. As the Animal and Kane fought through the crowd, inside the ring stood Michaels and Bischoff as it appeared likely that Bischoff finally got what was coming to him. But that's not how things panned out as from out of nowhere Michaels was blindsided by Muhammad Hassan, The Great Khali, Sonjay Dutt and Daivari, the Arabian Entity. The Entity would launch a sinister assault on Michaels leaving him a bloody mess to close off the show in sick style. Tonight Shawn Michaels will NOT be in attendance due to the injuries he sustained last week, however we will hear from these four men and their reasoning for last week's assault on Shawn Michaels. What will the group have to say? Was this their own doing or was it the work of Raw's crafty General Manager?

Tonight's main event will once again feature the Big Red Machine. It's been confirmed that Kane will go one on one with the Intercontinental Champion, Shelton Benjamin. It's a huge opportunity for Benjamin to get a big victory on a big stage, possibly even catapulting him up the pecking order on Raw, will he be able to fend off the monster and take his chance? Is Benjamin's ankle even in one piece to compete tonight? Only time will tell but Kane will no doubt be in a foul mood and seeking to get his hands on anyone he can after what Batista did to him last week. Will the Animal once again cross Kane's path tonight?

Last week saw an interesting altercation between three of Canada's finest as Edge, Christian and Chris Jericho all engaged in a verbal war, staking their claim to a World Title opportunity. All three men are no doubt in the running for that opportunity but will any one of them be able to make a statement here tonight? And will the other two men perhaps have something to say about it? We are sure to find out.

Mr.Kennedy has craved competition since his arrival on Raw but so far he has found none. Last week the music of the immortal Hulk Hogan hit and Kennedy was set to finally face a huge hurdle only for Eugene to stride down the ramp, dressed in yellow and red, sporting his best Hogan imitation. This only infuriated the 'Game Changer' and Kennedy dispatched of Eugene almost instantly. Will tonight be the night Kennedy gets his wish or will he once again be denied the one thing he desires?

Also confirmed for tonight, the World Tag Team Champions will be in action as the Dudleyz take on a team with a point to prove, the Basham Brothers. Will Doug and Danny be able to prove exactly why they should join the party at Unforgiven where the Platform to Perfection will get their shot? Plus, Women's Champion Victoria will be in action as she goes one on one with Torrie Wilson!!

Confirmed for tonight

Kane vs Shelton Benjamin

Victoria vs Torrie Wilson

The Dudley Boyz vs The Basham Brothers

Plus;

We will hear from Muhammad Hassan and the Arabian Entity

And World Heavyweight Champion Batista, Edge, Christian, Chris Jericho and more will all be in attendance!!
Re: The BTB Advertisement Thread
---
Monday Night Raw – Preview!
Monday 19th January 2009
Live from the Bob Devaney Sports Center
Lincoln, Nebraska



Last night's Royal Rumble promised to be one of the most memorable nights in WWE history and it certainly delivered, crowning three new champions to start off the 25th anniversary year of the Wrestlemania, and we're now on the road to the 25th annual Wrestlemania in London, England.

The man with the weight of the world on his shoulders going into the Rumble last night was Triple H, armed with the task of being the first WWE Champion to defend the WWE title against 29 other men in the Royal Rumble match. He had to do it from number one, and ironically it was the second entrant, long time friend Shawn Michaels who was the last man standing and left as the new WWE Champion. The Heartbreak Kid eliminated The Undertaker to seal the victory after The Game was eliminated by Randy Orton, but the now former WWE Champion got some revenge by attacking Orton when he was eliminated seconds later by The Dead-Man. It wasn't the last we saw of Triple H either, as he walked out to get a closer look at the new champion celebrating with the title The Game was desperate to keep. Just what kind of reaction will we get from The Game tonight in his first day at being separated from the WWE title? We've also been told that The Heartbreak Kid, currently a Smackdown superstar will be live on Raw tonight, and maybe we'll find out what the future holds for the Smackdown superstar holding Raw's most prestigious title.

Two men who will be looking to add to the three title changes we saw last night are Christopher Daniels & Kaval when they meet Rey Mysterio & Mystico in a rematch from Night of Champions for the World Tag Team titles. The Epitome of Excellence have pleaded for a second chance after they won by disqualification last month, but tonight there will be no repeat of that as there will be no count outs or disqualifications. It's difficult to say who that favours, however the challengers may well have one major advantage over their opponents after Mysterio was left needing medical attention last night. After eliminating the Intercontinental Champion, Sheamus from the Rumble match, The Celtic Warrior took out his frustration on the Mexican and pulled him out of the match before using the Brogue Kick and the steel steps on Rey. The only update we have is from Eric Bischoff, and he's said that as it stands he understands Mysterio will be able to compete tonight and defend the titles with Mystico. Has Sheamus given Daniels & Kaval a big advantage? Tune into Raw live tonight from Lincoln, Nebraska to find out if we'll see another title change hands!

Going into the Rumble, The Big Show is always a massive favourite, however yet again he failed to emerge victorious, and tonight he will go one-on-one with one of the two men who eliminated him. Chris Jericho himself was hoping to win the WWE title, and even after helping end The World's Largest Athlete hopes, he couldn't go all the way as he hoped. Big Show also fell short against Jericho last week in the gauntlet match to determine who would be the last entrant in the Rumble when he was counted out. Can he end his week of misery at the hands of Jericho by defeating the self proclaimed best in the world?

Also live tonight we can expect to see Jay Lethal, who surprised most people when he overcame his brother, Kofi Kingston last night in their battle to win a place in the Rumble. It looked like Kofi was about to seal the win when he froze, allowing Jay to pick up a huge win for him. The two brothers will be in attendance tonight, as will John Morrison & Justin Gabriel, who were victorious in their first outing as a team against The Miz & Zack Ryder. They were impressive in their first match and they certainly look like they can make an impact in the tag team division if they can perform to the same level they did last night.

It sure promises to be an eventful night tonight in Lincoln, just 24 hours after last night's historic Royal Rumble. There's sure to be a lot of disappointed superstars at failing to win that historic Rumble match, none more so than Triple H. To see how The Game and everyone else reacts, make sure you tune into Raw live tonight as we continue on the Road to Wrestlemania!


>Confirmed for Raw This Week!<

World Tag Team Championship
No DQ or Count Outs
Rey Mysterio & Mystico (c) vs. The Epitome of Excellence

Plus
The Big Show vs. Chris Jericho

The new WWE Champion, 'The Heartbreak Kid' Shawn Michaels!


Re: The BTB Advertisement Thread
---
ECW 12/15/09 is up
---
WWF 2000: Passing the Torch
Re: The BTB Advertisement Thread
---
The Road To WrestleMania 30


Hell In A Cell 2012 was a great night for Big Show and The Miz, who captured the World Heavyweight and Intercontinental Championships from Sheamus and Kofi Kingston respectively. Tonight on SmackDown, ShowMiz re-unite to take on the team of Sheamus and Kingston in tag team action.
Plus, after turning his back on Daniel Bryan, the Big Red Monster Kane is on the rampage and will collide with Brodus Clay in singles action. Bryan is also in singles action as he faces Mr Money In The Bank Dolph Ziggler. Things look far from settled between Randy Orton and Alberto Del Rio after their clash at Hell In A Cell, Del Rio will be in action against R-Truth.
Rey Mysterio and Sin Cara are number one contenders to the Tag Titles currently held by Rhodes Scholars. It's singles action tonight as Rhodes takes on Sin Cara. With fall-out from an exciting Raw, and an Intercontinental Championship rematch on Main Event, be sure to check out SmackDown!

The Road To WM30
---
The Rock | Undertaker | Triple H | Chris Jericho | Stone Cold
CM Punk | Dean Ambrose | Mark Henry | Daniel Bryan | Dolph Ziggler
Austin Aries | Jeff Hardy | AJ Styles | Bully Ray | Christopher Daniels
Re: The BTB Advertisement Thread
---
~Friday Night SmackDown~
April 27th, 2007
Earls Court Exhibition Centre
London, England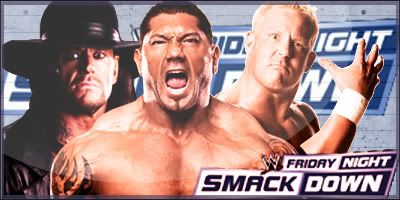 Friday Night SmackDown emanates from London, England with not one, but two huge championship matches lined up, both of which will have huge implications as SmackDown heads towards Judgment Day.

Last week, SmackDown G.M. Teddy Long decided to let Edge and Mr. Kennedy sort things out for themselves as he pitted them against each other, with the winner guaranteed a title shot against Batista tonight. During the match, as Edge went for a steel chair, Batista intervened, removing the chair from Edge's hands, an interruption that ultimately led to Kennedy putting Edge away with the mic check. With the match now set, Kennedy will challenge Batista tonight for the World Heavyweight Championship. There's no love lost between the two, especially after their match at No Way Out and Kennedy's encounter with Ric Flair at WrestleMania, meaning that when these two collide tonight in London, sparks are sure to fly. Who will leave London as the World Heavyweight Champion? And what role, if even, will Edge play in the preceedings?

Every since No Way Out, Matt Hardy and Finlay have been battling each other over the United States Championship, a rivalry that lead to a title match at WrestleMania XXIII where Hardy finally won a major singles championship. Tonight, the pair meet one last time, this time under rules no one is more familiar with than 'The Fighting Irishman'... a Belfast Brawl Match. Determined to end things with Finlay once and for all, Hardy challenged the veteran to a WrestleMania rematch, determined to beat Finlay at his own game. With these two being no strangers to each other the last few months, this one could spiral out of control in a hurry, and of course, The Miz will be watching on very closely, knowing he's next in line to face the champion at Judgment Day.

Speaking of Batista and Hardy, they teamed up last week to do Teddy Long a favour as they handed a first defeat to The New Breed, no doubt teaching Elijah Burke and Monty Brown a lesson in the process. With the World Tag Team Champions, The Hooligans, inching closer to full health, Burke and Brown will no doubt be looking to once again state their cases for a title opportunity against London and Kendrick.

Elsewhere, Gregory Helms takes on Shannon Moore fresh off what he considered an expose on Bryan Danielson's previous WWE career, and Santino Marella leads The Full Blooded Italians into battle with Funaki and Jimmy Wang Yang, but nod oubt Marella will be wary of the presence of the man he's been targetting in recent weeks, 'The Big Red Machine', Kane. We'll also hear more from Chavo Guerrero on his upcoming match at Judgment Day with Rey Mysterio, and the 2007 King of the Ring Qualifying Round draw is revealed ahead of the tournament's kick-off this Monday on Raw.

Confirmed Matches:

Batista vs. Mr. Kennedy
Matt Hardy vs. Finlay

Gregory Helms vs. Shannon Moore
The Full Blooded Italians vs. Funaki and Jimmy Wang Yang

Plus!! We'll hear more from Chavo Guerrero regarding his match at Judgment Day with Rey Mysterio, and the brackets for the upcoming King of the Ring tournament are revealed!!


---
World Wrestling Federation: The Montreal Fallout
New BTB. Check it out, eh?
Posting Rules

You may not post new threads

You may not post replies

You may not post attachments

You may not edit your posts

---

HTML code is Off

---