Re: The BTB Advertisement Thread
---
Quote:
Friday Night Smackdown Preview
Jan 21, 2011 | Tulsa, Oklahoma


"... I'll get the job done... One... more... time.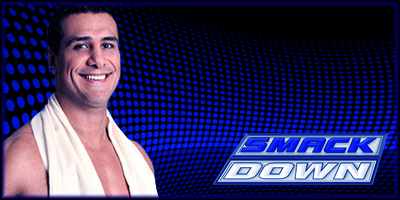 "Brains Or Beauty?"

Nine days is all that seperates us from now and The Royal Rumble in Boston, Massachussetts. However, seven days is what seperates us from now and the controversy that occurred last week.

For two weeks running, Cody Rhodes has closed the broadcast, standing tall over a fallen Edge, whilst holding The Rated R Superstar's prized possession aloft in pride. A sign of things to come? Possibly. However, all we know is that tonight in Tulsa, Oklahoma, Edge will have the opportunity to dig in to the mind of his opponent come The Royal Rumble, as Th Cutting Edge makes it's return. The guest? None other than the Dashing One himself. Tensions are sure to be high when the two foes stand face to face in the middle of the ring. Will fists fly? Will sparks ignite? Will chaos ensue? We're not entirely sure. All we are sure of, however, is that it's unmissable.

Also last week, we saw 'The Chosen One' Drew McIntyre punish Trent Barreta in the middle of the ring with not one, not two but three devastating Futureshock DDTs, rendering poor Trent unconscious, albeit through a distraction from the promiscuous Kelly Kelly. It was the aftermath of the match that has created dozens of questions over the past seven days however. During the post match beatdown that both Drew and K2 put on Trent, a mysterious, petite woman hurdled the security barricade, took down Kelly Kelly and low lowed Drew McIntyre, before consoling and comforting a hurt Barreta. Who is that woman? What has she got to do with Trent Barreta? And what will Drew McIntyre and Kelly Kelly do, if anything, in retaliation?

In tag team action, 7 nights ago, we saw the unorthodox pairing of Kofi Kingston and Beth Phoenix battle Kaval and Dolph Ziggler - All four of which are confirmed to be a part of The Royal Rumble match in just nine nights. However, in a shocking turn of events, we saw somewhat of a change of heart from the NXT Season 2 winner, Kaval, as he rendered a helpless Beth Phoenix unconscious with a brutal roundhouse kick to the jaw of The Glamazon, only for Dolph Ziggler to make the cover. One man has been very vocal about his displeasure and anger regarding Kaval's actions last week, and that man is Chavo Guerrero. The legendary Guerrero family have always taken great pride in showing respect, honor and dignity inside the squared circle, and Chavo is no different, and this past week he has called out Kaval in a one on one match for tonight - A match Smackdown General Manager, Teddy Long, happily signed. Will The Mexican Warrior teach the Brooklyn-born warrior a lesson in respect? Or will Kaval succeed once again in action with the new attitude of his?

It is a well known fact that the luck of the draw plays a large role in who succeeds and who doesn't in The Royal Rumble match - The later you enter, the greater your chances, and you can't enter much later than number thirty. That is why tonight, Raw's United States Champion, Daniel Bryan, will square off against Smackdown's Intercontinental Champion, Dolph Ziggler. The winner of which will earn the right for a member of their respective brand to enter at number 30 in The Royal Rumble match. Will Daniel Bryan's in-ring saviness and technical prowess prevail? Or will Dolph's cunning and athleticism prove to be the deciding factor?

All of this, plus Rey Mysterio teams up with Chris Masters to take on the extremely odd pairing of Kane and JTG in a small preview to The Royal Rumble. Action you can only find on Friday Night Smackdown - The premiere brand of Sports Entertainment!

CONFIRMED
Cody Rhodes is the guest on The Cutting Edge
Chavo Guerrero vs. Kaval
Daniel Bryan vs. Dolph Ziggler
Rey Mysterio and Chris Masters vs. Kane and JTG
Show posted
HERE!
---
Re: The BTB Advertisement Thread
---
Quote:


The WWE Championship will be defended for the first time ever in the Royal Rumble match by Triple H, the number one entrant.

John Cena & CM Punk will collide for the vacant World Heavyweight Championship in a No Holds Barred match after their controversial title match at Night of Champions last month.

Two more titles will be on the line with Matt Sydal defending the United States Championship against Dolph Ziggler. Paul London & Brian Kendrick's first title defence is against the former champions, The Empire.

Kofi Kingston locks horns with his brother, Jay Lethal for the right to compete in the Royal Rumble match and win a shot at the WWE Championship.

John Morrison & Justin Gabriel will join forces in a grudge match against their rivals, The Miz & Zack Ryder.

Now Posted. . . FINALLY!
Re: The BTB Advertisement Thread
---
I'm going to be posting a Be the Booker thread soon.

Bye.
Re: The BTB Advertisement Thread
---
WWE RAW SLAMMY AWARDS 12/14/09 POSTED,
---
WWF 2000: Passing the Torch
Re: The BTB Advertisement Thread
---
It's Coming.
12/1/12

---
---
Last edited by IJ; 11-27-2012 at

07:40 PM

.
Re: The BTB Advertisement Thread
---
EDIT: sorry, double post
---
---
Last edited by IJ; 11-27-2012 at

07:00 PM

.
Re: The BTB Advertisement Thread
---
WWE - The Road To WrestleMania 30
A must-see night of action last night at Hell In A Cell saw CM Punk retain the WWE Championship against Ryback. Special Guest Referee John Cena blew the call, and Ryback will be looking for vengeance. But is he hungry for Punk or Cena?
Big Show became the first man to kick out of Sheamus's Brogue Kick, and a devastating WMD saw Show knock out the Irishman and take his World Heavyweight Championship. With Show on a rampage, is anyone safe? And how will Sheamus take the loss?
Show will be the special guest on MizTV, hosted by the new Intercontinental Champion The Miz. Miz unvealed a new ruthless side when he left Kingston lifeless after 5 Skull Crushing Finale's, and has vowed to become the longest reigning Intercontinental Champion of all time. It's a ShowMiz reunion on MizTV tonight!
Team Hell No receive their Tag Team Championship rematch tonight after miscommunication saw them lose the belts to Rhodes Scholars at Hell In A Cell, but after Kane dropped Bryan with a Tombstone Piledriver, can they ever be on the same page again?
Vickie Guerrero remains in temporary charge of Monday Night Raw, will she do enough to land the job full time? And how will having his manager in charge of Raw benefit Mr Money In The Bank Dolph Ziggler?
We are just 3 weeks away from Survivor Series, so tune in to Monday Night Raw for Hell In A Cell fall-out and Survivor Series build-up!
http://www.wrestlingforum.com/booker/644752-wwe-road-wm30.html#post12317336
---
The Rock | Undertaker | Triple H | Chris Jericho | Stone Cold
CM Punk | Dean Ambrose | Mark Henry | Daniel Bryan | Dolph Ziggler
Austin Aries | Jeff Hardy | AJ Styles | Bully Ray | Christopher Daniels
Re: The BTB Advertisement Thread
---
A news and notes update has been posted in WWE 2005: The New Era in Professional Wrestling. Predictions are still certainly welcomed for No Way Out. you can check that out here:
Link
---
Re: The BTB Advertisement Thread
---
Bradley Center | February 7, 2011
Milwaukee, Wisconsin
Last Monday Night on the WWE's flagship program, Monday Night Raw, the WWE Champion, The Miz was successful in taking brand supremacy against Smackdown's World Heavyweight Champion, Edge but that wasn't all, the Awesome One also found out that at Elimination Chamber he would be defending the WWE Championship against five of the very best Superstars that Monday Night Raw has to offer. WWE.com has been informed that in addition to the remainder of the qualifying matches taking place on tonight's Raw there will also be an announcement at the top of the show by the Anonymous Raw General Manager regarding the WWE Championship situation for WrestleMania XXVII. What does the General Manager have to announce? Tune in tonight to find out!
Also to look out for on Raw, CM Punk & the Nexus will be on hand to give reasoning for their attack on Randy Orton nine days ago at Royal Rumble, Tyson Kid will speak about last weeks assault on Daniel Bryan, though the United States Champion will not be in attendance this week as he is at home with Gail Kim following her injury plus much more on WWE Monday Night Raw!
CONFIRMED FOR RAW
ELIMINATION CHAMBER QUALIFIERS
Posting Rules

You may not post new threads

You may not post replies

You may not post attachments

You may not edit your posts

---

HTML code is Off

---