Wheelman for James Ellsworth
Join Date: Jan 2011
Posts: 501
Points: 0
Re: The BTB Advertisement Thread
---
WWE Friday Night Smackdown Preview- 26/08/05- Hampton, Virginia
We are five nights removed from a wild and exciting night at Summerslam where a number of Smackdown superstars stole the show while others found things to be a little more frustrating.

One of those men who found Summerslam to be frustrating was the man who challenged for the WWE Championship, Kurt Angle. Angle came up short in his quest for gold, being toppled by John Cena, however it wasn't without controversy. Cena delivered a devastating FU off the top rope, covering the Wrestling Machine and scoring the three count, only for replays to show Angle's foot was on the bottom rope. In what was such a huge match on a huge stage, the mistake will have left Angle irate and we have learned that he will kick off Friday Night Smackdown and demand answers as to what went down in Washington. Just what will Angle have to say as we head to Hampton? Will the WWE Champion himself, John Cena have anything to say on the matter? All we do know, is it's bound to be explosive.

At the opposite end of the scale, Summerslam was a memorable night for Randy Orton as the Legend Killer defeated The Undertaker in impressive fashion. Orton pulled off one of the biggest wins of his career and later in the night made his intentions clear, the WWE Championship is next on his agenda. Will Orton make his first move tonight or will he be stopped in his tracks, perhaps by an angry Phenom?

Rob Van Dam and Rey Mysterio appear to finally be on the path to figuring out who screwed them at the Bash as they seek another shot at the WWE Tag Team Titles. Tonight on Smackdown, Teddy Long has vowed to call out MNM and demand answers regarding just exactly what transpired all those weeks ago. MNM are sure to deny the allegations but will the General Manager be able to find a break through? Or will Van Dam and Mysterio fall short once again in their quest for redemption?

The United States Title was defended at Summerslam as Matt Hardy defeated Carlito. However, it was the aftermath that left people talking as Carlito viciously assaulted Hardy backstage, clearly furious at having been ousted by the champion. Due to that attack Matt Hardy will NOT be on hand for Smackdown tonight but we know Carlito will be. Will the Apple Spitter have anything to say about his actions this past Sunday or is it simply all about the gold for Smackdown's 'Coolest' superstar?

Bobby Lashley picked up the biggest win of his career thus far Sunday night, defeating JBL in a smash mouth contest. Lashley has dominated since coming to Friday nights and will be in action once more this evening. Will Lashley's hot streak continue? Or will he finally be put in his place, perhaps by the 'Wrestling God' himself, John Bradshaw Layfield?

Also confirmed for tonight, the Cruiserweight Champion will be in action as Gregory Helms faces Brian Kendrick. Helms has requested this match in order to prove to Paul London that all the back up he can find will result in nothing as he looks to topple Helms and his acquaintance, Chavo Guerrero. Plus, Booker T will be in action as he takes on Chris Masters in a battle between two men both coming out of recent rivalries and both looking to step up the ladder on Friday nights once again.
Confirmed for Smackdown:

Kurt Angle will kick off the show!

Gregory Helms vs Brian Kendrick

Booker T vs Chris Masters

Teddy Long will call out MNM

Plus;

Bobby Lashley will be in action

Appearances from Randy Orton and WWE Champion John Cena!!
Regularly Beating Up James Ellsworth
Join Date: Jan 2009
Location: Sioux Falls, South Dakota/Jasper, Minnesota
Posts: 3,196
Points: 6
Re: The BTB Advertisement Thread
---
Quote:
Breaking News: Ric Flair Signs With Impact Wrestling

- In a press conference earlier today at Madison Square Garden, Impact Wrestling Vice President Hulk Hogan announced that Impact Wrestling has made another huge talent signing, agreeing to terms with 16 time world heavyweight champion "The Nature Boy" Ric Flair. Hulk Hogan introduced "The Nature Boy" to the small crowd of about 50 or so. Flair did not say much, other than he was excited to be back in the wrestling business and excited to be a part of Impact Wrestling. The press conference wrapped up with the announcement that Flair would be making his on screen debut with the company at Victory Road, in his hometown of Charlotte, North Carolina.

---
---
Last edited by CoRyP2008; 11-12-2012 at

07:47 PM

.
Learning to break kayfabe
Join Date: May 2012
Posts: 46
Points: 0
Re: The BTB Advertisement Thread
---
Re: The BTB Advertisement Thread
---
WWF 1995: The New Generation
This week on Monday Night Raw, The WWF Champion, The Hitman Bret Hart will face former WWF Champion Mr Bob Backlund. The last time they met was at the Survivor Series when Backlund defeated Bret to win the WWF Title. Owen Hart who cost Bret the title back at Survivor Series will be at ringside for commentary. Also Lex Luger will go one on one with Tatanka. Plus Big Daddy Cool Diesel makes his return tonight on Raw. Plus Results of WWF Superstars and Wrestling Challenge. Show's now up here
---
WWE 2004: The Road to WrestleMania 21
Click here to read
Re: The BTB Advertisement Thread
---
Quote: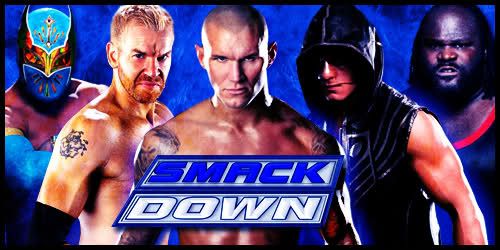 Friday Night Smackdown Preview
September 23rd, 2011
Blue Cross Arena – Rochester, New York
Confirmed for Smackdown:

#1 Contender's Match - World Heavyweight Championship
Sheamus vs Wade Barrett vs Daniel Bryan

If William Regal wins, he becomes #1 Contender for the Intercontinental Championship:
Intercontinental Champion Cody Rhodes vs William Regal

Justin Gabriel vs Percy Watson
Now posted! Click the link in my signature
Re: The BTB Advertisement Thread
---
Quote:
Nassau Veterans Memorial Coliseum - February 4, 2011
Long Island, New York
"Is It Decision Time...?"
Five nights removed from the biggest Royal Rumble match in history, Smackdown emanates from Long Island, New York and is inside the historic Nassau Coliseum for what should be an explosive edition of WWE Friday Night Smackdown! Alberto Del Rio, the Royal Rumble 2011 winner, left the entire WWE Universe in confusion on Monday Night when he laid out both the WWE Champion & World Heavyweight Champion at the same time. The Anonymous Raw General Manager allocated Alberto Del Rio a time frame to pick which champion he wants to face at WrestleMania and that decision, according to the Raw General Manager, needs to be made by the end of Friday Night Smackdown. With Alberto Del Rio scheduled to be in attendance at the start of the show, will he make his decision there?
Also on Smackdown, the interim General Manager, Vickie Guerrero will have several Elimination Chamber Qualifying matches taking place tonight to determine which Smackdown Superstar will walk into WrestleMania as World Heavyweight Champion. Superstars scheduled to compete in Elimination Chamber Qualifiers tonight are Wade Barrett, Dolph Ziggler, Kofi Kingston, The Big Show, Kane & Ezekiel Jackson and more.
CONFIRMED FOR SMACKDOWN
ELIMINATION CHAMBER QUALIFIERS
ALBERTO DEL RIO'S WRESTLEMANIA DECISION?
It's Coming Back. Soon
Now Posted. Link in Signature!
Learning to break kayfabe
Join Date: May 2012
Posts: 46
Points: 0
Re: The BTB Advertisement Thread
---


Monday Night Raw 11/19/12 Preview
Hot off the heels of Survivor Series Raw is live from Wright State University's Nutter Center in Dayton Ohio, what will happen in the fallout from Survivor Series just 24 hours ago? Tonight on Raw Wade Barrett is set to take on Randy Orton after an attack in the Survivor Series match which lead to Orton being eliminated by Alberto Del Rio. Also tonight on Raw The Miz who won the match for Team Foley last night against Team Ziggler is set to be in action.

Also on Raw tonight former WWE official Brad Maddox has asked for a rematch against Ryback and Vince McMahon has granted him a rematch and said that if he beats Ryback tonight he will give Brad Maddox a 2 million dollar contract but if Maddox is unsuccessful he will be fired from WWE. Does Brad Maddox have a death wish? Since arriving in the WWE Ryback has destroyed everyone in his path and last week he absolutely destroyed Brad Maddox to the point where Maddox was unable to leave the arena on his own power and had to be stretchered out.

Also on Raw tonight CM Punk successfully retained his WWE Championship last night at Survivor Series and is one day away from holding the WWE Title for a full calendar year and becoming the eighth longest reigning WWE Champion in WWE history, and Punk is set to appear on Raw to address his stunt last week on Raw mocking Jerry The King Lawler's serious heart attack. What will CM Punk have to say about his actions mocking Jerry Lawler's heart attack last week?

All this action and more tonight on WWE Monday Night Raw

Confirmed Matches
Randy Orton vs Wade Barrett
Ryback vs Brad Maddox
Ladies and gentlemen, this Wednesday a new generation of wrestling begins as RCW Revolt goes to Youtube.

We are going to crown our very first RCW Champion as 'The Man' Dara Miller, Cian Smith, Lord Jameson Styles and 'The Prophet' Kevin Jordan compete in a one night tournament to crown the champion. In round 1, Miller will meet Styles and Jordan will collide with Smith.

One man who is angry over being left out of the tournament is DJ Brawl who has made an appeal to the RCW Board to be entered in as a third member of one of the matches. Will he be granted his place? Or will the cocky youngster have to wait another week for a chance to debut?

RCW Revolt Episode 1 confirmed matches

'The Prophet' Kevin Jordan vs Cian Smith (vs DJ Brawl?)

'The Man' Dara Miller vs Lord Jameson Styles (vs DJ Brawl?)

Plus IWW Zero Gravity Champion Skaterboi Jeebus will be in attendance.

Don't miss Revolt this Wednesday only on the RCW YouTube channel!
---
This is the
Cult of Personality
http://www.wrestlingforum.com/booker...wrestling.html
#StanskyIsTheMansky
Moron
Join Date: Nov 2012
Location: *Insert a joke instead of the actual location*
Posts: 2,319
Points: 0
Re: The BTB Advertisement Thread
---
We need Orton as ANY champion
Wheelman for James Ellsworth
Join Date: Nov 2012
Location: East Coast
Posts: 884
Points: 0
Re: The BTB Advertisement Thread
---
..Coming Soon...
---
Posting Rules

You may not post new threads

You may not post replies

You may not post attachments

You may not edit your posts

---

HTML code is Off

---