Finally Out of Cutey Sleep
Join Date: Jul 2006
Location: The Fountain of Dreams
Posts: 2,020
Points: 9
Re: The BTB Advertisement Thread
---
-------
619IDH:
Kirby, I think I've accumulated all that is needed…all the elements are in line…I think it's time…!

Kirby:
POYO!

619IDH:
Indeed! We must not waste any time. Quick, open the roof and wait!

Kirby:
HAI-OO!

619IDH:
Yes…YES…most excellent! Now we just have to wait until the right amount of energy hits, and then, the creature shall rise…!


ZZZZAAAAAAPPPPP!!!!


619IDH:
This is it, Kirby!! THIS IS IT!! HARNESS THE POWER!!

Kirby:
POYOOOO-AAHH!!

619IDH:
I CAN FEEL IT, KIRBY!! IT HAS ENOUGH!!

…

…

…

…

…

Kirby:
HUH?

619IDH:
Step away, Kirby. We may have done something wrong.

Kirby:
Oooohh…

619IDH:
No need to be sad, Kirby. You did nothing wrong. I was a fool. I was a fool for thinking we could bring something so vaguely appreciated back to life. I should have –

Kirby:
HAI!!

619IDH:
What's that? It's…it's moving! It's... it's alive. It's alive... It's alive, it's moving, it's alive! It's alive, it's alive, it's alive! It's ALIVE!


THE 2012 BTB NEWSLETTER – END OF TIMES YEAR EDITION
…COMING SOON…
~Now accepting submissions~



Oh, and Happy Halloween, BTB Section



-----
Oh, and latest show here
---
CUTENESS˛
AOW: Art of War Wrestling - The Greatest Affair
It's Baaaaack...
.:Oblivion Edition 39/40 Recap NOW POSTED!!:.
Re: The BTB Advertisement Thread
---
~Monday Night Raw~
April 23rd, 2007
Manchester Evening News Arena
Manchester, England
The WWE has taken the show on the road this week as both the Raw and SmackDown rosters have descended upon the United Kingdom, with Manchester, England playing host to the final Monday Night Raw before this Sunday's Backlash pay per view.

The pressure was firmly on the shoulders of John Cena last week as he stepped into the ring with Bobby Lashley in a WrestleMania rematch that would decide who would face WWE Champion Rob Van Dam at Backlash for the most prestigious prize in sports entertainment. Not only was expectation high for Cena, but there also was 'RVD' calling on Cena to forget his involvement in last week's battle of the boardroom and focus on beating Lashley. Cena delivered, setting up the showdown both he, Van Dam and the fans wanted to see, meaning the pressure is firmly back on 'RVD' this week. It was Mr. McMahon himself who signed off on tonight's main event, a Champion vs. Champion Match pitting Van Dam against the Intercontinental Champion Kenny Dykstra. No doubt Cena, McMahon and Lashley will all have their say on the matter, but with 'RVD' seeking to prove his credentials as the man to carry Raw, tonight could prove to be the ideal opportunity for him to do so with Backlash just six days away.

The clock continues to tick down to what is shaping up to be one of the most brutal battles in WWE history, namely the No Holds Barred Match between bitter rivals Shawn Michaels and Triple H. Last week, 'The Game' gave his thoughts on the matter of his former friendship with Michaels in a highly charged interview with Jim Ross, while Michaels was in action as he picked up a victory over Jeff Hardy. This week, the roles are reversed as we hear from Michaels after he gave an interview to Joey Styles, while Triple H will step into the ring with a bona-fide Shawn Michaels protégé, Michaels' former student, Lance Cade. Cade and his tag team partner Trevor Murdoch will both no doubt be looking to soften up 'The Game' ahead of this Sunday, but given the mood Triple H was in last week, it could all backfire on The Redneck Wrecking Crew once Cade steps inside the square circle.

After teaming up with Mickie James to beat Kenny Dykstra and Torrie Wilson last week, Carlito finally has his wish as he gets another shot at Dykstra and the Intercontinental Championship this Sunday in a WrestleMania XXIII rematch. Tonight though, 'Lito brings a little Caribbean flavour to Manchester as he hosts the first ever U.K. edition of Carlito's Cabana! And his guest? None other than Dykstra himself. Expect the insults and maybe even the fists to fly when those two stand toe to toe in the ring in what is sure to be an explosive situation.

Elsewhere, with two tag team matches lined up for this Sunday, the participants will collide as CM Punk of The Straight Edge Saints takes on one half of the World Tag Team Champions, Shelton Benjamin, while after seeing Melina defeat Natalya Niedhart last week, Harry Smith looks to regain the momentum for The Hart Legacy as he takes on Chris Masters in his father, the late, great Davey Boy Smith's, hometown. And all three participants in this Sunday's Women's Championship Triple Threat Match will meet, as the strained relationship between Beth Phoenix and Victoria is put to the test when they team up to face Mickie James and Candice Michelle.

All this and more on what's sure to be a night where the United Kingdom well and truly feels the backlash!

Confirmed Matches:

Rob Van Dam vs. Kenny Dykstra

Triple H vs. Lance Cade
CM Punk vs. Shelton Benjamin
Harry Smith vs. Chris Masters
Mickie James and Candice Michelle vs. Beth Phoenix and Victoria

Carlito hosts an edition of Carlito's Cabana with his guest, Kenny Dykstra!

Plus!! Joey Styles sits down for an interview with Shawn Michaels regarding his upcoming match with Triple H at Backlash. Randy Orton and Jeff Hardy are both in the building, with Orton scheduled to compete against a local competitor, and we'll catch up on all the fallout from last week's boardroom showdown.
---
World Wrestling Federation: The Montreal Fallout
New BTB. Check it out, eh?
Re: The BTB Advertisement Thread
---
WWF 1995: The New Generation
This week on Monday Night Raw, Shawn Michaels and his new bodyguard Sid team up for the first time as they take on The Bad Guy Razor Ramon and The 123 Kid. Plus Owen Hart has named a stipulation for his match against Bret Hart at Saturday Night's Main Event. Also Mr Bob Backlund appears on The King's Court. Plus Results of WWF Superstars and Wrestling Challenge. Show's now up here
---
WWE 2004: The Road to WrestleMania 21
Click here to read
Re: The BTB Advertisement Thread
---
The latest episode of iMPACT in the TNA 2009:Turning Point thread is now available.

The four men in the TV Championship Iron Man match at Final Resolution will pair off to battle for momentum rolling into the ppv. Who will be the very first ever TV Champion?

- Raven is still at large and with the front office not knowing truly what his agenda is, he has two shows in a row hijacked the tv feed to put forward his propaganda. Is he challenging Sting to a match? Is he wanting to destroy all of TNA? Will he be at Impact this week?

- Huge Main event booked this week. A rematch of the Bound For Glory grudge match bewteen Bobby Lashley and Samoa Joe. Joe wants to even the score, but the powerhouse Lashley no doubt wants to continue his dominant journey to the World title.

All this and the World Champion AJ Styles his challenger at Final Resolution Christopher daniels, his former friend and now worst enemy are both scheduled to appear as a friend to both men, Frankie Kazarian challenged Daniels to a match this last Saturday on Xplosion. Daniels has accepted the challenge, but Daniels has made it clear that Kaz is fighting the Champion's battles for him, just like he used to, only for AJ to get all the reward...

Tune in and find out!
Re: The BTB Advertisement Thread
---
Championship Thursday has been posted in my thread, Impact Wrestling 2012: A New Era. It features a HUGE tag team title match in the main event.
Also The Tennessee Cowboy James Storm is back after the brutal attack from Bobby Roode 2 weeks ago and he wants revenge!
Along with all that Bully Ray, TV Champion Devon, Hernandez, PJ Black (Justin Gabriel), Doug Williams, Knockouts Champion Gail Kim and many more will be featured on the show!
Check it out!
---
Austin Angel in PWC, WF's OFFICIAL E-Fed! Join Today!
Dustin Dreamer and Alexa Hayes in PWA, WF's WWE Fantasy League Join Today!
6 time PWA World Champion (Most Reigns In History)
4 time PWA Intercontinental Champion (Longest Reigning In History)
4 time PWA Hardcore Champion
1 time PWA United States Champion
4 time PWA Tag Team Champion (Current Champs)
4 time PWA Pure Champion
1 time PWA Money In The Bank Winner
1 time PWA Royal Rumble Winner
2 time PWA Women's Champion
1 time PWA Prestige Champion
First Ever PWA Women's Money In The Bank Winner
Current Reigning Queen of the Ring
Re: The BTB Advertisement Thread
---
Nassau Veterans Memorial Coliseum - February 4, 2011
Long Island, New York
"Is It Decision Time...?"
Five nights removed from the biggest Royal Rumble match in history, Smackdown emanates from Long Island, New York and is inside the historic Nassau Coliseum for what should be an explosive edition of WWE Friday Night Smackdown! Alberto Del Rio, the Royal Rumble 2011 winner, left the entire WWE Universe in confusion on Monday Night when he laid out both the WWE Champion & World Heavyweight Champion at the same time. The Anonymous Raw General Manager allocated Alberto Del Rio a time frame to pick which champion he wants to face at WrestleMania and that decision, according to the Raw General Manager, needs to be made by the end of Friday Night Smackdown. With Alberto Del Rio scheduled to be in attendance at the start of the show, will he make his decision there?
Also on Smackdown, the interim General Manager, Vickie Guerrero will have several Elimination Chamber Qualifying matches taking place tonight to determine which Smackdown Superstar will walk into WrestleMania as World Heavyweight Champion. Superstars scheduled to compete in Elimination Chamber Qualifiers tonight are Wade Barrett, Dolph Ziggler, Kofi Kingston, The Big Show, Kane & Ezekiel Jackson and more.
CONFIRMED FOR SMACKDOWN
ELIMINATION CHAMBER QUALIFIERS
ALBERTO DEL RIO'S WRESTLEMANIA DECISION?
It's Coming Back. Soon
Re: The BTB Advertisement Thread
---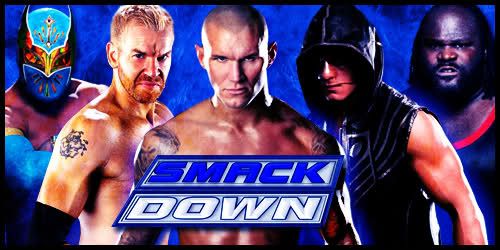 Friday Night Smackdown Preview
September 23rd, 2011
Blue Cross Arena – Rochester, New York
Confirmed for Smackdown:

#1 Contender's Match - World Heavyweight Championship
Sheamus vs Wade Barrett vs Daniel Bryan

If William Regal wins, he becomes #1 Contender for the Intercontinental Championship:
Intercontinental Champion Cody Rhodes vs William Regal

Justin Gabriel vs Percy Watson
Re: The BTB Advertisement Thread
---
TIRED OF THE SAME OLD WRESTLERS? THE SAME OLD PERSONALITIES? THE SAME OLD WWE, TNA, CREATED FEDS WITH THE SAME OLD INDY/JAPANESE/LUCHA/MAINSTREAM STARS?

So am I.

1/1/2013

A NEW YEAR. A NEW BTB. A NEW EXPERIENCE. BRING IT!
Re: The BTB Advertisement Thread
---
>The 2009 Royal Rumble Preview<
For the first time in history, the WWE Championship will be defended in the Royal Rumble match. That responsibility falls in the hands of Triple H who will have to fight off 29 other men in order to retain his title, but whoever it is who emerges victorious and walks out with the WWE title will go onto the 25th anniversary of WrestleMania at Wembley Stadium in London, England to defend the title. For only the second time ever we will see 30 men battle it out for the WWE title in the Royal Rumble match. Can The Game overcome the massive odds and retain his title, but if not, just who will leave the Rumble as the WWE Champion?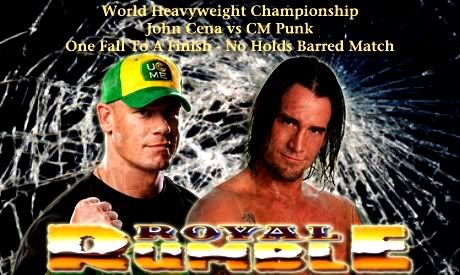 There was a huge amount of intensity, bitterness & anger going into the first match between these two at Night of Champions but it's going to be off the scale when John Cena & CM Punk meet at the Royal Rumble in their rematch for the now vacant World Heavyweight Championship. Add in Stephanie McMahon's controversial role in Punk losing the title and Cena subsequently forfeiting the title due to the part she played, you've now got two men even hungrier to ensure victory where the undisputed World Champion will be crowned. With No Holds Barred and a winner guaranteed it's going to be one explosive match to say the very least.





Until the last few weeks, Matt Sydal has been on a non-stop roll that's gone on for almost eight months since winning the King of the Ring last May. He went onto win the United States title at SummerSlam and only last month was voted the Breakthrough Star of 2008. He has however run into another superstar who is looking to make a breakthrough of his own in Dolph Ziggler, and he too has put together a streak of victories, including back-to-back non-title victories over Sydal in consecutive weeks, and he'll be looking to make it three at the Royal Rumble to become the new United States Champion. Sydal's always risen to the challenge when needed and he'll have to again at the Rumble if he wants to keep his title against the determined Ziggler.





We've seen three teams hold Smackdown's tag team titles in four weeks, and two of them will meet at the Royal Rumble when The Empire take advantage of their rematch clause, looking to gain retribution against the resurgent duo of Paul London & Brian Kendrick. Their reunion has left everyone on Smackdown stunned, especially The Empire. Wade Barrett & Drew McIntyre have reason to feel hard done by at losing the titles thanks to a distraction from the team they beat at Night of Champions, Paul Burchill & TJ Wilson, who also felt hard done by at the time, and still do. Regardless of that it's down to the new champions & The Empire to battle it out with everyone else on the roster barred from ringside.





These two brothers had enough to fight for before they found out the winner would be going onto the Royal Rumble match for a shot at the WWE Championship, but it will be the sibling rivalry that takes precedence when Kofi Kingston locks horns with the brother he's come face-to-face with years after walking out on his family to fulfil his dream of being a WWE superstar. Kofi really could live the dream by advancing to the Rumble match and winning the WWE title, only he has to go through his brother to do it. Will he be able to beat the brother who doesn't wish share to the same surname as him or will it be Jay Lethal who gets some long overdue revenge at his brother's expense?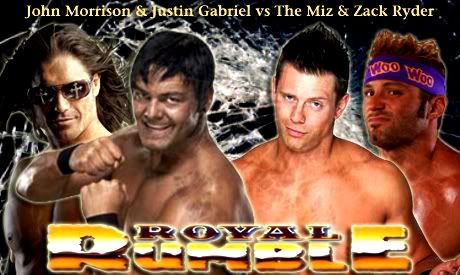 Just over a week ago these two teams were set to meet on Raw after difficulties between them in previous weeks, only The Miz & Zack Ryder attacked their opponents backstage just moments before the scheduled match. Miz & Ryder said they were hoping to meet John Morrison & Justin Gabriel last night, and regardless of whether they meant it or not, Gabriel wasn't cleared to compete due to the concussion he suffered last week in the attack. Eric Bischoff then took them by surprise when he announced that not only would The Miz take on Morrison there & then but the two teams will meet this at the Royal Rumble. It was The Miz who got up last night though thanks to an assist from Ryder. Will they win together at the Rumble or will Morrison & Gabriel get some revenge?


***For an update on the show, I've nearly got 4 matches done. I need to finish off the world title match and write the tag team title plus the Royal Rumble. Everything else is done, formatting & what not! Hopefully it should be done & posted by the weekend.

Predictions can also be made in my thread by clicking here.


Posting Rules

You may not post new threads

You may not post replies

You may not post attachments

You may not edit your posts

---

HTML code is Off

---