Re: The BTB Advertisement Thread
---
~Monday Night Raw~
April 16th, 2007
The Cajundome
Lafayette, LA
Monday Night Raw emanates from Lafayette, Louisiana on a night that could prove to be one of the most historic nights in WWE history... especially if your name is Vincent Kennedy McMahon.

Last week, Linda McMahon returned to Raw, which ultimately led to a power struggle that could come to a conclusion tonight on Raw when the WWE Board of Directors meet to hold an emergency meeting that could see a vote of confidence passed in Vince's leadership. And the power struggle continues into tonight's main event, the WrestleMania rematch between John Cena and Bobby Lashley. Since Cena's victory over Lashley at WrestleMania, Cena haw campaigned for a WWE Championship opportunity at Backlash against the WWE Champion, Rob Van Dam. 'RVD' clearly echoed those sentiments, viewing Cena as the more worthy candidate. However, with Vince backing Lashley and Linda supporting Cena's claims, it seems tonight is the night we not only find out who Van Dam's Backlash opponent will be, but also who will control Raw for the foreseeable future.

Backlash is just thirteen days away, which means just thirteen days until Triple H and Shawn Michaels engage in a No Holds Barred Match that has been referred to as 'The Final Battle'. Last week, despite pleas from his wife Stephanie not to go through with his challenge, 'The Game' called out Michaels and demanded an answer. Michaels agreed, the match being set, and now both men gear up for could be the most brutal fight of either man's career. Tonight, we'll hear from Triple H during a sit down interview he conducted with Jim Ross earlier in the week, while Michaels is scheduled to be in action against Jeff Hardy, but all eyes are already set on Backlash and the final conclusion to one of wrestling's greatest rivalries.

The tag team division is heating up on Raw, and after their victory last week, The Straight Edge Saints look to keep building momentum ahead of their showdown with The World's Greatest Tag Team as they take on The Redneck Wrecking Crew. Punk and Dinsmore saw off three other teams last week, including Cade and Murdoch, with the angry rednecks clearly out to prove a point tonight. We'll also hear from Haas and Benjamin on their thoughts about their future title defence at Backlash. Another development from last week's Fatal Four Way Match was the in-fight brawl that broke out between The Hart Legacy and Johnny Nitro, Chris Masters and Melina. Even Natalya and Melina were going at it on the ramp last week, and it's those two who meet tonight in a match that is sure to have plenty of attention at ringside from their respective tag teams.

Elsewhere, Carlito teams up with Mickie James for a tag team bout against Kenny Dykstra and Torrie Wilson, a match that could have serious implications with regards to Carlito's claims for an Intercontinental Championship Match at Backlash. We'll hear from both Beth Phoenix and Victoria after it was announce they'll be involved in a Triple Threat Match at Backlash for the Women's Championship, and no doubt there'll be more from Raw's newest roster member, Claudio Cesaro.

All this and more on what's sure to be a huge night in the careers of many of the Monday Night Raw roster!

Confirmed Matches:

John Cena vs. Bobby Lashley

Shawn Michaels vs. Jeff Hardy
Kenny Dykstra and Torrie Wilson vs. Carlito and Mickie James
The Straight Edge Saints vs. The Redneck Wrecking Crew
Melina vs. Natalya

Plus!! Jim Ross sits down for an interview with Triple H regarding his upcoming match with Shawn Michaels at Backlash. We'll hear from The World's Greatest Tag Team and Beth Phoenix and Victoria ahead of their respective Backlash matches. The Battle of the Boardroom will see if Mr. McMahon is able to continue his reign of terror over Monday Night Raw, and of course, the WWE Champion Rob Van Dam will be in attendance!
---
World Wrestling Federation: The Montreal Fallout
New BTB. Check it out, eh?
Re: The BTB Advertisement Thread
---
The calm after the storm...
Wheelman for James Ellsworth
Join Date: Jan 2010
Posts: 715
Points: 0
Re: The BTB Advertisement Thread
---
HEAT posted! Check out signature!
No worries, I'll dance myself sober.
Join Date: Jan 2006
Location: Dalian, Liaoning, China
Posts: 1,752
Points: 0
Re: The BTB Advertisement Thread
---
Hey everyone! The card for Summerslam in my thread is up. Give it a peek and drop some predictions if you care to. Thanks! (The link is in my signature.)
---
I'm Back To Booking! Check Out My New BTB:
▪ WWE: Power, Prestige, PASSION. ▪
(Click The Text, Budd.)
------------------
CURRENT EVENTS;
------------------
"It's A PUNK Party!!"
WWE SUMMERSLAM HAS BEEN POSTED!!
(Click "Summerslam" To See The SHOW!)
==================
In case you haven't noticed, I'm a total mark for the Georgia font.
Re: The BTB Advertisement Thread
---
A Sudden Change - A Wrestling Revolution
It's Coming - September 2012
Wheelman for James Ellsworth
Join Date: Jan 2011
Posts: 501
Points: 0
Re: The BTB Advertisement Thread
---
WWE Friday Night Smackdown Preview- 19/8/05- Rochester, New York

Friday Night Smackdown comes to you just TWO nights away from the biggest party of the summer, Summerslam and the heat is certainly on!!

Last week saw tensions rise all the more between WWE Champion John Cena and the man he meets Sunday night, Kurt Angle. Angle's mind games have been constant, having goaded Cena into facing him, the Wrestling Machine has since done everything in his power to AVOID the champion. Will Angle be able to repeat that tonight or will champion and challenger finally square off just two nights before their hotly anticipated clash at Summerslam?

What we do know is that both men WILL be in action! Cena will go one on one with the man he won the WWE Championship from back at Wrestlemania, his former long time rival, JBL. Angle on the other hand will meet a man who is a current champion, the United States Champion, Matt Hardy. Both Hardy and JBL will be looking for huge wins heading into their respective challenges come Summerslam but it'll be Cena and Angle who are under pressure to deliver here in New York.

Speaking of things getting heated, it has been that way ever since Wrestlemania between Randy Orton and The Undertaker. This Sunday the pair will square off one more time with Orton vowing to end The Undertaker once and for all. Orton has promised not to fall for the Deadman's mind games, that this time he will be the one in control. Tonight Orton will be in action and will be looking to once again send a message to The Undertaker but will the Phenom have a message of his own for the Legend Killer?

Rob Van Dam shocked everybody last week when he walked out on his partner Rey Mysterio, citing that his head was not in the right place to compete as he looks to continue his pursuit of MNM. Well following that match last week Van Dam finally DID uncover something after overhearing a conversation from the A-Listers. RVD overheard Melina discussing with her boys that they paid off somebody to do their dirty work back at the Bash. Van Dam will be in New York and will no doubt be looking to uncover more evidence surrounding just who attacked them back at the Bash. One question remains, how will Rey Mysterio act to his partners actions?

Also scheduled for tonight is a big tag team contest as the new power duo of the Cruiserweight division Gregory Helms and Chavo Guerrero team up to take on the man who they have screwed ever since the Bash, Paul London and his new ally, Brian Kendrick. London will be seeking to get one over on his two rivals and with Kendrick now alongside him, the odds may finally be evened in this ongoing rivalry.

Finally, kicking off Friday Night Smackdown will be a MAMMOTH battle between two bitter rivals. Booker T and Rhyno have been feuding ever since the Man Beast was drafted to the blue brand in the draft lottery. Tonight, it's the blow off match as Booker and Rhyno square off in a Two out of Three Falls Match!! Who will come out on top in this personal battle with their hand raised in victory?

Find out all this and much, much more to look forward to as we hit the final stop on the road to Summerslam!

Confirmed for tonight's show:

John Cena vs. John Bradshaw Layfield

Kurt Angle vs. Matt Hardy

Paul London and Brian Kendrick vs. Gregory Helms and Chavo Guerrero

Two out of Three Falls Match:

Booker T vs. Rhyno

Plus;

Rob Van Dam will continue his investigation and Randy Orton will be in action!
No worries, I'll dance myself sober.
Join Date: Jan 2006
Location: Dalian, Liaoning, China
Posts: 1,752
Points: 0
Re: The BTB Advertisement Thread
---

---------------------------------------

Ah, the summer.
The one time of year where all of the cool cats and foxy ladies come out to play.
Barbecues, beaches, babes, and booze.
There's nothing like a good 'ol fashioned PARTY.
And what a better place to party than Los Angeles?
The city where the stars shine brighter during the day…
The city where careers are made and broken…
The city where the only thing more beautiful than the beaches, are the people on them.
LA is hot, but it's about to get ten… times… hotter.
It's the biggest party of the summer, and it starts right now!

And now… World Wrestling Entertainment Presents: SUMMERSLAM!
CLICK HERE FOR SUMMERSLAM RESULTS!!
---
I'm Back To Booking! Check Out My New BTB:
▪ WWE: Power, Prestige, PASSION. ▪
(Click The Text, Budd.)
------------------
CURRENT EVENTS;
------------------
"It's A PUNK Party!!"
WWE SUMMERSLAM HAS BEEN POSTED!!
(Click "Summerslam" To See The SHOW!)
==================
In case you haven't noticed, I'm a total mark for the Georgia font.
Re: The BTB Advertisement Thread
---
Monday Night Raw – Preview!
Monday 5th January 2009
Live from the Miami Arena
Miami, Florida


2008 may be gone but the events of the last few weeks certainly aren't forgotten as we head into a new year. It was only two weeks ago that we learned that in two weeks at the Royal Rumble, for the first time ever in history, the WWE Championship will be defended in the Rumble match. Since then the contenders have been lining up, and last week Triple H was defeated by one of the men looking to take his title at the Royal Rumble in The Big Show, and that was after finding out from Eric Bischoff he will be the number one entrant when he defends the title against 29 determined title challengers. However another superstar who desperately wants to headline Wrestlemania as the new WWE Champion is Chris Jericho, and he made his return to Raw, catching Big Show off guard with the Code-Breaker.

Come Friday night on Smackdown, Big Show returned the favour and caught Jericho by surprise after the Raw returnee headed back to Smackdown for one last match against 'The Heartbreak Kid' Shawn Michaels. Jericho got himself disqualified and The World's Largest Athlete made sure Jericho didn't take his actions any further, coming to Michaels' aid, and he dropped a bomb on Jericho. He told Jericho and the watching world that on Raw this week they'll get their hands on each other when he teams up with The Heartbreak Kid to face Jericho and the WWE Champion, Triple H. With everyone gunning to win the Royal Rumble in two weeks, it's going to be an incredible match when these four collide with so much at stake in the next few weeks.

Two more men who'll be looking to gain a place in the Rumble will meet head on this week when Finlay & Homicide with the winner going onto the Rumble in just under two weeks. Homicide's been clocking up the victories as of late but he'll be in for a real tough fight against the tough Irishman, who like Homicide, enjoys a good fight. Only one can advance to the Rumble, but who will that be?

Kofi Kingston faces a situation he surely never expected to at the Royal Rumble when he meets his brother, Jay Lethal with the winner going onto the Rumble match later on in the evening, and after watching his brother make his debut last week, it'll be Kofi in action this week when he goes up against Ezekiel Jackson. It'll be a tough challenge for Kofi but is he up to it?

Raw comes to you live this week for Miami as we go into 2009, just a matter of weeks away from the Royal Rumble. If the last few weeks have been unpredictable, it's going to get even more so as we draw closer to the history making Royal Rumble match. The Undertaker, the World Tag Team Champions, Rey Mysterio & Mystico, the Intercontinental Champion, Sheamus will all be in attendance with more Royal Rumble places set to be decided. If the last two weeks are anything to go by it's going to be another unmissable edition of Raw this week. Make sure you don't miss it!


>Confirmed for the first Raw of 2009!<

Royal Rumble Qualifying Match
Finlay vs. Homicide

Plus

The Big Show & Shawn Michaels vs. Triple H & Chris Jericho

Kofi Kingston vs. Ezekiel Jackson
---
Last edited by Nige™; 08-26-2012 at

04:59 PM

.
Re: The BTB Advertisement Thread
---
Quote:
WWE Thursday Night Smackdown Preview May 27th, 2004

The aftermath of Judgment Day is now over, but Paul Heyman's Coalition continues to bring the battle to the rest of the Smackdown roster.

Anybody who thought since The Coalition weren't successful at Judgment Day they might back off a little, were very wrong. Paul Heyman and his band of followers seem more determined than ever, on making sure that the WWE Championship comes back to The Coalition. Last week, fresh off of Judgment Day, Heyman forced the WWE Champion Eddie Guerrero to defend his title in a steel cage match against Matt Morgan. Despite the big man's best efforts, Guerrero was able to pick up the victory, however as he was making his way up the ramp, he was taken out with a Chokeslam from The Big Show. The Big Show then announced, and Heyman has confirmed that Eddie will be defending his WWE Title against Big Show tonight. Just how many weeks in a row can Eddie pull out a big match performance and retain his title before The Coalition just becomes too much?

Whilst a majority of The Coalition seems focused on the WWE Title, Heyman has made it clear from the get go that he is none too happy with John Cena being in possession of the WWE United States Championship. The two men who have been allocated the job of screwing Cena out of the title are Rhyno and A Train. This became clear last week when John Cena went up against the WWE Cruiserweight Champion Chavo Guerrero in a champion vs. Champion match, and Rhyno cost Cena the victory. This week Cena will face Chavito again, except this week Cena's US Title will be on the line, will Cena be able to overcome the odds this week? And just what will the egomaniac Chavo do to ensure that he becomes a double champion?

Speaking of the Cruiserweight division, one man who seems ready to just about explode is Jamie Noble. He unfortunately came up short on his quest for the Cruiserweight Title at Judgment Day, and when asking Heyman for a rematch last week, Heyman gave Noble some serious attitude. Not one to take things lying down, Jamie had a crack back, and this lead to the redneck getting into a heated confrontation with Kurt Angle. Kurt Angle is one of, if not the best wrestler in the entire WWE, and everybody knows Noble has a whole lot of heart, but will that be enough for him to keep up with Kurt Angle tonight?

Much like the US Title match, we have another rematch of last week as Sean O'Haire will face Paul London again. O'Haire hasn't been pinned and hasn't submitted all year; however last week he did lose his first match of the year, when he couldn't put London away, got frustrated and whaled on him with a chair. O'Haire, the self proclaimed saviour of Smackdown, would have continued the attack if it wasn't for Rey Mysterio and Billy Kidman making the save, so London will be looking for revenge tonight. Will that motivation be enough for London to get the win, or will O'Haire prove that he can beat Paul London?

Tune in this week on Smackdown to see all of this, the return of The APA, and much, much more.
SHOW IS POSTED! LINK IN SIG!
---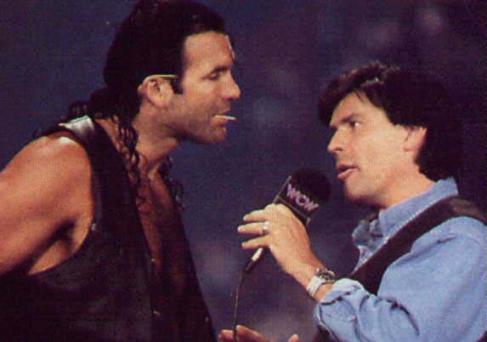 Re: The BTB Advertisement Thread
---

April 19, 1997 - ECW Arena
ECW Extreme TV returns, hot off the heels of an historic night in the extreme history of ECW. Terry Funk, at the age of 54 years old, silenced the critics as he won the ECW World Heavyweight Championship from Raven following a brutal 3-Way-Dance match. The Funker will be in attendance this Saturday night to address his victory over Raven and what it meant to him personally to win the ECW Championship. Expect tears and pure emotion from wrestling's greatest icon!
Whilst the entire ECW locker room showed their own expressions of congratulations to Terry Funk, one man never and that is obviously the now former ECW World Heavyweight Champion, Raven. Raven was beside himself as Barely Legal went off the air last Sunday night so, expect to see Raven address his loss in his own unique way and who knows, maybe the sick and twisted mind of Raven will have something in store for Terry Funk.
Also to look out for this Saturday night, the injection of Japanese culture continues as Dick Togo will be wrestling one of ECW's own and the Dudley Boyz are in the ECW Arena! Don't forget to check your local TV listings to check if ECW is coming to your area!
Posting Rules

You may not post new threads

You may not post replies

You may not post attachments

You may not edit your posts

---

HTML code is Off

---