Re: The BTB Advertisement Thread
---
Quote: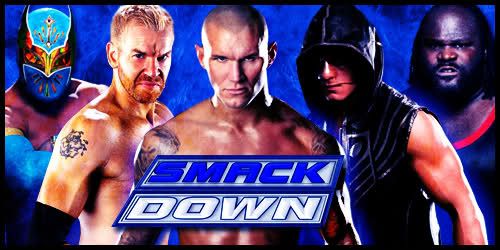 Friday Night Smackdown Preview
16th September 2011
Air Canada Centre – Toronto, Ontario, Canada
Following in the footsteps of Monday Night Raw, Smackdown this week is also being held in the heart of wrestling country; Canada! But instead of Montreal, we're over in Toronto for the last stop on the road to Night of Champions!

As announced two weeks ago by Smackdown General Manager Theodore Long, tonight marks the return to Friday Night Smackdown of the Rated-R Superstar, Toronto's own, Edge! Edge is going to be bringing back his revolutionary talk show, The Cutting Edge, with his guests being none other than the two men that will be facing off this Sunday at Night of Champions in a Submission Match for the Money in the Bank briefcase, the current Mr Money in the Bank Daniel Bryan, and Edge's best friend, Christian! Despite being best friends, Edge has been sceptical to say the least at the way that Christian has been carrying himself as of late, with his very vocal complaints about Teddy Long. Not only that, but Long has also placed Christian and Bryan in separate singles competition tonight against unknown opponents!

The main event for the evening is going to be a taster for what is set to come at Night of Champions where six men will compete for the World Heavyweight Championship in a Six-Pack Challenge! Tonight sees the current champion Randy Orton teaming with John Morrison and Sheamus, and they'll face the trio of Wade Barrett, Mark Henry and The Great Khali! With separate rivalries being combined here tonight and different men all out going to get each other, that match is sure to be a rocketbuster!

Also, ahead of his title defence this Sunday, the Intercontinental Champion Cody Rhodes teams with Ted DiBiase to take on the number one contender, Sin Cara, and a man that Rhodes and DiBiase screwed out of a shot at the gold a few weeks ago; William Regal! These two exciting tandems will collide tonight!

Also, the in form Justin Gabriel looks to continue his winning ways as he goes one on one with one of his former Nexus comrades, Darren Young!

Confirmed for Smackdown:

Six-Man Tag Team Match:
World Heavyweight Champion Randy Orton, John Morrison & Sheamus vs Wade Barrett, Mark Henry & The Great Khali

The Cutting Edge with special guests Christian and Daniel Bryan
Christian and Daniel Bryan to be in action!

Tag Team Match:
Intercontinental Champion Cody Rhodes & Ted DiBiase vs Sin Cara & William Regal

Justin Gabriel vs Darren Young

Plus, Kelly Kelly, Fighting for Freedom and more!
Now posted! Click here!
Learning to break kayfabe
Join Date: Aug 2012
Posts: 10
Points: 0
Re: The BTB Advertisement Thread
---
thank you
Re: The BTB Advertisement Thread
---
This Sunday, International Pro Wrestling presents it's first PPV; Beach Brawl. It's been a strong first month for IPW and Beach Brawl is sure to be an exciting show. Check it out, all feedback welcome!
IPW Beach Brawl
12th August 2012
**Final Card**

IPW Chamipionship
Randy Orton (c) vs. Cody Rhodes



Kane vs. Triple H



IPW Intercontinental Championship
Mr. Kennedy vs. Daniel Bryan vs. Rob Van Dam



AJ Styles vs. Johnny Curtis



IPW Tag-Team Championships
The Motor City Machine Guns vs. Beer Money Inc.



IPW Television Championship
10-man Battle Royal
Wheelman for James Ellsworth
Join Date: Jan 2010
Posts: 715
Points: 0
Re: The BTB Advertisement Thread
---
Smackdown! posted! Check out brief advertisement in the signature! Feedback appreciated!
Re: The BTB Advertisement Thread
---


Impact Wrestling 6/14 Preview

Four days removed from Slammiversary, Bobby Roode will defend the TNA World Heavyweight Championship against Mr. Anderson! Roode successfully defended the title against Sting at the pay per view, but can he overcome the outspoken Anderson?

General Manager Hulk Hogan will reveal the twelve competitors in this year's Bound For Glory Series!

James Storm returned at Slammiversary and ended the sixteen-month undefeated streak of Crimson. "The Cowboy" now returns to Impact Wrestling, and he will go one on one with Robbie E!

Devon will defend the TNA Television Championship against Hernandez! Four days after making his return with a victory over Kid Kash at Slammiversary, can "Super Mex" strike gold?

We can exclusively reveal that Austin Aries will defend his TNA X Division Championship in the main event at Destination X! He will defend against the winner of a #1 contender's four-way Ultimate X match earlier in the night. The first competitor in that match will be determined as Chris Sabin faces Kid Kash!

Plus, the new TNA Knockouts Champion Miss Tessmacher will team with Tara to face the former champ Gail Kim and Madison Rayne!

To see all of this and more LIVE, tune in at 8/7c on Spike!
---
Last edited by NBKiller; 08-11-2012 at

07:24 AM

.
Learning to break kayfabe
Join Date: Jun 2012
Posts: 62
Points: 0
Re: The BTB Advertisement Thread
---
YOU DECIDE THE FATE OF THIS BTB THREAD

I've decided to do something a little different here.

I'm going to give WF readers the power to decide the future of this BTB thread.

QUESTION: Do you think the 'Universal Wrestling League' thread should continue?

Yes, I'd like to see it continue.

No, time to pull the plug.

Voting will run from Saturday, August 11th through Wednesday, August 15th.

Voting will close at 9pm PST on the 15th. Any votes posted after the cut-off time will not be counted.

Only one vote will be allowed per log-in name.

I will abide by the decision of the voters.

Please vote in the 'Universal Wrestling League' thread.
---
Last edited by rp846; 08-11-2012 at

04:42 PM

.
Asking JAMES ELLSWORTH for Wrestling Advice
Join Date: Jul 2012
Location: St Louis
Posts: 464
Points: 0
Re: The BTB Advertisement Thread
---
WORLD WRESTLING ENTERTAINMENT PRESENTS WWE MONDAY NIGHT RAW!
Monday Night Raw Preview:
Raw will be coming to you live from The US Airways Center in Phoenix, Arizona!
A few big things appeared on the WWE website over the weekend:
Quote:
Originally Posted by WWE.COM
With the Royal Rumble just 6 days away, WWE will be announcing the signing of a new, highly-decorated Superstar at the event. This is a signing the Board of Directors and Vince McMahon both agree will help to stabilize the structure of the WWE with the recent influx of Ministry of Darkness.
Quote:
Originally Posted by WWE.COM
The Rock has confirmed he will be at Wrestlemania 28, and he is confident that his opponent will still be John Cena. Rock has been training for the "Once in a Lifetime" match that will pit an Icon vs a Legend. Cena declined to comment on the announcement, as he was still recovering from injuries sustained at the hands of Mason Ryan on Smackdown! but he did say that he will be at RAW, in Phoenix
Stone Cold Steve Austin posted on his Twitter this week that he doesn't like what he is seeing out of Big Show, Kane and Undertaker.
Quote:
Originally Posted by @SteveAustinBSR
Kane, Taker and Show better beware, they aren't gunna like the result, and thats the BOTTOM LINE
More on Cena:
Quote:
Originally Posted by WWE Medical Staff Report
This past Tuesday, at a Smackdown! taping, John Cena suffered a dislocated shoulder, as a result of a powerful move by Mason Ryan. The Medical Staff was able to reduce Cena's shoulder, and prescribed rest. Cena is not cleared to compete for the next 14-21 days, or until cleared by the WWE Medical Staff.
Quote:
Originally Posted by @JohnCena
Might not be able to wrestle, but will be in Phoenix, and St Lou!
So it looks like Cena will at least be in the building for Raw, and the Royal Rumble!
The Raw GM, John Laurinaitis, has been silent on his twitter, but WWE.com said that Jack Swagger, Kofi Kinston, Santino, The Miz, Chris Jericho, Brodus Clay and WWE Champion CM Punk will all be in action!
WWE Raw, Live, Monday Night at 8PM!
Royal Rumble 2012
Matches:
Santino Marella vs Alex Riley
World Tag Team Title:
Big Show and Kane vs Epico and Primo
Number 1 Contender for U.S. Title:
Curt Hawkins vs Drew McIntyre vs Justin Gabriel
Divas Title:
Tamina Snuka vs Beth Phoenix
World Heavyweight Title:
Daniel Bryan vs Mark Henry
WWE Title:
CM Punk vs Chris Jericho
Royal Rumble:
Dolph Ziggler
Sheamus
Alberto Del Rio
Finlay
Mason Ryan
Epico
Primo
Wade Barrett
Cody Rhodes
Brodus Clay
The Miz
Randy Orton
Sin Cara
Kane
Big Show
---
WOULD YOU PLEASE. SHUT. THE HELL. UP?
WCW 1998: be the booker
http://www.wrestlingforum.com/booker...l#post12458661
No worries, I'll dance myself sober.
Join Date: Jan 2006
Location: Dalian, Liaoning, China
Posts: 1,752
Points: 0
Re: The BTB Advertisement Thread
---
I've gone and posted the
RAW RECAP
for the 8/6/12 edition that I missed. Check it out, the link is
HERE
.
---
I'm Back To Booking! Check Out My New BTB:
▪ WWE: Power, Prestige, PASSION. ▪
(Click The Text, Budd.)
------------------
CURRENT EVENTS;
------------------
"It's A PUNK Party!!"
WWE SUMMERSLAM HAS BEEN POSTED!!
(Click "Summerslam" To See The SHOW!)
==================
In case you haven't noticed, I'm a total mark for the Georgia font.
Re: The BTB Advertisement Thread
---
Posting Rules

You may not post new threads

You may not post replies

You may not post attachments

You may not edit your posts

---

HTML code is Off

---