No worries, I'll dance myself sober.
Join Date: Jan 2006
Location: Dalian, Liaoning, China
Posts: 1,752
Points: 0
Re: The BTB Advertisement Thread
---
---------------------------------------------------------------------------------
▪ NEWS WIRE & SUPERSTAR HISTORY UPDATE ▪
---------------------------------------------


---------------------------------------------

"It's The Biggest Party Of The Summer, And It's A PUNK Party!"
Reported On July 28, 2012
Author: Jason Case

Well, World Wrestling Entertainment is finally starting to push advertisements for next month's Pay Per View; SUMMERSLAM. Earlier this morning they released the following poster, featuring WWE Champion CM Punk:




This poster leads speculation to two things: First, CM Punk will be headlining the PPV event. Second, Punk's program with Triple H and Brock Lesnar has taken priority over the current World Championship scene involving Chris Jericho and Alberto Del Rio. Not for nothing, the WWE Championship program has really heated up in just one broadcast of RAW, and it's uncertain as to where the company is going with a heel vs. heel angle (Referring to Jericho vs. Del Rio, of course). Perhaps it's just a ploy to throw us off and suspend all suspicion that Randy Orton will somehow be involved? Nonetheless, it's a very 'pretty' poster, and CM Punk being the face of the Pay Per View event is fine by me. As of right now no matches have been announced for the event, but WWE's Lead Creative Director Ronald Alden has been tweeting away over the past two days, in one particular tweet stating "Going into August, things are really looking good. The team is working hard to push out a good show." (@RonWrites) Which leads me to believe that we could have a full card within the next two episodes of RAW. I hope this guy knows what he's doing!



--------------
If nothing else, go comment on the posterage. First RAW has been posted too if you get a chance to check it out.
---
I'm Back To Booking! Check Out My New BTB:
▪ WWE: Power, Prestige, PASSION. ▪
(Click The Text, Budd.)
------------------
CURRENT EVENTS;
------------------
"It's A PUNK Party!!"
WWE SUMMERSLAM HAS BEEN POSTED!!
(Click "Summerslam" To See The SHOW!)
==================
In case you haven't noticed, I'm a total mark for the Georgia font.
Re: The BTB Advertisement Thread
---
WWE Thursday Night Smackdown Preview May 27th, 2004

The aftermath of Judgment Day is now over, but Paul Heyman's Coalition continues to bring the battle to the rest of the Smackdown roster.

Anybody who thought since The Coalition weren't successful at Judgment Day they might back off a little, were very wrong. Paul Heyman and his band of followers seem more determined than ever, on making sure that the WWE Championship comes back to The Coalition. Last week, fresh off of Judgment Day, Heyman forced the WWE Champion Eddie Guerrero to defend his title in a steel cage match against Matt Morgan. Despite the big man's best efforts, Guerrero was able to pick up the victory, however as he was making his way up the ramp, he was taken out with a Chokeslam from The Big Show. The Big Show then announced, and Heyman has confirmed that Eddie will be defending his WWE Title against Big Show tonight. Just how many weeks in a row can Eddie pull out a big match performance and retain his title before The Coalition just becomes too much?

Whilst a majority of The Coalition seems focused on the WWE Title, Heyman has made it clear from the get go that he is none too happy with John Cena being in possession of the WWE United States Championship. The two men who have been allocated the job of screwing Cena out of the title are Rhyno and A Train. This became clear last week when John Cena went up against the WWE Cruiserweight Champion Chavo Guerrero in a champion vs. Champion match, and Rhyno cost Cena the victory. This week Cena will face Chavito again, except this week Cena's US Title will be on the line, will Cena be able to overcome the odds this week? And just what will the egomaniac Chavo do to ensure that he becomes a double champion?

Speaking of the Cruiserweight division, one man who seems ready to just about explode is Jamie Noble. He unfortunately came up short on his quest for the Cruiserweight Title at Judgment Day, and when asking Heyman for a rematch last week, Heyman gave Noble some serious attitude. Not one to take things lying down, Jamie had a crack back, and this lead to the redneck getting into a heated confrontation with Kurt Angle. Kurt Angle is one of, if not the best wrestler in the entire WWE, and everybody knows Noble has a whole lot of heart, but will that be enough for him to keep up with Kurt Angle tonight?

Much like the US Title match, we have another rematch of last week as Sean O'Haire will face Paul London again. O'Haire hasn't been pinned and hasn't submitted all year; however last week he did lose his first match of the year, when he couldn't put London away, got frustrated and whaled on him with a chair. O'Haire, the self proclaimed saviour of Smackdown, would have continued the attack if it wasn't for Rey Mysterio and Billy Kidman making the save, so London will be looking for revenge tonight. Will that motivation be enough for London to get the win, or will O'Haire prove that he can beat Paul London?

Tune in this week on Smackdown to see all of this, the return of The APA, and much, much more.
---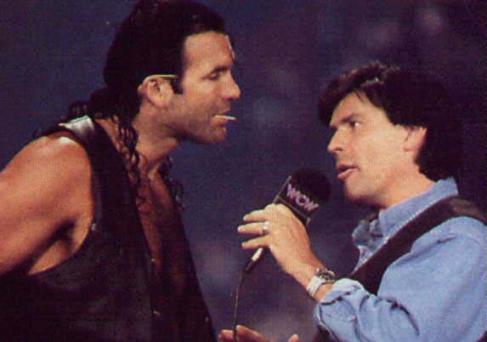 No worries, I'll dance myself sober.
Join Date: Jan 2006
Location: Dalian, Liaoning, China
Posts: 1,752
Points: 0
Re: The BTB Advertisement Thread
---
"So far, the team has been very cooperative with me. After a successful first production, the staff and superstars alike are really warming up to me. They're becoming more open-minded to my ideas and are expressing more interest in what I can do for the RAW brand. Vince's faith in me is obviously motivation in itself, but that's not enough. I need to know I have my entire team -- staff and stars -- on my side. My brother keeps telling me that I'm not here to win over the staff, I'm here to win over the fans. And while that may be the case, I don't have a product to win the fans over without the crew. I'm told I'm doing a good job so far... here's to hoping I can keep it up going into my proposed 'New Era' of the RAW Brand."

- Ronald Alden
WWE RAW Creative & Production Team Director

---------------------------------------------
(CLICK HERE FOR THE SECOND RAW SHOW PREVIEW)


---------------------------------------------




---
I'm Back To Booking! Check Out My New BTB:
▪ WWE: Power, Prestige, PASSION. ▪
(Click The Text, Budd.)
------------------
CURRENT EVENTS;
------------------
"It's A PUNK Party!!"
WWE SUMMERSLAM HAS BEEN POSTED!!
(Click "Summerslam" To See The SHOW!)
==================
In case you haven't noticed, I'm a total mark for the Georgia font.
Learning to break kayfabe
Join Date: Jun 2012
Posts: 62
Points: 0
Re: The BTB Advertisement Thread
---
ON THE NEXT
UWL 'SLAM!' WRESTLING!

Just five days from the HEATWAVE PPV!

THE FINAL CONFRONTATION: Hulk Hogan and Bruiser Brody have their final war of words before their 'Match of a Lifetime' at HEATWAVE!

PLUS!

- Lex Luger squares off against his arch-nemesis 'Superstar' Billy Graham! Did Luger make a mistake agreeing to this match just five days out from his UWL World Title shot against champion Greg Valentine?

- Co-Presidents Bill Watts and Vince Russo will each reveal their two tag team partners for the 6-man elimination tag team match at HEATWAVE where the Co-President on the winning team becomes the sole President of the UWL!

AND MUCH MORE!

Ep. 80 of 'Slam!' wrestling will be posted on Monday or Tuesday in the 'Universal Wrestling League' thread.
Learning to break kayfabe
Join Date: Sep 2007
Posts: 131
Points: 0
Re: The BTB Advertisement Thread
---
Whatcha gonna do?


As reported earler by BTW.com, The Immortal One Hulk Hogan will make his presence felt this BTW Nitro. The Hulkster has not been seen since Apocalypse, the night in which he made his BTW debut and got confronted and challenged to a match by the Rated R Superstar, Edge. The world was shocked on that evening when these two men stood nose to nose in the middle of the ring, and was surprised that their exchange didnt get personal. That was however, on that night. On Nitro, it's expected that once again they will confront one another in the center of the squared circle, just three weeks before their epic showdown at Rebellion. What will the outspoken Canadian have to say to his childhood idol? And what will Hulk Hogan bring with him on this night? Besides, and as seen last week, how will Jeff Hardy factor in all of this? Before getting tangled up in this dream match with The Hulkster, Edge was making Jeff's life impossible, even getting suspended out of a scheme he tried to pull on the Rainbow Haired Warrior. Edge and Hogan are the ones expected to get face to face, but will Jeff Hardy have something to add to the discussion? And will Eric Bischoff risk his main event show off get thwarted?

Per the hand of Eric Bischoff as well, it has been announced that BTW Nitro will open with all three participants of the BTW World Heavyweight Championship Triple Threat in the ring for a special announcement by the General Manager. Last week, we saw the return of Triple H to BTW Nitro to confront the man who beat him at WrestleBowl for the championship, Brock Lesnar and his former tag partner who has spent the best part of the last three months trying to prove to the world how better than The Game he is, and put put his name back in the championship contention hat. We also witnessed Christian Cage host the most controversial of Peepshows, in which many truths saw the light. All three men pose a highly combustible situation going into Rebellion, and it ponders an interesting scenario to see if after all what was said last week on the Peepshow, they even manage to share the same ring without breaking down into physicality.

It's been confirmed that Undertaker, still coming off from that unthinkable victory over Umaga in the KO match, will face AJ Styles once again in a rematch from last week's classic. The Phenomal One was succesful in stealing the show, and very close in stealing the victory, and this week he'll get the chance to once again prove he's the real deal. However, with all the bad blood between Styles and Bischoff and the controversy of the athletic superstar going to Bischoff's face and behind his back as well, one has to wonder if battling the Demon of Death Valley may be instead a punishment in disguise.

The world witnessed last week how Paul Heyman, following Big Show's defeat at the hands of Bill Goldberg, promised they would see a new, more dominant and violent version of The Wall,and its members would so just that, with Mark Henry destroying young Gavin Spears. Their main target however, Bill Goldberg, was not in attendance. This week however he will, and it's a given he will be after the powerful group once more. What's a fact though, is that Gavin Spears will have to deal with yet another member of The Wall, having to go one on one with the Personification of Domination, Ezekiel Jackson. The medical state of Gavin Spears is unknown at this point, and it's unknown if he'll even be able to step into the ring with Jackson come Nitro. Anyway, we may be upon witnessing the destruction of a young man's career, unless one Bill Goldberg says otherwise.

A marquee match at Apocalypse, CM Punk vs Samoa Joe, saw Samoa Joe win with controversy after ina roll up he pulled Punk's tights, ruining a rematch that had the premise of determining once and for all who was the better man between the two. Everybody was expecting some sort of comment last week from one of the most outspoken man in the industry, however the Second City Savior stuck to business and said absolutely nothing after his match with Cody Rhodes. This week however, we've been informed that CM Punk will indeed address the crowd and what happened two weeks ago at Apocalypse. What will come out from the mouth of the walking time bomb?

Referencing another rematch from Apocalypse, we will witness one at BTW Nitro,when Randy Orton goes one on one with Joe Anoa'i. The Legend Killer has made the Anoa'i family his target, destroying The Rock and Rikishi and scoring a victory over Joe himself two weeks ago. He even added more gunpowder to the mix by confronting current tag team champions and members of said family, The Fatu Brothers and bragging about his success over their family. Revenge is still achievable for Joe Anoa'i,as the rookie has the match of his life and has the chance to defeat Randy Orton and avenge his actions in this day of reckoning.

Also confirmed is a tag match pitting the team of Cody Rhodes and BTW Continental Champion Chris Jericho against Muhammad Hassan and Mr. Kennedy, in an encounter with many interests entangled. Last week and after beating Rhodes in their rematchat Apocalypse, Muhammad promise that his next step is taking out the young superstar for good, while during the course of this week a championship match between Jericho and Kennedy was confirmed for Rebellion following the constant cheap shots by Kennedy on the champion and the desire of Y2J of making them stop, but it shouldn't also be forgotten that just last year Muhammad Hassan and Chris Jericho were on each other throats in a blood rivalry.

All this and more on BTW Nitro.

Confirmed Card:

Undertaker vs AJ Styles

Apocalypse Rematch
Randy Orton vs Joe Anoa'i

Ezekiel Jackson vs Gavin Spears

Chris Jericho and Cody Rhodes vs Muhammad Hassan and Mr. Kennedy

Face Off
Hulk Hogan confronts Edge
Asking JAMES ELLSWORTH for Wrestling Advice
Join Date: Jul 2012
Location: St Louis
Posts: 464
Points: 0
Re: The BTB Advertisement Thread
---
WORLD WRESTLING ENTERTAINMENT PRESENTS WWE MONDAY NIGHT RAW!
Monday Night Raw Preview:
Raw will be coming to you live from The Honda Center in Anaheim, California!
Quote:
Originally Posted by WWE.COM
-General Manager John Laurinaitis was given one month to fix Raw, and keep the New Ministry in control, or the Board of Directors will let Mr. Laurinaitis go from his duties as G.M. as well as Vice President of Talent Relations.

-World Heavyweight Champion Daniel Bryan will be in attendance, and will address his Royal Rumble match with Mark Henry.

-John Cena will take on Jack Swagger and Dolph Ziggler in a 2-on-1 match up.
Also announced, Cody Rhodes will take on Zack Ryder, and Santino, Tamina Snuka, R-Truth, and Beth Phoenix will lock up in an Mixed tag team match.
Big Show has posted on his Twitter that WWE will continue to feel the wrath of the New Ministry:
Quote:
Originally Posted by @BigShowWWE
Better watch Raw! Taker has a few demands for Johnny! #DarknessFalls
A few questions for Raw:
How will Cena react to his first scheduled match of Raw in 2012?
What are the Undertaker's demands? How will Big Johnny react?
Will Santino and Cobra! ever be the same again after what Alex Riley did last week?
WWE Raw, Live, Monday Night at 8PM!
The Royal Rumble is just two weeks away, and the match card is going to take shape after this episode of Raw.
---
WOULD YOU PLEASE. SHUT. THE HELL. UP?
WCW 1998: be the booker
http://www.wrestlingforum.com/booker...l#post12458661
Wheelman for James Ellsworth
Join Date: Jan 2011
Posts: 501
Points: 0
Re: The BTB Advertisement Thread
---
Quote:
WWE Friday Night Smackdown Preview- 12/8/05- New Haven; Connecticut
It's the penultimate stop on the road to Summerslam for the stars of Friday Night Smackdown as we head to New Haven, Connecticut ahead of a blockbuster main event.

Last week saw the WWE Championship match for Summerslam made official as Kurt Angle finally got his wish, a one on one shot at the Doctor of Thuganomics, John Cena. The champion vowed that they would settle their differences come Summerslam, man to man, face to face, something the Wrestling Machine's been begging for only Angle didn't opt for that route one week ago as the Olympic Gold Medalist blindsided Cena from behind, proceeding to beat down the champion backstage. Tonight Cena and Angle WILL meet face to face on opposite sides of the ring in tag team action.

Cena and Angle's partners tonight? Two men who also got physical last week, Randy Orton and The Undertaker. The Deadman returned to action for the first time in over four months as he defeated Chris Masters but it was post match where the Legend Killer struck, delivering a message that he was no longer intimidated, no longer threatened by the mind games of the Phenom before stating that it was his turn to play some games around here. With that the lights went out and Orton took down the Deadman from behind, delivering a thunderous RKO. Orton will team with Kurt Angle tonight, both men having huge momentum but their challengers, the WWE Champion and the Demon of Death Valley will no doubt want payback for what transpired last week.

Also tonight we have learned that kicking off the show will be the debut of a brand new talk show, Carlito's Cabana. Last week the Apple Spitter picked up another big win, defeating the United States Champion, Matt Hardy in tag team action. Carlito's first guest on the Cabana? None other than that man himself, the United States Champion. What will Carlito have in store on the debut edition of his very own talk show? And will Matt Hardy look to spoil Carlito's party?

Last week saw a whole new side emerge to Rob Van Dam as Mr.Friday Night verbally lashed out on both Teddy Long and his friend Rey Mysterio. Long informed Van Dam that his investigation into MNM's victory at the Bash was closed following security tape evidence that the masked assailant was NOT Melina. Van Dam refused to accept it, claiming he would find the truth out on his own and has now began his own investigation. Well tonight that investigation will be put on hold as Van Dam teams with Rey Mysterio to take on Jamie Noble and Kid Kash, the Pitbulls. Can Van Dam put MNM to the back of his mind? We will find out tonight.

Two weeks ago JBL promised us that he would make an impact following repeated losses in his quest for the WWE title and last week the 'Wrestling God' delivered as he viciously assaulted the undefeated Bobby Lashley. Lashley has dominated the competition since arriving on Smackdown and for the first time last week was left floored by Bradshaw's actions. Will the 'Real Deal' have any response to JBL's assault? Or will the Wall Street Warrior add insult to injury?

All this and much more tonight on Smackdown!!
Confirmed for tonight's show:

John Cena and The Undertaker vs. Kurt Angle and Randy Orton

Rob Van Dam and Rey Mysterio vs. The Pitbulls

Plus;

Kicking off Smackdown, the debut of 'Carlito's Cabana'
Now posted!
Re: The BTB Advertisement Thread
---
~Friday Night Smackdown~
April 13th, 2007
1st Mariner Arena
Baltimore, Maryland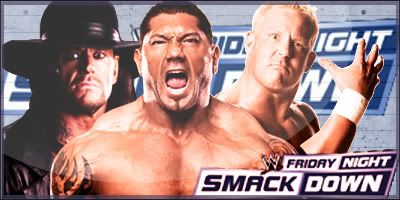 Last week's SmackDown saw one of the most shocking moments in the show's history, as the entire stage collapsed on top of The Undertaker, but when the wreckage was cleared, 'The Deadman' was nowhere to be seen… and we still don't know who will be chosen to face Batista at No Way Out.

During an Six Man Tag Team Match were the message was simple from Interim General Manager Jonathan Coachman… go out and impress me. And without any doubt, the most impressive and shocking event from last week saw Umaga bring the SmackDown set collapsing down on top of The Undertaker, only for 'The Deadman' to vanish. Feeling they'd made their point, Umaga and Armando Alejandro Estrada left the arena, seeing an impromptu main event end when Chris Benoit teamed with Batista to see off Mr. Kennedy and Edge. Benoit proved that his claims for a title shot at the start of the show were warranted, as it was he who sealed the victory for his team. But the big question tonight is whether that was enough to get Jonathan Coachman's vote, or if the outcome of last week's main event was irrelevant, and 'Coach' had already made up his mind.

Last week, Matt Hardy stepped into the ring with William Regal, and despite the attentions of Regal's partners Dave Taylor and Paul Burchill at ringside, Hardy emerged victorious. Tonight though, The Bluebloods seek revenge in a Six Man Tag Team Match, forcing Hardy to look for a pair of partners. And who better to team up with the United States Champion than the WWE Tag Team Champions, The Hooligans, Paul London and Brian Kendrick. Despite London's knee injury still clearly bothering him last week, Kendrick and London were happy to oblige, although all three champions know the vultures are starting to circle, with The New Breed clearly intent on getting a title shot against The Hooligans, while Hardy knows that both Finlay and The Miz are making plenty of noise regarding a future match against him with his newly won gold on the line.

Bryan Danielson rebounded from his disappointing WrestleMania defeat to Gregory Helms by crashing Helms' victory party last week, assaulting the champion and knocking him clean from the ring before Helms' security squad intervened. This however was overshadowed by Helms' announcement that he's launching a petition to have the Cruiserweight Championship retired in his honour as the longest reigning Cruiserweight Champion in history. Tonight, Danielson is set to take on Jamie Noble, but from what we understand, Helms will be in the arena tonight, canvasing for signatures, a move that is sure to draw the ire of Danielson once again.

All this, plus we'll hear from Chavo Guerrero regarding the news that Rey Mysterio is on his way back to SmackDown, we'll see if Santino Marella can finally lead The F.B.I. to a victory, Kane will look to continue to build on his victory last week over King Booker, and we'll try and find out just how on earth Funaki managed to get a microphone back in his hand!

Confirmed Matches:

Matt Hardy and The Hooligans vs. The Bluebloods
Bryan Danielson vs. Jamie Noble


Plus!! Batista, Edge, Mr. Kennedy, Chris Benoit and Umaga will all be in attendance to hear Jonathan Coachman's decision!!
---
World Wrestling Federation: The Montreal Fallout
New BTB. Check it out, eh?
Learning to break kayfabe
Join Date: Jun 2012
Posts: 62
Points: 0
Re: The BTB Advertisement Thread
---
Ep. 80 of
UWL 'SLAM!' WRESTLING
is now posted in the
'Universal Wrestling League' Thread!
Wheelman for James Ellsworth
Join Date: Jan 2010
Posts: 715
Points: 0
Re: The BTB Advertisement Thread
---
Check out the current RAW that is up, as Smackdown! is currently in the works!
Posting Rules

You may not post new threads

You may not post replies

You may not post attachments

You may not edit your posts

---

HTML code is Off

---