Re: The BTB Advertisement Thread
---
Last Raw before Capitol Punishment is posted in WWE: The TwoThousandAndEleven Diaries. It's school holidays now for me as well so any feedback has a good chance of being returned.
Moron
Join Date: Mar 2011
Location: India
Posts: 1,388
Points: 0
Re: The BTB Advertisement Thread
---
WWE RAW is posted. Next event is Survivor Series. Link is in my signature.

Any reviews will be appreciated and returned.
Moron
Join Date: Nov 2007
Location: England
Posts: 8,966
Points: 0
Re: The BTB Advertisement Thread
---
SCOH recap, along with other big news, posted
here.
Re: The BTB Advertisement Thread
---
Hey, the latest episode of Stipulation Radio is up, and the prediction contest for Fully Loaded is still open- win stuff.
Re: The BTB Advertisement Thread
---
Quote:
Friday Night Smackdown Preview
Friday 10th October 2008
Live from the XL Center
Hartford, Connecticut
No Mercy was quite the show this past Sunday night, and it sure ended in controversial fashion in what turned out to be a chaotic finish to the main event for the World Heavyweight Championship. CM Punk thought he had put to bed the belief of some of his doubters that he was a fortunate World Champion after his impressive victory over Shawn Michaels at SummerSlam, however those doubters & critics may well be questioning his luck as champion after both Edge & John Cena made their presence felt in a big way.

When The Rated-R Superstar hit the ring, his brother, Christian was in control and had Punk on the edge. That was until he was speared out of his boots by Edge having gotten in to it with his brother earlier in the evening. Before Edge could do any more damage, Cena stormed the scene and gave him a big F-U, and as angry Jericho rose to his feet to see Cena standing there, he flew at him, only to get the same treatment as Edge. Punk was there to pick up the pieces though, and after catching Cena off guard with the G-T-S, the groggy Christian was next in line as Punk went on to retain the title in the dubious circumstances.

We now know that the World Champion will move on to the Survivor Series to take on John Cena in a traditional elimination match that will see Cena fighting for the right to earn a title shot against Punk at Night of Champions. After the chaos of Sunday night, we may well be in for a repeat when Smackdown and the two team captains roll in to Hartford this Friday night.

Shawn Michaels came through what was a tougher battle than many may expected from 'The All-American American' Jack Swagger who pushed him right to the limit Sunday night. With The Miz watching from the front row, The Heartbreak Kid was at times distracted but fought through to earn what was a very hard earned victory. He wasn't done there though and challenged The Miz to join him in the ring, and just as it looked like they were going to go at it, Mr. Hollywood had a change of heart and turned his back on both the ring & Michaels.

On Raw this week however, The Miz spoke of how he wasn't intimidated by The Heartbreak Kid and would be heading to Smackdown this week as he has something he wants Michaels to hear. What on earth does the arrogant Raw superstar have to say? Michaels also has something else to contend with in the shape of a rematch from No Mercy against Swagger live from the XL Center. Tazz was obviously so impressed with their match he wants to see them compete again. Will Michaels be able to focus on Swagger and emerge victorious again? Tune in to find out. If Sunday was anything to go by, you simply have to!

Also in action this week will be the WWE Tag Team Champions, The UK Pack. Harry Smith & Paul Burchill were one of four champions to successfully defend their titles at No Mercy, and they will be in action against a familiar face in 'The Masterpiece' Chris Masters. They will be taking on Masters and his rookie, Ryan Sheffield in a non-title match, and after being defeated by Bobby Lashley & Charlie Haas at No Mercy, they will be looking for a victory in Hartford when they meet the champions.

Their conquerors, Lashley & Haas will also be competing this Friday when they meet the team that couldn't take the titles away from The UK Pack, Petey Williams & Johnny Devine. The Canadian duo will be going all out to return to winning ways, but if No Mercy is anything to go by, that won't be an easy task against the formidable team of Lashley & Haas.

Not for the first time, Matt Sydal defeated Shelton Benjamin in what was last chance saloon for The Gold Standard as the King of the Ring claimed victory in their ladder match for the United States Championship. There's no stopping Sydal right now as his incredible roll continues, but what does this further defeat mean for Benjamin?

Beth Phoenix was the final champion to retain her title when she overcame the challenge of Mickie James & Michelle McCool in a triple threat match. The Glamazon was in fine form and had to be to fight off the hungry competition. She's been able to fend off every challenge thrown at her since becoming the Diva's Champion at The Great American Bash. Is anyone going to be able to defeat The Glamazon?

Elijah Burke pulled off a huge victory for him and his girlfriend, Layla at No Mercy when he defeated Dolph Ziggler with a potential date between his rival & girlfriend hanging in the balance if Ziggler could beat him. Fortunately he didn't, thanks in a large part to Layla who came to her boyfriend's rescue, taking a steel chair away from Ziggler before cracking it against his skull. That now means Ziggler has to stay away from them, and as happy as it will make them, how angry will Dolph be this Friday when he arrives in Hartford?

Santino Marella is quickly getting under the skin of the Cruiserweight Champion, Johnny Jeter, and last week after he & Chavo Guerrero went all out to teach their rookies a lesson, the Italian flew down to the ring to save the day for J-Red & Yoshi Tatsu. It didn't go down well at all with Jeter & Chavo, especially Jeter. Will the usually vengeful Jeter be out for revenge this week? History would say so, but you'll have to tune in to find out.

Smackdown promises to be an eventful show this week, and with all the No Mercy fall out and the road to Survivor Series getting underway, it's a show you'd be mad to miss! Make sure you don't!
>Confirmed for This Week on Smackdown<

Non-Title Match
The UK Pack vs. Chris Masters & Ryan Sheffield

Plus

Shawn Michaels vs. Jack Swagger

Bobby Lashley & Charlie Haas vs. Petey Williams & Johnny Devine

Now Posted!

To read the show, click the link below!



Wheelman for James Ellsworth
Join Date: Jan 2011
Posts: 501
Points: 0
Re: The BTB Advertisement Thread
---
Re: The BTB Advertisement Thread
---
Quote:


Twenty-four hours ago at the Allstate Arena, history was made, and lives were changed forever as possibly the greatest WrestleMania of all-time occurred. Twenty-four hours later, Monday Night Raw will come to you from the site of this epic spectacle, Rosemont, Illinois, as a multitude of happenings will occur this evening in front of what should be an incredible fan frenzy.

There may no longer be any doubt or questioning in the current WWE Champion's ability after last night's event. Edge, The Rated R Superstar, The Ultimate Opportunist, but more importantly now, the Champion, competed in a memorable contest against the accomplished Olympian, Kurt Angle, and walked out victorious after cutting Angle in half with a Spear, the 3rd of the match. Edge will address a sold out crowd in the main event slot of tonight's show, and with much ado about his match, his future as champion, and what's to come for the likes of Kurt Angle and the rest of the contenders for the WWE Championship, 'The Rated R Supersta will have a lot to discuss.

Speaking of a lot to discuss, the controversy surrounding the epic encounter between John Cena and Ric Flair has been running rampant since last night. As we all well know, Ric Flair asked for a handshake, but The Franchise refused to accept it and walked out of the ring to a both stunned, and annoyed crowd as Cena's antics as of late having been making any friends. The Doctor of Thuganomics is also scheduled to address the Rosemont crowd at the top of the 10 o'clock hour, and an appearance by The Nature Boy may not be too far behind.

It was one of the greatest matches in WWE history, and Shawn Michaels and The Undertaker were a part of it. While Michaels could not put a blemish on the pristine record of The Phenom, The Heartbreak Kid lived to tell about it. Michaels will discuss this classic match at some point during the show we have been told, but an appearance in the ring for Michaels is in question after nearly going 25 minutes in the ring just a night before.

No shortage of action here tonight however. The World's Greatest Tag Team, fresh off their victory against the WWE Tag Team Champions, MNM, will put their World Tag Team Championships on the line against The Heart Throbs. In a Money in the Bank Rewind Match from last night, Carlito will take on Mr. Monday Night, Rob Van Dam, and Gregory Helms will also be in action and, finally, The Big Show will be taking on Redneck Wrecking Crew member Lance Cade.

All of this and plenty more on Monday Night Raw at 9/8 CT on the USA Network.

Confirmed Matches:

World Tag Team Championships Match | The World's Greatest Tag Team vs. The Heart Throbs

Money in the Bank Rewind Match | Rob Van Dam vs. Carlito

The Big Show vs. Lance Cade

Gregory Helms in Action

***

'The Aftermath, Part One'

***

Raw will be posted Saturday.
It is posted!
---
Finally Out of Cutey Sleep
Join Date: Jul 2006
Location: The Fountain of Dreams
Posts: 2,020
Points: 9
Re: The BTB Advertisement Thread
---
-----
"The Art of WAR is vital to the world..."
- Sun Tzu's Art of War
Prepare...the world is watching and a WAR is coming...
---
CUTENESS²
AOW: Art of War Wrestling - The Greatest Affair
It's Baaaaack...
.:Oblivion Edition 39/40 Recap NOW POSTED!!:.
Re: The BTB Advertisement Thread
---
The final Friday Night Smackdown before Capitol Punishment is up in my thread, WWE: The TwoThousandAndEleven Diaries. The link is in my signature, and as always, comments are greatly appreciated.
Re: The BTB Advertisement Thread
---
~SATURDAY NIGHT'S MAIN EVENT~
March 3rd, 2007
Madison Square Garden; New York, New York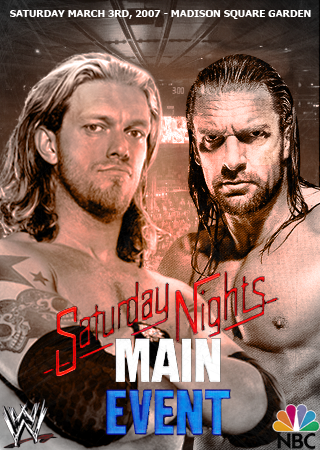 Number One Contenders Tournament Final Match:
Winner will face Shawn Michaels at Wrestlemania XXIII for the WWE CHAMPIONSHIP
Triple H vs. Rob Van Dam

It started with eight, and now we're down to two. For Rob Van Dam and Triple H, winning the Number One Contenders Tournament has taken on a greater meaning in recent weeks, with Saturday Night's Main Event being about more than just the chance to head to Wrestlemania to fight for the WWE Championship. The reason for this increased desire to head to Detroit? The ever escalating personal vendetta both men hold towards the WWE Champion Shawn Michaels... and each other. Ever since Shawn Michaels turned his back on Triple H to become WWE Champion during Raw: Night Of Champions, 'The Game' has been hell-bent on getting his hands on his former D-Generation X colleague. Likewise, from the moment Van Dam was struck with Sweet Chin Music, leaving him down and out on the mat and allowing Mr. McMahon to cherry-pick Van Dam's cherished ECW Championship, 'RVD' has too sought a way to even the score with Michaels. Although the WWE Champion has remained evasive, he knows that one of these men are his destiny by the time we reach Detroit. But will it be Triple H, the 10 time Heavyweight Champion, who goes on to main event yet another Wrestlemania, this time in one of the most personal, hate fuelled matches in Wrestlemania history? Or will it be Van Dam, a man so often lost in the shuffle come Wrestlemania season, who earns the chance to settle the score with Michaels. And what role, if any, will Michaels play in the match? The WWE Champion has been a distant, almost soul-less character over the last few months, but what way will his emotions sway as he watches on while his Wrestlemania opponent is decided? The richest prize in the business and the scent of revenge is firmly in the sights of Van Dam and Triple H. Who will face Shawn Michaels at Wrestlemania XXIII for the WWE Championship? All is set to be revealed live on Saturday Night's Main Event!

Steel Cage Handicap Match:
Mr. McMahon and Shane McMahon vs. John Cena

It was during the run in to the Royal Rumble that John Cena and Mr. McMahon first crossed paths, with the two going back and forth for several weeks over Cena accepting the challenge of Rob Van Dam for a WWE Championship match. McMahon felt Van Dam should be nowhere near the WWE Championship, but Cena remained defiant, sticking to his virtue of taking on any and all challengers by agreeing to face Van Dam at the Rumble. The verbals continued to be traded between Cena and McMahon, until the words turned to a more physical confrontation, as during the contract signing for the Cena/Van Dam match, McMahon found himself the subject of a FU through a table! This prompted the return of Shane McMahon to the WWE, and since then the McMahon's have done everything in their power to make Cena's life a misery. So much so that it was Shane and his hired security team who removed Cena from the WWE Championship Match during Raw: Night Of Champions. From that moment, Cena has made Shane and Vince his priority, but the McMahons have always been able to stay one step ahead of Cena. With a bounty placed on Cena's head, various people have stepped forward to do the dirty work of the McMahons for their own personal gain. Umaga, Edge, Johnny Nitro, Chris Masters and Melina have all benefitted from attacking Cena, causing many to wonder when Cena's personal hell would finally be at an end. It could all happen tonight after Cena goaded Vince and Shane into meeting him inside a Steel Cage. But recently, Vince has alluded to mystery man, the proverbial ace up his sleeve. Could the identity of the McMahon's latest hired gun be revealed tonight? Will the steel cage serve it's purpose of keeping outside interference out of the match? And will Cena finally be able to settle his differences with the McMahons the old fashioned way... a straight up ass kicking?!

Last Chance Tag Team Match:
If Edge and Kennedy win, Kennedy will join Edge and Batista in a WORLD HEAVYWEIGHT CHAMPIONSHIP Triple Threat Match at Wrestlemania XXIII
World Heavyweight Champion Batista and Matt Hardy vs. Edge and Mr. Kennedy

Ever since he won the 2007 Royal Rumble and made his intentions known that he was challenging for the World Heavyweight Championship at Wrestlemania XXIII, Edge has longed to see anyone but Batista holding the big gold belt by the time we hit Detroit. Edge claims it's because he wants his Wrestlemania moment, the moment where he becomes the new World Heavyweight Champion, to be the most spectacular match in Wrestlemania history. The more popular belief is that Edge is simply running scared of 'The Animal'. Kennedy has been on Batista's radar ever since Kennedy viciously assaulted Ric Flair after Flair eliminated Kennedy from the Royal Rumble Match. With Kennedy's repeated requests for a match with Flair denied, Kennedy set his sights on Batista and the World Heavyweight Championship, with the two clashing for the gold at No Way Out. An assist from Edge appeared to have handed the title to Kennedy, only for Flair to make his presence felt, costing Kennedy the title. Tonight, Kennedy has his last chance to be involved in the World Heavyweight Championship Match at Wrestlemania, as if he and Edge can beat Batista and Hardy tonight, the match will be contested under triple threat rules. And what about Matt Hardy? For so long, Hardy has been a struggling mid-carder, always chasing but never reaching that higher level. But with an United States Championship Match at Wrestlemania XXIII already in his back pocket, tonight is another chance for Hardy to prove he belongs with the big boys in the WWE. Will Hardy be able to shake off the wannabe reputation he's earned over the last few years? Can Batista finally get his hands on Edge after weeks of evasion from the Number One Contender? And will Edge and Kennedy be able to work as a cohesive unit to get both their wishes, a Triple Threat World Heavyweight Championship Match at Wrestlemania XXIII?


United States Championship Belfast Brawl:
United States Champion Finlay vs. Chris Benoit

At No Way Out, Benoit defended the United States Championship against Finlay in a match that was advertised as a battle between two tough as nails competitors. But if the match at No Way Out was hard hitting, then tonight should be an absolute war as Benoit and Finlay clash in the first ever Belfast Brawl! After losing the championship to Finlay, Benoit moved quickly to call for a rematch. However, Finlay only agreed to the rematch on one condition... that he was allowed to name the stipulation of the match. The stipulation Finlay settled on was the Belfast Brawl, a match that sounds right up the United States Champion's alley. Simply put, they're are no rules in a Belfast Brawl other than the match must end in either a pinfall or submission. Madison Square Garden has been the sight of many a chaotic and brutal fight over the years, but tonight could see the famous building witness one of the most brutal contests in WWE history. Neither man will be the same after this one is over, but one of them will leave Saturday Night's Main Event the United States Champion and head to Wrestlemania XXIII for a showdown with Matt Hardy.

World Tag Team Championship Match:
World Tag Team Champions Ric Flair and Carlito vs. The World's Greatest Tag Team

It was January 1st that Ric Flair first crossed paths with The World's Greatest Tag Team, as on that night 'The Dirtiest Player In The Game' was up to his usual tricks as he grabbed a win over Shelton Benjamin. The following week, it was the same scenario as Flair saw off Charlie Haas. But Haas and Benjamin weren't about to let the situation die as they sought a way to even the score. Two on one beatings followed, until a chance meeting between Flair and Carlito brought 'Lito into the situation. Flair and Carlito beat Haas and Benjamin to earn a shot at then World Tag Team Champions Rated-RKO, but even after winning the gold, and even despite Flair's issues with Mr. Kennedy, the new champions couldn't shake off the attentions of The World's Greatest Tag Team. Tonight, the two teams meet to finally put their issues to bed, but with all the drama that surrounds 'The Nature Boy' right now, could his head be elsewhere... and could the titles be in jeopardy because of this?

Four Way Elimination Match:
Winner will face Gregory Helms at Wrestlemania XXIII for the CRUISERWEIGHT CHAMPIONSHIP
Bryan Danielson vs. Chavo Guerrero vs. Joey Mercury vs. Shannon Moore

The Cruiserweight Champion Gregory Helms has long-claimed that he is the greatest cruiserweight in the world, and after seeing off all competition during his year-plus reign, nobody was in a position to argue with him. However, the arrival of Bryan Danielson to the WWE sent shockwaves through the division, with the champion showing signs that he realises his title was in grave danger after the signing of the indy favourite. At No Way Out, Danielson made a spectacular WWE debut, impressing everyone with his performance during the Cruiserweight Championship Gauntlet and coming within inches of winning the title on his debut. Helms held onto the gold yet again at No Way Out, but he's scheduled to defend his title again at Wrestlemania, this time in one on one action. At Saturday Night's Main Event, the four men who were involved in the Cruiserweight Championship Gauntlet for the longest duration of time, Shannon Moore, Joey Mercury, Chavo Guerrero and of course Danielson, will meet to determine who will face Helms in Detroit. Although Danielson impressed at No Way Out, word has been going around the dressing room that his performance that night was a fluke, credited to him catching Guerrero and Mercury by surprise. With everybody in the WWE now fully aware of what Danielson is capable of, tonight promises to be a true test fir all four of these cruiserweights, as they battle to secure a shot at Gregory Helms and the Cruiserweight Title.


Grudge Match:
Umaga vs. Kane

At No Way Out, the world watched on in shock as Umaga destroyed The Undertaker during a Casket Match featuring 'The Deadman' and King Booker. It was a display of dominance over 'The Phenom' the likes of which had never before been seen in a WWE ring. With sheer brute power and strength, 'The Samoan Bulldozer' decimated The Undertaker, driving through the casket lid before brutalizing him in the ring. Once Umaga was finished, the mysterious druids arrived, carrying the lifeless body of The Undertaker from the ring. This was to prove to be the last appearance of The Undertaker, as he hasn't been seen since. The Undertaker's brother Kane would look to take the fight to Umaga on the following Smackdown, storming the ring and trading blows with the 'The Savage of Samoa' that brought back memories of their titanic feud from last year. Tonight, restoring the family name is on Kane's mind, as is becoming the first man to finally pin or cause Umaga to submit. Umaga seems hell-bent on continuing to obliterate his opponents in typical fashion, but while 'Mags focuses on Kane and Saturday Night's Main Event, Armando Alejandro Estrada has his eyes set on the bigger picture... namely Wrestlemania XXIII and 'The Deadman'. Not only has the challenge been made for Detroit, but Estrada has invited The Undertaker to be in New York City to witness first hand the destruction Umaga is capable of. Can Kane somehow stop the incredible undefeated streak of Umaga? Or will he become another victim of Umaga's path of destruction? And after Kane's comments last Friday night about 'The Deadman' returning home to Death Valley, will we see The Undertaker tonight... or have we already seen the last of 'The Phenom'?

Grudge Match:
CM Punk vs. Mike Knox

Every damsel in distress needs her knight in shining armour to eventually save the day. But for CM Punk, he was thrust into the position of fighting for Kelly Kelly not by choice... but by sheer jealousy. Ever since they first crossed paths back in ECW, it was clear that Kelly Kelly had a crush on CM Punk. Unfortunately, she also had an over protective boyfriend in the shape of the dangerous Mike Knox. After Punk arrived on Monday Night Raw, Kelly soon also signed a contract with the Monday show... and of course, that meant that Knox wasn't far behind. Caught in the wrong place at the wrong time, Punk was subjected to several vile beatings at the hands of Knox, while at the same time Knox exerted his control over Kelly, threatening her on several occasions and even dragging her around arena after arena by the wrist. Kelly needed a hero, and it was Punk who stepped up to the plate, determined to do the right thing. While Knox is determined to prove to Kelly that Punk is nothing but a fantasy, Punk is out to set Kelly free from the shackles of Knox. There may not be much love in this match, but they'll certainly be plenty of bad feeling all round when these two meet, with Kelly Kelly sure to be watching on from ringside.


----------

Fancy a prediction?



---
World Wrestling Federation: The Montreal Fallout
New BTB. Check it out, eh?
Posting Rules

You may not post new threads

You may not post replies

You may not post attachments

You may not edit your posts

---

HTML code is Off

---