Re: The BTB Advertisement Thread
---


*****

May 4th 2000, Richmond Virginia
Thursday Night SmackDown this week hails from Richmond, Virginia where we are just days out of a rollercoaster Monday Night Raw. Monday Night Raw saw Triple H possibly take out his Judgement Day competition when he smacked both Stone Cold and the Rock with Sleghehammers in their Main Event tag team match. Vince, Triple H and the McMahon-Helmsley Regime are hell-bent on making sure that neither Stone Cold or the Rock make it to Judgement Day. Can they succeed in doing so? What does the Chairman of the Board and the reigning WWF Champion have in store for Rock and Austin over on SmackDown?

On Monday Night Raw, the Acolytes and the Dudley Boys went at it backstage in a brawl which had to be seperate by officials. SmackDown will see the Dudley Boys in action up against the Headbangers, Mosh and Thrasher. Acolytes however are going to be in the arena, will they seek revenge? will things continue to get heated between the two teams?

Elsewhere on Raw, the Radicalz had themselves a bit of an awkward situation after Benoit didn't take kindly to the comments made by Eddie backstage, in which he couldn't have beaten Jericho at Backlash if it wasn't for him. This led to Benoit leaving Eddie high and dry during his match with Jericho. Eddie Guerrero is scheduled to go one on one with William Regal on SmackDown but the big question going into the match is, what role will the Radicalz or Chris Benoit play in it?

The Big Red Monster, Kane was possibly injured earlier in the week at Backlash via Kurt Angle's relentless assault on him after their match. On Raw the attack continued when the Olympic Gold Medalist made his presence felt after Kane's match with Viscera. Kane will be in action Thursday night but in what condition? and will Kurt Angle strike again?

With Judgement Day only a few weeks away, things are going to get heated, things are going to get rough and SmackDown is where it is going to be.

---
Link in sig.
Feedback for Raw is also appreciated and will be returned by either Brye or myself.
---
Learning to break kayfabe
Join Date: Apr 2011
Posts: 67
Points: 0
Re: The BTB Advertisement Thread
---
hope people are enjoying european wrestling promotion
Wheelman for James Ellsworth
Join Date: Jan 2011
Posts: 501
Points: 0
Re: The BTB Advertisement Thread
---
WWE Monday Night Raw Preview- 1/8/05

We are now counting down the days until Summerslam as Monday Night Raw comes to you live from Detroit, Michigan with a mammoth showdown scheduled involving the Summerslam main event party.

Last week saw Batista escorted out of the arena by security only to return later in the night and take down Eric Bischoff's army of guards as well as the quartet of William Regal, Mark Jindrak, Edge and the Big Red Machine, the number one contender to the World Title, Kane. As Batista looked to have cleaned house however, he was blindsided from out of nowhere by none other than Shawn Michaels. Following a dose of Sweet Chin Music, the Heartbreak Kid appeared to mutter the word 'Payback' to the Animal. Was this simply that? Payback on a Batistabomb suffered one week ago? Or was there more to it from the Special Guest Referee at Summerslam? Tonight Michaels and Batista will meet face to face inside the ring where the Showstopper will be allowed by his Personal Employer Eric Bischoff to explain himself. It is sure to be extremely heated as we head to Detroit!

Also scheduled for tonight is a huge tag team match as Chris Jericho will team with the World's Largest Athlete, Big Show to take on the menacing duo of Edge and Mark Jindrak. It was confirmed several days ago that Edge will have to put his Money in the Bank contract on the line at Summerslam against Y2J and there is no doubting that Edge will be feeling the heat as we head towards the biggest party of the summer. Big Show meanwhile will be desperate to get his giant hands on Mark Jindrak. The Protégé continues to one up the former World Champion, will that continue here in Detroit or will Show and Jericho steal a march on their respective rivals?

Another big time match up has been signed for tonight, however we only know one participant and that man is Christian. Captain Charisma has his mind focused on August 21st when he has the opportunity to end the career of the Nature Boy, Ric Flair but tonight the former Intercontinental Champion has issued an open challenge, an open challenge with a catch. Christian has requested to face anybody from Ric Flair's past to come to Detroit and face him one on one live on Raw. Who will step up and face the self proclaimed 'Ric Flair of this generation'? Will it be a blast from the past or will it be a more recent foe of the Nature Boy? We along with Christian are soon to find out!

After weeks of hype, weeks of anticipation, tonight will mark the debut of the cocky, loudmouth, Mr.Kennedy. Kennedy has been on our screens for several weeks, delivering damning verdicts on the majority of Raw's roster, claming he's here to entertain, that he's here to become a star, that he's coming to Raw to be a 'game changer'. Will Kennedy live up to his word? We find out…tonight!

And finally, after two straight title defenses, tonight will mark the third consecutive week of Tag Team Title action as Bubba Ray and D-Von, the Dudley Boyz face the final test in their three week hurdle when they take on the dangerous duo of Daivari and Sonjay Dutt of the Arabian Entity. Will the Entity add the Tag Titles to Muhammad Hassan's Intercontinental gold? Or will the Dudleyz prove once again why they're still at the top of the food chain in the Tag Team division here on Raw?

Confirmed for tonight's Raw:

Chris Jericho and Big Show vs. Edge and Mark Jindrak w/William Regal

Christian vs.?

Plus;

The Debut of Mr.Kennedy

World Tag Team Championships:
The Dudley Boyz© vs. Daivari and Sonjay Dutt; The Arabian Entity

And;

Batista and Shawn Michaels meet face to face




Show now posted, all feedback appreciated and returned as ever.
Nobody's gay for Moleman.
Join Date: Apr 2012
Location: in a mick malthouse
Posts: 1,523
Points: 164
Re: The BTB Advertisement Thread
---
RAW 18/5:
http://www.wrestlingforum.com/booker...ality-era.html
There was a Champion vs. Champion match, a battle Royale to determine the RAW Money in the Bank participants and the Number One Contender for the WWE Championship. Both those plus a legend returning to the ring for one night and a match for the United States Championship!
Triple H also confronted Paul Heyman, and Vince McMahon made an important announcement.
---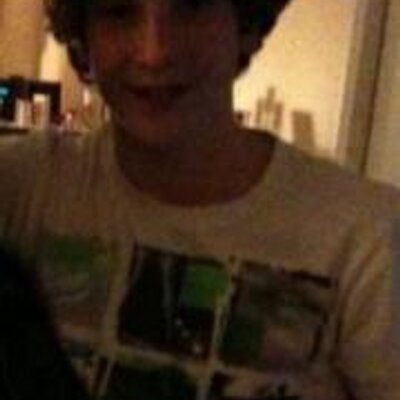 Wheelman for James Ellsworth
Join Date: Jun 2008
Posts: 611
Points: 0
Re: The BTB Advertisement Thread
---


TNA Impact Preview
October 5, 2006 from the Impact Zone-Orlando, FL
Streak vs. Title Shot!!!!
Last week on Impact,
Samoa Joe
presented
Jeff Jarrett
with an oppertunitiy to get his NWA World Heavyweight Championship. Joe would put his streak and the belt on the line in a one on one match with Jarrett. However, the catch was that if Joe won the match, he'd be entered into the Jarrett/Sting match at Bound for Glory. Jarrett, strangly enough, was quick to accept. Will Joe's streak come to an end at the hands of the King of the Mountain, or will Joe begin his road to Bound for Glory and the NWA World Heavyweight Championship. Don't miss the biggest match in Impact history this Thursday!!!!
Cornette Address the Tag Teams!!!!
After the controversal ending to the NWA Tag Team Championship match last week and the chaos that ensued after the bout,
Jim Cornette
has made a decision regarding the Tag Team Championship bout at Bound for Glory. Will
the Naturals
,
LAX
, or
Team 3D
be the ones to face
AJ Styles and Christopher Daniels
at TNA's biggest stage? How will the champions respond?
Abyss in Action!!!!
This week on Impact,
Abyss
will compete in one on one action.
James Mitchell
says this Thursday will be a preview of what's in store for
Kurt Angle
should he accepts Abyss' challenge for Bound for Glory. What does Abyss and Mitchell have planned for their opponent Thursday and will this be the week that Kurt Angle responds?

All this and much more this Thursday night only on TNA Impact!!!!!
Shooting to have this written up by the end of the weekend, Monday at the latest.
Finally Out of Cutey Sleep
Join Date: Jul 2006
Location: The Fountain of Dreams
Posts: 2,020
Points: 9
Re: The BTB Advertisement Thread
---
Quote:
12.26.07

The Hammerstein Ballroom – Manhattan, New York City, New York
~A VERY MERRY WAR~
*Special 2-Hour Supershow*
OFFICIAL PREVIEW

~AOW Dynasty Championship~
Muhammad Hassan(c) v. CM Punk


"You've become exactly what you hate…!"

The classic American notion of pulling yourself up by your boostraps and making something of yourself is an idea that's been passed on from generation to generation of Americans. In the art of professional wrestling, this notion could very much be the literal MO of every single man to ever step in the ring. But for CM Punk, it's not just a cliché statement – it's a way of life. CM Punk has never been one to live in luxury; never one to complain about the way he was brought up, but always one to endlessly work hard and remain addicted to only one thing – competition. The notoriously straight-edge competitor has made it no secret he's here for one thing and one thing only – to be a wrestler, doing exactly that for weeks on end fending off everything the Dynasty Champion had to throw at him.

Muhammad Hassan, meanwhile, has much more staggered motives. Being born and raised in the United States as Punk was, Hassan hasn't always seen the brightest side of pulling up those bootstraps. Forever bitter about the American audience rejecting an Arab-American man trying to make it, Hassan came into a fortune before coming to AOW and has not been shy about spending a dime, using it to fund some Mercenaries, a $50,000 Challenge, and even a bounty hunt on CM Punk. In retaining his Dynasty Championship at World Ablaze, Hassan made sure to send a message to CM Punk by planting the face of his mentor into the canvas repeatedly, taking him out of action. Even so, Punk came into possession of the $50,000 given to him by Storm, leading Hassan to want it back at all cost, it being heavily hinted that perhaps his finances may not be as well suited to handle his demands.

The final edition of Oblivion before AVMW saw both Punk and Hassan's very natures dismantled by their rival – Hassan's penchant for being held down by "The Man" was reversed when Punk dropped the bomb on him that the champion was now, in fact, "The Man" that he hated so much. As for Hassan, he forced CM Punk to face what he hated when he drowned Punk in two bottles of Jack Daniels before destroying Punk's spine with the Camel Clutch. With so much fueling both men, who will be able to walk out of AVMW with the Dynasty Championship – and their restored dignity – held high?


Rob Van Dam makes an announcement

"…the man they call Rob Van Dam. Is. Dead."

Since the inception of Art of War Wrestling, Rob Van Dam has been the man at the center of the universe. At the forefront of every AOW title opportunity, RVD came up short on his chance at World Ablaze through no real fault of his own. He was given another chance two weeks later, but if he lost, he would lose the chance to compete for any title ever again. Once again, Van Dam lost through no fault of his own, as Finlay had a huge hand in Van Dam losing this time. Even through the shenanigans, it was determined that Van Dam's verdict will stand – he could not compete for any titles. This announcement seemed to shake the ego driven Van Dam to his core, developing some kind of dissociative personality disorder, his ego caving in on itself. This last week, he went so far as to declare the man named Rob Van Dam 'dead'. He also let us know that he would be present at A Very Merry War to make a statement regarding the rest of his career. What could Rob Van Dam possibly have on his mind...?


~Grudge Match~
The Samoan Submission Machine Samoa Joe v. The Perfect Warrior Bobby Lashley

"Now it's just time to go out there and clean out the scum of this company by kickin' some ass."

Rob Van Dam didn't lose himself on his own. After forcing Christian Cage out of the company, Bobby Lashley set out to shock the AOW world by joining forces alongside AOW Champion Chris Jericho and Paul "The Great" Wright to form the Worthy Legion, who appear to be hell bent on introducing Jericho's idea of a 'utopia' of sorts in AOW. After taking out Mick Foley, running out Christian, and sending his friend Rob Van Dam over the edge, Samoa Joe made a very stern and unshaken vow to take down every single person responsible one piece at a time – and first, he was gonna start with this man, The Dominator, Bobby Lashley.

After Joe publically announced he was going to try and rid AOW of the 'scum' that was holding it down, Lashley wasted no time making Joe pay for those words by costing him an AOW Championship opportunity with a Dominator on the entrance ramp. A few weeks later, Joe felt Lashley's wrath again when he was gored through the barricades after a match. But woe is Lashley, as he may have further infuriated a vengeful titan. With Joe claiming there's no more thoughts, no more words, he says its straight up asskickin' time. Who will come out on top in this clash of the titans – will it be the perfect warrior Bobby Lashley? Or a man who has actually yet to be pinned or made submit in AOW in the Samoan Submission Machine hell-bent on a mission…?


*4-WAY LADDER MATCH*
~AOW Tag Team Championship~
World's Greatest Tag Team(c) v. American Made v. Sons of the Dungeon v. Samoan Fight Club

"We asked for competition…and we got exactly what we asked for."

The World's Greatest Tag Team has been on an absolute roll in the tag team division, defeating The Hooliganz in what many hail as the greatest set of matches in AOW's young history for those Tag Team Championships. They have since defended it and upheld their 'code of honor', keeping the hearts of champions. Still, with the pool of tag teams in AOW very shallow at the time, the World's Greatest had proven their worth for the moment…

Enter the October 17th edition of Oblivion, which not only saw the first ever AOKO match, but gave us the debuts of not one, not two, but THREE young and incredible tag teams – the Sons of the Dungeon, American Made, and the Samoan Fight Club. While the Sons had been advertised for a while, American Made interrupted not just their ads, but interrupted their debut match and even defeated them. But once the match was over, the team of Siaki and Manu made their name known by destroying the Sons of the Dungeon. From then on, all three of these teams have been linked somewhat, leading to the Tag Team Turmoil match at World Ablaze that saw the Sons take control, but be dismantled by the SFC inexplicably. This allowed American Made to pick up the pieces and become #1 contenders. The very next show, the SFC picked up where they left off and not only injured Psicosis of the Mexicools' ribs, but assaulted the Sons backstage and took them out.

Fast forward a few weeks later, with American Made bad-mouthing the World's Greatest Tag Team for a while and the tag champs asking for 'more, better competition'. When their championship match was granted, they managed to again get the Samoan Fight Club to destroy the champs before the bell even rang, striking some kind of deal with the Club. But even after a grueling fifteen minute contest, and a reversed referee decision, the WGTT retained, leaving AM very vexed that they had no title and nothing to settle their agreement with the SFC about. With that in mind, the SFC went about destroying Nameth and Hagar, but not before they were assaulted by the returning Sons. It was then confirmed that all four teams would be in the match for the title in the same stipulation that crowned the first pair of champs – a ladder match! Who will be able to climb that stairway to Oblivion and get the gold? Will the WGTT prove that they are in fact the greatest? Or is it time for one of the many future options of AOW to take hold?


~AOW Heavyweight Championship~
*If Shawn Michaels loses, he can no longer compete*
The Worthy Champion Chris Jericho(c) w/Paul "The Great" Wright v. The Heart Break Kid Shawn Michaels

"You did the same thing to another man. You say you've changed, but you're full of shit."

World Ablaze. The night the wrestling world stood still. It stood still to stand and marvel as AOW put on its first ever PPV spectacular, shattering all the odds. But the world stood still for different reasons in the end. Not only was Christian Cage sent into exile, but Chris Jericho pulled more than a few strings to retain his AOW Championship – most notably the strings of the man in zebra stripes for that match…Shawn Michaels. It was revealed later that Michaels had been compromised – in his contract, it stated that if Michaels didn't win the AOW Championship in the year 2007, his run in the ring was done. He would be banned from in-ring competition. The Showstopper would be no more.

After finding some way to hold onto his title in a rematch with Van Dam, there was to be a Lucky 13 Battle to determine the new #1 contender. After an incredibly barbaric twenty minutes, Shawn Michaels emerged victorious with his one final chance at gold, even if he had to bend the rules and distract some referees to do so. Jericho applauded Michaels for his efforts, but reminding Michaels that he's alienated everyone in AOW and that he was utterly and completely alone. To everyone's surprise, AOW Cruiserweight Champion Bryan Danielson came to Michaels' aid to make sure he kept his title shot, and even the ridiculously tensioned relationship between Samoa Joe and Michaels forced Joe to help Michaels somewhat.

But Jericho wasn't done trying to drive his way into Michaels' head. A worthy man doesn't give up that easily. Instead, he wanted to prove to Michaels that was still very much alone by bringing him face-to-face with the man who had had the most detriment effect on his career – himself. A mirror before him, Shawn Michaels spoke to himself about everything he'd done; trying to speak to the man in the mirror. What resulted was Michaels admitting he was the same guy who committed wrestling atrocities years ago, but he was looking for a rebirth. While breaking a mirror isn't exactly a way to get good luck, Michaels concluded by having no quams about breaking said mirror with Jericho's body.

Now, with the legendary career of Shawn Michaels on the brink of an unceremonious end, will he be able to salvage up his Heart Break reserve and not just put on a show, but possibly muster up the biggest win of his career? Or will Chris Jericho prove that he is, more than anything else in the world, the true Master of War, the Worthy Man…?

Thank St. Nick, finish the figgy pudding, and put away your new bunny rabbit pajamas and tune in to A Very Merry War, this Wednesday, 9/8c only on FX!!

PREDICTION TEMPLATE
~A Very Merry War~
December 26th, 2007
*Special 2-Hour Supershow*
FINAL CARD

~AOW Heavyweight Championship~
*If Shawn Michaels loses, he can no longer compete*
Chris Jericho(c) w/Paul "The Great" Wright v. Shawn Michaels

~AOW Dynasty Championship~
Muhammad Hassan(c) v. CM Punk

Rob Van Dam makes an announcement

~Grudge Match~
Samoa Joe v. Bobby Lashley

*4-WAY LADDER MATCH*
~AOW Tag Team Championship~
World's Greatest Tag Team(c) v. American Made v. Sons of the Dungeon v. Samoan Fight Club


*Bonus Questions*

1) Select the match order
2) Select the winners of the matches
3) Will there be any surprise appearances? If so, by whom?
4) Will there be any blood? If so, which match?
5) What will RVD's announcement be pertaining to?
Official preview now posted. Leave me some nice words if you wish. Click on quote link or in the siggy.
---
CUTENESS²
AOW: Art of War Wrestling - The Greatest Affair
It's Baaaaack...
.:Oblivion Edition 39/40 Recap NOW POSTED!!:.
Re: The BTB Advertisement Thread
---
World Wrestling Entertainment: The Dawning Of A New Era

~ Coming Soon ~
Re: The BTB Advertisement Thread
---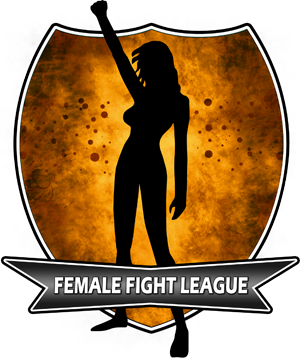 FFL VideoWire
July 9th 2012
Check out the first FFL Videowire as we head into week 1 of the FFL Season! Find out the matches and here what the competitor have to say! Don't forget to make your predictions on who will come out victorious!

Click Here
---

I <3 ME Some M.E.
Re: The BTB Advertisement Thread
---
>Night of Champions 2008<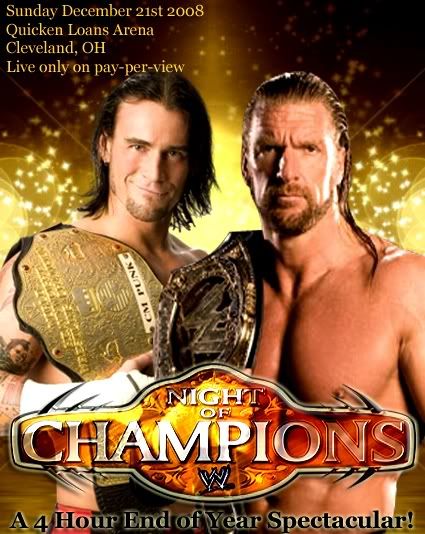 Date: Sunday December 21st 2008
Location: Quicken Loans Arena (Cleveland, Ohio)

>Preview<


For the last three months since John Cena returned to Smackdown from Raw with a guaranteed shot at the World Heavyweight Championship at Night of Champions if he could lead a team to victory at Survivor Series, resentment & jealousy instantly rose to the surface in the locker room. The most resistance came from CM Punk, and the World Champion wasn't short of finding any allies, and despite defeating Team Cena at Survivor Series, he finds himself going head-to-head with Cena for the title. After all he's said about Cena, will Punk live to regret or his words or will he be able to back them up in style and head into the New Year still the World Heavyweight Champion?





Having lost the WWE Championship at Survivor Series in a triple threat match against Randy Orton and the new WWE Champion, Triple H, 'The Animal' Batista has exercised his rematch clause for Night of Champions when he will go one-on-one with The Game. They will meet in a 3 Stages of Hell match that will leave us in no doubt whatsoever who deserves to be the WWE Champion. Can Batista overcome his former Evolution team-mate and regain the title he lost at Survivor Series?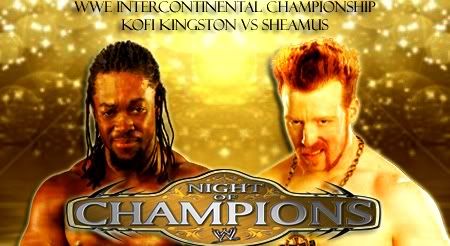 'The Celtic Warrior' Sheamus has been nothing short of impressive since debuting earlier this year, quickly working his way to the Intercontinental Championship almost three months ago, however having now tasted defeat for the first time, he looks vulnerable. The man to inflict that defeat was Kofi Kingston and now he's looking to repeat that upset to regain the title he lost to Ted DiBiase at SummerSlam in highly controversial circumstances. It's clear he's got to the Irishman, and now he appears to be back in the groove he has every chance of getting his hands on the Intercontinental Championship for a second time if he can put the issues with his brother, Jay to one side.





It's been an incredible year for Matt Sydal, and the United States Champion & 2008 King of the Ring will be looking to end it in style by retaining the United States title when he locks horns with Alberto Del Rio-Ramirez. The Mexican newcomer has an impressive track record in Mexico and already has two victories over Sydal to his name, both somewhat controversial it has to be said, but he has the chance to make it three and become the new United States Champion if he can pin Sydal for a third time. Will he be able to do just that and without the use of the ropes this time, or will Sydal end 2008 the way he's stormed through it until now?





These two men have had their problems from pretty much the moment J-Red was announced as Chavo Guerrero's rookie, and it didn't take long for Red to make an impression, not that his mentor was pleased for him. A win over Chavo certainly didn't help matters, neither did Red winning a shot at the Cruiserweight Champion, battling his way past Chavo to get there. Now Red has the title, things still haven't improved, and with the title at stake, they both have something more to fight for in what will be one incredibly competitive contest.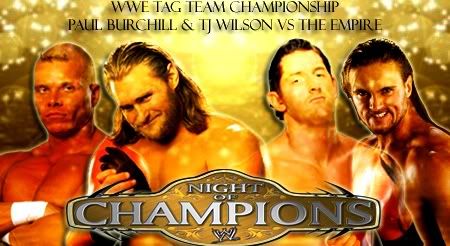 These two groups will collide head on for the WWE Tag Team titles The Empire wanted vacated after they broke Harry Smith's ankle, only for Tazz to hand Smith's title to his long term friend & former rookie, TJ Wilson. He will join forces with Paul Burchill to take on Wade Barrett & Drew McIntyre in what is sure to be one almighty battle to the end.





The Epitome of Excellence still feel as if they were robbed of the World Tag Team titles after being placed in a triple threat match at Survivor Series having already won their place in the final of the tournament final where their opponents drew in their semi final clash. Rey Mysterio & Mystico went on to win that match and claim the titles Daniels & Kaval felt should be theirs, however now they have the opportunity to fight for the titles once again, but whether they will leave Night of Champions with the titles they believe should belong to them remains to be seen.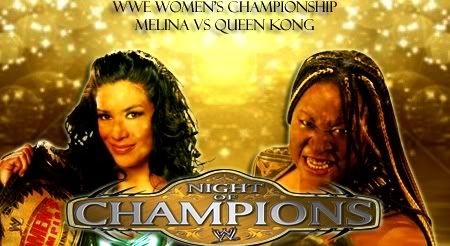 Standing in front of Melina isn't just arguably the biggest challenge of her career to date, but the most intimidating diva in WWE history in Queen Kong. This behemoth has run riot for weeks, running over the Women's Champion on a couple of occasions too. After earning a shot at the women's title having emerged victorious in a battle royal, the title & Melina are firmly fixed in her sights. The odds are stacked highly against Melina, but does she have what it takes to overcome those massive odds and derail Kong's unstoppable charge?





It takes a lot to get under the skin of The Glamazon but Michelle McCool has well & truly done that. Her antics may have been underhand & cowardly at times but McCool has managed to score two victories over Beth in back-to-back weeks recently. With that said she doesn't hold the Diva's Championship, but she will get that chance again when they meet again one-on-one for Beth's title, and McCool must know she'll have to do a hell of a lot to wrestle it away from The Glamazon.


>Prediction Template<

World Heavyweight Championship
John Cena vs. CM Punk (c)

WWE Championship
3 Stages of Hell
Batista vs. Triple H (c)

WWE Intercontinental Championship
Kofi Kingston vs. Sheamus (c)

WWE United States Championship
Matt Sydal (c) vs. Alberto Del Rio-Ramirez

WWE Tag Team Championship
Paul Burchill & TJ Wilson (c) vs. The Empire

World Tag Team Championship
Rey Mysterio & Mystico (c) vs. The Epitome of Excellence

WWE Cruiserweight Championship
Falls Count Anywhere
J-Red (c) vs. Chavo Guerrero

WWE Women's Championship
Melina (c) vs. Queen Kong

WWE Divas Championship
Beth Phoenix (c) vs. Michelle McCool


>Points Breakdown<
1st – 3,000
2nd – 1,250
3rd – 750

Predictions to be made in my thread, not here!
Re: The BTB Advertisement Thread
---
A Revolution Is Coming.
Posting Rules

You may not post new threads

You may not post replies

You may not post attachments

You may not edit your posts

---

HTML code is Off

---