Re: The BTB Advertisement Thread
---
[I]

ECW Hardcore TV #2 Preview
January 20th, 2001 - ECW Arena; Philadelphia, Pennsylvania
Much like what was promised last week, ECW is still here and is still going to stay! Hardcore TV is once again broadcast from the home of ECW, the ECW Arena in good old Philadelphia, Pennsylvania!
At the opening of last weeks show, Jerry Lynn vented his frustration about not being able to beat Rob Van Dam at Guilty As Charged and was so riled up that he even challenged Rob Van Dam to a match at Cyberslam. Lynn, and the ECW fans expected an answer out of 'The Whole F'N Show' last week but he was no where to be seen, fans and Jerry Lynn especially will be expecting Rob Van Dam to answer the challenge tonight on Hardcore TV but, there is still a chance that RVD will not have an answer. Whilst Jerry Lynn waits on the answer, he will be in action tonight, going up against 'El Insane Luchadore' Super Crazy. Will Rob Van Dam show up? There's only one way to find out, check your local listings to find out if Hardcore TV is in your area!
The ECW World & Television Champion, and member of The Network, 'The Man Beast' Rhino experienced an ass kicking at the hands of Sandman last week when Sandman entered the ring following Rhino's victory over Johnny Swinger and literally caned him to hell. Sandman held nothing back from the man who took away the ECW Championship in sixty seconds from him. Rhino wasn't the only one who fell victim to a caning, Cyrus, much tot he delight of almost everyone, also got his ass kicked by the beer chugging ECW Legend! Regardless of who the Sandman destroyed last week, he sent one clear message to Rhino & The Network; he wants his ECW Championship back.
Plus, Chris Chetti and his manager, Lou E. Dangerously will be in the house to address why he came back to ECW, despite being forced out of it back at November 2 Remember. A preview of whats to come at Cyberslam will feature one half of the Impact Players, Justin Credible and one half of the ECW Tag Team Champions, Danny Doring. Also, appearances from Cyrus, Nova, Johnny Swinger and much, much more!
Confirmed Matches:
Jerry Lynn vs. 'El Insane Luchadore' Super Crazy
Justin Credible (w/'The King of Old School' Steve Corino & 'The Queen of Extreme' Francine) vs. Danny Doring (w/'Amish' Roadkill)
Re: The BTB Advertisement Thread
---
Monday Night Raw
Monday 15th December 2008
Madison Square Garden
New York City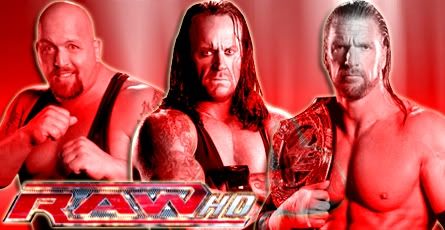 3 Hour Slammy Special



Now Posted!

The last Raw before Night of Champions!


Batista & John Cena team up to take on their Night of Champions opponents, Triple H & CM Punk
Re: The BTB Advertisement Thread
---
WWE Monday Night Raw Preview May 24th, 2004

This week the superstars of Raw roll into Rockford, Illinois as they begin to head full throttle towards Vengeance.

There's been one thing on the mind of just about everybody when they think about Raw as of late, and that's the bitter feud between the Raw General Manager Eric Bischoff, and the 'Sheriff' of Raw Stone Cold Steve Austin. Things have reached boiling point ever since a couple of weeks ago, when Vince McMahon himself appeared on Raw and announced an extremely high stakes match at Vengeance. Bischoff and Austin both pick a representative to wrestle for them at Vengeance, and whoever's representative wins has full control of Raw, whilst the loser will be fired. The whole situation heated up even more when Bischoff announced his representative... none other than Bill Goldberg. Goldberg has had problems with Austin since WrestleMania, when after Goldberg defeated Brock Lesnar, Austin Stunned him out of his boots. Now the pressure is on Austin as he has to find a representative who can match Goldberg, and last week Austin searched San Antonio, Texas seeking 'The Heartbreak Kid' Shawn Michaels. Eventually he found HBK, but whether or not Michaels will accept the offer from Austin and return to Raw tonight is unknown. He hasn't been himself since The Rock let him know that he should retire because he's past his prime, and this lead to Michaels spiralling downhill rather quickly, culminating in a shock loss to Matt Hardy. Bischoff has booked his representative in the main event tonight though, as he wants Goldberg to show everybody just what he can do. Bill Goldberg will be going one on one with 'Big Poppa Pump' Scott Steiner.

Funnily enough, Scott Steiner also fits into this feud between Bischoff and Austin. Bischoff originally tried to turn Steiner corporate; however Austin was able to talk Steiner out of it. From there, Easy E enlisted the help of the demented 'Big Red Machine' Kane. These two men have been at each other's throats ever since. When these two men are in the same arena, everybody knows things can explode into chaos at any time. Just last week the two brawled to the parking lot, where Kane Chokeslammed Steiner onto the hood of a car. Hoping to quell interference in the main event, Bischoff has also booked Kane in a match tonight, as he'll go one on one with Val Venis.

It has finally been announced that at Vengeance Chris Benoit will defending his World Heavyweight Title against both Triple H and Randy Orton in a triple threat match. This obviously means that Benoit will have to deal with all four members of Evolution heading into Vengeance, and that's exactly what he was unable to do last week. Benoit made Flair tap out in the main event last week, but from there he was taken out in a four on one assault. This week Benoit has sworn for revenge and he's been booked in a tag team match against Triple H and Randy Orton... The only problem, Benoit doesn't have a partner. 'The Rabid Wolverine' has got until right before his match to find a partner, but the question remains, who in their right mind would want to get on Evolution's bad side?

We will also hear of Chris Jericho's thoughts regarding Christian recruiting Lance Storm to help make Jericho's life a living hell.

All of this and plenty more as the road to Vengeance continues heating up...
---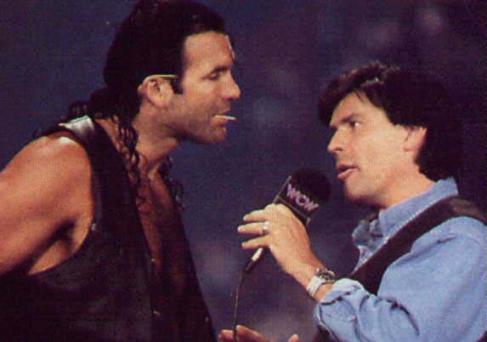 Re: The BTB Advertisement Thread
---
Re: The BTB Advertisement Thread
---
Proverbs 28:1 The wicked flee when no man pursueth: but the righteous are bold as a lion.

Coming Soon...
---
A New Be The Booker
..Coming Soon...
I Promise..
---
Last edited by University-3:16; 06-06-2012 at

01:33 PM

.
Finally Out of Cutey Sleep
Join Date: Jul 2006
Location: The Fountain of Dreams
Posts: 2,020
Points: 9
Re: The BTB Advertisement Thread
---
Quote:

12.12.07

The Hammerstein Ballroom – Manhattan, New York City, New York
"The Man in the Mirror"

Another week in the Hammerstein Ballroom means another explosive show, but that only means that Chris Jericho is up to yet another scheme for another week. Chris Jericho is nearing his fourth month as AOW Heavyweight Champion, but he's possibly being greeted with his greatest challenge yet with Shawn Michaels not only thwarting Jericho's attempt to use evidence against him, but narrowly being able to get out of Jericho's ploy last week with a surprise appearance and performance from AOW Cruiserweight Champion Bryan Danielson. Now, the Worthy Champion who leads a Worthy Legion has invited his number one contender to a 'career retrospective'…? The entire AOW world knows if Shawn Michaels fails to capture the AOW Championship in two weeks, his career may very well be over, so is this one last attempt by Chris Jericho to use his manipulative prowess to get inside Michaels' head? Or is there even slimier, even more ulterior motives for the Worthy Man?

Speaking of the Worthy Legion, if last week is any indication, Shawn Michaels is not as alone as Chris Jericho had hoped. While the relationship between Shawn Michaels and Samoa Joe has been a rocky one to say the least. But last week in Michaels' darkest hour, it was Samoa Joe who came running down the ramp to the rescue of Bryan Danielson. But Samoa Joe has made it clear that he and Shawn Michaels are not friends – but perhaps they have a common enemy. Samoa Joe doesn't think it's a secret he has some issues to resolve with Bobby Lashley, but for now, he'll just have to settle for getting back in the ring for one-on-one action.

The uneasy relationship between Joe and Michaels stems from Michaels' decision and attitude towards Joe's good friend Rob Van Dam…or who we know as Rob Van Dam, but who has expressed very vehemently that he is no longer the Whole F'n Show. Two weeks ago, Van Dam seemed to have a mental breakdown upon being banned from all title matches and was not present on the program last week, being sent to his California home. But this past weekend, Van Dam's longtime friend and AOW commentator Joey Styles went to the Van Dam residence to try and get some answers. This week on Oblivion, we see the footage from that interview from the artist formerly known as Rob Van Dam.

But that isn't all this week! Tensions running high in the main event picture might not hold a candle to what the cruiserweight division has going on. Since his debut, Aero Star has been showing a high-octane, unorthodoxed style of luchador offense and immediately drew the ire of Jamie Noble. Noble put Star through a table over a month ago en route to defeating Star at World Ablaze, but after the match, Star got retribution by putting Star through the same table. Two weeks ago, Star and Noble both had opportunities to become Cruiserweight Champion, but both men came up short. Now, the tensions have boiled over to the point where both men just want at each other's throats. On the next Oblivion, the man they call Aero Star goes toe to toe with "Pitbull" Jamie Noble in a World Ablaze rematch…this time with NO DISQUALIFICATIONS.

That's not all!! Muhammad Hassan is NOT happy about his number one contender, Ken Doane has a new target in The Warrior, Low Ki, and the AOW tag team division heats up even more before the big Four Way Ladder Match in two weeks. All this action (and more!!) on the next explosive edition of AOW Wednesday Night Oblivion, 9/8c only on FX!!


.:Confirmed for Oblivion:.

~NO DISQUALIFICATIONS~
Aero Star v. Jamie Noble

Joey Styles interview footage from the Van Dam residence

PLUS…

Samoa Joe in action

AND…

Chris Jericho invites Shawn Michaels for a "career retrospective"
Show FINALLY posted. Link on the same page if you follow the quote OR click underneath the pink cute ball in the siggy.
---
CUTENESS²
AOW: Art of War Wrestling - The Greatest Affair
It's Baaaaack...
.:Oblivion Edition 39/40 Recap NOW POSTED!!:.
Re: The BTB Advertisement Thread
---


Coming soon to a BTB Section near you.
---
Re: The BTB Advertisement Thread
---
WWE 2012: Rising Above the Standard
Coming soon to Be the Booker
---
1x Tag Team Champ (with Sonic Slash) as Air-Slash
1x Tag Team Champ (with New Guy) as New Trouble
Join the Forum Championship, a pay-per-view prediction contest!
http://www.wrestlingforum.com/mitb/8...oney-bank.html
Re: The BTB Advertisement Thread
---
Unmatched Fury Wrestling

Once every generation there comes a time when the course of history is altered forever. Now, it happens again. From the minds of creators Shane McMahon and John Bradshaw Layfield comes Unmatched Fury Wrestling. This bold new federation promises to change the sport of professional wrestling forever.

The Revolution Begins
Re: The BTB Advertisement Thread
---
World Wrestling Entertainment: The Dawning Of A New Era
~ Coming Soon ~
Posting Rules

You may not post new threads

You may not post replies

You may not post attachments

You may not edit your posts

---

HTML code is Off

---