Re: The BTB Advertisement Thread
---
Friday Night Smackdown Preview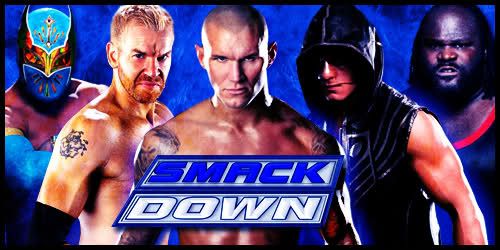 August 26, 2011
Jefferson Convention Centre ~ Birmingham, Alabama

This week, Friday Night Smackdown comes to you from the Jefferson Convention Centre in Birmingham, Alabama, in front of over 17,000 members of the WWE Universe! Tonight, Smackdown General Manager Theodore Long has told us that he has a blockbuster announcement regarding his plans for the World Heavyweight Championship currently held by Randy Orton come Night of Champions in just over three weeks time! What Mr Long has in store no one but he knows, but he has informed us all that tonight we will find out who the champion going into Buffalo will be. Randy Orton is set to defend the title tonight against the man that he has battled for the gold with throughout the entire summer, "Captain Charisma" Christian. Christian won the title for the first time back in May, but lost it to Orton only 5 days later. Since then, the two ring warriors have fought tooth and nail over the coveted belt and many thought this storied rivalry was over when Orton defeated Christian in a No Holds Barred Match at Summerslam less than two weeks away. However, there is an extra twist for tonight's title match, as due to the events of last week on Smackdown, the championship will be defended under FALLS COUNT ANYWHERE RULES! The events which prompted Mr Long to make this decision was when Orton delivered a devastating RKO onto the roof of a car last week after Christian was about to lay his hands on the General Manager following a disagreement. These two men will definitely leave it all in not just the ring, but the entire arena tonight in Birmingham, but who will walk into Night of Champions with the World Heavyweight Championship?

Two other men that have been having an extremely physical war as of late is "The World's Strongest Man" Mark Henry and "The Celtic Warrior" and former WWE Champion Sheamus. The two behemoths collided at Summerslam, with Henry coming out victorious, despite the win being due to count out after Henry ploughed Sheamus through the ring barrier. In the main event of Smackdown last week, the two met in a 'rematch', which was fought to a double count out, but the lasting image that will be engraved in the WWE Universe's brains is of Henry standing tall over his adversary after delivering an emphatic World's Strongest Slam through the broadcast announce table. The devastating move has left Sheamus with severely bruised ribs, and has rendered him unable to compete in Birmingham tonight. But we have been informed that he will be in attendance and has requested some time to address his current condition and Mark Henry. The "World's Strongest Man" will also be in the JCC tonight. There is still a lot of business to settle between the two titans, and tonight we may see some important developments in this story.

We also know that there will be a very important guest on Smackdown tonight, that being the COO of the WWE, Triple H. Since taking his position of office, "The Game" has scarcely appeared on the blue brand, but we understand that he is here tonight strictly on WWE Board of Directors business tonight. What this entails we do not know, as there has been a big urge to hush any possible rumours regarding the nature of Triple H's appearance tonight. Make sure to tune into Smackdown to find out what the important business is.

We will also see some Diva action tonight on Smackdown, and it is the Divas Champion, Kelly Kelly that will be competing. Her opponent? Look no further than one half of the Divas of Doom, Natalya. The two Divas were involved in tag team action on Raw this past Monday, with the champion being on the receiving end of a Glam Slam from Natalya's partner Beth Phoenix. Many have called for Phoenix to be named the number one contender for the purple championship, due her recent run of victories, none more so vocal than Phoenix and Natalya, as well as Michael Cole on commentary. Tonight, Natalya has the chance to get it done where Phoenix could not at Summerslam, and show Phoenix what "real women's wrestling is".

Last week, we saw the very first "Cody Rhodes Intercontinental Championship Challenge". The concept is simple; any Superstar that is not from the United States is allowed a match with Intercontinental Champion Cody Rhodes. If they win, Rhodes and his associate Ted DiBiase Jr have promised the challenger a match against Rhodes for the coveted and prestigious title. This new concept has received mixed reviews after it's first week, as some call it unfair on the American Superstars, whilst some have said that is embarrassing other nations. Young Japanese Superstar, Yoshi Tatsu was the first man to rise to the challenge last week, but the youngster was no match for Rhodes, being dispatched in little over a minute. With the vast amount of foreign talent available in the ranks of the WWE, will Rhodes find a more formidable challenger tonight?

Also tonight, we see former tag team partners and champions Heath Slater and Justin Gabriel face off. The two met last week on WWE Superstars, with Gabriel coming out on top, will we see the same result tonight?

Confirmed for Smackdown

World Heavyweight Championship
Falls Count Anywhere Match
"The Viper" Randy Orton © vs "Captain Charisma" Christian

Theodore Long's Big Announcement

Intercontinental Championship Challenge
Intercontinental Champion Cody Rhodes w/ Ted DiBiase vs ???

WWE COO Triple H is in attendance

Divas Champion Kelly Kelly vs Natalya w/ Beth Phoenix

Sheamus speaks out

"The One Man Rock Band" Heath Slater vs Justin Gabriel

Plus much, much more!
Click the link in the signature
Re: The BTB Advertisement Thread
---
Quote:

Glory By Honor X has now been posted in my humble thread about ROH.
Many great matches on the card including these featured bouts.



Drop a comment, write a review, read it outloud to your wife while she's asleep, it's a must-read show.
---
WWWF is Coming...
Learning to break kayfabe
Join Date: Sep 2007
Posts: 131
Points: 0
Re: The BTB Advertisement Thread
---
This show has been posted. As always, review 4 review
Quote:
The BTW Invasion
The Last Stop before Apocalypse
For the first time in quite some time, BTW Nitro leaves the confines of good ol' USA and will emanate from Ottawa, Ontario; Canada. Some superstars will find this advantageous, others will certainly get a boost from the homecoming. Between these superstars is no other than Number One Contender Christian Cage. With this being the last BTW Nitro before Apocalypse, momentum will be the thing both him and Brock Lesnar, and with the homefield at the very least Christian will be the favorite. Just days before their clash, who will be go into Apocalypse the favorite, Christian Cage feeding himself from the very likely crowd support and from the still lingering leg injury of the champion, or Brock Lesnar and his animalistic self, physically forcing an advantage in his favor?

Taken into consideration has to be the fact that Christian Cage will be in action, while the BTW World Heavyweight Champion Brock Lesnar has been given the night off. Christian has been selected as the promised opponent for Jeff Hardy. The Rainbow Haired Warrior has been an emotional timebomb as of late, and come BTW Nitro, it will be Christian's job to deal with the BTW Extreme Championship's Number One Contender. Who will come out victorious out of this main event?

Another main event like match up will be the battle engaged between Randy Orton and Joe Anoa'i, in a rematch from their first encounter two weeks ago that ended in a count out. Orton weaseled out of any confrontation both during that match and last week, however on this BTW Nitro he will have to deal with the Anoa'i avenger. Will he survive, or will destiny finally collect on his dirty deeds on The Rock and Rikishi?

The destiny's collector, the reaper himself, The Undertaker, will be in attendance, as he delivers his edict to the BTW Universe. It could prove to be case of Deja vu though, as last time Undertaker held an edict ceremony, it was after WrestleBowl and it was the opportunity his entire rivalry with Umaga kickstarted.

Another issue that will develop is the perverted triangle surrounding the BTW Continental Championship, as BTW Continental Champion Chris Jericho, also having a homecoming of sorts, goes one on one with Colt Cabana. In the last couple of weeks we have seen Colt defeat Mr. Kennedy, Ken scored victories over Cabana and Jericho defeat the loudmouth Kennedy. Who will get the last slice of momentum going into their Triple Threat Match at Apocalypse.

In action we will also see Muhammad Hassan. Last week we got a new glimpse at Muhammad Hassan, who continued to reprimand fellow americans and rival Cody Rhodes for all his underachievements as of late, as well as attacking Rhodes after this one was in action. Hassan will team up with MVP to face Cody Rhodes and Gavin Spears, hoping that Montel uses this one match to snap out of his now considerable losing streak.

And also in attendance will be the entire agrupation of The Wall, as well as their nemesis Bill Goldberg. Last week Big Show competed in a match with Gavin Spears in which should he had walked out the winner, he would have selected the stipulation for his match with Goldberg at Apocalypse, however even if Show and his lackeys dismantled Spears, he was disqualified and the record books will say he lost. What will happen with the still pending stipulation for the Apocalypse Match?

All of this, and much, much more, including the match supposed to happen last week of The Fatu Brothers vs Orlando Jordan and Elijah Burke, plus words from CM Punk and Samoa Joe as they continue their preparation for their Apocalypse match, only on BTW Nitro, the last one before Apocalypse.


Confirmed Card:
Christian Cage vs Jeff Hardy
Cody Rhodes and Gavin Spears vs Muhammad Hassan and MVP
The Fatu Brothers vs Orlando Jordan and Elijah Burke
The Undertaker's Edict
Randy Orton vs Joe Anoa'i
Chris Jericho vs Colt Cabana
Re: The BTB Advertisement Thread
---
Re: The BTB Advertisement Thread
---
Monday Night Raw
Monday 10th November 2008
Allen Fieldhouse
Lawrence, Kansas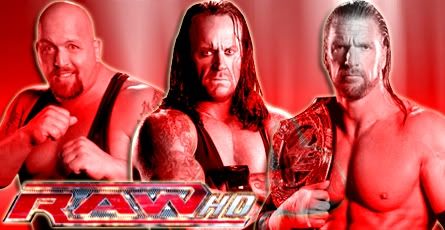 >Now Posted!<

The first show after the Survivor Series!

Includes:
>The new WWE Champion, Triple H vs. The Big Show<
>The Undertaker vs. The Miz<
>The new World Tag Team Champions, Rey & Mysterio & Mystico in action<
>Team Raw's victorious captain, the undefeated Intercontinental Champion, Sheamus extends an open challenge<
>Melina defends her Women's Championship against Mia Rain<



Re: The BTB Advertisement Thread
---
I don't think any fancy graphics are needed, all you need to know is the WWE Chronicles is coming back, in some form. Get amongst it.
Re: The BTB Advertisement Thread
---
ICW PAYBACK 2012
OFFICIAL MATCH CARD & PREVIEW



Singles Match
Chris Jericho vs. William Regal
The Hellzone All Starz Battle Royal really shook off the ICW Universe when the reign of Hellzone kicked off with this! The Battle Royal, the very 1st ever ICW match, showcased some of talents, and created new rivalries. One of those rivalries was the one of Chris Jericho and William Regal.

Jericho, not standing by Regal's "classy" methods of eliminating Superstars in that match - his brass knuckles - attacked Regal and tried his damnest to eliminate him, but a lethal dropkick by Chavo Guerrero, throwing both men over the top rope, and attempting to skin the cat, would not help at all. Regal would push Jericho back to the apron, and hit him viciously on the face with the brass knuckles, eliminating him. Jericho, later that night, got his revenge on Regal by attacking him onto backstage. Their feud saw yet another ring-to-backstage brawl in the 8-Men Tag Match at the Hellzone 1/27/12 edition.

Jericho and Regal fought many, many times before, and they're ready to shake things up in another vicious match at Payback.


Singles Match
Randy Orton vs. Davey Richards
Another rivalry started at the Hellzone Battle Royal was the one of Davey Richards and Randy Orton, one that is really personal, and one that nearly ended Randy Orton's career.

Mad at his Battle Royal elimination at the hands of Orton, Richards entered back in the ring and beat Orton up, eliminating him too. At the ringside area, a brutal beatdown saw a very tragic ending: Orton's neck nearly, VERY NEARLY, snapping off with a vicious DR Driver II into the steel steps. Orton was immediatly carried out on a stretcher, while Richards smiled.

Teddy Long, Hellzone GM, ended Richards' smiling, when he announced Orton was ready to compete in 2 week time, and that he would be back at Payback, and he DID wanted a piece of Richards. Will it all end with a RKO on the ring steps, for the perfect vengeance for the Viper?


Hardcore Championship
Hardcore Match
Rob Van Dam vs. Kane
Payback is served on a cold and hearless way. For hardcore fans, it surely is. For Randy Orton, it will surely be. But will anything come close to the payback feelings that RVD might be having over his new enemy, Kane?

On the latest edition of Hellzone, RVD was having a brutal match with Sabu over the coveted ICW Hardcore Championship. But the 1st ever champion was never crowned, because Kane and one of his rampages stopped RVD from acting for the delight of everyone, all ready to chant "Holy Sh*t!". Still mad over not making it to the Final 8 last week, Kane attacked RVD on everywhere - ringside, parking lots, bathrooms... all to the point of being Chokeslammed through an interview set. How RVD might be standing right now makes us wonder. But who knows RVD, knows he is standing, and RVD wants not only the Hardcore Title he never had, but the coveted Payback over Kane.

On a brutal and physical Hardcore Match, the Whole F'n Show and the Big Red Machine will try to steal the show, in order to claim the 1st ever ICW Hardcore Champion, this Sunday, in St. Louis. The question is: are YOU ready for the hardcore show?


Tag Team Championship
Regular Tag Team Match
The Motor City Machine Guns (Alex Shelley & Chris Sabin) (c) vs. Air Boom (Kofi Kingston & Evan Bourne)
The Motor City Machine Guns are the only champions in ICW who will defend their titles this Sunday at Payback, and there is no better way for them to have their 1st title defense, than to have a physical, nasty, bungee-jumping-like radical Tag Team match with the new sensations in Tag Team wrestling: the team of Kofi Kingston and Evan Bourne, Air Boom.

These two teams collided at the Debut Show of Warpath, alongside the World's Greatest Tag Team (Shelton Benjamin & Charlie Haas) and the Briscoe Brothers (Jay Briscoe & Jack Briscoe), and they delievered a masterpiece of a contest. In fact, that match, as voted by the ICW fans, is just behind Shawn Michaels vs. Goldberg (Hellzone Debut Show) and the Hellzone All Starz Battle Royal as ICW's Match of the Month. But when the dust was set clear, the Guns took their shot and pinned Jay Briscoe to become the 1st ever ICW Tag Team Champions! But Air Boom was not pleased, and they challenged themselves the Guns for a rematch at Payback, in which the champs accepted.

Which one of these teams will prevail in St. Louis, this Sunday? Don't miss Payback, and find out yourself!


Women's Championship
Ladder Match
Trish Stratus vs. Mickie James vs. Beth Phoenix vs. Molly Holly vs. Sara Del Rey vs. Velvet Sky vs. Jacqueline vs. Melina vs. Tara vs. Winter vs. Layla vs. AJ Lee
ICW is a whole piece of attitude, baby! We've got the greatest and hottest women wrestlers in the world! They're sexy as hell, athletic as hell, and they're ready to put on a show for you every single week! But what if you put that sexiness aside and you put 12 of the top women in wrestling today and have them climb a ladder to reach glory?

You better thank Sara Del Rey for seeing that one. Sara attacked Trish before a Bra & Panties Gauntlet Match for the Women's Title at the Debut Show of Warpath. This consequently brought all the women in the Warpath roster to enter in a huge brawl in the middle of the ring, causing a no contest result. Stone Cold Steve Austin, Warpath GM, made himself clear that he wanted these women to have a "hardcore" Battle Royal, and that chaos would indeed be set, when all of the women were scheduled to meet in the 1st EVER Divas Ladder Match, for the Women's Championship, at Payback!

Someone will get hurt. Some sexiness will not be sexy. Someone will leave as Women's Champion, but the price for that will be HUGE.



Hellzone Heavyweight Championship
Triple Threat Match
Mark Henry vs. Edge vs. Mr. Anderson
This match was supposed to be Mark Henry vs. Shawn Michaels, but it all changed with Mark Henry - and a whole lot of Superstars as well - and their madness over HBK.

The Hellzone All Starz Battle Royal. Brutal and mad, sick and non-stop action. Only 8 men left the ring as winners and as the Final 8 of that night's Gold Rush Tournament: Mark Henry, Shawn Michaels, Edge, Mr. Anderson, Triple H, Goldberg, Sin Cara, and William Regal. Henry defeated Cara to advance to the semi-finals. Regal punished and demolished Triple H, though with the use of a weapon. In ICW's Match of the Month, and one of the best matches ever televisionised, HBK fought his way to victory against Goldberg. And Edge and Anderson... didn't. Because they were helped out by doctors after a Spear through the ringside barricade, and a count-out who eliminated both from the tournament and sent Mark Henry on his way to the finals. But when HBK and Regal fought in the 1st and only semi-finals, things were starting to look horrible for the Showstopper. He had went through the Battle Royal and Goldberg. Now, he was fighting Regal... and he did won, but via DQ. Regal snapped and hit HBK with the brass knuckles, right in front of the referee, consequently, snapping Regal into locking a vicious Regal Stretch. Despite Chris Jericho wiping Regal off, Kurt Angle came to attack HBK, as he claims he should have been in the Final 8, as he never was eliminated from the Battle Royal since he left by the bottom rope and was sent to the backstage. After Angle, Sting came and hit a Scorpion Death Drop on HBK, mad at his 1 second elimination after a Sweet Chin Music. Henry came down to finish everyone else's jobs, with a World's Strongest Slam through the announce table. It was Henry vs. a very, very badly treated HBK. One HBK with a rib injury that will take him 2 months off his career. One HBK that would not be able to fight at Payback...

Thankfully, Teddy Long, Hellzone GM, always has a back-up plan. His back-up plan? Punish everyone who attacked HBK, and announce that all the others in the roster couldn't replace him at Payback either... except for two men. The two men who never ended their issue, and that issue is as much brutal as to the point of leading to a Hellzone Heavyweight Title Match: Edge and Mr. Anderson. Triple Threat rules. Henry vs. Edge vs. Anderson. Hellzone Heavyweight Title. Payback, this Sunday Night.


Warpath World Championship
The Rock vs. CM Punk
Rock and Punk are pioneers of their generations. They're masters of the microphone. They're warriors of insult. One straight edge shoot promo genius. Other comedian trash-talk-loving candy-ass-whooping genius. Two massive egos who will collide for the 1st time ever at Payback, in a match that, like the Hellzone Title match, was subjected to a last hour change.

Warpath also had an All Starz Battle Royal of its own. Everyone in the roster fighting their way to get a Warpath World Title shot. Everyone putting their bodies on the line to get to the title match at Payback. Unlike the Hellzone one, only 2 would be leaving as the winners and opponents at the PPV. Those two were two men who knew each other very well, two of the biggest and baddest wrestlers of their generations: CM Punk and John Cena. The Rock, runner-up, would eventually also show his heat over the scheduled Punk vs. Cena contest, trash talking to the Champ. That trash talking wouldn't exactly be one of the main reasons why Cena might have became what he would become afterwards, but it might have been close to it. Later that night, the Champ and the Second Sity Saint clashed egos in yet another of their very famous contract signing angles, this time with Stone Cold, Warpath GM, monitoring the whole deal. That deal would not pay off the right way - well, not for Austin, Punk, and at the end of the whole story, Cena. Cena smiled. Cena sickly smiled. Cena snapped. Cena viciously cheap shots Punk and Austin. Cena hits everyone trying to stop the fight with a chair, taking them all down. Basically the entire Warpath roster - minus the Undertaker and AJ Styles - was decimated by this. Cena finally Attitude Adjusts Austin through the signing table. Cena follows Austin's league: Arrive. Raise hell. Leave. This hell would backfire, though, because Austin actually stripped Cena's title shot off him, and SUSPENDED HIM. Cena will not be happy, folkes! Even worse for him: Rocky would replace Cena in the Warpath World Championship match at Payback!

The Attitude's trademark trash talker against the Reality's trademark trash talker! Which one of these microphone geniuses will outwrestle the other at Payback? FIND OUT, SUNDAY!


The Ultimate Dream Match
The Undertaker vs. AJ Styles
This is what it's all about. ICW's 1st ever PPV to be capped off by a Dream Match of a lifetime. One match you'd think you would NEVER, EVER see. But it will happen, in St. Louis, Missouri, in the Scottrade Center, when the Undertaker will go one on one with AJ Styles. The Phenom vs. The Phenomenal. The Deadman, the legend vs. the fantastic X-freak, the absolute future. Are you ready?

The Warpath Battle Royal. Everyone fighting. Both these men, Undertaker and Styles, show great technique against other men, and combined they eliminate several. Until the moment they square off, face-to-face, in the middle of the ring. Everyone stops. The world was watching. Styles slaps Undertaker. Undertaker Boots Styles' head off. Shortly afterwards, Styles kicks Undertaker back. Styles sends Undertaker to the rope, hoping for yet another one of his crazy moves. Undertaker hits his flying clothesline in retaliation. Undertaker tries to eliminate Styles. Undertaker is attacked, Styles gets off. Styles attempts to eliminate someone, but he is stopped, so he goes back on the work with the Phenom. Styles attempts the Styles Clash, nearly reversed into a Last Ride. Last Ride reversed into a headscissors that just didn't eliminate Undertaker by a landslide. Styles gon' try a senton double kick to eliminate him. Fails. Styles is ELIMINATED. Styles back in the ring, a bit afterwards, with a replica of Undertaker's urn found under the ring. Styles attacks Undertaker with it. Styles KO's Undertaker. Styles throws Undertaker over the top rope. Styles leaves, and does Undertaker's on knees, tongue taunt. Undertaker sits back up shortly afterwards and leaves "magically". After the Battle Royal, Styles calls out Undertaker. Styles challenges Undertaker to a match at Payback. Undertaker "spiritually accepts", claims Styles. The match is set.

You will watch it. Two icons, one on one. Who will prevail, in the, as dubbed by Bobby Heenan, the Ultimate Dream Match?


DON'T MISS ICW PABYACK 2012!

---


Special thanks to King Gimp for the sig.

MARKING FOR:
Daniel Bryan | Bad News Barrett | Dean Ambrose | Damien Sandow | Sami Zayn | Kevin Owens | Pentagon, Jr. | Austin Aries | Kota Ibushi | Kenny Omega | William Regal | Bayley | Renee Young | YOSHIHIKO - The greatest dummy wrestler of all the times | Anything DDT tbh, especially the Ironman Heavymetalweight Championship matches
Learning to break kayfabe
Join Date: Sep 2007
Posts: 131
Points: 0
Re: The BTB Advertisement Thread
---
Preview for my next PPV has been posted.
Regularly Beating Up James Ellsworth
Join Date: Jan 2009
Location: Sioux Falls, South Dakota/Jasper, Minnesota
Posts: 3,196
Points: 6
Re: The BTB Advertisement Thread
---
Quote:
Extreme Returns to Philly!

The second revolution has started. Extreme is back!
Saturday, April 28th at the Pennsylvania National Guard Armory, the Extreme Originals are back in action.

See "The Franchise" Shane Douglas take on "The Innovator of Violence" Tommy Dreamer with Terry Funk at ringside!
Sabu vs. Jerry Lynn
Raven vs. Rhino
Balls Mahoney vs. Axl Rotten
as well as Stevie Richards, The Blue Meanie, The Original Gangstas New Jack and Mustafa, Tracy Smothers, Too Cold Scorpio, Justin Credible, and more!

---
Finally Out of Cutey Sleep
Join Date: Jul 2006
Location: The Fountain of Dreams
Posts: 2,020
Points: 9
Re: The BTB Advertisement Thread
---
Quote:
AOW PRESENTS
WORLD ABLAZE OFFICIAL PREVIEW


~AOW World Heavyweight Championship~
SPECIAL GUEST REFEREE: Shawn Michaels
~ECW RULES~
The Worthy Champion Chris Jericho(c) v. The Whole F'n Show Rob Van Dam

Since the very inception of AOW, Chris Jericho has been on a tear to prove that he's not just the best in the world at everything he touches, but that he's a worthy man – a worthy man who became a worthy champion on the pilot episode of AOW Oblivion. And to hold onto that title and everything it holds dear, Jericho has always managed to stay "one step ahead" of everyone around him. He stayed that step ahead of Rob Van Dam in their initial title 'bout, forcing Van Dam out of action before the match even began, and even stayed that step ahead of potential challenger Shawn Michaels by debuting the best insurance policy a worthy man could have – the seven-foot tall, 400 pound mammoth named Paul "The Great" Wright. Jericho, a very vocal opponent of the administration of AOW, then began telling anyone with ears that his visions for the company were better than anything the men running it – Paul Heyman and Mick Foley – could ever imagine. But woe to the visionary who opens his mouth and shuts his eyes…

Enter the #1 Contender, Rob Van Dam. After Jericho retained his AOW Championship via somewhat shady means at the first ever Supershow against both Van Dam and Shawn Michaels, RVD was named the man who would face Jericho at World Ablaze on the grounds that he never even got his one-on-one match with Jericho. In addition, the 'corrupt administration' Jericho was preaching against gave Van Dam the power to choose every opponent Jericho would face from then 'til the PPV. After repeat lobbying from Jericho – and the manipulation of Torrie Wilson – both men set it aside and met in the first ever AOW contract signing. There, the proud, Worthy Champion threatened to distribute AOW's financial numbers, citing them as the official straw that this administration was inept. RVD, meanwhile, gave his word that it wasn't the numbers that told the story – it was the people. And the life and blood, the reason people came to see AOW was to see RVD, with Van Dam concluding the effective formula of "RVD is AOW". When both men signed on the dotted line, it was revealed that Mick Foley was indeed "one step ahead" of not just Jericho, but both men, taking away Van Dam's right to pick Jericho's opponents…only for him to pick his match type at World Ablaze. In addition, he introduced that these men needed a mediator, a man who hated both of them evenly…

It was Shawn Michaels. Michaels, who hadn't been seen for a month following the Supershow and getting Chokeslammed by Paul Wright, was going to be the man officiating the biggest title match on the biggest stage in AOW's young history. With HBK not showing any remorse in bashing RVD over the skull nor showing aggression towards Jericho, the deciding factor was still up to Van Dam – what match did he want? The only thing the life and blood of AOW could chose – ECW Rules. Now, the biggest match in AOW history is about to be blown to a powder keg, the minds of the entire fandom on the line as well as the AOW Championship. But what will be the proving factor? Will it be Rob Van Dam's expertise in an extreme environment and knack for overcoming the odds? Will it be Shawn Michaels, who certainly doesn't mind getting involved and detests both men, truly being a wild card referee? Or will it be the champion Chris Jericho and his will to prove his worth and that he's still "one…step…ahead..?"





~I Quit Match~
*Loser Leaves AOW*
The Man on the Moon Christian Cage v. The Real Deal Bobby Lashley

The Moon. What does it know that you don't? It knows all, but no one is ever apt to listen to it. This is the ideology of Christian Cage, a man who has become seemingly possessed to the point of insanity in regards to Bobby Lashley. Seemingly fueled by simple jealousy, Christian expressed his great displeasure with Lashley showing up in AOW in the first place, saying he had no reason to be here; that this was a place for the working man, not the corporate favorite. Many fans agreed with Christian, forcing Lashley to get nothing above a mixed reaction every single time he was seen in AOW. Was Christian simply threatened by Lashley's presence? Jealous at his opportunities over his own? Whatever the case was, it soon consumed Christian into something much, much darker.

At AOW's first ever Supershow, Christian showed up looking as though he hadn't slept in days, muttering to himself that "I have to stop it". He shrugged off his confidant Torrie Wilson and ambushed his opponent that night in Lashley, caving Lash's head in with a threepeat of one man Con-Chair-Tos. While Lashley received a concussion, Christian received a suspension. Torrie Wilson begged and pleaded with Mick Foley for Christian's suspension to be overturned, all the while Christian cutting a promo from the Hammerstein rooftop and compared himself to the Moon and branding himself "The Man on the Moon", saying that he had discovered a much 'bigger picture' than everyone was realizing and it included Lashley. When Cage's suspension was lifted for one week for him to explain himself, Christian continued his conspiracy spiel, but this time, mentioning Paul Heyman and Chris Jericho in on the ordeal. How was this responded to? Bobby Lashley, making his return and shutting Christian up, saying there's only room for one of them anymore in AOW and challenging him to an I Quit match…where the loser would have to leave the young company forever.

Cage's suspension continued, while Lashley tried to heal up for his challenged match. In the process, Lashley became more and more detested in the Hammerstein Ballroom, the fans finally letting him know what they really think by assaulting him in a parking lot…only for an assaulter to be revealed as a masked Christian, who unleashed his rage on Lashley, only being forced to stop when Torrie Wilson intervened and begged Christian to cease. Finally, it was time for Bobby Lashley to say his piece, saying he's not sorry for what he's going to do to Christian and saying that he is here not for special treatment, but to prove to everyone that he's the best with his own two hands. Lashley explained that Christian didn't even know what was real anymore, but after Sunday, there would only be one "Real Deal" left before cementing his stance by spearing JBL in half. Now, the moon and the sun will collide, only one able to remain while the other is banished. The most heavily psychological feud in AOW and perhaps wrestling history will be resolved in brutality, only ending when one of these heavenly bodies scream "I Quit" across the cosmos.





~AOW Cruiserweight Championship~
The American Dragon Bryan Danielson(c) v. Gregory Helms

Don't count out the little guys. A match that many consider the third main event of the evening features more than just the Cruiserweight Championship on the line but an entire legion of pride and perhaps a look into the future of what wrestling may evolve into – cyberneticly. After introducing himself as the "Best in the World", Bryan Danielson had the chance to prove it against Rey Mysterio in his debut match in AOW, it being branded as Yin v. Yang, the past versus the future. Danielson did not come out on top, but his earlier comments more than attracted the attention of one Gregory Helms, who hacked into the Oblivion broadcast signal from his home in North Carolina, and proclaimed that Danielson could never be the 'best in the world' because he was, especially when it came to cruiserweights. Helms then 'hacked' Danielson for real after his loss to Mysterio, crushing Danielson and telling him that he was the future of the all things cruiserweight and in wrestling. He'd do whatever it took to get his hands on the Cruiserweight Championship.

At the first ever Supershow, Helms stayed true to his word and incapacitated Bryan Danielson's partner in the Tag Team Turning Point match to face Danielson in the finals of the match…where he was roundhoused out of mid-air to crown Danielson the first ever AOW Cruiserweight Champion. But this didn't stop Helms. Whether he feigned evidence is still very much up in the air, but whatever he presented AOW Chairman Paul Heyman was enough for him to get his rematch, Helms declaring he was the rightful champion, and thus, stole the physical title from Danielson. After Danielson said that there was no way Helms was on his level, Helms went on a mission to do what Danielson couldn't do – beat Rey Mysterio. And beat him he did…to a pulp. After defeating Mysterio, Helms exposed Mysterio's weak knee and dismantled it, putting Mysterio on the shelf for six months. Now, with Danielson decreeing that Helms will see an entirely different side of him come World Ablaze, who will be the man who walks away from his high-stakes contest? Will it be the scheming hacker who will stop at nothing – not even heroes and broadcasting signals – to get what he wants? Or will the American Dragon be true to his word and 'consume' Helms for all of his injustice?


~AOW Tag Team Championship~
The World's Greatest Tag Team(c) v. The Mercenaries

In AOW, the warrior's creed is one that is to be taken to heart and should be engraved into every wrestler's brain. One of the most forefront thing about the warrior code is respect for one's adversaries, regardless of circumstances. The World's Greatest Tag Team does not feel that way for The Mercenaries, especially in regarding the very questionable way they gained their #1 Contendership. But like Gregory Helms before them, Paul Burchill and Brent Albright set out to make the World's Greatest swallow their words by defeating the men who pushed them to their limit, The Hooliganz, in perhaps the most convincing way possible – by knockout. In a title defense against Chris Jericho and Rob Van Dam, the Mercs interfered and effectively retained the titles for the World's Greatest, declaring that they now had forcibly gained the respect they were denied, as well as putting Benjamin and Haas in debt to them. The only price they have to pay to settle it? The AOW Tag Team Championships. Now, can the World's Greatest Tag Team prove the worth of their name? Or will the vicious, methodical, and malicious Mercenaries collect their due?


~AOW Dynasty Championship~
Muhammad Hassan(c) v. Lance Storm

Muhammad Hassan has been a very shady character since coming to AOW. Having been blessed with his rich dead uncle's oil empire, the formerly bitter at America Hassan is still bitter at America, but has the money to tell them to suck it. And my, has he flaunted his cash so, almost buying himself his Dynasty Championship by purchasing the services of the Mercenaries. With the flaunting of his dough, it definitely rubbed CM Punk the wrong way. Punk knew Hassan didn't earn a damn thing he's had in AOW, telling that to Hassan's face. When Hassan opened his "5-Minute, $50,o00 Challenge" also for his #1 Contendership, Punk was viciously excluded. This did not stop his sort of mentor in Lance Storm from participating in the challenge however, coming up short. With Hassan wanting Punk out of the way in their second encounter, he had Paul Wright destroy the up-and-comer, but Punk found a way into the rematch and struck Hassan with his medical pole, helping Storm get the win. But with Punk to injured to show up at ringside, Hassan's worries are only on Storm. Can Storm take advantage of the opportunity his 'student' gave him and walk away with the AOW Dynasty Championship?


~Grudge Match~
Aero Star v. Jamie Noble

While The Mercenaries and WGTT have a beef about respect between them, Jamie Noble instead has one instead with the people of AOW. This being the fans and the administration alike, fueled by his treatment of being 'fed' to the debuting luchadore Aero Star. Noble claimed that throwing him at an opponent he'd never seen before was unfair and an immense sign of disrespect on behalf of all involved. Thus, Noble seeks to redeem himself in a rematch with Star, saying that he's "nobody's steppin' stone". The silent Star, on the other hand, lets his actions speak for him, constantly showing up Noble and letting him know he's not fettered by the decree. This perhaps changed when Noble Tiger Drivered Aero Star through the timekeeper's table last week. Both of these men refused to be stepped on and stepped over, but who will be the one who steps up? The brash, redneck warrior or the young high-flyin' gun who's set to stun?

~Tag Team Turmoil~
*#1 Contendership for the AOW Tag Team Championships*
(Teams not in entrance order)
Sons of the Dungeon v. American Made v. Samoan Fight Club v. The Hooliganz v. Low Jack v. Ken Doane & Chris Masters

If there's one thing AOW has proven in the few month's it's been around, it's that this is going to be the place the wrestling world turns for tag team wrestling. On the pilot episode, there were three tag teams in all of AOW. A few months later, that number's evolved to nine, and even being featured on the inaugural 90-minute Oblivion, branded Tag Team Halloween. Each tag team carries their own distinct style and their own district purpose. The Sons of the Dungeon and American Made are already locked in a tango together, each team representing their homeland's best wrestling training. Ken Doane and Chris Masters are also here to prove they're the future, but in a much bigger way. The Hooliganz are the fiery bunch looking to get back to the top, while the Samoan Fight Club is just here to crunch skulls in and DESTROY, as they put it. And not to be forgotten, the very contradictory elements of Low Ki and Jack Evans having been teamed for a while seem to have a purpose as mysterious as their pairing. Regardless of their respective qualms, come Sunday, every team will have the same goal in mind – to become the #1 Contenders for the biggest prize in tag team wrestling on the globe: the AOW Tag Team Championships.



What will happen when AOW's best decide to leave it all behind...and set this World Ablaze?


PREDICTION TEMPLATE

~AOW World Heavyweight Championship~
SPECIAL GUEST REFEREE: Shawn Michaels
~ECW RULES~
The Worthy Champion Chris Jericho(c) v. The Whole F'n Show Rob Van Dam

~I Quit Match~
*Loser Leaves AOW*
The Man on the Moon Christian Cage v. The Real Deal Bobby Lashley

~AOW Cruiserweight Championship~
The American Dragon Bryan Danielson(c) v. Gregory Helms

~AOW Tag Team Championship~
The World's Greatest Tag Team(c) v. The Mercenaries

~AOW Dynasty Championship~
Muhammad Hassan(c) v. Lance Storm

~Grudge Match~
Aero Star v. Jamie Noble

~Tag Team Turmoil~
*#1 Contendership for the AOW Tag Team Championships*
(Teams not in entrance order)
Sons of the Dungeon v. American Made v. Samoan Fight Club v. The Hooliganz v. Low Jack v. Ken Doane & Chris Masters
NOW POSTED. CLICK BENEATH THE CUTE ONE. Or here.
---
CUTENESS²
AOW: Art of War Wrestling - The Greatest Affair
It's Baaaaack...
.:Oblivion Edition 39/40 Recap NOW POSTED!!:.
Posting Rules

You may not post new threads

You may not post replies

You may not post attachments

You may not edit your posts

---

HTML code is Off

---