Re: The BTB Advertisement Thread
---


PPV HAS BEEN POSTED!

http://www.wrestlingforum.com/booker...l#post10897817


(If you review, I will start reading your BTB and review your next show, as long as you do the same I will keep reading. Hoping to dive into some other BTBs to get a better grasp of things.)



---
I'm back...


---
Last edited by Sykova; 01-17-2012 at

02:51 AM

.
Wheelman for James Ellsworth
Join Date: Jan 2011
Posts: 501
Points: 0
Re: The BTB Advertisement Thread
---
Quote:
WWE Monday Night Raw- 4/7/05- Tucson, Arizona
It's the 4th of July but following last week's shocking ending to Raw, it is no time to celebrate for both Shawn Michaels and the World Heavyweight Champion, Batista. The conclusion to Raw last week saw Eric Bischoff induct Shawn Michaels as his 'Personal Employee' and the induction would be one Michaels would remember as the Showstopper learned that he will be the Special Guest Referee in Batista's World title defence at Summerslam, against Kane. Bischoff broke the news moments after calling out Batista and declaring that having got Michaels on board at Vengeance, he was now coming after Batista and the World title. Bischoff had vowed he would regain control of Raw and that he needed a champion he could rely on, that would cause him no problems. The Raw General Manager then told Batista that he'd end up the same way Michaels has before telling the Animal he was about to embark upon his very own 'Personal Hell'. That signalled the arrival of Kane who took out Batista with a vicious choke slam, leaving the Animal wounded. It was then that Bischoff made the blockbuster announcement of Batista vs. Kane at Summerslam for the World title with Shawn Michaels being placed as Special Guest Referee. Michaels looked a shell of his former self last week and following this announcement, you have to wonder just what kind of mood Michaels will be in here tonight in Tucson, knowing exactly what is expected of him both in the coming weeks and when Summerslam rolls around. We are bound to know exactly what mood Batista is in however and it is certain that the champion will be angry and on the prowl in search of both Bischoff and Kane here tonight. What will the GM have in store this week, both for Michaels and for Batista? And what will the Big Red Machine have in mind tonight following his savage attack last week? We await and see.

Last week also saw another HUGE match made for Summerslam as we learned that Christian and Ric Flair will face off one more time with the stipulation being that if Ric Flair loses, he must retire. In an emotional confrontation last week, Flair himself laid it on the line, issuing the challenge and it was one that Christian couldn't turn down. Captain Charimsa has vowed that he will finally end Flair's career in our nation's capital come August 19th but tonight we have learned he will face another giant test when he goes one on one with the World's Largest Athlete, Big Show. Show has continued having major issues with the duo of Mark Jindrak and William Regal, following his defeat the hands of Jindrak back at Vengeance. Will the menacing pair figure again in Show's business tonight? Or will Show finally get the chance to move on, starting with defeating Christian?

Also, confirmed for tonight, we will see the Money in the Bank holder in action as Edge will square off against Shelton Benjamin. The Rated R Superstar launched a vicious attack on Chris Jericho last week, promising that he would end Jericho's days in the spotlight once and for all and following last week, that may very well be correct. We know that Jericho WILL be in Tucson but we don't know what condition Y2J is in or what his intentions will be towards the man he defeated at Vengeance. Benjamin is another man, like Edge who built momentum last week as he scored the win in 8 man Tag team action as he, Charlie Haas and the Dudleyz defeated the Basham's and Arabian Entity members, Daivari and Sonjay Dutt. Benjamin has vowed to get a fair one on one match for the Intercontinental title with Muhammad Hassan. Victory here tonight would certainly go a long way to proving he deserves it. Can Benjamin score a big win, or will Edge keep up his mean streak and finish off one half of World's Greatest Tag Team's title hopes?

Triple H has been a name on many people's lips this past week as on Raw seven nights ago, the Game shocked everybody as he walked out, stating that he WOULD be back but he didn't know when and he didn't know where. The Cerebral Assassin claimed that he was no longer at his best and that he needed to go away and rediscover himself, to find the ten time World Champion once again. Will we hear any more on the matter tonight or will last week indeed prove to be the last time we see or hear from the Game for the foreseeable future?

It promises to be a big night on Raw as ever, believe me, you won't wanna miss it!!
Confirmed for Raw:

Edge vs. Shelton Benjamin

Christian vs. Big Show
Now posted.
Learning to break kayfabe
Join Date: Sep 2007
Posts: 131
Points: 0
Re: The BTB Advertisement Thread
---
This show has been posted. Actually it was posted yesterday, but until now it has been edited in a way the size and font satisfy me. If you checked the show yesterday and were turned off by those two factors, please check it out again. Like always, all reviews will be appreciated and returned
Quote:
The Eric Bischoff Era begins
Last week, we found out that Crushing C had been replaced in his role as General Manager. The new sheriff in town? No other than legendary Eric Bischoff. Bischoff's name has perenially been associated with success, and has been part of some of the biggest moments in our industry, and now, he looks to make his mark in Born to Wrestle Federation. What changes will BTW go through now that it is under new management? Will we see some of the controversial traits that are traditional of this iconic figure? Just how deep will the ramifications of Eric Bischoff in charge will go? And most importantly, how will Crushing C behave in his new position as Assistant Consultant.
New era, fresh start, and that is exactly what will happen on BTW Nitro. To determine the new Number One Contender and the man facing Brock Lesnar for the World Heavyweight Championship at Apocalypse, BTW Nitro will host the most massive Battle Royal ever contested in BTW history, as every man signed to a contract will compete in hopes of earning themselves a championship match. Many men appear as favorites. Can Christian Cage achieve his goal of getting a rematch against Brock Lesnar? Or maybe it is Umaga, who continues running wild through competition and does to the rest of the locker room the same as he did to The Undertaker. Jeff Hardy also raises his hand, wanting to leave Edge in his past and put Brock in his present. Another man who could very well end up winning it all is Chris Jericho, who is already the Continental Champion and has had his confrontations with the World Champion in the past, but the honor can also go to fellow champions RVD or The Fatu Brothers. Will this match mark the return for some absent superstars? In the end, it's anybody's ballgame, and everyone has a chance of facing Brock Lesnar at Apocalypse.
Randy Orton could end up winning the Battle Royal as well, however despite winning or losing, he has to prepare for a second match that same evening, as the Legend Killer will go one on one with the debuting Joe Anoa'i. Joe is part of what could be the greatest wrestling lineage in the industry....just as The Rock and Rikishi are, so one has to think he has it out for Orton after all the tragedy the third generation superstar has brought to the Anoa'i. Can the debuting rookie obtain revenge on Randy Orton, or will the former BTW World Heavyweight Champion prove to be too much and send Joe packing before his career even starts rolling?
But Randy Orton is not the only one who will be pulling double duty on this BTW Nitro, as there are other five men who will be doing so and are probably glad to get the chance at doing so. We have been able to confirm that Eric Bischoff has booked a very special main event following the events of last week, that will pit Ezekiel Jackson, Mark Henry, Bob Sapp and The Big Show, all four members of Paul Heyman's The Wall, against Bill Goldberg and a partner of his choosing in a 4 on 2 Handicap Match. Goldberg has been the recipient of all the punishment this stable has brought to BTW, and even was a front row witness of its very inception. Now, on Nitro, he will get the chance of putting an end to this group. However, will it end up Goldberg's demise instead? And just who will Goldberg choose as his brother in battle?
CM Punk and Samoa Joe are expected to be on BTW Nitro, as they will take part in the Battle Royal. What will happen between the two former BTW Tag Team Champions....and friends...after their falling down on BTW Nitro last week?
Another situation expected to be solved on Nitro this week is not only who will be Brock Lesnar's challenger, but who is next in line for Y2J's BTW Continental Championship. Mr. Kennedy and Colt Cabana expressed their interest and exposed their merits for getting said title match. Who will challenge Chris Jericho come Apocalypse?
All of this, along with a BTW Extreme Championship Match showcasing RVD defend against Maven, and much more, on BTW Nitro.



Confirmed Card

Winner faces World Champion Brock Lesnar at Apocalypse

Over the Top Rope Battle Royal
Randy Orton vs Joe Anoa'i
BTW Extreme Championship Match

Rob Van Dam (c) vs Maven
4 on 2 Handicap Match

The Wall (Bob Sapp, Mark Henry, Ezekiel Jackson and The Big Show) vs Goldberg and ???
Re: The BTB Advertisement Thread
---
My 3rd Raw has been posted sorry for the delay been bit busy with other stuff will return reviews ASAP just getting some stuff sorted out first


RAW Preview

Lashley returns to in ring Action

Following last week's attack on John Cena following his victory over Alex Riley last week, General Manager Shane McMahon has booked the match between these two fierce competitors in what will surely by a stellar main event. Lashley isn't the only thing on Cena's mind with still the presence of Kane haunting him week in week out.

US Title Match

The US Title will be defended for the first time in 2012 with current Champion, Zack Ryder facing the massive challenge of not one but three opponents. He lines up and looks to defend his title against the diminutive Big Red Machine, Kane, the Leader of the Di Biase Posse, Ted Di Biase as well as the Mastodon of Mayhem, Brodus Clay. In what will be a huge match for all involved.

Straight Edge vs All American American

Following last week's main event where CM Punk pinned Jack Swagger this week the two competitors will face off one on one in what will surely be a big match up for both leading into the Royal Rumble. Swagger would love to build momentum towards the Royal Rumble match whilst CM Punk will defend his WWE Title against Swagger's ally Dolph Ziggler. Momentum can be a big thing for both involved in this match.

Boom Boom or the Showoff

The two other men involved in last week's main event will open RAW up with what will be a very interesting match up. The contrasting styles of Cabana and Ziggler will surely be amazing to watch. Like Swagger and Punk these two men have big matches at the Rumble and a loss here on RAW could really harm there chances of winning come the Rumble.

One on One Competition for Tag Team Rivals

Last week we saw Kofi Kingston and Primo represent their respective teams but this week we will see their partners face off against one another with Evan Bourne and Epico going one on one with what should be a high flying entertaining match that everyone will enjoy. Air Boom need to start winning or the titles could be heading to Epico and Primo after they have held the titles for a long time.

Diva Tag Action

Since Vince McMahon made the announcement that their will be more exposure of the Divas the likes of Tamina and Natalya have really stepped up. On RAW this week we will see the team of Kelly Kelly and Eve Torres will face off with the Bella Twins who will be looking at making best use of their twin magic to get the victory.

Truth and Miz finally get in the ring

Over the last few weeks the Miz has found some allies in the form of Curt Hawkins and Tyler Reks, now that the Miz has been medically cleared to compete following a brutal attack from R Truth three weeks back we will finally see the pair in action. But it won't be one one one no, instead it will be a six man tag match. The team of the Miz, Hawkins and Reks will face off with R Truth and two partners of his choice.

Confirmed Matches

Main Event
Bobby Lashley vs John Cena

US Title - Fatal Four Way Elimination Match
Brodus Clay vs Kane vs Ted DiBiase vs Zack Ryder (c)

CM Punk vs Jack Swagger

Dolph Ziggler vs Colt Cabana

Evan Bourne w/ Kofi Kingston vs Epico w/Primo and Rosa Mendes

Kelly Kelly and Eve Torres vs The Bella Twins

Six Man Tag Match
The Miz, Curt Hawkins and Tyler Reks vs R Truth, ??? and ???
Finally Out of Cutey Sleep
Join Date: Jul 2006
Location: The Fountain of Dreams
Posts: 2,020
Points: 9
Re: The BTB Advertisement Thread
---
Quote:
AOW PRESENTS
WORLD ABLAZE OFFICIAL PREVIEW


~AOW World Heavyweight Championship~
SPECIAL GUEST REFEREE: Shawn Michaels
~ECW RULES~
The Worthy Champion Chris Jericho(c) v. The Whole F'n Show Rob Van Dam

Since the very inception of AOW, Chris Jericho has been on a tear to prove that he's not just the best in the world at everything he touches, but that he's a worthy man – a worthy man who became a worthy champion on the pilot episode of AOW Oblivion. And to hold onto that title and everything it holds dear, Jericho has always managed to stay "one step ahead" of everyone around him. He stayed that step ahead of Rob Van Dam in their initial title 'bout, forcing Van Dam out of action before the match even began, and even stayed that step ahead of potential challenger Shawn Michaels by debuting the best insurance policy a worthy man could have – the seven-foot tall, 400 pound mammoth named Paul "The Great" Wright. Jericho, a very vocal opponent of the administration of AOW, then began telling anyone with ears that his visions for the company were better than anything the men running it – Paul Heyman and Mick Foley – could ever imagine. But woe to the visionary who opens his mouth and shuts his eyes…

Enter the #1 Contender, Rob Van Dam. After Jericho retained his AOW Championship via somewhat shady means at the first ever Supershow against both Van Dam and Shawn Michaels, RVD was named the man who would face Jericho at World Ablaze on the grounds that he never even got his one-on-one match with Jericho. In addition, the 'corrupt administration' Jericho was preaching against gave Van Dam the power to choose every opponent Jericho would face from then 'til the PPV. After repeat lobbying from Jericho – and the manipulation of Torrie Wilson – both men set it aside and met in the first ever AOW contract signing. There, the proud, Worthy Champion threatened to distribute AOW's financial numbers, citing them as the official straw that this administration was inept. RVD, meanwhile, gave his word that it wasn't the numbers that told the story – it was the people. And the life and blood, the reason people came to see AOW was to see RVD, with Van Dam concluding the effective formula of "RVD is AOW". When both men signed on the dotted line, it was revealed that Mick Foley was indeed "one step ahead" of not just Jericho, but both men, taking away Van Dam's right to pick Jericho's opponents…only for him to pick his match type at World Ablaze. In addition, he introduced that these men needed a mediator, a man who hated both of them evenly…

It was Shawn Michaels. Michaels, who hadn't been seen for a month following the Supershow and getting Chokeslammed by Paul Wright, was going to be the man officiating the biggest title match on the biggest stage in AOW's young history. With HBK not showing any remorse in bashing RVD over the skull nor showing aggression towards Jericho, the deciding factor was still up to Van Dam – what match did he want? The only thing the life and blood of AOW could chose – ECW Rules. Now, the biggest match in AOW history is about to be blown to a powder keg, the minds of the entire fandom on the line as well as the AOW Championship. But what will be the proving factor? Will it be Rob Van Dam's expertise in an extreme environment and knack for overcoming the odds? Will it be Shawn Michaels, who certainly doesn't mind getting involved and detests both men, truly being a wild card referee? Or will it be the champion Chris Jericho and his will to prove his worth and that he's still "one…step…ahead..?"





~I Quit Match~
*Loser Leaves AOW*
The Man on the Moon Christian Cage v. The Real Deal Bobby Lashley

The Moon. What does it know that you don't? It knows all, but no one is ever apt to listen to it. This is the ideology of Christian Cage, a man who has become seemingly possessed to the point of insanity in regards to Bobby Lashley. Seemingly fueled by simple jealousy, Christian expressed his great displeasure with Lashley showing up in AOW in the first place, saying he had no reason to be here; that this was a place for the working man, not the corporate favorite. Many fans agreed with Christian, forcing Lashley to get nothing above a mixed reaction every single time he was seen in AOW. Was Christian simply threatened by Lashley's presence? Jealous at his opportunities over his own? Whatever the case was, it soon consumed Christian into something much, much darker.

At AOW's first ever Supershow, Christian showed up looking as though he hadn't slept in days, muttering to himself that "I have to stop it". He shrugged off his confidant Torrie Wilson and ambushed his opponent that night in Lashley, caving Lash's head in with a threepeat of one man Con-Chair-Tos. While Lashley received a concussion, Christian received a suspension. Torrie Wilson begged and pleaded with Mick Foley for Christian's suspension to be overturned, all the while Christian cutting a promo from the Hammerstein rooftop and compared himself to the Moon and branding himself "The Man on the Moon", saying that he had discovered a much 'bigger picture' than everyone was realizing and it included Lashley. When Cage's suspension was lifted for one week for him to explain himself, Christian continued his conspiracy spiel, but this time, mentioning Paul Heyman and Chris Jericho in on the ordeal. How was this responded to? Bobby Lashley, making his return and shutting Christian up, saying there's only room for one of them anymore in AOW and challenging him to an I Quit match…where the loser would have to leave the young company forever.

Cage's suspension continued, while Lashley tried to heal up for his challenged match. In the process, Lashley became more and more detested in the Hammerstein Ballroom, the fans finally letting him know what they really think by assaulting him in a parking lot…only for an assaulter to be revealed as a masked Christian, who unleashed his rage on Lashley, only being forced to stop when Torrie Wilson intervened and begged Christian to cease. Finally, it was time for Bobby Lashley to say his piece, saying he's not sorry for what he's going to do to Christian and saying that he is here not for special treatment, but to prove to everyone that he's the best with his own two hands. Lashley explained that Christian didn't even know what was real anymore, but after Sunday, there would only be one "Real Deal" left before cementing his stance by spearing JBL in half. Now, the moon and the sun will collide, only one able to remain while the other is banished. The most heavily psychological feud in AOW and perhaps wrestling history will be resolved in brutality, only ending when one of these heavenly bodies scream "I Quit" across the cosmos.





~AOW Cruiserweight Championship~
The American Dragon Bryan Danielson(c) v. Gregory Helms

Don't count out the little guys. A match that many consider the third main event of the evening features more than just the Cruiserweight Championship on the line but an entire legion of pride and perhaps a look into the future of what wrestling may evolve into – cyberneticly. After introducing himself as the "Best in the World", Bryan Danielson had the chance to prove it against Rey Mysterio in his debut match in AOW, it being branded as Yin v. Yang, the past versus the future. Danielson did not come out on top, but his earlier comments more than attracted the attention of one Gregory Helms, who hacked into the Oblivion broadcast signal from his home in North Carolina, and proclaimed that Danielson could never be the 'best in the world' because he was, especially when it came to cruiserweights. Helms then 'hacked' Danielson for real after his loss to Mysterio, crushing Danielson and telling him that he was the future of the all things cruiserweight and in wrestling. He'd do whatever it took to get his hands on the Cruiserweight Championship.

At the first ever Supershow, Helms stayed true to his word and incapacitated Bryan Danielson's partner in the Tag Team Turning Point match to face Danielson in the finals of the match…where he was roundhoused out of mid-air to crown Danielson the first ever AOW Cruiserweight Champion. But this didn't stop Helms. Whether he feigned evidence is still very much up in the air, but whatever he presented AOW Chairman Paul Heyman was enough for him to get his rematch, Helms declaring he was the rightful champion, and thus, stole the physical title from Danielson. After Danielson said that there was no way Helms was on his level, Helms went on a mission to do what Danielson couldn't do – beat Rey Mysterio. And beat him he did…to a pulp. After defeating Mysterio, Helms exposed Mysterio's weak knee and dismantled it, putting Mysterio on the shelf for six months. Now, with Danielson decreeing that Helms will see an entirely different side of him come World Ablaze, who will be the man who walks away from his high-stakes contest? Will it be the scheming hacker who will stop at nothing – not even heroes and broadcasting signals – to get what he wants? Or will the American Dragon be true to his word and 'consume' Helms for all of his injustice?


~AOW Tag Team Championship~
The World's Greatest Tag Team(c) v. The Mercenaries

In AOW, the warrior's creed is one that is to be taken to heart and should be engraved into every wrestler's brain. One of the most forefront thing about the warrior code is respect for one's adversaries, regardless of circumstances. The World's Greatest Tag Team does not feel that way for The Mercenaries, especially in regarding the very questionable way they gained their #1 Contendership. But like Gregory Helms before them, Paul Burchill and Brent Albright set out to make the World's Greatest swallow their words by defeating the men who pushed them to their limit, The Hooliganz, in perhaps the most convincing way possible – by knockout. In a title defense against Chris Jericho and Rob Van Dam, the Mercs interfered and effectively retained the titles for the World's Greatest, declaring that they now had forcibly gained the respect they were denied, as well as putting Benjamin and Haas in debt to them. The only price they have to pay to settle it? The AOW Tag Team Championships. Now, can the World's Greatest Tag Team prove the worth of their name? Or will the vicious, methodical, and malicious Mercenaries collect their due?


~AOW Dynasty Championship~
Muhammad Hassan(c) v. Lance Storm

Muhammad Hassan has been a very shady character since coming to AOW. Having been blessed with his rich dead uncle's oil empire, the formerly bitter at America Hassan is still bitter at America, but has the money to tell them to suck it. And my, has he flaunted his cash so, almost buying himself his Dynasty Championship by purchasing the services of the Mercenaries. With the flaunting of his dough, it definitely rubbed CM Punk the wrong way. Punk knew Hassan didn't earn a damn thing he's had in AOW, telling that to Hassan's face. When Hassan opened his "5-Minute, $50,o00 Challenge" also for his #1 Contendership, Punk was viciously excluded. This did not stop his sort of mentor in Lance Storm from participating in the challenge however, coming up short. With Hassan wanting Punk out of the way in their second encounter, he had Paul Wright destroy the up-and-comer, but Punk found a way into the rematch and struck Hassan with his medical pole, helping Storm get the win. But with Punk to injured to show up at ringside, Hassan's worries are only on Storm. Can Storm take advantage of the opportunity his 'student' gave him and walk away with the AOW Dynasty Championship?


~Grudge Match~
Aero Star v. Jamie Noble

While The Mercenaries and WGTT have a beef about respect between them, Jamie Noble instead has one instead with the people of AOW. This being the fans and the administration alike, fueled by his treatment of being 'fed' to the debuting luchadore Aero Star. Noble claimed that throwing him at an opponent he'd never seen before was unfair and an immense sign of disrespect on behalf of all involved. Thus, Noble seeks to redeem himself in a rematch with Star, saying that he's "nobody's steppin' stone". The silent Star, on the other hand, lets his actions speak for him, constantly showing up Noble and letting him know he's not fettered by the decree. This perhaps changed when Noble Tiger Drivered Aero Star through the timekeeper's table last week. Both of these men refused to be stepped on and stepped over, but who will be the one who steps up? The brash, redneck warrior or the young high-flyin' gun who's set to stun?

~Tag Team Turmoil~
*#1 Contendership for the AOW Tag Team Championships*
(Teams not in entrance order)
Sons of the Dungeon v. American Made v. Samoan Fight Club v. The Hooliganz v. Low Jack v. Ken Doane & Chris Masters

If there's one thing AOW has proven in the few month's it's been around, it's that this is going to be the place the wrestling world turns for tag team wrestling. On the pilot episode, there were three tag teams in all of AOW. A few months later, that number's evolved to nine, and even being featured on the inaugural 90-minute Oblivion, branded Tag Team Halloween. Each tag team carries their own distinct style and their own district purpose. The Sons of the Dungeon and American Made are already locked in a tango together, each team representing their homeland's best wrestling training. Ken Doane and Chris Masters are also here to prove they're the future, but in a much bigger way. The Hooliganz are the fiery bunch looking to get back to the top, while the Samoan Fight Club is just here to crunch skulls in and DESTROY, as they put it. And not to be forgotten, the very contradictory elements of Low Ki and Jack Evans having been teamed for a while seem to have a purpose as mysterious as their pairing. Regardless of their respective qualms, come Sunday, every team will have the same goal in mind – to become the #1 Contenders for the biggest prize in tag team wrestling on the globe: the AOW Tag Team Championships.



What will happen when AOW's best decide to leave it all behind...and set this World Ablaze?


PREDICTION TEMPLATE

~AOW World Heavyweight Championship~
SPECIAL GUEST REFEREE: Shawn Michaels
~ECW RULES~
The Worthy Champion Chris Jericho(c) v. The Whole F'n Show Rob Van Dam

~I Quit Match~
*Loser Leaves AOW*
The Man on the Moon Christian Cage v. The Real Deal Bobby Lashley

~AOW Cruiserweight Championship~
The American Dragon Bryan Danielson(c) v. Gregory Helms

~AOW Tag Team Championship~
The World's Greatest Tag Team(c) v. The Mercenaries

~AOW Dynasty Championship~
Muhammad Hassan(c) v. Lance Storm

~Grudge Match~
Aero Star v. Jamie Noble

~Tag Team Turmoil~
*#1 Contendership for the AOW Tag Team Championships*
(Teams not in entrance order)
Sons of the Dungeon v. American Made v. Samoan Fight Club v. The Hooliganz v. Low Jack v. Ken Doane & Chris Masters

~Bonus Questions~

What will be the match order?
Will there be blood? If so, during which match?
What will be the longest match?
What will be the shortest match?
Who takes the fall in the Tag Team Championship match?
Predict the order of teams in the Tag Team Turmoil match.
Three ways to cast your predictions! Follow the quote, click beneath Kirby, or simply click here
---
CUTENESS²
AOW: Art of War Wrestling - The Greatest Affair
It's Baaaaack...
.:Oblivion Edition 39/40 Recap NOW POSTED!!:.
Re: The BTB Advertisement Thread
---
Quote:

(Sorry for the lateness of this, but I've been busy around. Part 1 of the show is here, the rest of it will be in Part 2...)



ICW FRIDAY NIGHT HELLZONE
DEBUT SHOW
PART 1

OFFICIAL THEME SONG FOR HELLZONE:


STAFF
CHAIRMAN OF THE BOARD: ATF
GM: Theodore Long
COMMENTATORS: Jim Ross, Jerry Lawler & Joey Styles
RING ANNOUNCER: Lilian Garcia



(ICW intro plays)

(LIVE in the Verizon Center in Washington, D.C, a loaded crowd chants "ICW")

JR: Welcome ladies and gentlemen, to the Verizon Center in our proud capital, Washington D.C! Over 10,000 in attendance are here to witness the collision of the past, present and future of professional wrestling! THIS IS INTERNATIONAL CHAMPIONSHIP WRESTLING!

(The crowd is damn pumped up, as "My Time" by Chris Warren and ATF's Titantron plays)

JS: Oh boy! And what a way to kick off the debut show of Friday Night Hellzone than with our Chairman, ATF!

(ATF enters the ring, as 10,000 pop the building off)

ATF: Welcome to WRESTLING IS IWC! I am yours own IWC Chairman, ATF. And I am here to put on the most entertaining show every f'n week! Every week, the ratings will be demolished at the hands of our weekly shows, Friday Night Hellzone and Monday Night Warpath. And tonight, Hellzone is here to raise the bar!

(The crowd chants "ICW" as ATF continues his speech)

ATF: However, there is one problem. Since there were some financial problems, our debut is a bit late, and unfortunely, we have only 1 week to build up to one of the most anticipated PPV shows of the year, IWC Payback, live in the Scottrade Center in St. Louis, baby! And what a way to get our show started than with our All Starz Battle Royal to declare the 8 contenders for the IWC Hellzone Heavyweight Championship! Bring the Hellzone stars, and let's get ready to raise hell!

JR: Wow! A slobberknocker announcement from our Chairman!

(The Hellzone Superstars enter as JR welcomes us to this rocketbustah of a show. We then go to commercial break as the Superstars keep entering.)

(Ding Ding Ding)

LG: The following is the Hellzone All Starz Battle Royal! Now, eliminations can occur by throwing your opponent over the top rope. The last 8 Superstars in the ring, will compete in the Hellzone Gold Rush Tournament later tonight, and the winners of the semi-final matches will meet in the finals to crown the 1st ever Hellzone Heavyweight Champion at Payback!

(Ding Ding Ding)

JR: Here we go with this enormous Battle Royal and... WOW! ALMOST IMMEDIATLY, STING GETS THROWN OVER THE TOP ROPE BY HBK!

JL: This just got interesting!

JS: And the in-ring fight between the over 20 wrestlers is being overshadowed by Sting's shocked look!

JL: And it's not just Sting who's shocked!

JR: And while a enormous fight breaks in the ring, Kevin Steen and Kid Kash attack Michaels from behind and try to eliminate him! C'mon Shawn!

JL: C'mon Shawn you say, but I believe HBK is going down as well!

JS: On the upper right corner, McGuinness, Bryan, Orton, Angle, Mysterio and Booker all work on the Big Show, but most of them are being dominated... Kane and Goldberg are also dominating, and...

JR: OH! Kane just eliminated Sabu! And El Generico now attacking Kane!

JL: Generico might be regreting of doing that, but here comes some help...

JR: Yeah, Kazarian going for the attack with a rolling kick, and...

JS: OH! Oh My God...

JR: Kane throwing Generico into crashing and burning with Kazarian...

JS: And meanwhile, WOW, HBK threw Kid Kash over the top rope!

JL: But there goes HBK's celebration...

JR: Thunderous clothesline by Mark Henry on Michaels.

JL: And Triple H is now working on MVP... oh well, he WAS working with MVP. MVP is eliminated by the Game!

JS: This is absolute chaos around! We'll be right back!

(Commercial break)

JR: Welcome back ladies and gentlemen to the debut show of Friday Night Hellzone, and while we were on commercial, we witnessed four more eliminations, the ones of Kazarian, Tyson Kidd and Jack Swagger, all at the hands of the monstrous Goldberg! And also the one of Tommy Dreamer at the hands of Mr. Anderson.

JS: OH MY GOD!!! A SICKENING SPEAR ON BOOKER T BY GOLDBERG!

JL: Speaking of Spears, Edge - OUCH!! - just connected with an Edgecution on Mr. Anderson...

JR: And look at Kurt Angle there, working with Sin Cara and Trent Barretta. Man, what a match! A true golden opportunity for every of these Superstars.

JS: Ouch, William Regal leaves his fight with Daniel Bryan, Kevin Steen and Eddie Edwards to focus on the Wrestling Machine, Kurt Angle.

JR: And Regal TAKES THE BRASS KNUCKLES OFF HIS WRESTLING PANTS! REGAL MIGHT BE HITTING ANGLE WITH THEM!

JL: Watch out, Angle!

JR: Oh! Angle dodges! Brass knuckles on Barretta's face, and the charismatic superstar is eliminated!

JS: And look at this! From behind, Y2J attacking Regal!

JR: Jericho showing his opinion about Regal's unnecessary methods of eliminating men from this Battle Royal! Jericho almost eliminating Regal!

JS: Chavo from the back!

JL: Chavito with a dropkick sending Y2J and Regal to packing!

JR: Regal hangs on, and stays the apron, Y2J is skinning the cat, but Regal won't allow him!

JS: Oh GOD! Brass knuckles on Chris Jericho's face...

JR: And Jericho falls down from the apron to the floor...

JL: YEAH! EAT BRASS! EAT ELIMINATION, CHRIS!

JR: You disgust me with such comments, King... well anyways, WOW! Orton dodges a Davey Richards roundhouse kick, and Richards is eliminated!

JL: Look at this! Richards coming back to the ring!

JR: Oh c'mon! Somebody stop the man! Richards beating up Orton! Somebody stop this!

JS: Well, there are no DQ's in this Battle Royal so...

JR: Oh, and now Richards throwing Randy Orton over the top rope...

JL: While Richards is beating up Orton at the ringside, Cody Rhodes, while trying to Cross Rhodes HBK, was countered and took a deadly Sweet Chin Music sending him packing back to Eliminated Land...

JR: Davey Richards pulling the ring steps... oh no. Oh no, c'mon! NO! NO!

JS: OH MY GOD!!!!

JR: GOOD GOD ALMIGHTY!!! DR DRIVER ON THE RING STEPS! RANDY ORTON'S NECK MIGHT HAVE BEEN BROKEN!

(The crowd chants "ICW" and boos Richards)

JL: Orton's career might have been shortened there!

JR: My God, somebody call the EMT's!

(Paramedics and EMT's come as Orton does the stretcher job, putting Richards over as a heel. The crowd boos the hell out of Richards as he leaves)

JR: Thanks to Davey Richards, Randy Orton's career might be done for good. FOR GOOD!

JS: And in the meanwhile, El Generico was eliminated by Rey Mysterio and John Morrison, who are working quite well as a team...

JL: Wow, an innovative double moonsault by Mysterio and Morrison on Goldberg, and Seth Rollins out of nowhere with a beautiful hurricanrana on Mysterio!

JR: While I'm still worried about Randy Orton, the in-ring action between Morrison and Rollins is getting exci... OH! WMD BY BIG SHOW ON MORRISON! And Rollins going for the attack, but only getting eliminated!

JL: Goldberg is also dominating here! Everybody but Show and Goldberg down!

JR: And look at this. A big evil against a bigger evil. A showdown of mammal beasts!

JS: Looks like Show and Goldberg are speaking, but...

JR: TO HELL WITH SPEAKING, THE BIG SHOW AND GOLDBERG ARE STRIKING EACH OTHER, AND THE CROWD LOVES IT!

JL: And look at the full of attitude and cockiness Bobby Roode, trying to sneak on Goldberg... WMD on Roode!

JR: OUCH!!! And Show, unattentious, takes a brutal Spear by Goldberg!!

JS: Goldberg now grabbing Bobby Roode's layed body, and throws it over the top rope! The action is non-stop, the crowd is loving it, this is ICW!

JL: Nigel McGuinness, Rob Van Dam and Eddie Edwards unite to try to attack Goldberg as well, and this time they suceed... but, OUCH, there it goes. EDDIE EDWARDS THROWN OVER THE TOP ROPE AS WELL!

JR: Goldberg is an unstoppable monster, and he will surely be one of the top contenders to leave this battle royal as one of the top 8!

JL: Look at this... Jackhammer on RVD! And Kenta Kobashi and Triple H also taking punishment from Goldberg! And a vicious belly-to-belly on the wasted Mr. Anderson, who was taking lots of punishment from his new arch-enemy Edge!

JS: Goldberg looks unstoppable, but KANE IS BACK FROM THE ASHES AS HE SITS UP! And he's ready to fight Goldberg!

JR: Goldberg running to a new Spear, but takes a VICIOUS Brogue Kick by Sheamus, who comes from the NOWHERE! Kane uppercuts Sheamus, and taunts Goldberg now...

JL: We might be seeing Goldberg's sentence to hell...

JR: Chokeslam From Hell connected! Chavo on the top rope too... Frog Splash!

JS: Wait! Chavo's celebration cut short! CHAVO IS CHOKESLAMMED TO THE FLOOR BY KANE! CHAVO IS ELIMINATED!

JL: Morrison from the back, trying to throw Kane! Kane pulling Morrison to the apron! Vicious fist trading between Kane and Morrison!

JR: And now Wade Barrett, right after a thundering spinning side slam on Sheamus, sticks his nose in their business! But Morrison fights back and hip tosses Barrett into the apron as well! A 3-way on the apron!

JL: I think it's the 1st time EVER that there is a 3-way fight on the ring apron... LOOK OUT!

JS: MARK HENRY! HENRY OUT OF NOWHERE, RUNS AND CRASHES AGAINST THE THREE MEN!

JR: All three men fall down to the ground! Kane, Morrison, Barrett, three potential Final 8 contenders, taken down by Mark Henry!

JS: And Kurt Angle, out of nowhere, applies the Ankle Lock on the World's Strongest Man!

JR: The pression on that ankle is bigger than anything! Angle releases the hold, and suplexes the world!

JS: And Angle ELIMINATES Kevin Steen!

JL: Kenta Kobashi from behind, trying a DDT!

JR: ANGLE COUNTERS! He goes for a German Suplex! And he hits it! But a second one is avoided by Kobashi, who now is trying a running powerslam! HE HITS!

JS: Kobashi going for a Burning Hammer... SICKENING IMPACT THAT MIGHT HAVE INJURED ANGLE!

JR: And Kobashi hits a Burning Hammer on Triple H as well!

JS: Kobashi taking the Game's body and he's gonna throw him over the top rope... but Booker T returns and hits Kobashi with a spinning kick, safing Triple H! Booker eliminates Kobashi!

JL: DANIEL BRYAN FROM BEHIND! Bryan eliminates Booker!

JS: Such a fast paced match! 2 eliminations in a row... WOW!

JR: McGuinness eliminates Daniel Bryan!

JL: You stand corrected, Joey! 3 ELIMINATIONS IN A ROW!

JR: And the action doesn't stop! BROUGE KICK BY SHEAMUS! McGuinness kisses his chances goodbye! BUT LOOK AT MCGUINNESS!

JS: McGuinness pulls Sheamus' head bringing him down to the ground! Shades off the Big John Studd vs. William Perry moment!

JL: That was 5 f'n eliminations IN A ROW!

JR: And these 5 men break out a fight at ringside, bringing referees to stop them!

JL: And look at this! Asides from Mark Henry and Goldberg, there is only one garguantuan monster in the ring: the giant, the Big Show! He is where all the guys are setting sight, and HERE WE GO!

JS: Everyone teaming on the Big Show! Goldberg, Henry, Cara, Mysterio, RVD...

JL: You can say their names, you just have to obligatorily say that they are succeding in taking the giant down! AND THERE YOU GO!

JR: Everyone teamed on the Big Show, and the process worked! Big Show was eliminated!

JS: We have only 10 men left in the ring!

JR: This is what it's came down to. 2 of these 10 men will leave the tournament, the other 8 will compete tonight trying to get to Payback...

JL: And Sin Cara goes right to attack! Crossbody moonsault on Mark Henry, but obviously, it fails...

JS: Henry grabs Cara mid-air! WORLD'S STRONGEST SLAM!

JR: And Edge wastes no time! SPEAR ON HENRY!

JL: Yeah, but Edge is not the real master of Spears... GOLDBERG IS! AND HE JUST SHOWED IT!

JS: Another sickening Spear by Goldberg on Edge... And Triple H! PEDIGREE!

JR: The Game is still hurt by Kenta Kobashi's Burning Hammer, but the fact is... OH MY GOD! SWEET CHIN MUSIC BY HBK ON HIS BEST FRIEND!

JL: It's all about going to Payback, baby!

JS: Anderson is not impressed! THE MIC CHECK ON SHAWN MICHAELS!

JR: RVD hits a kick! And RVD looks he's going to enter himself on this finishing move festival! He goes to the top rope... 5-STAR FROG SPLASH!

JL: And immediatly, William Regal with the Regalplex!

JS: DEVASTATING REGALPLEX ON RVD! AND REY MYSTERIO COMES BY!

JL: Are you ready to the exciting attack from the masked sensation of San Diego! Here it comes! 619!

JR: The 619 connects! BUT SIN CARA GETS BACK UP! C2! STANDING C2 ON REY MYSTERIO! And now Sin Cara throws Mysterio into RVD, who's trying to get back up into the ropes, and both Mysterio and RVD are ELIMINATED!!!!!

(Ding Ding Ding)

LG: Ladies and gentlemen, your Final 8 of the Gold Rush Tournament: MARK HENRY, WILLIAM REGAL, MR. ANDERSON, EDGE, GOLDBERG, TRIPLE H, SHAWN MICHAELS, AND SIN CARA!!!!!

JR: Oh my freaking God, what a match! What a demolishing performance by these 8 men, and all of them will have to face each other later TONIGHT!

JL: Right now, Sin Cara is standing tall, but will he stand tall tonight, AND at Payback if he makes it there?

JS: Indeed, that's the question. WE'LL BE RIGHT BACK, SO STAY TUNED!
Quote:

ICW FRIDAY NIGHT HELLZONE
DEBUT SHOW
PART 2



(Back from commercial, JR, King and Styles recap us the brutal and unprecedent All Starz Battle Royal)

(The 4 tournament matches are announced in graphics)

JL: Oh, boy, just announced here on our official website, ICW.com, the 4 Gold Rush Tournament Quarter-finals matches!

JS: Our 1st match will be the International Sensation, Sin Cara, going on against the man who Cara tried to attack with a Moonsault but only failed, the World's Strongest Man, Mark Henry!

JL: The 2nd match will pit two new arch-enemies one on one, it will be Edge vs. Mr. Anderson!

JR: And will William Regal show to the world why does he deserve to get a Hellzone Heavyweight Title shot? I guess yes if he defeats the man who's that damn good, the Cerebral Assassin, Triple H!

JS: And speaking of Triple H, the Game's best friend, the Heartbreak Kid Shawn Michaels, one of the all-time best, will put his soul on the line as he steps in the ring with the monstrous Goldberg!

JR: The winners of the Mark Henry vs. Sin Cara and Edge vs. Mr. Anderson matches will meet later tonight in one of the two semi-finals. In the other semi-final, the winners of the Triple H vs. William Regal and Shawn Michaels vs. Goldberg matches. And the winners of the semi-finals will meet for the most coveted prize in the ICW, the Hellzone Heavyweight Championship, at Payback! But coming up next...

(Divas Tag Team Match is shown)

JL: OH YEAH, BABY! WHOHO! DIVAS ACTION! NEXT!

(Interview with ATF about ICW and the future is shown)

(Davey Richards is shown in Teddy Long's office)

Teddy: ICW Universe, you're looking at your own Hellzone General Manager, Teddy Long, playa! And you're also looking at the man who DR Drove Randy Orton into the ring steps, Mr. Davey Richards!

(The crowd boos)

JR: And he deserves every single boo he gets.

Richards: Teddy, listen. I apologize for my actions. But Randy Orton took perhaps the biggest oportunity of my life away! My chance to have a chance to shine and show the world why do I deserve to be champion, and Orton took all of that away, so I did the same! And he deserved it!

Teddy: Look playa, I don't care if you were pissed off by if Orton eliminated you or not, your actions were fair enough brutal and unnecessary. So I tell you what: next Sunday Night, at Payback, you WILL face Randy Orton one on one!

(The crowd cheap pops for it)

Teddy: And if you try to get yourself out of it, you're SUSPENDED! You feel me?! Now get out of my sight before I have to get myself a personal assistant that makes sure you get piledrived on the steel steps yourself!

Richards: You will pay, Teddy. You and Orton will pay....

JS: What an annoucement by Teddy Long! Randy Orton vs. Davey Richards at Payback!

JR: It will surely be one hell of a match, one that Orton will love, so he can get his awaited Payback!

JL: IF he makes it to Payback!

(Camera cuts to the ring)

(Chyna's theme hits)

LG: The following 10-Diva Tag Team Match is scheduled for one fall! Introducing 1st, the team of Sable, Madison Eagles, Kharma, Lita, and CHYNA!

JS: Well King, the good Divas are coming in, and, you must be excited as hell!

JL: Excited? PUPPIES LEAVE ME MORE THAN EXCITED, DAMMIT!

JR: Stop the party, King. The match hasn't even started!

(Natalya's theme hits)

LG: And making their way to the ring, the team of Jazz, Gail Kim, Angelina Love, Michelle McCool, and NATALYA!

JR: Wait a minute, Natalya has a mic...

Natalya: There's NO WAY IN HELL than someone precious like the brave female Hart of my family will enter in the ring with monsters like you! Neither me, neither any of these ladies around!

(Lita gets the mic)

Lita: Well, if you "Barbies" don't get to the ring, we "monsters" get you ourselves!

JL: Wait a minute, where are you going! Don't go!

(Chyna's team runs down to the ring area as Natalya's team runs away)

JR: Natalya and her teammates really showing Heart! Lita and company prevail tonight, will they prevail afterwards!?

(While the crowd cools off the dissapointing Divas SEGMENT, Sting is backstage in the "self-promotion area")

Sting: Tonight, your stinger got eliminated in less than a second by that heartbreaking, nasty-soul son of a bitch called Shawn Michaels! Michaels, you claim that you're an icon... well, HBK, I am THE Icon! I am better than you, and until I don't have what I want, the Joker Sting won't rest, DAMN! Now, tonight, I wanna save you trouble, because if you go on to win that Hellzone Heavyweight Title at Payback, I'll come next in the line. But be guaranted that by that time, I'll show to you that I am THE Icon!

(Ding Ding Ding)

LG: The following is a Gold Rush Tournament Quarter-finals match!

(Sin Cara's theme hits)

LG: Introducing 1st, from Mexico City, Mexico, weighing at 180lb, SIN CARA!!!

JS: The mexican sensation is ready to show the world that even high-flying former-AAA legends can become World Champions! Rey Mysterio, the man Cara eliminated earlier tonight, did it, and Cara looks to be next!

(Mark Henry's theme hits)

LG: And from Silsbee, Texas, weighing in at 485lb, the World's Strongest Man, MARK HENRY!!!

JL: I guess you're right on that point, Joey, but to get to the Hellzone Title, Cara will have to go through none other than the beast known as the World's Strongest Man!

JR: Well, Cara will have to put his soul on the line to get to the ICW Hellzone Heavyweight Championship, and he's damn sure willing to do that!

(Ding Ding Ding)

JR: Match underway, and Cara goes right into attack, with kicks, but none of them affects Henry in anyway possible!

JL: Cara will need a lot more than kicks if he wants to harm Mark Henry!

JS: Cara goes to the ropes, but he gets lifted in the air!

JL: Cara is flying!

JR: Massive impact with Cara falling face 1st, and now the cover:

1...

2...

Kickout!

JR: Cara kicks out at 2, but he's already damaged from the face fall.

JL: Add that to the fact that my puppies kissed us goodbye in a minute, giving Cara less time to prepare for Henry, and less time to rest from the Battle Royal.

JS: And giving Henry a less difficult challenge, then.

JL: Exactly.

JR: Mark Henry, so dominant, he has Cara on his arms, but Cara gives away, and he tries a Hurricanrana, but only gets viciously Powerbombed on the ring! OUCH!

JS: Henry wanting to end this match pretty soon, he doesn't wanna waste ti... WORLD'S STRONGEST SLAM SO DAMN SOON!

JR: Match is going to end so damn soon as well! And here's the cover...

1....

2....

KICKOUT!!!!

JL: WHAAAAT?!?!?!

JR: Sin Cara showing resilliance and showing the willing of advancing to the Hellzone Heavyweight Championship!

JS: But that resilliancy might cost him even more the match!

JL: Talk about shock... ANOTHER WORLD'S STRONGEST SLAM! GOTCHA' NOW!

JR: And here's the cover:

1....

2....

3!!!

(Ding Ding Ding)

LG: Here's your winner: MARK HENRY!!!

JR: Cara tried his best, Cara tried his resiliancy, but Henry showed a quickness never though of, and finished Cara as quick as Cara's average speed can be!

JL: And proving Cara that even the ones who are never destined to be sprinters can do things quickly has given Mark Henry the spot in the semi-finals, but the question is...

(Edge vs. Anderson shown in graphics)

JL: ... will Henry prevail against one of these two guys, later on tonight?!

JS: Coming up, Edge will meet Mr. Anderson, in the 2nd Gold Rush Tournament Quarter-finals match! The winner will meet Mark Henry later tonight in the Tournament Semi-finals! IT'S LIVE AND NEXT!

(Quick commercial break)

(Ding Ding Ding)

LG: The following is a Gold Rush Tournament Quarter-finals match!

(Mr. Anderson's theme hits)

LG: Introducing 1st, from Green Bay, Wisconsin, weighing in at...

JR: Lilian stopped right there, cause Anderson is ready to strike on the attack. And introducing himself will be 1st step!

(Anderson's mic is raised)

Anderson: Ladies and gentlemen, ASSHOLES OF ALL AGES, I weigh in tonight at 243lb, I hail from Green Bay, Wisconsin, I AM THE SOON-TO-BE 1ST EVER ICW HELLZONE HEAVYWEIGHT CHAMPION!!!.... MISTEEEE....

(Edge's theme hits)

JL: And look at Edge, he's running down the ring, with no awaiting whatsoever!

JR: Anderson goes right to him! To hell with his annoucing! AND HERE WE GO! ANDERSON AND EDGE PUNCHING THE HELL OUT OF EACH OTHER OUTSIDE!

JS: I believe Edge and Anderson are gonna take this to the EXTREME!

JR: And to the extreme you mean an all-out brawl, right?!

JS: Sort-of.

JR: Edge and Anderson into the ring, and Edge goes right to attack!

(Ding Ding Ding)

JL: Only now the ring has belled, and Edge is beating the heck outta Anderson!

JR: The rivalry between The Rated-R Superstar and The Ultimate Asshole is going well over the beggining of the All Starz Battle Royal, and Edge is beating up Anderson like a government mule!

JS: And look at Anderson! Trying to kick Edge away, and now he sneaks to the ringside area!

JL: But look at Edge!

JR: Edge is not going to be denied by the loudmouth, and runs his way into Anderson!

JL: But Anderson was awaiting him! Anderson trying to throw Edge into the steps! EDGE COUNTERS!

JS: Edge tries to lock in his submission move, the Edgecator, the modified Texas Cloverleaf!

JL: But he fails, and Anderson tries to hit a Green Bay Plunge!

JS: Edge counters that too, and throws Anderson into the barricade!

JR: Don't tell me that... oh my God, NO! NO! NOO!!!

JS: OH MY GOD!!!!!

JL: Oh My God!

JR: SPEAR THROUGH THE BARRICADE! EDGE AND ANDERSON BOTH DOWN, FOR GOD SAKES!

JS: And the referee is counting while the crowd, pleases, chants things like "ICW" and the Holy thing!!

JR: The referee is counting...

1...

2...

3...

4...

5...

6...

JR: They're not up and the referee is already on 6...

7....

8......

JS: Oh my...

9............

JL: They're not in the ring yet!

JR: Please don't tell me it ends like this, c'mon!

10!!!!!!!!

JR: The referee is calling for the bell as he hits the 10 mark! Both men have been counted out!

LG: Ladies and gentlemen, the referee has decided to have a DOUBLE COUNT OUT! Therefore, neither Edge or Mr. Anderson will advance to the semi-finals, which means that Mark Henry is now on the Gold Rush Tournament finals at Payback!!!

JR: The World's Strongest Man was already on the Semi-finals, and now, without having to move a single finger, is on the finals!

JL: Thanks to Edge! Edge had the brilliant idea of Spearing Anderson through the barricade, and both men have been counted out!

JS: A controversial ending to a fight between the two newest arch-enemies in Hellzone, and Mark Henry won with it!

(Mark Henry is seen laughing at backstage, when an infuriated Kurt Angle comes by)

Angle: Listen, Henry. I'm not afraid of you being the World's Strongest Man, I have the world in my powers with my Ankle Lock! OH, THAT'S DAMN TRUE! And the fact that I should be in that Gold Rush Tournament instead of one of you people is also DAMN TRUE! The fact is that I left the match by the BOTTOM ROPE after Kenta Kobashi gave me that Burning Hammer! I WAS NEVER THROWN OVER THE TOP ROPE! I SHOULD BE ON THE TOURNAMENT! I SHOULD BE! I SHOULD BE!

(Angle leaves, as Henry nearly dies of laughter)

(Ding Ding Ding)

LG: The following is our 3rd Gold Rush Tournament Quarter-finals match!

(Triple H's theme hits)

LG: Introducing 1st, from Greenwich, Connecticut, weighing in at 244lb, the Game, TRIPLE H!!

JR: Well, the Game looks fired up for our next match!

JL: Hey, JR and Joey, do you have the idea that if Triple H beats Regal tonight, and if HBK manages to beat Goldberg as well, we're gonna see...

JR: Yes, King, we will see it. And it will be epic.

(William Regal's theme hits)

LG: And from Blackpool, England, weighing in at 240lb, WILLIAM REGAL!!

JL: Speaking of fired up, the tough englishman is ready for a fight, and... is he calling out Triple H?

JS: Yes, he is! Regal is calling out Triple H for a fight in the entrance ramp!

JR: And the Game, with no fears, goes right into attack!

JL: Here comes Triple H, Regal might have made a huge mistake, and... OUCH!!

JS: Oh my God... Low blow and....

JR: LOW BLOW BY THAT DAMN WILLIAM REGAL! And Regal now, going for his brass knuckles, AND HE HITS THEM IN THE HEAD OF THE GAME!! TRIPLE H IS BUSTED OPEN FROM THE SIDE OF THE HEAD!!!

JL: Regal taking Triple H's half-bloodied face to the ring!


(Ding Ding Ding)

JR: William Regal hits a Regalplex to the wasted Game! Cover:

1...

2...

JR: You've gotta be kidding me...

3!!!

JR: TALK ABOUT (BEEP)!!!

(Ding Ding Ding)

LG: Here's your winner: WILLIAM REGAL!!

JL: Well, there go your dreams of having Triple H vs. Shawn Michaels in our capital, JR.

JR: DAMN WILLIAM REGAL AND HIS CHEAP WAYS TO WIN! DAMMIT!

JS: I think you need to calm down a bit JR. But anyways, William Regal will advance to face this winner of this next match later tonight, that is, if it doesn't has the same ending as the Edge vs. Anderson match earlier!

(Triple H, meanwhile, is taken by paramedics)

(HBK vs. Goldberg is shown on graphics)

JS: Two legends, two showstoppers. One all-round consistent performer, always ready for a 5 star match. One unstoppable beast, who dominated the All Starz Battle Royal earlier tonight, and was undefeated as long as to win 173 straight matches. Shawn Michaels against Goldberg, NEXT!

(Promo for Payback)

LG: The following is the final Gold Rush Tournament Quarter-finals match!

(Shawn Michaels' theme hits)

LG: Making his way to the ring, from San Antonio, Texas, weighing in at 221lb, the Heartbreak Kid, SHAWN MICHAELS!!

JL: I guess we have to consider HBK's emotional condition right now. Not only does he has to face Goldberg now, and right afterwards William Regal if he wins this match, but he also has to face Mark Henry at Payback, and he has the phsychological hurdle of Sting. He also has to deal with the fact that his long time awaiting of facing his best friend Triple H in the ring will continue to be a waiting.

(Goldberg's theme hits, as he comes from the backstage)

LG: And making his way to the ring, weighing in at 267lb, GOLDBERG!!!

JR: The brutal beast known as Goldberg, who dominated the All Starz Battle Royal, with a total of 6 eliminations.

JL: A true MVP performance, and Goldberg seems to try to Spear yet another guy to Hell as he meets the Heartbreak Kid!

(Ding Ding Ding)

JR: So here we go, and these two legends now staring down...

(The crowd pops off the building for the staredown between HBK and Goldberg)

JR: A truly fantastic moment, as these two argue a bit.

JS: The sky is the limit for the capabilities of these two. And here we go!

JR: These two lock-up, and Goldberg overpowers HBK here, sending him packing to the corner... look at Goldberg trying a belly-to-belly, and he DOES! Cover:

1... Kickout!

JR: Lightning quick kickout by HBK.

JL: And HBK lightning quickly counters Goldberg to an arm scissors!

JS: Goldberg in pain there! Will Goldberg tap?

JR: Goldberg says "Hell no!", and he's getting up! He's getting Michaels up on his arm, probably for a military press!

JS: HBK gets out! TEASING THE SWEET CHIN MUSIC AND GOLDBERG FALLS DOWN IN FEAR! Michaels right into attack with a Lou Thesz press and multiple punches!

JR: Michaels showing his own version of Goldberg's intensity. Michaels to the ropes... this is for you Michael Cole: that's VINTAGE Shawn Michaels with the flying foream and the kip up!

JL: HBK stealing the show! To the top rope, VINTAGE!

JS: Shawn Michaels ready to take Goldberg down... ELBOW DROP! And here's the cover:

1.....

JR: Shoulders down...

2....

KICKOUT!

JR: Shoulders up!

JS: The crowd here in Washington D.C. is going berzerk over Shawn Michaels and Goldberg!

JL: Now Michaels TUNING UP THE BAND!

JR: The crowd tuning it more as HBK is ready to play some sweet chin music... Michaels... OUCH!! TWIST IN THE STORY, AS GOLDBERG HITS A VICIOUS SUPERKICK OF HIS OWN!

JL: Shawn Michaels' head snapped!

JS: And here's the cover:

1....

2....

KICKOUT!!!!!

JR: Michaels kicks out, and the crowd is absolutely loving all of this!!!

JL: HBK was just finished learning the bass rhythm, but it was Goldberg who played it and stole the show with it!

JR: And now Goldberg is getting ready himself to strike on the body of Shawn Michaels. Goldberg getting ready for a Spear... and he HITS!!! GOLDBERG CONNECTS A SICKENING SPEAR!!!!

JS: Cover! Cover!!:

1....

2.........

KICKOUT!!!!!!!

JL: WHAAATTT?!?!?!

JR: The crowd is staggered, and so are we! Goldberg fails to take HBK down with the Spear !

JS: Now Goldberg is trying to take down HBK with his 2nd most precious jewel, the Jackhammer!

JR: Jackhammer going to hit, but HBK counters! CROSSFACE TIME! CROSSFACE TIME!

JL: HBK trying to connect a Crossface... Goldberg rolls! Kick in the gut, grabs HBK with brute strenght up in his shoulders... and a POWERSLAM!

JS: And Goldberg now grabs Michaels, and he might be in position for a Jackhammer!

JR: This is back and forth, no one stoppin these two! Goldberg goes, but HBK counters yet another Goldberg attempt for a Jackhammer... SWEET CHIN MUSIC! SWEET CHIN MUSIC CONNECTS! But HBK collapses!


JS: Look at HBK, collapsed and broken down, trying his darnest to crawl into pinning Goldberg...... he does!

JL: Cover!!!:

1....

2....

JR: It's over.

KICKOUT!!!!!!

JS: OH MY GOD!!


JR: Good God Almighty, it won't stop!

JL: They're both tired, they're bot hurt, they're both willing to go through hellfire and brimstone to get to the Hellzone Heavyweight Championship!

JS: One of them will still have to go through William Regal, remembering that!

JR: Both men trying to get back up, and Goldberg PUSHES HBK HARD! HE RUNS TO.... A SPEAR!!! ANOTHER SICKENING SPEAR, BY GOLDBERG!!!

JL: That's it, HBK ain't getting back up from that one.

JS: Goldberg is tired, broken, but still can take it all to the extreme! These are wrestlers, this is wrestling, THIS IS ICW, DAMMIT!!!!!

JR: Goldberg now gets HBK back up, and here it comes, JACKHAMMER!!!! JACKHAMMER!! Goldberg falls down backwards to the ring mat, tired, with a disturbed look, and he couldn't pin HBK like he usually does, but....

JL: BUT he's trying to... will he?

JR: Goldberg showing a resilliancy truly worthy of a man, and I don't think Goldberg wants to be finished right there, as he looks like he wants to punish Shawn Michaels even more.

JL: Not a very wise choice, as William Regal is still waiting....

JS: LOOK AT THIS! MODIFIED LEG LOCK BY GOLDBERG!!! SHADES OFF THE INFAMOUS BROCK LOCK, A MOVE FROM WARPATH'S BROCK LESNAR!!!

JR: MICHAELS' BACK, THAT TOOK HIM 4 YEARS OF HIS CAREER! MICHAELS'S LEGS, WHO SUFFERED A LOT! MICHAELS IN PAIN! MICHAELS IN PAIN! WILL HE TAP OUT?!?!?

JL: I guess no, look at his face! HBK looks like he's about to release tears of pain, but LOOK AT THAT! Michaels with an arm scissors sending Goldberg down!

JR: Look at this! Michaels perhaps looking for a SHARPSHOOTER, AND HE DOES!!!!!

JS: SHAWN MICHAELS LOCKS IN A SHARPSHOOTER ON GOLDBERG!!!!

JR: Goldberg in pain there, as he crawls out for the ropes! Will he get to them!

JL: Usually right now, Michaels would've crawled back to the middle of the ring, but the way he's so tired, he doesn't give a damn anymore! He just wants Goldberg to tap or shut it off!

JS: But none of those last two are gonna happen, because Goldberg just reached the ropes!

1...

2...

3...

4...

JR: Michaels releases the hold. Shawn Michaels, tired as hell, is up, and so is Goldberg, but both of them have proved... WAIT, GOLDBERG TRIED A SPEAR, BUT MICHAELS COUNTERED TO A SUNSET FLIP! COVER:

1....

2......

JR: Goldberg counters!!

1....

2.....

JL: And now HBK counters!!!

1....

2.....

KICKOUT!!!!

JS: An awesome cover trade by both men, and SWEET CHIN MUSIC OUT OF FREAKING NOWHERE!!!!!!

JR: Good God for every damn good thing in the world, these two warriors will do anything and everything! And now the cover, shoulders down:

1....

2.....

3!!!!!!!!!!!!!!!

(Ding Ding Ding)

(The crowd blows off the building with one of the biggest pops ever heard)

JR: WHAT A MATCH!!!!

JL: What a match, my Goodness!!!

LG: Here's your winner: SHAWN MICHAELS!!!

JS: Kudos to both men to deliever one of best in-ring-only based matches we've ever saw! ICW Hellzone is just debuting on TV, and the Washington D.C. crowd was were to witness its very finest! ICW rules!!!

JR: When you say "in-ring-only based" matches, you're really right, because neither of them left the ring for a single move!!!

(William Regal's theme hits)

JL: Wait a minute... HERE COMES WILLIAM REGAL RUNNING DOWN THE AISLE!!

JR: William Regal couldn't wait to get his hands on the winner of this match, and here he comes!

(Ding Ding Ding)

JR: And so starts this match for poor Shawn Michaels!!!

JS: Poor Shawn Michaels -- WOW!!!! "Poor" HBK just slapped the hell outta Regal!

JR: HBK showing he's still alive!!

JL: But not for a long time, though. Michaels barely can stand up, and Regal is pissed! KNEE SHOT TO THE HEAD! But it seems it isn't enough, since Regal... REGAL HAS THE... HE HAS THE BRASS KNUCKLES!

JR: What the hell is this?! NO! NO! THE MAN ISN'T BATTERED ENOUGH?! NOOO!!!

JS: OH MY GOD!!!!

JR: BRASS KNUCKLES RIGHT BETWEEN THE EYES OF SHAWN MICHAELS! THE REFEREE HAS NOTICED IT!!

(Ding Ding Ding)

LG: Ladies and gentlemen, here's your winner by DQ, and the opponent of Mark Henry at Payback: SHAWN MICHAELS!!!!

JR: Your plan backfired, Regal! You've just wasted your opportunity!

JS: And Regal is not pleased! Regal locks the Regal Stretch!!!

JL: BUT HERE COMES CHRIS JERICHO!!!

JR: Chris Jericho, the man Regal eliminated via brass knuckles earlier on the show, in the All Starz Battle Royal!!

JS: Regal gets fighted to the backstage by Jericho!

JR: That's one problem less for HBK, but I guess that... OH MY GOD, HERE COMES KURT ANGLE!!!!

JL: Angle claims he was never eliminated from the Battle Royal!! ANKLE LOCK!! ANKLE LOCK LOCKED IN!!!

JR: Somebody stop this!! Is HBK a battering box or something?!!

JS: But bloody heck, here comes STING!

JR: The Icon attacks Kurt Angle, and sends him flying!

JL: Kurt Angle looks pissed!

JS: Angle sending a message to both HBK and the Hellzone roster that he's not standing by unfairness against himself!!

JR: But speaking of unfairness...

Sting: This is a preview of what pos-Payback ICW will be for you, "Icon"!!!

JR: Oh My God, NO!!! SCORPION DEATH DROP!!!!!

JS: Sting leaving his own message to Shawn Michaels, as he's still mad about being the 1st guy out, in a mere second...

(The crowd boos off Sting and Angle, as they try to cheer HBK to get back up, but...)

(Mark Henry's theme hits)

JR: Oh My God... here comes HBK's animalistic future: his opponent at Payback, for the richest prize in the ICW, the Hellzone Heavyweight Championship! The World's Strongest Man, Mark Henry!!!

JL: Shawn Michaels went through Goldberg, William Regal, Kurt Angle, Sting, and now THIS?!

JS: Well, THIS, is just tossing HBK around like a cruiserweight!!! And he just threw HBK out of the ring, over the top rope!

JR: And now he's "getting the announce table ready"! They always do it! No exception! But c'mon, Mark! HBK is battered enough, and I mean ENOUGH!

JL: He don't cares, JR!

JS: Mark Henry hellbent on the destruction of Shawn Michaels, and... NO, NO, NOOOO!!! OH MY GOD!!!!!!!!!!

JR: WORLD'S STRONGEST SLAM THROUGH THE ANNOUNCE TABLE!!!! ARE THESE PEOPLE MAD OR WHAT?!

JL: Oh My God, HBK... is pretty much DEAD right now.

(Mark Henry stares, as HBK does the stretcher job)

(ICW logo appears and the camera fades to black, signaling the end of the show.)
Quote:
ICW PAYBACK 2012
1st OFFICIAL MATCHES
ICW MONDAY NIGHT WARPATH
DEBUT SHOW
MATCH CARD

Warpath All Starz Battle Royal
Same as the Hellzone Battle Royal, but instead of having an 8-Men Tournament, only 2 walk out as winners, and those two meet at Payback for the Warpath World Championship

Intercontinental Championship
TBD vs. TBD

Women's Championship
Bra & Panties Gauntlet Match

WWE Tag Team Championship
TBD vs. TBD

Contract signing for the Warpath World Championship match at Payback

DON'T MISS THE DEBUT SHOW OF WARPATH, ON MONDAY/TUESDAY!
FOLLOW THE MEETING OF PAST, PRESENT AND FUTURE! IT'S ICW! DON'T MISS IT!
---


Special thanks to King Gimp for the sig.

MARKING FOR:
Daniel Bryan | Bad News Barrett | Dean Ambrose | Damien Sandow | Sami Zayn | Kevin Owens | Pentagon, Jr. | Austin Aries | Kota Ibushi | Kenny Omega | William Regal | Bayley | Renee Young | YOSHIHIKO - The greatest dummy wrestler of all the times | Anything DDT tbh, especially the Ironman Heavymetalweight Championship matches
Learning to break kayfabe
Join Date: Sep 2007
Posts: 131
Points: 0
Re: The BTB Advertisement Thread
---
Show has been posted
Quote:
The Undertaker vs Umaga II
Falls Count Anywhere
Last week, we saw the rebirth of one of the most personal and brutal rivalries in Born to Wrestle in quite some time, as Undertaker made his return and brawled with the Samoan Bulldozer, effectively costing Umaga his chance at winning a championship match. Umaga has been in the driver's seat in this entire rivalry, dominating the Phenom physically and overcoming any mindgame Taker has tried on him on his way to destroying The Deadman on multiple opportunities as well as defeating him via KO at Busted Open. Now on BTW Nitro, this two will clash one more time, and their war will not be enclosed by ring ropes, as they are free to take their battle to any place in the arena. With no rules, no limitations and no excuses, who will come out on top
The man who did win the World Championship Match by coming out victorious in the Battle Royal is Christian Cage. Captain Charisma had been campaignign for a rematch against Brock Lesnar after not getting pinned in their encounter at Busted Open, and now he has it. With the two expected to be in attendance, what will go down between these two men
BTW Nitro will see two matches with championship implications go down. The first one is a match pitting champions against the Number One Contenders, as in tag team action The Fatus will battle the tandem of Orlando Jordan and Elijah Burke. A win from the second team would grant them a championship match at any time indeed. The second one is an actual championship bout, in which Rob Van Dam will continue what has become a championship defense tour as he battles longtime friend and at times foe Sabu. Van Dam has been succesful in defenses against Maven and Montel Vontavious Porter. Will the spell run out and third time indeed be the charm?
Someone who probably hopes his spell runs out is MVP, who hasn't been able to win a singles match since before WrestleBowl, which is almost two months. This week, he gets a chance to snap out of his losing streak, when he goes one on one with fired up Cody Rhodes. Young Cody has been the complete opposite, winning every single match he has competed in, and has been the thorn on Muhammad Hassan's side. Once BTW Nitro passes by, what streak will be the one that prevails.
The Wall had a very succesful past week, as the men guided by Paul Heyman had a great showing in the Battle Royal and then overcame the team of Goldberg and Gavin Spears in a Handicap Match. Will those two men finally cease to be a threat to their plans, or will the clash ins with Goldberg continue?
Two men who will surely clash in are Randy Orton and Joe Anoa'i. The rivalry between the Legend Killer and members of the Anoa'i family has now run for quite some time, Joe being the latest chapter in it. Last week, they clashed one on one, however, Randy Orton ended up walking out from their encounter, claiming tirement from his previous participation in the Battle Royal. Obviously still wanting a piece of Orton, what will the young Anoa'i end up doing this week?
CM Punk and Samoa Joe finally laid all their cards on the table, and made it clear their war at Apocalypse will not be about wrestling, it will be personal. The two competitors have secluded to their respective native cities so they can begin extensive preparation for what is being billed as the biggest match in their lives. On Nitro, we will see a glimpse as to how their training is advancing.
Rumors have been running rampant that Jeff Hardy will have something big in store for BTW Nitro. It's been said that he will do whatever it takes to get BTW to bring back Edge.
What has been confirmed in the other hand is the Triple Threat for the BTW Continental Championship and the one on one match between Mr. Kennedy and Colt Cabana, with Chris Jericho in commentary for it.
This, and much more, on BTW Nitro.
Confirmed Card
Falls Count Anywhere
Undertaker vs Umaga
Mr. Kennedy vs Colt Cabana
BTW Extreme Championship Match
RVD (c) vs Sabu
Cody Rhodes vs MVP
The Fatu Brothers vs Orlando Jordan and Elijah Burke
Wheelman for James Ellsworth
Join Date: Jan 2011
Posts: 501
Points: 0
Re: The BTB Advertisement Thread
---
WWE Friday Night Smackdown Preview- 8/7/05- Tucson, Arizona

Friday Night Smackdown comes to you from Tucson with less than three weeks to go until The Great American Bash!! Tonight, a HUGE main event has been announced by Smackdown General Manager Teddy Long and it involves all four participants in the WWE Championship Fatal 4 Way match at the Bash. The champion himself John Cena, Kurt Angle, John Bradshaw Layfield and Randy Orton will compete in a Fatal 4 Way Tag Team match with Teddy Long allowing each man to pick their own partner. This match could well see a huge shift in momentum for the winner, which means it will be all the more important just who their partners will be. Who will join forces with the champion? Who will the Wrestling God stand side by side with? Will the Wrestling Machine recognise he needs a helping hand? And can the Legend Killer trust anybody after his attack a few weeks back? What a main event it promises to be.

Another Tag Team match has been confirmed for this Friday night as Super Crazy and Psicosis, the Mexicools will square off against the Pitbulls, Kid Kash and Jamie Noble. Last week saw Juventud Guerrera pick up a shock win over Chris Masters as the Masterpiece suffered his third successive loss against the Mexicools members. Masters has been subject of the fun and games produced by the crazy Mexicans ever since they debuted, unable to find an answer to their antics, however last week that changed. Following his defeat, the high flying trio were ambushed from behind by Kash and Noble. We then heard from Masters who revealed that the Pitbulls were going to help him dispose of the Mexicools for good before sending an ominous message that the Mexicools 'Playtime' is over. Will we see the first stages of Masters plan tonight or will the Mexicools reign supreme once more?

Also on Smackdown we will see the return of Matt Hardy!! Hardy was injured back at the Smackdown: Night of Champions special thanks to a sickening assault from Orlando Jordan. Jordan has defeated Hardy on two occasions now, stating that he was finished with the man who 'will not die'. However last week, Teddy Long had bad news for the United States Champion as he informed Jordan that Matt would be returning next week and that at The Great American Bash he would face Hardy once again for the U.S. title. The news didn't sit well with JBL's chief of staff and he will be hoping that Hardy is still not fully recovered from the heinous assault several weeks ago.

We saw more developments last week in the growing rivalry between Booker T, Rhyno and Carlito as Rhyno once again attacked his 'friend' Booker T. Rhyno claimed last week that Booker has held him back, that Booker has taken his spot with the Man Beast then stating he wouldn't sit back and wait for his chance any longer. Rhyno though has vowed that he WILL get his hands on Carlito sooner or later. The Apple Spitter's luck will surely run out sooner or later as he has dodged both Booker and Rhyno ever since this thing began back at Judgment Day. Lito believes his plan of turning the two friends on each other has worked to perfection but will that be the case again tonight? And what will Booker have to say on both Carlito and Rhyno's antics? We hope to find out this Friday night.

Confirmed for Friday Night Smackdown:

John Cena and ? vs. Kurt Angle and ? vs. John Bradshaw Layfield and ? vs. Randy Orton and ?

The Mexicools; Super Crazy and Psicosis vs. The Pitbulls; Kid Kash and Jamie Noble

Plus:

Matt Hardy returns to action!




Now posted.
Re: The BTB Advertisement Thread
---

Smackdown Posted

Finally the Number One Contender for the World Heavyweight Title Will Be Decided

Finally after two matches to determine the Number One Contender for the World Heavyweight Title have been unsuccessful in getting to the bottom of this, General Manager Stephanie McMahon has put her foot down and made a series of Beat the Clock matches in order to determine the man who faces Daniel Bryan at the Royal Rumble. We have seen Mark Henry and Big Show battle it out in the first match which later included Sheamus and Batista in the second after interfering in the initial match. The second match also ended without a winner following Christian taking it upon himself to inject himself into the match. So this week all five men will have to compete in singles matches in order to get the shot. Mark Henry will face Ezekiel Jackson, Big Show will square off with Heath Slater, Batista will face Intercontinental Champion, Cody Rhodes, Sheamus and Wade Barrett get the chance to rip each other apart and finally Christian will face Drew McIntyre. Whoever wins in the fastest time will get the match at the Rumble with title on the line. Who will set the pace and who will fall into oblivion and get their chance in the Royal Rumble match. In a side note the two Superstars who record the slowest times or loose their match will compete next week in a match to determine the Number One Entrant into the Royal Rumble.

Teddy Long might of put his foot in it

Last week we saw Teddy Long unite with JTG and Darren Young to help elevate the young tag team up the rankings for the WWE Tag Team Titles. Teddy requested a match for the two against a team that will allow them to prove that they have what it takes to be the champs. Stephanie McMahon said that following her father's decision to allow her to bring in 3 former WWE Superstars back to the roster her final two choices will be the opponents for Young and JTG. Which team can gain the advantage and step up for the chase to the tag titles.

Diva face off

Tamina and Natalya are currently level on points in the WWE Divas title but Tamina already won a number one contenders match. So if Natalya was to pick up the win in this match we will see the Royal Rumble Match between Tamina and Beth Phoenix be changed to a triple threat should Natalya get the victory. The stakes are high for sure in this match for both Divas.

Confirmed Matchups

Beat The Clock Challenge Match: Mark Henry vs Ezekiel Jackson
Beat The Clock Challenge Match: Christian vs Drew McIntyre
Beat The Clock Challenge Match: Batista vs Cody Rhodes
Beat The Clock Challenge Match: Big Show vs Heath Slater
Beat The Clock Challenge Match: Sheamus vs Wade Barrett
Natalya vs Tamina
JTG and Darren Young w/Teddy Long vs ??? and ???

http://www.wrestlingforum.com/booker...l#post10944640

Re: The BTB Advertisement Thread
---
Quote:
~WWE WRESTLEMANIA XXIII~
April 1st 2007
Ford Field; Detroit, Michigan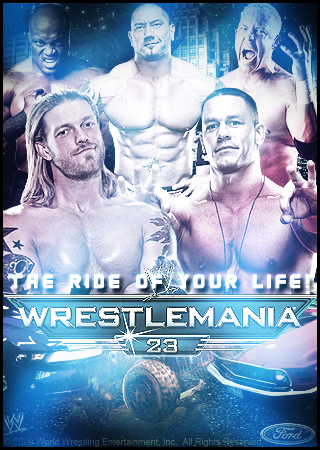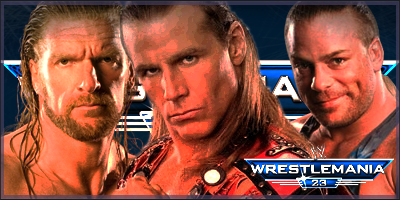 WWE Championship Triple Threat Match Match:
WWE Champion Shawn Michaels vs. 'The Game' Triple H vs. 'Mr. Monday Night' Rob Van Dam
The most prestigious prize in all of professional wrestling, the WWE Championship. And for the first time in Wrestlemania history, the title will be defended under triple threat rules. But tonight, for all three participants, Triple H, Rob Van Dam and the champion, Shawn Michaels, this match is about more than just the richest prize the business has to offer. It was two months ago that Michaels emerged victorious in another Triple Threat Match, seeing off then champion John Cena and then best friend Triple H to become a four time WWE Champion. However, that night, Michaels gained more than just a championship. Since Raw: Night of Champions, Michaels has undergone a transformation, shedding any allegiance to his former D-Generation X colleague Triple H and any feelings he once had towards the fans of the WWE. Indeed, Michaels has instead dedicated his title reign to the believe that he has been brought to the pinnacle of the sport through the strength of his faith. Always a phenomenal competitor, guaranteed to steal the show each and every Wrestlemania, Michaels has vowed to do so again this year. However, the deranged attitude Michaels has shown recently has transpired to an arrogance that Michaels is on a mission from God, to deliver another trademark Wrestlemania performance, to drag Van Dam and 'The Game' to the match of their careers, and most importantly of all, to retaining the WWE Championship. But is faith and talent enough given the determination that exists in Triple H and Van Dam?

For 'The Game', the title comes with the desire for revenge after the betrayal of him by Michaels. To become champion, Michaels turned on his long-time partner, cracking a steel chair over his skull, pinning Triple H to grab the title. For months 'The Game' has sought retribution, a chance to settle the score, however the only opportunity possible for Triple H to grab that chance was to win the Number One Contender's Tournament Final at Saturday Night's Main Event. In Madison Square Garden one month ago, Triple H and Van Dam squared off, with not many giving 'Mr. Monday Night' much of a chance. However, Van Dam was more than a match for 'The Game', until a controversial ending robbed him of his Wrestlemania main event dream. Van Dam regained the chance to challenge for the title by winning a rematch the following Monday on Raw, but whatever respect existed between he and his fellow challenger quickly evaporated as the pair started battling not only Michaels, but each other. It's been a wild last few weeks between the three, and each man has had his share of success over his opponents, but tonight, the WWE Championship is on the line. Revenge, redemption, the chance to fulfil a dream, the chance to steal the show and the richest prize in professional wrestling are all up for grabs as Shawn Michaels, Triple H and Rob Van Dam meet for the first WWE Championship Triple Threat Match in Wrestlemania history.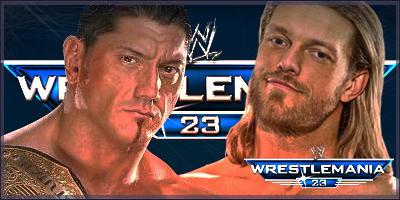 World Heavyweight Championship Match:
World Heavyweight Champion Batista vs. 2007 Royal Rumble Winner Edge
Ever since he won the 2007 Royal Rumble, it seems like Edge has been constantly running scared from one thing or another. It started when he walked out on Rated-RKO partner Randy Orton at Raw: Night of Champions, handing the World Tag Team Championships to Ric Flair and Carlito. With Orton trying to hunt Edge down, it was that night that Edge chose to walk out on Raw, appearing on the following episode of Smackdown to declare his intentions of challenging for the World Heavyweight Championship at Wrestlemania, regardless of who the champion may be. But that soon turned out to be false as ahead of Batista's title defence against Mr. Kennedy at No Way Out, Edge and Kennedy came to some form of agreement where Edge would help Kennedy win, ensuring the two would meet at Wrestlemania. It all seemed to be going to plan after Edge hit Batista with a spear, allowing Kennedy to pick up what looked like an easy win... until Ric Flair and Arn Anderson decided No Way Out was their night to get a little payback on Kennedy for his actions towards them. Batista would take advantage, putting Kennedy away, setting the scene for Wrestlemania. It was Batista and Edge for the World Heavyweight Championship.

But it seemed that the second the referee's hand struck the three count on Kennedy's challenge, the rumours and whispers started. The popular consensus was that the reason that Edge wanted to face Kennedy at Wrestlemania was simple... Edge was scared of 'The Animal'. Batista even confronted Edge, saying as much, but Edge claimed it was mind games, that he was trying to get inside the head of the champion. More credence was added to Batista's theory as when 'The Animal' teamed with Matt Hardy to take on Edge and Kennedy at Saturday Night's Main Event, the Wrestlemania opponents never came into physical contact with each other once, with Edge once again walking out on a tag team match to save himself falling into the clutches of 'The Animal'. The rumours grew stronger and the whispers grew louder, until Edge finally snapped, subjecting Batista to a hideous one man con-chair-to. Since then, a non-contact ruling from Smackdown Interim General Manager Jonathan Coachman has stopped Batista getting his hands on Edge, but at Wrestlemania XXIII, the pair will finally meet, with Edge determined to prove he's as good as he says he is, while Batista looks to defend the title he spent most of 2006 chasing, and in the process, prove that no amount of mind games can effect 'The Animal'.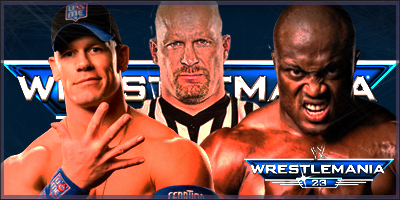 The Irresistible Force vs. The Immovable Object:
'The Real Deal' Bobby Lashley vs. John Cena
Special Guest Referee: Steve Austin

It seems that at every turn, the evil 'Chairman of the Board' Mr. McMahon has remained one step ahead of John Cena. From Shane McMahon assaulting Cena, costing him the WWE Championship in the process, to bribing Umaga, Edge, Johnny Nitro, Chris Masters and Melina to attacking Cena and doing the McMahons dirty work, to the shocking attack of Cena at the hands of Bobby Lashley at Saturday Night's Main Event, Vince has always had a trick up his sleeve. Cena of course battled valiantly, never ducking a challenge and fighting the combined forces of Vince, Shane and Lashley at every opportunity. However, with every passing week, somehow, someway, 'The Evil Empire' would find a way to come out on top. It seemed that much like the WWE fan base, WWE C.E.O. Linda McMahon had grown tired of Vince abusing his power and sought a way to even the score... the naming of 'Stone Cold' Steve Austin as referee for the match. With Austin vowing to call the match straight down the middle, showing no favouritism, a renewed sense of optimism emerged around Cena and his supporters. Indeed, many were now excited at the prospect of Austin donning the stripes, feeling he would counter the threat of any McMahon influence, allowing Cena and Lashley to battle to prove who was the better man. But with the shocking images we saw from last Friday's Smackdown of Austin being loaded into the back of ambulance, doubts remain as to whether or not Austin will even make it to Detroit. Cena will always bring the fight, his spirit and determination is never in doubt. But having chased the money and joined the corporate regime, will the price of the dollar be enough for Mr. McMahon to lead Bobby Lashley to victory... and in the process crush the spirit of John Cena once and for all?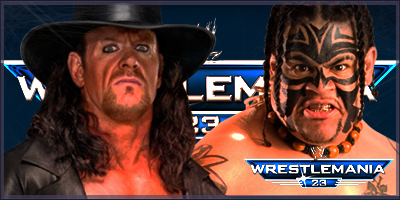 Streak vs. Streak:
'The Phenom' The Undertaker vs. 'The Samoan Bulldozer' Umaga
14-0. That's where the legendary Undertaker Wrestlemania Streak currently stands. Fourteen times 'The Deadman' has walked into Wrestlemania, and fourteen times he's emerged victorious. Some of the biggest and best names in WWE history have tried to knock off The Undertaker on the biggest stage in sports entertainment, but each has failed. One common theme seems to be that before the match has even started, The Undertaker has already won the mental game with his opponents, meaning that the physical battle became all that easier. But tonight, perhaps we've finally found the one man impervious to the mind games of The Undertaker. 'The Samoan Bulldozer' Umaga, a man who for 364 days has never been pinned and never been made to submit. He remains one of the most awe-inspiring forces the WWE has ever seen, a wild savage that only one man can control, Armando Alejandro Estrada. And after running roughshod over most of the WWE roster, Estrada has trained the sights of his monster on the perhaps the biggest prize in wrestling history... 'The Streak'. Ever since he shocked the world by appearing at No Way Out to slam The Undertaker straight through the casket lid, Umaga has inflicted pain on several members of the Smackdown roster. But at Saturday Night's Main Event, Paul Bearer returned to the WWE, bringing a rejuvenated Undertaker with him, the pair determined to keep their streak alive, killing Umaga's in the process. Something's gotta give, it's "Streak vs. Streak", somebody is going to suffer their first loss at Wrestlemania XXIII, but will it be 'The Phenom', The Undertaker? Or will it be 'The Samoan Bulldozer' Umaga?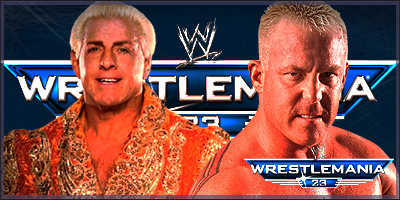 Past vs. Future:
'The Nature Boy' Ric Flair vs. Mr. Kennedy
It seemed all so routine. The Royal Rumble Match, a match Mr. Kennedy vowed to win, but when he entered the match as Entrant No. 1, that prediction seemed so far away. But yet, over thirty minutes later, Kennedy was still in the match... until Ric Flair entered the ring. 'The Nature Boy', looking to relive the glory years, eliminated Kennedy from the match to the delight of the crowd that evening. However for Kennedy, it was the straw that broke the camel's back. Feeling he had been over-looked and held back, Kennedy went on a rampage, eliminating Flair and badly beating him, leaving the sixteen time world champion a broken and bloody mess. Further attacks would follow, with Flair's friend Arn Anderson and Smackdown General Manager Teddy Long suffering at Kennedy's hands. Kennedy would go onto earn a title shot at No Way Out, and thanks to his agreement with Edge, it looked as if Kennedy had the title won... only for Flair and Anderson to cost Kennedy, helping Batista to win, while infuriating 'The Green Bay Loudmouth'. Time and time again Kennedy challenged Flair to a match, although Flair chose to remain focused on defending the World Tag Team Championships with Carlito. So at Saturday Night's Main Event, Kennedy sought to remove the gold from the situation, costing Flair and 'Lito the titles. Since then, Flair has accepted the challenge, only for Kennedy to assault both of Flair's sons in despicable displays. Kennedy has vowed to beat Flair into retirement tonight, but 'The Nature Boy' is determined to give yet another legendary performance, teaching Kennedy a huge lesson in respect in the process.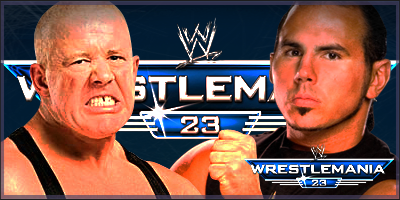 United States Championship Match:
United States Champion Finlay vs. Matt Hardy
For years Matt Hardy has been considered a tag team specialist who never could quite cut it as a singles competitor. While brother Jeff flourished, winning three Intercontinental Championships, Matt had struggled, a lone Cruiserweight Championship reign to his name. Tonight represents the biggest oportunity in Matt's career, finally the chance to compete for a singles title at Wrestlemania. But he couldn't have asked for a tougher opponent than the grizzled veteran Finlay. The current holder of the prestigious United States Champion, 'The Belfast Brawler' has spent decades proving his credentials across the world with some of the hardest hitting offence the wrestling world has seen. Indeed, his brutal series of match with Chris Benoit, including their effort at No Way Out where Finlay won the gold, show that the veteran can still rumble with the best of them. Although, it does seem that for most of his matches lately, Finlay has had the luck of the Irish on his side in the shape of The Little Bastard. The leprechaun has interfered in more matches than anyone can remember these last few months, proving a valuable ally to Finlay despite his diminutive nature. But surely with Matt proclaiming that failure is not an option tonight, even Finlay and his trusty shillelagh can't hold Hardy back any longer? For Matt to finally take the next big step and elevate his career, he'll not only need to show a tough streak seldom seen before, he'll also have to have eyes in his back looking for the threat of that damn leprechaun. As for Finlay, he clearly has the experience and toughness advantage, but will that be enough to stop the impressive run Hardy has been on in 2007?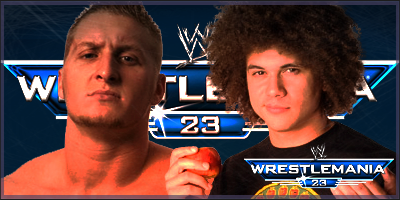 Intercontinental Championship Match:
Intercontinental Champion Kenny Dykstra vs. Carlito
A rivalry that started over a simple backstage confrontation has escalated to a title match at Wrestlemania, where not only a title, but the pride of a lady are on stake as these two do battle. Dykstra and Carlito had came into contact during tag team matches and a Carlito effort against Randy Orton, but it wasn't until Dykstra started making advances towards Carlito's girlfriend Torrie Wilson that these two really came to blows. With a brash arrogance, the young, good-looking Intercontinental Champion repeatedly poked fun at 'Lito and Wilson's relationship, claiming that Torrie was slumming it by being with Carlito. Naturally, both Carlito and Torrie were furious, however when Carlito sought to extract revenge in the shape of a one man con-chair-to, Torrie responded with shock and disgust. Having witnessed first-hand Kenny deliver the same treatment to Jeff Hardy before the Royal Rumble, Torrie couldn't believe 'Lito would stoop to Dykstra's level. Ultimately, Carlito thought better of it, listening to the words of his girlfriend, but it was clear that the presence of Dykstra was taking its toll on their relationship. Ultimately tonight's match was set, with Dykstra and Carlito continuing to battle back and forth, but recently the young champion has shown a confusing difference of opinion. After claiming that he was now focused on the title and not the girl, Dykstra then involved Torrie in a tag team match last Friday night on Smackdown, helping him get the win. Tonight, Carlito will no doubt look to keep Torrie out of the equation, allowing to focus on becoming Intercontinental Champion again... but you can't help but feel that despite his recent words, Dykstra will find some way to use his opinions of Torrie against the challenger.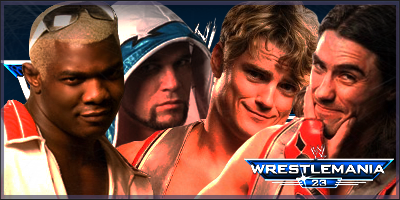 Tag Team Showcase Match: Champions vs. Champions
World Tag Team Champions The World's Greatest Tag Team vs. WWE Tag Team Champions The Hooligans
For Brian Kendrick and Paul London, the last year has seen them take on every tag team Smackdown has to offer, with the WWE Tag Team Champions emerging victorious in every title defence. No matter who the opponent, The Hooligans have rose to the occasion, often proving breath-taking performances to retain their gold. Over on Raw, Shelton Benjamin and Charlie Haas are just one month into their latest title reign, but have declared their intentions to once again be recognised as the very best the WWE has to offer. Indeed, for Haas and Benjamin, The World's Greatest Tag Team isn't just a name, it's a status they are determined to reach once again. And to do so, Haas and Benjamin laid down the challenge to their counterparts from Smackdown for a Champions vs. Champions showdown to prove who the best team in the WWE is today. Both teams have looked impressive in recent weeks, but a recent knee injury to London may have jeopardised the Smackdown representatives chances. Regardless of any injury, London and Kendrick will no doubt look to prove their credentials, while for Haas and Benjamin, the chance to once again sit atop the mountain awaits them, a chance they seem more determined than ever to take.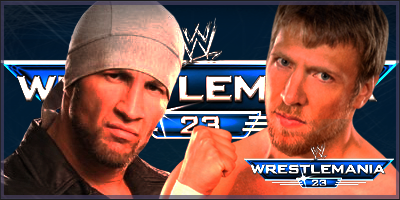 Cruiserweight Championship Match:
Cruiserweight Champion Gregory Helms vs. Bryan Danielson
If you asked Cruiserweight Champion Gregory Helms before the Royal Rumble, he'd have told you there was no more competition for him to face. In his year plus reign, Helms had beaten everybody put infront of him, his dominant displays rendering the cruiserweight division void of a credible challenger. Helms grew cocky, proclaiming himself the greatest cruiserweight in history, belittling his opponents at every opportunity. However, Smackdown General Manager Teddy Long sought to change that, scouring the world for talent, searching for that one man to shut Helms up. That man... was Bryan Danielson. Danielson exploded into the WWE, making a beeline for Helms and almost winning the Cruiserweight Title in his WWE debut, the Cruiserweight Championship Gauntlet at No Way Out. Ultimately, Helms would prevail that night, but Danielson has earned his one on one opportunity tonight, looking to be the man to finally end Helms' championship reign. Helms is no doubt a great champion, using a blend of skill and craft to win by hook or by crook, but Danielson is a world renowned competitor, determined to take his chance on the big stage. Will Helms' title reign continue to re-write the records books? Or will Danielson be the man to put the most arrogant Cruiserweight Champion firmly in his place?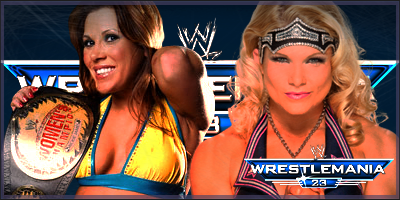 Women's Championship Match:
Women's Champion Mickie James vs. Beth Phoenix
A match nearly two years in the making as these former best friends are set to collide with the Women's Championship on the line. When Beth Phoenix returned to Raw and confronted Mickie James, everybody assumed it was simply a new comer stating her intentions. Little did we know that a long-running saga was about to be revealed, with best friends now enemies set to bring to a head one of the most bitter rivalries ever seen in women's wrestling history. Two years ago two would be WWE divas trained hard and shared an apartment with each other. They were best friends chasing the same dream. For Mickie James and Beth Phoenix, two years ago, the two of them facing for the Women's Championship at Wrestlemania was the stuff of fairy tales. However, at Wrestlemania XXIII, it's nothing but a nightmare for the champion. When the WWE offered one divas contract to the two women, a match was of course scheduled to see who would earn it. Sadly, an injury to Phoenix at the hands of Mickie during a training bout would mean James would become a WWE diva by default. Despite her best efforts, James would lost touch with Phoenix, but wound up eventually becoming Trish Stratus' best friend and then Women's Champion. For Phoenix, the bitterness and resentment grew, until Phoenix arrived on Raw a few months ago determined for revenge. Phoenix has looked impressive during her short run, but James has always been a champion capable of defying the odds... but can she defy the odds and beat a stronger, more powerful diva... who just so happens to know Mickie's entire arsenal inside and out?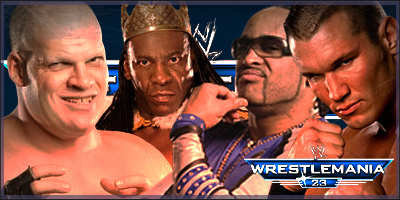 Money in the Bank Ladder Match:
Entrants in Alphabetical Order:
Chris Benoit vs. CM Punk vs. Jeff Hardy vs. Johnny Nitro vs. Kane vs. King Booker vs. Montel Vontavious Porter vs. Randy Orton
It's a mix of experience and youthfulness that makes up the field of this year's Money in the Bank Ladder Match, with half the field trying to get back to champion status, while the other half seek that first taste of the big time. Chris Benoit, Kane, King Booker and Randy Orton have all been world champions in the past, and all four feel grabbing the briefcase is their quickest way back to that status. For Benoit, all recent talk of retirement this summer has been put aside as he seeks one last run as champion. For much of 2006, King Booker reigned supreme on Smackdown as World Heavyweight Champion, with control of the Smackdown kingdom once again on the mind of 'The King'. Kane and Randy Orton haven't been champions for a few years now, but both have been came close in recent years, feeling that the briefcase could put them over the top and help them reclaim their past glories. All four have been to the top of the mountain, all four have that big fight experience, but will that be enough to see off the youthful exuberance of our other four competitors?

For CM Punk, Jeff Hardy, Johnny Nitro and Montel Vontavious Porter, tonight represents the biggest chance of their careers thus far. Indeed, tonight will prove to be a first Wrestlemania appearance for Punk, Nitro and 'MVP'. Punk and Nitro have had their problems with each other and their respective tag team partners in recent weeks, the conflict including Nick Dinsmore and Chris Masters no doubt capable of spilling over into tonight's contest. The same could be said of the recent feud between Jeff Hardy and Randy Orton, the two having several problems with each other in recent months. 'MVP' is no doubt the least experienced of the group, having only made his WWE debut six months ago, but the youngster has impressed fans and pundits alike with his confident style. All four men have the potential to be major players in the WWE, and tonight could be the night they take the first step to greatness... or will it be a veteran presence that leaves Wrestlemania XXIII as the new 'Mr. Money in the Bank'?
Show has finally been posted right here.
---
World Wrestling Federation: The Montreal Fallout
New BTB. Check it out, eh?
Posting Rules

You may not post new threads

You may not post replies

You may not post attachments

You may not edit your posts

---

HTML code is Off

---