Learning to break kayfabe
Join Date: Sep 2007
Posts: 131
Points: 0
Re: The BTB Advertisement Thread
---
Just posted my Busted Open PPV, and just like the posters above me, I would really like some comments on it or the thread in general. I assume somebody is reading it since I am getting what I consider a nice amount of views, but some comments giving me advice would be nice. Of course, review for review
Re: The BTB Advertisement Thread
---
Just want to apologize for the PWR show not being up yet. Ive had some things come up and have only had time to work on it here and there. Ill try to have it up before Sunday. Just posting this to let the people interested know that I am working on it and that there will be a show posted.
Wheelman for James Ellsworth
Join Date: Sep 2011
Posts: 929
Points: 9
Re: The BTB Advertisement Thread
---
Just posted Raw last night on my BTB, WWE 2006 and onwards. ECW and SD will be posted by Monday at the latest.
Re: The BTB Advertisement Thread
---
The Next Step In Professional Wrestling
Coming Soon
Re: The BTB Advertisement Thread
---
First Pro Wrestling Redefined show is up.
Re: The BTB Advertisement Thread
---
Coming Soon
Re: The BTB Advertisement Thread
---
posted my second raw show earlier today would appreciate some comments if possible
Re: The BTB Advertisement Thread
---
WWE The Great American Bash Preview
June 27, 2004, Norfolk, Virginia




WWE Title Match
Eddie Guerrero (c) vs Booker T
Since winning the Interpromotional 30-Man Battle Royal back at the King of the Ring, outlasting 29 other men Booker T now finally has the chance to become WWE Champion by facing the WWE Champion Eddie Guerrero. As of late their rivalry has really heated up with Booker T getting wins over Eddie Guerrero in tag team matches but Eddie Guerrero embarrassing Booker T in the process. Will Eddie continue to reign supreme as champion or will Booker T put a stop to Latino Heat's reign this Sunday by becoming the WWE Champion for the first time at The Great American Bash?

Unsanctioned Match
Edge vs Kurt Angle
Since Kurt Angle made his shocking return at the King of the Ring costing Edge the WWE Championship and then destroying Edge in the process, Kurt Angle is back for one thing, revenge? Now their rivalry is really personal as Edge wants to finish what he started putting Kurt Angle not just on the shelf for good, he wants to end Kurt Angle's career. Has Kurt made a big mistake to come back so soon? This Sunday these 2 will face off in an Unsanctioned Match where anything goes and everything is legal with no legal repercussions. Just who will walk out of the Unsanctioned Match this Sunday? And which man will be defeated?

Buried Alive Match
The Undertaker vs Mordecai
Undertaker and Mordecai's rivalry will come to a head this Sunday in a Buried Alive match, a match where the only way to win is to bury your opponent six feet under, in a grave covered in a pile of dirt. For years The Undertaker has had his way with many superstars but he has never met anyone like Mordecai. The Undertaker who was buried alive at Survivor Series came back from the dead at WrestleMania but this time Mordecai vows to bury The Undertaker alive for good. These men have been a thorn in each other's sides and one way or another this Sunday it all ends. Just who will walk out this Sunday the winner? And who will be buried alive?

US Title No Holds Barred Match
John Cena (c) vs Kane
John Cena & Kane's rivalry will come to a head this Sunday when these 2 men meet for the WWE United States Championship in a No Holds Barred match. Anything goes, you can take the rule book out the window in this match. John Cena has done everything possible to get underneath Kane's skin by cutting raps and embarrassing Kane. Kane has done everything to make sure Cena doesn't come into this match at 100% attacking him these past few weeks. Not only that Kane has been creating havoc on Smackdown torturing the Smackdown divas Torrie Wilson and Stacey Keibler. Just who will walk out this Sunday the WWE United States Champion?

Texas Bull Rope Match
Rey Mysterio vs John Bradshaw Layfield
Rey Mysterio & JBL for these two men, their rivalry is not just about honour but it is also based on pride. JBL believes that he is far superior than Rey Mysterio. These past few weeks JBL has tried to do everything to embarrass Rey Mysterio in terms of making fun of him and his country and that he is not a true American. JBL believes that Rey is punching above his own weight and should not compete with the likes of JBL. Rey Mysterio has embarrassed JBL in return costing him the WWE Championship and destroying his limo and suit. Now their rivalry comes to ahead this Sunday in a Texas Bullrope Match, a match custom made for JBL. Just who will walk out this Sunday the winner?

Plus RVD, Val Venis and Matt Hardy compete in a triple threat match to determine the #1 contender for the US Title. Tajiri will defend his cruiserweight title against Chavo Guerrero, In a fatal 4 way tag team title match the new tag team champions Kidman and Paul London will defend their titles against The Hurricane and Shannon Moore, Akio and Funaki, Jamie Noble and Nunzio.
Show now posted
here
I've finally got The Great American Bash now up. All feedback is appreciated and will be returned.
---
WWE 2004: The Road to WrestleMania 21
Click here to read
---
Last edited by Kintaro; 01-08-2012 at

08:41 PM

.
Re: The BTB Advertisement Thread
---
~WWE WRESTLEMANIA XXIII~
April 1st 2007
Ford Field; Detroit, Michigan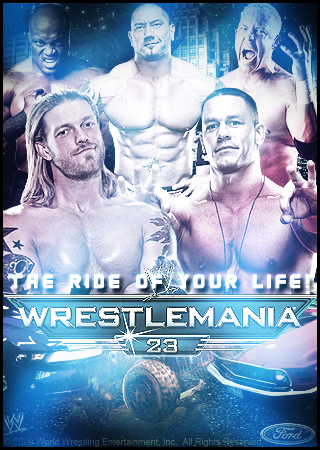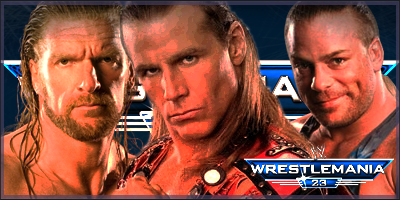 WWE Championship Triple Threat Match Match:
WWE Champion Shawn Michaels vs. 'The Game' Triple H vs. 'Mr. Monday Night' Rob Van Dam
The most prestigious prize in all of professional wrestling, the WWE Championship. And for the first time in Wrestlemania history, the title will be defended under triple threat rules. But tonight, for all three participants, Triple H, Rob Van Dam and the champion, Shawn Michaels, this match is about more than just the richest prize the business has to offer. It was two months ago that Michaels emerged victorious in another Triple Threat Match, seeing off then champion John Cena and then best friend Triple H to become a four time WWE Champion. However, that night, Michaels gained more than just a championship. Since Raw: Night of Champions, Michaels has undergone a transformation, shedding any allegiance to his former D-Generation X colleague Triple H and any feelings he once had towards the fans of the WWE. Indeed, Michaels has instead dedicated his title reign to the believe that he has been brought to the pinnacle of the sport through the strength of his faith. Always a phenomenal competitor, guaranteed to steal the show each and every Wrestlemania, Michaels has vowed to do so again this year. However, the deranged attitude Michaels has shown recently has transpired to an arrogance that Michaels is on a mission from God, to deliver another trademark Wrestlemania performance, to drag Van Dam and 'The Game' to the match of their careers, and most importantly of all, to retaining the WWE Championship. But is faith and talent enough given the determination that exists in Triple H and Van Dam?

For 'The Game', the title comes with the desire for revenge after the betrayal of him by Michaels. To become champion, Michaels turned on his long-time partner, cracking a steel chair over his skull, pinning Triple H to grab the title. For months 'The Game' has sought retribution, a chance to settle the score, however the only opportunity possible for Triple H to grab that chance was to win the Number One Contender's Tournament Final at Saturday Night's Main Event. In Madison Square Garden one month ago, Triple H and Van Dam squared off, with not many giving 'Mr. Monday Night' much of a chance. However, Van Dam was more than a match for 'The Game', until a controversial ending robbed him of his Wrestlemania main event dream. Van Dam regained the chance to challenge for the title by winning a rematch the following Monday on Raw, but whatever respect existed between he and his fellow challenger quickly evaporated as the pair started battling not only Michaels, but each other. It's been a wild last few weeks between the three, and each man has had his share of success over his opponents, but tonight, the WWE Championship is on the line. Revenge, redemption, the chance to fulfil a dream, the chance to steal the show and the richest prize in professional wrestling are all up for grabs as Shawn Michaels, Triple H and Rob Van Dam meet for the first WWE Championship Triple Threat Match in Wrestlemania history.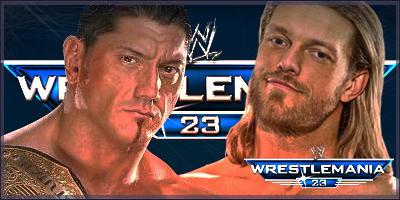 World Heavyweight Championship Match:
World Heavyweight Champion Batista vs. 2007 Royal Rumble Winner Edge
Ever since he won the 2007 Royal Rumble, it seems like Edge has been constantly running scared from one thing or another. It started when he walked out on Rated-RKO partner Randy Orton at Raw: Night of Champions, handing the World Tag Team Championships to Ric Flair and Carlito. With Orton trying to hunt Edge down, it was that night that Edge chose to walk out on Raw, appearing on the following episode of Smackdown to declare his intentions of challenging for the World Heavyweight Championship at Wrestlemania, regardless of who the champion may be. But that soon turned out to be false as ahead of Batista's title defence against Mr. Kennedy at No Way Out, Edge and Kennedy came to some form of agreement where Edge would help Kennedy win, ensuring the two would meet at Wrestlemania. It all seemed to be going to plan after Edge hit Batista with a spear, allowing Kennedy to pick up what looked like an easy win... until Ric Flair and Arn Anderson decided No Way Out was their night to get a little payback on Kennedy for his actions towards them. Batista would take advantage, putting Kennedy away, setting the scene for Wrestlemania. It was Batista and Edge for the World Heavyweight Championship.

But it seemed that the second the referee's hand struck the three count on Kennedy's challenge, the rumours and whispers started. The popular consensus was that the reason that Edge wanted to face Kennedy at Wrestlemania was simple... Edge was scared of 'The Animal'. Batista even confronted Edge, saying as much, but Edge claimed it was mind games, that he was trying to get inside the head of the champion. More credence was added to Batista's theory as when 'The Animal' teamed with Matt Hardy to take on Edge and Kennedy at Saturday Night's Main Event, the Wrestlemania opponents never came into physical contact with each other once, with Edge once again walking out on a tag team match to save himself falling into the clutches of 'The Animal'. The rumours grew stronger and the whispers grew louder, until Edge finally snapped, subjecting Batista to a hideous one man con-chair-to. Since then, a non-contact ruling from Smackdown Interim General Manager Jonathan Coachman has stopped Batista getting his hands on Edge, but at Wrestlemania XXIII, the pair will finally meet, with Edge determined to prove he's as good as he says he is, while Batista looks to defend the title he spent most of 2006 chasing, and in the process, prove that no amount of mind games can effect 'The Animal'.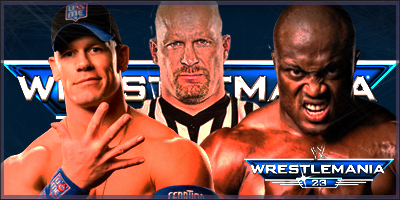 The Irresistible Force vs. The Immovable Object:
'The Real Deal' Bobby Lashley vs. John Cena
Special Guest Referee: Steve Austin

It seems that at every turn, the evil 'Chairman of the Board' Mr. McMahon has remained one step ahead of John Cena. From Shane McMahon assaulting Cena, costing him the WWE Championship in the process, to bribing Umaga, Edge, Johnny Nitro, Chris Masters and Melina to attacking Cena and doing the McMahons dirty work, to the shocking attack of Cena at the hands of Bobby Lashley at Saturday Night's Main Event, Vince has always had a trick up his sleeve. Cena of course battled valiantly, never ducking a challenge and fighting the combined forces of Vince, Shane and Lashley at every opportunity. However, with every passing week, somehow, someway, 'The Evil Empire' would find a way to come out on top. It seemed that much like the WWE fan base, WWE C.E.O. Linda McMahon had grown tired of Vince abusing his power and sought a way to even the score... the naming of 'Stone Cold' Steve Austin as referee for the match. With Austin vowing to call the match straight down the middle, showing no favouritism, a renewed sense of optimism emerged around Cena and his supporters. Indeed, many were now excited at the prospect of Austin donning the stripes, feeling he would counter the threat of any McMahon influence, allowing Cena and Lashley to battle to prove who was the better man. But with the shocking images we saw from last Friday's Smackdown of Austin being loaded into the back of ambulance, doubts remain as to whether or not Austin will even make it to Detroit. Cena will always bring the fight, his spirit and determination is never in doubt. But having chased the money and joined the corporate regime, will the price of the dollar be enough for Mr. McMahon to lead Bobby Lashley to victory... and in the process crush the spirit of John Cena once and for all?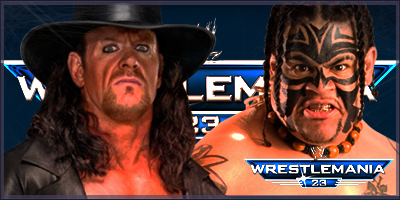 Streak vs. Streak:
'The Phenom' The Undertaker vs. 'The Samoan Bulldozer' Umaga
14-0. That's where the legendary Undertaker Wrestlemania Streak currently stands. Fourteen times 'The Deadman' has walked into Wrestlemania, and fourteen times he's emerged victorious. Some of the biggest and best names in WWE history have tried to knock off The Undertaker on the biggest stage in sports entertainment, but each has failed. One common theme seems to be that before the match has even started, The Undertaker has already won the mental game with his opponents, meaning that the physical battle became all that easier. But tonight, perhaps we've finally found the one man impervious to the mind games of The Undertaker. 'The Samoan Bulldozer' Umaga, a man who for 364 days has never been pinned and never been made to submit. He remains one of the most awe-inspiring forces the WWE has ever seen, a wild savage that only one man can control, Armando Alejandro Estrada. And after running roughshod over most of the WWE roster, Estrada has trained the sights of his monster on the perhaps the biggest prize in wrestling history... 'The Streak'. Ever since he shocked the world by appearing at No Way Out to slam The Undertaker straight through the casket lid, Umaga has inflicted pain on several members of the Smackdown roster. But at Saturday Night's Main Event, Paul Bearer returned to the WWE, bringing a rejuvenated Undertaker with him, the pair determined to keep their streak alive, killing Umaga's in the process. Something's gotta give, it's "Streak vs. Streak", somebody is going to suffer their first loss at Wrestlemania XXIII, but will it be 'The Phenom', The Undertaker? Or will it be 'The Samoan Bulldozer' Umaga?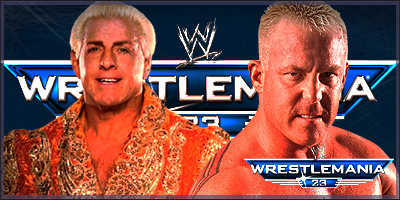 Past vs. Future:
'The Nature Boy' Ric Flair vs. Mr. Kennedy
It seemed all so routine. The Royal Rumble Match, a match Mr. Kennedy vowed to win, but when he entered the match as Entrant No. 1, that prediction seemed so far away. But yet, over thirty minutes later, Kennedy was still in the match... until Ric Flair entered the ring. 'The Nature Boy', looking to relive the glory years, eliminated Kennedy from the match to the delight of the crowd that evening. However for Kennedy, it was the straw that broke the camel's back. Feeling he had been over-looked and held back, Kennedy went on a rampage, eliminating Flair and badly beating him, leaving the sixteen time world champion a broken and bloody mess. Further attacks would follow, with Flair's friend Arn Anderson and Smackdown General Manager Teddy Long suffering at Kennedy's hands. Kennedy would go onto earn a title shot at No Way Out, and thanks to his agreement with Edge, it looked as if Kennedy had the title won... only for Flair and Anderson to cost Kennedy, helping Batista to win, while infuriating 'The Green Bay Loudmouth'. Time and time again Kennedy challenged Flair to a match, although Flair chose to remain focused on defending the World Tag Team Championships with Carlito. So at Saturday Night's Main Event, Kennedy sought to remove the gold from the situation, costing Flair and 'Lito the titles. Since then, Flair has accepted the challenge, only for Kennedy to assault both of Flair's sons in despicable displays. Kennedy has vowed to beat Flair into retirement tonight, but 'The Nature Boy' is determined to give yet another legendary performance, teaching Kennedy a huge lesson in respect in the process.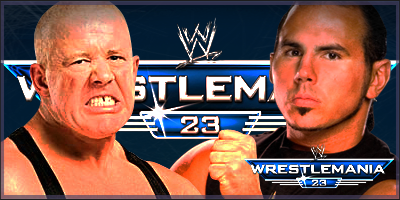 United States Championship Match:
United States Champion Finlay vs. Matt Hardy
For years Matt Hardy has been considered a tag team specialist who never could quite cut it as a singles competitor. While brother Jeff flourished, winning three Intercontinental Championships, Matt had struggled, a lone Cruiserweight Championship reign to his name. Tonight represents the biggest oportunity in Matt's career, finally the chance to compete for a singles title at Wrestlemania. But he couldn't have asked for a tougher opponent than the grizzled veteran Finlay. The current holder of the prestigious United States Champion, 'The Belfast Brawler' has spent decades proving his credentials across the world with some of the hardest hitting offence the wrestling world has seen. Indeed, his brutal series of match with Chris Benoit, including their effort at No Way Out where Finlay won the gold, show that the veteran can still rumble with the best of them. Although, it does seem that for most of his matches lately, Finlay has had the luck of the Irish on his side in the shape of The Little Bastard. The leprechaun has interfered in more matches than anyone can remember these last few months, proving a valuable ally to Finlay despite his diminutive nature. But surely with Matt proclaiming that failure is not an option tonight, even Finlay and his trusty shillelagh can't hold Hardy back any longer? For Matt to finally take the next big step and elevate his career, he'll not only need to show a tough streak seldom seen before, he'll also have to have eyes in his back looking for the threat of that damn leprechaun. As for Finlay, he clearly has the experience and toughness advantage, but will that be enough to stop the impressive run Hardy has been on in 2007?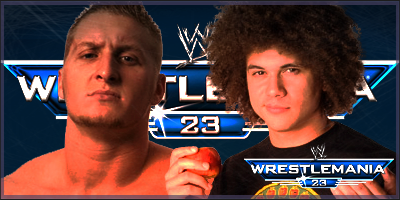 Intercontinental Championship Match:
Intercontinental Champion Kenny Dykstra vs. Carlito
A rivalry that started over a simple backstage confrontation has escalated to a title match at Wrestlemania, where not only a title, but the pride of a lady are on stake as these two do battle. Dykstra and Carlito had came into contact during tag team matches and a Carlito effort against Randy Orton, but it wasn't until Dykstra started making advances towards Carlito's girlfriend Torrie Wilson that these two really came to blows. With a brash arrogance, the young, good-looking Intercontinental Champion repeatedly poked fun at 'Lito and Wilson's relationship, claiming that Torrie was slumming it by being with Carlito. Naturally, both Carlito and Torrie were furious, however when Carlito sought to extract revenge in the shape of a one man con-chair-to, Torrie responded with shock and disgust. Having witnessed first-hand Kenny deliver the same treatment to Jeff Hardy before the Royal Rumble, Torrie couldn't believe 'Lito would stoop to Dykstra's level. Ultimately, Carlito thought better of it, listening to the words of his girlfriend, but it was clear that the presence of Dykstra was taking its toll on their relationship. Ultimately tonight's match was set, with Dykstra and Carlito continuing to battle back and forth, but recently the young champion has shown a confusing difference of opinion. After claiming that he was now focused on the title and not the girl, Dykstra then involved Torrie in a tag team match last Friday night on Smackdown, helping him get the win. Tonight, Carlito will no doubt look to keep Torrie out of the equation, allowing to focus on becoming Intercontinental Champion again... but you can't help but feel that despite his recent words, Dykstra will find some way to use his opinions of Torrie against the challenger.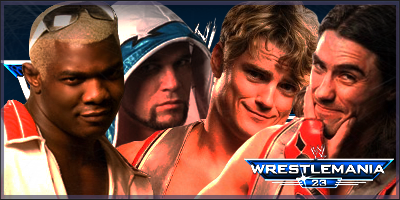 Tag Team Showcase Match: Champions vs. Champions
World Tag Team Champions The World's Greatest Tag Team vs. WWE Tag Team Champions The Hooligans
For Brian Kendrick and Paul London, the last year has seen them take on every tag team Smackdown has to offer, with the WWE Tag Team Champions emerging victorious in every title defence. No matter who the opponent, The Hooligans have rose to the occasion, often proving breath-taking performances to retain their gold. Over on Raw, Shelton Benjamin and Charlie Haas are just one month into their latest title reign, but have declared their intentions to once again be recognised as the very best the WWE has to offer. Indeed, for Haas and Benjamin, The World's Greatest Tag Team isn't just a name, it's a status they are determined to reach once again. And to do so, Haas and Benjamin laid down the challenge to their counterparts from Smackdown for a Champions vs. Champions showdown to prove who the best team in the WWE is today. Both teams have looked impressive in recent weeks, but a recent knee injury to London may have jeopardised the Smackdown representatives chances. Regardless of any injury, London and Kendrick will no doubt look to prove their credentials, while for Haas and Benjamin, the chance to once again sit atop the mountain awaits them, a chance they seem more determined than ever to take.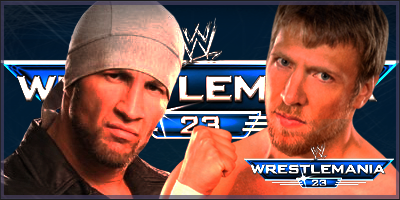 Cruiserweight Championship Match:
Cruiserweight Champion Gregory Helms vs. Bryan Danielson
If you asked Cruiserweight Champion Gregory Helms before the Royal Rumble, he'd have told you there was no more competition for him to face. In his year plus reign, Helms had beaten everybody put infront of him, his dominant displays rendering the cruiserweight division void of a credible challenger. Helms grew cocky, proclaiming himself the greatest cruiserweight in history, belittling his opponents at every opportunity. However, Smackdown General Manager Teddy Long sought to change that, scouring the world for talent, searching for that one man to shut Helms up. That man... was Bryan Danielson. Danielson exploded into the WWE, making a beeline for Helms and almost winning the Cruiserweight Title in his WWE debut, the Cruiserweight Championship Gauntlet at No Way Out. Ultimately, Helms would prevail that night, but Danielson has earned his one on one opportunity tonight, looking to be the man to finally end Helms' championship reign. Helms is no doubt a great champion, using a blend of skill and craft to win by hook or by crook, but Danielson is a world renowned competitor, determined to take his chance on the big stage. Will Helms' title reign continue to re-write the records books? Or will Danielson be the man to put the most arrogant Cruiserweight Champion firmly in his place?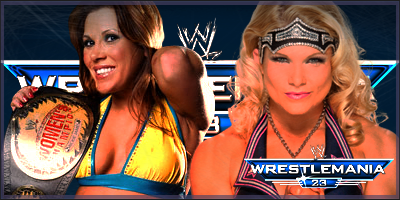 Women's Championship Match:
Women's Champion Mickie James vs. Beth Phoenix
A match nearly two years in the making as these former best friends are set to collide with the Women's Championship on the line. When Beth Phoenix returned to Raw and confronted Mickie James, everybody assumed it was simply a new comer stating her intentions. Little did we know that a long-running saga was about to be revealed, with best friends now enemies set to bring to a head one of the most bitter rivalries ever seen in women's wrestling history. Two years ago two would be WWE divas trained hard and shared an apartment with each other. They were best friends chasing the same dream. For Mickie James and Beth Phoenix, two years ago, the two of them facing for the Women's Championship at Wrestlemania was the stuff of fairy tales. However, at Wrestlemania XXIII, it's nothing but a nightmare for the champion. When the WWE offered one divas contract to the two women, a match was of course scheduled to see who would earn it. Sadly, an injury to Phoenix at the hands of Mickie during a training bout would mean James would become a WWE diva by default. Despite her best efforts, James would lost touch with Phoenix, but wound up eventually becoming Trish Stratus' best friend and then Women's Champion. For Phoenix, the bitterness and resentment grew, until Phoenix arrived on Raw a few months ago determined for revenge. Phoenix has looked impressive during her short run, but James has always been a champion capable of defying the odds... but can she defy the odds and beat a stronger, more powerful diva... who just so happens to know Mickie's entire arsenal inside and out?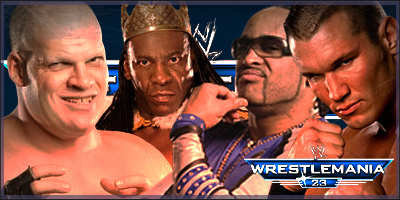 Money in the Bank Ladder Match:
Entrants in Alphabetical Order:
Chris Benoit vs. CM Punk vs. Jeff Hardy vs. Johnny Nitro vs. Kane vs. King Booker vs. Montel Vontavious Porter vs. Randy Orton
It's a mix of experience and youthfulness that makes up the field of this year's Money in the Bank Ladder Match, with half the field trying to get back to champion status, while the other half seek that first taste of the big time. Chris Benoit, Kane, King Booker and Randy Orton have all been world champions in the past, and all four feel grabbing the briefcase is their quickest way back to that status. For Benoit, all recent talk of retirement this summer has been put aside as he seeks one last run as champion. For much of 2006, King Booker reigned supreme on Smackdown as World Heavyweight Champion, with control of the Smackdown kingdom once again on the mind of 'The King'. Kane and Randy Orton haven't been champions for a few years now, but both have been came close in recent years, feeling that the briefcase could put them over the top and help them reclaim their past glories. All four have been to the top of the mountain, all four have that big fight experience, but will that be enough to see off the youthful exuberance of our other four competitors?

For CM Punk, Jeff Hardy, Johnny Nitro and Montel Vontavious Porter, tonight represents the biggest chance of their careers thus far. Indeed, tonight will prove to be a first Wrestlemania appearance for Punk, Nitro and 'MVP'. Punk and Nitro have had their problems with each other and their respective tag team partners in recent weeks, the conflict including Nick Dinsmore and Chris Masters no doubt capable of spilling over into tonight's contest. The same could be said of the recent feud between Jeff Hardy and Randy Orton, the two having several problems with each other in recent months. 'MVP' is no doubt the least experienced of the group, having only made his WWE debut six months ago, but the youngster has impressed fans and pundits alike with his confident style. All four men have the potential to be major players in the WWE, and tonight could be the night they take the first step to greatness... or will it be a veteran presence that leaves Wrestlemania XXIII as the new 'Mr. Money in the Bank'?
Wanna predict? Then head right here.
---
World Wrestling Federation: The Montreal Fallout
New BTB. Check it out, eh?
Posting Rules

You may not post new threads

You may not post replies

You may not post attachments

You may not edit your posts

---

HTML code is Off

---