Re: The BTB Advertisement Thread
---
.:Just when the competition thought it was safe to put out a bland, boring weekly show.
The competition better prepare because the Monday Night Wars are most definitely still on:.
---
Last edited by Baldwin.; 06-14-2011 at

10:35 AM

.
Re: The BTB Advertisement Thread
---
WWE Smackdown Preview

Smackdown has received two new recruits! The Big Show and Rey Mysterio have been drafted back to Smackdown, in a massive trade for Sheamus and Wade Barrett. Wade earlier this week asked Mick Foley for a transfer to Raw, which is sure to have shocked his fellow Corre members. Barrett is the Intercontinental Champion, and Teddy Long has commented that he plans to address that matter on Smackdown this week. After negotiations between Teddy Long and Mick Foley, Mick was reported to be very happy that Sheamus is on his roster. Mick Foley commented that he was a big fan of Sheamus, and will be looking to see what he can bring to the roster. The Big Show is schedualed for his Smackdown return against Christian, right off the heels of his Capitol Punishment campeign for the World Heavyweight Title.

Having said that, also this week on Smackdown, we will see the fallout from Capitol Punishment's World Heavyweight Title match, in which Randy Orton defeated Christian. Christian was beaten after attempting to land a spinning DDT from the top rope. Whilst in mid air, Randy Orton countered and landed a stunning RKO to pick up the win. Christian will have a big test in The Big Show, and will be looking to win and get back on the championship trail.

Titles are on the line this week! New Nexus Tag Team Champions Michael McGillicutty and David Otunga will defend their belts against The Usos. The Nexus enforcers defeated Santino and Kozlov in controversial fashion last Sunday, and will be looking to defend their straps once again against the young and upcoming Usos. The Usos, sons of 3 time WWE Tag Team Champion Rikishi, will be looking to solidify their right of passage amoungst the WWE tag team division.

Confirmed Match-Ups
Yoshi Tatsu Vs Jinder Mahal
The Usos Vs New Nexus [WWE Tag Team Championships]
The Big Show Vs Christian

The event is sure to be a great occasion for all the fans. With titles on the line, and explosive personalities coming straight out of Capitol Punishment, we are sure to see an amazing night of action.


---

Not Removing List
[ ] Tazz hits someone with the Tazzmission
[X] 3D actually hit a 3D through a table - 13/03/11 Victory Road [w/ Dreamer]
[X] AJ Styles turns face - 03/02/11 iMPACT
[ ] Knockout tag titles are gone
[X] OBD and Awesome Kong return - 19/02/11 iMPACT & 01/05/11 Extreme Rules
[X] Alberto Del Rio becomes champ - 14/08/11 SummerSlam
[ ] Evan Bourne wins US/Inter title
[X] Stone Cold gives someone a stunner - 07/03/11 RAW [JBL]

My BTB: WWE - Change In Booking (Review for Review)
Asking JAMES ELLSWORTH for Wrestling Advice
Join Date: Feb 2011
Location: Detroit
Posts: 256
Points: 140
Re: The BTB Advertisement Thread
---
This week, on EXTREME PRO WRESTLING ON HBO:

John Morrison had possibly the biggest win since debuting in EPW last week by beating his long time west coast rival, Samoa Joe! However, this week he will quite possibly be in the biggest match of his career thus far, because he will go one on one against the EPW Title Number 1 Contender, Jeff Hardy! Hardy has proven in the past few weeks that he doesn't care how he gets a win, so long as he comes out with his hand raised. But if "The Shaman of Sexy" can get a win over him, it will definitely put his name in the hat for the number one contender-ship of the EPW title at our next pay per view, which was announced last week, "Ultimate Jeopardy".

Speakings of announcements last week, Zach Ryder has issued an open challenge to anybody in the Philadelphia Wrestling Circuit. Ryder is hands down one of the toughest, most ruthless competitors in EPW today (Anybody who doesn't believe him can ask Maven Huffman), but could he have made a mistake by challenging the PWC? And more importantly, who is going to answer the call of the "Long Island Iced Z?"

Plus, Yoshi Tatsu and Finlay will compete to find out who will face Carlito Colon at "Still Barely Legal" for the EPW International Title! Tatsu has been a crowd pleaser since coming to the EPW, wowing the audience with his unique blend of Puroresu and high flying. Finlay, on the other hand, is a rough brawler who doesn't care what the crowd thinks. What will happen when these two lock up this week, and which one of them will move on to "Still Barely Legal"?

All this and more on this week's EPW ON HBO! You better not miss it!
Catch up on the previous weeks
http://www.wrestlingforum.com/booker...e-revival.html
---

WCW 1998:The War Continues
http://www.wrestlingforum.com/booker...continues.html

https://twitter.com/BrandonBrownson
https://www.youtube.com/user/THEBrandonBrownson

The roof is NOT my son, but I will RAISE IT!
Finally Out of Cutey Sleep
Join Date: Jul 2006
Location: The Fountain of Dreams
Posts: 2,020
Points: 9
Re: The BTB Advertisement Thread
---
-------
"Victorious warriors win first and then go to WAR, while defeated warriors go to WAR first and then seek to win..."




- Sun Tzu's Art of War



Prepare...a WAR is coming...
---
CUTENESS˛
AOW: Art of War Wrestling - The Greatest Affair
It's Baaaaack...
.:Oblivion Edition 39/40 Recap NOW POSTED!!:.
Re: The BTB Advertisement Thread
---
World Championship Wrestling
Monday Nitro Preview
The Pyramid; Memphis Tennessee
October 28th, 2002



World Championship Wrestling invades Memphis Tennessee as The Pyramid hosts another exciting edition of WCW Monday Nitro and as per usual, Nitro is LIVE on ESPN from 8PM Central

Jeff Jarrett, the current reigning WCW Champion is to address his victory over the former number one contender, Eddie Guerrero. Now, everyone but Nick Patrick is aware as to how Jeff Jarrett was victorious last night, for the third straight month, Jeff Jarrett has picked up a victory by use of his trusty weapon, his guitar. But, the referee's decision is final and now Eddie Guerrero has to get back in line because we have a new number one contender, Rob Van Dam, who Double J is also expected to address. Will Jeff Jarrett's home state welcome him with open arms? Find out, later on tonight on Nitro!

Halloween Havoc was not for the faint hearted as well Rhyno is aware of. Currently, we have no update on the condition of The War Machine but he is expected to be out of action for some time after Abyss left him in a pool of his own blood, he beat Rhyno so bad that Rhyno has to leave the arena in an ambulance. Abyss has put away yet another victim and looks to continue his reign of terror as James Mitchell has told WCW.com that Abyss is issuing an open challenge to anyone who thinks they can tame The Monster.

Sticking with what went down at Halloween Havoc, WCW President, Eric Bischoff has made a rematch of last nights events, a tag team match which pits The Filthy Animals going up against Mark Jindrak & Sean O'Haire. Now, last night The Filthy Animals were given a tough time as they tried to take out O'Haire & Jindrak but in the end were totally unsuccessful with O'Haire scoring the end pinfall. Tonight, The Filthy Animals look to even the score, the match result cannot be certain but there is one thing that can be and that's whoever wins is likely next in line to face The Maniacs for the WCW Tag Team Championships.

Halloween Havoc was not the best of nights for the stable of Team Canada. Not only were Petey Williams & Robert Roode unsuccessful in capturing Tag Team Gold but Lance Storm, the leader of the group failed to win the United States Heavyweight Championship from Booker T. However, Lance Storm has signed Rene Dupree up to face Booker T tonight and should Rene Dupree walk out victorious, Lance Storm is expecting to be given another shot at Booker T's gold.

But wait, there is more. Sugar Shane Helms is to defend the WCW Cruiserweight Championship against Chavo Guerrero Jr. This announcement has somewhat shocked Sugar Shane due to the fact that he pinned Chavo Guerrero at Halloween Havoc in the Fatal 4 Way match. Can Shane Helms walk out of Nitro still the Cruiserweight Champion and continue his dominance of the Cruiserweight Division? Find out on Monday Nitro!

Expect to see more star including, Ric Flair, Rob Van Dam, Goldberg and many more! Catch WCW Monday Nitro - 8PM Central, LIVE on ESPN.





Confirmed For Nitro

WCW Cruiserweight Championship: Sugar Shane Helms © vs. Chavo Guerrero Jr.
Abyss Issues An Open Challenge
Booker T © vs. Rene Dupree w/ Team Canada - Non-Title
Mark Jindrak & Sean O'Haire vs. The Filthy Animals
Re: The BTB Advertisement Thread
---
Quote:
~Friday Night Smackdown~
March 2nd, 2007
San Jose, California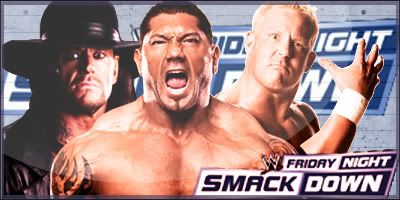 Friday Night Smackdown arrives in San Jose, California just one night away from Saturday Night's Main Event a leaderless brand, with the anarchy of last week's show still having a profound effect on the Smackdown roster.

When Mr. Kennedy snapped last week and choked Teddy Long with a microphone cord, fans around the world were shocked at the actions of the Kennedy as he assaulted Smackdown's General Manager. As a direct result of that attack, Long has been placed on a medical suspension by the WWE Board of Directors, meaning an Interim General Manager will be named tonight. Who will the new man be revealed to be? And what action, if any, will he take against Mr. Kennedy for his actions last week?

One man dared to stand up to Kennedy last week, and it was the World Heavyweight Champion Batista. 'The Animal' will no doubt be keen to run the rule over the new man in charge, but he'll have to keep his eye on the 2007 Royal Rumble Winner Edge, the two destined for a showdown at Wrestlemania. However, before his attack of Long last week, Kennedy once again expressed his desire to be involved in the World Heavyweight Championship match at Wrestlemania. With his actions at No Way Out and his words to Batista last week, Edge clearly shares Kennedy's opinion that it should be a Triple Threat Match in Detroit. Could Edge and Kennedy somehow persuade our new authority figure to grant them their wish?

One of Teddy Long's last acts as Smackdown General Manager was to grant a tag team title opportunity to La Resistance, a rematch from No Way Out featuring them and the WWE Tag Team Champions The Hooligans. London and Kendrick have long been tangling with Dupree and Grenier, but tonight is being billed as the last chance at the gold for Dupree and Grenier. Can Maryse finally lead her team to the gold? Will London and Kendrick finally see off their long time rivals? And what influence, if any, will The Bluebloods, William Regal, Dave Taylor and Paul Burchill have on the match? The Bluebloods attacked the champions last week, firmly stating they too deserved to be in consideration for a title shot. With Regal, Taylor and Burchill watching on, it promises to be an explosive end to the feud between La Resistance and The Hooligans.

Another of Teddy Long's last acts as General Manager was to announce that tomorrow night at Saturday Night's Main Event, a Four Way Elimination Match would take place to determine who would go on to Wrestlemania to face Gregory Helms for the Cruiserweight Championship. The four participants in that match, Bryan Danielson, Chavo Guerrero, Joey Mercury and Shannon Moore will clash tonight in tag team action, as Danielson and Moore combine to take on Guerrero and Mercury. Who will prove a point and give themselves a huge momentum boost just 24 hours away from one of the most important matches in the careers of these four individuals?

Also tonight, Finlay will announce the match stipulation for his United States Championship defence against Chris Benoit tomorrow night, with Number One Contender Matt Hardy no doubt watching that with a keen interest, King Booker and Montel Vontavious Porter will both be involved in the first two Money in the Bank Qualifiers of the year, taking on Sabu and Jimmy Wang Yang respectively, while we'll no doubt be hearing from Kane with regards the situation between Umaga and his brother The Undertaker.

A new regime will kick of a new era of Friday Night Smackdown, making this a show you won't want to miss!!

Confirmed Matches:

WWE Tag Team Championships Match: The Hooligans vs. La Resistance

Money in the Bank Qualifying Matches:
King Booker vs. Sabu
Montel Vontavious Porter vs. Jimmy Wang Yang

Bryan Danielson and Shannon Moore vs. Chavo Guerrero and Joey Mercury


Plus!
The new Interim Smackdown General Manager will be revealed!
Finlay will announce the match stipulation for the United States Championship Match at Saturday Night's Main Event!
Batista, Edge, Mr. Kennedy, Kane, Umaga and Matt Hardy will all be in attendance!!
Show now posted
here
.
---
World Wrestling Federation: The Montreal Fallout
New BTB. Check it out, eh?
Re: The BTB Advertisement Thread
---
WWE 2009 - Bridging The Gap



WWE Monday Night Raw Preview, April 20th 2009


'Fatal Four Way'


A rivalry reignited!

After John Cena barged into the World Heavyweight Champions locker room on Friday night demanding a match with or without the title on the line, a backstage brawl erupted between the pair. When finally separated by officials and referees, The Rated R Superstar made the challenge, the CeNation Commander accepted and our main event for Monday night was set – John Cena vs. Edge in a non-title bout! Who will come out on top in this huge match? Tune in to Monday Night Raw to find out!

Briefcase Blues

Last week on Raw, Big Show took it upon himself to attack Mr. Money in the Bank. Word quickly spread that Punk would not be in Baton Rouge come Friday for Smackdown. But the joke was on Big Show. After getting defeated by Batista in his in-ring return to action, Show came face to briefcase with the Straight Edge Master's most prized possession. Punk celebrated over the fallen monster as Smackown came to a close. With both men set to be in attendance for Raw, can the Alltel Arena contain their inevitable confrontation?

The Numbers Game

Ted DiBiase, Cody Rhodes and Randy Orton ran amuck this past Friday Night interfering in matches and attacking everybody in sight from Batista to Rey Mysterio to MVP. However, it was only the WWE Champion that was victorious in his match against Mysterio, DiBiase having fallen to MVP. A huge six man tag team match has been set for Raw pitting The Legacy against Rey Mysterio, MVP and Batista! Who will come out with the upper hand with the numbers now even on both sides?

The Deadman Cometh

While not physically on Smackdown this week, The Undertaker's presence was still as strong as ever. During HBK's match against JBL, the ever ominous gong sounded twice, causing mass confusion and Michaels to fall from the top rope enabling JBL to take advantage and nail a devastating Clothesline from Hell. This week, in a rare Raw appearance, The Phenom will see action against the same opponent as he goes one on one with JBL. With Shawn Michaels also in the building, will Taker suffer the same fate as The Heartbreak Kid and fall victim to The Wrestling God?

The Quest Continues

Both members of the Unified Tag Team Champions saw singles action on Smackdown. While The Miz managed to successfully put away Evan Bourne, Matt Hardy's interference resulted in a no contest between his brother and John Morrison. The Tag Champs have promised to continue their Quest for Competition this Monday night on Raw. Who is next on the list?


Confirmed

John Cena vs. Edge


The Legacy vs. MVP, Rey Mysterio & Batista
The Undertaker vs. JBL
---
WWE 2009 - Bridging The Gap
http://www.wrestlingforum.com/booker...ml#post9608810
Re: The BTB Advertisement Thread
---
Quote:
Originally Posted by
Stonecutter Harlem
View Post
Friday Night Smackdown | June 27th 2002 | Chicago, Illinois
"Family Ties"
This week as Smackdown rolls into Chicago, we are going to be treated with a main event for the ages. The Undisputed Champion, the Undertaker is going to be appearing on Smackdown this week and is going to be in action with none other than the reigning United States Champion- Kurt Angle. the American Badass and the Olympic Gold Medalist aren't strangers to each other and have faced each other dozens of times before, but this time, when both are champions and are at the top of their game, who will draw momentum as we head closer into Summerslam? And what may turn out to be a deciding factor in the matchup is the King of the Ring winner, Brock Lesnar. Raw's Brock Lesnar is in Chicago and chances are will make his presence felt on Smackdown but in what way?
Speaking of the United States title, the man that fought Kurt Angle earlier in the week at the King of the Ring PPV in hope to get that title, Rey Mysterio is set to be in action this week. Rey Mysterio looks to turn his slight losing streak around as he squares off against third generation superstar, Chavo Guerrero Jnr. Both men know each other inside and out and look to pull out all the stopes.
Another third generation superstar in action here tonight is Randy Orton. The young up and comer is scheduled to step into the ring with savvy in ring vet- Lance Storm. Storm who is no stranger to the ring is the odds on favorite in this matchup but really, anything can happen.
Over on Raw this past Monday Night, one half of the Tag Team Champions Rico came out and told Rikishi that this week he will make sure that this tag team title reign of theirs will come to a screeching halt. He and Rikishi are some-what of an odd couple tag team as back at Judgment Day Rikishi was set to face the tag team champions at the time- Billy and Chuck. With Rikishi's best friend, Scotty 2 Hotty attacked the week prior, Vince told him that he would have a surprise tag team partner drawn at random. Rico, Billy and Chuck's stylists would be his partner and as Rico tried to screw Rikishi over, he missed and hit Chuck instead. Rico requested that he and Rikishi defend the titles this week against the former champions, Billy and Chuck, this match is sure to turn into a handicap match for Rikishi as he can't even trust his own tag team partner.
One man that came ever so close to win at King of the Ring in his rookie month was John "the Prototype" Cena. John has requested time to speak as he looks to give some insight on what went down at the King of the Ring Final with Brock Lesnar. John is also set to face Maven here tonight, can the Prototype regain his recently lost momentum? or will things go differently as planned.
At the King of the Ring PPV we were featured with a video package hyping up the return of Chris Jericho. Jericho has been out since the Hell in a Cell match involving Raw's Triple H back at Judgment Day. Will Jericho be here tonight? Will we hear from the former Undisputed Champion or get any more information regarding his return to the ring?
Speaking of Triple H, the Game was traded over to the Raw roster this past Monday by new Raw General Manager- Shawn Michaels. Shawn however, didn't get Triple H for free as there was a deal involved. The question at hand is who from the Raw roster has been traded over to Smackdown in exchange for Triple H?
All this and more, including appearances from Christian, Edge, Hurricane Helms, Vince McMahon and several more.
Has been posted.
Re: The BTB Advertisement Thread
---
WWE Raw Preview

Edge is back! Edge is returning to Monday Night Raw to speak about the upcomming PPV, Money In The Bank. Edge has cashed in two MITB cases and won the title both times, so he is more than qualified to discuss the matter. Edge had many problems with the Raw GM, and with Mick Foley now being revealed, what will happen when the two collide?

Speaking of Mick Foley, the Raw GM has stated that he has a massive announcment to make, which will shake the foundations of the WWE for good. Mick made his on-screen return to the WWE last week, and the crowd loved it. Now the GM wishes to keep the love going, by changing everything up. What will this announcment be?

Also, the WWE Champion, John Cena, goes one on one with the giant Mason Ryan. Last week Ryan lost a chance to be the number one contender, after losing to Alberto Del Rio. Following the match, CM Punk hit him with a GTS, and claimed that the New Nexus was over. What will be the fallout of the New Nexus being over? And what will be next for all of the members?

Confirmed Match-Ups
David Hart Smith Vs Tyler Reks
The Miz Vs Kofi Kingston [MITB Qualification Match]
Chris Masters Vs Sheamus [MITB Qualification Match]
Mason Ryan Vs John Cena

With MITB approaching fast, and Mick Foley promising to change the WWE forever, Monday Night's Raw is not to be missed.


---

Not Removing List
[ ] Tazz hits someone with the Tazzmission
[X] 3D actually hit a 3D through a table - 13/03/11 Victory Road [w/ Dreamer]
[X] AJ Styles turns face - 03/02/11 iMPACT
[ ] Knockout tag titles are gone
[X] OBD and Awesome Kong return - 19/02/11 iMPACT & 01/05/11 Extreme Rules
[X] Alberto Del Rio becomes champ - 14/08/11 SummerSlam
[ ] Evan Bourne wins US/Inter title
[X] Stone Cold gives someone a stunner - 07/03/11 RAW [JBL]

My BTB: WWE - Change In Booking (Review for Review)
Re: The BTB Advertisement Thread
---
Preview for...
Smackdown
February 17, 2011
Referees on Strike
After firing WWE senior referee Mike Chioda, arguably due to unfair circumstances, Vickie Guerrero's actions has led to all of the referees in the WWE to go on strike. With the referees refusing to appear and officiate matches on Smackdown until further notice, Smackdown is in danger of perhaps not happening. Guerrero still promises a show this Friday, with or without referees.
Two Matches Announced
Confident that Smackdown will take place and have matches still, Vickie Guerrero announced two matches over the weekend.Following through of the arrangements made last week on RAW when Tamina organized her team, the Foreign Powers, to defend their WWE Tag Team Championships on both the Red and Blue Brand this week. Their opponents have yet to be announced.
To find the sixth and final Superstar to enter the Interpromotional Elimination Chamber Match next week, there will be a 10-Man Battle Royal. These 10 Superstars will be made up of those who failed to win the 8-Man Gauntlet Match and the Former World Champions Fatal-Four Way Match. Its a second chance for everyone but it will be the final chance for any of these Superstars to enter the Chamber for a chance to earn a World Title Match at Wrestlemania 27.
Matches Confirmed
WWE Tag Team Champions The Foreign Powers (Santino Marella and Vladimir Kozlov) to defend
10-Man Battle Royal for the Sixth Spot in the Elimination Chamber
Intercontinental Champion Kofi Kingston vs. Tyler Reks vs. Curt Hawkins vs. Kane vs. Big Show vs. Jack Swagger vs. Drew McIntyre vs. Ezekiel Jackson vs. Chavo Guerrero vs. JTG

--------------------------------------------------

Current Card Line up for...
Elimination Chamber
February 20, 2011
Elimination Chamber Match
Three from RAW and Three from Smackdown
Winner gets a World Title shot at Wrestlemania 27
Randy Orton vs. Rey Mysterio vs. CM Punk vs. Wade Barrett vs. John Cena vs. TBA
WWE Championship
'The Awesome One' The Miz(c) w/Alex Riley vs. 'The Everyday Delight' John Morrison

United States Championship
Daniel Bryan(c) w/Gail Kim vs. King Sheamus w/The Bella Twins

WWE Tag Team Championships
Foreign Powers(c) w/Tamina vs. Two Members from The New Nexus
WWE Heroes
http://www.wrestlingforum.com/booker...-heroes-2.html
---
Last edited by Heroes; 06-19-2011 at

12:16 PM

.
Posting Rules

You may not post new threads

You may not post replies

You may not post attachments

You may not edit your posts

---

HTML code is Off

---