Re: The BTB Advertisement Thread
---
Quote:
~Friday Night Smackdown~
March 30th, 2007
Grand Rapids, Michigan

~Raw Invades Smackdown~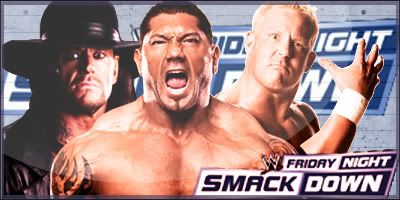 Wrestlemania XXIII is just 48 hours away and once again both brands will be in attendance for Friday Night Smackdown as it's Raw's turn to invade Smackdown!

After the actions of Edge during last Monday night's Raw, where despite the non-contact rule put in place by Interim Smackdown General Manager Jonathan Coachman, a seething Batista will no doubt be desperate to get his hands on 'The Rated-R Superstar'. However, with 'Coach' confirming that he was powerless to action against due to a legal technicality, the non-contact rule will be fully in force tonight as champion and challenger meet in the ring for one final showdown during an episode of 'The Cutting Edge'. Edge will of course be the host, with Batista his guest, and no doubt both men will be looking to score that final psychological edge ahead of their World Heavyweight Championship clash this Sunday at Wrestlemania.

Much like when Smackdown appeared on Raw, a series of inter-brand matches have been announced for tonight, with perhaps none bigger than John Cena taking on an opponent handpicked for him by Mr. McMahon... none other than the afore mentioned Edge. After spending much of 2006 battling over the WWE Championship, Edge and Cena will meet once again, with McMahon no doubt looking for 'The Rated-R Superstar' to soften Cena up ahead of his match with Bobby Lashley this Sunday. And speaking of the titanic Cena/Lashley match, the referee for that one, 'Stone Cold' Steve Austin, will once again be in attendance this evening. Having laid out Cena with the Stone Cold stunner on Raw, Austin has perhaps once and for all laid to rest any doubts over impartiality during the match, although it will be interesting to hear what Austin has to say with the match now so close.

After the recent anguish Mr. Kennedy has put Ric Flair through recently, nobody would deny that Flair was fully entitled to crack a steel chair of Kennedy's skull as he did last Monday night. While Kennedy has already said he won't be in attendance tonight as has already headed to Detroit to prepare for Wrestlemania, Flair will be here on Smackdown tonight for one final address of the situation that has developed between he and Kennedy the last few months. No doubt Flair will be focused and determined to extract revenge this Sunday, but tonight promises to be an emotional evening for Flair as he shares his thoughts ahead of one of the most personal matches in WWE history.

All eight men scheduled to compete in the Money in the Bank Ladder Match met in tag team action last Monday on Raw, with Randy Orton turning on his Raw colleague Jeff Hardy to give Smackdown the win. Tonight, much like this Sunday, it's every man for himself as the eight participants will compete in a Money in the Bank Preview Battle Royal. All eight will be looking to grab the win tonight, showing that they deserve to be considered the favourite to climb the ladder and grab the briefcase. Another four men looking to establish themselves as favourites for this Sunday will be the Kenny Dykstra, Finlay, Carlito and Matt Hardy, and the quartet will get that chance when they face off in tag team action. Intercontinental Champion Dykstra and United States Champion Finlay will team up to battle Hardy and Carlito, just days ahead of their respective title opportunities. We'll also hear from Hardy during the broadcast after he sat down with Michael Cole earlier in the week for an interview.

Also scheduled for an interview are Paul Bearer and Armando Alejandro Estrada, the respective managers of The Undertaker and Umaga. With the two monsters set to met with both their respective undefeated streaks on the line, the pair will join their handlers in the ring with Tazz for an exchange that could go a long way into giving a look inside the mind of two of the most dominant superstars in Smackdown history.

All this, plus Bryan Danielson takes on Joey Mercury ahead of his Cruiserweight Championship Match with Gregory Helms, and Raw's Redneck Wrecking Crew take on Smackdown's WWE Tag Team Champions, The Hooligans, with Raw's World Tag Team Champions The World's Greatest Tag Team no doubt watching on. It's the final stop before Wrestlemania, with an explosive night guaranteed as Raw Invades Smackdown just 48 hours away from Wrestlemania XXIII!!

Confirmed Matches:

Edge vs. John Cena

Edge hosts an edition of 'The Cutting Edge' with guest Batista!

Eight Man Money in the Bank Preview Battle Royal
Finlay and Kenny Dykstra vs. Matt Hardy and Carlito

None Title Match: The Hooligans vs. The Redneck Wrecking Crew
Joey Mercury vs. Bryan Danielson

Plus! We'll hear from 'Stone Cold' Steve Austin, Ric Flair, Matt Hardy, Paul Bearer and Armando Alejandro Estrada!

Show now posted
here
.
---
World Wrestling Federation: The Montreal Fallout
New BTB. Check it out, eh?
Re: The BTB Advertisement Thread
---
Friday Night Smackdown 'Live' Preview
Friday 7th November 2008
Rexall Place
Edmonton, Alberta, Canada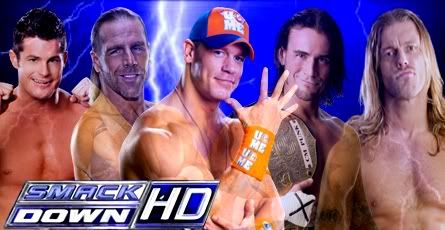 We're now just a matter of days away from the Survivor Series that will come to you live on pay-per-view this Sunday night from the Air Canada Center in Toronto, and tomorrow night marks the final stop before that highly anticipated show when the stars of Smackdown roll in to Canada.

There'll also be some Raw superstars making their way to Edmonton as we saw on Raw Monday night, Shawn Michaels accept a challenge from The Miz for their respective teams to meet that night before firing back a challenge of his own to Mr. Hollywood for them to collide head on this Friday just 48 hours before their Survivor Series encounter. The Miz was happy to accept the challenge and his team went on to defeat The Heartbreak Kid's, although The Miz played a big role in their victory. It was a momentum changing win for the 'awesome' team, but can The Miz keep that momentum going and in to Survivor Series by beating The Showstopper in a rare situation where Michaels may not be that popular with the locals? There's only one way to find out and that's to make sure you tune in tomorrow night.

We're also going to see the stars of Raw & Smackdown compete against each other in the Battle of the Brands this weekend, and Monday night on Raw we got s sneak preview when the two team captains met one on one with Sheamus overcoming M.V.P. The Intercontinental Champion wasn't happy with just the victory at Team Smackdown's expense and he went on to rub the salt in their wounds, getting a defiant response from Ron Killings. The Truth called on Sheamus and the rest of Team Raw to join Team Smackdown in Edmonton tomorrow night. The Celtic Warrior accepted the invitation on his team's behalf and who knows what's going to happen when they turn up tomorrow evening?

We've also learned today that Tazz has arranged for John Cena & CM Punk to go face to face in a face-off live tomorrow night as they prepare for their Survivor Series clash where Cena will be fighting for the right to challenge Punk for the World Heavyweight Championship at Night of Champions next month. Punk's not been shy in letting people know how he feels about Cena, and it looks like he's going to get another chance to tell the world what he thinks of the potential challenger to his coveted world title. Cena will also have the chance to respond to the World Champion, but let's hope that all hell doesn't break loose with just two days separating the all important elimination match this Sunday.

While those two face off, their respective teams will get another chance to get their hands on each other when Christian goes up against his fellow Canadian, Chris Jericho in a Lumberjack match with Team Cena & Team Punk surrounding the ring. We might not see Cena & Punk go at it on Smackdown but there's no doubting that Christian & Jericho will, and with their team-mates ringside, we might well have a free-for-all on our hands.

Two weeks ago J-Red looked on the verge of becoming the new Cruiserweight Champion until Chavo Guerrero, his mentor at the time ensured his rookie didn't get his hands on the title. Whether it be jealousy or embarrassment, Chavo has had issues with Red for a long time now, and we found out last week that Red will get another chance at Johnny Jeter's title soon enough. This week however he will be going one on one with Chavo while Jeter will also be in action against Yoshi Tatsu who no longer has to put up with Jeter as his mentor. They'll be two very intriguing & competitive matches that you won't want to miss when the ex-mentors & rookies collide tomorrow night.

It appears that things are heating up between The UK Pack & The Empire. After confronting the troubled champions two weeks ago and describing them as poor champions & role models, we certainly got a reaction from Paul Burchill & Harry Smith last week who look to have resolved their problems and have set their sights on proving their fellow Brits wrong. Wade Barrett, Drew McIntyre & William Regal did not look happy at all when the champions got involved in their match with Paul London & Brian Kendrick last Friday night, and this week it'll be The UK Pack in action when they take on former foes, The Pitbulls in what will surely be a fiercely competitive match up.

Whatever your plans are for tomorrow night, make sure you're sat in front of your TV and watching Smackdown live from Edmonton in what will be an explosive final stop before Sunday's Survivor Series!
>Confirmed for This Week on Smackdown<

Lumberjack Match
Christian vs. Chris Jericho

Non-Title Match
The UK Pack vs. The Pitbulls

Non-Title Match
Yoshi Tatsu vs. Johnny Jeter

Plus

Shawn Michaels vs. The Miz

J-Red vs. Chavo Guerrero

John Cena & CM Punk Face-Off!
Re: The BTB Advertisement Thread
---
WWE 2003: Reloaded Returns...
...
Summer 2012
Re: The BTB Advertisement Thread
---
WWE: Change In Booking Is Back!
After almost 6 months away, I've manages to get it back up and running, and now I have to compete with maybe WWE's strongest 6 months in receint years. The challenge is here, and now I must compete with it.

RAW has been posted. Check it out and drop some feedback.

I'll check anything in return.
---

Not Removing List
[ ] Tazz hits someone with the Tazzmission
[X] 3D actually hit a 3D through a table - 13/03/11 Victory Road [w/ Dreamer]
[X] AJ Styles turns face - 03/02/11 iMPACT
[ ] Knockout tag titles are gone
[X] OBD and Awesome Kong return - 19/02/11 iMPACT & 01/05/11 Extreme Rules
[X] Alberto Del Rio becomes champ - 14/08/11 SummerSlam
[ ] Evan Bourne wins US/Inter title
[X] Stone Cold gives someone a stunner - 07/03/11 RAW [JBL]

My BTB: WWE - Change In Booking (Review for Review)
Re: The BTB Advertisement Thread
---
Impact Preview
The debut show of TNE Impact is promised to be a classic. Vince McMahon has announced the start of the TNE World Heavyweight Championship Tournament.
The main event will be the first match in the tournament and will feature the returning Kane going toe to toe with "The Cowboy" James Storm.
The X Division title will be up for grabs in an amazing 6-man ladder match!
Beth Pheonix will be in action defending her TNE Womens Championship against Kelly Kelly. After there shaky tag team match on Raw, they are ready to go at it!
See all of this and more tomorrow night on the TNE Network!
Quote:
Originally Posted by TO WF MEMBERS
In other news, I want to generate some buzz for something. I've had numbers on the top of my first post, and I'm not sure if anyone has seen them. If anyone has any guess, send me a PM. Winner gets 250 credits and can pick the winner of the Royal Rumble once the participants are announced.
EDIT: Congrats to Melvis for guessing correctly!
---
I'm back...


---
Last edited by Sykova; 12-21-2011 at

09:43 PM

.
Re: The BTB Advertisement Thread
---
All-Star Wrestling Experience's webseries...AWE Xtra is live right now in the BTB of Wrestlingforum.com...check it out.
Featuring matches from AWE Studios in Hollywood, CA including
The Young Bucks vs. Truck Stop Roughnecks, Chris Moore in action and Adam Pearce vs. Supernova!
Plus hear from Chris Jericho, Colt Cabana, Lizzy Valentine, Bobby Lashley and more!
http://www.wrestlingforum.com/booker...l#post10775928
Asking JAMES ELLSWORTH for Wrestling Advice
Join Date: Apr 2011
Location: Derbyshire, England
Posts: 402
Points: 0
Re: The BTB Advertisement Thread
---
I've just started my first BTB, it's set after the 2012 Royal Rumble because I want to use the current roster and I'm not comfortable jumping straight into a rumble match, Doing it this way I have a full year to work towards it. The first Raw and Smackdown have already been posted.
http://www.wrestlingforum.com/booker...ra-change.html
---
THE KING
Re: The BTB Advertisement Thread
---
Monday Night Raw Preview
August 22, 2011
Atlanta, Georgia

Monday Night Raw rolls into Atlanta, Georgia this week, and tonight is a night where hopefully some questions are going to be answered.

The main question on every body's mind is why Kevin Nash felt the need to interfere in the WWE Championship Match last week between new WWE Champion Alberto Del Rio and the man he cashed his Money in the Bank contract on at Summerslam; CM Punk. For two consecutive nights, Nash cost Punk the WWE Championship, and much like after Summerslam, no one had heard from Kevin Nash so only he knows why he has interfered in Punk's matches. Unless that isn't the case and there is some conspiracy in the WWE, keeping CM Punk away from the WWE Championship? CM Punk will no doubt be looking for answers tonight, as he has requested to open the show to discuss the events of last week.

Speaking of a conspiracy, the two men that introduced the possibility of one, The Awesome Truth, will be in action in the main event of the show. Last week, The Miz and R-Truth attacked John Cena with steel chairs, allowing Cena to get the win against Miz via disqualification. The assault continued until Kofi Kingston got involved and brought a chair of his own with him down to the ring to fend off Cena's attackers. Kingston then made the challenge for a match this week on behalf of him and Cena, a match which The Awesome Truth gladly accepted later on in the night. What will happen when these four men collide? Will Kofi Kingston prove that he belongs in the 'big leagues' as The Miz put it, or will The Awesome Truth assert their position as the two most dangerous men on the red brand?

Last week, Rey Mysterio faced the United States Champion Dolph Ziggler in a non-title match, which Ziggler won after Dolph's manager, Vickie Guerrero got herself involved and distracted Mysterio, allowing Ziggler to nail the Zig-Zag and get the victory. Mysterio can't have reacted well to the loss, and tonight, the 'Ultimate Underdog' will look to get back on track, as he is in action once again tonight. Ziggler and Guerrero will be present, but Dolph is not set to be in action. How will Rey Mysterio come back from last week's loss, as it was made even more personal given his history with Vickie as well as the rest of the Guerrero family?

Beth Phoenix is unstoppable. Spurred on from her defeat to Kelly Kelly at Summerslam, the Glamazon earned two victories last week; a win over Kelly's friend Eve on Raw, and a tag team victory with her partner Natalya over the young duo of AJ and Kaitlyn on Smackdown. After their match on Smackdown, they proceeded to beat down the defeated youngsters, that was until Kelly Kelly and Eve came down to make the save. This set up the match that is going to take place this week, as The Divas Champion Kelly Kelly and Eve will take on The Divas of Doom. This will give Beth Phoenix a chance to be in the ring with the Divas Champion for the first time since Summerslam, and a great chance for the Glamazon to prove that she deserves a rematch at Night of Champions.

There will also be a rematch from last week on Raw, as Jack Swagger has requested another match against Zack Ryder, as he, and Michael Cole, thought that Ryder's win over The All American-American last week was a fluke. Can Swagger make amends for last week? Or will Ryder Woo-Woo-Woo his way to victory once again?

Confirmed for Monday Night Raw:

CM Punk opens the show

John Cena & Kofi Kingston vs The Awesome Truth
The Divas of Doom vs Kelly Kelly & Eve

Jack Swagger vs Zack Ryder
Rey Mysterio will be in action!

All this plus Santino Marella, Dolph Ziggler, Triple H and more on Monday Night Raw from Atlanta!
Posting Rules

You may not post new threads

You may not post replies

You may not post attachments

You may not edit your posts

---

HTML code is Off

---