Re: The BTB Advertisement Thread
---
Monday Night Raw
MEN Arena, Manchester, England | 18th April 2011

The WWE touches down in England for the first night of the Wrestlemania Revenge week-long tour, which will span across the entire of the United Kingdom, including SmackDown in the famous O2 Arena this Friday night; tonight, however, Raw emanates from the Manchester Evening News Arena, and things are sure to heat up ahead of Extreme Rules in just under two weeks' time.

Last week, WWE Champion The Miz stooped to a new low to keep himself ahead of John Cena in the lead-up to their Extreme Rules title bout; after Jerry Lawler announced Pick Your Poison as the night's theme, the Awesome One stole a win over Randy Orton when CM Punk provided a distraction, and then forced Cena to run the Gauntlet against Ted DiBiase, The Great Khali, and then himself, surprising the ex-"Champ" with the Skull-Crushing Finale from behind to claim a tainted win. However, the WWE Champion's celebrations were spoiled by the arrival of TRIPLE H, who hit Alex Riley with a Pedigree and raised the famous belt to signal his intentions. Tonight in Manchester, Triple H will open the show to discuss his return and why he targeted The Miz; will the Awesome One have anything to say about the Game's shock tactics? And where does John Cena come into the equation?

Another man planning to have his say on Raw tonight is Randy Orton. The wronged Viper, after being pinned by the WWE Champion last week, must be feeling more hatred for CM Punk that ever before – the week previously, Punk had made the vow that business wasn't finished between the two, and if that wasn't true when he said it, it certainly is now. The Second City Saint wants Orton to agree to a rematch, after the Viper was victorious at Wrestlemania, but it seemed the third-generation superstar was more interested with getting himself in contention for the WWE Title. Now, however, Orton must surely be out for revenge, and we'll hear his true feelings when he gets on the mic tonight.

New Raw General Manager Jerry "The King" Lawler had a big first night last week, re-introducing the Pick Your Poison concept and signing another match for Extreme Rules in the form of Daniel Bryan versus Dolph Ziggler in a Ladder match. The prize they'll be competing for is a WWE Title shot, and considering how much both Ziggler and Bryan want to be top of the pile on Raw, one would imagine they'd be over the moon. However, Ziggler and his girlfriend, Vickie Guerrero, don't want to see Bryan in contention for a title shot, and it seems these two have some issues to deal with as a result, issues which might only be concluded in a brutal match like that we'll be seeing in thirteen days. Tonight, Daniel Bryan takes on his old mentor from years gone by, William Regal, in the Blackpool Brawler's home nation. Will Bryan keep his momentum rolling after he made Ziggler tap out last week, or can Regal take the pressure off Ziggler a little by picking up the win?

Meanwhile, John Morrison's pursuit of the United States Title continues, though not particularly successful. Not only will current champ Sheamus barely give him the time of day, let alone another match, but old flame Melina has taken to picking apart Morrison's 'lack of an edge', claiming that the Prince of Parkour has no killer instinct that would allow him to get in the title hunt properly, as the Red Carpet Diva has efficiently managed to do in terms of the Diva's Championship. While Melina faces Tamina tonight, Morrison is without a match, though he'll be seeing the United States Champion compete when Sheamus faces Yoshi Tatsu; what lengths will Morrison go to in order to prove his merit? And who will win in those aforementioned match-ups?

Also tonight, Tyler Black continues his investigations, and you can expect to see Mark Henry, R-Truth, Johnny Curtis and more!

~ Announced For Raw ~

Triple H opens the show
Randy Orton to speak

---

Singles Contest
Daniel Bryan vs The Blackpool Brawler William Regal

Singles Contest
The Red Carpet Diva Melina vs Tamina

Singles Contest – Non-Title Match
United States Champion Sheamus vs Yoshi Tatsu
Re: The BTB Advertisement Thread
---
Quote:
~Friday Night Smackdown~
March 23rd, 2007
Cleveland, Ohio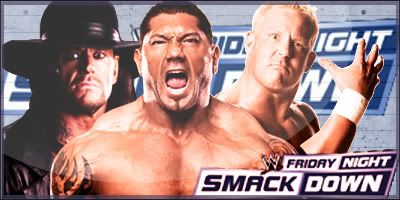 Although Wrestlemania XXIII is now just NINE days away, instead of looking forward all eyes are cast back to the chaotic and disturbing actions from the previous week from two of Smackdown's most villainous characters.

Seven nights ago, Edge opened Smackdown to the sound of rumours and whispers that his refusal to engage in any physical contact with World Heavyweight Champion Batista wasn't mind games as Edge claimed, but instead was a clear sign of Edge's fear of 'The Animal' ahead of their Wrestlemania clash. However, we ended last week's show with Edge having finally silenced his doubters after he assaulted Batista with a sickening one man con-chair-to. But in doing so has Edge simply enraged 'The Animal', prompting Batista to appear tonight on Smackdown hell-bent on revenge? 'The Animal' is scheduled to compete tonight with none other than Mr. Kennedy himself in a No Way Out rematch, but Batista will be on the hunt for 'The Rated-R Superstar', and perhaps it will become apparent that Edge has bitten off a little more than he can chew.

And speaking of Kennedy, he is perhaps the most hated man in all of the WWE right now after the heinous assault of Ric Flair's son Reid that we all witnessed on Raw. The disturbing footage that saw Kennedy go to the Harley Race Wrestling Academy to attack young Reid brought 'The Nature Boy' to tears as he stood helplessly in the ring, watching the attack unfold. But the most shocking revelation of all was that of Kennedy's accomplice, Flair's other son David. Tonight, Kennedy has vowed to answer a few questions in the first ever edition of what Kennedy has called 'The Open Mic'. And the first guest on this new talk show? Who else could it be than David Flair himself. What on earth could David offer as an explanation for his actions last Monday? And what else could Kennedy say that hasn't already mentally tortured his Wrestlemania opponent, Ric Flair?

Last week, The Undertaker gained the upperhand over his Wrestlemania opponent, Umaga, showing that perhaps 'The Samoan Bulldozer' does indeed have a level of weakness never before seen in the WWE. Tonight, 'The Deadman' competes in a rare Smackdown match as he takes on 'The Impact Player' Test, the two big men set to do battle as Undertaker looks to send another message to 'The Samoan Savage'. But after Undertaker's attack last week, Umaga will no doubt be looking to even the score this week, as both men try to prove themselves ahead of their titanic "Streak vs. Streak" match at Wrestlemania XXIII.

With the eight participants in this year's Money in the Bank Ladder Match now confirmed, the four Smackdown competitors, Chris Benoit, Kane, King Booker and Montel Vontavious Porter are set to compete in tag team action. Booker and 'MVP' have engaged in a partnership over recent weeks, both men helping the other through their qualifying matches and then assaulting Benoit after he earned the right to go to Wrestlemania. However, cracks have started appearing in the team, with Booker and 'MVP' arguing with each other as they prepared to attack Kane last week. This allowed 'The Big Red Machine' to stage a comeback, planting both men with a double chokeslam. Can Booker and 'MVP' stay on the same page long enough to earn the win tonight? Or will Kane and Benoit extract a measure of revenge over the two men who have targeted them in recent weeks?

Elsewhere, Santino Marella will lead The Full Blooded Italians into six man action with The Extremists, Bryan Danielson will meet the United States Champion Finlay in a match that both Matt Hardy and Cruiserweight Champion Gregory Helms will both be watching very closely, and after Shelton Benjamin beat Brian Kendrick on Raw, Paul London will look to even the score for The Hooligans as he takes on Charlie Haas of the World's Greatest Tag Team. All this and more on the penultimate episode of Friday Night Smackdown before we hit Wrestlemania XXIII!

Confirmed Matches:

Non Title Match: Batista vs. Mr. Kennedy

The Undertaker vs. Test
Chris Benoit and Kane vs. King Booker and Montel Vontavious Porter
Non Title Match: Finlay vs. Bryan Danielson

Paul London vs. Charlie Haas
The Full Blooded Italians vs. The Extremists

Plus!! Mr. Kennedy hosts the first ever edition of 'The Open Mic' with special guest, David Flair!


Show now posted
here
.
---
World Wrestling Federation: The Montreal Fallout
New BTB. Check it out, eh?
Wheelman for James Ellsworth
Join Date: Jan 2011
Posts: 501
Points: 0
Re: The BTB Advertisement Thread
---
Re: The BTB Advertisement Thread
---


The November 25th edition of Impact is now up. The first time Impact goes live on Friday Nights, Sting's first night as General Manager, and the first Impact after the TNA invasion of WWE. Come check it out
Re: The BTB Advertisement Thread
---
Quote:
Monday Night Raw
MEN Arena, Manchester, England | 18th April 2011

The WWE touches down in England for the first night of the Wrestlemania Revenge week-long tour, which will span across the entire of the United Kingdom, including SmackDown in the famous O2 Arena this Friday night; tonight, however, Raw emanates from the Manchester Evening News Arena, and things are sure to heat up ahead of Extreme Rules in just under two weeks' time.

Last week, WWE Champion The Miz stooped to a new low to keep himself ahead of John Cena in the lead-up to their Extreme Rules title bout; after Jerry Lawler announced Pick Your Poison as the night's theme, the Awesome One stole a win over Randy Orton when CM Punk provided a distraction, and then forced Cena to run the Gauntlet against Ted DiBiase, The Great Khali, and then himself, surprising the ex-"Champ" with the Skull-Crushing Finale from behind to claim a tainted win. However, the WWE Champion's celebrations were spoiled by the arrival of TRIPLE H, who hit Alex Riley with a Pedigree and raised the famous belt to signal his intentions. Tonight in Manchester, Triple H will open the show to discuss his return and why he targeted The Miz; will the Awesome One have anything to say about the Game's shock tactics? And where does John Cena come into the equation?

Another man planning to have his say on Raw tonight is Randy Orton. The wronged Viper, after being pinned by the WWE Champion last week, must be feeling more hatred for CM Punk that ever before – the week previously, Punk had made the vow that business wasn't finished between the two, and if that wasn't true when he said it, it certainly is now. The Second City Saint wants Orton to agree to a rematch, after the Viper was victorious at Wrestlemania, but it seemed the third-generation superstar was more interested with getting himself in contention for the WWE Title. Now, however, Orton must surely be out for revenge, and we'll hear his true feelings when he gets on the mic tonight.

New Raw General Manager Jerry "The King" Lawler had a big first night last week, re-introducing the Pick Your Poison concept and signing another match for Extreme Rules in the form of Daniel Bryan versus Dolph Ziggler in a Ladder match. The prize they'll be competing for is a WWE Title shot, and considering how much both Ziggler and Bryan want to be top of the pile on Raw, one would imagine they'd be over the moon. However, Ziggler and his girlfriend, Vickie Guerrero, don't want to see Bryan in contention for a title shot, and it seems these two have some issues to deal with as a result, issues which might only be concluded in a brutal match like that we'll be seeing in thirteen days. Tonight, Daniel Bryan takes on his old mentor from years gone by, William Regal, in the Blackpool Brawler's home nation. Will Bryan keep his momentum rolling after he made Ziggler tap out last week, or can Regal take the pressure off Ziggler a little by picking up the win?

Meanwhile, John Morrison's pursuit of the United States Title continues, though not particularly successful. Not only will current champ Sheamus barely give him the time of day, let alone another match, but old flame Melina has taken to picking apart Morrison's 'lack of an edge', claiming that the Prince of Parkour has no killer instinct that would allow him to get in the title hunt properly, as the Red Carpet Diva has efficiently managed to do in terms of the Diva's Championship. While Melina faces Tamina tonight, Morrison is without a match, though he'll be seeing the United States Champion compete when Sheamus faces Yoshi Tatsu; what lengths will Morrison go to in order to prove his merit? And who will win in those aforementioned match-ups?

Also tonight, Tyler Black continues his investigations, and you can expect to see Mark Henry, R-Truth, Johnny Curtis and more!

~ Announced For Raw ~

Triple H opens the show
Randy Orton to speak

---

Singles Contest
Daniel Bryan vs The Blackpool Brawler William Regal

Singles Contest
The Red Carpet Diva Melina vs Tamina

Singles Contest – Non-Title Match
United States Champion Sheamus vs Yoshi Tatsu
I have totally posted this biatch, right here. I'm trying to get back into the swing of things feedback-wise, so assume I'm working the old "review for review" and I'll do my best to return the favour.
Re: The BTB Advertisement Thread
---
Monday Night RAW | Preview | November 28, 2011
Quote:
Last week's RAW officially kicked off the road towards TLC: Tables, Ladders and Chairs 2011. We saw Sheamus victorious in the Triple Threat main event to become the new #1 Contender to Mark Henry's WWE Championship. Three weeks from TLC, will we hear from either the WWE Champion or his #1 Contender??

Also, last week the undefeated Crimson was once again victorious, this time defeating Michael McGillicutty. But only to be confronted after the match by Matt Morgan. After both superstars revealed an inner need of knowing who would be victorious in a one-on-one match, they agreed to have that match tonight. Will Crimson beat "The Blueprint" to continue his undefeated streak?? Or will Morgan break the streak and finally make Crimson taste the bitter taste of defeat??

And, last week Ink Inc got in the face of the WWE Tag Team Champions Dolph Ziggler and Jack Swagger, and later on eventually had "The Phenomenal" Aj Styles by their side as they defeated the champions along with the Intercontinental Champion Cody Rhodes. Something has to come out of this. But what??

All that and much more, live tonight on Monday Night RAW.
This has now been posted. Come check it out
Re: The BTB Advertisement Thread
---
The Road To WrestleMania Begins
April 1st, 2012
Re: The BTB Advertisement Thread
---
... Where It All Begins, Again!
---
Re: The BTB Advertisement Thread
---
WWE King of the Ring 2004 Preview



WWE King of the Ring
June 13, 2004, Columbus Ohio

World Heavyweight Title I Quit Match
Chris Benoit (c) vs HHH
Triple H has waited 2 months to get his rematch for the World Heavyweight Championship after Chris Benoit made Triple H tap out at WrestleMania 20. Now he finally has it by winning a Triple-Threat Elimination #1 Contender's Match by beating Jericho and Shawn Michaels to get this opportunity. Now this rivalry has intensified over the past few weeks and now it finally comes to a head. All members of Evolution are banned from ringside. The final encounter between these 2 men. No excuses, no more chances, no more rematches. The beginning of the end of this rivalry once and for all as it will be in an I Quit Match where everything is on the line in this match. If Triple H loses he can't get no more title shots for as long as Benoit is the World Heavyweight Champion. If Chris Benoit loses he must leave RAW and go back to Smackdown and he can't get a rematch. Which man will walk out the World Heavyweight Champion? Which man will suffer the ultimate defeat, who will say I Quit this Sunday at KOTR?

WWE Title No Disqualification Match
Eddie Guerrero (c) vs Edge
Eddie Guerrero ever since becoming WWE Champion has overcome the odds time and time again but Edge may be Eddie Guerrero's toughest opponent yet. Edge has become psychotic these past few months becoming obsessed with the WWE Championship. First by putting Kurt Angle on the shelf and then turning on his best friend Rey Mysterio and in the process turning on his friend Eddie Guerrero. Edge now has one goal and that is to become WWE Champion and get rid of Eddie Guerrero once and for all. Now these 2 former friends now turned bitter rivals will go at it for the WWE Championship at King of the Ring in a NO-DQ match. In the past, they had a NO-DQ match which Edge won but this time it's personal and for the WWE Title. This Sunday at KOTR, who will walk out WWE Champion?

Interpromotional 30 Man Battle Royal
Winner receives a heavyweight title shot at their brands next ppv(The Great American Bash or Vengeance)
15 Raw superstars: The Rock, Shawn Michaels, Ric Flair, William Regal, Eugene, Charlie Haas, Rene Dupree, Sylvan Grenier, Rob Conway, Maven, Garrison Cade, Johnny the Bull, Chuck Palumbo and The Dudleys 15 Smackdown stars: The Undertaker, Kane, Mordecai, Rey Mysterio, Booker T, Val Venis, Rhyno, The Hurricane and Shannon Moore, Kidman, Paul London, Chavo Guerrero, Tajiri, Jamie Noble and Nunzio
15 men from RAW, 15 men from Smackdown, only one man can win this huge Battle Royal. The stakes are high in this match with the winner getting a championship match at their brand's next pay per view. The favorites in this match are The Rock, Shawn Michaels, Ric Flair, Undertaker, Kane, Mordecai, and any one of them could win it all. Then there are the underdogs like Rey Mysterio, Eugene, Maven, Tajiri, Charlie Haas and much more. This match can give any one of these men a date with destiny in becoming a champion once again. As for the superstars who no one expects to win, this match could help skyrocket them to superstardom. 30 men, fighting for one chance, one dream, one opportunity, a chance to become the #1 contender. This Sunday who will win the battle royal?



King of the Ring Tournament - Winner receives a title shot at SummerSlam

Quarter Finals
Randy Orton vs Shelton Benjamin
Batista vs Chris Jericho
Matt Hardy vs John Cena
John Bradshaw Layfield vs RVD

Semi Finals
Randy Orton or Shelton Benjamin vs Batista or Chris Jericho
Matt Hardy or John Cena vs JBL or RVD

+ The Finals
8 men fighting for the opportunity to be crowned King as four superstars and four superstars from Smackdown compete in the King of the Ring tournament. Only one can become King as this tournament has been used to skyrocket superstars into becoming legends like for example Bret The Hitman Hart, Owen Hart, Stone Cold and Triple H and this tournament helped make their careers. This Sunday at KOTR any one of the 8 men in the tournament either RAW's Chris Jericho, Intercontinental Champion Randy Orton, Batista and Shelton Benjamin. Or Smackdown's United States Champion John Cena, JBL, RVD and Matt Hardy will become the 2004 King of the Ring. This year's King of the Ring tournament looks to be the best one yet and not only will they have the prestige of being a King, they will have the distinction of going from a superstar into a legend all in one night. Not only will the winner become King, he will also receive a championship match against their brand's champion at SummerSlam. Who will be King this Sunday at KOTR?
The ppv show will be up next week. All Feedback is appreciated and will be returned.
---
WWE 2004: The Road to WrestleMania 21
Click here to read
---
Last edited by Kintaro; 11-23-2011 at

03:42 PM

.
Re: The BTB Advertisement Thread
---
0 - 0 - 0
It's time...
Posting Rules

You may not post new threads

You may not post replies

You may not post attachments

You may not edit your posts

---

HTML code is Off

---