Re: The BTB Advertisement Thread
---
WWE Smackdown Preview
May 6, 2004


Tonight The Undertaker and Kane battle it out once again but this time compete in one of The Undertaker's legendary matches, a Casket Match. Since returning at WrestleMania 20, The Undertaker has been unstoppable. Will The Undertaker finally close the casket on Kane tonight or will Kane finally be able to stop his brother. After what Kane did to Eddie Guerrero's family at a live event, will Eddie get his revenge tonight?

Last week not only did Edge attack Eddie Guerrero but he turned on one of his best friends Rey Mysterio. Tonight on Smackdown we will hear from Edge as he will explain why he attacked Rey Mysterio. Will Rey be here on Smackdown tonight for revenge?

Also we will hear Paul Heyman's reaction as he prepares to take charge of Raw next week.

All this and more on Smackdown

Confirmed Matches
Casket Match: The Undertaker vs Kane
Rob Van Dam vs Val Venis
6-Person Mixed Tag Team Match: The Hurricane, Shannon Moore and Torrie Wilson vs Kidman, London and Dawn Marie
Rhyno and Tajiri vs Matt Hardy and Johnny Nitro
2 on 1 Handicap Match: Spike Dudley and Scotty 2 Hotty vs JBL
Show now posted
here
Re: The BTB Advertisement Thread
---
Quote:
Friday Night Smackdown Preview
Friday 24th October 2008
Live from the Mississippi Coast Coliseum
Biloxi, Mississippi
With so much at stake for John Cena & CM Punk at the Survivor Series, it's fair to say that Cena's presence on Smackdown is really starting to frustrate the World Heavyweight Champion more & more each weel, and you have to wonder just how angry Punk will be this week after losing to Matt Sydal last Friday night thanks to a big F-U from his opposing team captain come Survivor Series in two weeks. Cena decided to take a closer look at the action as the World Champion met the United States Champion, and as Punk's rookie, Alberto Del-Rio Ramirez was busy trying to help out his mentor, Cena slipped in to the ring and gave The Straight-Edge Superstar a reminder of what he'll have to avoid when they lock horns where Cena will be fighting to become the number one contender for Punk's world title at Night of Champions.

However Cena didn't have much time to celebrate with Sydal, who'll be a member of Team Cena when Shelton Benjamin, who earlier in the night offered Punk his services for Survivor Series and warned him not to underestimate the King of the Ring. He proved to be right but after being shot down by the World Champion he came out with a point to prove and sure made a statement by attacking Cena & Sydal before being chased off by Bobby Lashley & Charlie Haas. The team that's on fire right now may well have been the men Cena was referring to earlier in the evening when he said the make-up of his team was all but complete, and we hear that Cena will open the show this week. Just what does the controversial Smackdown newcomer have to say? Tune in to find out.

We already know that Christian will be a part of Team Cena and his brother, Edge will be a part of Team Punk, and last week Edge let us all know that he's still smarting over his loss to Captain Charisma back at SummerSlam when he jumped Christian as he was making his way down to the ring for what was going to be a handicap match after Tyson Tomko was attacked in the back, presumably by The Rated-R Superstar. What on earth will this week bring when the Canadian siblings arrive in Biloxi?

It appears that Shawn Michaels now knows what opposition he'll be facing at the Survivor Series as The Miz unveiled Dolph Ziggler as the final member of his "awesome" team to take on Michaels, Kofi Kingston and whoever else will be joining them in the traditional elimination match. However Mr. Hollywood wasn't smiling for long as Kingston suckered him into a tag team match with Kofi & Michaels defeating Miz and his rookie, Heath Slater. We may just see Miz on Smackdown again this week as one of his team mates will be in action when Jack Swagger takes on the recently engaged Elijah Burke. Can Team Miz get back some momentum?

The WWE Tag Team Champions certainly have had some issues as of late and last week we saw Paul Burchill walk out on his partner when he decided not to stick around and watch TJ Wilson's match with Dolph Ziggler. Burchill had words with Harry Smith before leaving the arena to the bewilderment of Smith and his rookie. Can The UK Pack resolve their differences or are they heading down a dark path?

This Friday night we'll see the highly impressive rookie of Chavo Guerrero, J-Red compete in his first title match in the WWE when he takes on Johnny Jeter for Jeter's Cruiserweight Championship. Red was the last man standing in a battle royal last week to determine just who would meet Jeter this week, and ironically it came down to Red & Chavo where the rookie once again came out on top at the expense of his mentor. How on earth will Chavo be feeling about that, but more importantly, will Red be able to seize on the momentum from last week to topple Jeter and become the new Cruiserweight Champion?

There was speculation last week of who would be representing Team Smackdown at the Survivor Series against Team Raw, and Monday night we got an answer. Raw's captain, the Intercontinental Champion, Sheamus wasn't pulling any punches in how he easy he feels it is going to be to lead Raw to victory, however he may feel differently now after M.V.P. & Ron Killings caught him well & truly off guard, letting him know that they would be part of the Smackdown team which will be lead by M.V.P. Killings in particular though took real offence to The Celtic Warrior's confident comments and knocked him on his ass. Just when it looked like Sheamus's rival and fellow team member Carlito had come to his aid, the Puerto Rican gave him a hand up before catching him with a sneaky Backstabber. It looks like it's going to be a bumpy ride from now until Survivor Series when the two brands go to war.

We saw Michelle McCool earn herself a shot at Beth Phoenix's Diva's Championship last Friday night when a calculated plan paid off, manipulating Beth and her rookie, Nikki Roxx to talk herself into title contention. She overcame Roxx and fought her way to a shot at The Glamazon's title, and this week it'll be the Diva's Champion who'll be in action. Surely she'll be out to send a statement to McCool who you assume won't be too far away.

Paul London & Brian Kendrick sure have been one of the best teams, if not the best team that Smackdown has ever seen, and that was pointed out to the duo by Tazz last week as their personal issues spilled over on to Smackdown having been drafted from Raw recently. They were part of the battle royal last week that saw J-Red become the number one contender for the Cruiserweight Championship and London managed to eliminate himself while also sending his former partner over the ropes. Kendrick wasn't happy at all and they fought their way through to the back where the General Manager had to step in, letting them know exactly how he felt about them, telling them how good a team they were and that they've done nothing since they went their separate ways. We've since learned that he's made a match that will see them go one on one this week. Are they going to take their chance to shine?
>Confirmed for This Week on Smackdown<

WWE Cruiserweight Championship
J-Red vs. Johnny Jeter (c)

Plus

Elijah Burke vs. Jack Swagger

Paul London vs. Brian Kendrick

The WWE Diva's Champion, Beth Phoenix in action

John Cena opens the show!

Now Posted!
Re: The BTB Advertisement Thread
---
WWE Monday Night Raw Preview May 17th, 2004

This week Monday Night Raw stops at San Diego, California. And if the last few weeks are anything to go by, the Californians are in for one hell of a show.

Just as all the arm chair experts predicted things couldn't get any bigger, the finish to last weeks Raw raised the bar yet again. As Sheriff Austin came to the rescue of Bill Goldberg, seemingly ending their issues, Raw General Manager Eric Bischoff made his presence felt, announcing that he had picked his representative for the high stakes match at Vengeance. (The stipulation for the contest is as follows: Bischoff picks a representative, Austin picks a representative, and the winner gets full control of Raw, whilst the loser will be fired on the spot.) All of a sudden, the mood in the ring changed, as Goldberg Speared Austin, revealing himself to be Bischoff's representative. We know Goldberg and Austin have had some issues, but Goldberg seemed more intent on chasing the World Heavyweight Championship, yet now that's not the case. Surely this sudden change has something to do with Bischoff giving Goldberg some sort of promise… but what could it possible be? On the other side of the ledge, Austin has promised that tonight on Raw he'll go a long way in deciding who his representative will be.

Unlike the previously mentioned situation, the World Heavyweight Championship situation seems to be a lot clearer. Chris Benoit has continued to hold back all challengers, and is actually proving to be quite the champion. It is clear that he will be defending the World Heavyweight Championship at Vengeance. The only question remaining is who his challenger will be, and even this question seems dense. The only realistic challenger remaining is Triple H, and he already has a guaranteed one on one championship rematch clause in his contract. It almost seems like a matter of time before the inevitable is announced, and perhaps time will be up tonight.

Two weeks ago on Raw, both Kane and Scott Steiner almost lost their careers. The two brawled for what seemed like an eternity, and ended with Kane sending himself and Steiner off of the stage with a Chokeslam. Both superstars will be returning tonight, and both are now even less likely to take a step back from each other.

Ever since winning the Intercontinental Championship, Maven has had one constant thorn in his side, Matt Hardy. After defeating the Sensei of Mattitude at Backlash, Maven would have thought he would be clear to pursue other options, but that hasn't been the case. Take last week for example, when Matt Hardy cost Maven his match with Batista. Obviously not being happy with Hardy's interference, Maven requested a match with Matt Hardy and it has been given for tonight. Finally, after months of annoyance, just maybe, Maven can finally rid himself of the one they call Matt Hardy.

Since WrestleMania, the World Tag Team Champions Booker T and Rob Van Dam have been the standout team on Raw. That's not to say there isn't competition in the ranks, as there are two teams not to far behind, The Dudley Boyz and Garrison Cade and Mark Jindrak. The Dudleyz just fell short on their quest for gold at Backlash, yet they are far from finished. Last week there was a confrontation between these two teams where the youngsters slapped The Dudleyz. Now with a little bit of bad blood brewing, this tag team match is set to be a big one, especially considering the winners will most likely get a shot at the World Tag Team Titles come Vengeance.

In what could quite possibly be the biggest shock of the year so far, last week Lance Storm joined Christian, Trish Stratus and Tyson Tomko. The newly found quartet seems to have only one goal on their minds, and that is to force Chris Jericho into exile. This week Storm will be going one on one with Rosey, and after Storm's sneak attack last week, you know Chris Jericho will have some form of retaliation in mind.

The WWE Women's Champion is unable to attend tonight's edition of Raw, however the Divas division will not be forgotten. The woman most likely to get a shot at Victoria at Vengeance, Jazz will be in action, as she goes one on one with Jacqueline. Jazz holds several victories over Jackie, yet they've never been easy, and there's definitely a high level of hatred between the two women. It's also worth mentioning that Trish Stratus is just about healed and ready to return to the ring, and she'll be hell bent on making an impact some time soon.

All this and much, much more, on an episode of Raw that is promised to be one to remember…
---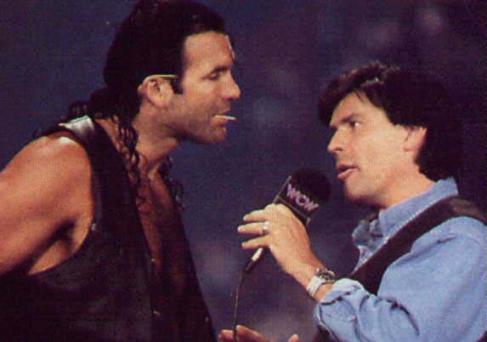 Re: The BTB Advertisement Thread
---

WWE Raw Preview
May 10, 2004


Tonight on Raw, Smackdown's General Manager Paul Heyman is in charge for one night only. Paul Heyman has promised to make a major impact tonight on Raw. What sort of surprises will Paul Heyman bring to Raw? Will Paul be able to control the Raw roster?

Chris Jericho and Christian will finally settle their feud tonight in a 15 ft high barbed wire steel cage match. For the past three weeks, Christian has been involved in the main events of Monday Night Raw. Last week Chris Jericho cost Christian the opportunity of winning the world heavyweight title. Tonight there will be no outside interference as Jericho and Christian will end their heated rivalry in a dangerous match. Who will be victorious tonight? Will Trish and A-Train somehow manage to get involved in this match?

HHH has a plan and since Paul Heyman is in charge, HHH believes he will finally get his rematch for the world heavyweight title tonight. Will HHH succeed in his plan or will Paul Heyman ruin HHH's plan?

Also tonight Eugene will be making his in ring debut but his Uncle Eric will not be able to see Eugene in action as he is not in charge. Will Eugene win his first match? All this and much more on Monday Night Raw.

Confirmed Matches
Barbed Wire Steel Cage Match: Chris Jericho vs Christian
Eugene's Debut Match: Eugene vs Rene Dupree

Show now posted
here
Re: The BTB Advertisement Thread
---
Universal Wrestling Collective
"Electrified" October 12th, 2011 Preview
OF TITANS AND TECHNICIANS...
The UWC prepares to put on another evening of excitement and surprises with this week's installment of their "Electrified" program. Two of the tallest men competing on the independent scene today will collide in a "Battle of the Big Men" when All American Wrestling's Heritage Champion Mason Beck stands toe-to-toe with Chikara's warrior Viking, Tursas. Which titan will tower above his opponent? From there, it's a "Battle of the Technicians" as extraordinary athletes A.J. Styles and Mike Quackenbush step into the ring to show off their limitless skill. Which experienced master will be crowned the king of wrestling holds? On top of that, another quarterfinals match will be held in the UWC Legends Championship tournament. Which two mystery legends will be unleashed upon the squared circle this week? There's only one way to find out! Be there tonight at 10:00pm (Eastern Standard Time) live in high definition on the Showtime Network! Don't miss the action!
© Berringer Cross Ltd./Universal Wrestling Collective 2011
*****CONFIRMED MATCHES FOR "ELECTRIFIED"*****
Mason Beck vs. Tursas
A.J. Styles vs. Mike Quackenbush
and another quarterfinals match in the UWC Legends Championship tournament!


*****Show Posted - Link in Signature*****
---
The Crypt of Cross: New Review - The Cabinet of Dr. Caligari (1920) Posted 11/29/11
http://www.wrestlingforum.com/entert...ypt-cross.html
Asking JAMES ELLSWORTH for Wrestling Advice
Join Date: Apr 2011
Location: Glasgow, Scotland
Posts: 466
Points: 0
Re: The BTB Advertisement Thread
---
Re: The BTB Advertisement Thread
---
Spiron presents: TNA Wrestling!
A new age of Total Non-Stop Action Wrestling... is here. After former financial backers, Panda Energy, withdrew from supplying TNA in September 2011, there was a three week television hiatus... But now we're back. New owners. TNA Wrestling returns with IMPACT Wrestling, live for the very first time on a
Friday night, on Spike TV at 8-10 EST
. That's right, not only has TNA moved to Friday night prime time, we're also now adding an extra hour of total non-stop action, bringing the tally up to two hours of IMPACT Wrestling! Catch all your favourite former TNA athlethes, such as "The Icon" Sting, World Heavyweight Champion Kurt Angle, "The Whole F'N Show" Rob Van Dam and The "Submission Machine" Somoa Joe, along with TNA newest set of talent arrivals -- "The Celtic Wolf" Sheamus, the performer formerly known as McIntyre, Drew Galloway -- along with none other than the iconic, legendary and revolutionary CM Punk.
He's back and he's better than ever. TNA is back. And we're better than ever.
Wheelman for James Ellsworth
Join Date: Jan 2011
Posts: 501
Points: 0
Re: The BTB Advertisement Thread
---
Asking JAMES ELLSWORTH for Wrestling Advice
Join Date: Apr 2011
Location: Glasgow, Scotland
Posts: 466
Points: 0
Re: The BTB Advertisement Thread
---
Re: The BTB Advertisement Thread
---
WWE Judgment Day 2004 Preview
May 16, 2004
Los Angeles, California at the Staples Center




WWE Championship Title Triple Threat Match
Eddie Guerrero (c) vs Kane vs The Undertaker


Eddie Guerrero has been WWE Champion ever since No Way Out 2004 when he defeated Brock Lesnar and he went on to retain at WrestleMania defeating Kurt Angle. Now at Judgment Day it is a classic story of Eddie Guerrero trying to overcome the odds yet again but by overcoming not just one monster but overcoming two monsters in Kane and The Undertaker. Eddie has shown both Undertaker and Kane that he will do whatever it takes to still remain the WWE Champion and also Eddie has shown that he won't be intimidated by either Kane or The Undertaker. While Kane has proven to be even more sadistic than ever before tormenting not just his brother The Undertaker but also tormenting Eddie Guerrero's family. Kane now has Paul Bearer back at his side with Paul Bearer turning his back on The Undertaker and aligning himself with his son Kane once again. Tis twisted family saga has turned another corner with the debut of Kane's cousin and Paul Bearer's nephew Mordecai. The Undertaker still proves that he is the master of the mind games by pulling Kane down into the depths of Hell and also Eddie pulling that kidnapping stunt by taking Paul Bearer hostage. At Judgment Day it will all come to a head. Will The Big Red Machine win the gold and become the most powerful entity in the WWE? Or will The Undertaker take the gold back with him over to the dark side? Or will Eddie Guerrero overcome the odds once again and still remain the WWE Champion?

Falls Count Anywhere
Edge vs Rey Mysterio



A friendship now turned into a bitter rivalry as these two former partners, these two former friends Edge and Rey Mysterio will do battle in a Falls Count Anywhere Match at Judgment Day. Their feud will finally be coming on to a collision course. A feud born out of betrayal and Edge's obsession with being WWE Champion but with Rey trying to stop Edge from being something that he has always wanted to be. After it is said and done, which man will walk out of Judgment Day in one piece and which man will walk out of Judgment Day broken?


Booker T vs RVD



Once good friends, once former tag-team partners now bitter enemies as this rivalry has now been born out of greed, born out of betrayal. Now at Judgment Day it will all come to a bitter end. Booker T has proven that he has RVD's number. Recently RVD has pinned Booker T twice in tag team competition but now in singles competition they go finally one on one. Will RVD beat his now bitter rival also proving that he should be in line for a future WWE Championship match? Or will Booker T prove that he is once and for all better than his ex-partner. Will he also prove that he is in line for a future WWE Championship match. We will find out when they clash at Judgment Day.


WWE United States Championship Match
John Cena (c) vs Val Venis

A rivalry of the present vs the future of this company, with Val Venis proving that he deserves to be the #1 Contender for the WWE United States Championship. Ever since he was traded to Smackdown, Val has been constantly bashing the WWE United States Champion the Dr. of Thuganomics, the street thug John Cena. Cena right back in retaliation has proven that he won't let Val Venis intimidate him. Cena has mocked Val by coming up with raps knocking Val down saying how Val is nothing more than the past and that John Cena is the future. With Dawn Marie by Val's side, she believes Val still has it and wants to revive Val's career. Since coming to Smackdown, Val's career has taken off again as he defeated The mighty Big Show in a stretcher match. A man who John Cena also defeated for the United States Championship at WrestleMania 20. Will Val Venis prove without a shadow of a doubt that he deserves to be the WWE United States Champion by beating Cena? Or will Cena prove all the critics wrong yet again by beating Val Venis?

Also The Hurricane and Shannon Moore defend the tag team titles against Billy Kidman and Paul London in a ladder match. Tajiri will defend his cruiserweight title against Johnny Nitro. Also Matt Hardy takes on Rhyno. JBL will be running the gaunlet against 4 of Smackdown's international cruiserweights as JBL takes on the world.

Predictions Template
1)Predict the Match order for Judgment Day? (5 points)
2)Predict the Winners? (2 points)
3)Who will be pinned/submit in the main event triple threat match? (5 points)
3)Which match will have the shortest time? (2 points)
4)How many championships will change hands? (2 points)
5)Will Mordecai interfere in the main event? (2 points)
6)Will anyone return/debut at Judgment Day? (2 points)
Predictions would be more than welcome and all feedback for the PPV will be returned
Posting Rules

You may not post new threads

You may not post replies

You may not post attachments

You may not edit your posts

---

HTML code is Off

---