Re: The BTB Advertisement Thread
---
Quote:
~Friday Night Smackdown~
March 16th, 2007
Trenton, New Jersey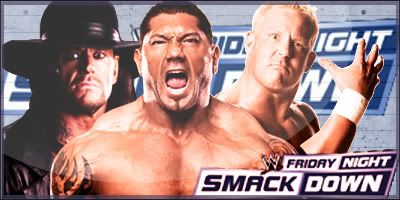 Last week's main event saw a performance for the ages from Ric Flair, but as Smackdown went off the air, the whispers regarding Edge and his fear of the World Heavyweight Champion had grown to shouts... and you can guarantee Edge will be hell-bent on silencing those cries tonight.

After not coming into physical contact once during their tag team match at Saturday Night's Main Event, Edge seemed like he was about to put to bed any doubts of his determination to face Batista at Wrestlemania by smacking the World Heavyweight Champion with a steel chair last week... only for Batista to catch Edge in the act. With 'The Animal' urging him on, many felt now was the moment that Edge would finally strike... but instead, he dropped the chair and calmly headed backstage. Edge claimed it was all mind games, that by not attacking he had gained the upperhand, but most people felt it was nothing more than another display of Edge's fear of 'The Animal'. Tonight, Batista is in action as we witness a rematch of Smackdown's most dramatic feud of 2006, as King Booker steps up to face the champion. Will Edge view tonight as his chance to strike? Will the constant whispering and rumours push him over the edge? Or will he stay the course and continue to play his mind games?

Speaking of mind games, The Undertaker exchanged words with his Wrestlemania opponent Umaga last week, as 'The Phenom' vowed to end Umaga's undefeated streak, preserving his own Wrestlemania undefeated streak in the process. Tonight, Umaga is in action against Chris Benoit, surely the toughest test Umaga will have faced since his arrival on Smackdown. Alejandro Armando Estrada has said that his savage can't be effected by mind games, and Umaga has backed these words by appearing impervious to fear in the face of 'The Deadman'. No doubt The Undertaker will again look to make his presence felt, but the question remains... can anything phase 'The Samoan Bulldozer'?

After beating The Extremists at No Way Out, and on the back of Paul Burchill's victory over Brian Kendrick last week, The Bluebloods have been named the number one contenders to the WWE Tag Team Championships. However, instead of that match happening at Wrestlemania, Interim General Manager Jonathan Coachman agreed to grant the match at a time of The Bluebloods' choosing... and William Regal and company have chosen tonight! That's right, London and Kendrick will defend their titles tonight on Smackdown against William Regal and Paul Burchill, the challengers full of confidence after their recent performances. However, The Hooligans aren't the longest reigning tag team champions in Smackdown history for nothing, and they'll no doubt be ready for what should prove to be a very difficult title defence. London and Kendrick may have beaten Regal and Dave Taylor a month ago, but now with Paul Burchill in their ranks, The Bluebloods have to be the heavy favourites to finally end the reign of The Hooligans.

At Wrestlemania XXIII, Finlay will defend the United States Championship against Matt Hardy, while Gregory Helms will put up the Cruiserweight Championship against Bryan Danielson. Tonight, the four will meet in tag team action as Helms and Finlay combine to face Hardy and Danielson. Hardy has had a sensational start to 2007, gathering all kinds of momentum and really making a name for himself on Friday nights. Danielson has had a great start to his WWE career, coming close to winning the Cruiserweight Championship in his very first match. The two will be looking to continue to impress and pick up a big win ahead of Wrestlemania, while Finlay will no doubt want to send Hardy a clear message that he's known as a tough bastard for a reason, whereas Helms will look to continue to sneak and stay one step ahead of Danielson, in the process proving once again that he's the self-proclaimed greatest cruiserweight in the world.

All of this, plus the last Money in the Bank spot is up for grabs as The Miz takes on a mystery opponent, Layla will debut a new tag team tonight, and maybe an appearance from the brooding Mr. Kennedy will happen. All of this and more on the latest episode of Friday Night Smackdown!

Confirmed Matches:

Batista vs. King Booker

WWE Tag Team Championship Match:
The Hooligans vs. The Bluebloods

Chris Benoit vs. Umaga
Finlay and Gregory Helms vs. Matt Hardy and Bryan Danielson

Money in the Bank Qualifying Match:
The Miz vs. ???

Plus! Layla will debut a new tag team tonight, and Mr. Kennedy will possibly have something to say!!




Show now posted
here
.
---
World Wrestling Federation: The Montreal Fallout
New BTB. Check it out, eh?
Re: The BTB Advertisement Thread
---
Official Preview for WWE Great American Bash
Date:
July 23rd, 2006
Location:
Conseco Fieldhouse; Indianapolis, Indiana
Event Music:
Black Stone Cherry; Lonely Train


World Heavyweight Championship Match
Matt Hardy Vs Edge ©

"A Rivalry Renewed…"

If ever there were two men who knew each other better than Edge and Matt Hardy, they have yet to be seen. If ever there were two men who hated one another as much as Edge and Matt Hardy despise one another, they have yet to be seen. When Matt pulled off a miracle in San Antonio, Texas, ending the undefeated streaks of both Brent Albright and Mr. Kennedy to become the sole survivor of The Great American Tournament, it was as if fate herself had intervened to give us the match we had been craving ever since Edge made the jump over to Friday Night SmackDown! in February. Jealousy sent Hardy here when Edge and Lita exiled him from Monday Night RAW, but greed has brought them back together; Edge's greed. His lust for the World Heavyweight Championship has reopened the door for his greatest foe.

Edge and Matt Hardy spent the latter half of last year locked in combat. First it was over a woman, then it was over a briefcase, but ultimately it became about nothing more than a deep, blood hatred between two men who simply do not like one another. But now it is about the richest prize in the game. Edge's reign of terror began at WrestleMania when he dethroned The Animal, and has grown in strength each and every week following victories over The Undertaker, Rey Mysterio, Super Crazy, and Johnny Nitro. One man tried to stop him, and Shane McMahon currently shares a hospital room with his father after Edge's vicious Con-chair-to at Saturday Night's Main Event…

But if anyone had the champion's number, it's Matt Hardy. Just last night on SmackDown, despite another vicious assault at the hands of his newest enemy Mr. Kennedy that saw an old head wound reopened, Matt still competed in the main event tag team match, and ultimately PINNED the World Heavyweight Champion, becoming the first man to do so since WrestleMania XXII. If Hardy can keep this roll going, if he can force Mr. Kennedy to the back of his mind, if he can maintain the form that has seen him out last twelve other men, and if he can do the impossible and dethrone Edge, then he will have truly earned the right to be called … "The Great American…"

World Championship Shot versus Suspension
Batista Vs Bobby Lashley w/Paul Heyman

"What happens when an unstoppable force meets an immovable object?"

When Doomsday killed Superman, the Earth had no one left to protect them. When Bane shattered Batman's spine, Gotham was alone. And when Bobby Lashley broke The Undertaker in half on May 21st to win their brutal Last Man Standing match, we thought that there was no one left to save us.

But one man stepped up; or rather … one Animal. Batista was on the biggest slump of his career, unable to win a match since losing the World Heavyweight Title to Edge at WrestleMania XXII, but his weekly, violent confrontations with The Real Deal lit a fire inside the longest reigning World's Heavyweight Champion in WWE history the likes of which we have never seen before. He destroyed his good friend Rey Mysterio to qualify for the Great American Tournament Finals at Saturday Night's Main Event. Though he was unsuccessful in his bid to earn another crack at The Rated R Superstar, Batista didn't seem too perturbed just two nights ago on Friday Night SmackDown!, as he called out the monstrous rookie and his slimy agent Paul Heyman, challenging Lashley right there and then. However, ever the business, Heyman made it abundantly clear that there was only one place this monumental collision was going to take place: Pay-Per-View.

Enter Stephanie McMahon, a woman with more than her fair share of headaches right now, and one of those is the pressure being placed on her by the Board of Directors to stop the chaos that has been rife on Friday nights since Teddy Long was incapacitated. Two of the men responsible for SmackDown's anarchic decline have undoubtedly been Bobby Lashley and Batista, with their antics since Judgment Day costing the company thousands of dollars in damages to the various arenas the WWE runs at. As a result, Stephanie was handed an ultimatum by the Board: either she suspends ONE of Batista or Lashley … or they will suspend BOTH. So the match was made, much to the chagrin of Paul Heyman, with Lashley's SummerSlam World's Title shot promised to him by Shane McMahon now also on the line. As if the stakes needed to be any higher.

It is going to be a collision of truly epic proportions. The paradoxical riddle still remains … What happens when an unstoppable force meets an immovable object? We will find out at The Great American Bash…

"Do Or Die" Triple Threat Match for the WWE United States Championship
Booker T w/Sharmell Vs Finlay Vs Rey Mysterio ©
If Booker or Finlay is pinned, they can never challenge for ANY WWE title again

"The Price of Gold…"

It hasn't been an easy ride for Rey Mysterio is his first ever reign as United States Champion. He fought tooth and claw to capture the prestigious title at WrestleMania, o0vercoming the odds as only he can, but one thing he never expected were the events of July 4th †. Despite failing to defeat his friend Batista in the Great American Tournament, and also suffering a Spear at the hands of Bobby Lashley, Mysterio was alone in the ring when Friday Night SmackDown! went off the air. But the cameras kept rolling. As per usual, Rey-Rey was about to thank our loyal fans for their support … but he was interrupted … by Booker T.

The animosity between Rey Mysterio and Booker T are no secret. Booker made Rey's life a living hell in the lead up to their match at WrestleMania XXII, a match in which The Ultimate Underdog upset the five-time WCW World's Champion to capture the United States Title. And apparently, Booker doesn't forget - or forgive - easily. When Booker T came down to the ring on July 4th, he didn't bring a weapon with him to attack Rey Mysterio; he brought his wallet. Booker T had the audacity to try and BUY the United States Heavyweight Championship. If this wasn't disgusting enough, when Rey declined the absurd offer, Booker actually SLAPPED the masked man across the face … before FINLAY hit the ring, attacking Mysterio from behind, leading to a vicious 2-on-1 beat down.

Things became clear from that point on: both Booker T and Finlay wanted the United States Title. Title petitions were submitted, and soon enough the word came that the Board of Director's Championship Committee had granted both Booker AND Finlay's requests, but with two little snags; the first was that their title shots would take place at the same time in the guise of a Triple Threat Match at The Great American Bash, and the second remained a mystery. In the lead up to the Pay-Per-View, Booker and Finlay have put the champion to the sword, attacking him every week seemingly, despite the help of friends such as CM Punk and Batista. But this past Friday, things took a very unexpected turn … when Finlay turned on Booker, nailing him with the shillelagh! It was obvious really; only one man can leave Indianapolis as the United States Champion, but we all assumed that such a decisive split would not occur until the match itself. But Finlay's actions were ruthless. He laid out both of his opponents and shoved Sharmell, Booker's wife, down to the mat like she was nothing. Momentum is well and truly on the Irishman's side.

But then came the announcement this morning of the second little footnote attached to the title shots granted to both Booker T and Finlay, the punishment that they were due following their actions on July 4th when they brought a WWE championship into disrepute. The Board of Directors were very clear, if either Booker T or Finlay are pinned or made to submit, they can NEVER challenge for ANY championship - singles or tag team - in the WWE again. It is the exact same punishment handed out to Randy Orton by the McMahons, and The Legend Killer is still coming up with schemes to try and escape. Finlay ad Booker might have got what they wanted in terms of a shot at the United States Championship … but how much will it end up costing them? What is the price of gold?

† Though the show aired on Friday 7th, the events took place at the tapings on Tuesday 4th

WWE Tag Team Championship Match
The Hooligans Vs The Bluebloods ©

"Equally Matched Enemies…"

When Melina turned her back on Johnny Nitro and Joey Mercury on May 21st at Judgement Day, thus handing the eight-man tag team match to the WWE Tag Team Champions The Bluebloods, things looked bleak for SmackDown's tag division. That was because the stipulation of the match decreed that should William Regal and Paul Burchill emerge victorious, then the Englishmen would be allowed to choose their own challengers. Do you think they were keen to face the two teams on the other side of the ring any time soon? MNM are multiple-time WWE Tag Team Champions in their own right, whilst Paul London and Brian Kendrick, The Hooligans, are the teams everyone was tipping to be the ones to finally dethrone Nitro and Mercury at WrestleMania XXII, until The Bluebloods crashed the party.

What followed Judgement Day was nothing short of ridiculous, as Regal and Burchill faced team after team of nobodies, wrestlers clearly not of their calibre, all of whom they defeated with ridiculous ease, completely ignoring the calls for them to show some guts and put the belts on the line against a worthy team such as MNM or The Hooligans. It wasn't until July 7th when the tag team division finally sprung back into life.

In one of their usual charades, The Bluebloods were holding a 'Royal Invitational Gauntlet' match, in which they were dispatching various unworthy teams from around the globe with laughable ease. That was … until two gentlemen calling themselves "El Luchadors" entered the ring. Masked, it was impossible to see who was underneath, but the gloating Englishmen found out soon enough, as the luchadors removed their masks … to reveal … PAUL LONDON AND BRIAN KENDRICK, THE HOOLIGANS! The sudden shock left The Bluebloods virtually helpless, and they were easy pickings for their surprise opponents, who pinned Burchill with the Tower of Londrick to become the first team to pin the champions since WrestleMania XXII, and, in the process, earn themselves a future title match. With The Great American Bash just around the corner, it was the obvious choice for the young high-flyers, and they didn't wait long before announcing their decision to cash in their shot on July 23rd.

Since the announcement, Regal and Burchill simply haven't been the same team; first getting themselves intentionally disqualified during a six-man tag team match featuring their challengers, and just two nights ago being completely embarrassed by the fan favourites during an explosive eight-man tag encounter. The Hooligans have the champions rattled and on the ropes.

But the fact remains, though these two sides have clashed before on several occasions, a decisive result has never been achieved. In the build up to WrestleMania, these same four men fought to double disqualifications, to double count outs, and to time-limit draws. Only at WrestleMania itself in the Triple Threat Elimination match were Regal and Burchill able to pin their young foes. The only thing separating them on that night - when Regal smashed London in the back of the head with one - are the combined twenty pounds of gold strapped around the waists of the Englishmen. But will that be enough at The Great American Bash…?

Cruiserweight Championship Match
Super Crazy Vs Kid Kash ©

"Out of Time…"

If ever someone was running scared, it is Kid Kash. The Cruiserweight Champion thought Jamie Noble was his biggest problem, but ever since ECW One Night Stand, the erratic Super Crazy has been a rejuvenated threat to the title; a puzzle The Notorious K.I.D just can't seem to solve. Crazy became the Number One Contender what seems a long time ago now, defeating his fellow Mexicools, Juventud Guerrera and Psychosis, in a Three-Way Dance to earn the right to challenge for the belt. After the match, however, Kid Kash took it upon himself to congratulate the victor by smashing the championship belt into the back of his head! Big mistake.

Ever the snivelling coward, Kash regretted his actions almost immediately, and has been trying to apologize - in his own special way of course - ever since. He weaselled out of one title defence with a forged doctor's note, instead feeding Super Crazy to the ferocious Bobby Lashley. He acquired the services of SmackDown's resident 'Gun For Hire' Brent Albright to save his skin in another match. And Stephanie McMahon has had enough. To avoid any more shenanigans from the champion, the interim-General Manager scheduled the title match for The Great American Bash, giving Kash plenty of time to heal from his 'injuries' and, uhm, clear his diary. She also informed the Tennessee loudmouth that should he fail to turn up to the Conseco Fieldhouse on July 23rd, he would be stripped of the gold.

This hasn't sat too well with Mr. Kash, who taken his anger out on his opponent verbally in the last few weeks, resorting to the kind of cheap racial slurs we're used to hearing from our 'beloved' Mr. Layfield. But Super Crazy just keeps winning. Be it singles or tag team competition, The Insane Luchadore has been racking up the W's like nobody's business. And just last night on Friday Night SmackDown!, as part of the huge eight-man tag team match, Crazy actually PINNED Kash, multiplying his momentum tenfold. He's been running ever since he won the belt back from Jamie Noble, but it seems that Kid Kash has finally run out of gas…

Streak vs. Streak †
CM Punk Vs Brent Albright w/Michelle McCool
† Albright is not technically undefeated anymore; in addition, he has promised to reveal his agent at the Pay-Per-View

"The Future's Bright…"

The future is bright. Well, it is for Friday Night SmackDown! anyway when you have two of the top prospects the entire world of professional wrestling appearing each and every week. But their paths have been very, very different.

Brent Albright appeared the first SmackDown after WrestleMania, and has continued to do much the same thing week in and week out, destroying local wrestlers with impressive ease, as his valet Michelle McCool looks on happily. We thought The Shooter has hit a speed bump in the form of the veteran Hardcore Holly, but he was similarly dispatched at Judgment Day, forced to tap out almost instantly to the excruciating Crowbar. Albright flourished in the Great American Tournament too, making it all the way to the finals before falling victim to Matt Hardy's incredible victory. And when Hardy caught young Brent with that surprise Roll-up in San Antonio, that was the first and only time the 27-year-old had tasted defeat since arriving in the WWE. And it didn't taste good.

On the other side of the tracks, we have CM Punk. He arrived on the scene with a bang loud enough to wake a sleeping giant on May 26th, the show after Judgment Day, answering a wild challenge made by John 'Bradshaw' Layfield. It being in his hometown of Chicago, Illinois, Punk had all the fire he needed in one of the most impressive debuts in wrestling history, as he made the former WWE Champion TAP OUT to the Anaconda Vise. It was an incredible entrance, and you might almost forgive Punk for resting on his laurels, but since that day the Straightedge Superstar - a man who partake in neither drugs nor alcohol, using competition has his addiction - has not slowed down. The notches on his belt include 'The Fighting Irishman' Finlay, the five-time WCW World Champion Booker T, the current United States Heavyweight Champion Rey Mysterio, and, perhaps most impressively of all, the former World's Heavyweight Champion himself, 'The Animal' Batista. CM Punk has beaten them all. And he's been here less than two months.

So it was only natural that these two hungry youngsters would meet at some point, and that happened this past Friday night as part of a huge eight-man tag team match. Their reputations obviously preceded them, with both men wanting at each other in the worst way. But it was after the bell that Punk, confident as ever, made the challenge, even mocking Albright's loss to Matt Hardy somewhat, serving only to anger the intense Oklahoman. Prior to this announcement, Albright stated that the man pulling his strings and paying his bills, his mysterious agent, would be revealing himself at the pay-per-view. Will it be a happy arrival for this anonymous money man? Whatever the case, we are sure to get a classic contest from two young, hungry wrestlers eager to make a name for themselves. The future just doesn't get any brighter than this…

Open Challenge
Mr. Kennedy Vs Shannon Moore

"Plan B C…"

This isn't quite what Mr. Kennedy thought he would be doing at The Great American Bash a few weeks ago. Back then, Kennedy was undefeated and riding a wave of momentum into the finals of The Great American Tournament at Saturday Night's Main Event. The man he has spent the last few months bloodying and battering, Matt Hardy, might have been back, but Kennedy always seemed able to stay one step ahead of his vengeful foe. At Saturday Night's Main Event itself, the loudmouth from Green Bay had everything going his way, as he and ally Brent Albright picked off the other competitors one by one. But suddenly, in a flash of brilliance, Matt Hardy pulled off the miracle and eliminated both men in the space of a few minutes, not only leaving Mr. Kennedy without a World's Heavyweight Championship match on the pay-per-view … but granting him, Hardy, Kennedy's bitter, hated enemy, one instead.

Not to be outdone, however, Kennedy refused to allow Matt his moment in the sun two nights ago on Friday Night SmackDown!, using Edge's distraction as an opportunity to attack Hardy from behind the same microphone he used to open him up with for the first time back in April. Kennedy left the arena soon after, but not before announcing his intention to hold an 'Open Challenge' this Sunday at The Great American. As Hardy went on to pin the World Heavyweight Champion later that very night, Ken's cryptic challenge seemed rather lacklustre, but there is always meaning behind that man's words. He spoke of wanting someone in particular to answer his call, but early this morning on wwe.com we learned that Shannon Moore had signed on the dotted line.

Moore is a well-known friend and confidante of the Hardy family, but it's hard to imagine that this was the person Mr. Kennedy was referring to. A stellar competitor Shannon may be, but for a man who was moments away from challenging for the World Heavyweight Championship, this is nothing short of an embarrassment. An embarrassment caused … by Matt Hardy. If Kennedy's announcement was meant to upstage the main event in any way … it might be time for Plan C…

Tag Team Exhibition Match
MNM Vs Jamie Noble & A Mystery Partner

"The Name on the Marquee is…"

Three men desperately searching for a way back to the championships they lost recently are Johnny Nitro, Joey Mercury, and Jamie Noble. MNM's near five month reign as WWE Tag Team Champions ended came to an abrupt halt at WrestleMania XXII when they were the first team to be eliminated from the Triple Threat Match that also featured The Hooligans and the eventual winners, The Bluebloods. Since then, things when from bad to worse, as their long-time valet Melina turned her back on them at Judgement Day, choosing glory over loyalty, as she sided with Regal and Burchill. MNM's vengeful quest against the Englishmen was placed on the backburner momentarily, as Nitro came perilously close to the unthinkable: becoming the World Heavyweight Champion. He qualified for the Great American Tournament Finals at Saturday Night's Main Event, and took the current champion Edge to the limit just a few weeks ago. But now MNM are back, and have promised to refocus on tag team wrestling, and, more importantly, reclaiming THEIR WWE Tag Team Title.

It is a similar story for Jamie Noble, though he was on top of the world following WrestleMania, where he defeated bitter rival Kid Kash for the Cruiserweight Championship of the World … only for the celebrations to end rather prematurely when Kash won the title back a little over a month later at Judgement Day. In actual fact, due to that match, Noble, the self-proclaimed "Redneck Messiah" does have a rematch clause due any time he wants it, but as of yet he has remained quiet on the matter. Noble was another man who impressed during the Great American Tournament, scoring a huge upset by defeating 'The Fighting Irishman' Finlay to qualify for the finals at Saturday Night's Main Event, and he competed in an absolute classic against the World Heavyweight Champion Edge that saw 25-minutes of pure wrestling, with The Rated R Superstar forced to delve deep into his bag of nefarious tricks to pull out the win.

So with none of these men scheduled to compete this Sunday, Jamie Noble had a little challenge for his fellow competitors: a little tag team action. The only mystery about this whole situation is Noble's partner. He has promised to bring some new blood to the Cruiserweight division, and this man will do just that apparently. Whoever it may be, this will certainly be exactly what it says on the marquee… an "Exhibition…"

Cut-Off Point for the "SmackDown! Election
All candidates for the SD! GM post must have submitted their application by the PPV

-------------------------------

Predictions Template

Final Card for The Great American Bash
Date: July 23rd, 2006
Location: Conseco Fieldhouse; Indianapolis, Indiana
Event Music: Black Stone Cherry; Lonely Train

World Heavyweight Championship Match
Matt Hardy Vs Edge ©

World Championship Shot versus Suspension
Batista Vs Bobby Lashley w/Paul Heyman

---

"Do Or Die" Triple Threat Match for the WWE United States Championship
Booker T w/Sharmell Vs Finlay Vs Rey Mysterio ©
If Booker or Finlay is pinned, they can never challenge for ANY WWE title again

WWE Tag Team Championship Match
The Hooligans Vs The Bluebloods ©

Cruiserweight Championship Match
Super Crazy Vs Kid Kash ©

Open Challenge
Mr. Kennedy Vs Shannon Moore

Streak versus Streak
CM Punk Vs Brent Albright w/Michelle McCool

Tag Team Exhibition
MNM Vs Jamie Noble & A Mystery Partner

---

Cut-Off Point for the "SmackDown! Election
All candidates for the SD! GM post must have submitted their application by the PPV

-------------------------------

Miscellaneous Predictions

Question One:
Predict the match order.

Question Two:
Which will be the longest and shortest matches?

Question Three:
Who will take the fall - and thus, the subsequent punishment - in the United States Championship match?

Question Four:
Who will be Jamie Noble's partner?

Question Five:
Who is Brent Albright's agent?

Question Six:
Will there be any surprise (the previous questions don't count) appearances? If so, who?

Last Question:
What will JBL do on his return?
The PPV will be up next Sunday. Hopefully this section is a bit more active by then. In the mean time, though,
PREDICT AWAY!!!
Re: The BTB Advertisement Thread
---
BACKLASH 2004 PREVIEW

World Heavyweight Title Iron Man Match
Chris Benoit (c) vs Shawn Michaels

At WrestleMania XX Chris Benoit achieved his dream by finally winning the world heavyweight title in a triple threat match. Tonight he will go into his hometown against the man who he's never beaten. A man who's beaten Benoit a month before Benoit went on to become champion. A man who knows everything about the Iron Man Match. Tonight Chris Benoit will be up against The Icon, The Headliner, The Showstopper, The Main Event, The Heartbreak Kid, Shawn Michaels. Shawn Michaels has a great record in Canada and tonight he vows to become champion again. He believes that he is still the icon. Chris Benoit wants to prove that he is not a one hit wonder and promises to not let down his fans. Will this be the night where Benoit is for real? Will Shawn prove that he is still the best today?

The Rock vs HHH



A classic rivalry will be revisited tonight as old foes The Rock and HHH battle it out and Eric Bischoff has issued a ruling that no one can interfere in this match. HHH wants his title shot but first he must go through The Rock. Will it be game over for The Rock or will Rock lay the Smackdown on the game. It's been a long time since Rock had a title shot but if he beats HHH tonight, will The Rock be in line for a title shot? Will it be a perfect night for Evolution?

Intercontinental Title vs Career Hell in a Cell Match
Randy Orton (c) vs Cactus Jack



This match has over 10 months in the making and tonight Randy Orton and Cactus Jack will finally go at it one on one in the most barbaric match composed, the hell in a cell match. Randy puts the Intercontinental title on the line and Mick Foley puts his career on the line. Mick Foley has promised to give Orton the biggest beating of his life and Randy has vowed to put Foley out the WWE for good. With Evolution barred from ringside, can Randy prove that he can beat Mick Foley by himself? Is this night where Randy kills the legend of Mick Foley? Will Mick Foley win his first ever Hell in a Cell Match or will this be the last we see of Mick Foley?

Chris Jericho vs Christian



At WrestleMania XX, Christian and Trish Stratus humiliated Chris Jericho and tonight Jericho gets his chance to get revenge on Trish and Christian. For weeks, Jericho has been humiliated by Trish and Christian but Jericho embarrassed the couple when they had the live sex celebration on Raw. Now Christian has A-Train by his side, will Jericho be able to overcome these odds? Will Trish and Christian get one over Jericho again?

Also Ric Flair will meet Lance Storm in action tonight in Storm's final ppv match. Plus the tag team champions The World's Greatest Tag Team defend their titles against The Dudleys. Victoria will also be in action as she defends her womens title against Jazz.

Backlash 2004 is now up. Link in signature. Feedback is appreciated and will be returned.
Show now posted
here
---
WWE 2004: The Road to WrestleMania 21
Click here to read
Re: The BTB Advertisement Thread
---
Quote:
Monday Night Raw Preview
Monday 20th October 2008
Live from the TEE Center
Augusta, Georgia
Last week's show ended on a highly controversial note when Mr. McMahon & John 'Bradshaw' Layfield went about their mission on getting revenge on The Big Show and ending his WWE career. However they weren't satisfied with just blind siding the former Corporation member and Mr. McMahon spat in the giant's face. We knew this was personal beforehand and with so much at stake at the Survivor Series you have to wonder how The Big Show will react this week when he arrives in Augusta, Georgia with just under three weeks to go until his Loser Leaves Town Hell in a Cell match with J.B.L. Make sure you tune in to find out just how he does react.

Batista & Triple H's personal problems also escalated last week with The Game finally confronting the WWE Champion on the rumours he's dating his wife, Stephanie. Not that the furious Triple H believed him. However they were both given a stern reminder of what's really at stake at the Survivor Series by Randy Orton when all three former Evolution team-mates collide for the WWE Championship. The Legend Killer's not held back in letting everyone know how much he wants to get his hands back on the WWE Championship, letting Triple H know exactly how much he blames him for costing him the chance to win it back at Unforgiven last month. With Orton the only one seemingly focused on the WWE title will he be the one to leave Survivor Series with the title he craves so badly, and will The King of Kings accept Batista's word that there's nothing going on between him & Stephanie? Is that indeed the case? Who knows? We might find out the answers to some of those questions this week live from the TEE Center.

The opportunity that Ted DiBiase has wanted and claims he deserves is just around the corner with most believing he has no chance of overcoming the obstacle in his way in the shape of The Undertaker at the Survivor Series. However for the second straight week he was able to get the better of The Dead-Man, along with the help of his rookie, Ezekiel Jackson to leave him flat on his back in the middle of the ring. Maybe he's not out of his depth after all and he is capable of defeating the phenom, but if history tells us anything, hell hath no fury like The Dead-Man scorned.

We found out last week from Eric Bischoff that at the Survivor Series, Raw & Smackdown will collide in a traditional elimination match and that leading Team Raw will be the Intercontinental Champion, Sheamus. The Celtic Warrior has yet to taste defeat since joining the WWE this summer and seems to be the perfect choice by Raw's Head of Authority, but Bischoff has also decided to put Sheamus's rival, Carlito on the team too. They were about to go at it in an impromptu title match until Bischoff put a roadblock in front of them and let them know of his plans. Can Sheamus & Carlito co-exist for the sake of Team Raw? They will however be joined by another Raw superstar when two more lock horns this week for a place on the team in John Morrison & Zack Ryder. Will it be The Shaman of Sexy or The Long Island Loudmouth who'll be joining them at the Survivor Series?

We understand that 'Mr. Hollywood' The Miz has an announcement to make this week. Once again we saw him travel to Smackdown on Friday night where he watched Dolph Ziggler in action and escort him backstage afterwards. What was that all about? Does it have anything to do with the elimination match facing him at Survivor Series against Shawn Michaels' team? Maybe we'll see The Heartbreak Kid travel to Raw again like last week when he came to Kofi Kingston's rescue, even offering Kofi a place on his team for the Survivor Series? Will Kofi have an answer for him? Tune in to find out.

The final spot for a shot at the World Tag Team titles was up for grabs last week when Matt Hardy & Gregory Helms met Rey Mysterio & Mystico in the second semi final in the tournament to crown new champions. With their place already booked in the final at the Survivor Series, Christopher Daniels & Kaval got a closer look of the action and watched on as their competitors fought to a double count out. They were then left stunned as Eric Bischoff announced that both Hardy & Helms and Mysterio & Mystico will join them in the final in a triple threat match for the right to be the new World Tag Team Champions. How do they all feel about? Maybe we'll find out tomorrow night.

There'll be a few other teams battling it out this week. After a couple of confrontations last week Cody Rhodes & Joe Hennig will take on JTG & Homicide while Gail Kim along with her rookie, Shantelle Taylor will meet The Bella Twins.

With Survivor Series rapidly approaching, make sure you catch Raw this week for what is likely to be an eventful show in Augusta!
>Confirmed for Raw This Week<

Winner Receives a Place on Team Raw for the Survivor Series
John Morrison vs. Zack Ryder

Plus

JTG & Homicide vs. Cody Rhodes & Joe Hennig

Gail Kim & Shantelle Taylor vs. The Bella Twins

The Miz's Special Announcement!
>Now Posted!<
Re: The BTB Advertisement Thread
---
Universal Wrestling Collective
"Electrified" September 14th, 2011 Preview
COUNTDOWN TO THE COLLISION
With only two "Electrified" shows left before the "Auriferous Collision" tournament, find out who will achieve victory in the qualifying round match-ups and move forward to the big two night super show extravaganza. We'll also have our first "random draw" participant involved in tonight's matches. Which company will have another opportunity to go for the gold? And with UWC owner Berringer "T.A.H." Cross in attendance promising a major announcement for the super shows...speculation is high to see how "Auriferous Collision" could get any bigger! Don't miss the action! Be there tonight at 10:00pm (Eastern Standard Time) on the Showtime Network to see how this all unfolds!
© Berringer Cross Ltd./Universal Wrestling Collective 2011
*****CONFIRMED MATCHES FOR "ELECTRIFIED"*****
"The Ego" Robert Anthony vs. Akuma
Paul London vs. Shawn Vexx
Chuck Taylor vs. Bobby Fish
Matt Taven vs. Random Draw Opponent


*****Show Posted - Link in Signature*****
---
The Crypt of Cross: New Review - The Cabinet of Dr. Caligari (1920) Posted 11/29/11
http://www.wrestlingforum.com/entert...ypt-cross.html
Finally Out of Cutey Sleep
Join Date: Jul 2006
Location: The Fountain of Dreams
Posts: 2,020
Points: 9
Re: The BTB Advertisement Thread
---
Quote:


10.3.07

The Hammerstein Ballroom – Manhattan, New York City, New York
"Repair from the Greatest Affair"

One week after the biggest show in AOW history, it's time for reconstruction and repair! And what better way to do so than finding a new opponent for Chris Jericho's World title! How will that be done? Well, no one's quite sure, since Jericho has asked for time this week to explain why no one is 'worthy enough' to face him for the title ever again. So this week, instead of potentially finding a new contender…we may have to listen to Chris Jericho tell us why there will be none ever again.

Another great way to start recovering is by giving the war some new blood – this week is the debut of the much hyped, hottest prospect in all of lucha libre – Aero Star! The sensation that is Aero Star will finally grace his presence in AOW in perhaps an as explosive way as his video packages have showcased. Is AOW prepared for what the Star has in store?

In addition to perhaps the biggest cruiserweight prospect in the world coming in AOW, the cruiserweights that're already here put on a hell of a show last week in the Tag Team Turning Point match. In addition to a brand new Cruiserweight Champion in Bryan Danielson being crowned, we saw what could wind up becoming the future of the AOW tag team division in teams like the Mexicools and the new and 'different' team of Jack Evans and Low Ki, aptly labeled "Low Jack". And thanks to both of these two teams' showings, they'll be facing each other once again! The Mexicools, Low Jack, all lock up in a Supershow rematch.

Now is the true turning point for AOW – with Pay-Per-Views officially scheduled and an extended time slot coming in roughly a month, it's time to show the world the best side of war. Tune in to AOW: Wednesday Night Oblivion, at 9/8c, only on FX!


.:Confirmed for Oblivion:.

The Mexicools v. Low Jack

Aero Star debuts

PLUS…

Chris Jericho addresses his championship situation

AND…

All AOW champions will be in attendance

Show posted, though I don't think it's my best. Link in siggy. Give it a whirl.
---
CUTENESS²
AOW: Art of War Wrestling - The Greatest Affair
It's Baaaaack...
.:Oblivion Edition 39/40 Recap NOW POSTED!!:.
Wheelman for James Ellsworth
Join Date: Jan 2011
Posts: 501
Points: 0
Re: The BTB Advertisement Thread
---
WWE Monday Night Raw Preview- 6/6/05
Monday Night Raw is all set to provide a blockbuster show for all its fans in Baltimore tonight as we can reveal that a huge triple main event has been signed by Raw General Manager Eric Bischoff.

The first mega match up of the night will see two former bitter rivals face off as Chris Jericho goes one on one with Captain Charisma, Christian. Last week saw Christian as the guest on Jericho's highlight reel with Jericho keen to send a message to his current rival Edge via Mr.Money in the Bank's best friend. It was however, Edge who ended up looking for the last laugh as Christian set Jericho up for a sneak attack from behind by Edge, only for Y2J to see it coming and narrowly dodge the bullet as Edge escaped. The war of words was a brutal one as both men highlighted just how important their respective match ups were come Vengeance, when Christian meets the Nature Boy, Ric Flair, looking to make his mark in the 'big leagues'. Whilst Edge and Jericho do battle with many questioning Jericho's big match capabilities in recent months, Christian included. Tonight, the two men will simply let their actions do the talking.

The second part of our triple main event involves a man mentioned already, Edge. The Rated R Superstar looked to make his presence felt last week but just missed out on gaining even more momentum in his feud with Chris Jericho. Edge has gotten under Jericho's skin ever since Wrestlemania and tonight, Eric Bischoff wants him to do the exact same job to Bischoff's recent target, Shawn Michaels. After being hit with Sweet Chin Music more times than he'd have liked from the rebellious Showstopper, Bischoff had seen enough and laid down the challenge to Shawn Michaels for Vengeance. Michaels will go one on one with a superstar of the General Manager's choosing and if the Heartbreak Kid can finally end his recent high profile losing streak and win, he gets a World title shot, if Bischoff's superstar wins, HBK will become the property of our General Manager. With Bischoff announcing this match here tonight, you have to believe that he's looking for any way he can to soften up Shawn Michaels.

The third and final part of tonight's triple main event sees a six man tag team match as the World Heavyweight champion Batista teams up with one half of the World's Greatest Tag Team, Shelton Benjamin and the World's Largest Athlete, The Big Show to take on the team of Triple H, Intercontinental champion Muhammad Hassan and the 'Protégé' Mark Jindrak. All six men have huge issues with their opposite sides and it is no doubt going to all go down when they meet inside the squared circle. Will either Batista or Triple H get the upper hand as we continue to get closer and closer to their World title match at Vengeance? Or will it be a chance to shine for one of the other four men in this mammoth tag team match? Make sure to tune in and find out!
Confirmed for tonight's Raw:

Chris Jericho vs. Christian

Shawn Michaels vs. Edge

Batista, Shelton Benjamin and Big Show vs. Triple H, Muhammad Hassan and Mark Jindrak
Re: The BTB Advertisement Thread
---

Next week AWA will present NO!Limit! live from the UIC Pavilion, in Chicago, Il. After 2 back to back blockbuster shows in NYC, AWA heads to Chi-Town for what is sure to be another hot show. Confirmed for next weeks show are the returns of Austin Aries and Davey Richards, who will have alot to say following their huge match at "Glory Rises", which was given the 5 star award by Dave Meltzer from the Wrestling Observer. What will happen when these two megastars step into the ring just a week after their epic encounter? Tune into NO!Limit! to find out.

The windy city will also be host to more matches in the "All American Series". Currently Brodie Lee is in the lead with 2 wins and is closely trailed by Amazing Red who has 1 win in the series. Only one of these men will walk out of NO!Limit! with a perfect record, as Brodie Lee will take on Amazing Red, will the high flying Amazing Red be able to knock Powerhouse "Big Rig" Brodie Lee off his game? Also confirmed for the "All American Series" will be Brian Kendrick taking on Tommy Dreamer, Dragon Kid going one on one with Rhino and finally Jake Hagar will take on a hand selected opponent by Paul Heyman. Heyman told Hagar that if he walks out of the match, or loses, the challenger will take his place in the "All American Series". Who will emerge from next week's NO!Limit! as front runners in the "All American Series".

History will be made as Legendary tag team "The Impact Playerz" will return to the ring for the first time in over 6 years, when they compete in the AWA Tag Team Championship Tournament. Also confirmed for the tournament will be "Wrestling's Greatest Tag Team" Charlie Haas and Shelton Benjamin taking on newly signed tag team "Jersey's Finest" (Former JAPW Tag Team Champions)Brandon "Strong Style" Ascari and "The Destroyer" Nick Ford.

Tune in live this coming Monday at 9pm on Verses to catch the hottest pro wrestling outside of Japan.

Confirmed Matches
"All American Series"
Brian Kendrick vs. Tommy Dreamer

"All American Series"
Dragon Kid vs. Rhino

"All American Series"
Brodie Lee vs. Amazing Red

AWA Tag Team Championship Tournament
Wrestling's Greatest Tag Team vs. Jersey's Finest

Also confirmed for the show are Austin Aries, Davey Richards, The Young Bucks and The Impact Playerz

Re: The BTB Advertisement Thread
---
WWE Raw Preview
April 19, 2004




SEE ALL OF THE FALLOUT FROM BACKLASH
Less than 24 hours after Backlash, Monday Night RAW comes to you live from Calgary with all of the fallout from the pay-per-view spectacular.
In front of his hometown, Chris Benoit successfully defended his World Heavyweight Championship at Backlash in an Iron Man Match against the Heart Break Kid Shawn Michaels. After competing in such a grueling match, Eric Bischoff has announced that both men will be in action tonight.
The main event for tonight's show will be an all Canadian 6 Man Tag Team Match. Last night was Chris Benoit day but tonight it's Lance Storm day. In Lance Storm's final WWE match he will team with world heavyweight champion Chris Benoit and Chris Jericho as they take on Christian and La Resistance members Sylvan Grenier and Rene Dupree. Will Lance Storm win his final match in his hometown or will his career end on a sour note.
Lance Storm was upset last night that his final ppv match ended in interference. Following the ppv Lance requested Eric Bischoff that his final match will have no outside interference. Eric Bischoff has granted Storm his request which means Trish Stratus, A-Train and La Resistance member Rob Conway are barred from ringside. However Eric Bischoff has appointed a referee for this match and that is a man that is hated by Canadian fans, Earl Hebner. Eric Bischoff decided not to have Earl Hebner as the referee for the main event last night because he did not want to put Earl in another difficult position. In other words, he did not want Earl to screw over Chris Benoit in his hometown. However tonight as the world heavyweight title is not being defended, Earl will be refereeing the main event in Canada. Will Earl call this match down the middle? Have the Canadian fans forgiven Earl Hebner? If they haven't then will they forgive Earl if he calls this match down the middle?
As for HBK he will be in action against A-Train. What kind of condition will Michaels be in when he goes up against the monster A-Train.
Fans witnessed an amazing Hell in a Cell Match between the legendary Cactus Jack and Randy Orton at Backlash. In the end it was Orton who was able to pull out the win, further solidifying his Legend Killer claims. Now that Orton has ended Mick Foley's career, how will Orton celebrate his huge victory?
It would have been a perfect night for Evolution but HHH hit Rock Bottom against The Rock. Is HHH still the number one contender or has the Rock's victory changed the whole scene on who the next contender is for the world heavyweight title?
Also tonight The Dudleys will receive a rematch as they take on The World's Greatest Tag Team in a tag team tables match.
Gail Kim returned to Raw two weeks ago and scored a victory over Trish Stratus in a mixed tag team match. Tonight the two Canadian divas go at it in a one on one match. Will Gail score another victory over Trish or will Trish get her revenge? All this and more on Monday Night Raw.
Confirmed Matches
Main Event: 6 Man Tag Team Match: Chris Benoit, Chris Jericho and Lance Storm vs Christian and La Resistance(Sylvan Grenier and Rene Dupree)
Trish Stratus vs Gail Kim
Shawn Michaels vs A-Train
Tag Team Championship Tables Match: The World's Greatest Tag Team (c) vs The Dudleys
Show now posted
here
---
WWE 2004: The Road to WrestleMania 21
Click here to read
Wheelman for James Ellsworth
Join Date: Jan 2011
Posts: 501
Points: 0
Re: The BTB Advertisement Thread
---
Posting Rules

You may not post new threads

You may not post replies

You may not post attachments

You may not edit your posts

---

HTML code is Off

---