Re: The BTB Advertisement Thread
---
~Friday Night Smackdown~
March 16th, 2007
Trenton, New Jersey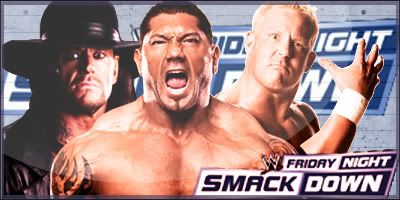 Last week's main event saw a performance for the ages from Ric Flair, but as Smackdown went off the air, the whispers regarding Edge and his fear of the World Heavyweight Champion had grown to shouts... and you can guarantee Edge will be hell-bent on silencing those cries tonight.

After not coming into physical contact once during their tag team match at Saturday Night's Main Event, Edge seemed like he was about to put to bed any doubts of his determination to face Batista at Wrestlemania by smacking the World Heavyweight Champion with a steel chair last week... only for Batista to catch Edge in the act. With 'The Animal' urging him on, many felt now was the moment that Edge would finally strike... but instead, he dropped the chair and calmly headed backstage. Edge claimed it was all mind games, that by not attacking he had gained the upperhand, but most people felt it was nothing more than another display of Edge's fear of 'The Animal'. Tonight, Batista is in action as we witness a rematch of Smackdown's most dramatic feud of 2006, as King Booker steps up to face the champion. Will Edge view tonight as his chance to strike? Will the constant whispering and rumours push him over the edge? Or will he stay the course and continue to play his mind games?

Speaking of mind games, The Undertaker exchanged words with his Wrestlemania opponent Umaga last week, as 'The Phenom' vowed to end Umaga's undefeated streak, preserving his own Wrestlemania undefeated streak in the process. Tonight, Umaga is in action against Chris Benoit, surely the toughest test Umaga will have faced since his arrival on Smackdown. Alejandro Armando Estrada has said that his savage can't be effected by mind games, and Umaga has backed these words by appearing impervious to fear in the face of 'The Deadman'. No doubt The Undertaker will again look to make his presence felt, but the question remains... can anything phase 'The Samoan Bulldozer'?

After beating The Extremists at No Way Out, and on the back of Paul Burchill's victory over Brian Kendrick last week, The Bluebloods have been named the number one contenders to the WWE Tag Team Championships. However, instead of that match happening at Wrestlemania, Interim General Manager Jonathan Coachman agreed to grant the match at a time of The Bluebloods' choosing... and William Regal and company have chosen tonight! That's right, London and Kendrick will defend their titles tonight on Smackdown against William Regal and Paul Burchill, the challengers full of confidence after their recent performances. However, The Hooligans aren't the longest reigning tag team champions in Smackdown history for nothing, and they'll no doubt be ready for what should prove to be a very difficult title defence. London and Kendrick may have beaten Regal and Dave Taylor a month ago, but now with Paul Burchill in their ranks, The Bluebloods have to be the heavy favourites to finally end the reign of The Hooligans.

At Wrestlemania XXIII, Finlay will defend the United States Championship against Matt Hardy, while Gregory Helms will put up the Cruiserweight Championship against Bryan Danielson. Tonight, the four will meet in tag team action as Helms and Finlay combine to face Hardy and Danielson. Hardy has had a sensational start to 2007, gathering all kinds of momentum and really making a name for himself on Friday nights. Danielson has had a great start to his WWE career, coming close to winning the Cruiserweight Championship in his very first match. The two will be looking to continue to impress and pick up a big win ahead of Wrestlemania, while Finlay will no doubt want to send Hardy a clear message that he's known as a tough bastard for a reason, whereas Helms will look to continue to sneak and stay one step ahead of Danielson, in the process proving once again that he's the self-proclaimed greatest cruiserweight in the world.

All of this, plus the last Money in the Bank spot is up for grabs as The Miz takes on a mystery opponent, Layla will debut a new tag team tonight, and maybe an appearance from the brooding Mr. Kennedy will happen. All of this and more on the latest episode of Friday Night Smackdown!

Confirmed Matches:

Batista vs. King Booker

WWE Tag Team Championship Match:
The Hooligans vs. The Bluebloods

Chris Benoit vs. Umaga
Finlay and Gregory Helms vs. Matt Hardy and Bryan Danielson

Money in the Bank Qualifying Match:
The Miz vs. ???

Plus! Layla will debut a new tag team tonight, and Mr. Kennedy will possibly have something to say!!




---
World Wrestling Federation: The Montreal Fallout
New BTB. Check it out, eh?
Re: The BTB Advertisement Thread
---
WWE Smackdown Preview
April 15, 2004


Tonight the lethal lottery tournament comes to an end as The Undertaker and Kane will compete in the final to determine the number one contender for the WWE Title. The winner will face Eddie Guerrero for the WWE Title at Judgment Day. Who will be victorious tonight?
At No Way Out 2003 Edge was supposed to compete in a 6 man tag match however he did not compete due to injury which resulted in Edge being out of action for over a year. When Edge returned he got his revenge on his attacker Kurt Angle and Edge was suspended for his actions. Now Edge is back tonight from suspension and he will be returning to action tonight in a 6 man tag team match. Edge will team up with Rey Mysterio and John Cena to face Matt Hardy, Rhyno and Johnny Nitro.
For the first time in Smackdown history a stretcher match will take place tonight. Paul Heyman has guaranteed that Big Show will be leaving on a stretcher tonight. The Big Show has requested a match with Paul Heyman but Paul Heyman has turned it down and has chosen Val Venis to face Big Show tonight in a stretcher match. Paul Heyman has promised Val Venis a US Title shot if he can beat The Big Show. However if Val does not beat Big Show then Big Show gets 5 minutes in the ring with Paul Heyman. Is Paul that confident that Val will be able to defeat the Big Show? Has Paul Heyman made a mistake to agree to such stipulations? What if Big Show defeats Val then what will be the fate of Paul Heyman?
JBL wants his money back and guaranteed that he will make Kyo Dai pay for their actions. Tonight JBL will be stepping in the ring with the leader of Kyo Dai, Tajiri. Will JBL get his money back or will Kyo Dai continue to live the rich life.
Finally Paul Heyman has set up a huge tag team turmoil pitting 6 tag teams. Paul Heyman has assured that RVD and Booker T will not be having an advantage by coming out last. The order of entry will be determined by a random drawing. Will RVD and Booker be successful tonight or will we have new tag team champions crowned? Could The Guerreros make history by becoming the first father and son team to win the tag team titles? To find out tune in to Smackdown.
Confirmed Matches
Lethal Lottery Tournament Finals: The Undertaker vs Kane
6 Man Tag: Edge, Rey Mysterio and John Cena vs Matt Hardy, Johnny Nitro and Rhyno
Stretcher Match: Val Venis vs The Big Show
JBL vs Tajiri
Tag Team Turmoil (c)RVD and Booker T vs 2 Cool vs Paul London and Billy Kidman vs The Hurricane and Shannon Moore vs Akio and Funaki vs The Guerreros(Chavo Sr and Chavo Jr)
Show now posted
here
---
WWE 2004: The Road to WrestleMania 21
Click here to read
---
Last edited by Kintaro; 09-04-2011 at

10:33 PM

.
Re: The BTB Advertisement Thread
---
The First Raw with Ted Dibiase as WWE Champion....find out who is opponent will be at Extreme Rules!!!
---

THANKS TO CHAMPVIADQ/FOURTHWALL/ABROWN0718 FOR THE BANNERS
Re: The BTB Advertisement Thread
---
Thursday Night Smackdown Preview
Madison Square Garden, New York, NYC
March 19th 2004
Roster Change
If you tuned into Monday Night RAW you must have noticed that Kane is no longer part of Friday Night Smackdown. The Smackdown brand gained the behemoths Goldberg and Brock Lesnar and lost the big red machine over to the red brand.

Wrestlemania 20 Aftermath
After a blockbuster Wrestlemania, Smackdown kicks of the wrestling year with a bang! At Wrestlemania The Undertaker made his long waited return and defeated The Big red Machine who is now moved over to RAW, will this change finally end the epic rivalry of The Brothers Of Destruction? What can we expect from The Undertaker will he carve himself into the title picture and snatch the title from Eddie Gurrero? Eddie Gurrero successfully retained his World Heavyweight Championship after outsmarting Kurt Angle? The angry gold medallist failed to capture gold but Kurt has not given up his chase for The World Heavyweight Championship as we will find out tonight, also Brock Lesnar still has his rematch clause from No Way Out will he cash that in before Angle can put an end to Eddies' Lying, cheating and stealing?

Smackdown moves to Friday Nights.
Smackdown is no longer on Thursday's and has moved back to Friday night, tune in tonight!
---
Favorite Of All Time

1.The "Heartbreak Kid" Shawn Michaels
2.The " Highlight Of The Night" Chris Jericho
3.The "The Olympic Hero" Kurt Angle
4.The "Phenom" The Undertaker
5.The "Cerebral Assasin" Triple H
6.The "Straight Edge Messiah" CM Punk
7.The "Texas Rattlesnake" Stone Cold Steve Austin
8.The "Phenomenal" AJ Styles
9.The "Doctor of Thuganomics" John Cena
10.The "Legend Killer" Randy Orton
11. The "Rated R Superstar and " Captain Charisma" E&C Edge and Christian
WWE 2004: Do you smell what I'm booking?
REVIEW FOR REVIEW
RAW IS NOW UP!!!!!!
Re: The BTB Advertisement Thread
---
Quote:
Originally Posted by WCW.com


Major Announcement?

WCW.com has just learned that Eric Bischoff has a major announcement on tonight's edition of Wednesday Nitro and it is regarding the next pay-per-view event 'New Blood Rising' Eric Bischoff would not let us in on what his announcement will be but it's no secret that Eric Bischoff is a mastermind behind big announcements and ideas. Expect fireworks on Nitro as Eric makes a shock announcement.




World Championship Wrestling
Wednesday Nitro
July 11th, 2001
AmericanAirlines Arena; Miami Florida
Official Preview

What a night it was just 72 hours ago in Daytona Beach, Florida, as Bash At The Beach lived up to it's name and was a real Bash. But, as to be expected, not everyone was happy with the outcome of Bash At The Beach, mainly the individuals who lost their respective matches be that Scott Steiner or Diamond Dallas Page who lost a chance at tasting the WCW World Heavyweight Championship when Booker T walked out of the Main Event still champion or be that Lance Storm, who was left not only empty handed in his bout with Curt Hennig over the WCW United States Heavyweight Champion but was also left confused when a former close friend made herself known to the WCW Audience, that being Dawn Marie. Yes, whilst many at Bash At The Bach had a blast, not everyone walked away with that true party feeling. Tonight as Mike Tenay & Tony Schiavone call all the action, fans will witness the fallout of Bash At The Beach which they can not afford to miss.

Jeff Jarrett may have walked out of Bash At The Beach having lost his match against The Nature Boy Ric Flair but it was the self proclaimed Chosen One who had the last laugh using his Acoustic Equalizer to his advantage and smashing the Acoustic Guitar over Ric Flair's skull and following up by planting Ric Flair face first into broken bits of wood from the guitar, leaving Ric Flair the same way he did several weeks ago. Jeff Jarrett came to WCW.com earlier tonight and told us to officially announce that tonight, he will be holding a Retirement Party in Ric Flair's honor and has promised that some very special guests will be on hand to give their best wishes as Ric Flair lays watching in a hospital bed. That's not all, however. As well as a Retirement Party for Ric Flair, one man made his presence felt at Bash At The Beach, that man being WCW's newest Luchadore, Extreme Tiger. Extreme Tiger was the man revealed to be behind the messages directed at Shane Helms and tonight, he is going to showcase his ability in the ring as he faces the man who lost to Shane Helms at Bash At The Beach; Shannon Moore. You can bet that Shane Helms will be paying close attention to this one as the man who had made him look over his shoulder for weeks on end is now actually here in WCW.

As announced moments ago here on WCW.com, Eric Bischoff has announced that at some point during the broadcast he will have a major announcement to make in regards to the upcoming New Blood Rising pay-per-view. No one knows what is on the genius mind of Eric Bischoff so fans will have to tune in to witness what exactly Easy E has in store for New Blood Rising.

Also scheduled to appear tonight, Lex Luger has requested some time so that he can deliver a message to Elizabeth and the man he nearly ended the career of, Buff Bagwell. It is not known if Buff Bagwell & Elizabeth will be in the AmericanAirlines arena for Nitro tonight and maybe that's a good thing considering how Lex Luger nearly ended his career. Also, the WCW Tag Team Champions look for some new challengers but, they haven't quite escaped The Filthy Animals yet, both Rey Mysterio Jr. & Billy Kidman are looking to get another shot at the WCW Tag Team Champions as they face newcomers, The Haas Brothers. Which team will be victorious and earn the right to face Palumbo & O'Haire for the Tag Team Championships next?

Also scheduled for tonight; Booker T to speak regarding his victory at Bash At The Beach, Lance Storm looks for answers from Dawn Marie & the new WCW United States Heavyweight Champion, Curt Hennig & much, much more.

Make sure you tune in at 8PM to witness the fallout of Bash At The Beach. Only on TNT 'We Know Drama'

Confirmed Matches:
Number #1 Contenders Match For The WCW Tag Team Championships:
The Filthy Animals vs. The Haas Brothers
Extreme Tiger vs. Shannon Moore
Re: The BTB Advertisement Thread
---
Universal Wrestling Collective
"Electrified" September 7th, 2011 Preview
GUERRILLA SHOWDOWN
The "Auriferous Collision" heavyweight championship tournament heats up with the second set of four qualifying matches to be aired on this week's episode of "Electrified". Leading the way is the already heated rivalry between Swiss legend Claudio Castagnoli and the man who took the Pro Wrestling Guerrilla championship away from him, the Canadian wrestling guru, Kevin Steen. Both men are known for being skilled athletes, the best in the business today, but only one of them can advance to the September 24th super show.
SHIMMERING HATRED
Wrestling's hard hitting women will also take the spotlight Wednesday night as two former Shimmer champions wage war against each other. Their slight battle of words on the UWC website over the weekend will be nothing compared to the all out assault these ladies bring to the ring. Sara Del Rey was the first ever Shimmer Women Athletes champion and there's nothing she'd like more than to prove herself again by becoming the first ever UWC heavyweight champion. MsChif was the woman who took the Shimmer title from Sara, and given the opportunity, she'd love to halt Death Rey's quest for gold on this occasion. Which woman will prevail? Only time will tell.
WHO HAS WHAT IT TAKES TO ADVANCE?
Other qualifying round action sees two Chikara Pro Wrestling originals, Mike Quackenbush and Hallowicked, square off against each other. Jersey All Pro Wrestling also gets in on the action when the Necro Butcher faces Dan Maff one-on-one. It's a long way to the top of the tournament and only four of these eight competitors will move on to the two night super show starting September 24th. Don't miss the action! Be there tonight at 10:00pm (Eastern Standard Time) on the Showtime Network to see how this all unfolds!
© Berringer Cross Ltd./Universal Wrestling Collective 2011
*****CONFIRMED MATCHES FOR "ELECTRIFIED"*****
Necro Butcher vs. Dan Maff
MsChif vs. Sara Del Rey
Mike Quackenbush vs. Hallowicked
Claudio Castagnoli vs. "Mr. Wrestling" Kevin Steen


*****Show Posted - Link in Signature*****
---
The Crypt of Cross: New Review - The Cabinet of Dr. Caligari (1920) Posted 11/29/11
http://www.wrestlingforum.com/entert...ypt-cross.html
Wheelman for James Ellsworth
Join Date: Jan 2011
Posts: 501
Points: 0
Re: The BTB Advertisement Thread
---
Re: The BTB Advertisement Thread
---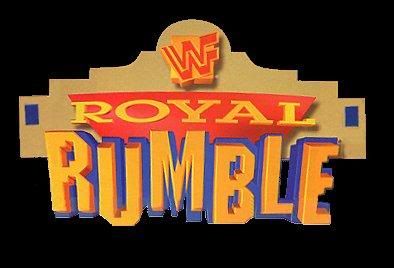 January 26th 1997:

30 Man Royal Rumble Match:
Winner gets a WWF Championship Match at WrestleMania 13

The Royal Rumble only comes once a year and with a WWF Championship opportunity at stake every superstar involved will be looking for a chance to main event WrestleMania 13. Ken Shamrock has already said that he plans on winning the Royal Rumble, but most recently HBK also said that he would win, however, after the current events on RAW Shawn Michaels must enter the Royal Rumble Match as the number one entrant whilst Bret "The Hitman" Hart has earned the number thirty entry which is sure to guarantee him a chance of winning, and due to the recent attack on RAW it looks like the Legion of Doom won't be able to make it to the Royal Rumble which leaves their places open for two mystery superstars. Also with such superstars as Kane, Stone Cold, British Bulldog, The Rock and many more in the Royal Rumble Match, this will prove to be anyone's game.

WWF Championship - One On One:
The Undertaker Vs. (c) Hulk Hogan

A few weeks ago The Undertaker earned his WWF Championship Match by defeating Bret Hart in a number one contender's match. The Undertaker and Hulk Hogan have faced each other countless times in the squared circle but who will come out on top when they meet one more time, also Hogan has become a victim of not one but two Tombstone Piledrivers by The Phenom for the past couple of weeks, the first with The Undertaker sending a message to the Champion after a Tag Team Match and most recently when The Undertaker cost Hogan his match and sided with The Ministry.

Intercontinental Championship - One On One:
(c) Goldust Vs. Jeff Jarrett

Recently on RAW Jeff Jarrett was fortunate enough to win a number one contender's match which resulted in him earning the right to challenge Goldust for the Intercontinental Championship at the Royal Rumble. However, don't let Goldust's image decieve you as he has taken some of the best superstars to their limit including Razor Ramoan, Bret Hart and even most recently, the WWF Champion Hulk Hogan. Jeff Jarrett will have to pull every trick out of the book if he hopes to win this match.

European Championship - One On One:
(c) Owen Hart Vs. Papa Shango

One word. Revenge. That is what Owen Hart is after at the Royal Rumble as Owen looks to avenge the beatdown that Papa Shango and the rest of The Ministry inflicted on Jim Neidhart and Owen's sister. Three weeks ago on RAW Papa Shango even stole the European Championship from Owen Hart and still has it in his possession however at the Royal Rumble this match will be about more than just the European Championship. It is about revenge.

One On One:
Jacqueline Vs. Tori

Several weeks ago Tori and Jacqueline were both involved in a bikini contest, Jacqueline won the contest which didn't sit well with Tori, Jacqueline was attacked after the contest by Tori and since then these two divas have been at each others throats, and most recently they have both been getting men to do their dirty work as Ahmed Johnson has been helping Jacqueline whilst Billy Gunn has been helping Tori. However, Commissioner Slaughter thought that it would be a good idea to see who would win in a one on one encounter with both their men banned from ringside.
---
NATALYA #.1 <3er

Natalya♥PUT
Natalya♥THIS
Natalya♥IN
Natalya♥YOUR
Natalya♥SIG
Natalya♥IF
Natalya♥YOU
Natalya♥THINK
Natalya♥NATALYA
Natalya♥IS
Natalya♥THE
Natalya♥HOTTEST
Natalya♥DIVA

Natalya = Queen of Hearts!
Natalya = Perfection!
Natalya = Best WWE Diva!
Natalya = Next Divas Champion!
Natalya > All!
Posting Rules

You may not post new threads

You may not post replies

You may not post attachments

You may not edit your posts

---

HTML code is Off

---