Re: The BTB Advertisement Thread
---
Quote:

Originally Posted by

~Hollywood Hogan~

View Post

World Championship Wrestling
Wednesday Nitro
June 27th, 2001
Preview


As we embark on the third edition of this new era in WCW, we come to it with so many stories that are going to be furthered. First of all, we have the WCW World Heavyweight Championship scene as Diamond Dallas Page was able to defeat Scott Steiner last week in a No Disqualification match and earn himself a place in the WCW World Heavyweight Championship match at Bash At The Beach. Tonight, Scott Steiner has promised to make a big challenge to both Diamond Dallas Page & the WCW World Heavyweight Champion, Booker T. Speaking of the Champ, last week he also made sure he came out of Nitro on top by planting Diamond Dallas Page with the Book End, will these two fan favorites collide again this week?

Another interesting development this week will be the situation between Lex Luger & Buff Bagwell. These two men effectively broke up last week after Lex Luger's jealousy of how close Buff Bagwell & Miss Elizabeth are, after a failed attack on Bagwell last week, will Luger be able to score a cheap shot this week and put away Bagwell and reclaim 'his' woman?

In recent weeks, the WCW Cruiserweight Champion has been the victim of several mysterious distractions, no one knows who the culprit is but this week, Shane Helms has requested some interview time with Gene Okerlund to try and get to the bottom of who really is behind all of these mysterious antics.

Rey Mysterio Jr. will be representing The Filthy Animals as he faces one half of the WCW Tag Team Champions, the mammoth in Sean O'Haire. It's no secret that there is a noticeable size difference between these two warriors but it's like The Animals always say, size doesn't matter. Will Rey Mysterio be able to tame the giant in Sean O'Haire or will O'Haire send the message that his team made clear last week, that The Animals don't stand a chance against them for the Tag Team Titles.

Also tonight, we continue the WCW United States Championship Tournament to see who will advance to the semi-finals and Jeff Jarrett is expected to address his actions from last weeks episode of Nitro.

Tune in to Wednesday Nitro from 8PM Eastern to see what exactly is going to go down in this weeks episode. It's one you can't afford to miss. Only on TNT!



Confirmed Matches

WCW United States Championship Tournament - Jeff Jarrett vs. Hugh Morris
WCW United States Championship Tournament - Jamie Noble vs. Mark Jindrak
Sean O'Haire w/Chuck Palumbo vs. Rey Mysterio Jr. w/Billy Kidman
Now Posted. Link in signature.
Re: The BTB Advertisement Thread
---
Smackdown up now: Click to see:
~Christian's SummerSlam opponent
~Daniel Bryan revealing when he is cashing in his Money in The Bank briefcase.
~Teddy Long getting a shock
~Sheamus injuring people

...and probably some filler.

---
---
1x Tag Team Champ (with Sonic Slash) as Air-Slash
1x Tag Team Champ (with New Guy) as New Trouble
Join the Forum Championship, a pay-per-view prediction contest!
http://www.wrestlingforum.com/mitb/8...oney-bank.html
---
Last edited by BkB Hulk; 08-20-2011 at

10:48 PM

. Reason: You must wait three days in between posts in between this thread.
Asking JAMES ELLSWORTH for Wrestling Advice
Join Date: Jul 2011
Location: Toronto
Posts: 457
Points: 0
Re: The BTB Advertisement Thread
---
Wheelman for James Ellsworth
Join Date: Jan 2011
Posts: 501
Points: 0
Re: The BTB Advertisement Thread
---
Re: The BTB Advertisement Thread
---
WWE Smackdown Preview
April 8, 2004
Tonight on Smackdown, the lethal lottery tournament continues as ten superstars compete in an over the top battle royal. The winners of last week's tag team matches have now advanced to a battle royal with the final 2 going on to compete in a #1 contenders match on next week's Smackdown. The ten stars that are competing in the battle royal are John Cena, The Undertaker, RVD, Rey Mysterio, Kane, Val Venis, JBL, Tajiri, Jamie Noble and Johnny Nitro. Which two stars will win the battle royal tonight?
As for the stars that are not competing in the battle royal tonight, we will see Big Show taking on Rhyno in a hardcore match. Last week Rhyno and Big Show were on the same team but could not co-exist and were eliminated from the tournament. Will Rhyno be able to stop The Big Show or will Show continue to prove his dominance on Smackdown?
Also last week two teams ended up not teaming together as they were on opposing teams. Tonight Paul London will be teaming with his tag team partner Billy Kidman as they take on The Hurricane and his tag team partner Shannon Moore.
Matt Hardy has been traded to Smackdown and he will be making an appearance on Smackdown tonight. Hardy isn't the only Raw superstar that was traded to Smackdown, this week we will find out who else has joined the Smackdown roster.
Booker T was very upset last week when he was pinned by his tag team partner RVD. What will Booker T have to say tonight? To find out tune in to Smackdown
Confirmed Matches
2nd Round of the Lethal Lottery Tournament: 10 Man Battle Royal
Hardcore Match: The Big Show vs Rhyno
The Hurricane and Shannon Moore vs Paul London and Billy Kidman
Show now posted
here
---
WWE 2004: The Road to WrestleMania 21
Click here to read
Re: The BTB Advertisement Thread
---


Universal Wrestling Collective
"Electrified" August 24th, 2011 Preview

ATHLETICISM REDEFINED
Chikara Pro Wrestling was one of the first companies to throw their hat into the ring to help support this radically new idea of uniting independent professional wrestling promotions in the United States. Sending Mike Quackenbush to the debut show on August 24th had already been pre-determined, but it was announced earlier today on the UWC website that Quackenbush's opponent has been chosen. High-flying Pro Wrestling Guerrilla alumnus Ricochet (also a former regular with Chikara) is scheduled to face Quackenbush in the very first ever match held on UWC's "Electrified"!
UNLEASHING HAVOC WITH STYLE
On August 22nd, it was announced on the UWC website that TNA superstar A.J. Styles will main event the first "Electrified" fighting CZW regular Danny Havoc. Both men are accomplished wrestlers in their fields with Styles being known for his technical superiority and Havoc being known for his hardcore mayhem. What will happen when these two polar opposites collide in the ring? Be there to find out!
MORE BIG NAMES HAVE BEEN ANNOUNCED
As if those two matches weren't reason enough to tune in to the Showtime Network for UWC's grand premiere, it has also been learned that Homicide and Cheerleader Melissa will be in attendance as well. Melissa is a rough and tough woman who's always ready for a good fight and the UWC has promised she will get one. It was known that Shimmer will meet WSU head-to-head this evening, now we know one half of the contest. Who will represent Women Superstars Uncensored? And who will the "notorious 187" face in the squared circle? Plus...UWC owner Berringer "T.A.H." Cross will have a major announcement regarding the UWC's first super show in September! Be there tonight at 10:00pm (Eastern Standard Time) for all the action as the UWC prepares to change the landscape of independent wrestling in the U.S.A.!
© Berringer Cross Ltd./Universal Wrestling Collective 2011
*****The premiere episode will be posted between the hours of ten and eleven, EST. Link to the thread is in my signature. Hope to see you there.*****
---
The Crypt of Cross: New Review - The Cabinet of Dr. Caligari (1920) Posted 11/29/11
http://www.wrestlingforum.com/entert...ypt-cross.html
---
Last edited by Berringer; 08-24-2011 at

07:34 PM

.
Re: The BTB Advertisement Thread
---
~Monday Night Raw~
March 12th, 2007
Washington, DC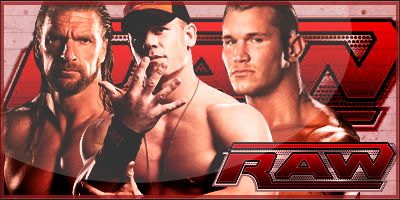 Last week, Raw bore witness to wrestling sacrilege as the ECW Championship literally went up in flames at the hands of Mr. McMahon and Bobby Lashley. Joey Styles was one of the few men to stand against the McMahon's tyrannical scheme, only for Styles to need saving from Lashley after he slapped Vince across the face. The savour came in the form of John Cena, thought to be banned from the building last week, who showed up to extract a measure of revenge after the devastating assault Cena suffered at the hands of Lashley at Saturday Night's Main Event. Cena only briefly got his hands on Vince, Shane and Lashley last week as the evil trio scarpered from the ring, but with Cena in the building tonight, you can be sure he'll have plenty to say with regards to his Wrestlemania XXIII opponent.

Speaking of Lashley, he'll be involved in tonight's main event as he steps into the ring with the three participants in the WWE Championship Match at Wrestlemania XXIII, as Lashley teams with WWE Champion Shawn Michaels to take on the challengers Triple H and Rob Van Dam, a match created by the sick mind of McMahon intended to showcase his new monster to the fullest capacity. Tensions are running high between Van Dam and 'The Game', especially after the two gruelling matches the pair had between them within the space of 48 hours last week. The main beneficiary of this situation appears to be Michaels, the WWE Champion revealing in the way Van Dam and Triple H appear to be on the edge of tearing each other apart. It could all fall apart tonight on Raw, as with Van Dam and Triple H set to team with each other, all hell could break loose, especially with someone as dominant as Lashley stood across from them.

Last week, Ric Flair vowed to go to Smackdown and confront Mr. Kennedy, the man so long a thorn in the side of 'The Nature Boy'. On Friday night, Flair did just that, challenging Kennedy to a match at Wrestlemania and in the process coming into a physical altercation with Kennedy. Flair was then inserted into the main event of the show for a match against the man who will challenge Flair's longtime friend Batista at Wrestlemania, 'The Rated-R Superstar' Edge. Turning back the years, Flair delivered a vintage performance, and was within a whisker of making Edge tap out until Kennedy stormed the ring. After gaining the upperhand over Kennedy, Flair will no doubt be in a buoyant mood tonight during Raw.

Of the four Money in the Bank Qualifiers thus far, only Randy Orton is a representative of the red brand after his victory over Carlito last week. Tonight, the next three Raw participants will be determined in a trio of qualifying matches. After their confrontation last week, CM Punk and Nick Dinsmore will be looking to get past both Chris Masters and Johnny Nitro respectively, will no doubt Orton will have a keen eye on things as Jeff Hardy takes on Mike Knox. With Orton still harbouring a grudge against Hardy for costing him the chance to advance in the Number One Contender's Tournament, and of course given the actions of Orton's protégé Kenny Dykstra towards Hardy recently, it would surprise no one to see Orton and Dykstra involve themselves in Hardy's affairs.

And finally, the World Tag Team Champions Charlie Haas and Shelton Benjamin will no doubt be continuing their search for a challenge ahead of Wrestlemania, Mickie James will take part in an interview regarding her past with Beth Phoenix, and newcomers The Hart Legacy will once again be in action as they take on Lance Cade and Trevor Murdoch. All this and much more on another jam packed episode of Monday Night Raw!

Confirmed Matches:

Shawn Michaels and Bobby Lashley vs. Triple H and Rob Van Dam

Money in the Bank Qualifying Matches:

CM Punk vs. Chris Masters
Nick Dinsmore vs. Johnny Nitro
Jeff Hardy vs. Mike Knox

The Hart Legacy vs. The Redneck Wrecking Crew

Plus!!

John Cena will be in attendance, we'll hear from Ric Flair, The World's Greatest Tag Team and Mickie James!




---
World Wrestling Federation: The Montreal Fallout
New BTB. Check it out, eh?
Re: The BTB Advertisement Thread
---
---------------------------------------------------------------------------------------------


The Red Hot Event Of The Summer

Final Card For Bash At The Beach
July, 8th, 2001
Ocean Center - Daytona Beach, Florida
Official Predictions Contest

WCW World Heavyweight Championship
Booker T © vs. Scott Steiner vs. Diamond Dallas Page

WCW Tag Team Championships
Chuck Palumbo & Sean O'Haire © vs. The Filthy Animals

Grudge Match
Ric Flair vs. Jeff Jarrett

WCW Cruiserweight Championship
Sugar Shane Helms © vs. Shannon Moore

WCW United States Heavyweight Championship
Lance Storm vs. Curt Hennig

No Count Outs
Lex Luger vs. Buff Bagwell

Card Subject To Change

------------------------------------------------------------------------------------------

Prediction Template

1. Predict the match order & winners 1-6 (6 being the Main Event, 1 being the Opening Bout)
2. Which match will have the longest time?
3. Which match will have the shortest time?
4. Who will be pinned or forced to submit in the WCW World Heavyweight Championship match?
5. Will Lex Luger vs. Buff Bagwell actually get officially started?
6. How many championships will change hands? (Not including the WCW United States Heavyweight Championship Match)
7. Will anyone return/debut at Bash At The Beach, if yes, who?


Predictions are welcomed.
Posting Rules

You may not post new threads

You may not post replies

You may not post attachments

You may not edit your posts

---

HTML code is Off

---