Re: The BTB Advertisement Thread
---
Quote:
Thursday Night Smackdown Preview – May 13th, 2004

Paul Heyman's Coalition (TKOW term) has been dominant in the weeks leading towards Judgment Day, but last week, things turned around for the wrestlers supposedly fighting the good fight. The WWE Champion Eddie Guerrero, the WWE United States Champion John Cena, 'The Phenom' The Undertaker and Edge were able to defeat Brock Lesnar, Kurt Angle, The Big Show and Rhyno. That put all four of the beloved wrestler's one up on their opponents for Judgment Day. With this being the final edition of Smackdown before Judgment Day, and being just down the road from Las Vegas, it has to be wondered what type of gamble Heyman will take when the Smackdown wrestlers head to the Lawlor Events Center.

One thing we know for certain, Paul Heyman has given his two main men, Brock Lesnar and Kurt Angle the night off. With this being said, in an act that seems almost to fair to be true, Heyman has also given their Judgment Day opponents, the WWE Champion Eddie Guerrero and The Undertaker a night off. It almost seems a little to good to be true, although could Heyman just be trying to protect his two WrestleMania worthy main events? Either way, Paul Heyman has promised that all four men will feature on Smackdown, but nobody has any idea how.

The main event of the evening will feature the other four men from last week's eight man tag team match. The WWE United States Champion John Cena will team with Edge to take on The Big Show and Rhyno. With Cena and Show going at it for the US Title on Sunday, and Edge and Rhyno doing the same, this tag match could very well be a preview to what we will see at Judgment Day.

The WWE Tag Team Championship match at Judgment Day which pits the champions, Scotty Too Hotty and Rikishi, defending against the challengers, The World's Greatest Tag Team has been on the horizons for awhile now. Charlie Haas and Shelton Benjamin have been on the prowl for gold for about a month now, and at almost every turn, they have had the upper hand. With the title match looming so close, both teams have one final chance to gain momentum, when Scotty Too Hotty goes one on one with Shelton Benjamin.

The WWE Cruiserweight Title scene has been absolutely phenomenal as of late. The Champion, Chavo Guerrero continues to cling onto his title, despite the fact that in most of his matches he's been severely beaten as of late. Chavo was struggling enough, working around the challenges of a man, who some still consider the rightful champion in Rey Mysterio. Life has only gotten more complicated for Chavo since then, with two more challengers rising in Billy Kidman and Jamie Noble. After Guerrero and Noble failed to take out Mysterio and Kidman in tag team action last week, they've decided to take out each other, as they will go at it tonight on Smackdown.

Rey Mysterio and Billy Kidman will also be in action; however they will be in six man tag team action. Last week, The Full Blooded Italians came to the ring and ran down certain wrestlers, with Nunzio saying something that garnered the attention of young, upstart Paul London. London decided to come to the ring and let The FBI know what he thought of them, but this lead him to a three on one beat down. Tonight, it will be three on three, as London's mentor Billy Kidman and Rey Mysterio will team up with him to exact revenge on The FBI.

Last week the A Train brutally attacked Billy Gunn, forcing him to have to get stitches. This week, the A Train will look to continue proving he is worthy to his boss, when he goes one on one with Hardcore Holly. Holly will be looking for a win ahead of his Judgment Day showdown with the recently revitalized Sean O'Haire. Speaking of O'Haire, with his match with Holly so close, he must be considered some sort of wildcard, despite not being a part of the match.

Tune in to see all this, and heaps more on Thursday Night Smackdown!

Confirmed Matches
Edge and John Cena vs. The Big Show and Rhyno

Chavo Guerrero vs. Jamie Noble

Scotty Too Hotty w/Rikishi vs. Shelton Benjamin w/Charlie Haas

SIX MAN TAG TEAM MATCH
Billy Kidman, Paul London and Rey Mysterio vs. The Full Blooded Italians

A Train vs. Hardcore Holly
Final Smackdown before Judgment Day has been posted! Link in sig!!!
---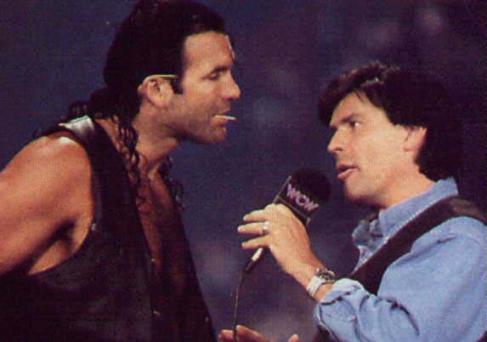 Re: The BTB Advertisement Thread
---
http://www.wrestlingforum.com/booker...emania-xx.html
Quote:
WWE Raw Preview, March 22, 2004
Tonight Raw comes to you from Detroit Michigan and tonight's main event is one of the biggest in Raw history. Last week it was announced that tonight's main event would be of epic proportions as Evolution will take on Shawn Michaels, Chris Benoit, Mick Foley and The Rock in an 8 man tag team match. Will HHH get back to winning ways tonight? Will Benoit make HHH tap out again? Is Orton going to get one over Mick Foley again?
Also tonight Trish Stratus is the special guest on the highlight reel and Trish will tell Jericho face to face why she broke his heart at WrestleMania. Eric Bischoff has barred Christian from making an appearance on the Highlight Reel and if he gets involved then he would be fined and suspended. As for Jericho if he lays a hand on Trish he would get fined and suspended. How will Jericho react tonight?
Last week The World's Greatest Tag Team made a very impressive start on their first night on Raw. Tonight we will find out who their opponents will be at Backlash as The Dudleys meet La Resistance in a number one contenders match.
What other developments will take place tonight on Raw. To find out tune in to Monday Night Raw.
Confirmed Matches
8 Man Tag Team Match: Evolution vs Shawn Michaels, Chris Benoit, Mick Foley and The Rock
#1 contenders Match: The Dudleys vs La Resistance
#1 Contenders Match: Lita vs Jazz vs Molly
+ much more
---
WWE 2004: The Road to WrestleMania 21
Click here to read
Re: The BTB Advertisement Thread
---
Coming soon...
Re: The BTB Advertisement Thread
---
Quote:
Friday Night Smackdown (July 1, 2011)
OFFICIAL PREVIEW
Triple Title Turmoil

Last week's Smackdown concluded with the contract signing between World Heavyweight Champion Christian and #1 Contender Cody Rhodes for a title match at Money In The Bank. However, Randy Orton ran out and attacked both men before the dotted line could be signed and the night ended with Orton powerbombing Rhodes through a table. Tonight, "The Viper" Randy Orton opens the show and with Christian and Cody Rhodes no doubt set to be watching, anything could happen. How will all this drama surrounding The World Heavyweight Championship unfold?

Justin Time To Compete

Last week, Justin Gabriel defeated Heath Slater to become the #1 Contender to Ezekiel Jackson's Intercontinental Champion, set to face him in two weeks time on the Smackdown Supershow, officially disbanding The Corre in the process. This week Gabriel will be in action against Yoshi Tatsu and will also address the champ for the first time. Dirt sheets also report that Gabriel may even have a new associate to come down to the ring with him tonight, but so far no news on this is confirmed.

Double The Stakes

In an epic tag team match announced last week, Sin Cara and Daniel Bryan will take on Chavo Guerrero and Brodus Clay, where both of the winner's will qualify for the Smackdown Money In The Bank Ladder Match at the PPV. Cara and Bryan have formed an unlikely alliance in recent weeks and they saved Derrick Bateman and Trent Barreta from an attack from Brodus and Chavo last week, which spurred this match. Barreta and Bateman still have unfinished business with Chavo and Clay however, and it remains to be seen if they will be involved in the tag team match tonight.

The Prince Of Punjab

There will also be one more man qualifying for Money In The Bank tonight, as Shelton Benjamin takes on The Great Khali to qualify for the ladder match. Last week, Shelton defeated Jinder Mahal and after the match, Khali came out presumably to attack Mahal but "The Punjabi Giant" seemingly made an alliance with his Indian counterpart and the duo beat down Shelton after the match. Mahal will no doubt be with Ranjin Singh at ringside tonight as they support the monstrous Khali in his match against "The Gold Standard."

Divas Do Battle

In diva news, Michelle McCool will take on Beth Phoenix tonight. These two divas were involved in the battle royale last week featuring all of Smackdown's new divas and were two of the four vixens to qualify to compete for the vacated Divas Championship in two weeks time at the Smackdown Supershow, along with Melina and Roxxi. No doubt the two divas not competing will be watching the match tonight and scouting their competition before the big fatal four way to crown a new champion.

All this and more, tonight, on Friday Night Smackdown!

Show is now posted! Feedback is appreciated, as always!
Re: The BTB Advertisement Thread
---
Judgment Day Prediction Template

WWE Judgment Day
Date: May 16th 2004
Location: Staples Center; Los Angeles, California
Theme: "I Am Evil" by Jim Johnston

WWE Championship Match:
Eddie Guerrero defends against Brock Lesnar

Kurt Angle vs. The Undertaker

WWE United States Championship;
Tables Match:
John Cena defends against The Big Show

Edge vs. Rhyno

WWE Tag Team Championship Match:
Rikishi and Scotty Too Hotty defend against World's Greatest Tag Team

WWE Cruiserweight Championship;
Fatal Four Way Match:
Chavo Guerrero (c) vs. Billy Kidman vs. Jamie Noble vs. Rey Mysterio

Hardcore Holly vs. Sean O'Haire

Wildcard Questions

1. Which match will be chosen to open the PPV?

2. Will there be any dirty finishes. And if yes, which matches will they be in?

3. How many title changes will take place?

4. What will be the longest match of the night?

5. What will be the shortest match of the night?

All predictions now welcome.



Yeah, get your predictions in now people!!!
---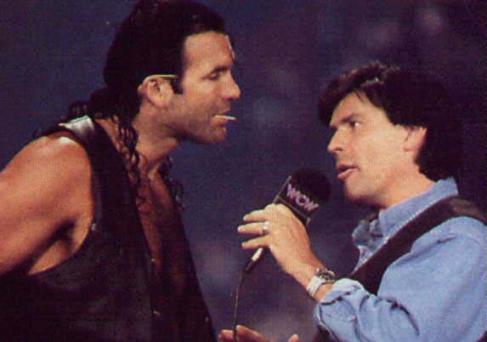 Re: The BTB Advertisement Thread
---
Chapter 2 - Laying Down The Law

We pick things up as a meeting at AOL Time Warner headquarters is taking place. This meeting is to outline the future of the network and what programming should be in a certain time slot. Eventually, the topic of World Championship Wrestling comes up but, before any time slot is discussed for WCW, a meeting must be called to determine if the organization can be saved from the deep black hole it is currently in. Executives are more than aware that WCW is in deep trouble and needs a heck of a lot of help getting out of said hole. The Senior-Vice President of AOL Time Warner along with Ted Turner have a conversation about World Championship Wrestling which lasts roughly forty minutes or so. Ted Turner is adamant to keep World Championship Wrestling's Nitro product on Television because at one time it was TNT's highest rated show. Eventually it is agreed that WCW will remain on TNT but an allocated time slot and more information has to be laid out before they even think about going ahead with the plan. The SVP asks Ted Turner if he knows of any way that they can somehow reduce the financial state that WCW is currently in, Ted replies with a simple 'I don't know, but I know one man who can' and from here, Ted Turner phones up the one man who pretty much made WCW what it was...

To read more, click the link in my signature for my Be The Booker where you can read Chapter 1 & Chapter 2 in full.
Re: The BTB Advertisement Thread
---
*****

~WWE.COM ANNOUNCEMENT~

Due to the controversial nature of the finish of the Final Match in the Number One Contenders Tournament between Triple H and Rob Van Dam, and the altercation between the two backstage after the show, the WWE Board of Directors have moved to eliminate any controversy regarding the WWE Championship Match at Wrestlemania XXIII.

Therefore, tonight on Monday Night Raw, the WWE Board of Directors have decided that Triple H and Rob Van Dam shall meet in a rematch, where all outside interference from contracted WWE employees is banned! This match will be Van Dam's last opportunity at inserting himself into the WWE Championship, as if Van Dam is victorious, the WWE Championship will be contested at Wrestlemania XXIII under triple threat rules. However, if Triple H is victorious, the match shall remain Shawn Michaels against Triple H in a one-on-one contest for the richest prize in sports entertainment.

Any contracted employee found to be interfering in the match shall be subjected to an immediate 30 day suspension, giving them no chance whatsoever of appearing at Wrestlemania XXIII.


*****

~Monday Night Raw~
March 5th, 2007
Topeka, Kansas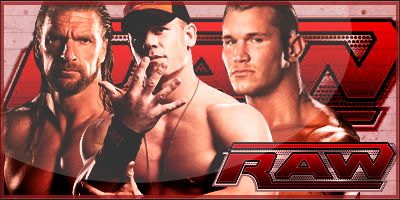 Just 24 hours removed from one of the most controversial nights in WWE history, Monday Night Raw emanates from Topeka, Kansas with 'The Evil Genius' Mr. McMahon no doubt feeling on top of the world.

Saturday Night's Main Event came to a shocking conclusion as during the main event of the broadcast, a Steel Cage Handicap Match between John Cena and Mr. and Shane McMahon, Bobby Lashley ripped through the canvas and attacked Cena with such venom and hatred, practically handing victory to Vince and Shane. Lashley then proceeded to further inflict injury on Cena, with the lasting image of the night that of Vince, Shane and Lashley arm in arm, celebrating their destruction of Cena. And it appears the celebrations are set to carry over into this evening, as Mr. McMahon has announced that live tonight, he, Shane and Bobby will be holding a victory celebration in the ring. What the celebration holds is anybody's guess, but you can be sure John Cena will have something to say about it.

As for the WWE Championship situation, we all assumed the match had been set. Shawn Michaels and Triple H, two storied rivals, set to meet for the richest prize in sport's entertainment. However, the route to that match was paved in controversy. It was Rob Van Dam and Triple H who battled it out at Saturday Night's Main Event for the chance to face Michaels, only the WWE Champion himself to make his presence felt at ringside. A spat between 'The Game' and 'The Heartbreak Kid' led to Michaels entering the ring, looking to take Triple H's head off... but instead he nailed Van Dam! Naturally, and not without a tinge of reluctance, 'The Game' took advantage to book his Wrestlemania spot. However, the WWE Board of Directors have moved quickly to eliminate and chance of controversy, ordering a rematch between the two take place tonight, will all outside interference banned. Van Dam has one last chance, but after accusing 'The Game' of taking the easy way out, Triple H will be in no mood to simply let 'RVD' walk into the WWE Championship Match at Wrestlemania XXIII.

Having returned to Raw last week during the Randy Orton and Rob Van Dam match to attack Kenny Dykstra, Jeff Hardy is scheduled for his first match in over six weeks as he and Dykstra clash in non-title action. Hardy's chance at regaining his Intercontinental Championship from Dykstra has long gone, but tonight is all about revenge for Jeff. Orton will also be in action, as he competes in the first Raw Money in the Bank Ladder Match Qualifier against Carlito, but could his mind perhaps be on Jeff, after it was the distraction of Hardy and Dykstra brawling at ringside that ultimately cost Orton last week?

Speaking of Carlito, it seems like his partnership with Ric Flair is at and end after Mr. Kennedy cost the pair the World Tag Team Championships at Saturday Night's Main Event. Flair and 'Lito parted on good terms, and 'Lito tonight has another chance to go to Wrestlemania as he faces Orton. Flair however has requested a segment of the show to address the actions of Mr. Kennedy, a request that has been granted. Will Carlito make it past Orton and start to climb the ladder to success? And what will Flair have to say as he speaks for the first time as a former tag team champion?

Speaking of the tag team champions, the new World Tag Team Champions Shelton Benjamin and Charlie Haas have also indicated that they have something they wish to say, The Hart Legacy make their debuts tonight, we'll hear from CM Punk after he finally set Kelly Kelly free from the clutches of Mike Knox, while Beth Phoenix is in action again, this time against Maria.

It's a stacked episode of Raw, one you won't want to miss as Wrestlemania XXIII is now officially in our sights!

Confirmed Matches:

Triple H vs. Rob Van Dam

Non Title Match : Kenny Dykstra vs. Jeff Hardy
Money in the Bank Qualifying Match: Randy Orton vs. Super Crazy

Beth Phoenix vs. Maria
The Hart Legacy make their WWE debuts!!

Plus, Mr. McMahon will celebrate his victory over John Cena at Saturday Night's Main Event!!


*****

---
World Wrestling Federation: The Montreal Fallout
New BTB. Check it out, eh?
Re: The BTB Advertisement Thread
---
Raw Preview
April 13, 2009
Los Angeles, California

'Lucky 13'

There are just 13 days to go until the first Pay Per View event following Wrestlemania, Backlash. With the card starting to take shape, it is sure that at least one more match will be announced this Monday Night on Raw.

Champion vs Legend

Raw's Main Event is going to be the World Heavyweight Champion, John Cena, going one on one with Chris Jericho, in a non-title match up. Last week, Cena defeated Gregory Helms, but was attacked by his Backlash opponent, Edge, in the locker room. Cena will know that he has to look out for The Rated R Superstar again this week. Meanwhile, Chris Jericho was involved in an altercation with CM Punk last week, which led General Manager JBL to arrange a match between the two for Backlash. Not only will Jericho be competing in the main event, but he will also host The Highlight Reel, with CM Punk being the special guest on the show.

Feeling the Backlash a Little Early?

Randy Orton is an angry man, which does not bode well for anyone, especially his Legacy brethren, Cody Rhodes and Ted DiBiase Jr. Legacy failed to win their match last Monday, and also failed to keep Kofi Kingston from helping Rey Mysterio at the end of last week's Raw broadcast. DiBiase only made Legacy's week worse on Smackdown, where he took Triple H's bait and got a Pedigree for his troubles. Orton is scheduled to open the show, and he will no doubt address his Backlash opponent, WWE Champion Triple H as well as his Legacy. Orton will also be in action.

The Hot Head and the High Flyer

Last week, both Gregory Helms and Evan Bourne lost their matches to John Cena and Mike Knox, respectively. They then both argued in the General Manager's office later in the night, and JBL arranged a match between the two of them for this week. As an extra incentive, the winner will become number one contender to Rey Mysterio's Intercontinental Championship, and face him at Backlash. It is no secret that JBL will want the winner of tonight's match to also be victorious at Backlash, as it was JBL himself that Mysterio defeated at Wrestlemania for the title, and hell itself will freeze over before JBL will let this one go.

The Robbin' Hoodz

The Miz cheated his way to victory over Cryme Tyme's JTG last week on Raw, and in retaliation, JTG and his Cryme Tyme partner, Shad, stole the World Tag Team Championship title belts from champions The Miz & John Morrison's locker room. The champions will be looking for justice to be served, as they will be looking to get the physical possession of the championships back.

Breaking Down Fort Knox

Mike Knox upset Evan Bourne last week in a dominant showing, and he then later expressed that he could beat any man, no matter what size. Kane stepped up to the plate, so the two behemoths will collide tonight.

Confirmed

John Cena vs Chris Jericho
Kane vs Mike Knox
Chris Jericho presents The Highlight Reel with Special Guest CM Punk
Evan Bourne vs Gregory Helms
Randy Orton will be in action




Link is in the sig, yo
Re: The BTB Advertisement Thread
---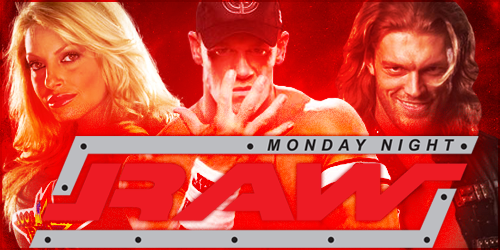 Monday Night Raw Preview
06/27/05 – Anaheim, CA

Only twenty-fours removed from Vengeance, Monday Night Raw rolls right into the blistering hot city of Anaheim. But what toll will the effects of Vengeance have on the superstars of Raw, and what effect will it have on the fast-approaching SummerSlam?

In an epic match inside Hell in a Cell, Batista once again reigned victorious over Triple H to retain his World Heavyweight Championship. Although the status of both men is unknown at this time, one can only imagine what kind of physical toll the match has taken on their bodies, and with that in mind, the kind of condition they'll be in tonight. Another certainty is what's to come in the future for both men. After losing to Batista for the third time since WrestleMania, what's next in the career of Triple H? And after potentially ending his rivalry with The Game, who will be next in line to face The Animal and try and capture his coveted World Championship?

Since arriving on Raw a few weeks ago as part of the Draft Lottery, John Cena has been targeted by a number of superstars. Surprisingly, however, he's also been targeted by Raw's General Manager, Eric Bischoff, who has taken a disliking for Cena and seems determined to end Cena's reign as WWE Champion. Thus, Cena was forced to defend his title in a Triple Threat Match at Vengeance against two of Raw's finest, Christian and Chris Jericho. Despite the odds being stacked against him, though, Cena prevailed and will head into Anaheim as still the WWE Champion, something that surely isn't setting well with Eric Bischoff. Will the General Manager of Raw have another plan concocted, and if so, will Cena's title reign be in similar jeopardy to what it was last night?

Last night, in an epic showdown, Shawn Michaels emerged victorious over Kurt Angle, evening their series at 1-1 in a rivalry that began all the way back at the Royal Rumble when Michaels eliminated Angle from the Rumble, prompting Angle to retaliate by re-entering the ring to eliminate Michaels. Since then, the two have feuded intensely, which also included Angle defeating Michaels at WrestleMania 21 by forcing him to tap out to his patented Ankle Lock. No word has been given on what's in store for these two men tonight on Raw, but word has it that Kurt Angle suffering a loss on Pay-Per-View hasn't been dealt with in a calm manner by the Olympic Gold Medalist, and what he may do out of anger and rage over losing remains to be seen.

The love triangle, if you can call it that, between Edge, Kane, and Lita has been nothing short of unique to say the least. It all boiled over last night when Edge and Kane met in the ring. Despite a solid effort from Edge to topple the Big Red Machine, Kane came away with the win while looking more powerful and monstrous than ever before. Tonight, Kane will go one-on-one with Ric Flair, who, like the former member of Evolution, Batista and Randy Orton, seems to be growing tired of his allegiances with Triple H, and may use this as an opportunity to step out of The Game's shadow and work his way back into the title hunt. In a match pitting the Big Red Machine versus the Nature Boy, who will prevail: size or experience?

Victoria continued to live up to her title as 'The Vicious Vixen' at Vengeance as she defeated Christy Hemme in a rather timely fashion, though one can speculate that Christy was still recovering from when Victoria smashed a glass bottle over her head only six days prior to their meeting in the ring. Tonight, these two diva's will clash in a rematch, and while Victoria looks to get rid of Christy, Christy looks for vengeance after what transpired at Vengeance; ironic. Which diva will be victorious and prove their dominance over the other?

As well, Shelton Benjamin will be in action after going through possibly the worst week of his life. First, he lost his Intercontinental Championship to Carlito in what was the Caribbean superstar's first night on Raw. Then, he came up short in their rematch at Vengeance. Tonight, Shelton will have an opportunity to get back on track as he goes one-on-one with Maven. Will Shelton get back on his feet, or will Maven only add to the youngster's problems?

Also, appearances will be made by the Intercontinental Champion Carlito, the World Tag Team Champions Rosey and The Hurricane, and Chris Masters, who will be hosting his Masterlock Challenge to anyone who wishes to try and be the first to break his devastating hold.

Lastly, although the Draft Lottery concludes this week, it's not finished yet, which means Raw could still acquire some new superstars tonight.

Tune in to Spike TV tonight at 9/8 CT to answer all of these questions and more!
Finally Out of Cutey Sleep
Join Date: Jul 2006
Location: The Fountain of Dreams
Posts: 2,020
Points: 9
Re: The BTB Advertisement Thread
---
Quote:


9.5.07

The Hammerstein Ballroom – Manhattan, New York City, New York
"Reinforcements of the Army"

Paul Heyman has announced that he has huge news! In an aohdubya.com exclusive statement, Heyman proclaimed that he'll be addressing the entire AOW fan base, as well as the entire AOW Roster with the biggest news the company has seen. He has claimed it will change the face of AOW forever. What could this news possibly be?

Last week, Chris Jericho challenged Paul Heyman and his 'power'. Rob Van Dam earned his shot to challenge Chris Jericho for his 'power'. And just to mess with Jericho's power, Heyman flexed his and made the special referee for that match the man who kicked the teeth of the "Worthy Man" down his throat!! Headlining the third edition of Wednesday Night Oblivion, Chris Jericho defends his AOW World Championship for the first time against the Crown Jewel of ECW himself, Rob Van Dam, with the man in charge of the three-count being good ol'Haitch - Bee - Kay himself, Shawn Michaels!

Samoa Joe wants Finlay, but instead, he'll get Ken Doane. With the "hottest prospect in AOW" granted his debut match, will Kenny be able to walk away with a win from a man as dangerous as Samoa Joe? Will Doane live past his debut match with the potential anger Joe has?

Get ready for potentially the biggest edition of AOW Oblivion thus far in company history. All this, and we've also been promised the debut of yet another member of ever growing AOW ranks. The most dynamic wrestling program this side of Jupiter comes to you Wednesday at 9/8c, only of FX!

.:Confirmed for Oblivion:.

~AOW WORLD CHAMPIONSHIP~
Special Guest Referee: Shawn Michaels
Chris Jericho(c) v. Rob Van Dam

Ken Doane debuts v. Samoa Joe

Plus...

Paul Heyman drops a groundbreaking bombshell

Show posted. Follow the quote link or link underneath Kirby.
---
CUTENESS˛
AOW: Art of War Wrestling - The Greatest Affair
It's Baaaaack...
.:Oblivion Edition 39/40 Recap NOW POSTED!!:.
Posting Rules

You may not post new threads

You may not post replies

You may not post attachments

You may not edit your posts

---

HTML code is Off

---