Re: The BTB Advertisement Thread
---
Just started up my new BTB i've had some goes at this stuff before and feel im ready to give it another good crack. hopefully its something that you haven't seen happen before. i am very open to criticism and support and i will provide others with the time that they provide me.
http://www.wrestlingforum.com/booker...-new-dawn.html
Re: The BTB Advertisement Thread
---
a revolution is upon us
---
---
Last edited by Flux; 07-25-2013 at

02:15 PM

.
Learning to break kayfabe
Join Date: Jul 2012
Location: Liverpool, England
Posts: 111
Points: 0
Re: The BTB Advertisement Thread
---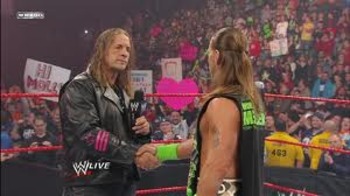 BRET SCREWED BRET
Fucking burying the hatchet...
Re: The BTB Advertisement Thread
---
Monday Night Raw – Preview!
Monday 9th March 2009
Live from the Quicken Loans Arena
Cleveland, Ohio



It's now just three weeks until the 25th anniversary of Wrestlemania, and tonight Raw comes to you live from Cleveland, Ohio as the Road to Wrestlemania continues.

One person no one expected to see at Wrestlemania will be in Cleveland tonight. We understand that 'The People's Champion' The Rock will be the guest on The Cutting Edge, hosted of course by his The Rock's Wrestlemania opponent, Edge. It's not been confirmed yet but with harsh words said by both and The Rated-R Superstar's criticism of The Rock while he's been away promoting his new film, we could see fireworks if these two are in the same ring together.

After an attack on the WWE Champion, Shawn Michaels last week by Cody Rhodes & Joe Hennig, we were left wondering whether the man who will challenge The Heartbreak Kid at Wrestlemania, Triple H was behind it. He denied it moments after the attack but it didn't convince the victim. Surely HBK will be looking for answers tonight. Was The King of Kings behind it?

Tension appeared to grow last Monday night between John Cena & The Undertaker with Cena responding to Taker's mind games the week before. Cena appeared to question the legitimacy of the streak, suggesting he's achieved more in having & won big matches at Wrestlemania than The Undertaker. This week Cena will be speaking to 'JR' Jim Ross to discuss the challenge he faces in ending the incredible 16-0 record held by his Wrestlemania opponent. Will tensions between them grow even more?

We will also see a further Money in the Bank qualifying match between Zack Ryder & 'The All-American American' Jack Swagger. Ryder caused an upset a few weeks ago by defeating The Miz, but he'll be up against a very focused Swagger. Since coming to Raw he's been on a mission to prove himself, and his aggression has led to getting on the wrong side of Kofi Kingston. Kofi will be in Money in the Bank at Wrestlemania and he may be close by later on tonight when Swagger looks to join him there.

Two men who qualified for Money in the Bank on Friday night were Matt Sydal & Bryan Danielson, and they will be in tag team action against two more participants in the Money in the Bank match. They'll be up against Chris Jericho and the United States Champion, Dolph Ziggler in what should be a very competitive match indeed.

Rey Mysterio will be looking to win his match with Jay Lethal tonight heading into his Intercontinental Championship match against Sheamus at Wrestlemania. It won't be easy at all for Rey with the impressive Lethal's only defeat to date coming against Kofi Kingston a few weeks back for a spot in Money in the Bank. Can Rey get that impressive victory to build some momentum with only a few weeks to go before his highly anticipated title clash with The Celtic Warrior?

There will also be a number one contender match for the World Tag Team Championships with four teams battling it out in an elimination match. J'n'J (John Morrison & Justin Gabriel), The Colon Brothers (Carlito & Eddie), Team Omega (Matt Hardy & Gregory Helms) and the two men who attacked Shawn Michaels last week, Cody Rhodes & Joe Hennig will all fight for the chance to meet The Epitome of Excellence for a shot at taking their titles. Who will leave Cleveland with that title opportunity?

Beth Phoenix & Queen Kong will compete to unify their two titles at Wrestlemania, and tonight they will meet in tag team action when The Glamazon teams up with Melina, the same diva who lost the Women's Championship to Kong. Kong's partner will be Mia Rain, the diva Beth defeated at The Great American Bash last year to become the first ever Diva's Champion. It'll be an eventful match tonight that's for sure!

We're drawing closer & closer until Wrestlemania 25 and you won't want to miss what's sure to be another explosive evening on the Road to Wrestlemania!


>Confirmed for Raw This Week!<

Money in the Bank Qualifying Match
Zack Ryder vs. Jack Swagger

Number One Contenders Elimination Match
J'n'J vs. The Colon Brothers
vs. Team Omega vs. Cody Rhodes & Joe Hennig

Plus
Matt Sydal & Bryan Danielson vs. Chris Jericho & Dolph Ziggler

Rey Mysterio vs. Jay Lethal

Beth Phoenix & Melina vs. Queen Kong & Mia Rain

The Cutting Edge with The Rock

'JR' Interviews John Cena



---
Last edited by Nige™; 07-28-2013 at

05:52 PM

.
Moron
Join Date: Feb 2005
Location: New Jersey
Posts: 9,285
Points: 4,447
Re: The BTB Advertisement Thread
---
Latest Raw is up!
Re: The BTB Advertisement Thread
---
MY ONLY EVER DECENT CRACK AT A THREAD IS BACK! SD Preview up for those who care too.


WWE Thursday Night Smackdown Preview June 3rd, 2004

All the way back in February, Eddie Guerrero shocked the world when he defeated Brock Lesnar to become the WWE Champion. Since then, there has been nothing more important for the Smackdown General Manager Paul Heyman, than dethroning Eddie of the WWE title. To this stage, Heyman has been incredibly unsuccessful. He has recruited a group titled The Coalition, featuring Rhyno, A Train and Matt Morgan, to help back the two mega stars of the group in Brock Lesnar and Kurt Angle. Despite all of these guys' best efforts, Guerrero has retained the title time and time again. Last week Heyman recruited a Coalition associate in The Big Show to try and defeat Guerrero. It looked extremely likely with Angle and Lesnar getting involved at ringside, however thanks to an appearance from The Undertaker, Guerrero was able to retain again. Whilst Eddie has remained defiant, Heyman remains just as determined, as he will announce who will get a title shot at Smackdown's next pay per view The Great American Bash tonight? All of these men will be in the arena to hear the answer to this question. Another question remains though, who else can Heyman recruit? He must have used just about all his resources, but the evil genius always tends to have something extra up his sleeve.

Another man who has drawn the attention of The Coalition since he has returned to Smackdown is Edge. Edge has been a thorn in the Coalition's side, and last week Rhyno and A Train looked to take Edge down. Just as it seemed like may have actually taken place, the WWE United States Champion John Cena came to save the day. Together, Edge and Cena cleared the ring of the heels, only for Edge to show some interest in Cena's title belt. Whether anything develops there is anybody's guess, but despite not being booked in a match, Edge will be in his home country of Canada for Smackdown. Meanwhile, as punishment for individually ruining separate Coalition attacks, The Undertaker and John Cena have been booked for action tonight.

The WWE Cruiserweight Champion Chavo Guerrero, much like his uncle, has reigned supreme since No Way Out. And surprisingly, despite having totally different mannerisms, his path has been similar to his uncle in that he has made no friends for himself since becoming champion. The arrogance of Guerrero continues to grow week by week, to the point where he is calling himself superman. This week he has promised to join the commentary team as a number one contenders spot for the Great American Bash is up for grabs. The contest will be a Fatal Four Way match between Billy Kidman, Jamie Noble, Paul London and Rey Mysterio. Noble and Guerrero have had their own issues as of late, and everybody would be looking forward to a rematch between the two sometime soon. Yet at the same time, Mysterio and Kidman seem to still be best friends, despite London's seemingly best efforts to separate the two. London has constantly claimed that Mysterio has done nothing but hold back his supposed 'best friend'. Will the result of the match further the friction between the best friends? Or is there no friction at all, as the two have insisted over the past fortnight?

The former WWE Tag Team Champions Rikishi and Scotty Too Hotty will be in action tonight against The FBI, in Johnny Stamboli and Chuck Palumbo. The Italians leader Nunzio is sure to be around as well, and things could get interesting with a win surely boosting the chances of either of these teams getting a title shot.

Tune in to see all this, plus appearances from the WWE Tag Team Champions the World's Greatest Tag Team, Sean O'Haire, The APA and much, MUCH more!
---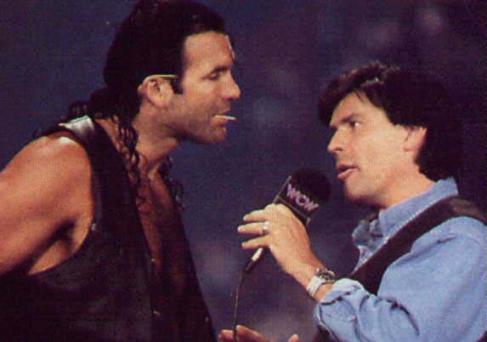 Learning to break kayfabe
Join Date: Jul 2013
Posts: 8
Points: 0
Re: The BTB Advertisement Thread
---
RAW 5 Point Preview
Quote:
John Cena defeated The Rock to win the WWE Championship at WM XXIX and earn himself redemption from last year's loss to The People's Champion. As WWE Champion, John Cena will address the WWE universe about his win and The Rock will also talk about his loss to the new WWE Champion.

CM Punk could not end the streak of The Undertaker last night and you can bet that the 'Best in the World' has something to say about it. What will CM Punk and his friend Paul Heyman say about their unsuccessful attempt to end The Deadman's impressive WrestleMania Streak?

Triple H defeated Brock Lesnar in a fight at WrestleMania and remains a member of the active roster. Has Triple H tamed the beast known as Brock Lesnar? Or will Lesnar continue destruction and find himself a new victim of pain?

The Shield defeated the team of Sheamus, Big Show and Randy Orton for their biggest win yet. It wasn't without help as Big Show turned on his team. Who will be the next victim of The Shield? And what are Sheamus and Orton's reactions to Big Show costing them the match at WrestleMania?

Alberto Del Rio retained his World Heavyweight Championship against Jack Swagger. Will Del Rio be looking for a new challenger? Or will Swagger and Zeb Colter want another shot at the World Heavyweight Championship?
---
Watch on Youtube! I do gaming videos
https://www.youtube.com/user/GamerManXYZ
Follow meh on Twitter!
https://twitter.com/TheGamermanXYZ
Re: The BTB Advertisement Thread
---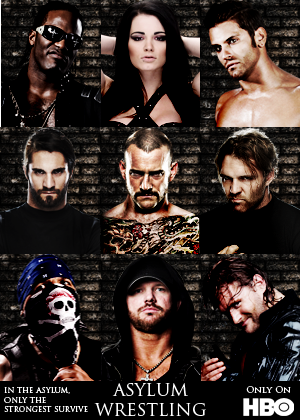 win WRESTLING IS ABOUT TO GO MEDIEVAL ON YOUR ASS


PREMIERES FALL 2013
Re: The BTB Advertisement Thread
---


THE FALLOUT FROM THE BIGGEST PARTY OF THE SUMMER
WHO PREVAILED AND WHAT IS IN STORE FOR THE WWE'S FUTURE?
IT'S COMING........... POSSIBLY
Re: The BTB Advertisement Thread
---
My first RAW has been posted - matches include
Seth Rollins vs Antonio Cesaro
Dolph Ziggler vs CM Punk
Daniel Bryan vs Rey Mysterio
Ted DiBiase vs Cody Rhodes
John Cena and Sheamus vs Big Show and Alberto Del Rio
Titus O'Neill and Darren Young vs 2 NXT Talent
AJ Lee vs Layla
Check it out and see what you think any comments will be awesome
http://www.wrestlingforum.com/booker...l#post21756089
Posting Rules

You may not post new threads

You may not post replies

You may not post attachments

You may not edit your posts

---

HTML code is Off

---