Asking JAMES ELLSWORTH for Wrestling Advice
Join Date: Feb 2011
Location: Detroit
Posts: 256
Points: 140
Re: The BTB Advertisement Thread
---
EPW'S FIRST EVER PAY PER VIEW: STILL BARELY LEGAL PREVIEW

EPW WORLD HEAVYWEIGHT TITLE
"The American Dragon" Bryan Danielson (C) VS "The Antichrist of Professional Wrestling" Jeff Hardy

Bryan Danielson is a very proud champion, and Extreme Professional Wrestling has been proud to have him as a champion, and why wouldn't we be? Danielson has put on some of the best matches in EPW's history! He is one of the best wrestlers in the world, and is possibly the most honorable champion in EPW history. But on Sunday, he will face a man who has no honor and no respect for the rules! Jeff Hardy has made a huge impact as of late and, while his victories may not have been fair, he has been racking up the wins, earning the right to headline EPW's first pay per view ever! After being savagely assaulted by Hardy this past week, though, some will have to question Danielson's condition going into this match, so The question is this; Will Jeff Hardy's cheating ways be enough to win him the EPW World Heavyweight title, or will Bryan Danielson prevail?

HARDCORE MATCH
"The Whole F'N Show" Rob Van Dam VS "The Franchise" Shane Douglas

Shane Douglas shocked the world by returning to professional wrestling on EPW's debut on HBO, sending the fans into a frenzy, but he quickly became the most hated man in Extreme Pro Wrestling when he turned on his partner that night, Rob Van Dam. "The Franchise" had good reason to be frustrated at the wrestling world, but he might have picked the wrong person to vent his frustrations on, as Rob Van Dam instantly retaliated! Since then, these men have been looking to tear each other's throats out, and they will finally get the chance to do so, AND, due to a stipulation a few weeks back, it will be in a Hardcore Match. Will Van Dam get his revenge? Will "The Franchise" prove that he is still just that- A Franchise? We will find out on Sunday, in possibly the most violent match in EPW history!

Maven Huffman VS Zach Ryder

Zach Ryder was on the fast track to the International Championship. He was undefeated for almost three months, picking up victory after victory over some of EPW's biggest names, but that came to a screeching halt after EPW's debut on HBO, when Maven Huffman beat the "Long Island Iced Z" fair and square. Thus, a frustrated Ryder assaulted Maven, putting him on the shelf for a month! Needless to say, when Maven made his return, he was pissed, and looking to get even! Which brings us to this Sunday! Will Maven get his revenge, or will Zach Ryder put himself back on the fast track to the EPW International Title?

This Sunday, it's all on the line! Every single title will be on the line. Pride will be on the line. There will be blood. There will be sweat. There will be tears. This Sunday, EPW rockets it's way to Pay Per View! This Sunday, EPW will prove that it is the best wrestling promotion in the world! This Sunday, it's STILL BARELY LEGAL!!!

RESULTS ARE NOW UP!!!! CLICK THE LINK BELOW!!!

http://www.wrestlingforum.com/booker...ml#post9981852
---

WCW 1998:The War Continues
http://www.wrestlingforum.com/booker...continues.html

https://twitter.com/BrandonBrownson
https://www.youtube.com/user/THEBrandonBrownson

The roof is NOT my son, but I will RAISE IT!
Finally Out of Cutey Sleep
Join Date: Jul 2006
Location: The Fountain of Dreams
Posts: 2,020
Points: 9
Re: The BTB Advertisement Thread
---
Quote:


8.29.07

The Hammerstein Ballroom – Manhattan, New York City, New York
"Sit on the Mountain and Watch the Tigers Fight"

Last week, we saw an AOW Original in the Lucky 13 Battle for the AOW World Heavyweight Championship. When all the dust and smoke settled, it was Chris Jericho who was forcing Shawn Michaels to tap out in the Walls of Jericho and being handed the gold strap. Now, with the egotistical Jericho's request for ring time granted, what will "The Living Legend" have to say, especially following his remarks to Paul Heyman last week? Chris Jericho makes a championship address.

And on note of the AOW World Heavyweight Championship, we now need a #1 Contender! With Shawn Michaels taking the fall last week, the other two men who did not will face each other to find out who'll be first to face Jericho. Rob Van Dam and Bobby Lashley duke it out in our Week 2 main event.

The roster continues to unfold, as this week we're promised another debuting star, and a last minute tag team match addition…? We're back to being one-hour, but it's the most explosive 60-minuteson the planet. Don't miss the second, yet explosive, episode of Wednesday Night Oblivion on FX!

.:Confirmed for Oblivion:.

#1 Contender's Match
Rob Van Dam v. Bobby Lashley

Chris Jericho's championship address

Show's posted. Follow the quote link or link in siggy.
---
CUTENESS˛
AOW: Art of War Wrestling - The Greatest Affair
It's Baaaaack...
.:Oblivion Edition 39/40 Recap NOW POSTED!!:.
Re: The BTB Advertisement Thread
---
Monday Night Raw Preview
July 8th 2002
Colorado Springs, Colorado


Raw this week is live at Colorado Springs, Colorado and as we draw ever closer to Vengeance just another week away many questions are left unanswered, many that may be answered here tonight and some more questions may be asked. With Vengeance just around the corner things are bound to get heated and personal. One story on Raw that has become personal is the Kevin Nash / Triple H / Shawn Michael's triangle. Shawn returned to Raw a fortnight ago after a four year sabbatical from the WWE, becoming Raw's new General Manager. Last week Shawn and Triple H tried to reform D-Generation X but things wouldn't go as planned when Kevin Nash decided to stick his nose into their business, he would confront the Game backstage and tell him things like 'Shawn hasn't changed', 'he is still the snake he always was' and 'what he did to Marty Jannetty and myself will happen to your soon'. Triple H and Kevin Nash would meet in the Main Event of last week's Raw show where Shawn would try and run down towards the finish and help Triple H out, going to Superkick Kevin Nash however, Nash would move out of the way and Triple H would be struck instead by the kick leaving Triple H at the end of Raw on his stomach on the mat, looking at Shawn up the entrance ramp wondering if he could really trust him or if it was an accident. This week on Raw Shawn will open the show and will address his actions to Triple H and to the rest of the world, wanting to clear things up and to make things right. How will things pan out for Shawn? What will Triple H have to say in all of this and will Kevin Nash make an appearance?

Another feud that has become heated is the one between Kurt Angle and the Undisputed Champion, the Undertaker. This feud has transcended over both brands, Raw and SmackDown where last Thursday the Undertaker laid Kurt out after a chokeslam which had him lose the United States title to Edge. Last week on Raw Kurt came through the crowd and made his presence felt by attacking the Undertaker during his match, knocking him over and having him tap out to the Ankle Lock. Kurt is going to be here on Raw this week as will the Undertaker but how will things go down? And if things get physical again who will gain the upper hand and the ever so important momentum as their PPV match draws closer.

Kane last week made his return to Raw from injury by answering the Big Show's call. Show after destroying Steven Richards claimed that there is no competition for him on Raw anymore and that no one can stand up to him. Kane will make his return to the squared circle, having his first match in months in a tag team match where he and Jeff Hardy take on Matt Hardy and the Big Show.

Speaking of the Hardy brothers, Matt Hardy and Intercontinental Champion Jeff Hardy were in a tag team match last week which they won, however the celebration was cut short when Matt Hardy struck his brother Jeff. Matt made it clear that he wanted the Intercontinental title. This week Matt will explain his actions and why he did what he did.

Also last week we were treated to a video package hyping up the debut of two promising young superstars- Charlie Haas and Shelton Benjamin. This week Jim Ross looks to conduct a sit down interview with the two and get some insight on them, when they are going to debut and what sort of impact they plan to have in the WWE upon their arrival.

****


Confirmed for Raw

****

Shawn Michael's opens the show and tries to sort things out between him and Triple H

Jim Ross interviews Charlie Haas and Shelton Benjamin about their debut

2002 King of the Ring winner, Brock Lesnar alongside Paul Heyman takes on Raven

Big Show & Matt Hardy take on Kane and Jeff Hardy in Kane's first match in months

Plus SmackDown's Kurt Angle is in the building

All this and more.
---
Re: The BTB Advertisement Thread
---
Quote:
Monday Night Raw (June 27, 2011)
OFFICIAL PREVIEW
A Winning (Straight) Edge

On last week's Raw the show ended with CM Punk defeating Rey Mysterio to earn a shot at John Cena's WWE Championship at Money In The Bank. It is understood that tonight; Punk will open the show alongside his stable, The Straight Edge Society, also containing WWE Tag Team Champions Joseph Mercury and Seth Rollins and United States Champion Mason Ryan. Punk will no doubt be addressing John Cena himself and there's no telling whether "The Champ" will be there to answer Punk tonight.

Upsets And Downfalls

Two weeks ago Zack Ryder defeated The Miz in an upset that shocked the entire WWE Universe and Miz let it be known last week in an interview on Raw that he wasn't happy about what happened at all. "The Awesome One" will have a chance to redeem himself tonight as he takes on Ryder again in a rematch, although this time the stakes will be increased. Tonight sees The Miz take on Zack Ryder, with the winner qualifying for Raw's Money In The Bank Ladder Match.

Delight Or Defeat

In the second Money In The Bank Ladder Match qualifier set for tonight, John Morrison takes on Skip Sheffield with the winner going straight to the PPV. These two men have found themselves intertwined in the rivalry between Alberto Del Rio and Jack Swagger, with Sheffield acting as a bodyguard for Del Rio and Morrison standing by Swagger's side as a friend. Tonight will no doubt see appearances by both Del Rio and Swagger as they support their allies' plights to qualify for Money In The Bank.

Manning Up To A Monster

In another big match for tonight, former Divas Champion Kelly Kelly has invoked her rematch clause against Kharma. Although Kharma defeated Kelly for the Divas Championship at Capitol Punishment, she discarded the title and both brands' general managers awarded her the Women's Championship, sending the other title to Smackdown. The question for tonight though is if Kharma can continue the dominance that she has displayed since first appearance in the WWE or can everyone's favourite diva Kelly Kelly find gold again?

All this and more, tonight, on Monday Night Raw!
Show is now up! As usual, feedback is appreciated!
c:
Wheelman for James Ellsworth
Join Date: Jan 2011
Posts: 501
Points: 0
Re: The BTB Advertisement Thread
---
WWE 2005: Raising The Bar: Judgment Day is now posted. All feedback would be much appreciated and returned.
Re: The BTB Advertisement Thread
---
Thursday Night Smackdown Preview – May 13th, 2004

Paul Heyman's Coalition (TKOW term) has been dominant in the weeks leading towards Judgment Day, but last week, things turned around for the wrestlers supposedly fighting the good fight. The WWE Champion Eddie Guerrero, the WWE United States Champion John Cena, 'The Phenom' The Undertaker and Edge were able to defeat Brock Lesnar, Kurt Angle, The Big Show and Rhyno. That put all four of the beloved wrestler's one up on their opponents for Judgment Day. With this being the final edition of Smackdown before Judgment Day, and being just down the road from Las Vegas, it has to be wondered what type of gamble Heyman will take when the Smackdown wrestlers head to the Lawlor Events Center.

One thing we know for certain, Paul Heyman has given his two main men, Brock Lesnar and Kurt Angle the night off. With this being said, in an act that seems almost to fair to be true, Heyman has also given their Judgment Day opponents, the WWE Champion Eddie Guerrero and The Undertaker a night off. It almost seems a little to good to be true, although could Heyman just be trying to protect his two WrestleMania worthy main events? Either way, Paul Heyman has promised that all four men will feature on Smackdown, but nobody has any idea how.

The main event of the evening will feature the other four men from last week's eight man tag team match. The WWE United States Champion John Cena will team with Edge to take on The Big Show and Rhyno. With Cena and Show going at it for the US Title on Sunday, and Edge and Rhyno doing the same, this tag match could very well be a preview to what we will see at Judgment Day.

The WWE Tag Team Championship match at Judgment Day which pits the champions, Scotty Too Hotty and Rikishi, defending against the challengers, The World's Greatest Tag Team has been on the horizons for awhile now. Charlie Haas and Shelton Benjamin have been on the prowl for gold for about a month now, and at almost every turn, they have had the upper hand. With the title match looming so close, both teams have one final chance to gain momentum, when Scotty Too Hotty goes one on one with Shelton Benjamin.

The WWE Cruiserweight Title scene has been absolutely phenomenal as of late. The Champion, Chavo Guerrero continues to cling onto his title, despite the fact that in most of his matches he's been severely beaten as of late. Chavo was struggling enough, working around the challenges of a man, who some still consider the rightful champion in Rey Mysterio. Life has only gotten more complicated for Chavo since then, with two more challengers rising in Billy Kidman and Jamie Noble. After Guerrero and Noble failed to take out Mysterio and Kidman in tag team action last week, they've decided to take out each other, as they will go at it tonight on Smackdown.

Rey Mysterio and Billy Kidman will also be in action; however they will be in six man tag team action. Last week, The Full Blooded Italians came to the ring and ran down certain wrestlers, with Nunzio saying something that garnered the attention of young, upstart Paul London. London decided to come to the ring and let The FBI know what he thought of them, but this lead him to a three on one beat down. Tonight, it will be three on three, as London's mentor Billy Kidman and Rey Mysterio will team up with him to exact revenge on The FBI.

Last week the A Train brutally attacked Billy Gunn, forcing him to have to get stitches. This week, the A Train will look to continue proving he is worthy to his boss, when he goes one on one with Hardcore Holly. Holly will be looking for a win ahead of his Judgment Day showdown with the recently revitalized Sean O'Haire. Speaking of O'Haire, with his match with Holly so close, he must be considered some sort of wildcard, despite not being a part of the match.

Tune in to see all this, and heaps more on Thursday Night Smackdown!

Confirmed Matches
Edge and John Cena vs. The Big Show and Rhyno

Chavo Guerrero vs. Jamie Noble

Scotty Too Hotty w/Rikishi vs. Shelton Benjamin w/Charlie Haas

SIX MAN TAG TEAM MATCH
Billy Kidman, Paul London and Rey Mysterio vs. The Full Blooded Italians

A Train vs. Hardcore Holly
---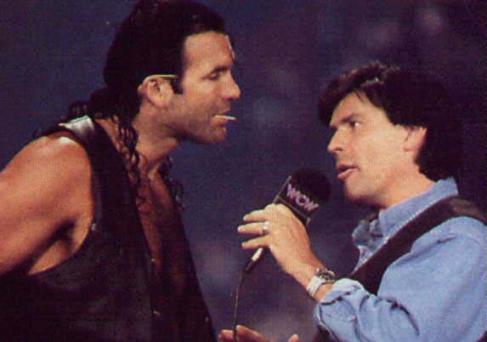 Re: The BTB Advertisement Thread
---
Quote:
Smackdown Preview, March 18, 2004




Lose some and Gain some
It is now time to see the fallout from WrestleMania on WWE SmackDown. The Smackdown brand took a major hit at WrestleMania when the Worlds Greatest Tag Team won the world tag team titles to move to Raw. If that wasn't enough, Ron Simmons was defeated by his former partner Bradshaw in a loser leaves WWE match. The biggest shocker was Brock Lesnar quitting the WWE following WrestleMania. Paul Heyman believes that if they lost some then they certainly gained better.
At WrestleMania, Edge and The Undertaker finally made their long awaited returns and you will see them back on Smackdown tonight. What can we expect from The Undertaker tonight? What will Edge have to say after being out of action for over a year? Is Kurt Angle in huge trouble?
RVD and Booker T are the newest members of the Smackdown roster as they captured the tag titles at WrestleMania. Tonight they will defend the titles against the former champions 2 Cool.
Latino Heat
WWE Champion Eddie Guerrero successfully retained the WWE Title against Kurt Angle at WrestleMania. Kurt Angle believes that he should have won the belt at WrestleMania and Eddie Guerrero shouldn't be champion. After the match Kurt was ambushed by the returning Edge. Kurt was responsible for putting Edge out of action for over a year. Tonight Kurt Angle will explain why he almost ended Edge's career. Also will Latino Heat give Angle a rematch?
Champion vs Champion
Also, for the first time after the WrestleMania extravaganza as we present all of the fallout from WrestleMania XX, the new United States Champion John Cena will meet the new Cruiserweight Champion Tajiri in action tonight in a non title match.
Embarrasment
Last week the superstars of Smackdown let Stone Cold Steve Austin attack Paul Heyman. Has Paul Heyman lost control of Smackdown? Will Heyman show up tonight?
Find out all this week on Smackdown!
Confirmed Matches
Tag Team Title Match: RVD and Booker T vs 2 Cool
Johnny Nitro vs Paul London
John Cena vs Tajiri
Smackdown results are now posted here
http://www.wrestlingforum.com/booker...emania-xx.html
Any reviews will be appreciated and returned.
---
WWE 2004: The Road to WrestleMania 21
Click here to read
Moron
Join Date: Mar 2011
Location: India
Posts: 1,388
Points: 0
Re: The BTB Advertisement Thread
---
It's Time for Slammy Awards on BTB. WWE.com has given out the nominations for the awards and the results will be announced in an awards ceremony where every current superstar will be present.
In case people have been reading earlier and have an idea of what has happened, votes are much appreciated from them
Click here
P.S. The rationale behind this is to use some of the results (hopefully) in any storyline building up to Wrestlemania.
Re: The BTB Advertisement Thread
---
WCW AND ECW ARE COMING
The act of invading;
The act of an army that invades for conquest or plunder



TO THE WWF!
---
---
Last edited by Flux; 07-21-2011 at

01:56 PM

.
Re: The BTB Advertisement Thread
---
It's back after the long hiatus WWE Evolution is back with the first Smackdown after WrestleMania 26. Check it out in the BTB section.
---

THANKS TO CHAMPVIADQ/FOURTHWALL/ABROWN0718 FOR THE BANNERS
Posting Rules

You may not post new threads

You may not post replies

You may not post attachments

You may not edit your posts

---

HTML code is Off

---