Moron
Join Date: Feb 2005
Location: New Jersey
Posts: 9,285
Points: 4,447
Re: The BTB Advertisement Thread
---
First edition of WWE News and Notes has been posted. Raw shall be up either Monday or Tuesday.
Re: The BTB Advertisement Thread
---
Quote:
On June 27, 2011, CM Punk turned the entire sports entertainment world on its head, when he promised not only to leave the WWE with its most prestigious prize, but lambasted many WWE higher-ups including: WWE Chairman Vince McMahon, Stephanie McMahon, Triple H, John Laurenitis, and of course the WWE Champion John Cena. It would be the first of many pipe-bombs that CM Punk would drop over the coming months. At Money in the Bank, in front of his hometown crowd, CM Punk defeated John Cena (albeit controversy) to win the WWE Championship and Punk held true to his word and left the WWE with the championship. Punk leaving the company resulted in the termination of the man who took the WWE to the top of the sports entertainment business, Vince McMahon. His replacement? His son-in-law, Triple H. It didn't take long for the new Chief Operating Officer to make his presence felt, giving John Cena a title shot at newly crowned interim WWE Champion Rey Mysterio, the same night he won the title. Cena was able to defeat Mysterio to win the title, however as he was celebrating, CM Punk made his returned and laid claim to being the REAL WWE Champion.

This led COO Triple H to make a WWE Championship
unification match at Summerslam between John Cena and CM Punk. Suffice to say, Triple H's new position of power did little to tame the acid-tonged Punk, who continued to verbally attack both Triple H and John Cena. Punk claimed that both men were in cahoots together. Suspicions rose even further when Triple H declared himself the special guest referee of the big title match. At Summerslam, after a very back and forth encounter, Triple H counted Punk's shoulders down to the mat for three despite the fact that Punk clearly kicked out at two. As Cena was rewarded the championship Triple H then hastily exited the ring and left the arena in a limo prepared for him by executive vice president of talent relations John Laurenitis, leaving the fans, Punk, and allegedly even Cena, shocked, angered, and confused.

Over the next few weeks, Punk would go to drastic measures to not only learn the reasons behind Triple H's actions, but to earn another shot at Cena and the WWE Championship. Punk got unusual support not only from Cena, but from, of all people, The Miz. Miz claimed that Cena was in on the controversial finish to Summerslam and had been using his "political pull" to hold back any viable threats to his championship. Triple H, meanwhile, was uncharacteristically dodgy when the motives behind his actions were questioned, choosing to often let John Laurenitis represent him. Triple H did however continually decline CM Punk a chance at a rematch with Cena. Punk took it in his own hands to guarantee that he would get the title match, including concussing then- Number One Contender Alberto Del Rio. Despite this, Triple H stood headstrong in his refusal. Then after CM Punk threatened to rip the WWE apart, who should reward Punk with his requested rematch with Cena but Stephanie McMahon. This shocked everyone, including CM Punk, as not only "The Voice of the Voiceless" called Stephanie "idiotic" in the past, but the "Billion Dollar Princess" directly undercut her husband's edict. Since the event, neither Triple H nor Stephanie have been seen or heard from, further stirring speculation.

Nonetheless, with the match set, this past Monday on Raw the WWE Board of Directors organized an uncensored in-ring confrontation between John Cena and CM Punk. To say that Punk took advantage of this opportunity would be the biggest of understatements. Punk pulled no punches in his taboo-laden verbal attack on Cena, which frankly left the champion bewildered. Punk called Cena a liar, a parasite, and a sell-out during his tirade and accused the leader of the Cenation working with Triple H to ensure that he keeps the WWE Championship. The personal attack became so brutal that the normally cool-headed Cena lost his temper and attacked CM Punk. One thing is very clear: this rivalry has reached its boiling point. Despite the fact that both men as are different from each other on the social and political spectrum as two men can be, they both have two very important similarities in common: their desire to protect the business they love from what they feel is threatening it and their desire to be the very best in the world.

This match is the story of four men who are very different, but all have the same goal: to be the World Heavyweight Champion.

For Christian, he wants to prove that he is a true World Champion. For the past few months, Christian has been whining, complaining, and doing anything he could to take back the World Heavyweight Championship he lost to Randy Orton. Finally, at Money in the Bank he was able to backdoor his way into becoming the World Heavyweight Champion. This set up a No Holds Barred rematch between Orton and Christian at Summerslam where Christian brought his former partner and friend Edge in as backup. Edge however, refused to help Christian and told him in no uncertain terms that Christian may have won the World Championship but lost everyone's respect in the process. The words obviously hurt, but it was exactly what Christian needed to hear. To the shock of many, Christian was able to defeat Randy Orton to retain the World Heavyweight Championship. Since then, Christian has turned over a new leaf and vowed to earn back the respect of not only the WWE Universe, but his fellow superstars as well. Christian is determined to keep his title to prove that not only has he earned it, but because he deserves it.

Thus far, Christian has one back the admiration of most of the fans and superstars except for one glaring exception: Randy Orton. The "Apex Predator" remains unconvinced that Christian has truly changed his stripes, and is determined to prove it. This had led to the feud between the two to reach all new levels, as both men refuse to back down to one another. Despite Orton's claims of Christian's cowardice, Christian has not fled from any challenge fallen before him. Orton and Christian had one more match to gain the upper hand before Night of Champions, this past Tuesday on Super Smackdown. Christian proved to Orton that he does have what it takes to be World Champion when he not only gave "The Viper" the match of his life, but kicked out of the RKO. This led Orton to eventually utilize a distraction from Mark Henry to finally defeat "Captain Charisma". The big story, however, is after the match, when Randy Orton simply walked away as Mark Henry brutally assaulted Christian.

One year ago at Night of Champions, Sheamus was the WWE Champion however, by the end of the night he had lost the title (ironically, to Randy Orton). Now, Sheamus is trying to rekindle the fire that propelled him to WWE breakout superstar of the year honors and two reigns as WWE Champion. Sheamus, despite being driven through the crowd barrier just 5 days earlier at Summerslam, was able to defeat Wade Barrett to qualify for the World Heavyweight Championship Scramble match. Can Sheamus regain his spot atop the sports entertainment world?

Perhaps no one is a bigger favorite in this match then the World's Strongest Man, Mark Henry. Despite the fact he is the only man in the match never to be a World Champion; Mark Henry has become the pick of the majority to win this match. Henry has been on one of the biggest rolls in WWE history since June, taking out Great Khali, Kane, and most notably Big Show. Over the past few weeks Henry has been on a rampage attacking his fellow participants in the Championship Scramble and even defeating both Sheamus and Randy Orton in singles competition. Can anybody stop the "World's Strongest Man"? Or will Mark Henry win the first World Championship in his nearly two-decade career?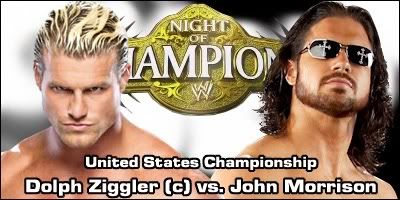 No champion in the WWE has held their title longer than Dolph Ziggler. Ziggler has held the United States Championship since June, and has thus far defeated all comers (though notably not Zack Ryder). Now Morrison is hoping to end Ziggler's reign and win his first United States Championship. Morrison comes in with quite a lot of momentum of his own. To earn this title shot, John Morrison won a mini-tournament defeating both Alex Riley and his arch-rival R-Truth (who advanced after Ziggler cost Zack Ryder his match). This past Monday on Raw, Morrison and Ryder were able to defeat Ziggler and Truth, (when Truth strangely walked out instead of facing off with Morrison) in tag team action. Can Morrison dethrone the champion or will Ziggler continue his dominant reign?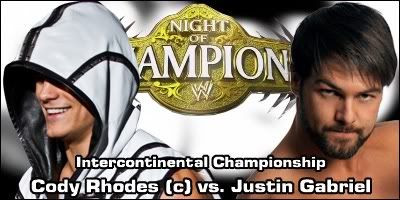 Perhaps no WWE superstar is rising through the ranks faster than Cape Town's own Justin Gabriel. After taking Randy Orton to the limit a few weeks ago, Gabriel won a fatal-4 way match to earn a WWE Intercontinental Championship match. Champion Cody Rhodes has since claimed that Gabriel would be no challenge to his title reign. When the "Cape Town Werewolf" defeated Cody's "protégé" Ted DiBiase, Rhodes attacked Gabriel from behind during a post-match interview. This past Tuesday on Super Smackdown, Gabriel was forced to face both Rhodes and DiBiase in a handicap match when Gabriel's partner Sin Cara was mysteriously taken out. Gabriel, however, continued to shock the world when he was able to roll up and pin the Intercontinental Champion. As Gabriel celebrated up the ramp, Cody Rhodes realized what most of the WWE Universe has known for some time: Justin Gabriel is the real deal.

At Summerslam, Beth Phoenix not only defeated Kelly Kelly to win the WWE Diva's Championship, but she dominated the "Blonde Bomber". Since then Beth and Natalya have declared that they are not divas but women, signifying this change by throwing the Diva's title in the trash and bringing back the WWE Women's Championship. Over the past few weeks, Beth and Natalya have taken out their frustration on a Diva they can get their hands on injuring Alicia Fox and Kelly's best friend Eve. Kelly has been granted a rematch and has guaranteed Beth that even not matter what, she will not lose this match. Kelly is not just fighting for herself, but the entire Diva's division. It won't be easy for the former champion as she walks into enemy territory in Beth's hometown of Buffalo. Can Kelly somehow win back the title or will Beth and Natalya continue to dominate the female landscape of the WWE?

Ever since losing the tag team championships to the newly formed team of Kofi Kingston and Evan Bourne, David Otunga and Michael McGuillicutty just haven't been able to get back on track. Although they've been granted a rematch for the WWE Tag Team Championship, both men's egos continue to get in the way and have thus far prevented the former Nexus members from gaining any kind of leeway over the new Tag Team Champions. After arguing for the majority of Raw this past Monday with his partner, David Otunga was given a business proposal (behind closed doors) by, of all people, John Laurenitis. Can Otunga and McGuillicutty stayed focused long enough to win back the Tag Team titles? Will Laurenitis mysterious deal with David Otunga come into play?

---------------------

Bonus Questions

1. How many (if any) championships will change hands?

2. What will the match order be?

3. Who will be pinned in the Tag Team Title match?

4. What will the entry order be for the World Heavyweight Championship Scramble?

5. How many different fall holders will there be in the Scramble match?

6. Will anybody make an unscheduled appearance (If so, who)?

Not sure what I'll give the winner yet, any suggestions would be appreciated.
POSTED
Re: The BTB Advertisement Thread
---
Hey I just posted my first Smackdown. 5 days after Payback
Here is the how the show ended!!
Quote:

Cameras go backstage where Josh Matthews is standing by.
Josh Matthews:
"Ladies and gentlemen, I am here with the man who is just moments away from wrestling for the WORLD Heavyweight Championship, DOLPH Ziggler!

Big pop for Ziggler as he walks in the picture!

Josh Matthews:
"Now, Dolph. This past Sunday you suffered a concussion, and another one just weeks before. Now you are just minutes away from your World Heavyweight Championship match, and you wanted it to be No Holds Barred. What is going through your mind?"
Dolph Ziggler:
"Josh, nothing, and I mean NOTHING, is going to stop from getting my championship back, not 1 concussion, not 2 concussions, not 3, not 10. Josh, I am the most underrated superstar on this roster. No one thinks I can be it, no one thinks I can be the World Heavyweight Champion. I go out there and put on the best match on the night every single night......"

The crowd cheers, interrupting Ziggler
.
Dolph Ziggler:
"And I don't get respect back here. I never have. I won the WORLD title, Josh, and everyone was predicting when I'd lose it. Tonight Josh, I asked for it to be No Holds Barred for a reason. Alberto Del Rio is going to get ALL of Dolph Ziggler tonight. Like I said earlier Josh, one of us is not going to walk away from this match."

Ziggler walks away from the screen with a super intense look on his face, as his theme song plays for his entrance.

*****Here to Show the World****
Cole:
"Ladies and gentlemen, it is time for our main event. Dolph Ziggler, 5 days away from a concussion, has requested this match. It will be No Holds Barred, and it is for the most coveted prize in this profession!
Dolph Ziggler comes out! He is with Big E, and AJ. The crowd pops for Ziggler. He poses at the stage. He then kisses AJ, and smacks Big E on his peck, telling them to go to the back, as he walks down the ramp, with a strut like always. We go to one final commercial break!

$$$$$Commercial Break$$$$$$$
****Alberto Del Rio Theme Song*****
Del Rio's music hits to mostly boos from the crowd. He comes out in that same limo as earlier. Ricardo is on the stage, screaming out for Del Rio. Both wrestlers get in the ring, and face off, as the announcements are made! Ziggler looks kind of in a crazy state of mind!
Match #6: Alberto Del Rio Vs Dolph Ziggler in a No Holds Barred Match for the World Heavyweight Championship!
Quote:
Match starts out very fast. The brawl is on right away. Ziggler is much more aggresive than usual. He starts charging Del Rio in the corner early on in the match, savagely attacking him with hard punches, as Del Rio tries to hold onto the ropes like a little pussy. Del Rio then goes outside for a breather but Ziggler takes the brawl to Del Rio outside. These guys brawl all around the ring, with Ziggler beating up Del Rio the whole time. Del Rio catches a break when he flapjacks Dolph Ziggler face first onto the steel steps.

The match is still very fast paced. Ziggler and Del Rio give it their all out there. At one point, Ziggler grabbed a kendo stick and went to town on Del Rio. Just a little bit later, Ziggler, standing on the apron, suplexed Del Rio, from the ring all the way outside THROUGH A TABLE!! The crowd is loving the match!

Ziggler stays in control for the next few minutes. He then sets Del Rio up on another table outside the ring, and FLIES OFF the top ropes with a CROSS BODY.......BUT DEL RIO MOVES OUT OF THE WAY!!!!!! Ziggler crashes onto the wood ribs first! Ziggler looks to be out. Del Rio throws Ziggler in the ring for a pin but Ziggler kicks out!!! Del Rio is pissed and starts bullying and toying with the hurt Ziggler. Del Rio waits for Ziggler to get up a lil and Del Rio SUPERKICKS Ziggler, right on the side of the head! Ziggler falls on his face, lifelessly, as Del Rio goes for the pin!

One.......

Two.............

TH......................NOOOO!!!!

Ziggler kicks out to a big pop from the fans! Del Rio gets frustrated, mounts Ziggler, and beats on him with hard rights! He then goes outside and grabs a chair! He comes back in and starts pounding Ziggler with it! Hard smack after hard smack across Ziggler's back with that chair!!! The fans are booing incredibly!

Michael Cole: "John, this might not be good for Ziggler here. The ref can't stop the match until Ziggler says so, and he told us earlier he'll go to the hospital before quitting to Del Rio here tonight!"

JBL: "I think Ziggler might be taking the ambulance tonight Michael! Del Rio has got this in the bag!"

Del Rio puts down the chair after several hard smacks across Ziggler's lifeless body. The fans are booing as AJ runs down the ramp, crying. She tries to talk to Ziggler but Ziggler just looks up and says "GOOOO" to AJ. The ref makes AJ leave. AJ leaves, still crying. Fans boo as Ziggler tries to crawl away from Del Rio. The ref asks Ziggler if he wants to give up the match but Ziggler pushes him aside. Del Rio is stalking Ziggler, waiting for another chair shot. Ziggler takes a long time to get up but once he is up, Del Rio WHACKS Ziggler right on the forehead with the chair!! Ziggler is out cold!!

Michael Cole: "Somebody stop this please! Stay down and fight another time Ziggler!

Del Rio covers Ziggler.

ONE!!!!!......
.........................

TWO!!!!!.....................
.............................................

THR........NOOOO!!!!!!

Ziggler kicks out!!!! Del Rio nor the crowd can believe it. Del Rio again grabs the chair, and starts pounding the mat with it, in frustration. The ref keeps asking Ziggler to surrender but Ziggler refuses. Del Rio again starts stalking Ziggler with the chair, Ziggler gets up, and Del Rio AGAIN swings with the chair but Ziggler SUPERKICKS the chair right onto Del Rio's face!!!!
Both men are now down as the crowd cheers. Del Rio is up first, Ziggler is still on his knees, getting up, when Del Rio Enzuguiris the shit out of Dolph Ziggler, and Ziggler again falls lifelessly on his face. Pin....

ONEE!!!!.........

TWOOO!!!!!...............

THR.....................NOOOOOOO!!!!!

Ziggler AGAIN kicks out!!! Del Rio is almost crying in disbelief. He is really pissed off now. He grabs Ziggler by the hair and TOSSES him outside. Ziggler takes a bad fall. Del Rio grabs the STEEL STEPS, and starts stalking Ziggler. Ziggler gets up and Del Rio hits Ziggler right between the eyes with the STEEL STEPS!!! Ziggler again is down and out. It is a good minute before the ref can get an answer out of Ziggler, whether he wants to continue or not, and Ziggler screams out "NOOOOO!!! FUCK YOU!!!!!". The fans are starting to feel bad for Ziggler.

Del Rio again throws a fit, throwing the steel steps aside, throwing down a TV monitor, and takes off the padding at ringside. He grabs Ziggler by the hair, and talks shit in his face. Ziggler tries to fight out of it, but he has no energy left. Del Rio tucks Ziggler's head into a Guillotine Choke and drops him with a DDT right on the CONCRETE!!!!! Ziggler now is completely out cold! The ref calls for the bell, as Ziggler has stopped moving completely!

Alberto Del Rio defeats Dolph Ziggler for the World Heavyweight Title

Several doctors go to help Ziggler at ringside. The crowd is at shock! A good few minutes pass by where Ziggler doesn't move. Ricardo Rodriguez comes out to celebrate with Alberto Del Rio. The 2 stand tall in the ring. The crowd boos with all of their heart. Ziggler gets put on the stretcher. AJ is out there, as well as Big E, attending to Ziggler, as well as a lot of doctors and referees. That's how the show ends!
A lot happened on this show! Check it out!
Wheelman for James Ellsworth
Join Date: Jan 2011
Posts: 501
Points: 0
Re: The BTB Advertisement Thread
---
WWE Friday Night Smackdown Preview- 23/9/05- Lubbock, Texas
For the past few weeks Kurt Angle and Randy Orton have joined forces in trying to take over Friday Night Smackdown but last week them running roughshod over the blue brand came to one hell of a halt. Teddy Long stamped his authority, some might say finally, as he dished out a huge One Hundred Thousand dollar fine to both men as well as banning both men from any unsanctioned physical contact. The major thing for Angle and Orton however is that despite the fine and despite the ban, they both now have exactly what they were gunning for, a WWE Championship match. Whilst laying down the law Teddy Long also caved in, announcing that Angle and Orton, along with The Undertaker would challenge John Cena at No Mercy in a Fatal 4 Way Elimination match. Tonight, Angle will be in action against the angry Deadman, will Randy Orton stand by the side of the Wrestling Machine or is it now every man for himself as the race to No Mercy begins?

Speaking of Teddy Long stamping his authority last week, Angle and Orton weren't the only ones on the receiving end. The WWE Champion was also punished for a devastating FU to the Smackdown GM with John Cena being suspended for one week meaning tonight in Lubbock there will be NO WWE Champion. Cena knows that if he appears tonight and breaks his suspension he will be stripped of the WWE Championship. The Champ surely won't risk his title reign just for a shot at Angle and Orton…will he?

Tonight will mark match number one in a Best of Five Series for the United States Title as Matt Hardy defends against Carlito. The Apple Spitter has claimed that Hardy beating him at Summerslam was a fluke and that ninety nine times out of a hundred, he'd beat the former Team Extreme man. Well Hardy laid his cards out on the table, issuing a Best of Five challenge which Carlito duly accepted. Will Lito prove himself tonight and steal a march or will Hardy get another 'fluke' under his belt and take the lead in this five match battle?

A huge eight man tag team match is also set for tonight as the WWE Tag Team Champions, on a bit of a downward slope of late, MNM will team with two men who've also had a bit of a turn for the worse in recent weeks, Cruiserweight Champion Gregory Helms and Chavo Guerrero. Those four will take on their respective rivals of late as Rob Van Dam, Rey Mysterio, Paul London and Brian Kendrick will join forces to build one of the best high flying teams you're likely to see! Will MNM, Helms and Chavo pull off a timely victory and boost their confidence ahead of their showdowns at No Mercy? Or will the recent upturn in fortunes continue for Van Dam, Rey, London and Kendrick?

And finally, last week saw the return of Bobby Lashley and in a big way as the 'Real Deal' took down JBL in devastating fashion, seemingly accepting the First Blood match for No Mercy. Tonight Lashley returns to action and will no doubt be looking to send a message to the Wall Street Warrior.
Confirmed for tonight's Smackdown:

Kurt Angle vs The Undertaker

WWE United States Championship:
(Best of Five Series: Match One)
Matt Hardy© vs Carlito

MNM, Gregory Helms and Chavo Guerrero vs Rob Van Dam, Rey Mysterio, Paul London and Brian Kendrick

Plus;

Bobby Lashley will be in action
Re: The BTB Advertisement Thread
---
Nxt Preview:
-The first ever live televised episode of Nxt, will it go down well?

-The Nxt champion Big E Langston will put his title on the line against the fan favourite Sami Zayn, will the underdog prevail.

-Also the newly formed team of Richie Steamboat & Octagon Samurai will adress their tag team ambitions live.

-All this and more live on the first worldwide episode of NXT!
Learning to break kayfabe
Join Date: Feb 2013
Posts: 149
Points: 0
Re: The BTB Advertisement Thread
---
The UWL Presents:

CROCKETT CUP '13!

8 Teams Vying For:

The Prestigious Crockett Cup Trophy

$2 Million Dollars

The right of the Winners to challenge for the UWL Championships of their choice

First Round Match-Ups

Bracket A
The Nasty Boys vs. The Destroyers (From Icons of Pro Wrestling)

Lord Humongous & Missing Link (UWL World Tag Team Champions) vs. Scott Hall & Adrian Adonis (The Firm)

Bracket B
The Dog Pound vs. The Anderson Brothers

Barry Windham & Brian Pillman (From the International Wrestling Alliance - IWA World Tag Team Champions) vs. Ted DiBiase & Rick Rude (The Firm)

PLUS!!!

UWL World Title Match
Roddy Piper (WC) vs. Kevin Nash (The Firm)

Who will win the most prestigious prize in all of tag team wrestling?!

Can Roddy Piper thwart the World Title aspirations of another member of The Firm?!

Find out on the Crockett Cup special edition of 'Slam!' wrestling!

Ep. 129 of 'Slam!' will be posted Tuesday or Wednesday in the 'Universal Wrestling League' thread.
Moron
Join Date: Feb 2005
Location: New Jersey
Posts: 9,285
Points: 4,447
Re: The BTB Advertisement Thread
---
My first Raw has been posted! So go like, check it out and stuff and give me feedback.. and stuff!
Learning to break kayfabe
Join Date: Feb 2013
Posts: 149
Points: 0
Re: The BTB Advertisement Thread
---
Ep. 129 of 'Slam!' wrestling - Crockett Cup edition is now posted in the 'Universal Wrestling League' thread.
Re: The BTB Advertisement Thread
---
Raw show is now up. Check out the show plus WCW shows in the link in my sig.
---
WWE 2004: The Road to WrestleMania 21
Click here to read
Re: The BTB Advertisement Thread
---
RAW is WAR Preview
May 21, 2001 | San Jose, California
Compaq Center
Less than twenty-four hours removed from last nights Judgment Day event, speculation had been buzzing in regards to the health of The Undertaker following the match against Stone Cold Steve Austin and after further examination by top World Wrestling Federation officials and medical personnel it has now been discovered and confirmed that The Undertaker suffered a severe concussion following the sledgehammer shot from Triple H at the conclusion of the match and this is expected to keep the WWF superstar sidelined until at least the King of the Ring Pay-Per-View, if not later. Stone Cold Steve Austin has be allocated the opening slot for tonight's RAW is WAR to address the events of Judgment Day and also to address what lays ahead for him and the WWF Championship.

However, Austin may have his hands filled as quick as they became empty as new number one contenders to the WWF Tag Team Championships were determined last night at Judgment Day with Chris Jericho and a surprising partner, Chris Benoit able to defeat several other teams in tag team turmoil. Will Jericho & Benoit be announcing when their match with the WWF Tag Team Champions be made on RAW is WAR tonight?

The Intercontinental Champion, Kane is slated to defend his newly won gold less than twenty-four hours after capturing it for the first time in his gruelling chain match with Triple H but, shockingly Kane is not defending the championship against Triple H, instead the WWF Commissioner has ruled that Test will be the one to face The Big Red Machine for the prestigious gold. With the Big Red Machine beat up badly, can he possibly fight off the man who is almost equal in size to him and successfully retain the Intercontinental Championship or will Kane repeat history and have his name put in the books as one of the shortest reigns in history?

The WWF owner, Vince McMahon will also be in attendance tonight for RAW is WAR - it has been announced that Mr. McMahon has an announcement to make regarding the upcoming King of the Ring tournament and said tournament is expected to be kicked off as early as tonights RAW is WAR with many WWF Superstars scrambling to earn the prestigious trophy.

Also, Olympic Gold Medallist, Kurt Angle will be in attendance tonight and will most certainly have something to say regarding his victory over Chris Benoit at last nights Judgment Day and there will be hardcore action when Rhyno defends his WWF Hardcore Championship against The Big Show.
Posting Rules

You may not post new threads

You may not post replies

You may not post attachments

You may not edit your posts

---

HTML code is Off

---