Learning to break kayfabe
Join Date: Feb 2013
Posts: 149
Points: 0
Re: The BTB Advertisement Thread
---
Ep. 125 of 'Slam!' wrestling is now posted in the 'Universal Wrestling League' thread.
Re: The BTB Advertisement Thread
---
dgeneration-nexus presents WWE: The Road To WM30 - Royal Rumble 2013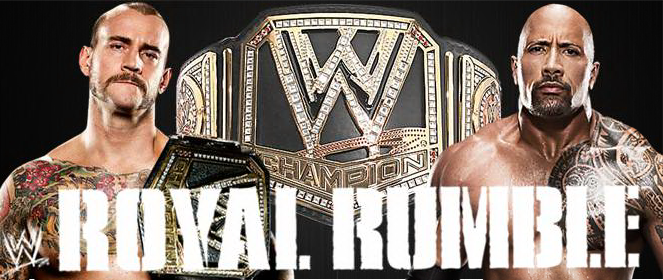 In what many are calling the most eagerly-anticipated Royal Rumble pay-per-view in recent memory, The Rock looks to end the 434 day WWE Championship reign of CM Punk. CM Punk feels disrespected that "a movie star" is challenging him for the title "he worked so hard to restore", claiming that Rock does not deserve the opportunity. For Rock, this match is the start of his road to WrestleMania, where he wants to achieve the one thing missing from his resume: successfully defend the WWE Championship at WrestleMania. After Rock told Punk he was "not afraid of his pipebombs", Punk took things to a more literal level by attacking Rock with a steel pipe. Rock returned this week, dropping Punk with a Rock Bottom and holding Punk's title high. In a match fans a dubbing "Attitude Era versus Today", will The Rock once again climb to the top of the mountain, or will CM Punk's lengthy reign continue as we begin the road to WrestleMania.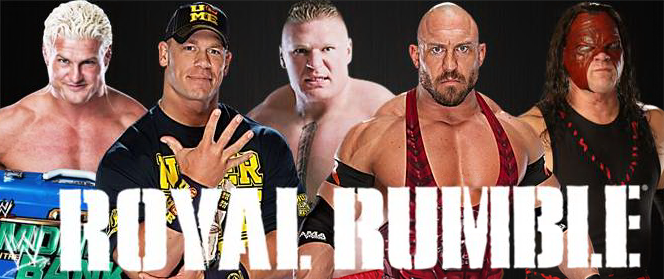 Never has the Royal Rumble match had so many meanings for it's competitors. For last years winner Sheamus it represents the opportunity to make it back-to-back Rumble match wins. For Kane it represents the opportunity to break the record number of eliminations currently held by Hall Of Famer Shawn Michaels. For Brock Lesnar, it is an opportunity to hurt 29 other men. And for John Cena, it is a glimmer of hope.

The main rivalry heading into the Rumble match this year is between Cena and Lesnar. For the entirety of 2012, John Cena has been obsessed with getting a rematch with The Rock after his famous loss at WrestleMania 28. Cena's best chance to achieve his goal was to become WWE Champion at TLC, knowing that The Rock had a title shot at the Royal Rumble. But when Cena was just fingertips away from the title, Brock Lesnar made a shock return to cost Cena the title and his dreams for redemption. Lesnar is motivated to hurt as many people as possible, especially Cena. When Cena announced he would enter the Royal Rumble in the hope that The Rock was WWE Champion come WrestleMania, Lesnar also announced he would enter to prevent that from happening. Will John Cena win the Royal Rumble match and earn a possible rematch with The Rock at WrestleMania 29? Will Sheamus make it back-to-back wins? Will Kane break HBK's record? Will Lesnar dominate? Or will a surprise return change the title scene entirely?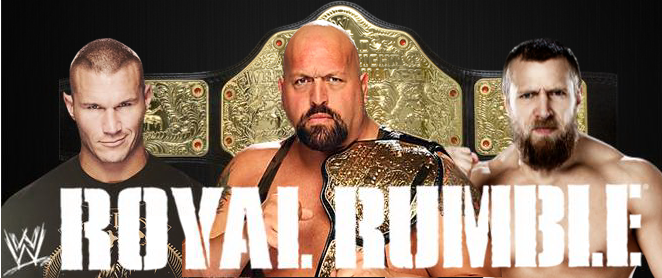 World Heavyweight Champion The Big Show has been seemingly invincible since claiming the belt back at Hell In A Cell. Fending off a string of challengers, he has found himself placed in a Triple Threat match against Randy Orton and Daniel Bryan at the Royal Rumble. Knowing he does not have to be pinned to lose his title, Big Show is convinced that SmackDown General Manager Booker T is trying to take the title from him. Making Show's task even harder is the open acknowledgment from Orton and Bryan that they will team up during the match to "slay the giant" before letting the better man win between them. But with such high stakes, will Orton and Bryan be able to work as a team to eliminate a common enemy? Will Show overcome the odds and walk out the Rumble with the title still around his waist? Will Randy Orton become a 10-time World Champion? Or will Daniel Bryan once again defy the odds to lift the gold?




Zack Ryder shocked the world when he became United States Champion last month, but the Intellectual Savior of the Masses Damien Sandow is unimpressed at who is holding the title. Already holding several wins against Ryder, Sandow was awarded a shot at the US Title at the Royal Rumble. Sandow has vowed to "end the idiocy of Zack Ryder once and for all", promising to represent the United States as "a graceful, dignified and humble champion". Sandow is aiming for his first singles title in WWE, will he be successful or will Zack Ryder pull off another shock?




Rey Mysterio took Sin Cara under his wing as his apprentice, and it wasn't long before The Luchadors used their high-flying abilities to become Tag Team Champions. An unfortunate miscommunication between the pair saw them drop the titles to the Prime Time Players, only to reclaim the titles the next week. This infuriated O'Neil and Young, who are cashing in their rematch clause at the Royal Rumble. Can the Prime Time Players shake off the shame of knowing they lost the titles in their first and only defense? Are Mysterio and Sin Cara's communication issues behind them? Who will walk the road to WrestleMania as the Tag Team Champions?




Sunday Night Heat has been resurrected to replace the pay-per-view pre-shows, and it makes it's debut tonight prior to the Rumble going on air. Chairman of the Board Vince McMahon has announced he will appear on the show to address Brock Lesnar attacking both Raw GM Jerry Lawler and SmackDown GM Booker T in the last week. What will Vince have to say, and is he safe when the Beast is on the loose?

Also on Heat, Cody Rhodes challenges Christian in a grudge match. Rhodes debuted a new feature this week called Grooming With Cody, but Christian did not take kindly to Cody's grooming lectures and Speared him! The pair face off on the debut of Sunday Night Heat.
Show to be posted soon, the episodes of Raw and SmackDown leading into this PPV can be viewed via the link in my sig.
---
The Rock | Undertaker | Triple H | Chris Jericho | Stone Cold
CM Punk | Dean Ambrose | Mark Henry | Daniel Bryan | Dolph Ziggler
Austin Aries | Jeff Hardy | AJ Styles | Bully Ray | Christopher Daniels
Re: The BTB Advertisement Thread
---
first episode of raw is up, check it out and tell me what you think as its my first BTB in a long time.
---
Re: The BTB Advertisement Thread
---
XXVI.
It's coming...
Learning to break kayfabe
Join Date: Feb 2013
Posts: 149
Points: 0
Re: The BTB Advertisement Thread
---
ON THE NEXT
UWL 'SLAM!' WRESTLING!

It's the final match for Hugh Morrus in the UWL as he battles arch-rival Rip Oliver in a Barbed Wire Cage! Will Hugh go out with a victory?!

PLUS!

- The Firm introduces their newest member

- The two non-UWL teams in the Crockett Cup will be revealed

- Kevin Nash (The Firm) vs. DDP

- An interview with Greg Valentine and manager Gary Hart

- Awesome Kong sees action

AND MORE!!!

Ep. 126 of 'Slam!' will be posted Tuesday or Wednesday.
Re: The BTB Advertisement Thread
---
HUGE PPV ON THE WAY! Will be posted tomorrow. I've been working on it and it's come out pretty good. Would love for you to check it out.

-----------------

Extreme Rules


May 11th, 2014
Illinois; Chicago – United Center
Ladder Match for the World Heavyweight Championship
Daniel Bryan (c) vs Dolph Ziggler
Singles Match for the Diva's Championship
Paige (c) vs Natalya
Championship Scramble for the WWE Championship
CM Punk w/Paul Heyman (c) vs Randy Orton vs Alberto Del Rio vs Sheamus vs John Cena
Tag Team Tornado Match for the Tag Team Championship
Team Rhodes Scholars vs Dean Ambrose and Seth Rollins (c)
Last Man Standing Match for the United States Championship
Rey Mysterio vs Roman Reigns(c)
Extreme Rules Match for the Intercontinental Championship
Christian vs Ryback (c)
---
Re: The BTB Advertisement Thread
---
Quote:
Friday Night 'Live' Smackdown
Friday 27th February 2009 - Preview!
Live from the Scottrade Center
St. Louis, Missouri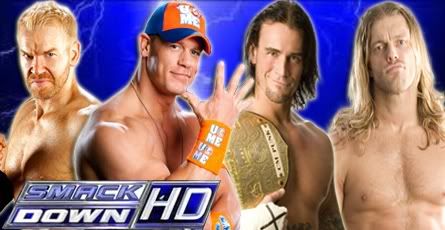 We could be in for the most explosive night on the Road to Wrestlemania as Smackdown rolls into St. Louis, Missouri with two of their hometown boys the main focus this Friday.

We found out last week that 'The Viper' Randy Orton will be the man who will challenge CM Punk for the World Heavyweight Championship at Wrestlemania, surprising most people when Mr. McMahon announced him as his choice as the number one contender. Punk himself was surprised but played down any idea he was concerned about The Chairman of the Board's choice. That may have changed in the last week after Orton sent him a strong message, an RKO in the middle of the ring that would see him become World Champion at Wrestlemania in little over four weeks should that happen at in London. Will there be a response from Punk this week in a city where the support will be completely with his challenger?

The other St. Louis native we'll say this week is Matt Sydal when he locks horns once again with Dolph Ziggler in their Royal Rumble rematch for the United States Championship Ziggler won that night. It was controversial due to a backstage attack by Ted DiBiase on Sydal, but with the King of the Ring knocking DiBiase off at No Way Out two weeks ago, he's ready to take on the highly impressive as of late Ziggler. Monday night on Raw though, Sydal & Ziggler were in tag team action and Sydal defeated Dolph for the first time with the Shooting Star Press. Will that happen again live on Smackdown in his hometown when the title's on the line? If so there'll be a big party in store in St. Louis.

We learnt on Raw Monday night that superstars from Raw & Smackdown will be able to appear on both shows in the build-up to Wrestlemania. We've also found out that there will be several Raw superstars coming to Smackdown this week with The Miz facing Christian for a spot in this year's Money in the Bank match. Captain Charisma made his return on Monday night after several weeks out with a concussion he suffered at No Way Out against Edge. He interrupted Chris Jericho's speech about how he plans to win Money in the Bank, and Christian told his fellow Canadian how much he wanted it too. He'll get his chance to join Jericho as well as The Big Show & Kofi Kingston in the hunt for a shot at the world title of their choice.

Cody Rhodes & Joe Hennig will also be in St. Louis on Smackdown when they take on the WWE Tag Team Champions, Paul London & Brian Kendrick. They found out last week that they have two teams who'll be challenging them for their titles. How will they react to that? Will it have any bearing on their match with the very confident Raw duo this week who only said the other night that they're out to make a statement? Could this be it?

Team Omega will team up with Maria to take on The Empire in preparation for their Battle of Britain at Wrestlemania in an eight-person tag team match. It will be a tough challenge for The Empire up against Matt Hardy, Gregory Helms & Shannon Moore who go back a long, long way. After attacking TJ Wilson & Natalya Neidhart last week, The UK Pack will surely be out for some kind of revenge.

We'll also see a number one contender match for J-Red's Cruiserweight Championship. Which superstar will get that opportunity? You'll have to tune in to find out.

It's sure to be an eventful night in St. Louis and one you surely won't want to miss as the 25th anniversary of Wrestlemania draws even closer!


>Confirmed for this week on Smackdown!<

United States Championship
Matt Sydal vs. Dolph Ziggler (c)

Non-Title Match
Paul London & Brian Kendrick vs. Cody Rhodes & Joe Hennig

Money in the Bank Qualifying Match
Christian vs. The Miz

8 Person Inter-Gender Tag Team Match
Team Omega & Maria vs. The Empire

Plus

Number One Contender Match for the Cruiserweight Championship

Now Posted!
Re: The BTB Advertisement Thread
---
The Bash
Preview
July 12, 09 - ARCO Arena; Sacramento California

World Heavyweight Championship
Steel Cage Match
Matt Hardy © vs. John Cena

~ Matt Hardy completed his dream of becoming the World Heavyweight Championship at Judgment Day, winning a Fatal-4-Way, contested between himself, his brother, Chris Jericho and the champion at the time, John Cena. It took him more than a decade, it took turning his back on all his fans, on his entire family but now Matt Hardy can say he is the top dog on SmackDown. He has one title defence under his belt, defeating John Cena, albeit under shady circumstances, as he attacked Cena before the match, beating him up enough so he could simply roll him into the ring, hit the Twist of Fate and win the match. But, that only served to enrage Cena, who defeated Kane in a number one contenders match, getting his true rematch. In the weeks leading up to The Bash, Matt would get the better of Cena multiple times, and every time Cena seemed to get one up on Hardy, the World Champion would somehow make an escape. However, this match will be contested inside a Steel Cage, which means Hardy can't do a runner. He's locked in with a very angry John Cena, and there is no way out.

Singles Bout
Edge vs. Kane

Ever since WrestleMania, The Big Red Monster, Kane has been on a violent rampage. CM Punk and Christian have felt the full brunt of the rampage. Kane shaved Punk's head, but he then upped himself by setting Captain Charisma, on fire. With Christian on the shelf through injuries, his best friend, Edge, has took up the challenge of getting revenge. The Rated R Superstar, now loved by the fans, has a tough task ahead of him, as he takes on Kane tonight.

#1 Contenders Bout
~ World Heavyweight Championship ~
Chris Jericho vs. Jeff Hardy

Chris Jericho and Jeff Hardy competed in the Fatal-4-Way at Judgment Day for the World Heavyweight Championship, and The self proclaimed Best in the World has decided it was Jeff who cost him his chance at winning the gold. Jericho attacked Jeff after Judgment Day, and in the following weeks began to trash him in interviews and in-ring segments, even at one point calling him a cancer to the WWE. Jeff, obviously, didn't enjoy what Jericho was saying so he thought fire with fire, attacking Jericho at every opportunity and matching him on the microphone. Not only is this personal, it will also determine who will face either Matt Hardy or John Cena for the World Heavyweight Championship. Jericho wants revenge against Cena for him ending his World Title reign in 2008, while Jeff wants his brother in a match because he still hasn't gotten over Matt's backstabbing that cost him the WWE Championship. One thing's for sure, when these two collide, fireworks will fly.

United States Championship
Kofi Kingston © vs. R-Truth

At Judgment Day, Kofi Kingston won the U.S Title in a very controversial match, winning it in a huge gauntlet contest. R-Truth, a man who has done no wrong to Teddy Long or the fans (at the time), was put in the gauntlet, with little to no chance of retaining, and that's just what happened, he was eliminated and Kingston took full advantage. Truth took exception to losing the title, telling Teddy Long he believes that he is the victim of a conspiracy. In the weeks leading up to The Bash, Truth was stripped of his rematch clause, which only fuelled those conspiracy thoughts, but in the end managed to get a match after defeating Vladimir Kozlov, and now he will face Kingston in a personal match for the United States Championship.

Cruiserweight Championship
Dolph Ziggler vs. John Morrison

At one time, the Cruiserweight Championship was a staple of SmackDown, providing some of the most exciting moments in the show. Now, the Cruiserweight Title is making a return, and it will be contested between two men who have battled their way to the final of the Cruiserweight Tournament. Morrison defeated two formidable opponents in Jesse and Kaval, while Ziggler defeated Gregory Helms and Chavo Guerrero. Now, these two skilled combatants will take the ring in an effort to become the first Cruiserweight Champion in a very long time.

WWE Tag Team Championships
The Hart Dynasty © vs. The Brian Kendrick & Ezekiel Jackson

The Brian Kendrick and Ezekiel Jackson defeated The Colons to become WWE Tag Team Champions at Backlash. They would then go on to defend the titles against The Lifeblood of Extreme, Tommy Dreamer and Stevie Richards. But then they faced the debuting Hart Dynasty, who saved Bret Hart from an assault at the hands of Jackson and Kendrick. In the main event of SmackDown, The Hart Dynasty won the WWE Tag Team Championships, on their debut, in Canada, with Bret Hart beside them. Now, Kendrick and Jackson have activated their rematch clause, and it will happen tonight.

Grudge Match
Evan Bourne w/Kelly Kelly vs. Mike Knox

Kelly Kelly and Mike Knox used to date, everyone knows that, and everyone knows how that ended. But fast forward to two thousand and nine, and it seems Mike Knox is the only person who hasn't gotten over it. When he was drafted to SmackDown, we found him stalking Kelly backstage, who took protection from Evan Bourne. At Judgment Day, these two would compete in the U.S Title gauntlet, with Knox not only eliminating Bourne, but injuring him. Without her protection, Kelly was bullied and harassed by Knox for weeks, that was until Bourne made his much needed return, saving Kelly and the rest of the Divas from the monster. And now, these two will face off tonight, Bourne looking to defend the honour of Kelly, and Knox simply looking to injure the smaller man.

Grudge Tag Team Match
The Warriors w/AJ Lee vs. Curt Hawkins & Zack Ryder

The Warriors made their debut on WWE Superstars, showing off their talents before going on to compete on SmackDown. But, one team didn't enjoy seeing a new team tear up SmackDown and Superstars, that team was former WWE Tag Team Champions, Zack Ryder and Curt Hawkins. At first, the rivalry between the two teams was solely about competition, about proving who is the better team,. But now, it's very personal, as Zack Ryder knocked things up a notch by attacking Daniel Bryan and Kaval's friend, AJ Lee. The small Diva was the victim of a sit-down spinebuster at the hands of Ryder, putting her out of action for a few weeks, but she made her return on the previous episode of SmackDown, when Bryan and Kaval got some measure of revenge, but they are gunning for even more retribution tonight.
Re: The BTB Advertisement Thread
---
---
Re: The BTB Advertisement Thread
---
UFC 5: Defense Of the Belt
UFC Openweight Championship
Rickson Gracie (c)(4-0)vs. Bas Rutten (4-0)

Tournament Bouts:
Art Jimmerson vs. Dennis Alexio
Glaube Feitosa vs. Erik Paulson
Harold Howard vs. Jack Fletcher
Jason Delucia vs. Masaharu Funaki

Alternate Bouts:
Scott Bigelow vs. Maurice Smith
Mike Bernardo vs. Remco Pardoel

Who will walk out the UFC Openweight Champion?
Who will be the winner of tournament?
Which match will be match of the night?
Posting Rules

You may not post new threads

You may not post replies

You may not post attachments

You may not edit your posts

---

HTML code is Off

---