Learning to break kayfabe
Join Date: Feb 2013
Posts: 149
Points: 0
Re: The BTB Advertisement Thread
---
ON THE NEXT
UWL 'SLAM!' WRESTLING!

IT'S A SPECIAL 2-1/2 HOUR EDITION OF 'SLAM!'

The 8-man tournament will be held to determine who gets the UWL World Title shot against champion Roddy Piper at 'Thunderstruck!'

PARTICIPANTS: Arn Anderson, Dusty Rhodes (The Firm), Rick Steiner (President's Champion), Wahoo McDaniel, Ken Patera, 'Superstar' Graham, Hugh Morrus (TV Champion) & David Schultz (The Firm)

PLUS!

- 6-MAN TAG: DDP, Buzz Sawyer & Brian Blair vs. Father Dutch, Grog & The Sacred Anvil

- An interview with Awesome Kong and the mystery man who was with her during her unannounced UWL debut last week

- President Bill Watts calls out Greg Valentine again after Valentine tried to injure Watts last week

AND MORE!!!

Ep. 122 of 'Slam!' will be posted Monday or Tuesday.
Re: The BTB Advertisement Thread
---
PRIDE;
a high or inordinate opinion of one's own dignity, importance, merit, or superiority, whether as cherished in the mind or as displayed in bearing or conduct
---
Re: The BTB Advertisement Thread
---
~Friday Night SmackDown~
May 18th, 2007
US Airways Center
Phoenix, Arizona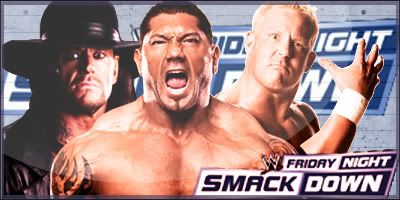 Just two days away from Judgment Day, Friday Night SmackDown rolls into Phoenix, Arizona fresh on the heels of one shocking return last week… and another major return lined up for tonight's show.

For weeks Batista, Edge and Mr. Kennedy have been on a collision course with each other, and last week, the inevitable seemed to be on the cards as the three came together in the ring for a contract signing that would seal their Triple Threat Match at Judgment Day for the World Heavyweight Championship. However, SmackDown General Manager Teddy Long had other ideas, announcing that the match would instead be a Fatal Four Way Match, adding the returning Chris Benoit to the situation. Having been on the shelf for over a month thanks to Edge, Benoit is back, and eager to get his hands on 'The Rated-R Superstar'. Tonight, he gets his wish, as Benoit and Edge are scheduled to go one on one, just days before they both compete for gold. No doubt both Batista and Mr. Kennedy will be watching this one closely, and given the amount of enemies Edge has made in recent weeks, neither man would begrudge a Benoit victory in his return.

Elsewhere, three Judgment Day matches are set to collide tonight as Matt Hardy, Kane and The Hooligans team up for Eight Man Tag Team action against their respective Judgment Day opponents, The Miz, Finlay and The New Breed. As United States Champion, Hardy has enjoyed a great 2007 so far, and he'll look to continue that tonight by leading his team to victory. However, with not only The Miz, but The New Breed also serving as challengers to gold this Sunday, both teams have plenty of incentives to win this one. Determined to prove he's a serious threat to Hardy, Miz will be looking to grab the win, while Monty Brown and Elijah Burke will be out to take advantage of the recent troubles between the WWE Tag Team Champions, Paul London and Brian Kendrick. As for Kane and Finlay? They'll just be looking to beat the hell out of whoever gets in their way, in what promises to be a highly exciting matchup.

For weeks, Chavo Guerrero has led us all down history lane in a reminder of the great career of Rey Mysterio, simply because at Judgment Day, Chavo is determined to finish Rey's career once and for all. But tonight, after weeks of taunting, Mysterio is scheduled to appear on SmackDown tonight, no doubt to confront Chavo ahead of this Sunday's Last Man Standing Match. Guerrero has talked a great game this last month or so, but tonight, he could come face to face with his great rival, and who knows what that could mean ahead of this Sunday.

All of this, and the final two places in the King of the Ring Round of 16 will be decided, as the two men involved in the Cruiserweight Championship Match this Sunday, the champion Gregory Helms and the challenger Bryan Danielson, both face qualifying matches ahead of their potential show stealer this Sunday. Helms takes on Shannon Moore, while Danielson faces Santino Marella, with both men looking to send a message to their Judgment Day opponent, that they'll be the one leaving Judgment Day as champion. Plus, Mark Henry and The Sandman face off, ahead of the Six Man Tag Team Match this Sunday between The Extremists and The Coachman Coalition.

It's the final stop before Judgment Day, and a show that promises to be an explosive preview to one of the biggest nights of the SmackDown calendar.

Confirmed Matches:

Chris Benoit vs. Edge

Matt Hardy, Kane and The Hooligans vs. The Miz, Finlay and The New Breed
Mark Henry vs. The Sandman

King of the Ring Qualifying Matches – Round of 32

Bryan Danielson vs. Santino Marella
Gregory Helms vs. Shannon Moore

Plus! The return of Rey Mysterio!!

---
World Wrestling Federation: The Montreal Fallout
New BTB. Check it out, eh?
Learning to break kayfabe
Join Date: Feb 2013
Posts: 149
Points: 0
Re: The BTB Advertisement Thread
---
Ep. 122 of 'Slam!' wrestling is now posted in the 'Universal Wrestling League' thread.
Re: The BTB Advertisement Thread
---
---
G.O.A.T
Quote:
CM Punk: I am the best wrestler in the world. I've been the best ever since day one when I walked into this company, and I've been vilified and hated since that day because Paul Heyman saw something in me that nobody else wanted to admit. That's right, I'm a Paul Heyman guy. You know who else was a Paul Heyman guy? Brock Lesnar, and he split just like I'm splitting, but the biggest difference between me and Brock is I'm going to leave with the WWE Championship
READ MY BE THE BOOKER WWE: New Era
http://www.wrestlingforum.com/booker...new-era-2.html
Re: The BTB Advertisement Thread
---
Quote:
Friday Night 'Live' Smackdown
Friday 20th February 2009 - Preview!
Live from the Mobile Civic Center
Mobile, Alabama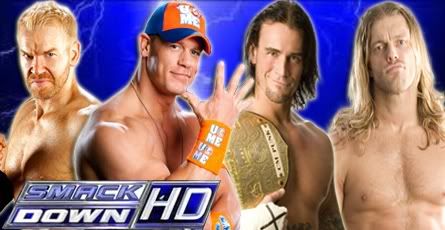 This week Smackdown rolls into Mobile, Alabama as we draw another week closer to the 25th anniversary of Wrestlemania.




After hearing on Raw that John Cena will indeed take on The Undertaker at Wrestlemania, Mr. McMahon needs to find another contender for CM Punk's World Heavyweight Championship. He told Cena that he needed to know his decision by Monday night so he could name Punk's number one contender swiftly. We can confirm that having received confirmation from Mr. McMahon that the new number one contender will be announced this week live on Smackdown. The Chairman of the Board refused to tell us who that superstar is but he will reveal him live in person in Mobile. At the end of last week's show, Punk addressed the world to say that whoever it is he defends his title against at Wrestlemania, he will come out on top and retain his title. Is he right? Will he have the chance to react to whoever his opponent will be?! No one seems to have an idea as to who it will be but you'll have to tune in to find out who that is.

One person who staked a claim last week was 'The Rated-R Superstar' Edge. He went to Mr. McMahon to let him know he felt he should be the one to face CM Punk having defeated his brother, Christian at No Way Out in a TLC match. Mr. McMahon indulged him and put him in a match against the 2008 King of the Ring, Matt Sydal, giving them both a chance to prove themselves worthy of a shot at the world title. They both gave it everything they had in a terrific match, but after a tremendous effort from Sydal, it was Edge who prevailed in the end. However on Raw, The Rated-R Superstar caused a stir when he turned up to crash The Rock's return to the WWE in his hometown of Miami where he announced Mick Foley will be inducted into this year's Hall of Fame class. Edge let both men know how he felt about both of them before getting in a cheap shot in on The Rock before spearing Foley. The Canadian then fell victim to a Rock Bottom and The Great One clearly wasn't happy. Will there be a response from Edge this Friday night? He's never been one to keep quiet has he?!

Sydal will definitely be in Mobile as he will be taking on a former rival in Shelton Benjamin. The King of the Ring defeated Benjamin to win that title before repeating the win at Summerslam to claim the United States Championship, and with his United States title rematch against Dolph Ziggler still to take place, this is a chance for Sydal to show him what he's up against when they do meet.

We also know that the Cruiserweight Champion, J-Red will be in action when he takes on Johnny Devine, the friend & on/off tag team partner of Petey Williams, the man who's declared his intentions to take his title. Petey was victorious again last week and made his point about getting an opportunity at the gold. It appears they have a history and Red will have the chance to show Devine & Williams why he's on top of the cruiserweight division right now. Could that be about to change in the coming weeks or months? Petey certainly thinks & hopes so.

We will also witness Harry Smith's return to action alongside Paul Burchill after recovering from his broken ankle. He returned to the ring in singles action at No Way Out to defeat Wade Barrett, the man responsible for his injury, but now The UK Pack, the team that held the tag team titles for a year will be back together inside the ring against The Pitbulls. They will be in action at Wrestlemania alongside TJ Wilson & Natalya Neidhart against The Empire in a Battle of Britain after Burchill challenged their fellow Brits last week. It's going to be an all out war in their homeland at Wrestlemania, but will it be a successful return to the ring for The UK Pack this Friday in Mobile?


>Confirmed for this week on Smackdown!<

Non-Title Match
J-Red vs. Johnny Devine

Plus
Matt Sydal vs. Shelton Benjamin

The UK Pack vs. The Pitbulls
Now Posted!
Re: The BTB Advertisement Thread
---
I've just started my new WWE BTB. It takes place from the night after Money in the Bank 2013, and starts out with a detailed backstory from now and until Money in the Bank.

Link in my signature
Re: The BTB Advertisement Thread
---
SMACKDOWN PREVIEW:
Four Point Preview:
- Will Randy Orton explain his actions?
- Who will face Paige for the Diva's Championship at Extreme Rules?
- Will Team Rhodes Scholars be able to claim the Tag Team Championship?
- Where will Sheamus go from here after his loss at the hands of Dolph Ziggler?
- DON'T MISS IT!
- It will be posted sometime tomorrow.
If you missed RAW, it's here:
http://www.wrestlingforum.com/booker...se-fall-2.html
---
Re: The BTB Advertisement Thread
---
XXVI.
Posting Rules

You may not post new threads

You may not post replies

You may not post attachments

You may not edit your posts

---

HTML code is Off

---