Learning to break kayfabe
Join Date: Feb 2013
Posts: 149
Points: 0
Re: The BTB Advertisement Thread
---
Ep. 121 of UWL 'Slam!' Wrestling is now posted in the 'Universal Wrestling League' thread.
Re: The BTB Advertisement Thread
---
Quote:
~Monday Night Raw~
May 14th, 2007
Tucson Convention Center
Tucson, Arizona
Monday Night Raw rolls into Tucson, Arizona with the prospect of a WWE Championship Match, and the continuing suspense around the upcoming War Games Match which stepped up a gear thanks to the return of the one and only, Ric Flair.

Last week, Flair returned to the WWE after being absent from our screens ever since WrestleMania, and 'The Nature Boy' looked better than ever as he stormed into the arena to save John Cena from a two on one assault at the hands of Bobby Lashley and Randy Orton. With Orton being announced earlier in the night as the second member of Team Vince at War Games, Raw concluded with Cena announcing that Flair would be his teammate on Team Linda, the two standing tall as Raw went off the air. Tonight, we'll hear from Flair on his return to action, and just why he stayed away from Raw ever since that historic night in Detroit. And of course, as we continue to count down to War Games, more names are likely to be revealed as both Team Vince and Team Linda continue to take shape.

But while Flair's return is a huge story, another man who made an impact last week was newcomer Claudio Cesaro. In his first two weeks in the WWE, Cesaro has now picked up wins over both John Cena and the WWE Champion, Rob Van Dam. Granted, his victory over Van Dam was via countout, and his defeat of Cena last week had plenty to do with Bobby Lashley and Randy Orton, but the record books don't lie, Cesaro is 2-0 and tonight, he gets another shot at 'RVD' and the WWE Championship. Unlike his first night on Raw when it was Cesaro who made the challenged, last week it was Van Dam, ever the fighting champion, who offered to put the title on the line to put the rookie firmly in his place. Tonight, both men meet with the gold on the line in a match where by ruling from the WWE Board of Directors, any outside interference will result in an immediate suspension. With no excuses available, just who will be leaving Tucson as the WWE Champion?

Eleswhere, the Round of 32 of the King of the Ring comes to a conclusion this week, with Raw wrapping up it's half of the bracket tonight with two matches that could have a big impact of the tag team division. One half of the World Tag Team Champions, Charlie Haas, takes on Tyson Kidd from The Hart Legacy, the two teams exchanging words backstage last week, giving this one a little bit extra meaning as both men look to one up the other duo. As for the match between Lance Cade and Nick Dinsmore, The Redneck Wrecking Crew and The Straight Edge Saints have repeatedly clashed over the last few weeks, with Punk advancing in the King of the Ring with a win over Trevor Murdoch, while The Saints gained victory over The Crew as part of a Six Man Tag Team Match last week. It may be for a spot in the next round of the King of the Ring, but these two matches carry much more meaning for these four teams.

All this, and we'll crown a new number one contender for the Women's Championship as Maria, Melina and Natalya do battle in a Triple Threat Match, the winner set to face the champion Beth Phoenix next week on Raw, although many still wonder where exactly is the former champion Mickie James? And we'll hear more from Kenny Dykstra and Carlito after Dykstra announced last week that he'd hired a bodyguard to protect himself from 'Lito, plus there will be appearances from two men already through to the next round of the King of the Ring, Jeff Hardy and Chris Masters.


Confirmed Matches:

WWE Championship Match: Rob Van Dam vs. Claudio Cesaro

King of the Ring Qualifying Matches – Round of 32
Charlie Hass vs. Tyson Kidd
Lance Cade vs. Nick Dinsmore

Maria vs. Melina vs. Natalya
Show now posted
here
.
---
World Wrestling Federation: The Montreal Fallout
New BTB. Check it out, eh?
Re: The BTB Advertisement Thread
---
XXVI.
Re: The BTB Advertisement Thread
---
Don't miss RAW next Monday on my Be The Booker:
http://www.wrestlingforum.com/booker...rise-fall.html
, we'll confirm an opponent for Daniel Bryan at Extreme Rules.
Originally posted by WWE.com


Quote:
After their brutal battle on SmackDown last Friday, 'The Celtic Warrior' Sheamus will face off against the 'The Show-Off' Dolph Ziggler in a #1 Contender's 2 out of 3 Falls match next week on RAW. The winner will face Daniel Bryan for the World Heavyweight Championship at Extreme Rules.
---
Re: The BTB Advertisement Thread
---
WWF In Your House 2 Razor's Edge Preview
July 23 | Nashville Tennessee
WWF Championship Title Match | Razor Ramon (c) vs Double J Jeff Jarrett
Tonight at In Your House, it is a homecoming for Double J, Jeff Jarrett. The event is named after the WWF champion Razor Ramon but Double J, Jeff Jarrett has promised to steal the show tonight in his hometown. Not only will Jarrett sing on the pre-show, he faces Razor Ramon in the main event. Jeff Jarrett has guaranteed victory tonight and if he does not win tonight in his hometown, he promises to quit the WWF. Jarrett believes that victory will be his tonight and it will be the end of the Razor era. Razor thinks Jarrett has been running his mouth far too long and tonight he's going to teach Doule J a lesson he will never forget.
WWF Tag Team Championship Title Match | Yokozuna and Hakushi (c) vs Diesel and Shawn Michaels
Yokozuna and Hakushi have dominated the tag team division but tonight they face their toughest challenge as they meet a team who haven't teamed up since falling apart at the Survivor Series. Diesel and Shawn Michaels who recently renewed their friendship believe that they will reign supreme again as tag team champions and will end the dominance of Yokozuna and Hakushi. Jim Cornette claims that Diesel and Shawn will fall apart and will become enemies again. Will Yokozuna and Hakushi continue their dominance? Will this be the perfect birthday present for Shawn Michaels to win the tag team titles once again with his best friend?
The Undertaker vs Sycho Sid
Undertaker's rivalry with The Million Dollar Corporation continues tonight as he faces Sycho Sid. Will Sid be able to stop the man from the dark side? Or will Undertaker get his revenge against The Corporation?
Bret Hart and The 123 Kid vs King Bulldog and Owen Hart
Last month at the King of the Ring, The British Bulldog defeated The 123 Kid in the finals to become the King of the Ring. Bulldog then aligned himself with Owen Hart and since then The Bulldog has had a new attitude. No more Mr nice guy. Bret Hart and The 123 Kid are looking for redemption and tonight it's going to be settled in a tag team war. In what promises to be an explosive match, which team will be declared victorious tonight?
All this and much more at In Your House, Razor's Edge.
Show now posted
here
In Your House 2 Razor's Edge show is now up, plus my first WCW show as I've also started booking WCW in my thread. Hope you all enjoy the shows.
---
WWE 2004: The Road to WrestleMania 21
Click here to read
Re: The BTB Advertisement Thread
---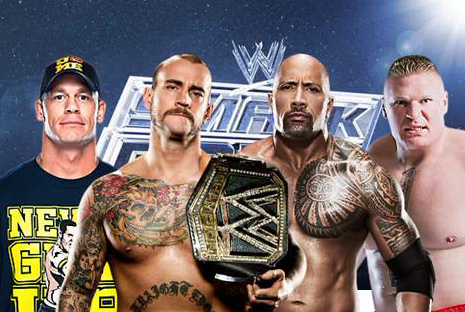 DGENERATION-NEXUS presents WWE: The Road To WM30
The 20th Anniversary of Monday Night Raw was one of the most memorable nights in WWE history. The show kicked off with the return of the Undertaker in a move that signalled his intentions to defend his 20-0 undefeated streak at WrestleMania 29. Soon after saw The Rock take to the ring to discuss his upcoming WWE Championship match, only to be interupted by Stone Cold Steve Austin. After the pair teased a match, they were rudely interupted by Wade Barrett. The Englishman was not happy after Rock hit him with a Rock Bottom last week on SmackDown, and was left further outraged after taking a Stunner from Austin. Barrett's fury culminating in him challenging The Rock to a match tonight on SmackDown. The Great One is scheduled to open the show, will he accepted the challenge of Barrett and wrestle on TV for the first time in over ten years?
Rock's opponent at the Royal Rumble is current WWE Champion CM Punk, who finds himself involved in the World Heavyweight Championship mix this week. World Champion Big Show is scheduled to defend against both Randy Orton and Daniel Bryan at the Rumble – tonight sees the WWE and World Champions team up to face Orton and Bryan in tag team action. Things have been getting heated between Orton and Bryan, who both know they don't need to slay the Giant to take his title at the Rumble. Can Orton and Bryan stay on the same page, or will Show's dominance continue?
Mr Money In The Bank Dolph Ziggler took exception to the spotlight given to the returning legends on Raw's 20th Anniversary Show, and decided to take matters into his own hands by delivering a savage beating to Nature Boy Rick Flair. Ziggler went so far as to put Flair in the Figure Four Leglock, and with Ziggler stating he is tired of been over-looked he has promised to steal the show from this point forward. Ziggler is in singles action on SmackDown against the high-flying Justin Gabriel.
One week ago on SmackDown Rey Mysterio and Sin Cara dropped the Tag Team Championships to the Prime Time Players, who capitalised on miscommunication between the Luchadors. Rey and Sin Cara had cashed in their rightful rematch clause last Monday night, but after Brock Lesnar interfered to once again display his appetite for distruction the match was thrown out. What is next for the Tag Team Championship picture, will a rematch be ordered or will Sin Cara and Mysterio be forced to earn another shot at the belts?
After several weeks off with injury, Alberto Del Rio returned on Raw to declare his entry in the Royal Rumble match. Del Rio exchanged words with Ryback, insulting his intelligence for hand-picking the #1 entry spot in the Rumble match. Ryback challenged Del Rio to a match, but the Mexican decided against confronting him. Instead he set his attentions on his former ring announcer Ricardo Rodriguez, now under the employ of Santino, insisting that he return to work for him. Things turned ugly between Santino and Del Rio, and the pair will square off tonight on SmackDown in what is Del Rio's first match since returning. As for Ryback, he warms up for what will be a marathon Rumble by taking on David Otunga.
Kane is one of the most dominant Royal Rumble match participants in history, and demonstrated his strength by running an over-the-top-rope gauntlet on Raw. Things turned sour for Kane however; having eliminated Sgt Slaughter, Bob Backlund and Jim Duggan from the match, Kane was eliminated by Sheamus. The Celtic Warrior won 2012's Rumble match and has vowed to do the double this year, but must first see off an angry Big Red Machine in singles action tonight.
Also confirmed is a Champion vs Champion match that will see United States Champion Zack Ryder face Intercontinental Champion The Miz. Ryder and the number one contender to his title Damien Sandow were guests on MizTV on Raw, but Miz and Ryder ended up in a heated argument that resulted in Sandow and Miz double-teaming Ryder. Ryder looks for revenge tonight ahead of defending against Sandow at the Rumble.
There will also be build to the Royal Rumble match, as well as the revelation of the first inductee into the 2013 Hall Of Fame. Be sure to check out Friday Night SmackDown, just 9 nights away from the Royal Rumble.
Confirmed Line-Up
The Rock responds to Wade Barrett's challenge for a match on SmackDown
Dolph Ziggler vs Justin Gabriel
Zack Ryder vs The Miz in a Champion vs Champion match
Ryback vs David Otunga
CM Punk & Big Show vs Daniel Bryan & Randy Orton
Kane vs Sheamus
Alberto Del Rio vs Santino
---
The Rock | Undertaker | Triple H | Chris Jericho | Stone Cold
CM Punk | Dean Ambrose | Mark Henry | Daniel Bryan | Dolph Ziggler
Austin Aries | Jeff Hardy | AJ Styles | Bully Ray | Christopher Daniels
Re: The BTB Advertisement Thread
---
Friday Night 'Live' Smackdown
Friday 20th February 2009 - Preview!
Live from the Mobile Civic Center
Mobile, Alabama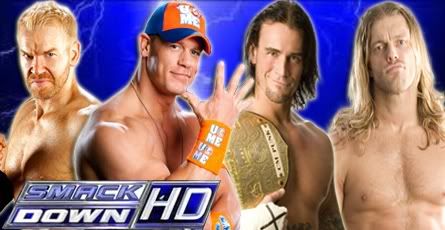 This week Smackdown rolls into Mobile, Alabama as we draw another week closer to the 25th anniversary of Wrestlemania.




After hearing on Raw that John Cena will indeed take on The Undertaker at Wrestlemania, Mr. McMahon needs to find another contender for CM Punk's World Heavyweight Championship. He told Cena that he needed to know his decision by Monday night so he could name Punk's number one contender swiftly. We can confirm that having received confirmation from Mr. McMahon that the new number one contender will be announced this week live on Smackdown. The Chairman of the Board refused to tell us who that superstar is but he will reveal him live in person in Mobile. At the end of last week's show, Punk addressed the world to say that whoever it is he defends his title against at Wrestlemania, he will come out on top and retain his title. Is he right? Will he have the chance to react to whoever his opponent will be?! No one seems to have an idea as to who it will be but you'll have to tune in to find out who that is.

One person who staked a claim last week was 'The Rated-R Superstar' Edge. He went to Mr. McMahon to let him know he felt he should be the one to face CM Punk having defeated his brother, Christian at No Way Out in a TLC match. Mr. McMahon indulged him and put him in a match against the 2008 King of the Ring, Matt Sydal, giving them both a chance to prove themselves worthy of a shot at the world title. They both gave it everything they had in a terrific match, but after a tremendous effort from Sydal, it was Edge who prevailed in the end. However on Raw, The Rated-R Superstar caused a stir when he turned up to crash The Rock's return to the WWE in his hometown of Miami where he announced Mick Foley will be inducted into this year's Hall of Fame class. Edge let both men know how he felt about both of them before getting in a cheap shot in on The Rock before spearing Foley. The Canadian then fell victim to a Rock Bottom and The Great One clearly wasn't happy. Will there be a response from Edge this Friday night? He's never been one to keep quiet has he?!

Sydal will definitely be in Mobile as he will be taking on a former rival in Shelton Benjamin. The King of the Ring defeated Benjamin to win that title before repeating the win at Summerslam to claim the United States Championship, and with his United States title rematch against Dolph Ziggler still to take place, this is a chance for Sydal to show him what he's up against when they do meet.

We also know that the Cruiserweight Champion, J-Red will be in action when he takes on Johnny Devine, the friend & on/off tag team partner of Petey Williams, the man who's declared his intentions to take his title. Petey was victorious again last week and made his point about getting an opportunity at the gold. It appears they have a history and Red will have the chance to show Devine & Williams why he's on top of the cruiserweight division right now. Could that be about to change in the coming weeks or months? Petey certainly thinks & hopes so.

We will also witness Harry Smith's return to action alongside Paul Burchill after recovering from his broken ankle. He returned to the ring in singles action at No Way Out to defeat Wade Barrett, the man responsible for his injury, but now The UK Pack, the team that held the tag team titles for a year will be back together inside the ring against The Pitbulls. They will be in action at Wrestlemania alongside TJ Wilson & Natalya Neidhart against The Empire in a Battle of Britain after Burchill challenged their fellow Brits last week. It's going to be an all out war in their homeland at Wrestlemania, but will it be a successful return to the ring for The UK Pack this Friday in Mobile?


>Confirmed for this week on Smackdown!<

Non-Title Match
J-Red vs. Johnny Devine

Plus
Matt Sydal vs. Shelton Benjamin

The UK Pack vs. The Pitbulls



Re: The BTB Advertisement Thread
---
Friday Night Smackdown for WWE 2013: A New Season has been posted.
---
Re: The BTB Advertisement Thread
---
Friday Night SmackDown Preview


Ducking and Diving...?

In just a couple of days time, SmackDown presents its first single branded pay-per-view of the year in the form of The Bash! But there is one stop before then, and it happens tonight, the final opportunity for rivals and foes to get one over on each other, to gain that all important momentum heading into their respective matches. One man who has the most to lose this coming Sunday, is the current World Heavyweight Champion, Matt Hardy who will go one on one with John Cena inside a solid Steel Cage! He and Cena have been at each other's throats since Judgment Day when Matt managed to pick up the victory, winning the Fatal-4-Way and becoming the World Heavyweight Champion for the very first time. But tonight, just days before his upcoming title defence, SmackDown General Manager Theodore Long has made our main event, the World Heavyweight Champion against the United States Champion, Kofi Kingston! We've heard on wwe.com that Matt believes this is Teddy's way of weakening him before Sunday, as John Cena has not, as of yet, been booked in a match. But you can bet he will be in attendance, as he is keen to get to the bottom of who attacked him last week and also get the last word heading into Sunday.

Speaking of the United States Champion, indeed, he is facing the World Champion in the main event, and his challenger, R-Truth will have a vested interest in this match. The weaker Kingston becomes, the stronger R-Truth's title hopes will become. Meanwhile, the man who R-Truth defeated to become number one contender will be in action as Vladimir Kozlov, The Moscow Mauler, will take on the man who returned to SmackDown last week, and won his first match back on Superstars, Joey Mercury. He returned to face John Morrison, who tonight, will choose his opponent at The Bash, Dolph Ziggler's opponent. Rumours have been flying around all day of who the opponent could be, and Morrison better have a good one if he is to derail Ziggler's momentum heading into the Cruiserweight Championship match this coming Sunday.

In Divas action, will be the beautiful blonde, Kelly Kelly and the gorgeous red head, Maria. These two will battle each other in the spirit of competition, but the question is if Kelly will be able to keep focus with her ex-boyfriend, Mike Knox sniffing around. But with Evan Bourne back from injury, one has to assume she'll feel just that little bit safer now that her friend is back. Also, we will hear from two of the biggest Superstars tonight, those being Edge and Jeff Hardy, who will go one on one with Kane and Chris Jericho, respectively at The Bash. Edge will no doubt have a lot to say about The Big Red Monsters growing strangeness, and before Jeff Hardy takes on Santino Marella, he will get the chance to speak his mind on his current rivalry with Jericho.

After last week, we will hear from the new WWE Tag Team Champions, The Hart Dynasty. Their manager Natalya has assured wwe.com that they will hear from them tonight, on their big win, the debut and the fact Bret Hart was in the building to see them win the big one. Also, two tag teams that are at war are none other than The Warriors and Curt Hawkins and Zack Ryder. Last week, Hawkins and Ryder elected to stay away from SmackDown, for the reason that Daniel Bryan and Kaval were ready to kill them for what Ryder did to AJ a couple of weeks ago. But tonight, we have been told that they will be in the building, and when/if The Warriors catch up with them, the whole locker room will be needed to separate these two. All this, and more on this coming edition of Friday Night SmackDown on MyNetworkTV!

:: Confirmed Matches ::

Champion vs. Champion
Matt Hardy vs. Kofi Kingston

Singles Match
Jeff Hardy vs. Santino Marella

Pick Your Poison – John Morrison
Dolph Ziggler vs. ???

Singles Match
Joey Mercury vs. Vladimir Kozlov

Divas Match
Kelly Kelly vs. Maria

:: Card subject to change ::


Re: The BTB Advertisement Thread
---



Quote:

Friday Night SmackDown News & Notes

-The WWE higher-ups have looked at the SmackDown Roster and understand just how deep it goes as far as 'Main Event' talent. While the Dolph/Ryback feud should continue on past Extreme Rules, there has been talk internally of holding a Draft Show to possibly even out the rosters a bit more.-

-As it's been stated before and since it's now officially booked, The Shield look like they will be capturing there first bit of gold as a team. This has nothing to do with the WWE being displeased with Cryme Tyme, in fact the company is quite high on them as a tag team, but considering the huge impact The Shield have had, Creative feel it's time to put the straps on them.-

-Friday Night SmackDown has already booked some impressive matches for the Extreme Rules pay per view but the word going around is that this will be all of the matches this brand will have to offer. Considering the WWE are still planning the DiBiase/Orton & Bryan/Kane matches which would already bring the total match tally up to seven and they're thinking of keeping it there, but at the very most adding one more contest.-

Monday Night Raw Preview

-CM Punk laid out a pretty hefty threat toward Vince McMahon and, really, the entire WWE. This week on Raw the Chairman will once again be in attendance and will be looking to get to the bottom of all of this with Punk. Nobody quite knows what Punk's endgame is in all of this, but with him not scheduled to be in the building this Monday, nobody should be expecting any answers. Or should they?-

-WWE Diva's Champion Mickie James will be defending her newly won title against the woman she defeated at WrestleMania XXIX, AJ Lee. These two women have grown to know one another quite well over recent weeks and now it's time to see if Mickie can walk out of Raw still the Champion, or if AJ Lee can become a Two-Time WWE Diva's Champion.-

-Following last weeks controversial loss to Ted DiBiase, The Viper surely could not have been too happy over the past week. This Monday on Raw Randy Orton will be live to address his former Legacy teammate and many feel that he will be issuing a challenge to 'The Fortunate Son', to a match at Extreme Rules.-

-The United States Champion has issued a challenge to any and all comers as he wants to go down in history as the greatest US Champion. Or, at the very least, be considered a fighting Champion. So this week on Monday Night Raw he makes yet another title defense as he is involved ina Triple Threat Match with Sin Cara and William Regal. Has the young superstar perhaps bitten a little bit more than he can chew?-

-The WWE Champion will be live on Monday Night Raw as he builds momentum toward his next title defense at Extreme Rules, against John Cena. Speaking of Cena, he too will be on Raw as he will be teaming up with Kofi Kingston to take on Kane and Antonio Cesaro.-

Scheduled Matches

Tag Team Match - Normal Tag
Brodus Clay & Kane vs. John Cena & Kofi Kingston

WWE Diva's Championship - Singles Match
Mickie James(c) vs. AJ Lee

WWE United States Championship - Triple Threat
Xavier Woods(c) vs. Sin Cara vs. William Regal


Monday Night Raw Has Been Posted.
Feedback Is Always Appreciated.

---
NOTHING WAS THE SAME
Posting Rules

You may not post new threads

You may not post replies

You may not post attachments

You may not edit your posts

---

HTML code is Off

---