Wheelman for James Ellsworth
Join Date: Jan 2011
Posts: 501
Points: 0
Re: The BTB Advertisement Thread
---
WWE Judgment Day Preview:

Date: May 22nd 2005

Location: Target Center: Minneapolis; Minnesota

WWE Championship: Last Man Standing match:

John Cena© vs. John Bradshaw Layfield

A bitter rivalry will take a new twist this Sunday when John Cena defends the WWE championship for the first time in the brutal environment known as a Last Man Standing match. One man will be put down for the ten count in what will no doubt be an all out war between the champion and challenger. JBL has proclaimed since being defeated at Wrestlemania that John Cena got lucky and that if he gets a one on one rematch, he will take back what is rightfully is. At Judgment Day, he will get that opportunity.

Layfield earned his rematch by winning an eight man number one contenders tournament, defeating Rey Mysterio and Kurt Angle in a triple threat match to get to this point. The challenge was then laid down from the number one contender, JBL told Cena that if he really was a man of his word and that if he really did 'never back down' then he'd accept the challenge for Judgment Day of a Last Man Standing match. Cena duly obliged and promised JBL that he would prove himself and that he will indeed never back down. JBL looked pleased to hear Cena's decision and attempted a cheap shot on the champion but was instead met with an FU as the champion got one over on JBL yet again. The following week saw the longest reigning champion in Smackdown history and number one contender gain a measure of payback on Cena during tag team action. Cena teamed with The Undertaker to face Layfield and Randy Orton. As the match ended in a no contest, Cena was distracted by JBL's chief of staff and turned around right into a brutal clothesline from hell from the 'Wrestling God'.

This past Friday saw the number one contender yet again avoid Cena's wrath and get one over on the champion. Layfield attacked Cena during his match with Carlito, laying out the champ before Booker T came to Cena's aid and in the main event of the show, JBL defeated The Undertaker, again avoiding a bulldozing Cena who headed to the ring to fend off Randy Orton and JBL's assault on the Deadman.

With the anticipation building and the Last Man Standing stipulation hanging over this match Sunday, many feel it will be a defining night in both men's careers. Cena has it all to prove at Judgment Day. Was Wrestle mania a fluke? Will JBL win back the WWE championship? Or will John Cena prove all his critics wrong and walk out of Minneapolis and the hellacious Last Man Standing match still the WWE champion?

Wrestlemania Rematch:

Randy Orton vs. The Undertaker

Wrestlemania saw The Undertaker defeat Randy Orton and extend his undefeated streak to 13-0. However, everyone was left in no doubt that Randy Orton came closer than anyone to ending the streak. Since Wrestlemania has passed, with Orton on Raw and the Deadman on Smackdown, a rematch was out of the equation but the annual draft lottery saw all of that change.

Randy Orton was the final pick in the lottery and would therefore jump ship to Friday nights meaning his mission to kill the legend of The Undertaker was back in full effect. Since coming to Smackdown Orton has been hell bent on getting his rematch with the Phenom and has pleaded with Teddy Long to make it happen. Teddy Long refused, infuriating Orton. Long told Orton that he'd have to earn that rematch and that he'd need to defeat RVD if he wanted to get his match at Judgment Day.

Luckily for Orton, he got the job done against Van Dam and was granted his match for Judgment Day but the games then well and truly began as The Undertaker returned after the match but was caught off guard by MNM who cost Van Dam the match. Taker took out Mercury and Nitro but turned around right into an RKO from the Legend Killer who could do nothing but smile after taking down the Deadman.

The following week saw Orton team with JBL to take on Taker and John Cena. Both men were in no mood for fun and games as Orton and Taker took it to one another but as the Deadman began to get the upper hand, Orton walked away and got out of there as quick as he could, waiting for Judgment Day.

Or so we thought. This past Friday just two nights before Judgment Day, The Undertaker went one on one with JBL. The match was a solid affair but the end came when Orton made his presence felt, laying the Undertaker out with an RKO once again, costing the Phenom the victory.

With Orton relentless in getting what he wants, you have to wonder whether he really can do the unthinkable and fulfil his quest to end the career of The Undertaker. Could Judgment Day be the night? Or will The Undertaker prove exactly why he is the cornerstone of the WWE and defeat the Legend Killer once again?

WWE United States Championship:

Orlando Jordan© vs. Matt Hardy

The annual WWE Draft lottery took place on Monday Night Raw the night after Backlash and one of the big moves was that of Matt Hardy who switched shows to the blue brand and to Friday Night Smackdown. Once he made that move Hardy made his intentions known to JBL and his chief of staff Orlando Jordan and that intention was to win championships.

Hardy has stated that he no longer wants to be seen as just a tag team specialist and that he was coming to Smackdown to make a name as Matt Hardy, not one of the Hardy Boyz. This didn't sit too well with Orlando Jordan however, the current United States champion who told Hardy that he needed his brother to do all the work and that on his own he's nothing. Hardy though made OJ pay for those comments as on his Smackdown debut he defeated the U.S. champ in a non-title match.

The following week saw Orlando gain a measure of revenge on the man who 'Will not Die' as Jordan brutally attacked Hardy after his match with Luther Reigns. Orlando looked to make his point loud and clear but later on that night it was Hardy's turn to get the upper hand. Jordan looked to come to the aid of his mentor JBL who teamed with Randy Orton to face John Cena and The Undertaker. Orlando looked to hand the win to his boss and Orton but was left in no doubt that he's got a fight on his hands in Matt Hardy who evened the numbers game and took down the U.S. champion.

With things between the two really heating up, this Sunday the tension will boil over and we will answer all the questions. Will Matt Hardy prove he can do it on his own and start to build his singles career by winning the United States title or will Orlando Jordan put a dent in his dream and prove that he is here to stay as the U.S. champ?

Grudge Match:

Carlito vs. Booker T

Since Wrestlemania it's been a tale of two completely different stories for Carlito and Booker T. The young, brash apple spitter Carlito has been on a roll as of late, showing a new found aggression in taking out several Smackdown superstars.

Booker T on the other hand has lost a whole lot of steam in recent weeks. The former five time WCW champion has been stuck in a rut, unable to find a win from anywhere whilst also seeming to lose a lot of confidence. Booker T appears to be a shell of his former self and Carlito was not shy in voicing his opinion on that matter.

The Caribbean superstar told Booker to his face that Booker was disgracing his name and that he was no longer the Booker T that arrived in the WWE four years ago. Carlito said that he wants to see the old Booker T return and that the Booker T who was here in the WWE was a failure. This seemed to stun Booker but yet with confidence lacking, the master of the Spinaroonie didn't even know how to respond

The following week on Smackdown Booker was in action against Chris Masters when Carlito cost the veteran another match, before delivering a brutal attack to Booker afterwards, spitting apple in Booker's face to add insult to injury. Carlito told Booker to step away and that it is 'his time now'.

Following that attack we failed to see Booker T for two weeks with Carlito proclaiming that he tried to help Booker but that it hadn't worked and Booker was now facing up to the fact he was a failure by sitting at home.

With questions being raised about whether Booker T would even return to Smackdown, Teddy Long made the match for Judgment Day with everyone wondering if Booker would return but this past Friday on Smackdown, Booker returned and made a big impact. With Carlito in action against the WWE champion John Cena, Booker came to the aid of the champion who was up against a two one assault in Carlito and JBL. Booker came in and took Carlito out with a big Bookend and perhaps the real Booker T has returned. We are sure to find out on Sunday just whether this is the beginning of a Booker T resurgence or if it's the beginning of the end for Booker T.

WWE Vacant Tag Team Championships:

MNM vs. Rey Mysterio and Rob Van Dam

Joey Merucry, Johnny Nitro and Melina arrived to the WWE and to Friday Night Smackdown the week after Wrestlemania and have made an immediate impact on the blue brand, rubbing a lot of people the wrong way.

Two of those people are Rey Mysterio and in particular 'Mr.Friday Night' Rob Van Dam. The cocky young trio of MNM demanded they be awarded the vacant WWE Tag team titles from Smackdown GM Teddy Long but this didn't go down too well with RVD. Van Dam told MNM that nobody deserves to be handed anything in this business and that in all his years of wrestling nobody has handed him anything, he's earned it.

Teddy Long agreed with Van Dam and told MNM that they'd have to earn the titles. This infuriated MNM, in particular Melina who bemoaned the decision and took action, sending her two boys to attack Van Dam and cost him his match with Kurt Angle in the WWE championship number one contenders tournament.

As the weeks went on, the numbers game continued to get the better of RVD and eventually he turned for help, his old friend Rey Mysterio told Van Dam that he had his back if he needed him and when Teddy Long announced it'd be MNM up against RVD and a parnter of his choosing there was only one man Mr.Friday Night would turn to.

With the numbers game now out the window, will the rookied duo of Mercury and Nitro be able to defeat two of the highest profile, most talented superstars in the WWE? Will they be able to back up their claims about being the A-listers on Smackdown? Or will Van Dam and Mysterio prove that you earn things the right way here in the WWE? It is sure to be electric whatever happens this Sunday in Minneapolis.

WWE Cruiserweight Championship:

Paul London© vs. Chavo Guerrero

Ever since Paul London defeated Chavo Guerrero just before Wrestlemania to become Cruiserweight champion, Chavo Guerrero has been relentless in attempting to regain the title.

The Mexican veteran was defeated once again by London on an edition of Friday Night Smackdown before London and his tag partner for the night Brian Kendrick defeated Guerrero and Kid Kash in action. With Guerrero seemingly having no luck in getting his championship back, the tide turned the following week when Chavo defeated Kash and Kendrick in a triple threat match to earn himself a second and final rematch at Judgment Day for the title.

With the victory under his belt, confidence seemed to return to the wily veteran who went on to brutally assault Paul London on the next week of Smackdown, With the champion in action against new draft pick Tajiri, Chavo made his presence felt in a big way, attacking his rival before laying London out with a massive frogsplash right through the announce table!! The attack damaged the ribs of Paul London and further intensified the feud between these two.

When they collide in Minneapolis on Sunday there is sure to be a real fire to the match and with the rib injury still looking like it's affecting Paul London there is real doubt as to whether he can retain his championship. Will London pull another one out the bag or will Chavo's experience prove all too much when Sunday rolls around?

Prediction Template:

WWE Championship: Last Man Standing Match:

John Cena(c) vs John Bradshaw Layfield

Wrestlemania Rematch:

Randy Orton vs The Undertaker

WWE United States Championship:

Orlando Jordan(c) vs Matt Hardy

WWE Vacant Tag Team Championships:

MNM vs Rey Mysterio and Rob Van Dam

Grudge Match:

Carlito vs Booker T

WWE Cruiserweight Chammpionship:

Paul London(c) vs Chavo Guerrero



Predictions would be more than welcome and all feedback for the PPV will be returned.
Re: The BTB Advertisement Thread
---
Quote:
Monday Night Raw Preview – May 10th, 2004

Last week, fans described Monday Night Raw as stacked. Not to rest on its laurels, Raw is set to be even bigger this week, as all its superstars roll into San Jose, California.

The bitter rivalry between the Raw General Manager, Eric Bischoff and 'Sheriff' Stone Cold Steve Austin reached new heights last week. The two have been at each other's throats for awhile, with both men being the complete opposite to each other. Bischoff's business like persona doesn't seem to go to well with Austin's 'as free as the wind' attitude. At Backlash, Kane chokeslammed Austin, and then the next night on Raw, Austin delivered a Stone Cold Stunner to Kane. The two haven't been in a physical altercation since then, although Bischoff, realising Kane is a threat to Austin, befriended 'The Big Red Machine', promising to help him with his plan that nobody knows of. Easy E didn't stop there, also trying to recruit Scott Steiner by his side. Sensing that Bischoff is trying to build something of an army, similar to what Paul Heyman has on Smackdown, Austin convinced Steiner to stay on his lonesome. As Bischoff and Stone Cold continued to trade insults, last week things went too far when Kane came out to fight for Bischoff, and Steiner backed up Austin. The two brawled up the entrance ramp, and eventually took a tumble off of the stage, causing both men to be unable to attend Raw this week. The owner of the WWE, Vince McMahon was displeased with seeing his stars being put at risk due to arguments between Raw's two authority figures, and McMahon has promised to attend Raw tonight with a solution.

It's always entertaining when Vince McMahon is in attendance, but it may be even better this week, as The Rock will be delivering The Rock Concert III. Having taken a few weeks off, Rocky plans to make it up to his millions and millions of fans with an entertaining concert tonight. There's also a slight hope that we'll finally get an explanation as to why The Rock told Shawn Michaels to retire.

The World Heavyweight Championship scene has been covered in turmoil in the past few weeks. Chris Benoit remains as champion, but from Triple H, to Goldberg, to even Randy Orton, there's no idea who will be named as the number one contender for Vengeance. Keep in mind, Triple H does have a rematch clause in his contract after losing the title at WrestleMania, however he's made it clear he wants to save that for some unknown reason. With Triple H and Evolution there's usually some sort of plan, so Hunter will be saving that title shot for a reason. We're hoping for some issues to be cleared tonight on Raw, with the World Heavyweight Champion going one on one with Randy Orton. Just as it looked like Goldberg was in the box seat to take the World Title from Benoit last week, Triple H interfered; therefore Triple H and Goldberg will also be going at it tonight. Hopefully after tonight, we'll have some clear results as to who should be the number one contender for Benoit's title at Vengeance.

After putting Christian out of action in their match at Backlash, Chris Jericho has been on somewhat of a roll. Whilst Jericho initially believed his issues with Christian were solved, 'Captain Charisma' has made it clear that's not the case. Nobody, not even Jericho, had any idea when something would go down to indicate Christian is still angry, and it all came to tuition last week, when Jericho was attacked by Tomko after his match. Having already wrestled and lost to Tomko before Backlash, this one is very personal, as Tomko and Jericho have been booked to go at it in a Hardcore match.

The WWE Intercontinental Champion has been on a roll pretty much since WrestleMania. Even though he defeated Matt Hardy at Backlash, Hardy still seems pretty confident that he'll take the IC Title from Maven sometime. Tonight though, Maven has a different challenger to take on, as he will go one on one with the hungry 'Evolution Enforcer', Batista.

And with the World Tag Team Champions Booker T and Rob Van Dam still proving to be a class above the rest, the two tandems of Rodney Mack and Mark Henry and Al Snow and Tommy Dreamer will compete, trying to shorten the gap between themselves and the champions.

All this, and much, MUCH more on another STACKED edition of Monday Night Raw!

Confirmed Matches
Chris Benoit vs. Randy Orton

Bill Goldberg vs. Triple H

-HARDCORE MATCH-
Chris Jericho vs. Tyson Tomko

Dave Batista w/Ric Flair vs. Maven

Al Snow and Tommy Dreamer vs. Mark Henry and Rodney Mack
The show is now posted. Link in sig.
---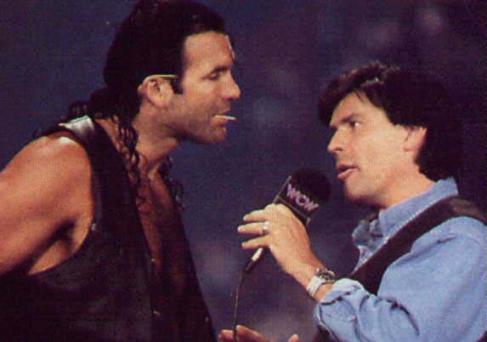 Re: The BTB Advertisement Thread
---
Quote:
Sorry for my lack of activity. I've started to write a bit more of SmackDown, which is good, so hopefully it'll flow better from here on out; wish me luck. Raw is done, for the record, but I'd like to get a good portion of SD done before I post it. Maybe at some point I can give out some feedback, perish the thought.
It's a small preview, but trust me, the show is MUCH bigger.

Monday Night Raw
Sommet Center, Nashville, Tennessee | 11th April 2011
Monday Night Raw arrives in Nashville, Tennessee this week, following the stunning announcement last week of Jerry "The King" Lawler becoming the NEW General Manager. Tonight, in the home state of our new GM, the Hall of Famer will open the show to outline his plans for the WWE's 'flagship show', and he's sure to receive a big reception. After Lawler embarrassed Michael Cole last week amid the rivalry the pairing have sported the last few months, will "King" exert his new-found authority to give Cole his marching orders? What will he have in store for the superstars of Monday nights? And what will he do to mark his first night in charge?
John Cena teamed with Randy Orton last week to beat The Miz and Alex Riley in the main event; this win granted Cena one more shot at the WWE Title at Extreme Rules, much to the dismay of The Miz as the current champion, especially as he was never pinned. Considering The Miz's controversial win at Wrestlemania over Cena, the Awesome One is well aware that the former "Champ" desperately wants to make amends, and we're sure to hear from both men over the course of the show tonight, with Extreme Rules on the horizon.
Speaking of Randy Orton, the Viper might have placed himself back in WWE Title contention by winning alongside Cena last week, but despite this, he was assaulted after the bell by CM Punk. The Straight-edge Saviour feels that his business with Orton still isn't finished despite losing to the Viper at Wrestlemania, and it seems he's drifted into the dark regions of his psyche as a result, including calling Mark Henry "Randall" repeatedly in his match last week. Will we see more of Punk's psychotic side (clearly a result of his desperation to defeat the equally-psychotic Orton) evolve tonight, or will Orton find him first, to pay him back for the damage that was done last week?
Last week saw Daniel Bryan and Evan Bourne beat Dolph Ziggler and William Regal – Ziggler was unable to tag the Englishman out because he was dealing with a catfight between Vickie Guerrero and Gail Kim, allowing Bryan to drop Regal to the deck and apply the LeBell Lock to win it. Ziggler explicitly stated in a WWE.com-exclusive interview this week that his WWE Title aspirations on Raw have NOT been dented by his loss, as he wasn't involved in the fall, and this week, when he faces Evan Bourne in singles competition, Ziggler will want to get himself back on track with a stroke in the 'W' column. Will fellow WWE Title hopeful Daniel Bryan be watching this match, and will we see another Bryan/Gail-Ziggler/Guerrero confrontation?
After Johnny Curtis and R-Truth won their first ever tag team match together on Superstars, they were assaulted by DZP; Zack Ryder and Primo Colon. DZP had earlier declared that they were more deserving of Truth and Curtis' guaranteed WWE Tag Team Title shot, and they followed up on that declaration by leaving the pairing on the mat at the end of the show. Tonight, Curtis steps into the Raw ring for the very first time, taking on Primo in singles competition – this match could set the tone for future WWE Tag Team Title shots, featuring two men very much in the hunt for those belts with their respective partners. Can Curtis keep his mini winning streak going at the beginning of his WWE career, or will Primo teach him a lesson about the unpredictability of the WWE? Tune in tonight to see if Curtis' Raw debut is a successful one!
Also tonight, the United States Champion, Sheamus, will be in action, plus you can expect to see appearances from Santino Marella, Melina, Mark Henry, John Morrison, Ted DiBiase, Tyler Black and many more!
Announced For Raw
New Raw GM Jerry "The King" Lawler to open the show
Dolph Ziggler vs Evan Bourne
Johnny Curtis vs Primo
United States Champion Sheamus in action
Raw has been posted, huzzah - LINK.
Re: The BTB Advertisement Thread
---
Quote:
WWE SmackDown! | July 4th 2002 | Boston Massachusetts
Smackdown this week is aired from the Fleet Center in Boston Massachusetts as the WWE celebrates the 4th of July episode of Smackdown. Who better then to kick off the show then the reigning United States Champion, Olympic Gold Medalist and number 1 contender for the Undisputed title for Vengeance; Kurt Angle. Angle has requested some air-time and will kick off the show, possibly talking about his interactions with the Undertaker on Raw and him leaving the Undertaker tapping out to the Ankle Lock on the outside of the ring up the entrance ramp. There is no word as to if the Undertaker is in the arena here tonight but if the American Badass shows up, things are bound to get physical. And where will Paul Heyman and Brock Lesnar be in all of this triangle story? Brock who is the King of the Ring winner has made his presence felt in the Undertaker's business the past fortnight making it clear that he wants him at Summerslam for the title.

Last week Eddie Guerrero was revealed to be part of the trade by Raw's General Manager, Shawn Michaels as the newest member of the Smackdown roster. The former Intercontinental Champion showed up during Rey Mysterio and his nephew, Chavo Guerrero's match, costing Rey the victory and celebrating soon after with Chavo. Later on in the show however, Rey would be seen laid out in the hallway as he was jumped from behind and attacked. Eddie and Chavo came running to the scene and aided, calling officials and personal to come and help however, the attacker is still unknown. Eddie and Chavo are here tonight and have promised to try and reveal the identity of who attacked Rey Mysterio and find the person. Who can it be? And what does this hold for either of them in the future as we head into Vengeance?

John "the Prototype" Cena would badmouth Chris Jericho last week, Jericho who is still out via injury after the career shortening Hell in a Cell match with Triple H back at Judgment Day two months ago, has yet to make his return to Smackdown however, when a video package hyping up his inevitable comeback for the Summer aired, Cena would take this oppertunity to explain how he is better then Jericho at everything and gain heat. Will Cena continue his verbal assault on Jericho or will Jericho have something to say about it? Will Jericho appear this week on the 4th of July episode of Smackdown or is something else in store for the 'Prototype'.
Last week rookie Randy Orton gained a surprise shocker of a victory over Lance Storm. Will Randy Orton's luck continue or will things pan out differently for the third generation superstar in their rematch this week?
Last week we saw the debut of Devon Dudley's new persona, calling himself Reverend Devon and siding himself with one big individual, Brother Batista. Devon will be in action here tonight as well as appearances from Edge, the Hurricane, Christian, the Tag Team Champions Rikishi and Scotty 2 Hotty as well as many more.
It's up recapped as usual.
Reviews and feedback much apreaciated. Will try my best to get back to people but not promising anything that might dissapoint some later.
Re: The BTB Advertisement Thread
---
Quote:
WWE 2009 - Bridging The Gap


WWE Friday Night Smackdown Preview, April 24th 2009


'Under New Management'


Four for Four

In an absolutely HUGE main event set for Smackdown this week, The Legacy and Edge will team up to take on Rey Mysterio, MVP, Batista and John Cena in an 8 man tag team match! After an explosive Raw that saw all 8 men mix it up with each other throughout the show and the hostility between both sides, the Ford Center will be at boiling point come Friday night. Just who will get the upper hand as we head into Backlash this Sunday?

Second Chances

JBL and seemingly his newfound protégée, Jack Swagger, have found themselves embroiled in the epic rivalry between The Undertaker and Shawn Michaels. What his master couldn't do on Raw, Swagger has vowed to do on Smackdown. In what will be one of the biggest matches of the young man's career, will the All American American prove to the world that he has what it takes to hang with the best in the business? And what, if any role, will The Heartbreak Kid have to play in all of this? HBK unsuccessfully tried to interfere in the Deadman's match against JBL this Monday night. Will he strike again or wait for the epic rematch at Backlash?

Boys in the Hood

Unified Tag Team Champions, The Miz and John Morrison have been on a verbal rampage since Wrestlemania with their so called Quest for Competition. This week the duo has challenged Cryme Tyme to a match in the hopes of striking another WWE tag team off their list. Will Cryme Tyme become number 2 or will the tag champions finally get what many believe they have coming to them?

SAVE_US_Y2J

Perhaps the biggest news of the week was Chris Jericho's announcement on Raw, that he was going to reveal the Smackdown General Manager this Friday night! WWE.COM has exclusively learned that the new GM will be in attendance to usher in a new era for Smackdown in the WWE. The blue brand is set for an historic night. With the huge tag team main event match and the revelation of the new GM, this show is a must see for every WWE fan.

Also in action, Jeff Hardy, Matt Hardy, CM Punk, The Big Show, Rey Mysterio and more! Tune in this Friday for an unmissable edition of Smackdown!

Confirmed

The Legacy & Edge vs. Rey Mysterio, MVP, Batista & John Cena




Jack Swagger vs. The Undertaker




The Miz & John Morrison vs. Cryme Tyme




Chris Jericho reveals the new Smackdown General Manager
NOW POSTED!
---
WWE 2009 - Bridging The Gap
http://www.wrestlingforum.com/booker...ml#post9608810
Re: The BTB Advertisement Thread
---
Quote:
Monday Night Raw Preview
Monday 13th October 2008
Live from the University of Dayton Arena
Dayton, Ohio
The Survivor Series is drawing closer and is beginning to take shape with no fewer than three further matches being announced last week and the possibility of more this coming week.

In addition to the WWE Championship between Batista, Randy Orton & Triple H and the elimination match composing teams led by John Cena and the World Heavyweight Champion, CM Punk, we learned that The Big Show will meet John 'Bradshaw' Layfield in a Hell in a Cell match that will see the loser leave the WWE. Also Ted DiBiase discovered that he will be taking on The Undertaker from Eric Bischoff while Shawn Michaels accepted The Miz's challenge to an elimination match Friday night on Smackdown.

Fresh off challenging JBL to the career ending match last Monday night, The Big Show will be in action this week when he teams up with his rookie, Justin Gabriel to take on another mentor/rookie combination in the shape of Randy Orton & Darren Young. The World's Largest Athlete showed no remorse for injuring Shane McMahon, provoking an understandably furious response from the remaining Corporation members, and tomorrow night he & Gabriel will face a tough challenge against Orton & Young. The Viper surprised many last week by finding a way to co-exist with Batista on their way to a victory, and he'll be looking to go back-to-back with another win in Dayton as he prepares for his WWE Championship match next month. Only one mentor/rookie combination will be able to emerge victorious. Make sure you tune in to Raw tomorrow night to find out which duo that will be!

We were all surprised by Orton last week, however no one was more surprised than Batista. The Animal made it clear to The Viper he doesn't trust him, but will he feel differently now after their victory last week? If so and they do manage to co-exist, what does that mean for their former Evolution team-mate, Triple H? It looks like the odds may be shifting against The Game and you have to know he won't like that one bit.

It was a tough week for Triple H as he went toe to toe with The Undertaker on his Raw return and he threw the towel in by getting himself disqualified thanks to a low blow. He then went after his trusty sledgehammer to give the phenom his own personal welcome to Raw only The Undertaker had other ideas. That was until Ted DiBiase & Ezekiel Jackson stormed the ring to take down The Dead-Man, and DiBiase ended the mugging with a shot to the skull of his Survivor Series opponent with The Game's sledgehammer. It was a strong message of intent from the confident third generation superstar, but surely he has to realise that The Undertaker will be coming back for retribution, and soon! Just how long will he wait before going after him?

The Miz was out to prove he didn't turn his back on a fight with Shawn Michaels at No Mercy last week, so much so that he's found himself in the position of leading a team against one put together by The Heartbreak Kid at the Survivor Series. He went about his mission in the typical Miz way by jumping Michaels during his No Mercy rematch with Jack Swagger Friday night on Smackdown before challenging him without giving Michaels the chance to respond. Later on however, he did and it was emphatic. Mr. Hollywood returns to home turf on Raw tomorrow night to take on Kofi Kingston who's going through a slump right now. Will he be able to turn it round when he meets The Miz in Dayton tomorrow? Tune in to find out!

Christopher Daniels & Kaval booked their place in the final of the World Tag Team Championship tournament last week after defeating JTG and his rookie, Homicide. They'll find out who their opponents will be at the Survivor Series when the two teams battling to face them collide live tomorrow night. Matt Hardy & Gregory Helms will take on Rey Mysterio and his rookie, Mystico, and last week Mystico gained a confidence boosting win over Shannon Moore. They all shook hands after the bell last Monday but this week the gloves will well & truly be off when the friends go all out to join Daniels & Kaval in the final. Only one of them however will make it. Make sure you don't miss it to see just which of them will be heading to the Survivor Series to fight it out for the gold.

It seems that the Colon brothers have been able to do what no one else has in consistently frustrate the undefeated Intercontinental Champion, Sheamus. He was hell bent on getting his hands on the brothers cool last week and yet again they managed to dodge The Celtic Warrior's clutches after he attacked Carlito's opponent, Orlando Jordan as he made his way to the ring for action. This week we will see Sheamus in action against Goldust, and if his mood in recent weeks is anything to go by Goldust could be in for a tough night to say the least.

For all this and more, make sure you don't miss Raw tomorrow night live from Dayton, Ohio!
>Confirmed for Raw This Week<

World Tag Team Championship Tournament – Second Semi Final
Matt Hardy & Gregory Helms vs. Rey Mysterio & Mystico

Plus

The Big Show & Justin Gabriel vs. Randy Orton & Darren Young

Kofi Kingston vs. The Miz

Now Posted!
Re: The BTB Advertisement Thread
---
Re-BookCreative presents iMPACT WRESTLING done right


line up for the first edition of iMPACT (14/07/11) under new managment:


X-Division style match - Max Vs Jeremy Buck

Knockouts Tag Team Title Match - Velvet Sky & Miss Tessmacher Challenge Sarita and Rosita

Austin Aries issues a challenge for next weeks iMPACT, who could the mystery opponent be?

Mr.Anderson has an offer for Sting that he cant refuse!!

Eric Young makes a statement about the Television Championship and issues an open challenge...but who will accept and how many??

TUNE IN TO FIND OUT!!

Also booked to appear: AJ Styles, Robert Rhoode, RVD, Alex Shelley and Hulk Hogan
Card subject to change
---
Last edited by imEnigmaticAsshole; 07-17-2011 at

04:53 PM

.
Re: The BTB Advertisement Thread
---
10/10/10 - 'The day the force that could prove to eventually destroy a company is formed. The day that Immortal is born and plans to make an iMPACT on the professional wrestling world.' Get ready, the new era of professional wrestling is being ushered in.



Coming soon.
Winning World titles, Custom Made Clothes
Join Date: Jan 2008
Location: chatbox
Favourite(s): I
Posts: 15,429
Points: 371
Re: The BTB Advertisement Thread
---
Quote:
July, 18 2011. Raw Preview.




Tonight on Raw, we will have the fallout from last night's Money in the Bank. With CM Punk's victory last night, what does the future hold for the WWE Championship and Champion? Is CM Punk gone forever? Will Mr. McMahon deliver on his promise to fire John Cena? What does the future have in store for these two superstars? Mr. McMahon promises to be making a big announcement.
Both Money in the Bank winner, Rey Mysterio, and Mason Ryan will be in the house for Raw. After last night's Money in the Bank they have some unfinished business. At last nights's Money in the Bank Pay-Per-View Rey Mysterio captured the Money in the Bank briefcase. Mysterio promised to cash in if CM Punk won the WWE Championship last night. Mysterio attempted to cash in, but Mason Ryan stopped Mysterio. Will Mysterio get revenge on The Behemoth, Mason Ryan?
When Raw rolls into The Wesch Center in Green Bay, Wisconsin, you can expect that last night's seven other Raw Money in the Bank match competitors won't be too happy. A tag team match between six of the competitors has already been booked for tomorrow night as Rey Mysterio, Evan Bourne and Alex Riley take on The Miz, Alberto Del Rio, and Jack Swagger. Can any of these men coexist after last nights epic battle?
What condition will Kofi Kingston be in? After being sent to the hospital last night, he will have to put his newly won United States Championship on the line in a rematch with Dolph Ziggler. How will Kofi Kingston hold up after being taken out by a vicious post-match attack at the hands of Ziggler? Will he be able to repeat or will the strap return to Dolph Ziggler's waist?
Plus: What does the future hold for the New Nexus now that CM Punk is gone? How will they react to Punk's apparent departure? Can they thrive without his leadership or will they fall apart?
The only way to find out the answers to these questions, plus see the other surprises we have in store for you is to tune in to Raw tomorrow night live at 9/8 CT on USA Network.
Confirmed:
Vince McMahon's Big Announcement

United States Championship Match:
Dolph Ziggler vs. Kofi Kingston (c)

Evan Bourne/Alex Riley/Rey Mysterio vs. Jack Swagger/Alberto Del Rio/The Miz

Posted. Raw Link.
---

#BELLA&HOOPLA
Posting Rules

You may not post new threads

You may not post replies

You may not post attachments

You may not edit your posts

---

HTML code is Off

---