Moron
Join Date: Apr 2009
Location: England
Posts: 6,893
Points: 0
Re: WCW 2007: Don't Call It A Comeback...
---
Quote:
Awesome. Not being afraid to put your own show down in your "dirt sheets" is a great idea. I also like how you obviously took the feedback to heart because what was said in this was also reflected in the reviews you got. Good job. Is it time for Nitro yet????!!!
I actually wrote the dirtsheet page before I posted Nitro! I knew what the issues were with the show but I figured I can either fix them and post a perfect show... or run with the ball the way it would be IRL and just pump out the show when it was complete and spell-checked and take the hits. Like I said, it feels more 'real' that way.
Besides, sheets are a part of the business, why not incorporate them?
Will try and get Nitro up tonight or tomorrow. In the meantime, why not have a preview?
-------------------------------------------------------------------------------------------
WCW Monday Nitro
Preview
January 8th 2007
Last week on
Nitro
we saw the resurrection of WCW as tensions mounted between Shane McMahon and Eric Bischoff. Bischoff opened the show by announcing a tournament for the WCW World Heavyweight Title but a heated exchange between Easy E and Shane O'Mac saw Shane getting beaten down by Bischoff's personal security, Luther Reigns and Matt Morgan. Shane was saved however when Antonio Thomas and Romeo Roselli, The Heart Throbs, came rushing down the aisle to fight off Morgan and Reigns.
Incensed, Bischoff announced that The Heart Throbs would be excluded from the qualifying matches for the TLC Tag Team Title match at
Souled Out
unless they could beat Morgan and Reigns in a sanctioned match in the main event. Taking their task in hand, the Heart Throbs looked good in their first-ever main event outing only to be denied certain victory when they were attacked by more of Bischoff hired help when The Full-Blooded Italians, Mamaluke, DeVito and Guido attacked. The Heart Throbs win by DQ but the shocks were yet to come as Bischoff had ordered the Italians to kidnap Shane McMahon. Where have they taken him and why did Bischoff feel the need to take such extreme action? Tune in to
Nitro
to find out.
In other news, the first round of the World Heavyweight Title tournament is well under way as CW Anderson, Scott Hall, Chris Kanyon and Terry Funk made it through. The first half of the first round was not without it's controversies, however. CW Anderson stole his first round victory over Marty Jannetty with the help of David Flair, Eric Angle and Erik Watts, a group he went on to introduce as the 'new' Horsemen in honour of Ric Flair and Arn Anderson's legendary stable of the 1980s. Terry Funk also became the victim of controversy as he looked all but beaten until his friend, Dustin Rhodes, came to his aid to help him snatch a victory from Orlando Jordan.
Rhodes himself will be in action in the first round as he finds himself facing Gangrel tonight. The first round will also conclude with matches between DDP and Rosey, Vader and Masato Tanaka and a huge contest between Scott Steiner and Rikishi. Steiner has something of a chip on his shoulder about the World Title, feeling that he should have simply been handed the belt by Bischoff, a stance WCW's Executive Producer disagreed with. That said, these two men are known to have shared a long-time friendship, so Steiner's path to the title, should he beat Rikishi, will be under heavy scrutiny.
The running for the World Tag Team Titles got off with a bang, too, as we saw the first of four qualifying matches between the Legion of Doom and The Dicks. Despite a valiant effort from the young tag team, it was the LOD who advance to
Souled Out
to take part in that team's first TLC match in any incarnation. But the tag team action wasn't just taking place in the ring, as a backstage altercation between future qualifying opponents Totally Buff and Gymini saw them separated from a brawl in the weight room by WCW officials.
Confirmed matches for Nitro:
WCW World Heavyweight Title Tournament - First Round :-
Scott Steiner vs. Rikishi
Vader vs. Masato Tanaka
Dustin Rhodes vs. Gangrel
DDP vs. Rosey
WCW World Tag Team Title TLC Qualifier :-
The Heart Throbs vs. The Basham Brothers
---
Last edited by TheLoneShark; 10-13-2010 at

10:56 AM

.
Re: WCW 2007: Don't Call It A Comeback...
---
Nitro Feedback
Opening the show with Shane McMahon? I was a little shocked by this, simply because I wasnít sure if Shane was going to be on television or not after giving Bischoff full control. Shaneís stuff was pretty generic really, welcoming everybody to the show and what not, and whilst a promo similar to this was always going to kick off the show, I guess you could have given McMahon a little more of a personality. Bischoff was much better, he really made the promo. I thought you captured his character perfectly, bragging about making WCW and his successes on Raw, which Iím not too sure they would mention on WCW television. I like the way youíre using Reigns and Morgan to, pretty different role. The Bischoff line about sleeping with Shaneís family was pretty sweet to, and the brawl I felt was needed, simply because it allowed Shane to show something, as he had been very dull so far.
@ The Heart Throbs. Iím really hoping they get squashed tonight simply because they are terrible, but given your lack of talent, I guess youíve got to make everybody look strong at this stage.
Scott Steiner = Jesus push if you want me to continue reading.
DDPís interview was pretty in character, nothing he said was anything great though, basically just putting over the World Title tournament and getting his face on screen for the night.
I guess Steiner is in a relaxed mood because there was nowhere near enough cussing for this to be a Steiner promo. Obviously he wants the World Title to, and I thought it was pretty funny how you had the person he faces next week literally be a ďfat assĒ.
Now Bischoff gets an interview? You can tell he is in charge of what happens on television, he is all that is on. Seriously though, I understand it will probably be like this for the first week, however hopefully over time he doesnít get used this much so early in the show.
CW Anderson promo was okay, as it seemingly looks like youíre going to give him a more serious role.
A good win for Anderson here, beginning his new role, as at his stage, Jannetty still has some sense of credibility, although Iím not sure how long that will last. As for Flair, Angle, and Watts, it looks like youíve got a Legacy type thing planned from these guys just by looking at the interference and I think that would work pretty well for them.
Fuck, I feel really stupid now. I canít believe despite this being a WCW thread, I mentioned Legacy rather than The Four Horsemen, terrible stuff on my part. With that being said, Iím not too keen on Watts, and I never really saw much of the other Angle, so Iíll be interested to see what you do with them. Anderson has got to be the leader of the group, whilst David Flair is just putrid. Anyway, this faction should be good.
The Gorilla Position! RIP Monsoon
. It felt good to hear this though, as I donít think Iíve ever read the term in BTB before. I remember Goldust being a bit of a badass back in his WCW days, so Iím actually a little intrigued to see where he goes. Teaming with Terry Funk is something Iím not sure is the right thing for him. Funk is great, I love him to death, but I just donít know if a partnership between these two would last. Iíd much prefer if Rhodes became a member of the ďFour HorsemenĒ and fuck off Flair. Anyway, I wonít judge to harshly yet as I havenít seen much, but Iím a little apprehensive.
Not sure why Antonio is being made to look like a bitch, whilst Romeo is calm, but whatever. Shane O having their back is cool and stuff, and whilst hopefully McMahon can find some better back up, this tag match tonight could be a terrific way to start an epic power struggle between Shane and Bischoff.
The FBI looks like legit tough guy/thugs after beating up the security guard. If you have them actually wrestle in this thread, not too sure by this segment, you could probably make them into a pretty cool, edgy tag team.
Orlando Jordan just officially disgraced Montel Vontavious Porter. With that out of the way, the promo wasnít too bad, with you clearly wanting to give him a push, or at least thatís what it looks like, but please, PLEASE never have him quote his theme song again. It sounded incredibly cheesy.
I donít like Terry Funk going over Jordan the way he did. Whilst Jordan looked pretty strong dominating Funk, Funk looked perhaps a little too bitchy for my liking. I didnít really like the involvement of Rhodes either, so whilst itís still probably a little early to judge Funk/Rhodes is not working for me at this stage. Iím hopeful that OJ recovers and becomes something decent in this thread to.
I mark for Sean OíHaire, and have a huge push for him myself, so reading this promo made me a happy man. You captured his ĎDevilís Advocateí attitude immensely well. Terrific stuff. Oh, and
at the crack at American politics.
The Dicks segment was really random. Iím not sure if Iím supposed to laugh or cry with the fact that The Dicks are in this thread.
With this segment, despite a bit of comedy being involved, it shows me that The FBI are going to own. I think using them almost as Bischoffís lackeyís is a very smart thing to do, and if this sticks, it could be awesome. I thought the Vito offering to whack them as rather funny as well.
The LOD were always going to go over The Dicks, yet the LOD are another tag team I really dislike. With that being said, Iíd rather them than The Dicks winning, so good decision.
Chris Kanyon is nothing more than a jobber, always has been, although for some extraordinary reason I really donít mind the guy. This interview was rather generic anyway, with Kanyon putting over the tournament, and then squeezing in his ďepicĒ catchphrase.
Iím not too sure about Al Snow being a comedic jobber, tbh. Donít get me wrong, I think using him as a comedic wrestler is the correct move, yet I donít think the drinking is needed. It almost seems as if youíre adding something that doesnít really need to be here. Even though he looks sort of homeless, I canít really see him being a drunk.
Amy Weber is pretty hot, Four Horsemen mouthpiece, please. Unless of course youíre able to make Eric Angle as epic as Kurt.
What the fuck is Kyo Dai? Anyway, I was pretty surprised to see Kanyon pick up the win in this one, despite the interview exposure early, I really expected Tajiri to get the win. With that being said, it seems like it was match of the night so far, just by the little extra detail you gave it, so Iíll say it was a very nice win for Kanyon.
DíLo Brown interview was okay, at times it went away from the edgy Brown, and turned into a generic face promo, for example when he began talking about the respect. ďDown with the BrownĒ is a phrase created by the most epic man on the planet so I will live with it. Overall, didnít mind the way you had DíLo speak though, but I really felt it get a little dull with the bit I mentioned above.
I donít know who Josh Barnett is, although I never likes Terkay being used as the MMA guy. I just never found him agile or dangerous enough to be taken seriously. As for Puder, he can be a real shoot fighter, he has pace and he has a certain look about him I like. Iím really hoping he is the leader of this group, as he is the only one at this point (I have to research Barnett) who I am behind.
Matches for next week seem alright. BIG VAN VADER IS THE FUCKING MAN!
at now for life. This is just a funny error really, although my ms word automatically changes nwo into now, so maybe that is what happened to you. Hallís promo was alright, although admitting he may be going out of the business soon is just not a Scott Hall trait, Iím pretty sure heíd continue to just talk about how epic he is.
No matter how credible you tried to make Brown seem, which you did a pretty good job of by the way, I always knew that Hall was going to pick up the win here. Advancing in the tournament plus the NWO perhaps having one last run makes me a happy man, because despite NWO being a little old by this point, they can still be awesome if booked correctly.
Luger and Buff as a tandem is alright, although I donít really like Gymini. Either way, Iíd really expect Luger and Buff to go over, despite this generic, boring segment.
The main event seemed to be okay, but it became great once The FBI became involved. The stolen ambulance as well as the interference would have added a lot of epicness to the whole scenario. The one thing I thought could have been used a little better was the drama between Bischoff and McMahon as it wasnít really touched on. Iím interested to see where the two authority figures go next week anyway.
Overall, a terrific start. There were some things I didnít like, but plenty that I enjoyed. It was a very, very fun show to read, so hereís hoping this one lasts. BTW, SLOW THE FUCK DOWN, otherwise Iím gonnaí be late with my feedback.
---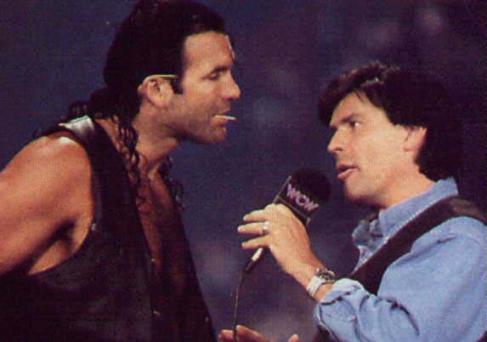 Re: WCW 2007: Don't Call It A Comeback...
---
Quote:
I actually wrote the dirtsheet page before I posted Nitro! I knew what the issues were with the show but I figured I can either fix them and post a perfect show... or run with the ball the way it would be IRL and just pump out the show when it was complete and spell-checked and take the hits. Like I said, it feels more 'real' that way.

Besides, sheets are a part of the business, why not incorporate them?

Will try and get Nitro up tonight or tomorrow. In the meantime, why not have a preview?
That makes it even funnier that the things you knew the show needed were pointed out by others. But yeah I agree 110% I write mine the same way. Get the show done, spell check it, throw it up. That's how live TV is done they don't get weeks to re-do things and get them perfect so why should we?
As for the next Nitro it looks good. I'm more excited about this round of championship matches. Love, love, love seeing Vader in action.
Moron
Join Date: Apr 2009
Location: England
Posts: 6,893
Points: 0
Re: WCW 2007: Don't Call It A Comeback...
---
Stoj, Enforcer, cheers for the feedback guys, appreciate all of it.

----------------------------------------------------------------------------------------



WCW Monday Nitro
Monday 8th January, 2007
Richmond, VA



A highlight package recaps last week's show as we see the assault on Shane, the save by The Heart Throbs, action from the main event and Shane's kidnapping as well as footage of the brawl between Totally Buff and Gymini and the formation of the new Horsemen. We're also brought up to date on the winners of last week's qualifying matches.

Nitro kicks off with the traditional big pyro display/Nitro Girls combo as Tony Schiavone, Don 'Cyrus' Callis and their new broadcast partner Jerry 'The King' Lawler welcome us to Richmond for another exciting night of WCW action with a rundown of tonight's card. Scott Steiner vs. Rikishi is confirmed as your main event.

"Heart Throb" plays, bringing Romeo Roselli and Antonio Thomas to the ring to a decent pop. They're dressed in street gear, so clearly only here to talk.

Romeo: "Last week, we all witnessed something truly shocking as Eric Bischoff and his band of hired guns assaulted us after our match and kidnapped our friend and boss, Shane McMahon. Since last Monday, nobody has seen or heard from him and, frankly, all the boys in the back are a little concerned for his safety at the hands of those Italian goons who took him."

Antonio: "We only got involved in Bischoff's business because we believe in doing the right thing, and he made us fight for our careers, to preserve our shot at the titles. In light of recent events, it looks like we're going to have to forfeit our shot at those belts to take responsibility and focus on finding Shane. To that end, it's with great sadness that we announce our withdrawal from tonight's scheduled qualifying match."

"I'm Back" plays and Eric Bischoff and his personal security, Morgan and Reigns, appear at the top of the ramp to a huge chorus of boos.

Bischoff: "You guys want to forfeit? Do you really think that will help Shane? Let me tell you the deal, gentlemen. If you refuse to wrestle tonight, I will end your careers, because you will be fired. You're worried about Shane? Well, if you'll turn your eyes to the Jumbotron, you'll see that he's just fine."

The Jumbotron flickers into life where we see Shane. He's bruised, tied up, gagged and wearing torn clothes covered in dried blood. He's clearly been beaten by the Italians, who apparently are calling themselves the FBI - it says so on their T-shirts - and they're currently surrounding him proudly. They've gained a fourth member, Trinity, since we last saw them. From the looks of things, they're keeping him in a derelict warehouse, not that that's going to help find him much.

Bischoff: "As you can see, Shane's still alive and very much unavailable to help you at this point, as he will be until he accepts that this is my show. So in that spirit, let me tell you what's going to happen. You're going to wrestle in that qualifying match tonight, because if you don't, two things are going to happen: First, you're going to get fired and second, Shane's going to get hurt. So make your choice, guys. What's it going to be?"

The crowd have fallen almost silent - it's a choice they'd hate to have to make, but then there really isn't a choice, is there?

Romeo: "Bischoff, if that's the way you want to play it, then I guess we have no choice. We'll take your match but be very, very clear: If your boys touch Shane, we will come looking for you."

Bischoff: "Oooh, I'm scared. Since you're feeling so confident, so aggressive, how about we start that match right now?"

Big boos from the crowd as "Toe Jam" plays, bringing The Basham Brothers to the ring accompanied by the twisted genius himself, Paul Heyman. They have no real need to work the crowd, they're already angry enough. A referee comes sprinting down to join them in the ring and it looks like we're kicking off with some action here on Nitro.

World Tag Team Title TLC Qualifying Match
The Heart Throbs vs. The Basham Brothers

The Heart Throbs must be regretting ever getting involved last week. First they get put through hell at the hands of Morgan and Reigns, then they got attacked by the FBI. Now they've been left to face one of the toughest and most coherent teams in pro wrestling in their street clothes!

To their credit the Heart Throbs came out fighting and unleashed their aggression on the Basham Brothers as Bischoff lead his boys down to ringside and joined the commentary team. The Heart Throbs eventually ran out of steam and the Bashams took advantage to get themselves on top, using all there experience as a tag team to cement their dominance in the match.

Eventually, The Heart Throbs managed to mount a comeback, fighting their way back into the match by using their speed advantage and sheer determination to win. Just as they looked like securing the victory by successfully delivering the Double STO to Danny Basham, Paul Heyman jumped up on the apron to distract referee Brian Hebner. As the argument continued, Bischoff ordered Morgan and Reigns to attack and they followed those orders, diving into the ring and attacking the Heart Throbs; Morgan with the Pump Kick to Antonio, Reigns with a Swinging Neckbreaker on Romeo before leaving the ring. Doug Basham in without a tag as Heyman jumps off of the apron to make the cover and the referee makes the count: 1...2...3!

Winners: The Basham Brothers

The Bashams celebrate the victory with Heyman on the outside as Bischoff, Reigns and Morgan get in the ring to lay a beat down on The Heart Throbs. Bischoff grabs a microphone.

Bischoff: "Well boys, let that be a lesson to you about what happens when you mess with my business. If you play with fire, you get burned. If you know what's good for you, you'll stay the hell out of my way."

He signals that it's time to leave and we get a solid close-up of the bloodied Heart Throbs in the ring as EMTs come to their aid.

Backstage, we're with Dustin Rhodes and Terry Funk.

Funk: "I just don't understand, Dustin. I thought I was done for, but the next thing I know the referee is raising my hand."

Rhodes: "Don't question it, Terry. You've been beaten up worse than that before and come up on top, just put it down to veteran instinct."

Funk: "Instinct? Dustin, I'm an old man and I know that miracles don't come flying out of my ass. Just tell me what the hell happened."

Rhodes: "I don't know, man. You sent me away from ringside, remember?"

Funk: "I just wish I knew how to work my damn Tivo, then I could watch it back."

Rhodes: "Don't worry about it, Terry. You're in the next round, that's all that matters."

Funk: "I guess you're right."

Rhodes: "Of course I am. Look, I have to go get ready for my match. It's my turn to get through to the Quarter Finals."

Funk: "You mind if I tag along?"

Dustin shrugs and walks away.

In the parking garage, a limo is pulling up; Scott Steiner and Midajah have arrived! Steiner looks pumped and ready for his in-ring return to WCW tonight as he makes his way towards the locker room.

In the interview area, we can join Diamond Dallas Page, who's standing by with Mark Lloyd.

Lloyd: "Diamond Dallas Page, last week you told us all about ho it felt to be back in WCW but tonight, in the next half hour, you're going to step back in that ring for the first time in six years as you face Rosey in the World Heavyweight Title tournament."

DDP: "That's right, Lloyd, tonight I find myself facing a former 'superhero in training.' Well Rosey, tonight you won't be getting any three minute warnings and you won't be getting any second chances. Tonight, I'm going to come one step closer to reclaiming the WCW Title because I guarantee you, Rosey, that you're going to feel. The. BANG!"

Page walks away and we're going back to the arena, which is almost pitch black. "Blood" begins to play and a ring of fire appears on the stage, which Gangrel, chalice in hand, appears in the middle of. He makes his way slowly to the ring with the fire from the stage providing most of the light as he goes. As he climbs the ring steps, the lights come up and he drinks from the chalice, spraying 'blood' into the crowd.

"Lonestar" plays and the crowd pops as Dustin Rhodes walks out to the ring, his face a study in concentration on the task at hand and with Terry Funk by his side. He doesn't stop to work anybody or shake any hands. Dustin Rhodes has one goal tonight: Victory.

WCW World Heavyweight Title Tournament - First Round
"The Lonestar" Dustin Rhodes (w/Terry Funk) vs. Gangrel

With these two guys going one-on-one, you'd be a fool to expect anything more than a good, old-fashioned 'pier 6' brawl. It was Gangrel who took the advantage in the early going as he used every trick in his arsenal to stay on top. He took the match to the floor, using the barriers, chairs and anything he could get his hands on as weapons, even levelling Terry Funk with a chair shot when he tried to help Dustin out.

Back inside, Rhodes was a bloody mess as Gangrel moved in for the kill, hitting him with a sweet Impaler DDT! This one is all over. 1...2...NO! Dustin Rhodes kicks out and the crowd are on their feet! Gangrel is incensed, he's arguing with the ref and throwing a temper tantrum but he needs to finish this one off as Rhodes is struggling to his feet. Gangrel's back s still turned and here comes Dustin Rhodes with his signature Bulldog. Cover: 1...2...NO! Gangrel kicks out, it's still too early to get him but Dustin used the element of surprise and now he's on the attack, stomping a mudhole into his vampire foe before delivering some mounted punches.

Rhodes with the rear chinlock, a classic wear down hold from wrestling's past that remains effective to this day. Gangrel struggles, fighting for his breath but he's slowly fading. With his last ounce of strength, he manages to get his foot on the ropes, forcing Dustin to break the hold. The referee forces them apart, giving Gangrel time to get back to his feet but as soon as he does, Dustin is straight back n the attack, a series of punches rocking Gangrel before a big right hand spins him on his heels. No flies on Dustin as he goes for that inverted DDT, the Lone Star State Of Mind… It connects! Cover: 1...2...NO! Gangrel gets his foot on the ropes once more! Those ropes are the only thing saving Gangrel at this point, but Dustin is pissed. He drags Gangrel's almost-lifeless carcass to his feet and signals that it's all over. He sets Gangrel up in the front facelock, looking for a vertical suplex but Gangrel has landed on his feet. But wait - Death Penalty! Dustin was setting him up for the hangman's neck breaker and he must have him this time: 1...2...3! This one, finally, is over!

Winner: "The Lonestar" Dustin Rhodes

"Lonestar" plays again as Dustin Rhodes is joined in the ring by Terry Funk to celebrate but the crowd is distracted as Orlando Jordan comes running down the ramp and slides in the ring, nailing Funk with a dropkick before ducking the onrushing Dustin Rhodes and hitting him with the Johnson Shuffle, connecting with the three left handed jabs before taking him down with a big right. Funk is struggling to his feet and OJ hits him with a Fame-asser, which Schiavone tells us he's calling the "Cracker Jacker." Rhodes to his feet and he eats a Cracker Jacker too! Orlando Jordan stands tall as he's exacted a small measure of revenge for last week.

Backstage, we're in Eric Bischoff's office; Bischoff is sat at his desk, flanked by Reigns and Morgan as he addresses a small group of WCW stars: Billy Kidman, Kid Kash, Grandmaster Sexay and Lash LeRoux. David Flair and Tajiri are also there, backed by their respective factions.

Bischoff: "Gentlemen, I'm so glad you could all make it tonight. The reason I asked the six of you to be here tonight is that I wanted you to hear this first-hand from me. When I built WCW into the great company it was back in the day, as most of you know, one of the focal points of the company was a world-class cruiserweight division unlike anything ever seen before in professional wrestling. Now, I appreciate that, as it stands, this company is not exactly overwhelmed by cruiserweights but even so, I've decided to reinstate the World Cruiserweight Championship. I've called you here tonight, gentlemen, to inform you that in three weeks, at Souled Out, you will all be taking part in a six-pack challenge to crown the new WCW Cruiserweight Champion."

There's some celebration amongst the cruiserweight ranks.

"You can all leave now."

They don't hear him.

"Get out!"

They all scram, fast, except for the Horsemen who leave slowly, casually and with a sneer.

Backstage, in a corridor, Maven is walking around asking everybody he sees if they've seen Al Snow. We hear a piercing scream as he passes the Nitro Girls' locker room and he stops and turns to see half a dozen Nitro Girls run out screaming wrapped in just towels. He shrugs it off and carries on walking away. After he leaves, The Dicks appear from the locker room, also in towels.

James Dick: "I told you, Chad. These girls want us, they're just playing hard to get."

Chad nods in agreement as we head for the interview zone, where Rue has the 'pleasure' of the company of Paul Heyman and The Basham Brothers.

Rue: "Ladies and gentlemen, I've just been joined by the Basham Brothers and their manager, Paul Heyman. Guys, tonight you managed to secure your place alongside the Legion of Doom in that TLC match for the WCW World Tag Team Titles at Souled Out. But your victory wasn't without controversy as you picked up a big assist from Eric Bischoff and his personal security."

Heyman cuts her off by grabbing the microphone.

Heyman: "First of all, we didn't ask for Bischoff's help. The Basham Brothers could've taken care of the Heart Throbs all by ourselves and they're happy to prove that at any time. Eric Bischoff, I've told you to keep your nose out of my business many, many times over the years and you still refuse to listen. If you have a personal vendetta, you take care of it by yourself and you leave me - and my clients - out of it.

"Now to Souled Out. Yes, my clients and I will be involved in the TLC match for the World Tag Team Titles and, yes, so far all we know is that we're going to have to take on a pale imitation of the greatest tag team of all time. We know that there are five teams who have dreams of standing between us and the gold but to all of them - the LOD, Totally Buff, Gymini, The Impact Players, Al Snow and Maven - we have just one simple message: You might think of yourselves as representing some of the elite tag teams in professional wrestling but what you're looking at right now, right here on your television screen is the premier team in professional wrestling. No team is more highly trained and more finely tuned than the Basham Brothers."

They pull a menacing pose as we cut back to the arena, where "3 Minutes" is playing, bringing old-school 'Samoan Gangsta' Rosey to the ring. He's not playing for the crowd, he's not a superhero, this is very clearly a man with a new attitude.

"Self High Five" replaces it through the speakers and the crowd erupts at the sound of the not-so-subtle Nirvana rip-off. DDP appears and the volume increases as the ramp explodes in pyro as he self-high fives. He takes the time to saunter down to the ring at a leisurely pace, shaking hands with the fans as he goes. He climbs inside the ring and we're ready to go with our third match of the evening.

WCW World Heavyweight Title Tournament - First Round
"The Samoan Gangsta" Rosey vs. Diamond Dallas Page

It's an unusual first-round pairing that many questioned when it was announced, but once the bell rings it's time for an all-out brawl with Rosey looking more than a match for the former three-time World Champion as he begins to get the advantage and beat DDP back into the corner. It's rare to see Rosey in singles competition and you can see his tag team instincts kicking in immediately as he looks to isolate Page in the turnbuckles as he beats him down.

Eventually, Page found a second wind and used his experience to get back into the match. As he fought back, the crowd cheered every punch, every duck and every weave like they were watching a matador tacking a bull and it just seemed to drive DDP forward. At the peak of his momentum, he looked assured of victory until a last ditch effort from Rosey cut him off and he delivered the Samoan Drop. He went for a cover: 1...2...NO! It was a lazy cover and it might have cost him but Rosey is still on the attack. He drags Page to his feet and throws him to the ropes, delivering a big Swinging Side Slam, his finisher! The referee counts: 1...2...NO! So close! That was 2.999, for sure.

Rosey is exhausted, Page is beaten, both men have worn themselves down to the ground and the referee is counting them down as they struggle to their feet. At a count of eight, both men are up, but they've had to use the ropes to pull themselves up. Page has spotted some vulnerability and makes a last-gasp effort to keep his hopes alive… He charges in and grabs a running Diamond Cutter! The crowd is on their feet: 1...2...3! Page wins by the skin of his teeth!

Winner: Diamond Dallas Page

An exhausted DDP celebrates in the ring as the referee raises his hand in victory; a Herculean effort for the near 50-year old Grand Slam Champion against a much younger opponent. He looks as though he can hardly believe it himself as he staggers over to offer Rosey and hand up, then a handshake. Rosey stares him down, then accepts… NO! He's pulled DDP in and hit him with the Samoan Drop before leaving the ring a sore loser.

Backstage, we're in Eric Bischoff's office and he's on the phone again…

Bischoff: "I've told you, man, you get out of that contract and there's always a job for you here… Well, I'm glad to hear it… Well, if your lawyer figures it out, give me a call and we'll get a deal done… Yeah, we can do that… Great, say hi to your wife and kids for me, okay? Later, man."

He hangs up the phone just as Lex Luger and Buff Bagwell walk in.

Buff: "Eric, we got a problem."

Bischoff: "I saw what happened last week, guys… that's gotta be embarrassing, right?"

Buff: "Embarrassing? It was a disgrace! Those two punk kids think they can come into our company, the company we built and attack us like that? That's not going to happen, Eric."

Bischoff: "And what do you want from me?"

Buff: "We want a match, Eric. Tonight."

Bischoff: "That's all well and good, guys, but your match with Gymini is already scheduled for next week."

Buff: "I appreciate that, Eric, but we've found ourselves at a disadvantage here. Lex and I haven't teamed together for six years, Eric. Gymini have been teaming all their careers. All we're asking you to do is give us a tune-up match tonight."

Bischoff: "A tune-up, eh? Okay, I can do that, I got some time to fill. You guys want a match, you got one. You guys are up next, so I suggest you get ready."

Luger: "Hang on, Eric… Next? Who are we facing?"

Bischoff: "Oh, you'll see…"

Totally Buff storm out as Eric gets that familiar sick grin on his face.

Backstage in the parking lot, we're with Kyo Dai who appear to be waiting excitedly for something…

Tajiri: "Now, remember, she the boss' daughter. She very important - show respect."

Tanaka and Sakoda nod their understanding.

Sakoda: "But I don't understand - why is the boss sending her?"

Tanaka: "He want results."

Tajiri turns to glare at Tanaka just as an extremely lavish jet black stretch limo turns up. They line up to pay their respects as the driver opens the door to allow Francoise to step out.

Tajiri: "Francoise-sama, we are honoured to meet you."

Francoise: "Yes, I expect you are. Tanaka-kun, I understand you have a match tonight?"

Tanaka: "Hai."

Francoise: "My father expects that you win tonight. Winning that title has become considered vital to our family honour."

Tanaka nods respectfully.

Francoise: "Sakoda-kun, I expect you to assist him in any way necessary."

Sakoda also nods respectfully.

Francoise: "Finally, Tajiri-kun; My father asks that I work with you to make sure you uphold the family honour in your match at Souled Out. He asks me to remind you that he put you in charge because of your history of success and wants you to understand that your loss last week was a huge failure for our family. He wants me to ensure you make amends."

Tajiri nods.

Francoise: "Can I suggest we go elsewhere to talk?"

Tajiri nods and she gestures for him to lead the way, which he does.

In the interview zone, Mark Lloyd is waiting with Marty Jannetty.

Lloyd: "Tonight, I'm standing alongside a living legend of professional wrestling, a former multiple-time champion and one of the greatest tag team wrestlers of all time, Marty Jannetty. Last week, Mr.
Jannetty, you found yourself the victim of an ambush by the New Horsemen as some would say they cheated you out of your opportunity at the World Heavyweight Championship. Your thoughts?"

Jannetty: "Mark, what happened last week was a travesty. CW Anderson couldn't beat me fairly so he had to have his cronies come out and distract me to get the victory. I'm not usually a bitter man, Mark. If those guys have to cheat to get a victory, they'll get their comeuppance in the end. But when they add injury to insult, when they attacked me after the match, those four men trying to play with the big boys made this very personal. When they showed me that disrespect, I took it very personally and I will not be the doormat for a group of punk kids to walk all over.

"Now, I have too much respect for the sanctity of the tournament and the World Title everybody is competing for to get involved, to take my revenge on CW Anderson while he's still in this tournament. As a wise man once said, an eye for an eye makes the whole world blind and I don't want to be the man who ruins this for the fans or those other great competitors taking part. But CW Anderson, you and your 'new' Horsemen better get one thing clear: They say revenge is sweet, and you've given me a sweet tooth. So be ready, boys, because I'm coming for you, and I'm going to rock… your… world!"

Jannetty walks off, happy to have made his point and we go back to the arena where "Buff Daddy" is playing, bringing Totally Buff to the ring to a great pop from the crowd. They play up to the crowd as they walk the aisle, but Buff has a microphone and they're both all business once they step into the ring.

Bagwell: "Cut the music."

The music dies.

"Gymini, last week the two of you made the biggest mistake of your lives when you decided to fight dirty in the weight room. We've been around this business nearly as long as the two of you have been alive and we deserve your respect! Next week, we're going to share that ring for the first time - two great teams vying for a shot at the greatest prize in tag team wrestling, the WCW World Tag Team Titles."

Big pop.

"Now, tonight, Eric Bischoff has granted us a warm-up match for next week so that me and Lex can make up for lost time and get our rhythm back… and it doesn't matter who we have to face, but Gymini, you guys better be watching because everything we do tonight - everything we do to these guys - is coming your way next week in Louisville."

He throws the microphone to ring announcer Stephen DeAngelis and tests the ropes while they await their opponents. The crowd erupts with a solid wall of boos as the Horsemen theme begins to play and all four Horsemen, accompanied by Amy Weber, come to the ring. Schiavone, always sharp, queries what's going on and so does Buff, who seems to want to know which Horsemen they'll be facing. Amy Weber has a microphone and hopefully, she'll clear things up.

Weber: "Mr. Bischoff asked me to take the time to clear things up for you here, so let me explain what's going on… You asked for a warm-up match and he granted you one, but he was unimpressed by the lack of respect that you showed for him or his role as Executive Producer of WCW. With that in mind, he's asked us to be your opponents for tonight's match and we were only too happy to oblige.

"He asked me to inform you, and the referee for tonight's match, that this contest will be a four-on-two handicap match, with no disqualifications."

The crowd boos loudly as she leaves the ring, giving the referee no choice but to ring the bell.

No DQ Handicap Match
The New Horsemen (CW Anderson, David Flair, Erik Watts & Eric Angle w/Amy Weber) vs. Totally Buff (Lex Luger & Buff Bagwell)

There's not a lot of time for Totally Buff to process the injustice they're facing as the bell rings and immediately they're forced to defend themselves against the onslaught of the Horsemen. Luger fares a little better in this early going than Bagwell dues to his huge size advantage but eventually, both men find themselves succumbing to the numbers game.

Though Bagwell and Luger had hoped for some kind of fair warm-up contest, it was clear how screwed they were being when the Horsemen began toying with them, just beating them down and refusing to let the match come to an end - even going so far as to life their opponents' shoulders mid-count to keep the match going. Suddenly, the crowd came to it's feet with a huge pop as Marty Jannetty came sprinting down the aisle, chair in hand, looking for some revenge for last week.

Jannetty slid into the ring and used the element of surprise (and the chair) to deliver some solid chair shots to the heads of Watts, Flair and Angle, leaving him face-to-face with CW Anderson. As they stared each other down, Jannetty dropped the chair, begging Anderson to take the first swing… and he did. Jannetty and Anderson in a 'pier six' brawl that takes them to the floor with Jannetty using everything he can get his hands on as a weapon to batter Anderson. Anderson gets a cheap rake to the eyes and tries to escape through the crowd with Jannetty in hot pursuit.

Back in the ring, Bagwell and Luger have recovered and are hard at work on the remaining Horsemen. Bagwell has Angle and Flair set up for a Double DDT as Luger throws Watts up in the Torture Rack but here come Gymini! This match has descended into anarchy as Gymini attack Totally Buff, giving the Horsemen chance to recover and turn it into a 5-on-2 assault. Gymini hit Bagwell with the Cross Trainer as the Horsemen break down Luger; Erik Watts hits him with a big Chokeslam before Angle locks him in the Ankle Lock as Flair puts the boots in until Luger finally taps out and this one is finally, mercifully, over.

Winners: The New Horsemen

The beat down continues in the ring until the timekeeper starts battering the bell and a whole host of referees and officials come charging down the ramp to try and break up the chaos.

Backstage, we're in the treatment room where the physio is still patching up Rhodes and Funk.

Funk: "Dustin, I just don't understand - why did Orlando Jordan attack you like that? It doesn't make sense."

Rhodes: "Look, Terry, there's something you need to know, okay? Last week, after you sent me away from ringside… well, I never left."

Funk: "What?"

Rhodes: "I never left, Terry. I stayed and I helped you out. That's how you beat Orlando Jordan. I attacked him."

Funk: "Damn it, Dustin, I specifically told you to leave. I wanted to fight my own battle, I still want to fight all my own battles, alright?"

Rhodes: "I'm not sure you can do that anymore, he had you pretty well beaten."

Funk: "Well, if I can't compete, I won't compete. If I can't win, I can't win. But I don't want or need your damn help, okay?"

Rhodes: "Okay, man. I'll just watch from ringside."

Funk: "No. No you won't. I don't want you 'watching from ringside' anymore. Just let me fight my own damn battles."

Funk gets up and leaves the treatment room. He's visibly pissed and Dustin knows better than to follow him.

We follow this with another vignette about the incoming mixed martial artists, this one very much focussed on the talents of Josh Barnett and detailing his career in PRIDE and the UFC as well as talking about his wrestling career for New Japan. A few current and former NJPW talents talk about his wrestling ability, including some familiar to American viewers: Tajiri, Masato Tanaka, Dean Malenko, Scott Steiner, Vader and Animal all sell the abilities Barnett and/or the difficulties of success in Japanese wrestling.

In the interview zone, Scott Hudson has the pleasure of interviewing one half of tonight's main event, Rikishi. Standing alongside him is his long-time friend, the extremely hyperactive Grandmaster Sexay.

Hudson: "Ladies and gentlemen, I'm joined here at this time by one of the competitors in tonight's main event, Rikishi. Tonight, you have the opportunity of a lifetime as you'll face Scott Steiner, a former WCW Grand Slam Champion in the first round of the tournament for the World Heavyweight Title. In your twenty-two year career, you've only ever been closer to winning a World Heavyweight Title on two occasions, both back in December 2000. Is this third time lucky?"

Rikishi: "You know Scott, I try not to dwell on past misfortunes, to think about what might have been. Yes, I've worked hard for twenty-two years and yes, I've come close to the title in the past, but that was then and this is now. Scott Steiner, last week you and Eric Bischoff seemed to think that my facing you in the first round was some kind of sick joke, like I was going to be an easy match for you. Well, Eric, if you think I don't have the talent to make a success of myself here in WCW, you're going to be sorely mistaken. But then again, your record for judging talent isn't exactly first-class now, is it? After all, you were the man who ignored the talents of Rey Misterio, Eddy Guerrero, Chris Jericho, Chris Benoit and 'Stone Cold' Steve Austin' weren't you?

The crowd pops at the mentions of those names.

"Now, Steiner, you want to walk around calling yourself 'Big Poppa Pump' and 'The Big Bad Booty Daddy' like some kind of retarded Venice Beach pretty boy and you have the nerve to disrespect me? Scotty boy, let me remind you that the only reason you ever became the WCW World Champion in the first place was because everybody else had already left the company and you dug it out of the trash after they'd left.

"You walk around here like you're something special, Scott, and you talk about me like I'm some kind of talent less rookie but you need to bear in mind that I come from a pedigree of excellence. We've held thirty-four major titles between us. Thirty-four. My cousin, The Rock, set the benchmark by becoming a seven-time World Champion, Scotty. And I have every intention of catching him up on that, so be on your guard, Steiner, because I'm going to back that ass up and drop that booty on you, 'Daddy.'"

We cut elsewhere backstage, where we can see that Steiner has been watching this interview on a monitor.

Back inside the arena and "Imperial City is playing, which brings Masato Tanaka out to the ring, accompanied by his Kyo Dai stablemate Ryan Sakoda. Tajiri and Francoise are conspicuous by their absence but, right on cue, we get a cut backstage to see them talking strategy for Souled Out while watching on a monitor in their locker room. Tanaka climbs into the ring and awaits his opponent.

"Heavenly Thunder" plays next and brings out the legendary figure of Vader to a huge chant of 'Big Van Vader' from the capacity crowd here in Richmond. Vader marches to the ring, all-focus, eyes fixed firmly on the prize as he climbs into the ring for what is a 'dream match' of sorts for most fans.

WCW World Heavyweight Title Tournament - First Round
Masato Tanaka (w/Ryan Sakoda) vs. Vader

The much-anticipated clash between Vader and Tanaka started exactly as most people would've expected: with an extremely stiff exchange of punches. These two men went straight into an all-out brawl and it wasn't long before blood, sweat and - no doubt - teeth began flying everywhere. The match stayed pretty even in the early going until Sakoda started to get involved in the action to turn the tide in Tanaka's favour.

Tanaka stayed on top for the majority of the match but Vader began to fight back towards the end, gaining a head of steam and looking strong for a while. He eventually took full control after Tanaka attempted a back suplex from the top rope; Vader fought him off, knocking him to the canvas before signalling for the Vader Bomb! He steadied himself to deliver the fatal blow but, as he let fly, Sakoda pulled Tanaka from the ring and to safety.

With Vader down and hurt and Tanaka tired out, the referee sought to level the playing field by throwing Sakoda out. Tanaka beat the count to get back into the ring as Vader pulled himself up on the ropes. The crowd got to their feet as the two men charged at each other, Tanaka ducking a clothesline from Vader and both men hitting the ropes before Tanaka came back with the Roaring Elbow! Cover: 1...2...3! Tanaka with a HUGE victory!

Winner: Masato Tanaka

Tanaka celebrates in the ring like he just won the title and we can see the celebrations backstage in the Kyo Dai locker-room as Francoise, Tajiri and Sakoda jump for joy, the family honour restored for now.

We cut elsewhere backstage where we join the ever-mysterious Sean O'Haire in a dark corner of the bowels of the arena.

O'Haire: "Last week I talked about resurrection, about the return of WCW and about the importance of power. I told you that someday soon, I'd be taking that power for myself, my own one-man insurrection. The Oxford English Dictionary describes 'insurrection' as 'the action of rising in open resistance against an established authority' - just as the book says, I intend to rise against the establishment.

"In this new WCW, just as in the last, a pattern has emerged: A pattern of the old, established veterans of this sport attempting to dominate, to take the spotlight for themselves and to hold the young, emerging talent down. Young, emerging talent like myself. So this message goes out to the 'old guard' - to the Scott Steiners, the Diamond Dallas Pages, the Scott Halls, the Vaders and the Terry Funks in this company - the people who think that their status as legends of this sport is enough for them to deserve a spot at the top of this business.

"You've earned and deserved the respect of the masses, but the actions that earned you the respect are in the distant past, fond memories of a bygone era that you cling to like a life raft in the open ocean, hoping and praying that it'll be enough to keep your heads above water. Complacency is the folly of the drowning man; the tides are changing, the waters rising up against you and, in the end, it could well be that the life raft only serves to drag you under. Well gentlemen, the tides in WCW are changing, and if you don't step up your games, they will drag you under. I will drag you under. But hey… I'm not telling you anything you didn't already know."

He steps away into the shadows, prompting our director to cut away elsewhere backstage, where Maven is still on the hunt for Al Snow. His search appears to have led him to the hospitality suite, where he finally finds Al Snow and Head at the bar, drinking with legendary binge-drinker Scott Hall.

Hall: "Y-y-you know, Al, you're good fun, man. You party like an animal, like me and Kev back in the day, Chico, you know? You should come and join me, man. Come be in the New World Order - for life."

Snow: "I like it man, I'm in!"

They do the Wolfpac high-five as Maven gets to them and drags Snow's bar stool around to face him.

Maven: "What the hell, man? You're drinking again? All you're supposed to be doing is watching tape and scouting the other teams. That's all you have to do, Al. And I come up here and find you drinking with Scott Hall, talking about joining the nWo? That's not going to fly, man. You're coming with me."

Snow: "But I don't wanna!"

Maven grabs Snow and throws him over his shoulder before carrying him out. Snow clings to head like a child with a teddy bear.

Snow: "I don't wanna go!"

They leave the bar and Scott Hall behind, chuckling into his beer.

"Holla if ya hear me!" - "Steinerliner" is playing in the arena, bringing Scott Steiner and Midajah to the ramp way. Steiner stops to pose and kiss his freaky-sized biceps before climbing in the ring and snatching the microphone away from Stephen DeAngelis.

Steiner: "The first thing you gotta do is turn that music off, then all of you fat, inbred, redneck idiots can shut the hell up and listen to what I got to say."

The music dies, replaced by massive boos for Steiner.

"Now, last week it was decided by Eric Bischoff that Big poppa Pump wasn't a big enough star to be on Nitro, but then it turned out that the ratings around here sucked so he came crawling to get me on the show tonight and show all you morons what a real athlete looks like.

"I was sitting back there in the locker-room and I saw on the TV that my opponent tonight, some fat sack of crap named Rikishi, seems to think that he's better than me, and that facing Scott Steiner is beneath him. He came out talking about his family being great and his experience and all kinds of crying, moaning, whiny jobber talk. So listen here, Rikishi, why don't you back your fat ass up to the ring so I can kick it and you can tell the rest of your family how you had the pleasure of staring into the lights for the Big Bad booty Daddy. Now holla if ya hear me!"

The crowd probably didn't hear him, because they were too busy booing the place out. That soon changes as "You Look Fly Today" plays and everybody's favourite hip-hop Samoan comes out to the ring to a huge pop, accompanied by his long-time associate Grandmaster Sexay. Schiavone takes this opportunity to remind us that next week we'll see Totally Buff vs. Gymini and to announce that we'll also see a six-man cruiserweight tag team match as Sexay, Billy Kidman and Lash LeRoux take on Kid Kash, David Flair and Tajiri. Anyway, as they climb in the ring, Rikishi staring down Steiner as he grabs the microphone from his hand.

Rikishi: "Now, I know you guys only came here to see one thing - so we're not going to make you wait until I beat this clown to see it. Hit the music!"

The lights go out and the music starts again, with a spotlight coming on as they do their ever-popular dance and the crowd goes insane for them; that reaction turns to huge boos as Steiner attacks them both, unceremoniously tossing Grandmaster Sexay from the ring and beating down Rikishi, giving the ref no choice but to ring the bell.

WCW World Heavyweight Title Tournament - First Round
"Big Poppa Pump" Scott Steiner (w/Midajah) vs. Rikishi (w/Grandmaster Sexay)

The match now officially underway, Steiner's assault on the Samoan continued without mercy until he decided to clothesline him out of the ring, giving himself time for a breather and to pose for the crowd. He climbed out of the ring to join his opponent only to find he'd given Rikishi time to get to his feet and get clotheslined out of his boots. Midajah, ever faithful, came running to her man's aid with a chair but found herself cut off by Grandmaster Sexay grabbing her and forcing his tongue down her throat - that'll stop any girl in her tracks and she looks like she wants to vomit.

Steiner is up and he and Rikishi brawl on the outside as he manages to once again get on top and throw the Samoan head first into the steel ring steps before breaking the ropes and the count to stomp a mudhole in him. More posing for the crowd and Steiner throws his opponent back inside before joining him as he struggles to his feet. Steiner goes back to his technical roots, looking for a German suplex but finding himself unable to lift his opponent, he tries to thrust him into the ropes to get some momentum.

Rikishi grabs the rope and Steiner rolls back, only to charge in and eat a Super Kick. Rikishi want sot end this now and goes for the cover: 1... 2... NO! Steiner kicks out; it's far too early to get the better of Big Poppa Pump. Rikishi signals to the crowd and goes looking for a leg drop, but Steiner moves and escapes the Samoan sandwich by a hair, leaving Rikishi sat on his ass in the middle of the ring. Steiner hits the ropes and hits him with a big boot to the chest before winding that big elbow up and dropping it across his chest. 1...2...NO! Steiner forgoes the win in favour of some push-ups and trash talk before stomping on his chest.

The referee forces him away to give Rikishi a chance to get to his feet but as soon as he is, Steiner goes right back on the offensive with a huge belly-to-belly suplex! He covers: 1...2...NO! Rikishi kicks out and this match continues. Steiner is frustrated now and he's getting in the referee's face. He's pushing and prodding at him and our official is just getting more and more angry - he'll get disqualified if he's not careful. Rikishi is back to his feet and he grabs Steiner by the shoulder, spinning him around and firing a series of big right hands at him until he forces him back into the corner. A big punch rocks Steiner as Rikishi backs up across the ring and charges in with the running butt bump.

There's pause as Rikishi plays to the crowd, then Steiner slumps down in the corner. The crowd is on their feet - they know what's coming next: Stinkface! Steiner takes the Stinkface and that's got to be humiliating for him! Rikishi is on a roll now, he drags him away from the corner and climbs to the second rope: Banzai Drop! The referee makes the count: 1...2...3! NO! No, Steiner grabbed the bottom rope, the match continues! Big Kish climbs the ropes again, looking for another Banzai Drop but this one misses the mark as Steiner rolls from the ring. A quick breath as Rikishi recovers and back into the ring as Steiner stalks his prey… He sets him up… Steiner Screwdriver! A rare appearance for the Steiner Screwdriver pops the crowd as Steiner covers: 1...2...3!

Winner: Scott Steiner

Scott Steiner poses in celebration as "Steinerliner" begins to play and Midajah joins him in the ring for the party - Scott Steiner goes on to the quarter finals! Rikishi is down and being tended to by EMTs as Steiner continues the celebration and the show fades to black, heading off the air…
---
Last edited by TheLoneShark; 09-05-2010 at

07:18 AM

.
Re: WCW 2007: Don't Call It A Comeback...
---
Woohooo another Nitro!!!

Opening segment didn't do much for me really. Im not big on the kidnapping angle, Im not big on the heart throbs, I just dont think they belong in the main picture.

Interested to see where Funk and Rhodes go. Im a big fan of both.

Big poppa pump in da house!! Gotta love the traditional WCW limo roll ups.

Again glad to see Rhodes move on. That was a nice match too.

Cruisers are awesome. Bishoff is right that is what MADE wcw what it was.

I like where your going with the Bashams. They always had a ton of potential and I think Heyman as a mouth piece can take them to the top.

I like the Page/Rosey match. Personally if there was a way for NEITHER to advance in the tournement that is the option I would have picked but I suppose Page had to get the nod over Rosey. I like Rosey getting put over and looking strong in the end though.

Okay maybe I didn't pay good attention, maybe Im just lost? Maybe we dont know yet. Who the hell is the japan chick? Who is her father?

Horsemen FTW

Masato vs Vader is awesome. I love both of them. Although the old school in me wanted to see Vader get the win Masato needs to move on for sure.

The snow gimmick cracks me up. Its great commick relief to the show.

Push f'n Scott Stiener to the moon!! He's the biggest star you've got. Im picking him to go all the way!!

Decent show, nothing spectacular but solid. Its tough right now because you are working in the tournement and still building the gimmicks into what you want them to be. Its a good read though. Can't wait for more!!
Moron
Join Date: Apr 2009
Location: England
Posts: 6,893
Points: 0
Re: WCW 2007: Don't Call It A Comeback...
---
Okay, don't kill me, I'm posting BSN&N now because I want to get on a 'real-time' cycle, so Nitro always goes up on a Monday, with BSN&N and PPVs on Sundays. We'll see how that pans out in time, I guess. I'm happy to accept feedback, though, so don't think this means you missed the boat on this Nitro.

Enforcer, cheers for the feedback, appreciated as always. To answer your question, this is Francoise:




Yes, she's hot. And she will probably wrestle when I get a Women's division going. As for who her father is... if I told you, I'd have to kill you. He is the boss, after all...
-------------------------------------------------------------------------------------------
From WCWFans.com:
Quote:
Backstage News & Notes
Sunday 13th January 2007

Good evening wrestling fans and welcome to this week's edition of Backstage News & Notes exclusively on WCWFans.com. A lot to report on from this week's Nitro, so we'll start off there with the latest on the WCW World Heavyweight Title Tournament.

'Predictable' was the best word to describe this week's round of qualifiers as we saw Scott Steiner, DDP, Dustin Rhodes and Masato Tanaka progress to the Quarter-Finals; only Masato Tanaka's advancement was even a minor surprise as his match with Vader could've gone either way in many fans' eyes. The draw for the Quarter-Finals took place on WCW.com immediately after Nitro and we're pleased to be able to tell you that the draw came out as follows:

Chris Kanyon vs. Scott Steiner
DDP vs. Masato Tanaka
Terry Funk vs. CW Anderson
Dustin Rhodes vs. Scott Hall

Four top-class matches that we're very excited for, especially the pairings of DDP-Tanaka and Rhodes-Hall; those matches all take place on Nitro.

We came one step closer to knowing the full line-up for TLC this past Monday as The Basham Brothers secured their place at Souled Out with a somewhat tainted win over the Heart Throbs - they picked up a huge assist from Morgan and Reigns on their way to the Tag Team Title shot. The Bashams are managed by Paul Heyman - a pairing that a lot of fans are quite excited to see develop - and he had some strong words for their potential TLC opponents after the match.

The Heart Throbs, meanwhile, have bigger fish to fry and were willing to forfeit their Tag Team Title shot to fulfil their obligation to try and find Shane McMahon. They've vowed to do whatever it takes to get Shane back and the rumour mill suggests there may be something big in the works backstage for this angle. No word on what happens with this next week, but I'm sure we'll find out sooner, rather than later.

Even more excitement for the internet fan base from Nitro as Eric Bischoff announced the resurrection of the Cruiserweight Title with a six-pack challenge at Souled Out. Billy Kidman vs. Lash LeRoux vs. Kid Kash vs. David Flair vs. Tajiri vs. Grandmaster Sexay was the match announced on Monday. Well, due to another rash of WWE cuts this week, WCWFans.com can exclusively announce - thanks to an inside source - that the match has become an eight-pack challenge due to the additions of Mikey Whipwreck and 'The Prince Of Punk' Shannon Moore to the roster. From what we can deduce, that means that this week's six-man tag becomes an eight-man tag on Nitro, pitting Sexay, LeRoux, Kidman and Whipwreck against Kash, Flair, Tajiri and Moore.

Scott Hall was said to be a little unhappy at being booked in the Al Snow angle last week. Hall's battles with alcohol are legendary but Hall has completed a course of rehab and, as best anyone can tell, has actually kicked the drink at this time. Hall is said to have seen the angle as an insult but felt that following through with it was a good way to demonstrate his professionalism. Eagle-eyed fans will have noticed that the beer he was drinking on Nitro, despite his best efforts to cover the label, was alcohol-free.

In a final note from last week, we saw what many have described as the clusterf*ck booking of the Totally Buff-Horsemen match. The 4-on-2 handicap match featured run-ins from Gymini and Marty Jannetty and descended into total chaos. Whilst it may not look good on paper, management are said to be happy with the booking, as it served to further the Totally Buff-Gymini and Jannetty-Anderson feuds as well as continuing to establish the Horsemen as a stable. As we've been told for the last two weeks, the match between Totally Buff and Gymini takes place next week as a TLC qualifier.

Ratings-wise, Nitro did a 3.43 to Raw's 6.99; the numbers are -0.04 for Nitro and +0.03 for Raw, indicating that many WWE fans switched to the WCW product last week, only to switch back unimpressed. We're told NBC aren't happy about the ratings and have moved the show to a later timeslot, meaning numbers won't be head-to-head for the time being. The bad news is that NBC have taken Nitro post-midnight for next week, which might be just too late for most viewers.

Not many backstage notes this week; WCW are said to be very interested in securing the signature of MVP following his release and hope that they can get a deal done in the next few days. He'll probably have to spend some time in developmental before being brought up to the main roster, but only to get used to the slightly-smaller WCW ring.

Talking of developmental, DSW ran their first WCW-affiliated show this week in Marietta, GA. The WWE severed all ties with (and withdrew all their talent from) the company last week in favour of establishing a territory in Florida. It was the first time that the full extent of the WCW acquisitions from the WWE had been released, though their established fan base may not notice the change for a while since, with the exception of WCW branding appearing on event posters, not much of the talent has changed. Results from the Marietta show:

1. Team Spirit (Nicky, Mikey, Johnny and Mitch of the Spirit Squad) d. The Stampede Bulldogs & The Major Brothers
2. David Young d. A1 (w/Scott D'Amore)
3. Lance Hoyt d. Drew Hankinson
4. Candice Michelle d. Beth Phoenix & Angel Williams in a triple-threat match for the DSW Women's Title.
5. Dan Rodimer d. Henry Godwinn
6. The Un-Touchables (w/Cherry Pie) d. Urban Assault and Idol Stevens & KC James in a Ladder match for the DSW Tag Team Titles
7. Claudio Castagnoli d. Brad Armstrong
8. The Great Khali won a six-pack challenge over Cody Rhodes, Kevin Thorn, Oleg Prudius, The Miz and Lance Cade to win the DSW Heavyweight Title.

Elijah Burke is said to have come out and cut a huge promo on Khali after the match about the title; a match for the belt was made for next week. The Stampede Bulldogs were making a 'one-off' appearance in DSW as they are officially part of the main WCW roster - they even have a roster page on the website - but the company is still looking for a way to slot them in on TV.

And finally, rumours have already began swirling for Superbrawl - WCW officials have been in talks with Fozzy to use their song 'Metal Gods' as the event's theme song. Naturally, one thing led to another, someone saw Chris Jericho coming out of WCW HQ and began speculating that he'd signed with the company. We can confirm that this is not the case - Jericho is happy as a musician-actor right now and has no interest n returning to the ring, though he has told us that he 'hasn't ruled it out in the future' but any in-ring return would 'almost certainly be with the WWE.'

Hopefully we can stop all the e-mails coming in about that now. That's all the notes we have right now, but we'll be back next week with more Backstage News & Notes.
-------------------------------------------------------------------------------------------
I'm in two minds with BSN&N around PPVs, by the way, so give me your thoughts: Do I post them before the PPV and include a preview of the show, or after the PPV and give notes on all of it at once? Let me know.
---
Last edited by TheLoneShark; 09-06-2010 at

06:55 AM

.
Moron
Join Date: Apr 2009
Location: England
Posts: 6,893
Points: 0
Re: WCW 2007: Don't Call It A Comeback...
---
WCW Monday Nitro
Preview
January 15th 2007

Last week on Nitro we saw Eric Bischoff take a small measure of revenge on The Heart Throbs by forcing them into a match against The Basham Brothers. The Heart Throbs were reluctant to take part in the TLC qualifying match after the kidnapping of Shane McMahon but having been shown that McMahon was alive - if not safe - in the hands of the FBI, they were blackmailed into taking part in the match to prevent further assaults on the owner. Ultimately, their efforts would go to waste in the match as Bischoff's henchmen, Reigns and Morgan, would interject themselves in the match to cost them the victory. What's next for these warring factions? Tune in to Nitro at it's new midnight slot to find out.

Elsewhere, it was all about the World Heavyweight Title as the first round of the tournament concluded. Dustin Rhodes found himself facing the challenge of Gangrel and was successful in a hard-fought match against the brooding vampire, only to find both himself and his friend, Terry Funk, assaulted by Orlando Jordan after the match. The temperature is rising between Jordan and Rhodes, with Rhodes eventually being forced to admit that he helped Funk win his first round match against his wishes.

DDP made it through to the Quarter-Finals after seeing off the challenge of "The Samoan Gangsta" Rosey. It was a break-out performance from the Samoan superstar as he proved himself a good match for the three-time World Champion; Rosey will want to prove himself as a singles competitor after so many years as a tag team wrestler, and this performance will have done those aspirations no harm despite the loss.

A much-anticipated clash between Vader and Masato Tanaka led to a hellacious battle between two of the hardest-hitting heavyweights in the business. Despite huge fan support for the Mastodon, it was Masato Tanaka who came out on top in this one, thanks in no small part to an assist from his Kyo Dai stablemate Ryan Sakoda.

In the main event on Nitro, we witnessed a long-awaited return to the ring for "Big Poppa Pump" as Steiner faced-off against Rikishi. The two men exchanged some strong words throughout the night in the build-up to this contest and it really was a tough battle; many predicted an easy night at the office for Scott Steiner but Rikishi had previously stated that his family pedigree was all he needed to see him through the night and his performance brought to mind memories of two of his legendary cousins, Yokozuna and The Rock. In the end, Rikishi was unfortunate to fall victim to a rare appearance from the Steiner Screwdriver and it's Scott Steiner who advances to the Quarter-Finals.

This week on Nitro we're scheduled to see another TLC Qualifier as Totally Buff and Gymini finally get their hands on one another. Last week we saw Totally Buff demand - and receive - a warm-up match against Bischoff's hand-picked mystery opponents, The New Horsemen. What he neglected to inform them until the last minute was that they'd be facing all four members of the group. Totally Buff battled hard to try and salvage some pride but couldn't come up victorious in a chaotic affair that saw interference from both Gymini and Marty Jannetty. It was Eric Angle who picked up the win, making Lex Luger tap out to an Ankle Lock following a Chokeslam from Erik Watts.

The situation between Jannetty and CW Anderson is heading for boiling point; Anderson and the Horsemen conspired to cheat Jannetty out of the World Heavyweight Title tournament on the return episode of Nitro, so Jannetty sought his revenge last week, chasing Anderson out of the arena mid-match. Jannetty has vowed not to involve himself in any tournament matches but we expect these two to cross paths in the near future.

Finally, Sean O'Haire has been giving some dark sermons over the last few weeks as the devil's advocate has spoken of 'resurrection' and 'insurrection.' What can we expect from him this week? Tune into Nitro to find out this Monday at Midnight on NBC!

Confirmed matches for Nitro:

WCW World Heavyweight Title Tournament - Quarter-Finals :-
Dustin Rhodes vs. Scott Hall
Diamond Dallas Page vs. Masato Tanaka
Chris Kanyon vs. Scott Steiner
Terry Funk vs. CW Anderson

WCW World Tag Team Title TLC Qualifier :-
Totally Buff vs. Gymini

Cruiserweight Division 8-Man Tag Team Match :-
Billy Kidman, Grandmaster Sexay, Lash LeRoux & Mikey Whipwreck vs. Tajiri, David Flair, Shannon Moore & Kid Kash
---
Last edited by TheLoneShark; 10-13-2010 at

10:57 AM

.
Re: WCW 2007: Don't Call It A Comeback...
---
Nitro Feedback
Sorry for the lateness of this, I'm so fucking behind everywhere, at the moment.
On a positive, thanks for reminding me what was up last week, as I probably would have had to skim your first show again.
A bit weird to see Jerry Lawler on WCW. I just couldn't see him leaving the WWE, despite his little break, but then again that was about ten years ago now. Opening the show with Romeo and Antonio? I guess I understand why they would open the show, after the kidnapping of Shane last week, but they are both rather bland on the mic in real life, and well, you had them in character here. They had no personality at all, although I don't buy them wanting to forfeit from the tournament. I understand they are faces in this thread, but they are cocky as fuck in general, and would love a piece of the gold, so even with Shane missing, I doubt they would forfeit their opportunity at tag team gold. I love the character of Eric Bischoff in this thread, whilst he is still his arrogant self, holding Shane ransom almost makes him seem like a mob boss, especially with The FBI being involved, so I love Bischoff at this stage, and despite being a little short, this promo did nothing to dampen my love for him. I liked the fact we got to see Shane on the big screen to, adds a lot to the scenario. A promo that was solid, but perhaps a little short, but it's going to lead to a terrible match.
Despite my dislike for both teams, considering the story lines, which I'm happy with so far, this match really had to take place. The Basham's are a good choice to, because they don't really have that much personality to get over, so pitting them against the guys who are close to the biggest faces around at this stage is a smart move. Bischoff is clearly going to dominate this show, as the interference was done well, getting Bischoff one up on The Heart Throbs, smart booking.
Honestly, The Heart Throbs getting bloodied just from a little attack seems a little dodgy, especially with you giving us very little detail. You probably should have outlined what went down more, as somebody getting busted open is usually seen as a somewhat significant event. Bischoff's last line was good too, pretty much just being an asshole.
I wasn't sure exactly what was happening with Rhodes and Funk last week, but it definitely seems as if these two are eventually going to break up, or become a heel tandem. Either way, this segment set the scene nicely, with Rhodes lying to Funk.
at Funk being too old, or mental to know how to use tivo. Good segment.
Scott Steiner fucking OWNS. Even if he is ancient at this point in time.
DDP's interview was riddled with mistakes, imo. You've mentioned in the backstory that WCW is a separate entity to the WWE, so it confuses me as to why DDP mentioned two of Rosey's old WWE gimmicks in his interview. Not only should it not happen, but then you mentioned the Superhero gimmick, followed by the 3 Minute Warning gimmick, and it was just really silly to have such different characters mentioned in the same interview. Definitely a flop here.
I'm glad to see you took my advice and made the matches a little more detailed, tbh, it adds to the reading experience. As for the match itself, in 2007 I have no idea how all the chair shots and whatever would have gone on with a disqualification. I also find it rather ironic that you're calling Rhodes 'The Lonestar', yet he is a tandem with Funk. Maybe you should call him something differently for awhile. Anyway, despite the disregard for the rules, the match seemed like a really nice brawl, with Rhodes getting the nice victory. I definitely didn't expect to see Jordan after this one, so I guess something's going to happen between he and Rhodes, by the way, I love the finisher you've given him, it would definitely work.
Bischoff's again? I was hoping for maybe a little more of a gap before his next appearance, due to just how heavily he featured at the beginning of the show, but this is a really small thing, that doesn't really matter. I really like the idea of bringing the Cruiserweight Title back, it gives a lot of these small guys something to do, and hopefully you're able to make something of the division. By the way, I can't see Kidman or a no shit guy like Kid Kash screaming because Bischoff raised his voice, not a good way to make them look credible.
I wonder where Al Snow is drinking this time? Something better than comedic segments for Maven, please. No idea what the point of The Dicks being in the Women's locker room for, I get you wanted them on the show, but it probably could have been done in a better way. Seems utterly pointless, other than making them look like huge douche bags.
I didn't even remember that Heyman was with The Basham's, so I must take away some of what I said earlier, as I find them to be a somewhat more appealing team with Heyman as their mouthpiece. Heyman was nice here, I liked how you mentioned his problems with Bischoff, so The Basham's won't be used by the boss, and with there no nonsense style, they could become quite the ass kicking duo in this thread.
. I love how you tried to play the corner style as Rosey's tag team instincts, but really, it's just about all that he can do. As for the match itself, I was a little surprised that Rosey was so competitive, but I don't mind, as keeping him looking strong will just strengthen your roster. A nice win for DDP though, advancing further into the tournament, and the offer of respect, as well as Rosey taken DDP down after the contest really put both men over nicely.
I have no clue who Bischoff is speaking to on the phone. I'm guessing it's going to be some sort of big name, as phone calls don't usually get that much attention unless they mean something big. Luger and Buff were alright, wanting a match, but I was a little disappointed with Bischoff's reaction. His mind was changed way to easy, it doesn't matter if they are all heels, Bischoff is supposed to be stubborn, but he didn't look all that stubborn here.
Francoise? No idea who the fuck that it is, but you've made the Asian gang seem pretty interesting. With that being said, speaking of the family and all, it sounded very mafia like, which is something I'm not sure I like, as we've got The FBI for that. Unless you hook up some sort of all out war between the two factions, that could be pretty fun, but I really doubt that will happen.
Jannetty interview was definitely a little dodgy at time, sounding way to bland at times, although I like the idea of the New Horsemen taking care of business against a group of oldies. By the way, I wouldn't say Jannetty is a living legend, what an over exaggeration. Rock your world? Not sure if you're trying to give him a catchphrase, but it just made me think the guy was homosexual.
Buff was alright on the mic, if not a little dull, considering he basically just said the same stuff to Bischoff backstage a few moments ago. Buff and Luger are faces then, they seemed really heelish the way they have been complaining all night, so are they face, or is this one of those awkward heel against heel matches. I doubt it since it's a Handicap match, but I'd appreciate if you could clear that up.
This match would have been a good one for the crowd to get into, getting behind the two guys who have the deck stacked against them. For them to have any chance, there was always going to be a run in, so this was good as Jannetty continues his little beef with Anderson. As for The Gymini, I know they face Totally Buff next week, but I just didn't really feel as if their interference was necessary, considering The New Horsemen still had the numbers advantage. I guess considering the strong start you gave the faction last week, it would have been nice to see them go over, without any help, especially, as I said, considering they had the numbers advantage. Besides this, everything did the job, setting stuff up for the future, and getting the epic Bischoff even more enemies.
Funk/Rhodes developed a little sooner than what I thought it would/should have, but after Orlando attackes Rhodes tonight, it just had to come up. A good segment, as even though I don't like the idea of the pairing, knowing something is going to develop has me very interested. You've done well.
Pride and UFC highlights should not be on a wrestling program, not in these times, but whatever, I guess you've got to hype the guy.
I actually liked the way you wrote Rikishi in this interview. You gave him a bit of attitude which I really liked, especially in the beginning, I thought his opening block of dialogue was very good, playing on Bischoff's mistakes. I tried to do something similar in my last show but it didn't work, but since you're doing WCW, it can, so I thought it was good to have them in there. I didn't like the line about the retarded Venice Beach pretty boy, it seemed really forced, almost as if you were just trying to hard to make Rikishi sound funny. Also, I don't like him bringing up The Rock, let him be his own man, and him mentioning wanting to catch The Rock for number of titles won is simply ludicrous. I like the idea of Rikishi's character, but this interview could have been better.
Tanaka and Vader certainly wouldn't have been that exciting, but I think you made the right choice, because as much as I love Vader, could the guy move in 2007? So yeah, good to see one of the Kyo Dai get back on track... By the way, Sakoda got kicked out of the ring, but probably wouldn't even made it through the curtain before Tanaka finished it off, and then all of a sudden, he is in the locker room with Tajiri? Being very, very nit picky here, tbh, but I guess I'm just in one of those moods.
Much like last week, O'Haire's interview was golden. Probably the best thing you've written on this show, O'Haire looks set to be huge in this thread, so I can't wait to see what you do with him.
at Hall and Snow getting drunk together. Awesome.
Steiner's interview was good as well, short and sharp, as it needed to be. I didn't like the annoyance of his tone towards Bischoff though, simply because they were still able to have a good laugh at the expense of Rikishi last week. It seems a bit weird for him to all of a sudden be angry again. I don't like Rikishi dancing before the match, no idea why, I just don't.
The main event seemed like a decent enough contest, yet I think it was pretty obvious that Steiner was always going to get the win here, but you know, at least your main event was competitive.
Overall, considering the lack of talent on your roster which is making the match quality pretty weak, you're still managing to entertain me throughout the whole of your shows. So yeah, I think you've started very well here, so despite the match writing, which could still be a little better, and the typo's, (I can talk, right
) you did a good job. This has a lot of promise right now, keep it up.
---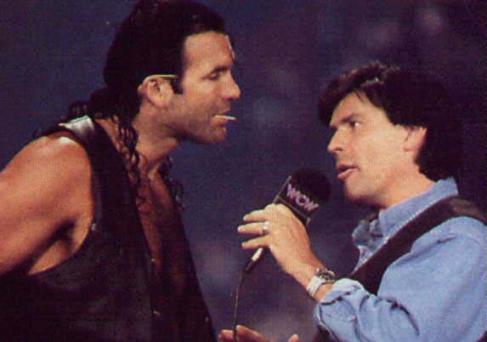 Re: WCW 2007: Don't Call It A Comeback...
---
Diamond Dallas Page for the tournement win, the guys always held a soft spot in my heart. Been scimming through the thread there, everythings looking good. I like how you've started with a realistically thin roster considering your backstory but I also like how you've hinted of the devolopment that could come to Dubya c dubya. The strongest point you have about this thread is that the shows actually feel like Nitros. Really loved the cruiserweight division of the old WCW and hope you can continue that magic, with Billy Kidman I think you've got yourself a big star if used correctly. Also I think 'The Lonestar' could be the tournement darkhorse.

Anyways keep up the good work, hopefully I'll get a chance to review the next show.
Moron
Join Date: Apr 2009
Location: England
Posts: 6,893
Points: 0
Re: WCW 2007: Don't Call It A Comeback...
---
Thanks for the feedback, guys. Sorry if this show isn't up to my usual standards, work is kicking my ass right now. Talking of which, I'm running late, so excuse the lack of formatting, I'll colour it all in later
-------------------------------------------------------------------------------------------
WCW Monday Nitro
Monday 15th January, 2007
Louisville, KY
A highlight package recaps last week's show: The winners of the first-round matches, the chaotic events of the Totally Buff/Gymini/Marty Jannetty/Horsemen situations, the announcement of the cruiserweight division and the Basham's qualification for TLC as we're shown a detailed update on the Bischoff/Heart Throbs feud.

Nitro then kicks off with a big pyro as the Nitro Girls dance to the new Nitro theme, "Start A War" by Static-X and the crowd here in Louisville is going insane for some Nitro action! The announce team of Tony Schiavone, Don 'Cyrus' Callis and Jerry 'The King' Lawler welcome us to the action and it starts off immediately as "I'm Back" plays, bringing a chorus of boos from the crowd as WCW's Executive Producer, Eric Bischoff, makes his way to the ring, flanked by Luther Reigns, Matt Morgan and Tony Mamaluke. Notable, as they climb into the ring, is a counter interchanging with the WCW logo at the bottom of the screen; it appears to have started at the beginning of the show at 21:01:45:00 and is counting down the seconds to, well, something that will presumably occur on Nitro three weeks from now.

Bischoff signals for the music to be cut and he has a microphone; the crowd are still booing him.
Bischoff:
"Okay, people, settle down. We've got a lot to get through tonight and I don't have time to put up with your childish display of rebellion."
They boo louder, causing all four men in the ring to pantomime their anger.
"Tonight, I've come out here to put the fans on the internet out of their misery by putting an end to the speculation about who I've been talking to on the phone these past few weeks. Since I now have all of the power in WCW, I needed someone to share the workload. With that in mind, I'm appointing a new Commissioner of WCW to handle all of the in-ring affairs on my behalf. So, without further ado, I'd like you all to make him feel very welcome. Ladies and gentlemen, the new Commissioner of World Championship Wrestling… Jonathan Coachman!"
"Hard Hittin'" by Homebwoi plays and brings everyone's least-favourite Bischoff flunkey to the ring. The Coach has gone with his full-on heel look; expensive shirt, dark sunglasses and ghetto cap. He has his own microphone.
Coach:
"Mr. Bischoff, let me begin by congratulating you on your excellent choice of Commissioner and thanking you for the chance to once-again work for a man who appreciates the true value of the Coach as an employee. As your new WCW Commissioner, I want to say how proud I am to be able to preside over the remaining matches in the WCW World Heavyweight Title Tournament. I'd also like to start by making some changes.
"Mr. Bischoff, last week you announced that we'd be having a six-pack challenge at Souled Out for the World Cruiserweight Title, and that we'd be having a six-man tag team match tonight to preview that. I'd like to let everybody know that those matches have been cancelled."
The crowd boos loudly, they were looking forward to that.
"Instead, I've decided that we'll be having an eight-pack challenge match at Souled Out for the World Cruiserweight Title and that, tonight, we'll have an eight-man tag team match as a preview for that match."
The crowd pops for this.
"The reason for the change is that while I was negotiating my way out of my contract with the WWE, I managed to persuade two of Vince McMahon's finest cruiserweight talents to join me at a place where cruiserweight wrestling will actually be appreciated. I managed to persuade Shannon Moore and Mikey Whipwreck that WCW is the place where they can further their careers."
Another pop. Coach is going to want to do something before he turns himself face. Before he can turn it around, though, "Heart Throb" begins to play and brings the Heart Throbs to the ramp.
Romeo:
"Coach, I know it's your first night, but I've got far more important business for you than the Cruiserweight Division. I know that you're aware of the situation between ourselves and Eric Bischoff, and I know you want to make a big impact on your first night, so we're going to give you the chance to do that right now."
Antonio:
"Eric Bischoff, we're out here to issue you a challenge; You had your lackeys conspire to kidnap Shane McMahon two weeks ago and, well, we want him back So if we have to step into the ring to do that, we will. We're challenging you to put your boys up against us in a five-on-five tag team match at Souled Out."
Bischoff:
"Well, you know that's not going to happen. And besides, there are only two of you. The math doesn't work."
Romeo:
"We've got three friends of Shane McMahon's with us tonight who are willing to make up the numbers, Eric. All we need is for you to grow yourself some cojones and accept our challenge."
Bischoff pulls Coach to him and whispers conspiratorially.
Coach:
"Mr. Bischoff has informed me that he's willing to accept your challenge on two conditions: The first is that your three 'friends of Shane McMahon' agree to accept a match with Morgan, Reigns and Mamaluke tonight."
The crowd pops. They approve.
"The second is that, if you lose at Souled Out, you leave WCW forever. If you, The Heart Throbs, lose, you will retire."
Bischoff:
"Those are my terms, boys, Are you really willing to put your careers on the line to save Shane McMahon?"
The crowd roars as The Heart Throbs look at each other, telepathically conferring.
Antonio:
"You're on, Eric."
Bischoff:
"Then I guess the only question is this: Who are the three idiots who are dumb enough to cross me?"
Romeo:
"Eric, that's for us to know…"
Antonio:
"… and you to find out!"
The crowd pops huge as Bischoff looks a little embarrassed at having been outsmarted and disrespected by the Heart Throbs. He starts to argue with Coach as "Heart Throb" plays and we go to the interview zone, where Mark Lloyd has got Terry Funk with him.
Lloyd:
"Terry Funk, last week we watched as you found out the truth from Dustin Rhodes - that he'd helped you to beat Orlando Jordan - causing you to ban him from ringside during your matches. Tonight you find yourself with the challenge of facing the leader of the Horsemen, CW Anderson, in the Quarter-Finals of the World Heavyweight Title Tournament. How do you feel about recent events and your chances tonight?"
Funk:
"First of all, Mark, I want to say that I feel betrayed above all else. Betrayed by my friend, Dustin Rhodes, who helped me despite my asking him not to. Betrayed by WCW, as not one person in this company saw fit to tell an old man the truth. Most importantly, Mark, I feel betrayed by my body. For the past forty years, I've always gone above and beyond expectations: My own expectations, my families expectations and my fans' expectations. I'm sixty-two years old, Mark. This is my last chance to do something with my career and maybe I don't have much of one, but you can rest assured that I'll do everything I can to win the title, which means you can guarantee I'll be giving this match tonight everything I have. CW Anderson is a tremendous young athlete and a big challenge for me, maybe the biggest of my career. But there's still fight in this old dog, and tonight I'm going to leave it all in the ring."
Lloyd:
"Terry Funk, thank you."
Elsewhere backstage, we're in the New Horsemen locker-room. Everyone is there, all fully-suited with the exception of David Flair, who's ready for action.
Anderson:
"Just remember what we talked about; don't worry about the victory, David, this match doesn't matter. Just go out there and try to hurt your opponents, cut down the field and take those guys out. We're going to be at ringside if you need us, so just make sure you get the job done."
Flair nods, the instructions are clear...
"Alright, let's go and get this done."
They leave the locker-room, united and ready for victory. In the parking lot, it's time for a gratuitous limo shot as Scott Steiner and Midajah arrive. Their limo parks up next to another, heavily guarded by suited Japanese bodyguards; it's safe to assume this is the Kyo Dai limo even before Francoise emerges from it. She catches Scott Steiner's eye but Midajah knows him too well and drags him away.

We're back with Terry Funk, who's back in his locker-room taping his wrists when Dustin Rhodes walks in.
Funk:
"What the hell do you want?"
Rhodes:
"Look, Terry, I came to apologize. I should never have helped you win that match against your will, okay? But I'm here to offer you my help."
Funk:
"I don't need your damn help."
Rhodes:
"You do, Terry, just not in the ring. Let me get some guys to help keep the Horsemen out of the ring, okay? I promise you that we'll stay out of the ring."
Funk:
"You'll stay out of the ring? You make sure you do."
Rhodes goes to leave…
"Oh, and Dustin…? Thank you."
Rhodes does a little cowboy nod and leaves to assemble the guys. Back inside the arena, it's cruiserweight time as "I'll Do Anything" plays and brings 'The Prince Of Punk' Shannon Moore to the ring. He does his best to play heel but, frankly, he's switched so many times over the years the fans are unsure what to make of him.

"Bawitdaba" plays next, bringing the ever-popular bad-boy of wrestling, Kid Rock to the ring. He gets a mixed reaction from the fans - heel from those who remember his WWE run, face from those ECW fans in attendance. Either way, his talent is clearly appreciated.

The Four Horsemen theme is next over the speakers and now the crowd begins to boo, with the already-much hated figures of Flair, Anderson, Watts, Angle and Weber walking down to the ring together. Flair is the only one dressed to wrestle, as you'd expect, and he takes his place in the ring as the others line-up on the outside. CW takes a seat at the commentary booth and starts talking trash about Marty Jannetty.

Next, "Imperial City" plays and Tajiri makes his way to the ring solo. Clearly, Francoise has decided this match isn't important enough to warrant him being seconded by his Kyo Dai stablemates. The booing for Tajiri is steady, but it had died down a little from the noise the appearance of the Horsemen elicited.

"Runnin' Away" begins to play and it's time for the babyfaces to appear. There's a big pop for the appearance of Lash LeRoux after a two-year absence from the big stage; clearly he's still as popular as he always was.

"Loser" floods through the sound system and there's a small pop for the song before it's owner, Mikey Whipwreck, even appears. When he does, there's another small pop for the red-haired cruiserweight legend from the people in the audience who are familiar with the former ECW Triple Crown Champion.

"You Look Fly Today" plays and brings Grandmaster Sexay to the ring, accompanied by his long-time friend and sometime tag partner Rikishi. There's a huge pop for these two as they make their way to the ring; they're perennial crowd favourites but sadly they have no time to dance tonight.

Finally, "You Can Run" blares through the speakers and there's a huge pop as WCW legend Billy Kidman makes his in-ring return to the promotion. Many fans will have hoped to see him sooner than this but they're certainly relieved to see him appear here tonight. With all eight men in the ring, the referee is ready to get this match underway.
Billy Kidman, Grandmaster Sexay, Lash LeRoux & Mikey Whipwreck (w/Rikishi) vs. Tajiri, David Flair, Kid Kash & Shannon Moore (w/CW Anderson, Erik Watts, Eric Angle & Amy Weber)
This match was exactly what Nitro needed to kick things off in the ring and showed everybody what the show has been missing from the undercard, as all eight men came out at full pace with some rapid and high-impact action to get the crowd on their feet. With everyone seemingly trying to outdo one another, it was no surprise that everybody seemed to spend a lot of time outside of the ring as dives to the floor excited the crowd at regular intervals. Even David Flair, not usually a flier, got in on the action with a plancha to the floor.
It was obvious throughout that Flair's remit was to try and injure his opponents as he went all-out with some big moves and taking every opportunity whilst out on the floor to use the guard rails, announce table, ring posts and apron as weapons, even managing to sneak in the occasional chairshot when the referee's back was turned. But these cruiserweights are tougher than they look and nobody was going to let such nefarious tactics stop them. At one stage, all four Horsemen set to work on trying to injure Grandmaster Sexay only to rethink the idea when Rikishi came to his aid.
With everyone else brawling on the outside, the end of the match came when Shannon Moore found himself alone in the ring with Lash LeRoux. Shannon went looking for the Halo off the top only to find Lash had ducked under it; Moore sprang to his feet but it was a bad move as Lash hit the Whiplash 2000! The referee counted three and this one was in the books.
Winners:
Billy Kidman, Grandmaster Sexay, Lash LeRoux and Mikey Whipwreck
The babyface team celebrated as CW ordered Flair to the back before instructing Watts and Angle to beat down whoever they could get their hands on. They grabbed Mikey and Lash and started beating them down, only to be attacked by Kidman and Sexay. With a four-on-two situation, eventually Watts and Angle succumbed to the numbers and the crowd got their big pop moment when Kidman and Sexay both went to the top; Kidman with the Shooting Star press on Watts, Sexay with the Hip-Hop Drop on Angle and they began to celebrate again as we headed backstage.

In the interview zone, Chris Kanyon is talking to Rue DeBona.
Rue:
"Chris Kanyon, tonight sees you in the Quarter-Finals of the WCW World Heavyweight Title tournament after your excellent First Round showing against Tajiri. However, tonight's match sees you facing arguably a different calibre of opponent as you'll face many people's favourite to win the tournament, "Big Poppa Pump" Scott Steiner. Can you upset the odds?"
Kanyon:
"You know what, Rue? All my life, I've had people trying to tell me that I'm not good enough to be on the big stage, that I'm not good enough to be the World Champion. Well, tonight we'll see whether those guys are wrong or right, because Scott Steiner is the biggest star in World Championship Wrestling and that makes it a make or break night for me. Yes, he's a former World Champion. Yes, he's the biggest star in WCW right now. But he's not unbeatable and now he's got to face the 'innovator of offence' - Chris Kanyon. So Scott, be prepared to bring your 'A' game because once again I'm going ask the question: 'Who betta than Kanyon?'"
Kanyon walks away and we go to the backstage area, where Maven is trying to talk some sense into a hungover-looking Al Snow.
Maven:
"Look, Al.. I appreciate you've been going through some things, man… but you need to stop getting drunk and focus on the task at hand - we've got a chance next week to qualify for the TLC match at Souled Out, to win a shot at the World Tag Team Titles. And I want those titles, Al. So you and I are going to go back to the hotel, we're going to lock ourselves in a room and we're going to scout all of our opponents, is that clear?"
Snow:
"Whatever you say, boss."
There's screaming from down the corridor as the Nitro Girls come running past, looking scared again. Maven manages to stop Harmony.
Maven:
"What the hell is going on?"
Harmony:
"Those damn Dicks keep walking in on us!"
She leaves hastily as the Dicks show up, clearly giving chase; Maven steps into their path.
Maven:
"Guys, this stops now. This is not a game. It is not cool."
The Dicks stare him down.
"Walk. Away."
James Dick:
"And if we don't?"
Maven:
"You do
not
want to find out."
Chad:
"And what are you going to do about it?"
Maven:
"Me and Al here will have to beat some sense into you. Right, Al?"
He looks around.
"Al?"
Al has gone. The Dicks laugh at Maven and beat him down, leaving him in a crumbled heap on the floor.
James:
"Let that be a lesson to you, kid. Mind your own business."
Chad gives him a solid kick in the ribs and they walk away. We move to the Gorilla Position ready for the next match, where Terry Funk is warming up for his match. Dustin Rhodes turns up with the rest of Funk's 'back-up' for tonight - Marty Jannetty and Vader.
Rhodes:
"You ready?"
Funk:
"I am now."
Inside the arena, the Horseman theme is playing for the second time tonight and we're ready for our first Quarter-Final match as CW Anderson makes his way to the ring accompanied by the rest of the Horsemen. Neither Watts or Angle looks in the best shape, but they're gutting it out to be by their leader's side. The crowd boo them without mercy.

"Man With A Harmonica" plays and the crowd pops huge for the appearance of the living legend himself, Terry Funk, as he comes to the ring accompanied by Rhodes, Jannetty and Vader. CW Anderson does not look pleased to see Marty Jannetty will be hanging around ringside.
WCW World Heavyweight Title Tournament - Quarter-Final
Terry Funk (w/Dustin Rhodes, Marty Jannetty & Vader) vs. CW Anderson (w/David Flair, Erik Watts, Eric Angle and Amy Weber)
It's an ECW fan's dream in this match as two of the now-defunct (except for the crappy WWE 'brand') promotion's legends face-off one-on-one for the first time in their careers. The bell rings and it's on as the two men brawl in the ring. Having learned from previous mistakes, Funk is pacing himself a little more in this match and seems happy to give a lot of the action to Anderson in the early going as the two men's entourages stare each other down on the outside of the ring.
Half-way through the match and this has basically turned into a lumberjack match as an increasingly confused referee keeps finding himself distracted by something on the outside as one of the two competitors is tossed to the opponent's associates. If the match weren't so important, he'd no doubt have thrown this one out by now but until someone gives him a blatant excuse for a disqualification, his hands are tied.
As the match drew to a close, CW was on top once again, having still managed to dominate the match despite the neutralisation of his back-up. At it's climax, Anderson signalled for the end and whipped Funk to the ropes before lifting him for the Spinebuster… but Funk counters with the knee smash! Anderson is dazed and confused and Funk knows this is his last chance. He delivers the boot to the stomach of Anderson and sets him up… Piledriver! Terry Funk brings the crowd to their feet with a huge Piledriver! The referee is down to make the count as Jannetty, Rhodes and Vader scramble to drag the Horseman from the apron: 1...2...3!
Winner:
Terry Funk
There's celebration in the ring as Funk pulls off a miraculous victory, beating CW Anderson cleanly one-on-one to advance to the Semi-Finals. Funk turns to Rhodes, who kept his promise to stay out of things, and shakes his hand. Jannetty, on the other hand, is distracted. He's spotted the Horsemen regrouping in the aisle and gone to the top rope… Huge crossbody from Jannetty wipes out the Horsemen and the crowd roars their approval as we head backstage.

We're right in the bowels of the arena as we're apparently about to be greeted by an early sermon from Sean O'Haire.
O'Haire:
"Resurrection and insurrection… You might well ask what those two things have in common. On the surface, the two ideas couldn't be more unrelated but both acts are born from an inciting incident. Resurrection is caused by death, by a desperate need for something or someone to return for a greater purpose. An insurrection is inspired by tyranny, when a small group of men finds himself being held down by the forces above his head. Why is that important? Let me explain…
"WCW isn't the only thing going through a resurrection. I've seen the reports, I've heard the crowds and I've seen the discussions all across the internet. You're all beginning to recognize a new form of resurrection, a second coming. Right here, right now, you are witnessing the second coming of your new lord and saviour, of the most dominant man in this business today. Sean O'Haire, the one man insurrection is coming to punish the people who choose to hold him back. I'm coming to punish all of you. Next week, you will see the greatest demonstration of my power, the greatest demonstration of my status as the future of World Championship Wrestling. Next week, I will make the greatest statement that sports entertainment have ever seen. Next week, you will all witness the beginning of my legacy. But hey… I'm not telling you anything you don't already know."
He laughs manically and fades into the darkness.

In their locker-room, The Heart Throbs are giving a pep-talk to their unseen partners.
Romeo:
"Listen, guys, I know you really want to get Shane back and that you weren't prepared for a match tonight, but now's the time to suck it up and really make an effort to scare them. You guys have known each other for years, you've teamed for longer than Morgan, Reigns or Mamaluke have been in this business. Make the experience count."
Antonio:
"This isn't going to be easy, boys. We've had our asses handed to us by them more than once but tonight is your night. Make an impact, make a name for yourselves and let Shane know that help is on the way. Now, are you ready?"
Silence.
"I said 'are you ready?'"
A weak 'yes, sir' comes from the guys in the room.
"Let's get ready to…"
Romeo taps him on the shoulder to interrupt him and shakes his head.

Back inside the arena and Schiavone is speculating as to the identities of the Heart Throbs partners. 'You know whose catchphrase that is?' is asked over and over again before being rebutted by Lawler that 'it can't be.' Ever the cynic, Cyrus points out that the guys who use that catchphrase 'still work up north.'

As they speculate, "Holla If Ya Hear Me" is heard throughout the arena and there's big heat for 'Big Poppa Pump' Scott Steiner and his 'Number One Freak,' Midajah. He parades her down the aisle as they make their way to the ring. Stephen DeAngelis is very careful to get his announcement right as he lists Steiner's achievements: Former World Champion, two-time US Champion, two-time Television Champion, seven-time World Tag Team Champion. Steiner grabs the microphone from him as we make time for everyone's favourite part of Nitro: Steiner's roid rage ramble.
Steiner:
"When I got to the arena tonight, I was shocked to discover that my opponent was Chris Kanyon. Kanyon, you call yourself the 'innovator of offense' but the truth is that you're just another fat, useless wannabe like all the rest. Lucky for you, Chris, I like you. I respect ya. I know what you can do and I know that you got a big future ahead of ya, so I'm going to offer you a way out - an escape. You get to keep your dignity, you get to walk away and, most importantly, you get to be on my good side. So what's it gonna be, Chris? You can forfeit the match and walk away, or take your chances against the man with the largest arms in the world and the man who gets all the girls. Big Poppa Pump is your hook-up… Holla if ya hear me!"
"Who Betta That Kanyon?" is cried out by the sound system as the music of the 'innovator of offense' plays, but there's an awkward silence as the music plays and nobody appears. Steiner grins smugly in the ring, pleased to have gotten his way and an easy ride to the Semi-Finals. But as the camera focuses on him, he goes down - Kanyon has ambushed him by coming in through the crowd! Kanyon is on the attack as the referee panics and rings the bell…
WCW World Heavyweight Title Tournament - Quarter-Final
Chris Kanyon vs. "Big Poppa Pump" Scott Steiner (w/Midajah)
Getting the jump on Steiner was definitely a smart move as Kanyon begins with the advantage in the match and Steiner tries desperately to defend himself. Eventually, his anger gets the best of him and Steiner sneaks in a low blow behind the back of the referee to get himself some respite. Steiner goes on the offensive and immediately his power is too much for Kanyon, who forces himself to try and ground the 'Big Bad Booty Daddy' any way he can.
Despite an even match as the two men try to mix-up their brawling and technical styles to get the advantage over one another. A distraction from Midajah on the outside turns out to be the turning point, as she catches the eye of Kanyon and manages to get his attention by flirting with him. Obviously, she's not his type - in joke - but that's enough to give Steiner the time to hit him with the Belly-to-Belly suplex and lock Kanyon in the Steiner Recliner. Kanyon taps, the bell rings but Steiner refuses to let go until he's pulled away by the referee.
Winner:
Scott Steiner
Steiner continues to beat down on Kanyon until the referee and Midajah persuade him to stop. He spits on Kanyon and leaves the ring as we cut to the back. We're in Bischoff's office where he's stood behind his desk facing Morgan, Mamaluke and Reigns, giving a last-minute 'pep-talk' to his team.
Bischoff:
"Listen up. I don't care who the Heart Throbs are hinting at being their partners - you have one job tonight: Beat them. Hurt them, cripple them, main them. I know they've been dropping hints about having those degenerates in the building but I've spoken to security and they've seen no sign of any of them. So whoever it is, they've managed to keep it a secret and sneak them into the arena. Who they are doesn't matter; Morgan, Reigns, you guys are two of the biggest athletes in the world today and you can put these guys on the shelf for life if you want. Mamaluke, you may not have the size, but you have that sick, twisted, devious mind and I expect you to use it. That being said, it's time. Be ready."
He leads them out the door, all fired up.
Elsewhere backstage, a random lackey has found Al Snow asleep in the back of an equipment truck.
Lackey:
"Mr. Snow?"
Nothing.
"Al?"
He stirs a little. The lackey gives his shoulder a shake and his eyes snap open as he takes a drunken swipe at the offender. Taking the time to let his eyes adjust to the light, Snow fixates on the lackey.
Snow:
"What?"
Lackey:
"It's Maven, Al. He's on his way to hospital. I thought you should know."
Snow gets up and staggers across the parking lot to his car. He climbs in, starts the engine and reverses straight into another car. The lackey comes running.
Lackey: "I'll call a cab."
He notices Al holding his neck.
"And the trainer."
Back in the arena, "I'm Back" is playing and Eric Bischoff comes to the ring with Morgan, Reigns and Mamaluke in tow. It's an odd combination, but the fans hate them all equally anyway. He grabs the microphone from Stephen DeAngelis and waits for the crowd to die down. They don't.
Bischoff:
"Will you all just shut up?"
They boo.
"I said 'shut up' and I don't have all night."
The noise doesn't die down, but he's got to press on.
"Earlier tonight those damned Heart Throbs came out here and made the mistake of challenging me and my boys to a match at Souled Out. Well, now it's time to play your hand, Heart Throbs. Time to show the entire world who the other three members of your team are. I don't care if they are a bunch of degenerates, the time has come to put your cards on the table and let the whole world see what you've got."
"Heart Throb" plays and brings the Heart Throbs themselves out to the ramp to a massive cheer. They have microphones of their own with them.
Romeo:
"Now, Eric, are you sure you want to do this? You're sure you want to make this match happen?"
Bischoff:
"I'm sure. And what's more, I'm sure you'll want it to be a fair fight, so I'm going to be banning you both from ringside. If either of you so much as appear at the top of the ramp between the bells, you lose your match at Souled Out. Do I make myself clear?"
Antonio:
"Loud and clear, Eric."
Bischoff:
"And one last thing. Shane's going to be watching, so make this good."
Shane McMahon appears on the Jumbotron, tied up, bloody and watching hopefully.
Romeo:
"Okay, Eric, you asked for it."
They step aside as "Greenwich Mean Streets" plays. The fans are confused, they expected some version of D-X but instead they've got… Pete Gas, Joey Abs and Rodney - The Mean Street Posse. The four-time WWF Hardcore Champions shake hands with their friends as they leave before marching purposefully towards the ring. Bischoff and his crones are in fits of laughter.
Bischoff:
"These are your team mates? Hahaha! This should be quick, but I'll give you a fighting chance: In this match, there will be no disqualifications. Referee, ring the bell."
No Disqualification Match
The Mean Street Posse (Joey Abs, Pete Gas & Rodney) vs. Matt Morgan, Luther Reigns & Tony Mamaluke
As expected, the Mean Street Posse dive into the ring and are immediately set upon by the heels. Officially, it's a tag match, but with no DQs, there's nothing the ref can do about this assault. The match is over almost immediately, and it's not two minutes before all three MSP members are dazed and confused, if not unconscious. But Bischoff is at ringside and he's very specific about not ending the match yet. They continue to beat down on the three fallen friends of Shane as Mamaluke directs traffic.. Despite being forced to watch, he can barely look himself as his lifelong friends are being decimated in the ring.
Finally, Mamaluke, Reigns, Morgan and, most importantly, Bischoff have had enough of this. He begins to throw chairs into the ring and Mamaluke explains what they're going to do with a demonstration. He drags Pete Gas to the ring, traps his ankles and wrists in folded chairs and goes around, one by one, dropping his knee on the chairs and breaking them. Morgan and Reigns take the chairs and do the same to Abs and Rodney. Satisfied, Bischoff orders them to end this horrific, chilling assault and they cover. The referee reluctantly counts three and this one is over.
Winners:
Matt Morgan, Luther Reigns and Tony Mamaluke
As Bischoff and his boys survey the damage, The Heart Throbs come running to the ring surrounded by an army of EMTs with stretchers. Bischoff leads his boys back up the aisle as harsh words are exchanged between the two sides.

Backstage in the interview zone, Scott Hudson is with Dustin Rhodes. Rhodes looks agitated, like he has a lot on his mind.
Hudson:
"Scott Hudson here, and you join me backstage with a man who's found himself the centre of some controversy here in WCW, "The Lonestar" Dustin Rhodes. Dustin, first of all I want to ask you about the recent goings-on between you and Terry Funk. Two weeks ago on Nitro we saw you go against the wishes of Funk and assist him in his match against Orlando Jordan and, since Mr. Funk found out about your assistance last week, things have been a little rocky between you. I'm sure the two things the fans would like to know are your reasons behind helping him, and what the relationship between the two of you is like now?"
Rhodes:
"Scott, let me address those questions in order. I helped Terry because he's my friend and because he's a legend of this sport. These days, nobody respects the legends, nobody gives them a second thought and nobody has any faith in them. All I wanted to do was restore some of that faith, to show the people that legends have a place in this business and it backfired. I realise now that in trying to get the people to respect Terry, I showed him none myself. As you saw tonight, Terry Funk can still hang with the very best of them and even scored a clean win over CW Anderson of the New Horsemen.
"As for our relationship right now, I realise that I have work to do to regain his trust but I know that I'll never lose the faith in Terry Funk again."
Hudson:
"Your attempt to help Mr. Funk has, in turn, incensed Orlando Jordan. Obviously, to help one man you had to - and pardon my editorialising here - screw another. It's very clear that Orlando Jordan is angry, that he wants revenge, and that he'll stop at nothing until he's satisfied. Any words for Mr. Jordan?"
Rhodes:
"OJ, I understand your anger. I understand that what I did harmed your career and I apologize. But your actions since then are not the actions of a man. You're angry? You want me to apologize? You don't need to attack me to get my attention, you just need to come to me, like a man and ask for an apology. Until now, you've done me a great courtesy by not involving yourself in my matches and I appreciate that. But last week, you didn't just attack me, you attacked Terry Funk. Hopefully, you've got your anger out of your system. Hopefully, you can be a man, accept my apology and move on with your life. But if you can't, OJ… If you can't accept that, if you don't move on, if you attack me again… I will not be responsible for my actions."
Hudson:
"And finally, tonight you find yourself in the Quarter-Finals of the WCW World Heavyweight Title Tournament and your opponent is none other than a man most believe to be the greatest never to hold a World Title, Scott Hall. How do you see this one going down?"
Rhodes grabs the microphone from Hudson to answer this one.
Rhodes:
"The greatest never to hold a World Title, huh? Well, Scott, you just made this match a little more personal than it was. It was supposed to be about pure competition, two veterans going face-to-face for a shot at the biggest prize in out sport. But now, Scott Hudson, you've raised the bar. People are really calling Scott Hall the greatest wrestler never to hold a World Title? Well guess what, Scott? I've never held the World Title either. And now you've laid down the gauntlet: Dustin Rhodes. Scott Hall… Who is really the greatest wrestler never to hold a World Heavyweight Championship? I guess we're going to have to find out."
Dustin thrusts the microphone back at him, gives him an angry stare and walks away. It seems Scott Hudson just poured fuel on this fire.

The director cuts away to our latest MMA video package. This one focuses on Sylvester Terkay as various former opponents and his trainers discuss his 'awesome' pedigree. Gary Goodridge praises his MMA skills, Eric Angle talks about his amateur wrestling background - specifically his fabled NCAA Division I Tournament final loss against his brother Kurt. He's also discussed at length by his pro wrestling trainer, Rick Bassman and his former ECW manager, Elijah Burke. Tony Mamaluke and Tatanka also weigh in.

After that, it's back to the interview zone as Mark Lloyd catches up with Orlando Jordan. He's causally dressed in street clothes, unsurprising as he's not on the card tonight.
Lloyd:
"OJ, we just heard from Dustin Rhodes as he apologized for his actions and asked you to 'be a man,' accept his apology and let the past be the past. Your response, sir?"
OJ:
"First of all, my name is Orlando Jordan. You are not my friend, and you will not refer to me as OJ. Second, Dustin Rhodes, if you think I'm going to just accept your apology, walk away and forget anything ever happened, you must be the craziest man in professional wrestling. It's not like you tripped me in the hall or spilled my coffee - you cost me my shot at the World Heavyweight Title. You cost me a place at the top of the mountain. You think an apology will fix that? I don't care who you are, I don't care who your daddy is, I don't care about your reasons or what you've achieved. The fact here, Dustin, is that you need to learn tat your actions have consequences and there comes a time when you have to pay for your mistakes in blood.
"Watch your back, Dustin."
He laughs and walks away, taking us back into the arena where that familiar sound fills the sound system: "n-n-nWo... 4 life!" - the nWo theme plays, bringing Scott Hall out to the arena to a fairly decent cheer. No matter how hard he tries, he'll never truly be a heel in front of a WCW crowd. He uses a little Latin swagger on the way to the ring, flicks his toothpick at the camera and climbs over the ropes, throwing the 'wolfpac' hand signal in the air as he does. He grabs the microphone form Stephen DeAngelis, who at this point may as well just hand it to everybody, and prepares to talk.
Hall:
"Hey Yo!"
The crowd pops. It's a cheap pop at this point, but what are you going to do?
"Two weeks ago, Scott Hall returned to WCW for the first time in six years and immediately made an impact by beating D'Lo Brown. Before that match, I talked about being 'for life' - something my brothers don't appear to understand. I see them walking around here - and I'm talking to you, Eric Bischoff, Scott Steiner and DDP - afraid to represent. Well, tonight, I'm going to continue to do what you boys have failed to do - I'm going to represent the black and white. And I'm going to do it all the way to the World Heavyweight Title."
"Lonestar" plays, bringing Dustin Rhodes to the ring. He's alone, but definitely ready for action. The anger he's been carrying since talking to Scott Hudson is apparent and his eyes are fixed on the task at hand: Beating Scott Hall and restoring his reputation.
WCW World Heavyweight Title Tournament - Quarter-Final
"The Lonestar" Dustin Rhodes vs. Scott Hall
The bell rings and the two men lock-up for a test of strength. There's a real big-match feeling to this match among the crowd as they've heard Dustin Rhodes' backstage comments. Dustin wins the test of strength, forcing Hall back into the corner, but he takes a kick in the gut when he gets there and this match is on as Hall begins his assault. They mostly brawl inside the ring; the respect between the two men is such that they never follow each other to the floor, preferring to settle this one in the ring.
Eventually, Rhodes fought his way back into the match and the two men had the crowds on the edge of their seats throughout a gruelling battle. Rhodes eventually battled his way on top, finally hitting the Lone Star State Of Mind! Cover: 1...2...NO! Scott Hall kicks out and Rhodes can't believe it! He's convinced that was a three count and Hall is still down - he has no idea where he is. Rhodes is going to have to tone his argument down or he'll get disqualified here. The referee has got angry and pushed Rhodes away, but Rhodes has snapped and levelled him with a big right hand.
"Do What I Want To" plays and it's all eyes on the ramp as Orlando Jordan comes running to the ring. He slides inside and immediately trades punches with Rhodes. They're brawling all over the ring as Scott Hall struggles to regain consciousness - he'd definitely have been counted out by now if the ref weren't on the floor - and OJ has a distinct advantage over the tired Rhodes. He beats him into the corner, using the Johnson Shuffle to rock him before watching him stagger to the centre of the ring. The referee is on his feet but he's too angry with Rhodes to stop this as Jordan kicks him in the gut: Cracker Jacker!
Jordan rolls out of the ring and watches as Scott Hall climbs to his feet. With great effort, he drags Rhodes up and lifts him… The Razor's Edge! The referee counts, no need for a quick one here: 1...2...3!
Winner:
Scott Hall
Scott Hall celebrates as OJ climbs back into the ring to beat down on Dustin Rhodes some more, thoroughly embarrassing him and continuing the assault until Rhodes is battered and bloody. I guess that apology hasn't been accepted.

Backstage in the interview zone, Rue has been joined by Totally Buff…
Rue:
"Totally Buff… tonight is the night you've been waiting for as you finally get your hands on Gymini. After two weeks of their assaults, you finally get the opportunity for revenge…"
Buff snatches away the microphone.
Buff:
"You know what, Rue? For two weeks those idiots have been thorns in our sides. They attack us in the weight room, they attack us in the ring, they've even been attacking us on WCW.com! They try and call us old and washed-up… well, boys, pro wrestling is like a Hollywood movie - no matter how old it is, the original is still better than the remake. You stepped into Totally Buff's house one time too many and you better believe we're going to throw you out."
Luger grabs the mic.
Luger:
"That's right, Buff. Gymini, I hope you've got health insurance because Totally Buff are coming for your ass."
Luger simply drops the mic and they walk away.

In the parking lot, two ambulances are waiting to be loaded with the Mean Street Posse. The Heart Throbs can't apologize enough as they climb in an ambulance each to accompany the severely injured friends of Shane McMahon to the hospital.

Elsewhere backstage, we're greeted by the exciting lead-in to the commercial break as we see Gymini in the gym hitting a few more reps before their match. As they get up to walk to the ring, we get a split screen as both teams walk toward the Gorilla Position. Jake and Lex are both using exercise bands as they walk to the ring, trying to keep themselves pumped as their partners look fully focussed. That match, Schiavone reminds us, is next!

Back in the arena and "Sticks and Stone" is playing, which brings Gymini out to the ring. These guys might be young, big and powerful but they're also ugly as sin - any of the above reasons could be behind the crowd booing them. If they weren't so big, they'd be nondescript.

As they wait patiently, trying their best to heel it up, "Buff Daddy" plays to a huge, roaring cheer from the fans in the building. It's amazing that Totally Buff should draw this reaction having spent so much of their career as heels, but the fans love a "WCW Original." They climb in the ring to face off with Gymini and the referee prepares to get this one underway.
WCW World Tag Team Title TLC Qualifying Match
Totally Buff (Buff Bagwell & Lex Luger) vs. Gymini (Jake & Jesse Gymini)
As soon as the bell rings the underlying rage between these two teams in unleashed and a brawl erupts that spills throughout the arena. As Buff takes Jesse up into the crowd, Jake and Luger spill backstage and the referee seems entirely unwilling to count this one out - after all, there must be a winner!
Eventually, Buff and Jesse return to the ring, shortly followed by Jake and Luger and the four men brawl in the ring. The rule book seems to have flown out the window as no tags are taking place but the referee is being suitably flexible with the rules. He knows what's at stake and how much these teams hate each other. Don Callis makes a joke about 'Roid Rage' that he's going to regret when he gets backstage, I'm sure.
The end finally came as Buff and Jake spilled to the outside brawling, leading this one to mercifully end when Lex locked Jesse in the Torture Rack, forcing him to tap out.
Winners:
Totally Buff
Despite the match being over, the uncontrollable brawl continues after the bell as all four men continue to brawl right up the aisle and backstage. Out cameras eventually catch up with them as they battle right past the interview zone, where a bemused Diamond Dallas Page is waiting with Scott Hudson.
Hudson:
"Diamond Dallas Page, just one match left in the Quarter-Finals of this tournament and it's one of the more hotly anticipated match-ups that this tournament has produced so far; the conflicting styles as you, DDP, will take on the hard-hitting Japanese superstar Masato Tanaka. We know that you've got the championship pedigree, but can you really match up to a man with the combined force of Kyo Dai at his side?"
DDP:
"You know what, Scott Hudson? I'm not concerned about anybody in this tournament, much less the 'combined forces of Kyo Dai.' You make them sound like some kind of terrorist network, Hudson… That's highly disrespectful of you.
"Masato Tanaka, you're a great competitor and a tremendous talent but you've never held the most important title belt in this sport: the twelve pounds of gold that makes up the WCW World Heavyweight Title. Now, I appreciate that you're a revered talent among fans on the independent circuit and back home in Japan, but here in America, here in WCW there's only one man that the fans care about and it's me… it's me… it's D…D…P.
"Masato Tanaka, Francoise, Kyo Dai… tonight, I'm going to allow you to witness the greatest sight in professional wrestling because for one night only, Diamond Dallas Page is going to demonstrate why he's the one true 'People's Champion' and why he's the next WCW World Heavyweight Champion.
"Get ready to feel… the… BANG!!!"
He explodes the self-high five as the crowd pops huge for him.

Elsewhere backstage, we find ourselves outside the locker room of Kyo Dai and we're greeted by a telling sight as Francoise leads her men towards the ring. Behind her, Tanaka and Sakoda walk together while Tajiri lags behind like a petulant child. Clearly he still hasn't made the boss' good books.

We then find ourselves in Coach's office as he's in the midst of apparently Fung Shui-ing the place. He's startled by the sound of Dustin Rhodes bursting through the door in a fit of rage. He still hasn't changed since his match and is covered in drying blood from the assault that took place earlier tonight.
Rhodes:
"Coach, we need to talk."
Coach turns to face him, but says nothing.
"I've had enough of Orlando Jordan. If he thinks he can just walk around here doing whatever the hell he likes then he's got another thing coming. I want - I demand - a match with him next week."
Coach:
"Whoa, Dustin… First things first, okay? I'm in charge here. You don't call the shots and you sure as hell don't demand anything from me. You're accusing OJ of doing whatever the hell he likes? Weren't you the guy who attacked him and cost him his shot at the World Heavyweight Title in the first place?"
Dustin:
"I apologized for that, coach. It was a mistake."
Coach:
"Yeah, you know it was a mistake now that he's kicked your ass twice in two weeks. I don't think he wants to accept your apology, do you?"
Rhodes doesn't look pleased at this.
"Look, I can't just give you a match with Orlando Jordan next week, the boss will kill me. That's a money match, for sure. But I'm willing to compromise, okay? We have another situation boiling so if you do me a favour, I'll give you your match at Souled Out."
Rhodes:
"What's this 'favour' Coach?"
Coach:
"I want you agree to take part in a tag team match next week on Nitro. I want to impress Mr. Bischoff with a big main event on my first full night on the job… So I'm going to team you with Marty Jannetty to take on CW Anderson and Orlando Jordan. How does that sound?"
Rhodes:
"Not bad, but not quite good enough. If I agree to this, what's in it for me?"
Coach:
"How about the winner of the match picks the stipulation for Souled Out? If you and Jannetty win, you pick the match. But if CW and OJ win…"
Rhodes:
"That won't happen. You've got yourself a deal."
They shake hands, both men satisfied with their end of the bargain.

Back inside the arena and it's time for our main event of the evening as "Imperial City" plays to signal the entrance of Masato Tanaka, accompanied by his Kyo Dai associates. He stops at the bottom of the ramp, turns to face Francoise and bows respectfully to her before climbing in the ring. The crowd is booing like crazy - gotta love some good ol' redneck xenophobia.

The crowd then explodes in a cacophony of noise as "Self-High Five" plays and… nobody appears at the top of the ramp. There's a brief lull of confusion until they realise that DDP is making his way to the ring through the crowd! He stops at the top of the final flight of stairs to 'Self-High Five' and shakes hands with his fans as he walks that final distance to the guard rail, jumps it and climbs triumphantly into the ring. DDP is still the 'People's Champion.'
WCW World Heavyweight Championship Tournament - Quarter-Final
Diamond Dallas Page vs. Masato Tanaka (w/Francoise, Ryan Sakoda and Tajiri)
The bell rings and the battle is on. Tanaka comes out aggressively, beating down on DDP who appears completely unprepared for the powerful force that is Masato Tanaka's strong style wrestling. DDP quickly has to re-evaluate his strategy and try to defend himself. Tanaka continues to rain in the blows unmercifully to the point where even the referee takes pity on DDP and forces the break a couple of times. Page rolls to the floor to evaluate his options and it's definitely good time to milk the ten count for the breather.
Back inside and DDP has found his mojo again as he begins to fight back with a little more ferocity. Tanaka, knowing he can't win this as a brawl anymore, decides to start going technical an breaks out a handful of suplexes. Page will not be undone, however, as he can throw them with the best and now we have two guys jockeying for position with their evenly-matched styles. Page gets the advantage once again, locking Tanaka in an armbar to wear him down and we have a lull in the action as he reaches desperately for the ropes. He's not going to make it but Francoise is on the apron and Tajiri and Sakoda come in to attack Page.
Page battles to his feet and starts to take them both on. He ducks a Buzzsaw Kick from Tajiri which wipes out Sakoda instead before hitting Tajiri with the Diamond Cutter. There's a huge pop as he roll s to the outside! He turns to face Sakoda, who's dazed and confused… another Diamond Cutter! The crowd are on their feet as he approaches Francoise, bringing her into the ring the hard way. He stalks her as she slowly makes her way to her feet and the crowd are begging him to hit her with the Cutter, but a low blow from Tanaka stops him in his tracks and she scrambles from the ring.
Page is winded as Tanaka runs to the ropes… Roaring Elbow! Cover: 1...2...NO! That was 2.9999 when Page kicked out! Tanaka can't believe it, he's remonstrating wildly with the referee as Page struggles to his feet. Francoise is begging him to turn around and finish the match but by the time he relents, it's too late. Page is on his feet… Diamond Cutter! The crowd counts with the referee: 1...2...3! A huge cheer erupts from the crowd as this match ends in a big win for the People's Champion.
Winner:
Diamond Dallas Page
Page celebrates his way up the aisle as Francoise makes her way into the ring, berating Tanaka for such a poor showing. As we go off the air, the last images we see are of Tanaka begging forgiveness and Page celebrating with his fans!
---
Last edited by TheLoneShark; 09-25-2010 at

09:24 PM

.
Posting Rules

You may not post new threads

You may not post replies

You may not post attachments

You may not edit your posts

---

HTML code is Off

---