Moron
Join Date: Jul 2010
Posts: 90
Points: 0
Re: WWE: The Future Draws Near
---
good opening match up , nice to have Evan Bourne as Champion hopefully he has a good title reign , the second match was quite good even though it had two heel teams in it , looking forward to see who gets the tag team titles , Kofi winning the IC Championship match is quite good , try to use the likes of Cody Rhodes and Christan in that division more , i cant comment on the womens title match up as you have only written one line of it , nice to see Daniel Bryan back in the WWE hopefully you don't have him facing the whole Nexus by himself , Sheamus Promo was quite good although i dont know where Goldberg came into it , quite good match up for the WWE title fact paced and well written , Punk retaining the title was a good thing as he is one of the best heels on the roster , i dont know what your going to do with the face Edge

overall good show would have been a 9 if some of it was handled better like Goldberg being mentioned and the fact you didn't write the womens match
---
Last edited by bikergrove; 08-16-2010 at

06:31 PM

.
Re: WWE: The Future Draws Near
---
SummerSlam Comments

Not sure if I like Bourne going over since I would like to see DiBiase pushed more on the mid-card scene first, but it can work if you book it right. Maybe it means bigger things for DiBiase?

I don't like the fact that Jim Ross made all of these announcements for Raw tomorrow night, especially right after a PPV match.

Sounds like a potential screwjob here. I guess we'll have to wait and see.

I don't like the fact that we see the two people in our World Title match involving themselves in the Tag Title match. Anyways, I look forward to seeing where you take this.

I'm disappointed that ShoMiz/SES get nearly twice as long as Kofi/Drew when Kofi/Drew can put on a far better match.

Ew @ Kelly being champ, considering she's awful.

I'm glad that you involved the Nexus at SummerSlam, one way or another. Jericho not telling us what he wants them to do seems a bit lame, but I suppose it increases the level of curiosity and suspense. It should be interesting to see what happens from here.

I think this match should have been the last match due to the fact that Orton, the face, ended up winning the title, but Punk/Edge will be a better match so I can see why you did that.

My biggest concern so far with the PPV is that every match is a title match, and so you might as well have called the event Night of Champions. You gave Edge/Punk quite a bit of time, which is understandable, and I'm glad that Punk won. Edge walking away "shamefully" makes him look like a pussy.
Re: WWE: The Future Draws Near
---
Raw, August 16th, 2010 Preview
Raw is going to be live in San Diego, California the night after "The Biggest Show of the summer". They say goodbye to the old PG era and welcome back a PG-13 era with a special three hour show. After an amazing SummerSlam, tune in to see how things fold up in the San Diego Sports Center.
After Chris Jericho made a big decision by joining Nexus, J.R. and Daniel Bryan came out. J.R. announced that Bryan will be the man to end Nexus for once and for all. However; Goldberg made a loud statement by attacking the General Manager and Jackknifing Bryan through the top of the stage. Tonight, the General Manager makes a huge announcement regarding the Unforgiven Pay Per View on September 19th.
After Randy Orton defeated Sheamus to become WWE Champion, see how the Celtic Warrior reacts to his defeat. Also, Ted DiBiase gets a rematch in a Ladder Match for the United States Champion.
Confirmed Matches:
Non-Title Match
Randy Orton vs. Sheamus (Winner determines the stipulation for rematch at Unforgiven)
United States Title Ladder Match
Evan Bourne © vs. Ted DiBiase Jr.
Unified Tag Team Title Last Chance Match
The Hart Dynasty © vs. The Usos
---
Check out my new BTB: WWE 2012 and On: Rebirthing!
http://www.wrestlingforum.com/booker...ebirthing.html
---
Last edited by The Apple Pie; 08-19-2010 at

07:11 AM

.
Re: WWE: The Future Draws Near
---
*Regular RAW Pyro*
Michael Cole: Hello everybody and welcome to another live edition of Monday Night Raw! We're live from the San Diego Sports Center in a sold-out crowd of 16,000! Alongside me is my broadcast partner, Jerry "The King" Lawler.
Jerry Lawler: Thanks Cole! What a show we have planned for you tonight! We have the United States title on the line in a Ladder Match! The Last Chance Tag Team Match, which was cancelled last night, is not scheduled for tonight. Also, Goldberg, will be addressing the WWE Universe tonight on his actions at last night's SummerSlam.
Michael Cole: Also, don't forget the main event; Orton vs. Sheamus to decide the stipulation on the rematch at Unforgiven. Anyway, we have a special announcement from former WWE Champion, Sheamus.
*"Written in My Face" plays as Sheamus comes out to a bunch of boo's. He walks down to the ring.*
Sheamus: Last Night, at SummerSlam, Randy Orton beat me and took away my WWE Championship. I'm out here right now to tell the world that I will win the Falls Count Anywhere match, and I will pick the stipulation, and I will win the WWE Championship match at Unforgiven! You see, I am the first Irish Born Champion. It must be me destiny to win the WWE Championship. I mean, look at who I've beat. I've beaten John Cena, Randy Orton, and Triple H, three of the biggest names in WWE History. Something Randy couldn't do. Who has Randy beat?
*Voices plays as Orton comes out and slowly walks down to the ring.*
Sheamus: What are you doing out here?! This is my promo!
Randy Orton: This could be your promo, but you can't own everything in the business. As you can see, I own the WWE Championship. The Age of Orton continues! The reason I came out here is because you asked me who I've beat, you listed three. I've beat Edge, Shawn Michaels, Triple H, Chris Benoit, Mick Foley, The Undertaker, John Cena, Jeff Hardy, and many, many more. Now you tell me who's more deserving of this WWE Championship.
*Invasion (Remix) plays. Goldberg comes out along with Wade Barrett.*
Goldberg: I was in the business for two short years. I beat the Rock in my debut match. I pinned Chris Jericho, Shawn Michaels and you, Randy. Do you remember that? I pinned you at SummerSlam in 2003. I beat Triple H at Unforgiven to get the World Heavyweight Title. I had a major title in less than half a year, Randy. How long did it take you? Two? Three years?
Randy Orton: You just need to shut up, Bill, before I hit you with an RKO.
Goldberg: Go ahead. Hit an RKO on me. You have three people wanting you out of this business; Three people that will rest at nothing to get your Championship.
*Boomer Sooner plays.*
Jim Ross: Sheamus, Orton, please get out of the ring. I have to deal with Goldberg.
*Sheamus and Orton leave the ring.*
Jim Ross: Last night, at SummerSlam, you came into this arena, without a WWE Contract. You attacked me and Jackknifed Daniel Bryan into the stage. Tonight, you will be in action, against The Great Khali. If you win, at Unforgiven, in three weeks, you will wrestle Daniel Bryan. If you win that match, Bill, you will get a 1-year WWE Contract. Until then…
*Goldberg Interrupts*
Goldberg: No! I'm done with 1-year contracts! I won't leave this arena until I get a multiple year contract!
Jim Ross: Fine, Bill, have it your way. If you win at Unforgiven, you will receive a two and a half-year contract. Is that fine?
*Goldberg nods his head*
Jim Ross: After your match tonight, you will be escorted out of the arena and will not be allowed in the arena until Unforgiven. Also, your little friends will be in action too. Chris Jericho will face off against Mark Henry. Heath Slater will wrestle Daniel Bryan. Also, Justin Roberts will wrestle John Morrison. By the way, your match is next.
*The Land of Five Rivers plays and Khali comes out to some cheers and boos.*
-Commercial-

The match starts off as Goldberg goes for a quick shoulder block. The move doesn't do anything to Khali. He tries another one. This one moves Khali back a few steps. The next one, Khali gave him a head butt. This knocked Goldberg down. They fought for about five minutes. Khali had Goldberg in a Punjabi Plunge hold and Goldberg broke out and nailed a Super kick. He went for the pin;


1………..
2………..
Kick out!
Goldberg looks confused and as do the crowd. Goldberg got up and waited for Khali to get up. He went for the spear but missed and went flying into the turnbuckle, ramming his shoulder into the steel post. Khali realized that Goldberg's shoulder was no in pain and went to work on the shoulder. They fought for a few minutes. Khali used his size against Goldberg and hit a Big Boot on Goldberg's shoulder. Goldberg rolled out of the ring to massage his shoulder. He let it get to the 6 count and jumped back in the ring. Goldberg runs in the ring and goes for a spear immediately. Khali dodged it and Punjabi Plunge on Goldberg.

1…….
2…….
Kick out!
Goldberg kicks out and Khali goes on a rage. This rage continues for a few minutes until Goldberg comes out of nowhere and hits a spear.

1………
2……….
Kick out!
Goldberg gets up and looks frustrated. He gets Khali and Jackhammers him! He Jack hammered the Punjabi Giant!
1………
2………
3……….
Winner: Goldberg at 9:47
Jerry Lawler: Goldberg starts back in the WWE with a strong second debut match. But can he keep it up at Unforgiven?
Michael Cole: I don't know King, Daniel Bryan is a lot tougher opponent then Khali.
*Security personnel come out and escort Goldberg outside of the arena. We go backstage*
Justin Roberts: I would like to welcome, the United States Champion, Evan Bourne. Evan you have a Ladder Match tonight against Ted DiBiase. What is your game plan going into this match?
Evan Bourne: Well, you know, I haven't really thought of a game plan. I just love working in the business. Yeah, I like this United States Title and hopefully, I'll get more attached to it than I am now. But I'm just going into this match like people should. Just do anything to win.
Justin Roberts: Thanks Evan, back to you Cole.
*Announce Table*
Michael Cole: Thanks Justin. We've got a lot more to come.
*We see a match graphic of the Ladder Match*
Michael Cole: And that is next.
-Commercial-




*"Priceless" plays as DiBiase comes out to some heat. "Evan from Heaven" plays and Evan Bourne comes out to a lot of pop.*
The match starts as DiBiase rolls straight out of the ring to get a ladder. He picks a ladder up but Bourne is outside too. He runs into DiBiase and performs a drop-kick. The force from the drop-kick knocked the ladder into Ted's face. Ted fell backwards onto the steel steps. Evan threw the ladder in the ring and started doing work on Ted. They fought outside the ring for a few minutes.

-Commercial-

They brought it back up to the ring. They fought for a few minutes in the ring before DiBiase hit a Dream Street on Bourne and started climbing up the ladder. Bourne got up and climbed up the ladder. He knocked DiBiase off the ladder and he rolled out of the ring. Bourne hopped off the ladder and got out of the ring. He laid DiBiase on the announce table. He climbed back in the ring and leaned the ladder against the ring. He bounced off the ropes and ran up the ladder and jumped off and AIRBOURNE! The table collapsed. They both lay unconscious and Bourne got up first. He got in the ring and set up the ladder. DiBiase got up and got in the ring. Bourne was at the top the ladder trying to unhook it. Ted got to the top and punched Bourne. Bourne punched back and took the title and slammed it in the face of DiBiase. He unhooked the belt and held it up, celebrating his victory.
Winner and STILL United States Champion: Evan Bourne at 16:20.
Jerry Lawler: Evan Bourne is still the United States Champion! After two great match, two consecutive nights!
Michael Cole: I agree one-hundred percent, King. But we have to go to a commercial break. Still up tonight on this special 3-hour episode, Sheamus vs. Randy Orton in a Winner Picks Stipulation match. Also, Chris
Jericho vs. Mark Henry and that is next.
-Commercial-

*"Break the Walls Down" plays as Jericho comes out to a lot of cheers even though he is with the Nexus. "Some Bodies Gonna Get It" plays as Mark Henry comes out to nothing.*
The match starts off as Jericho goes straight for a flying arm splash, then another, then another. Finally, Henry goes down and Jericho goes straight for Walls of Jericho. Mark Henry easily breaks out. Jericho then goes for a Jericho Spike. He nails it and goes for a pin.
1…..
2…..
Kick out!
They fight for a few minutes until Henry finally gets a run. Henry is about to nail a World's Strongest Slam when Y2J counters out of it and Code breaks Henry. He goes for a pin;
1…..
2…..
Jericho lets go of the pin?
Jericho looks at the crowd and taunts Henry. He flips Henry over and sets him in a vicious Wall of Jericho. Will Henry tap? He raises his hand but wait, Christian comes from out of the crowd. Why is Christian on Monday Night Raw? Jericho loosens up the hold as he looks back at Christian. Henry throws him off and into the ref. Christian knees Jericho and hits a Killswitch! Christian runs out of the ring and the ref gets up and sees Henry pinning Jericho;
1…….
2…….
3…….
Winner: Mark Henry at 7:27
Chris Jericho: What are you doing, Christian?!
Christian: The question is what are you doing?! You're teaming with the Nexus for God's sake!
Chris Jericho: I trained him! I implanted this thought into his mind!
*Christian gets in the ring*
Christian: Well you can remove it too! They are trying to take over WWE! And you're helping them!
*Chris Jericho slaps Christian and Christian punches him but Jericho hits a Code Breaker out of nowhere
and left Christian laying in the ring.*
-Commercial-
Michael Cole: Let's take a look at what just happened moments ago.
*We see a highlight video of Christian interrupting the match and Jericho getting pinned and then Chris
Jericho Code Breaking Christian."Ain't No Make Believe" jams through the speakers and gets a decently sized pop. "We Are One" plays as Justin Gabriel and Wade Barrett walks out to a huge heat.*

The match starts off as the two athletic superstars face each other down. Morrison strikes first with a European Uppercut. He then throws a series of punches at Gabriel until Gabriel is trapped in the corner. Gabriel wrestles his way from out of the corner and delivers a devastating Spin Kick. It sends Morrison falling to the mat. They fight for a couple of minutes until Morrison hits a Standing Shooting Star Press and goes for a pin;
1……
2……
Kick Out!
Wade pulls Gabriel out of the ring and tries to regroup. Morrison, however; soars over the top rope and hits a corkscrew plancha onto Gabriel and Barrett at the same time. Morrison throws Gabriel back in the ring and starts to go to work with Gabriel. Because of series of Springboard Cross Bodies, a Spin Kick and a weak Super Kick, Gabriel slowly started to gain momentum. Morrison lay in the center of the ring when Justin went for his signature 450 degree splash but The Guru of Greatness put his knees up to counter the attack. He got up and hit a beautiful Step-Up Jumping High Kick. He sets Gabriel up for a Starship Pain but Wade got on the ring apron and started arguing with the ref. Morrison tried to pin Gabriel;
1…….
2………
Morrison realizes the ref isn't looking. He gets up to get the ref's attention and Gabriel gets behind him and rolls Morrison up.

1…………
2………..
3………….
Winner: Justin Gabriel w/ Wade Barrett @ 10:04.
Jerry Lawler: Wade Barrett just cost John Morrison the match.
*"Get on your Knees" plays as Jack Swagger comes out and gets some heat.*
Jack Swagger: Thank you Wade, for causing John Morrison to lose his match. John Morrison doesn't deserve to win. He runs around like a male playboy bunny and gets nothing accomplished. That's why I plan on ending his useless and pathetic career. You see John; I am the All American-American. Who are you, The Shaman of Sucky?
*Swagger laughs while the fans in San Diego don't act amused*
Jack Swagger: What are your accomplishments, ECW Champion? If I recall, I had the ECW Champion for 60 days longer than you. I've been World Heavyweight Champion, something you'll never accomplish in your lifetime. I bet you don't have a burger named after you! Who would want to eat a "Sucky" Burger?
*Once again, Swagger continues to amuse himself and displease the fans.*
Jack Swagger: Listen John, I have absolutely no respect for you or anything you done in this business! You're a piece of crap!
John Morrison: If you want to come out here and say that stuff, why don't you come to down to the ring and say it. In fact, how about we settle this in the ring next week?
*Jim Ross appears on the Titantron*
Jim Ross: Hold up guys. You guys will wrestle each other one on one. However; it won't be next week. Next week, John, You, Christian and Evan Bourne will be in a six-man tag team match against you, Jack, Chris Jericho and Ted DiBiase.
*Big pop for the General Manager announcing the 6-man tag match. "We Are One" plays to a lot of heat as Heath Slater comes out. "American Dragon" plays to a lot of pop and gets a lot of cheers*
The match starts off as Daniel Bryan throws a couple of punches and backs Slater into a corner. He slowly makes his way out. They technically fight for a few minutes. Danielson and Slater both use a ton of Submission Moves. Goldberg makes his way down the stairs through the crowd and sits on the front row. He holds up an admission ticket and smiles. Slater sneaks up behind him and rolls Bryan up while Bryan is distracted by Goldberg.
1…..
2…..
Kick Out!
They fight for a few more minutes. Out of nowhere, Bryan puts Slater in a LeBell Lock. Goldberg jumps over the security rail and attacks Bryan causing a DQ.
Winner by DQ: Daniel Bryan @ 8:39.
Jerry Lawler: What a great match Cole. The nerve of Goldberg to come back into this arena with the ban on him.
Michael Cole: Yes it was King, but we have Justin Roberts backstage.
*we go backstage*
Justin Roberts: Hello, I have with me, the Unified Tag Team Champions, The Hart Dynasty! Tyson, you guys were attacked at last night's SummerSlam. Do you have any information to give us?
Tyson Kidd: We'll give you what little information I can.
David Hart Smith: We were in our locker room getting ready for out match against the Usos when we heard a knock on the door.
Tyson Kidd: We answered it and four guys wearing masks came in and attacked us. We was unconscious, I woke up to see an old man talking to three of the guys. He said "Good job guys. Two down, a lot more to go."
Justin Roberts: Interesting. Well, do you think that will affect your Unified Tag Team Championship Match tonight against the Usos?
Tyson Kidd: No it won't. Do you want to know why, Justin?
Natayla: Because this Hart never stops beating.
*With that catch phrase, the crowd gives them a decently sized pop as you see The Uso's and it immediately turns to boos.*
Jimmy Uso: Jey, Tamina, we can't let last night get us down.
Jey Uso: We were going to win those titles! We know who attacked us. It was those stupid Harts.
Jimmy Uso: No, it couldn't have been. There were five guys. An old one, 2 big ones, a small one and a medium sized one. It can't be those puny Harts.
*Five guys walk behind them.*
Masked Man #1: Listen guys. We don't want you guys to interfere in our fight for this company.
Masked Man #2: You see we're doing this for the good of WWE. Vince asked us to come here to help things out. You most certainly aren't helping it. So this is why we're doing this.
*The 5 masked men attack the Uso's and we go back to the announce table.*
Michael Cole: Wow. I wonder who those guys were, King. Because of them, our Unified Tag Team Match has been cancelled.
Jerry Lawler: I wonder too but right now, let's show you this clip.
*We see a clip of Sheamus' match against Randy Orton from SummerSlam.*
Jerry Lawler: What a match that was.

*"Voices" plays as Randy Orton gets the biggest pop of the night. "Written in your Face" then plays to one of the biggest heat.*
The match starts off as Randy Orton circles around Sheamus. The Viper goes in for his kill but Sheamus gets out of the ring and picks up a chair. He turns around but Orton is standing there and nails him with a drop-kick that hits causes the chair to fly back into Sheamus' face. They fight for a few minutes outside the ring. Sheamus uses advantage of the steel posts and stairs multiple times. He also uses garbage cans and chairs. Randy comes up and hits an RKO out of nowhere. He goes for the pin;
1….
2….
Kick Out!
They fight for a few more minutes. Randy throws Sheamus back in the ring and picks up the WWE Title. He goes to hit Sheamus but Sheamus dodges and hits Orton with a Brogue Kick and goes for the pin;
1……..
2……….
Kick Out!
Sheamus gets out of the ring and gets a steel chair. He comes in and goes off on Randy Orton. He hits him at least 10 times with the chair. He lays the chair in the center of the ring and gets Orton set up for a Celtic Cross. He throws Orton onto the chair and goes for the pin;
1………
2………
Kick Out!
He throws Orton outside of the ring and lays him on the table. Sheamus goes for another Celtic Cross, Orton wiggles out of it and hits an RKO on the table. The table doesn't collapse and Orton rolls over Sheamus and goes for the pin;
1…………
2………….
Kick Out!
Sheamus gets up and rolls off the table. He hits Orton with a surprising Brogue Kick and sets up for a Celtic Cross. He turns around and throws Orton through the table! He goes for the pin;
1………
2…………
3…………
Winner: Sheamus @ 14:28
Jerry Lawler: Sheamus just won his right to pick a stipulation in his rematch against Randy Orton at Unforgiven. I don't believe it Cole!
Michael Cole: I don't either, King. What a show we had tonight. Unfortunately, we are out of time. Goodnight and we'll see you all next week. Here, on Monday Night Raw!
Raw Presents: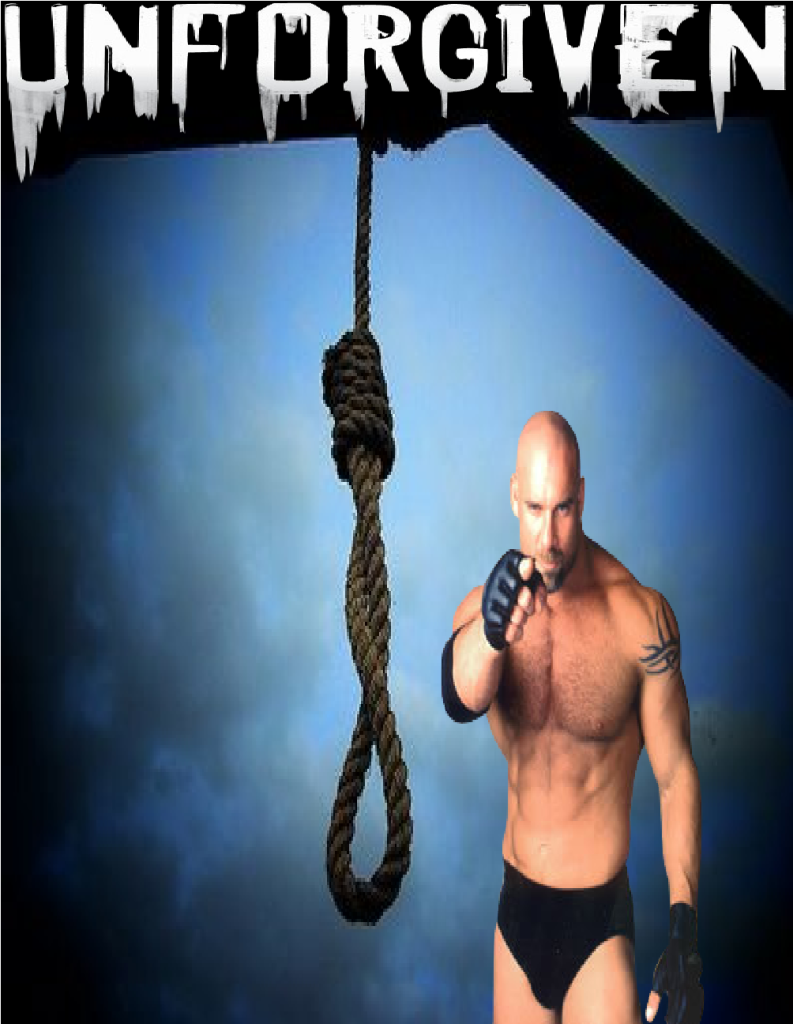 Confirmed Matches:
WWE Championship Match
Sheamus vs. Randy Orton (c) (Stipulation TBA)
Contract Match:
Bryan Danielson vs. Goldberg
---
Check out my new BTB: WWE 2012 and On: Rebirthing!
http://www.wrestlingforum.com/booker...ebirthing.html
---
Last edited by The Apple Pie; 08-21-2010 at

08:12 PM

.
Asking JAMES ELLSWORTH for Wrestling Advice
Join Date: Apr 2010
Location: Straight Edge Society
Posts: 250
Points: 0
Re: WWE: The Future Draws Near
---
SummerSlam Review

pretyy good show man, i really like the graphics and just so everyone knows they were made by me, punk as champ is awesome and i love him going up against edge in a rivalry especially. bryan danielson return is pretty cool and wwe copied you, haha. serena vs kelly kelly could have been a good match but oh well. i wonder where you go with the tag titles being ruled under a double pinfall and also, another match that could have been good, the hart dynasty vs the usos and it could have been the last time so no hats off to ya jordo but good luck in the future and goldberg returning, meh, i love the young guys more, use some bolds and italics and just not underlines, check out some other threads, they have awesome formats they are worth while. ok, here comes the raw review, i love jr being on television again so hats off. good luck with the stories here.

Raw Review

ok, i really loved the usage of the right superstars in action except goldberg and khali would have been a poor match really in real life but oh well, it can surpas i guess, lol. jericho is the best in the world and putting christian over would be awesome. john morrison and jack swagger, the battle of the best ecw champions ever, hope this doesnt drop swagger and hope it does do something for morrison, the show tonight lacked miz but he is over on smackdown so can't wait to see what you do with him, put him on top of the world, he is my favorite superstar in the ring today except for chris jericho. once again, good luck with the rest of this thread, i love it so far but lets hope you can make the best so good luck to the future writes and hope you follow this stuff up quite well.
Re: The Apple Pie presents WWE: The New Era!
---
WWE.com has realeased the following information:
Quote:
The last three NXT Competitors participated in a Winner Triple Threat Match and the winner was Michael McGillicutty. WWE has decided to give Contracts to all three finalists. Alex Riley and Kaval has been given SmackDown! contracts and Michael McGillicutty a Raw contract and a WWE Title opprotunity at a Pay Per View of his choice. Also, The WWE Pay-Per-View events have been announced:

Unforgiven; Sept. 12, 2010 from The Pepsi Center in Denver, Colorado.
No Mercy; Oct. 10, 2010 from the Joe Louis Center in Detroit, Michigan
Cyber Sunday; Nov. 7, 2010 from the Quicken Loans Arena in Cleveland, Ohio.
Survivor Series; Dec. 5, 2010 from the Wachovia Center in Philadelphia, Pennyslvania.
Armegeddon; Jan. 2, 2011 from the Sommett Center in Nashville, Tennessee.
Royal Rumble; Jan. 30, 2011 from The Georgia Dome in Atlanta, Georgia.
No Way Out; Feb. 27, 2011 from the BankAtlantic Center in Fort Lauderdale.
WrestleMania 27; March 27, 2011 from the Oakland-Alameda County Coliseum in Oakland, California.
Backlash; April 24, 2011 from Rupp Arena in Lexington, Kentucky.
Judgment Day; May 22, 2011 from the United Center in Chicago, Illinois.
Night of Champions; June 19, 2011 from Reunion Center in Dallas, Texas.
Bad Blood; July 17, 2011 from the Pyramid in Memphis, Tennessee.
SummerSlam, August 14, 2011 from Madison Square Gardens in New York City, New York[/CENTER]
---
Check out my new BTB: WWE 2012 and On: Rebirthing!
http://www.wrestlingforum.com/booker...ebirthing.html
---
Last edited by The Apple Pie; 08-30-2010 at

05:49 PM

.
Posting Rules

You may not post new threads

You may not post replies

You may not post attachments

You may not edit your posts

---

HTML code is Off

---